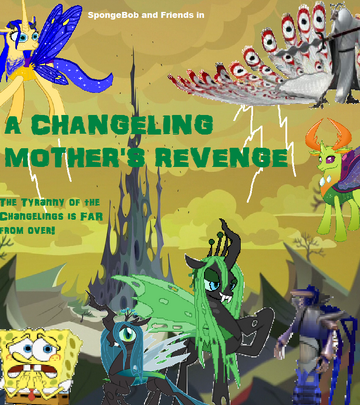 A Changeling Mother's Revenge is the 3rd Episode of Season 3B of the SpongeBob and Friends Adventures Chronicles series. The Villain League is especially upset that Chrysalis lost her entire kingdom and her Changeling subjects thanks to Thorax, Starlight, Discord, and Trixie, as Cobra, though just as upset, manages to keep a BARELY calm demeaner and offers to create Changeling-Eqse Abominations to be a suppliment army until either the changelings can be re-corrupted or even if Chrysalis can make another batch, though without love Chrysalis is out of luck in that department. However, as Chrysalis laments that everything she knows has been lost, she discovers something unexpected: her mother Queen Throx the 500th. Chrysalis wasn't always queen of the Changelings, as Throx was the 500th descendant and was a much more powerful, even more love hungry queen of the changelings. Finally awaken from an insect-like statis, she had heard how pathetic her suppose well-trained daughter is. Long ago, Throx and her diplomatic mate, King Seta, had an argument on how to harvest love since feeding off of it from their old subterranean home land from 'love-grown plant life' caused them to going into two eras of famine that caused the subjects to commit mass cannibalism just to consume what little love they had left. A 60-year war caused the two to go into hibernation and bring their two representatives, Chrysalis and Destiny, to harvest love the way they found efficient enough. Thousands of years later, Throx has awoken from her slumber and discovered everything. So she desides to take control of Mang's suppliment abominations, alongside her own army of Zombielings, (Think like the Undead Genosions from Star Wars CGI Show "The Clone Wars", but Changelings), even brainwashing half of the leage that either doubted her power or considered her too dangerious and powerful to trust, or just for lols, and does it because she intents on giving Chrysalis a refreasher course. After overwealming Thorax's changelings, Throx disguises herself as Shen, gains Celestia's trust, and hypnotizes her to do things her way. She manipulated the Princess to have all the guards disarmed, easier for the False Changelings and the Zombielings to conquer Equestria. She reveals her true self, and has Celestia mind-warped. This results in an invasion on an Equestria-wide scale, and the forces even find Destiny's kingdom and lay siege upon it, consuming the massive amounts of love they have collected, and weakening even their ruler to the point of atrophy. Is this the final chapters of Equestia? Not if the Lodge can help it. With Celestia being heavily guarded by Abom-Changelings, and the fact that the same magic-negating stone has been crafted and surround Canterlot and not just Throx and Chrysalis' thrones, Destiny decides that the best thing they could do is to find her father Seta, believing him to be their only hope. She shows them where to find the underground water-drenched aquifer that used to be the Changeling Underground, and they discover that Seta has been poisoned thanks to Throx, as well as being heavily-guarded by carnivorous plants. They rescue him no problem, but despite the fact that he cannot wake up, he manages to magically communicate with them through their minds and offers a slim way to take down Throx. So with a plan in mind, they must do what they can to put an end to Throx's trance on Celestia, and an end to her revenge, bring her to justice and see that she answers for her crimes.
Transcript
Intro Theme (Bon Jovi- You Give Love A Bad Name)
Chapter 1: Chrysalis Dethroned
1 Day After To Where And Back Again
Chrysalis was seen flying torwords the Leage Fortress, feeling a mixture of emotions.
Chrysalis passed through Saluting Shocktroopers and entered the building.
A pacing Mang Cobra was seen as he had a worried face!
Cobra: CHRYSALIS, DEAR! Oh, thank the merciful heavens above, you haven't been back since yesterday!
Chrysalis: (Sighs)... Well... The mission... Didn't end very well!
Dr. Blowhole: Well, you sure look like you've struggled to get here!
Chrysalis: IT'S WORSE THEN THAT! MY KINGDOM IS GONE!
All Villains: WHAT?!?
Chrysalis: A BUNCH OF MEDDLING SUEISIDE SQUAD WANNA-BES TOOK MY HOME, AND EXPOSED MY LIES FOR POWER!!! THAT TRAITOR THORAX BECAME THE NEW LEADER!! I LOST EVERYTHING!!!
Cobra:... Unfortunate, but, it's no serious loss. I can create some Changeling-Eqsed Abominations to hold you over until we can be able to restablish your army, then afterwords-
Mirage: (Smacks Mang aside comically) UNACCEPTABLE!! WHY CAN'T ANYONE DO ANYTHING RIGHT?!? YOU HAD IT IN THE BAG! EVERY ONE OF IT'S DEFENDERS WERE IN YOUR GRASP! THEN STARLIGHT, DISCORD, THAT ONE PONY LOUGER TRIXIE, AND THAT WORTHLESS DEFECT JUST, TOOK IT FROM YOU?!?
Chrysalis: It's complicated! I ended up underestimating the Starlight girl! And Trixie..... And even that doofus Discord. But worry not. Next time, I can make a gameplan that'll set everything back to order and-
Mirage: NO! You screwed up what you had left and made it less! Now we lost part of our henchmen, because you let a quadlet of reformies get to your subjects! And why didn't you tell me the reason they stayed loyal to you?!?
Chrysalis:... Because I couldn't trust all of you with this secret! The dummies here are not very good at it!
Maleficent: Well, I have watched it myself! You did damn near nothing! You had them in your grasp! You didn't go all out to destroy them! If there's ANYTHING I learned since I was defeated by that Prince, it's to NOT stand and wait to take the defeat! That is weakness! That's clearly what you have! How could you let them take that from you?!?
Chrysalis: Look... (Sighs)... To be honest, keeping the Changelings under my leadership was not the same since mother went into hibernation. When we were still a subterranean community, after she left, I had little hopes. The Changelings were trying to claim independence, and it was no doubt going to result in them turning to my goody-four-horseshoes sister! I couldn't let that happen! I had to lie AND manipulate them into thinking it was impossible to share love, as NOPONY would want to love us with these appearances!
Plankton: "Even though that when they turned good, they basicly gotten friendlier marketable-to-hasbro appearences."
Chrysalis: BESIDES THE POINT, YOU COMPUTER DATER?! With that, I kept them loyal, and by the time Starswirl accidentally released us from that old tree, we began our conquest!
Mirage:... You are disappointing, Chrysalis! We thought you and your subjects were ruthless conquerors! Now, you tell me they were manipulated? This is appalling that you hid this from us for so long!
Chrysalis: Hey, I told you, that came with risks! And like I said, SOME people couldn't be TRUSTED to keep their big mouths shut?!
Everyone looks at the Dumber Leagers.
Durnal: "..... What?"
Nuka: "Hey why's everyone eyeballing me? I'm not stupid?!"
Voort: "What? Something in my one tooth?"
Chrysalis: "...... Look, the point is, it was a minor setback I intend to fix and-"
Mirage: MINOR SETBACK?! WE HAVE MAGIC! THE POWER TO WIPE MEMORIES! YOU LACK CONSIDERATION, CHRYSALIS! THAT'S IT! YOU'RE-
Cobra: Now, hold on, Mirage!
Mirage:... What?
Cobra: Do remember that you are still the second-in-command since you came to replace Dark Cynder! I'm still the head honcho here. So I decide who gets kicked out or not! And so, I say Chrysalis stays!
Mirage: What you say does not matter! You're just saying that because you love her!
Cobra: It's NOT about that!... Entirely! It's MOSTLY because she tried her hardest. She got far, and managed to once again overpower the Princesses! Had the Changelings not been so quick to aside with a defect thanks to Starlight's words, which to be fair, she tends to be very convincing giving her Cutie-Mark Sudo Communist origins, and that Thorax ended up discrediting her lie by his, radical change, she would've succeeded! It's clear she needs to learn from her mistakes. Besides, kicking her out is not wise given how much she did for us. As well as this factiod! Doing so just leaves her open to aside with either the Turncoats or even Dr. Nefarious if they hear that a leager, FILLED WITH IMPOURENT LEAGE SECRETS, MIND YOU, has been booted out for an otherwise perfect plan falling to a few unexpected snags! I doubt Malefor would be quick to pardon that, even if he himself doesn't appesiate failure like you do.
Mirage: (Sighs)... FINE?! But only because your daddy's little side-project and how he would end up taking you seriously?! BUT I EXPECT CHRYSALIS TO PICK UP THE SLACK?!
Cobra: Well, coinsidently, I can offer an alternative to straight-up removeal. And it'll be through any future plan she intents to do that is not designated to the canon MLP show.
Chrysalis: "And already I don't like the sound of this."
Etemon: "Hey, be glad that at least your not getting the boot!"
Chrysalis: (Sighs)... Oh, mother! If you were still here, you'd know what to do! (Chrysalis realised what she just said).... (Quietly) Wait..... Mother? (Smiles wickedly).... (Quietly) Hello, new plan."
Into the present.
In the wastelands of Equestia, The Galaxhar clones are seen digging for something as the Robots are used for digging and shoveling.
Junjie, Tai Lung, Makunga, and Galaxhar are seen over-looking it, as Chrysalis came over to them.
Chrysalis: "Have excabitions been going well, Junjie?"
Junjie: "Why yes. Galaxhar's clones are being very profitsent. How has controling the Not-Changelings been?"
Two Abominationised False Changelings were seen blaming into eachother!
Chrysalis: "..... Well, at least they're good for entertainment. We must find my mother's anichent hybernation temple."
Galaxhar: "A hybernation temple? Why a Hybernation Temple? What's wrong with sleeping in your old castl-..... Nevermind."
Chrysalis: "Yeah you better."
Tai Lung: 'Why exactly though?"
Chrysalis:... Let's just say... I remembered that she awakens tomorrow!
Junjie:... Pardon?
Chrysalis:... Let me explain where we came from. Let's just say, when I said we were created from a tree... It wasn't entirely accurate as I had to cover up as much as possible.
Flashback
(Chrysalis): Before we went to the surface, we Changelings were... Isolated in a subterranean community of horror. My mother, Queen Throx D, was the 500th one to keep us running for a long time. Before we arrived to the surface, we had no shapeshifting powers. And we fed on a different kind of love. (They were feeding on energy from the roots of the ground)... Plants that were grown with love.
(Junjie): (Scoffs) I swear, you Equestrians always find ways to sound G1-ish and/or like a children's cartoon.
(Chrysalis): Hmmph! Racist! Anyway, this has been our diet since we evolved. But by the time my mother went to power... There was a food shortage. Apparently, ponies above were noticing the effects we had on their plants, especially when this was a time during the Windigo Ice Age, when they were still up at each other. They needed plants to have a healthy life, and what we were doing was poisoning them. So, they made fertilizer and pesticide that made the roots' love protected and strong enough to fight back. This resulted in the risk of facing starvation. Before we knew it, Changelings were eating each other cannibalistically to get their love. There was green blood and slime everywhere. My mother had to do something. Then, my father, King Seta, came to a conclusion.
King Seta:... Strange. The blood your asexual babies are exhibiting are... incompatible, and unable to provide energy and purity for their brains. Having the same DNA makes the children, siblings, and therefore prone to rivalry and inferiority complexes. And when it comes to famine... The best conclusion they can come to is to eat each other to get their love.
Queen Throx: Seriously?
King Seta: Perhaps. So... You might need to make a genetic selection to make your subjects more coordinated and logical.
Queen Throx: And you think that will work? But... Where will I find a mate?
King Seta:... (He couldn't help but look at her beauty)... Well... I... I-I-I... I LOVE YOU! (He kissed her and she was so enamored, she shared the love, and unnoticingly shined a bit)... Did you feel a chill?
Queen Throx: Yes, and I don't care!
(Chrysalis): Thus, a new sexual-based brood of subjects came and they were more resourceful than the last. Not only could we go longer without love, but we formed a caste system. The asexual subjects were left as slaves because it seemed pointless to keep them around. And we grew stronger ever since, in just 30 years. (Years went by as the kingdom grew)... And the greatest thing of all, was that they discovered a giant tree that had so much love, it could feed us for the next thousand years. We were on the path of prosperity, and they were considering having a princess to take the mantle. That's when me and Destiny were born. Unfortunately, when we were ready to harvest the tree... It was gone. (It was revealed that Nightus and Heavenslight got it out and relocated it)... Those two filthy endling Alicorns took it from us because they sensed our presence! They doomed us to starvation, AGAIN! With little resources left... We were back to square one! (Changelings were eating each other again)
Young Chrysalis:... Mommy, what's happening?
Queen Throx: (Sighs)... Daughter, it's time we need to step up to take care of our kind. We have to sacrifice many things. Make the decree known: We must cut off trade routes to support the important locations. It's for the best that our race survives.
(Chrysalis): And so when word came out... Everything fell apart for us. 100 years of trying to find that tree again have been wasted, and 80% of our population ate each other trying to nourish themselves. It was devastating. The only place that provided just as much as the tree, but not enough, was a cemetery where we made our new capital kingdom when the last one fell. The dead that were mourned provided love for us to consume, but with the rising need for more to solve the world hunger as the population grew back into a 50% better one of near independence. I was the one to suggest something better.
Chrysalis:... How is it faring out, mother?
Throx: As bad as you think! Your daddy has been continuing to make me look a little inferior and incompetent with his ruling skills. There's the risk of another famine, and I can't take it any longer. I need a plan for us to have all the love we need to survive!
Chrysalis:... How about... We take some from the surface?
Throx: SURFACE?!? YOU THINK THAT WITH ALL THAT IS AVAILABLE UP THERE AND THE RISKS OF DANGER AHEAD OF US, WE'D BE ABLE TO STEAL ENOUGH LOVE TOGETHER AS AN ARMY TO FEED OUR WHOLE NATION ONCE MORE?!? WHAT AN IDEA!... (Gasps)... What, an IDEA! You brilliant child! I underestimated you! You just gave me an idea!
Chrysalis:... I did?
Throx: Yes! You are now my new heir!
Chrysalis:... Wow... big horseshoes to fill!
(Chrysalis): And so the word was spread out. We would find a way to reach the surface and begin a campaign to steal as much love as we could to what we were guessing was a land of peace and utter absolute order. But... Destiny, was not welcoming of the idea.
Destiny: (In her evil Changeling form) Mother, I don't think stealing love is a good idea! The threats out there may be just too great!
Throx: Then we will multiply until we are unstoppable! For I now see the path, to our GLORIOUS, RETURN, TO PROSPERITY!
Destiny:... Are you sure?
Throx: I'm sure!
Destiny:... Why don't we just share it?
Throx:... (Laughs wickedly)... You serious? (Laughs)... Honey, who's gonna love THIS?!? LOOK AT US! WE LOOK LIKE MONSTERS!!! It's impossible!
Destiny: Nothing is impossible!
Throx: Destiny, don't be ridiculous! Life isn't like a fairy tale, so just accept the fact that there's no other way! Besides, what if love is a finite or infinite resource? How will we support ourselves if it's finite? How will we grow if it's infinite? Well, I say, if ANY of those theories are true, then why take the time to see if they are or not! My point and decree stands, and I don't want another word about it!
Destiny: But mother, we-
Throx: NOT, ONE, MORE, WORD!... (Destiny got angry and stormed off)
(Chrysalis): We were wondering why Destiny was so upset about this, and then... They discovered a way to make it possible. Seta discovered a magical technique that could allow us to shapeshift, using a magic reservoir from the roots of a dead tree. This magic could guarantee our chance to prosper on the surface. Unfortunately... Throx was not approving of this. Apparently, though me and Destiny grew into crowned leaders, father grew away from us, and turned Destiny against us. I watched their final moments together.
Throx: SETA, HOW COULD YOU DO THIS TO ME?!? You were ordered to have Destiny do their jobs and hunt for food. And Destiny is in for a spanking for her insubordination!
Seta: Don't give her that crap, Throx, she did the right thing telling me! There's no food! Apparently, these forces above us are always sensing where we are and are cutting us off.
Throx: NO! You're just not looking hard enough!
Seta: Throx, just face it! There's nothing left! Our subjects are starving, and contemplating finding a vote to find who to look up to for survival. Thus, we have only one choice: We must heed their demands to plan our next move on the surface.
Throx: We're not doing any of that!
Seta: THEN YOU ARE SENTENCING THEM AND US TO DEATH!
Throx: Well, so be it! We're not going anywhere with you! All you have done is make them something they're not! We're a proud tough race! We must look out for only each other, and nobody else! Socializing with whatever scum up there is cutting off our rations, is blasphemy!
Seta: WE HAVE NO CHOICE! So, if you won't do it... Then I will!
Throx: (She slaps him) DON'T YOU DARE CONTEMPLATE INSUBORDINATION IN MY PRESENCE, MALE!
(Chrysalis): Keep in mind Equestria is a matriarchal society, so females are the dominant gender. This was no exception.
Throx: I AM THE MAIN RULER OF THIS KINGDOM, SETA! I HAVE BEEN HERE LONGER THAN YOU! YOU CAN NOT, AND WILL NOT, DARE TO DISOBEY ME!!!
Seta:... (He got angry at what she just did)... You know what? I dare, because you are being absurd! You are bringing us to a life of hostility! There's no reason to become a warlike people, when we can just share rather than take!
Throx: THAT IS NOT THE CHANGELING WAY!
Seta: WELL, NOW THINGS GO MY WAY! WE MAY BE A MATRIARCHY, BUT THEY WILL LISTEN TO ME SINCE I SUPPORTED THIS KINGDOM MORE THAN YOU! If I didn't know any better, I'd say you were jealous! (Throx was surprised)... You were, weren't you? Is THIS why you're scolding me every chance you get?
Throx: I AM THE RIGHTFUL LEADER! And you wish to take that title for me!
Seta: This is NOT about the job, it's about doing the right thing for the good of our people! Being the leader means doing what's best for everyone! If you can't see that, then maybe you don't deserve it! They will listen to me no matter what! I suggest you choose whose side you need to be on! I'm sorry, Throx... But I can't bare to be with you any longer! I'm leaving you! (He left)
Throx: DON'T WALK AWAY FROM ME! STOP!... (Growls) GUARDS! ARREST SETA AT ONCE! AND ARREST DESTINY, TOO! (Scarab-armored Changelings tried to catch them)
(Chrysalis): And so, Seta betrayed the kingdom from then on! He took our pride, our way of life, and now THE LOYALTY OF MY KINGDOM WITH DESCENDING HELP FROM MY SISTER AND OTHERS! And it started when he made his decision known! Thus, Throx was unable to stop the vote from going in. I was appalled at father for doing this! There was NO WAY we were going to share, as magical disguises sounded VERY, VERY, DECEITFUL FOR THE CONCEPT OF SHARING! THIS GIFT WAS MEANT FOR INFILTRATION! Even my sister had the audacity to side with him! Thus, we were scared for our rightful place! As the only one who supported my mother's rightful place, I tried to sabotage the vote so we could have things go her way. But even after my rallies... It was not enough! Everyone voted for father, because DESTINY TOLD THEM ABOUT MY SABOTAGE!
Chrysalis: DESTINY, YOU DIRTY SNITCH!
Destiny: Hey, I did what I had to! I could've helped you and mother by saying we could have a summit on the people's behalf, but suddenly, I wasn't even allowed to say a word about it! You could've gotten somewhere if you both had just LISTENED to me! You wanna know how? Well, too bad, I'm not allowed to say a word about it! (The Changelings ooed at that)... So, the subjects have spoken! Effective immediately, everything goes our way, end of story!
Throx:... You little traitor!... THAT IS IT! ALL OF YOU LEAVE US NO CHOICE! WE DECLARE WAR!
Seta/Destiny: WHAT?!?
Chrysalis: HEIR-HEIR! WE DON'T NEED YOU ALL! WE WILL MAKE OUR OWN ARMY, AND WE WILL PROVE THAT OUR PATH IS THE RIGHT ONE! NOBODY IS GOING TO WANT TO LOVE US LOOKING LIKE THIS, AND OUR SHAPESHIFTING IS GOING TO MAKE US LOOK MALICIOUS! WELL, THERE'S NO POINT! THOSE SURFACE-DWELLERS HAD THIS COMING TO THEM BY CUTTING OFF OUR FOOD! I WILL ENSURE YOU ALL PAY! YOU ESPECIALLY, DESTINY! YOU ARE AN AWFUL SISTER! AND FATHER, I HOPE YOU DROP DEAD OF STARVATION SOMEDAY!
Throx:... I wouldn't say that so abruptly, but... Yes! You'd better wake up and smell the death, because you are GOING to kill yourselves with this self-defeating pursuit! Not a single one on the surface will support us! We'll SHOW YOU ALL! YOU'LL ALL SEE! (They left)
Destiny:... (Sighs)...
Seta:... Well, everychangeling, we will soon be on the surface and begin a dawn of a new era, and ensure that Queen Throx never makes good on that.
(Chrysalis): Thus began a subterranean war. The war was bloody, and it lasted 60 years. Then... Came the day when our parents had to go into hibernation. I would become the ruler of my changelings, while Desteny became leader of Father's loyalists. Both of us were not of great enough numbers to continue our parents' war, so.... We desided to just stay out of eahcothers faces. They don't interfear with us unless it was deemed highly nessersary or if they were provoked, and we don't bother with them unless I deemed them a threat or if I desided to not let their hive to be an issue anymore."
(Junjie): "That's basicly the same thing, and.... Weren't there other Changeling Hives in Equestia?"
(Chrysalis): "HA! You mean that old Fandom Believe that I am just a splinter cell of a larger race?! Thorax's debute episode has long jessed that claim! And now Desteny is only justifived because she was from the underground like me! And even if other Changelings outside of my family exist, they're likely long underground and out of reach of.... Him. (Chrysalis shudders as a large tubby figure loomed over the underground world laughing).... Neither I or my sister like to talk about, him."
Present.
Chrysalis: "Fortunately, we have never heard of HIM for a good while now. Either he's dead, or went to bother another Changeling hive. Either way, I hope to never see or hear that foul beast ever again."
Tai Lung: "..... So, your changelings exist because of a parental spat between the king and queen?"
Galaxhar: "Well you do realised that once we unearthed this and see her by tomorrow, she is likely to go berserk on how you lost her kingdom.... Along with your failures."
???: "I'm more concerned on what she'll think of me!"
The Five villains turned to see Mang Cobra in a fancy suit, causing Chrysalis to get bug-eyed while Junjie and friends dropped their jaws!
Cobra: "I need to dress to impress!"
Chrysalis: "What in the-, Mang, I am not inviting you to have dinner with my mother, I need to be able to have her help us, idiot!"
Cobra: "Well, that doesn't mean I shouldn't look like a snazzy evil socceror."
Chrysalis: "More like a snazzy imbacile."
Junjie and friends snickered at Mang and Chrysalis' bickering, only to get zapped by Mang in annoyence!
Cobra: "Oh come now, Chrylly, at least let me dress like this."
Chrysalis: "(Groans), Fine! Just don't say or do anything to embarrise me! Oh, and Galaxhar, to answer your concerns about how mother will react.... Don't worry. I'm willing to give a peace offering worthy of a queen of her stature."
Tai Lung: "Oh goodie, can we see it?"
Chrysalis: "Oh, in due time, since your going to deliver it."
Galaxhar: "Oh-ho-ho. We have been entrusted to be convoys for impourentness! You have our word!"
Junjie: "Oh yes. We don't disappoint you! Come gentlemen, we're off to practice our speech."
The four left.
Cobra: "..... Those four ARE the gifts to your mother, are they?"
Chrysalis: "Hey, my mother is very likely to be hungry when she wakes up, so maybe I can butter-her-up with a breakfest in bed with the love of those imbaciles, on how Junjie loves himself, how Tai Lung still maintains his care for his family, how Makunga loves his silly hairsytile, and how Galaxhar loves to glout about his stupidly named inventions."
Cobra: "But won't this end like that scene in the Mummy Returns when-"
Chrysalis: "Being sucked of love doesn't actselly kill you, idiot! It's like, it's like when Tirek sucks up a pony's magic. Losing love just makes the host weaker."
Cobra: "Then why is everyone so uppity about Changelings trying to take their love?"
Chrysalis: "Well, firstly, it's kinda of a consent issue. My changelings are suck first, ask questions never. (Mang chuckled abit) Stop laughing, it's not meant to be funny."
Cobra: "Right, right, sorry. Okay, and the other reason?"
Chrysalis: Well, it's kinda illegal to impersonate somepony else, for ANY reason. Not to mention, it's not ENTIRELY harmless. When exposed to the love and care of others, the sucked pony is cured. Love IS an infinite resource. My Changelings had to believe they couldn't share love, but take it, in order to support me, since they were born in my hierarchy.
Cobra:... So... What's your mother like?
Chrysalis: Basicly like me, but on STERIODS?! She's ruthless, persistent, and God knows can do far better than me as of this moment. That's why I intend to seek her out and get motherly advice since my plans and kingdom's ways were flushed down the toilet.
Cobra: Well, let's hope she's not THIS ruthless. She sounds like she could tear my heads off.
Chrysalis: (Chuckles) Oh, she'd do worse than that! She'd make the Queen of Hearts jealous by not only tearing off your heads, but using them as croquet mallets instead of her retarded flamingos... AND USING YOUR BALLS AS THE BALLS!
Cobra: UHHOOOHH, THAT SOUNDS RUTHLESS! Sounds like full-on Villain Leaguer material. With her around, she could provide support.
Chrysalis: Well that largely depends on her mood. Hence I hope she accepts those 4 halfwits once the temple's unearthed. That's why I intend to return to our underground home and find her. Nopony knows where she is, so that gives us an advantage, unless we are spotted and followed. To not attract attention, we'll have to go there through teleportation.
Cobra: "And what makes you sure that would work? Don't they just follow our magic trails?"
Chrysalis: Not exactly. They were drenched with cave water and have likely flooded a lot at this point. It also reeks of magic stank. A kind of magic that'll only pardon Changeling magic.... Of my caliber. Anyone else will began to have magic sparks that reek horrorably! About as bad as a normal day in Tartarus.
Cobra: "So..... We're relying on entirely on you then?"
Chrysalis: "Yup. Luckly for you, I am an exbert at magic. We do have to look out Diranas though."
Cobra: "Oh don't tell me: Are they Piranas that swim in dirt?"
Chrysalis: ".... Basicly. An entire pack of them came to inhapit the temple when it was long buried by time. Fortunately, mother is safe in the hybernation chamber, so the worse of the presence of those nasty things is their mere existence."
Cobra: "Well no problem. Just injure one of them and the pack will began to turn on eachother."
Chrysalis: "Slight issue. Diranas are infamous for having scales made of stone. Not even Princess Celestia's horn can pirece through those things."
Cobra: "..... How are these things not a problem to ponies?!"
Chrysalis: "Celestia has her tricky ways. She made sure that the dirt of Pony Terratory a magicly intolerable to Diranas. So the closest these beasts have to hide in are wastelands like this and the farther caverns."
Cobra: ".... Well why aren't those things being a problem now?"
Chrysalis: "They're eyesight's too sensitive for the surface's sun. They litterally have to hide in the darkness of the underground like a light-intolerent demon. Or non-Twilight Francise Vampires."
Cobra: "..... Is it okay if I bring my Brutu abomination for this, for protection's sake?"
Chrysalis: "Are you honestly afraid of a bunch of dirt fish?"
Cobra: "They're piranas that swim in the ground! Yes I'm gonna be abit worried!"
Chrysalis: "Ugggh. Fine! Just make sure he doesn't end up a nuisance."
Cobra: "Thank you Chrylly. And you have my word."
A day later.
The Temple was completely unearthed.
Chrysalis, Cobra with his abomination Brutu, and Junjie and friends began to walk into the temple.
Galaxhar: "Clones, stay outside and wait for further instructions."
Galaxhar clones: "HAIL GALAXHAR?!"
Galaxhar: "Ohhh, the nostglia of that old bit."
The group entered the temple.
Inside the Temple.
Changeling arcitect and hylogrifics were seen throughout as Changeling statues were seen.
Makunga: "..... Wow, for a race of bug horse parasites, you sure have outshine the Diamond Dogs in anichent civilisation debotchery."
Junjie: "Okay Galaxhar. Bring out your latest invention to help us see through this dark temple."
Galaxhar: "Alchourse, I would like to present..... (Brings out a Flashlight-like device) THE GOOAGOOGA?!"
Silence.....
Makunga: "..... Ha. Nostaglia on how you give stupid names for your inventions."
Galaxhar: "...... (Groans)..... Or, for simplisity..... The Temple Lighter 7000!"
Tai Lung: "What happened to the other 6000?"
Galaxhar: Blew the f*** up!
Tai Lung: Oh, of course they did!
Chrysalis: Now, let's be careful! Since Changeling magic can be the only magic used here, if we by any chance reach a flooded area, I'll provide us aquatic respiration.
Cobra: So... When can we expect to encounter these Diranha?
Chrysalis: They mainly wallow and make homes in mud. They can swim, too. They ARE fish after all.
Cobra: Can't imagine meeting a fish that CAN'T swim!... Except those in SpongeBrain's world. HAH! I just can't stop imagining the irony in that!
Chrysalis: Shush! Don't wanna alert any predators.
Cobra: Uh, there's no way we can stay quiet! Brutu can make such a thumping noise. But hopefully, we can get through this without any pre- (They all went into a hidden water trap and plunged underwater, and Chrysalis face-hoofed and provided the water spell to them)... I stand corrected!
Chrysalis: Now, just be careful next time! Plus, keep in mind that Diranhas are not the only monsters found here. There's also maulwurfs, cave afancs, giant grubs, moth and mole men, underground cave trolls, to name a few! Just follow my lead!
Cobra: "Of course, Chrysalis darling."
The group moved forword.
A large mud pit was seen ahead of the group as figures were seen moving around.
Junjie: "..... I, take it that we found our Diranas."
Chrysalis: "Tread, carefully. Like normal paranas, these beasts will strip you of flesh faster then a sexually depraved man to a stripper's clothes!"
Tai Lung: "Well that's a very mature compairsion."
Chrysalis: "Let's be honest, this series' barely good enough to be viewable to children anymore without parental consent."
The group walked carefully over the mudpit via a sturdy but anichent bridge.
Makunga: "..... Say, Chrysalis. How uh.... Big can these dirt fishes can get?"
Chrysalis: "It varies. They're either like average paranas, the size of cats, or big enough to eat a minivan like a gumdrop. Depends on the evioment, really."
Tai Lung saw that some of the figures were larger then others.
Tai Lung: "(Gulp). Thanks for the, heads up."
Galaxhar: "Ya know, Equestia's mad evolution wildlife vaguely reminds me of the planet Evolusinar. Where a good number of creatures with extremely radical evolution paths exist. It's like, that documentary series "The Future is Wild" and that wiki about speculative evolutions went to have babies togather and it spawned an entire planet! I mean, with things like this I'm surprised the Equestian Earth Equines haven't already started a refugee uproar by now. I mean-"
A Giant Rock-Skinned Parana leaped up and bit the briage where Galaxhar nearly was as he screamed like a girl!
Galaxhar: "ARE YOU CRAZY?! THAT COULD'VE KILLED ME?!"
Junjie: "HENCE WHY THAT THING'S A PREDATOR, IMBACILE?! (GRABS GALAXHAR AND THE LIGHTER AND RAN AWAY WITH THE OTHER VILLAINS AS MORE DIRANAS BEGAN TO TRY AND GET THEM, CHRYSALIS STUNNING SOME OF THEM BACK INTO THE MUD?!)"
The Villains made it at the end as the Diranas fell back into the mud.
Chrysalis: "..... Now you see why me and my sister's hive don't stay underground anymore. Annoyences like that."
Makunga: "Well if getting eaten by giant dirt fish is annoying, then I don't wanna know what's considered horrorable to Changelings!"
Chrysalis: "Trust me! (Blocks off a hylogrifitic that looks like a portly yeti thing going after a Changeling hive)..... Ya don't."
The group moved on without much notice.
Temple Catacombs.
A hallway filled with dead bodies of Changelings of old were seen.
The Villains were walking in.
Junjie: "How clishe. A creepy linier catacomb hallway filled with the dead."
Chrysalis: "Hey, show some respect, foxy! These are the husks of proud Changeling Warriors that died for my mother's cause!"
Galaxhar: "And their reward is rotting inside a wall underground in a temple infested with killer dirt fish? Lame."
Chrysalis: "Fyi, the temple wasn't always like this! Before we left the underground, we Changelings lived in glorious temples like this in it's prime! It puts my castle to utter shame."
Makunga: "And isn't much of an eyesore. I mean, no offence, but maybe there was a reason why Changeling lairs were underground, and it could be because they're as ugly as you people."
Unbeknowst to them, some of the bodies began to move.
Makunga: "I mean, come on! I know your sister's not a friend to us, but I think she kinda had a good point siding with your basturd dad, I mean, this is a cutsy world that appresiates cutsy things, and, not just because cute is marketable for Hasbro. (Zombie Changelings began to form behind Makunga to all but Makunga's shock who hasn't noticed). But because it's obvious that it's yet another part of socity having a beef with ugly, I mean- (Notices everyone's shock)...... Something incredably scary's behind me, is there?"
Tai Lung: "And if by scary, you mean undead Changeling Corpses, then, yes."
Makunga looked behind him nerviously and saw the undead Changelings.
Zombieling: ".... Looooooooooooooovvvvvvvvvvvvvvvvvvvvvvvvvve."
Makunga screams like a bitch and zooms behind Brutu!
Chrysalis: ".... RUN, IDIOTS?!"
The Group proceeded to do that?!
The Zombielings began to slowly but sure go after them as more corpses began to wake.
The Group reached the end of the hallway and entered into it and closed off the door!
The Villains began to pant.....
Cobra: "Oh, good gods..... Chryly, dear..... Care to explain why you didn't WARN US ABOUT THE ZOMBIE CHANGELINGS?!"
Chrysalis: "..... I didn't said anything because I thought they were a legend."
Cobra: "Wha....... YOU LIVE IN A WORLD WHERE MYTHS AND LEGENDS ARE REAL?! AND YOU THOUGHT ZOMBIES WERE THE ONE THING THAT'RE FAKE?!"
Chrysalis: "I meant that I thought it was mere Old Changeling Supersition! That being said, my own fault for doubting it then. Kinda no turning back until we get to mother. Only she can command those restless souls like how I did to living changelings."
Makunga: "That is unless she lied to them too!"
Chrysalis: "OH WILL YOU JUST DROP-"
A Zombieling burst it's hoof through the door and nearly grabbed a screaming Chrysalis!
More Hooves began to burst through!
Makunga: "I got this!" (He did this)
Galaxhar: "...... Why did you thought that would work?"
Makunga: "HEY, I FIGURED THAT ZOMBIES ARE TYPICALLY STUPID, ALRIGHT?!"
Chrysalis: "JUST RUN, IMBACILES?!"
The Villains did that as the door was being more and more destroyed!
Chapter 2: Queen Throx the 500th Returns
Hybernation room.
The Villains got into it and closed off the door panting more......
Cobra: "..... For future reference, Chryly dear..... If there was any danger you weren't sure about in ANY location of Leage Interest..... PLEASE, DON'T HESTITATE TO WARN US IN AN EVENT IT IS PRESENT?!"
Junjie: "And please tell me we finally found your mother?! I can't bare to have my beloved brains eaten by zombies?! Or my spleen?! Or my butt by a particularly weird one!"
Galaxhar: "Wink wink, Season 1 joke reference!"
Chrysalis: "We're in the hybernation chamber, so she shouldn't be too far. Mother's practically expecting us."
Cobra: Let's hope she makes a nice enough first impression. I mean, nice in villain standards.
Chrysalis: Believe me, you do NOT wanna tick her off or cross her in any way. As the previous leader before me, she lead with an iron hoof. Just, again, stick with me. (Later, they found a chamber of hundreds of withering cocoons, more dead Changelings, and one large cocoon with a figure similar to Chrysalis inside which was wiggling)... Oh, goody, we're just in time!
Junjie: Thank Yinglong, I don't think I could've taken anymore of that slime back there.
Tai Lung: Let's hope she awakens cleanly. I hate to have that thing explode.
Chrysalis: Oh, when a Changeling exits hibernation, it's half clean. But it takes a while to get out after this long. The one inside feels like they came out of stasis for years, and it's like trying to burst out of an egg with a shell made of steel.
Tai Lung: Yeah, screw that! (He kicked the cocoon open as it cracked slightly open)
Chrysalis: YOU MARTICAL ARTS HALF-WIT!?! You shouldn't have done that!
Tai Lung: Why not?
Chrysalis: Well, like traditional hibernation for animals, Changelings don't like to be woken up or disturbed. It tends to agitate them.
Tai Lung: ".... Whoops."
Junjie: "WHOOPS?!"
Galaxhar: "LIKE THAT FIXES ANYTHING?!"
Makunga: "I'm actselly debating on what I rather be killed by! Zombie Changelings or an angered anichent queen!"
Cobra:... Oh, goddamn it! (A Changeling hoof burst out of the slimy interior of the cocoon as it spooked even Brutu) AAHH!!
???: (As the figure burst out of the cocoon covered in slime)... FOR THOUSANDS OF YEARS I LAY DORMANT! WHO HAS DISTURBED MY SLUMBER?!? (The figure revealed herself to be Throx as she cleaned herself up)... (Her vision cleared as she saw who was standing in her presence)... Chrysalis?
Chrysalis: Mother! It... It's good to see you again! (She hugged her)
Throx:... Wasn't expecting you to be back after my awakening so soon.... And who are these pukes with you?
Chrysalis: "Well...... The Mutant Snake is Mang, and the weird eye thing is one of his pet projects, and those four, I hope you can accept as breakfest in bed because at least three of them have egotisitic love and Tai Lung still misses his family!"
Galaxhar: "OH FIGURES YOU ONLY BROUGHT US ALONG TO BASICLY BE LIKE THE GOONS FROM THE MUMMY RETURNS?!"
Throx: "....... First off, I'm on a strict diet of genuine love, not self-love or buyers remorse. Those aren't as powerful as real love.... Plus, it gives me gas. Second..... Are you trying to butter me up because you ended up failing epicly and you were hoping that presenting some kind of first meal would soften any upset I would have for you?"
Chrysalis: "Uh, duh uh, no, alchourse not-"
Makunga: "Wait a minute, I thought the whole point of escabition was to dig her out to ask for advice on how to get your kingdom back from that one defect who-"
Chrysalis kicked Makunga in the crotch!
Makunga: "(HIGH-PITCHED) GOOOOOOOOYYYYY!?"
Chrysalis: "IT'S CALLED, HAVING TACT, FATASS?! YOU SHOULD TRY IT SOMETIME?!"
Throx, though clearly unhappy, doesn't look too surprised or upset.
Throx: "(Sighs)...... I knew it was only a matter of time before your sister outsmarted you. She was always the smart one, esepically how your father ended up being half right, if by default that being nice earns you a cuter appearence."
Chrysalis: "..... Actselly...... I lost my kingdom to a Changeling that defected on my side, An ex-Cutie Mark Communist Pony, A mish-mash mistake of nature with reality warping powers, and a medicore stage magician."
Throx looked dumbfounded.....
Throx then got stern.
Throx: "..... Okay, you losing the kingdom to your sister I can handle, but four miserable misfits?! And one of which was from one of your own?!"
Chrysalis: "Well thing is, Thorax ended up behaiving more like Desteny's Changelings than like his brother and my best warrior and army leader, Pharynx. In fact, I had hoped that he and other loyalist changelings would've come back to me, but..... Thorax was given a spine thanks to that new Dragon Lord as he became frim enough to scare the loyalists into being nice, worse off, they actselly started to like it, and though Pharynx stayed stubborn, it turns out he only stayed to protect those defects from their own defectness and utterly shown that he only stayed a proper changeling because of nostalgia! But thanks to a stupid Maulwurf causing trouble, he turned as well! And that's an utter shame! I could've been able to use that nostalgia to my advantage if Mang hadn't insisted that making any attampt like that while the heroes would respond quickly to it would risk the operation! Well, that and I wasn't supposed to be in that episode."
Throx: "What?"
Chrysalis: ".... Ignor that last bit, I now realise you don't speak post-modern. Point is, for the sake of ensuring your return, I kinda had to miss out on an otherwise glorious oppertunity."
Throx: "...... Chrysalis, I figured you would be able to better handle defects, ponies, and, I assume a Draconaquus because my throwne would ensure non-Changeling magic is rendered useless."
Galaxhar: "Hence why that thing got destroyed when the Changelings revolted and shared love to it that overwealm it- (Chrysalis kicked him in the head) DAAAAAAAAAAAAH?!"
Throx: "MY THROWNE WAS DESTROYED?! YOU HAVE ANY IDEA HOW HARD IT IS TO MAKE AN ANTI-NON-NATIVE MAGIC THROWNE OUT OF MAGODRANIUM?!"
Tai Lung: "Mag-What-Ium?"
Throx: "Magodranium! A stone only found in the center of the world where the Alicorn of Order is imprisoned for going mad with order obsession. It's designed to suck out magic of those that would attempt to bring Lord Order back directly."
Makunga: "..... Okay, seriously, what is up with these made-up element names?!"
Junjie: "Shut it, hairdo boy! You already got kicked in the crotch once, don't risk another that could neuter you!"
Makunga: "No, I mean, come on, Chrontunium, Jerktonium, and now Magodranium?!?"
Chrysalis: Hey, at least it's better than the last name it had, Magicsuckium. (Galaxhar, Tai Lung and Makunga laughed at that).... See what I mean? It had to be changed for... More reasons than the obvious.
Makunga: Besides the point! And I'm sure somewhere in this complicated mess oif a series that there was reference to other clearly not real elements!
Throx: "AHEM! If you're DONE being idiots, let me explain! Magodranium is a rare kind of stone found in the core of the world and has rarely ever surfaced in the surface world because the Alicorns declared it illegal for use because of how dangerous it would be in certain hooves."
Tai Lung: "Well yes, because..... Those stones would render their magic useless. They could make conquering Equestia stupidly easy."
Junjie was writing this down for a future plan.
Cobra: "JUNJIE!!! (He smacks his hand and burns the note) DON'T, EVEN!!"
Throx: "Well, it would.... If it wasn't for the drawback that they're STUPIDLY HEAVY TO CARRY being that they basicly planetary crust rock! It's density and mass is just too much, and since it resists magic and thus negates telekinesis, that's saying a lot! Even Seta couldn't be able to hold those blasted things, AND he was a REAL Changeling male before he lost sight of practicality!"
Galaxhar: "Then HOW were you able to even GET that stuff in the surface if they were impossible to carry?!"
Throx: "My castle was a rare kind of rock that popped out thanks to a rare magic event that happens once every few millennias. The majority of the castle is basicly Changeling rock, and an ever-changing maze. The Magodranium turned into a convenient throne-like object. Perfect for rule."
Tai Lung: "Well how did you managed to NOT have that rock cancel out your own magic?"
Throx: "Here's the, interesting thing. Magodrainium can actually be modified to accept only a certain magic but block out unaccepted others."
Galaxhar: "BUT HOW SINCE THE POINT OF THAT ROCK IS THAT ALL MAGIC IS RENDERED USELESS TO IT?!?"
Throx: "You don't need magic to do that, genius! It's among the reasons why my Changelings did the path they did. Love is an infinite resource that is basically a magic enhancer. After all, love was what defeated the Windigos and saved the ponies from an Ice Age of loathing."
Junjie: "So.... Love, is basicly a strengthener?"
Throx: "For lack of a better term, yes."
Junjie: "..... Then holy crud, Qui was kinda on the money with going after Cadance... She just planned it wrong!"
Chrysalis: "Why else did you think I went after that Disney Princess Wannabe to begin with myself?!? She's litterally the Princess of Love! With love, she's basically the 4th strongest magical powerhouse in Equestria!"
Tai Lung: "Who's the other three?"
Chrysalis: "Twilight and the Celestial Sisters. And that's only after we excluded the Alicorn Baby and the King and Queen of Equestia and the other Alicorns!"
Cobra: "Ohhhh, so that's why ponies are so touchy about getting love sucked out! It may not kill them, but it renders them weak, like with Tirek!"
Chrysalis: "More or less, only that brute settles for the actual thing and not recognize the power of love. Otherwise, he wouldn't've been sent to Tartarus! More than once."
Cobra: "Well yes, but won't they still have their base magic overall?"
Chrysalis: "Why else did you think I needed to either zombify ponies or trap them in goo cocoons? Even without love as an enhancer, Celestia can still be able to kick my butt from here to the moon and use me to mop up her palace!"
Tai Lung: "..... THEN HOW ARE THESE PONIES NOT WORLD-CONQUERERS WITH POWERS LIKE THAT?!"
Chrysalis: "You could thank their silly friendship religion for that. That very Windigo Ice Age helped them build on that, and it worked to keep them from really taking advantage of what those powers can do when enhanced with enough love."
Throx: "Hence why your father ultamately missed the point. When we take their love, it wasn't meant to be anything personally heinous. It was to make us Changelinsg to be the master race the ponies are too held back by their fanatic love for companionship! The world would literally be a less hazardous place if they just took full advantage of their powers, as opposed to just waste them on parties, songs, and other worthless uses!"
Junjie: "Well, then in that case, your husband really IS not seeing the grand picture."
Throx: "And appearently, thanks to my daughter's incompetence, now have my side of the Changelings! Well, luckily for you, I do aim to help, BUT BEYOND just giving you advice, only to start waiting for you to screw up and come crawling back like defeatable villains. Mama's gonna show you, HOW THE OLD QUEEN DOES IT!"
Junjie: "Ooooh, THAT IS BETTER THEN JUST GIVING US ADVICE!!"
Cobra: "Oh, way to encourage his bad behavior!"
Chrysalis: "Well, I'm glad for that, but we kinda need an army if we're going to even be a threat to that defect Thorax! As numerous as the Galaxhar clones are, they're all about as dumb as their main DNA host... (Galaxhar scoffed offended)... Oh don't like it isn't inaccreate, you anntenaed octopus! And his giant robots can only be so good for so long, and the creatures Mang made for me are... Not suitable for serious use."
Cobra: Hey, I never said they were a COMPLETE asset!
Thorax: "I safely assume you already ran into a more temporary solution to that." (The Zombielings bursted through the door and began to move torwords the group, as the dead Changelings in the Hybernation Room began to wake as well)
Junjie: "AGGGGGAH!!! THEY CAME TO EAT OUR BRAINS!!! OR SPLEENS?! OR BUTTS IF THEY'RE WEIRD ABOUT IT!!!"
Zombielings: "LOOOOOOOOOOOVVVVVVVVVVVVE!"
Galaxhar: "Awwwww, ya see, they just wanted to be loved."
Cobra: "YOU DO REALISE THAT THESE ARE CREATURES CAPABLE OF SUCKING LIFE AS AN ENERGY, RIGHT?! THEY'RE BASICLY UNDEAD ENERGY PARASITES?!"
Galaxhar: ".... Oh yeah."
The Villains but Chrysalis and Throx began to panic!
Chrysalis: "...... Mother, could you-"
Throx: "No need to ask. I just need them to be close enough.... (The Zombielings got uncomfertably closer).... ATTENTION HERE, YOU UNDEAD SQUABS?!"
The Zombielings suddenly stop and posed like obedient soldiers!
Tai Lung: "..... Wow, even as undead abominations, they still follow instnictual demands."
Throx: "They may be a collection of maggot buffets, but they are still Changelings. (To the undead hoarde) Attention, Changelings of the past. Your successors have forgotten their place and need to be reminded! They gone into the path of your shamed King, thanks to a defect named Thorax, and three comrades of his. First, we go after the defecters. Then, we shall seek out the ponies and disabled their leaders. Then, finally, we prove our superiority as the master race once for all! GLORY, TO THE CHANGELINGS!!"
The Zombielings moaned in saluting Throx.
Junjie: "Why are they moaning? That was a good speech!"
Chrysalis: "They're zombies, idiot! They can do nothing BUT moan!"
Junjie: "Oh, right. Apologies!"
Outside the Temple
The Galaxhar clones began to freak out as the Zombielings came forth!
Galaxhar: "GALAXHAR CLONES, WAIT, WAIT WAIT STOP! IT'S OKAY?! THESE ZOMBIES ARE NOT DANGERIOUS, I- Oh good grief, they're not listening?!"
Throx: "We won't be needing their help anyway. We got all the army we need."
Chrysalis: "Alchourse, mother."
Cobra summoned in the Abomanation False Changelings here.
Throx: "UGGGGH!!! THOSE ARE YOUR REPLACEMENTS TO YOUR HIVE?!"
Chrysalis: "To be fair, they are abominations, so, they kinda have the ugliness as a trait."
Throx: "Still..... They might be useful yet. Since the Zombielings are a bit slow, in more ways than one, maybe we can have these freaks serve as a fast traveler for our real meat of the army!"
Cobra: "Ohhh, do we really have to degrade my creations to be fast travel for those zombies?"
Chrysalis: "Be honest Mang, against even Thorax, let alone Pharynx, those things won't even last 5 minutes. With the Zombielings, as least they would eventually overwealm them."
Cobra: "Ohh, fine! But next attack I want them to be able to fight too!"
Throx: "Under the condition I am allowed to, modify these things."
Cobra: "Only if it's not radical changes."
Thorx: "Depends on what needs to be change, but done! First stop, the hive!"
Chapter 3: Changelings in Peril/Destiny and Thorax Fall
The Changeling Hive.
The Reformed Changelings were seen enjoying themselves.
Thorax was seen with Desteny and her escourt.
Thorax: "Miss Desteny, I must say that it is an honor to have you be with us."
Desteny: "The pleasure's all mine, your majusty."
Desteny's escourt: "Yes, though it would've helped to do more with this old hive then just put plants everywhere."
Desteny: "Oh Count Abdomen, try to be more curtious then that. A city isn't buildt in a day you know."
Count Abdomen: "I am being curtious my queen, it's just, apart from a few flowers, it sort've just looks like Chrysalis began to neglect her gardening and plants just went wild!"
Thorax: "Well, an entire land's worth of plants doesn't appear as quickly as you think it should, if you mind my correction."
Count Abdomen: "Eh, fair enough I guess."
Thorax: "How's about some tea? Mutton had made a nice meal. He really took up cooking well."
Mutton the Changeling: "FORSOOTH, KING THORAX, QUEEN DESTENY AND COUNT ABDOMEN?! I HAVE MADE'TH A FEAST'TH WORHTY OF AN ALICORN?!"
Thorax: "..... Still, stuck with that Old Equestian Speak though."
Count Abdomen: "Please tell me you're sending that dolt to modern speak classes."
Thorax: "Oh, don't worry, I am-"
Thorax gets hit by a pie!
Laughter was hard!
An orange reformed Changeling (Simular to the rotten deviant Changeling Seen in Celestial Advice) Was seen laughing his butt off!
Orange Changeling: "HAPPY UPCOMING CHANGELING APPRESIATION DAY, KING BUG MIDSIDE?! (Laughs!)"
Thorax: ".... (Wipes pie cream off, clearly being unamused.), Very funny, La Broma. But seriously, did you HAD to prank me in front of Queen Desteny like that?!"
La Broma: "(Wheeze laughs), Ooops! Sorry, Queen Symbolism that predicted Season 6's ending in a sense, how are you and Count Bugass doing?! (Laughs!)"
Count Abdomen: "I AM NOT A BUG'S ASS?!"
La Broma: "(Snort scoffs) Dude, what do you think abdomen means?! (Turns into a bug parts chart). The Word abdomen is basicly a bug's ass! And since your Queen Desteny's kiss-up, that makes you... (Snickers)"
Count Abdomen: DON'T SAY IT, OR SO HELP ME-
La Broma: A KISSASS!!! (Laughs uncontrolably as he changed back to normal!)"
Count Abdomen: GRRRGH, WELL I NEVER!! THORAX, THIS IS AN UNPROFESSIONAL KINGDOM YOU ARE RUNNING!
Thorax: "You have to mind my younger brother Broma. He always had a serious affliction for pranks. Even as a bad Changeling. He even once put a whoopie cousin with a tack on it on the throwne to make it look like that Chrysalis gets hurt every time she farts."
Desteny: "Oh dear. You are getting his attatude addresed, are you? (They sat at the table)."
Thorax: "I kinda have to. Ever since he met with Twilight before Season 7 started. She's still very hard on him for his prank of making her look bad in front of her parents by.... Well...."
Flashback
Night Light: "Now, Twilight, we understand that you have a secret crush on Princess Celestia, but she's clearly a straight mare given she's dating Lord Shen, and since your clearly with that nice Flash Sentry-"
Twilight: "WHAT?! I NEVER HAD A CLOSET GAY CRUSH ON CELESTIA?!"
Velvet: "Well, tecnecally you did. You came to us and told us you admited being a closet bisexual."
Night Light: "And by all means, you're allowed to be as you wish. Equestria is very friendly to LBGT folks after all."
Twilight: "WHY DID YOU THINK I ADMITED THAT?!"
Velvet: "Calm down, dear. You told us that while during the Meet the Changelings event in Canterlot."
Twlight: "BUT I WAS WITH THORAX THE ENTIRE TIME INTRODUCING HIM TO THE WONDERS OF EQUESTRIA!!"
Night Light: "Well, if you were doing that, then, who were we talking to-... Wait a minute!"
Thorax: "Oh, by the way, I kinda have to warn you about my young baby brother La Broma. He's a NOTORIOUS prankster. Even to royalty-"
Loud Laughter was heard as another Twilight was seen from a hiding place and turn into La Broma while turning back to normal!
La Broma: "AW MAN, THAT WAS EPIC!! (LAUGHS UNCONTROLABLY)?!"
Velvet: "Ohh goodness, how cute, he's the mischiefious type."
Night Light: "(Laughs), I have to admit, that was pretty funny!"
Thorax: "Oh, whew! I'm glad your not too upset. Twilight, thank goodness your parents are good sports about this-"
Twilight: "(Rages out like in the episode the one where Pinkie Knows and burst into flames to everyone's shock!)...."
La Broma: "..... Whoa, I heard of a hot-temper, but this is rediculious!"
Twilight: "(ROYAL CANTERLOT VOICE) PINKIE, YOU'RE NOT HELPING?!"
Thorax: "Twilight, please, take it easy on him, he was even prankful to Chrysalis!"
Twilight battle-cried and began to chasing a laughing old school daffy duck La Broma looney tune sytile!
Present
Thorax: "She has.... Ill-wills towards him ever since. She even assumes that Broma is a secret defecter, but really..... He's just, immature."
Count Abdomen: "Understatement of the century. I wouldn't be surprised if he was banned from attending the Changeling Appreciation Party."
Thorax: "Actselly, I talked Twilight to letting him come if he behaves himself."
Count Abdomen: "(Scoffs), Like THAT won't be a dishastor in waiting- (A boxing glove punched into Abdomen's face from his soup) DOOOOFFFF?!"
Broma laughed uncontrolably!
La Broma: "YOU HEARD OF FRUIT-PUNCH, WELL I INTRODUSED, SOUP-PUNCH!! (LAUGHS UNCONTROLABLY?!)"
Thorax: "(Sarcasticly) Ha-ha, hilarious, Broma. (Seriously and gently firm) Now can you please give us a break?"
La Broma: "(Laughs) Okay, okay (Laughter dies down) I'm done! I'm done. (Flies off.)"
Count Abdomen: "..... THAT JOKESTER'S A FLIGHT RISK TO CHANGELING-PONY RELATIONS?!"
Thorax: "Oh please give him a chance. He just needs to be able to stimulate himself with something other than Pranks."
Desteny: "Well, let's change the subject to get our minds off of it."
Thorax: "I agree. So.... Hows, the former Duke of the Christail Empire been doing ever since-"
Desteny: "Better then you expected. I think he's finally over his undesireable behavior."
Count Abdomen: "Though he's still a disrespectful old stubbern stiff."
Desteny: "Count, please, at least he's making any changes at all. Now, speaking of brothers, how's Pharynx doing since he dumped his nostagila cravings?"
Thorax: "Oh, he's-"
???: "BRO?!"
Pharynx as his bug-monster form flew in quick and crash laneded onto the place!
Thorax: "Pharynx, what's wrong?! Is the Maulwurf back?"
Pharynx turned back to normal!
Pharynx: "Bro, this is something WORSE then an overgrown star-nosed mole! An army of what looks like Lord Cobra's freaks made in our shape are carring..... ZOMBIELINGS?!"
Thorax: "Z-z-z-z-z-z-z-z-z-z-z-z-z-z-ZOMBIELINGS?! But..... Aren't they just an old scary legend?"
Pharynx: "....... You do realise we live in a world where magic and mythical creatures are real, right?"
Thorax: "MEEP?! How, how many!"
Pharynx: "Too many for even ME to take down without eventually getting tired out! Espeically since the Abominations are just carriers of the Zombielings! Our hive will be overwealmed by those moving carcusses!.... Esepically since getting our hivemates to fight like we did when we were evil is still.... (Two Changelings were seen having a happy-slap fight)...... A work in progress."
Thorax: "Oh gosh! If Chrysalis is involved, then, HOW DID SHE FIND ZOMBIELINGS?!"
Desteny: "..... I'm afraid I know how......"
Thorax: "You do?"
Desteny: "But we must evacuate this hive!! We'll escape to mine! It'll be safer!"
Changeling #1: "LOOK OUT?! WE'RE UNDER A TACK?! I mean.... ATTACK?! WE'RE UNDER ATTACK?!"
The Abomnation Changelings are seen Carring the Zombielings!
Thorax: "..... Pharynx, get Queen Desteny and the hive to safety!"
Pharynx did that as Count Abdomen was heard whimpering pathicly!
Thorax realised that La Broma isn't here.
Thorax: ".... Broma, Broma?!"
A certain part of the hive.
La Broma was seen working on his latest prank.
La Broma: "This is gonna be my best Celebration Prank ever at the party coming up! (Snickers). I, am, awesome."
Suddenly, the walls burst open to show the Abomination Changelings incerting the Zombielings!
La Broma: "WHOA?! TIME TO TAKE THE SHOW ON THE ROAD! (TURNS INTO THE ROAD RUNNER) MEEP MEEP?! (RUNS OFF!)"
The Zombielings gave chase, slowly.
Thorax: "(Comes in) Broma? BROMA?! WHERE ARE YOU?!"
La Broma appeared behind him, still as the Roadrunner.
La Broma: "MEEP-MEEP?!"
Thorax freaked out and slammed into the celing! Then fell back down!
Thorax: "..... Seriously, you would pull pranks even when there's an emergeny?"
La Broma: "(Turns back to normal) What can I say, aren't I a stinker?"
Thorax: "Can we PLEASE just get out here before the Zombielings get us?!"
La Broma: "Why the hurry? I already know this it's just you and the others trying to get back at me like what happened with that Rainbow Pony...."
Thorax: "..... You can't be serious!"
La Broma: "Yeah, I mean, I saw it a mile away! I mean, I admire the attempt, but can NEVER prank a prank master."
Thorax frustraightedly growns and grabs La Broma and ran!
La Broma: WHOAA!!
Zombieling #1: LOOOOOVVVE!!!
La Broma: Okay, the gang's taking this WAY too seriously!
Thorax: THIS ISN'T A JOKE! THIS IS FOR REAL! LOOK! (They saw the kingdom being overtaken by them)...
La Broma:... Oh, poopie! OH MY ALICORNS, ZOMBIELINGS ARE REAL?! I THOUGHT THEY WERE A LEG-.... Oh yeah. We live in a magical world with mythical creatures, do we?
Thorax: At least NOW you understand! (All the Changelings were failing to fight, and Pharynx was with a larger bug like him which was another Changeling)
Pharynx: VESPA, COME ON! PUT YOUR BACK INTO IT!!!
Vespa: (She fought hard until the Zombielings and Abominations overwhelmed her as she was turned back into her Changeling form)
Pharynx: LET HER GO, YOU FUTURE PRACTICE DUMMIES! (They overwhelmed him too) AAHHHH!!!
Thorax: PHARYNX! NOOO!!! AND THEY GOT HIS LOVE INTEREST AND PARTNER, TOO!!!
La Broma: Wait... Aren't we all siblings?
Thorax:... You.... You seriously believe that old Fandom Theory? I mean, if Chrysalis was our mother, ya think she wouldn't be so quick to wanna do me harm awhile back!
La Broma:... Ya mean, we're not, and yet, you, me, and Phary are brothers?
Thorax: It's because we all hatched from the eggs by the particular drone in question and... You just forgot we had drones, didn't you? Did you think Chrysalis was asexually reproducing this whole time?
La Broma: I had no idea! I flunked at biology!
Thorax:.... What did I actselly expected from someone who thought an actual attack was an elaberate prank onto him? Let's just evacuate!
???: I don't think so, Defect. (Throx appeared with Chrysalis). Your going to be reminded of your place.
Thorax:... Throx!
La Broma:... Who dat?
Thorax:..... (Gives a "are you being serious right now?!" face)..... Oh what, did you flunk history too?!
La Broma: "Yes."
Awkword Drum sound......
Throx: "..... I think he just invented an entirely new level of stupid."
Chrysalis: "Yeah, and I had to put up with him back when he was our kind of Changeling."
Throax: (Groans for abit and maintains his composure). She's Chrysalis mother and the predasuccessor of Our Changeling Hive!
La Broma: "Oh, really? I thought she was in hibernation!"
Chrysalis: Well, do not forget the hibernation isn't forever. Now, it's time I took back what was mine!
Thorax: I WON'T LET YOU- (Throx fed on his love as he was getting weakened, and Chrysalis was doing the same, along with that of La Broma) AAAHHHHH!! (They fell weakened)
Throx: See, daughter? You don't just stand there and take the defeat! You act immediately! That's about the worst thing to happen to somepony! It's like waiting for a train to strike you! You have to not let it get the chance.
Chrysalis: "A lot of MLP:FiM's villain roster would agree to that. It's like a familiar green guy would say... DOOOOOOOOOODGE!!"
Throx: "Pardon?"
Chrysalis: "Sorry, forgot about how your not as versed in outer universe culture as I am."
Throx: "So that's where that weird talk came from. And the weirdos that were with you."
Chrysalis: "Well, you get used to it after a while."
Chrysalis saw that some less fightery Chaneglings, plus Desteny and Abdomen were fleeing!
Throx: "Oh how convinent. Your sister's here."
Chrysalis: "And when I'm done with her, she-"
Throx: "No need. They won't get too far. (Her horn started to glow)"
The ground began to burst with red nasty looking plants!
Abdomen: "(Girly Screams) Love Traps?!?"
Destiny: But... But I thought they went extinct since mother started hiber-... Oh no, that REALLY means that this is EXACTLY what I feared from the Zombielings!
The Plants donned Plunderweed like Mouths and began to snap at the retreating Changelings!
The Plants block out their exit as the Zombielings and the Abom-Changelings began to close in on the cornered group!
Desteny summoned a protective sheild to keep the threats from getting at them.
Desteny: "Don't worry, I'll keep us safe!"
Count Abdomen: WHAT'S GOING ON?!?
Destiny: I must apologies for a neglect to warn you all about this day. Today is the day my mother becomes active once more ever since she went into hibernation. My sister and her leage companions must've been able to find her!
Count Abdomen: You mean your evil mother, Throx? SHE'S BACK!? NOW, A DAY BEFORE THE CELEBRATION OF CHANGELING APPRESIATION DAY?! I take back what I said about the prank-loving idiot, SHE'S THE THREAT TO PONY-CHANGELING RELATIONS?!
Destiny: Understatement of all of Equestia! We need to get to my father's cocoon!
Count Abdomen: HOW?!? WE DON'T KNOW WHERE HE IS, AND WE'RE BEING ATTACKED BY EXTINCT PLANTS, ZOMBIES, FAKE CHANGELING MONSTERS, AND WHO KNOWS WHAT ELSE!!
Destiny: "Hey, it can't get worse then this!"
A shadow looms over them to reveil Galaxhar's robot, with Cobra, Junjie and Friends inside, as the Robot delivers more of the Abom-Changelings, Zombielings and Galaxhar clones!
Abdomen: "..... Why did you have to say that?"
Desteny: "..... Sorry."
Abdomen: Oh yes, cause sorry solves everything?!
Destiny: COUNT ABDOMEN, NOT NOW!!!
Changeling 1: "Well as long as your sheild stands, they can't get us!"
Throx: (She came in with Chrysalis)... Hello... Daughter!
Destiny: I can't believe I neglected to remember that you awake today!
Throx: Well that's the price of getting too lollied by your peace time. At least our ways, violent as you say and hate about it, at least kept us alert and ready! And now, as a fitting price of your hubris blinding you from remembering something impourent, we'll take back our kingdom, and ensure that everything we want is ours! Your kingdom will fall along with it!
Destiny: No!
Throx: (The two blasted their shield down and fed on their love, weakening them)
Chrysalis: (Cackles) Oh, how the tables have turned, sister! It's the final days for your kingdom! Thorax will pay for his defective nature, everything you took from me, will be mine once again, and we will continue our rightful path!
Throx: Hey try not to forget who got us here for the majority of this attack!
Chrysalis: Alchourse Mother. My apologies/
Destiny: You... You won't get away with this! The Lodgers and Mane Six... Will come to save us!
Chrysalis: You all will be done and weak before they even miss you! This act of theft of my kingdom and my rule will not go unpunished. GUARDS! (Two abominations dragged them off with Thorax and Broma)
Throx: Now, my dear Chrysalis... Let me show you how to TRULY bring down Canterlot... AND the Crystal Empire as well! Espeically since that is the epicenter of love in Equestia, making it an extremely impourent landmark.
Chrysalis: "Well I should warn you that as I had said earlier, Celestia and her stooges are no slothes."
Throx: "No Alicorn ever is dear. But ya know, sometimes the best way to beat your enemy, is to be their friend. In our case, (Leaps up into the air and began to reverseal sumersult as she began to flash in a darker green light and landed with an exploudsion, reveiling the Appearence of Lord Shen)..... (In Shen's Voice) Litterally."
Chrysalis: "...... Show off."
Cobra: "Didn't you once did a series of cool tricks as Tyro when we were intersecting Spyro and Kairi in that episode where the Lougers go through a mess of an adventure over that snail?"
Chrysalis: "Hey at least I don't over do it?"
Galaxhar: "What about that ending in the season 6 finale where you basicly half-backflipped off of the rock-formation."
Chrysalis: ".... Okay, just not as much as she does. I try for subtilty, she tends to over-drumatise everything."
Galaxhar: "Also, never figure she would be an actrobat."
Chrysalis: "Not nessersarly. She mainly does that for flare. She's more, deceptivly nimbler then her size would suggest."
Cobra:... So, you're sure you can fool Celestia with that disguise? No doubt she's prepared for an all-out Changeling invasion now that she knows about them.
Throx: Oh, trust me, I have techniques that have allowed me to infiltrate my ex-husband's forts back underground. I have one in particular. I can accurately imitate so well that I can jinx their sense of security.
Junjie: A verbal jinx? I'm impressed!
Throx: I can also learn of my disguise's facts and personality the longer I impersonate them. Thus, I can imitate and predict what they'd likely do. It's a gift really. A parting gift, for Celestia, until there's part of her on the left wall, part of her on the right wall, and part of her WAY BEHIND HER STAINING THE WALL AND THRONE!
Cobra:... Okay, that impression is so hard to tell apart, I'll grant you! But, she's immortal, yet given she's a god, she's not invincible.
Throx: Oh, believe me, I am aware of morality illness. And the best part, I can tear up her heart and use that to execute her. When her immortality fades out... IT'LL BE MY CHANCE TO BEHEAD HER!
Cobra: (Chuckles) I LIKE THE WAY YOU THINK! And you'd wreck SHEN'S spirit doing so. Two, for the price of one!
Chrysalis: WHY DIDN'T I THINK OF THAT BEFORE THE WEDDING AND AFTER THE LOSS OF MY KINGDOM?!?
Throx: It's understandable you needed a guide for all these years since I was gone. Now, daughter, it's time for your next lesson!
Tai Lung: "Wow it sounds weird hearing Shen saying that. I know it's Throx, but.... That voice is so, seemless."
Chapter 4: Throx's Total Conquest/Celestia Depowered
Canterlot
Celestia was overlooking the preperations.
Luna: "(Coming in) The preperations are turning out nicely, Sister."
Celestia: "As they always do."
Luna: "Let's just hope Thorax's youngest sibling "La Bro-Ma" doesn't end up making the celebration a bit crazy again like the introduction to Changelings event."
Celestia: "The ponies received his humor pretty well."
Luna: "Sparkle still hasn't, gotten over hers."
Celestia: "I noticed when she included him into her fantasys of a divent changeling causing a fuss with Starlight. But I think her atttude torwords him will, mend with time. Anyway, so, have the Lodgers said when they'll arrive to the preperations?"
Luna: "They said they won't arrive before the festivities really start. Something about, seeing a very good doctor about keeping Icky from having his episodes over continuitity patterns again."
Celestia: "(Sighs), Alchourse, if it's not having to deal with the leage, scourge impierals, Team Nefarious, or the indie villain of the week, it's always something to do with giving Icky an attatude adjustment. Well, I hope they fix that mental problem about him rageing out over episodic patterns."
Scroopfan/MSM: "SO, DO WE?!"
Luna: ".... Weird. Not to mention, Sandy's still in Texas cleaning up from that Hurricane. But funny thing, just recently, Brandy felt like going to HER home to help since Hurricane Irma tore THAT place apart! Hopefully, Jose won't do that much damage."
Celestia: Hopefully indeed.
Luna: "Anyway, I heard Thorax has something speical in store when he arrives."
Celestia: "Alchourse. Thorax, from what I heard from Trixie and Starlight, Thorax is giving the Changelings a ton of things to enjoy."
???: "Oh, Celestia darling."
What appears to be Lord Shen is seen in thematicly dark shadows.
Celestia: ".... Shen?"
Luna: "You're early? But I thought you said you had to attend getting Icky a cure to his tendingcy to go berserk over patterns."
Celestia: "Oh Luna, he's obviously used his portable portal device to get here early. Did you Shen?"
"Shen": "..... Uhhh, yeah, let's go with that!"
Luna started to get abit suspitious.
Luna: "Uhhhh.... Sister, a word?"
Celestia: Yes, alcourse sister. (They turned around)...
Luna:... Tia, sister, that doesn't seem like Shen at all!
Celestia: Oh, he's probably just stuttering because of an exhausting effort to calm Icky down. I mean, come on, quelling an insane and berserk bird can do that to you.
Luna: Even if that's true, he seems a little off. (As they were speaking, "Shen" was reading their lips magically)
(Chrysalis): (Through her mind) How's it going, mother?
(Throx): So far, Princess Luna isn't buying it. However, I can handle her as well.
(Chrysalis): You sure about that?
(Throx): You have little faith, daughter! Watch and learn!
"Shen": Luna? You seem to be a little touchy.
Luna:... Shen? Can I speak to you, in private?
"Shen": I'm a little too exhausted to speak right now. How about-
Luna: Is there something to hide, Shen? Because it sounds like it!
Celestia: LUNA! Don't go around accusing him of such! If he did keep them, he'd tell me about it.
"Shen": Precisely. Besides, if you wanna prove me wrong, go ahead and read me! (Chrysalis was worried, and Luna did so, as the jinx made it seem like it was the real Shen)
Luna:... By my own made-up beard!... I guess it is you after all.
"Shen": So, you have something to say?
Luna:... I'm sorry. I'll... Just take some break time. (She teleported away)
Celestia:... My apologies for Luna's behavior, she tends to be, over-cautious.
"Shen": Indeed.
Celestia:... Where's the other Lodgers?
"Shen": They've got some stuff to do somewhere else, but they'll be here soon. (Changeling Abominations disguised as the Lodgers came in)
"SpongeBob": IIIIIIIIIIIIIIIIIIIIIIIIIIIII'M READY, TO PARTY!!!! P-A-R-T-WHY?!? BECAUSE, WE GOTTA!
"Mr. Krabs": OH, WE'RE READY TO PARTY, TOO! ARE YOU READY TO PARTY, PATRICK?!?
"Patrick": I'M READY TO PARTY, ARE YOU READY TO PARTY, SPONGEBOB?!?
"SpongeBob": I'M READY TO PARTY, ARE YOU READY TO PARTY, MR. KRABS?!?
"Mr. Krabs": I'M READY TO PARTY, ARE YOU REA-
"Icky": OH MY GOD, WE GET IT ALREADY, JESUS!!!
Celestia:... (Chuckles) Nice entrance.
"Shen": "Don't they always..... Anyway, Celestia, I want to speak to you about something impourent, privately."
Celestia: "Well, if it's impourent then I understand the need for privacy."
Celestia basicly followed the supposed Lougers with to the most secluded and guardless part of the castle. As they got further enough away, a Love Trap vine rose from the tiles and followed the group.
The Screen Suddenly cuts to black with the sound of Celestia's frighten yelp!
Deadpool shows up!
Deadpool: "WOW THAT WAS FUCKING SCARY?!"
Luna's location.
Luna was over-looking the Preperations.
Celestia arrived and was clearly unphased.
Luna: "Oh sister, your here. Anything all right?"
Celestia: "(Gets abit of a mingrain).... Yes, everything's alright, I, just sort've, tripped on the floor. Don't worry, Shen picked me up. The Lodgers will be joining us soon. If it's okay, I, kinda have a bit of a headache from that fall, and-"
Luna: "Say no more, sister. I'll take over for you. I improved my social interactions ever since my.... Infamous blunders."
Celestia: "That's great Luna. (Gets another Migrain)..... One would think we Alicorn Gods wouldn't've to deal with headaches, huh Luna?"
Luna: "Well, father said he once caught the Cutie Pox in his younger days, so, I wouldn't say we're entirely sickness proof. Go get your rest, sister."
Celestia proceeded to leave.
Celestia's room.
Celestia entered, Migrain intensifived, as Celestia suddenly had the same hypnotised dazed as Shining Armor.
Throx: "And that's how you do a zombifived slave right!"
Chrysalis: "I really wish I had you with me at the Wedding! Man, I was a dolt without you!"
Makunga: "So, you can make her do just about everything, huh? (Chuckles), Make her do crazy stunts!"
Throx: "Ohhh, you called for a little mess-around? Okay then! (Channels her magic in Celestia's mind!)"
Under Throx's spell, Celestia started out riding on a unicycle juggling her room furniture as the villains began to laugh! Then Celestia began to do the russian dance! Then Suddenly Celestia was on a trapese and began to do tons of crazy flips! Then Celestia began to put make-up on amaturishly to Makunga's wild amusement!
Makunga: "MAKING CELLY BELLY MESS UP HER OWN MAKE-UP!? CLASSIC?!"
Throx: "Oh yes! Okay, back to taking this seriously! (Turns into Shen)..... (In Shen's Voice) Celestia, I want to speak with you about that impourent thing."
Celestia (While Still under a spell) Yes Shen?"
"Shen": You see... We have reason to suspect that the Villain League has been planning to help Chrysalis attack this place again, and she said she has some... Unspecified help. So... We may wanna up our defenses, and watch out for anyone who looks like our friends.
Tai Lung: "What gives?!"
Cobra: "Hear her out, hear her out."
Celestia:... That doesn't sound like anything the Villain League would straight-up do.
"Shen": Well, I guess it may not be them. Chrysalis might've gained new false Changelings, and they might impersonate us. Perhaps it's that motherf***** Junjie, being his usual extremist self! I swear, someday, that fox always finds ways to make an ass out of himself.
Junjie: "HEY?! THAT'S INSULTING TO ME?!"
Junjie gets smacked by Cobra!
Cobra: "BUT HARDLY INACCREATE?! Throx knows what she's doing."
Chrysalis: "You're all lucky Celestia's under a stuper and can't hear us or even realise we're here."
Celestia:... Well, if you say so, then we'll ensure this celebration doesn't go unprotected. But we'll need a code word in case we need to identify each other.
"Shen": Well, how about "Celestial Celestia?"
Celestia:... Works for me!
"Shen": Excellent! We'll be sure to inform everyone here about it. (Chuckles)
Celestia: "Why are you chuckling?"
"Shen": "Oh, I just remembered a silly joke."
Celestia: Well, no time to ask about it. We have work to do. (She teleported away)
Cobra:... Throx, care to explain what you intend? You may've given us away.
Throx: Oh, but that's the beauty of it. You see, with the jinx I have, I can ensure that everypony here thinks WE'RE the real deal, and the Lougers, when they do show up, get mistaken as Chrysalis and Me, plus some of Mang's cheap imitations, out to ruin everything. They'll think they're protecting everything, and we'll remain secure.
Junjie:... I guess with the good guys working for us under this spell, it could yield good enough results. In throey if everything goes well, this means..... No karma-trips, no setbacks, no problems.
Cobra:... Throx, you are a GENIUS!
Throx: Don't flatter me. This is still Phase 1! It still requires a lot more effort. The heroes will no doubt do anything that'll risk an opening. It's up to all of you to take care of that. And with the jinx that'll infect everypony, they'll see you as allies. But do not let anyone with a special resistance to such get an inch near us.
Chrysalis:... You know? I just remembered, magodranium can only be controlled by the Alicorn Gods! So...
Throx: SO WE CAN USE THEM TO DEFEND US IN THIS NEW KINGDOM! That's my girl! You're already doing your mommy proud! But we must wait until the time is right. Once it is, we sprout them. Also, a top priority is to hunt down Seta!
Makunga: You mean your defected ex?
Tai Lung: Well, considering he's not going to wake up from HIS hibernation for another 50 years, in laymen's terms... He's vulnerable.
Galaxhar: "Yeah, kinda a serious slap in the face for the royal king to hybernate longer then you, miss."
Throx: "That's because the matriarchs are abit more impourent then Patriarchs in Equestia. Most nations can typically be without a king, but hardly alot of them are without Queens."
Makunga: "..... Oh I get ya, you naughty girl. We just have to make sure your Ex doesn't crash the party!"
Throx: Exactly. So, we can hopefully find him and target him.
Chrysalis: There's only one problem: We don't know where he hibernates. I was able to know about you because you trusted the info to me. Which means..... It's likely the same between my sister and dear old daddy!
Throx: Then we must interrogate her.
Junjie: And then what?
Throx: Then we poison him with our Love-Trap Plants!
Galaxhar: "Yikes! I know devorce court is a messy business, but WOW!"
Thorx: Oh don't be too shock. I am the mother of (Points to Chrysalis) this, former, evil Queen after all. Where else did she get her assets from? Diffently not from Seta! And besides, it's nothing entirely personal. It's survival at it's harshest for Changelings. And trust me, The Love Traps are more then just love abosrbers that Starswirel wiped out on his first day of the job. It's poison will drain away his energy, as well as that needed to keep him alive within the cocoon. It can surely kill him so he will not be an interference. The Love-Traps are so deathly and merciless like that, you can guess why that overglorifived wizard wiped them out. He deemed them a threat to socity's well being. And well, (Chuckles), I can't say he's, entirely wrong. And best of all, since I brought it back from extinction, nopony knows what it's like since it's likely they never came across it since Starswirl's elimanation of it. His first time was so obscured by his even greater feats, even die-hards like the Sparkle Girl wouldn't think to reference those times! (Chuckles) I can assure you, Villain Leaguers, this is gonna be how you take care of a bunch of misfit morons!
Cobra: Well, if this succeeds, then I may just make you my top strategist!
Junjie: "BUT THAT'S ME?!"
Cobra: "Oh be honest Junjie, you kinda retired as such by default of you being the resident extremest! And I know where this plot is going?! I WILL BANISHED YOU TO THE PITS OF THE BANISH REALMS IF YOU DO THAT CLISHED SAVATOSHING OF OUR PLANS OUT OF JEALIOUSY?! BECAUSE THAT PLOTLINE IS BOTH UNORIGINAL, AND UNPRODUCTIVE?! COMPRENDAI?!"
Junjie: ".... (Weesey) Yes sir."
Chrysalis: "...... Wow. Mom, I think Mang being around you has made you a good enfluence to him.... In villain terms. He looks like he's returning to actselly be compident. If this goes well, it could be periment."
Throx: "Then all the more reason to make sure it stays perfect."
Changeling Hive.
Thorax and the Hive are seen caged up with Desteny and Count Abdomen.
Zombielings guard the prison area.
Pharynx seems to be trying to break a wall with a rock.
La Broma: "Phary, why are ya bothering with that? You can't break a rock with a rock."
Pharynx: "I can, (Grunts as he hits the wall), If I, (Grunts), Hit, (Grunts), HARD ENOUGH?!"
Count Abdomen: "Oh for goodness sake, you cheap brute! Can't you just turn into an Aggressor Beetle like you always do as if it was a spirit animal and THEN break the wall?"
Pharynx: "Ya think, (Grunts), I haven't, (Grunts), Tried that already, (Grunts), GRAMPS?! Mang Cobra, (Grunts), Cursed all of us to be unable to shape shift to prevent, (Grunts), that sort've thing from happening! (Grunts)!"
Thorax: "Pharynx, please, your gonna end up exhuasting yourself."
Pharynx: "I can't! (Grunts), Because, (Grunts), If we stay here, (Grunts), The Chrysalis, Thorx, and the Leagers basicly take over, (Grunts), Equestia!"
Desteny: "Pharynx, please, you won't be any helpful if you exhaust yourself to collapse. Please rest."
Pharynx: "MAKE, (GRUNTS), ME?!"
La Broma: "Okay, you asked for it! (La Broma began tickling him!) TICKLE TICKLE TICKLE?!"
Pharynx: "(LAUGHS), S-S-S-S-STOP YOU IDIOT (LAUGHS), WHAT'RE, WHAT'RE YOU DOING?! (Drops the rock as it crushes it leg) HIIII?!"
Pharynx did a VERY LOUD TOM SCREAM THAT WAS HEARD THROUGHOUT THE AREA!
Pharynx: "OW MY FUCKING FOOT?! BROMA, YOU STUPID ORANGE SACK OF SHIT, I OUGHTA- (Vespa sighed and kissed him)... Okay, I'm calm!"
Thorax:... Be lucky you have a girlfriend that can suck all the aggression out of you when it's needed.
Vespa: Mmm-hmm!
Thorax: Unfortunate she's afraid to speak up for herself. She's not as talkative as she was as a kid. You used to say her voice was cute.
Pharynx: Can we PLEASE not go into that, brother?!?
La Broma: I thought she was sweet, too. But since she stopped talking after that whole being angry-and-verbally-abusive-in-the-force thing causing an uproar, she hasn't shown that she can use that for greater uses.
Thorax:... She's unfortunately suffering Fluttershy's problem with assertion. Even the feelings forums don't work much for her. Since she's scared that a single word can hurt, she could unintentionally cause a scene. But... I'm confidant that she can learn for herself.
Vespa: (Sighs)
???: Hello, my frenemies! (The villains came in)...
Throx: How's your stay been doing?
Pharynx: F*** you! (Vespa was disappointed with his language)
Throx: Charming! Look, let's put it straight, I must find my ex-husband!
Destiny:... FATHER?!? NO! YOU'LL NEVER FIND HIM! I made sure of that!
Throx: (Chuckles) I'm sure you have. But I didn't come this far without killing two birds with one stone. I'm sure Pharynx here knows what I'm talking about!
Pharynx: SHUT UP! You are a disgrace to Changelings everywhere! You and Chrysalis made me believe that our old ways were the best! And I was addicted!
Chrysalis: And I had to ensure you STAYED that way, hopefully so you can bring me some deviants of this kingdom to spare!... NO THANKS TO THE DEFECT THORAX, AND AGAIN, THE LODGER PONY AND THE SOCIOPATH CHRONO-TERRORIST PONY!
Pharynx: Hmmph! You thought you could control me forever?
Chrysalis: Well, I don't need to control you with magic! That'd be too easy.
Throx: I couldn't agree more. Besides, there's other interesting ways to get the info we need.
Thorax: And what would that be?
Throx: How would you feel if the kingdom just... Disappeared?
Destiny:... You're joking! Our kingdom cannot be moved so easily! It's literally magic-proof of even movement.
Throx: Oh, but we got a lot since we came back. We have gained the one thing capable of manipulating magodranium: The Alicorn Gods! Princess Celestia is in my power! And through her, I can grow as much magodranium to the surface as I want. But I can also... Sink it back underground. So, here's my ultimatum: Either you tell me where Seta is... Or I sink the kingdom into the core, PERMANENTLY!
La Broma: HAH! Joke's on you! Celestia and her family can bring it back!
Throx: Can they when it was specifically modified to only respond to Changeling magic? Without the only one experienced in that field to act as a spark, you will NEVER, EVER, get it back! So... Your choice!
Pharynx: WHY?!? WHY ARE YOU WASTING YOUR TIME GOING ABOUT THIS IN A WARLIKE HOSTILE INVASIVE MANNER?!? WE HAVE PERFECTED IN A PEACEFUL WAY!
Throx: Oh, but here's the thing: These ponies are weak! Why do you think it was always a tradition to stay underground and look out for ourselves? The love of the surface proves it all too well: Ponies are an inferior race, for squandering their power for their own frivolous gain, wasting it on things as pitiful as parties, celebrations, and passive-aggressive defense! As for us? We had NONE of that! We used OUR power for GREATER uses! And by submitting to THEIR ways... You have become weak!
Thorax: THAT DOES NOT SHOW WEAKNESS!
Throx: Does it not? Pharynx? You understand me too well! You agreed that we had to show no weakness and had to be tough. Since this kingdom converted, they have been nothing BUT that! That's why you refused to submit as well! Now, you have become one of them! A joke! A shell of your former self! You may still be tough in your own merits, but what use is it when everychangeling here is too passive to even uphold your watch? (Pharynx began to ponder and Thorax grew worried) These changelings have never even managed well since you changed. They are not as much of a colossal failure as the Royal Guard, but they are not that far off! It was SO much better for them when they were on OUR side! Ask Destiny if she has EVER taken an act of immediate response in a full military as opposed to be tamed in it, and just make the success chances 50/50? It's likely never happened since she's isolated from other communities, but think about it long and hard! What good, is being the commander of them, when they're about as good at fighting as a guy with a good and bad split personality? (She starts to sing this)
Thorax: (As Pharynx started to slowly lament and agree and he began to devolve back into his previous evil form) PHARYNX, NO! (He was back to his evil form again)
Pharynx: Sorry, brother! But, I must protect our kind the traditional way! If it means allying with these people... Then so be it!
Destiny: Pharynx, how could you?!? Don't listen to them!
Throx: It's too late! You are all not agreeable to us for this very reason. You'd rather use your power and gifts frivolously as opposed to how we used it, and that makes you weak! Years in this lifestyle, have made you weak!
Destiny: Mother, you have always missed the idea behind this: violence is not strength, and friendship is not weakness! What you're doing is saying that it IS.
Throx: And yet, here you are! You failed to save yourselves from us! So, I rest my case! You are STILL as weak as you were when you betrayed the hive millennia ago! You allied with a race that uses magic more for ceremonial occasions and for fun than anything else! They, are a bad influence on our kind! If you thought for a single second that you stood a chance against me for that, then you are SADLY mistaken!
Chrysalis: Yeah! How does it feel to know you're not as strong as everypony lead you up to be? Why do you think the advice from that lady dragon lord never hit close to home for your brother, Thorax? Because it was weakened by the purity within you! If you had just followed OUR ways, you would've gotten far!
Thorax:... I refuse to be fooled by your words!
Chrysalis: Oh, are you sure? Then ask yourself this: What has compassion ever gotten you into since you left my hive? Those ponies were racist p****s, and I made sure of that. You were never going to reach out by yourself. Had that baby dragon never stepped in, you would've been lost. Face it, Thorax, I'm the only one you can count on at this time! But since I am in a good mood, I can offer you the chance to join me again!
La Broma: Thorax, you know that's not true! Surely we're still so much stronger than they say we are!
Throx: Again, you failed to stop us from taking everything back! You two, are worthless, whereas WE, are the right path for Changeling kind!
Destiny: (Sighs)
Vespa: (Sighs)
Throx:... Cat got your tongue, now?... Thought so! Now, last time: Where, is, Seta?
Desteny lost the will to fight......
Count Abdomen: "Your Highness, please don-"
Tai Lung nerve attacked Abdomen and rendered him paralised!
La Broma: "AAAAAAAND there goes Count Bugass."
Desteny: "..... I won't betray father too much by being spefic, but..... For my people..... His temple is buried in the Aztecian Jungles of Equestia, protected by a Baskalist Guardian and a Changeling Elder older and more powerful then all Changelings, good and evil."
Cobra: "You mean the same place as where Aoezotal was?"
Chrysalis: "AND WHERE IN THAT FORSAKEN PLACE IS HE?!"
Throx: "Don't waste your breath, Chrysalis. Your sister said she won't get spefific. At least we got her to admit SOMETHING!"
Galaxhar: "It is unfortuantely vauge though."
Throx: "Then I just found the perfect use for you and those armies of yourselves, alien. I want you and those clones and those robots to start massive escabitions in that jungle!"
Galaxhar: "On it! (Brings out communicator) Attention, all Galaxhar's and robot probes! (Via a Hollagram to where the Galaxhar Clones are) You all are being assigned to find an underground temple of a hybernating king. Tear down as many as the native jungles of this world as much as you can until you found it. And don't be afraid to mess with the locals if they get too curious! Hail Galaxhar!"
Galaxhar Clones: "HAIL GALAXHAR?!"
The Galaxhar Clones and the Robots moved out!
Cobra: "Oh, never have I been so happy to push bounderies! Nothing could possabily stop us now?!"
Elsewhere, at a Psyciatrist's space station.
The Lougers were seen chilling out in the Lounge room.....
Iago: "...... So...... Sandy's still out."
Squidward: "(Reading Fancy Digest Magazene) Yup. And Gazelle went on to do her donation spree for the storm."
Boss Wolf: "And now Brandy is complicating to do the same with Florida of her world once the storm hits the fan, and Wiskers, Lola, Ed the otter, AND Sam and Max are coming over to support her."
Lord Shen: "Well, it makes sense. Their bond with eachother is, rather great."
Mr. Krabs: "And likely this means that Gazelle would start a donation drive for that too should things be bad." 
Tuilo: "Thank goodness this is happening on relitively slow villain activity."
Cornwall: "Yeah, espeically when the closest action we had was those Eco-clowns, Icky going nuts again, and Shen's REALLY intense training session WITH THE ANGRY BIRDS?!"
Po: Didn't help he gotten that idea when..... I showed him this. (He took out his iPhone and showed this)
Larry: Oh, sure, remind the peacock of being a villain.
Shifu: And simply telling him that he's still seen as such in canon, no pun intended, simply does not help.
Lord Shen: "I'M RIGHT HERE YOU KNOW?!"
Spongebob: "It's nothing personal Shen, but we figured you were above being like that."
Lord Shen: "Doesn't make my pride less insulted!"
The door opened to reveiled Icky and a hovering classic alien doctor.
Icky: "Hey thanks for the theropy, doc. I feel like a million bucks."
The Doctor: "No problem. Just take doctor Jookin Dukin's advice and remember your stress containment tecinics when you encounter something stressful. Squeesh on the stress toy to stimulate aggresive stimuli, and remember those anger management classes I recimend."
Icky: "Sure thing, Doc."
Iago: "Wow, this guy works wonders."
Mr. Krabs: "Well hey, he knows what he's doing."
Dr. Jookin: "Here's my bill. (Shows Mr. Krabs the bill.) (Mr. Krabs' eyes bugged out when he saw the price!)"
Mr. Krabs: "TEN THOUNDSON SPOREBUCKS?! ALL THAT FOR A PREHISTORIC BIRD WITH A RAGE PROBLEM?!"
Dr. Jookin: "Oh don't get me wrong, I'm usually more generious then that. It's just..... Our session kinda got alittle..... Shall we say..... Rocky at first. (He shows that his office is SERIOUSLY destroyed)."
Everyone looks at Icky.
Icky: "...... Hey, at least be glad it's not taken out on the Producers again!"
Jumba: "..... Oooooh. Uh, Sorry about that old friend."
Dr. Jookin: "Oh, don't worry Jumba, I once had a patient who nearly destroyed the entire station. Comes with the terratory."
Pleakly: "Thanks for being a good sport, and uh, I'll speak with the Grand Councilwoman about paying that for us."
Dr. Jookin: "Considering the majority of the Shell Lougers are earth folk, I find this understandable. But if you ever need me again, I promise a less intense price in the future.... Well, depending on how how intense they get."
Lord Shen: "We thank you for being understanding."
Space.
The Louger Van was seen leaving the Space Station.
Lord Shen: "Well, apart from your little mess in the good doctor's office, it's good your mental-rage stress over consisent patterns are fixed."
Icky: "And admitingly, just in time too. Cause let's say, expect busy days in Equestia."
Lord Shen: "Ohhh, speaking of which, we managed to make good time! We can still catch the Changeling Celebration Party while it's finishing up it's preperations!"
Spongebob: "Oh goody! I'll call up Twilight and the girls and tell them the GREAT news!"
Ponyville Tran Station.
The Main 7 and Spike (Comically treated like a pack mule holding what is assumingly majorly Rarity's bags), the Crusaders, Tiara and Silver, Sunburst, and Shining Armor and Candence with Flurry Heart were seen at the station.
Fluttershy: "It was reall generious of Death Coffin to watch over the animals for me while I attend the festival."
Rainbow Dash: "Esepically since you agreed to care for the entire dog pound while the Dogcatcher got sick AND agreed to get them adopted."
Rarity: "Considering that's LITTERALLY an old bag of bones, I hope that doesn't get too much for him."
Fluttershy's Cottage.
Death Coffin is left as a skull as dogs of all breeds are seen enjoying his bones.
Death Coffin: "..... Sometimes I'm too generious to my own detriment."
Fluutershy's other house mates began to laugh as Angel snickers wickedly while holding an Iphone to record this.
Death Coffin: "...... Oh real mature, everyone! How's about helping me?!"
Jerry: "Okay, okay! We had our fun! Come folks, let's unboxed the chew toys."
Train Station.
Twilight: "(On a portable communicator) Oh that's good news! Yeah I'll tell them!"
Twilight hangs up!
Twilight: "The Lougers said their session with the pyciatrist for Icky ended quicker then expected. They're gonna show up earlier then stated."
Pinkie: "That is WONDERFUL! This is gonna be the best Changeling Appresiation Celebration ever! (Brings out the Party cannon) WE'RE GONNA PARTY TILL WE'RE PURPLE?! (Fires it and now everyone's suddenly purple.)...... Oopsie..... I brought my quick painting job cannon instead of my party cannon. (Switches Cannons) Now here's the party cannon! (Fires it and an instent party appears!)"
Raindow Dash: "(Wipes off paint)..... Pinkie Pie, your so random."
Shining: "And...... WHY does he have a Quick Paint-Job Cannon?"
Candence/Twilight: "She's Pinkie Pie, don't question it. (Looks at eachother) JINX! (The two giggled.)"
Starlight began to magicly clean off all the paint off of everyone and into a magical paint can.
Starlight: "It be nice to get to see how Pharynx's been doing since me and Trixie met him. I would really like for you all to meet him. He may be, rough around the edges, and he's, WAAAAY much gruffer for being Thorax's brother, but he's actselly a genuinely good Changeling when you get to really know him."
Shining: "Well, thing is, I kinda had a prior exspearience with Pharynx."
Starlight: "You did?"
Shining: "Yyyyeahhhh, he kinda posed as my idol, Grand Guard Heroisum, and kidnapped me on the night before the Royal Wedding so Chrysalis can implant her mind control on me."
Flashback.
Shining: "It is SUCH an honor to meet the wisest and most heroic guard leaders of all of Equestia..... On the Night before my wedding..... In a secluded dark part of Everfree forest..... Alone."
Pharynx as Heroisum: "Feelings mutuial..... (Reveils his true form) DUMBASS?!"
Shining: "AIIIIIIIEEEEEEEEEEEEE?! A BUG HORSE?!"
Pharynx: "GET'IM BOYS?! (Silence)..... Uggghhhh. AND GIRLS?!"
Changelings pounced onto a screaming Shining Army as a comical fight cloud formed!
Shining: "OWOWOWOWOWOWOWOWOWOWOW, THAT DOESN'T GO THERE, STOP, PLEASE, WOOOOO, YOUR HOOVES ARE COLD?!"
Pharynx: "...... Wow ponies are stupidly trusting. Enslaving them might be for their own good."
Present.
Rainbow Dash: "You seriously fell for the most obvious villain trick in the book?"
Shining: "Oh cut me some slack! Ponies rarely get to see Grand Guard Heroisum!"
Applejack: "...... Ya'll do know your exactly why the Guards' are incompident, right?"
Shining: "My superiors told me that every day."
Starlight awkwordly chuckles.
Starlight: "Well, maybe, Changeling Appresiation Day will give you a chance to, get to know Pharynx better."
Shining: "Oh don't get me wrong, I'm not a grudgeful pony! I just wouldn't mind an apology either since he made an idiot out of me?!"
Candence: ".... No offence in front of the baby, husband, but.... Falling for it is still your own fault."
Twilight: "Yeah, you should've found it the least bit suspitious that a legendary old guard ponies RARELY actselly see suddenly shows up to congratulate you on the wedding of the Princess of Love?"
Shining: "Oh come on, I'm a trusting guy!"
Tiara: "(Quietly to Silver Spoon) Trustingly stupid that is!"
Tiara and Silver Spoon laughed their butts off!
Applebloom: "AHEM!"
The Rich Filly duo stopped.
Scootaloo: "Hey, remember that you two are nice now."
Tiara: "As Fluttershy would say, baby steps, girls. Baby steps."
Sweetie Belle: "Well good thing Babs is coming to see the feastival with her parents then, she'll help make sure you two behavie! Espeically how Rarity, Applejack and Rainbow Dash said that the Changelings are alittle sensitive about their new founds, esepically Thorax who's still working on.... Self-Confidence issues, Pharynx has the temper of a Creten Bull, and La Broma's kinda like Rainbow Dash's Prank Mainia alittle back, but WAY more intense."
Applejack: "Speaking of that, Twilight, your surprisingly calm about that little mischivious scamp still allowed to attend."
Twilight: "Well, I can't say I'm 100% over his stunt, but Celestia told me that it's not princess like to hold grudges, so, for as long as Broma behaives himself, I won't end doing something to him that I'll regret AND risk Pony/Changeling relations."
???: "HI-HO, PONIES?!"
Discord was riding into the scene on a train with litterally his image on it as he pulled the whisle that shouts "Chaos" on every pull!
Candence: ".... Ohhhhhh dear. Discord's coming?"
Starlight: "Wel he did help with making the Changelings better, so, he's kinda apart of this?"
The Discord Train stopped with a car tire screeched.
The Train opened and a crowd of Discords in business suits and other wacky outfits come out and talk like they have community doings to do!
Tiara: "DAAAH?! Is he ALWAYS this wacky?!"
Scootaloo: "It's Discord, what did you expect?"
Discord came in with extremely large bags!
Discord: "Fluttershy! And Fluttershy's friends and such! (Tosses his large bags onto Spike which causes the luggage to fall onto him!)"
Spike: "(Muffled) AWWWWW, COME ON?!"
Discord: "(Grabs Fluttershy) It's so wonderious to see you again!"
Fluttershy: "Feeling's mutual. So, how was the Choas Convention in Planet Khoas?"
Discord: "Oh it was like you wouldn't even believe! All the finest Choas forces were there!"
Rainbow Dash: "I'm surprised they allowed you to come considering your reformation."
Discord: "Oh, they accept good or neutrol choas just as much as they accept evil choas. It's only for as long as your still chaotic."
Twilight: Didn't even know there was a world for people like that.
Discord: Oh, yeah! It's the Hasbro equivalent of Wonderland, where many beings of chaos were born and reside.
Twilight: Well, I hope you had fun anyway, because it's about time we got this over with. (They arrived at the entrance)
Guard #1: (The two blocked their way with their wings) State your business!
Twilight:... We're here for the Changeling Celebration.... And what nerve do you have to do this to royalty?
Guard #2: We know your type, Changeling! You wanna get in, get a ticket like everypony else! Princess Twilight Sparkle already came in moments ago.
Everyone: WHAT?!?
Twilight:... Okay, I know for the fact that this is not April Foals Day! If this is a joke, it's NOT funny!
Guard #1: Do we SOUND like we're joking? Twilight Sparkle and her friends have already arrived. We can't let you inside.
Discord:... I'm gonna switch their facial holes around!
Rainbow Dash: Don't even think about it, blockhead! Look, those might've been imposters!
Guard #2: We checked their IDs. They're clean.
Rainbow Dash: Clean my blue ass! How do you know THOSE weren't Changelings?
Guard #1: What, you STILL think we're joking? You think we're idiots? Well, they don't give spears like this to idiots!
Rainbow Dash: Given your fandom curse of sucking worse than a Stormtrooper's aim, I'd disagree.
Guard #1: WHAT?!?
Rainbow Dash: NOTHING!
Guard #2: Now, you will leave, or we will have to call for backup!
Twilight: Oh, we can prove it! HERE! (They gave them their tickets and, because of the jinx, they saw them as fake)
Guard #1:... These are fake!
Diamond Tiara: NO THEY'RE NOT!!! ARE YOU BLIND?!?
Guard #1: Leave now, or we're calling security!
Discord: "Oh forget this?! (Pokes into the duo guards' heads and hypntised them!).... You two are Sassy Mama-Jama Back-Up Singers for Sappire Shores. Make with the dancing!"
The two Guards started to do this!
Shining: "As much as I don't like seeing the guards get humiliated like that, those two were being jerks. I am SO gonna have those two demoted for this!"
Discord: "Anything for Fluttershy and her entourage."
Twilight: "..... Ya know, I totally wished I thought of asking for your help when I was having a familier problem in that dimentional reality Clare created with Sunset as Empress."
Starlight: "I'm more concerned about the imposters."
Rarity: "Anyone wants to make an assumtion that Thorax has forgotten Ember's advice and now we're dealing with more devient Changelings again?"
Rainbow Dash: "Well I say we find them and teach them a lession and take them back to Thorax!"
Applejack: "And hopefully get Ember to re-toughen Thorax if it's true."
The group entered in as they left the guards as Sassy Mama-Jamas!
Applebloom: "(Scoffs), I love having a Draconequus with us."
Discord: "Thank you, Applebloom."
Inside.
The Preperations are almost complete.
Twilight and the gang arrived.
Celestia was seen talking with Luna.
Twilight: "Princess Celestia! Oh thank goodness we found you! There's some Devient Changelings posing as us and making the guards act like jerks! I think Thorax could be out of touch with his assertiveness again! We-"
Luna: "And how do we know your even the actual Sparkle and friends?"
Discord: "..... Et tu, princesses? (Snaped his fingers and suddenly Canterlot suddenly turned into a crazy surreal wonderland to prove his legitamentcy!)...... WOULD A CHANGELING DEVIENT DO THAT?!"
Luna: "..... Actselly, sister, that is a convincing arguement."
Celestia: Oh, it's just an illusion. Everypony can do that every once in a while.
Luna: Good point. You got any other way to prove it?
Discord: Excuse moi?! THAT WAS THE MOST OBVIOUS CASE OF ME BEING ME EVER?! I mean, if I wasn't Discord, could I do THIS? (He turns Celestia into an Alicorn donkey)
Celestia:... TREASON!
Discord: WHA- WELL, I NEVER!!
Shining: Your highness, we're telling the truth! We just got past two guards who were so stupid, they thought the tickets we had were fake!
Celestia:... You... TRESPASSED ON ROYAL PROPERTY?!?
Applejack: TRESPASSED?!? WHAT THE HAY ARE YOU TALKING ABOUT?!?
Diamond Tiara: Yeah, I mean no treason when I say, WHAT IS WRONG WITH YOU?!?
Twilight: Look, everypony, let me handle this! Your highness, I know you like a mother. The REAL Twilight Sparkle would know that you're forgiving and would not jump to any conclusions. Tell me, who are these imposters?
Celestia: Are you demeaning me, Changeling? Are you among those False Changeling abominations Chrysalis set out?
Everyone: CHRYSALIS?!?
Celestia: Yes! We have been forced to postpone the celebration until we halted this problem. And frankly, you people seem suspitious. You thought you could sneak in without a ticket?
Twilight: IT'S THE TRUTH, WHY WON'T YOU BELIEVE US?!?
???: Because we know you're lying! (The fake Shen and Lodgers arrived with Abom-Changelings posing as them)
Pinkie: "Wow, they arrived pretty quickly."
Discord:... Ohh, I see! This is a prank! Wow, I never figured you for a prankster, Celestia, but you sonovabitch, you got me- ("Shen" pointed his blade at them)
"Shen":... She's being fully serious, idiot! We can tell fakes from the real ones, because I ordered that we have a code word to identify each other. So tell me, what is the code: "Celestial..."
Pinkie:... Phoenix?
"Shen": (He did this)
"SpongeBob": You people are clearly not the ones we shared the code word to after the decree was made. You all are CLEARLY imposters! So... (He took out the Tartar Sauce blaster from Imitation Krabs)
Discord: WHERE DID THAT COME FRO- (Fake Spongebob blasted them as Discord gargled and they were sent into a large fast-food basket and pushed into the dungeon)
"SpongeBob": You bunch are gonna be tried for trespassing, treason, and insubordinate action soon enough.
Scootaloo: SPONGEBOB, WHAT IS WRONG WITH YOU?!?
SpongeBob: (They ignored them as they left) So long, Imitation Mane Cast and friends! Buh-bye!
Rainbow Dash: BETRAYAL!!!
Twilight:... What the heck just happened?
Shining Armor: I don't know, but somehow, I think Chrysalis MAY be involved. I think she's posing as Shen to get to Celestia, and has turned the entire capital against us.
Sweetie Belle: And how could she do that to somepony who has occlumency experience?
Scootaloo: Maybe it was a jinx.
Shining Armor: Not possible. Ever since the Eureka incident, we have been drilling the interrogation procedure for discovering jinxes to ensure that is not used to mask their intentions. Not to mention Celestia has become so diligent with that, she'd not only resist, but be immune to whatever mental spell is used on her.
Twilight:... Maybe it IS a jinx! Think about it. The guards not seeing the tickets as real? The disbelief displayed by Celestia? The fact that Luna kept agreeing to her justifications? It's too clear that this is a jinx.
Shining: I don't think so.
Twilight: Then what do YOU think is the culprit behind this?
Shining:... I don't know.
Twilight: Exactly! Whatever the case, we need to do something.
???: I don't think so! ("Shen" came in)
Pinkie: SHEN!... Uh... Fake Shen?
Shining Armor: Who are you? Are you doing all this?
"Shen": I don't know what you're talking about, but-
Starlight: OKAY, STOP! You can drop the charade, we know you're not actselly Shen! Just tell us who you-
"Shen": (PULLS OUT A BLADE) INTERRUPT ME AGAIN, STARRY!! SEE WHAT HAPPENS!!!... Now then, we have been advised to up our defenses, and Celestia has to ensure that, for our own safety against Chrysalis, we take drastic measures.
Sunburst:... And that would be?
"Shen": Emergency Defense Plan: Magic Barricade! (Twilight, Cadance, Shining Armor, Starlight, and Flurry Heart (though randomly), gasped)
Twilight:... You can't be serious! That seems a LITTLE too overkill!
"Shen": Do recall that the last time Chrysalis attacked, she managed to overwealm Celestia and even you six! She only lost because she got too cocky and neglected to stop Shining and Candence before it was too late.
Cadance: That doesn't mean it makes sense to do it. Chrysalis is hardly a proper threat without True Changelings, and Cobra's replacement abominations are likely not that useful.
"Shen": I never said you could speak, bitch!
Cadance: (Scoffs offendly), THERE ARE CHILDREN PRESENT!
"Shen": I DON'T GIVE A F***! THAT'S CLEARLY ONE OF COBRA'S ABOMINATIONS!!!
Rainbow Dash: Okay, time out, time right the heck out! What's Emergency Defense Plan: Magic Barricade?
Twilight: Well, apparently, the throne that Chrysalis used to protect her people against non-Changeling magic stems from an a planet inner core crust rock called magodranium, which negates magic. They are found in the core of Equestria, and can only be unearthed by Alicorns or rare magical events. And thankfully, we don't have to wait a millenda for a rare event to get those with Celestia and Luna present. Celestia made a backup plan to surround the place with it should the worst happen.
"Shen": And given how competent Chrysalis has started to became, even with Mang's monsters holding her back with their clumsiness, we're not gonna let it happen again.
Pinkie:... Are you sure this ain't the real Shen? They seem too smart to be imposters!
Starlight: "He and the other likely fake Lougers could just as easily be very accreate acters, Pinkie Pie! (To Fake Shen) I'll give you points for doing your homework on how the Lougers behaive, but we're not fooled still!"
"Shen": "(Laughs), Believe different about me all you want. Fact of the matter is, you're in there, and I'm out here. You're hardly a threat to even yourselves!"
Shining: You know we can get out of here!
"Shen": I would recimend against it! The Plan also allows us to send persistent agents like you into the core should you try and get any ideas.
Shining: YOU DON'T SCARE US AS EASILY AS YOU WOULD LIKE TO?!
"Shen": It wasn't meant to scare you.... It's to deter you from being stupid. Besides, escape attempts won't do any good anyway. Know that your cell is given a spell that will send you to the core should you try to escape. We are doing this for the good of Equestria. Good day. (He left as he smiled from behind)
Discord:... Well, we're screwed!
Shining: "Discord! Children!"
Discord: "IT'S A GREY AREA WORD, PRINCE GENERIC?!"
Candence: "Up up up! Being at eachother's throats won't help!"
Applebloom: "Candence is right! We need to get out of here."
Tiara: "Doing that will risk us getting sucked into the core like what happened to Lord Order!"
Twilight: "..... Then.... Our only hope is the real Lougers..... But..... Without a prior warning.... They'll be doomed to get captured as well...... Equestia..... (Starts to cry)..... Is doomed to fall to Chrysalis.... (Sheds a tear that dramaticly dropped to the floor and formed a broken heart.)....."
The others came to comfert Twilight.
Suddenly, the camera pans out of Canterlot and RIGHT into Twilight's castle!
The Cutie Map began to act up!
Oak Golden rose from it in a freak out shouting!
Oak Golden: "GOOD GRIEF, THAT FEELS TOO STRONG TO BE A FRIENDSHIP PROBLEM?! That feels like a mass exidise of evil?! And I sense that all of it's usual protecters are compromised in a way! And something's happened to the Changelings!..... I have to get the Lougers here. Okay, Cutie Map, you're gonna have to do it."
The Cutie Map began to show Trixie's Cutie Mark as it began to spin around the entire map."
Space.
Trixie was seen enjoying her soap opera in the van until she was disterbed by a light.
Trixie: "Turn off that light, I-..... Wait, why does Trixie's great and powerful rump feel funny? (She turns to look at her flank and saw that her Cutie Mark's glowing)...... Oh, that's just the map summoning me. No real biggie-"
Trixie stopped herself!
Outside the Van, Trixie was heard screaming!
Trixie ran into where the other Lougers are and was spazzing out!
Trixie: "MY BUTT IS GLOWING?!"
Patrick: "Ew! Keep your period problems to yourself, Trixie!"
Trixie: NO, YOU IDIOT! LOOK! (They saw her Cutie Mark was being signaled)
Lord Shen:... Odd. Why would the Cutie Map call for you?
SpongeBob:... I don't think I would like the answer!
Lord Shen:... DODO, FULL THROTTLE, NOW! (They thrusted themselves further)
Patrick: GO TO LUDICROUS SPEED!
Mr. Dodo: THAT'S NOT EVEN A LIGHTSPEED FUNCTION HERE, MORON!!! PLUS, THAT KIND OF SPEED IS TOO DANGEROUS TO EVEN BE INVENTED!!! LET'S JUST STICK TO THE COMMON LIGHTSPEED, OKAY?!?
Trixie: Well, we'd better hurry! No doubt Starlight needs us!
Icky: And again, we gotta do it without Sandy, Gazelle, Duke of Bootlegs, and Pang, and THIS time, without Brandy, Whiskers, Sam, and Max's gang.
King of Hearts: Does that even matter? We can manage fine without them.
Squidward: Sure we can! (His seat ejected him through the second floor)... WHY DID WE HAVE TO PROGRAM THE EJECTOR SEATS TO DO THAT?!?
Mr. Krabs: For emergenies, Mr. Squidward!
Squidward: I MEANT WHY DOES IT DO THAT NOW WHENEVER I TALK BACK?!?
Mr. Krabs:... Because shaddap!
Skipper: "Let's get to Twilight's Castle ASAP!"
The Van zoomed off!
Ponyville.
The Louger Van arrived to Ponyville and landed near the castle.
The Cutie Map room.
The Heroes barged in!
Boss Wolf: "Twilight, we got here as soon as Trixie's butt became a magical pager!...... Twilight?"
Icky: "I think she went off into the Festival with her friends."
Lord Shen: "..... Miss Golden, are you active?"
Oak Goldn appeared.
Oak Golden: "Afraid so. I fear that a great darkness has befallen the land."
Squidward: "....... So it's, NOT, a friendship problem?"
Oak Golden: "I wish was just a case of a friendship spat or a mythic comunity being a mess or something suitable for an asoft of the day! No! It's worse! Celestia, Luna, The Main 7, and others have been befallen to a new darkness that's taken residence in Canterlot!"
Po: "Ohhhh! And right onto Changeling Appresiation Day?! Who could do this- Oh screw it, it's Chrysalis, isn't it?"
Oak Golden: "That's the thing. I sense she's there, but.... There's somepony, or someone, worse helping her."
Icky: "Well the Starlight Starfight two parter episode had that cool feature where we can take a closer look."
Lord Shen: "One problem..... You need a strong connection to the Map to use it. So alas, our new enemy's a mystery."
Icky: "...... FIGURES THE PLOT WOULD PREVENT THAT FROM SOLVING THIS PROBLEM RIGHT OFF THE BAT?!"
Iago: You know, if you keep saying the plot demands it whenever things turn against us, the more it makes the audience bored and accuse the producers as lazy.
Icky: Well, too bad, so sad! They put up with it, because fourth-wall breaking is like smoking. Once you do it, it's hard to quit.
Oak Golden: "Knowing what the enemy is, is currently not impourent right now. What's impourent is what it's doing. A mass alien clone army are seen in the Aztecian Jungles damaging the ecosystem for some mysterious reason. The Changelings, including Thorax and even Desteny have been captured, a deadly extinct planet called the Love Trap has resurfaced, and Canterlot has mistaken what appears to be a group of imposters to be you."
Shifu: "Thorax's predicerment and Canterlot's woes make sense for Chrysalis..... But something doesn't feel right about why the Galaxhar clones being in the jungles."
Viper: "That could be the work of the Leage's new friend."
Tigress: "It's time to get answers. We must get to Canterlot."
Merlin: "But carefully now. I'm afraid we won't be reckindised as friend thanks to our would-be fakes."
Shifu: "It would also serve us well to see if we can rescue Twilight and company. We need all the help we can muster from the sounds of this new threat."
Oak Golden: "Be careful, Lougers. Equestia seriously depends on you."
Gilda: "No pressure then, huh?"
The Heroes ran off!
Outskirts of Canterlot.
The heroes made it to Canterlot and sneakly snuck about to the walls, climbed them and overlooked over them and saw the crowds gathered to the plaza as the fake Lougers were seen holding a deminstraightion.
Po: "Head's up time. We found our NOT-Lodgers."
Fake Shen was presenting a deminstraigtion of Chrysalis and the Leage's new threat to Canterlot.
Mantis: "Why are they basicly exposing the League? That doesn't seem very, Leagery of them."
Jumba: "Ahhhh, he-he-he! It's classic misdirection tactic. Sometimes, best way to fool your enemies, is to make them think that they're going after you one way, then strike at time with another! A faverite stragity, for the Deceptians. Very tricky devils."
Lord Shen: "It looks like that faker is planning something with Celestia... (Sqints his eyes to give a hawk-like closer look to see that Fake Shen is deminstraighting the plans to use Magic Barracade).... (Gasps).... Oh no! That, handsome magnifisent basturd..... Or Bitch if that's Chrysalis."
Mantis: "What?"
Lord Shen: "..... I'll...... I'll explain later. Right now, we need to evacuate Twilight and the girls out of here!"
Po: "Right.... Stealth Mode."
Lord Shen: "Panda, no dragon costumes! We need a more logical approach than that. Our aim is to get to the Royal Canterlot Dungeons."
Icky: "But how do we get there with those goons all over the place? (Points to the guards patroling the entire city.)"
???: "Excuse me."
The Lougers freaked out as they saw Maud Pie.
Maud Pie: "..... I would like to help."
Lord Shen: "Wha..... Miss Maud Pie?! How did you get here so quickly?!"
Maud Pie: "... My sister sense tinkled."
Sparx:... Wow, I guess the apple doesn't fall to far next to the other, does it?
Maud Pie: I realized my sister was in trouble. Now, I came to her rescue. But I brought some help."
Lighting Dust and the rest of the Mane 5, The Peace Main 6, the other two Pie Sisters, Black Kat, Gabby, Cranky Doodle Donkey, Trouble Shoes, and finally, Zecora.
Po: "..... Oh yeah, that's gonna help us a lot."
???: Also, I'm here! (Taiku and his gang arrived)
Taiku: I hope you guys didn't forget me. Just because Tman ain't around anymore, it doesn't mean I don't exist.
Sid: Balls yeah! We're gonna give these fakers what's coming to them.
Mantis: "But how do we get in? I doubt even the guard are stupid enough to not notice an army of misfits running across the buildings, NOR a random Chinese Dragon Costume."
Cranky: "I, might offer a solution."
At the Canterlot Gates
Cranky and Trouble Shoes pose as food dilevery men as they apporuched the gate.
Two new guards were seen.
New Guard 1: "STATE YOUR BUSINESS! And you better not do the same that happened to the last two guards who have to be taken to the infirmery to be de-hypnotised because it became a apparent that they were made to think they're Sassy Mama Jamas!"
Icky: "(Quietly and muffled in the cart under a large tarp) Oh that's so Discord. (Smack) Ow!"
Trouble Shoes: "(Clearing his throat) AHEM, Uh, We're just food deliveryponies. We got some food for Canterlot."
New Guard 2: "If it's for the Changeling Appresiation Day Festival, it's kinda postponed for safety measures."
Cranky: "Well I'm sure you still want the food anyway, just in case it gets back on track."
The two guards look at each other.
New Guard 1: "..... That makes sense. Okay, do your business gentlemen."
The gate's open as the cart got in.
The hidden heroes see that Canterlot residents are made to give money to the guard and fake Lodgers to build up defenses.
Monkey: "(Quietly) Something clearly doesn't smell right around here."
Lightning Dust: "(Quietly) Man it feels tight in here!"
A Guard Leader with a cigar in his mouth came up to the cart to Cranky and Trouble Shoes!
Guard Leader: "Hold it, you two! Your not taking that thing to the food storage without inspection."
Cranky: "Trust me sirs, this is a very delicate kind of food. They need to be stored quickly."
Cigar Guard Leader: "When General Barking Orders demands something, Barking Orders demands something!"
Some of the hidden heroes snickered at that name!
Barking Orders: "Who's laughing?!"
Trouble Shoe: "Uhhh, maybe, it was them! (Points to three lazy guards playing poker)"
Barking Orders: "..... WHY I OUGHTA?! YOU THREE LAZY GOOD FOR NOTHINGS!!! (RUNS AFTER THE NOW RUNNING LAZY GUARDS WHO SCREAMED LIKE WIMPS!)"
Cranky: "..... Well that was stupidly easy."
The cart carried on as Mang, Junjie and friends were watching in secret.
Cobra: "..... So that's their little game, eh?"
Cobra and group began to snicker wickedly.
Food Storage Room
Cranky and Trouble Shoes arrived in the food Storage.
Cranky: ".... Okay, Hayride's over, everyone off."
The Heroes removed the tarp and got off the cart.
Bon-Bon: "Okay, let's get to the dunguin. I know a short-cut into it."
Later...
Bon-Bon were seen leading everyone through the secret shortcut.
SpongeBob: "What is this place?"
Bon-Bon: "An old emergeny evacuation chamber. Used back before Celestia and Luna were born. Disasters and threats were, harder to maintain back then."
Gabby: "Ohhhhhh. It's so spooky and cool!"
Gilda: "Uggggh, do we have to bring Gabby along?"
Maud Pie: "She wanted to help the Crusaders."
Icky: "Makes sense considering she befriended those free when she tried to get a Cutie Mark."
Taiku: Yeah! I mean, come on, she helps you rebuild relations in Griffonstone, the least you could do is be courteous.
Gilda: I am. She practically doesn't need me. The reason she might not even HAVE a cutie mark despite her species is that she's good at literally EVERYTHING!
Bon-Bon: "Everyone, just shut up, okay? We don't need unwanted attention! (They continued)... Okay, here's the hidden door to the Dungion."
Dungeon
Twilight and Company are seen being miserable, and Pinkie was comically playing a harmonica, as a hidden door opens up beknowest to them.
Bon-Bon looks around, and saw that Fake Patrick was sleeping and wearing the keys around his neck.
Bon-Bon: "..... (Quietly) There's a guard that looks like Patrick in there. He has the Cell Key."
Mantis: " (Quietly) Okay Spongebob, I'm gonna need your help with this. We have to sneak in and get that key."
Spongebob: "(Quietly) Got ya."
Mantis and Spongebob began to snuck in.
(It kinda goes like this.)
Mantis: (He tiptoed with the cartoon sound effect until he stopped, and the sound effects continued because SpongeBob was playing a tiny piano)... Will you stop playing that tiny piano?
SpongeBob: Sorry!
Mantis: Yeah, sorry fixes everything!
SpongeBob:... Come to think of it, I need to give this back to Plankton. Forgot I had it since our second movie.
Tigress: Just be quiet! You'll get us caught!
"Patrick": Good ol' Secret Box! I don't know why I have one, but I'm tempted to see what's inside! (Chuckles)
Mantis:... Wow! These abominations are about as stupid as Cobra's actual abominations, that they don't even comprehend their own dreams.
Trixie: That is sad!
SpongeBob: Just let me handle this! (He stretched his arms to reach for the key until "Patrick" got up abruptly)
"Patrick": HALT, INTRUDERS, I'LL BREAK YOUR HEART AND EAT IT!!!... (He fell asleep again)...
SpongeBob:... Man, that was a close ca-
Pinkie: (The ponies noticed them) OH MY GOSH, IT'S THE REAL LODGERS!! THEY'RE GONNA SAVE US ALL!!
Twilight: PINKIE!
SpongeBob: PINKIE!... ("Patrick" was still asleep)... Wow!... I guess he's more of a heavy sleeper than you, Patrick.
"Patrick": AHH, WHO SAID THAT?!? (He saw them, and before he blew the whistle, Shen pointed his blade at him)
Lord Shen:... Don't... Even... Try it, buster!
"Patrick":... (He tried to blow anyway as they pushed him and held him down)
Baloo: I got it! (He sat on "Patrick", but he shapeshifted into a Spore-Scorpion creature and stung him in the butt) YAAAOOWWWW!!! (He sat on his head and that knocked him out, exposing his true form)...
Icky:... Wow, those are butt-ugly replacements!
Boss Wolf: Let's take him for interrogation.
Lord Shen: No! People will question where he is if we do that, and that's the last thing we need.
???: Oh, is it? (Guards were alerted as they charged and the heroes approached, along with "Shen")
Cobra:... Hello, Lodgers! I'm in SUCH a good mood to see you again, and your Equestrian buddies!
Taiku: Cobra! How did you even get THIS far?!? Celestia was prepared for something like this, even when you did all this!
"Shen": Well, you can thank me! (Chuckles)
Cadance: Oh, of course! You just couldn't cope with the loss of your kingdom, Chrysalis!
"Shen":... (Chuckles) No, I couldn't! (She shapeshifted into her own daughter)
"Chrysalis": Our kingdom was prosperous, and took WAY more risks than you candy-colored boogers! Then you took it all away!
Discord: Hey, it's your fault, ugly! You got us there in the first place.
"Chrysalis": (Chuckles) I didn't think you stood a chance.
Discord: Neither did I! But we pulled through, even without magic.
Starlight: No doubt we can do it again!
"Chrysalis": That's where you're wrong! CELESTIA! (Celestia, mind-warped, appeared)
Lord Shen/Twilight: CELESTIA!
"Chrysalis": It is time! (Celestia cast a spell that caused everything to tremor)
Pinkie: (Vibrating) Hey... This makes my voice sound silly!
Twilight: NO! CELESTIA, DON'T!!
"Chrysalis": YOU ALL WILL NOT BE LEAVING THIS KINGDOM! (This music played as magodranium barricades sprout from the ground)
"Chrysalis": "Soon magic will be rendered useless and you all will be rendered useless!"
Icky: "Uhhh..... Lady, not all of us need magic to kick butt. For exsample. You can just easily save the day, WITH CARTOON LOGIC?! (Brings out a giant bowling ball and tosses it at the Blackade, causing the group to be bowled over like bowling pins as the trademark sound effect played!)"
"Chrysalis": "DOOOOOW?! (Slammed into the wall and lost focus, as her disguise started to flicker)."
Lord Shen: ".... What?"
Candence: "..... Chrysalis?"
"Chrysalis" began to change into the true mastermind, Throx.
Shining: "...... DID CHRYSALIS JUST MUTANTED?!"
Discord: "Okay, someone please test her for steroid abuse?!"
Throx came through growling.
Throx: "Oh for pete's sake, are you people this insultingly dumb?! I am not Chrysalis?!"
Taiku: "..... Then...... Who are you exactly?"
Throx: "You will never get the privilage to know that name. (She hypnotized the shocked guards into her control) Now surrender! You try to break them out, they will be sucked into the-"
Icky inserted the key into the lock and freed the others with no problems.
Icky: "I'm sorry, were you saying something, c**t?"
Throx: "....... MANG, WHAT THE F***?!"
Cobra: "My apologies, madam! I made it that the key will reverse the spell in an event they fully given up on being a threat to us."
Throx: "..... YOU IDIOT?! DIDN'T YOU FIGURED THEY WOULD COME TO THEIR RESCUE?! NOW THERE'S NO CURSE THAT'LL SENT THEM INTO THE WORLD'S CORE FOR ESCAPING!!"
Cobra: "Well I figured that the Lodgers wouldn't suspect something! That is unless the Cutie Map summoned Trixie about this situation unfolding and-... Oh dear, we forgot to warn you about that."
Throx: "...... No matter. A good mastermind compromises with an unexpected snag."
Twilight: "I don't know who you are, BUT I'LL SEE YOU ROT IN TARTARUS FOR THIS!!"
Throx: "How brave but foolish. The Magodranium has risen and took away your magic abilities. And I'm sure it'll be made that cartoony nonsense and whatver tricks you have won't work either!"
Dan: "Well, until then, Might as well make the most of it."
Dan charges while shouting his sigiture battle cry!
Dan bowls over the bad guys like bowling pins as the heroes all make a run for it!
Throx was sent flying but quickly flipped back up right and saw their escape!
Thorx: "...... Heh..... And here I thought things were gonna be boring!"
Canterlot Streets
The Heroes got back onto the cart as Cranky and Trouble Shoes began to pull and run!
Celestia and Luna came in!
Celestia: "CHASE THEM?! THEY'RE THE VILLAIN LEAGUE?!"
The Guards lead by Barking Orders began to charge after the heroes!
Throx turned back into Shen.
"Shen": "DON'T LET THEM ESCAPE?!"
Celestia and Luna flew after the group along with the guards!
Rarity: "I never thought I say this, but, WE NEED TO GET OUT OF CANTERLOT?!"
Trixie: "Well magic's out thanks to, whatever these rocks are?!"
Starlight: "Remember Chrysalis' throne?"
Trixie: "Yeah?"
Starlight: "THAT'S WHAT MAGODRANIUM IS!!"
Po: "Less talky, more escapey!"
Taiku: "We need to lose this crowd!"
Rico brought out a rocket laungher!
Taiku: "WITHOUT, HURTING THEM?!"
Rico: AWWW-
Skipper: NO, DON'T YOU 'AWWWW' ME, JUST DO SOMETHING LESS HARMFUL!!! (Rico hacked things randomly, but they were all sadly violent weapons)
Taiku: Oh, for Celestia's sake! (He flew around the guards and slapped them around with his flexibility until they were unable to fight)
Twilight: NICE MOVES!
Taiku: IT'S WHAT I DO!
Rainbow Dash: I don't feel comfortable doing this to the Royal Guard!
Shining: Me, neither!
Flurry: YAAAAYYY!!! FIGHT, FIGHT, FIGHT!
Cadance: Uh, honey, this is not a good time, both now and for yo- (Flurry was already flying off)
Flurry: KAAAAAA...
Icky: THE HELL IS THAT CUTE LITTLE PUFFBALL DOING?!?
Flurry: MEEEEEE.... HAAAAA... MEEEEE... HAAAA! (Instead of a powerful blast, it resulted in a magical poot as the magic turned to mist)... Exqueeze me?... (Everyone laughed except the heroes)
Cobra: HAH! At least we're not getting beaten around by that little brat again!
"Shen": Again?
Cobra: Long story!
Flurry: (She flew to her parents quickly) Sowwy!
Shining: Eh, you tried your best.
Guard #1: S***-STOMP ON THE PHONY FLURRY!!
Po: (He belly-flop jumped on each and every one of them) SKE-DUSH, SKE-DUSH, SKE-DUSH, SKE-DOUCHEY, SKE-DOUCHEBAG, SKE-DOUCHENOZZLE, SKE-DUSH!
Lord Shen: (Sighs) I swear, we're so acclimated to bad language, we forget about the children present, both figuratively and literally!
Cadance: Eh, we already taught Flurry manners in modesty since you first met her.
Po: YAHAAAAAA!!! (He landed back into the cart as the Lodgers continued fighting off the guards until they reached the exit until the fake Lodgers blocked their path)
"SpongeBob": HOW ABOUT YOU GET PAST US FIR- (They plowed through them like bowling balls)
STRIKE!
"Sparx":... HAH! I'm still sta- (Courtney appeared before him)
Courtney: HOW 'BOUT A PACKET OF NUTTY BUDDIES? (She belly-flopped him off)
"Sparx": MOMMY!!!
"Sparx" smacked into Celestia's face as she began to freak out and crash into Luna, disabling them and crashing into more guards!
Cobra: "OH BOTHER?! So much for having Alicorns on our side?!"
The heroes are getting to the gates!
Barking Orders: "CLOSE IT, IDIOTS?!"
The two guards were on the gate top!
Guard 1: "Oh right! (The Guards grabbed the gate controls) Okay, was it righty-tighty, or lefty-loosey?"
Guard 2: "Just try something!"
The guards pull the gate lever left and only made it more open as the heroes ran through!
Shining's voice: "SERIOUSLY, YOU GUYS REALLY NEED TO IMPROVE?!"
Guard 2: "..... Yup. Diffently Righty-Tighty."
Barking Orders went up to the two growling?!
Barking Orders: "IDIOTS?! (Pounces onto them and beats them up!)"
Cobra: "..... OHHH, BOTHER, AND THINGS WERE GOING SO WELL?!"
"Shen": "Do not worry..... Canterlot is ours now. There's little they can really do to us."
Cobra: "..... I suppose so."
"Shen": "Now then..... (In Throx's voice) It's time to get to work."
Far into the fields.
The heroes are seen exhuasted and worn out......
Spongebob: "Whew...... I think they stop chasing us."
Lord Shen: "...... That's because they knew they won....."
Icky: "..... Shen, did you know about Celestia's ability to push rocks up in the ground.....?"
Lord Shen: "...... I knew about the Emergency Plan, Magic Barracade more like it..... I discussed about it with Celestia in the aftermath of Chrysalis' own followers reforming."
Flashback.
Lord Shen: "AND HOW IS A ROCK THROWNE ABLE TO CANCEL OUT MAGIC OF EVEN DRACONQUUI?! DISCORD SHOULD'VE BEEN ABLE TO ERADICATE THAT BUG HORSE WITCH WITH A GIANT CAN OF RAID LITTERALLY PULLED OUT OF HIS ARSE?!"
Celestia: Well... It's a long story. Remember Lord Order from your mission with Mad Puppet?
Lord Shen: Yeah?
Celestia: Well... The same rock keeps him locked in the core. It's capable of negating magic. That's why magic can be resisted by it in any category. But, in our time, we had to have aid from outside forces, mortal or otherwise, to even lift a single rock magically. The Changelings must've been able to alter it to have non-Changeling magic resistance, without magic.
Lord Shen:... HOW?!?
Celestia: It's, complicated. Just know that it exists and that Chrysalis got it because, her castle was actselly an end result of a rare Changeling Rock magic event?
Lord Shen:... WHAT THE FU-
Present (Wow, that was stupidly short).
Lord Shen: Okay, let's not show my reaction. It was very upsetting to learn that they could've done that the last few times Canterlot was attacked, canon to their or our shows!
Discord: Oh, stop being such a weenie, Shen! We can still get through this. And you're lucky you have ME around. After all, I can do anything.
Lord Shen: Except win!
Discord:... (He snaps and he does this to Shen)
Discord: (He reversed it after 10 seconds laughing)... Next time, don't talk back to a guy who can do that!
Sparx: I thought it was funny!
Discord/Shen: The backtalk or the shuffle?
Sparx: Guess!
Icky: "Okay, now that we got the arbatary jokes out of the way, after your rage fit, how exactly did you came to do that Magic Barracade crud?"
Lord Shen: "Well, after my, upset, I gotten an empifimy."
The Same Flashback but without Shen's over-reaction.
Lord Shen: "Wait, Celestia..... I have an idea! Why not start using these rocks as our means of defence?"
Celestia: "Pardon? I, I don't follow."
Lord Shen: "If Chrysalis can use that kind of rock to her advantage..... Why not do the same ourselves?!"
Celestia: "..... Use, the Magdraniam?"
Lord Shen: "Think about it, in an event of a serious dishastor involving a threat even WE can't handle, you would put Canterlot in a protective barror of those rocks! It's genius!"
Celestia: "Shen, I worry my knowledge of Magdraniam is limited to that I know it exists."
Lord Shen: "Then we shall seek out Starlight's friend Sunburst! He is BOUND to have a book on the matter! Come forth, Celestia!"
Celestia: "(Sighs), Shen, your too quick to go after things you should leave well enough alone."
(Lord Shen): "Thus, Sunburst supplied the books and Celestia came to have a more masterful knowledge of Magdraniam and how Alicorns can be able to magically control them. I was so proud of this idea, it was something that hasn't existed since the creation of my cannons. I fantasized on how these magnifisent rocks would do well in Equestia that all of it's cities will have these rocks as protecters in an event of an emergeny! I even dreamed of being able to import those stones to all of the worlds we ventured in and allow the leaders of those to be able to do the same! Cities will no longer fall victim of the likes of the villain teams and whatever powerful enough Indie villain would rear their villainious heads! I, I even dreamed of given the AUU these magnifisent rocks! I, would've gone down as the Peacock who created the perfect protection system, and it would've blown that stuff about my earlier mistakes COMPLETELY out of the water?! I.... I could've made life better for everyone....."
Present.
Lord Shen: "..... I..... I could've made worlds safer...... I....... I ruined everything....... By not thinking I'd be on the other side of it so it'd be used against us. (Starts shedding tears and quietly sobbing.)"
Po: "..... Look, Shen, you didn't know something like this could happen."
Soothsayer: "You couldn't've known your own ambitions would once again betray you, Shen. The future is a fickle, cold-hearted mistress."
Lord Shen: "But that's the thing?! My ambition for a brighter tomorrow, allowed the leage and, CHRYSALIS 2.0., to basicly take over Canterlot without a snitch!?"
Taiku: "Look, you couldn't've predicted this would happen, because the worse things about villains is that they just couldn't've leave everything well enough alone!"
Lord Shen: "But my Magic Barracade was suppose to PROTECT from these sort've things?! Not be used against the people?! If Celestia comes through, she'll never forgive me for this?! (Sobs), She'll HATE me?! Like when my parents did when that panda village was..... (Cries)!"
Twilight came up to him and comferted him with her wing.
Twilight: "...... Shen, you don't need to feel awful about this."
Lord Shen: "..... (Sniffles). Why? My accursed dream ended being no better then how I brought forth my cannons. I ended up worse then ever. I'm still as reckless as I used to?!"
Twilight: "...... Shen, the old you would've wanted this to happen. And.... Well, look at yourself. Your crying because your ambitious idea ended up being abused. You kinda reminded me of Luna when we discovered that she created the Tantabus."
Lord Shen: "..... Please define that simularity, because I fail to see it."
Twilight:... You do remember why Luna created it?
Lord Shen: To cause self-harm as a way of penance for what she did as Nightmare Moon?
Boss Wolf: And it STILL sounds stupid! She knew it could harm others, so why would she create it in the first place with that in mind? She thinks she can be my very special someone, but I cannot trust her because, at any moment, she could go off! It'd be like being married to a time bomb. You KNOW she'd blow like one! A divorce would not be a pleasant experience for you.
Lightning Dust: "Not helping, dude."
Boss Wolf: "At least it was an honest opinion!"
Twilight: Well, here's the point I INTENDED to make: Luna didn't know that it could harm to the degrees it went to. It took until it's first haunt of our dreams for her to learn that it had a learning intelligence. Since it was created, it has been learning how to get out slowly, and eventually, we had to deal with it. She simply didn't know until it was too late that it COULD harm others. She didn't know before our first nightmares involving it, learning of it's new nature before she came to us for help.
Icky: Well, good, hopefully this will quell down the fires of every motherf***** critic who hated her portrayal there, including Voice of Reason. Though I don't know if it's a good or bad thing he's gonna retire after the MLP Movie.
Twilight: Anyway, like you, she didn't account that the Tantabus could harm others the same way you didn't account for the magodranium being used against us. Thus, you both had little confidence in yourselves. Like her, we all know that the Shen that killed those pandas is in the past. Just, don't let it get to you.
Lord Shen:... (Sighs) You're right. What I CAN ask is what this 'Chrysalis 2.0' is. Soothsayer?
Soothsayer: She was so quick and clever-thinking, I couldn't get a clear image of her nature. Not to mention the jinx she was using could tell me false info. It's clear that what I see about her is not going to be true.
Lord Shen: Well, there goes the obvious solution!
Icky: "Well we have the main 6 now, so we can just go to the map and-"
Pinkie: "I have to stop you there! That's the first thing the bad guy will always expect you to do! They would figure you would go to the place of home! Bad Guys always end up sending minions to cause trouble there!"
Icky: "....... FIGURES!"
Lord Shen: "Well obviously we'll have to look for other answers then. Looks like the only info is through Thorax and Destiny."
Discord: "One quick trip to Changeling land, coming right up! (Snaps his fingers and caused the group to vanish!
Outside of the Changeling Hive.
The Group appeared and saw that Zombelings and Love Traps infest the entire hive.
Icky: "I'm willing to bet that the Plunderweed off-shoot is the Love Trap."
Alice: "Correct me if I'm worng.... But, are those, ZOMBIE CHANGELINGS?!"
Jess: "Well to be more accreate, They're Zombielings. In their legend, they're said to be the walking corpses of spirits of Changelings that never found peace with themselves like Good Changelings because their hunger for love is instatable."
Icky: "So these things are like the Undead Genosions then?"
Jess: "In a way. Only, they're not limited to typical zombie tropes like stupidity, and depending on the bodies' condition, they would still have proper movement functions."
Icky: "..... So smart runners then?"
Lord Shen: "Well thankfully it looks like alot of them are rather aged zombies. Some of them are litterally nothing but near bone. And that's creepy since they're basicly partical bugs, meaning the endoskeliton is considered. I would say that at least the majority may not be able to move as fast."
Icky: "But zombies are MASTER mobbers! Even if your able to take waves of them down, they'll get ya eventually!"
Sunburst: "And I'm afraid the presence of the Love Traps doesn't help either. The minute they sense love, the heads will look at our direction and suck it up like a chocolate fanactic to chocolate milk!"
Jess: "That, would be the least of our problems. Love Traps are also highly poisonious. When threaten or dealing with tough prey, they would spray infamously toxic poison that would be quickly fatal if your over-dused in it."
Spongebob: "What happens if you only got a little?"
Sunburst: "Well, as long as it's not enough to say, drown you, the worse they bring is VERY freaky drug-duse like hallusinations that can make people almost unfixabily insane."
Shrek: "Ohh, so with these weeds, it's either death, or injected Schisofrignia!?"
Twilight: "That's kinda why when Starswirl was starting to become a great magic user, his first feat was using a planticide spell targeted at the Love Traps that made them extinct."
Icky: "Or at least until Chrysalis 2 ended up bring those things back from extinction with zero effert."
Discord: "(Scoffs), Angry Planets? Zombie Bug Horses? With Chrysalis Original's Throwne destroyed, this will be a sninch! (Suddenly started to dress like Bruce Campbell from the evil dead with chainsaw in hand and shot-gun in the other). Groovy. Let's go Evil Dead on them!"
Taiku: "Whoooooa, there, Discord. Even if Chryly's evil chair of anti magic rocks is toast, that doesn't make this place less dangerious with those things around. We're obviously dealing with a bad guy that's not being held back by the writing or their personal woes that kinda make them either less serious or a joke that exists to fill a season with episodes! That Mega Chrysalis obviously means more business then the original! I know people like that cick. My parents are like that themselves! They likely have hidden surprises waiting in there designed to snap boobs for their booby traps!"
B.O.B.: "Now why would they make traps for boobs? They on women's chests....."
Missing Link: "...... We need to have a talk."
Taiku: "I meant boob as in utterly moronic idiot! Having powers is meaningless if you're easily done in by a random surprise."
Pinkie: "SURPRISE?! (This scares Taiku and causes him to fall flat on his face!)....."
Taiku: "(Muffled) See what I mean?"
Pleakly: "In laymen's terms, Discord, we can't just charge in there ray guns ablazing! If one thing can't get it us, another thing will!"
Discord: "Awwww, but I always wanted to do an Evil Dead Reference."
Icky: "You can save that for either the big showdown or the ineditable botched stealth mission escape, Cordy. Right now, we have to be sneaky!"
Discord: "(Sighs), Fine! (Turns back to normal)."
Icky: "So, how do we get past those MLP homages to the clone wars?"
Sparx: "That easy! Whip out our Mieberian Disguise Suits and act like zombies!"
Twilight:... Since when did you have those?
Lord Shen: Since our last adventure. It can help us infiltrate enemy strongholds, provided we use them properly.
Cranky: "But what about the those of us that DON'T have fancy suits?"
Taiku: "The rest of us have to stay out and keep wacth, and serve as a needed getaway."
Squidward: "Sounds good enough for me."
Lord Shen: "If it's okay, Miss Sparkle, you and your companions have to come with us to play prisoner for us."
Twilight: "Why?"
Tigress: "So we can sneak some extra magic firepower in an event things get shakey."
Rainbow Dash: "I could get down to that."
A bit later.
The Main Seven are seen being escourted torwords the hive by the Lougers as convincing-ish Zombielings.
A De-Reformed Pharynx was seen at the gate with two zombielings.
The group arrived.
Starlight: "...... Pharynx....... Why do I have that mix of disappointment while being unsurprised?"
Pharynx: "Aw come on, don't be too shocked. It was bound to happen in some shape or form. Besides, SHE didn't leave a lot of us with any opinions. It was either her way, or the high way. Look, we tried sharing love, but.... LOOK WHAT HAPPENED!!! We were overwealmed like we were nothing! Going back to Chrysalis is the only way we can get back to full strength."
Twilight: "You do realize that they're taking advantage of the fact that you missed the old days, right? How it was nostalgic for you to be just another bad guy to be foiled? This is no different than how Tirek tricked Discord to go back to being bad. Your likely just a means to an end. The minute you stop being an asset to them, they will turn on you."
Pharynx: "Here's the diff: We Changelings are close to eacho ther. And Chrysalis, unlike Tirek, is only doing this to make sure the Changeling race is provided for."
Rainbow Dash: "And to do that, you screw over everyone else NOT assusiated with the Leage? I mean, dude, Chrysalis at some point tried hurt your brother badly for not being a proper Changeling. She and her bigger self obviously care more for being powerful! The fact that your race benifits from it is an afterthought at best! Pretty much like how Scar used the Hyenas to take over the pridelands, or how Gaston doped the villagers into taking him serious about The Beast, or how Bellwether malmitulated plant eaters to hate meat eaters! And again, HE COULD'VE, HURT, YOUR BROTHER! In fact, based on what went down in the finale, I'm pretty sure she plotted to kill him after he was weakened."
Pharynx: "..... Look, I don't blindly approve to everything Chrysalis desides, even if it's for the good of the hive. I mean.... Look, it's just, we tried your way, and it gotten us recaptured by Chrysalis and the Leage! It's nothing against your friendship religen or anything, but it was not us. It could never be us. No cuter form could ever change that we are creatures of self-surviveal. You either succeed as a spieces, or fail. And Thorax..... He failed badly. His reign was over before it really got to start. And soon enough, so will the pony race! You all had a nice run, but it had to have ended sometime. Take them to the prison! (The False Zombielings marched on into the prison as Pharynx looked on)... (He gave a smug smile)... (Quietly) Now the gameplan's all set."
Meanwhile...
Back At Canterlot, the Canterlotian Ponies have been chained up by Villain Leage *Shocktroopers as Leage Ships were seen landing.
Abom-Changelings Flew Around everywhere.
Throx stood from a castle balcony and saw the seeds of what she sowed.
Chrysalis: "(Walks in) This is more then I could've imagined and then some! Things are going very according to plan!"
???: "With only a slight exception."
Mirage and the Leage Council came in.
Mirage: "..... There are still THE HEROES OUT AND ABOUT?!"
Throx: "..... Are they more of your weird alien friends, Chrysalis?"
Chrysalis: "Give or take. That's Mirage and the Villain Leage Grand Council. Kinda, my superiors."
Throx: ".... Tch. You were always a subservient girl to anything greater than you, Chrysalis."
Jafar: "And in tecnecal aspect, it's the same with you!"
Throx: "(Gets surprised)... (Blank expression)... Excuse me?"
Ursula: "Well, you see sister. There's a catch with working with us."
Oogie Boogie: "Yeah, horse-buggy! For all intents and purposes, you answer to us! You don't do anything without our say so! You can't make moves without our okay, you can't execute anyone without our okay, you don't even say okay, without our okay, okay?!"
Hades: "(Laughs slyly) In other words... (Gets flamey mad) WE NOW OWN YOU!!"
Throx: "... OWN ME?! The original Queen of the Changelings is not subservient to anyone?!"
Captain Hook: "Ahh, but that's the thing, your highness. You were freed by us, via in extention, your daughter, Mang, and Junjie and his three stooges. By all accounts, you're indentured to the League now. You owe your ability to even get this far, in thanks to us."
Chrysalis was nerviously jesturing to the Leage Leaders to not aggitate Throx.
Thorx: "INDENTURED?! YOU DARE MAKE ME, QUEEN THROX LXV, INTO A SLAVE?!? All I am doing is teaching my daughter to be an adequate conqueror! I wasn't aiming to be a pet to a bunch aliens! I mean, that's fine for my Chryly, she could use all the guidence she can get given how she lost the kingdom in the first place, BUT ME?!? Do you even process WHAT I AM?!"
Maleficent: "A bigger, louder, smarter, and more savage verson of Chrysalis? I mean, admitingly, it's amusing where Chrysalis got HALF of her best assets from."
Throx: "Amusing?"
Chrysalis was phathicly hiding away at the first sign of tension!
Jafar: "And we mean that as an actual compliment. And your lovingly evil plan was extraordenary.... Up until the Lodgers managed to pull a fast one on you."
Hades: "But, don't worry, happens to the best of us. They humiliate us all the dang time, it's annoying! (Gets abit heated) So annoying it's IN-FURIATING?!"
Throx: "THAT was nothing more then an unexpected snag. I WILL congure them soon enough."
Ursula: "HA! Spoiler alert darling! They'll win in the end! Just like they did to literally the many villains they defeated all across of the UUniverses, let alone the threat of the week for Equestia."
Captain Hook: "Be warned that you're a Deus Ex Machina away to being humiliated, reformed, destroyed, banished, or an odd mixture of the four, to be just another statue for them to make in that castle of theirs in Ponyville! So, we figured we would be generious enough to make a back-up plan with you in an event it would happen-"
Throx: "ARE YOU TRYING TO IMPLY THAT I AM A FAILURE WAITING TO HAPPEN?!"
Jafar: "N-n-n-n-n-n-n-n-n-n-n-now, your majusty, this conversation is not meant to make it look like we look down on you!"
Oogie Boogie: "Yeah, chill lady! We're just saying it's only a matter of time is all!"
Throx: "I, HAVE REDUSED THEM, (POINTS TO CELESTIA AND LUNA ENCASED IN COCOONS), TO BE A LOVE FEAST WORTHY OF A QUEEN, AND ALREADY I WILL DO THE SAME TO ALL OF THESE WORTHLESS PONIES OF CANTERLOT ONCE GALAXHAR'S LITTLE CLONE ARMY FOUND MY FORMER HUSBAND'S TEMPLE AND ENABLE ME TO KILL HIM?!"
Mirage: "Let's not get intense sister! And why risk the ineditable to be worse by going after him? You do realise by having Galaxhar's little pet projects look for him in that jungle, you'll only risk his return anyway?"
Throx: "ARE YOU SAYING THAT I SHOULD LEAVE HIM TO AWAKE IN 50 YEARS?!"
Maleficent: "As least by that time, should things go extremely right on course, we would be too powerful for him to undo any rule we have here or anywhere."
Throx: "BAH! Shows how much you aliens know about my husband! He is an equil to my power in every way, even with that sharing love nonsese he practices! He has enough love to put the entire Zombieling Hoarde into rest by giving them love! he can undo my restoration to the Love Traps with ease! All good Changelings will fight with him, even being soften as they are! I HAVE TO DESTROY HIM FOR SURVIVEAL'S SAKE?!"
Hades: "Jeese louise, now that's what I call a messy divorce!"
Mirage: "It's not that I don't understand your reasoning..... I just believe that by looking for him you'll only risk the Lodgers to have the impression that he really can stop you! It is a very commen villain mistake to go after a something or someone that can PROVE to be a very fatal undoing of your plans!"
Jafar: "In showing that you fear and/or obsess over your former lover, the Lougers will reckindise it and use that against you like a trump card. It's dangerious for villains to have a crutch against or for something that concerns them."
Hades: "Trust me, you have, NO IDEA, how many awesome villains ended up having the nastiest of setbacks because they ended up inadvertingly leading the heroes into the right direction! You're real best shot against your former horse-bando, would be to do nothing! That way, the heroes would end up assuming your unstoppable! Would they find out about him? Sure, but they won't be able to know where he is!"
Throx: "Desteny knows! And I could BARELY get to admit he's at the jungles at all! She won't give the specifics! But should those heroes get to her, that would ruin everything!"
Captain Hook: "A fair point, but making it easier for them by having minions look for it doesn't help in the slightest! They're come to villain activity like sharks to chummed waters! And should the minions actselly found or even came CLOSE TO, finding it, it's only a matter of time before this ship sinks to the bottom of the brindy deep!"
Hades: "But hey, even then, you got this rock thing up and running. We'll at least be save from him."
Throx: "OH?! I have better things to do then argue with you people?! I have an ex lover to dispose of?! With him gone, nothing can ruin this?!"
Mirage: "Okay, obviously this is the part where SOMEONE is reminded of their place?!"
Throx: "..... As a matter of fact..... Yes..... (Eyes started to get hypnotic). It is that time."
Jafar: "Typical. Well THIS trope didn't took too long."
Mirage: "Oh how cute. Your trying to magicly control us. Well know it will utterly fail?! Our minds are too protected by our great magic to be malmitulated by anyone! Even magic as great as yours!"
Throx: "..... Well..... Then let's fix that. (Turns around and proceeds to start sucking up the love of the Canterlotians from the balcony as they become weak!"
Mirage and the Leage Council got surprised and became concerned.
Voice: "It was this point, that Mirage and the Leage Council knew...... They f****d up."
Chrysalis: Well, you're f****d up!
Throx stopped and is now filled with power, as power electrisity sparked across her body as she looks back at the confidence dropping Leage Leaders.
Jafar: "Uhhhh.... Now, now Throx, be reasonable, we were only trying to offer friendly advice-"
Throx: "And here's my respondse! (Eyes get hypnotic)!"
Captain Hook: "SWAGGLE YER EYES?! DON'T LOOK?! (THE LEAGE LEADERS ATTEMPTED TO SHEILD THEIR EYES AWAY?!)"
Throx: (She magically stopped them from doing so as they were hypnotized)... Let this be a lesson: NEVER, question my loyalties, OR my intelligence! That said, I don't disagree with your claims. In fact, Galaxhar's little clone army still haven't found the accursed cave. But... What, if we followed those heroes, TO the cave, and capture them before they even knew what we were looking for?
Chrysalis:... MOTHER, YOUR BRILLIANCE KNOWS NO BOUNDS! (The mind-warped Villain Leaguers agreed)
Throx: Chrysalis? Tell the Fake Changelings that they have a new objective! This time, it will be perfectly done."
Hive.
Cobra and Junjie and friends were present in the prison area looking over the prisoners.
Junjie: "I can't believe we're being made to babysit the other prisoners."
Galaxhar: "Hey, at least it's quieter here now that the Leage's coming into the planet en masse. I work better in the quiet. Espeically since Chrysalis' mother asked me to build a poisoner device that will be use to inject the native plant's toxins into the king's cocoon. I call it-"
Cobra: "Just call it the Toxjecter and spare us the rediculious name! You already did the stupid name joke in the same episode."
Galaxhar groaned.
Galaxhar: "..... It was going to be called the Toxrox, by the way."
Tai Lung: ".... Toxjector's better!"
Makunga: Totally! The original sounds like a lameass supervillain's name.
Galaxhar sighed in defeat.
Pharynx arrived.
Pharynx: "Yo, 5 ami-dorks. The Zombielings managed to score the Main 7."
Makunga: "WOW! Already! That's barely even 5 seconds!"
Tai Lung: "Wait..... Wouldn't the Lodgers be nearby if they're here?"
Cobra: "Oh don't worry. It's only a matter of time before they're captured anyway. You're free to resume your post, Larynx"
Pharynx: "PHARYNX! LARYNX WAS ANOTHER LOST SIBLING, AND I'D RATHER NOT TALK ABOUT THAT!"
Cobra: "Apologies."
Pharynx grumbled as he leaves.
Thorax: "Ya know, it should be fair to warn you that Pharynx doesn't like it when you get his name wrong."
Makunga: "No one asked you, loser-ax!"
Desteny: "Don't bother with talking with them, Thorax. They'll never be interested with our words unless it involves Seta."
Thorax: "Sorry, it just seemed curtious to tell them not to get his name wrong. He really hates being called something that only sounds like his name, but not really? That one is not a very good one, as it belonged... To another sibling of ours that was lost when patrolling our old subterranean world long ago."
Count Abdomen: "Well, why bother looking out for that traitor?! He was quick to turn against us and all of ponykind in the name of relieving his demented glory days! You should've had him long exiled, or preferingly exicuted!"
Thorax suddenly got angerior and more intimidating then usually as the count recoiled!
Thorax: "NOW YOU LISTEN HERE, COUNT BUGASS!! I KNOW MY BROTHER HASN'T EXACTLY BEEN A PROPER GOOD CHANGELING AS OF LATE, BUT THAT DOESN'T MEAN I'LL PARDON ANYONE, EVEN YOU, TO BE SO MEAN AND RUDE TO HIM!! I FOR ONE BELIEVE THAT HE HAS A REASON FOR DOING THIS (The count was trying to speak) APART FROM INDULGING IN HIS NOSTALGIA!! HE HAS MORE GOOD THAN ANYONE LIKE YOU WOULD EVER GIVE HIM CREDIT FOR!!"
Count Abdomen: "THEN EXPLAIN WHY HE NEVER CAME TO YOUR RESCUE WHEN CHRYSALIS MADE YOU A WANTED CHANGELING!! OR HOW YOU WERE CAPTURED THANKS TO THE NOW FORMER DUKE OF THE CRYSTAL EMPIRE!!"
Thorax: ".... Believe it or not..... He, WAS, there for me! He was the reason I was able to escape!"
Flashback
Thorax was seen locked up in a League ship cell. He was clearly crying.
Etemon: "Ohhhhh, poor little crylarva!"
Etemon, Ruber, Clayton, Mcleach, and Gaston laughed at him!
Ruber: "The little baby's sad because the baby dragon couldn't protect him from us!"
Clayton: "And betrayed by the Duke of that Chrystailian Imperial State, too! A cruel irony indeed!"
Mcleach: "Even that boy Cody wasn't this much of a crybaby like you!"
Gaston: "You cry more then the many women who's hearts I broke!"
Thorax sobbed as his tormenters continued laughing
???: "YO, DIPSHITS?!"
Pre-Reformation Pharynx was seen.
Etemon: "..... Hey, chillax, brother. We were just joshing him is all."
Pharynx: "WELL CUT THAT S*** OUT AND GET TO THE COMMAND!! MIRAGE NEEDS YOU! Those misfits sooner or later will catch up to us! It HAS happened before! Remember the Maleficence incident?"
Ruber: "As badly as I remember my humiliation from Arthur."
Pharynx: "THEN GET TO THE COMMAND AND SCRAM!! (The taunters ran off and left the prison room)... (Walks up to Thorax with a solumly stare, while still maintaining his tough no-nonsense look.)... I would like to say that I am utterly embarrassed, disgusted, shamed, and disgraced with what you just did a while ago. (Thorax began to wimper sadly as his face was full of tears and mucus)... I would... If I didn't see this coming a mile away. (Thorax was confused)... Listen... Bro... I always knew that deep down, you're not a proper changeling... At least, not for Chrysalis anyway. I saw, how you were behaving when we attacking Canterlot."
Inner-Flashback
Pharynx, like a badass, was beating up some pony guards, even head-butting General Barking Orders like a pro!
Pharynx: "YEAH?! YOU LIKE SOME OF THAT, YOU STUPID- (Looks to see Thorax just flouting in the air and not doing anything.)
Thorax was wimpering and whining like a sad puppy as he watched as a Pegisis guard with a sword flew up behind him!
Pharynx: "(Gasps) THORAX!! ON YOUR SIX!! (He flew up, charged, and pounced onto the guard, causing them to crash into an alley)... (Stares angerly at the guard as he was fearfully looking back).... DON'T, MESS, WITH, MY, BROTHER!!
Guard: "T-t-t-t-t-t-t-t-t-t-t-t-t-t-t-t-t-t-t-that's fair! Just don't hurt me?! I was only protecting Equestia from an unwarrented attack?!"
Pharynx: "A-wha..... Unwarrented? You think we're attacking you because you think you did something to us?"
Guard: "Well, why else are you then?!"
Pharynx: "You actselly did virtually nothing to us! All this is happening because you wasted a great power enhancer on pointless pursuits and not become the master race you can potaintionly can become?!"
Guard: "I.... I'm sorry, what?"
Pharynx: "Oh my Throx, are you this fucking stupid- I'M TALKING ABOUT LOVE, IDIOT?!"
Guard: "...... Uhhhh, so, all of this trouble was because you wanted some love? Well why didn't you just asked instead of trying to go after us. I mean, it is infinite after all."
Pharynx was confused by that!
Pharynx: "..... But..... Our queen told us that it's limited."
Guard: "Well, in a realistic sense, love is not a physical reshorce but an emotion. You can always just make more love by just.... Loving things. By all accounts, I, don't think your leader was being honest with you."
Pharynx was surprised for learning this as the Love-Blast off spell was starting to act up!
Pharynx saw that Chrysalis's brillient plan was falling apart, figuring that Candence got to Shining Armor and saw that Thorax was still flouting aimlessly.
Pharynx: ".... Thorax! THORAX?! (He flew towards him) THORAX?! (The blast activated and catapulted all Changelings off) THORRRRRRRAAAAAAAAAAAAAA- (The blast pushed them both away from each other as he was knocked out upon impact)...
(Pharynx): "I was knocked out and seperated from you by that love magic blast. I eventually woke up to try and find you to bring you home."
Pharynx, even dispite his injures, was walking across the badlands to find Thorax.
(Pharynx): "I was able to find you..... But you were in worse shape then I was."
Phaynx gasped as he saw Thorax unconjustus and surrounded by skeletal Rattlesnakes.
(Pharynx): "You were basicly gonna turn into lunch for Bone-Rattlers!"
The Bone-Rattlers hissed.
(Pharnyx): "And believe you me... I wasn't gonna have that s***!"
Pharynx battled cried and fought the bone rattlers and knocked them out!
(Pharynx): "I was able to keep you safe.... Only to discover why you were KOed... (Pharynx saw that Thorax had an ugly gash)... You were stung by a Bark Scorpion.... Which usually wouldn't be bad, if our hive healer hadn't once mentioned that you are deathly allergic to scorpion venom. And the venom of one literally made of wood was the worse-case scenario for you! I... I was going to lose you..."
Pharynx screamed in anger and agony over Thorax's ineditable end!
(Pharynx): "I thought you were gonna be a goner..... But then I manned up, and desided to do something."
Pharynx picked up Thorax and carried him on his back.
(Pharynx): "I was going out of my way to find someone, anyone or anything to save you. I was worried that it was gonna be doomed to failure, until... (Pharynx saw a caravan with a sign that reads "The Great Healacorn" on it.)...... The Alicorn Gods deside to dump their pity onto me."
Pharynx went up to it and knocked on the door.
(Pharynx): "Thankfully, they weren't bothered by the fact we were changelings. Though that could either be because they didn't hear the news or were likely outcasts. Either way, I was forced to beg and plead for them to save you... And... The Alicorn they had... Just did it no questions asked. (A silluetted figure healed and cured Thorax of the poison)... Just like that. Without even questioning it. I was so relieved that you were gonna be alive... But then I realised... That, you can't afford to be with the Hive anymore. You clearly didn't have what it takes to be the kind of Changeling Chrysalis wants. So.... I took you some place safe and away from the wasteland so you can start a life of your own, while I would protect you in secret. (Pharynx placed him onto a safe isolated field away from civilization and deadly creatures) This place was safe from everything. It had cute cuddly critters, (Thorax was being cuddled by friendly animals), little to no deadly animals or monsters, and little interactions from civilisations. It was perfect. It lasted perfectly for a few years until..... (The aftermath of the events of the Season 6 opener involving Flurry Heart caught Thorax's attention)... You started to be REALLY stupid. You followed that burst of love straight into the imperialistic love factory that was the Crystal Empire! I kept as close as I can! Then I found out that it was in the FROZEN NORTH OF ALL PLACES!!! And once again, you were in a bind. (Pharynx found Thorax out in the cold)... Then I realized...... Great as that field was, it'd be a nightmare to travel back with this weather. So.... I decided to find a place for ya to keep safe. (Pharynx took Thorax into the cave on the outskirts of the city) I was sure it would keep you safe for a little while longer. Then, eventually, I desided to go out of my to scout the area to see if it was possable to find a safe route back. (Pharynx went out of his way to explore the Frozen North.) Thankfully, it wasn't as intense..... However, thanks to a stupid gust of wind, I ended up getting caught in a bind!"
Pharynx: "(Pharynx got caught into the wind and was tossed right into a window of a Christail Pony's house and got his head stuck into it!) D'OW, SON OF A..... (Saw that a pony was taking a shower)..... Awwww, s******t."
The Christail pony screamed as she grabbed a broom!
Pharynx: "Wait a minute, where did you get a broom so quickly- (He gets hit in the head with it) OW?! HEY- (BONK) OW?! (BONK) OW?! STOP IT- (BONK) OW?! I'M SERIOUS- (BONK) BOOOW?!"
Pharynx was smacked out of the building by the screaming pony as Pharynx screamed as he crashed into a fruit stand!
Fruit Stand Pony: "MY PRODUCE?!"
Pharynx was seen covered with Pinapples that are stuck to him.....
Pharynx: "..... Owwwwww."
Crowds of chrsitail ponies saw him!
Pharynx: "..... Seriously, WHO SELLS PINAPPLES?!"
The Christail ponies all screamed and took out various cleaning and gardening implaments!
Pharynx: "..... AW, C'MON-"
Pharynx was assulted by screaming ponies!
Pharynx: "OW, OW, OW, D'OH AW DAH, OW, DON'T HIT ME WITH THA- OW?! OW?!"
(Pharynx): "Eventually the guard swooped me up and placed me into a rigged trial!"
Shining: "You Changeling, stand this trial accused of having a parisipation in helping Chrysalis with the Canterlot attack AND being spotted in the Christail Empire! How do you plead?!"
Pharynx was held down by two gruff guards.
Pharynx: "...... Look, I ain't gonna deny that I did, but hear me out! My brother and I have been seperated from Chrysalis for a good while now! And-"
Shining: "ANOTHER CHANGELING IS WITH YOU?! Is this another scouting mission sent by the Villain Leage by Chrysalis?!"
Pharynx: "..... Wait, what? The what who now?"
Candence: "..... Shining, I'm starting to think that he doesn't know what your talking about!"
Shining: "He could very well be lying!"
Pharynx: "WAIT A SECOND, DUMBASS?! I'M TELLING THE TRUTH HERE, I-"
Shining: "SILENCE, CHANGELING?! YOUR GOING BACK TO THE LEAGE FORTRESS TO BE YET ANOTHER DISAPPOINTMENT TO THEM?!"
Pharynx: "No! Please! I, I was only here to keep my brother safe! He's helpless without me! He, he can't even be a threat to a stuff animal without me!"
Candence: "..... I'm sorry, but, giving how unpredictable you Changelings are, we can't take chances. It's better to be safe then sorry. (Starts conjuring up a portal to the leage fortress)."
Pharynx: "NO WAIT, STOP, STOP?! I CAN'T LET THORAX BE ALONE?! HE'LL BE HELPLESS WITHOUT ME! HE NEEDS- (GETS TOSSED IN BY THE GUARDS) MEEEEEEEEEEEEEEEEEEeeeeeeeeeeeeeeeeeeeeeeee- (The portal closes up!)
(Pharynx): "I ended up in the League's place because that memory of Chrysalis' attack kept on them like a bad parasite! I was force to tell Chrysalis what went down, and, I was allowed to be sent back to Equestria to go undercover and be able to rescue you!"
Pharynx took the form of a pony simular to Thorax's disguise as he ran across the city!
(Pharynx): "I was hoping to save you. I had it all planned out. I would get you out of there, take you back to the fields and make sure you would stay there! I know that I was the only to accept you! That is until... (Pharynx secretly saw that the ending of The Times They Are A Changeling coming down as everyone was accepting Thorax thanks to Spike)... They were accepting you... And you weren't in a disguise. I discovered that, you befriended Sparkle's dragon stooge and, though kinda poorly, kept you from ending up like me. I was relieved that you were gonna be fine..... But at the same time..... I worried about what Chrysalis was gonna do... Someone like her is obviously not gonna forgive this. So, I hoped to make up a story that Thorax got killed by the ponies when he tried to escape... But frankly... They didn't buy it. She forced me to admit what really went down! You were made wanted since, and welll..."
Inner Flashback ends.
Pharynx gave a small tear.....
Pharynx: ".... Here we are."
Thorax: "..... Brother, I..... I didn't know..... Why..... Why tell me this?"
Pharynx walked to the control pad and pressed a button.
Thorax's gate opens up.
Pharynx: "...... So it wouldn't be hard for you to believe that I would free you from this."
Thorax: "..... Pharynx, I..... Thank you.... (Sheds tears, this time of joy and flew over to Pharynx and gave him a hug)...."
Pharynx: "..... Ohhh, don't waste time with zappiness. (Thorax backs away a bit)..... It's not that I'm against it, it's just that I freed you so you can escape to the Lodgers and the Mane 7 likely looking for yas. Get to them, and exposed that basturd duke who ratted you out. And remember..... I did this to keep you safe. Now go.... Oh, and if they or anyone asks..... You got out because the big frog hunter fell asleep on the controls."
Thorax: "..... Thank you brother...... I'll...... I'll never forget this. (Flew off)......"
Pharynx gave a small smile while getting a less stern face as he finally freed held back tears....
Pharynx: "...... Take care of yerself, Thorax."
Present
Thorax: "...... He saved me more then once back there. Under that gruff and agressive exterior, beats the heart of someone who's heart is very golden. He just has a toughness complex, is all."
Count Abdomen: "..... That..... That's actselly very sad, sincere, and tragic...... But then..... Why did he turned on us?"
Thorax: "..... I guess, he just likes to be complicated."
La Broma: "Or it could be all a front to savatosh the bad guys in the end in another bid to keep you and the hive safe."
Desteny: "If it is, then I'm afraid we ruined it because we spoke it out loud."
(Icky): "Oh don't worry. (It was seen that Mang, Junjie and friends were all knocked out by the heroes) We knocked those jerkos out before they could really hear anything!"
Thorax: "...... How, how much did you hear?"
Starlight: "(Smiles with a reliefed and touched expression) To know that we have nothing to worry about."
Buzzing was heard.
Thorax: "Oh no! The Abom-Changelings are coming back!"
Merlin: "Then it's time for us to escape! (Merlin was able to teleport everyone but the villains out of the hive and far enough away to avoid capture.)."
The top of the hive.
Throx: "YOU MISERABLE IDIOTS FAILED TO STOP THEM FROM GETTING THORAX AND DESTENY?! NOW FINDING SETA IS ALL BUT CERTAIN?! (The Five of the them whimpered in fear)..... (Throx Smiled)..... Good."
Galaxhar: "..... I'm confused, how is that a good thing?"
Throx: Because I had recently made a change of plans. While your leaders were claiming me as property like fools, they brought up that searching for Seta would attract unwanted attention. So, I chose the next best way to keep our intentions safe: Have the heroes lead US to Seta!
Galaxhar:... BRILLIANT!!!
Chrysalis: I KNOW! Didn't I tell you she could get us this far? But keep in mind that... Now that the leaders have made the mistake of claiming her as a slave, she's likely not going to stay with us, as she only serves us to help me! So, remember that if you don't wanna be hurt!
Cobra: "Oh dear. Duly noted then. (Quietly) Though it's fair to warn you that once that spell is gone, should it be reversed, Mirage and the Council WILL most likely be EXTREMELY persisent to make your mother reconsider being standalone."
Chrysalis: "(Quietly) Noted."
Throx: So, step it up, dingbats! We have work to do!
Pharynx was secretly listening to all this.
The Heroes' location.
The Heroes have set up camp.
Desteny: "..... Lougers, I could not thank you enough for all of this."
Icky: "Well, we may as well since the Leage made it that Changeling Appresiation Day as a bust. It can't be put back on track until we give them the message to get out of here."
Lord Shen: "Along with Chrysalis and.... That Bigger Chrysalis Expie. What exactly is she anyway?"
Pinkie: "Oh, I know! It's another evil Kingdom Heartsy Meanie Clone of Xee-Hon-Nort, isn't it?!"
Sincere Funtime: "Or maybe an evil nastier clone of her from a dark dimention?"
Patrick: "Or she's from some kind of meaner verson of Equestia!"
Spongebob: "OR AN ANICHENT CHANGELING DEMON THAT THEY FREED FROM TARTARUS?!"
Thorax: "Actselly, she's Chrysalis's and Desteny's mother....."
Thunderclap: "....... Well that doesn't sound as exciting evil Xehanort created clone, or dark dimention expie, or meaner equestian equilent, or anichent demon."
Count Abdomen: "That doesn't make her any less of a problem for us in the Leage's services!"
Thorax: We're off subject. You see, her name is Throx.
Icky: "That actselly sounds like a poorly spelled verson of Thorax."
Suddenly the episode gets interupted and we suddenly see Deadpool in a fancy suit.
Deadpool: "It's FUNNY you mentioned that! You see, Scroopfan actselly wanted to name her "Queen Thorax", but because his spelling skills are shit, he spelled Throx instead! And now thanls to Thorax being used for a canon character, he can't change the name now because he ended up neglecting it until it was too late!"
Scroopfan: "DEADPOOL, WHAT DID WE SAY ABOUT HIJACKING THE EPISODE TO BRING UP BEHIND THE SCENES TRIVIA?!"
Deadpool: "Hey, I just thought it be fun to point out. Hey, I'm done anyway, so back to the episode!"
MSM: I always thought it was to deviate from the fanart you got her from, but... I guess that works well enough.
Scroopfan: "Not, really, helping, MSM. Deadpool, get the episode back runni-"
The Episode Runs back to normal.
Thorax: Her name was a result of a typo on the day of her birth. Anyway, you see... She was the 500th descendant of the Changelings royal bloodline, and... Because she had a lot of famine problems, she had a mate named King Seta. The two were together, until the day when they separated because Throx was intending to steal love, while Seta wanted to share it. Thus, Chrysalis took her mantle of stealing love, while Destiny took up her father's mantle of sharing love, as they both went into a long state of hibernation. We forgot that the hibernation lasts more than a thousand years, and we remembered that Throx was supposed to awaken recently. Chrysalis must've come across her, and now she's helping the Villain League.
Trixie:... WHY THE F*** DIDN'T YOU TELL US THIS COULD HAPPEN IF YOU KNEW SHE WAS GONNA BE TROUBLE?!?
Desteny: "I had thought she wouldn't wake for several more years or so. And sometimes, the awaken predictions end up inaccreate. Heck, she was stated to wake up last year and it never happened."
Icky: "Translation: She didn't became a problem until the episode we're in MADE her a problem."
The Changelings stared confused at Icky.....
Icky: ".... Uggggh, I keep forgetting that people don't speak post-modernisum! Okay, rephrase.... Are you due a prediction that was gonna be accreate this time?"
A good Changeling Showed up with paper.
Good Changeling: "QUEEN DESTENY, THE ROYAL SEER HAS PREDICTED THAT THROX WILL AWAKEN THIS TIME?! SHE'S SURE OF IT?!"
Everyone: "..... WE KNOW!?"
Thorax: "IT ALREADY HAPPENED AND HAD MY HOME INFESTED WITH ZOMBIELINGS AND LOVE TRAPS?!"
G.C. Messinger: "...... Whoops."
Boss Wolf: "OH SURE, BECAUSE WHOOPS WILL FIX EVERYTHING?!"
G.C. Messinger: "Uhhhh..... I'll..... Just go back to the kingdom now. Oh, and the Seer advices that you seek out King Seta. Bye! (Teleports away!)"
Count Abdomen: "..... The one time we needed that old horsefly to warn us and she ends up too late?! What a worthless Seer!"
Desteny: "Count, please! Fact of the matter is, at least the heroes know now about Throx. And we now know to get to Seta. I know the way to the location of his temple..... I just hoped the aliens haven't found it first."
Chapter 5: Remnants of an Underground Society/Finding King Seta
Aztecian Jungle.
The Galaxhar Clones are seen sleeping as it seens that large placements of land are already heavily escabated.
(Galaxhar):... Clones?... Clones?... CLONES!! (The clones all woke up at the same time and either killed each other, knocked each other out, or did comical things to each other in surprise)... (Sighs) I swear to Uni-vorse the god of my race, what am I gonna do with all of you? There's been a change of plans! Throx wants us to call off the search. We will follow the heroes to where we want to go! (The clones agreed) And Throx thought it would be wise to inform you that, if there are ANY visible traces behind, like say, cleared lands and excavated territory of what used to be forest... She's gonna eviscerate you all like paper. (The clones were like this)
Galaxhar Clone #1: FIX IT! FIX IT!! RESTORE THE FORESTS!!! (This music played as they did so)
Galaxhar Clone #2: So, is it bad?
Galaxhar Clone #3: Oh, no, not bad at all!... (It was shown it was now an apocalyptic wasteland)... IT'S SO, MUCH, WOOOORSE!!!
Galaxhar Clone #4: I DON'T WANNA BE EVISCERATED!!!
Galaxhar Clone #5: EVERY CLONE FOR HIMSELF! EVERYONE, TAKE YOUR CYANIDE TABLETS! (They did as they plopped down one-by-one)
(Galaxhar): "...... And that is yet another batch of clones I'm going have to recycle after this is over."
Later...
Throx: P****d out like bitches?
Galaxhar: Yep! P****d out like bitches! Of course one of them was too scared to take HIS cyanide tablet, buuuut...
Cutaway
Galaxhar Clone: (He was scared and ran away, but he killed himself accidentally in a comical and violent way)
Present
Galaxhar: He went out like a BIGGER bitch!
Cobra:... Galaxhar, remind me to have your clones as my own form of entertainment next time.
Galaxhar: I don't know how to feel about that.
Cobra: Don't feel anything. It's just duplicated versions of yourself I'll be beating up for my own villainous pleasure.
Throx: Now, if the banter is over, know that the concern is that the place they excavated is now too conspicuous. No trees in sight, and it's no doubt going to get us berated. Of any of you idiots are good at magic, USE IT AND RESTORE THAT S***!!!
Darrel: You wanna fill the place with s-
Throx: (As her horn sparked and she faced him) Finish that stupid sentence, fatso, and no resurrection process will be able to fix what I do to you! I DARE you!
Darrel:... Mum's the word!
Throx: Thought so! NOW, GET TO THE MAGIC!!! NOW!!! NOW, NOW, NOW, NOW, NOW!! (The villains got right on it)... My word, is my Shen disguise rubbing off on me?
Darrel: It might be- (Throx blasted him as he Wilhelm screamed as he crashed into Two-Fingers and Reggie comically)
Throx: IT WAS A RHETORICAL QUESTION, DUMBASS!!! (Sighs) No wonder these idiots aren't anywhere at this point.
Later.
The Aztecian Jungle is now restored and as if nothing ever happened.
Throx's voice: "Perfect..... And now, we wait."
Later again.
The Heroes' cart were seen.
This music played as the Good Changelings were bopping their heads to Icky playing this music.
Lord Shen: "..... PREHISTORIC ONE, WILL YOU STOP THAT?!"
Icky: "Okay okay! (Turns off the music with his Iphone)..... I thought it seemed cute."
La Broma: "Awwwww. I liked that music."
The Heroes arrived to the Jungle.
Missing Link: "..... Okay, I'm confused. Where's the Galaxhar clones, the ruined jungle and the lands being tarnish! Oak said that they were wrecking the place!"
Desteny: ".... It could be possable that mother has gotten wise and had the sites restored to as if they never happened."
Icky: "I'm willing to bet it's because the Leage Head Hunchos opened their big mouths on how this series usually works and while in the process of being mind-warped, inspired Mother Grousome to retcon the operations and have US do the shearching instead."
Count Abdomen: "Maybe it wasn't such a good idea to try to find the Great King. That's gonna end up leading Throx to Seta, and based on what that alien said...... She would use the Toxjecter gizmo filled with Love Trap venom to kill the king!"
Lightning: "..... Well that's one way to avoid having to go through devorce court. (Everyone looks at Lightning with blank expressions)...... What?"
Lord Shen: ".... To everyone here, not just Miss Dust, the time for quips and leverty has passed until another time. This is serious! We're dealing with an instence where a villain knows better then to underestimate us and RARELY makes serious enough mistakes that'll ultamately be costly."
Icky: "At least until she turns reocurring character and ends up being redused a few pegs to show how much we grown wiser then her."
Lord Shen: "I don't think it's ENTIRELY as simple with Throx. This is someone who has never known a serious enough defeat that it would break her confidence. This isn't a villain that can easily be trounced by our usual brand of unpredictablity, and/or in case the writing wants to over faver us again. This Throx is likely a conknifing mastermind."
Iago: "Well she is Chrysalis' mother, so, it explains why Chryly is so troublesome."
Lord Shen: "Besides the point! It seems for now, our time of dealing with quirky villains, redused reoccurings, and the producers wanting to make us look good, for this episode anyway, is at a halt! For the first time in this part of Season 3, we're back to having a serious threat, and earnestly serious, not like the botched attempt with Fema in Worm Infestation, and the short-lived nature of Glowrod in Alternate UUniversal Reconstruction, and certainly looks to be better exicuted then litterally the prior two parter before this! I mean, those three Corruption Co. Doctors looked like they were serious ones, but they were held back by a budget problem and that the producers wanted to get to this episode quickly in possable fear that Season 8 of MLP:FIM could be the last harrah of Chrysalis as a villain even when Season 6 has shown otherwise. Then again, that show has defied expectations before, and-"
Icky: "The point, Shen, can we get to it?"
Lord Shen: "My apologies, I was rambling. My point is, we're dealing with someone new, calulative, and might not be easy held back by plot convinence and/or villain bad luck. We may have to start using our brains for us.... Or, to hose that are stupid.... We may have to put effert into this. I'm afraid that for this episode, we can't relie on the plot dumbing and/or inconvincing our enemies for once.... At least, by this point until we get to the finally, or Scroopfan wants to get this episode down and out so we can move on."
Icky: ".... In non-post-modern terms, we have to start watching our backs people."
B.O.B.: "Okay! (Starts doing that litterally).... I got my eye on you, back!"
Mr. Krabs: ".... Hey, at least he follows orders."
Desteny: "Actselly, heroes, I have to agree with my count and not risk daddy. Can't we just find another way, and, maybe call your Uniter friend in?"
Icky: "Sorry, the plot barred her for this episode by having her do donation drives. Sety's really our our best shot here."
Thorax: "..... Look, You highness, I know your worried, but, Equestia can't afford to wait until the Uniter's avaluable again. It might be for too long until she's so. The King's our best shot."
Desteny: "But...... What if we doomed him?"
Thorax: "Don't worry, I'm sure Pharynx has it under control.... I hope."
Desteny: ".... It doesn't, help comfert me, but.... I guess I have no choice. I just have to hope for the best. Let me head on out first, and I'll lead the way."
Desteny does that and flies off as the heroes follow her!
Meanwhile, Abom-Changelings and Zombielings lay in secret.
Elsewhere.
Mcleach's truck was seen driving down the landscape.
Throx: "Yeeeeeesssssss. Even when they're cautious about me, they're forced to find Seta either way."
Junjie: "Espeically since the Plot made their Uniter absint for the episode. It's good to know that trump card of a pop star is kept from always interfearing with us."
Cobra: "Espeically after how she costed us Kai. Thank goodness this episode avoided being just another deminstraightion on how Deu Ex Gazzelleia she is."
Throx: "..... Galaxhar, do you have the Toxjecter ready?"
Galaxhar: "Alchourse! (Brings it up) Behold. Nice and filled with your plant's venom!"
Throx takes it and gives it to Pharynx.
Throx: "Pharynx, you are the most loyal to Chrysalis' ways and to me. You deserve the honor to doing Seta in."
Pharynx: "...... Thanks your highness. I'll treasure this honor for the rest of my days."
Throx: "Good. Now go ahead of us. It's unlikely this giant metal crate will be quick enough to reach the Aztecian Jungle. Rejoin our Faux-Changeling Horde, and proved to your brother once and for all the ineditable and undeniable prove of our power."
Pharynx: ".... It shall be done, your highness. (He flew off very quickly, then turned into a fast flying Litteral Dragonfly the size of a hawk as he squack-roared like one)......"
Throx: "..... Pharynx is indeed an obedient soldier."
Chrysalis: "Oh yes. He hasn't failed me yet. I have good faith that soon, Daddy will just be a distent memory."
Throx: ".... Yes, I memory I almost don't want to forsake..... But the good of our race and our future as the master race, tells me not to weep for him. He made his choice. He may as well live, or die, with the consinquences."
Outskirts of the Aztecian Jungle.
Pharynx arrived as the litteral dragon fly and stopped.
Pharynx: "Okay, (Takes the vial out), I need to get rid of this Love Trap slop and replace it with a simular enough compound that'll either do nothing or exsellerate waking up the King."
Pharynx noticed a purple flower sparkling with purple energy and is the same color of the Love Trap venom, which is purple.
Pharynx: "...... An energiser flower...... Oh yeah, that'll work."
The Heroes' location.
Desteny was still leading the heroes and lead them to a crevasse that leads to a long deep hole.
The Magic users began to illuminate light through their magic and began to travel down the area as the subterranean former home of the Changelings was highly flooded, filled with bugs and all sorts of subterranean creatures, and ruins of old Changeling civilization
Destiny:... (Sighs) So much for a nostalgic feeling. Time has been unkind to this place.
Fluttershy: Yeah. And the water doesn't seem sanitary to drink or swim in.
Destiny: With potential illnesses like extremophilic bacteria or the amphibious Changeling flu, parasites like mini-amphisbaena that eat bugs and feed on us, as well as the normal amphisbaena that eat us as technical bugs, among the many others like the Maulwurth, and a bunch of others we don't need to mention, except the most evasive being those freaky Diranhas...
Icky: Oh don't tell me: Are they Piranhas that swim in dirt?
Destiny: Not just dirt, but yes. They are invasive creatures that can be found in wet earth, mud, water, or anything wet and terrestrial, and they feed more quickly than your average piranha. They're very aggressive, too, so be careful. They came here as it was lost to time, and the dripping and flooding cave water made it an ideal habitat for them.
Lord Shen: Well, let's hope they don't offer any trouble, and let's hope that the water we accidentally fall into or have to swim through is sanitary. We don't wanna catch this 'Changeling Flu'.
Destiny: Actually, Changeling Flu affects only non-Changelings, as it causes the infected to experience things a bug would, like molting, projectile vomiting, difficulty breathing to where nosebleeds can be apparent, a liking to insects, and most importantly, a craving for love and an increased chance of being affected by pheromones, which can go as far as sexual activity, and since the flu is an STD, that can be dangerous. Then again, the effects and symptoms vary depending on the one infected.
Djon: Sounds painful!
Mantis: Oh, I admit, being an insect can have perks and disadvantages, like seeing in a slower pace if you're too small, and yet it allows you to fight and react faster as if you're slowing down time, but also a pain when you can't breath when made larger because of your different oxygen intake, the way certain insects like me mate like, when I claimed multiple times, eating their mates, they can e filthy, have itches during times of molting, and most importantly, your short lifespan. It's a sad and sick existence sometimes.
Viper: Glad we can cartoonishly live forever in that regard. Let's just find Seta before Throx does!
A faint buzzing was heard as the appearing Pharynx and the faux Changeling Horde were not far behind.
Pharynx:... Okay, you remember the plan, right? (The Changelings nodded in agreement) And hopefully your jinxes will allow you to resist their ability to think smartly when you impersonate whom you capture. (They flew off in secret)
Cave
The Heroes, after going through several obstacles, arrived to the end and found a simular looking temple, but more on the good side and slightly flooded.
Desteny: "..... We made it."
???: "Welcome, Desteny."
An Elderly Male Good Changeling came forth....
Count Abdomen:... Is that... The Guardian of the Temple, Spiracle? My gosh, it's been years!
Desteny: "Indeed. It's an honor to finally meet you again, Spiracle."
Spiracle: "The pleasure's all mine, Destiny..... Though you're earlier then planned. (Looked around him)..... And, with guests. Your father is not for another several years."
Thorax: "Well, we hate to have to wake him up early, but.... Throx has awoken, and-"
Spiracle: "Say no more. He feared this day would come. That's why he had our beautiful temple be filled with his favorite flower.... The Energizer Plant. It will easily accelerate his hibernation process and allow him to wake. Come with me."
Pharynx and the faux Changelings were watching.
Pharynx:... ("Then I'm right on the money with the plant.")
Good Changeling Temple
Spiracle: (They wandered through as the same hieroglyphics and architecture from the dark temple were seen but more bright and positive, and they entered a flooded areas)... Do not worry, this water has been decontaminated. It's safe to enter. You can thank magic for that.
Applejack: Well, of course we can. (They crossed the flooded water)
Spiracle: "We Changelings were about surviveal because the underground world is not like the surface world. The Underground, can be a rough and aggressive place. Hence why we changelings were initionally..... Not as approachable, and considering the enemies we had down here, it was not a walk in the park when we were on patrol."
Discord: "Say, do we get to fight this temple's own Zombielings?"
Spiracle: "Sorry, that's only for bad changelings. We good ones are at peace with ourselves, therefor, our bodies are at peace as with our souls."
Discord: "... Darn!"
Spiracle: Darn?
Fluttershy: "You have to mind Discord, he really wanted to reference a horror movie fighting them."
Spiracle: "Oh trust me. The only real worries around here is the Diranhas. Others are not that much concern since I'm used to all but the resilient Diranhas. No matter how much I exterminate, there's always more just around the corner. I'm still having trouble dealing with those dirty fish."
Tiara: "Pfft! A dirt fish? How bad can it really be?"
Spiracle: "You'll see once we get to the bridge."
Twilight: "..... I want to ask..... Why is the Underground so intense?"
Spiracle: "..... Been that way ever since.... (Points to a hieroglyphic of a fat beast who's face was obscured by mold) He showed up. I'd, explain, but we have more important things to do. (The group walked and got to the bridge over a mud pit). Now careful. The Diranhas are always a bit nippy at new things."
Tiara: "Oh please, I doubt these things are as bad as your saying-"
A Huge Diranha leaped up and roared as it charged for group!
Tiara screamed and covered herself as it looks like the Diranha was gonna land-chomp onto Trixie!
Tigress intersect and smacked the Dirana off and back into the mud pit!
Tiara was wimpering and crying!
Spiracle: "..... Told ya so."
Tiara:... PARDON MY FRENCH... BUT WHAT THE F***?!? WHY DIDN'T YOU TELL US THEY WERE MEGAPIRANHA LEVELS OF BIG?!?
Spiracle: They can grow if they nourish themselves enough, okay? They are invasive and infamous for a reason!
Lord Shen: "I recommend we move quickly! We can't afford casalties!"
Silver Spoon: What else could we do in this time? (They moved quickly and avoided even the smaller ones as they snapped their retractable and rotating teeth)
Iago: FIND A HAPPY PLACE, FIND A HAPPY PLACE, FIND A HAPPY PLACE!!!
Icky: "Shit shit shit shit SHI- (A Dirana chomped onto his head!)..... MMMMMMMMMMMMMMM!"
Gilda punched the Dirana in the gut, causing the fish to fall off!
Gilda: "SORRY, BUT THE BUFFET'S CLOSE?!"
Discord: "Okay, seriously, I think I can see why you people aren't fond of these little dirt devils?! (A dirana chomped onto his tail) OW?! (Looks at the Dirana dead into the eyes).... Do, you, mind?"
The Dirana started to phathicly whimper, let go and goes back into the mud pit!
Rainbow Dash: "Fluttershy, your good with animals! Tell these little litteral ankle biters to knock it off!"
Fluttershy: "I would if I could! But fish are too basic to talk to!"
Squidward: "YOU BEEN AROUND FISH BEFORE?!"
Fluttershy: "I mean, fish aren't very easy to have a conversation with unless they're sapiant or are like the ones from Eqlantica! These are obviously very basic fish! Also, they looked too hungry to be reasoned with! And intimidating!"
Icky: "FIGURES THE PLOT WOULD KEEP YOU FROM BEING USEFUL?!"
Thunderclap was yelping like a wimp as he tried to not let his wings be met with the teeth of the Diranas!
Iago: "WHY COULDN'T THIS BE A TEMPLE FILLED WITH SNAKES?! AT LEAST VIPER AND THE OTHER SNAKE LOUGERS CAN BE ABLE TO REASON WITH THEM?!"
Tiara: "WHY DO TEMPLES HAVE TO HAVE DEADLY CREATURES AT ALL?! WHY COULDN'T THIS BE A TEMPLE OF CUTE BUNNIES AND KITTENS?!"
Icky: "BECAUSE DEADLY CRITTERS ARE USUALLY THE BEST SECURITY FOR THESE KIND OF PLACES?! YOU HAVE ANY IDEA HOW BORED INDIANA JONES OR DARING DO WOULD BE TO THEIR JOBS IF THE RUINS THEY TRAVELED IN ONLY HAVE CUTSY ANIMALS AND ALL OF THEM EXTEND THE WELCOME MAT?! THAT WOULDN'T BE A PARTICULARLY EXCITING RUIN?!"
Rainbow Dash: "Hence why "Daring Do And the Mayen Fluffy Bunny Temple" Was considered to be one of the worse books in any series!"
Twilight: "Did you learned that from Quibble Pants? (The Lougers snickered at that!)."
Rainbow Dash: "Actselly, yes, I get along great with that guy, (A Dirana tried to bite at her but she back-fist-hoof punched it away), I mean, I don't agree too much about how he feels about the rest of series, but I think I can get behind his feelings about the Mayen Bunnies. I mean, sure, they had an interesting culture, BUT IT'S STILL, BUNNIES?! YOU CAN'T MAKE A RABBIT INTIMADATING?!"
Discord: "Excuse you, Night of the Lepus would like a word!"
Rainbow Dash: Uh, excuse you, Oswald the Lucky Rabbit has something to say!
Discord: Excuse YOU, The Twilight Zone Movie has an opinion on that!
Rainbow Dash: EXCUSE YOU, BUGS BUNNY WOULD LIKE TO CHIME IN!!!
Discord:... Watership Down!
Fluttershy: STOP! YOU'RE MAKING BUNNIES SOUND SCARY!!!
Lord Shen: "ENOUGH OF THIS NONSENSE, AND FOCUS ON SURVIVEAL?!"
Eventually, the group made it to the end of the bridge as the Dirana raid finally stopped!
The group were exhausted!
Spongebob: "Oh gosh! This is almost as bad as when we went through the Perfume Department."
Icky: "..... Seriously?! Equestia, has, FUCKED UP, WILDLIFE?!"
Patrick was seen to be covered in teething Diranas.
Patrick: "Hey now, fellas, it wasn't that bad."
Squidward: "...... You really are the epiphany of stupid.
Later, after having those small Diranas' removed from Patrick's body.
The group entered the catacombs and find that they surrounded by coffins of Good Changelings, that look like they're completely uneffected by time.
Twilight: "..... Alot of these Changelings looked like they only died recently."
Spiracle: "That's the beauty of us being in peace. We don't even rot away like bad changelings. At most, we eventually, just turn into plants. (They walked up to a Changeling coffin filled with Energizer flowers) Like this one."
Icky: "How do those flowers survive without sunlight in a temple in an underground cave?"
Spiracle: "Well..... Love is what kept these flowers alive. It can be more than just a magic enhancer in Equestria. Sometimes, plants of Equestria being filled with love can be very benifital to this world's evioment. Hence why when those without love or compassion, often do more harm then they would really ever intend or care to do. Hence why you rarely see a huge scale city in this world."
Destiny: In fact, that was our first love source in our time underground. Plants grown with love provided us plenty of food before our feeding got noticed and caused our first famine crisis. We ended up eating each other for the love we had.
Sparx:... Gross!
Icky: "So, love is like, a plant life force in Equestria? So, would that make Love-Traps like, plant vampires?"
Spiracle: "That here sonny, would be an understatement. Love-Traps are parasites with vines and flytrap-esque mouths. Those things were native to the undergrowth world that exist to specialize on Changelings, until a literal jackass unearthed these plants and allowed them to spread worse than an average Plunderweed infestation.
Discord: HEY! I only agree to two-thirds of that statement as the one who created Plunderweeds! FOR NO PLANT OVERGROWTH, CAN TOP THEM!!!
Ralth: I thought it was your evil brother who did that!
Discord: But he isn't here, now is he?
Spiracle:... Now, the plants came to like the love of ponies and other creatures more, so their infestation became rampent. Hence why that Starswirl the Bearded fella to when he was only starting did what he had to do.... But something tell me Throx may've went and undid all that hard work of his since she was learning on how to manipulate those nasty plants."
Icky: "No kidding. Those things and the Zombielings are everywhere in Thorax's hive like a bad roach infestation with a weed outbreak! Only with the roaches being zombies and the weeds being able to suck an emotion!"
Spiracle: "Well I ensure ya. When we get Seta to wake up, both of yer problems will be sloved."
The heroes walked on as they were still watched and followed by a hidden Pharynx and the Faux Changelings.
Hybernation Room.
The group entered the Hyberation Room as it was alot more cleaner and preserved then the rest of the temple.
A great and beautiful rainbow cocoon was seen at the center.
Icky: "..... Well aren't we flamboyent about our hybernation?"
Desteny: "Please be respecful!"
Spiracle: "Yes. This is the king after all. (Spiracle proceeded to pick up an engergiser flower)..... He has instructed that an Energiser flower in any shape and form, must interact with his cocoon. It will speed up his hybernation process."
Thorax: "Well in that case, let's get to it."
???: "How's about a second opinion on that?"
The Faux Changelings charged in and surrounded the group as various creature and zombie sounds are heard!
Po:... MONKEY!!!
Monkey:... Ca-ca!
Pharynx came in with the Toxjecter, filled with the Energiser serum, but to our group, it's still the Love Trap venom.
Pharynx: "..... Well, for once big brother, ya did something productive. Ya made it easier for Throx and the leagers to finally find Seta.... Too bad his hybernation is about to become a litteral deep sleep."
Starlight: "Pharynx, please! What good is enjoying the nostaglia of a life best left in the past if it means..... Taking away a good king's life."
Pharynx: "This is beyond reliving the glory days! It's to once and for all proved that Throx's way is the only way to go! It's nothing personal to him. It's because he is a threat to the true Changeling way of our dream to become a master race! She personally doesn't want it to end like this, but surviveal means you have to be merciless to any threat in the end!"
Lord Shen: "Look, I can understand feeling displaced in when your race desides to not follow a certain way. But some traditions are better off discontinued, abolished even. What good is being a master race if only hatred and fear will exist in your reputation?"
Pharynx: "It's not any different then how it worked in the underground. In the Underground World, Changelings were treated like second class citisens ever since HE showed up! Creatures like Molemen treated our kind like slaves, packmules, even as footstools, because we're nothing but freaks to them?! We have been considered freaks there, it won't be that different up here, not without having to don those verly colored appearences anyway!?"
Icky: "Hey, blame Hasbro for not letting you guys stayed with the designs the fans almost certainly missed post Season 6 finale! They assusiate black colors and looking imtimdating strictly badguy motives, so, that's why Thorax looks like a bug-horse-reindeer."
Thorax: "The things on my head are suppose to be mandables."
Icky: "Well, one, they're supposed to be on your mouth, and two, they ended up looking like antlers because of the off color they had. And another thing, Lazonia-"
Pharynx: "PHARYNX!?"
Icky: "If this is about giving the fans their dashed dreams of a Changeling civil war, buddy, come on, the Season 7 finale said otherwise! Get over it."
Pharynx: "ENOUGH TALKING?! Either you guys step ahead or put up your dukes, because I am honoring Throx's wishes!"
Discord: "Oh please, your best armies are zombies and Mang's shotty attempts at making Changelings, who I must state, that they can't handle, (brings out a glass of milk) This. (The Abom-Lings began to faulter and shiver at the sight of the milk)....."
Pharynx: ".... Seriously?! You freaks can't handle some milk?!"
Trixie: "They're lactose intolerent....."
Pharynx: "...... Well that's a stupid weakness for monsters to have."
Icky: "We know, we know, it was from an earlier episode, what can ya do?"
Pharynx: "Okay, ya know what? I'll deal with you, myself! (Shapeshifts into the assulter beetle creature) (Roars!)?!"
Lord Shen: "We don't want to have to hurt you for Thorax's sake! But for the king's sake, we will have to fight?!" (They fought hard as the Abom Changelings planted Love-Traps that started to poison the Energizer Plants)
Tigress: GET THOSE PLANTS! (The Love-Traps gassed them as they coughed)
Lord Shen: "No cheap shot will stop us so easily! (Sliced off the Love Traps as they screeched!)"
The Abom Changelings tried to plant more, But Discord with a milk spraying cannon began to douse the Abom Changelings as they squealed as they litterally puked to death!
Discord: ".... Yeah, I have to agree, these creatures are no longer so threatening with them being lactose intolerent."
Lord Shen: "Nevermind the lampshade and FIGHT?!"
The Group fought off the Love Traps and the Abom Changelings!
The Zombielings began to march in slowly!
Po leaped up and body slammed the ground, causing the Zombielings to fall onto themselves and struggle to get back up!
Po: "Oh yeah! Score one for the Dragon Warrior- (Pharynx as the assulter beetle smacked him off) OW?!"
Pharynx: Ya may as well stop this now! Fight back all you want, but Seta AIN'T gonna wake up from his nap! One way, or the other?!
Thorax: Pharynx, please! Taking away Seta's life will accomplish nothi- (He smacked Thorax out of the way!) DAAAHHH!! (Gets his head-manables stuck onto the wall)...... Awww, nuts. I hate it when this happens!
Kowalski:... Wow! Being a regressed Changeling takes away all parts of his soft side.
Pharynx: Oh, that? That's just some brotherly love! And I have something that makes that look like a love tap! Check, THIS OUT! (He shapeshifts into a blend between his assulter beetle form, the Men in Black Bug, having scorpion claws, 8 large hairy legs, and a lion-like mane)... THIS, is our old subterranean home's apex predator, the Myrmecoleon! This form helped me bring down an Antero Vipunen that plagued us in our old days!
Lord Shen: Now see here, Pharynx, let's not be too violent- (Pharynx nearly cut his head off as he put his head into his robe, popping it out).... Thank goodness for cartoon logic. (Lord Shen dodged Pharynx's attempt to crush him!)
Desteny saw the battle and tried to get to the cocoon to awake Seta!
Pharynx: "(Saw Desteny)..... Oh no you don't! Seta ain't gonna wake up! (Quietly) Not this way, at least! (Uses his tail to block out Desteny's way!)"
Some Zombielings that managed to get up began to approuch her!
Desteny tried to fly off, but the Zombielings grabbed her and pinned her down!
Po: "Oh no! Guys, the Zombielings got her?!"
The heroes tried to come to her aide, but the Abom Changelings and the rest of the getting up Zombielings surrounded them!
Discord: "Oh boy! (Turns into his Evil Dead attire) Finally I can get going on- (A Zombieling slime puker began to puke out slime that trapped the heroes in it as it harden quickly!)........ Drat."
Thorax was finally able get unstuck and saw that Pharynx was approuching the cocoon! Thorax was caught in that same state of hopelessness again...... But then, he finally nut up, charged torwords Pharynx and turned into an Impostersalis Spider and latched onto Pharynx and had a serious grip!
Thorax: "I'm doing you a faver, Pharynx?! Desteny won't appresiate an attempt on her father's life?!"
Pharynx: "..... Well, believe me, bro. I get where you're coming from. But here's the thing! Whether everyone here will believe me or not, (Grabs Thorax off and ties up his Impsotersalis' form legs like a bow, then pulled out the Toxjecter).... I'm doing us all an even BIGGER faver. (Aims at the Cocoon)."
Thorax: "Pharynx, please, NO!?"
Pharynx fired the toxjecter as in slow motion, the needle filled with Energiser serum, which still looks like Love Trap Venom, flew across the air as everyone looked in shock and bewilderment to this, even a heart-broken Thorax and a shocked Desteny who was already incase in a good cocoon but her head, as she shed a tear!
Speed returns as the needle hit it's mark onto the cocoon!
Desteny: "FATHER?!"
With the injection starting, the Rainbow Cocoon began to don an unslightly dark purple color.
Desteny looked with utter defeat, as she began to sob quietly.
The Heroes are now conflicted to feel awful for Pharynx, be upset with him, or just be mad at Throx for causing his supposed downfall.
Taiku: "..... I seen worse relapses.... But this?...... This takes the cake......"
Thorax turned back to normal as did Pharynx.....
Thorax: "..... Pharynx...... How could you?"
The Zombielings grabbed Thorax as Pharynx said nothing.....
Pharynx: "..... Faux Changelings, don't bother with the planting, we're done here. There was enough venom in Galaxhar's toy to poison a god. Seta's a no show now. Let's return to Throx. He arrival here will be soon enough.
The mass group began to leave as the cocoon was seen acting suspitious, while the captured Spiracle sees this and knows exactly what's really going on.
Spiracle: "(Chuckles quietly) (Quietly) The boy's a clever one, he is."
Outside of the cravesse area.
Pharynx and the Faux Changelings brought out the contained heroes and brought them to Mcleach's truck as Throx and the leagers waited.
Junjie: "I.... I can't believe it! This is TOO good to be true?! The Lougers have finally been defeated by us?! (Laughs insanely)! YOU FOOLS REALLY ARE NOTHING WITHOUT THE UNITER?!"
Icky: "Don't get cocky, Juns. Gazelle, Sandy, and others whoa re absint will hear of this and WILL avenge us!"
Cobra: "Of course. But with Throx, even your Uniter can't save you now! Nor the random cartoon logic of those duos of dogs and bunnies! I, have, very, very, VERY, good reason to believe, that you heroes are FINALLY our bitch! I have the impression that getting to Kairi is no longer too great of an issue! But one leage victory at a time. We'll save her, best for last after we reduse the ineditable Uniter charge into the end result of another fallen Uniter! For now, let's enjoy on making Equestia fall as a paradise!"
Desteny: "...... Mother...... How could you? I know you and father are no longer in eachother's good graces.... But this?!"
Thorx: "Oh please! If you father had the chance, he would do the same to me!?"
Desteny: "Father was far from being like you?! He still believed the best in you! And would still even after hearing what you aimed to do!"
Throx: "Whoops, then with him dead, and slain by your little protoshay's own brother, we may not be able to know that now, now would we? I hoped you enjoyed the inside of that prison cell you were in back at the old hive, because your going BACK there?! And this time, you'll get more then just the defects?! All of these heroes, for safety reasons, are being sent there as well! And I will cast an even more dangerious verson of the same curse I casted back at Canterlot onto it to ensure that this time, Only a Changeling as powerful as I, or greater, can reverse it?! You'll come to respect me one day, though judging with your crying face, I won't expect it to be this lifetime. Oh well. At least I'll have fun conguring Equestia until then."
Desteny: "..... What point is there bringing the violence of the underground to the surface, when we should've brought the surface's ways to fix the underground?"
Throx: "..... (Scoffs), You really are daddy's little girl. That is totally what he always said to me! I'm done talking?! Pharynx, I am entrusting you with warden duty at my new prison! The rest of us are going to enjoy finally making the master race dream alive!"
Pharynx: "..... yes your majusty."
Mcleach's truck rode off.
The Changeling Hive Prison.
The heroes were all present in the prison as Junjie and friends were seen.
Galaxhar: "It's not fair that we still have to babysit the prisoners while Mang gets to be with Chrysalis in celebrating the Leage's long awaited victory!"
Makunga: "Hey, just be glad that we won for once!"
Junjie: "Oh yes, gentlemen..... And I already predict more victories coming soon!"
Tai Lung: "And hey, if this goes well, maybe Throx will change her mind about being with the leage."
Junjie: "Tch! That's a sucker's bet! Alchourse she'll change her mind!"
Pharynx came in.
Pharynx: ("Your the suckers too, assholes.")
Pharynx cleared his throat.
Pharynx: "Hey, I want a chance to have a private chat with the prisoners. Can't you 4 go do something, leagery?"
Makunga: "Oh thank god, thank you! Last one to their kitchen on the top tower's a rotten ostrich egg!"
The four all ran off!
Pharynx approuched the heroes that, while aren't insanely mad, are too broken, depressed, and defeated to give him a generally kinder look.
Pharynx: "..... Well, from judging your faces, you lot look like your disgusted, revialed, and ashamed of me for what occured."
Discord: "(Sarcasticly) Well GEEEE, maybe that's because you, oh I don't know, (YELLING) MURDERED A GOOD KING?! Look, I get where your coming from?! I used to missed the days where I can be care-free about how I distribute my choas myself! And I thought Tirek was someone who gets me! But he only used me as a means to meet an end! He knew that I was far from being like Mayhem, let alone pre-random reformation Tyranny! My own nostaglia googles for that old sytile of choas blinded me from who my true friends are! And now look at yourself! Your googles are on too tight now, to the point that you ended up taking the way the only hope we have to keep Equestia NOT being congured by Chrysalis 2.0. Extreme Bitch Series! I mean, look, we'll pardon it on account that Throx may've screwed up your mind, BUT THIS?! THIS, WILL BE VERY HARD TO REDEEM YOURSELF FOR GOOD CHANGELINGS AS A WHOLE, LET ALONE TO EVEN YOUR OWN BROTHER'S HIVE, YOU MAY REGRESSED TO HAVE NEGITIVE FEELINGS TORWORDS YOU AGAIN?! Just..... What do you even have to say for yourself?!"
Pharynx: "..... I'd apologies..... But I don't need to. Because, I'm gonna let you guys in a secret. (He turns back to his pure form)..... I didn't really regressed."
The heroes were surprised...
Icky: "But..... But you fired that needle onto the cocoon! We saw it turn purple!"
Pharynx: "Oh would you not worry? I removed the real Love Trap Venom and replaced it with serum of Energiser Flower. I only needed Throx to think he was dead so she would end up losing focus as, even as we speak, Seta will get an early wake-up call and likely see the dead Love Traps and Mang's freaks to realise that she's back."
Discord: "..... (Laughs joyously) You sneaky little bug-horse devil! You used Chrysalis' own dirty tactics and ill-fated trust that you were corruptable against her! AND you even managed to fool Throx!"
Taiku: "You little stinker!"
Count Abdomen: "It takes great guts to make Throx look like a fool and expect to live! She's never been fooled by anyone else but her ex-husband and Destiny!"
Thorax started to cry....
Skipper: "Oh why are you crying?! Pharynx said he never went traitor! At least, not to us!"
Thorax: "These, these are tears of joy! I, I knew my brother would never betrayed Seta like this!"
Pharynx: "Aw come on bro, I know I left a convincing preformice, even with an added flare of looking like I did regressed, but come on! I'm litterally the same guy that saved you more then once, braved Guards, Bone-Rattlers, artic weather conditions, ponies carring implaments, Malworfs, even being respodsable for you escape on that leage ship, and stuck up my neck for you even at the worse moments, because, hey, I may be an asshole about it, but I'm an asshole who cares for ya.... Well, that, and I also wanted to get back at Throx and Chrysalis for SERIOUSLY thinking that just because I missed being a bad guy that I would just stupidly go back to them like a phathic drug addict, even after discovering that Chrysalis LIED about love?! What do they take me for, a dumbass?!"
Icky: "Well, that's cool, but Throx said we ain't getting out here until a strong Changeling does that, else we get sucked into the center of this world!"
Pharynx: "Hey, remember when I said about the Engeriser Plant?"
Desteny: "..... You mean....."
Pharynx: "YYYYup! Expect an incoming reunion soon."
The Hive's Top
Junjie, Galaxhar, Makunga, and Tai Lung were having a party with the food items as they seemed to already be drunk on a sweet fruit.
A Figure landed on the top.
???: "Excuse me, Gentlemen. But can you tell me where I can find Throx. I felt that it's impourent that I correct something."
Galaxhar: "Oh, she likely is at Canterlot surrounded by anti-magic rocks already plotting Equestia's conquest!"
???: "Oh that is so typical of her! Well, I want to know if my daughter is here."
Junjie: "(Hic). Fat chance buddy, whoever you are, (looks at the stranger's direction), go look for your kid somewhere- (Gets bug-eyed)....... G-g-g-g-g-g-g-g-g-g-g-g-g-g-gentlemen?"
The trio looked over and saw that it was King Seta standing proud before them.
King Seta: "..... Well..... I'm waiting..."
Junjie: "...... SHE'S IN THE PRISON OF THE HIVE HELD BACK BY A STRONG CURSE ONLY A STRONG CHANGELING CAN UNDO?! PLEASE DON'T HURT US?!"
King Seta: "Oh, don't worry. Physical harm's beneath me."
The four sighed in relief.
King Seta: "...... That doesn't mean you four aren't due for justice."
The four heard that and screamed as they get trapped and engulf in Changeling Goo and turned into a cocoon....
King Seta: "..... There.... That should hold you ever until things get settled."
King Seta phased into the ground as the four were left stuck.
The four muffled and scream as they were forzen in Changeling goo.
Prison.
Pharynx: "He should be here any minute now."
???: I should've guessed on how easy it was to cohersed you! (Throx arrived)... But at least, I made the best of that. Figures my daughter never looked pasted your nostaglia to being a villain and saw that behind a tough exstirior betrays someone no less weak then Thorax.... Your just not afraid to punch someone.
Pharynx:... And, I feel like a DUMBASS for falling for Throx myself! You.... YOU KNEW ALL ALONG, DID YOU?!
Throx: Well, admitingly, some part did wanted to believe that you were that easy, but alas, you have indeed that your not much different from your brother apart from not afraid of getting into a fight. I am all the same disappointed that Seta lives! But, as before, I'll make use to any flaws in my plan and correct them. I just heard that Seta has arrived, and it proved me right. I was hoping that a small backup plan would come out of this. Either you kill Seta, or I have the pleasure of having him fall into our backup trap!
Everyone: BACKUP TRAP?!?
Later...
Seta: (He burst into Throx' throne room) THROX!... (He approached what looked like Throx in the throne, until it was revealed to be Chrysalis)
Chrysalis:... Welcome back, daddy! We've been expecting you!
King Seta: What? (He was trapped in a anti-magic cage made of magodranium)
Chrysalis: Mother knew Pharynx all too well since he was first born.... Though it disappoints me that he's truely not leager matreial. If there was one thing he'd do better than anything else, it's stick up for his brother. It was too obvious he wouldn't turn on him very easily. I wanted to believe otherwise, but given your awakening, then I guess having Pharynx back on my side truely WAS a pipedream. But at least mother knew how to correct a mistake. Anyway, that being said. welcome home! Boys? (The Faux Changelings lifted the cage non-magically and carried him away)
Present
Throx: Seriously, Pharynx, I didn't get this far without cutting corners. If I didn't, Chrysalis wouldn't be the infamous villain she is now. For what it's worth, you did well fooling my daughter and her aliens friends about it to the point that those four imbaciles blindly trusted your advice, but I was more cautious. I knew you were only loyal to your brother more than you were for the safety of your kingdom and people. I admire your use of deception... Too bad it was used againsted your own kind. I've fallen for it before during our war a thousand years ago... TWICE! I never fall for it thrice!
Discord:... Clever bug! (Pharynx was thrown into the cell.)
Count Abdomen: ".... Well, at least you prevented her from killing the king."
Pharynx: ".... But this wasn't what I hoped would happen."
Throx: "Oh don't be too disappointed, Pharynx. You still mostly fooled my daughter and her friends until I had wished to confirm my suspitions. And I did. At least know Chrysalis will go weary of ever trying to convert you ever again, you miserable lost cause and wasted potaintional."
Icky: "..... Kinda exactly what we were talking about, Phar. Once you stopped being useful to them, your ass is dumped."
Pharynx: "...... But.... I figured that I would.... Use that against them."
Throx: "And you were close, to be fair.... You just didn't take into account that I have very good hindsight and consideration. Instead, all you proven that your actselly no better then your brother in how easily you turned into Seta. Oh, speaking of that. Destiny dear? Expect to reunite with your father in a few seconds. (Seta was brought in again)... Make that only a split second."
Seta: Throx!
Throx: Hello, my ex-husband! It's been so long!
Seta: It sure has! I see you haven't changed a bit.
Throx: Indeed, and now, here we are again! Just like old times, after you turned your back on me, when you betrayed the kingdom by turning everyone who counted on me against me, turning your back on everything, that makes a Changeling, a Changeling!
Seta: I DID WHAT I HAD TO! I KNEW WHAT WAS BEST FOR CHANGELINGS EVERYWHERE! ESPECIALLY SINCE WE WERE FIGHTING TWO WARS! ONE AGAINST YOU, AND ONE AGAINST THE UNDERGROWTH KING!
Twilight:... Who?
Seta: Let's just say, he's kinda part of the reason why Throx wanted Changelings to obsorb love. Problem is, the power gotten into her head and.... Granted other obvious unfortunate quilities. She ended focusing too much onto revenge to the Undergrowth King then to make a better life for our people. Making changelings get love by force will only make the surface world treat our kind just as poorly as the underground under the Undergrowth King's regime is! And on top of that, Chrysalis has not gotten involved with unsavery riffraff! You lost the point of your own revenge!
Throx: I HAVE NOT AT ALL?! IT'S JUST THAT TO DEFEAT A CONGURING MADMAN, YOU NEED TO BEAT'IM AS HIS OWN GAME?! FIGHTING FIRE, WITH FIRE!? I HAVE THE POWER TO KEEP THAT EVEN THAT FATASS'S ENTIRE FAMILY FROM EVEN DECLARING WAR! I CAN KILL HIM IN HIS SLEEP! I AM THE TRUE DESTINY OF OUR KIND, AND YOU KNOW IT! YOU CHOSE TO BOW, SCRAPE, AND MAKE FRIENDS WITH THESE INSOLENT CANDY-COLORED EQUINES WHO OFFER NOTHING BUT LOVE AND FRIENDSHIP! CELEBRATING IN PARTIES, WHEN THERE'S SO MUCH MORE! DON'T YOU GIVE A SPLOOGE ABOUT THAT?!?
Seta:... There's so much more to life than just violence, Throx! You still fail to see that. What good is getting revenge on the very being that had hurted us and harmed us, if you only repeat the cycle of cruelty he has started. That's why, smarts or not, you're still going to lose.
Throx: "Well see.... I'm not the one in the Magdranium cage, now am I?"
Seta: "No cage is unfallable. Your just delaying justice at best."
Throx: "Say what you wish, Seta. I have more impourent things to take care off. Take him back to his little temple and make sure he STAYS there. (The Faux Changelings dragged him off.) I may not have the chance to be rid of him perimently, but at least I still trounced your attempt at a happy ending. Good to know that I end up being the one thing Equestia couldn't Deu Ex Machina it's way out of. Chao, and good riddence, pests. (Teleports away)......"
Pharynx: "....... I can't believe it....... I have been made an idiot out of....."
Count Abdomen: "Oh don't be too upset. Smart Changelings have been humilated before by her. Throx is merely someone who is rarely fooled."
Pharynx looked down and sighed sadly as things look blick.
Suddenly the episode stopped playing!
Deadpool rips the scene open!
Deadpool: "OHHHHHH NO?! WE ARE NOT GOING THROUGH THIS VEIL OF HOPELESSNESS SHIT AGAIN?! THAT, THAT WAS JUST FUCKING UNFAIR?!"
Scroopfan: "Hey now, I'm sure MSM knows what he's doing-"
Deadpool: "CHANGE THE FUCKING SCENE NOW, OR I'LL SWEAR TO GOD, I'LL MESS WITH THE SCRIPT AGAIN?!"
Scroopfan: "Ya know, we still have security guards on stand-by- (Sees that Deadpool has already cartoonishly disable the guards)......... Ohhhhh boy."
Deadpool: "So, are you gonna change the scene?!"
Scroopfan: "..... Okay, how's about a compromise instead of a repeat of Deadpool's Little Visit, huh? How about that we have it that YOU, came in and saved the Lougers so that they can save that day?"
Deadpool gasped delightfully!
Deadpool: "(This video)"
MSM: WHOA, WHOA, WHOA! TIME OUT! HOW DARE YOU BARGE IN TO INTERRUPT THE STORY AND BITCH ABOUT THROX?!? YOU DON'T JUST-
Scroopfan: "Hey, you're the one that got him here by having Throx being too smart for the story's benifit, so it's either this, or letting him repeat the chaos of the forementioned episode again?"
MSM: Okay! I'll do it on ONE condition: You listen to what I have to say.
Deadpool: No promises!
MSM: Pal, it's either that, or the next time I see you, I'll have to have Nick Fury teach you some manners about butting into our affairs. And you KNOW how he gets with you.
Deadpool: YOU WOULDN'T!
MSM: WATCH ME!
Deadpool: (Sighs) Fine! Just, before we start all this, what exactly were you going with thsi?
MSM: I have an alternative way to save them. I have a brain, so why don't you stop whining and LET ME USE IT?!? Seta could've had the energizer plants restore his fallen Changelings in his temple, and had them provide aid while he does a diversion? After all, Throx said he and Destiny were the only ones to outsmart her.
Deadpool:... You know... That's actually not a bad idea. Why didn't I consider that?
MSM: Because you're an egomaniac who wants to rig the episodes we do however we can, duh! I'm still going with the flow, but I'm NOT gonna drag someone that has little to no baring in the plot, and provides a big-lipped alligator moment out of nowhere! That'd be stupid and weaken the story. It'd be like bringing in Batman and Robin to an episode of SpongeBob. It just doesn't fit.
Scroopfan: Well pardon me for just trying to keep Deadpool from repeating the script mess.... That being said, that is a good counter-arguement.
MSM: See? He gets it!
Deadpool: But it would be much cooler if it was me!
MSM: Again, you'd ruin the story by coming out of nowhere! Seta is JUST as smart as his ex, if not more. Now, if you please, get out of the picture, BEFORE I GET OUT A CARBONADIUM SWORD AND SLICE YOU TO RIBBONS?!?
Deadpool: But-
Scroopfan: Look, sorry Wilson, but it looks like MSM has toughen up since Icky's previous visit to us, so, you may as well drop it.
Deadpool: (Sighs) Fine! But you both SOOO owe me!
Scroopfan: "How's about we promise you a role in a later episode and be done with that?"
Deadpool: "I'LL HOLD YOU GUYS UP TO IT! (Walks out the door)!"
The Episode Resumes
Pharynx looked miserable.
Spike: ".... Wow, he's really taken this hard."
Thorax: ".... This was the first time Pharynx had seriously lost."
Icky: "What about the Canterlot attack?"
Thorax: "I mean, first time he lost ON HIS OWN, and not because of Chrysalis's overcompidence."
Boss Wolf: "So, he's gonna be like Shen from a few scenes back and hate himself for not winning in an otherwise perfect plan?"
Thorax: "Pharynx takes very great pride in being the most clever of non-royal Changelings.... He doesn't, cope well, with being defeated in a serious way."
Seta: Everyone, just relax! I mean, come on, you think I didn't survive our 60-year-war without cutting corners? I'm just as smart as Throx if not more.
Pharynx: Are you kidding? You come here on your own, and get caught by what's obviously a trap! What do you call that?
Seta:... A diversion. (Everyone was shocked)
Discord:... HOLY BALLS, YOU JUST BURNED THROX LIKE A SALAMANDER!!!
Seta: Yes. I had energizer plants revive the Changelings that were in the temple with me. They should be charging right about... (A bugle was heard) NOW!
Outside.
Etemon: "Oh now what's happening?! (Seta's Revived Changelings charged forth!) HUH?!"
Ruber: "WHAT?!"
Dr. Facilier screamed?!
Cobra: "OH ARE YOU, KIDDING ME?!"
Junjie: "(While he was being freed from the goo cocoons by Faux Changelings) AWW, COME ON?!"
Throx came in, almost unsurprised.
Throx: "..... That, clever, basturd?!"
Chrysalis: "(Phathicly hides behind Throx!)"
Mirage and the other leage leaders look at this as they showed signs of Throx's control wearing thin!
Jafar: "..... THIS, IS THE SORT'VE THING WE TRIED TO WARN YOU OF?!"
Maleficent: "We'll GLOUT later?! Throx, I remimend you fix this?!"
Throx: "And that I shall! (She summons the Love Traps and the Zombielings as they charged to battle Seta's revived Changelings, that dispite the number disadvantage they proved overwealming to the Zombielings and the Love Traps, with some close calls!)..... That doesn't look to be in our faver. We're going to have to retreat to Canterlot and increase our defences!"
Cobra: "YOU AIN'T JUST WHISTLING DIXIE WE NEED TO FAULTER?!"
The Abom-Changelings and the Leage retreated away from the area!
Growing from the ground was a Prime Love Trap "Queen" of sorts as it began to fuse with the Changeling Hive.
The queen Love-Trap started to take out many of the Changelings by sucking their love))
Changeling: "SOMEONE SEND SETA A MESSINGER?! TELL HIM WE'RE GONNA BE ALITTLE LATE?! THE LOVE TRAP QUEEN SHOWED UP?!"
Dungeon
Seta: (They heard the battle from outside)... It sounds more intense then I expected.
Thorax: And how will they get here before-
???: SIR! (A changeling arrived)
Seta: Chaeta! Good work, brother!
Chaeta: All in a day's work, sir!
Destiny: UNCLE CHAETA! OH, IT'S SO GOOD TO-
Chaeta: Everyone, just save the greetings for AFTER my sister-in-law is down for the count? Also, There's a love trap queen blocking out our escape and giving our forces trouble?!
Seta: "..... Then it's about time we dealt with these weed and zombie problem for good."
Top of Hive
The Heroes arrived and saw the Love Trap Queen bonding with the Hive.
Kolwalski: "That is both a horror and a marvel of nature beautifully and hidious mixed at the same time. I wsih I could get to study these plants."
Skipper: "CAN YOU NOT BE SUCH A NERD ABOUT IT?!"
Kowalski: I'm a scientist, so... No!
Dr. Cockroach: So... ALL scientists are nerd?
Kowalski: NO-NO-NO-NO-NO-NO-NO-NO, NOT AT ALL!!! I'D BE INSULTING MYSELF IN THAT REGARD!!!
Missing Link: (Sighs) Let's just stop standing around, and STOP THAT BEAST FROM MERGING!!
The Love Traps surround the group as Zombielings began to appear as well!
Iago: "Uhhh, I know this is a bad time to ask and this isn't nessersarly a bad thing that she's gone, but, where's Throx?"
Chaeta: My best guess is that she left with the Villain League back to Canterlot. She's brave, but not foolhardy. She never risks staying in a dire situation.
Icky: Oh, sure, the classic villain cliché of letting the 'unstoppable' power finish off the hero! So much for a good villain!
Dinky: Well, to be fair, these plants look- (A vine grabbed him) BLAAAAHH, ARE FORMIDABLE!!!
Boomer: I'MA COMING, DINKY- (A vine grabs him too) HUEEGH!!!
Pharynx: "Seta, now would be a good time to send the plants away and to purify the Zombielings!"
Seta: "I need to be able to get to the heart of the Queen before I get to that!"
Icky:... Is this gonna be like with Jallamadoor where we had to reach into the soul and rip the trapped victim in?
Chaeta:... That sounds like something out of a torture porn, or horror porn. We've had enough of that in our time.
Thorax: Oh, we had that problem before, and with love, it's a BIT heightened-
Icky: CAN WE PLEASE NOT TURN THIS INTO A SMUT FILM, AND CUT TO THE GODDAMN CHASE?!?
Seta: I couldn't have said it better myself... Actually, I could, because I didn't get that in the slightest! Instead, I'll just get on with it!
The Love Traps get closer.
Lord Shen: "Well, I suggest you get to it, your Highness, (Slices a Love Trap's head off), Because we can't fight these forever!"
Seta: I'm going in! (He blasted a gushing wound into it and entered)... (The Lodgers were like this)
Inside Love-Trap Queen
Seta: Oh dear, this is indeed the worse thing to have to wake up to. Going inside a Love Trap Queen. Yeck!
Seta flew down the plant's body structure and dodged several anti-body creatures!
Seta: Alright... Made it to the heart!... Time to blow this vegetable stand! (He charged his power)
Outside Love-Trap Queen
SpongeBob: (The Live-Trap Queen was being energized as it screeched in pain)... HIT THE DECK! (They ducked as the Queen exploded in slime, and stopped it from absorbing the Hive, as the resulting love exploudsion killed the Love Traps and put the Zombielings to rest as the bodies turned to dust and freed purifived souls. In the aftermath, Seta came out shaking himself)
Sandy:... Wow, what a gutsy move! (Gary did this)
Seta: Well, it worked. Now we must not waste time. We must confront my ex-wife, IMMEDIATELY!
Boss Wolf:... Well at least you don't waste time rambling on like we do-
Seta: LESS TALK, FOR FLY!!!
Chapter 6: Taking Back Canterlot/Defeating Throx
Magodranium-ized Canterlot
Abom-Changelings fly everywhere as Shocktroopers began to march.
The Heroes were hidden in the far outskirts of Canterlot.
Seta: "...... I have a way to enable us to still have our power even dispite that Magodranium."
Starlight: I sincerely doubt that.
Rarity: I agree. I mean, that stuff clearly seems like something I'd encrust in my dresses if I didn't want some magic ruffian like Discord turning me inside-out.
Seta: Trust me, we both used the same substance when we fought each other a thousand years ago. We have learned MORE than enough information to get past them.
Lord Shen: Oh, sure, what're you gonna do, send in a Trojan Horse?
Seta: No, that'd be way too predictable and obvious to Throx. That clearly sounds like something La Borma would say.
La Borma: Actually, I was. Thanks for getting to that before me, jackass!
Lord Shen: (Sarcastically) You're welcome, jokester!
Seta: But in all seriousness, I have a subtle way for us to enter no problem.
Boss Wolf: The disguises?
Seta:... Funny thing, I need to let you know that Throx is capable of seeing whose disguised, whether it's a changeling or not. And given the jinxes she's using, it's going to be Opposite Day on you faster than the day ends.
Boss Wolf:... Well... Poop!
Seta: Just follow my lead!
Seta started to lead the group somewhere.
Seta: "It's a little known fact that Magdranium does have a non-magical weakness."
Boss Wolf: "That is......"
Seta went into the woods as the group followed.
Seta showed up to a certain point and found some gian mushrooms.
Seta: "..... I knew it be here."
Icky: "..... Mushrooms?"
Seta: "Not just any mushroom. But Magic-Infinity Mushrooms, or MIMs. You eat this mushroom, then the following week, you will have infient power that the Magdrainium can't be able to congure."
Twilight:... Aren't MIMs supposed to be, you know, illegal, since they're an infamous drug that causes flux-based injuries, and broken horn accidents from overcharged power?
Seta: Yes, but only as long as you don't use it recklessly and out of control. This WILL offer us a chance to smash through the anti-magic stone no problem.
Twilight: "But what are they even doing up here? Not only do they look, subterranean, but Celestia wouldn't allow a drug-making mushroom around her kingdom."
Seta: "They actually have a short growth span. They grow near Magidranium because it feeds off of the magic it drains to help itself thrive. The mushrooms follow it anywhere it Equestria, even the species that are mobile, and the ones that don't and spread spore."
Trixie: "How come we never saw anything like that in that hive, then?!? THAT COULD'VE SAVED US A LOTTA S****Y TROUBLE!!!!!"
Seta: "Why did you think the hive was surrounded by a devastated wasteland? Chrysalis had plant life removed, including the mushrooms, to ensure they don't get used against them."
Icky: "Well why is THAT still here?!"
Seta: "Throx simply forgot to get to it. Sometimes, she tends to focus on one thing so much she ignors seemingly unimpourent details."
Icky:... Let the record show, that Throx has officially become the lamest villain ever. Maybe she'd fit right in with the Villain League.
Lord Shen: "Oh come now, Prehistoric one, it's about the end of the episode anyway, even the perfect villains have to be placed in a way where it's STILL POSSABLE to beat them at all."
Icky: "..... Yeah, the train has to come to a stop eventually."
Seta: Let's just get them.
Icky:... I... Feel wrong to take a mushroom that is considered an illegal drug.
Rarity: As do I! These things have hurt so many magic users all around, including unicorns!
Twilight: Well, if getting potentially high on magic means we stop Throx, then we don't have much of a choice.
Trixie: Buuuuut, remember when I was high on magic when Junjie and gang merged with Tirek? I was a little loopy. Wouldn't the same thing occur in THIS regard? I don't think this is a good idea.
Seta: "Okay, then would you rather have a repeat of events of how you took my Daughter's kingdom away and have it that they pick us off one by one because of how helpless and powerless we were to the point that only one of us is left and that it takes a moment of extremely dumb luck to win at the end?"
Trixie: "...... On second thought, let's get high."
Later...
Trixie: (She was drugged in a different way)... You know... It doesn't feel any different from being hopped up and overcharged with magic!... The camera's purty! Can it go in my-
Twilight: TRIXIE... Honey... Why did I call her- (Laughs, and snorts)... Let's just get going! Throx isn't gonna stop herself!
Fidget:... Is it awkward to say Trixie's cute when she's high?
Icky: Oh, unbelievably!
Sandy: Well, at least SpongeBob ain't the one saying it. Good thing those of us without magic are the ones sober enough to get through this.
Starlight:... Sandy? Gazelle? Where'd you come from?
Icky:... They're not here!
Starlight:... Sorry, I think... I think it's the shrooms!
Seta: Yeah, the... The MIMs cause only half the intoxicating effects of any common drug. That means they don't affect JUDGMENT!!!... Wow, why did that last word sound really loud?... So... Stand back! We're tearing this wall down, like a glob of brown!
Destiny:... S... Seriously, father?
Seta: JUST BLAST!!!
Starlight: (Snorts) That's what she said!
Lord Shen:... Nobody, EVER, mention this to Celestia when we're done with this!
Icky: "But didn't earlier episodes establish that Celly and Luna can read minds? And even then, Twilight and other magic users acting like drugged up dunces are hard to not notice."
Lord Shen: "..... Bother."
Seta: "I'll be sure to take the fall for you. Now, on my mark..... FIRE?!"
The Magic users did exactly that as the wall falls apart at the seams!
The Leagers looked at shock at this!
Rourke: "Oh this does NOT look promising?!"
The wall completely falls.
Icky: "Now then.... (Plays the charge bugle), CHARGE?!"
The heroes charged forth as the Shocktroopers, the Abom Changelings, and various other minions charged into battle!
Twilight: Alright, Pinkie! Hand me a flash-bang!
Pinkie:... I don't have any-
Twilight: THANKS! (She blasts bomb-like orbs that explode) YOU GETTA BOMB, YOU GETTA BOMB, YOU GETTA BOMB, WE ALL GET BOOOOMBS!!
Lord Shen: (Sighs) Celestia is indeed gonna kill me!
Rourke:... Are they... High?
Destiny: (She blasted him) I DON'T SEE HOW THAT'S ANY OF YOUR BUSINESS THAT WE TOOK MIMS TO BUST THESE WALLS DOWN!!... Oopsy! (Giggles) I'm a clumsy bug!
Rourke:... You, seriously had to take mushrooms to blast down our defences AND the majority of our forces?..... Yeesh, I know Throx was a nice push in the right direction for the Villain Leage up until this point, but that...... That's just sad!
Merlin: SAD, FOR, YOOOOOOOOOOOOOOOOOOOOOOOOOOOOOOoooooooooooooooooooooo!!! (He blasted at them) Oh, dang it, I missed! (He blasted again) Just hold still, hold still! We're gonna blast your butt off! (He blasts) You, you're going down, poopy-head! (He blasts, and laughs) I said poopy!
Banzai: Okay, I doubt shrooms make you stupid!
Twilight: PUT THE HAY IN THE APPLE AND EAT THE CANDLE!! (She created magic fire and swiped up Shock Troopers and Abom-Changelings)... Pretty fireworks!... Maybe I should get Songbird and get a BITCHIN' FESTIVAL IN A FEW WEEKS!... (She laughs) Trixie? You think I should?
Trixie: I'll get the fireworks!
Starlight: I'll get Songbird!... Which species?
Icky: Less spoilers, more kicking butts!
The Battle was being seen by Throx on the balcony.
Throx: "..... Confound it, my over-focus has betrayed me again. (Goes inside the castle.)"
Inside the castle.
Throx was walking across the throwne room as Cobra, Chrysalis and the Leage Leaders were already beginning to pack their things to get out!
Chrysalis looks at Throx!
Chrysalis: "Mother, you may want to consider getting out of here!? The Love Traps and the Zombielings are gone, the Abom-Changelings will be finished off soon, our Shocktroopers would last for so long, and Leagers are already dropping like flies!"
Ruber was heard screaming as he crashed through the roof and crashed in, followed by his griifen and iron men!
Cobra: "...... SEE WHAT SHE MEANS?!"
Throx: ".... Tch. You lot are free to turn curled up tail between your legs and run at the first sight of trouble to your chicken hearts' content..... But me..... If I'm going down. (Looks at the Celestia sisters still trap in their cocoon statis)...... I'm going down fighting...."
Maleficent: "Fair to warn you that the Lougers will not be merciful to you."
Throx: ".... At least, I won't go down a wimp. (Starts magicly dragging the cocoon across the room as Throx looks as if she was about to commence a big change.)"
Chrysalis: "..... Ya know what? You bunch are free to chicken out all you want, but the last I can do for mother is fight by her side!"
Ursula: "Okay, it's your resersection ceramony! (Laughs)!"
Chrysalis: "Oh, hardy, har har! (Leaves)"
Balcony.
Chrysalis made up to Throx as the change was about to begin.
Throx: "(Looks at Chrysalis)..... That's my girl. A proper Changeling royal to the bitter end."
Chrysalis: "If I end up meeting a grusome end or get banish to Tartarus, or the moon, or get turned to stone, or whatever freaky punishment the canon show created, I'm glad it'll be with you..... Besides, the Leage will reserect us and, even then, the Lougers rarely kill villains unless it is EXTREMELY nessersary or not even their doing."
Throx: "Then enjoy this final, lesson."
Throx and Chrysalis began to go through an extreme sort of change!
Canterlot
Trixie: (The magic users continued to fight half-sober) ANYPONY GOT A PLUNGER?!?
Starlight: (Giggles) OH, TWILIGHT, I ALWAYS FOUND YOU INSPIRING!... AND I LOVE IT!
Twilight: AND I ADMIRE... I ADMIRE YOUR GROWTH!... (The two kissed as everyone sober was shocked with engorged eyes, including the villains as the heroes just about defeated the Abom-Changelings, the Shock Troopers and any avaluable leager that didn't ran away like a coward)
Shocktrooper:... Yeah, I'm out! (He shoots himself in the head)
Shocktrooper #2: ME TWO! (He shoots himself)
Icky:... Did, NOT see that coming!
Applejack: These two CLEARLY need an intervention!
Rarity: I honestly can't tell if this is the drugged half, and that's very concerning.
Skipper: "... Anyway, BOO-YAH! We're making good progress folks!"
???: "Well get ready for a screeching halt!"
Stomps are heard as Throx has taken the form of a giant Sythe-Clawed Mantis and Chrysalis as a giant thorny wasp! It was seen that Throx as the giant Sythe Mantis is wearing Celestia and Luna's imprisonment cocoon as part of a mackshift goo necklece.
Mr. Krabs: OH... MY... MONEY!!
SpongeBob: Don't you mean God?
Mr. Krabs: You worship your thing, I'll worship mine!
Tiara: "........ AND HELLO, NIGHTMARE FUEL?!"
Windgust: "Goes to show..... There's always gonna be a bigger bug."
Iago: "(This video)"
Lord Shen: "STAY RIGHT WHERE YOU ARE, YOU CHICKENS?! WE FACED WORSER MONSTERS, THIS WON'T BE DIFFERENT?!"
Pharynx: "..... Ohhhhhh boy. Throx picked the Sythe Mantis Alpha Female Form, and made Chrysalis a Thorn-Death Wasp Queen.... So much, for this being easy!"
Pharynx quickly turned into the Myrmecoleon, while Thorax turned into a Torch-Sytile Dragon!
Spiracle: "..... This reminds me..... Have any of you wondered where the Baskalisk Guardian was?"
Icky: ".... Well yeah, WHERE the hell was that?"
Spiracle: "(Laughs gently)..... Your looking at him. (Transforms into a huge Elder Basalisk as it roared a great earth-shattering roar!)"
Throx: "(Laughs amused) OH, THAT MUST'VE BEEN TOO EASY TO GUESS! (Laughs and sighs)... At least this won't be boring."
This started to play as battle music.
Throx: (The giant bugs fought as the smaller heroes did what they could to dodge and immobilize Throx and Chrysalis, yet Throx was the one who was shooing them off efficiently) GET OFF! YOU ALL ARE DONE! I AM NOT LETTING MY KIND GO SOFT!!!
Icky: "Well, we're kinda not fans of them turning evil, so, we're both suck on this issue, lady!"
Throx: "Uggghhhhh, is there no respect for surviveal anymore?! YOU THINK YOU'RE ALL STRONG?!? YOU THINK YOU'RE DESTINED TO BE WORTH ANYTHING OUTSIDE OF YOUR HOME?!? WELL, NEWS FLASH, NOBODY OUTSIDE YOUR LAND GIVES A SPLOOGE ABOUT YOU! THEY DON'T EVEN KNOW ABOUT YOUR EXPLOITS! YOU'RE JUST SOMETHING FOR THEM TO PASS UP LIKE SOME CHILDREN'S CARTOON THEY DON'T TAKE ANY PRIDE IN ANY LONGER! YOU'LL NEVER BE WORTH ANYTHING! I'M DOING THIS FOR THE SAFETY OF OUR KIND! IT'S A HARSH WORLD OUT THERE! AND WE'RE DOING YOU A FAVOR!"
Twilight: That's where you're wrong, dummy! People actually... Actually... DO care! (Giggles and snorts)... We're gonna win this!
Throx:... Did you by any chance use the MIMs to get in? Because if so, then by the alicorns, that's kinda sad!
Thorax: AHHH, SHADDAP! WE'RE GONNA KICK YOUR ASS BACK INTO THE TEMPLE WHERE YOU CAME FROM! A-KAME-AND-A-HAME-AND-A-SEND-EM-HOME-TA-MOMMY!!!
All Magic Users: KAAAA... MEEEEE- (Throx magically pinned them to the ground)
Throx: You were SAYING?!?
All Magic Users: "...... HAAAAAAAAAAAAAAAAAAA (They Blasted Throx off anyway as they were freed as Throx screamed in surprise and crashed into Caterlot Castle as the cocoon flew of them and crashed into a sappfire house!)"
Icky: "Annnnnnd there goes Sappfire Shores' house."
Lord Shen: "The High Council will pay for all damages!"
Throx got up woppling.
Thorx: "..... Okay, that was admitingly badly planned! But I can still defeat you! Chrysalis, start being useful and attack!?"
Chrysalis: "..... Uhh, okay! (Chrysalis dived bomb at them!)"
Destiny: (She held her back with her size and strength) I DON'T THINK SO!
Twilight:... I don't feel like being underneath her hinny!... (Giggles as they left)
Starlight: This is gonna be awesome! Giant bug fight!
Trixie: LET US WITNESS THE SPECTACLE!
Seta: Actually, let's... Let's just continue the fight! Let's not be freeloaders!
Twilight/Starlight: DO WE HAVE TOOOOOO?!?
Seta: YES!
Twilight/Starlight: (Sighs) FINE!... (The two kissed a bit, which Rainbow Dash took a quick picture off with her iphone with a snicker and plans to show Flash Sentry like she did when Alternate Timeline Gilda and Trixie were doing that, as the drunked duo left)
Applejack: Ugh, I'm starting to wish they never ate those MIMs! If there's anything I learned after havin' my first apple liquor, it's to not drink or get high when there's secrets that you'd likely speak out when drunk.
Icky: Amen to that!
Applejack: "Also..... RAINBOW DASH, I KNOW WHAT YER THINKIN ABOUT MESSING WITH FLASH WITH THAT PICTURE OF TWILIGHT AND STARLIGHT OBVIOUSLY NOT BEING THEMSELVES!?"
Rainbow Dash: "Will you lighten up?! I'm just gonna mess with him with it!"
Applejack: I still say no to that, Rainbow Dash! He's likely gonna get the wrong idea, and think Twi's gay! And even if he DOES know it was just a drugged slip-up... Brought up from an albeit possible deep feeling twisted by drugs, I'll admit, but still, it ain't worth the risk! Just delete it!... Scratch that, keep it until after we have that intervention!
Rainbow Dash: (Sighs) Fine! (She puts it away)... Let's just kick that big bitch's a- (They were smacked into Canterlot walls)... Mommy, stop embarrassing me! DERP!
Throx: (Cackles wildly) YOU HEROES ARE SO LAUGHABLE! IT WILL MAKE YOUR DEATHS SWEETER THAN EVER! (She blasts acidic goop at them as they avoided it barely)
Chrysalis: (She bounced across the battlefield as the heroes dodged) I'VE COME TOO FAR TO LET MY CHANGELINGS BECOME SOFTIES LIKE YOU PONIES! I WILL DIE WITH MY MOM FIGHTING IF I MUST!
Icky: "Well, since the leage will bring you guys back with reserection, why the hell not?"
Throx: "...... WHY DIDN'T YOU SAY THE LEAGE CAN MAKE DEATHS MOOT?!"
Chrysalis: "Well Mirage and the other leage leaders WERE GONNA INFORM YOU OF THAT BEFORE YOU BRAINWASHED THEM OVER BEING INSULTED?!"
Throx: "..... Chrysalis, you stupid idiot-" (The mega-good Changelings pinned them down) GYAAH!
Seta: LET'S BLOW THEM... THEM... AWAY! (Cackles somewhat evilly)
Throx:... (Laughs) At least I'll go out knowing you defeated me as a stoned wreck!
Chrysalis:... Sorry about not telling-
Throx: It's okay! It's what I'm here for, to teach you to be much better!... In fact... I may give you a new revenge scheme as I travel the lands.
Chrysalis: I'LL DO ANYTHING TO GET REVENGE ON MY ENEMIES, OR GET MY SUBJECTS BACK!
Spiracle: GOOD LUCK WITH THAT! HEROES?!? NOW!
Spyro: (He unleashed an Earth Fury on the two as, in cartoonish bug fashion, the dismembered parts twitched, and Throx and Chrysalis' heads landed in front of them)...
Throx:... YOU HAVEN'T... SEEN THE LAST OF US... HEROES! (Cackles as she died with Chrysalis)
Icky: "..... Ya know, maybe it was a good thing Seta was stoned off his ass, cause I would like to think he would know better then tha- (Saw That the Magic users were out cold)....... Annnnnd, here's the drug crash."
Chrysalis and Thorx's head vanished into dust via Villain Leage magic.
Applejack: "..... Well that didn't took the leage too long to get to reviving."
Later.
Canterlot was already on it's way back to being normal again as Celestia and Luna were seen.
Celestia: "Well, as much I am not thrilled of MIMs consumtion getting involved, under the circumstances, I'll be willing to pardon it for the good it did. Thanks to you all, Changeling Appresiation Day is back on track and even better then ever."
Icky: ".... Yeah, but now the Leage and Chry-fail-is now have a new bunkmate with Th-Suck! And it's clear that for once, a new bad guy wass trouble."
Luna: "Perhaps it's best not to worry about such things. It be better to worry about how much fun this going to be."
???: "Well that sounds like we missed out on a lot."
Sandy, Gazelle and the others came in.
Spongebob: "SANDY! (ZOOMS TORWORDS HER AND HUGGED HER!) YOU CAME BACK?!"
Sandy: "Well, the flooding became less intense and the Texas Goverment finally began the relief services. My family and friends will be find from here."
Duke: "What can we say? Gazelle makes sure no problem goes unanswered."
Icky: "Then boy, do we have a LOAD of crud to explain."
Luna: "Do so when after Thorax's Changeling Appresiation Day Play. He has stated to be the greatest thing he would like to show ponies on this occation."
The group walked off.
Rainbow Dash:... Oh, uh, you two? I think Applejack needs to talk to you about... An intervention.
Starlight: An intervention? For what? (She showed them the picture of the two kissing when the were drugged)... (The two had engorged eyes and a glass shatter was heard)
Starlight/Twilight: WHAAAAAAAA?!? (The two looked at each other)... EYYYAAAHH!!!
Icky:... (Dubbed as Yakko) GOOD NIGHT EVERYBODY!
Epilogue
Skullian Prime.
The Architect looked at the several defeats in the prior episodes and only looked with disappointment.
Architect: "..... Ugh, yet another reminder of those meddlesome heroes ruining evil. Even that Throx, as impressive as she was, turned into an utter failure! My faith in villainy, tarnished."
A TV screen came up with Crimelord Titan's face on it.
Titan: "Well good news boss. The Griffin Mafia has reported alot of under cover villain activity going downs there. Believe you me, boss, Throxy is just the beginning. Alot of big time MOFOS are already workin' in secret and are already plotting big things! Ripe for yous to use!"
Architect: "...... Then I want to know more about each and every single one when more are reveiled! They could become a GREAT use in a more bigger sceame then they came to believe!"
The Architect laughed quietly as the screen fade to black, living his glaring eyes.
FIN?