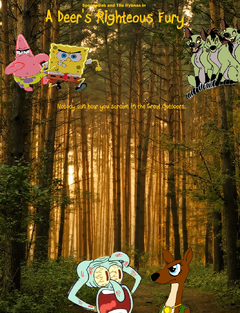 A Deer's Righteous Fury
is the 33rd Episode of the 2nd Season of the
SpongeBob and Friends Adventures Chronicles
series. SpongeBob has taken Patrick, Squidward, and the Hyenas on a quick camping trip to Yosemite National Park just for the sake of taking in one last breath of land air before a big cruise trip planned. However, nature is not all peaceful. Not only is Squidward scared due to being beaten up by a Sea-Bear 6 times, as well as being put in the hospital by a Sea-Rhinoceros, but a non-merciful foul-tempered mother deer has recently lost her child to 2 hunters who were off-season hunting, one of them looking exactly like Squidward, and has now decided to seek revenge. She became 
The Deer-A-Nator
 and has been causing huge mischief just going after 2 hunters, causing property damage to cabins, monuments, and sending people and rangers to the hospital, even just recently murdered one during the louger's stay, provoking the rangers to take forced action, with exception with a Ranger with a serious compasion for the deer named
Ranger Hera Heronenna
. But when the rouge deer discovers Squidward, she confuses him for one of the hunters, and begins attacking him during the night. When the Lodgers discovers that something's fishy the next night, they need to decide who's the real threat: A justified vengeful mother deer who lost her child, or
Cletus Jeremiah Cephalopod
, that squid hunter responsible for the mess along with his bumbling octopus partner,
Clem Abraham Mor-Onopus
? Either way, if they don't look into this any further, Squidward could surely be killed. They know that this craziness must be stopped, but how can our heroes do it when the hunters' campsite turns out to be a deadzone, being wired not just with booby-traps, but by a vicious
Bloodhound/Dobermen Hybreed
? One thing is for sure, either they do this, or Squidward dies.
Transcript
Intro (Steppen Wolf- Born To Be Wild)
Chapter 1: The Great Outdoors
Dragon Temple
Squidward: NO, I WON'T DO IT! I WON'T GO WITH YOU ON YOUR CAMPING TRIP!!!
SpongeBob: Oh, come on, Squidward, it won't be that bad at Yosemite National Park. Sandy always told me that that place was very beautiful, and it's actually where some of her relatives lived.
Shenzi: Hopefully, we won't have to go to your world's version of that place since you guys require water in your worlds.
Banzai: I mean, come on, why are you letting that incident make you scared of camping trips?
???: Squidward, are you alright? (Some of the Lodgers come inside)
Cynder: We heard your screaming while we were checking up on Icky. Hopefully, he'll be healed by the time we go on that high-paid cruise for Spyro and Kairi's next Brother/Sister Anniversary.
Sparx: I sure hope to hell that it doesn't get ruined like the last 2 anniversaries.
Viper: Anyway, why is Squidward screaming?
Banzai: Oh, the fraidy-cat's just scared of going on a short camping trip to Dragon Realms Yosemite National Park just because of the last camping trip he was in with SpongeBob and Patrick.
Sparx: Oh, you mean in that episode where you sang The Campfire Song Song? Oh, I LOVE that episode, it was among one of the best I've ever--(Squidward looks angrily at him)...What?
Shenzi: Don't mind him.
Squidward: But look, I'm still not going. I've already had enough with camping in my life. Especially after how many times I was beaten up by a sea bear and was hospitalized by a sea rhinoceros. (Shivers) So I'm not gonna let any bears or pumas beat me up.
Spyro:...You're seriously scared of camping because of what happened during that episode?
Sparx: Oh, you are such a twerp! (Mantis smacks him) OW!
Mantis: That's not helping, Sparx!
Shenzi: Oh, come on, Squidward, they only attacked you because you provoked them to do so.
Patrick: Yeah, we warned you that sea bears were real, and you never listened to us.
Squidward: Well, excuse me! How was I to believe that those creatures were real? The newspapers tend to spread lies about conspiracies or myths, and I'm sure not all people would believe that when they saw it. So it's technically not my fault.
Patrick: That was different, what that newspaper said was true.
Squidward: AND HOW WAS I TO BELIEVE THAT?!?
Shifu: ENOUGH! Squidward, you're starting to get uneasy with this whole camping thing. I believe you should go so you can take a breather from all of this stress.
Squidward: I TOLD YOU, I'M NOT GOING, AND THAT'S ALL THERE IS TO IT!
Shifu: You might need to, you need to get some fresh air to relieve you of this stress.
Squidward: You can beg me all you want, it's not happening.
Shifu: Squidward, you're going to get stressful if you don't go, so as a High Council member, I order you to go with them.
Squidward:...
Shifu: Now!
Squidward: (Shrugs) Fine, I'll go on the damn trip. But if I get beaten up on the trip, I'm blaming you.
Banzai: You'll be fine, Squiddy, a camping trip doesn't hurt as long as you don't let it hurt you.
SpongeBob: Yeah, it'll be fun.
Yosemite National Park
The Patty Wagon is seen heading to Yousemime.
Squidward is crouched into the wagon, wimpering like a wimp.
Shenzi: "..... Did that "Sea Bear" hurt him that bad?"
Patrick: "Yeah, Squidward really made that sea bear hate him."
Banzai: "Well, Squidy needs to loosen up. We got a mondo oppertunity to have a Founders time out. It'll be kinda like the old days when it was just us before that one trip to Madagascar changed ALOT!"
Patrick: "Yeah. Just the, uh...."
Spongebob: "6."
Patrick: "6 of us!"
Shenzi: "Yup. Just us communing with ol' nature like the good ol' days."
Banzai: "I just realise something. If Squidward's afraid of going to the wild, WHY has he never freaked out about being in Africa or Madagascar, or all the othertimes we were out in the wild?"
Spongebob: "..... The freakouts happen off camera."
Banzai: "Oh..... Well, I brought it up because, again, we been to the wild many times before, and Squidward, not even one, acted like he is now."
Patrick: "Yeah, that does sound like a series plothole for this entire episode. Yet another darn thing for our critics to pick on us for!"
Spongebob: "Now now, Patrick. No series is ever without flaws. The best less cynical people can do is appresiate what they have instead of what could've been."
A Ranger gate is seen.
The Patty wagon stopped.
A Bear Park Ranger is seen.
Bear Ranger: "Howdy there y'all. Names Ranger Barry. I'm one of the park staff here. Welcome to Yousemime park."
Spongebob: "Hey Mr. Park Ranger sir."
Barry sees the Hyenas.
Barry: "Uh.... Sir, I must advise you about introdusing forgein speices into Yousemime. In fact, how were you able to get them pass customs?"
Spongebob: "It's ok, Mr. Ranger sir. They're not illegal imigrents or part of some invasive speices issue. They're legally part of the SLS."
Spongebob shows Barry legal papers.
Spongebob: "Curtisy of our legal guy, Chi-Fu."
Barry reads the paper.
Barry: "Wow, the Shell Louge Squad? Here? That's very unexpected. Sorry about bothering you guys like that. It's just, invasive spieces aren't very good for ecosystems. Just ask Florida about their.... "Snake Problems". And Austrilia and their.... Mess of un-native animal problems."
Patrick: "Wow, you guys take taking care of the parks seriously around here."
Barry: "It's just part of the job. Go on ahead.... But..... If you see ANYTHING that looks like a female deer dressed like a hunter.... Do not, attempt anything, but seeking cover!"
Shenzi: "(Scoffs), A deer?"
The Hyenas laughed!
Barry: "I know it sounds stupid, but, trust me. Don't be fooled by the fact that it's a deer. Visitors and Rangers alike have been beaten to submission like they just survived a Mortal Kombat torniment."
Patrick: "Yikes! What reason would make her do that?"
Barry: "Well, sorry, it's conidentsially stuff. The Manitment forbids that stuff being known to visitors. I know you guys are heroes, but, it shouldn't be of great concern. I promise the other rangers and even animal control is having this all covered."
Banzai: "Well, we're on pre-vacation camping before we go on another crusie for Kairi's and Spyro's bro/sis celebration, so, we wish you guys good luck."
The wagon drives off.
Spongebob: "..... That's strange. Deer, espeically females are not known to be violent. What would drove her to be like that?"
Shenzi: "I know, none of the deer we met in the Bambi crossover were like that at all.... With exception of that asshole Ronno when Fagin corrupted him."
Banzai: "But that ranger bear dude said there's nothing to worry about. They got this covered man. That deer won't be a problem for long."
Squidward's wimpers worsen, having had heard the conversation.
Forest Camp Site
Squidward: I hate everyone for bringing me on this trip! Now I'm gonna be torn apart by a rogue deer.
Shenzi: No damn deer is gonna hurt you as long as we're with you. (Ed chuckles wildly)
Banzai: It still boggles in my mind of what this deer is attacking people for.
Patrick: Beats me.
SpongeBob: Deer are basically harmless animals that don't hurt people unprovoked.
Shenzi: Plus, one of us is gonna have to calm Squidward down, he's starting to be over-reactive. (He is seen hiding in his tent)...Okay, I'll do it. The poor guy needs to snap out of it, or this won't be a great camping trip. (Walks into the tent)
Squidward: "Squidward loves his mama. (Wimpers and makes gibberish noises)."
Shenzi: Good God, did you really just say that?
Squidward: Go away, Shenzi! Can't you see I'm busy being safe from the wild deer?
Shenzi: Oh, come on, stop being a pussy, and nut up! You'll be fine no matter what.
Squidward: I don't feel like that will make me any safer.
Shenzi: "Wow, your a mess. Ok, I'll, bring y'all yer food when Spongebob makes lunch. Just, don't pee yourself in there."
Squidward said nothing but gibberish as Shenzi left.
Shenzi: (She comes out from the tent)
Banzai: So, how did it go?
Shenzi: Squidward's still being a coward, and...(Scoffs) He was like 'Squidward loves his mama'. (The Hyenas laugh) Anyway, I told him we'd get him some food, so while we're making that, let's finish the rest of the camp.
Patrick: So, what is there for us to do here?
SpongeBob: Well, I brought some marshmallows, my guitar, my glove light, some bags of chips, cookies, a few small packs of Combos, and over 12 Krabby Patties. I can safely say that this will be the best camping trip ever...that is if Squidward is willing to just relax and stop being scared of the wilderness for once.
Shenzi: Well, just for Squidward, we brought one of his cans of Swedish Barnacle Balls, and hopefully, he's got his can opener this time.
SpongeBob: Good thing we're in a REAL wilderness, and not 10 feet from our houses.
Banzai: I have to admit, these balls aren't that good tasting as your Krabby Patties. What kind of meat do you sea creatures eat?
SpongeBob: Oh, we don't eat much meat. Krabby Patty meat is made from a secret formula, so it's basically artificial meat, odd how Mr. Krabs can actually MAKE meat. Other kinds of meat are made from chum from the surface. Some are delicious, some...taste as bad as the meat from the Chum Bucket. And trust me, chum falling into the sea is VERY common. With some sanitation and sterilization, it's suddenly edible and able to be processed.
Banzai: Wow, I thought you guys had some domesticated animals like cows and pigs to make meat from.
SpongeBob: Oh, heck, no! Most sea creatures in Bikini Bottom are intelligent, so there's no reason for much domestication for meat.
Patrick: Actually, sea meat isn't that bad. (Everyone looks at him weird)...What?
SpongeBob: Okay, we'll pretend we didn't hear that. (Ed laughed hard)
Banzai: Okay, let's get started with setting up the camp. I hope Squidward stops being a scaredy-cat by then. (Ed Laughs) It's not funny, Ed! (Ed scoffs) Don't even think about it--(Ed bursts out laughing) OH MY, GOD, SHUT THE F*** UP!!
Shenzi: Banzai, don't start another fight, PLEASE! We've got work to do.
Banzai: Right. (They begin working on the camp)
Later...
The food is coming out nicely.
Banzai: "Whoa, look at them sizzle!"
Patrick: (Mimics static, while wearing a goldfish bowl) Patrick to SpongeBob, Patrick to SpongeBob, do you read me, over?
SpongeBob: Bzzzz, SpongeBob to Patrick, I read you, over!
Patrick: Bzzz, Patrick to SpongeBob, I like going Bzzzz, over!
SpongeBob: Bzzzz, SpongeBob to Patrick, Bzzzzz, me, too!
Patrick: Bzzz!
SpongeBob: Bzzzz!
Patrick: Bzzzz!
SpongeBob: Bzzzz! (The two keep repeating the sound a couple of times over) SpongeBob to Patrick, help yourself, over!
Patrick: (Gets a marshmallow) Yummy! (Smashes the bowl on his head to eat the marshmallow) Patrick to SpongeBob, the deliciousness has landed! (Ed laughs crazily)
Shenzi: Yeah, Ed always laughed while watching that part in your episode.
Banzai: Hell, he laughs at EVERYTHING! Watch...Ed, wee-wee! (Ed laughs) Balls! (Ed laughs) Guts taste like cheese! (Ed laughs harder) See? Anything you tell him makes him laugh.
Patrick: Really? I'll try!...Ed, you suck! (Ed laughs hard) HAH! I could do this all day.
Banzai: Okay, I think Squiddy's Barnacle Balls are ready. (Puts the balls into a bowl, and enters the tent, and comes out seconds later)...Still a coward.
Ed: (Chuckles wildly) Pussy!
Shenzi:...Wow, I don't know if he knows what that word means, but I'm surprised he knows how to actually say it, let alone say anything else.
Banzai: Actually, I think that's his way of saying 'pushy'.
Shenzi: Oh, yeah, I guess that's accurate. (Ed laughs hard, and starts chewing on his leg) Whoa, Eddy, don't eat THAT for lunch. The only calories you'll have from that is the loss of some of your blood. (Ed laughs)
SpongeBob:...Okay, let's not worry about him. Let's just worry about us singing some campfire songs.
Banzai: Oh, boy, here it comes. (SpongeBob starts singing this)
Shenzi: "OHH, ENCORE, ENCORE!?"
Banzai: "No, you mean "entray, entray"."
Shenzi: "Yeah your right, let's eat up!"
Squidward, while the others eat, is still curled up.
Squidward: "Your.... Your just gonna be here till it's time to go back to the cruise. Yes...... (Laughs nerviously), Everything, gonna be, fiiiiiiiiiiinnnnnnnnnnneeeeeeeeeeeeeeee-NA."
A tick was crawling on Squidward.
Tick: "Don't mind me man, I am just having some lunch."
Outer view of the forest.
Squidward: "AGGGGGGAHHHHHHHHHHHHHHHHHYAHHHHHHHHHHHHHHHHHHHAAAAAAAAAAAAAAAAAAAAHHHHHHHHH!?"
Back at the camp.
Squidward starts running around trying to get the tick off, screaming!
Tick: "Aw come on man! I'm clean! I don't got lyms decease or nothing, I just wanna bit of red stuff, that's all!"
Squidward: "AGGGH?! AHHH?! AGGGGGGGGGGAAAAAAAAAAAAAH!?"
Squidward smacks his face into a near by lake!
Squidward sighed as he removed his head, but not only is the tick still there, but now has a face full of leeches.
A kid and her mother Squirls are seen.
Kid: "Mommy, why did the strange man dunk his head into Blood-Sucker lake?"
Squidward: "Huh?"
Leeches: "Yummies in our tummies."
Outer view of the forest, again.
Squidward: "AGGGGGGGGGGGGGGGGGGGAHHHHHHHHHHHHHHHYAHAHAHAHAHAHAHHAHA?!"
Back to Squidward.
Squidward runs around, and dumps a gooy sustence on him finally removing the tick and leeches!
Tick: "Boy, are you a fool? Why did ya'll cover yourself in honey?"
Squidward: "Huh?"
Angry bees are seen.
Bee: "Kick.... His..... Ass."
Outer view of the forest, again.
Squidward: "AGGGGGGGGGGAHAHAHAHAHAHAHAHAHAHHHHHHHYAHHHHHHHHHHHHHH!?"
Back to Squidward.
Squidward ran from the bees and jumpped into a lake!
Bee: "Damn it, we lost him!"
The Bees left.
Squidward reserfaced, sighing.
A ranger is seen.
Ranger: "Hey mans! You stupid? That's the cursed lake of the mad chainsaw lake specter!"
Squidward: "MAD CHAINSAW WHAT?!"
A Ghostly skelital Deer Stag rose from the lake, chackling like a maniac?!
Outer view of forest again.
Squidward: "YEEEEEEEEAAAAAAAAAAAAAAAAHHHHHHAAAAAAAAAGAA?!"
Squidward again!
Squidward ran from the specter and eventally lost him!
Squidward sighed in relief.
Squidward: "That was close."
???: "You said it."
Squidward saw the tick again.
Tick: "He could've ruined lunch. Speaking of such."
The Tick stuck his head into Squidward!
Outer View of the forest, one more time.
Squidward: "YYEEEEEEEEEEAAAAAAAAAAAAAAAAAAAAAAAAOOOOOOOOOOOOOOOOOWWWWWWWWWWWWW?!"
Later.
Squidward was in the tent, his crouched position tighten as he is seen with a bandage around his head.
Patrick: "Wow, Squidward really had a bad time."
Banzai: "Ya know we really should do something about the cursed Chainsaw Stag thing."
???: "Don't worry."
The Ghost Busters (Cartoon original ones): "We got this."
They march off.
Shenzi: "Man, if we thought Squidward wasn't a nature fan before, we didn't see nothing yet. It's like the universes themselves hate him."
Patrick: "Well Squidward has been known to be, alittle ornerey and mean, so, it's not an impossablity."
Banzai: "Hey, it's not like Squidward rotinely cusses at the universe or anything."
Cutaway.
Squidward: "FUCK YOU, UNIVERSE?! YOU MADE ME AN UNDERPAID EMPLOYEE OF A FAST-FOOD JOINT, SELLING FAST FOOD, MAKE THE PEOPLE OF BIKINI BOTTOM CULTURELESS IDIOTIC BAFFOONS, FORCE ME TO LIVE NEXT DOOR TO IDIOTS, GAVE ME A RIVAL THAT'S IMPOSSABLE TO TOP, AND ANY ATTEMPT I MAKE TO GET MY CHANCE OF STARDOM, YOU RUINED IT?! FUCK YOU, UNIVERSE, AND ALL YOU STAND FOR!? FUCK YOU, EVEN IF YOU DEDICATE YOURSELF TO MAKE MY LIFE, EVEN WORSE?!"
Greater outer reaches of the cosmos.
A series of lights are seen.
A voice: "So, he wants to play it that way, eh? Karma Fairies?"
The Karma Fairies appeared.
A Voice: "See to it that Nickaloadian pictures and the Spongebob crew make the following seasons of spongebob in it's after movie era make Squidward's life, even more uncomfertable."
Karma Fairies: "Sir!"
A Voice: "And don't let it stop until he learns to get a postitive outlook! Even if it makes the series look bad in the eyes of fans, do not stop, EVER!?"
Karma Fairies: "SIR!?"
Cutaway ends.
Patrick: "Well, actselly, before we started to do the later seasons after how much of a big hit our movie was, I DID heard Squidward say from pretty mean things to the Universe."
Banzai: "...... ARE YOU SAYING THE UNIVERSES ARE RETAILIATING FOR SQUIDWARD BEING, SQUIDWARD? HOW CAN THAT BE POSSABLE, IT'S NOTHING BUT SPACE!?"
Patrick:...Yeah, I think that sounded a little stupid.
Squidward: Why did those idiot misfits think it was a good idea for me to come on this damn trip? THIS ENTIRE GODDAMN PLACE IS AN ASYLUM OF DEATH!!! Now, if everyone will excuse me, I have to use a bathroom break. (Goes into the woods, and barfing is heard)
Shenzi: "..... Damn....."
Patrick: "Poor Squidward."
Chapter 2: A Deer on the Loose
Meanwhile.
Two Rangers, A wolf and a Possom are seen.
Wolf Ranger: "Ok, Rookie. We're working on capture a rouge deer running around here."
Possom ranger: "Ha! Your serious? Deers are harmless and cuddly, like Bambi."
Wolf Ranger: "Kid, take it from this professional. This deer, AIN'T NOTHING LIKE BAMBI!? Thanks to too local idiot off-season hunters, that deer lost something valuable to her."
Possom Ranger: "Well, what did she lost, Mr. Kolbolt?"
Kolbolt wolf ranger: "..... Something, or someone, close to her heart....."
Possom Ranger: "What, or who's that?"
Kolbolt: ".... Rookie, let me tell ya a story.... The Story..... Of the Deer-A-Nator."
The Possom ranger giggled.
Possom Ranger: "The Deer-A-Nator? Is that like, a deer terminator?"
Kolbolt: "No, rookie! The Deer-A-Nator ain't no joke, or related to the Termanator robots! Not even as a direct rip-off! She's a rouge disgruntled mother deer who lost her son, grown into the path of revenge, and was inspired by the "Deer Avenger" games to reek vengence!"
Possom Ranger: "Wait, "Deer Avenger"? The heck is that?"
A woosh was heard!
Kolbolt stopped the jeep!
Kolbolt: "DID YOU HEAR THAT!?"
Possom Ranger: "It sounded like a woosh!"
Kolbolt: "...... Rookie, you stay here. I'll go check it out."
Possom Ranger: "I have a name, ya know. It's Joe"
Kolbolt: "Look, just stay here, and watch the jeep. (Brings out shotgun), I'll take care of this with the ol' business ender."
Joe Possom Ranger: "But what if it was just a camper or a squirl?"
Kolbolt: "Trust me..... It ain't no dang squirl or a visitor. Neither are that fast!"
Kolbolt went into the woods.
Joe brings up the radio.
Joe: "This is Ranger Joe speaking, over. Come in, Ranger Barry. Ranger Kolblot went into the woods cause we heard something, over."
Barry's voice: "Joe, your orders were to report to me when you heard something and call for back-up! Whatever it was, it's too dangerious to handle it yourself!"
Joe: "I think Kolbolt looked capable to handle himself."
Barry's voice: "Trust me. ALOT of Veteran Rangers thought the same thing, TILL THEY GOT HOSPITALISED?!"
Joe started to become scared.
Joe: "Wha, wha, what should I do?"
Barry's voice: "Call Ranger Kolbolt and tell him to come back here and randevou back to the ranger station to get back up!"
Joe switches to Kolbolt's channel.
Joe: "Mr. Kolbolt, Barry wants us to report back!"
Else way, a good few miles from the jeep.
Kolbolt: "Dang it Kid, tell Barry he has nothing to worry about! I beaten rouge un-sentient bears, pouchers, weapons smugglers, and the oocational invasive speices ring operator. I can survive at least two rounds against-"
A woosh was heard as a brief silluette was seen!
Kolbolt: "Whoa!"
Joe's: "Mr. Kolbolt, what happened?!"
Kolbolt: "I think I got myself our boggie. Whoever it is, or what, it's trying to scare me out."
Joe's voice: "(Sounding scared): Mr Kolbolt, please! Barry wants us to return to base!"
Kolbolt: "Oh don't wet yourself rookie! I can handle myself!"
Another woosh was heard!
Kolbolt aimed his shotgun at the place the woosh was heard!
Many wooshes are heard and Kolbolt wildly tries to get his aim!
Kolbolt: "ALRIGHT YOU!? COME ON OUT!? THIS IS A YOUSEMIMITE PARK RANGER?! COME ON OUT WITH YOUR HANDS, OR WHATEVER YOU HAVE WIDE UP, OR SOMEONE'S GONNA BE LIKE A HEADLESS CHICKEN!? THIS YER ONLY WARNING!?"
Joe's voice: "NO?! DON'T PROVOKE IT?!"
Kolbolt: "I'm gonna be fine, rookie! Don't wet yer-" (Something grabs him into the trees) WHOO!! (Punching is heard in the trees as blood spilled on the leaves, and Kolbolt is seen sent fly, then falling to the ground with a broken left leg, a broken right arm, a black eye, and blood leaking from his nose back to where the Jeep is)!
Joe: KOLBOLT!!!
Kolbolt: Go, Joe! NOW! Save yourself!
Joe: I'm not leaving without you!
Kolbolt: YOU HAVE TO, YOU'LL GET KILLED!! GO, NOW!!
Joe: (full-throttles away from the area)
Kolbolt:...Must...escape...(Suddenly, a silhouette appears, and snaps his neck, killing him)...
???:...(Searches him, and finds his wallet, looking inside it)...Hmm, not much clues as to where those murderers are, but enough for me to have a clear answer as to where to go next. Now to get rid of the body. (Takes out a basket of fish, and pours the fish on the body, and leaves)
Later...
???: (Wild bears are seen feasting not just on the fish, but on Kolbolt's dead body)...(Her eyes are seen in the silhouette, and she suddenly disappears)...
Ranger HQ
Joe: And then something grabbed him, and seriously injured him. He told me to leave without him, so I got here as quickly as possible. He's probably dead by now.
Ranger Moose: I can't imagine. It must've been that crazy Deer-a-Nator again.
Joe: Uh, now that you mention her, Kolbolt told me she was inspired by something called 'Deer Avenger'. He wasn't able to tell me before he died. What exactly does that mean?
Barry:...Well, it's actually hard to explain.
Ranger Ram: Yeah, even the rookies here are too emotionally disturbed by what that killer deer was inspired by. I don't think even Kolbolt would've described it without hesitation.
Joe:...It was that bad, huh?
Ranger Bald Eagle: You have NO idea. One of my chicks had a disturbing introduction to it by complete accident.
Joe: Really, Winger?...Well, what is it?
Barry:...Well, let's tell him, guys. It wouldn't hurt to get it out of our chests.
Ranger Ram: Yeah, I guess that's true, right, Morse?
Ranger Moose (Morse): I think so.
Ranger Bald Eagle (Winger): I agree with you on that one, Ramus.
Ramus: "Long story short, Deer Avenger is a series of video games about a deer who hunts humans. It was developed by Simon & Schuster Interactive and Hypnotix. It is a parody of typical hunting games, prominently Deer Hunter.
Joe: "They're a video game series? I never heard of it."
Barry: "They're, realitivly obscured titles. The, "protagonist", of the game is a deer named Bambo, a portmanteau of the action hero Rambo and the Disney character Bambi. He is a bipedal deer who hunts humans in a fashion similar to typical deer hunting in order to avenge all deer hunted by humans. Bambo mounts the heads of humans he kills on a wall in his cabin. He can tote a vast array of weapons ranging from slingshots to machine guns. He is voiced by Brian McCann, who frequently appeared on Late Night with Conan O'Brien.
Joe: "..... That sounds like a parody to normal deer hunting.... Why is it, bad?"
Ramus: "BECAUSE THOSE GAMES INSPIRED DEER-A-NATOR TO BE SO, VIOLENT!?"
Winger: "Those games have the potainional to give other deers of all kinds to get the same idea! That's why for safety reasons, a law has been passed by Tri-corn and the Gfeds, even the High Council, to make it illegal to sell ANY of those games to deers! Deer-A-Nator is the EXACT reason why that seemingly un-nessersary law even exists!"
Joe: "...... Seriously? Is that why you guys hate that game?"
Ramus: "Look, we don't hate it for just being a parody of conventional hunting games, WE HATE IT FOR THE HELLISH MONSTER IT CREATED!?"
???: "She is more a victim of a bad hand then a monster."
A Native American looking Painted Turtle Ranger is seen with a Female Heron Ranger.
Barry: "Oh, Ranger Wamahow. Ranger Hera. So glad you can join us."
Ranger Wamahow: "......... Is the troubled deer, still out there? Where's Kolbolt?"
Barry: "..... I'm afraid he's assumed to be.... MIA."
Ranger Hera the heron gasped.
Ranger Wamahow: "....... Make sure the family is properly compinsated when they ineditablely discover this.... Terrorable loss in life."
Barry: "Sure thing, Wamahow."
Joe: "I heard of you. Your from this, indian turtle tribe, right?"
Wamahow: "The current term is "Native American", but yes. I am a desendent of a shamon healer of the Shellukoamha tribe."
Ranger Hera: "And I'm the deer behavoral expert, Ranger Hera. And, I, I can't belive a deer, a female deer, is doing this! I mean, a deer killing a wolf? They're suppose to be non-violent!"
Wamahow: "No creature is truely above violence, Hera. Not even the crawling ant."
Hera: "Yeah, but, I doubt a rediculious video game could enflusence a deer into being a killer. I want to be able to study this deer."
Joe: "But, that thing killed Kolbolt!"
Hera: "Did you even see it?"
Joe: ".... No, but I saw what it did to Kolbolt!"
Hera: "He could've disterbed an unsentient bear and did what you saw happen to him!"
Wamahow: "Enough, Hera. I understand that your knowledge of deer makes you want to believe otherwise.... But consider what happened to the other Rangers and guests. Until what became of Kolbolt, she never ended a life before..... Now, she must have started to become worse."
Barry: "If so, then that's bad. Cause the Lougers' founders are here on vacation. If that deer gets to them, this park is done for!"
Wamahow: "...... Then we have no choice...... You know what must be done, to an animal capable of taking away a life."
Most of the Rangers nod.
Hera: "Wamahow, no! You never even seen what happened to Kolbolt, or the deer! You can't actselly-"
Wamahow: "I can sense the life-force of all of natures' creatures, even beyond my people's homeland. That deer, as much as I hate to admit.... Has lost her moral center. Kolbolt's death proves it."
Hera: "Then where, prey-tell, is his body?"
Wahamow: "She had some local bears to eat it by using fish to dispose of Kolbolt. He would soon be nothing but bones that Vambi will later bury."
Hera gasped in horror!
Hera: "Vambi? The orphaned deer I raised after that idiot Cletus and his dumb friend Clem killed her father, and her mother by accsidental deerslaughter?! No! Father, please! I raised her and helped her become wild again! You can't do this!"
Joe: "Father? But, he's a turtle, and your a heron!"
Morse: "She's adopted, genius."
Joe: "Oh."
Wamahow: "Hera, I understand your love of the deer, and I would be ashamed of ever taking any animal's life. But you know how Tri-corn feels about animals going around killing visitors and parks neglecting to do something about it. We'll be punished if we don't, end Vambi's suffering."
Hera: "FATHER NO! CAN'T WE JUST HAVE CLETUS AND CLEM ARRESTED?! THOSE MONSTERS KILLED HER BABY CONFUSING HIM FOR AN ADULT STAG!?"
Wamahow: "Believe me, I have no compassion for those insensitive and under-educated hunters of the south, and I promise we'll deal with them soon enough, but Vambi is allowing her grief to become a danger to even the rangers!"
Hera: "She only attacked the rangers because we keep coming in with guns! She must've had Kolbolt confused with, another stupid hunter!"
Ramus: "DID SHE CONFUSE INNOSENT GUESTS AND SOME OF OUR FELLOW, UNARMED RANGERS AS HUNTERS?! Did a poor, little 6-year-old girlshout, on a trip here, got confused for a hunter?!"
Hera: "No one asked you Ramus?!"
Wamahow: "Hera, please-"
Hera: "Don't bother!? I am gonna go out there and find Vambi before any of you do! I'll talk to her, and clear this thing up! Then, when I come back to confirm it, I want you and Barry to report Cletus and Clem to the police and game wardens!"
Hera stormed out.
Wamahow: "..... Please forgive Hera..... She..... Cares for the un-sentients greatly."
Winger: "We all do, Wamahow. But sometimes, sentients have to be our priority as well. And, that may mean.... Ya know."
Wamahow: But still, we must go after her. She's gonna get herself killed.
Winger: I'll do it. I've been able to spy on Deer-a-Nator before, and even she can't reach me in the sky. Good thing she thinks guns are taboo, otherwise I'd be dead.
Ramus: Well, good luck out there, Winger.
Winger: Wamahow, are you coming?
Wamahow: Yes, she might need me as well. In the meantime, Barry, go issue an urgent warning for all rangers in the park. Warn them we're dealing with an animal that kills.
Barry: "I plan to."
Wamahow and Winger left.
Meanwhile.
Hera has already drove her jeep on the road again.
Radio: "This is ranger Barry speaking. Be advised about the Deer-A-Nator. Our fears are confirmed. Ranger Kolbolt, is lost to us. Be on a vigilent look-out for the deer, as it has gone into class-A threat. I repeat, be advi-"
Hera turned off the radio in disgust!
Hera: "It can't be Vambi! Whoever or whatever killed Kolbolt, wasn't Vambi! I just know it! I have to find her!"
Hera's jeep drove off!
A gloomy cave.
Barry's exact warnings are heard from a Ranger's radio.
The Silluette stood-by a carved shrine of a little fawn.
The Silluette dropped down the now mostly boney corpse of Kolbolt on it.
???: "My little angel. The injustice made on you won't be ignored forever. Give me more time, and I'll find them. I'll find them, and I'll make them pay. I won't let neither the rangers or even the devines themselves stop me!"
The Silluette crouched down, and brought out a map from Kolbolt.
???: "I'll look inside all these campsites until I find him! I'll make him hurt for what he did!"
The Silluette pointed to the spot where the Louger founders are camped in.
???: "I'll start here, where they were originally camped..... Where..... It happened."
The Silluette proceeded to leave.
Chapter 3: Squidward's Bad Night
Later that Night.
Spongebob, Patrick, and the Hyenas are seen eating s'mores!
Shenzi: "Anyone seen Squidward?"
Patrick: "He's still in the bathroom! He's been in there for awhile."
A Ranger Jeep pulled up, showing Barry.
Banzai: "Oh, how's it hanging, Ranger Bear?"
Barry: "Well..... I don't know how to say this.... In light of a ranger being.... Lost, to us, by the rouge deer, we now have to initsiate stricter guidelines and a curfew is in place. All campers have to be in tents and cabins for their safety. We can't have any guests getting... Lost, as well."
Shenzi: "Ohh... Gees. When's the curfew?"
Barry: "At least one more hour. Till 11:00. Afterwords, I want you guys to stay in your tents. Then all campers are instructed to come to the Ranger Station to disguss the reasons for..... Hey, wait a minute, where's your octopus friend?"
Patrick: "He's still at the bathroom. Been there awhile."
Barry looked as if he was sweating and paniced.
Banzai: "Uh.... You ok, dudeo?"
Barry: "..... Uh..... I'll, go get him. You folks stay put and take care."
Shenzi: "Ok. I think he was heading to that bathroom staill we passed a few minutes from here."
Barry only nodded and drove off!
Patrick: ".... Hey, was that guy sweating when he heard Squidward was still in the bathroom?"
Shenzi: "That means he knows something he doesn't want us to be concerned about."
Banzai: ".... Uh, guys.... When Barry said one of their guys got lost and they don't want anymore getting lost, ya don't think he said lost because he meant it in the sense that, that Ranger is......"
Spongebob gulped.
Spongebob: "Nothing to worry about guys. Squidward's in good hands. The Ranger will bring him to us before ya know it."
Spongebob has started to become unsure and nervious.
Bathroom staill.
Squidward was still puking!
Squidward: "OHH, BARNICLES!? I hate my life! (Pukes again!)"
Squidward plobs away from the toilet and crawls pathicly to the sink.
Squidward: "Get it togather, Squidward. Get it togather. This'll all be briage under the water soon enough."
A knock was heard.
Squidward: "AGGGH!? NO, GO AWAY!?"
Barry's voice: "Don't worry, it's just me. Ranger Barry."
Squidward was heavily breathing.
Squidward: ".... Sorry, s,ss, sa-s-a-sa Sorry, for screaming..... I just had a bad first begining here."
Barry's voice: "Alchorse. Ranger Manderas reported that. If your finished up in there, I'm here to exchourt you back to the camp."
Squidward: "O-o-o-o-o-o-o-o-o-o-of chorse, Mrmmrmrmrmrmrmrmrmrmrmrmrmrmr Mr. Ranger.... I, I just need to wash away the smell of vomet.... Of shame."
Barry's voice: "Sure thing. I'll be waiting until-"
WOOSH!
Squidward: "WHA-WHA-WHA-WHAT WAS THAT!?"
Barry's voice: "... Stay in there, sir. I'll take care of this. If you hear was sounds like a struggle, run as fast as you can."
Squidward hid back to the bathroom stail and locked it!
Squidward started to wimper.
Outside.
Barry walked down from the bathroom staill house stairs, returned to his jeep, and brought out a shotgun.
Barry looked around the area armed with it.
Barry: "You have been trained for this, Barry. You can do this."
Many wooshes are heard as Barry tried his hardest to get a good aim!
Silence.
Barry: "ALRIGHT, DEER!? I KNOW YOUR OUT THERE?! I KNOW WHAT YOU DID TO RANGER KOLBOLT!? YOU SHOULD KNOW HERA IS IN DELUDIONAL DENIAL FOR YOU!? WAMAHOW HAS ORDERED ME TO ISSUE THE OTHER RANGERS TO DO WHAT IS NESSERSARY TO PROTACT THESE PEOPLE! Hera will eventally turn on you when she knows the truth! Listen to me! If this is about our failure to punish Cletus for what he did, well, I'm sorry. Wamahow will mak up for this. I'll make up for this. We'll have the police, arrest Cletus and his dumb friend for illegal hunting and public disterbence. You, just need to stop what your doing, and we'll promise we'll end your suffering, humanely. No need for guns or anything.... Just, peaceful euisnstagia. It'll be quick. But not before you get to see Cletus and Clem arrested and taken to jail. Just please, hear me out."
Inside the Staill House.
Squidward was shaking and panicing.
Outside.
Barry had nothing but silence. Then, he turned to look at the Staillhouse again.
Barry sighed.
Barry: "It's ok, sir. I think she's-"
WET SPLAT!?
Barry: "GAAAAAAAAAAAAAAAAAAAA?!"
Barry had an axe thrown to his back!
The Silluette kicked Barry down, and pulled the axe back out!
???: "........ Show's over..... Smokey."
Barry was horrorfived, as he gave a tear in the end, as the silluette raised the axe to axe off his head!
Inside Staillhouse.
Squidward heard the sound of a WHACK, then a roll.
Squidward: "Ranger Barry?"
Squidward slowly crawled out the staill, then proceeded to sneak to the front door. He opened it gently to see a peek.
On the side of the Staillhouse door, a silluette of a deer is seen hold a now dripping axe, holding Barry's head in a sack.
Squidward is now panicing!
Squidward knows he can't go through the door anymore! He needs another way to get out!
Squidward started to hear footsteps!
Squidward gets back into the bathroom stail, and locked it up, and stood on the toilet and croched as well!
More footsteps are heard, as well as a slowly opening door.
???: "Whoever is in here. Don't bother hiding. I can smell you."
Squidward does all his might not to scream as footsteps are heard.
Squidward:...WHAT DO YOU WANT TO HURT ME FOR?!?
???: I know what you're playing at, pal! You think you can fool me by shaving your face and changing clothes? Do you think I am an idiot? Huh? DO YOU?!?
Squidward: You've got the wrong person! I swear!
???: I'm not going to take any of your excuses. You're not going anywhere! YOU WILL PAY FOR TAKING MY SON!!!
Squidward: What are you talking about--(Somebody is heard landing on the floor)...HELP ME!!! (The stranger rips the bathroom cubicle door open, and reveals herself as a female deer with Equestrian pony eyes, wearing green and brown clothes and a golden necklace)...I'M GETTING OUT OF HERE!!! (Runs for the door, but the deer blocks his path) AAAAHHH!!! AAAA-HA-HAAAHH!!! (The deer corners him to the wall, and cracks her bloody knuckles) AAAAAAAAAHHHHHHHH!!! (The camers goes onto the bathroom house, and the deer is heard beating Squidward up. Later, Squidward is seen beaten up with a black eye, dirty skin, and bruises)...Ow!
Female Deer (Deer-a-Nator): Hold still, and this won't hurt a bit. (Prepares to deliver the fatal blow)...
???: VAMBI! VAMBI!! STOP WHATEVER YOU'RE DOING, PLEASE!!
Deer-a-Nator:...I'll be back! Don't think your friend can save you, Cletus! (Disappears with a woosh)
Squidward:...Cletus? Who the f*** is Cletus?
Hera: (Appears into the bathroom) VAMBI, STOP--(Finds her gone)...(Sighs) So close!
Squidward:...Thanks for showing up!
Hera: You...you're alive?
Squidward: Well, thanks to you. I would've been calamari if you didn't show up.
Hera: I just can't believe that she killed Barry. (They both look at the body which isn't shown, and Squidward faints in shock)...Mr. Tentacles?...Hello?...
The Next Morning...
Squidward: (Wakes up the next morning and sees SpongeBob, Patrick, Shenzi, Banzai, Ed, Hera, Winger, Ramus, Wamahow, and Morse, and finds himself in bandages)...What happened here?
Morse: You're lucky enough to be alive, Mr. Tentacles. Just recently, the Deer-A-Nator desided just kicking yer butt isn't enough.
Squidward: De-DEER-A-NATOR?!?
Ramus: Yeah, she attacked you last night. It took us a while to get you healed. In fact, she didn't even cause any fatal injuries, she just beat you up less-violently.
Hera: I'm glad I came and saved you just in time. Vambi's starting to become a greater danger to Yosemite than ever.
Squidward:...I'M SO OUT OF HERE!!! (Runs out of the hospital)
SpongeBob: Squidward, wait! (Squidward runs to the parked Patty wagon, and tries to start it up)
Squidward: C'MON, C'MON, START UP!!!
Shenzi: SQUIDWARD, DON'T LEAVE WITH OUR RIDE!!!
Squidward: GODDAMN IT, DO SOMETHING!!! (The Patty Wagon suddenly backs up quickly into a tree, and then it exploudes into burger parts.)...Oh, God, shoot me! (The airbag puffs up in his face) FOOMPH!!!
Later...
Banzai: (They see the damaged Patty Wagon)...I can't believe you totaled our ride! (Ed laughs) It's not funny, Ed!...(Ed doesn't respond)...Anyway, we- (Ed bursts out laughing) OH MY, GOD, SHUT THE F*** UP!!! (The two begin fighting)
Shenzi: WILL YOU KNOCK IT OFF?!?
Banzai: Hey, he started it!
Shenzi: I don't care who started it, I will finish it! Sure Squidward wrecked our vehicle, but that doesn't mean it can't be fixed.
Squidward: BY WHO?!? (Everyone realizes they have no one to repair the vehicle)...
Banzai: Oh, way to go, Squid-twerp! You wrecked our giant burger on pickle wheels, and NOW WE HAVE NOBODY TO FIX IT!!!
Squidward:... OH, WHY MUST EVERY PART OF MY LIFE BE FILLED WITH MISERY?!? WHYY-HA-HA-HAAYYEE?!?
SpongeBob: Oh, don't worry, Squidward. It could be worse.
Patrick: Yeah, you could be bald and have a big nose.
Squidward: (Drumshot)... Well, this is the end! (Falls to the ground)
SpongeBob: I assure you, it's not, Squidward.
Patrick: (Is seen making coffins out of wood)... It's not?
Banzai: What gives you THAT idea, SpongeBob? You know someone here who can repair a giant burger car?
SpongeBob: Not to worry, we can call the others and let them know of the troubles.
Ramus: Yeah, about that...we've lost our Wi-Fi recently, as well as cell connection. Probably because Deer-a-Nator had them disabled so she could be sure that her targets couldn't call for us when they were in danger, so tough luck calling for help.
Spongebob: "..... Concerning, but, surely the magical pool will make Ignitus aware of the situation and warn the lougers of trouble!"
Shenzi: "But even then, it would still take them awhile to get here quickly enough to keep Squidward from ending up like Barry."
Ramus: "And Ranger Kolbolt, who was first."
Hera was seen crying abit.
Banzai: "Hey.... What's the matter with you?"
Hera: ".... Vambi...... I can't believe she.... Became this....... I can't believe she let idiots lke Cletus get to her!"
Squidward: "Would anyone be kind enough to explain WHO THE DIRTY BARNICILES, IS A CLETUS!?"
Ramus: "....... Wamahow, I think it's time we, tell them this. After all, they are respected heroes."
Wamahow: "...... (Sigh)..... I suppose so."
Flashback
(Wamahow): The Deer-a-Nator wasn't always like the killer she is today. She was actually a happy mother who enjoyed raising a son. I've never seen a mother and her son more in love than they were. But unfortunately, that's when two cephalopod hunters came into the picture. Their names were Cletus Jeremiah Cephalopod and Clem Abraham Mor-Onopus. We think the reason why Deer-a-Nator attacked you is that you look EXACTLY like Cletus. Cletus is a total redneck who took up hunting after being taught by his grandfather. Clem...well, he's pretty disturbing. His abusive parents, along with his mental retardation, lead to him being a perverted drunkard who likes hitting on women. He started getting into hunting when Cletus showed him how 'great' it was. So the two became partners. That was when they both killed Deer-a-Nator's son after mistaking him to be an adult deer. I felt his death in my bones the second it happened, and I could also feel the sadness his mother felt. It wasn't long before, after being inspired by the highly-strict Deer Avenger game that she decided to get revenge on the two hunters. Because of this, we banned the game from being sold to any deer for people's safety.
Present
Wamahow: Now that Deer-a-Nator knows Squidward, she won't stop until she kills him for good, or unless she discovers it was just a mistake, which it will be impossible to do considering how much of a true animal she's become.
Squidward:...You mean to tell me I was beaten up BY ACCIDENT?!?
Morse: Yes. And good luck trying to convince her you're not this Cletus guy, she'll never listen to reason.
Squidward: "But didn't see even wonder why that, "Clem" guy was never even AROUND me?"
Morse: "Cletus has been known to march out on his own on some oocations while Clem stayed home, so she assumed that."
Spongebob: "Well how about we get Mr. Cletus and Clem out here and show the deer that Squidward is not him."
Ramus: "One problem, even WE have a problem trying find his cabin. Winger did found it, but it had more security then fort knox. They even have a nasty Bloodhound named Louisianna that protacts them. I assume they're VERY aware that The Deer-A-Nator is after them and desided to defend themselves."
Morse: "There's also rumors they been arounding up local hunters and rednecks to form an uprising against The Deer-A-Nator cause those two idiots think she's a threat to their "God given right to hunt"."
Banzai: "Yep. That sounds EXACTLY like Redneck logic."
Winger: "We do what we can to discourage those people to get involved, though. However, we're worried that Cletus and Clem may soon turn to more illegal ways to get supporters against Deer-A-Nator."
Spongebob: "Well, accsident or not, this now concerns the lougers I'm afraid, since this deer attacked Squidward. By the rules of the Lougers, anyone who attacks a louger is an automatic louger required threat. And since Cletus and Clem are reportingly respondsable for why Vambi is doing this, then they need to contain and made to answer for this."
Wamahow: "I know well of these rules you have. But be warned that it will be dangerious. Vambi has ended up hurting those that don't even have guns. Her sadness consumed her into a ticking attack bomb that goes after anyone in the woods. Not even Rangers are safe, as, you had previously been informed."
Banzai: "Well, I ain't scared of no stinking over-sized hornless gazelle! I practicly eat deer-like creatures for breakfest!"
Patrick: "Yeah. We're not scared of a crazy she-deer!"
Squidward: "SPEAK FOR YOURSELVES! I AM NOT GOING BACK OUT THERE AGAINST THAT MONSTER AS LONG AS SHE STILL THINK I'M SOME REDNECK WHITETRASHY HUNTER, I AM STAYING HERE WHERE IT'S SAFE?!"
Wamahow: "She has no fear of entering places like Hospitels if it means she can come after Cletus.... Or you by unfortunate chance. The only save heven, is the Ranger Stantion. Hera raised her once, she would never seek to harm Hera for any reason, and we'll be protacted by security."
Ramus: "Besides, your not injured bad enough to stay here indiffently. You'll be discharged soon enough."
Squidward: ".... Oh hum....."
Spongebob: "Ok guys, while Squidward takes cover, I guess it's up to us to find Cletus and Clem."
Shenzi: "Well, I'm abit worried they might not come quietly. We all know what Rednecks are like when dealing with strangers... And things that intimidate them bad enough, like in this cause, an emotionaly distructed killer deer."
Winger: "I'll come too. I had managed to see it once or twrice, but I was afraid of ever coming closer, again, thanks to that darn security they have and the damn dog! Barry was the only one the dog was afraid of, but....."
Ramus: ".....(Sighs), It's awful we lost Barry like this."
Patrick: "Yeah. It's almost as bad when those guys from the time Gary was in paris had died before that nice wizard lady brought them back."
Spongebob realises something from Patrick!
Spongebob: "Patrick, your genius had shown again! After we get this straighten out, we'll ask Ms. Stork to bring them back."
Hera: "..... You guys would do that for us, even when we... Failed to stop Vambi sooner?"
Spongebob: "It's ok, you guys didn't wanted to worry us and ruin our park exspearience. It's the least we can do."
Patrick: "But we have to be sure we have both their bodies and spirits are both present or otherwise, there's little Ms. Stork can actselly do."
Wamahow: " We might not even need this wizard you speak. I have, connections to the great spirits. I'll, seek for their blessings to return Barry and Kolbolt's spirits to us. They're normally, strict about it unless they know it's for a greater cause."
Ramus felt his radio act up and left it up.
Ramus: "This is Ramus."
Voice in Radio: "HELP?! IT'S JOE!? I SPOTTED THE CRAZY DEER AT THE PICNIC AREA!? SHE'S ATTACKING GUESTS BECAUSE A KID HAD A TOY NERF GUN AND CONFUSED IT FOR A REAL GUN?! THE FATHER TRIED TO PROTACT HIM, BUT, OH GOD IT'S TERRORABLE?! SHE SHOVED THE NERF GUN RIGHT INTO HIS BUTT?!"
Ramus: "DAMN!?"
Joe's voice: "Guests are panicing, people are being trampled, kids are screaming and crying, and at least some of the rookies are badly hurt! You have to come and- (silence.) No, stay away! Stop! No! Get away! I have a wife and kids! I promise you that I hate guns too! Espeically for the Sandy Hook incident! No, no, NOOOOOO--" (The signal is lost)
Ramus: Joe? JOE!!! Please don't tell me you're dead! PLEASE TELL ME WE LOST ONE OF OUR FINEST ROOKIES!!! (No response)... DAMMIT! And I thought he would move up one rank.
Winger: Well, until Barry, Kolbolt, and Joe, even though he's a rookie, are resurrected, I shall be the temporary leader.
Wamahow: "Well, the spirits are one thing, but the bodies themselfs are a slightly different matter. It depends on, their condition. Unlike Darkness Reserections, Light Reserections are more.... Strict and limited. It depends on the body not being in horrorable damage."
Squidward: I saw the crazy deer put his head in a bag, possibly to... (Shivers).
Banzai:... Uh, best not to complete that. Plus, I don't think it will be easy to get Joe back. Who knows what Deer-a-Nator has done with his body?
Wamahow: You may have a point, but you might not need the whole body to get it done, as long as 95% of the body is still in tact, the Great Spirits can regenerate those parts. If it's below, then it can't be done. Judging by how we just have the rest of Barry's body, that leaves us with... 96% at least, so it's possible to resurrect him. And some of my tribe had just found the body of Kolbolt, and most of his body is still in tact, only 95.5% of him is still there. Thankfully the Bears cared more for the fish and considered his body to be a side dish. They weren't able to recover his body in fear of upsetting Vambi. Not that I blame them.
Morse: Well, that's good. All we need to do now is find Joe's body.
Winger: Even with my flight, we'll never reach his body in time. By the time we find it, it will be partially destroyed, and- (Suddenly, bushes are hears rustling)... What's that?
Squidward: OMG, IT'S DEER-A-NATOR!!! (Hides under the hammock) I DON'T WANT IT TO END THIS WAY!!! (Suddenly, they find that it's Joe, panting heavily)
Joe: Whew! That was close!
Everyone: JOE?!?
Ramus: Joe, we thought you were a goner!
Joe: Well, actually, I just ran and all she did was destroyed my radio.
Morse: "Lucky you, huh?"
Squidward: "Wait! You made sure she didn't follow you, r-r-r-r-right?"
Joe: "I saw her going after another guest with a gun afterwords. Heard gunshots and a scream! I'm afraid she might've hurt the guest, or.... (Gulp)."
Ramus: "Morse and I will check the Picnic area to check on the damage. Joe, you and the other rookies are best of sitting this out. Your in charged to get the rookies and guests out of here and keep the media from exposing this. You have any idea what Tri-corn would do to this place if she hears about a rouge animal?"
Hera: "And what she might do to Vambi?"
Banzai: "Oh, we know from first hand on what THAT is like! She once tried to kill our friend B.O.B. for turning into a green blob monster with a singing fetish."
Joe: "Not let the media know? But, we could use some help here, and-"
Hera: "Please, I know Vambi is going crazy, but I don't want her to be stopped with guns, which Tri-Corn is likely going to involve! As much as I hate to say it, if she has to go down, I want it to be peacefully. No killing her with guns or knifes. Guns have done ENOUGH to her life as it is!"
Banzai: "So, Me, Shenzi, and Ed are not allowed to eat her up then?"
Hera: "ESPEICALLY NOT THAT!? If Vambi has to.... Go down, I want it to be as merciful and peacefully as possable."
Wamahow: "Alcourse. I owe you that cause this is hard for you to accept this already. This is why the media can't know about this. Guests must be made aware that reveiling this to the outside world is forbidden. News reporters seen must be captured and sent away at once."
Shenzi: "Well, that's not gonna be easy. One of those guests might not be a good listener, and expose all this anyway."
Wahamow: "Then those like that will have to be kept here in the station until things are resolved."
Patrick: "Isn't it alittle mean to censor all this from the public?"
Ramus: "Trust me, we're not proud and we'll never will be, but parks don't tend to do well if people know there can be dangerious animals. It's just nessersary insurence."
Banzai: Well, are you sure you can alert everyone before someone reports it first? (Everyone realizes that)
Morse: Oh, crap!
Winger: (Turns on the microphone) Attention, all campers! You are to report to the Ranger HQ at once, and you must not report anything to anyone until further notice. Repeat, you must go to the Ranger HQ and not tell anyone anything about the current tragedies immediately. (Everyone around the park does that)
Morse: You think that'll help?
Winger: Well, there's no telling if it will help or not. All the campers will be coming here, and they'll need to know about this situation so we can make sure Tricorn can't be a problem.
Shenzi: Are you sure it's a good idea to let the good people here know about Deer-a-Nator? Wouldn't that cause widespread panic and evacuation, and make it hard for them to head to that... Evacuation spot of yours?
Winger: I'm afraid we have no choice. We have to make sure that no others die in the hands of Deer-a-Nator. The best thing we can do is to resurrect Barry and Kolbolt, get the campers to the Ranger Sanction, and find Cletus and Clem's home to turn them into the authorities.
SpongeBob: Yeah, with her around, there will be several other casualties unless they are all secured in the best way possible.
Ramus: Plus, how are we gonna find the cabin that Cletus and Clem live in in time?
Shenzi: Well, we gotta do it, pal. If we don't, who knows what will happen to Squidward?... I mean, aside from what happened to him right now.
Squidward: (In a fetal position) Squidward loves his mommy! (Sucks his tentacle)
Joe:... Did you really just say that? (Ed laughs hard)
SpongeBob: So how long will it take for everyone to get here?
Winger: Oh, they'll be here in a minute or so. You guys will have to bring Squidward there too, he's the main one we have to protect.
Wamahow: Indeed. I can imagine that Vambi will not show any mercy next time.
Ranger Station.
Cars are seen in a line up as a few campers and visitors are seen arguing!
The group arrives to this.
Spongebob: "Wow. Everyone is getting into eachother's skin."
Patrick (Holding Squidward): "Seems more like they're agruing to me."
Banzai: "It's an expression Pat. The sudden appearence of a psyco deer made them nervious and panicy."
Wamahow: "I'll go address to them all and get their attention." (Goes up to them) ATTENTION, EVERYONE! (Everyone faces him) We are aware some of you have faced a killer deer recently. If you have, we can't let anyone outside the park know until we can be sure it's okay.
Winger: That's why all of you need to get to the Ranger Sanction until everything is secured. Is that clear? (Everyone nods 'yes') Great. Any questions? (Someone raises her hand) Yes, mam?
Female Duck: How long do you think it will take you to fix this problem of yours? I don't think my son will handle the death of his father. (A duckling is seen crying) There, there, honey.
Winger: Well, I'm sorry for your loss, mam, but I assure you we will get this problem fixed in time. We won't know how long it will take, but it will be done. Now, Morse, will you escort these good people to the Sanction?
Morse: Of course. Let's go, people. (Escorts the entire group to the Sanction)
Winger: Squidward, you'll have to join them for your safety.
Squidward: Right. (Chuckles, and joins the group)
Winger: MORSE, KEEP SQUIDWARD WITH YOU AT ALL TIMES UNTIL YOU GET TO THE SANCTION!
Morse: Got it, Winger! (The entire group leaves)
Patrick: SQUIDWARD, IF THAT DEER FINDS YOU, PRETEND TO BE SOMEBODY ELSE!!! (Banzai hits him on the head) You're welcome!
Shenzi: Well, I guess me, Banzai, and Ed better go with them in case Morse isn't enough to protect him.
SpongeBob: Good thinking. (The hyenas go with the group) Well, I guess it's you and me until Squidward gets to that Sanction, Pats.
Patrick: Yep.
Winger: "Worry not fellas. I still know where to find Cletus and Clem's cabin. Just stay close to me, avoid anything that sounds like suspitious noise, and we'll be fine."
Winger, Spongebob, and Patrick walked off, as a familier silluette is seen watching.
Chapter 4: Protection Gone Wrong
Sanction
Squidward was death clinging to Morse all the way to a sancuary like area in the park.
Morse: "Sir, we're just about near the Sanction. You can ease up now."
Squidward: Squidward loves his mommy! (Sucks his thumb)
Shenzi: Squiddy, give it a rest. How many times have you said that? (Ed made cross-sticks on a small chalkboard counting the times Squidward said those words, chuckling)
Morse: Oh, don't be a big baby, Mr. Tentacles, we'll keep you safe.
Banzai: Yeah, no damn deer is gonna get her bloody hands... Or hooves... On you as long as we're with you. (A woosh is hears)
Morse:... Oh, no! She's here! EVERYONE TO THE SANCTION FAST! MOVE, MOVE, MOVE, MOVE! DON'T PUSH OVER EACH OTHER! (The people start heading for the Sanction, and Squidward starts panicking and running towards the Sanction, screaming like a girl)
Squidward: I'M GOING IN FIRST! (Goes into the Sanction as the other people rush inside as well)
Banzai: SQUIDWARD, WAIT!!
Shenzi: Dammit, we'll never get through that crowd!
Morse: Worse, when he's in there with- (A woosh is heard)... Her, the other people are going to be caught in the crossfire!
Banzai: OH, CRAP!!! WE HAVE TO BARRICADE THE DOORS!!!
Morse: Well, we need to wait for the other campers to get in. (The people are pouring in through the door for 20 seconds as Morse and the Hyenas wait yawning, checking watches, and playing Rock, Paper, Scissors. Once they all go inside the Sanction, they all shut the door, and lock all 6 locks on the door, and move off, and meet up with the entire crowd where Squidward is nowhere to be seen)
Shenzi:... SQUIDWARD, WHERE'D YOU GO?!?... Squidward?!? Everyone, is Squidward in there? (The people call out and look around for Squidward. Meanwhile, Deer-a-Nator appears in front of the door, and tries opening it, but it is still locked)
Deer-a-Nator: F***!
Banzai: "Didn't Squidward get in first?"
???: "SOMEONE GET THIS FAT MORON OFF OF ME!?"
A Fat Bull is seen leaning against Squidward cause of the Sanction being crowded.
Bull: "Hey I am sorry man, but this place is crowded up with people now."
Shenzi pulled Squidward out!
Banzai: "Man, why is this place so crowded?"
Morse: "Budget issues. Tri-corn thought that since park animals are rarely intentionally dangerious, she didn't need to grant this place a giantic Sanction and the thing we have was deemed good enough."
Squidward: "..... And to think, she picked on Mr. Krabs for being cheap, the hypocrite."
Morse: Well, do not worry. You'll be safe in here. The door is locked completely tight, and not even Deer-a-Nator can break through it. Made of pure titanium steel. If she wanted to get in, she'd have to use a gun, which we've already established she's scared of. You're gonna be fine.
Squidward: Oh, PLEASE don't let Karma jinx us this time, I'm too good to die!
Banzai: Says the guy who swore at the UUniverses countless times before.
Squidward: Oh, shut up! (Meanwhile, Deer-a-Nator is seen smashing a log on the door, which brings the door screws loose, and after 4 more hits, the door is busted down)
Deer-a-Nator: (Steps into the hall) GET OUT HERE, CLETUS, YOU'RE DEAD AS THESE DOORNAILS!!! (The people start panicking at the sound of her echoing yell, and Shenzi, Banzai, Ed, Morse, and Squidward get trampled away from each other)
Squidward: No, NO, NO!!! GUYS!!!
Banzai: SQUIDWARD, NO!!!
Morse: EVERYONE, CALM DOWN, PLEASE- (Suddenly, someone accidentally hits his head, knocking him out)
Shenzi: STOP, GET OUT OF OUR WAY, WE HAVE TO HELP SQUIDWARD!!!
Squidward: OH, PLEASE, SOMEONE HELP ME!!! (He is suddenly pulled out of sight by something) AAHH!!!
Shenzi: (Sees Deer-a-Nator run off with Squidward) SQUIDWARD!!! C'MON, GUYS! (Ed laughs as they start running after them)
Outside Sanction
Deer-a-Nator: (Throws Squidward down) You've had this coming for a LONG time, Cletus!
Squidward: I AM NOT CLETUS, YOU DUMB THIN OX!!! Do I even sound like him?!?
Deer-a-Nator: You had been known to change your voice to do good celberty impressions. But don't expect me to fall for your lies, Cletus! Now hold still so I can make this quick and painless!
Squidward: (Tries running, but Deer-a-Nator grabs his leg) HELP ME!!! (Deer-a-Nator is heard beating him up off-camera) AAAHHH, OW, AAHHH-HA-HAAAH!!! AAAH, AAAH, AHHH!!! (Squidward is seen with more bruises) Thank God I don't have any bones since I'm an invertebrate.
Deer-a-Nator: Well, let's see how you feel about that WITH A TWISTED NECK!!
Squidward: AAAAAHHHHH!!! (Deer-a-Nator suddenly feels something bite her butt)
Deer-a-Nator: OWCH! (Sees Shenzi biting her tail)
Shenzi: (With clenched teeth) Hooves off our friend, you bully!
Deer-A-Nator: "Hyenas? What, wasn't Louisianna good enough for you, Cletus? Typical lack of respect for animals."
Squidward: How many times do I have to tell you? I AM NOT CLETUS!!!
Deer-a-Nator: Deny it all you want, Cletus, I'm still not going to believe it.
Banzai: Hey, you're not touching him as long as we're around.
Deer-a-Nator: HAH! I've killed dogs more menacing than you.
Shenzi: We're hyenas, honey.
Deer-a-Nator: YOU THINK I DON'T KNOW THAT?!?
Banzai: No, we heard you call us hyenas! Now back away from the squid before you make us mad.
Deer-a-Nator: Oh, I'm SOOOOOOOO scared. I don't care how scary you three are, I've seen dogs more vicious than you. So what're you gonna do?
Banzai: We can do some heavy-duty shit to our opponents no matter what. It might interest you to know that you're messing with a Shell Lodger. You ever heard of them?
Deer-a-Nator: Shell Lodger? (Scoffs) Good one, Spotty! Now let me do what I must do.
Shenzi: Suit yourself! LET'S GET HER, BOYS! (They all attack)
Deer-a-Nator: (Grabs Shenzi and Ed's noses, and smashes the both of them into Banzai who was in the middle, disorientating them)
Shenzi: Ouch!
Deer-a-Nator: What, you don't think I can defend myself? I CAN! You might as well give up, because I'm gonna make sure your master gets what's been coming to him for a long ti- (Sees Squidward is gone)... WHAT?!?
Ed: (Chuckles wildly)
Deer-a-Nator: Shut up, dog! (Smacks his face, and he makes a whine. Deer-a-Nator sees Squidward running into the woods and tries to follow them, but the Hyenas grab her by the leg)
Shenzi: (Muffled) Oh, no, you don't!
Deer-a-Nator: (Banzai pounces on her) OOF! LET GO OF ME!!
Banzai: Why don't you make us, Ms. Murderous-Bloody-Hooves?
The Deer-A-Nator effertlessly smacks them away!
Hyenas: "WHOA!?"
BLAM?!
The Hyenas slam into and are knocked out by a local boulder.
Deer-A-Nator: "Doesn't look like it killed them, but whatever. At least they'll be out of my way."
The Deer-A-Nator walked off patenetly.
The Hyenas came through.
Banzai: "Aw man...... I hate it when we deal with veggie eaters that kick our butts harder then we thought!"
Shenzi: "Tell me about it. As long as that chick continues to think that Squidy's that Cletus bum, she ain't gonna stop."
Banzai: "I don't think directly going after her is gonna lead to anything except just gonna end with us getting pwned."
Shenzi: "Banz, your right. Man, if only the other lougers came with us."
Banzai: "Well darn our luck this is one of those rare episodes where we can't always relie on having the others with us. The best we can do now is keep eachother safe."
Shenzi: "Come on, we need to find Spongebob and help him capture this Cletus loser so we can show Psyco Deer that she got the wrong big-nose jerk-off."
The Hyenas walk of.
Shenzi: "All we have to do, is follow the smell of Sponge, Eagle..... And Patrick's poor hygine."
Chapter 5: The Hunters' Cabin
A hillside.
Winger: "This way. It's not too far."
Patrick: "I hope so. I think I saw a skunk screaming for air for some reason."
Spongebob: "I think that's because of your, uh.... Odor issues."
Winger halt them, showing an under repaired log cabin surrounded by beers and bullet shells, as well as bear traps.
Winger: "Be careful. Cletus and Clem had set traps everywhere here. Louisianna doesn't appear to be around, but we can't be cocky. That bitch, does not play around."
Patrick: "Why don't we just go there and ask them to come with us?"
A voice: "LOOK OUT, CLEM!? ONE OF THOSE BUSHY TAIL RATS IS IN HERE?!"
Gunshots are heard!
A voice: "WOO-WEE!? Clem, we're gonna eat good tonight!"
Winger: "....... Did I forget to mention those two have a shoot first, ask questions later/almost never polocy?"
Spongebob: "Well surely they won't shoot SENTIENT people, so, there's really no worry from them wanting to eat us."
Winger: "True, but again, they rarely respond well to strangers. It's better to let me handle it. They know of all of the rangers. We.... Rotinely give them citations and fines that they never seem to pay. Just let me handle those two, and DON'T, do anything stupid."
Patrick: "Pfft! Whenever had we done anything like that?"
SpongeBob: I can name a few, actually. Remember when we went into Sandy's Treedome when she was hibernating? It was your idea to screw around with her, wasn't it?
Patrick: PLEASE don't bring that up again.
Winger: SSHHH!!! Be quiet. Louisiana could be anywhere. She can hear you. Now just let me handle this.
Winger flew over to the front door, momentarly flinching when he saw angry eyes in the lowly doghouse not too far from here.
Winger landed on the front porch, and knocks on the door.
Winger: "Cletus. Clem. Open up. Yousemime National Park Ranger Winger."
A voice; "Aw shucks. Agian?"
Approuching footsteps are heard, as the door opens to A Squidward Look-a-like holding a hillbilly gun in one hand and a dead squirll in another. This, would be Cletus.
Cletus: "I swear, if there's a citation for shooting bushy tail rats, then I'ma gonna take my business to Yellowstone."
Clem, a dimnited antrho beer-belly octopus is behind him.
Clem: "Maybe it's because of all the litter and ill-leg-al traps we done left everywhe-"
Cletus stomps on Clem's tenticale, causing him to scream in simularity to a Goofy Holler!
Cletus: "What he MEANT to say was, hope ya'll don't plumb mind our, living arrangement. We been hiding out awhile. We had to defend ourselves against, and your gonna laugh when I say it, a crazy she-deer that is stalking us."
Winger: ".... Actselly..... I am here to talk to you guys about that."
Cletus frown!
Cletus: "You knew?"
Winger: "Well, frankly, that deer is also attacking guests and rangers. Up until now, all she did was hospitalised people. But now, she murdered Kolbolt, Barry, and an unlucky father."
Cletus: "I am plumb sorry for yer loss. But honestly, as of now, it's currently not our ploblem. As we prefer it that way. Gives us time to round up the boys for the uprising against that she-beast! They'll be here soon! As soon as, uh, around after lunch. We brought enough beer, guns, traps, and a dirty magizene or two when we get bored. We're gonna show here that the devines placed all creatures here to be food fer us!"
Clem: "Yeah! (Gaffaws), We even swiped a millaterry grade A+++ WW2 Turrent Car! Hayuck!"
Cletus stomps on the Tenticale again!
Clem: "AAHHHOWCH!?"
Winger: "YOU DID WHAT?!"
Cletus: "Oh, since ya know now, might as well show ya."
Cletus walks off and takes off a camo tarp, reveiling an old army car with a machine gun turrent on it.
Cletus: "Just like the kind of cars GreatGrandpappy used against the no good germans in WW2. That stupid deer won't know what hit her!"
Winger: "Ah, ah, ah, my god, Cletus!? Are you insane?! Using a millaterry weapon of any kind is super illegal?! That gets you in prison!"
Cletus: "Now, now! I done pre-peared for legal repro-cousins. I hired the best city slicker laywer to defend me. Hammy Hammerhead. Also, that dern deer is a menace to all living things and the plumb nater-all order. And it's a threat to our god-given right to hunt! If she starts a-making other deer think like this, then she can cause an animal revolt!"
Winger: "Cletus, I know your known to be, confused, but we're animals!"
Cletus: "But not like THESE un-sentients! The Unsentients are jelly-us of us being like hu-mans, so they want to destroy civil-i-sations as paybacks! Clem and I, and many fellow rednecks, hunters, and redneck hunters ain't a gonna stand fer it! And as fer you, ranger. (Whistles)."
Barks are heard, as a scared up unsentient bloodhound appeared!
Clem appeared with his shotgun at Winger's face!
Cletus: "I'm agonna give ya two choices.... Yer either with us, or yer with that monster."
Winger: You do realize you're talking to a Ranger, right? A member of authority? You kill me, they'll put you away for good, even with that Hammy guy. Besides, we came to tell you that that deer has been doing something to-
Clem: Wha? Who's 'we'?
Cletus: THERE'S OTHERS?!?
Winger: Did I say that out loud? Okay, uh, (Chuckles) it's not what you think it is.
Cletus: WHO ELSE IS IN ON THIS?!? TELL US BEFORE WE BLOW YER' BIRDY BRAINS OUT!!
Winger: You don't understand, there's someone who looks like you, and the deer thinks it's you!
Cletus: Is that so? Well, too bad for him, it's not our problem.
Clem: Yep. Doesn't concern us, in no way, no how. (Guffaws)
Winger: What?
Cletus: You heard us! Besides, it'll keep that crazy deer of our trail. (Chuckles) Yes, sir!
Winger: Guys, this is serious!
Cletus: So are we, birdbrain! We don't care how much you plead, we'll do what we must to make sure that bitch of a deer is done for.
Winger: You're not seriously going to let an innocent bystander get killed just to be safe?
Cletus: You got a problem with that, pal? (Clem loads his shotgun)
Winger:... No, of course not.
Cletus: That's what I thought. And don't even think about getting your friends to force us to do this, or we'll blow your head off like a WATERMELON!! Get off of our lawn!
Louisianna started to bark!
Winger screams as he gets chase off the property by Louisianna, to Cletus' and Clem's amusement!
Winger: "MR. PANTS!? MR. STAR!? RUN FOR IT!?"
Patrick and Spongebob saw Louisianna!
Patrick: "That's a mean doggie!"
Spongebob: "And she doesn't look happy to see us!"
Spongebob, Patrick, and Winger ran away, as Louisianna stops and just barks!
Louisanna then proceeded to return to Cletus and Clem.
Cletus: "Hehehehe, Atta girl, Louisianna. Here's your reward. (Brings out a stake), A stake. Fetch!"
Cletus tosses the stake on the roof!
Louisianna started to jump on some stacked objects, and begins to do some surprisingly athletic tricks not even known to dogs, when she reached the roof, she leaped and trible flipped to the stake and grabbed and ate it. She jumped off the roof preforming tons of flips, and then lands with backflips back to Cletus and Clem remaining unphased.
Cletus: "...... That dog, has real circus-like talent."
Clem: "Yeah, and she sure looks an awful lot like a weird hybreed of a Bloodhound and a Dobermin."
Cletus: "I been thinking she was some mad sciencetist's ex-spear-e-ment or something. Either way, she's one hell of a dog."
A mile from the area.
Patrick, Spongebob, and Winger were breathing heavily.
Winger: "I hate that blasted dog!"
Patrick: "Did we lose her?"
Spongebob: "The barking stopped at least 5 seconds ago when we were still running."
Winger: "Well, bad news. Cletus and Clem are not only refusing to come with us, but he intents on going after the deer with a near army of hunters and red-necks, as well as a WW2 turrent car!"
Spongebob: "It sounds like he doesn't do reason very well."
Winger: "We're gonna need the police if we're gonna make Cletus do ANYTHING we ask! But that would require informing the outside world! And we can't do that if we wish to avoid Tri-Corn's wrath!"
Patrick: "Then we're gonna nab those guys and force them to come with us!"
Spongebob: "Patrick, that would kidnapping, and that won't make us any better then they are!"
Winger: "Well, the best we can do is at least warn Wamahow that Cletus has made himself an even bigger problem. That way, Rangers will be prepared to keep him in check, as well as his incoming friends."
Winger pulls out his radio.
Winger: "Wamahow. It's Winger.... We.... May have an issue with Cletus and Clem."
Wamahow: Well, actually, WE may've had an issue with Deer-a-Nator. We checked the Sanction for the others, and the door was ripped off. Morse was knocked out, and all the people were there, but the Hyenas and Squidward are missing.
Winger: WHAT?!? Oh, God, Deer-a-Nator must've been following them. (Sighs) Guys, we're gonna have to find your friends.
 Suddenly, the Hyenas arrive panting
Shenzi: We got here...as fast as we could!
Banzai: We're just glad he's safe.
Winger: You're actually a little late, guys.
Patrick: "Wow, you guys look as if you didn't do well against her."
Banzai: Hey, she had us made, don't blame us!
SpongeBob: Well, I guess we'll have to make a new plan.
Patrick: You mean we do a comedic attempt to get inside the cabin, and constantly fail and get ripped apart by the crazy schnauzer?
Everyone: NO!
SpongeBob: Guys, we're losing focus on this mission! Arguing won't help us in the least.
Winger: "Well, we need to return to base to organise it. We can only hope Squidward is safe."
Else-where.
Squidward was panicing!
A bird sound was heard!
Squidward: "WHAT WAS THAT!? (PANTING) I WAS ALREADY HERE?! WHICH WAY DO I GO!? D'OH, I'M LOST?! (PANTS), (TRIPS, FALLS DOWN?!) Oh, I'm hopelessly lost! I'll never get out of here!?"
A Silluette is seen approcuhing him.
Squidward got up and resume running!
D.A.N.'s voice: "What's the matter, Cletus? Can't remember where you cabin is?"
Squidward: "AGGH!? LEAVE ME ALONE?! I'M NOT CLETUS!?"
Squidward runs until he steps on a bear trap!
WHACK?!
Squidward screams the loudest he made!
Squidward panics and cries as he struggles to get the Bear-trap off, as the figure closes in!
The Deer-A-Nator fullt exposes herself/
Deer-A-Nator: "Aw, poor little Cletus. You got trapped in one of your own traps. Irony is never so delisious before."
Squidward started to panic more as he tries to remove the bear trap!
The Deer-A-Nator swiftly punches Squidward!
Black-out.
There were brief blurry seens in First-Person Squidward of him being dragged.
Black-out.
Chapter 6: Squid Season Officially Opens
Later.
Squidward comes through, he appears to be in Deer-A-Nator's cave. He sees, to his horror, he sees a burlap sack shaped head sitting on top of Kolbolt's corpse, by a shrine of a deer fawn.
Squidward: "Barry...... And..... This, unlucky sap.... Must be Kolbolt."
Squidward sees an injured duck guest with a nerf-gun shoved in his butt.
Squidward: "Ew......"
Squidward went to exsamin him.
Duck: "...................... AGGGHH!?"
Squidward: "GAAAAAAAAAH?!"
Both the Duck and Squidward were panting!
Duck: "Please..... (Coughs).... You need to get out of here..... Get help!"
Squidward: "I, I, (cries), I can't. My legs."
Wounds are seen on Squidward's legs.
Duck: "(Coughs), I see.... Your a victim like me.... Now we're both, (coughs), in trouble."
Squidward: "That deer wants to kill me cause she thinks I'm some jerk named "Cletus". That barnicale head cowerdly hides in a disclosed location and left me to die!"
Duck: "I was a family man just protacting his kid from a surprisingly strong deer..... What is wrong with her?"
Squidward: "...... See that shrine with the dead rangers?"
The Duck sees it.
Duck: "It's..... A shrine....."
Squidward: "It's a shrine of her kid...... That thoughtless cowerd killed him, somehow confusing him to be an adult."
Duck: "....... My god....... I should've listened to Ducker...."
Squidward: "Ducker? YOU know Officer Ducker of the Police force?"
Duck: "Yeah..... He's my brother. He became a cop, and, I became a doctor."
Squidward: "Then maybe you can-"
Duck: "A physcalogical doctor. I'm afraid, I can't be helpful here. Even then, my own (holds back vomet), injury, makes it painful to move."
Squidward: "Oh..... But.... Maybe, you can call for help! You need to contact your brother!"
Duck: "Well..... I, do have a service independent to Wi-Fi. I'll..... See what I can do.... Please, go to my pocket, and get my phone."
Squidward gently but careful, pulls out a phone.
Duck pitifully grabs the cell.
Duck: "9..... 1......1.........."
Police Station.
Ducker was writing paperwork.
BBBBRING?!
Ducker picks it up.
Ducker: "Police Station. State your business."
Voice: "(Coughs).... Bro......."
Ducker gasped!
Ducker: "QUACKER!?"
Quacker's voice: "Bro...... I'm..... (Coughs)..... Sorry.... I should've listened to you about those rumors you heard, about a crazy deer..... I'm sorry. I need..... Help."
Ducker: "OH GOD OH GOD OH GOD?! I seriously want to, but I'm in newy york, and Yousemime is far away from here! Even with those fancy flying space cars we have?!"
Quacker's voice: "Please.... Try...... It might be too late for me.... But..... At least,........ Keep my family safe, and get them home. And.... Ducker.... Tell my Deedee...... I loooooooooooooooo(agk), Ugh, ogggh, gack, I love her.... (Chokes and death rattles.)."
Ducker: "Bro?......................... BRO!? QUACKER, SPEAK TO ME!? SPEAK TO MEEEEEEEEEEEEEEE?! QUACKEEEEEEEEEEEEEEEEEEEEEEEEEEEEEEEEEEEER?!"
Cave.
A sound of crying is heard on the voice as Quacker laid dead.
Squidward hold his mouth in horror.
Squidward closed Quacker's eyes.
Squidward: "..... She can't hurt you, anymore."
Squidward then proceed to try to limp to escape the cave, as footsteps are heard.
Squidward gasped in fear.
The Deer-A-Nator emerged from further down the cave.
Deer-A-Nator: "Your not planning on leaving soon.... Are you, Cletus?"
Squidward started to hyperventlate.
Squidward: "I, I know you didn't listen before, but please, I'm not Cletus! Your attacking the wrong guy! And on top of it, your taking your rage out on innosent people, even that of law enforcement! You murdered two rangers, and caused a family man to bleed to death! Please, what happened to your child was a tragity, and, and, I promise the lougers will make that jerk Cletus and his smoe friend feel the full extent of the law for this, but please, I am not Cletus! I look nothing like him outside of being in the same spieces!"
Deer-A-Nator: "I admire your dedication to your act, Cletus, but enough! And you had, some, NERVE, (brings out the same ax she used to chomp off Barry) To talk about my son?! Your not in ANY position to try to speak rightious to me, Cletus!?"
Squidward: "Ma'am, please. I-i-i-i-i-i-i-i-i-i-i-i-i-i-i, I promise you, I'm not who you think I am! I am just a simple celfalopod who's afraid of the woods cause of a sea bear accsident! And then a Sea Rinoserious. Miss Deer, please, I promise you, the real guy respondsable for this will be facing the full extent of the law for this!"
Deer-A-Nator: "I TRIED THE LAW!? But, (cries psycoticly), Barry, (grabs the Burlap sack head) Barry, said there was only, so, sososososososososososososososo much he can do! You had to have had a powerful laywer named Hammy Hammerhead who would protact you from justice, Cletus! (Places the head back), Well, this is not, (cries turn into laughs), the kind of justice, you can hide behind a fancy smanscy lawyer, Cletus! This, is justice, OF NATURE?!"
Squidward: "No, no, Vambi, please!"
Deer-A-Nator: "DON'T YOU DARE CALL ME BY THAT!? VAMBI, (TEARS RUN RAMPET WITH BLUE TILL THEY TURN SLIGHTLY RED), WAS JUST A DEER YOU TORMENTED!? YOU CALLED ME STEAK?! LUNCH?! BULLET BAIT?! (BLOOD LEAKED OUT OF HER NOSE), YOU ACKNOWLEDGE ME AS SOMETHING YOU CAN SHOOT DOWN?!"
Squidward was hyperventlating. Squidward rekindises this from Sharp-Pay when she had a simular meltdown that causes bleeding like that.
Deer-A-Nator: "You never, NEVER, valued me as nothing, other then something you wanted to eat?! You, selfish, thoughtless, BARBARIC?! ANIMAL?!"
Deer-A-Nator swings the ax, missing Squidward, as he screamed as made a run for it!
Deer-A-Nator: "COME BACK HERE, CHILD MURDEROR?! YOU CAN'T ESCAPE MY REVENGE!? I ALREADY WENT TOO FAR FOR THIS MOMENT!? (STARTS RUNNING) I AM ALREADY ON THE PATH TO BE EXICUTED BY THE RANGERS, AND IF I HAVE TO GO DOWN, I'LL MAKE SURE YOUR FIRST, CLETUS!?"
The Deer-A-Nator leap into the air!
Woods
Squidward: (Tries running, but his injured leg is making it slow for him) Oh, God, I'm never gonna make it out of here alive! I don't even know where I am!
The Deer-A--nator appears from the sky, quickly preforming a daunting display of actrobatic flips and somersults, landing in front of Squidward.
Deer-a-Nator: Well, good! Because in the woods, no one can hear you scream!
Squidward: NO, NO, GET AWAY!!! (Deer-a-Nator tries to kill Squidward with the axe) AAAHHHH!!!- (Suddenly, Winger flies in and grabs Squidward before Deer-a-Nator could kill him)... I'm dead... I'm dead, I'm dead, I'm dead, I'm dead, I'm dead, I died, I'm dead!... (Suddenly he sees Winger)
Winger: Relax, Squidward, I'm here.
Deer-a-Nator: NO! (Throws the axe towards them, but they get above the trees before the axe can strike them)... (Camera goes outside the forest) DAAAAAAAMMN!!! (The yelling scares away birds, and gets the attention of unsentient caribou)
Ranger HQ
Shenzi: (They see Winger has brought Squidward to them) Squidward!
Patrick: Well, I guess it really WAS a good idea to send Winger to help him.
Ramus: Well, of course it was. Squidward wouldn't last an hour out there.
SpongeBob: Look, his foot is injured. (They see his bad foot)
Squidward: I got caught in a bear trap. I was taken to this cave where this duck with a Nerf gun stuck in his...uh...I'd rather not say, who claimed he was Officer Ducker's brother was able to call his brother for help.
Everyone: WHAT?!?
Ramus: YOU LET THE UUPD IN ON THIS?!?
Squidward: Well, yeah.
Winger: Squidward, you do realize that this will bring unwanted attention to us from Tricorn, right? She'll have this park closed down for good! YOSEMITE NATIONAL PARK CLOSED DOWN!!!
Squidward:... I guess I hadn't thought of that.
Banzai: Yeah, you sure didn't! You've caused this whole park to be under the risk of shutting down. WHAT ARE YOU, A MORON?!?
Squidward: "I WAS TRYING TO SURVIVE?! WHAT, WOULD YOU RATHER FOR ME TO DIE, YOU INSENSITIVE GRAVEYARD JUNKIE!?"
Banzai: "...... Whoa.... Squid, I, I didn't meant it like that. By all means, survive, but, don't endanger the park while doing it!"
Squidward: "I WAS ON THE VERGE OF BEING VICTIM NUMBERO 4!? I DON'T THINK STRAIGHT PANICING?!"
Shenzi: "Ok, both of you, cool it! Banzai, Squidward was in a fight for his life, he didn't had a choice, and Squid, you should've found another way to get help without involving the outside! Espeically if it increises chances of Tri-Corn knowing about it!"
Winger: Hey, don't worry, I'm sure there's still time. Maybe we can get this over with before Tricorn figures it out, and- (A telephone rings)... Uh-oh!
Shenzi: That's probably her. You pick that up, she'll start yelling at us.
Winger: Well... We have to answer it. She'll think we're trying to avoid her if we don't.... (He slowly starts to pick up the phone as the others are terrified)... Hello?
???: This is Chief Bullington, United Universal Police.
Winger: (Sighs in relief) Thank God, it's just Chief Bullington. (Everyone else is relieved) For a second, I thought you were Senator Tricorn!
Chief Bullington: Ducker has told us about his brother's passing, and about your little incident. We'll have to keep it a secret for you to prevent mass hysteria. We'll be there as soon as we can. It might take a while, though, our flying police cars aren't as fast as you'd think.
Winger: Oh, thank you, Chief Bullington! You have no idea how thankful we are.
Chief Bullington: No need to thank me. See you soon. (Hangs up)...
Winger:... (Everybody starts laughing) They totally had us, didn't we?
Shenzi: Yeah, I TOTALLY thought that was gonna be Tricorn!
Winger: (Chuckles until the phone rings again) Oh, now what? (Hangs up) Hello?
???: BARRY, YOU BIG DUMB PIECE OF BEAR S***!!! (Everyone groans in aggravation)
Banzai: Oh, God!
Winger: Senator Tricorn, I... How did you know?!?
(Senator Tricorn): What, you don't think I have investigative journalists out there who do their job for me so they can get paid more than their other journalism jobs? BECAUSE I DO!!! ONE OF THEM EVEN GOT KILLED BY THAT DEER, BARRY, YOU BIG DUMB BAG OF FAT!!
Winger: Actually, mam, I'm Winger.
(Senator Tricorn): Oh.... Where's Barry, then?
Winger: He... He got killed by the deer.
(Senator Tricorn): WHAT?!?
Winger: Besides, we don't recall an investigative journalist being killed by Deer-a-Nator. All we know who got killed was Barry, Kolbolt, and some random father who had a wife and son.
Senator Tricorn's: THAT FATHER WAS THE JOURNALIST UNDERCOVER WITH HIS REAL WIFE AND SON, YOU IDIOT!!! And on top of that, THAT WAS QUACKER, THE BROTHER OF OFFICER DUCKER!!
Winger:... Hold on a second. (Off phone) Squidward, was this Quacker guy the same killed father with that mother and child?
Squidward: Oh, yeah, forgot to mention that, sorry. (Everyone groans in aggravation)
Winger: Great, and here I thought we were so close to keeping this a secret.
(Senator Tricorn): I CAN'T BELIEVE YOU THOUGHT THAT FATHER WAS SOMEONE DIFFERENT!!!
Winger: In my defense, your grace, how was I supposed to know that? Those kinds of journalists tend to be undercover.
(Senator Tricorn): Listen, Winger, I don't know what crap came on that made a killer deer, but you'd better get it fixed by tomorrow, OR THE PARK WILL BE CLOSED DOWN FOREVER!!!
Winger: Y-y-y-y-y-yes, mam!
(Senator Tricorn): Good day, and happy hunting. (Hangs up)
SpongeBob:... Well, so much for fixing this quietly.
Patrick: "Oh, good one Squidward."
Squidward: "Oh come on! I was about to be killed!? I didn't know Quacker was a investigating journalest! He told he was a psyciatrist!"
Banzai: "Look, nobody knew who that guy really was either."
Ramus: "But you had just made this dangeriously conplincated now! We now have to fight for a serious legal issue about the park!?"
Morse: "Cool it, Ramus. People have been known to do stupid things when death is near. It happens ALOT in horror movies."
Winger: "Well, either way, it wasn't like I was hopeful we can completely get away with this either way. This was gonna get out eventally."
Squidward: "Well, that's what we get when we tried to take a dishonest approuch."
Winger: "Yeah, even if it doesn't fail one way, it always have to be something. Anyway, about Cletus and Clem.... Firstly, they refused to co-operate with us, and they don't seem to value Mr. Tenticles very well."
Squidward: "...... WHAT?!"
Winger: "Second, they're in procession of a dangerious WW2 Turrent Car and plan to use it as a secred weapon in a hunter/redneck uprising against Vambi."
Hera: "(Gasps) Has that stupid molesk gone mad?!"
Winger: "More like extremely stupid and down-right redneckery gone crazy! In a way, we should be thanking Squidward calling for help! We could use help in keeping the Rednecks and Hunters from making things worse! But we still have to worry about Cletus' stolen Turrent Gun and Vambi!"
Squidward: Oh, how wonderful! A bunch of hunters want me dead just so they can save themselves! (Ed laughs crazily)
Banzai: ED, IT'S NOT FUNNY, FOR THE LAST TIME!!
Squidward: Okay, you know what? This is just the worst few days I've ever had! In fact! I actselly miss the Sea Bear, COMPAIRED TO HOW BAD THIS TRIP IS!?
Spongebob: "Squidward, we're sorry for bringing you here. I swear, I didn't know ANYTHING about a rouge deer and jerk country bumkins.... I thought, it would be good for us to exspearience nature in the great outdoors."
Squidward: I don't blame you guys, I blame Shifu and the rest of the Shell Lodgers that forced me to go on this lousy trip. I knew something crazy would happen, but NO, they were like 'Do it, or else'! Every time we try to take a break, some crap happens to interrupt it! I mean, my God! I know this is an action/adventure series, but CAN'T THEY JUST LET US TAKE A BREAK? CAN'T THEY PLAY FAIR?!? I MEAN, WHAT THE HELL, EVEN THE VILLAINS DON'T BELIEVE IN A TRUCE FOR ONCE, DON'T THEY EVER COMPLAIN ABOUT HAVING A VACATION FOR ONCE?!? I MEAN, AREN'T THEY TIRED OF DOING THE SAME THING OVER AND OVER AGAIN?!? I--(Says loud gibberish) I MEAN, FOR GOD'S SAKE, IF I FIND THE BASTARD WHO SOLD THAT DEER THAT DEER AVENGER GAME, I'LL GIVE HIM A RUN OF HIS OWN MONEY!!! I'LL TEAR HIM APART LIKE AN ANIMAL!!!
Shenzi: Yikes, Squidward!
Squidward: I'm sorry, but I'm starting to hate this job now. Villains these days don't just take a break for once, we have to be the ones to come in and constantly deal with them. They just piss me off!
Shenzi: Nobody said being a hero was easy, honey. Besides, it's not easy to be a villain, either. Sometimes, we don't get breaks for several reasons. For heroes, it's because villains are just too damn relentless. For villains...well, do you think a villain would just show up at a place like Paradisa and say 'Ahh, what a beautiful morning' without having someone call the authorities on them?
Squidward:...Well, maybe not, but do they at the very least have anything else to do than to roam around being evil like read a book, or play cards?
Banzai: Well, of course they play cards! That's a basic game that is often involved with gambling, which is a pretty nasty business. Can't tell ya' how many times we see Cobra, Dark Dragon, and Nefarious play cards with each other just to gloat with each other. We actually found that as a way to laugh at their expense after he did the same with those embarrassing videos of us.
Squidward:...Am I the only one that thinks we have a bit of a dark side to us?
Shenzi: Aside from the many antiheroes we have including us, I wouldn't hesitate to answer that question.
SpongeBob: What the hyenas are trying to say, Squidward, is that being a hero isn't all fun and games. It's a lot of hard work, much like your art hobby. We do get some break time every once in a while. In fact, we had a LONG break during the events of the 4th Season of Twilight's show, probably because of our Talltales episode being WAY too long. All we ever did at that time was spend time on Paradisa, and visit our allies like we do with our spare time.
Patrick: Yeah, being aggravated over villains who spontaneously come out of nowhere is nothing to be ashamed of. It happens to us all the time, and yet we don't care how annoying and downright crazy it is.
Squidward: Yeah, that may be true.
Shenzi: So why complain about your life so much when you can just think about what your life values to you?
Patrick: Aside from the fact that you do nothing but scream, panic, get hurt, or even be mean to us all the time. (Everyone looks at him) What?
Squidward:...Yeah, that's a good point, I don't do much of anything. I mean, Sandy once taught me karate, but I winded up screwing up with someone I thought was messing with me.
SpongeBob: Never mind what Patrick said, Squidward. You're an excellent Shell Lodger either way. And I can promise you that we'll keep you safe no matter what. We'll take care of this deer, and save this park if it kills us.
Morse: Well, how do we do it? We've got until tomorrow before Tricorn comes to shut the park down.
Banzai: "Well, chances are, it won't take her long to pinpoint Squidy here. Chances are, she might come to US!"
Winger: "Well, first, we need to prevent Cletus's calvery from arriving so they won't complincate things. Then, before Cletus readies himself, we need to lead Vambi STRAIGHT into Cletus so she can finally see the truth!"
Wamahow: "I'll notify the police force to deal with the incoming hunters and rednecks."
Squidward: "But, that deer will only appear ANYWHERE to come after me, thanks to that fact I share the same spieces as that jerk! How are we suppose to lead her to-"
Later.
Squidward was out in the woods again.
Squidward: "..... It's like the universe really does hate me."
Spongebob's voice from a radio: "Don't worry Squidward, we'll be right behind you every step of the way with our tracker that'll follow a chip Kolwalski secretly inplanted on you."
Squidward: "...... Huh?"
Patrick's voice: "He did that to all of the lougers. Skipper said it was nessersary if any of us got corrupted and went on a rampage so we can be able to keep track of them."
Squidward: ".... No wonder my butt itches everytime I sleep! Doesn't that egghead believe in prior consent!?"
Shenzi's voice: "Hey, I ain't fond of those things neither, but in this case, it's only only way to keep track of you."
Squidward: ".... I, guess so....."
Spongebob's voice: "Now..... Luckly, she might be far enough that she can't hear radio chat, but if he you raise your voice, she'll hear you. You have to say something to get her attention."
Squidward gulped.
Squidward: "Uh.......... Hey. uh, Deer-A-Nator...... What do you think about...... That new disney movie coming out called "Big Hero 6?"
Silence.
Squidward: "..... I, for one, think it looks like it would be, a good film...... And.... Well.... It's, great Disney doesn't ALWAYS need Pixar to help earn the people's notice and uh-"
A voice: "DON'T TRY TO DISTRACT ME CLETUS!?"
Squidward saw a flipping ax, dodged as it chopped into the tree!
Squidward looked to see Deer-A-Nator charging!
Squidward screamed and ran, as the title music borned to be wild starts playing!
Deer-A-Nator: "COME BACK HERE, CLETUS!?"
Squidward: I HATE YOU GUYS!!!
Shenzi: Just get to the damn cabin, Squidward. We'll protect you every step of the way. (Deer-a-Nator grabs her axe, and throws it precisely at Squidward, but then SpongeBob uses his stretchy arms to grab the axe, and he tries smashing it on his knee, but it's too strong, and it just hurts his leg)
SpongeBob: (Starts crying at his injury)
Banzai: Pathetic! (Ed laughs)
Shenzi: Guys, don't get distracted, we have to keep Squidward safe!
Patrick: Since when does Squidward have a safe? (Shenzi face-palms herself)
Shenzi: JUST PROTECT SQUIDWARD!!
Patrick: Oh, okay. PINK POTHOOOOOLLLLE!!! (Jumps on top of Deer-a-Nator, squishing her)
Deer-a-Nator: OOF!!! Ooohhh-ho-ho-ho, my stomach! (Ed laughs at that)
Banzai:...Not exactly what I was thinking, but okay.
Deer-a-Nator: (Bites Patrick's arm)
Patrick: AAOOOWWWW!!! (Rolls off of Deer-a-Nator, and she retreats) MY WITTLE FINGER!!!
Banzai: Baby! (Shenzi smacks him in the head with a mallet, which also hits Ed)
Shenzi: Shut up and follow them! (They all do that)
Squidward screams as Deer-A-Nator persues him!
The Deer-A-Nator grabs a big rock and throws it!
Spongebob intervine just in time and turned into a spongey trampolene that sends the boulder flying somewhere else!
The Deer-A-Nator only gives an angry stare as she runs on!
Spongebob: "Gee, hope that Blouder doesn't end up hurting someone."
In Space.
The Blouder is seen flying through space!
Meanwhile, in an alien planet.
A menacing Alien Warlord had his soldiers surrounded a bunch of friendly aliens!
Alien Warlord: "I, LORD KOONMAR, MASTER OF DESTRUCTION, HAVE CONGURED THIS PLANET!? ALL SHALL OBEY, LORD KOO-"
A Soldier: "Sir, there's somethng in the sky!"
Lord Koonmar: "Not now, naive! I am trying to rejoice my victory! THE VICTORY, OF KOON--" (Gets squished by the giant rock)
Soldier: SIR! (Everyone cheers)
Soldier 2: "Hey! There's still us, geniues!? What makes you think we're gonna suddenly just leave?"
???: "YO-HOOOO!?"
Badass looking Galactic heroes appeared!
Soldier 2: "THE GALACTIC AVENGERS!?"
Soldier 3: "..... Yep..... That'll do it."
The Soldiers retreat as they get chased by the Galactic Avengers!
Forest
Squidward: AAAAAAAAAAAAAAAHHHHHHHHHHHH!!! (Runs through the forest crazily as his screams scare off birds)
Deer-A-Nator: COME HERE, CLETUS! (Jumps towards Squidward, only for SpongeBob to karate chop her to a tree where acorns bury her in a pile)
SpongeBob: Yeah, how do you like me now?
Squidward: Come on, Squidward, you can make it! (Sees a hole in the foliage that shows part of the cabin) There it is!
Banzai: He's almost there! (Ed laughs)
Deer-A-Nator: (Jumps out of the acorn pile, and goes into the trees)
Shenzi: Oh, boy, she's in the trees! None of us can possibly climb up there like she can.
Winger: Hold on tight! (He grabs onto SpongeBob and Patrick) The rest of you are too heavy to carry, so protect him on the ground! (Ed makes 'aye-aye, sir' noises, and laughs)
SpongeBob: Let's get 'em! (Winger flies up with the both of them as they go into the trees where they can't seem to find Deer-a-Nator)...Where'd she go?
Patrick: Just follow the noises! (They do that after hearing a whoosh in the distance)
Squidward: I can make it, I can make it, I can make it, I can make it, I can--AAAAAAAAAAAHHHHHHHHH!!! (Deer-a-Nator jumps down from the trees with her axe as everything goes in slow motion)
SpongeBob: SSQQUUIIIIIIDDDDDWWAAAAAAAARRRRRRRDDDDDDD!!--(Winger, Patrick, and he intercepted her, and crashed directly into her as they crash hard into a tree which collapses on them, squishing them cartoonishly flat)
Deer-a-Nator: Uhhgh, when's the last time your pink blob of gum took a shower?
Patrick: Never.
Winger/Deer-a-Nator: EWWWW!!!
SpongeBob: PLEASE, don't ask!
Cabin
Squidward: (Comes out from the shrubs and reaches the cabin) Yes, finally! Clear sailing all the way! (Suddenly, loud barking is heard, and Louisiana is seen viciously barking at Squidward from behind the booby-trapped fence, and the barking gets Clem's attention)
Clem: Uh, Cletus, have you shaved your face lately?
???: No, why do you ask? And could you tell Louisiana to stop barking so loud, I'm in the middle of fixing supper.
Clem:...You...and he...THERE'S TWO OF YOU!!! MY WORST FEARS HAVE BEEN REALIZED!!!
Cletus: What the f*** are you talking about--(Comes out, and sees Squidward) HEY! (Gets out his shotgun, and fires at Squidward) WE DON'T TAKE KINDLY TO TRESPASSERS IN OUR YARD, BOY! GET OUT!!
Squidward: I'm not even in your yard! (Cletus fires his shotgun again) AAAHHH!!
Cletus: IT DOESN'T MATTER, YOU ARE STILL ON THE PERIMETERS! GET OUT BEFORE WE BLOW YOUR BRAINS STRAIGHT OUT OF YOUR CAULDRON OF A HEAD!! (A whoosh is heard) What was that?!?
Squidward: Oh, what do YOU think it is, you redneck calamari asshole?
Clem: (Guffaws) You called yourself an asshole! (Cletus smacks him) OW!
Cletus: SHUT UP AND GET THE JEEP READY, QUICK!! (They head inside at the exact moment Deer-a-Nator jumps onto Squidward, pinning his arms down with her legs)
Squidward: AA-HAOW!!
Deer-a-Nator: Say goodbye, Cletus!
Squidward: Oh, come on, you couldn't wait to see those poor bastards?!? GET THEM!! (Deer-a-Nator looks out at the cabin)
Deer-a-Nator:...I don't see nothing, pal! Is this a joke?
Squidward: GUYS, I HATE TO SAY THIS, BUT I THINK I NEED YOU TO USE THAT JEEP MORE THAN ANYTHING RIGHT NOW!!! (They don't respond) DON'T YOU DARE LEAVE ME TO DIE, YOU ASSHOLES!! SHOW YOUR FACES, DAMMIT!! WOULD YOU AT LEAST LET YOUR MANGY MUTT HELP ME OUT?!? (Louisiana walks back into her doghouse without responding) DON'T LEAVE ME, YOU DAMN BITCH!!! OKAY, STOP SCREWING AROUND GUYS, HELP!! HEEELPPP!!!
Deer-a-Nator: SHUT YOUR SQUIDHOLE, IT'S NOT WORKING!! Now hold still so I can make this as painless as a bloodshot!
Shenzi: GOT HER! (Bites Deer-a-Nator's tail)
Deer-a-Nator: (Screams like a man)
Squidward: (Escapes, but is stopped by the booby-traps) Oh, come on! GUYS, ANYONE LET ME IN!! IF YOU'RE LETTING ME DIE JUST TO HELP YOURSELVES, I'M GONNA COOK YOU INTO CALAMARI AND FEED IT TO YOUR DOG!! LOUISIANA, COME OUT AND BARK SO YOU CAN SHOW DEER-A-NATOR I'M NOT CLETUS...that's not helping me. LET ME IN, SOMEBODY HELP ME!!--(Deer-a-Nator grabs Squidward after she had tied the Hyenas to trees with vines)
Deer-a-Nator: No more games, Cletus! It's time to die!
???: "YEEE-HAW!?"
Suddenly, as this music plays as contry background, The WW2 Turrent Jeep rushes out of the Cabin garage, reveiling the REAL Cletus manning the turrent, as Clem was driving.
Cletus: "Howdy, doll eyes!"
Deer-A-Nator gasped....
Deer-A-Nator: "Cletus.......? But..... If your here all this time..... Then..... WHO WAS I TRYING TO KILL!?"
Cletus: "Some unlucky basturd for all I cares."
Shenzi: "That's what WE were trying to tell you, lady! You were attacking the wrong calamari!"
The Deer-A-Nator dropped Squidward in shock.
Deer-A-Nator: ".... What have I done..... WHAT HAVE I BECOME?!"
Cletus: "An afront to nature, that's what! But now, your gonna become something else........ THIS WEEK'S STEAK!?"
Cletus and Clem yee-hawed as Cletus started to fire the turrent at Deer-A-Nator, as she ran back into the woods!
Cletus: "Oh no ya don't. (LAUGHS), HUNTING SEASON'S ASTARTING, BAMBI!?"
Cletus and Clem woot as the jeep is driving in The Deer-A-Nator's direction!
Squidward: "....... Poor Vambi....... But at least she won't be after me now."
Growls were heard.
Louisianna is seen near Squidward.
Squidward: "Of course. The dog. I forgot about the dog. HEEEEEEEEEEEEEEEEEEEEEEEEELLLLLLLLLLLLLLLLLLLLLLLLLLLLLLLP?!"
Squidward makes a run for it!
Shenzi: Oh, perfect. We may've successfully stopped Deer-a-Nator, but now we still have to save Squidward from a bloodthirsty beast that wants to kill him.
Banzai: Yeah, I don't know if that bitch will want to eat him, she prefers not to eat squid since her master is a octopus.
Shenzi: Did I say anything about the dog eating him? NO! So shut up, and follow them! (Ed laughs as they follow them)
Forest
SpongeBob: I heard a scream from Squidward, and...an odd man scream. I hope Squidward's okay! (Suddenly, the same man scream gets louder as Deer-a-Nator is seen running away)
Patrick:...Okay, that makes no sense. Why is she screaming like a man, and why is she running a way like a wuss?
Winger: (Suddenly hears ruffling noises) EVERYONE, LOOK OUT!! (He pushes them all out of the way before the war jeep Clem and Cletus were driving could run them over)
Cletus: YEEEEE-HAH! LOOKS LIKE DEEP FRIED DEER LEG FOR DINNER TONIGHT, CLEM! (Chuckles)
Clem: Wait, didn't you say we were having something else for dinner?
Cletus: I've changed my mind, we'll have the deer as a side dish. We'll- (Suddenly realizes) OH, S***!! I LEFT THE OVEN ON!! WE HAVE TO GO BACK!!!
Clem: But what about the deer?
Cletus: WE CAN TAKE CARE OF HER LATER AS SOON AS WE GET OUR ARMIES READY!! I, FOR ONE, WOULD NOT WANT TO DO IT HOMELESS WHEN THAT OVEN EXPLODES!! NOW LET'S GO!! (They turn around)
Patrick:...Well, what a coincidence. Those hillbillies did our job for us....
SpongeBob: I feel something worse has happened, I'm afraid. (Suddenly, familiar screaming is heard)
Squidward: HELP, I'M ABOUT TO BE SHREDDED BY A RABID DOG!!! (He winds up bumping into Patrick) OOF!!!
SpongeBob: Squidward, you're okay!
Winger: But not for long! (They see Louisiana running towards them, and they scream)
Patrick: CRAZY DOG ON THE LOOSE!!! (Just as Louisiana jumps toward Squidward in slow motion, the Hyenas come in and pin her to the ground as she whines in pain)
Banzai: Whoa-ho-ho, wait a minute, now, you don't do that! We don't want you spreading diseases to this guy since... Well... We don't know if you've had your shots.
Winger: She has.
Banzai: Oh, well, then we can't let you hurt Squidward!
Later, at the Ranger station.
Louisianna is kept in a large dug pet carrior.
Winger: "We'll figure out what to do with Louisanna soon. Has the police reported about the Rednecks and Hunters?"
Joe: "Good news. They caught them and sent them on their way."
Squidward: "Well now we have a new problem. Cletus and Clem themselves. Even if those hunters and rednecks don't show up, they're likely to go after that psyco deer again."
Hera: "Vambi always hides in her speical cave where she has a shrine of her child. It was where I was able to recover the bodies of Kolbolt and the guest, and, Barry's head. I know where it is."
Squidward: "I prefer NOT to go there! I sympathise with her, but she's STILL CRAZY! What if she attacks me anyway reguardless of her FINALLY realising i'm not Cletus, or paranioda drives her to get me confused with him again!?"
Hera: "As long as your around me, Vambi won't harm anyone."
Wamahow: "I'll take the bodies to the summit in the tribe setting. The rest of you, proceed to secure this problem for good."
Shenzi: "Squidward, I know your freaked out about that deer, but I think it's about time we solve both problems for good, and we need your full support, Squidy. Do it for your family.... For Kairi."
Squidward: "....... Oh...... (Sighs)..... Fine....... I guess, I owe it to you guys for being a cowerd. Ok, for you guys and Kairi."
SpongeBob: Great!
Banzai: Man, I have to admit, after hearing critics complain about Squidward Torture Porns, this one sure takes the cake.
Joe: What's that?
Banzai: Oh, you mean Squidward Torture Porns?
Squidward: Oh, yeah, that's what some critics call a SpongeBob episode where I get tortured by SpongeBob and Patrick, and some people call it 'not funny', and sympathize with me.
SpongeBob: (Chuckles) Yeah, that's probably why I'm losing some of my fans on the show. But that's not important. We have to do what we can to stop Cletus and Clem from committing another murder.
Hera: And do what we can to save Vambi.
Winger: I don't know how we'll be able to do that, Hera. I don't think it will be possible to help her at this rate.
Hera: I know it can be done! Just because she's in an emotional distress, doesn't mean she can't be helped.
Winger: "Even if that's possable, Tri-corn might not be forgiving on her. The Senator seriously wants her dead! She has been known to be very punishing to anything deem a punlic threat! Espeically since the old skaley hag things public threats are threats to her ability to be re-elected!"
Hera: "There has to be something we can show to the Senator that Vambi is the victim here!"
SpongeBob: I still don't know, Hera. Tricorn isn't the one to listen to reason that easily.
Banzai: Yeah, all she ever does is bitch and moan, especially about us. We've stopped her from doing evil and cruel things for a couple of times. God, I can't imagine when she's gonna go too far with it, especially after she got her cybernetic parts.
Joe: She's a cyborg? She looked pretty normal to me.
Shenzi: Well, it's because her cybernetic parts are covered with fabric-like skin that can easily be removed. She usually glitches when she gets a temper-tantrum.
Joe:...Are you serious?
Banzai: Oh, sure, just ask her....On the other hand, she's not gonna be happy to show off her robotic parts. She admitted that she looked ridiculous with them exposed.
Hera: Well, I refuse to believe it can't be done! I'd be devastated if something were to happen to her. I don't know if I could live with myself if Vambi were gone. I loved her like a daughter.
Banzai: Will you please just stop whining about that freak of nature? We're not saying it can't be done, we're saying we don't KNOW if it can't be done. (Ed laughs) But I assure you, we can try. If Tricorn won't listen to reason, then there's not much we can do about it.
Shenzi: Yeah. She's very hard to convince when she does crazy and immoral things like this. She's seemingly killed a lot of mutants who were just victims of accidents, and one of them was our friend, B.O.B and a Pteronodon who was getting along with a scientist. We've had to stop her several times. We'll do what we can to help you if this is important to you.
Hera: It is. (Ed laughs)
Squidward: As long as I don't end up with a broken neck and a dog's bite marks on my ass, I'm cool with it.
Hera: "Vambi's cave is not too far in the western area. We can go there."
Chapter 7: An Unfortunate Death of A Deer
Deer-A-Nator's cave
Deer-A-Nator laid on her shrine of her son, as silent tears drop.
Deer-A-Nator: "My son............ I failed...... I was attacking the wrong octopus, this whole time..... And I ended three lives for nothing. I'm, a disgrace........... (Sobs)............ Now, everyone wants me dead, because I'm a monster. My child.... I am gonna end it all. I am heading for  the Yousemime Guyser fields, and heading to the most powerful of them all, and the most fatal in close prosemity: Death's Bad Breath. When one falls into Death's Bad Breath, it's terrorable acidic gases will melt the body into a gory mess, and it's waters, a boiling temperate to cook chickens to a golden brown in a quick pace! I'll be dead quickly! I'll be free of this, horrorable life as monster, and, if the devines have mercy, I'll join you in the afterlife. And if I could......... I'll take Cletus with me, so he can exspearience an exsample of what the darkest pits of the Banished Realms have to offer?! I'll see you soon, baby boy."
Deer-A-Nator tearfully hugs the shrine, then proceeds to leave quickly!
Later, as a dirt road.
The War Jeep stood as Cletus and Clem sat around.
Cletus: "............ WHERE THE TARNATION ARE THE BOYS!?"
Clem: "Maybe theys got arrested?"
Cletus: "That's impossable! The Pol-ice ain't found in the country! They're uni-formed city slickers! Theys ain't for miles!"
Clem: "Well, I'm just saying that, what if that Hera bird warned those city pol-ice about what's going on, or maybe even that pantsless guy who looks like you warned them?"
Cletus: "Well I-.......... DAMN!? If it was Hera and that darn stranger, then I'll have Hammy sue them good! I'll sue the clothes off of them!"
???: "CLETUS?!"
Cletus and Clem look to see Deer-A-Nator.
Deer-A-Nator: "........... You and I, have unfinished business."
Cletus: "...... Well, let's get'im UN-unfinished! Clem, get back in the driver's sit?!"
Clem returns to the drvier's seat, as Cletus gets back on the turrent!
Deer-A-Nator runs!
Cletus: "HE-HE-HE!? LOOK AT THAT SEXY BUT YUMMY ASS RUN!? I'LL ENJOY DIPPING THEM IN KETCHUP AND MUS-TARD!?"
Cletus began firing the turrent, missing Deer-A-Nator everytime, but Cletus was so soaked in adrenailene that he doesn't seem to care, and seems excited to get at Deer-A-Nator at all!
Clem: "Hey Cletus, I think she's heading fer the guyser fields?!"
Cletus: "LET HER?! I'S BETSHE WOULD BE TOO AFRAID TO GET NEAR OF DEATH'S BAD BREATH?! YEEEEEEE-HOOOOOOOOOO?!"
Yousemime's Guyser fields.
The scariest and skull-shape Guyser is seen, with a sign that saids "Warning: Acidic and ridiculiously hot Guyser. Most assuringly can cause death. Take pictures with caution.
A woosh is heard as The Deer-A-Nator made it near the Guyser.
Deer-A-Nator opened a locket around her neck, reveiling a picture of her and her son.
Deer-A-Nator: "Mommy's coming soon, my little angel.... Just, one more thing, left."
A Silluette of the Jeep appears, reveiling said jeep.
Cletus laughs!
Cletus: "YOUS REALLY ARE A CRAZY DEER, COMING ALL THE WAY TO DEATH'S BAD BREATH GUYSER!? NOW THERE'S NOWHERE FOR YOU TO RUN!?"
Cletus readies the turrent.
Clem laughed excitedly!
The Deer-A-Nator turned around, and faced the Jeep.
Cletus: "Say nighty-night, doll eyes!"
Cletus attempted to fire the turrent, but a recuring empty gun sound was heard!
Cletus: "What the- (Looks at the turrent), OUT OF BULLETS?! Clem, gets me more bullets now for the damn turrent?!"
Clem proceeded to do that!
Clem: "Here ya go, Cletus, fresh bull-"
WOOSH!
Deer-A-Nator grabbed Clem, and tossed him across the fields screaming, and tosses the spare bullets into the Guyser!
Cletus: "AW, SHIT!?"
Cletus quickly got off the jeep and pulled out his shot gun, but Deer-A-Nator quickly grabbed it, as she and Cletus enter a battle by wrealsing over the gun!
Cletus looks as if he is starting to become fearful!
Cletus: "Y-Y-Y-Y-Y-Y-Y-Y-YOU AIN'TS SUPPOSE TO TOUCH GUNS!? YOUR DEATHLY AFRAID OF THEM WHEN I GUNNED DOWN YER PARENTS?!"
Deer-A-Nator: ".......... I have nothing left to live. There's no more point in being afraid.... For me. Once I take away your murderious toy and destroy, I'm taking you with me to job into Death's Bad Breath, where we're BOTH are gonna meet our fates!"
Cletus: "You, you, YOUS GONE CRAZY, WOMAN!?"
Deer-A-Nator: "You made me that way. You killed my parents, you killed my husband, AND YOU KILLED MY SON?! ANTAGENISING SOMEONE LIKE THAT, CAN EFFECT SOMEONE'S SANITY AND JUDGEMENT, PRETTY FUCKING BADLY?!"
Cletus: "You, YOUR NOT GONNA DESTROY THE COUNTRY FOLK'S RIGHT TO HUNT?!"
Deer-A-Nator: "THIS ISN'T ABOUT YOUR FREEDOM TO MURDER?! THIS IS ABOUT REVENGE AND JUSTICE!?"
Deer-A-Nator steals away the gun, and breaks it in half!
Deer-A-Nator: "Justice, I'm gonna get.... Now."
Cletus tried to run, but Deer-A-Nator grabbed him, and slowly and menacingly, walked torwords the Death's Bad Breath guyser.
Cletus: "CLEM?! CLEM?! HELP!? SHOOT HER?! HELP!?"
Deer-A-Nator: "That stupid idiot can't help you! He's too drunk to not realise he's stuck in a hole in a tree!"
Clem (His head is stuck in a hole in a tree): "Hey Cletus! It's nighttime all of the sud-den!"
Deer-A-Nator nears the tip of Death's Bad Breath.
Cletus: "NO!? NO!? NOOOOOOOOO!? Please let me go! I'll stop hunting if that's what y'all want?! I'll go back to bes a traveling redneck again!? Don't dos this?!"
Deer-A-Nator: "On the count, of 10.... All my suffering.... Is over. 1..... 2...... 8...... 9-"
Cletus: "WAIT?! WHAT HAPPENED TO 3, 4, 5, 6, 7!? YOU INTENTIONALLY SKIPPED THEM SO YOU CAN GET TO-"
Deer-A-Nator: "TEN!?"
The Deer-A-Nator was about to step into Death's Bad Breath with Cletus screaming loudly, about to end it all until she got shot in the chest twice by Clem
Deer-a-Nator: YAARRRRGGGHHH!!!
Clem: HAH, didn't think I was sane, did you? I just quit drinking today to focus on the damn mission! I've been faking you out enough to get right back at you! NOW WE FINALLY GOT YOU!!
Cletus:...Okay, Clem, you seriously weren't drunk?
Clem: No. I didn't even drink one sine this morning. It's only 5:33 PM. I'm totally sane.
Cletus: Then why were you pretending to be drunk the rest of the day?
Clem: TO FOOL THIS DAMN BITCH OF A DEER, OF COURSE!! Now, we've finally got her lock, stock, and barrel! (Grabs Deer-a-Nator's ear) How does it feel to be like everyone else you killed, huh, horse-dick? It hurts, doesn't it? You're gonna make a damn fine appetizer for me and my friend. Whatever's left, we'll feed to Louisiana! (The two high-fived)
???: NOOOO!!! (Hera and the others appeared)
Hera: WHAT DID YOU DO TO HER?!?
Clem: Oh, what's it look like, sweet-cheeks? We finally put this poor bitch out of her misery. She's already losing blood, and in a few minutes, she'll be dead.
Cletus: You and your lousy duplicate of me may've booked off our comrades, but we still got our job finished. Your precious 'innocent' is fatally wounded, and there's NOTHING you can do about it. (Hera is shocked as a tear goes down her cheek) Oh, don't look so good? Well, you should be thanking us. You won't have anymore deaths in this place.
Clem: So what're you gonna do, kill us? HAH, you don't have the gu--(Gets shot in the chest by Hera with a shotgun) AGH, SON OF A BITCH?! THAT ALMOST GOT MYS HEART?!
Hera:...YOU WERE SAYING?!? (Cocks gun)
Cletus: "LORD ALMIGHTY, YA CRAZY DEER LOVER?!"
Winger: Hera! That was uncalled for, even for you!
Hera: JUST GET VAMBI TO THE HOSPITAL! QUICK!
Shenzi: Honey, I don't think it's gonna save her--
Hera: JUST DO IT, GOD F*** IT!!! PLEASE!! (Sobs) I WANNA SAY GOODBYE TO HER IF SHE EVER DIES!!
Shenzi: Okay, okay, sheesh! (The hyenas grab Deer-a-Nator's body as the Rangers hold Cletus at gunpoint)
Ramus: Drop the shotgun, Cletus! You and your friend are under arrest! (Cletus sighs, and puts his hands up)
Winger: I think the UUPD will be disappointed on what you and your drunk friend had done.
Cletus: Oh, what the hell! I didn't even wanna eat that deer any ol' way! Tasted like moose d***!
Hospital.
The Deer-A-Nator was placed on life support.
Hera was by her at bedside.
Spongebob, Squidward, Patrick, and the Hyenas were there as well.
Hera: "..... Vambi...... Your gonna be fine....."
Deer-A-Nator: "........... It won't matter if I survive this. That dragon senator from the city will want me dead. You'll be forced to eyouthenised me under threat of being fired. And Cletus and Clem will escape justice thanks to their city lawyer Hammy Hammerhead. Those two were never see the punishing blow of justice. And I am the one who's blamed for it all."
Hera: "Vambi, please-"
Deer-A-Nator: "I'm not worth keeping alive, Hera. I killed Barry, Kolbolt, and some random guest. I'm a monster."
Hera: "Your not a monster. Please, once Tri-Corn will know your side of a story-"
Deer-A-Nator: "She'll still want me dead either way..... That goverment slave is afraid of controversey that scares away voters, and I reek of it. And she'll never give this place peace as long as I live. I'm not worth losing your job over. I attacked, a respected hero, because he was from the same speices as Cletus. The universe will never smile in my way now."
Hera:...Vambi, please! Don't say that, never say that. We can work this out.
Deer-a-Nator: Don't worry about me. You were at least the only person who cared for me even after how many people I killed. That gives me at least one quality that I can be proud of. But I'm afraid it won't help. As soon as Tricorn gets here, she'll want me dead either way, even if...you explained everything. But on the bright side...at least I can see my son again.
Hera:...Vambi, please! (Deer-a-Nator slowly dies, and the pulse-wave machine goes straight)...Vambi? Vambi?...(Sheds a tear from her eye, and starts crying on Deer-a-Nator's body)
Ed: (Bursts out crying)
Banzai: Well, *Sniff* at least Ed finally has something to cry about.
Squidward: ..... (Sigh), As much as I wasn't a fan of that deer trying to rip me to shreds because of thinking of me being that redneck.... I, suppose, she deserves a burial....
Morse: That's a great idea! You can dig up her grave.
Squidward:... I just had to say it.
Later...
Squidward: (Is seen digging a grave in a graveyard as Kolbolt and Barry have been resurrected)
Kolbolt: Thanks for bringing us back, Wamahow. You're a real miracle worker.
Wamahow: It is my pleasure. I'm sure you would've done the same for me if I was you.
Barry: So, how are we supposed to deal with Tricorn? We may've got the job done...well...YOU may've got the job done, but there's a high chance that Tricorn will still throw a s*** fit like she always does.
Shenzi: Relax, honey bear, we've dealt with Tricorn's s*** fits before, so she won't be a problem for us. Let's just hope we can get this funeral ready before she arrives. Her yelling will really ruin the mood.
Banzai: (Chuckles) At least Squidward is learned a lesson about being a douche, so that doesn't make this a Squidward Torture Porn at the least. (Ed laughs) For once, I agree with your laughing, Eddy-boy!
Squidward: "Just, (grunts), about, (grunts), done!"
A readied burial was ready.
Squidward: "WHEW! I really should be careful not to offer these kind of suggestions. But.... At least, Vambi will be in a more peaceful area now."
The Rangers dragged a tarp covered shape of a deer to the burial site, and placed it in gently.
The Hyenas kicked all the dirt back to the burial, covering it up completely.
Hera: "..... A vow of silence.... To honor a true victim of this tragity."
Silence.
Quackers was seen watching this from a far.
Quackers sighed.
Quackers: "This is what I get for accepting Tri-corn's stupid offers."
Quackers dials up the phone to contact Tri-Corn.
Quackers: "Miss Tri-Corn? This is Quackers reporting."
Tri-corn's voice: "Wha-WHAT?! But I thought you died?!"
Quackers: "Their indian friend Wamahow reserected me, along with the two previously dead rangers Barry and Kolbolt. You should be happy to know that the rouge deer passed away from being injured by an idiot drunk redneck. At least, it means the park can remain open if there's no more rouge deer. You don't need to give these people a hard time anymore."
Tri-corn's voice: "Well, in all fairness, as long as the rouge beast is dead, I don't give two shits about who killed it, as long as it is dead. Though, I don't know why the thing went rouge to begin with."
Quackers: "Well, the redneck who took her down, was a friend of the idiot respondsable for this nightmare. His name is Cletus, and the shooter was Clem. Clem was injured by the Ranger Hera. The bullet missed an artity by an inch, as is desten to recover smoothly. They're, also guilty of pilfering a goverment vicitle, an old WW2 war jeep no less, and tried to cause a redneck uprising till the police was asked to stopped it."
Tri-corn's voice: "...... God damn it!? It was because of those drunk idiots this thing was a thing at all!?"
Quackers: "Pretty much. At least you'll get the benifit to yell at SOMEONE."
Tri-Corn's Voice: "Now, I'll be arriving soon. Inform the rangers and those misfits that I'll be frying those calamari rednecks instead! I think they'll be pleased that I actselly can be reasonable as long as I felt satisfived that a problem is stopped."
Quackers: "Sure. Oh, and you owe me and my family SERIOUS COMBINSATIONS FOR ENDANGERING US LIKE THAT?! That deer tried to hurt my kid!"
Tri-Corn's Voice: "Ok, ok, ok! Your payment is doubled by a 1000 extra! Tri-Corn, out!"
Quackers turns off the phone.
Quackers: "Now I hope those misfits and the rangers are not too upset about my actions. I-"
Quackers turns around to see the Lougers and Rangers there, as he gasped and yelp!
Quackers: "Look, I, I know what your thinking! I'm sorry! It's just that, being a journalest doesn't pay too much, and my family are struggling on foodstamps, I live in a crumy neightberhood, and Tri-Corn offered me speical assassignments in return for me to expose disloyal spectrums of govermental groups and attempts to hide troubles from her! I only do this to help my family! I'm sorry if I'm respondsable of what became of the deer in anyway, and, I promise you, I'm not at all proud of the result! I at least told her to save her angry banter to those redneck drunkerds for causing that deer to go rouge! I.... I never should've convinced Squidward to call my cousin... Then..... Maybe that Deer could've been saved.... Or, at least given a more peaceful death in eutinstagia, and not..... Gunshot. Please, I'm just caring for my family! I'm not like those other sell-out journalists who do it for profit alone, I at least use it to help my family! But again, I am completely sorry what became of the deer! Rouge or otherwise, she, desevred better then this.... Please don't hurt me...."
Quackers flinched and covered himself against a possable beating.
Iago: Relax, drama queen! Even we know you had no other choice. We all have to do things questionable and risky when things get bleak. Even Icky nearly got a heart attack when Tricorn got involved in the incident, probably because of the fact that it spiked his blood pressure during his injuries.
Icky: (In bandages) But at least I lived! Stupid sprites! From now on, I'm NEVER going back to that hellhole of a history museum for as long as I live. At least I'm healed and I can go on our high-paid cruise.
Shenzi: It's great you guys are here.
Shifu: And just for the sake of Squidward not yelling at me, I had no idea that this whole thing would happen. There's no reason to blame me for forcing you to go on this trip.
Squidward: HEY, you forced me to go on a trip THAT NEARLY KILLED ME!! Why the f*** should I forgive you after tha- (Shifu uses the Wushi Finger Hold) AHHH, OH CRAP!!
Shifu: Does that answer your question?
Squidward: Y-y-y-yeah, pretty much! Just-just don't hurt me! (Shifu lets go)...WHEW! You almost gave me a heart attack!
Po: Relax, Squiddy! Once we go on this trip, you'll forget it quicker than you can say 'clarinet'.
Squidward: I hope so! By the way, are you sure Tricorn won't be that much of a burden? This pretty much is an important funeral, and I don't want Miss C***-Head to screw it all up.
???: YOU CALL ME A WHAT?!? (Squidward screams like a girl, and hides in the grave as Senator Tricorn arrives)
Icky: OH, COME ON, HOW DID YOU GET HERE?!?
Tricorn: This is the Dragon Realms, you know. I can fly! It took me 3 hours to get here by flight. I preferred to come here on my own. Now, if there are no more questions, then I'd like to say...
Squidward: Don't say it! Don't even squeal your cybernetic vocal cords dry! We know what you're gonna say! You're gonna be all jerky about this incident. Well, let me tell you that this poor deer let herself get killed because she thought that YOU wouldn't be so much as forgiving. We all know how you hate monsters, and have tried to murder them without learning their origins or vision. Plus, I wouldn't get Hera here riled up. You yell a single word about the deer, and we'll have to listen to her weeping for HOURS! She's been crying for a whole hour since Deer-a-Nator died, and we don't have time for YOUR nasty attitude screwing up the funeral! You say ONE thing, you'll be sorry!...Nothing to say now, huh?
Tricorn:... FYI, calamari, that was NOT what I was gonna say!
Squidward: Say what now?
Quackers: "Yeah, I told her not to yell at you guys, remember?"
Squidward: "...... Oh."
Hera: "But it was nice of you to stand for Vambi like this..... Even when it tecnecally wasn't called for."
Squidward blashed as "Wah Wah Wahhh" played.
Icky: "That's Squidward."
Tri-Corn: "Just to be clear, Quackers advised me to reserved yelling for these yokals that I'll soon enough deal with. I appresiate this job at least being done at all. Cause of it, this park won't be closed down. Even though you weren't exactly the ones who stopped the deer, your at least the ones who captured the morons respondsable for it. Some, congratulations are in order. I hear your going on a cruse soon, so, (brings out a piece of paper), I would like to hand over an all expenses paid pass to all activies and dining exspeariences on the lovely S.S. Tri-Corn Voyage."
Icky: "..... You even have your name on the cruse ships?"
Tri-Corn: "..... Yeah, even I admit I am over-doing it on the "naming everything after myself" thing. Call it a habit of wanting to make my presence known to the people. Now, can you point me where these rednecks are?"
Barry: "Ranger Station."
Tri-Corn: "Thank you..... Oh, and word of advice.... Get yourselves some ear-muffs."
Squidward: Why?
Shifu wispers: "I have a safe bet Tri-corn's scolding on those southern hunters will be, particularly loud."
Squidward: "..... Ohhhhhhhh."
Later.
The Ranger station is seen.
YELLING WAS HEARD!?
Cletus: "AGGGGGGGGGGH!?"
Clem: "MAH EARS?! MY INSIDE OCT-O-PUSSY EARS!?"
The Lougers are seen wearing Earmuffs.
Icky: "Hey, at least she warned us."
The Rangers were wearing earmuffs as well.
Later again.
Louisianna was still in her pet cage, no longer seeming to act vicious.
The Lougers are seen with it.
Icky: "..... So...... What the hell are we gonna do with the dog?"
Skipper: "And that a weird looking one too. It looks like a cross between Bloodhound and Dobermen."
Lord Shen: "Well, taking back with us is out of the question. It took forever to potty train the dogs WE HAVE already! And it takes serious money to build it a private section of it's own like we did for Gary! Also, I have a wolf in the forces that, strangely enough is a afraid of canines. Hell, the daff fool is afraid of himself. He wears a paper bag on his head."
Trixie: "Well, then what are we gonna do with it?"
Gilda: "Well, just giving her to a pet store or a shelter ain't good. Old dogs never get adopted in a socity that targets puppies more."
Larry the Anaconda: "Why don't we just give the doggy to Fluttershy?"
Everyone stares at him surprised.
Larry: "I know, I know.... Shut up Larry, that's stupid."
Lord Shen: "Actselly, it's unintentionally brillent! Flutter one's magnifisent with animals."
Phil: "Uh, yeah, I am not sure a hunting dog would get along critters hunters use them to hunt down. That's like having a Gazelle to train lions!"
Cutaway gag later.
Mr. Dodo: "Well it wouldn't hurt to try. I mean, her original owners are being sent to jail, and we ruled out keeping her or giving her out to a place that offers adoptions. It's our only opition."
Phil: "I am just not 100% sure she would take in a Bloodhound/Dobermen hybreed."
Equestia.
Fluttershy: "Alchourse I'll take in the poor darling! She has no where else to go, the poor thing."
Phil: "..... Your serious? Your talking about adopting a dog breed to hunt the critters that live in your, litteral tree house?"
Fluttershy: "It won't be a problem. I was able to make a bear behave among the other critters. Why, I even managed to make a Sand Shark that guards the Pizza Tree in everfree forest to be the friendliest creature ever.... He's still.... Abit nippy though, he still tends to get, too excited to get company, so, I still advise ponies to be careful around Sandra."
Icky: "...... You gave a dude shark monster a girl's name?"
Fluttershy: "..... Sorry, I didn't know any boys names with Sand in it. It was, the best I could offer, and Sandy felt, too over used for sand based names, plus I didn't wanted to make confusions with your Sandy."
Phil: ".... Ok, but your seriously need to condition that old dog not to chase little critters anymore! She was once owned by two idiot off-season hunters, so, I don't believe you'll be able to make that dog friendly in a matter of 10 minutes or so."
Fluttershy: I don't blame your concern, Phil. But you have nothing to worry about. You've given me so many animals to adopt, I'm starting to learn how to get along with other-worldly animals no matter how violent they are. Trust me, I have it under control.
Tulio:...Speaking of that, didn't you have some seals?
Fluttershy: Oh, you mean Siren and Snuggle? Oh, yeah, they're fine. I found them a place not too far from here where I can take care of them now that they're grown up. You wanna see them? I'm sure they'd be delighted to see you again. (Suddenly, seal sounds were heard)...Oh, boy! (Siren and Snuggle, the two seals from Oily on the Outside, Crazy on the Inside, appear as grown seals, and pounce on Fluttershy as she giggles)
Kowalski: Whoa! They're big!
Skipper: At least they're not leopard seals.
Fluttershy: Actually, I think they are.
Skipper: (Pupils shrink, and the Penguins panic)
Fluttershy: Oh, don't worry, I've trained them to eat just fish and other seafood. (Feeds them some fish)
Skipper: WELL, THAT'S A RELIEF!!
Icky: And I'm at least glad that we got that funeral done with early. God help that poor deer.
Fluttershy: Wait...someone died?
SpongeBob: It's a long story! Well, Fluttershy, I think we need to go. We've got a high-paid cruise ahead of us.
Fluttershy: Really? Well, good for you.
Shrek: Come on, guys! (They hop on the van)
Puss: Take good care of Louisiana, will you? (They blast off into space and Fluttershy and the seals look at Louisiana, who growls angrily at them, scaring away the seals)
Fluttershy: (Uses the Stare on Louisiana) I won't have any of THAT behavior, thank you! You need to learn how to mind your manners in front of my pets. If you think that hunting like in the good old days is all fun and games, then you are very mistaken. Got it? (Louisiana shakes 'yes') Great. Now let me show you around. (They enter the cottage)
Dragon Temple.
The Lougers look overly the top dressed.
Icky: "Wellio gang. I think we're just about ready for our vacation."
Iago: "You know it, Icky my man!"
Icky: "Aw man, I LOOK FORWORD FOR THIS VACATION!?"
Kairi: "Me too guys! Finally. A break from Villain Teams, Indie Villains, natrol dishastors, wars, monster attacks, and other crazy random things that come out of nowhere. Finally we can have an actual vacation."
Trixie: "Trixie looks forword to the bath of sun! I'm thinking to get myself a beautiful teal tan."
Missing Link: "I'm aiming to impess the Lay-dies! Oh yeah."
Po: "I can already envison all that FOOD!"
Icky: "You and me both, Po!"
Lord Shen: "I merely look forword to relax as the giant ship sails across the great waters that devide the lands. My parents always find them oh so relaxing."
Banzai: "OH YEAH! ALOHA!?"
Kolwalski: "Let the best Vacation ever commence!"
Tai: "Yeah! What could possabily-"
Everyone but Tai: "NO?! DON'T EVEN?!"
Tai: "..... That was close."
Epilogue
Meanwhile.
Cletus and Clem are tossed into cells.
Cletus: "OH WHAT'S THE BIG I-DEAR! Is this any ways to treat nat-si-nal heroes?"
The Wardens closed the cells.
Cletus: ".... Bah! You'll see! My lawyer Hammy Hammerhead will help us out of this! I swear on me liver! If not, then I'll donate it to science! That's how sure I am to it?!"
Warden: "We'll soon see in court."
Clem: "Your sure about this Cletus?"
Cletus: "I just betted on me liver. Hammy is one of the best Lawyers in the uni-verses! He never lost a case."
Wardens laughed.
Warden: "Then CLEARLY you didn't heard about the Mr. Knife Turkey Abuse case!"
Cletus: "What abouts it?"
Warden: Well, that's the only court case where he lost. If you're thinking that he can protect you from this crime of yours, think again! Too late to take back your liver deal now, so good luck. (Chuckles, and leaves)
Clem:... Since when do we have cat food in our bodies?
Cletus: Just shut up!
FIN!
Community content is available under
CC-BY-SA
unless otherwise noted.