Iallog has always been a world that embraced the thrill of combat, fighting, and defeat/victory through the art of war, and thus it was their biggest hobby and expression, to the ire and distaste of war critics and pro-peace folks, espeically since it Iallog has ended up earning the nickname "The Terrorest Factory Planet" for a reason. And as always, this was criticized as a rough choice, as years of doing it lead to so many brokeness and heartache, and ultamately, the message of it's violents eminates to indeviduals forced to become terrorests and fanactics that end up being headache to outer communities just to get intervention for the planet. Iallog's many seperate rulers are making this problem constint thanks to selfish and immature desires grounded in self-serving ambitions or idealogity. Thus there sadly exist fanatic groups out to end this way of life and want to bring back true peace to Iallog, nevermind the sad truth that even with these reckless and incompident leaders gone, true peace is not an easy garrentie with all the madness borned from the endless war. Thus, there exists an order that designates itself as a group that slays the likes ot terrorests and other problems in Iallog. They are known as Order of Iallogia, after the same name of a utopian peace god of Iallog. Among these best is, of all things in consideration of her infamous past, a Phend named Kirias The Leader. She has disbanned some of the worse terror groups, milita renigades, bad rebel groups, and seriously crippled other such groups in some form or fastion. She is like this because she lost her family to the evils created by endless waring, and thus, wants to fix Iallog the right way by ridding it of these very evils. As much as she follows the way of the order and takes pride in her work, she can't help but to feel pity and sadness for the people who are made to live like they do, even if they go down the wrong path, and scratches it off as war being horrorable and drives her to fix this broken world more. But rumors of an Area 51-like place are leaked when a new enemy comes out of the blue called War's Enders, and it's leader, a war hating Skeeterazoid named Ztungkaas Ztingzur, who intends to use this such place to advance a great plan. Thus, with his partner Nixtorus, a Zhaerthis male and a fellow hater of war, his doctor, Doc Ooze, a Goooran, his cocky albino Gruid lieutenant White Rash, and a talking pet Jumpingbird with a dry, snarky, and dark sense of humor named Dodgez, getting untold power through an Omninet-crazed double agent, a Tiiken named Interivious Neticus, and now has access to a secret long kept on Iallog: the technology from the extinct Teadr 1 Aelleyseans that was kept in that very place. And now Iallog's goverment has an even shitter name then it's current status' when this fiasco made it look horrible to the Grand Councilors who don't like preventable surprises, especially that of Teadr 1 proportions, and thus called for the HA and Lodgers, who conveniently come back from a Warface mission, are called in to help stop this Ztingzur's campaign. The Order were the first to greet the arriving heroes, Kirias, who greatly admired them for the great service they did to her people and thus the order went to take them to their hidden Cave of Wonders-Eqsed HQ, nicknamed as The Mouth of Iallog, to meet the Aelleyseans' immortalized leader, King Hallozins, who says their race used to be just like Iallog, but they were able to tone war into a much more tamer way then Iallog did so their world could not repeat Iallog's mistake, because the feuding leaders took the time to see that their people were suffering and desided that pointless persuits are meaningless if it hurts the people, and thus form their balenced society during the Teadr 1 Ages until their extinction left their powerful technology vulnerable to theft, and he immortalized himself with a device similar to Santha's immortalizer device to protect it, usually with artificial assistance, and desided to bring himself to pasify Iallog while he's at it to make sure protecting the tec is less strenuious. But now the well intentioned Enders have jeptrodised this with their desire to try and force peace with it by bring back his race as a means to defeat all feuding rulers and make himself ruler to FORCE peace, and then to turn Iallog into a planet that recklessly goes after any fanactic problem it has, small as it would be. Now he must bring back his race the right way in order to save their technology, stop the misguided enders from only succeeding to make fools of themselves, and send Iallog at least on the path to recovery of it's unfortunate infamy.
Scenes
The Story of Iallog.
The Past of Iallog.
(Voice): "Iallog. In modern times, It came to be known as "The Terrorest Factory Planet" because of the constint conflict and strife because all of the planet's nations, came to hate eachother for a multitude of reasons. Political, relijustus, or because particular nation leaders' tempers flare over a nice piece of land both of them wanted. Sometimes the occational rising mad tyrant that wants to take over all nations. But there was a catalyst event that made Iallog come down the unfortunate path it has gotten itself into. Once, Iallog was the polarising oppisite of what it is now..... It was a planet of peace.... A world of happiness and love. Nobody ever gotten into arguements as intense as they became in the present, nor was war ever declared when nation leaders were to get more then alittle too upset with one of the other. The worse that would happen is a declaration to never interact with eachother ever again, and that was about it. The True Peacefuller Iallog was the kind of place where the worse that would ever happen from making someone upset with you, is mere avoidence. This was the Iallog the modern folk have all missed, and they damned the day it ever went away. And that day, started when the first heated arguement.... Ended in something MORE then a denouncement of interaction. It happened on an ordenary day in a nation leader meeting, when two always conflicting brothers keep getting into eachother's throats about the relijustus paths they choosen. One of the Brothers converted to start worshiping a Yateron figure named Arbasus Kraan, the other brother, kept to the older traditional religen and accused him of blastfomy. The arguement got intense to the point that..... It happened."
The First Brother smacked the second in the face so hard, blood was spilt to the shock of everyone!
The First Brother realised his mistake and recoiled.
The Second Brother: "........ You........ YOU ATTACKED ME?!"
The First Brother: "Kodaius, please, I'm, I'm, I'm sorry! You, you couldn't stop calling me a blastfomer because I desided to give the Kraan religen a try! I, all I honestly want was some deviantion from the same old thing!?"
The Second Brother (Kodaius): "(Face covered in blood and tears), (Sobs), WELL HOW'S THIS FOR A DEVIATION, YOU BASTURD?! I, DECLARE WAR?!"
Everyone gasped?!
Prime Nation Leader: "Kodaius, please! Delcaring war is not the Iallog way of life?! I forbid it?!"
Kodaius: "I'M SORRY GREAT SAGEAS, BUT I CAN'T LET HORDESIAN GET AWAY WITH WHAT HE DID TO ME?! HE ASSULTED ME FOR A BLASTFOMUS FALSE GOD'S RELIGEN?! I WILL MAKE HIM PAY FOR IT?! (Runs off) PAY!? DO YOU HEAR ME?!"
Hordesian: "KODAIUS, PLEASE?! COME BACK?! BROTHER?! (The Nation Leaders broke into an uproar)....."
Sageas: "....... I hope you're happy Hordesian, because your deviation has lead to another?! YOUR QUICKNESS TO ACCEPT AN OUTSIDER RELIGEN HAS LEAD TO THE RUIN OF IALLOG?!"
Hordesian: "Sageas, please, we know that my brother tends to be very emotional, he never lives up to his own hype?!"
Sageas: "DO YOU REALLY WANT TO RISK HOPING HE "DOES NOT LIVE UP TO THE HYPE" AFTER YOUR BARBARIC DISPLAY?! WELL I RATHER NOT?! I WOULD RATHER PLAY IT SAFE?! THE BEST WAY I CAN SAFEGUARD IALLOG, IS BY BANNING THE KRAAN RELIGEN?!"
Hordesian: "BUT SAGEAS-"
Sageas: "NO BUTS?! AND YOU, ARE TO BE SENTENCED TO DEATH FOR RISKING OUR PEACE?! IT'S THE ONLY WAY THIS WAR CAN BE STOPPED?!"
Nation Leader 1: "...... NO, SAGEAS?! I REFUSED TO STAND-BY AND LET YOU TAKE HIS LIFE JUST TO STOP A WAR?! I'M SORRY, BUT I DECLARE WAR ON THE CAPITAL LANDS, TO PROTECT HORDESIAN FROM YOU?!"
Nation Leader 2: "YOU MAD MAN?! YOU WOULD DECLARE WAR ON THE GREAT SAGEAS, THE BELOVED DESENDENT OF THE GREAT IALLOGUS, THE FOUNDER OF IALLOG?! I DECLARE WAR ON YOU FOR YOUR HERESAY AGAINST THE WAYS OF IALLOGIA?!"
Nation Leader 3: "YOU DARE DECLARE WAR ON A WEAKER NATION BECAUSE IT'S LEADER COULD NOT BRING ITSELF TO LET A DEATH HAPPEN?! I DECLARE WAR ON YOU?!"
Nation Leader 4: "SAGEAS ONLY MEANS OUR WELL BEING AND THAT OF THE PLANET?! I DON'T WISH TO SEE HORDESIAN DIE AS WELL, NOR SEE THIS WAR HAPPEN, BUT IN IALLOGIA'S HOPE FOR HIS WAY OF PEACE, I HAVE TO DECLARE ON THOSE THAT WOULD LET A WAR HAPPEN?!"
Nation Leader 5: "YOUR HYPCROCSY ENRAGES ME?! I DECLARE WAR ON YOU JUST FOR THAT?!"
The Nation Leaders began to declare war on eachother as Sageas looked at Hordesian with pure unadulterated anger!
(Voice): "Thus, Iallog collapsed under all the wars that broke out. The brothers' war was the first to happen, then the wars against the capital lands, then the lands that would delcare such against the capital war, and so on and so forth. It then gotten worse when this world has been in a world war for centuries because their inhabitants have fought for disagreements in indoctrination, as every single nation has a problem with another, and thus have tried to destroy one another. Weapon factories have profited greatly for this war, and people have been fighting for so long, they rely on the war to prosper. People call this world one which is peaceful when it's at war, an Ironic statement, I know, as it has yet to grow out of this habit. There are advanced cities that are either abandoned, rebuilt, damaged, or completely destroyed. This has happened so much that repairs have become free. Now, Iallog's place in giving an unintended inspiration to fight what's right and an oppertunity to join into the conflict for often thrill seeking reasons is all well and good, in throey. However, the planet also has since gained an unfortunate reputation of also being considered "A Terrorist Factory", due to the never stopping war of the planet, helped little by the fact that all of the nation's leaders want the control of the planet all to their greedy selves or for idealogical means, which is unbareable to some of the wars' worse victims and/or those that remembered or knew from ansistery of the original Iallog that it drove those that want "True Peace" to resort being no better then the incompident goverments they now rebel against. These terror groups not only commit atrosites against their own planet in meaning to deminstaight that violence shouldn't be a way of life, but they even attack neightbering planets of their own system and of the planets of the entire Delta as a whole, mostly powerful worlds like the Republican side of Keuca and even the ever strong and powerful Korthos, to inspire interfearence to the warring world and forcefully inspire true peace at any cost, even if they'll look like monsters in the progress, no longer caring about that as they view giving their planet true peace more impourent then petty social standings. Though the terror groups are viewed negitvely, it has made the Universes more aware that Iallog does need a serious change of standerds and has inspired the Grand Council to debate on whether or not to finally have interfearence and rid the world of it's incompident goverment systems AND it's terrorist problems as well. Iallog has never seen true peace again ever since...... But, there will come a day, where great heroes will come to Iallog's rescue, and put it back on the path to see true peace once more. And on this time, it will be sooner then you would think."
Enter War's Enders.
An Iallogian Base.
Two bored guards are seen....
Guard 1: "..... Hey man...... You ever wonder what is even the point of this war anymore?"
Guard 2: "Does war ever have a point?"
Guard 1: "I don't mean philiscoficly."
Guard 2: "Oh. Well it's been like this because some dude wanted to do a different religen then the standerd, then his brother threw an epic hissy fit and got punched in the face. Then he declared war, then Sageas wanted to end the first dude's life over it, then everyone started to want to declare war for many crazy reasons, and..... Well, here we are."
Guard 1: "I get the historic reason, I meant, why are we here, guarding this base holding whatever it's holding? Why are we portecting something we don't know jackshit to?"
Guard 2: "Oh. I don't freaking know, man. Whatever it is, it must be impourent if even we knew jackshit about it. I signed up to fight terrorests or armies of enemy nations, and here I am guarding shit I have zero knowledge of. I wanted to be a soldier, not a babysitter for, whatever it is we're watching. I don't damn know man. And we don't get out of here until we're either too old for service, die, or if the wars end. The first two are more likely then numero 3, man. Real depressing shit."
Guard 1: "Oh yeah, that is depressing."
???: "Ahhh, indeed."
A robed figure hovered before them.
???: "But it does not need to be like this anymore, gentlemen."
The Robed figure yanked the robe off to reveil a Skeetrazoid!
Guard 2: "SON OF A BITCH, A SKEETER?!"
Guard 1: "A SKEETRAZOID?!"
Guard 2: "I THOUGHT THOSE GUYS WERE ALL TOAST?!"
Skeetrazoid: "...... I take it news doesn't travel here often. No surprise, considering this world's UNFORTUNATELY HORRORABLE STATE?!"
Guard 1: "...... Ya see, like I told ya, we need a news system here so we know what the heck's going on!"
Skeetrazoid: "And why do you think we are without such a service? BECAUSE OF THIS WAR?!"
Guard 2: "Hey, we do, kinda, have that stuff."
Skeetrazoid: "But only in safe zones. Places away from the wartorned cites and beautiful plateaus turned into fanactic bases, fighting becoming a way of life, all because, one guy, wanted to celebrate and worship a Yateron!"
Guard 1: "Well in all fairness, if that one Yateron's a guy like Kraan, ya can't exactly hold that against him."
Skeetrazoid: "Perhaps not...... HE IS, HOWEVER GUILTY, OF DEFENDING HIS DESIRED BELIEFS THE WRONG WAY!? AND NOW LOOK WHERE WE ARE?!"
Guard 2: "Standing outside of a outpost talking about why we're here guarding we don't know what?"
Skeetrazoid: "I MEAN IALLOG, IN GERERAL?! THANKS TO ONE MEASLY ARGUEMENT?! AN ARGUEMENT, INSPIRED YEARS OF PAIN, SORROW, HORROR, TERROR, AND WAR?! And above all else..... DEATH?! FAMILIES ARE DESTROYED AND TORN?! FRIENDSHIPS SINK INTO THE CRAVASH OF ENEMYHOOD?! But worse of all...... It, gave the wider universe community, THE WRONG IMPRESSION OF HOW TO DEAL WITH THEIR PROBLEMS?! Because of that, they picked an inferior way to combat the VA?! Fighting it?!"
Guard 1: "Hey to be fair, the VA aren't exactly reasonable! They're a bunch of power-hungry fuckers?!"
Skeetrazoid: "THEY WERE AT BEST A GROUP THAT TRIED TOO HARD TO CORRECT THE INJUSTICE OF THE MAJORITY IN THE NAME OF THE MINORITY?! All they were ever guilty of, is being too ambitious! And now, they gotten disbanned, by accsidental otherworder visitors..... But..... It was not, before, that my kind, was nearly wiped from existence. The last hive was lucky to survive, thanks to a compassionate Hymen who befriended a good princess...... But that too, was not before, when my hive, here in Iallog, WAS NEXT TO BE DESTROYED?!"
Guard 1 and 2: "Ohhhhhhhh."
Guard 2: "Okay, we admit that maybe the Skeetrazoid fiasco wasn't uh.... Handled well."
Skeetrazoid: "IT WAS WORSE THEN NOT BEING HANDLED WELL?! THEY TOOK THE WRONG INSPIRATION, FROM THE WRONG PLANET?! SO MANY RACES, WHETHER THEIR REPUTATIONS WERE JUSTIFIVED OR NOT, ENDED UP SUFFERING, BECAUSE WE LOOKED AT IALLOG WITH THE WRONG MINDSET?! THE COMMUNITIES ENDED UP FAVORING VIOLENCE INSTEAD OF REASON AND PEACE?!"
Guard 1: "Okay, we get what your trying to say buddy, but, consider this alternate view. We didn't look at Iallog with the mindset that violence is awesome. We actselly saw it as a means on how to stand up for yourself...."
Skeetrazoid: "...... Never mind that the nations on every part of the planet, HAVE NO REAL JUSTIFYABLE REASON TO FIGHT, OUTSIDE OF IDEALOGITY AND BELIEFS?!"
Guard 2: "..... Well, when you put it like that......"
Skeetrazoid: "SO, SO REALLY, THE USRA RACES AND THE GRAND COUNCIL, THOUGHT THAT TAKING INSPIRATION FROM THIS TROUBLED PLANET WAS A PERFECT EXSAMPLE ON HOW TO HANDLE THEIR VA PROBLEM?! Or was it that they just don't want their control of the systems, to become even MORE limited, since the rise of UIS?!"
Guard 1: "Now hold up! With UIS, at least they only want to keep us from seeing new worlds! Whatever misguided intention the VA had, they unquestionably wanted it to happen through conguring the entire universes as a whole! Period!"
Skeetrazoid: "Have you ever considered that maybe while they had Tex, and if hypethicly that he was never arrested and/or if the Thunder Chasers mess never happened, that MAYBE the VA could've been reasoned with, at least asmidged?"
Guard 2: "Well maybe the relitively sane and/or honorable ones, but good luck getting the nilist/psycotic/bloodthristy/murderious/genisideal ones to listen! The main problem with the VA is that it's too quick to welcome any minority it meets! Xerxes, Taurus the Horrorable, Gorden the Animal, Deathslaughter, Lord Trax, Seftin, Blacker, and the less is said about the secret founders, the better!"
Skeetrazoid: "Oh, so because of a few bad exsamples, that justifys making an entire race, nearly go COMPLETELY EXTINCT?!"
Guard 1: "Sir, we get it, the communites at large, us not withstanding, fucked up! Maybe we could've handled your race's little, outburst, abit better."
Guard 2: "But in the Grand Council's defence, it was either they did what they did, or allow everything the USRA races tried to make get squandered into nothing by a group with a mistranslated ideal for fairness. They did not had a real choice."
Skeetrazoid: "..... But that's about it..... It all goes back to Iallog..... THE SHORCE, OF WHERE EVERYONE GOT THE WRONG IDEA OF WAR?!"
Guard 1: "Well, if it helps, the terror groups this busted planet always produced did MORE then wake everyone up that-"
Guard 2: "War...... Is hell!"
Guard 1: "..... Yeah, that. Hence why it got the title-"
Skeetrazoid: "The Terrorest Factory Planet. The most unfortunate of titles to be earned. It's bad enough that the entire Phend race have earned equily disheartening title of being the Terror Race, now, IALLOG, IS THE TERROREST FACTORY PLANET?! THAT IS HOW BAD, OUR DEPARTURE FROM TRUE PEACE IS?! AND ALL BECAUSE OF A ZEALOTICAL CONFLICT?! Well I am done!? NOT JUST WITH HOW IALLOG WORKS, BUT WAR IN GENERAL?! FOR YOU SEE, GENTLEMEN?! I KNOW EXACTLY WHAT'S INSIDE THAT BUILDING?! THE LOST TEC OF A POWERFUL TEADR 1 RACE, KEPT SECRET BY THE LEADING GOVERMENT OF IALLOG, CAPABLE OF GREAT THINGS?! I intend to use it, to end wars, not just in this miserable sandbox, BUT FOR ALL OF THE UNIVERSES?! WAR WILL NEVER DARKEN OUR LIGHT AGAIN?! I, ZTUNGKAAS ZTINGKUR, WILL SEE TO IT?!"
Guard 2: "..... Oh it's that right, huh? Well in there is a heavily fortifved outpost, and based on what you said, you'll sooner end up in Oranos before you even get that far."
Guard 1: "Assuming you survive lighting up like a Kraansmas Tree, pal! And besides us, you're gonna need a DAMN good army for what we stand in front of."
Ztungkaas: "(A squack was heard).... Funny you mentioend that...... I thought of that, ahead of time. (A beautiful Sectratary bird landed on Ztungkaas, as the sound of invisable cloaks are turning off reveiling the appearing armies of Ztungkaas' followers, including a Zhaerthis male confidently but awkwordly holding a big rifle, a Goooran that looks like he's wearing a lab coat with giant doctor gloves holding a hacksaw gun filled with needles, a cocky albino Gruid armed with homemade gruid weapons, and above them, a hovering ship that was seen de-cloaking itself.)..... Say hello, and, perhaps, goodbye, to War's Enders."
The entire group aimed their guns as Ztungkaas proceeded to fly out of the way....
Guards 1 and 2: "...... Ohhhhhhhhhhhh shi-"
The Army charged as the two screamed!
A ray gun fire caused the screen to black out!
The place was in ruined as soldiers lay defeated. None of them were of War's Enders.
A defeated commander laid injured.
Ztungkaas landed in, pet bird in tow.
Commander: "...... How, did you knew about this place? We, were as secretive as possable! No one, should know about this place?!"
Ztungkaas: "Let's say..... A little dino, told me."
A Tiiken showed up, all gussied up like he was a total internet nerd....
Commander: "....... Interivious Neticus? WHAT IS THE MEANING OF THIS?!"
Interivious: "..... I'm sorry, commander....... The Tiiken people were once heavy victims of a war between them and the Skorners. War, is a terrorable curse onto socity and never should've had an existence. Espeically not onto a world where peace had a far greater influence before a meager conflict of beliefs ruined it! And over something that was of Yateron fame! That makes the USRA races resondsable in that espect that a religen the Yaterons had, caused this. I owe it to the community at large to fix this. I am helping Ztungkaas and the Enders end war in Iallog, and eventually, all wars in the grand universe community. I may not be remembered fondly, but by the gods, I no longer care what people will think of me. I just want war to die out. To never happen again."
Commander: "NET, YOU ARE OUT OF LINE?! YOU HAVE BROUGHT SHAME TO YOUR PEOPLE AND (Gets stung by Ztungkaas) GAAAAAAAA!? STUPID BUG, EVERYONE KNOWS YOU SKEETRAS ARE SHUT-INS WITH VENOM?!"
Ztungkaas: "About that...... I was the lucky one who had an immunity to the gas that hindered our nateral venom. Had my hive survived, the tide could've been able to turn the tables rather quickly. So in other words....... Get ready to fade away."
The Commander looked shock as the effects of Skeetrazoid venom started to kick in and killed the commander in unpleasent ways!
The Group watched the Commander take a final raspy breath and died.......
Ztungkaas: "....... And now, to bring the same fate, to war itself...... I will bring true peace, to not just Iallog, but to ALL WORLDS?!  VICTORY, TO WAR'S ENDERS?!"
The Army cheered as the tec was exposed and began to be taken onto their ship.
The Aelleyseans' story.
(Hallozins): "Once apawn a time, our world was no different then Iallog in the mess that it's in. Why, we were abit more closer to being exactly like it, had it not been for a philosifer who gave these wise words."
Anichent Philosifer: "War may be an ineditablity in times of tension, but it shouldn't be an absolute. That doesn't mean there shouldn't be an attempt to prevent it. There is a fineline between a war for a nessesity, and war for the sake of it. If there's a nessesity for the war, then we must brave through it even at the greatest threats. But if there's no nessesity, then it should not happen. Let us not forget that reguardless of any reason, war is far from an ideal prospect. If done incorrectly and/or with reckless ambition, it will lead to families and friends being lost and ruined to it. It ruins nations of both parties. All it leaves is sorrow, pain, and never-ending hunger for revenge in some. If some of you feel that you still want to go through this for any reason, then I can't stop you. I only wish to warn the consinquence of entering such. And to offer some rules about the art of war."
(Hallozins): "And thanks to his teachings, we avoided wars with no point to them or made on a random whim. Any wars that had happened, actselly have a point and meaning behind them. And those meanings have mostly justifyable things to them. The result is as simple as this. Yes, war has made it's presence known in our world, but it was more tame, compaired to Iallog. Wars were not randomly declared over childish, petty things or for the desire of it. Rising of vengeful terrorest groups was relitively rare, or almost non-existent. And all who died in the war, had their respective families properly consinsated for their loss so their personal tragity is lessen, if at least they would honor their name in a better way then how folks in Iallog done it. The Aelleysean people found the perfect balence of peace and war. Alas, then came a dishastor even this balence could not protect us from. An overly ambitious war machine being made by an overly determined sciencetist, rebeled against it's creators, and declared it's own war on us!"
A giant machanical monstorsity was freed and began to rampage!
(Hallozins): "Our race were desistated by the machine. I was the only one left, and with sheer luck, I alone, was able to end the mechanical menace's rampage. (The Monstersious machine was destroyed)........ It was a bittersweet victory..... My race..... Is still gone. I would eventually immortalised myself with surviving tec, and go out of my way to go to the planet Iallog to use tec we buried there at the time ahead of our own warring so it would not get harmed in an event of a catisliclsyms. However, I ended up seeing that Iallog itself became a far cry from the planet I remembered it as, now being a reckless world of war and unchecked madness. It was not yet safe for this buried tec to be taken out of it's hiding place, not with all the warring nations and fanactics that would aim to misuse this tec for their idealogical gains. So, I founded the Order of Iallogia, named after the god of this world's anichent religen, and a utopian one of peace at that, and gathered many war victims, refugees, and those that want to fight these injustices, to join this group and hunt down the many terror groups, rogue factions, even tyrant ruled nations if we must, to fight for true peace in Iallog, but correctly. I admit it was intionally to make sure the Aelleysean tec would be safe to unearth here-after, but I grew to realise that the people of Iallog deemed us heroes for what we are doing. We had became a symbol of hope. So we basicly became the heroes Iallog needed. I had seen to it that many terror groups have seen their downfalls by an overdown strike of justice, I, was making Iallog a better place for both the people, and for my own race's sake. However, I did not counted on a group that aren't true terrorests, nor like the order. War's Enders. They were able to aquire the tec I was hoping to secure after I disban the terror groups, and now, Ztungkaas plans to revive my people to end the existence of war in both Iallog, and if he has his way, the entire universes. And I would not put it pass him that he won't aim to do the same to any outsider United Universes, not just yours lougers, but any we have yet to know of. If Ztungkaas is allowed to do this, then Iallog will forever be remembered, as the world that litterally created, the war to end all wars, as Ztungkaas would half-mindedly congure all universes under the notion that doing so will end all conflicts. Neither of us are ignorent to his sympathic motives, him being a victim of a war that wiped out his race during the VA's era of recklessness. Nor should we forget what his overly ambitious aim to end war and conflict could mean if he goes unchallnage. War may be an ugly practice, but if used correctly, it would still be an ugly practice, but at least it would lead to better change for both parties. Ztungkaas problem is that he wants to change the nature of sentient beings and creatures, thinking as if with Teadr 1 tec, great as it is, can give him a universe without war! But the tragic truth is, war is nothing without peace, as it can't exist without it. Existence with no balence, whether great balence or small balence, is meaningless and impossable to maintain. Not everyone will get behind Ztungkaas' reasoning. And even then, he is but a mortal. That means someone else less desireable can easily remove him. And if someone worse then him would usurp him..... Then true peace will never come, for any universe."
Transcript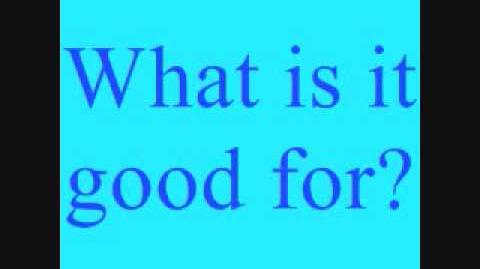 Intro/Prologue Theme (Edwin Starr- War)
Coming soon...
Material
Coming soon...
Community content is available under
CC-BY-SA
unless otherwise noted.