Roanna Ginny Shuriken


Vital statistics
Title
Class III Major Agent Shuriken, Shury, Major Agent for the Super Ops
Gender
Female
Race/Species
Iriomote Cat (Prionailurus bengalensis iriomotensis)
Faction
Super Ops
Description
Superanimal, Sensitive of her Looks
Skills and Abilities
Super-Strength, Super-Endurance, Ghosting Powers, Invisibility, Sublimation, and a Healing Factor

Wields Japanese-style Weaponry including a Stun-Batana

Status
Serving the Super Ops
Location
Kratos

Harmony (Birthplace)
New Athens (Hometown)
Prometheon (Super Ops Residency)

Alignment
Wise and Honorable
Major Agent III Roanna G. Shuriken is a Superior Iriomote cat from Kratos who is a member of the Major Forces of the Super Ops Taskforce Agency and has known Tane Speedromacros from the Justic Teens since they were kittens. In fact, Tane had began developing a crush on her. He does feel bad that her species is endangered in real life, but she has a Japanese moral code of sense and honor that makes her not of concern to the fact. She is one of the most skilled fighters of the Super Ops, and her main weapon of choice is Kung Fu spinning blades and an assault rifle, or possibly even a stun-batana, or a Superior-made stun baton with a small blade shaped like a katana. She keeps her helmet on most of the time, and only takes it off when necessary, or because of the fact that she was constantly being flirted with by others, and Tane is the only one who knows what her present face looks like. Her powers include super-strength, super-endurance, ghosting powers, invisibility, sublimation, and a healing factor.
History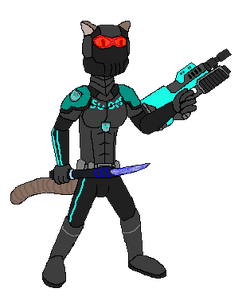 Coming soon...
Abilities
Coming soon...
Community content is available under
CC-BY-SA
unless otherwise noted.