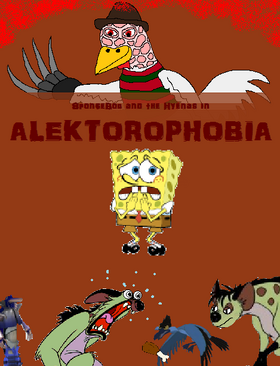 Alektorophobia
is the 23rd Episode of Season 3A of the
SpongeBob and Friends Adventures Chronicles
series. After a bad scrap with Lord Cobra, who for some reason just stole a bunch of Gameinformer magazines, Banzai began to act odd. He is spontaneously afraid of chickens. He begins getting hallucinations of a chicken monster with the look and powers of Freddy Kruger who is stalking him and tormenting him for some unknown revenge. Banzai becomes afraid of anything meat as a side effect. When Banzai continues his alektorophobic actions, the Lodge discovers paranormal activity in the Temple. The Lodge soon discover that they're being haunted by an unidentified Freddy Kruger-like demon. Now, it's up to Merlin, SpongeBob, Icky, and Shenzi to find a way to defeat the demon of the most feared serial killer known as
Freddy Fried Khicken
.
Transcript
Intro (Ice Age 2 Game Music)
Chapter 1: What's up with Lord Cobra?
(Chronicler): Death is one of the things nature wields- Marcus Aurelius, 1st Century AD. The Darkspawn may be powerful, but even in banishment, they have ways to commit evils just as bad as them. One of their many harbingers of death includes a poor chicken named Fred Henrickson. A poor soul who grew up with the knowledge of violence even as a chick. His time watching horror movies left a bad taste in his mouth when he ended up developing a mental insanity. His parents were forced to let him go at a KFC, where an employee said the wrong word, and caused him to become the monster known as...Freddy Fried Khicken. Upon his untimely death, he struck a deal with the Darkspawn known as Red the Demon Cat. He gave Freddy unlimited power in exchange for servitude to the Villain League. He has since been locked away for several years until the day when he would be ready to unleash his wrath on the Villain League's enemies...particularly...the Hyenas. (Freddy's laughter was heard as his face was seen in burning fire)
Dragon Guardian Temple.
The Lougers are preparing for a big trip.
Lord Shen: "We must hurry. All of our allies and the High Council have already went to meet with the Grand Council on the Crusade for Qui. It would not do well for us to be late, espeically when the Leage, The Scougre Imperials, even blasted Team Nefarious have went to go after her."
Boss Wolf: "Ya wanna know what's worse? I heard rumors that the Mafia Allience had hired the nastiest mercenary of all of Deserta, Crangor the Merciless, to represent them for THEIR interest for Qui!"
Lord Shen: "Yes, and worse off, those Secret Founder Basturds refused to leave Qui alone when they had insisted for a VA inspired group named "The Dark Radicals" to attempt to send their Starbot Armies to bring Qui back to the Alternate Universes! We can't let NEITHER of those basturds force the poor dragoness to go through more pain!"
Icky: "Yeah, but, do we have to be against Eagle-Beak as well? It's obvious the dude's only protecting Qui as an adopted father."
Lord Shen: "I understand that, but Celestia insists that Eagle-Beak is not equipted or at his right mind to truely protect her from the Villain Teams and these new threats. Even his powerful magic would only protect Qui for so long."
Cynder: Yes. I feel as if we can provide more protection than any other hero team or antihero in the UUniverses. Certainly better then a misguided villain like Eagle-Beak. Sure it must mean that Qui needs proper confinement, but it will surely mean she'll be protected.
Spyro: But I feel that even the likes of Prison 42 aren't enough to prevent the villains from nabbing her. The Skeetraziod mess was proof of it. Sure, it's way stronger thanks to Copperfang, but the villains are smart enough to find ways around it, espeically Eagle-Beak. We need to think of what we're going to do with her. She'll need the upmost protection if what Dr. Jenalubla said was true. If she really IS from our worlds, then we owe it to her to give her our upmost protection.
Sparx: Yeah, bring those villain assholes on, we'll show them a thing or two!
Shifu: "We must also be very weary of any of the villains' tricks. Espeically the leage's. Once they are ambitious enough to get a truely powerful force, not even the will of the High Council can deter them. That's why our allies need us to make sure all of the villain crusades are defeated and scared off."
Banzai: Well, I at least hope the Villain League doesn't go full-out extremist again if it means they capture her. Not only would that make Junjie cheer in joy, but it might get them in as much trouble as Nefarious did when he committed that horrible terrorist act.
Shifu: I feel as if ALL of the villain teams will go to extremist lengths just to get to Qui. So we'll need to do our best to find and protect her.
Lord Shen: And it starts with going to Deserta.
Marty: Uh, guys? Come look at this on the Lodge computer, it's giving out a serious crime-update! Now, is it me, or does that look like a robber shoplifting a store? (A hooded stranger came out with some magazines as the store alarm was raised)
Cop #1: STOP, THIEF!! (Fires at the stranger, but the stranger uses a familiar medallion to turn the gun into a gun monster with spider legs and Darkspawn-like horns) YAAAHHH!!
Fidget:... Does that kind of magic power AND that medallion look familiar? (The stranger on the screen began to laugh as he takes his hood off, and the stranger appears to be Lord Cobra)
Po: COBRA?!?
Everyone: COBRA?!?
Donkey: DONKEY!!
SpongeBob: SPONGEBOB!!!
Mr. Krabs: SPONGEBOB!!!
Patrick: PATRICK!!!
Everyone: PATRICK!!!
Private: Confused.
Icky: ICKY!! OKAY, ENOUGH WITH THE RANDOMNESS!! What the hell is he doing stealing...(Takes a closer look at the magazines he stole)... Gameinformer Magazines?
Shifu: "It's obviously part of some new trick. We have to go after Mang and disrupt whatever he's attempting!"
Lord Shen: Agreed. TO THE VAN!!
Batman-Themed Cutscene Later...
Cobra: (Finds his way to an alley as he breathes heavily, watching the UUPD drive by)... Whew, that was close!
???: Closer to US! (The Lodger van appears to be laying in the alley, and they point their laser cannons at him)
Shrek: Cobra, would you mind telling us why you're in the process of stealing, of all things, Gameinformer magazines?
Shifu: And does this have to do with the crusade you and the other villain teams are possibly going on?
Gloria: Because if it is, then you just picked the wrong time to do it.
Lord Cobra: "Uh.... Is it possable for me to say no?"
Icky: "Ya know, Mang, just because half of our team-mates are idiots doesn't mean even THEY would fall for that?!"
Cobra: ".... Oh for Glories sake, am I THAT predictable these days?"
Lougers: "(Annoyed) YES!?"
Cobra: "Uh....... Oh gross, that guy's kissing a pellow!?"
There was a guy actselly doing that.
Guy: "Hey THAT's not cool, man."
Cynder: "Ugh, Mang, people like him have a right to persue even the oddiest beliefs and-"
Cobra ran off!
Cynder: "And he'd ran away!"
Po: "GET HIM?!" (Rico fired the laser cannons, yet Cobra teleported away before they could strike, and the lasers hit a car)
Guy: MY CAR!!!
Mr. Krabs: (Sighs) Once again, our accidents dent our wallets.
Melman: Why would Cobra steal Gameinformer magazines?
Alex: Don't look at me, I have no clue.
Skipper: How wonderful. We thought we were going to get somewhere, yet we go nowhere just like that.
Max Cat: Could he be stealing those magazines for Teen Mang?
Sandy: That could be a good assumption, except I feel as if there's something else to it.
Banzai: "Shenzi, why did you put your hands on me?"
Shenzi was actselly somewhere else on the van.
Shenzi: "Banzai, what're you- WHA!?"
Banzai discovered that it was Cobra with erry red powder.
Cobra: "Hello, Banzai, is it? What's red, powdery, and crying like a bitch?"
Banzai: "Uh, crybaby red pepper mist?"
Cobra: "No. YOU!?"
Cobra slaps the powder right into Banzai's eyes as he screams in pain!
Cobra teleports away before anyone can react!
Banzai: "AGGHHHHHHHHH!? THE FUCKING ASSHOLE HIT ME WITH PAINFUL RED POWDER?! YOOWWW?!"
Donkey: Uh, what is that stuff, is it corruption powder?
Shifu: No, corruption powder isn't that red like this mist.
Banzai: Well, it surely isn't, because I sure can't feel anything.... EXCEPT FOR MY EYES BURNING!?
Squidward: Then what is it?
Sparx sniffs for a bit.
Sparx:... Anyone thinking of KFC all of the sudden?
Icky: 'Cause it's finger-lickin' good? (Rimshot)...
Iago: AWW, that joke sucks, even for you!
SpongeBob: I agree, that joke sucked. (Sniffs) And, all of a sudden, I'm thinking of it too.
Mantis: You know what, I'm starving. Should we go get some food at that nearby KFC we saw a while ago while we're figuring out the Qui predicament?
Banzai: NOOO!! THERE'S CHICKEN THERE!!! (Everyone was surprised)... Uh, I mean, sure, that'd sound good.
Shenzi: What's gotten into you, honey? Did that powder make you insane in the membrane? (Ed chuckles)
Banzai: Whatever, I'm starving. (They took off in the van)
Chapter 2: Cobra's New Trick Unfolds
Villain League HQ
All the leagers are preparing for the Crusade.
Lord Cobra came in laughing cheerfully!
Lord Cobra: "I DID IT EVERYONE?! THE TRAP HAS BEEN SPRUNG!? THE LOUGERS ARE GONNA HAVE QUITE THE CHICKEN PROBLEM!?"
Junjie: "For once Mang, I'm glad you desided to take an act of extremisum that most likely will harm Cynder in th-"
Mirage grabs Junjie and muffled his mouth!
Lord Cobra: "Oh, don't worry! I thought ahead this time! I made sure Ol' FFK is fully aware that I require Cynder as a kidnappee. See, I learned from my Blood Root mistake."
Mirage: "Oh good, cause it's not good villain practice to cower out of your plan because of something like that."
Tai Lung, Galaxhar, and Makunga came in.
Tai Lung: "Great news Mang. Our forces are almost ready for our own quest for the Scarlet Dragon."
Galaxhar: "In less unfortunate news, we hardly knew where Qui is even hiding in Deserta. Just because we know the planet doesn't mean we know WHERE!"
Dr. Blowhole: "(Flying in on his flying scooter) On the contary. We have an exact idea where she is. Thanks, to the Deserta Bandits!"
Galaxhar: "You mean those misfited marauders? How does THAT help us?!"
Dr. Blowhole: "Simple. The only known place where the Deserta Bandits hang out, is near the golden palace of Amutt! Meaning THAT is where Qui is hiding!"
Makunga laughs!
Makunga: "A MUTT IS GIVEN A GOLDEN PALACE!? (LAUGHS)?! AND ON TOP OF THAT, I THOUGHT MASTER URANUS WAS A CRAPPY NAME (LAUGHS)"
Dr. Blowhole: "No you blasted gazelle-killing moron! AMUTT, NOT A MUTT?! A-MUTT! DO YOU EVEN HONESTLY KNOW WHO AMUTT IS!?"
Tai Lung: "To be honest, not really. Who is this, Amutt?"
Dr. Blowhole: "Ugh.... FINE! A quick history lesson! Red One, turn on the pro-ject-tor!"
Red One: On it, doc! (Crawls up to the camera and turns it on, and inserts a tape)...
Flashback
(Dr. Blowhole): 'Amutt' is actually short for 'Priestlord Amuttamon', the current high priest lord of the ancient Auramid, a golden luminescent pyramid said to bestow not just an entire horde of treasure, but powers beyond our wildest dreams! Amutt was crowned the next high priest lord of one of the great Desertan races called the Anubisans, dog-like people, by the last ruler, his father, having gained powers beyond that of even the High Council. The Auramid is said to be the fifth largest magic library on Deserta, whereas the others are hidden away greatly, and Amutt, while not being the full ruler of Deserta, earned the recognition of all the other Desertan races, who hailed him like a God and considered him the son of 'Father Anubis'. He eventually got married to an Anubisan warrior queen named Samutt, and they both had 3 daughters named Cleo, Patra, and Nile. Though despite all this power, Amutt felt...incomplete. He knows Deserta is but one world, and very few of the UUniverses even know of him. He also grew unwary of the violence the UUniverses tended to have, fearing they would one day reach Deserta. He suffered from restless nights caused by the nightmares conjured up by his fears of losing all that he loved. Desperate for answers, he begged for his staff to tell him what he needs to do...and he had a got a prophetic vision. He saw that someday, the rare Scarlet Dragon breed of the Dragon Realms would arise and gain the power to an unstoppable conquest, if done right. Plus, he and his family in years time would get to meet one. And thanks to the entire family having immortality, they have waited for years on end for the day that this prophecy would come true, and that this scarlet dragon would protect Deserta from 'the unenlightened' through conquering the UUniverses. He would someday serve this 'messiah' and bring 'TRUE enlightenment' to the UUniverses and bring peace once and for all. He prepared greatly for the messiah's arrival by preparing an army of mummies created by willing brave warriors who wanted to help this prophecy come true through their sacrifices, as well as gaining a massive Scarab Guardian for extra muscle. But then, when word reached the High Council of Old, especially the Egyptian God members, their lives would be turned around for good...
God #1: Priestlord Amuttamon! You disrespect your position and the great people of this world through your unethical sacrificial decisions! Hundreds of proud warriors here being tricked into sacrificing themselves to bring forth this prophecy. This is NOT the way a prophecy should be fulfilled.
Amutt: But, oh mighty ones, this messiah will save us from the unenlightened universe around us!
God #2: You make your OWN kingdom unenlightened through your foolish claims. Right now, the other kingdoms many miles away are displeased and never want their sons and daughters to come to this dreadful place. You abuse your power through this nonsense, and as punishment, this army you have spawned will forever be sealed within the once-mighty Auramid.
Amutt: No! PLEASE, DON'T DO THIS!!
God #3: Our decision is final! (The Auramid shakes)
Amutt: NO!! NOOOO!!! (He runs for the Auramid, and the whole Auramid gets magically darker, it's encrusted jewels turn black, the architecture changes, and the door shuts off on Amutt as soon as he gets in)...NO!! OPEN THIS DOOR!!! PLEASE!!! THIS HAS TO BE DONE!! (The door transforms and seals itself up tight) OPEN THIS DOOR!!! OPEN THE DOOR!!! PLEASE!!! NOOOO!!! PLEEEEAAAaaaa... (His screams deafen out as the transformation is complete, turning the stunning Auramid into a demonic structure with gargoyle-like snakes, black gemstones, and the tone of the environment is blackened, though the Auramid still remains gold)...
(Dr. Blowhole): He, his family, and everything they created were locked up inside the cursed Auramid forever. The Gods believed that no one would ever want to open the Auramid and free whatever laid inside. Thus, they told the High Council of Old to make sure this prophecy never gets fulfilled as Amutt wanted it to. The High Council of today still considers this a priority....
Present
Dr. Blowhole: (The video ends)... And now that we know that Darkness Qui was hiding out on Deserta this whole time, there's a good chance that SHE is the scarlet dragon this prophecy spoke of.
Plankton: Does Qui know about this?
Dr. Blowhole: Not as of yet, but thanks to the Deserta Bandits, it's only a matter of time.
Hades: And what does this mean to us?
Mirage: Well, if this army wants to bring true enlightenment, it would mean that they purge the UUniverses of villainy, including us.
Dr. Blowhole: "Oh yes, the Amutt family is very misguided as well! And villainy would only be ONE of the victims of Amutt's enlightenment path! Amutt also wants to convert all of universe socity under his control, even that of the High Council, because of Socity's bad hapit of mostly being RESPONDSABLE for villains to begin with! He knew it's not enough to stop just villainy alone! He wants to be rid one of the many things known to inadvertingly create it!"
Jafar: "Well, luckly, there's a chance Eagle-Beak would warn Qui to stay clear of this certain room."
Dr. Blowhole: "Yes, but, there's an issue.... Scor-Pan, the "Bandit Leader". He's more then just that. Scor-Pan is a lost creation of magic of Amutt's, and he's working to bring his master back along with his master's other exspeariments, in the form of summon orbs capable to become the creatures on command, like the mummifived althetic greyhounds, that falcon/phenox monster. He also has an enchanted Spy Falcon capable to duplicate itself and spy in more places then once, a ginormous turtle monster with an oasis on it's back to trick fools into going near it so it can capture them for Scor-Pan, and one such orb is capable to become an army of anthromorthic flesh eating desert locusts. He might tempt Qui to free Amutt."
Cobra: "Oh great. It appears Eagle-Beak's not the only misguided mental case on Deserta! It's no surprise why the High Council is going after her outside of keeping her from US! Is there a chance the other villain teams will know?"
Dr. Blowhole: "The Scourge have Mercurymon. He's a pretty smart dude who knows his legends. And Nefarious is not a COMPLETE moron. Give him enough determination, and help from his butler bot, soon he'll figure everything out. Those Villains Act Founders likely know or will come to know about Qui's Scarlet dragon propicy soon enough. And the Mafia Allience representives, Crangor's mercenaries? They're natives to Deserta. They most assuringly know what's at stake. They are gonna be the most determin to not just get Qui, but to prevent Scor-Pan from making that propicy a reality!"
Cobra: "So we have a commen goal.... Yet we're all against each-other because we have conflicting goals on what to do with Qui. We all know what we want."
Dr. Blowhole: "Yes. Those Scourge goons want Qui as a weapon. Nefarious views her as a means to finally make Team Nefarious like us! Those VA scum want her back for the sake of having her back! The Mercenaires.... They're doing the Mafia Alliences' work and giving her to them for a handsome reward."
Makunga: "Ok, what would a powerful criminal synicate want with a powerful red-ish colored dragon capable to master all dragon realmian elements that-...... Wait, I think I just answered my own question."
Dr. Blowhole: "Exactly. Someone like Qui would make doing the Mafia's Alliences' line fo work even more pitifully easy, even more then their mysterious access to Darkspawnian Artifacts."
Junjie: "Well, so, serious stakes are at their highest then?"
Dr. Blowhole: "Indeed. And Eagle-Beak has pulled many defences to work against us."
Galaxhar: "You mean, something more creative then just surrounding the place with a seemingly unlimited supply of those silly robots?"
Dr. Blowhole: "Oh yes. WAY, more creative."
Lord Cobra: "Explain, so we know what to expect."
Dr. Blowhole: Well, spies were able to report that Eagle-beak is having new allies build a great force field generator around it. It appears to be of Alternate Universe Origin. It's powerful, but not indestructable, so it can be weakened. Though when it is destroyed, Eagle-Beak will know and he will prepare the defenses. Thus, not only will the Qui Drones attack, but there is a lot of magical booby traps set around the pyrimid. Only the most keen eye can find these traps and avoid them.
Tai Lung: Anything else?
Dr. Blowhole: Well, I think our sources claimed that Qui was able to regain her lost weapon through a mysterious new ally Eagle-Beak brought forword. That means we get to see that giant super robot that didn't came during the Plunderweed fiasco after all, only it won't be just against the good guys.... Unfortunately.
Lord Cobra: So how do we get through then?
Dr. Blowhole: Well, I feel that the only thing powerful enough to break through the shield is a nuke. But where are we gonna find THAT kind of firepower on such short notice?
Plankton: Well, remember that tank that shoots ice cream?
Dr. Blowhole: Yeah?
Plankton: Well, while I was trapped in Atlantis, I was able to modify that blasted machine, and make it shoot a warhead that delivers just the right force as a nuke, though isn't as lethal. The only downside is that I didn't have enough materials to create more than one rocket, so as long as we still have the only one we have, we can bust that shield.
Galaxhar: So we've only got one shot, then?
Plankton: Afraid so. But it'll all be worth it once we find that Pyrimid.
Junjie:... And are you sure that the killer chicken ghost that Red created will work?
Mirage: I have seen him in action before. He has taken his indirect teachings of Freddy Kruger very well enough. I say Red made a powerful investment.
Lord Cobra: And with them not suspecting, they'll be trapped as soon as they enter the Dragon Temple. That'll give Freddy the isolation he needs to do his bloody work. (Chuckles)
Dr. Blowhole: "So then. It won't be long until our forces pin-point the lo-cat-tion of the Pyrimid. However, the same is unfortunately mutual for our compitision."
Jafar: "Then we have to act quickly. We can't risk the High Council and our urchen rivals be able to get to that planet first!"
Rourke: "YOU HEARD THE MAN, LET'S MOVE?!"
Chapter 3: A Fear Of...Chickens?
A KFC Restaurant
Icky: Well, I sure hope this takes our minds off that silly red powder that Cobra threw on your face, Banzai.
Banzai: My eyes are still burning a bit, but nevertheless, I'm totally fine.
Shenzi: Good, you need a little chicken to get you fed enough to go on this mission.
Banzai:... Chicken... (Gulps)...
Waiter: Here is your fried chicken, friends! Enough to feed those of you that eat meat.
Banzai: (Gasps, and dramatic music plays as he sees the chicken, and he sees a vision of a familiar scarred chicken)... AAAARRRRGGGGHHH!!! CHICKEN!!! GET IT AWAY FROM ME!!! AAAAHHH-HAA-HAA-HAAAAHH!!! (Runs out of the restaurant)
Lola:... What was that all about?
Kowalski: Hmm, I've noticed something off, too. He seems to have been experiencing alektorophobia ever since he was hit by that dust.
Private: Alektorophobia?
Kowalski: It's the fear of chickens.... WHAT, IT'S TRIVIA, OKAY?!?
Skipper: You always have to speak nerd when you could just simplify it by saying 'he has been experiencing a fear of chickens'.
Icky:... You know what, sir, we'll just take this food to go. We need to help our friend with a little problem.
Waiter: Very well, then. Good luck with your little crusade.
Dragon Temple
Shenzi: Come on, honey, you gotta eat something!
Banzai: NO! NOT CHICKEN!!! KEEP IT AWAY FROM ME!! AAAHHH!!! (Ed laughs out loud)
Shenzi: Geez, what did that powder do to you?
Icky: "OBVIOUSLY that junk made him afraid of chickens!? Watch! Yo Banz?"
Banzai: "Yeah Ick?"
Icky brings out a marshmellow Peep.
Banzai: "AAAAAAAAAAAAAAAAAAAAAAAAGHHHHHHHHHHHHHH?!"
Icky: "See? Even a stale old Peep I kept and forgot to eat that easter ago scares the crap out of him!"
Shenzi: "Nasty! You kept that thing since Easter?"
Icky: "Oh that's rich coming from creatures that eat corpses for a living."
Shenzi: "Yeah, though, still man! That is NASTY?! But you did made a point. We need to tell the others about this. I think this could be one of Mang's tricks."
Icky: "If so, ya think he do something worse then just made Banzai hopelessly afraid of poultry."
Shenzi: "I have a feeling it's more then just makin' Banzai afraid of chickens."
Kolwalski's lab.
Kolwalski types on a computer.
Kolwalski: "Just as I suspected. Mang has used something known as "Fearspawn Powder"!"
Po: "Fearspawn?"
Kolwalski: "It's like corruption powder, but instead of becoming evil, you just turn into a cowerd. It's basicly almost Mang's own verson of Zuthron's powders. But this looks to be ten times worse! It's making Banzai afraid of Chickens!"
Iago: "That is sad, and Banzai loves his chicken!"
Shifu: "No doubt Mang knows that if even only one of us has a debillitating fear that he or anyone else can use against us, we'll be forced to delay our trip to cure Banzai."
Icky: "I'm pretty sure there's hardly any chickens in an egypt-inspired planet."
Shifu: "But it would be reckless to go there reguardless in Banzai's condition. We'll have to inform the High Council that the Lougers have been given a serious issue."
Cynder: "WE CAN'T! Couldn't we just send Banzai to a recovery hospital and resume as planned?"
Shifu: "This isn't a basic case of a silly fear of domestic fowl! This is the work of Mang! And it's almost garrintied, to be more dangerious then it appears! We can't risk the life of Banzai or those not prepared for some unimaginable horror! Is that understood?"
Cynder: "But-"
Spyro: "Cynder, we'll join the crusade soon enough, but Banzai needs help. Whatever Mang unleashed being filled with Junjie-like extremisum, it could've gave him something dangerious. Qui will just have to wait. Please....."
Cynder:... (Sighs) What if we don't fix this in time?
Sparx: Cyndy, ya forget, we're the Shell Lodgers, we can handle ANYTHING! Now what do you say we fix Banzai's alek... Alekta... Ala-ala.... Aleka... Fear of chickens.
Private:... Couldn't he try eating other meats?
Lord Shen: Well, Boss Wolf still hasn't gone to the store yet.
Icky: Hmm... Perhaps I COULD spare some of the Mega-Sci Corp raptor meat I keep in the fridge.
Lord Shen: You mean that junk they make on that Odyssey prehistoric world? Absolutely not, I don't trust an alternate meat source I'm not familiar with.
Icky: What, it taste just as good as the scavenged meat me and Dil used to steal from others.
Shenzi: Well, it's better than nothing.
Icky: (Zooms off and grabs the meat)... Go ahead, Banzy, give it a ta--
Banzai: AAAAHHHHHHH!!!!
Icky: WHAT IS IT NOW?!?
Kowalski: Well, raptors ARE related to chickens. Granted, that's a very rough estimate, but raptors do share an ancestry with many avians, which includes chickens.
Icky:... I hate it when logic bites us in the ass. Oh, well, more for me. (Eats the meat)... YUMMERS!!! A TASTE I HAVEN'T TASTED FOR SO LONG!!!... Well, it really DOES taste like chicken, I never noticed that before.
Po: So... How do we fix this problem? If Banzai isn't gonna eat the available meat we have at the moment, what WILL he eat?
Lord Shen: I don't know, but we still need to stay if we're gonna help him. In the meantime, we need to make sure he stays safe for the remainder of his condition.
Banzai: What you talking about, I don't need no protection. I can handle myself- (Icky shows him a chicken leg) WAAAAA-HAAAARRGGGHHH!!! (Zooms straight into his room)
Icky: "One word for this.... Weird..... And funny at the same time."
Lord Shen: "Do be warned that the humor of this situation is drasticly temporary! The worse of Mang's trick has yet to come!"
Icky: "That's why I'm making the most of it before it really goes into shit."
Chapter 4: There's Evil In The Air
Banzai's Room.
Banzai: "Man, maybe the guys are right. I'm gonna need to chill out. I'm gonna have to take a nap."
Banzai proceeded to go to sleep.
Banzai: "They'll help me soon enough. Keep it together, Banzai, you're not a chicken. You're just-"
???: "A stupid dog?!"
Banzai: "Actselly, Hyenas are not that related to dogs and-"
Banzai turns and screams when he sees a silluette of a figure with the only thing seen was a Freddy Kruger-ease glove!
???: "I'LL TEACH YOU TO SCREW ME OVER, MUTT?!"
Banzai freaks out and runs off!
Banzai: CHICKEEEEEEEEEEEEEEEEEEEEEEEEEEEEEENNNNNNNNNNNNN!!! AND HE LOOKS LIKE FREDDY KRUEGEEEEEEEEEEEEEEEEEEEEEEEEEEEEEEEEEEEEEEEEEEEERRRRRRRRRRRRR!!!
???: They can't hear you, stupid! You're asleep!
Banzai: I DON'T BELIEVE YOU, YOU'RE A MONSTER!!! A CHICKEN!!! A MONSTER CHICKEN!!!
???: A monster chicken that has been wanting payback for you AND your hyena friends for years!
Banzai:... You know me?
???: Don't YOU know ME? Oh, that's right, you wouldn't know me, would you. Because I'M RUINED BEYOND BELIEF!! (The silhouette shows himself as a chicken with a Freddy Krueger-like attire)...
Banzai: YAAAAAAAAHHHHHHH!!!!!!
???: Welcome to my world, bitch! (Cackles as he uses his knife glove to carve words on his stomach, while in reality, he's only shaving his fur wherever he carves his body in his dream)
Banzai: AAHHH!! AAAAAAA-HAA-HAA-HAA!! DON'T KILL ME-YAA!!
???: Oh, I don't wanna kill you... Yet! I need to have my fun first! (He has carved the words 'Shenzi smells like poo')
Banzai: (Gasps) YOU ANIMAL!!!
???: Oh, I'm not done yet, motherf*****! I've just begun. (Cackles)
Reality
Banzai: (He is still asleep yet struggling as the words the chicken figure carved are shaved on his belly)... Get away from me! HELP!!
Banzai, in his sleep, fell off the bed, smacked into the Floor!
Banzai screamed!
Icky: (He, Spyro, Cynder, Sparx, Shenzi, and Ed appear) WHAT HAPPENED?!?
Spyro:... Uh, Icky, why do you have a chicken leg? Didn't you say you were already full?
Icky: I was... Uh... (Gulps)
Shenzi: You were thinkin' about teasing him, weren't you? (Ed chuckles) It's not funny, Ed! (Before Ed can burst laughter, Shenzi covers his mouth) I'm serious, it's NOT funny!
Sparx: Uh... I don't think it's THAT he's laughing at. Look at Banzai's chest! (They see the words shaved on his stomach)
Spyro:... SAY WHAAAAAT?!?
Shenzi: SAY WHAAAAAAAAAAAAAT?!?
Ed: (Laughs hysterically)
Cynder: (Scoffs)... Sorry, I just couldn't help it.
Spyro: Guys, this is no time for jokes, we need to figure out who did this!
Banzai: (In his sleep) CHICKEN!! MONSTER CHICKEN!!! HE'S DOING THINGS TO ME!!! HE'S... AAAAHHHHHHH!!!
Icky/Sparx/Shenzi: Oy!
Spyro: Guys, this is serious! I think that Fearspawn powder did more to Banzai than we think. I can sense something incredibly dark inside his mind right now. Whatever it is, we need to snap him out of it. (Slaps Banzai awake) WAKE UP, BANZAI!!
Banzai: AAAHHH, NO, DON'T PEE ON SHENZI WHILE SHE'S SLEEPING!!! (Ed bursts out laughing at that)
Everyone (except Banzai): SHUT UP!!
Shenzi:... Banzai, what happened?
Banzai: It was horrible! I saw a chicken that looked like Freddy Krueger! He carved in my body hurtful words!!
Sparx: Yeah, we can clearly see that. (Banzai looks at the shaved words, and screams like a girl, covering it)
Banzai: SHENZI, DON'T TAKE IT TOO SERIOUSLY, GIRL, IT'S THE GHOST MESSING WITH ME!!
Shenzi: Relax, honey, it's not often that- Wait, ghost?
Banzai: "YA KNOW?! HE'S LIKE ANIMA, BUT WORSE!? HE'S EVILER THEN TAIKLAR?! EVEN MORE VENGEFUL THEN BOTH!? AND HE HAS A CLAWWED GLOVE!?"
Icky: "Jesus Bro, ya need some serious help! I'm starting to think this is no longer in hilarity terratorry anymore!"
Banzai: You think?!? He said he wanted payback on me, Shenzi, and Ed!
Ed: (Laughs crazily)
Shenzi: (Slaps Ed) Since when is a chicken ghost targeting US funny, retard?
Spyro: Well, it's not. And it needs to be looked at.
Banzai: What're we gonna do? This chicken is gonna kill me and the hyenas!
Sparx: Well, I don't know, but we might need to see an expert on this stuff. Perhaps Zuhron?
Cynder: I think that's a good idea. Get the van ready, we need to--
???: GUYS!!! GUYS, GET DOWN HERE, WE'RE LOCKED IN!!! (The group goes down to the front entrance)
Front Entrance
Sparx: WE'RE LOCKED IN?!?
Gilda: You might say that. Look! (They see the front door has been melted and merged together)
Icky: (Dubbed as Timon) EEEEHHH!!!
Banzai: I-I-I-I-I-IT'S THE CHICKEN GHOST, HE DID THIS!!!
Merlin: Relax, I'm sure a quick spell can fix this. Colloporto keylingus knax! (The spell doesn't work)... What?... (Tries the spell again, and sinister laughter was heard, though only to Banzai)
Banzai: (Gasps) Did you hear that?!?
Mushu: Hear what?
Banzai:... Nobody heard that?
Gilda: Uh, no, and these earholes are as sharp as razors.
Banzai:... It was evil laughter! I heard it!
???: (Cackles) They can't hear me, only YOU can hear me! (Cackles)
Banzai: AAAHHHHHH!!! HELP ME!!! GET THIS VOICE OUT OF MY HEAD!!! AAAAAAAAHHHHHH!!!
Ed: (Laughs)
Bagheera: Uh... Is it just me, or does Banzai have words shaved on his chest?
Spyro: Guys, I think he's right. There's a ghost somewhere in this Temple, and I think it's truly the cause of this door getting locked.
Mr. Krabs: OH, LET'S SEE IF THIS GHOST THOUGHT ABOUT THE GLASSLESS WINDOWS!
Mr. Krabs jumped to the windows, but something bouncy pushed him back!
Mr. Krabs: "DAMN IT!? HE PLACED IN RUBBER WINDOWS!? I'm impressed he managed to get clear rubber too."
Icky was seen with dynomite on the doors.
Icky: "Yeah, but did the fucker think of making the doors industructable?"
Cynder: "Icky, that might not be a good-"
Icky pushed down the detonator, but following the dust clearing following the explosion, it appears that the door is not damaged, and all that was left was an ash mark and a lot of burnt Lodgers.
Tigress:... Well, that's something even I can't break.
Mr. Krabs: OH, SCREW IT, I'M GETTING OUT THROUGH THE TOILETS!! (Leaves, but then he comes out as smelly clouds came out of the bathroom) AAHKKK!! (Barfs) He clogged out the toilets, and pooped in them! ALL OF THEM!!!
???: (In Banzai's head) Good luck trying to take a s*** with stinky bathrooms, bitches! (Cackles)
Banzai: The ghost said 'Good luck trying to take a s*** with stinky bathrooms, bitches!'
Skipper: That deep-fried bastard!
Shenzi: GRRRGGHH!! IF WE EVER GET HIM, WE'LL SEND HIM STRAIGHT TO THE BIRDY BOILER!!!
???: Birdy.... Birdy... Birdy... AAAAAAAAAAAAAAHHHHHHHHHHHHHHHHHHH!!! (The Temple starts to turn into a red tone)
Iago: WHAT IS GOING ON?!?
Banzai:... I think we said something wrong.
Sandy: RUN FOR YOUR LIIIIIIIIVES!!! (The Lodgers scattered, but the ghost blocked their passages)
Thundera: AYE CARUMBA!!! WHAT IS WRONG WITH THIS GHOST?!?
Banzai: We pissed him off, that's what!
???: (Now audible to everyone) YOU ALL FORCED MY HAND THIS TIME!!! YOU HAVE NO IDEA HOW HARD IT WAS TO BE TORTURED, ABANDONED BY MY FAMILY AFTER GETTING TORTURED BY YOUR HYENA BRATS, AND HAVING BEEN KILLED!!!
Sparx: (Gasps) G-G-G-G-G-G-GHOOOOOOSSSTT!! (Skitters his arms cartoonishly and buzzes into a vase) Please don't hurt me, there so many things I've never got to do! I never got to tell Fu-Xi's dragonfly friend I loved her!!!
Icky: (Sighs) She basically knows aleady, nitwit!
???: SILENCE!!! HAVE FUN SLEEPING TONIGHT, FOOLS!! As of right now, I will cut off all security in this Temple, I will disable your power, your communications, AND I'll do whatever I can to kill you all until there is nothing left!
Merlin: WHO ARE YOU?!?
???: Well, I'm someone who obviously doesn't like the hyenas very much, that's for sure. Someone they victimized! Sweet nightmares! (Cackles and his voice fades away)...
Kowalski:... Well, we're being haunted by a chicken ghost, and we are all doomed. (Mostly everyone panics)
Shifu: EVERYONE, SILENCE!!! (Everyone does that)... Forgive my bluntness, but we are NOT going to die! We'll figure this out somehow.
Banzai: How? This guy is cutting off all we need to survive! We'll starve, especially since we forgot to go to the grocery store, we have no power and no way to call for help, WE'RE BASICALLY F****D!!!
Viper: "This has to be the worse of Mang's tricks ever?!"
The Soothsayer stood concerned.
Cynder: "At least we were able to warned the High Council that we're gonna be late cause of Banzai being strangely afraid of poultry. And at least we said we can't predict how quickly we'll rid of this, so they won't expect us to be on time. But still, I CAN'T BELIEVE MANG WOULD RISK MY OWN LIFE JUST TO GET AT QUI!?"
???: "Oh, FYI, Cyndy, he pretty much said to make you an exception. You're gonna be my thank-you gift to him for enabling me to get my revenge. But he didn't say I can't have my FUN with you! (LAUGHS!)"
Cynder: "..... Well, at least he more or less learned from his mistake with Blood Rooter."
Gilda: "But not in a way that benifits us, obviously."
Soothsayer: ".... Everyone.... I know who our dark and tormented spirit is. And he's someone..... The Hyenas have grown to forgot."
Chapter 5: "The Hyenas Will Die!"
Flashback.
(Soothsayer): There was a young chick on a farm in Africa named Fred Henrickson. While he was lovable, there was one flaw he had: watching horror movies he wasn't ready for. As a result, his parents thought that not only would he having bad language, but he would be a bit intense, even around his friends, and have bad nightmares. But surprisingly, he didn't. He was actually mature enough to not do all those things.
(Icky): Wow, talk about an adult trapped in a kid's body.
(Soothsayer): Though his favorite movies appeared to be the Nightmare on Elm Street movies. He saw every last one of them. But...these movies ended up triggering his aggressive side as he ended up saying his first swear words and became aggressive. Many of the farm animals feared and hated him, including the farmers. By the time he watched the final movie...he was completely insane. But that wasn't the worst of it. That's when you three came in. (The Hyenas appeared and began chasing chickens)
Freddy's Father: HYENAS!!!
Banzai: Whoa, look at 'em scramble!
Shenzi: I know! I LIKE them scrambled! Especially the eggs!
Chicken #1: YOU STAY AWAY FROM OUR EGGS!!
Fred: YOU HEARD HER, STAY AWAY FROM OUR CHILDREN, OR THINGS WILL GET INCONVENIENT!!
Fred's Parents: FRED, NO!!!
Shenzi: Well, well, well, what do we have here?
Banzai: Hmm, I don't know, what do you think, Ed?
Ed: (Cackles)
Banzai: Yeah, that's what I was thinking. I never thought I'd see the day when a small bird would have the BALLS to challenge us.
Shenzi: Do you know what we do to small fries who don't realize that size doesn't matter?
Fred: I don't know, get your ass kicked? LIKE THIS?!? (Punches Shenzi in the nose)
Shenzi:... (Growls at him)
Fred: Oh, is that supposed to scare me? Oh, look at me, I'm a crazy laughing hyena, and I just can't stop laughing because I think EVERYTHING is funny! HA-HA-HA-HA-HAAA-HAAA, HA-HA-HA- (The hyenas grabbed him)
Fred's Mother: SON!!!
(Soothsayer): And you three did do awful things. But what Banzai did... Is what drove him further into insanity.
Banzai: (Near a grill) The little hero chicken hippity-hopped all the way to the birdy boiler!
Fred: NO! NOT THAT!! ANYTHING BUT THE BIRDY BOIL- (His tail is set on fire) YAAAAHHH!!! (The hyenas laughed as he ran across the farm with a fiery tail) HOT, HOT, HOT, HOT, HOT-HOT-HOT!!
(Banzai): Wait... I remember him now! No wonder he got angry when Shenzi said bi- FOOMPH!!
(Shenzi): Yes, but my first question is how did he get like this?
(Soothsayer): Oh, after your little attack, things got tough on him. That prank you pulled left him to go on angry rampages every time someone mentioned those words. So...his parents had no choice but to let him get put out of his misery at the local KFC.
(Baloo): Wow, that seems pretty harsh for them to do.
(Soothsayer): Well, there are no rehabilitation centers for animals in the Pride Lands world, so basically insane animals were put down.
(Shenzi): It's true, sadly.
(Soothsayer): Now, upon reaching the KFC, Fred was sure that this would be his last day alive, until...
KFC Worker #1: Wow, this chicken is a pretty cocky one, isn't he? (Laughs) Get it?
KFC Worker #2: (Laughs) Okay, okay, let's just roast this goose.
KFC Worker #3: Okay, into the birdy boiler with you. (Fred got angered at that)
Fred:... Birdy... Birdy... AAAAAAAAAAAAAAAAAAHHHHHHHHHHH- (He is heard clucking in the humans' point of view, and he ends up tearing out of his cage) -AAAAAAARRRRGGGGHHHH!!! (Pecks the eyes out of one of the workers, and ends up injuring many of them until one of them tries hurling him into the flaming oven, but only his head gets stuck in there, and the pain gives him the adrenaline to push himself out of the worker's grip, and scratch the worker)
Worker #4: AAHHH!!! THIS ANIMAL HAS GONE MAD!!!
Fred: YOU'RE DAMN RIGHT I'VE GONE MAD!!! I'M GOING TO FU- (He is clucking in the human's POV) -HIT SO YOU CAN NEVER SIT FOR A WEEK!!! (Takes a kitchen knife, and attacks him, and after putting the knife in the dead guy's hand after wiping it off, he runs from the restaurant with his scarred-up face)
(Soothsayer): Ever since that horrible time, he had become the feared serial killer known as Freddy Fried Khicken, only with a K in place of the C. He began killing anyone in the UUniverses who ate chicken. Many were dead, many were injured. No world was safe from him until one day...
Officer Axle: FREDDY, STOP, YOU ARE UNDER ARREST!!! (They were chasing him down in a field, and before Freddy knew it, he was cornered by the police cars, and they all came out)
Chief Bullington: You know your orders, men! He's too dangerous to live, and he must be put out of his misery! (They all took out flamethrowers, Molotov cocktails with lighting fumes, and propane kegs)... Roast him! (They all used the props to ignite him to flames)
Freddy: NOOOOOOOOOOO- (He explodes in flames)
Ducker:... Do you feel a little bad that we had to kill a person, Chief?
Chief Bullington: Had to be done. With a guy like him left to live, he would've escaped and killed twice as much people.
Axle: I felt satisfied.
(Soothsayer): But even at death, Freddy wouldn't give up so easily. Following his descent into the Banished Realms, he struck a deal with none other than Red the Demon Cat.
(Icky): Whoa, whoa, THE Red the Demon Cat? As in one of the greater Darkspawn lords whom the producer had to replace with Fagin because of the whole concept of cats only going to hell being 'racist'?
(Soothsayer): Yes. So the deal was simple. Freddy would be resurrected with great power and serve the Villain League in exchange for his soul. So his whole entire life depends on his loyalty to the Villain League. So, Freddy accepted, and Lord Cobra put him in a magic tomb until the day when he would be needed, only to be activated by the Fearspawn powder that was said to be created by Red himself.
Present
Soothsayer: And so, as you can see, Lord Cobra needs him the most. He unleashed him so he could stop us from interfering in our quest to rescue Qui.
Cynder: Well, I must say, he absolutely succeeded. We're trapped in our own home with no food, no power, no contacts, no nothing.
Kowalski: Can we get back to panicking now?
Everyone: NO!!
Squidward stared angerly at the Hyenas.
Banzai: ".... Uh, Squids? What's up bro?"
Squidward: "...... IT'S YOUR FAULT THAT TRAGITY CREATED MONSTER BASICLY WANT TO KILL ALL BUT CYNDER, AND ASSUMINGLY KAIRI CAUSE, YA KNOW, THE LEAGE?! YOU BASICLY GIFT-WRAPPED THAT POOR-SOUL TO MANG TO BEGIN WITH!?"
Banzai: "But, Squid, we didn't know better at the time! We were still jerks in that time because of Mufasa's discrimination against Hyenas before we met you guys!"
Squidward: "HOW DARE YOU BLAME MUFASA FOR SOMETHING YOU CAUSED!?"
Spyro: "I'm not for blaming great kings' for others' tragic mistakes, but, think about it Squidward. If Mufasa realised discriminating the Hyenas over the fall of the Pure Hyena Strain and the mistakes of the Normal Hyenas is not only gonna lead to his own death and giving Scar an army to control and bribe with false promises, then maybe Shenzi, Banzai and Ed wouldn't be driven to be bullies!"
Squidward: "OH IT'S NOT LIKE THEY WERE THAT INNOSENT!?"
Spyro: "True, perhaps the Hyenas did make some mistakes of their own to justify Mufasa's rage, but both Mufasa and the Hyenas were victims of Merlock! Remember? He killed Shenzi's parents, which lead to the downfall of Banzai's and Ed's, and lead the three to be troubled! In a way, MERLOCK WAS THE ONE WHO CREATED FREDDY!? He just done it indirectly."
Cynder: "And in a way, it was Merlock who gave Scar his army, and indirectly respondsable for enabling Scar to kill Mufasa."
Soothsayer: "They are right, Squidward. The Hyenas and the Lion Pride are just as much victims to Merlock as Freddy was a victim of his own insanity. In a way, Merlock caused a chain of events that victimised everyone. What Merlock did to Shenzi's parents, lead to a sprialing of events that created more tragities.... Freddy's included. Do you understand now, Squidward?"
Squidward:... Well, I guess that makes sense.
Freddy: OH, LIKE THEY'VE REDEEMED THEMSELVES ENOUGH!! (The Hyenas are startled) They're still antiheroes, aren't they? They are bad guys to the Jungle Crew!
Shenzi: Hey, honey, old habits may die hard, but not completely in some cases. That, and, Arthur and Cecil are kinda friends of ours, so, we're just being good friends to them. It took a HELL of a while to talk them out of helping "Uncle Fagin" and the League, though. But most of all, antiheroes are sometimes antiheroes because they think that doing whatever they want is either for the greater good, or for just plain old fun. For us, it's just for the fun of it. But even AS antiheroes, we still have a strict moral code. As long as we're with the Shell Lodge, we do whatever it takes to be good. So what if we're not perfect? It's better than staying true villains.
Freddy: "YET WHY AREN'T YOU GUYS KICKED OUT BY NOW!?"
Icky: "Buddy, we're the same team of heroes and anti-heroes that welcomed a Peacock guilty of near-panda genocide, and here you are expecting us to kick OUR TEAM FOUNDERS out because they have bad friends and negative influences in the form of two idiot vultures from the Jungle Cubs show? We even welcomed the ex-leader of our main bad guy group, jackass! If you're gonna have a problem with the standerds of this series, then consider yourself yet ANOTHER one of our critics, ya big whiney chicken!?"
Freddy was heard growling!
Banzai:... Would it at least make it all better if I said I was sorry?
Freddy: YOU WISH, YOU LITTLE MONSTER!! You will never sway me into reconsidering this plan. All except Cynder will die VERY soon, and I'll smoke a f****** cigar to celebrate dancing on the corpses of you and your little honey-bun, Banzai! (Cackles)
Fidget:... Well... How are we gonna sleep?
Icky: Yeah, if we know Freddy Krueger, he's the most active when we're asleep. He's best known for killing folks in their sleep.
Skipper: Well, it's worth the sleep deprivation if it means staying alive. Tonight, it's deprive or die!
Private: But Skipper, you know how you get when you're deprived of sleep. You go insane like you did when I was seeing that Shakespeare play.
Skipper: Would you rather DIE than lose some sleep?
Private:... Maybe. (Freddy laughed maniacally) AAAAA-HAAAAHH!! I WON'T SLEEP, I'LL NEVER SLEEP!!!
Skipper: Good man! Now, everyone, it's a top priority to stay up as late as we can to combat this new threat.
Merlin: This would be MUCH easier if we had some stimulants.
Lord Shen: No, I don't trust drugs as much as I don't trust that raptor meat.
Max: You don't trust ANYTHING these days thanks to you being obsessed with protecting Kairi.... Speaking of which, where is she?
Lord Shen: Oh, she's basically getting ready to go to... Sleep... HOLY F****** ASS-C****** MOSES!!! WE GOTTA GET UP THERE BEFORE IT'S TOO LATE!!!
Icky: Yeah, let's just hope Freddy doesn't push his torture methods to Kairi fetish levels.
Kairi's Room
Kairi was already asleep.
Evil Laughter was heard.
A Knifey glove was about to grab Kairi!
Icky's loud squack was heard!
Kairi fast awoke and the claw vanished!
Kairi: "AGGAAAAAAAAAAAAAAAH, WHAT THE F***, ICKY!?"
Icky: "Wow... Kairi just cussed.... Haven't heard her do that before. But seriously, sleeping may be too dangerous at the moment! There's a psycotic Freddy Krueger-inspired Chicken running amuck and brought to you by Lord Jerkass Cobra!"
Kairi: "..... Okay, could someone more credible and not with a history of pulling stupid pranks say that is actually real before I get annoyed?!? This isn't the first time you've done things like this to me, Icky. There was the water balloon prank this summer, there was the snow trap 2 Christmases ago, and PLEASE don't even get me started on the-"
Lord Shen: (Arrives) Kairi, what he's saying is the truth. There's a chicken ghost in this Temple, and we can't even get out of here.
Icky: And let's hope you have a tight stomach because we won't be having any food or power for the remainder of this shenanigan.
Kairi:... (Sighs) What a wonderful thing to happen to us. I've heard how the remake of Nightmare on Elm Street featured Freddy as a pedophile, that BETTER not happen to me, otherwise if I can punch that ghost, THEN I WILL!!!
Icky: Relax, toots, the producers have your back. Just come downstairs with us. If we're gonna stop this ghost, we need to stick together, and not let each other out of our sights. Besides, you're not a child anymore.
Kairi: Yeah, yeah, I know. Let's just get this over with. (Goes into the bathroom, and goes from her nightgown to her common attire, along with her Keyblade)... Thanks for coming to stop this ghost, by the way.
Sandy: Sure thing, Kairi.
Living Room
Kairi: (They make it back, only to find that blood has been written on the walls with the words 'The Hyenas Will Die!')... I take it that you three wronged this ghost in some way?
Banzai: It's a long story. YOU DIDN'T NEED TO REMIND US, FREDDY, WE GET YOU WANNA KILL US!! (Suddenly, new words are shaved on his body saying 'Smack here!')... AAAAAHHHH!!!
Ed: (Smacks Banzai in the chest, and laughs hysterically, and Banzai ends up attacking him)
Shenzi: WILL YOU KNOCK IT OFF?!?
SpongeBob: What're we gonna do?!? This ghost is already scaring us!
Squidward: I thought you gotten used to ghost scares.
SpongeBob: Yeah, but the Flying Dutchman's scares were just cartoonish kid-friendly scares.... Well, that is to say they weren't INTENTIONALLY horror movie quility, like, ya know, Gorefest material stuff. They are BUTCH compared to scares like THIS!!
Iago: "Ok, I get he wants to kill the Hyenas, but WHY THE REST OF US!?"
Icky: "Well, three justifacations. 1: We're assusiated with the Hyenas, so he hates us. 2: The leage promised him a serious reward for getting rid of us, so he hates us. 3: He's a psycotic maniac inspired by a murderious pedophilic dream monster in a sweater, fedora hat and a weird but deadly knife glove, so he would still go after us if even we DIDN'T had the Hyenas here. That and, he's a seriously resentful chicken that hates socity for the shit he went through. Basicly, he downright hates us."
Iago: "..... Figures."
Savio: "Ok, if we get out of this, next time Mang does something weird to us, we go STRAIGHT FOR HELP AND NOT RETURN HOME LIKE MORONS?!"
Lougers: "Agreed!"
Freddy: "Oh come on, I'm not that bad, fellas! You all look sleepy? Who's up for beddy-bye?"
Sleep-indusing Music plays.
Private: "GAHHH?! SKIPPER!? HE'S CHEATING WITH BEDTIME MUSIC?!"
Icky: "Wait, isn't that the Puppet from FNAF 2's music box song?"
Freddy: "Hey, it wouldn've been STUPIDLY clished of me if I used "Rock-A-Bye Baby" or "Go to Sleep", those songs are done to death!?"
Tai: "WELL IT'S STILL CHEATING, YOU PSYCOTIC FOWL?! I WISH I HAD A BIRDY BOILER HERE RIGHT NOW SO I CAN-"
Freddy: Birdy... Birdy... BIRDY... (The Temple shakes and the red tone comes back) AAAAAAAAAAAAAAAAAHHHHHHHHHHHHH!!!
Banzai: Way to go, Tai-ger! You pissed him off, now we're ALL gonna die! (The floor suddenly mimics quicksand)... AAHHH!!
Kairi: OH MY GOD!!! THE FLOOR IS LIKE QUICKSAND!!!
Mimi: MOMMY, I WANT MY BLANKEE!!!
Mr. Krabs:... Did you really just say that?
Kairi:... (Sinks her Keyblade into the floor, and the magic inside is able to shock Freddy)
Freddy: YAAAAAHHH!!! (The floor stops mimicking quicksand, yet the Lodgers are stuck in the floor)...
Kaa:... WELL, THIS IS NO BETTER!!!
Matt: Thanks a lot, Tai! Now we're stuck in the floor!
Tigress: (Tears her feet out of the floor) Not unless we can easily pull ourselves out.
Shifu: (Does the same thing, as well as a few of the strong Shell Lodgers)
Tai: (After the freed Lodgers pull the other trapped Lodgers free)... Sorry, guys.
Joe: Well, I guess we have to get floor repair now that it literally looks like SpongeBob, having a bunch of holes in it.
Freddy: Impressive, but not impressive enough! I'll get you soon! (Cackles)
Icky: Oh, God, enough with the gloating bulls***! You're not impressing anyone you deep-fried scar-faced clucking little- (Freddy makes his beak melt off) AAAAAaahhhmmmmmmpppphhhh!!!... MMMPPHH?!?!
Gilda: "HEY?! WHAT'S THE BIG IDEA, YA COCK-A-DOODLE-DOUCHBAG!?"
Cynder: "Insulting him is not gonna make the situation better!?"
Gilda: "He keeps pissing us off?!"
Cynder: "That's his intention! He wants to provoke you to say the forbidden word so he can have an excuse to really hurt us! He's asentually an internet troll. And you know the most impourent rule with them?"
Devon: "What? Never wear brown shoes with a blue suit?"
Cornwall: (Grabs his mouth as a drumshot was heard) No, you moron! Don't feed them! And with this guy, don't say his trigger word.
Patrick: What, birdy boiler?
Cornwall: DAAAH, YOU MORON--
1 Torture Later...
Lord Shen: (The Lodgers have had their body parts mixed up)... Well, how wonderful! Even being among idiots is not safe here.
Squidward: (Once again merged with SpongeBob) HONESTLY, WITH PEOPLE LIKE PATRICK, WE'LL ALL BE SCRAMBLED LIKE THIS!!!
SpongeBob: Oh, it's not that bad like this, Squidward. Now we can be best buddies and do everything together... FOREVEEEEEERRRRR!!
Squidward: OH, MY GOD, AGAIN WITH THIS GAY VIBE I GET FROM YOU!!! WHY DO YOU THINK YOUR FANS ACCUSE YOU OF BEING A HOMOSEXUAL WITH THAT ATTITUDE?!?
SpongeBob: Hey, I'm not gay!
Icky: MMPPHH MMPPH-... (Muffled sighs)
Sandy: I know what you were gonna say there, Icky, and thank Freddy you didn't.
Freddy: You're welcome-
Sandy: THAT WAS RHETORICAL!!!
Sparx: Okay, all in favor of taping up the mouths of all the idiots in this room say 'aye'!
Non-Idiot Lougers: "AYE!"
Sandy: "All against?"
Idiot Lougers: ".... Not Aye?"
Boss Wolf: "..... It's NAY, you nincompoops!"
Patrick: "Oh, you mean like a horsey? Ok! (WINNYS LITERALLY LIKE A HORSE!)"
Trixie facehooves!
Trixie: "SOMEONE SHUT THEM UP!? (They tape the idiot Lodgers' mouths shut)"
Lord Shen: There! Now we can figure things out.
Private: Uh... Does anyone know how to fix our mixed up body parts? I hate having Tulio and Sam's leg, and Max and Sandy's arm.
Sparx: You think you've got it bad? I've got Mimi's body! Wait... (Smiles) I can look at myself naked!
Mimi: (Grabs Sparx with clenched teeth) Don't even THINK about it, bitch!
Tai:... Mimi, that's a lot of mouth on you!
Skipper: Kowalski, analysis on how we can beat this c***er?
Kolwalski: "We can try negosiating with him through a wigi board. A board designed to talk with spirits."
Skipper: "Not an opition! He could trick us to say the forbidden word."
Kolwalski: "We can exsosize him."
Skipper: "I don't think he has a weight problem Kolwalski!"
Kolwalski: "No no, I mean, like in the movie "The Exsirist"?"
Skipper: "Oh. Well that only works if he's ACTSELLY processing someone like Zuthron did, which he ain't! Any opitions based on the likes of Freddy Kruger?"
Kolwalski: "Well, we have to be able to defeat him in the dream realm with his very weakness. And I suspect that based on his negitive reaction, our forbidden word is his weakness!"
Skipper: "You mean other then just pissing him off?"
Kolwalski: "Think about it! Freddy Kruger died in a fire, Freddy Fried Khicken became this because of the forbidden word! If we can use the power of dreams against him, we can congure this brute!"
Skipper: "Exsellent suggestion, Kolwalski!"
Freddy: "OK, OBVIOUSLY THE CURRENT MUSIC ISN'T GONNA CUT IT! I hate to do this, but...."
A Pokeball appears from nowhere and out comes a Freddy Kruger-eqse Jigglypuff.
Girl Sora: "GAHHHH! ONCE AGAIN SCREWED OVER BY POKEMON!?"
Jigglypuff started singing.
Cynder: "DON'T LISTEN TO IT?!"
Mr. Krabs: "I, can't help it.... It's so.... Sweet.... So.... Motherly-like....."
Lord Shen: "It's like the voice of my mother's.... Made slightly squeakier and she's saying nothing but "Jigglypuff" for some reason."
Spyro: "GUYS, NO!? THAT'S WHAT FREDDY WANTS?!"
Icky: "Mmm mmm mmmpth mtph! Mmmpth Mmm mmm Mthmm!"
Joe: "OH NO! NOT TODAY!? (Joe pulls out an Ax and charges for Jigglypuff) DIE YOU OVER-HYPED OVER-RATED PIECE OF OVERLY POPULAR ANIME GARBAGE THAT MADE DIGIMON REALITIVELY OBSCURED!? (BATTLE-CRYS)!!"
Freddy: Uh-uh-uh! (The music intensifies as Joe gets sleepy before he can strike the Jigglypuff)
Donkey: I'M COMIN', ELIZABETH!!- (Spyro slaps him) OWW!!
Spyro: DON'T EVEN TRY IT!! WE HAVE TO STAY STRONG!!
Skipper: Must... Stay awake... And fight... Ghost!... I'm... (Lays asleep, only to get up spontaneously)... No ghost... Will kick my ass... This time! (Yawns)
Kairi: (Yawns)... Oh, God, this music is so... Stunning!... Can't... Resist it...
Merlin: Must cast... Stimulant spell... And... (Drops his wand) Stimulatus awakensis!... Why isn't it... Working?
Spyro: (He starts getting tired)
Cynder: Spyro, what're we gonna... SPYRO, NO, DON'T!!!
Freddy: (Cackles) What're you gonna do now that I'll soon have your friends in my grasp, ALL SPONTANEOUSLY?!?
Cynder: "No! Must! RESIST!? Music! Too! Strong!...... And..... Beautiful........."
Tai: "Dude..... Seriously...... Cheating...... (Everyone immediately gave in and fell asleep)"
Chapter 6: Surviving a Nightmare
Dream Realm
Cynder: (The Lodgers see that they are in the dream realm)... OH, NO!! WE'RE ALL ASLEEP!!!
Banzai: (Screams like a girl)
Patrick: And I can see that it has a blend of SpongeBob's candy-coated subconscious.
SpongeBob: Beautiful, isn't it? It's like an entire planet made of ice cream and sweets!
Icky: Yeah, this place makes the Sharkboy and Lavagirl planet look trippy.... As in, more trippy than it already is. Oh hey, my beak's back.
Lord Shen: "Dash it all."
Kolwalski: "But there is a new plus in this! We are at equil powers of dream power! We can use our own imaginations to fight against him! We can use our own hopes and dreams against the dream monster!"
Icky: "Ah, the classic way to fight dream monsters. With dreams."
SpongeBob: Dreams, huh? Well, the first thing I'm gonna do is dream myself up a moustache! (Does that spontaniously)!
Sandy:... Wow!
SpongeBob: (With a moustache) Thanks, Sandy, it does make me feel a little rugged, doesn't it?
Mr. Krabs: "Ok, let me try something."
Mr. Krabs goes into think-mode, and a huge pile of cash appears!
Mr. Krabs: "IT WORKS?! I'M RICH?!"
Icky: "Yeah, but litterally, only in your dreams. You still got jacksquat in the real world. Only Freddy has the power to make what happens in dreams a reality, and he's abusing it on account that he's psycotic."
Lord Shen: "True, but in dreams, we can as easily counteract against Freddy's attack."
Boss Wolf: "But we're fighting in even grounds. He can just as easily counteract US!"
Squidward: "Well, I'm sure as long as we stay a group, that crazy chicken doesn't stand a ghost of a chance!"
Freddy's voice: "GOOD THING I'M SMART ENOUGH NOT TO GO AFTER YOU CLOWNS UNITED TOGATHER?!"
The Dream Realm gets darker and surreal!
Icky: ".... Ok, anyone reminded of Brian's really bad shrooms trip? (Troll Peter Griffin appears singing 'Wheels On The Bus' as he is being cooked by uglier versions of the Shell Lodge)... Yup, I'm sure you are."
Lord Shen: "Yes, but now it's in the form of a demented chicken farm, and in the background, do I see, demonic renditions of KFC?"
Cynder: "It makes sense considering his origins."
Trixie: "Oh please, all he did was change the scenery, that is far from being able to-"
Evil laughter is heard!
A march was heard!
The Lougers look to see a huge mob of the Lougers' personal enemies!
Doodlebob: "(ANGRY SOUNDING GIBBERISH!?)"
Latifier: "THERE THEY ARE!? THERE'S THE ASSHOLES THAT BEEN'S MAKING US LOOK LIKE CHUMPS?!"
Blot: "I SAY, WE KICK THEIR ASSES!?"
The Villains charge!
Icky: "TURN TAILS AND RUN!?"
Cynder: "NO!? THIS IS PART OF HIS PLAN TO- (THE LOUGERS PANIC AND SCATTER)...... Scatter us."
Lord Shen quickly grabs Cynder and runs!
Icky and Iago were chased by Jerky, Dead-Eye Monroe and Jafar!
Icky: "MAN, JERKY AND MONROE ARE PISSED AT US?!"
Iago: "JAFAR'S NOT ANY BETTER!"
The Combined magical attack forces the two to seperate from eachother, as Monroe and Jerky chase Icky, Jafar goes after Iago!
Iago: JAFAR!!!... Uh... Buddy? (Jafar immediately gets Freddy's face and clucks demonically at him) YAAAAAAAAHHHHH!!!
Cynder: GUYS, REMEMBER, THIS IS A DREAM!! YOU CAN DO ANYTHING IN A DREAM!!
Icky: Oh, yeah, that's right! (Takes out an Intensifier Cannon) Good thing we don't need laws when we're asleep! (Uses the cannon to blast down a demonic version of Kuwagamon) TAKE THAT, MAGGOT-PIE!!
Freddy Cop #1: HEY, THAT'S ILLEGAL WEAPONRY RIGHT THERE!!
Icky: This is a dream, douche bag! Laws are complete bulls*** in a dream! (Blasts the Freddy Cops) YEEEEEAAAAHHH!!! I CAN DO ANYTHING I WANT IN A DREAM!!
Freddy: Well, two can play at THAT game! (Summons a lot of Intensifier Cannons that are aimed directly at all the Lodgers)
Sparx: AAAAHHHHH!!!
Tulio: We're dead!
SpongeBob: I think not! (The Cannons fire, yet SpongeBob uses his mind to turn the plasma into ice cream)... (Laughs)
Sandy: Good thinking there, SpongeBob! Now it's MY turn! (Summons a RoboRex, and flies onto it) YEEEEEEEEE-HAAAAAAHH!! (The RoboRex roars and begins to take out the villain clones)
Trixie: Hmm... (Uses her mind to turn herself into an Alicorn princess) YAY!!! I'M AN ALICORN!!! (Flies up into the sky) KAMEHAMEHA!! (Blasts a massive beam of energy onto the ground that only affects the enemies) HA-HAH!!! (Freddy takes away her wings and turns her into a unicorn again)... Oh, poopie! (Starts falling) AAAAAAAAAAAHHHHHHHHH- (Crane grabs her before she could hit the ground)
Crane: I got'cha, Trixie!
B.O.B: (Starts sky-surfing on candy) YAAAAYYYYY!!! TASTE SKITTLES, MOTHERF*****!! (Fires Skittles at the enemies)
Kairi: (Jumps through an ice cream mountain in a karate outfit and begins beating up the enemies) I may not have had a chance to be Kairi Chan in one episode, but now I can do what I want! (Takes out a Keyblade that turns massive, and slashes it through a small spot of land, eliminating the enemies and cutting a hole in the land)
Freddy: Hmmph! Simple enemies aren't enough! Looks like I'll have to be more creative! Let's see how you deal with THE ENVIRONMENT FALLING APART AROUND YOU!! (The environment starts to dissolve)
Icky/Iago/Trixie/Gilda/Sparx/Fidget/Mantis: HOLY S***!!!
Po: HE'S NOT GONNA GO DOWN EASY, IS HE?!?
Shifu: Relax, we can fix this! (Pounds his foot in front of a dissolving land edge, and make some land only 6 meters long)
Freddy: Those tricks won't protect you forever, misfits! You will all die in the one place YOU CAN NEVER ESCAPE!! YOUR VERY OWN MINDS!!!
Shenzi: We'll see about that, honey! We can fight just long enough for us to wake up the next morning.
Freddy: I doubt it. It's only midnight. You seriously think you can fight this for over 6 hours?
Merlin: Maybe not, but I'm sure we can last this long if we put our minds to it... Literally.
Icky: "YEAH?! SO STOP BEING A BIG CHICKEN AND COME OUT AND FIGHT, OR YOU MAY AS WELL GO BACK TO HELL, YOU SCUDBUCKET?!"
Freddy's voice: "OH, SO YOU'RE BEING THOSE KIND OF PEOPLE NOW, HUH?! OK, FINE!? WE'LL PLAY IT THAT WAY?! But I'm smart enough not to go after ALL of you!? I'll start small! Starting with two of the Lougers' leaders (Spongebob and Shenzi disappeared), Their strongest wizard (Merlin vanished) and YOU MOST OF ALL, LOUDMOUTH!? (Icky Vanishes) As for the rest of you.... I'll be back!?"
Cynder: "OH NO!? SPONGEBOB, SHENZI, ICKY, MERLIN!?"
Chapter 7: Freddy Fried Khicken's Revenge
Inside a Demonic KFC.
Spongebob, Shenzi, Icky and Merlin appeared in the restaurent.
Icky: "So this is what it looks like if KFC is ever allowed to open up shop in the banished realms."
Shenzi: "Or more acctreately how chickens view these places."
???: "Now now, you're both correct here."
Freddy Fried Khicken appeared as last.
Freddy Fried Khicken: "Welcome to my world, Louger butts! This is where only MY rules apply! And cue the randomly interupting anvil!"
Icky: "Randomly interup-"
A small Anvil hits Icky on the head!
Icky: "OWCH?!"
Freddy laughs!
Icky: "HEY THAT'S NOT FUNNY AT ALL, CHICKEN BUTT?!"
Freddy: "It is to ME. But my sense of humor isn't to EVERYONE'S liking."
Icky: "Welcome to MY world."
Freddy: "Now, it's time to get to business..... THE BUSINESS OF PAIN!?"
Music starts.
Icky: "Aw, crap, he's gonna sing, is he?"
Freddy starts singing this.
Shenzi: "Well, glad to see they have dancing and singing lessons in the banished realms appearently! HELL yeah to Hollywood!"
Icky: "Seriously mack? A song from that Annoying Orange TV show? Ya know, there's a reason why CN's not continuing that show anymore, buster!"
Freddy: (Makes his beak melt again) I won't have anymore of your beak during this fight, you dimwit!
SpongeBob: You realize that our friends can find this place, right?
Freddy: Oh, I don't think so. You see, as a manipulator of dreams, I can split dreams. We're standing inside a separate cloud. (Outside the dream realm, the sleeping Lodgers' dream bubbles are merged, yet SpongeBob, Shenzi, Icky, and Merlin's are in a separate bubble)... Which means the only one who can merge it back is ME!
Shenzi: MERGE OUR DREAMS BACK IMMEDIATELY, YOU ROASTED BASTARD!!!
Freddy: Or what? You'll thrash me? (Teleports behind them) You realize that I am all-powerful in reality AND in dreams! (Teleports) I am the master of nightmares! (Teleports) I am untouchable! (Teleports) So even with your ability to bend your own dreams, you can't even hope to defeat me.
SpongeBob: But you said-
Freddy: I know what I said. And indeed, I'm still keeping it. So if you can beat me in a dream duel, then I'll let you save your friends. (Cackles)
SpongeBob: You want it that way, mother-clucker? FINE! Let's dance!
Freddy: Yes, let's! (Turns himself gigantic as he cackles)
Shenzi: You think we can do this?
Spongebob: "Don't worry, I have a plan. Freddy, I know there's something FAR more scarier then you!"
Freddy: "And what's that?"
Spongebob thought long and hard and a huge flash happens!
The dream begins to shake as a figure the same size as giant Freddy rose from the ground!
Freddy: "..... WHAT THE HECK IS THAT?!"
Spongebob: "Say hello to the scarest FNAF character of the entire series..... Nightmare Fredbear!"
The Figure was reveiled to be Nightmare Fredbear as it roared a roar so threatening, even Freddy surprisingly was scared!
Freddy: "WHA-WHA-WHA-WHA, WHAT IS THAT!?"
Spongebob: "No surprised your shocked. You see, you were from the time that pre-dates the FNAF series. Your only not afraid of conventional horrors like Freddy Kruger. But you never made yourself unafraid of UNCONVENTIONAL HORRORS?! Like Pizzaria Animontronics!
Freddy: "EEEKKKKKK!? PIZZARIA ANIMONTRONICS?! BUT THEY'RE NOT SUPPOSE TO BE SCARY!? THEY'RE SUPPOSE TO BE HAPPY AND FUN AND FRIENDLY?!"
Icky's beak comes back.
Icky: "Uh, Spongebob. I think by making this guy meet an unconventional horror, his power is starting to fall apart."
Shenzi: "HA! I guess that chump wasn't so scary at all!"
Spongebob: "Yeah, but still, I'm gonna have to be tougher then even that!"
Spongebob thinks hard enough and summons forth more of the Five Nights at Freddy's characters!
Freddy screamed like a girl!
Puppet: "By the way, asshole! YOU OWE ME MONEY FOR USING MY SONG!?"
Freddy: "I, I DIDN'T KNOW IT WAS YOUR SONG, I SWEAR!? (SCREAMS AS MANGLE CAME UP TO HIM) AGHHHHHHHHHHHH!? I CAN'T EVEN TELL IF YOU'RE A BOY OR A GIRL!? (SCREAMS AS HE SEES BALLOON BOY) AHHHHHHHHHHH!? HOW CAN THAT BE CONSIDERED A FIGURE OF HORROR?! AHHHHHHHHHHHHH?! MOMMY?!"
The other lougers appear in the Demonic KFC as well!
Cynder: "GUYS!? YOUR ALRIGHT?!"
Icky: "Sponge, the dreams merged! That means Fred-butt's losing more power?!"
Freddy: "AHHHHHHHHHHHHH-HAAAAAAAAAAAAAAAAAAAAAAAA?! HOW CAN ALL OF THESE BE CONSIDERED SCARY!? PIZZARIA ANIMONTRONICS ARE SUPPOSE TO BE KID FRIENDLY!? (STARTS SHRINKING) KID FRIENDLYYYYYYYYYYYYYYYYYYYYYYYYYYYYYYYYYYYYYYYYYY (Goes back to normal size) NO?! MY APPEARENT COWERDICE TO UNCONVENTIONAL HORRORS DESTROYED MY BEAUTIFUL POWERS?! IT HAS GONE TO THE POINT THAT SAYING THE HATED WORD WOULD SOON START TO DESTROY ME WITH MY OWN RAGE THAT WITHOUT MY NIGHTMARE POWERS TO BALENCE IT AND VENT IT OUT, WILL EXPLOUD ME BACK TO THE BANISHED REALMS IN A FIREY CHICKEN SMELLING EXPLOUDION!?....... Please tell me I didn't just say that outloud."
Banzai: "YOU WERE SCREAMING IT OUTLOUD, DUMBASS?!"
Freddy: "AACCK?! I NEED TO WATCH SOME CONVENTIONAL HORROR AND STAT, BEFORE I'M DONE FOR?!"
Freddy quickly sees a TV with several DVDs of plenty of conventional horror movies, espeically that of Freddy Kruger, and charges for it!
Trixie: "OH NO YOU DON'T!? BIRDY BOILER?!"
Freddy screamed in pain as a spark of flame bursted from some parts of his body, not burning him but Freddy looks to be on the verge of explouding!
Freddy struggles to get to the TV!
Freddy: GRRRGGHHH!!! GRRRRRRRRRRRGGGGGGGHHHHHHHHHH!!! (Gets close to the TV, but SpongeBob and Lord Shen get in front of him)
Lord Shen: You're not going anywhere!
Freddy: (Slashes at Shen, and leaves wounds in his chest, and smacks SpongeBob away) NO!! I WILL NOT BE STOPPED!!
All Lodgers: BIRDY BOILER! BIRDY BOILER! BIRDY BOILER! BIRDY BOILER!
Freddy: (The Lodgers repeated the words and Freddy is unable to reach the TV)... URRRGGGHHHH!!! STOP!!!... I DEMAND YOU TO... STOP!!! GRRAAAAARRRGGGGHHHHH!!! GRAAAAAAAA- (He explodes, and the explosion left a hole in the environment)
SpongeBob: YES!! VICTORY SCREECH!! LOOLOOLOOLOOLOOLOOLOOLOOLOOLOOLOOLOOLOOLOOLOOLOOLOOLOOLOO...(Nobody joins him)... Uh... Why aren't you joining?
Tigress: Well, one, it would make us sound awkward, and two, LOOK! (SpongeBob turns around and sees that the hole left in the environment was growing larger and started consuming the environment)
Skipper: KOWALSKI, ANALYSIS!!!
Kowalski: I don't know that much about dreams, but I think the intensity of destroying Freddy, the only one who was keeping our dreams together, is starting to tear our linked dreams apart.
Tigress: What does that mean?
Kowalski: It means that, given the fact that Freddy is no longer keeping our dreams together, AND the fact that we're together when we should be in our respective dream bubbles, then more than one of us being together in one or more other dream bubbles can...uh...well...
Dr. Cockroach: Can tear our subconscious minds from our bodies and kill us?
Kowalski: In theory...
Brandy: Oh, no! How are we gonna know which parts will split?
Max: How are we gonna get to them in time?
Patrick: HOW WILL I GET TO ENJOY MANIPULATING THE WORLD AROUND ME?!? (Everyone looked confused at him)...What?
Merlin: Don't worry, everyone. I feel that in order for our minds to stay in sync, then one of us will have to wake up, and get everyone else to wake up before our dreams tear us apart.
Kairi: How are we gonna do that? There's nobody in the real world to wake us up!
Icky:... Somebody pinch me. (Mr. Krabs does that to his tail)
Reality
Icky: (He screams loud enough to wake up all the other Lodgers)
Fidget: AAAH, I'M UP, I'M UP!!!
Trixie: YAAAHH!!! THE NOISE HURTS MY EARS!!!
Mr. Krabs:... Huh, that actually worked.
Kairi: (Yawns) It certainly did. At least we're all alive.
Spyro: And we took down Freddy.
Power in the Dragon Temple is restored.
The Lougers cheered in victory!
Icky: "Aw man, I'm so glad we'll be able to get some sleep. It's only......... 6:59?!"
Shifu: "WHAT!? Well, it appears that time moves faster when ones' asleep."
Iago: "Or Freddy was lying about it still being Midnight just to scare us into losing focus."
Cynder: "Reguardless, it'll give us the chance to meet up with our friends and the High Council in the crusade for Qui."
???: "Jigglyuff!"
Everyone saw that the Freddy Dressed Jigglypuff was still there.
Icky: "Uh, why is the Jigglypuff still there?"
Soothsayer: "Perhaps whatever Freddy creates in reality actselly becomes reality."
Joe: "I'LL TAKE CARE OF THIS?! (BRINGS OUT A SHOTGUN?!)"
Spongebob: "NO WAIT!? WITHOUT FREDDY, IT'S TOTALLY HARMLESS NOW!?"
Joe: "WHO SAID I WANTED TO KILL THAT THING OVER A PSYCO CHICKEN!? POKEMON HAD OVER-SHADOWED DIGIMON AND MADE US LOOK LIKE RIP-OFFS EVEN WHEN WE CLEARLY HAVE VERY DIFFERENT STORYLINES, THAT DARN OVER-RATED SERIES!? HELL, ALL OF OUR CREATURES CAN TALK GIVE-OR-TAKE EXCEPTIONS?!"
Merlin: "THERE'S STILL NO NEED FOR VIOLENCE! We'll have the creature sent to Fluttershy's care after we're done with Qui!"
Joe: "But-"
Gomamon: "Whoa Joe! I ain't a fan of those Poke-geeks myself, but killing them is not gonna make us anymore superior to them! Not to mention you'll get in trouble with cops for Pokemon abuse!"
Joe: "Since WHEN is there a law against abusing Pokemon?"
Icky: "It's been around ever since the Francise was introdused in america."
Joe sighed in annoyence.
Joe: "Oh yeah..... THAT law."
Private: "I'm afraid to ask, why do you Digimon guys have a problem with Pokemon?"
Izzy: "Kinda like what Joe said. Mainly because we kinda got over-shadowed by Pokemon. Because Pokemon had qoute, "Cuter creatures", it became a marketed success."
Icky: "But isn't Digimon fairly popular in America as well?"
Tai: "Yeah, but because the Poke-geeks came first, they're argueably even MORE successful then us. The first gen alone sold ZILLIONS of mercendice!? Let's just say, we know how the Go-Bots feel about being over-shadowed by Transformers."
Icky: "Wait, what the hell are Go-Bots?"
Agumon: "You see what we mean?"
Icky: "Oh.... I get it now..... But still, I think it's about time we head to Deserta before-"
The Louge Computer begins to act up!
Louge Computer: "ALERT!? ALERT?! ALERT?! AN INVADION FORCE HAS APPEARED ON THE DRAGON REALMS?!"
Cynder: "INVADION?! WHO COULD BE INVADING IN THE MIDDLE OF A GREAT IMPOURENT TIME, I-"
The screen changes and the Lougers gasp!
Cynder: "........"
Icky: "... OH SHIT NO!?"
Cynder: "Qui......."
Epilogue
Dragon Realms New York City.
This music plays.
A Giant Scarab Beetle was stomping about in the city, causing citizens to run in a panic as Millaterry personal arrive in quick shock.
Qui and Silluettes of dog people were seen.
Qui: "BEHOLD, UNENLIGHTED!? I, AM YOUR MESSIAH?! I AM YOUR SALVATION?! I, AM, THE SCARLET DRAGON?! THE BRINGER OF TRUE ENLIGHTENMENT!?"
Qui roars a great roar, as then, armies of Mummie Warriors magicly rose from the ground, as Qui Drones charge in from the skies and reek havic on the city!
Qui: "THE AGE OF UNENLIGHTENMENT AS ENDED!? THE NEW SCARET AGE OF ENLIGHTENMENT, SHALL BEGIN?!"
The City goes into great ruin as the Mummy Warriors over-wealm the Millaterry as the Millaterry retreats in fear!
The Giant Scarab destroys the buildings of the city, and destroys Tri-corn's statue of Liberty!
Citizens and Millaterry flee for their lives as the Mummies and Qui Drones persue them!
Qui: "DO NOT RUN FROM ENLIGHTENMENT?! EMBACE IT?! LET ME HELP YOU EMBRACE THE NEW ERA OF PEACE!?"
Qui breaths ice that creates a great ice wall, preventing the citizens and millaterry from being able to escape as the Mummies and Qui Drones close in on them!
Dragon Gaurdian temple.
The Lougers stared in horror as a bright glow was seen on the screen!
Icky: "..... At, least Qui found her new purpose in life?"
Cynder: "THIS IS FAR FROM BEING BETTER THEN HER TRYING TO UNITE THE VILLAIN TEAMS?! SHE'S EVEN MORE HORRENDUSLY MISGUIDED THEN EVER BEFORE!? WE HAVE TO STOP HER?!"
Moans and growls are heard.
Trixie: "(Fearfully) Uh, guys? We have guests!"
The Mummy Warriors began to magicly rise from the ground!
Squidward: "..... Maybe we were better off with a Freddy Kruger inspired Chicken."
Lougers: "No kidding."
Fin?
Community content is available under
CC-BY-SA
unless otherwise noted.