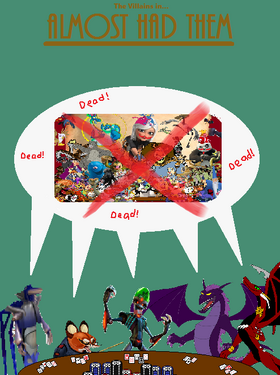 Almost Had Them
is the 5th Episode of Season 3A of the
SpongeBob and Friends Adventures Chronicles
series. In the episode, Lord Cobra, Darkness Qui, Dark Dragon, Nefarious, and Junjie all take a strange opportunity to play poker together just for the sake of forgetting their humiliation, not to mention challenging each other. Especially when they start betting on who had come the closest to defeating the Shell Lodgers. As their conversation continues, they each tell stories about how they almost got the Shell Lodgers. They all constantly argue, but they continue to share their opinions, though skeptically. Who will have the best story? The episode is based on the
Batman: The Animated Series
episode 'Almost Got 'Im'.
Stories
Lord Cobra- Infestation of Blood Roots- Lord Cobra brings Audrey II an army of speical abominations of Mang's called 'Bloodroots' (Their image is here) which are carnivorous plant monsters that have only one instinct: to take over whatever sentient-made monument or fortress they find, and poison anyone who gets in their way. Problem is, he forgot that this would kill Cynder, still valuing her and quickly wussed out on seeing it through, only for the corrupted by the engry of the Blood Roots Audrey 2 to scare off Mang. Audrey II is able to become the plants' leader as "Blood Rooter", and the creatures have spread all over the range of the Dragon Temple, and thus, the Blood Root Plants begin to infest the Dragon Temple, and everyone in it. Kairi is held prisoner inside a pod plant, SpongeBob and Spyro are poisoned and nearly on the verge of death, and Lord Shen, being the temporary leader, goes crazy while worrying for the safety of Kairi. Will they stop Audrey II's army of Blood Roots and save their poisoned leaders before it's too late?
Junjie- The Great Riot of Tricorn-Katras- Junjie, Tai Lung, and Makunga, disguised as politicians, sneak into Tricorn-Katras and are able to lure the Shell Lodge Squad, who have been visiting at the same time, into a trap. They were able to convince all the prisoners in the prison to cause a riot, overwhelming the Shell Lodgers, taking over Tricorn-Katras, and making Junjie, Tai Lung, and Makunga the main leaders. But thanks to the prisoners mistakingly placing the head warden with the lougers who knows how to break every defence, and that many of the criminals are sort've idiotic, Junjie attempts to prove himself even more by killing the Shell Lodgers. But will Junjie's poorly advised trust on Wily McGinnis as warrior adviser ultamately proved to be an ultamate downfall?
Darkness Qui- The Housing of The Grook-Grook Bird- Qui and her associates have been able to lure the Shell Lodgers and the Mane 6 through kidnapping Candence and Shining Armor, to an Alternate UUniverse world called "Grooka" to an ancient city called 'Grook City', which was said to have been a victim of an army of prehistoric 9ft terror bird-like creatures which the natives have named the 'Grook-Grook Bird', Qui was able to trap them inside the caverns with no possible means of escaping, with them all at the mercy of the Grook-Grook. Even the babies, which are efficient hunters even at their age, are trying to kill them. And what's worse is that they can't harm these birds because not only would it devastate Fluttershy's pacifistic animal-loving heart, but it would give them a one-way ticket to Oranos since the Grook-Grooks are an endangered species protected by law and are also considered a sacred animal. So how does one survive against a carnivorous killer species that is sacred, protected by law, and are only doing what nature intended them to do? Fluttershy was able to have it covered quickly, but doing so uncovers more then what looks like a generic monster scenerio.
Dark Dragon- Ancient Chinese Horror- Dark Dragon and his Scourge Empire have actually discovered an ancient Makuta settlement located in the Disney version of China. With an army of leftover Makuta soldiers, and a massive Chinese-Dragon-like war machine at the helm, they plan to convert the abandoned city they found the cave in into a Makuta-based civilization where they could build up their empire. In doing such, they unleashed the Dragon Machine, called Dragutha XIV, and congured nearly all of Disney Chian with a very unpleasent direct assult to the palace. When the lougers try to uncover it's history, the Scourgers quickly chase after them with Dragutha as it manages to use it's liquid silver barf to turn most of the Shell Lodge into silver, leaving only SpongeBob, Sandy, Gilda, Trixie, Icky, Chi-Fu, Cynder, Po, The Penguins, Fidget, Boss Wolf, and Mushu the only hope left of stopping Dark Dragon's mechanical takeover of China. With the remaining Lodgers under threat of being turned into silver if they intervined again, the race is on to stop the Scourge Imperials and end this plot once and for all. Will it take an ultimate anichent secret in Mushu's past bloodline to stop this uprising?
Dr. Nefarious- OPERATION: UNNECESSARY EVIL INITIATIVE OMEGA 2001- Doctor Nefarious, through sheer dumb luck, has gained access to a computer chip called K.A.M.I.K.A.Z.E, a rouge program from Futurasia thought to be long lost and destroyed, that allows him to prevent several of his ships from being detected by any radar. He plans to send kamikaze robots inside large spaceships implanted with these chips, which have been engineered to avoid magic senses as well, to destroy the dragon guardian temple as his first act. And it would get worse unless he is given the Key to the UUniversal Boundary Generator. While he is able to bring major damage to the Dragon Temple, the Lodgers will not stand for it. However, they cannot leave because they have become stuck under the caved in Temple with hydrogen bombs from the three ships set to blow up the rest of the Dragon Temple and the Lodgers. With them being restrained and on the edge of their doom, Nefarious is able to make the same hydrogen bomb implant in the rest of the ships when they crashed that would blow up the remainder of the damaged areas. With the High Council likely to refuse to sacrivice universal freedom to the now fanactical Nefarious in faver of the lougers, everything seems hoplessly bleak..... But that tends to change quick.
Transcript
Chapter 1: An Unexpected Poker Game
A villain's only club called "The Evil Chackle".
Cobra and Junjie were walking torwords it.
The Dark Dragon was flying to it.
Dr. Nefarious was riding on a pod in the shape of his face.
Qui was being pulled on by a chariot by an exhasuted Celisus and Narcotic!
The villains all stopped at the front door.
Cobra knocks on it.
A see-through opens, and shows an eye.
Voice: "Secret password and violent act?"
Cobra: "Impudent nimcompoop."
Cobra punches the eye!
Voice: "OWCHED?!"
The door opens, reveiling a monster with a giant eye.
Monster: "Go right on in, Lord Cobra."
Cobra: "Thank you, Abusinalar. And enjoy the act of violence making you stronger now."
Abus: "Call me Abus, and thanks."
Cobra and the villains entered as this song played.
It was shown to be played by a Captain Hook recolor.
Cobra and friends pass two evil goblins having a fist-fight!
Darth Vader and General Grevious are seen arm-wreasling.
Dragon Ball Z's Freiza, Cell, and Evil Majinn Buu are enjoying alchaolic drinks.
A Xenomorth was playing darts, till A Predator knocked it out with a chear!
Predator roared in victory, then the Xenomorth pounced!
Cobra went to the bar, sitting next to Freddy Kruger drinking beer and burping!
Cobra looked at disgust.
???: "Hey...."
Mang looks to see Grunty the Witch, looking abit drunk.
Grunty: "Have I ever told you how Rareware actselly used to be great?"
Cobra: "..... Grunty, I'm a regular here, for christ sake, you told that to everyone in the bar!"
Grunty only burped and fell over!
Cobra: ".....  Oh, bother. The Rareware villians are really suffering today. Uh, excuse me. I'm looking for, The Wicked Witch of the West?"
POOF!?
Evil chackling was heard as the very witch herself is shown!
Wicked Witch: "WHAT CAN I DO FOR YOU, MY PRETTY!? (EVIL CHACKLE!?)"
Cobra: "Oh, get over yourself. I signed for a reservation for a poker table. My three usuals are here, as well as a new comer."
Wicked Witch: "And who might that be?"
Cobra: "Well, many are sure to rekindise her as the former evil emperess of the Alternate Universe. Darkness Qui."
The music suddenly stops and all the villains look at Mang and company!
Wicked Witch: "Oh, you mean, the same bitch who was forced to, apologies to Celestia for being a villain?"
Silence.
The Wicked Witch and the other bar villains laughed uncontrolably!
Cobra: ".... Look, she's not here to embrace plauge today, she's just here for a game of cards, and to get stress off her back. And, I kinda owe her and the other guys for causing an oven to exploude that busted Nefarious station that crashed into the Scourge Empire palace, and caused us to crash into Qui while she was having a bath."
Wicked Witch only stared at him.
Wicked Witch: ".... I didn't asked for a life story. Your poker game table's over there, by the trophy head of Golith the shark beast and next to Dr. Wily. Want me to have my new waitresses, the Dazzlings, to serve you drinks?"
Cobra: "Oh, sure, I'll have the snake venom martini."
Junjie: "Give me the sweet revenge honey beer."
Dark Dragon: "Make mine the Dark Emperor's speicalty."
Dr. Nefarious: "Give me the oil pollution keg beer!"
Darkness Qui: "... I'll just have a glass of water. I don't believe in harming my beautiful figure with alcahol."
Wicked Witch: "You got it, folks. (Stares angerly at Qui for the water) And you better hope I don't spit in it!"
Darkness Qui was confused.
Cobra: "..... She reacts negitvely to water."
Darkness Qui:...She hates water? Wait, if she does, then how does she hydrate herself? HOW DOES SHE SURVIVE?!? I mean, isn't life reliant on water?
Cobra: Hey, if the author of the Wizard of Oz was still alive, I'd ask him about that right now! But he ISN'T alive, so no luck there. We're stuck with no reason why she defies the laws of nature outside of magic, and we'll just have to deal with it.
Darkness Qui:... Are the humans of this world really that stupid enough to write a character which has a bad metabolism like hers?
Lord Cobra: Nobody's asking how does your Celisus henchmen survives without water at all when he's both an octopus man and yet a being made litterally of fire! So you shouldn't try to ask questions on how W. Witch lives without it. You head will hurt less if you just accept it.
The Villains sat down to their poker table.
GLaDOS appears.
GLaDOS: "Hello you pathic worthless washouts. I'll be your poker guide for the evening. I'll hand-in your silly and worthlessly pointless end result of processed trees and will provide you with Evil Chackle money that will turn into contraband money for your convinence."
Darkness Qui: "..... The M.A.V.I.S. project? The hell are you doing here?"
GLaDOS: "Who or what is a M.A.V.I.S.? I am the Genetic Lifeform and Disk Operating System, more commonly known as GLaDOS. The lovable sadisticly humored evil super computer with an infamous reputation to kill test subjects, you sad worthless piece of filth of reptilian order origin."
Darkness Qui: "Seesh, ok ok, my mistake! You just look awfuly alike."
GLaDOS: "I bet I had a very commen face. Now, which sytile of cards does lord shamed-of-his-chinese-heritage wants today?"
Lord Cobra: "The Villain Leage card set."
GLaDOS summons a giant claw and places down the cards, and splits them to each of the villains.
The Dazzlings came in as ponies with bat-like wings and served the villains' drinks.
Dr. Nefarious: "Wow, the second Equestia Girls movie must've REALLY tanked in the box office, huh? (Laughs!)"
Adagio: Oh, shut up and take your drinks! (Puts down the drinks)
Sonata: It SUCKS that we're mortals now that we've lost our medallions!
Aria: And argument was my favorite food, and that lousy Twilight Sparkle-
Adagio: GIRLS!!... (To the villains) You'll have to excuse them, they're idiots.
Junjie:... Oooo... Kay. Why don't you take your siren butts out of here and get back to your jobs?
Adagio: Very well! C'mon girls! It's time for our lunchbreak. We're having hot wings.
Aria: Is it as good as-
Adagio: No!
Sonata: (Whines a bit) I HATE BEING MORTAL!! (The Dazzlings leave)
Dark Dragon: Alright, let's just get this poker game over with.
GLaDOS: From what my databanks have shown, you three are rivals who have gotten in over 76 riots with each other.
Dr. Nefarious: You THINK?!? And one of them was with this big red hag right here trying to get us to join forces!
Darkness Qui: HOW DARE YOU CALL ME A HAG?!?
Cobra: We're not here to strangle each other, we're here to fight in the most non-violent way possible, and that's poker. The king of gambling games.
Dark Dragon:... It still sucks how none of us have even bested those Shell Lodgers yet!
Cobra: I know, stupid, right? I mean, if that hyena wrench hadn't smashed my medallion in the first place, I'd still have Cynder with me, and we wouldn't have to worry about people stopping me.
Junjie: If you had just STAYED extremists, then it would've been possible.
Cobra: Speak of extremism again, and I'll rip your tail off, and beat you with it!
Junjie:.... I'll be good.
Dark Dragon: Well, nobody said it was easy to be a villain!
Darkness Qui: Easy for you to say. The Villains Act was standing for over 14 years straight until your little enemies came and loused it up. If they hadn't showed up, I'd still be ruling in villain domination.
Dr. Nefarious: Yeah, I'm sure I've heard the same story of an alternate dimension with switched concepts before. Especially since one of my members has known how it felt.
Junjie: It just pisses me off how those Lodgers could grow into a massive army in less than a few moisodes. And yet, even in their early days, they still managed to kick Villain League ass!
Cobra: Yeah? Well, at least I was once THIS close to finally seeing those Lodgers destroyed! THIS F****** CLOSE!!
Junjie: You think you've had it rough? In one of my usual schemes, I've come the closest to being rid of those misfits.
Dr. Nefarious: HAH! YOU? The CLOSEST?!? I'd say MINE was far better than yours!
Dark Dragon: Yeah right! I'd say it was I who have come the closest on snuffing those Lodgers!
Darkness Qui: I could say the same thing.
Cobra:... Okay, let me get this straight... We all have nearly been this close to destroying the Shell Lodge Squad? (Everyone nods 'yes')... Get out of here! I don't believe this!
Dr. Nefarious: Believe it, you walking tripod! I not only blew up the Lodgers, but also their home, and the homes of their loved ones, AND their loved ones!
Cobra:... Well, I guess we finally have something to bet on, don't we?
GLaDOS: It would appear so.
Darkness Qui: Does this mean whoever came the closest gets all the gold?
Cobra: I believe so.
Junjie: HAH! I'd like to see your faces when you hear how I almost had them!
Cobra: "Well, talk about a new twist in things. Ok then, allow me to whive a telling of TRUE brillence! On how, I almost ended our personal headaches, with THIS?!"
Cobra brings out a plant-like abomination and hisses!
Dr. Nefarious: ".... And what's so evil about a weed, how?"
Darkness Qui: "Never underestimate the evils of a comman garden pest. Remember my plunder weed sceme?"
Junjie: "Yes, and how a trecherious ex-darkspawn cat timelord ruined it for you?"
Cobra: "AHEM?! I'm speaking here. Anyway, It was mid-late Season 1 of the cronicles series, on the eve of before I came up with the infamous "Blot Plot" plan. It went like this."
Chapter 2: Infestation of the Blood-Roots
Villain Leage Fortess in the story.
Mang was looking over his abominations.
Lord Cobra: "Alright, which one I hadn't used already..... Birdclops? No, that's last week. Caraforte? No, last YEAR! She-ra and Brutus? No, a week prior! My grim reaper abomination? No, I used him twice!? Tear Beast? No, too much of a crybaby. Shell Bird? No, too cowerdly. Monre Delius? Too.... Ick. Eye-Aye Abomination? No, too.... Just no! Crime-a-golly-gee willitkers!"
(Dr. Nefarious): "You actselly said that?"
(Cobra): "NO INTERUPTING!?"
Lord Cobra: "I need something fresh, I need something original.... I need, (a hiss was heard), I need..... (Mang looks at the same plant from before the story started in a pot).... Ahh, yes.... One of my more, basicer abominations.... The Blood Root."
(Darkness Qui): "I'm curious though. What exactly does your, "Blood Root" do?"
(Cobra): "The explanation's in the story."
Cobra grabbed the plant.
Cobra: "Yes, my dear Blood Root. I never thought, something so simple, so, primitive, so, planty, can be what I needed, to crush the lougers like.... Something, that be crushed!?"
(Dark Dragon): "Ya could've gone with bugs."
(Cobra): "SILENCE?!"
Cobra: "Oh yes, my previous baby. You're my ticket."
(Junjie mimics Mang's voice): "To lose my virginity!"
(A violent zap and Junjie's screaming is heard!)
Cobra: "My ticket, to conqeust. You just need some inprovements, and a whole lot more of you... And, ho-ho-ho, A hivemind.... (Sing-alongy) Ohh Audrey TWWWWWW-WOOOOOOOOOOOOOOOOO?!"
Audrey 2 was slowly draging himself to Mang as he finally stopped when he reached him.
Audrey 2: "Damn it man, what do ya'll want, I was busy with something!"
Cobra: "..... Were you m********** to "Meat Monthly" magazines again?"
Audrey 2: "....... No."
Cobra sniffs around abit.
Cobra: ".... Then explain why it smells like an early springtime in here.... And the extra little audrey 2's on your roots.... And that your plant tenticles have a weird, yellowy substence on them."
Audrey 2: "Uh..... I was, eating honey!"
Cobra: "..... Honey........ In the fall of 2012?"
Audrey 2: "Ah..... The Fall Bees are active lately!"
Cobra: "AUDREY, I DON'T EVEN CARE ABOUT YOUR GROSS FABBING TO MEAT RIGHT NOW, I HAVE A NEW PLAN IN MIND!?"
(Darkness Qui): "WAIT A MINUTE!? Your carneverious plant, m********** to pictures of meat?"
(Dark Dragon): "..... Gross."
(Dr. Nefarious): "Well, it's more so pollenating. You see-"
(Cobra): "AHEM?! I AM TELLING A STORY HERE?!"
Audrey 2: "Ok, ok! What do ya'll want, boss?"
Lord Cobra: Well, I might need you with something concerning my Blood-Root. (Shows it to him)
Audrey II:...You s****** me, man? You want me to use that tiny little plant to do evil things?
Lord Cobra: Oh, I'm sure the Blood Root may be small and may be just a common abomination, but...what if I made it into something much stronger?
Audrey II: Well, I'd say that's a good plan, but I think it's already as powerful as it'll get with your little voodoo powder. You'd need a mutagen to make it more strong.
Cobra:...Hmm...Audrey II...uhh...how do I say it...can I borrow some of your...uh...pollen?
Audrey II: AHH, THAT'S GROSS, BRO!! I AIN'T GIVIN' YOU ANY OF MY SEED!! WHY WOULD YOU EVEN WANT THAT?!?
Cobra: Watch and learn. (Scrapes some, and gives it to the Blood Root, which ingests it, and after a few molts, it turns into a larger Blood Root similar to Audrey II himself)
Audrey II:...Whoa, I didn't know my c** could do that to those little midgets.
(Dr. Nefarious): So your houseplant's pollen...actually mutated one of your abominations?
(Cobra): Well, yeah. I mean, what could you expect, he's an, and thy quote, 'mean green mother from outer space'. I don't know how his species pollen works, or how his species actually pollinates, but regardless, I discovered the greatest weapon ever conceived!
Cobra: AUDREY II, I JUST DISCOVERED THE GREATEST WEAPON EVER CONCEIVED!!!
Audrey II: What'chyou sayin', fool?
Cobra: Don't you see? I can create a whole army of these things, and they can consume the entire Dragon Temple from the inside out! Those Lodgers will have a serious weed problem in their gardens if you know what I'm saying.
Audrey II:...Oh, hell no, son! I am NOT gonna m********* enough c** to mutate these things, no way, no how!
Cobra: "You don't have to, you gross thing you! Bloodroots, asexually, reproduce, through the simple tasting, (cuts himself with a knife) of blood."
Cobra drips his blood on the Bloodroot, and it starts to make more of itself, all of it hissing and snarling!
Audrey 2: "...... Well, good! I don't have to waste my damn kids on this!"
Cobra: "And I don't have to touch more of your, ew, ick, pollen if you refer it as. Now, let's truely, begin."
???: "COBRA?!"
Cobra screams like a girl!
???: "FACILIER AND AUDREY 2 DID SOMETHING AWFUL TO A YOUNG BADGER NAMED ADRIAN!?"
Audrey 2: "... Oh yeah.... I remember that bitch. The Lougers finally got to him."
Cobra: "....... Teen Mang, hide the Bloodroots quickly?!"
Dragon Guardian Temple.
Shrek: "Aw, so good to be home."
Kolwalski: "Should I put recent events in the louger files Skipper?"
Skipper: "Actselly, it's best the dinner thing was best left forgotten. Not even Rico could handle whatever Celestia did to that Badger!"
Rico: (Face expressionless)
Sandy: (Healed) Well, I sure wish I could've seen it if Adrian hadn't shot me.
Icky: I'm just freaked out that Adrian would go through all this trouble just because he got himself in a scrape and lost his hand.
Iago: "And the fact he blamed US for it! If it had been the Villain Leage, the TRUELY guilty ones here, that would've saved him from a unfortunate fate."
Spyro: And I'm glad that we never have to deal with him again.
Patrick: You said it!
Cynder: "And Celestia is already giving Mang and the leagers respondsable for Adrian's trouble a due punishment."
Villian Leage fortress.
The Villain Leage Fortress stood peacefully, until it exblouded!
Celestia's voice: "THAT'S FOR WHAT FACILIER AND AUDREY 2 DID TO ADRIAN?!"
Cobra's voice: ".... Owch."
(Dr. Nefarious): "HOLY SHIT, I REMEMBER THAT, THAT WAS HILARIOUS!?"
(Dark Dragon): "(Laughs)!"
(Junjie): "You could've just as easily blasted Celestia away you know?!"
(Cobra): "Shut up."
(Darkness Qui): "It also would've helped if your fortress wasn't so damn obviously placed near the, "Mountain of Malefor", is it called? That's the most obvious location ever!?"
(Cobra): "Well pardon me that MIRAGE was the one who picked the new lair after she failed to pay the rent for Morbia! Confound the dimention lord and his rent prices?!"
(Darkness Qui): ".... There's a dimention lord?"
(Cobra): "Don't ask."
Back to the Temple.
Lord Shen:...
Boss Wolf: Lord Shen? Are you okay? You seem a little tense. Are you still freaked out about what happened with Celestia and Adrian?
Lord Shen: Well, maybe. I just can't believe something as creepy as that could happen. I don't know what Celestia did to rid of us of Adrian for good, Boss Wolf, but I tell you, I do NOT wanna find out.
Boss Wolf: Okay then. I'll just leave you alone for a while. (Leaves)
Lord Shen:...Who are you, Princess Celestia?...What are you?
Icky: "........ Uh, an Alicorn horse, obviously."
Lord Shen: ".... DAMN IT, ICKY, YOU RUINED THE DRAMA OF THIS EPISODE?! GAH!? I HOPE, I REALLY, REALLY HOPE, THIS PART ISN'T INCLUDED INTO THE EPISODE!?"
Icky: "Well that would suck cause it was funny."
Trixie: "Well if we're done clowning around, Trixie would like to get back to her soaps!"
The Leage Fortress ruins.
Lord Cobra: "(Coughs), Wow! Jees, Audrey, were you and Dr. Facilier THAT nasty to that Adrian twat back in the aladdin mess?"
Audrey 2: "Man, she was just being a whiny bitch!"
Lord Cobra: "HUSSH!? Now, Teen Mang, have you secured the Bloodroot?"
Teen Mang: "(Coughs), Yes sir. I put it in my indestructable unbreakable box..... I, just need to remember where it's one and only key was."
Lord Cobra: "..... You, serously, put my bloodroot, in an unbreakable box, and misplace the key, before OUR ENTIRE LAIR BLOW UP?!"
Teen Mang: "I didn't know she can blew buildings up, master!"
Lord Cobra: "CRAAAAAAAAAAAAAAAAAAAAAAAAAAAAAAAAAAAAAAAAAAAAAAAAAAAAAAAAAP!?"
(Dark Dragon): "Is the following gonna be about you crying like a baby, and then trying to break the unbreakable box?"
(Cobra): NO!... Well, you might say that. But I rather skip to where I had really lost it to save on time for my story.
Cobra: HOW COULD YOU MISPLACE THAT KEY?!? IT COULD TAKE US HOURS TO DIG THROUGH THIS RUBBLE AND FIND IT!!! IF YOU WERE JUST A SAPLING, I'D TEAR YOU UP LIKE PAPER!!! (Throws the container, and it hits a wall, which actually opens it)... It's open?
Audrey II: Dang, throwing it must've knocked the tumbler out of it's socket and opened it.
Cobra:... Well, screw the key, we're very lucky! (Picks up the container) What say you have a little infestation with my new pet, bro?
Audrey II: Dude, we ain't even related!
Cobra: I WAS BEING FIGURATIVE- (Sighs) Way to ruin the dramatic moment, you little weed!
Audrey II: Well, fine, I'll lead these Blood Roots for you and wreak a large infestation for you. Trust me, by the time we're done with them, they'll be sucking nectar through their anuses!
Cobra:... Gross... But SCORE!!! (They both cackle as lightning strikes, and it is ruined by the Blood Roots cackling with their squeaky voices)... Uh, let's not over-do it.
Dragon Temple.
Lord Shen was still thinking about what Celestia was doing to Adrian.
Lord Shen: ".... I'll never be able to find solice about what happened in that mansion. Maybe, if I just went to sleep early, I'll forget about it."
Lord Shen went to sleep early.
Shen's Nightmare.
Lord Shen fast awoke to see he's in Scorpo's mansion again.
Lord Shen: "Where am I?! What's all this?! Scorpo's mansion? What am I-"
???: "NOOOOOOOOOOOO!?"
Lord Shen: "(GASPS)! Adrian!?"
Lord Shen ran down the hall and saw what appears to be Celestia slowly turning into her Serpicorn form.
Adrian: "NO?! PLEASE?! NO!?"
Celestia: "YOU SHALL PAY FOR YOUR CRIMES, ADRIAN!?"
Adrian: "NO!? PLEASE!? NO!? AGGGH!? MONSTER?!"
Celestia: "(Becomes full on Serpacorn) YOUR THE REAL MONSTER HERE, ADRIAN!? A MONSTER THAT NEEDS TO BE PUNISHED!?"
(Darkness Qui): "HOLD IT?! How do you know about the parts you WEREN'T there in."
(Cobra): "It's a flashback paradox. Sometimes things that weren't shown in the episode this appeared after from make a presence here. The Flashbacks have a sentience of their own really."
(Darkness Qui): "...... Wha....."
(Cobra): "....... Magic?"
(Darkness Qui): "Ah....."
(Cobra): "Goooh, these interuptions are pace-breakers?!"
Lord Shen: "CELESTIA?! WHAT HAVE YOU BECOME?!"
Celestia was surprised to see Shen!
Celestia: "SHEN!? Wait, this, this isn't what it looks like!"
Lord Shen:... WHY DID I EVEN HAVE A CRUSH ON YOU?!? IS THIS YOUR TRUE FORM?!?
Celestia: No! It's not, I swear!
Lord Shen: (Takes out his blade) I DON'T KNOW WHAT YOU'RE TRYING TO DO TO ADRIAN, BUT I WON'T STAND FOR IT!! (Manages to stab Celestia, and once he does, he wakes up)
Reality
Lord Shen: AAHHH!!! (Pants in relief)...Whew! Thank God it was just a dream.
???: Uncle Shen? (Kairi appears) I heard screaming. Is everything okay?
Lord Shen: Yeah. It was just a nightmare. (Sighs) I just can't seem to forget about what Celestia was possibly doing in that manor. Whatever it was, I am just haunted by it.
Kairi: Oh, it was just a nightmare, Uncle Shen. We all get them every once in a while.
Lord Shen: "It was a particularity horrendus one none-of-the-less, and... I, I best not explain it. You don't deserve to know about this."
Kairi: "..... Well, knowing you have a bad history of being under a corrupted influence and a known violent track record, I'm gonna assume you had a bad dream about Celestia being some kind of monster and you were forced to, hurt her.... Is that, right?"
Lord Shen: "..... Oh by the dragon gods, am I THAT predictable?"
Kairi: "Well, your the same guy who was corrupted into genisiding a panda village and destroyed Radient Garden. I had to be like Patrick to NOT guess what happened in your dreams. And even HE can see what it can be.... After a few, 100 guesses."
Lord Shen: "Can I ask that you, NEVER speak of this to everyone!? Espeically not Celestia! In light on how they over-reacted to me hating snails, can you igmagine they do the same shit again if they're afraid my fear of what Celestia did to Adrian would invite the same un-nessersary mess!?"
Kairi: "You mean, of them being afraid that, considering what you did, corrupted or not, you being afraid of what Celestia did in to that guy would drive you to do something you'll regret? Now uncle, thanks to the High Council, we know better then that."
Lord Shen: "But that wouldn't stop them from trying to restrict me to see Celestia again until they're SURE I no longer get these Nightmares! Just please, keep quiet about this. It's clear that the lougers' are still more afraid of "Old Shen" then they admired "New Shen". I'm just afraid of being judged for something that wasn't even the real me. That Shen, was mainly the persona borned from corruption magic from a mutant cobra! Yet they act that I might suddenly turn into that Shen again in the blink of the eye if I even had a minorly bad opinion of something! The Snail mess is proof of that!"
Kairi: "I think it's also a matter of you being more afraid of the louger's being too cautious then them being afraid of, that Shen."
Lord Shen: "Kairi, I beg you, this conversation never leaves this room! Please!"
Kairi: ".... I promise."
(Darkness Qui): "..... It got exposed eventally, right?"
(Cobra): Well, not exactly, and completely, but that comes later after the Infestation is, halted. Speaking of that, it's sure to be coming soon.
Later...
Cobra: (Appears from behind a bush near the Dragon Temple with Audrey II and some mutated Blood Roots)...Alright, Audrey II, you know the plan right?
Audrey II: Of course I do! We go in, infest the place, trap the residents inside, target the important people, and don't stop until they're all dead. Is that it?
Cobra: Yep. And show no mercy!
Audrey II: I NEVER show any mercy, son! When I'm involved, it's gruesome and dangerous.
Cobra: Yeah, I know. Now get to it!
Audrey II: You got it! Come on, little twerps! Let's tangle up some Lodgers! (The Blood Roots shriek, and they head for the walls of the Dragon Temple, beginning to expand, root themselves into the ground, and stretch up the walls of the Temple)
Cobra: Good luck, A2! (Teleports away)
Living Room
Trixie: (Sobbing at the soap operas)...No! HOW COULD SHE LEAVE HIM!! THEY HAD IT GOOD, AND THEY WERE ABOUT TO GET MARRIED!!! THEY COULD'VE WORKED STUFF OUT!!! (Sobs, and fails to notice the vines growing out the window)
Kairi's Room
Kairi: (In a nightgown, gets ready to go to bed until she hears tremors)...Huh?...(Looks out the window to see nothing outside)...Must've been a bird on the roof agai--(Suddenly, a much stronger tremor is heard) WHOAH!!! (Falls to the ground)...WHAT THE HECK?!?...(She suddenly notices vines growing in the room)...What's going on here? (The vines get bigger, and large red flowers sprout out)...Okay, something's wrong here...(Suddenly one of the vines grabs her feet) YAAHH!!! (Other vines grab her arms and waist) AAHHH!!! AAAAAHHHHH!!!
Lord Shen's Room
Lord Shen: (Hears Kairi's screaming)...KAIRI?!? (Runs up to her room, and tries opening the door, but the vines have barricaded it) KAIRI?!? HOLD ON, I'M COMING IN-- (A vine grabs his leg) YAAH!! (Slices the vine with his blade) WHAT THE HELL?!? (Vines spread across the hall)...Okay, things are getting strange.
Outside
Audrey II: (Chuckles) This is going very well. I can already hear the Kairi lady's screams. Now boys, go get at the purple salamander and the walking cheese man!
The Blood Roots nodded in agreement!
Spongebob's room.
Spongebob was watching a horror movie about, ironicly enough, killer vines. Which the movie was loud enough to block out Kairi's screams convinently when the main damsel screamed.
A generic Movie hero and Generic movie damsel are at the mercy of vine monsters convinetly simular to the Blood Roots.
Spongebob: "Oh no! Vlad Handsome and Lady D. Ress are in danger! Don't let the flesh-eater vines of Junglemor Planet 90 get to you!"
As the monster in the movie was about to attack, The Blood Roots bursted out of the TV screehing!?
Spongebob: "AGGGGGGGH!? THE FLESH-EATER PLANTS ARE REAL?!"
Spongebob makes a run for it and breaks the door down and runs!?
Hallway.
Squidward and Patrick were walking down a hallway too far for them to hear Kairi's screams as Spongebob runs through!
Spongebob: "AGGGGGGGGHHHHHHHH FLESH-EATING VINES!?"
Squidward: "Oh no. It's gonna be like when he saw the Robot movie again. I mean honestly, what are the odds the temple is actselly being attacked by-"
Patrick: FLESH-EATING VINES!!! (The vines appear from the doorway)
Squidward:...I stand corrected.
???: GUYS! (Sparx, Icky, Gilda, Fidget, Mushu, and Iago appeared)
Iago: We were playing video games until we saw these vines come out of the walls and sprout red flowers!
Sparx: Oh...and I think they're surrounding the entire place now. (Vines begin spreading throughout the hallway)
Squidward: AAAHHH!!!
Patrick: FLESH-EATING VINES ARE EVERYWHERE!!! AAAAHHHH!!! (The group panics and runs down the hall as Audrey II sees this laughing out loud)
Spyro's Room
Spyro: (He has already seen the vines growing into his room. The vines reach in all directions trying to grab him) BACK, YOU MONSTROUS PLANTS!! (Breathes fire until one of the vines grabs his mouth, and tangles it shut) MMPPPPHHH!!! MMPPPHH!!! (Suddenly, a flower shoots poisonous barbs at him) MMPPPHHH!!!...(Faints to the ground at the exact moment Cynder enters)
Cynder: SPYRO! (Uses her poison ability to drive off the vines, and removes the barbs from Spyro) Spyro, are you okay?
Spyro: Yeah, I think I am...but...there's pixies everywhere!...And you look beautiful!
Cynder: Excuse me? (Spyro immediately faints)...Spyro?...SPYRO?!? (Feels for a pulse)...Great, he's still alive!...But I don't think he'll be that way for much longer. I need to find Sandy, or Kowalski, or anybody who's good with doctoring. (Carries Spyro on her back and runs off)
Meanwhile...
SpongeBob: (He is being defended by Sandy, who uses her karate moved to horde off the vines until another barb-shooting flower sprouts, and shoots SpongeBob) AHHKK!!
Sandy: SPONGEBOB!! (Karate chops the flower's stem, and removes the barbs)...SpongeBob? Are you alright?
SpongeBob:...There's pixies everywhere!...And you look beautiful!
Sandy:...Excuse me? (SpongeBob faints)...SpongeBob?...HELLO?!? (Checks his pulse)...Good, he's still alive. I need to get to Kowalski.
???: Sandy! (Patrick, Squidward, Icky, Iago, Fidget, Gilda, Mushu, and Sparx arrive)
Sparx: Have you seen SpongeBo--Oh, there he is...what's wrong with him?
Sandy: He was shot with a barb-shooting flower. I don't know if that was poisonous or not, but I need to get to Kowalski and find out.
A girly scream was heard!
Kowalski's Lab
The Blood Roots are destroying the lab!
Kowalski: "MY LAB!?"
Skipper and the other penguins came in!
Skipper: ".... Kowalski, please tell me YOU DIDN'T CREATE THESE THINGS!?"
Kowalski: No way! This looks like something that only a mad scientist would create. (Suddenly, a giant pod plant breaks out from the wall, and it's mouths opens as inside, vines come out and grab Kowalski, who screams like a girl as the pod plant intends to eat him) AAAHHH!!!!
Rico: (Blabbers, hacks out a bazooka, and fires a rocket inside the pod plant's mouth, blowing it up as the slime goes all over the penguins)
Private:...Eeeww!!
Rico: AH, BLECH!!!
Kowalski:...I'M STILL ALIVE!!! I'M STILL ALIVE!!! (Chuckles) I'M THE LUCKIEST PENGUIN IN THE WORL--(He suddenly gets buried under a pile of rubble which is the result of vines popping out from the ceiling)...Ow!
Private: Don't tell me he's injured again.
Kowalski: No, I'm fine! Cartoon logic is on my side this time! (Slides out from the pile cartoonishly flat, and blows in to inflate himself)...WHEW!
???: Guys! (Cynder appears with Spyro)
Cynder: We've got a little problem. The vines have shot Spyro with barbs, and he's fainted. I don't know what's happened to him, but it can't be good.
Skipper: (Cynder puts Spyro down)...Kowalski, analysis!
Kowalski: (Checks his pulse) He's still alive. Now...where is the spot that the plants shot him?
Cynder: On his neck. (Kowalski checks the wound)
Kowalski:...Egad! This wound has been injected with high traces of coniine!
Private: Coniine?
Kowalski: It's a poisonous alkaloid that is found in a common carnivorous pitcher plant, and even the poison hemlock tree. It disrupts the perennial nervous system, and can often lead to respiratory paralysis, and even death.
Cynder: (Gasps) Are you serious? Spyro's been poisoned?!?
???: Not just him! (Sandy comes in with SpongeBob and the others) SpongeBob got shot by the plant, too.
Kowalski: Oh, boy, this is bad! Two of our most valuable members have been poisoned.
Patrick: NOOO!!! DAMN YOU, FLESH-EATING PLANTS!!! DAMN YOU TO HELL!!!!
Kolwalski: "No, I don't think these things are the same horror movie monsters Spongebob watches too much of. I seen that rediculious movie, and the vines in the movie DID NOT HAD A POISONIOUS BARB SYSTEM?!"
Patrick: "Really? THEN WHAT ARE THEY?!"
Kolwalski: "Well, from what I see, they look to be a mix-match of Cobra's abomination, the blood root, and that of, Audrey 2."
Sandy: "CONSARN IT?! Another Mang abomination?!"
(Darkness Qui): "(Scoffs), Seriously? They were able to figure out it was you in litterally a few seconds?"
(Cobra): "I have a bad habit of being, expected sometimes."
(Junjie): "Ya know, extremisum tends to be very unexpected and-"
(Another violent zap was heard as Junjie's screams)
(Darkness Qui): "I'm just saying you could've done a better job making it that it was a case of being attacked by a rouge force of nature, so YOU wouldn't had to deal with High Council abuse again."
(Cobra): "Well A

t the time, 

it didn't nessersarly matter if they're onto me or not! All that was impourent to past me was that it seemed to be as if it was their last hurrah!"
(Dr. Nefarious): "SPOILER ALERT?! WE ALREADY KNOW IT ISN'T, OTHERWISE SOME OF US WOULD'VE ALREADY CONGURED THE WORLDS BY NOW!?"
(Cobra): "I KNOW THAT!? NOW LET ME RESUME!?"
Cynder: "Ugh.... Seriously? He would risk my life, the life of his adoubted daughter, just to make Malefor and Mirage happy?"
(Cobra): "..... I also had a bad habit of not realising about Cynder being in danger. I know she's, kinda turned against the Villain Leage, but I still valued her."
(Dark Dragon): "And alchourse somewhere in the story you just realised that, right?"
(Cobra): "Yes, but we'll get to it."
Private: "Well surely once he'd remembers you are in here, he'll surely stop!"
Cynder: "That's the problem! Whoever had the misfortune to become the hivemind of these creatures, will be corrupted by the dark engry of the meddailian, making the controler of the creatures un-reasonable, espeically if the Abominations donned the leader's DNA."
Kolwalski: "And since I mentioned Audrey 2..... GAOOOH!? MANG JUST HAS TO PICK THAT PLANT MONSTER OF ALL THINGS TO GO AFTER US?! HIS WILL, BEING TOO SIMPLEISED WITH LATE 80'S CHEESE, WILL BE TOO WEAK FOR THE CORRUPTION!?"
Cynder: "That's why we need to find the other lougers before it's too late!"
Leage Fortress being repaired.
Lord Cobra: "Yes, I did it! I got those doody louger heads good! I am finally gonna disbanned those losers for good!"
Teen Mang: "Wow, your surprisingly cool with the fact that the blood roots won't discriminate on going after all the lougers."
Lord Cobra: "Alchourse I'm cool with it. Why wouldn't I?"
Teen Mang: "Well, it's just that, what if Cynder ends up being among them to die out?"
Lord Cobra made a shocked and surprised face!
Lord Cobra: "HOLY CRAP I FORGOT ABOUT MY POOR BABY?! Mimi-Me, we need to return to Audrey 2 and cancel the plan, before my plants' engry corrupts Audrey 2's weak-will into seeing through no matter what I say?!"
(Darkness Qui): "Good grief, you pussied out the last minute when you realised those things could've killed that annoying Cynder bitch?"
(Cobra): "Hey, I rekindised that she was a considerable headache to you, but I actselly have positive memories with her!"
Teen Mang: "Then we must hurry master?!"
Dragon Guardnian Temple, heavily infested.
Mang and Teen Mang teleported back to Audrey 2, who already is started to feel the effects of the corruption.
Lord Cobra: "Oh no! It's started to take effect! Audrey 2, listen to me, I may've desided to change my mind! I just realise we might accsidently murder Cynder in the progress, and I still value her as a daughter, so please for the love of Malefor's unrealistic beard, stop?!"
Audrey 2: ".... (Different voice) The Audrey 2 you knew, is my prisoner now. I am, Blood Rooter!? The Hive-mind of the Blood Roots! Your Blood Roots are mine now!"
Lord Cobra: "Oh no! He's already defelupted a completely different alternate persona borned from the corrupting engery! Teen Mang, we have to work togather to save Audrey from this beast and-" (Blood Rooter roared at them loudly)...We're out of here! (They teleport away)
Blood Rooter: Now, my children, we shall deal with this our way! We will destroy all Lodgers inside, and nothing is going to stop us. (The Blood Roots squeak and cheer)
Dragon Temple
Lord Shen: (Manages to break into Kairi's room with the help of the Furious Five, Po, and Shifu) FINALLY! We made it! Kairi, are you--(Screams like a girl as he sees Kairi is trapped in a transparent red pod with the Blood Roots guarding her)
Kairi: UNCLE SHEN, HELP ME!!! THEY'RE GONNA DIGEST ME AND USE MY BLOOD TO REPRODUCE!!!
Lord Shen: Oh, no they're not! (Attacks, but the vines attack, and the flowers fire poisonous barbs at him as he dodges them. The Blood Roots roar at him and back him away despite his best efforts) LET HER GO, YOU LITTLE BEASTS!!!
Po: I'll handle this! (Jumps after the pod, but the vines apprehend him and smash him on the ground) OWCH! (The vine then throws him outside of the room as he falls down the stairs) AOOW, AYE, OOF, OW, AYE, OUCH, OH, OUMPH, OW!...I think I might need some more acupuncture. Ah-how!
Shifu: (He and the Furious Five try to free Kairi, but the vines are too strong and to resilient for them to succeed)
Mantis: I can't believe it, we're losing to a bunch of weeds!
Lord Shen: WE GOTTA GET HER OUT OF THERE!!!
Tigress: We can't! Those plants are guarding that pod too good for us to fight them off. Even we don't stand a chance!
Lord Shen: THEN YOU ALL ARE BLOODY USELESS!!! I'M GETTING HER OUT IF IT'S THE LAST THING I DO!!! (Tries again, but he is heard getting beat up off-camera, and he is flung down the stairs, and is heard landing on Po)
Po: OOF!! MY STOMACH!!!
Kairi: How are you guys gonna get me out of here?!?
Shifu: I'm afraid it might take more than fighting to get you out of there. These plants are just too strong for us to fight off.
Mantis: "FUCK WAITING TO GET A PLAN THAT WOULD TAKE FOREVER AND SLOWLY ALLOW KAIRI TO BECOME SEX LUNCH!? I know SUCH the thing to get her out of there?!"
Mantis quickly runs off to come back with a jar of afids!
Mantis: "Afids are a plant's worse nightmare! SIC'M BOYS!?"
Mantis unleashes the afids that charge after the plants!
Mantis: "IT'S GONNA WORK?!" (Suddenly, when the aphids are attacking, the plants start spraying a gas across the room which kills all the aphids as the heroes retreat to avoid breathing in the gas)
Lord Shen:...What the hell was that?!?
Mantis: (Looks through the keyhole of the door, and sees that all the aphids have died)...MY GOD, THAT GAS KILLED ALL THE APHIDS!!!
???: OF COURSE IT DID, YOU FOOLS! YOU DIDN'T THINK WE WERE PREPARED FOR SOMETHING LIKE THAT?!? AUDREY II'S SPECIES HAS A NATURAL GAS DEFENSE AGAINST APHIDS. TOXIC TO THEM AND YOU! YOU WILL NOT GET THROUGH THIS VERY EASILY!! (Cackles)
Tigress: Who said that?!?
Mantis: (Looks through the keyhole) It appears there's a larger Blood Root inside the room that looks like Audrey II, but not....
???: I AM NO LONGER AUDREY II, I AM MORE THAN THAT! I AM BLOOD ROOTER, THE HIVE MIND OF THE BLOOD ROOTS!! OUR FORMER MASTER HAD ORDERED US TO COME HERE AND DESTROY EVERY SINGLE PERSON IN THIS TEMPLE.
Viper:...Really? He just resorted to biological warfare just like that?
Blood Rooter: YES! BUT WE NO LONGER SERVE HIM! WE KNEW HE WANTED SPECIFIC PEOPLE TO REMAIN ALIVE, BUT WHEN WE DO OUR JOBS, WE TAKE ORDERS FROM NOBODY! WE CONSUME THE BLOOD OF ANYBODY IN OUR PATH, AND WE USE IT TO REPRODUCE. WE WILL NOT STOP THIS PROCESS UNTIL WE HAVE FOREVER CONQUERED THIS PUNY WORLD!! (Cackles)
Monkey: Wow, prick move, Cobra! Prick move indeed!
(Dr. Nefarious): I couldn't have said it better myself.
(Cobra): Shut up, dome-head, and let me finish my story!
Lord Shen: What makes you think we won't stop you, you overgrown shrub?!?
Blood Rooter: (Chuckles) You can try your best, but it will all be futile in the end. When we are released, we can NEVER be stopped! Anything you throw at us will be worthless. And soon, you will join your adopted niece as your blood will be consumed for our nourishment.
Lord Shen: Not today, thank you! (Opens the door, and throws several blades, but Blood Rooter uses a vine-formed shield to block them, and the vines reach for him, only for Lord Shen to close the door on him)
Blood Rooter: Like I said, nothing can stop me! (Cackles)
Lord Shen:...(Gulps)...What'll we do now?!? Kung Fu isn't gonna deter it, aphids aren't gonna deter it! F****** WEED-WHACKERS AREN'T GONNA HURT IT, EITHER!!!
Po: "Well thanks to Mang being stupid and forgetting about Cynder being with us, now we're dealing with something even HE has no control over!"
Lord Shen: "Ok, but let's remember that Audrey is still prone to be weak to electical currents! We just zap him, it'll be the end of him and those weeds!"
Crane: "But at the possable cost of electacuting Kairi to death! It might be too dangerious to be direct with Audrey/Blood Rooter right now as long as Kairi's stuck to that thing!"
Lord Shen: ".... Damn it! Damn it, damn it, damn it?! Ok, other then electisity, what else is audrey 2 normally weak too?!"
Po: "That's the problem! There's never been "Little Shop of Horrors" Sequils that has Audrey 2 taken down through other means! That means, electristy is what is the only thing that harms him, and now that we've established that conventional plant weaknesses won't work, Kairi's done for!?"
Shifu: "And it would be the end of both Kairi, and the leage's ultamate plan. Surely, Mang will face sevre punishment for his idiotcy!"
Crane: "Look, I'm for the leage never being able to see Malefor free, I'm not for it being at the expendence of Kairi's life! Even if it garrenties rendering the other princesses of heart useless without Kairi being alive, I'm for NOT letting happen reguardless!"
Po: "Alchourse not! Spyro, Spongebob, and Tman will never let us hear the end of it!"
Sandy comes in holding Spongebob.
Sandy: "I think it's Tman being upset is not the only thing ya'll should be worryed about if we don't stop this in time."
Lord Shen: What are you saying, squirrel lady?
Sandy: SpongeBob and Spyro have been shot with poisonous barbs, and they're soon to die unless we do something.
Po: What?
Furious Five: WHAT?!?
Shifu: WHAT?!?
Lord Shen: WHAT?!?
Sandy: That's what Kowalski said. But luckily, he did say there was a way to cure them. He says that they can recover if they breathe right until the toxin is removed from the nicotinic acetylcholine receptor.
Lord Shen:...I agree with the boss penguin, it's just hard to speak like a nerd.
Sandy: (Sighs) Don't ANY OF YOU KNOW ANYTHING ABOUT SCIENCE?!? (They all mumble in disagreement, and she sighs) Alright, I'll give it to you straight. Nicotinic acetylcholine receptors are proteins that signal for muscle contraction upon chemical stimuli. That means they are proteins that make your muscles move good. All that needs to be done is to help these two breath good until we can remove the toxin from the receptors.
Mantis:...We're still totally lost.
Sandy: (Sighs) Fine, I'll dumb it down. We make sure Spyro and Spongebob stay alive long enough by keeping them breathing until we can cleanse out the toxens! Simple enough NOW!? Darn! I get you guys are from an old centaury world, but do ya'll have to be nearly Patirck dumb too that I need to dumb it down for you to comprehend!?
Monkey: Okay, you don't have to be a drama queen.
Viper: "And you don't have to insult us just because sciecne doesn't have a strong enfluence in our world. It's hurtful."
Icky: "Now, we just need to figure out where the rest of the gang are. We can't do this alone."
Lord Shen: "I'm worried that the plant may've over-wealmed them, or Merlin may've evacuated those that weren't tangled."
Icky: "Well we're in fuckedville, aren't we? And WHY didn't the Dragon Guardians themselves resolved this problem?!"
Shifu: "Obviously, they didn't count on being attacked by killer plants, now did they!?"
Icky: "Ok, I am just saying they could've done a better job keeping plants of all things from attacking the temple! Honestly, can you guys ever imgaine Celestia going through the same shit?"
(Dr. Nefarious): "I would've loved to see his reaction to when that DID happened to Celestia!"
(Cobra): "You won't be missing much, it's just him saying "crap" and complamenting his own stupidity and karma. It's something he does alot."
Lord Shen: "We'll have to worry about Kairi more! The others will have to fend for themselves! Kairi is priority number one!"
Icky: ".... Wow.... I know this is an emotional time, but, wow. We kinda need to have the full group of the lougers to even do a dent to this thing."
Lord Shen: "In due to Spyro and Spongebob in a sick position, I'm acting leader!"
Patrick: "But what about me and Squidward?"
Lord Shen: "Patrick, your an idiot, and Squidward can't even be trusted to be a casher!?"
Squidward: "I'd be offended if there wasn't truth to that."
Lord Shen: "I say we worry about the others when we can and help Kairi! No exceptions!? Now, we need to burst open that pod!"
Icky: ".... Have you tried cutting it open?"
Monkey: If those vines will allow us to get close enough to do it, yes. But those things aren't so willing to give up Kairi so easily. Those creatures disgustingly plan to use her blood for reproduction perposes.
Fidget: They reproduce by ingesting blood?
Lord Shen: Indeed. As a former Villain Leaguer, I should know a lot about his abominations, even if they had beat him to death because of his Darkspawn medallion being destroyed.
Cynder: Well, that does make sense. The Blood Roots were one of his abominations, and it's possible they still hate him after Shenzi's actions. But that might not nessersarly be the case. Mang did managed to earn the Abominations' loyalty with his replacement meddailian. He must've done something to the blood roots that made them more vicious then normal that even he can't control.
Mantis: "Well gee, it's not like we can go and FREAKING ASK HIM ABOUT IT SINCE THERE'S KILLER PLANTS BLOCKING OUR EXIT AND THAT KAIRI NEEDS HELP NOW!?"
Skipper: So how do we get Kairi out of that pod?
Lord Shen: We'll think of something....Eventually. (Gulps)
Icky: Oh, relax, Shenny boy, we've outwitted every obstacle we came across, these plants shouldn't be any different. I'm sure Kairi will stand long enough to--
Kairi: (From inside her room) GUYS, THE JUICES ARE STARTING TO FILL THE POD!! IT'S GOING PRETTY SLOW, BUT IT'S ALREADY AT MY FEET!!! PLEASE TELL ME YOU HAVE A PLAN!!
Blood Rooter: SILENCE, WHORE!!!
Lord Shen: (Everyone gasps) NOBODY CALLS KAIRI A WHORE!!! (Goes inside to attack) AAAHHH!!!
Shifu: SHEN, NO!! (Blood Rooter smacks him away as he falls down the stairs)
Lord Shen:...AAOOOWWW!!!
Kairi: ARE YOU OKAY, UNCLE SHEN?!?
Cynder: I'M SURE HE IS, KAIRI! DON'T WORRY, WE'RE THINKING THIS OUT!!
Kairi: Oh, thank you!
Lord Shen: (He is heard crying softly down the stairs)
Fidget:...Is Lord Shen...crying?
Icky: Wow, did that fall really hurt him that badly?
Cynder: I don't think that's the reason. (The others go down the stairs to see that Lord Shen is throwing stuff around in anger, and is yelling crazily as he does it)
Mantis: Whoa! I guess Blood Rooter must've hit him harder than we thought. (Laughs as Viper hisses sternly at him)
Cynder: Shen, calm down! We'll get Kairi out of that pod.
Lord Shen: WE'D BETTER!!! I DON'T THINK I CAN HANDLE LOSING HER LIKE I ALMOST DID WHEN THE PRODUCER MADE THAT DECISION TO KILL HER OFF IN THAT GLOB EPISODE!!!
Icky: Dude, that was just a phase! Doesn't everyone go through that? It wasn't that bad.
Lord Shen: IT WAS TO ME!!! (His eyes are watering) IF I EVER SEE LORD COBRA AGAIN IF WE SURVIVE THIS...I'LL KILL HIM FOR NEARLY ROBBING ME OF MY NIECE!!!
Mushu: Man, chill out! We'll get through this. I promise you!
Lord Shen: (His eyes are now red)...I HOPE SO!!! (Eyes twitch) I CAN'T TAKE IT!!!
(Darkness Qui): The peacock was seriously going bonkers over the fear of losing his adopted niece?
(Cobra): Trust me, he has his angry and insane moments. He is so over-protective of Kairi, he sometimes keeps her close to him everywhere she goes. He even scratched me in the back for one of my usual schemes to capture her. I still have the wound marks today. If there's anything I've learned when handling the Lodgers, it's one thing: You don't f*** around with Lord Shen!
(Darkness Qui): Is he really that crazy?
(Cobra):... He wiped out an entire village of pandas because of a prophecy that he would be thwarted by one, mainly cause of me corrupting him at the time!
(Darkness Qui): Ooohh! I haven't heard anything like that since I had to deal with that genocidal maniac, Gordon the Animal. What an embarrising and un-nessersarly infamous investment HE turned out to be.
(Cobra): Anyway, back to the story....
Skipper: "Ok, we need to bust Kairi out of that plant, and fast!? Kolwalski, opitions!?"
Kolwalski: "Well, with Kairi in mind, it's safe to assume Audrey 2's normal weakness is out in fear of hurting Kairi. So, we need to focus on the weakness of the Blood Root!"
Cynder: "Oh that's easy. It's the same as all of the abomination's weakness that Mang is still unable to cure out of...."
Icky: "Well what is it?"
Cynder: ".... It's, kinda embarrising."
Skipper: "Come on, it's not like it's stupidly hilarious or something."
Cynder: "..... Promise me you won't laugh."
Icky: "Well it depends. Is it that stupidly hilarious?"
Cynder sighs.
Cynder: "As much as I understand Mang and I are oppisites, I still have, some care for him. Even as a hero, I would RARELY expose his secrets unless it's for a greater good, and now, it's one of those times..... All of Mang's abominations, espeically the Blood Root.... Are Lactose intolerent."
Silence.
The Lougers laughed!
Icky: "SERIOUSLY!? THE PLANTS ARE ALLERGETIC TO MILK!?"
Po: "OR DAIRY BASED CHEESE!?"
Mantis: "OR ICE CREAM MADE FROM MILK!?"
Cynder: "That's why he wanted me to keep quiet about it from even the most trusted leager!"
(Darkness Qui): "Are, you, shitting me? You create mutants that CAN'T handle bovine breast juice?"
(Cobra): "Don't say it like that, it makes it sound gross. Refer it to it's pollectically correct name "Milk"."
(Junjie): "Why, did you send abominable creatures allergetic to dairy and dairy by-products and told the secret to the one member of the leage that turns on us?! If you ask me, that's very poor future planning and your part, and-"
(Another violent zap was heard as is Junjie's screams!)
Icky: "But, (laughs), in all seriousness though! It's now clear! We just need to get some milk or dairy cheese, or lactose ice cream, or anything dairy at all, and ram it down their monsterious throats! That way, it might force them to puke Kairi and/or anyone unlucky enough to be inside those nasty pods!"
Lord Shen: "Then to the kitchen! If I'm correct, the fridge is filled with loads of milk and diary items! Those plants should be too afraid to even minorly touched the kitchen!"
Sandy: "If that's true, it ain't gonna stop them fron making sure WE CAN'T either!"
Lord Shen: "THEN MOVE TO THE KITCHEN!?" (The Lodgers try to get to the kitchen, but vines grow from the ceiling and block their path) HAH! Do you really think that will deter us? (Uses his blade to slice the vines, and they go through, only for more vines to appear and grab them all) HEY, THAT'S NOT FAIR!!!
Kairi's Room
Kairi: (The juices are up to her knees as she stares in fear at Blood Rooter)
Blood Rooter: Your uncle may've discovered our weakness, but that doesn't mean we aren't defenseless! They'll be dead by the time they reach the kitchen!
Kairi: MY UNCLE ISN'T GONNA LET THAT DETER HIM! He's made it through thick and thin before.
Blood Rooter: SILENCE!! You will nourish my children, and there's nothing that will stop me.
Meanwhile...
Lord Shen: BACK OFF! (Slashes his blade at the vines as they manage to overwhelm him)
Icky: THERE'S TOO MANY OF THEM!! THEY'RE OVERWHELMING US--(He gets muffled when a vine tangles him up)
Cynder: (She uses her poison ability against the plants, but they too are able to overwhelm her)
Iago: (He is being beat on the ground by a vine) OW! OOF! OW! AYE! OUCH! AIE!!
Mushu: You think I'm defenseless, watch this here! (Blows a small cloud of fire which is worthless against the vines)...Crap, I hate being a small dragon! (The vines grab him) AAHHH!!!
???: HOLD IT RIGHT THERE, YOU FLEXIBLE D****!!
Squidward: Gross!
Sam: (He, Max, Brandy, Mr. Whiskers, Ed Otter, Lola, the Hyenas, and Team Alex arrive as Sam and Max take out some rocket launchers and fire them at the vines, freeing the trapped Lodgers) GOT'CHA!
Max: How did that work without blowing up our friends?
Sam: I have no clue, but it's best left unanswered. (The Lodgers recover from being trapped)
Mr. Whiskers: You guys okay?
Patrick: Well if there's brain-damage, I sure can't feel it.
Fidget: Where are the others?
Lola: They weren't able to make it without getting caught by the infestation. Now we'll have to save them ourselves. Where's SpongeBob and Spyro?
Po: They've been poisoned. Kowalski and Sandy are busy trying to remove the toxins from their bodies.
Lord Shen: We believe the only way to stop these creatures is with dairy products.
Brandy: You, have, got, to, be, kidding! They're lactose intolerant?
Ed: Let's not question it, let's just get this problem solved and get our comrades back. (They enter the kitchen, but find that it's covered with vines, and the refrigerator is sealed by the vines)
Lord Shen: AW, COME ON!!!
Icky: "I know! You think they be more afraid of the kitchen cause of the dairy."
Sam: "Unfortunately, when it comes to ensuring surviveal, they can congure fears rather quickly."
Lord Shen: "THEN LET US MAKE THESE EFFORTS FOR NOT?!"
Lord Shen started to slice up the vines due to anger and determination to save Kairi giving the vines a run for their money, and free the fridge of their control!
Monkey: "Wow. Shen is really powerful when Kairi is in danger."
Icky: "Maybe Kairi should play princess peach more often so we can solve problems quicker, huh?"
Lord Shen started to lift up the fridge like it was nothing!
Lord Shen: "YEEEEEEEEEEEEEEEEEHAAAAAAAAAAAAAAAAAAAAAAAAAAAAAA!?"
Sam: "HOLY HOT DOGS?!"
Max: "Now THERE'S something you don't see everyday."
Lord Shen runs with it!
Icky: "WHOA, SHENNY BOY, WAIT UP!?"
Kairi's room, again.
Lord Shen barged in!
Lord Shen: "MILK DILIVERY, MOTHERFUCKERS!?"
Blood Rooter: "No, NO!? STOP HIM?!"
The Blood roots are too terrorfived now!
Blood Rooter: "No, my spawn! Stop being afraid!"
Lord Shen pulls out the biggest gallon of milk possable!
Blood Rooter: "No, NO!? Not, "Dr. Cow's Giant Sized Family Satisfaction Milk Gallon"?! That's enough milk to fill 19 small swimming pools, and a jacuzzi! It'll make me puke a waterfall!"
Lord Shen: "GOOD YOU CUM SUCKING PENIS CHOMPING FREAK!?"
This part of this theme plays as the scene plays out!
Blood Rooter: "S-s-s-s-s-s-s-s-s-s-s-STOP HIM!?"
The Vines tried to stop him but Shen congured all!
Shen Pounced on Blood Rooter!
Lord Shen: "OPEN UP, NIGGER?!"
Lord Shen budges the milk in as Blood Rooter was forcefully swallowing all of it!
Blood Rooter fought hard not to puke, but eventally-
The sound of pukeing was heard, as the music plays when a tidal wave of puke floods into the room with Shen riding the fridge like a boat with a even more paniced Kairi on it!
Kairi: "UNCLE SHEN?!"
The Lougers arrived to see the puke wave torwords them!
Mantis: "TURN BACK!?"
The Lougers ran away and scream abit before the puke caught up to them?!
The Puke floods up the entire temple and all inside it!
Outside.
Cobra and Teen Mang are back with a big bottled cure.
Cobra: "Ok, mini me. Now that we have a cure, we can relucently save the lougers from my own short-sighted but otherwise still brillient plan, mainly Cynder, and we can proceed to- Wait. Do you hear "pyotr ilyich tchaikovsky, the 1812 overture" playing? I love that little jingle. Wait, is something adsurb about to happen?"
The song begins to climax, as the doors slowly and dramaticly break to a slow down of a tidal-wave of puke heading to Mang and Teen Mang is seen.
Cobra: "(SCREAMS LIKE A GIRL)?!"
Teen Mang: "(SCREAMS LIKE A MAN)?!"
SPLASH!?
The Lougers and Mang and Teen Mang laid in exhasution.
Cobra: ".... Do I smell dairy? Oh bloodly hell, the lougers found out about the lactose intolerent thing, did they?"
Teen Mang: "...... The abominations are lactose intolernet?"
Cobra: "That doesn't matter! That means we have the oppertunity to give Audrey the cure from being Blood Rooter! Now, quickly before the lougers come through and kick our butts for the whole-"
Cynder: COBRAAA!!! You've got some business to take care of!
Cobra: Look, Cynder, I didn't know things would end up not in my favor. But-
Kairi: (as she wipes off the juices) But nothing! You'll have to take it up with my uncle!
Teen Mang:...Why is she in her nightgown? (Kairi slaps him) OW!
Lord Shen: THAT'S my girl! Now let me take care of this bastard the hard way! (Grabs Cobra by the neck) YOU'LL PAY FOR NEARLY KILLING MY NIECE, YOU LITTLE SHIT!!!
Cobra: MOMMY!! (Lord Shen punches him and the impact turns everything white)
Later...
Skipper: (He and the other Lodgers, the rest of them included, wait outside Kowalski's lab as he and Sandy are busy treating SpongeBob and Spyro as their loud breathing is heard)
Sandy: (From inside the room) It'll be okay, SpongeBob! Just keep breathing!
Kowalski: We almost got it out!
Icky:...Okay, I'll address the Elephant in the Room, am I the only one disturbed that it sounds like they're in labor in there? (All the Lodgers moan in disgust of that line)
Tigress: That was just inappropriate!
Iago: Nasty!
Susan: Deplorable.
Shrek: Gross!
Icky: Hey, I was just saying, that's all!
Sandy: (She and Kowalski come out)...Whew! That stuff...was in there deep!
Icky: (Scoffs) I TOLD YOU!! (Gilda slaps him) OW!
Cynder: So, are they okay?
Kowalski: As they'll ever be! (Spyro and SpongeBob appear recovered from the poison)
Cynder: SPYRO! (Hugs him)
Sparx: OHHHHHHHHHH--(Mantis smacks him) OW! WHAT'D I SAY?!?
Spyro: What happened? Did we win?
SpongeBob: I think it looks like we did.
Kairi: (Hugs SpongeBob) Thank God you're alright!
SpongeBob: Hey, hey, easy on the hugging there, lady!
Lord Shen: Well, now that we've gotten that nonsense out of the way, let's get the Temple repaired.
Kairi: (Whispering to Lord Shen)...Well, I think this cleared your mind of your fears of that incident of the manor, right?
Lord Shen: (Whispering) Yeah, I guess a little action and...a bit of going bonkers...does clear your mind of being scared of what Celestia really is under that beautiful body.
Dodger: What did he just say? (The Lodgers with good hearing look at Lord Shen funny)
Kairi:...Oops, forget they had good hearing.
Lord Shen: (Sighs) Crap! I'm f*****!
Rita: (They wink at him, telling Shen that they'll keep his secret)
Dodger: Oh, it was nothing. It's probably just my imagination. (The Lodgers get back to their normal business)
Lord Shen:...Thanks, Dodge.
Dodger: Wouldn't bet on it.
Present
Lord Cobra:...And THAT'S how I almost had them.
Dark Dragon:...THAT DIDN'T COUNT!!
Dr. Nefarious: Yeah, you really weren't the one who had the credit at that time! I'd say the credit went to your little perverted creation.
Darkness Qui: "Well, while I kinda agree to those statements, he was respondsable for that even happening at all... Though granted, you did had the plan get hijacked in due to bad planing obviously."
Lord Cobra: "I know, I know, and the other tecnecally that I did sort've, uh, backed out. But still, I did almost had them."
Darkness Qui: "What exactly happened to Audrey 2?"
Cobra: "Obviously I cured him after he was defeated as Blood Rooter... But he became much more, relucent to accept any more jobs from me afterwords. And he's ALOT more cussy then usual."
Junjie: "You see, if you just allowed me to control those stupid plants, your silly plan would've-"
Cobra: "What? Became alot worse!? No thank you!"
Junjie: "Grrrrrrrrrrrr?! At least my plan to cause the Great Tri-Corn-Katras riot was MUCH more successful then your weed problem idea! And it only failed cause of ironicly ill-placed trust on one of the most dangerious prisoners ever.... That, (blushes) turned out to be a known fox-aphobic. It started, sometime after that mess with that fallen cop Wayne, and almost quite after Qui's little stunt with Celestia's silly scam against Tirek, but before the mess in Berk started in."
Chapter 3: The Great Tricorn-Katras Riot
Shores of Tri-Corn-Katras in the story.
Junjie, Tai Lung, and Makunga are seen in a row boat heading to the prison, with Tai Lung and Makunga rowing!
Junjie: "This plan is brillent, brillient, brillient! I'll form myself a magnifisent army of the most dangerious criminals of all of Tricorn-Katras! It's perfect!? And the best part, the lougers are visiting here to check up on that idiot Wayne!"
Makunga: "Remind me again.... Why are we coming to one of the most strictist prisons behind Prison 42, dressed as polotions, and also, why isn't Galaxhar with us this time?"
Tai Lung: Yeah, and...isn't this water supposed to be electrified? (They see the electric currents in the water)
Junjie: This boat is made of wood, of course. Electricity can't go through wood. Otherwise, we'd be electrocuted right now. Just don't touch the water.
Makunga: And what makes you think that we won't be spotted right away? This place has more security than on Prison 42!
Junjie: Oh, please! We're the polotisions Senator July and Law Advisers Kungma and Lung Tai. And wardens respect polotisions. You can thank me for thinking ahead with these things. If I conquer this prison and capture those Lodgers with my army of thugs, then I'll finally be noticed as a great Villain Leaguer!
Makunga: ".... You still haven't answered my question why Galaxhar isn't here."
Junjie: "Let me ask YOU a question! Have you seen any others like Galaxhar after he wasted his own planet?"
Makunga: "..... Uh......"
Junjie: ".... Because if we brought Galaxhar along, and try to pass him off as another member of his race, knowing that he's the last one outside of clones, WE WOULD'VE BEEN DISCOVERED, YOU IDIOTS?!"
Tai Lung and Makunga: "........ Oh......"
Tai Lung: "Well you could've just said that and not be very Oogway about this."
Junjie: "SHUT UP, AND FOLLOW THE PLAN, YOU IDIOTS?!"
The Boat reachs port.
Junjie: "Now, allow me to handle everything."
Junjie knocks on the door.
Voice: "Who is it?!"
Junjie: "Allow me to introduse myself. I'm Senator July, one of Tri-Corn's inner-circle of senators, and my law advisers, Kungma and Lung Tai. We're here for a rontine prison expection to see if it is up to snuff."
Voice: "YES SIR SENATOR SIR!"
The doors open.
Makunga: "..... I can't believe how easy that was."
Junjie: "Shut it and let me talk!"
(Darkness Qui): "Wait..... They never questioned about having a Senator named July? And that's suppose to be the strictest prison ever? Shouldn't they asked abit more questions, or at least, REALISE that you were fakeing? What kind of morons are they?"
(Junjie): Trust me, lady, the UUniverses are full of morons.... Including my assistants... But anyway, back to the story.
Prison Guard: Warden Ayres will be ready to meet you soon.
Junjie: Take all the time you need, sir! (The guard leaves)
Tai Lung:... I'm scared right now. What if this warden is very strong and carries a shotgun or something?
Junjie: Oh, please, you and I are Kung Fu masters! We can handle a warden whether he/she's buff or not.
???: Alright, I wanna know since WHEN is there a senator and law advisers named July, Kungma and Lung Tai? I haven't heard any inner-circle senators and law advisers of Tricorn's like THAT before....(Sees them, and it's revealed that she's the hamster warden)...Well, speak up, you sissies!
Makunga:...(Scoffs, and tries holding in laughter)...(Whispering) Why didn't you tell me she was a hamster?
Junjie: (Whispering) I-I didn't know!
(Darkness Qui): What's a hamster?
(Lord Cobra): Seriously? The head warden of Tricorn-Katras...is a HAMSTER?!? A small rodent commenly kept as a pet, by the way, is the head warden of a prison?
(Junjie): Don't interupt!
Tai Lung: (Whispering) Why would a small rodent be main warden of a prison? It makes no se--(Ayres immediately grabs the ears of all 3 of them quickly) AAAAAHHH!!!
Junjie: AAAAAHHHH!!!
Makunga: (Screams like a girl)
Warden Ayres: WELL, ARE YOU GONNA SAY SOMETHING, OR AM I GONNA HAVE TO TEAR YOUR EARS OFF LIKE IT WAS PAPER?!?
Junjie: "LET GO OF MY EARS THIS INSTINT, YOU IMPURDENTENT WOODCHIP EATING RAT, OR I'LL TELL TRICORN TO END YOUR FUNDING!?"
Ayres: "Ha! You don't scare me, doughe!"
Junjie regains control of his ear!
Junjie: "DON'T SCARE YOU!? THAT'S IT, YOU STUPID-"
Junjie grabs Ayres and throws her right into the electifying water!
ZAP?!
Ayres: "AGGGGGGGGGGGGGGGGGGGH?!"
The Wardens gasped!
The Wardens started to panic and shake!
Warden 1: "We-we-we-we promise no disrespect, Senator July!"
Warden 2: "Don't kill us like you did to Ayres!"
Junjie: "Good you worthless idiots! Now I demand admitence to the prison at once?!"
(Darkness Qui): "Oh, you murdered the head warden... I like that."
(Cobra): "DON'T ENCOURAGE HIM!?"
Junjie, his allies and the wardens enter the building.
Prison.
Junjie chuckled quietly as he sees all of the prisoners in cells.
Junjie, quietly: "Perfect."
Junjie and lot went on.
A secluded hallway.
The Lougers were checking up on a cyborged, slightly mutant, Wayne, who was seen crying in a solovary confinment room!
Wayne: "Lougers, please! I, I don't wanna be here anymore! I, I wanna have my life back! I wanna be a cop again! I promise I won't harm Juan or Kairi ever again, just, please! I don't wanna be here anymore! That bitch Ayres is a monster! She makes the wardens abuse me because of busting out those stupid camilions!? I can't take it anymore!?"
Lord Shen: Sorry, but your crimes are just unacceptable. I'm afraid we can't do anything.
Squidward: We're just here to check on you.
Cynder: "But the least we can do as some form of kindness is simply asking Ayres from refraigning from her actions."
Sandy: Yeah, just as soon as Warden Ayres comes back after getting word of a senator and two law advisers that are dropping by.
Prison Guard: (Appears) AYRES IS DEAD!!!
Skipper: WHAT?!? WHAT DO YOU MEAN DEAD?!? (The Prison Guard brought them Ayres' dead and scorched body)
Mimi: Aww, that poor little creature.
Boss Wolf: HOW THE F*** DID SHE DIE?!?
Prison Guard: She was thrown into the electrified water by a senator named "July" and two law advisers claiming to be in Tri-corn's inner circle who were just trying to defend themselves. Being a fragile and precious rodent, there's no way she could survive a voltage like that. She's--(Suddenly, Ayres' leg twitches)...What the--?
Everyone: HUH?!?
Mimi:...(Scratches Ayres' belly, and Ayres wakes up and laughs)
Ayres: HEY, STOP THAT, THAT TICKLES!!
Prison Guard: WHAT?!? AYRES, YOU...YOU'RE ALIVE?!?
(Darkness Qui): "..... I'm disappointed now. THAT "HAM-ZTAR" WAS ALIVE?!"
(Junjie): "It's pronounced "Hamster", but tragicly, yes. Here comes the reason why."
Sandy: How in tarnation did you survive a zap like that?!?
Ayres: "Oh please. I served in the millaterry and fought against Grox invaders once. They gave me shock treatments like that 24-7 when I was P.O.W., prisoner of war. I grown used to it. Anyway, I have a GOOD FUCKING MIND TO GIVE TO TRI-CORN ABOUT THAT BITCH SENATOR JULY AND HIS CRONY LAW ADVISERS ABOUT THROWING ME TO ONE OF MY OWN DEFENCES OF THE PRISON!?"
Lord Shen: "..... Wait.... Since when did Tri-Corn had a Senator named after a month?"
Boss Wolf: "And what were the law advisers called?"
Ayres: "Oh, they had some stupid names. Kungma and Lung Tai. Stupid right?"
Lord Shen:...Uh-oh!
Ayres: ".... Why is that bad?"
Alex: "...... KUNGMA AND LUNG TAI IS TAI LUNG AND MAKUNGA PLACED IN AN OPPISTE ORDER!? THAT MEANS SENATOR JULY IS JUNJIE!?"
An Alarm is raised!
Ayres: Oh, no! The emergency release has been activated!
Brandy: WHY DIDN'T YOUR GUARDS QUESTION JUNJIE, MAKUNGA, AND TAI LUNG BEFORE THEY CAME IN?!?
Ayres: Look, sometimes my guards are merely incompetent with that kind of stuff. We natrolly trust Senators like Tri-corn and their law advisers because they sign our paychecks! I was pretty much the only one who questioned it, and look what happened to me! Regardless, we need to find them and stop them before--(Suddenly, a few prisoners who have snuck into the prison's armory appear and point their guns at them)
Prisoner #1: DON'T MOVE A MUSCLE, OR WE'LL BLOW SO MANY HOLES IN YOUR HEADS, YOU'LL BE LEAKING LEAD!!!
Ayres: (Attacks them, and manages to knock out a few of them until she is eventually caught by one of them) HEY!!! LET ME GO!! (She bites the prisoners' hand, causing him to let go in pain)
Prisoner #1: OW! I HATE IT WHEN HAMSTERS DO THAT!!!
Prisoner 2: "Aw for goodness sake!?"
The second prisoner grabs Ayres and puts her in a hamster ball, and clues the ball shut so she can never get out!
Prisoner 2: "Gorilla glue! The stuff is imposable to remove!"
Ayres: "HOW DID A HAMSTER BALL AND GLUE GOT INTO MY PRISON?!"
Prisoner 3: "Wouldn't you like to know, ginni pig!?"
Lord Shen: "EMERGENY FALLBACK!?"
The Lougers retreat as prisoners try to capture them!
The Lougers got interseted by more prisoners lead by a tattooed aniconda!
Aniconda: "HOLD YOUR TACOS, YOU ANNOYING MISFITS!?"
Icky: "Oh no, it's Long-body Edaurdo Santhices!"
Edaurdo: "You got it right amigos! Your coming with us so we can have our fun with you.... AND YOUR INNERDS?!"
Prisoners cheer!
Prisoner 1: "I say we rape both the males and females?!"
Prisoners cheer!
Prisoner 2: "I say we just load them up with lead?!"
Prisoners cheer!
Prisoner 3: "I SAY WE TORTURE THEM JESUS CHRIST SYTILE?!"
Prisoners cheer!
Prisoner 4: "(Stupidly) I say, wes give them a nice gift baskit."
Prisoners were about to cheer until they realise the stupid comment.
Edaurdo: ".... Ay crumba, Ted the criminally retarded, you're like a dumb-side of a jackass, man!"
Ted: "Sorrys."
Edaurdo: "Anyway, I got something even more cruel! LET'S JUST THROW THEM INTO THE ELECTIFY SEA!?"
Prisoners cheered loudly!
Lord Shen: "You savage animals?!"
???: "BETTER IDEA, YOU IDIOTS?!"
The Prisoners start to shiver in fear, as Wily Mcginnis walks in.
Wily Mcginnis: "We hold them hostage, and demand a ransom to the High Council, in return for their safe return."
Eduardo: "...... I LIKED THAT IDEA! YOU'RE TOTALLY A GENIUS WILY! THAT'S WHY WE'S AMIGOS!?"
Wily punches Eduardo in the face!
Eduardo: "El Owcho."
Wily Mcginnis: "That's for talking without being asked, dipshit! Now, we need to ask what is the term of our ransom."
Prisoner 1: "100000000000000000000000 DOLLARS?!"
Prisoner 2: "TO MAKE ILLEGAL DRUGS LEGAL?!"
Prisoner 3: "THE PUBLIC EXICUTION TO ALL JUDGES!?"
Ted: "Nice gift baskits!"
The Prisoners look at Ted like he's an idiot.
Wily Mcginnis looks at the prisoners like they're morons.
Wily Mcginnis: "..... I WAS THINKING MORE AMONG THE LINES OF OUR UNCONDITIONAL FREEDOMS, YOU MORONS?!"
Prisoners: "Ohhhhhhhhhhh."
Wily Mcginnis: "And if they refused, THEN WE'LL THROW THE LOUGERS INTO THE WATER?!"
The Prisoners make boastious cheers!
???: "Gentlemen, gentlemen...."
The Prisoners look to see Junjie, Tai Lung and Makunga no longer dressed as polotisions.
Junjie: "You don't need to waste time trying to force the High Council on something so easily refuseable like freeing an entire prison of dangerious criminals for the benifit of heroes, that, even IF they somehow agreed to go with it, will just sic'im on you to send you all back here anyway! No! Your true answer for freedom, lies with Junjie, of the villain leage!"
The Prisoners started to murmur and look at each other.
Eduardo: ".... Man, if you freed us so you can force us to worship el dilabos like you guys, then forget it!?"
Junjie: "WE'RE NOT A CULT, YOU UN-EDUCATED SOW?! THOSE ARE HIGH COUNCIL/TABLIOD ALLIENCE LIES?!"
Eduardo: "..... Well if your not demon worshippers, then why haven't you given up on them by now?"
Ted: "Yeah, that sounds like you worship demons to me."
Makunga: "It's, complincated, all right!? It's mainly because Mirage is forcing us to repetivly stick to a plan that OBVIOUSLY failed countless times before and is never improving, mainly cause Xehanort said so. Weird, I know!"
Eduardo: "Well I no care if you worship demons or not! We all HATE the villain leage!?"
Junjie: "Wha-wha-what!? Why?!"
Prisoner 1: "YOU DID CRIMES EVEN A ROOM FULL OF MURDERORS AND FELONS WOULD FROWN APAWN!?"
Prisoners: "YEAH!?"
Shifu: "Junjie, if this was an attempt to make these mongrels your minions, then it failed before it had the chance to take baby-steps."
Junjie: "Well, if your gonna be like that, then fine. I'll just anomimusly report this to Tri-corn, and she'll send an army of riot police to quell you fools. Have fun rotting enturnally, you savages."
Eduardo: "(Laughs maniacly)! You bluff man! No way your gonna actselly-"
Junjie pulls out a Villain Leage symbol cell phone!
Prisoners gasped!
Wily Mcginnis growled.
Wily's thoughts: "That stupid fox is gonna ruin everything! Unless....."
Junjie started to use it.
Junjie: "Hello.... Yes, I would like to speak with Senator Tri-corn. I have concern about a prison riot in Tri-Corn-Katras."
Prisoners started to panic!
Wily Mcginnis looked as if he had an idea, and gave a small smile.
Junjie: "Yes, I'll hold when you ugre her, good sectratary. (A Spongebob theme song plays.)."
Wily Mcginnis: "(Dramaticly) WAIT?!"
Junjie: "..... Yes?"
Wily Mcginnis: "(Dramaticly) You, have opened our eyes!"
Edaurdo: "...... Que?"
Tai Lung and Makunga: "What?"
Lougers: "WHAT!?"
Prisoners: "WHAT?!"
Wily Mcginnis: "We were foolish, and un-enlighten, to not see the greatness that is Jonnhy."
Junjie: "Junjie."
Wily Mcginnis: "Junjie, but now, we are enlighened! You are the most brillent genius ever concived! You, are king of Tri-Corn-Katras!"
Junjie: "..... King?"
Makunga and Tai Lung: "KING!?"
Eduardo: "EL-KINGO!?"
Lougers: "KING!?"
Prisoners: "KING!?"
Junjie: "..... (Laughs victoriously), NOW THAT'S MORE LIKE IT?! (Hangs up on the phone) Just because I liked you, I making you my warrior-adviser, my good man, er, dog, uh...."
Wily Mcginnis: "Wily Mcginnis."
Junjie: "Alchourse, Wily! Wait, have I heard that name before?"
Edaurdo was luaghing!
Edaurdo: "Alchourse you would have man!? He's-"
Wily grabs Edaurdo by the throat!
Wily Mcginnis: "Word, privately Ed?"
Wily takes Edaurdo to the center of the group where the lougers are the prisoners close out the openning.
Three Prisoners make Junjie, Tai Lung, and Makunga wear ear-muffs.
Wily Mcginnis: "Don't tell that leager who I am idiot, or he'll call on us!"
Edaurdo: "Well why don't you want me to..... Oh, I get it now mans! This' one of those famous fox deceptions you used to lure foxes to their doom! Brillento!"
Wily Mcginnis: "EXACTLY, YOU IDIOT! Now, as hard it is, and I know, I HATE FOXES, but we have to pretend to take this fool seriously until I can be able to kill him when he least suspects it so he won't call Tri-Corn on us, and then, we resume with OUR REAL plan! Got it, you stupid snake?"
Eduardo: "..... Si."
Cynder: "And what makes you think we won't warn Junjie of the deception, you thugs?"
Wily Mcginnis: "Ha! Simple! The leagers hate you, remember? They'll never believe a word you say in thinking your trying to trick them to pussy out on their ambitions!"
Icky: "Ain't that the sad fucking truth of this relationship."
Wily Mcginnis: "But on the safe side in the event he DOES take you lot seriously, we'll place you with my worthless son Wayne until we got that stupid fox, settled out."
Edaurdo: "Are we done speaking privately now?"
Wily Mcginnis: "Yes."
Wily calls off the earmuffs.
Wily Mcginnis: "We'll agree to all terms of agreement, our leadge."
Junjie: "Good! I plan to turn this prison into a new leager base, where we can organised an invadsion! Finally, I'M WINNING!?"
(Darkness Qui): "You trusted a known Xenophobe to your spieces? HE WAS OBVIOUSLY GONNA YARGED-OUT ON YOU FROM THE START?!"
(Junjie): "I DIDN'T KNOW AT THE TIME AND- Wait, where did that phrase "Yarged-out" come from?"
(Darkness Qui): (Sighs) It's a Villains Act phrase we used ever since a member of mine named Commander Yarge who attempted to usurp me during a search for an alternate form of armies aside from the usual Starbots we typically used. Basically, it's a phrase that means betrayal.
(Junjie): Oh, that makes more sense.
(Dr. Nefarious): You REALLY need to explain to us how your old Villains Act thing worked, because we are NEVER going to your worlds to find out.
(Cobra): Indeed not.
(Darkness Qui): "Well considering that Warson is trying to pass out restrictions against the villains here to migrate there, I have to agree."
(Junjie): But anyway, back to the story. I was able to take control of every aspect of the prison. It's security system, it's turrets, everything! Wily convinced me to lock those Lodgers up inside a sound-proof cell with his beastly looking son, which I didn't even understand why until the end, and the Lodgers were unable to warn me about Wily's true intentions for me. I was sure that I would finally get my revenge and the respect I deserved.
(Cobra): When you didn't deserve it at all!
(Junjie): DON'T INTERRUPT MY STORY!!!
Icky: (The Lodgers are trapped inside a cell with bars and a glass layer) YOU WON'T GET AWAY WITH THIS, YOU DI--(No audible dialogue is heard from outside the cell)...UCKER!!!
Tigress: Forget it, Icky, they can't hear us.
Mantis: And it's good that they SHOULDN'T hear what you just said.
Icky: Oh, I'm sure we'll show those jerks. We gotta get out of here.
Wily: (On microphone) Don't bother trying to escape. The bars and the glass are made of durable substances. Even with your black dragon's ability to transform, you can't escape. Not to mention this cell is surrounded by an energetic field that detects prisoner DNA. You try to leave, and you get zapped to death.
Eduardo: "... Uh, Wily? Tri-corn was forced to have those things removed cause efnic groups thought they were inhumane."
Wily: "....... (Facepalms) THE ONE TIME WHERE I WOULD'VE LIKED TRI-CORN TO TELL PEOPLE LIKE THAT TO GO FUCK THEMSELVES?! Well, at least we have cameras and guys ready to beat the pus out of ya to hopefully scare you lot to stay here. Have a good imprisonment, my dear Lodgers. (Cuts off transmission, and they leave)
Icky: YOU MOTHERF--(The camera goes outside the cell as the criminals walked away and out of sight)...BAGS!!! YOU'LL PAY FOR THIS!!!
Tigress: I told you they can't hear us, Icky!
Icky: "I keep forgetting that."
Lord Shen: "That's natrol, for an idiot."
Patrick: "Why's everyone so down about it? The High Council will get us out of here after giving those meanies what they want."
Cynder: I don't think that's possible for a few possable reasons. One, the High Council is less likely to risk public and socity safety by caving in to criminals. And even if they try to work around the risk with a plan, Junjie's involvement, who is both a problem to us and these criminals' hope to make a successful ransom cause he hates the High Council for subugating the Villain Leage to a "Team Nefarious" like status. Remember when Axle said that you need a code clearance in order to get in even as a High Council member? Well, from the situation we're in, Junjie programmed the prison's turrets to not listen to reason and just flat out shoot anything it sees, giving his High Council dispising and disrespecting nature!
Missing Link: Oh, boy! If we ever find a way out of here, then Junjie will be in more trouble than he has before, not just from the Villain League for disobeying their orders not to do an unauthorized scheme, but with the High Council for imprisoning some High Council members, and going out of his way to harm any more. He'll be through so much punishment, we might never see him again for a few months! Years even, but let's not hold our breaths.
Lord Shen: Well, we need to get out of here.
Merlin: Yeah, but one issue however. They confiscated all our equipment, including my wand! So getting out of here will be a challenge.
Thundra: If those little muchachos hadn't taken my amulet, I'd shock them with thunder right now... And there is also the fact that we're indoors.
Skipper: Well, at least they wouldn't think to confiscate all the equipment Rico keeps in his stomach. Show them, Rico! (Rico tries hacking, but nothing comes out)... They seriously confiscated EVERYTHING in your stomach?!?
Rico: Uh-huh!
Icky: Oh, that's just nasty on so many levels.
Spyro: Let's face it, there's no using our usual equipment or abilities to get out. Because of the fact that each cell is monitored with a camera. See? (They see the camera dome above their heads) And no luck trying to destroy it, because I'm pretty sure it would alert whoever saw the signal being lost.
Shifu: Tricorn built this place specifically to be just as good as Prison 42 would ever be, in her own words, by the way. We've already established that there is a 3% chance anybody can escape this prison.
Icky: "So you mean our tecnecal only hope is that Junjie gets violently usurped by those basturds that have NO true loyalty to him and the MICROSCOFTIC chance the High Council disided to cave in to these jerks and let them go free?!"
Shifu: "..... (Sigh)..... In a way, yes. Our only hope, IS Junjie getting usurped, and the very, very, very, VERY small probality, of the High Council, desiding that we're more impourent then the millions of lives, these criminals would surely ruin and harm!"
Icky: "..... Fuck. Well, I would say that at least Junjie would likely die from the betrayal, but thanks to the leage liking to reserect eachother and that Mirage will never let Mang let Junjie STAY DEAD, it's a lose-lose! And we're only gonna come out of here to be tossed into a shocky ocean!?"
Po: "Well what about Tri-Corn? Junjie made the mistake of trying to call her! Ended short or not, she's likely to realise something's wrong!"
Shifu: "Even so, not even the fury of Tri-Corn can survive the defences system of her own prison!"
Cynder: "Well the High Council has ways to know about these things prior! Surely they'll send our allies to-"
Shifu: "Again, Junjie may be too quick to trust deserprete criminals just to make himself look superior to Mang, but he's still not THAT much of a fool! Junjie is fully aware of our tendingcy to have ally aid and will be prepared for each one! Face it.... Our only hope really is Junjie's latest flop of a plan to shatter around him, and the 1 in a zillion chance the High Council would actselly bow to this."
Ayres: "Seriously? Your just giving up?! I'm mean, I'm for that asshole getting what's coming him, but not through giving Wily another chance of killing a fox, asshole or not, and I am not for just waiting for death row or even the possability of the High Council being forced to let these scum loose on socity! They made the mistake of putting me with you guys! Ha! I know every weakness of the security and how to shut them down! But you all have to listen to me! Yo, ugly birdbrain!"
Icky: "WHO YOU CALLING UGLY YOU STUPID-"
Icky grabs the ball, and in anger, throws it at the camera and destroys it and the ball surprisingly!
Ayres: "BOO-YAH!?"
Ayres lands on Icky's head!
Ayres: "Nothing breaks cameras and hamster balls like the anger of ugly people."
Icky: "Well what would be the point since now an army of pissed off prisoners are coming for us!"
Ayres: "Exactly. Our chance for freedom."
Later.
Some prisoners head for the Lougers door.
Prisoner 1: "All right boys, let's teach our hostages a lesson."
Prisoners laughed!
The Prisoners bust open the door, and find it impossably empty.
Prisoner 1: "Wha, wha..... Where are they?!"
All the prisoners charged in!
They were unaware that the lougers took advantaged of the disabled camera to hid at the celing!
Prisoner 2: "I don't see them anywhere!"
Prisoner 3: "Theys is demons I tell yas! Demons!"
Prisoner 1: "Well it wouldn't make sense for them to fight demons if they are demons! Well they're not demons Paraniod Bob the relijustus! They're just damn good at their job! Now be careful, and leave no stone unturned!"
The prisoners looked around.
Ayres destroyed the lighting, blacking out the room except for the doorway!
Bob: "GAH!? THE LIGHTS!?"
Prisoner 1: "Ok, you misfits! Come out and fight like-"
Outside the door, sounds of fighting are heard as Prisoners are screaming!
Silence.
The Lougers and Ayres walked out with Ayres as the prisoners are shown knocked out and beaten.
Icky: "What about Wayne?"
Wayne: "Don't worry, I'll be safe here, away from the craziness! I rather not make everything worse."
Icky: "Good dog."
The Lougers run on out!
Items room.
Twin Prisoners are watching over the lougers' gear.
Twin 1: "Say, brother?"
Twin 2: "Yes brother?"
Twin 1: "Would it be fun if we got to see Willy Mcginnis kill off that stupid leager fox?"
Twin 2: "Oh yes, brother. That would be most entertaining."
Both twins monotone laughed.
The Lougers and Ayres busted into the room!
Twin 1: "Well well well. We knew you lougers will not bow to impossable odds so easily."
Twin 2: 'We always knew."
Icky: "Oh no! Not the Dark Twins, Gregery and Leroy Dark!"
Iago: "The most dangerious twin masterminds of the universe!"
Greg (Twin 1): "Correct, Lougers."
Leroy (Twin 2): "At least, until you desided to stop us enacting our revenge on Tri-corn for the murder of our mother, Eizla Dark."
Cynder: "Look, we're sorry about what Tri-corn did to your mother for accusing her as the wrong Eizla Dark, but you two didn't had the right to use a nuclear explousive that would've ended more then Tri-corn!"
Greg: "Heroes are such critics. Aren't they brother?"
Leroy: "Oh yes. Sevrely."
Greg: "Well, at least we'll get some revenge by taking over her beloved prison! At least until we are freed by your stupid High Council so we can try to enact real revenge on Tri-corn by poisoning her with the plant from Berk known to be toxic to reptiles."
Leroy: "But taking over the prison will service enough."
Greg: "I know what else serfises at the moment, brother."
Leroy: "Oh yes, brother."
Greg and Leroy: "Revenge on the lougers by using their own gear against them!"
Greg and Leroy picked up the Louger's gear and aimed them at the Lougers!
Skipper: "EVASIVE!?" (They dodge their own equipment, and the Lodgers manage to beat the two up despite their efforts)
Donkey: HAH! THAT WAS EASY!! (Suddenly, all the turrets point at the Lodgers)
???: SHELL LODGERS, DON'T EVEN THINK ABOUT TRYING TO ESCAPE!!! STEP AWAY FROM THAT CRAP OF YOURS AND RETREAT TO YOUR CELL, OR WE WILL OPEN FIRE!!
Patrick: WE DON'T TAKE ORDERS FROM ANY--
SpongeBob/Mr. Krabs: PATRICK!!! (They beat him up)
Patrick: (Patrick is being strangled by Mr. Krabs)... BOODDYYYY!!!
SpongeBob: Patrick, shush!
Viper: Guys, this place has turrets everywhere! We have to do as they say, or they'll kill us all.
Icky: But what about- (A turret fires right at him as he dodges) WHOA!! OKAY, WE'LL DO IT, FOR GOD'S SAKE, JUST SPARE OUR MONEY MAKE-HE-HE-HE-HEEERRRSSS!!!
???: That's more like it! (Chuckles like a hyena)
Iago: Oh, I know that laugh, that's Denny the Insane. We handled him not too long ago. GOD, his laugh is creepy.
Suddenly, the turrents deactivate.
Dennis the Insane appeared from the shadows shocked and surprised!
Dennis: "WHAT THE FUCK HAPPENED!?"
He sees Ayres has chewed up the system wiring.
Ayres: "It's a good thing you can never see the little people, jerkoff."
Dennis looks back at the lougers who regain their gear.
Icky: "Oh am I gonna KICK YOUR ASS FOR MAKING ME BEG FOR YOUR MERCY?!"
Dennis: "Uh.... Please put the stuff down?"
Spongebob: "Oh since you asked very nicely-"
Sandy/Squidward: "SPONGEBOB!"
Spongebob: "Sorry."
Dennis: ".... Darn. The magic word didn't helped."
The Lougers pounced on Dennis and beat the crud out of him!
Later.
Dennis was tied up with the Dark Twins.
Greg: "Nice one...."
Leroy: "Screw up."
Dennis: "Shut up."
Hallway.
The Lougers and Ayres ran down the hallway leading to the grand control.
Ayres: "I only took down the defence turrents. If we want to take down the electric water so any possable allies can get to us, I have to get to the main controls!"
Icky: "Oh sure, it's always something!"
???: "HEY CUNTS?! Pretty please come back!?"
Patrick: "(Looks behind him) AGGGH!? IT'S FLIP-FLOP FRANK AND CRAZY CHESTER!?"
Flip-Flop Frank, a rhino half-smiling and frowning, and Crazy Chester, a mad chackling parrot!
The lougers reach the main controls!
Ayres goes in!
The Lougers stood before Frank and Chester and fought them down!
Control room.
Ayres pulls down the lever and shuts down the electric water.
Main Office.
Junjie saw the water stopped producing electrisity and all of the lougers allies started to advance!
Junjie: "No?! NOOOOOO?! MY NEW BASE!? NOOOOO?! THAT'S IT?! Those lougers are dead!? DEAD?!"
Wily Mcginnis: "But we need them as sheilds to get those rotters to back off!"
Junjie: "FUCK THAT!? I AM GONNA KILL THOSE LOUGERS?!"
Junjie stomps off.
Wily Mcginnis: "...... Something tells me it's finally time to be rid of that fox."
Outside.
The Lougers allies chase a mass wave of prisoners back into the prison, which closes off due to a lockdown protocal!
Celestia: "JUNJIE?! WE DEMAND YOU LET GO OF THE LOUGERS AND THE POOR WARDENS OF THIS CORRECTIONS FACILITY AT ONCE?!"
Junjie's voice: "NEVER!? JUST FOR MAKING ME LOOK LIKE A FOOL AND RUINING MY HOPES TO EARN RESPECT AND A NEW LEAGER BASE, I'LL HAVE TO RE-EARN THE FAITH OF THESE INCOMPIDENT IDIOTS BY MURDERING ALL OF THE LOUGERS!? AND WITH THAT, NOTHING WILL- (The sound of the door busting open) Wily?! What're you do- Hey, put down that knife this instent- No, no, nonononononononononononononoononononononoonono- (Sounds of stabbing are heard) AGGGGGGGGGGGGGGGGGGGGGGGH!? HELP ME, PLEASE?! I'M BEING ASSULTED!? AGGGGGGGGGGGGGGGGG (A GOREY SOUND RIP WAS HEARD)!?"
The Lougers' allies were taken aback by this.
Wily Mcginnis' voice: "Now THAT'S more like it! I finally rid of us of that stupid fox! Now, this goes out to you lot! I demand to speak to the High Council to rekindise my demands!"
Celestia: "I am princess Celestia and I'll act as represention for the High Council! What do you want?"
Wily Mcginnis' voice: "Simple. Our freedoms, for their lives. You have 6 hours to deside and comply, or we'll give the lot INJECTIONS?!"
The feed ends.
(Darkness Qui): "Wait..... YOU WERE GROSUMELY KILLED!? THEN HOW THE FUCK ARE YOU HERE WHEN YOU DIED IN THE STORY?!"
(Cobra): "As mentioned in the story, we have a reserection polocy."
(Darkness Qui): ".... Oh yeah. I really could've used that for the VA."
Prison.
Icky: "HOLY SHIT, DID YOU HEAR THAT!? THAT ASSHOLE WASTED JUNJIE?!"
Shifu: "Then we must escape so he will have no more defences against justice!"
Screams are heard!
Elsewhere.
Makunga and Tai Lung run away from an army of criminals!
Makunga: "THAT BEASTLY ANIMAL KILLED JUNJIE?!"
Tai Lung: "GALAXHAR TRIED TO WARN US ABOUT SOMETHING LIKE THIS?! I WISHED WE BROUGHT HIM ALONG SO WE CAN ESCAPE THIS DEATH TRAP?!"
Eduardo: "COME BACK HERE SO WE CAN TAKE TURNS ON YOU IF YOU GET OUR DRIFT!?"
Skipper: (He and the other Lodgers appear) HALT, CRIMINALS BEFORE WE- (The criminals run right through them, pummeling them cartoonishly flat)
Squidward:... I HATE cartoon logic!
Makunga: (The criminals finally manage to grab them, and they gruesomely kill them) AAAHHHHH!!! OH, NO, I NEED THOSE!! I NEED THOSE, AAOOOWWW!!! (Icky looks at this in disgust) AAOOWWW, MY RIBS!!!
Tai Lung: AAHHH, GET OFF, GET OFF, AAAHHH!!!
(Darkness Qui): And your assistants got killed too? Wow, they're as worthless as you are.
(Cobra): You have NO idea!
Iago: Well, so much for saving their lives.
Shifu: But at least they'll be resurrected afterward. (All the prisoners face the Lodgers)
Prisoner Bear: BROCK MUST RIP APART LODGERS FOR GETTING HIM SENT TO JAIL!!! (Roars loudly)
Gilda: Oh, God, not Brock Brawler! I've hated him since he nearly broke my spine a year ago!
Sandy: RUN FOR YOUR LIIIIIIVES!!! (The Lodgers run as the prisoners chased them)
Brock: (Manages to catch up with Icky, and cartoonishly turns him into a ball, which he throws and strikes most of the Lodgers as a bowling strike sound is heard)
Icky: OWCH!!! (The rest of the Lodgers are halted by another group of criminals)
Gorilla Prisoner: (Roars loudly leading the other group)
Gilda: DEAR GOD, SYLVESTER SLAUGHTER, MUCH WORSE THAN BROCK BRAWLER!!! I MEAN, HOW MANY INTRODUCTIONS TO THESE PRISONERS DO WE NEED?!? (The Lodgers are suddenly cornered by all the prisoners)
Eduardo: We've taken care of those big Villain League assholes to show the Villain League never to mess with any of us again! Now... We're gonna kill YOU for throwing us in jail!
Ted: YEEAAHH!!
Bob: YEEAAAHH!!!
Brock: (Literally roars like a T-Rex as everyone looks at him weird)
Eduardo:... Dios Mío, Brock! That was a pretty good one!
Brock: BROCK CRUSH LODGERS NOW?!?
Eduardo: Hey, everyone deserves a chance to kill their opportune Lodger. Why don't you kill the big fat panda over there?
Po: (Dubbed as Pumbaa) Are you talking to me?
Banzai: Uh-oh, he called him a big fat panda!
Po: Are you talking to ME?!?
Banzai: Shouldn't have done that!
Po: ARE YOU TALKING TO ME?!?
Banzai: Now they're in for it!
Po: THEY CALL ME 'MR. BIG FAT PANDA'!!! (Charges into Brock with his head)
Icky:...Wow, can't remember how long it's been since we used THAT joke.
Brock: MUST CRUSH PANDA!!! (Fails to be able to punch Po, and ends up getting kicked in the crotch! OOP!? BROCK'S DADDY PARTS!?
Brock curls over in pain!
Po: "DON'T EVER CALL ME A BIG FAT PANDA, CRIMINALS?!"
SpongeBob: Yeah Po, show them who's- (Sylvester the Ape grabs him by the neck, roaring in his face)
???: HEY! (The criminals look to see the Lodgers' allies)
Timon: TAKE YOUR STINKING PAWS OFF OF SPONGEBOB, YOU DAMN DIRTY APE!!!
Sylvester: "...... And what happens if we don't?"
A massive fight later.
The Prisoners lie in defeat.
Eduardo was the only one left.
Eduardo: "...... I SURRENDER MANS?!"
Squidward: "That's actselly the smartest thing any of these morons did all this time."
Wily snuck around th Lougers and allies and escaped!
Outside.
Wily got on into the lougers van and hijacks it!
Wily: "HAHAHAHAHAHAHAHAHAHAHA!? FINALLY FREE!? NOW THE KU FOX CLAN SHALL RETURN!? HAHAHAHAHAHAHAHAHAHAHAHAHAHA!?"
???: "I, think, not!"
Wily gasped and looked to see Wayne bum rushing him and laungh him out of the van!
Wily and Wayne began to fight!
Wily: "DAMN IT BOY!? WHY YOU DO STILL ACT LIKE THE LAW WOULD ACTSELLY FORGIVE YOU FOR WHAT YOU DID?!"
Wayne: "CAUSE IT NEVER HURTS TO ACTSELLY TRY, FATHER!?"
Wily and Wayne began to scratch and bite eachother!
???: NOT SO FAST, YOU RUFFIAN!! (The Lodgers and their allies arrive)
Rainbow Dash: STAY OFF OF THE LODGERS' VAN, YOU JACKER!!
Wily: (Gets out a gun, and points it at Wayne's head) STAY BACK, FOOLS, OR I PUT A BULLET THROUGH THIS MOTHER-F***** OF A SON'S BRAIN!!!
Cynder: You're REALLY willing to kill your own son?
Wily: AND WHY NOT?!? He left me for his sick love of law-enforcement! Now look where it's gotten him! He's in prison because he still couldn't let go of his hatred for foxes! HE'S WORTH NOTHING TO ME ANYMORE!!!
Terk: Boy, is he a lunatic or what?
Wily: I'M NOT KIDDING, YOU ASSHOLES! I'LL BLOW HIS CYBERNETIC BRAINS OUT!! I'LL- (He suddenly gets flipped over by Ayres, who throws him around and beats him up)
Mantis:... Wow! I never thought I'd see a hamster beat up a person twice her size!
Ayres: (Pulls on Wily's ear) NO MORE NONSENSE, YOU MANIAC!!! YOU'RE NOT GOING ANYWHERE!!!
Wily: OW, OW, OW-OW-OW-OW-OW-AAAAA-HA-HA-HA-HAAAOOOWWW!!! EASY ON THE EARS, YOU LITTLE RAT!!! (Ayres bites his ear) OWCH!! NO BITING!!!
Ayres: GUYS, GET WAYNE TO SAFETY, I'LL MAKE SURE THIS BASTARD GETS DUE PUNISHMENT FOR MURDER!! (The heroes take Wayne away)
Wayne: "Guys, you have to believe me, I actselly tried to stop my father from stealing your van! Why did you think I was fighting him?"
Celestia: ".... Actselly, he is speaking the truth. And really, we DID just saw him fighting him."
Lord Shen: "Reguardless, it was reckless and dangerious of you to do that. Also, you promised to stay in your confinement!"
Wayne: "Guys, please! I was gonna stay, but then I heard what my father did to another fox! Leager or not, it was wrong of him to murder him! I know I'm not perfect, but please, this time, I only went back on this promise to stop my father from stealing the van! I promise I wasn't trying to steal it!"
Icky: "Buddy, we get it. You want to redeem yourself. But that mental illness you have, and the worse reputation that would make Darkspawn look like saints, would make that UNIGMAGINALY DIFFICULT!? Not to mention Tri-corn would be even more of a headahce then already, if we tried to reintroduse a convicted rottan cop into socity! She was mad at us for not letting her kill Pred, Tiki, and B.O.B.! Igmagine what she would be like then, if we tried to help you rejoin socity!?"
Wayne: "..... You mean, you guys, do care for me, your, your just too afraid of the Senator to do anything for me?"
Cynder: "I'm sorry, but she would seek to make our lives hell, if we tried to help you redeem yourself and your dark heritage. Believe me, if it wasn't for Tri-corn being so, pig-headed, we would gladly help you."
Wayne started to make sad dog sounds.
Wayne: "I understand now.... I guess, I'm destined, to be just another monster, trapped with other monsters. My father included. I'll.... Go back to my cell."
Wayne walks away slowly, tail dragging.
Icky: "..... Why is it when he finally gets he's impossable to help, yet I don't feel glad at all?"
Spyro: We all feel bad for him, but Tricorn wouldn't be happy if we helped him out. But what's more important is that we have to get him to safety, and take care of all these prisoners.
Celestia: "Allow me."
Celestia teleports all of the prisoners into their cells, locking them up and magically restoring all prison functions.
Icky: "So, new question.... What do we do to the "Corpse Patrol" that is Junjie and friends?"
Shifu: "That won't be nessersary. Cause here THEY come."
Lord Cobra comes from a shadowy portal with several heavily armed Shocktroopers and armored Changelings with Chrysalis.
Skipper: "Well ain't you tardy to the party! If you aimed to kill the prisoners of Tri-corn-katras for killing leagers, we got them taken care of, HUMANELY!?"
Ayres (still on top of the defeated Wily): "So the least you fanactics can do is get your dead friends out of here and get out!"
Cobra said nothing, and snapped his fingers, ordering some changlings to fly up with leage coffens and collect the fallen, and all of them simply left.
Shifu: "..... I guess Mang is saving his rage to deal with the soon to be reserected Junjie."
Wily Mcginnis: "Well, at least that stupid fox will think twice about interfearing with the plans of ol' Wily!"
Ayres: "Oh yeah, that's TOTALLY worth the possability that you may become elagable for DEATH ROW!?"
Wily Mcginnis: "Are you kidding? I'm a messah to fox-hating dogs everywhere! They'll never let that befall me!"
Icky: "Oh, you mean, even after I uploaded your sweet talking to Junjie on youtube?"
Wily Mcginnis: "WHAT?! No, Your, bluffing!?"
Icky shows a secretly hidden video of WIly nice-talking to Junjie.
Icky: "And I was sure to not record the part about you wanting to kill him in the end."
Wily Mcginnis: "NO?! YOU STUPID BIRD?! I'LL RIP YOU TO SHREADS LIKE I DO TO FOXES, YOU ASS!?"
Ayres beatens Wily Mcginnis into enough of a pulp that he won't do such.
Lord Shen: "Prehistoric one, how were you able to-"
Icky: "An Ickster never reveils his secrets."
???: "AYRES?!"
Ayres: "Oh shit."
Tri-Corn stomped in!
Tri-Corn: "Is it true, that your guards, incompidently allowed obvious fakes into MY PRISON, AND CAUSED A REPUTATION RUINING RIOT?!"
Ayres: "..... I'd be lying to you if I said no. But thanks to the lougers, and the leagers' bad planning, it was quelled swiftly. You'll expect Wily to be tried to be elegdeable for death row by next week ma'am."
Tri-corn calm down.
Tri-corn: "Well, as long as this matter was handled swiftly, I suppose it's worth having to deal with media stress.... Again. Carry on."
Tri-Corn turned around and left.
Ayres: "..... Whew..... It's great that as long as the problem's resolved quickly and, at all, she doesn't get TOO pissed."
Icky: "Yeah, but your gonna have to make up for it by making your guys being less trusting to random appearing polotisions."
Ayres: "Ain't that a life story.... Hey, I wonder if that fox guy is reserected again, and, how he's doing now?"
Hermes appeared!
Hermes: "I'm glad you asked darling."
Hermes showed a video.
Video- Leage Fortress.
Junjie was screaming and running!!
Cobra: "JUNNNNNNNNNNNNJIIIIIIIIIIIIIIIIIIIIIIIIIIE!?"
Junjie: "MANG STOP?! I ALREADY DIED RECENTLY!? I WOULD RATHER NOT DIE AGAIN?!"
Cobra: "WHEN I CATCH YOU, YOU'LL BE BEGGING FOR DEATH!?"
Junjie: SOMEBODY HELP ME, COBRA'S GONE STARK-RAVING MAD!!!
Tricorn-Katras
Hermes: (The Lodgers laughed) Man, do I love this job that Ignitus gave me.
Present
Junjie: And that's that!
Cobra:... (Dark Dragon, Dr. Nefarious, and Darkness Qui laughed) I know, stupid right?
Dr. Nefarious: You let yourself be killed by a xenophobic murderous dog?!?
Dark Dragon: (Laughs) Well, I know somebody who won't be winning all the gold.
Junjie: You know what? You guys are jackasses! At least I was this close to winning. If it wasn't for that traitorous mutt, I'd be peeing on the Lodgers' graves right now!
Darkness Qui: Ew! That's both sick and wrong.
Cobra: Anyone else wanna go?
Darkness Qui: Well, I guess I can tell my side of the whole 'almost had them' thing. But let me start with a small anichent tale, of "Grooka"... Long ago before even the VA was actselly a thing....
Chapter 4: The Housing of the Grook-Grook Bird
An anichent lore told in hylogriftics.
(Darkness Qui): "The Grooka planet was once home of a magnifisent teclogically advance socity of bird people known as The Grookians. Problem is..."
A race of Hawkman-like beings are seen hailing a dispicable tyrant!
(Darkness Qui): "They were warmongering facists that are trying to subugate the rest of the birds of Grooka. Their evil leader, Warlord Graak, was as firecesome as they come!"
Evil laughter was heard as a hylogritifc of a grookian tyrant was over-seeing other birds being tortured!
(Darkness Qui): "He was a giant asshole threat of the entire community! Until one day, A nature loving nature controller named Cranleen, had enough of his stupid shit and desided to do something about it."
Hylogrifics show of A crane-like being standing angerly to seeing the birds suffer.
(Darkness Qui): "In legend, she begged for the Gods of Grooka, to grant her some ability to get revenge. And wouldn't you fucking know it? They were in office and listened."
Moving Hylogrifics play as giant magical bird beings magicly create Terror Bird like monsters.
(Darkness Qui): "They gave her, "The Grook-Grook Birds". The most violent creatures ever, and Cranleen can control them like obedient soldiers. And you have a freaking good idea what she used those things for."
Grapfic Hylogrifics of the grookian soldiers being ripped apart by the Grook-Grook Birds and destroying all of the cities!
(Darkness Qui): "Then on the final days of the Grookians dark reign, the capital city of the tyrant, it marked the end of the legacy of the Tyrant.... And all of the Grookians."
Hylografics of Warlord Graak being devoured by the Grook-Grook Birds are seen as signs of blood splatter began to form.
(Darkness Qui): "The age of tecknowagey died with Graak. The surviving Grookians, are subugated to go back to the medvil like era of living, as punishment for supporting a greedy fuck. Cranleen ordered the death, of those that tried to make advancements return.... And trust me..."
A hylogrific of a Grookian sciencetist being gored by a Grook-Grook bird is seen.
(Darkness Qui): "It's not a pleasent sight."
More Hylogrifics of begging Grookians are seen.
(Darkness Qui): "The grookians have since forsaken any true loyalty to that fucker Graak and promised to use tecknowagy for good.... But the immortal Cranleen, because of the tec being used to fuck people, became a fucking tecnophobe and refused like a bitch! Cranleen was trumatised when a robot fucked up her family in a gromsume and unredeemable matter."
A hylogrific of a younger Cranleen is seen as a little girl scream is heard, then a quick pan to Cranleen's parents being slaughtered by a feroious robot.
(Darkness Qui): "Eventally, the actions of Cranleen the immortal, are heard by the USRA.... And boy, were they PISSED by her anti-progressive shit and went after her?!"
The Hylogrifics show humans and human-like beings and various animal races are seen over-wealming, trapping, even killing some Grook-Grook Birds are seen as the sound of battle is heard.
(Darkness Qui): "Ultamtaely, Cranleen lost, and was put on trial before the USRA leaders."
A hylogrifics of what Qui discribes turns into a flashback of the actual event!
Cranleen: "LET ME GO?! THIS IS A TRAVISTY!? TECKNOWAGY CORRUPTED THE GROOKIANS TO HARM MY PEOPLE AND OTHERS!? GRAAK WAS DESTROYING THE WORLD?! I HAD TO STOP HIM!? TECKNOWAGY IS A CORRUPTIVE EVIL THAT DOESN'T DESEVRE TO EXIST?! (Tears began to shed) IT KILLED MY PARENTS?!"
(Darkness Qui): "Now hearing that, those soft-heart leaders couldn't bring themselves to punish the girl for being a victim of crap luck... But now that the Grookians have, ick, "Reformed", Cranleen wasn't being the better of the problem. Natrolly, they hold no punches."
USRA leader 1: "We're sorry about your misfortunes..... But your own crimes borned from a tragity, can't be ignored. You shall be incased in silver and sent far below the very planet itself in light of your immortality."
USRA leader 2: "And we'll imprison ALL of the Grook-Grooks in caves and caverns, so they can never harm anyone again. But we'll still respect their "sacred" title, and cause we're, respondsable of murdering some of them, we'll give them a endangered spieces statis where harming them is punishable by inprisonment."
Cranleen: "NO!? PLEASE! YOU CAN'T DO THIS TO ME?!"
Guards dragged Cranleen and placed her under a giant vat of molten silver.
The vat slowly began to tip.
Cranleen: "NOOOOOOOOOOO?! NO-" (She was trapped in a silver statue)...
(Darkness Qui): And so, she was forever trapped in the depths of a Grookan volcano which became forever known as Mt. Cranleen, forever being her prison, as well as the sanctuary for all her Grook-Grook birds. Because this happened during the USRA's early years, people seemed to forget about it as quickly as it started, and only true believers still remembered it. Mt. Cranleen remained an unknown and sacred place. Then I had discovered this place right after my quarrel in that robotic dinosaur park, and I discovered that it held creatures that were not only sacred and endangered, but they killed anybody who trespassed in their home. After first, due to my interest of trying to make YOU THREE get over your childish feuding, I simply ignored it for as long as I did. I wasn't gonna mess with fucking killer birds! But awhile after my humiliation of being forced to apologies to Celestia for being what I am, I desided that THIS, was my first attempt to be rid of those lougers! So, I worked hard to nab both The Controler of Love Princess Candence-"
(Cobra): "You mean the controler of "Equestia's" love?"
(Darkness Qui): "What do you mean?"
(Cobra): "You mean you haven't found out ever since your "end of love" attempt?"
(Darkness Qui): "WHAT!?"
(Cobra): "Well, even if you much more successful to nab Candence, she would only be powerful enough to end the love in Equestia. By all means, she has no power or ahtority to end love universe-wide!"
(Darkness Qui): "...... THEN WHO FUCKING DID, GENIUS!?"
(Cobra): "Calm down woman! Also, it's cupid and anthrodedi for starters! So that plan was desetin for failure even if the lougers FAILED in stopping you from containing her!"
(Darkness Qui): "..... Well what's the point of her being an "Alicorn of Love" if she doesn't have that powerful of a status?"
(Dr. Nefarious): "Well, she's asentually like that to keep ponies from feuding to prevent creatures called "Windiogos" from freezing their squeishe butts. You were trying to corrupt monster repelent to destroy universe wide-love."
(Darkness Qui): "..... WELL NOW I FEEL LIKE A FUCKING IDIOT?!"
(Cobra): "Oh don't be so down, Qui. We all have our share of flop on arrival plans. Nefarious having more then his fair-share."
(Dr. Nefarious): "GRRRRRRRRRRRR!?"
(Darkness Qui): "Ok, as I was saying, I was successful in capturing Candence and her Goofball husband Shining Armor, and lure the lougers to the planet Grook via an epic space chase."
Qui's ship is being chased by the Lougers' van!
In Qui's ship
(Darkness Qui): "Natrolly, I kept a strong, decisive demeanor."
Darkness Qui: "FASTER, FASTER YOU FOOLS?! THEY'RE AFTER US?!"
QP: "Well YOUR THE ONE WHO DESIDED TO KIDNAP PRINCESS PINKY AND PRINCE MORON, QUI?! WHAT DID YOU THINK WAS GONNA HAPPEN!? SURELY THE LOUGERS AND EQUESTIA'S NATIVE HEROES ARE AFTER US FOR THIS!?"
Darkness Qui: "DON'T BE SNARKY, QP?! NARCOTIC, CELISUS!? ARE WE HEADING TO GROOKA YET!?"
Narcotic: Yes miss Qui. Though I'm sad it's not in that Mossilla Nebula like rumors say and-
Darkness Qui: I DON'T CARE ABOUT THAT, JUST LAND US!!! (Lasers streak past their ship)
Applejack: WHAT IN TARNATION?!? DON'T SHOOT IT DOWN WITH CADANCE AND SHINING ARMOR INSIDE!!!
Rico: Sorry!
Twilight: Uh... Why are they heading for that planet over there?
Icky: Who cares! Let's follow them there! (They follow them to a tan-and-green planet which was Grooka, and they land right near an ancient civilization)
Darkness Qui: (They jump out of the ship, and run off with Cadance and Shining Armor) MOVE, MOVE, MOVE, MOVE, MOVE!!! (They manage to head into the city at the exact moment the Lodgers arrived)
Lord Shen: (They come out) QUIIIIIIIIIIIII!!!! GIVE US BACK CADANCE AND SHINING OR WE'LL TEAR YOU APART!!!
Darkness Qui: "WHY DON'T YA COME IN AFTER US, COWERDS!?"
Celisus: "UNLESS YOUR LIKE GENERAL FLARK!?"
The Lougers and Main 6 were confused.
Icky: "..... Who or what the hell is a Flark?"
Darkness Qui: JUST IGNORE HIM, THE POINT IS YOU CAN'T MAKE US!!
Lord Shen: OH, YEAH? Come on, let's go shove one of my blades in her ass!
Cynder: Shen, that's kinda dark!
Lord Shen: SHUT UP, I THINK WE'VE HAD ENOUGH CUTSINESS WITH THESE PONIES AROUND US, NOW LET ME--
Twilight: (Smacks him) WE'RE NOT BEING GRUESOME HERE, SHEN, WE'RE JUST GOING TO RESCUE CADANCE AND SHINING ARMOR!!!
Lord Shen:... (Sighs) Fine! I really wanna try that out! (They enter the city, and after a Scooby-Doo-like chase scene, Qui and the others are able to lead the Lodgers into a cave)
Darkness Qui: GOT'CHA! (Magically blasts the cave entrances and caves the Lodgers and ponies inside)
Mr. Krabs: WHAT THE FLIM-FLAM?!?
Skipper: SWEET AND SOUR MEATBALLS, WE'RE CAVED IN!!!
Shining Armor/Cadance: TWILIGHT!!!
Darkness Qui: (Cackles) Fools! You've fallen right into our trap.
Cynder: WHAT ARE YOU DOING TO US THIS TIME, QUI?!?
Darkness Qui: Oh, I'm not doing much to you. I have a bunch of monsters inside that cave that will kill you for me.
Private:... Did you say 'monsters'?
Narcotic: YEAH, MONSTERS!!! THEY'RE BIRDS THAT WILL KILL ANYTHING THAT TRESPASSES IN THOSE CAVES!!! YOU WON'T SURVIVE 3 DAYS IN THAT HELL HOLE!!! (Cackles goofully)
Bill: (Panics as Mr. Dodo and the White Rabbit hold him by the tail all the way)
Spyro: Relax, guys! I can get us out of here! (Tries using his earth ability, but it proves to have no affect) What?
Darkness Qui: HAH! Even your earth-shaking powers are useless! The rocks here are too heavy for even your powers to cleanse off. (Spyro tries it again as Qui cackles) Keep it up, and you'll just keep attracting those birds.
Rainbow Dash: YOU SNEAKY BITCH OF A DRAGON!!!
Darkness Qui: I'M A ZEWINSAU-...... Aw forget it. Well, I can't waste any time listening to you parish. I've gotta get going to a place where you'll never find me if dumb luck should ever come your way. But I did had a few Spydrones carefully planted here to watch your deaths unfold in the safety of my shi-....... DAMN IT?! Well, it doesn't matter. Your gonna be dead and afterwords, whether or not you'll die, I'll be LONG GONE, establishing a new villains act! So aidos, morons! (Cackles as she leaves)
Cadance: TWILIGHT, NO!! (Her eyes start watering)
Twilight: CADANCE!!! (Tries using her magic to lift the rocks) URRGHH!! She's right, these rocks are too heavy to clear up!
Fluttershy: You think she wasn't kidding about the... (Gulps)... Monsters? (Suddenly, loud ominous shrieking is heard down the caves).... Wait.... That doesn't sound monsterious to me at all.
Icky: SPEAK FOR YOURSELF! That is the scariest f****** sound I've ever heard come out of an Alternate UUniversal animal!?
Fluttershy: "But that's the thing! It's only an animal! Why would Qui even have the nerve to call them "monsters"?"
Icky: "Seriously? When you have full permission to be afraid of something, you choice to ACTSELLY BE FUCKING BRAVE FOR ONCE?!"
Mr. Dodo: "Well good thing I always carry around with the Universe guide. Now we can study something about these things. And according to it, we're in the planet known as "Grooka". Where it is the home of the infamous "Grook-Grook Birds"."
Icky and the Penguins started to laugh!
Icky: "GROOK-GROOK!? THAT'S THE STUPIDEST NAME FOR A MONSTER I EVER HEARD?! Maybe these stupid fuckers won't be so bad after all."
Mr. Dodo: "Uh, would you still say that if I showed you a picture of such a creature in the UU guide?"
Icky: "Ok, I'll accept that bet! How bad could they possability-" (He sees the picture of the bird, which it appears like a terror bird with red, yellow, black, and gray colored feathers, small flightless wings with a clawed finger on each tip, large colored beaks with a serrated hook-shaped edge and a yellow face, and large black, red, and yellow crests similar to a peacock's tail feathers)... OH, GOD!!! IT LOOKS LIKE THAT TERROR BIRD THAT YZMA ACCIDENTALLY TURNED HERSELF INTO!!! ONLY BIGGER!!!
Lord Shen: "Worry not everyone! As long as we can fight back, these stupid creatures mean nothing to us-"
Fluttershy: "NO!?"
Lougers and Main 5: "What!?"
Fluttershy: "It's not right to hurt those poor creatures because they're acting as nature wants them to act! They know of nothing about Qui dropped us here! As far as they know, we're just random creatures to them."
Lord Shen: "Fluttershy, it's not like I want to explode them or anything! Just a few scratches here and there and those stupid beasts run off like cowerds!"
Fluttershy started to wimper.
Lord Shen: "But, but Flutters! I promise it'll purely be self-defence!"
Twilight: "Shen, you know how Fluttershy feels about animals being harmed, even if it's to defend yourself!"
Spyro: "Besides, this is like Blot! He may've been, insane, but he knew nothing about Mang putting us in his way! And it was wrong of me to abandon him to Taiklar because he was abit assholish! These birds had no prior knowledge or acknowledgement of Qui and they'll just see us as something that just happened to exist. So, for Fluttershy's sake, we can punish Qui all we want, but leave these simple creatures out of it."
Lord Shen growls!
Lord Shen: "Fine! But I HATE IT when the great general of the louge is forced to run like a cowerd!?"
Mr. Dodo: Well, doing it for Fluttershy's sake is not only reason not to hurt these creatures! It says that this creature is critically endangered, sacred to the natives of Grooka, and protected by law with a penalty of 5 years in Oranos.
Sparx: Are you serious?!? WE CAN'T EVEN SCRATCH A SINGLE SOLITARY INDIVIDUAL UNDER PENALTY OF IMPRISONMENT?!?
Mr. Dodo: Yep!
Lord Shen: So, she actually thought we wouldn't find out about that, did she? She honestly thought that we would be stupid enough to get ourselves arrested, or even killed? Well once again, Qui's too relient of the previously existing rottan luck of Alternate Universeal Heroes to be rid of us! What a complete, moronic, bi- (The monstrous shrieks grow louder)
Chi Fu: (Does his girl scream, and the shrieks respond back)... THAT WASN'T A MATING CALL, YOU DUMB BIRDS!!
Icky: "Aw no, man, you shouldn't've said that!"
Twilight: Uh, guys, now's about a good time to RUN!!! (They all but Fluttershy do that, who Rainbow Dash grabs, as a few Grook-Grook Birds, that stand very tall and make strange bird noises appear with amazing agility, searching the area for them until one of them spots the footprints made by the Lodgers, and calls loudly, signaling the others to follow, along with a smaller juvenile which clumsily trips over until it's brought back up by it's mother)
Boss Wolf: HOW THE FLYING F*** ARE WE SUPPOSED TO DEFEND OURSELVES FROM A CARNIVOROUS BIRD THAT WE CAN'T EVEN HURT?!? WE CAN'T KEEP RUNNING FOREVER!!!
Max: Yelling isn't gonna help, Boss Wolf, it's only gonna draw them in even further. (The shrieks are heard, and the Lodgers see that they're leaving footprints)
Po: Uh, guys? Aren't we leaving tracks?
Icky: AW, F****** CHRIST, YOU HAVE GOTTA BE KIDDING ME!!! WE CAN'T EVEN HIDE?!?
Lord Shen: "SOMEONE COVER OUR TRACKS!?"
Patrick was painting the tracks with red paint!
Patrick: "I'M ON IT GUYS?!"
Squidward: "IT'S "COVER", NOT "COLOR" YOU MORON!?"
Pinkie: "I DON'T KNOW WHAT WE'RE YELLING ABOUT?!"
B.O.B.: "LOUD NOISES!?" (Suddenly, they are stopped by more Grook-Grook birds that shriek at them)
Icky: (Does a cartoonishly-scared face with a tongue flailing out and eyes coming out of their sockets) AAAAA-HA-HA-HA-HAAAAAHHH!!! (The Lodgers are suddenly surrounded by the creatures)
Lord Shen: Okay, I'm not gonna stand for this, I'm launching my cannon! (Takes it out)
Fluttershy: NOO!! (Pushes the cannon out of the way of the birds, and the cannon punches a hole in the top, scaring off some of the birds) YOU HEARD WHAT DODO SAID, YOU WILL GO TO PRISON!!
Lord Shen: THEN WHAT THE F*** ARE WE SUPPOSED TO DO, YOU PACIFISTIC HIPPIE BITCH?!?
SpongeBob: (Gasps) Shen! That was very rude!
Fluttershy: Just let me handle this, okay?
Lord Shen: Fine, it's your funeral!
Fluttershy: (Looks at the birds)... Uh... Hello? (The birds shriek at her) NO! DO NOT SHREAK AT ME WHEN I AM TALKING TO YOU!?
The Grook-Grook Birds were actselly surprised by Fluttershy's sudden bravery and began to give her some space.
Lord Shen made a surprised face!
Fluttershy: "Good. Now that I got your attention, you need to realise that, we weren't really meant to be here. You see-"
A big Grook-Grook Bird bugdes through and roars at Fluttershy!
Fluttershy: "....... I assume you must be the alpha male. I'm sure you are a very reasonable and wise alpha."
Lord Shen: "...... She's dead."
The Alpha Grook-Grook roars menacingly, but Fluttershy makes him stop with "THE STARE"!?
Mane 5: ".... The stare!"
Icky: "..... Hey, I forgot she can do that."
The Alpha started to become submissive and surrendered, along with all the other Grook-Grooks!
Fluttershy: "NOW WILL YOU LISTEN TO ME?!"
The Grook-Grooks and their alpha nodded yes!
Fluttershy: "Thank you. Now, as I was saying. We were not meant to be here. We were after a mean dragon lady that took two ponies most dear to Twilight away from us and trapped us here thinking you would kill us for her. Would be so kind to prove her wrong and help us out of here?"
The Alpha started to look at Fluttershy as if she can help them with something, got up and got behind her, and started to shove her like he wants to take her somewhere!
Fluttershy: "Oh! Is there someplace you want us to go first?"
Icky: "A private place to kill us, no doubt."
Twilight smacks Icky!
Icky: "OW?!"
The Alpha squeaks in several sounds.
Fluttershy: "Oh, your saying you want us to go to your nests to help you with something?"
Icky: "Yeah! To feed their kids! WITH OUR BODIES?!"
Shenzi bonks Icky in the head with a bone!
Icky: "OW AGAIN?!"
Fluttershy: "I think they want us to go with them."
Lord Shen: "Oh no! I am not going anyway near those-"
Lord Shen quickly realises that the other Grook-Grook birds wouldn't let them leave.
Lord Shen: ".... Drat..... FINE?! We'll go!"
The Alpha moves Fluttershy on it's back and startes to move.
Spyro: "Well, if Qui's watching this, is she gonna be in for a surprise."
(Cobra): "..... (LAUGHS LOUDLY?!) Seriously?! You thought that Fluttershy would be afraid of what turns out to be another animal?! Fluttershy does tend to be easily intimidated, granted, but, I'm afraid she's a master of animals!"
(Darkness Qui): "I DIDN'T KNOW AT THE TIME?! How was I suppose to know she's good with creatures?!"
(Junjie): "..... Her cutie mark has butterflies on it!?"
(Darkness Qui): "..... The tattoo on her butt represents being good with animals? I thought that was a symbol of being a cowerd. Ya know, like "Flatterflies in my stomich"?"
(Dr. Nefarious): "Yes she's phathic, but NOT IN TURNS OF ANIMALS, YOU OVERCOMPIDENT INBACLE?!"
(Darkness Qui): "PLEASE DO NOT CALL ME THAT?! I just didn't think the cowerd of the group would surpass monsters?!"
(GLAdos): "It's always the shy ones, now is it?"
(Darkness Qui): "SHUT UP?!"
Somewhere in the cave.
The Lougers appear to a series of nests where Grook-Grooks are everywhere.
Icky: ".... Nice nest, but look at the location! Not a good place to be raising hatchlings!"
Donkey: "Uh guys? Does something look, funny to you?"
The Lougers see that a series of sentient beings obviously not being from this world are seen working on a speical kind of machine.
Lord Shen: ".... Are those, people? How are they not, lunch!?"
Rainbow Dash: "Well why would they when there's plenty of giant beetles for them to farm!"
Giantic beetles are being farmed by Grook-Grooks working with more sentient beings.
Lord Shen: "Wait.... But.... Aren't these things suppose to be, unsentient beasts?"
???: "And they still are."
A Grey Alien-look-a-like being rose from the ground and landed.
Alien: "But we handle the rest. Welcome, to the secret paradise: Grook-Grookera."
Boss Wolf: "..... And, you are, guy who's somehow not dead?"
Alien: "I suspect your victims of those malicous rumors used to deter people from coming here. Well, allow this old Xuron to correct that. I am the leader, Kucran. Former Grooka researcher, and someone who wants to free Cranleen from her pain, and help her refit into socity."
Icky: "... And who the fuck is that?"
Grook-Grook birds growl at Icky!
Kucran: "Now now, Grook-Grooks. He has a right to be curious.... As, offencive as it can be."
Iago: "Uh, yeah. I would like serious explanation here, cause I was expecting to be ripped apart!"
Kucran: "Come. I'll show you to the hylogriftic rooms. My sister and some more guests that were able to amaze the Grook-Grooks with great magic, are there as well."
Icky: "Well I doubt it's gonna be anyone we know."
A room of Hylogriftics.
Kucran walks in with the Lougers and Main 6.
Kucran: "That's my sister Kleeman and the other guests."
The Lougers made surprised gasps to see that the other guests are the Heroes Act!
Xandy:... GUYS?!?
Vancer: WHOA! Mind-blown!
Cloakblade: Well, don't you look surprised than ever?
Sandy: How did you guys get down here?!?
Zosimo: It's a long story. We came here to investigate the reports of strange activity and slove the millendia long disappearing trouble of Grooka. And man are we still being surprised of what is going on here!
Magnum: I was able to convince the Grook-Grooks that we meant no harm, and they took us here. The people here, it turns out, are worshippers of the immortal legend of Cranleen.
Applejack: Cran-what now?
Magnum: Cranleen. She was a hero who saved this planet from a tyrannical and technological overlord, and ended up becoming a technophobe due to a tragic history of her parents murdered by a machine, it drove her to torment and exicute Grookians that attempted to restore tecknowagy, and refused good ones the right to reestablish tec to use for good, even when they denounced loyalty to Graak, the tyrantical overlord. She was granted punishment for the crimes of anti-advancement that appeared afterward, she was imprisoned in silver in this very volcano.
Zosimo: We had assumed that the legend was a myth, and that the Grook-Grook birds were prehistoric creatures that were released by a volcanic eruption that was covered up by the USRA.
Fluttershy: USRA?
Kleeman: I assume you are not native to our worlds since we heard tall tales from the surface about your adventures, and have little knowledge of our UUniverses.
Icky: Well, we originally didn't realsied you people existed until one fateful accsidental trip through a Blackhole portal that lead us to a wild adventure against a racist salamander warlord said otherwise. But can you remind us what the USRA is again?
Kucran: The United Sentient Races Alliance, it was composed of all 12 dominant races of this world, including the humans that sadly left our world during the dawn of the Villains Act. Today, these races are split into Federations and are all joined as the Legion of Dominant Races.
Boss Wolf: Ohh, so THAT'S what those races have been up to.
Kucran: Me and my sister hail from one of those races, the Xurons. But we left our home planet long ago to take up a life of taking care of these endangered creatures and helping their old master.
Aurlena: "Well, I kinda still think it's risky to help someone punished by the USRA for anti-advancement. I mean, what if she ends up attacking us for using tec to ironicly free her?"
Kucran: "We know, about Cranleen's tendingcy to, over-judge a situation. But the machine is not for the silver. Simply melting it off works. The machine, is an exspearimental device capable to cure childhood trumas. We plan to use it to help Cranleen be rid of her hatred of tec by making her get the strengh to get over her tragity.... Trouble is, we know she, won't take the jesture kindly. And who would blame her? It's asentually a complincated form of "brainwashing", and natrolly she will accuse us of it and, harm us for it. That's why we need the yellow Lony-like creature and the Hynoa to calm her down and keep her still."
Icky: "Yeah, uh, buddy, as much as we want to help reform a deludional immortal crane lady back to socity, we're kinda busy getting Darkness Queff and her cronies off our backs!"
Kucran: "Our sentrys had warned us of an unfriendly Zewinsaur and two criminals and a dangerious cyberconectic droid are in the planet. We took down some of her machines to protact this place. We had to. We don't want her to attact the attention of a rouge Grookian faction that will not forgive Cranleen for, her mistakes. Graak's great desendent, Corrk."
Icky: "You mean, those hawkman guys on the walls?"
Kucran: "Many grookians, thanks to Cranleen's spieces and others, have long forgotten, and forgiven, Cranleen's, ill-advised but still noble actions against tyranny, but, Corrk, is among a group of rouge Grookians that are trying to find and destroy Cranleen."
Lord Shen: "Well THOSE basturds are out of luck! You can't kill an immortal."
Shifu: "Shen, we have discovered in our adventures that immortal beings are not as indestructable as steriotypically believed to be."
Lord Shen: "I know, but as long as Corrk doesn't process an immortal-slaying weapon, I think this lady will be fine."
Kucran sighed.
Kucran: "I wish I would say that you're right.... But you're not."
Lord Shen: "..... What do you mean?"
Kucran: Well, Graak had known about the gods that gave Cranleen the power to save her home, and he knows about every single weapon she wielded during her time. One of those weapons was a sword named Vasaxa, which was crafted by those who granted her the powers she wielded, and was considered so powerful, it could nullify one's immortality and render one stab a deadly blow. Corrk was able to discover that these rumors were true, and Vasaxa is now in his possession, as he intends to use it to kill Cranleen.
Lord Shen: Are you serious? Her sword was powerful enough to kill a godly being?
Icky: Like the Blade of Olympus from God of War?
Kucran: What's that?
Icky: Crap, forgot about that! Never mind, it's not important, please continue.
Kleeman: Well, we have been spying on Corrk for quite some time since he first threatened our people. And trust me, you do NOT wanna meet him. He is so powerful, he ripped a Grook-Grook Bird's head clean off like it was plastic. And with that sword, nothing has ever proved too much for him. As soon as you see him, you're dead.
Kucran: We've tried so hard to retrieve Vasaxa for Cranleen, but anyone who has ever tried has never come back alive. The reason why we haven't freed Cranleen right away is not just for the fact that it's not complete, but that she wouldn't take kindly that her sword has been taken by a descendant of her worse enemy, who she'll be more infuriated when finding out is much, much worse.
Magnum: They asked us to help them, and that's what we came here to do. It's possible that they might help us out of this cave-in if we help them.
Cloakblade: So what do you say? Are you willing to help us fight them?
Lord Shen: I don't know. Releasing a crazed technophobic fallen hero seems a bit risky to me.
Fluttershy:... I say we do it.
Twilight/Shen/SpongeBob: What?
Fluttershy: These Grook-Grooks spared our lives, so we owe it to them to help them out. It really pains me to know that not only are they endangered, but they are suffering from an evil overlord who wants to murder a fallen hero who was a victim of tragedy and psychological pain. It wouldn't be right to let these creatures be destroyed by him, would it? (The Lodgers mumble in skepticism)... Please?
Lord Shen:... Very well! We shall help you. But only if you help us rescue our allies' captured friends in return. That dragon lady capturing them is the reason we came here and it was how we were lured here in the first place.
Kucran: You have our word as gentlemen. We shall rescue your comrades as gratitude.
Twilight: Thank you so much! You don't know how much this means to us. (The juvenile Grook-Grook from before comes up to Fluttershy, and let her pet him)
Pinkie: Aww, I think he likes you.
Fluttershy: I believe so.
White Rabbit: So what do we do first?
Meanwhile...
Darkness Qui: (Still carrying Shining Armor and Cadance, and they head to this abandoned-looking city on the other side of the mountain)
Narcotic: Is that where they said to meet us to keep our prisoners secured?
Darkness Qui: Yes. I still owe that guy a favor back when I was still ruling over the Villains Act. He might not be very happy with me knowing that the Villains Act has been decimated, but it's worth it. (They enter the city, and they travel through the uninhabited streets and they enter the giant fortress, which has a load of technological machines and robots inside, as well as a few hawk-like beings) HELLO?!? (Everyone sees her) I'd like to speak with Corrk!
???: AH, DARKNESS QUI! (A large silhouetted caped hawk-like being with large ominous wings, razor-sharp talons, a flat-topped head, a scarred cybernetic right eye, and a black-and-golden-colored robe appeared from the shadows) Back to pay your debts with helpin' me take down that pitiful Cranmeen?
Darkness Qui: Actually... Uh... I sort've forgotten about you.
Corrk: What?
Darkness Qui: Well, it was only 15 years ago since I made this deal, and I had my hands full. Not to mention I lost most of my power since the Villains Act was destroyed, so- (Corrk pinned Qui to a wall, holding her neck with his talons, and he reveals cybernetic implants between his wing feathers that sprout silvery blades)
Corrk: I KNEW FROM THE START THAT YOU WERE NOTHIN' BUT A FAILURE!! YOU LOST EVERYTHING YOU HAD BECAUSE OF THEM LOUSY INTERDIMENSIONAL MISFITS, AND I'VE BEEN WAITIN' GOD KNOWS HOW LONG FOR YOU TO GET YER' ASS OFF OF THAT CHAIR AND HELP ME OUT WITH THOSE GROOK-GROOKS!!!
Darkness Qui: CORRK, PLEASE!! IT WAS JUST A MISTAKE!! I'VE COME HERE BEGGING YOU TO TAKE CARE OF THESE HOSTAGES AND ALLOW US TO HELP EACH OTHER OUT!!!
Corrk: I only accepted that offer just to make you pay your contributions! I grow impatient with yer' puny gestures, lady! If you're here to help, then great! Because I own you until all this is over! If you or ANY of your comrades try to leave, I'll gut you like a poulkey! GOT IT?!?
Darkness Qui:... Yes! (Corrk lets her go as she gasps for air)...
Corrk: Then it's settled! Now, name your conditions to this!
Darkness Qui: "Well, I attempted to use the creatures you don't like to kill the lougers for me and I planted spy-drones to spy for me.... Thing is, alot of them got-"
Corrk: "You mean these things? (Carries a destroyed Spy-drone) Those Grook-Grooks may be monsters, but they're SMART monsters. My more careful spies reported that such an attempt is futile. They said a yellow lony-like creature managed to convince even the feruious alpha Krooam to spare them. She's been dispribed as, an animal master. Like that nature witch Cranleen!"
Darkness Qui: "..... Well NOW I feel like a fucking idiot!?"
Corrk: "What do you mean, "feel"?"
QP: "Ohh.... Burn."
Darkness Qui: "Ok, since those stupid birds are failures, how's about you guys help me waste those misfits that ruined BOTH of us, and kill those beasts at the same time?! It's like killing two birrrrrrrrrrrrr......... Bugs, with one stone."
Corrk: "...... I'm not an idiot Qui. I know of WHAT you were originally gonna say. But I presiate the, attempt, of not trying to be offencive. After all, I was a benufactor for your silly conquest team. It's a shame that, thanks to the overcompident idiotcy of another benufacter, Xerxes no less, it ends up being a waste of time!"
Darkness Qui: "Look, I don't blame you for being upset. But again, if it wasn't for those misfit clowns "accsidently" coming here, you would still have a chance of having full VA support against those things!"
Corrk: "And I was hoping for that! Outside of a few rouges, the rest of the Grookians have forsakened my ansister and promised to not become the warlord race we once were! They're blind to the truth and afraid! And now, a fanctic member of the fallen USRA hypocritically wants to free that fallen hero in hopes he can actselly cure her with an un-tested device! Which I suspect why the Grook-Grooks broke your little toys. To make sure, I WON'T, be using them as well. But I trust you have more then that?"
Darkness Qui: "Alchourse. A former empress of evil always come prepared."
Corrk: "Oh, and another thing. The secret founders wish to talk to you about your little, "escapedes" in that other universe. Fair to warn you. Neither of them sound happy for your return... I guess I'm not the only one unhappy with your lack of progress."
Darkness Qui: "(Gulp). The Secret Founders are making contact? And they're mad? Where are they calling from?"
Corrk: "My transmiter in my throwne room. I suggest you hurry. They don't sound like a pathine sort. Believe my word on that."
Throne Room
Darkness Qui: So... How have the founders been since I left?
Corrk: Oh, they've not been doing well. Especially since all their hard work is wiped from existence because of those nasty "friends" of yours.
Darkness Qui: (Gulps, and turns on the transmission) Hello? Secret Founders? You requested my presence?
??? 1: (Several silhouetted figures are seen on the holographic screen) Welcome back, Qui! It's been so long since you left to pursue your silly little revenge... AGAINST OUR WISHES!!
Darkness Qui: Yeah, I'm sorry about that. I thought I would come back after getting revenge on those heroes, but-
??? 2: But what's all this we heard from the Grand Council about you blackmailing a godly princess with sensitive info?
Darkness Qui:... Okay, that was a pretty hard time.
??? 3: Yeah, especially since we heard how you chickened out like a pussy and apologized like a big baby. (Some of the Secret Founders laughed)
??? 1: But that's beside the point. You do realize that we are not happy with your failure of doing this goal, not to mention that we have a code to stick together no matter what. We've heard too much of your schemes such as that one with the Skeeterazoids.
Darkness Qui: I know, and again, I am sorry!
??? 4: And our computers showed that you were heading for Grooka, where we recall you making that deal with Mr. Corrk here.
Corrk: Yeah, Qui! You owe me a favor!
??? 5: So as punishment for your disobedience and your incompetence, you shall spend the remainder of your time with Corrk until you pay your debts to him.
Corrk: Don't worry, guys! I warned them that I'll kill them if they try to leave.
??? 6: Good! Because it's better that you died than us!
Darkness Qui: Wha-why would you say that?!?
??? 7: Because our careers are being threatened! The remaining villains of the Villains Act are trying their best to make a living in these worlds since the Heroes Act started getting stronger. And we had heard a few days ago that the Heroes Act had just landed here, and-
Darkness Qui: WHAT?!? THE HEROES ACT IS HERE?!?
??? 8: Indeed! And you'd better prove that you can do something right for once, or else!
Darkness Qui:... Or else what?
??? 9: Or else... YOU AND YOUR ASSOCIATES ARE FIRED!!!
Corrk: Well, well! Looks like the head-honcho of the Villains Act is losing her edge. (Chuckles)
Darkness Qui: (Shrugs) You won't be disappointed, my dear masters!
??? 1: I sure hope not! Secret Founders out! (The transmission shuts off)
Darkness Qui:... (Sighs) I never should've come here!
Corrk: Too bad, lady! Let's go! Now! (They leave as Shining Armor and Cadance are still tied up and put inside transparent tubes that spray knockout gases that cause them to fall asleep)...
Mt. Cranleen Caves
Kucran: Alright, friends, come with us, and we'll explain what to do.
Sandy: (Notices that Xandy's pet, Nytrox, isn't with them) Uh, Xandy? Where's... Nytrox?
Xandy: Oh, he's not here. He's at the vet. Getting treated for worms. And good thing, too, because with all these carnivorous birds around, our first encounter with them wouldn't have been pretty.
Sandy: Yikes!
Icky: "Ok, so how do we rescue our friends AND make sure Corrky stops being a pest?"
Kucran: Well, any one of us who saw Corrk face-to-face was never able to stay alive. If he even sees one of us, we're already dead. His fortress is technologically-advanced and comes with the greatest security system. Audio sensors, motion sensors, silent alarms, and invisible energy fields that kill with one touch. Nobody has ever been able to get in without being seen. Even our most skilled members were killed thanks to that technology. Those odds pretty much ensure that there are no options left to get in.
Skipper: We make our own options! No odds have ever stopped us before.
Kucran: Your reputations may be great, but you would all be torn to pieces if you tried to enter. You'd have to make contact with the people in side in order to get inside safely. But disguises haven't been an option for us either since the energy fields sense neurological makeup. That means it can tell who to zap and who not to zap. Not to mention that Corrk has a keen eye for sensing intruders. Literally, he has a cybernetic diagnostic eye which can detect biological makeup even with magic or technology. He sees everything. That's part of what makes him worse than someone like Graak.
Mushu: You mean... That jerk can see a lot of stuff with that cybernetic eye of his?
Kleeman: EVERYTHING! Heat signatures, UV radiation, x-ray vision, weaknesses, strengths, the list goes on. He's got a few other equipment, too. He's got retractable blades on his wings that he can not only use as makeshift knives, but he can also launch them at will, killing anything it strikes. His eye even serves as a laser lens that allows him to fire lasers at whatever he faces.
Donkey: DAMN!
Kucran: Your top priority is to stay away from him at all costs. And... That's about all there is to say about him and his fortress. Stronger security systems, and an unstoppable leader.
Shifu: "No one is tuely unstoppable. All that gear, only delays his ineditable defeat."
Kucran: "I admire your enfusiasum. But enfusiasum, doesn't make defeating him a possability."
Kolwalski: "Well SURELY there has to be a weakness to that fortress! That tec doesn't power itself!"
Kucran: "And you are, tecnecally correct. The majority of it's defences are powered by a hidden engery generator we have, yet to find. It's been named "Graak 8000", named after the tyrant himself."
Icky: "Well I bet he would put it somewhere near the city he's in, but also hidden!"
Kucran: "We tried to investigate such an earlier thorey, but it ended in falsehood. All we got about the locations of Graak 8000, is through unconfirmable rumors that it's inside the castle of the tyrant himself, Graak Palace, litterally in the very city outside of the cave you lougers came in."
Icky: "AW, CRAP!? That's the same cave Qui blocked out! Those rocks are assnumbingly too heavy for us to remove!"
Kucran: "That's the humorious thing about Grook stone. If you panic in trying to remove it, it becomes heavy. But, if you calmly picked it up, it is as light as a feather."
Kolwalski: ".... THAT'S SCIENCTIFICLY IMPOSSABLE?!"
Kucran: "No doubt in the straight-forword logic of your universes and most worlds, but Grooka, is a different beast of a planet. Grooka was once a planet of endless fields, until an enlighted being desided to create spiecal rocks that react to the mood of one's nature."
Merlin: "Ah. Your saying they're like "mood stones", but your own mood litterally determins waight."
Kolwalski: "I STILL SAY THAT'S INSANE BS?!"
Kleeman: "Is that so? Then carry, (shows Kolwalski a pebble), this pebble."
Kolwalski: "Ok fine, but only if it'll show ou aliens that your full of-"
Kolwalski grabs the pebble but it blams into him like it waighted 200 tons!
KolwalskI: "AHHHHHHHHHHHHHHHHHHHHHHH-HA-HA!? IT'S LIKE I'M HOLDING 400 ELEPHANTS AND THREE AND A HALF REALLY FAT PATRICKS ON ONE LITTLE PEBBLE?! THIS IS IMPOSSABLE?!"
Kucran: "That's because these stones react poorly to ignorence. Simplely embraceing the truth will take the pebble to it's true waight."
Kolwalski: "BUT IT MAKES NO LOGICAL (Crack!?) AGGGGGGGGGGGGGGGGGGH?! NOW IT FEELS LIKE SHEN IS STEPPING ON ME WITH EXTREMELY HEAVY VIKINGS WHILE HOLDING 7000 ELEPHANTS AND 12 REALLY FAT PATRICKS!? AND AN OVER-WAIGHT PO!?"
Po: "Now wait a minute! That last bit was alittle uncalled for."
Kucran: "It's only gonna get heavy until it litterally kills you. Stop panicing and being ignorent, and the pebble shall survice to calm embracing."
Kowalski: How? I'm in too much pain to- (The pebble gets heavier) AAAHHH!!! OKAY, OKAY!!! (Clears his mind, and the weight is reduced, and he is able to lift it off of him as a few small wounds are bleeding)... Am I insane? Have I literally been reduced to hallucinating? Because this can't be reality! It defies all known laws of science!
Kleeman: Science is not something very appreciated on this planet, remember?
Kowalski: So you're saying that even the laws of science don't apply to this planet? Huh? When I push a pebble, does it just keep rolling away until I can't see it?!? DOES FREEZING WATER NOT CRACK WHATEVER IS CONTAINING IT?!? HOW THE F*** IS THIS SUPPOSED TO WORK?!?
Skipper: It's MAGIC, bitch! Now please, get a hold of yourself before you really DO end up going insane!
Kowalski: Okay, fine!... (Faints)
Kucran:... What's eating him?
Skipper: He's a worshipper of science. He hardly understands magic even when it's shown right in front of him. It goes to the point where he goes insane. But just so we're clear, these rocks' weight are magically determined by mood?
Kleeman/Kucran: Yep.
Dr. Cockroach:... IT JUST DOESN'T MAKE ANY SENSE!!!
Kucran: Just follow us and we'll help you through those blocked entrances. (They go down the hall with Grook-Grook Birds escorting them.)
Later...
Kucran: (They approach the place where the Lodgers were caved in)... Alright, just lift the rocks calmly, and their weight will be reduced.
SpongeBob:... Okay, we'll try.... (Gently pushes the rock, and it actually gets pushed out, disrupting the wall's integrity and causing it to fall, opening the way) GREAT GUPPIES!!!
Kowalski: Makes no seeeeaaaahhh... Makes no seeeeaaaaahhh... Makes no seeeeaaaaaaahhhhhh...
Skipper: Kowalski, give it a rest! How many times have you gone on like that?
Rico: (With a chalkboard) 28!
Kowalski: Seriously, how does this work? Feelings determining weight like it can manipulate the planet's gravity? It just makes no seeeeeaaaaaahhhhh...
Rico: 29!
Twilight: It's magic, Kowalski! You don't have to explain it! Now please stop saying that and let's find that power generator.
Skipper: It's no use, Twi. When Kowalski is in a logical breakdown like this, he'll be like this for days.
Kowalski: Makes no seeeeaaaaaahhhhh...
Rico: 30!
Icky: "Well, that's ONE obsicle. But sometime tells me these fuckers aren't actselly stupid enough to leave their generater defenceless. So we better be ready for a fight!"
Kucran: "The only guard of the Graak 8000 generator, is but one Grookian. But he is Corrk's best warrior: Dorrk."
Silence.
Icky, Iago, and the Hyenas laugh!
Icky: "HE'S NAME'S DORK?! BUT WITH 2 RS!? (LAUGHS?!) UNLESS HE TURNS OUT TO BE A HULKING MENACE, HIS NAME IS FOREVER GONNA BE LAUGHABLE TO-"
Kucran: He IS a hulking menace.
Icky: F***!
Lord Shen: How the heck did you know his name had two R's? Was there ANY subtitles you saw?
Icky: IT'S ON THE PAGE, OF COURSE!!!
Lord Shen: Okay, I could be annoyed about the fact that goes beyond breaking the fourth wall, but you can't READ a page when what you're saying is being determined BY the page!
Icky: I'm not questioning it, why should you?
Lord Shen: BECAUSE I THINK IT'S TOO MUCH OF A FOURTH-WALL JOKE!!!
Pinkie: Hey, I say it's a good joke.
Lord Shen: HAH! Easy for you to say, you're a MASTER of shattering the fourth wall.
Kucran: THAT IS ENOUGH, all of you! It doesn't matter what you're arguing about, I am gonna end it! Dorrk is not someone that takes his name being laughed at, kindly. A lot of this planet's names have two repeating letters in them.
Kleeman: Hell, some even have THREE repeating letters in them.
Icky: You mean like 'Kashyyyk'?
Kucran: What's that?
Icky: D'OH, walked right into that one again!
Kucran: But regardless, Dorrk is- (Icky and Skipper scoff)... Dorrk is just like Corrk, being cybernetically enhanced.
Kleeman: Yeah! You should see what kind of weapons he has. He may have a rare condition that makes him flightless, but he has this large cybernetic arm that could crush somebody's head like a balloon. Plus it shoots plasma... And gives him super-strength.... And it even makes a good massager device that relaxes his shoulder when it feels tense.
Tito: AWW, I WANT ONE!!
Kucran: Trust me, you have to be careful when facing him. If he grabs you, you're dead.
Iago: SERIOUSLY, HOW ADVANCED ARE THESE GUYS?!?
Kucran: At a Teadr 2 level.
Rarity:... A what 2 level?
Zosimo: A Teadr 2 level. 'Teadr' is a word that describes a technological-advancement level in the language of one of the Legions' races. When a race is at Teadr 2... It means they're highly-advanced. So advanced, that they can create plasma weaponry, can master holography, create hyperspeed, develop very intelligent robots, create artificial brains, and even cure cancer.
Icky: JESUS, THEY CAN DO THAT?!?... If I ever get diagnosed with that stuff, I'll give a race of that level a call.
Tigress: While that does give us a warning about who's guarding the generator, it doesn't answer where the generator is hiding.
Kucran: "Do remember the rumors about the generator reportingly in the palace of this capital city. Graak Palace?"
Tigress: "But you also said the rumors are unclear! What if we end up going into a deserted castle for nothing?"
Kucran: "Well, you can argue if that your able to find evidences of Dorrk, you can find the generator. But, again-"
Icky: "If he can see US, we're corpses. Yes, you said that already! So, are we gonna assume the "Graak Palace" is gonna be filled with defences besides Dorrk?"
Kuclan: "Well, luckly, Dorrk is believed to have a dangerious sense of self-pride and overcompidnece on his own power. He'll surely mistake himself as the only defence Graak 8000 will ever need. Alchourse, that won't stop Corrk being cautious and sending Dorrk at least one or two centaurian battletrons! Nasty piece of machenery. A Centaurian was respondsable for Cranleen's parents' deaths."
Sandy:... Can you describe THOSE things for us? We'd like to know what they look like and what they're capable of.
Dr. Cockroach: And I can assume by the name that it looks like a centaur, right?
Kleeman: What's a centaur?
Sam: A creature with a human's upper body, and the body of a... Whatever your worlds' version of a horse is... Body. And a horse is what our ponies friends are, only bigger and more muscular... And not having those tattoos on their butts.
Kleeman: Oh, you mean your worlds' version of centarras. And no, they're not like those creatures at all. We mean centaurian as a fancy way to say "warrior" or "gladiator".
Icky: "Oh, you mean like "Spartan" Centaurians!"
Kleeman: "Well, if I assume centaurians in your universes are alike, then yes."
Twilight: Well, we can't worry about that right now. We must get to the Graak Palace and get that power generator shut down.
Sandy: Then what're we waitin' on, let's do it! (They travel off to the city where they entered the cave)
Graak Palace
Max: (They arrive at a large palace)... Is this it?
Kucran: "Yes. This is the Graak Palace, where Cranleen defeated Graak... And where, the Grook-Grooks ended him."
Viper: Well, if this is where Graak ruled the planet, then why isn't this where Corrk is ruling?
Kucran: Because this place would be too obvious. He needed to find a place where nobody would look the first time. So he chose the Palace on the other side of the mountain, and he used this palace to install the Graak 8000 generator.
Squidward:... Okay, Corrk really must be stupid. Why would he put the generator in the very place where he thought people would first look for him, and make the risk of it being destroyed? That's not very smart for a merciless overlord. If he was REALLY smart, he would've hid the generator somewhere else.
Kucran: Do not underestimate his choices. He can really trick people that way. Like I said, we had yet to find the Graak 8000, and we do know that it's in the palace. But we just don't know where.
Applejack: Well, don't you worry, we'll help ya' find it, and get this Corrk varmint to justice.
Shifu: Indeed, we have magic by our side that can allow us to see things that you cannot.
Kleeman: Oh, trust me, we tried magic, too. Magic plays a big role in our society, and not just with the mood rocks. But magic doesn't help much. Corrk did something to the palace that made sure that nobody, not even a magician, can find it. We've searched every corner in the Palace for the generator, but it has never turned up anywhere. Trust me, finding this generator will be a challenge. That is, if don't take the time to destroy the Graak runes first in the royal garden. Which thankfully, is not to hard to find. It's litterally the first thing you see in the Graak Palace. Graak had a kinder, plant loving sister that was basicly the reason why the Grookians weren't genisided to extintion by Cranleen. She never supported her brother's fool-hardy and cruel ambitions to subugate the other races under the Grookian rule.
Icky: "So, Corrky's related to Graak-attack by nefpew-uncle, huh? So that means the rest of Graak's family and current desendents basicly dumped that asshole, right?"
Kucran: "Yes. Graak's family from since his fall, bared no loyalty to him. The bloodline had attempted to erase Graak from history to avoid upseting Cranleen. But poor Corrk, he mistook his own family's attempts to amend to all of Grooka as acts of being subugated, and wrongfully accused of Cranleen of being an anti-progressive unreasonable tyrant."
Aurlena: "Well wasn't she TECNECALLY doing that already?"
Kucran: "That is a sad truth, but here's the difference. In factuallity, Cranleen was a victim of being wronged by Graak misusing advancement for ill-gotten gain and conquest. Her tecnophobia was born from tragity. But in Corrk's blinded deludions, he thinks Cranleen is just an anti-advancement tyrant who hates science and Graak's ansistery, and considers the truth to be nothing but a sob story and an excuse to lull the people of Grooka into subugation."
Lord Shen: "So, this Corrk just wants to avenge his ansistery and protact the rights of future generations?"
Kucran: "In a tragic, ironic way, yes. But Corrk made the mistake of benufacting the Villains' Act in hopes of getting an army of his own. But thankfully, those unexpected twist of events concerning you lougers, were not kind to him nor the VA. Corrk is blindfully afraid of Cranleen destroying advancement in Grooka again, espeically when his sister, the TRUE ruler of Grooka, is planning to restore tecknowagey to use for good. Corrk, misguidingly, only wanted to protact his sister. But in a way, we're protacting his sister AND advancement too, by curing Cranleen of her problems. But obviously, Corrk sees us only as hypocritical fanactics and extremists. He is like Cranleen in a way. He's afraid that if she returns and we would be, unsuccessful in curing her tragity born feelings, she would simply destroy advancement and wipe out the Graak bloodline forever, possability the Grookians for trying to make tecknowagy return."
Aurlena: "Ok, again.... Are you sure you wanna help an immortal with a serious case of tecnophobia?"
Kleeman: "It's not the first time we're met with concerns when obvious risks are acknowledged. Even my brother and I are, wary on how freeing Cranleen will play out. But we have faith that the mental illness curing device will work, exspearimental as it may be."
Icky: "So we just have to go to a backyard of the castle and trash some runes huh? How hard can it be?"
Kucran: "You mean, apart of three Centaurian Battletrons are in the garden?"
Icky: "..... Well, ker-fuckers."
Po: Oh, pfft, how hard can beating a few robots be?
Palace Gardens
Po: (They see that the Centaurian Battletrons are large black armored humanoid robots with large red visor eyes, a small screen on the mouth area with a red wave line, and carrying mega-sized assault rifles)... Wow, those are some big robots.
CB #1: (In ominous monotone voice) Heat signatures detected! Scanning perimeter for source! (They emit a red wave of light across the area, and the waves are heading for the Lodgers hiding place)
Kleeman: MOVE! (They are able to avoid the sights of the light wave)
CB #1:...No sources detected! (They continue patrolling the gardens)
Po:... Where did the design of THOSE things come from?
Kucran: Graak had a feroious igmagination. I'd explain more, but we don't have time. You have to get past them.
Fluttershy:... Us?
Kucran: Yes. We can't join you in this quest. This is as far as we can go. We're important leaders in the mountain caves. If we die, our home is left vulnerable.
Kleeman: But we'll only be nearby to wait until you get the job done. Good luck, you'll need it.
Mushu: But wait, what about- (The two magically teleport away)...
Icky:... I won't question how they did that, they already established that they use magic.
Puss: We must get past those robots.
Patrick: But how?
Skipper: "Don't worry, Kolwalski is working on a speical series of robot disablers called "Zappers". It'll disable a robot no matter how advance. He mainly meant them to be used against Ne-Dork-Ious' trashcan troopers, but I suppose these suckers could make exsellent ginni piggies! Right Kolwalski?"
Kolwalski: "It makes no seahhhhhhhhhhhh- (Skipper slaps him out of it!) OW! What were we talking about!?"
Skipper: The Zappers you were working on?
Kowalski: Oh, yeah! (Takes them out) I built them out of tasers, and added coils to up the power, and then-
Skipper: Just do it!
Kowalski: Alright! (Sees the robots, and is able to hold his surprise of what they looked like)... Skipper, judging by how big those robots are, I don't think we can disable all of them. They can work on any kind of robot, but a whole army of them can be able to disable me before I could fire the next one.
Skipper: We've gotta get past them, so (More emphasis through whispering) FIGURE IT OUT!
Kowalski: Okay, okay!... God, those guns are big!
CB #2: (Spots Kowalski, but Kolwalski quickly tosses a electic box-like device that latches onto the machine, zap it and deactivate it!)
Icky: "BULLSEYE?!"
Kolwalski does the same to the first CB, as it made surprised robotic sounds before shutting down!
Kolwalski: "SCORE ONE FOR TEAM GOOD GUYS?!"
CB #3: INTRUDERS! (Manages to fire it's guns at Kowalski, quickly dodging it before it hits!)
Kowalski: Whoa!
CB #3: (Grows an antenna that sends radio waves, but Icky randomly appears and cuts off the anntena with hedge-clippers!)
Icky: "No way, jose!"
CB 3 attempted to shoot down Icky, but Kolwalski tossed a zapper that deactivates the 3rd CB.
Skipper: "HA?! These are suppose to be dangerious!? What a laugh!"
Twilight: "That's mainly because we anti-climaticly used a disabling device to shut them down before they can really be a problem."
Skipper: "But still, you'd think these stupid trashcans can put up a better fight."
Applejack: "Now how's about we find the runes now?"
Pinkie: "You mean like these weird purple things on the statue of a mean-looking birdman?"
Glowing purple glows are seen around a statue of Graak.
Magnum: "..... I think those are our runes. It's deffently Grookian magic. It's an anti-detection runes, capable to even keep me from easily telling heads or tells on where the Generator is. But fortunately, I sense this is at best, a level 3 anti-detection runes. A simple de-spell and-"
Magnum zaps the runes with a de-spell spell and the glow fades away.
Magnum: "Voila!"
Icky: "This is suppose to be what killed off many unluckly guys? Wow! These people must be phathic."
Cynder: "Or the robots made it impossable to even get this far, or they didn't had what we had to even make it here."
Icky: "I know. I just felt kinda disappointed that we make this TOO easy, when other people tried what we are doing, got killed, and now, comedical misfits are making them turn in their graves on how stupidly easy this is and yet they died to it. My personal apologies folks who died."
Merlin uses his magic to pinpoint where the Generator is.
Merlin: "Now, to see where the generator is....... It's in a the underground barricks, in a room big enough to handle it."
Sandy: "But where the heck are the barricks?"
Merlin: "We don't need magic for that. Just follow the signs."
A series of signs are seen pointing to certain directions, one sign leading to the barricks symbolised as a Grookian in armor.
Rarity: " Ok, I'm with Icky. THIS IS SUPPOSED TO BE DANGERIOUSLY IMPOSSABLE!?"
Cynder: "Again, the robots obviously got to them before they could make it this far, and that the runes prevent easy derection."
Iago: "Let's just go before Karma desides not to make this easy anymore."
The Lougers entered the hallway and went on.
Underground Barricks.
A giant generator is seen at the centar, as a series of broken armor and bones of deciesed Grookians are seen.
Banzai: "I love what the done to the place. Complamentery bones? Don't mind if I do! (Eats a ribcage and swallows it whole) (Smacks lips) Oh yeah."
Devon: "Charming place. I must get the name of their decorator."
Icky: "Or at best, the decorator's desendent."
Devon: "Oh yes, good point."
The Lougers, Heroes Act, and Main 6 reach the centar.
Icky: "Ok, we found the generator, now let's trash it!"
???: "Not bad, outsiders."
Stomps are heard.
Coming out of the shadows, is a huge hulking Grookian carring a huge lazor whip and a club made of a dark metal.
Spyro: "So this is Dorrk."
Dorrk, the huge grookian: "Not many managed to make it here. Those stupid robots usually get all the fun before I did. Those robots were more competitors for kills then extra security. And those runes only served to help the robots then as to protact this stupid generator. There were exceptions, but they nev'a last long. But now, I bet you really made those tin-cans look really bad now, and judging on how quickly you found this place, you got rids of the runes too. But now, your gonna start wishing you never came to the planet, much less here. Now, your gonna face, DORRK THE STRONG!?"
Icky: "..... Your not that strong."
Dorrk: "..... What?"
Lougers but Icky: "What?"
Main 6: "What?"
Heroes Act: "What?"
Iago: "What're you-"
Icky: "I mean, Dorrky, hear me out. If you so damn strong, why would Corrk need to place in robots we beaten with zappers and runes with anti-detection stuff that was only level 3?"
Dorrk: "Pfft! Easy! Because he's a paraniod twat! It's good ol' fastion musle this here generator really needs!"
Icky: "Well, if you ask me, I think Corrk sent those robots and planted the runes here, because he thinks your not strong enough."
Dorrk: "WHAT!? But I'm his eldist brother! I'm ten thoundson times stronger then all of the male grookians here!"
Icky: "Well CLEARLY he doesn't think so if he sent over robots and magical glowy things that ends up taking out more intruders then you did. He thinks your a weakling. A softie. Incompident. He thinks, your a baby."
Dorrk: "BABY!? HE DARES CHALLNAGE THE STREGTH OF DORRK!?"
Icky: "YOU WANNA KNOW WHAT ELSE CHALLNAGES THE STREGTH OF DORRK?!"
Dorrk: "WHAT!?"
Icky: "THAT GRAAK 8000 GENERATOR!? I HEARD IT MOCKING YOU AS WE WERE HAVING THIS CONVERSATION!? IT CALLED YOU THE SADDEST PIECE OF SHIT IT EVER MET!? ARE YOU GONNA LET IT CALL OUT YOUR BIRDMANHOOD?!"
Dorrk angerly looks at the generator, and charges and it and begins to destroy it!
Dorrk: "DORRK IS THE STRONGEST THERE IS!?"
Monkey: "(Wispers) Not too incredably bright, is he?"
Twilight: "Wow..... Really?"
Icky: "(Quietly) Gets them every-time."
(Cobra): "..... Wow.... That Dorrk guy was THAT stupid in that a mere suggestion and misleading made him metahorically screwed over his own brother?!"
(Darkness Qui): "Yeah, Dorrk wasn't made famous for being a genius."
(Dr. Nefarious): "Wow. That's like me desiding to let Scratch and Grounder in charge of my space station. That's never a good idea. That's why I trust Lawerence with it."
(Cobra): "But what if he had to go to a ritcital with those unseen band-mates he talks about? Who's in charge of it then?"
(Dr. Nefarious): "Zurg."
(Darkness Qui): "Anyway...."
Spyro was surprised on how stupid Dorrk was.
Spyro: "Uh.... I, guess we're done here?"
The Lougers leave while Dorrk was still too busy breaking up the generator as this was all seen by a camera.
Corrk's Palace
Corrk begins to become upset as eventally, the camera feed dies, as with all power in the system.
Corrk: AAAHHH!!! (Blasts his laser eyes at a table) I KNEW I COULDN'T TRUST THAT FILTHY EXCUSE OF A BROTHER!!!
Narcotic: (To Celsius) Wow, I'm starting to wonder that after all these years, he's starting to lose his edge! (Blades are suddenly launched at him as he screams, a blade barely missing Narcotic cuts him) AAAA-HAH!!!
Corrk: You were wondering WHAT?!?
Narcotic:... That you were gonna bruise your eggs? (A drumbeat was heard)
Corrk: Don't play coy with me, I knew what you was thinking! (Slaps him)
Narcotic: "OWIE?! WHAT WAS THAT FOR!? (Cries), IT HURTS MORE THEN THE ROBOT DINOSAUR!?"
Corrk: SEISE THY WHINING?! And about your nitpick on my brother! Yes, I know he's a straight-forword idiot, but he's a straight-forword idiot who's family?! I only keep him around because he's my brother! As for the others who prove to be as stupid as him... (Pops out a blade, and puts it around his throat indicating that he kills them)
Celsius: (Gasp)! Now, Lord Corrk, I know your upset about being momentarly down and out, but-
Corrk: You got a problem with that, hot-shot? (Splashes a cup of water on him) DO YOU?!?
Celsius: DAAAH!! (Turns into ash) I HATE IT WHEN THAT HAPPENS!!!
Corrk: I don't tolerate weakness in MY army! It's survival of the fittest here. Those who are smart are allowed to survive. Those who don't and are lucky enough to survive get their spines ripped clean out! All except for my brother. And because I own you AND your master, I will not tolerate a cross-word you say about me OR my brother. And if you should ever fail this mission and I survive... I suggest you watch your back! Because I'll be ready to make your spines my trophies!
Narcotic: (Crying while stuggling to hold off the bleeding) Who makes spines their trophies?
Corrk: I DO, THAT'S WHO! Now get the Centaurions ready for an ambush on the caves! Now that we've found where they came out... That's where we'll come in, and kill every last one of them Grook-Grook birds until they're all gone, and I'll finally get the chance to destroy my ancestors' worst enemy once and for all!
Narcoitic: "(Cries), Not until you apologies for hurting me!"
Corrk: "WHAT!? Are you defying my orders?! I said-"
A metalic hand grabs Corrk by the face and rips out his cyborg eye grosumly!
Corrk: "AGGGGGGGGGGGGGGGGGH?! MY EYE!?"
The metallic hand reveiled to belong to QP.
QP: "They may be idiots. But no one but me under Qui's approval harms them. (Destroys the cyborg eye forever, leaving Corrk less powerful then he was.)"
Corrk: "NOOOOOOOOOOOOOOOOOO! NOW I CAN'T KNOW THE WEAKNESSES OF THOSE MISFITS!? I'M BLIND TO THEM NOW?!"
QP: "Oh, and I hope THIS (Holds up Cranleen's sword) isn't impourent to you as well!"
Corrk: "(Gasps!) Cranleen's sword! No! I need that to end Cranleen's life! Without, I can't-"
QP: "Harm the bitch? Good! Then I'll take it away from you, then Qui and the rest of us are gonna leave, WITH OUR HOSTAGES!?"
Corrk: "Wha-. What, I..... CENTUARIANS!?"
Centuarians began to appear around the area.
QP: "You know who I am right? I'm more then just a personal robotic doppleganger of Qui. I, AM, HER POWERFUL VIRUS!?"
QP breaths an electic breath around the Centaurians, placing them under her control!
CB 1: "..... We obey your orders, Qui Program."
Corrk started to panic!
Corrk: "NO! NO! WHAT'RE YOU DOING!? WHY ARE YOU DOING THIS TO ME!?"
QP: ".... Because I found, THIS!?"
QP beams up a holo-grathic journal entry on Corrk a few hours ago.
Corrk's voice: "Dear holo-diary. I just realised that Qui is no longer as powerful as I realised. And thanks to those idiot secret founders not permitting me to kill her off now but only until she fails, I am stuck with that weakling! But knowing her track record, it's only a matter of time before she louses up. Then, I'll end her in my leasure, with no Secret Founder objections, considering they consider her a dead investment now. (Laughs), I'm glad that in return of ridding them of that worthless fake Zewinsaur, I'll be given a powerful army of star-bots at my ready! It'll be worth having to spend weeks cleaning up reptilian blood off of my talons. Signed, Corrk."
Corrk now regrets having a holo-journal.
Corrk: "P-p-p-p-p-please! I was only following THIER orders! I otherwise HATE THOSE BASTURDS for having no morals?! I only listen to them, to protact my family, and returning my race to our true glory! Cranleen and her monsters ruined my family legacy and murdered great-uncle Graak! I only wished to avenge him!"
QP: "Well, sucks to be you, cause your gonna have do it, without an ARMY?!"
QP roars up a storm of purple electrisity that infects every Centaurian and other machines under QP's control!
QP: "Machines, destroy the Grookians that served Corrk!"
Corrk: "No?! NOOOO?!"
The machines are seen destroying the rouge Grookians and overwealming them!
Corrk: "NO?! YOU, QUI PROGRAM?! I ORDER YOU TO STOP AT ONCE!? PLEASE?! I NEED MY ARMY! THEY'RE THE ONLY GROOKIANS THAT'LL LISTEN TO ME SINCE THE REST OF MY PEOPLE CONSIDER ME AN OUTCAST THANKS TO MY BLIND SISTER! YOU CAN'T DO THIS TO ME?! PLEASE?!"
QP only punches Corrk down into a painful submission!
QP: "I am doing the idiot organics here a faver, and cutting off an ugly stem in Grooka's history. And once your gone, I think all connections to Graak, shall be erased."
QP picks up a still crying Narcotic as she leaves with a regenerated Celisus who looks at Corrk with disgust.
Celisus: "Now look who's the weak one, asshole."
Celisus leaves.
Corrk started to cry.
Corrk: "No...... Why me? Why always me? I lost the sword.... I'm doomed....."
Outside of Corrk's palace.
Darkness Qui was surprised to see the Centaurians revolt against their former Grookian masters.
Darkness Qui: "..... What's going on, I..... QP?! She's gone rouge again!?"
QP appears with a banaged up, still crying Narcotic, along with Celisus holding the surprised Shining Armor and Candence.
QP: "That's not it at all. The basturd was given permission to end your life, by the secret founders. I have proof."
QP plays the same entry again to Qui, who looked more shock then betrayed and angered.
Darkness Qui: "..... The Secret Founders..... Want me dead? BUT WHY!?"
Celisus: "I think our unfortunate luck with the lougers and their various allies speak for themselves."
QP: "I also taken Corrk's sword so he has no hope in completing his ambitions. But we may want to leave now with these hostages as our sheilds. The Secret Founders are bound to realise we're onto them when Corrk is able to find another way to report to them that I caused the centuarians to revolt over Narcotic being stabbed!"
Darkness Qui: "...... Very well..... Let's just go."
Darkness Qui and friends simply left as the carnage worsens.
Candence: ".... QP..... You actselly saved Qui, her friends, and us, from being victimedised by a conspiracy by those former masters of yours?"
QP: "..... Don't, look too much into it. They may be idiots, but they're my idiots. I'm just protacting them from a crap deal. That's all."
Shining Armor: "Go ahead and just say it's only business all you want, but it's almost the closest to the noblest thing you have done all day."
QP: "..... I just ordered deadly robots to murder their masters. I am sure it's not "noble"."
Candence: "Well, it was abit excessive, but you did it to protact Qui, her friends, and us, from that birdman. For that, we're, sort've grateful. We'll be sure to tell the lougers to go, kinda easy on you 4 for this."
QP: "I doubt they'll agree of such nonsense and accuse you lot of being deludional or brainwashed. Besides, we don't plan to stay here and wait for them. We're just getting off. They want you back, they still have to catch us."
Candence: "Ok, go ahead and play hard to get. The Lougers are surprisingly good at that."
QP sighed in annoyence.
At Entrance of Mt. Cranleen.
Icky: "Wow! That was almost stupidly easy! It can't get more stupidly easier then that!"
Marty: Uh, guys? Isn't that Qui and her associates with Cadance and Shining Armor? (They see them running towards their ship with the sword)
Kucran:... And they have the sword?!?
Kleeman: But-but-but how?
Merlin: Only one way to find out! (Magically teleports them to them, and magically ties them up with rope)
Narcotic: GAHH?! MY STAB WOUNDS!?
Kucran: What are you doing with Cranleen's sword? Do you know how dangerous Corrk is when people try and steal from him?
QP: He's not dangerous anymore.... Well, more accreately, not AS dangerious as he used to. He tried to kill Qui behind our backs under the orders of those ungrateful secret founders should you fools ineditably defeat us, so I tore his cybernetic eye out, destroyed it, had his robots revolt and kill his minions, and took this sword.
Kucran: You did WHAT?!?
Darkness Qui: Look, we asentually did you people a faver. He was nothing but a hopeless psycopath anyway. NOW LET US GO!!!
Xandy: I'm afraid we can't do that, Qui! You need to make up for what you did to our allies by giving them back their comrades.
Cadance:... Who are you guys?
Gilda: They're the Heroes Act, of course. We've been telling you about them a couple of times before.
Shining Armor: Oh, yeah! This is just the first time we're meeting them.
Cloakblade: It is an honor to meet you, too.
Twilight: (Frees them both) I'm just glad you two are safe.
Magnum: Now let's send these guys to Oranos.
Celisus: "AND MAKE IT EASIER FOR THE SECRET FOUNDERS TO HAVE A SECOND CHANCE TO ASSASSINATE US?! The Secret Founders yarged out on Qui thanks to you heroes for continuiously getting lucky with Karma, of which Qui still unfortunately doesn't believe in. We need to alarm the Head Secret Founder to put those yargers in line! If they're willing to punish Qui who is only a victim of you heroes continuing to get lucky, who knows what they'll go after! They might go after you misfits next for being a threat, and if they re-establish a new VA without fear of the lougers, expect the Heroes Act to go back to it's suffering days!"
Aurlena: "Aw damn it. I hate it when bad guys make a good point."
Xandy: "But it's not something we should ignor. Now, all VA villains are dangerious and a menace to socity, but a VA villain that has no respect to their own rules and conduct, is an even bigger threat. Besides, Magnum, we transfered custity to the lougers and their universe, remember? Legaly, we're not allowed to just send them to our prisons anymore, let alone Oranos."
Magnum: "Oh, I forgot we did that. Sorry."
Cynder: "Ok, but we have to be careful. The last time we made a relucent allience with Qui to stop QP from turning robotic dinosaurs into forces of destruction, she almost tricked us into thinking she had no objections in destroying QP, only to discover we were obviously flunked."
Pinkie: AND SHE BROKE A PINKIE PROMISE, TOO!!
Darkness Qui: You are still sore about that, you little cupcake?
Pinkie: OF COURSE I AM!
Twilight: Pinkie, that was a long time ago. Just drop it.
Pinkie: Okay.
Vancer: "Well, I kinda don't feel comfertable helping a VA member out of the dangers of Villains Act Polotics. Interferors are known to suffer for meddling."
Cloakblade: "I know Qui isn't exactly the most honorable creature in existence, but the secret founders are being more dishonorable by planning her assassination over bad luck. It's part of my people's virtures to never punish people over what the fates desided. It's not something mortals can easily avoid."
Vancer: "I know, it's just, it's risky. It's clear that even after this, Qui's still gonna be a headache to the other universes since I heard they stopped trying to put her back to jail."
Icky: "Mainly because it's pointless. She's just gonna bust out again anyway in some shape or form."
Zosimo: "Well, I can't say I like Qui, but I reckon I hate the Secret Founders more for trying to pull this off and doing it behind the main guy's back. Begrudgingly, I vote we help Qui quell them Vattlesnakes."
Darkness Qui: "You morons will be a real help if you JUST LET US OUT OF HERE!?"
Magnum: "Sorry, the Grand Council expects us to keep all VA members contained at all times. Espeically if we deside to force people like you to fix your mistakes."
QP: "Oh, for the love of the moons of Hanzo, please don't tell me your gonna make us undo the robot rebelion to help Corrk and his idiots! And why should you care? He's trying to murder a semi-beloved hero who slayed his ansister, and you guys as well. He's nothing but a psycopath. What do you hope to acclopish in saving him? He'll just go back to trying to kill Cranleen again. What's the point?"
Icky: "Ya know, good idea. Fuck that asshole, he deserves it. Why SHOULD we care about him?"
Kucran: "I don't blame everyone for such un-enlighten thoughts against Corrk. I know he's no saint, but think about his sister and how it would desistate her if we leave Corrk to his fate. She's no fan of his actions, but she still cares for him as a brother. And there is no moral superiority in just leaving him to die at the hands of processed machines."
Cadence: "You know he's right Qui. We'll be glad to leave you alone if you spare Corrk from being slaughtered by his own machines."
Xandy: "And in return, we'll glady alarm the Head Secret Founder for ya, depending if yer virus friend didn't already had it covered."
Cynder: "BUT YOU HAVE TO PROMISE TO ACTSELLY LET US DO THAT, QUI!? I, am still scorn at you when you desided keeping QP was more impourent then upholding your word!?"
Rainbow Dash: (Pinkie tries to speak) Don't even start! (Pinkie stays silent)
Darkness Qui: "And why should I deside to help my own assassin? He wounded poor little Narcotic for being an idiot and assulted Celisus with water! His own fault for desiding to play in VA Polotics."
Cynder: "It may be HIS fault of agreeing to listen to people he doesn't even know, but it is QP's fault for desiding to punish him like this WITHOUT YOUR AUTHERISATION!? And, YOUR fault QP is still with you cause of the mess in Cyber-Jurrassic Park!"
QP: "Qui, this is the same kid that managed to smacked you around like a little hatchling. In fact, I recall you saying that when you first met her, she found you familiar, but that's not the point. Do you REALLY want to argue with her?"
Darkness Qui:... (Shrugs) Fine! I'll agree to it!
Pinkie: Do you Pinkie Promise?
Darkness Qui: PLEASE don't start that crap again! I'm just agreeing to this, and that's that! No 'Pinkie Promises', just an agreement! But I'm warning you, if this gets worse on me, I will not be held accountable for any due problems on your behalfs!
Cynder: I assure you, Qui, that we will make sure you stay alive after all this. All we have to do is make sure that once Corrk survives, he doesn't make things worse, that his Centaurians stop going on a murderous rampage, and make sure that Cranleen is kept safe.
Kucran: And now that your comrades are safe, will you be keeping your end of the deal and help us cure Cranleen of her technophobia?
Cynder: We keep promises that are easy to make, Kucran.
Icky grabs the sword from QP.
Icky: "But first let's be smart and make sure this thing doesn't end up being used against us."
Kucran: "I'll gain hold of the sword. My sister and I will watch over Cranleen. The rest of you, end the rampage of the Centaurians, before they end up harming more then their intended targets."
QP: "Well if you expect me to turn them off, your out of luck. I'm a virus programed to only corrupt, not de-corrupt."
Skipper: "Well good thing we don't nessersarly need you. We have our zappers. They worked well against those centaurians. How many more do we have left anyway?"
Celisus: "You got rid of the three, no doubt. Unfortunately, it was pretty minisclue. Before that, there was 80 of them. Minus three, there's only 77 Centaurians left, and a near endless army of normal robots."
Skipper: "(WHEEZES)?! 77 CENTAURIANS AND A NEAR-ENDLESS ARMY OF NORMAL ROBOTS?! Kolwalski, HOW MANY ZAPPERS DO WE HAVE LEFT?!"
Kolwalski: "..... Not enough to even take down half a them."
Kucran: "Well if the plan is to deactivate them all is needed, then you need to destroy the robot control system. It has it's own buildt in generator in an event of a blackout, or if Graak 8000 were to fall. Corrk has it inside the palace of his base."
Icky: "Aw shit, I think NOW things become difficult!"
Corrk's base.
Corrk's followers are running for their lives as robots and the Centaurians that were once on their side persue them and fire their massive laser assault rifles!
A commander was watching this inside Corrk's palace.
Commander: "..... We've never should've listened to you, Corrk! Now you litterally became our deaths! And for what? Because the virus didn't appresiate you abusing those VA grunts! We've never should've sought to avenged that dead tyrant Graak! He's not worth this anymore!"
Corrk was sitting in his throwne.
Commander: "But in spite of my opinions sir, the least you can do is evacuate our shattered forces and forsake this crusade! It would be the last redeeming thing you can do now!"
Corrk: "..... Well I have a far more better redeemable choice..... Leave me commander. Take what's left of the men, and leave if you want. Leave me to die by my own ansisters' creations. It's better then to die by the ineditable return of Cranleen."
Commander: "...... Sir, have you gone even MORE deludional now? What of your sister? Surely, she would at least like for you to return to her and-"
Corrk: "I SAID GO, COMMANDER?! I'M NOT WORTH BEING SLAUGHTERED BY MACHINES!? I RATHER DIE BY THE HANDS OF OUR CREATIONS, THEN TO CRANLEEN?! IT'S AN ORDER, AND I EXPECT IT TO BE FOLLOWED?! NOW?!"
Commander:... Yes, sir! (He leaves)
Corrk:... (Sighs) Graak, what have I done? I never should've trusted the Villains Act in the first place. I knew they were trouble from the second I made that deal with Qui. Now... It's a good day to die... Like a man! (Suddenly, Centaurians appeared)
CB #1: Destroy target!
Grookian Female: (Appears from the other end of the hall) NOOOO!!! (She is unable to stop the Centaurians from shooting Corrk down)... NOOOOOOOOOO-HO-HO-HOO!!! CORRK!!
CB #2: Destroy target! (They aim at the female, but they are struck by Dorrk before they could open fire)
Dorrk: YOU MAY'VE TAKEN MY BROTHER, BUT YOU'LL NEVER TAKE MY SISTER! (Grabs the Centaurian's large gun, and is able to fire it at the other Centaurian, but it only holds it off since it's armor is too strong, and the female is able to get away before the Centaurian is able to fire at Dorrk's massive cybernetic arm, and cause it to malfunction, electrocuting Dorrk into unconsciousness)
CB #1: (Retrieves it's gun) Find target and neutralize it! (The two go after the female Grookian as Corrk's lifeless body is seen lying on the ground)
Meanwhile...
Grookian Female: (Runs from the robots as fast as she can, and is able to hide in a metal container. However, the Centaurians use their X-ray vision to spot her, and she manages to run before the robot crushes the container. She is able to avoid the robots through convenience as the robots struggle to keep up and kill her) HELP ME!!! (She is suddenly stopped by more Centaurians)
Centaurian #3: Destroy target! (The female is immediately surrounded by the Centaurians as they aim their guns at her)
Grookian Female: AAAAAHHHH!!! (Suddenly, Kowalski appears behind them)
Kowalski: EAT ELECTRIC TIC-TACS!!! (Tosses his Zappers at two of the Centaurians as Crane retrieves the female and rescues her from the other two)
Crane: I got you, Miss Corrk!
Grookian Female: My name is Salook, thank you very much. And thank you for saving me. But be careful, these robots have accurate aiming- (A Centaurian fires at Crane's wing, but Crane dodges it perfectly!) Remarkable!
Crane: "Thank you, but I might not be able to dodge them forever!"
CB #2: Destroy targets! (The two open fire, but Twilight manages to teleport them to safety before the laser bolts strike them)
Hidden Location
Crane: (He, Kowalski, and the Grookian Female (Salook), are teleported to the rest of the gang)... Whew, that was close!
Kowalski: My God, when those Centaurians are in the battlefield, they can kick serious ass! I mean, granted, we made it just fine, but they beaten Dorrk like a boss and they made clear desistation to this place!
Salook: (She falls into tears)
Xandy: What's wrong, mam?
Salook: They got Corrk! They killed him in front of my eyes!
Cynder: THEY KILLED CORRK?!?
Salook: Yes! (Cries) And it's all my fault! I should've done something about this before it even started!
Icky: "Aw, shit. I hope this doesn't scare you from doing that bring tecknowagy back thing."
Salook: ".... It won't. But I will ban the Centaurian series one for this. It's obviously an old model series that's easily corrupted by a virus. The future of the Centaurian 2 will deffently be above this, sort've thing, in fact, their first mission for our people, is to hunt down and destroy the centaurian ones!"
Icky: "Well let's first survive those things before we talk about trashing them with stronger more pure counterparts, lady."
Kucran: It's alright, Salook! We do have the power to heal him. We've acquired some healing tanks from him a while back, and it should save his life if we can just get his body.
Salook:... You'd do that?
Zosimo: It's what we heroes do.
Salook:... Thank you! I don't know if I can live with myself if he is lost. How are we gonna get his body?
Twilight: (Teleports it directly to them, and they are half-disgusted by his corpse) EWW!!
Icky: WHOA! HOW MANY STRIKES DID THIS MOTHERF***** TAKE?!?
Gilda: Icky, seriously, watch your beak!
Magnum: (Magically analyzes the corpse)... His bodily functions are still preserved. But anymore damage will destroy it entirely. A simple healing from the tanks can save his life. Consider yourself lucky, Miss Salook.
Icky: "Well, even then, he's still pretty much gonna go back to be a fallen-hero fearing nutcase again, so it's not like we can just let him loose on the world again."
Zosimo: "Well true, and not to mention he's guilty of illegally killing and hunting an endangered spieces. Miss Salook, I'm afraid that he is gonna have to be arrested for acts of crimes against the rulings of the USRA, and flat out fanacticisum and conspiracy."
Salook: "I know..... My advisers and adopted mother warn me this would come. I know my brother has a poor idea about caring for our people, but, he just has a poor idea that Graak was good for us, not someone respondsable for this even to be a reality. I only blame him for my brother's suffering. I blame no one else. I don't even blame the Secret Founders convincing him to go after Qui and her friends and getting him harmed. I don't even blame Qui or the Virus. I know she was just trying to defend Qui. But I would've appresiated if the Qui Program didn't done it by causing the Centaurians to attack us. I wouldn't even wish death by centaurian to even the worse person alive."
Everyone looks and gives a hard stare to Qui and assusiates.
Darkness Qui: "..... Oh come on, QP was just looking out for us. Besides, he fucking stabbed Narcotic for being, Narcotic. He was also gonna kill us. I mean, ok, tell me at least like, 3 better ways to deal with someone trying to kill you, then causing a robot revolution?"
Icky: Oh, trust me, there's ALOT better ways to deal with would-be assassins then THIS!?
Salook: You're still technically the cause of this. It's gonna be a challenge to go into that palace and shut down the source of the robots' power. Not just for it's location being very far from our reach, but because of the Centaurians doing whatever they can to stop us. They are armored robots which have X-ray vision, UV vision, their reflexes are quick, and they have impeccable accuracy with their mega laser rifles. Even the most skilled combatant would be useless against them. We have to be very careful when avoiding them.
Kowalski: Oh, don't worry! We may not be skilled enough to handle them, but I was able to take the time to hack the 3 Centaurians we tackled when getting to the Graak 8000, and they are now programmed to protect us. (Whistles, and the three Centaurians appear, surprising the heroes)
CB #1: Protect and serve heroes!
Salook: You were seriously able to hack those things?
Kowalski: You can thank science for that! Something that this planet CLEARLY has no understanding of whatsoever! It makes no seeeeaaaahhhhh... (Slaps himself) Get a grip, Kowalski! Regardless, these Centaurians will be protecting us while we head for the robot control system and destroy it.
Aurlena: NOW we're getting somewhere!
Corrupt CB #1: Targets spotted! Open fire! (They fire at them as they dodge)
CB #2: Protect and serve heroes! (The three hacked CBs attack the corrupt CBs and hold them off, protecting the heroes from harm)
Xandy: Kucran, Kleeman, take Salook and Corrk's body to the mountain caves and get Corrk ready for healing! We'll destroy the robot control system!
Kleeman: Easier done than said! (They head out as the heroes head inside the palace to search for the robot control system)
Po: (Chuckles in excitement) Awesome! Robot battle!
Shifu: Po, we must move! (They go to the entrance as the hacked CBs block it from the corrupt CBs)
CB #3: Advancing to target! (They head inside with them)
Corrk's Palace
The Lougers follow the signs leading to the robot centeral control, only to hid when they saw two Corrupt CBs.
Skipper: "Typical bots playing it safe. Looks like two of them are protacting their weakspot. Kolwalski, got any zappers left?"
A battle cry was heard, and the lougers see a battle damaged Dorrk with a broken off Centaurian arm as a replacement charging in and breaking up the two centaurians!
Icky: ".... Damn."
Dorrk screechs in victory, as he slams out of the building and proceeds to damage more robots!
Skipper: "Well, that part of our attempt is wrapped up in a nice little bow."
The Lougers enter the room to the robot centeral control, and are surprised to see how huge and advance it is.
Savio: "Ok, HOW IS HE ABLE TO FIT THAT IN THIS RINKY DINK BROKEN DOWN CASTLE WITHOUT CAUSING IT TO FALL ON ITSELF!?"
Spongebob: "Good question Savio. It must've took ALOT of renovations to make this work."
Icky: "Well, it almost sucks we're gonna trash it."
???: "Then you won't mind my intervention one bit, hero."
A battle damaged, gold and red colored Centaurian walks in with menacing red eyes and a face made scarier by it's damage.
Darkness Qui: "...... I know you..... Your Centaurian Omegaz. The Comannder Centaurian who...."
Omegaz: "The Centaurian, respondsable for the death of Cranleen's parents...."
Flashback.
Omegaz was in a newer look, and leading an army of Centaurians.
(Omegaz): "I was designed, to follow orders. Even ones from a morality inferior tyrant who deems the only way his kind can be viewed seriously in a universe that can easily ignor them, was through conquest and subugation of the lesser races of the planet Grooka. Even, if the bodly fluid funtion of "blood", would be spilt apawn the ground."
Omegaz stood before two Crane-like creatures who are refusing to bow down.
Omegaz: "Lord Ucraak and Lady Camleen. This nation of your people is now under procession of Lord Graak. For the sake of avoiding more discontinuations of lives, simply stand down from your positions and admit loyalties to the Grookian Empire."
Lord Ucraak: We take orders from nobody! We would rather die than to serve you OR your master!
Omegaz: Orders ignored! You are now labeled targets of the Empire! (Takes out his large gun) You are hereby sentenced to death.
???: Mother! Father! (Appearing from the door as a young Cranleen) What's going on in here, I--(Gasps) Oh, no!
Omegaz: (He shoots down her parents in front of her)
Young Cranleen: NOOOOO!!!
Omegaz: (Sees her as she is scared)... New target identified as the child of neutralized targets! (Aims his gun at her) Must be neutralized as well! (Cranleen was able to use her learned martial-arts skills to dodge the laser-fire, and runs away as Omegaz chases her down) HALT, IN THE NAME OF THE GROOKIAN EMPIRE! I ORDER YOU TO HALT! (Cranleen is able to use her skills to continuously avoid Omegaz' attacks until she goes out into the open as Omegaz smashes the wall down and aims his gun at her)
(Omegaz): I thought I would have the child destroyed for good, but strangely enough, no matter how much skill I was programmed with, she was somehow able to avoid my gunfire. Nobody has ever been able to pull something off like that. Then she just vanished.
Omegaz:... Target lost!
Present
Omegaz: Eventally, she ended up coming back with an army of previously unidentifived creatures known as the Grook-Grook bird, destroyed all of the Centaurian Army, me being sevrely damaged, and eventally the death of Graak. I was restored by Corrk, to go after the same girl who destroyed many of my brethern. But thanks to Qui's virus friend, I am finally free of my servitude, and I am now leading my Centaurian brethren to conquer this planet and free of it of oragnic irrespondsability. Technology will rule over this planet, the machine will control and queel the violence of organics in a newer, braver world finally almost free of violence, for any living organisms that refuse to bow down will be neutralized! Now that Corrk is out of the picture, my intentions are coming into fruition! With an army of highly-skilled machines, nothing will be able to stop me. Not even you all!
Lord Shen: We'll see about that, now won't we?
CB #2: Defend and protect heroes! (They stand in front of the heroes and aim their guns at Omegaz, but Omegaz takes out a larger and much different weapon, which it uses to blast each of the CBs into pieces)
Vancer: HOLY S***!!! HE'S GOT A NUROENUS PLASMA CANNON!!!
Xandy: That is about the strongest robot weapon there is! No lifeform has ever been strong enough to wield it or withstand it's recoil!
Omegaz: Believe me that I dispised harming my own brothers for the sake of having no interuptions against you organics, but that's the marvel of machines. We can always be put back togather. Organics, have no such luxeries. (Aims his plasma cannon at them)
Skipper: BRACE FOR IMPACT!!!
QP: "You mean, for us, OR HIM?!"
QP pounces on Omegaz and begins to do signifigent damage, and destroys the plazma cannon!
Omegaz: "AGGGGGGGGGGGGGGGGGH!?"
The Lougers were surprised by the stroke of luck.
Skipper: ".... I actselly meant that for us, but, ok!"
Omegaz: "Why are you attacking a fellow machine? Espeically since your respondsable for freeing me from my shackles."
QP: ".... Don't, look too much into it, the heroes forced me into it under threat of Qui getting her ass handed to her by Cynder again. I am mainly doing her a faver of keeping her butt ass-handed free. Screwing you over is collateral damage."
Omegaz: "That's a pity. I would've been able to have my centaurian brothers serve your mistress Qui in return for freeing us from Corrk and his aimless quest for personal vengence he tecnecally already long had with Cranleen trapped in silver. We could've even helped punished the Secret Founders for turning on you because of rotten luck."
Darkness Qui: "You would've...... You would really..........."
Cynder: "Qui, don't even! As attempting as it is to have even more powerful robots on your side, don't! We're already gonna help you deal with them accordingly! For once, don't fall in to your usual evil instints AND ACTSELLY HAVE A SENSE OF MORALITY FOR ONCE IN YOUR FORMER EVIL EMPRESS LIFE!?"
Icky: "Kinda past the bargining stage there, Cynder!"
Darkness Qui was conflicted now.
Suddenly, she began to see a hallusination of A millertary dressed Dodo-like being walking to her as time appeared to have slow down.
Darkness Qui: ".... Gen, General Tex? But, I thought you got sent to Oranos by the thunder chasers, that twat Aero, and some hotshot named Hudson!"
?General Tex?: "I'm not exactly the General Tex of which I took the form of. I am a physical alusionation of your consinence.... And the once imprisoned moral center you had until you let the extremeisum of morally inferior fanactics soften you up to their radicalness, and locked me up. But, I was freed when one of the worse atrosities of your actions you had made on a beloved ruler of that Equestia planet, ironicly lead to my escape, when the villain team leaders you tried to earn the approval of, even when they admit clear dispain torwords the sun princess, have no fondness for your actions thanks to Eagle-Beak."
Darkness Qui: "Oh, you mean that black-mail scam that lead me to be forced to apologies? I was made a joke to the villain community!?"
Morality Tex: "Yes, and you obviously have no true intentions to forsake these deludions yet. I may not have the power to corral that as of yet, but I do have the power to make you reconsider yarging out on the heroes in faver of these machines!"
Darkness Qui: "But those misfits ruined my life and career! They're basicly the reason WHY the secret founders want me dead to begin with!?"
Morality Tex: "Well, let's be honest with ourselves. It isn't exactly their intentional fault about that. It was solely yours why the secret founders hate you."
Morality Tex opens a magical door that reveils the past.
Morality Tex: "You remember the day before you desided to to come to that other universe, you had a rather, unpleasent final farewell with the Secret Founders?"
Darkness Qui looks to she herself in the Peerdonian surgery before she realised it even was such, on the computer with the same silluette heads of the Secret Founders.
Past Qui: "Look, I'm sorry if this comes at a great inconvence, masters, but if we have ANY HOPE of making a more periment VA rule, I have to go to that other universe, get the approval of the native villains, and destroy those misfits! It's the only way!"
Secret Founder 1: "Qui, please! Don't do this to us! We need you to help us rebuild the act! We just need to make it so strong, NOT EVEN those misfit inter-dimentional heroes can dent it this time!"
Secret Founder 2: "You know better then to let bad luck and heroes just getting lucky provoke you to dedicate yourself to chase them. Villains who dedicate themselves to destroy heroes they particualy don't like, don't tend to end successfuly! It's better to let those lougers live in the falsehood of their victory, and then surprised them with a newer, stronger VA."
Past Qui: "THAT THEY'LL EVENTALLY DESTROY AGAIN!? The VA will never be able to last even a few days as long as those misfits remain un-destroyed. I thought you people would rekindise this. I mean, one of your fellow founders got captured for this!"
Secret Founder 3: "It's, unfortunate, about Secret Founder O's capture. That much is true. But we can always find time to eventally bust him out. And that can be ahtived, once we established a less fragle VA. And we can do it, WITHOUT, attacking those misfits, not without bettering ourselves first at the least. He, and the other unlucky members are only gonna suffer more if you forsake us to prematurely attack those heroes with only your grunts and a few robots."
Secret Founder 4: "For the last time Qui, they're not worth it. Your forbidden to make any attempts against them while we are still without a stable VA, let alone one strong enough to survive another hero uprising! Your too impourent for this, Qui. While your not nessersarly a true founder, you were what made the VA strong. Without you, any hope of establishing a new VA will be beyond impossable, now that the HA is no longer heavily restricted."
Past Qui: "HOW CAN YOU SAY THAT WHEN XERXES DIED ON US OVER THIS!? After my last boyfriend didn't work, he and I became fiances! We, we were gonna have a life togather!"
Secret Founder 2: "Qui, understand us well and clear, Xerxes had, and always does have, a tendingcy to be too overcompident for his own good. His ill-placed faith on being able to control a benvolent spirit trapped in the diamond now in the hands of the choosen one, has backfired on him, and us. You were lucky that idiot Narcotic was able to prevent your death somehow from the normally deadly Hynova poison! You'll only end up making the same mistakes Xerxes did if you assume these lougers will just fall apart like any of the heroes known here. They obviously do not!? AT least not with the old VA. The New VA can survive them, but we need your support."
Past Qui: "..... No..... I WILL NOT! Xerxes was the only one who understood my past and pain! The pain of losing my parents to something completely pointless! And now he's dead! And I'm surprised your so uncaring to him, vice-founder, considering you and normal founder number 1 worked so hard to bring him like this?!"
Secret Founder 1: "I wasn't exactly in a position to prevent his downfall, miss! No one was! Not even you! You didn't know what Xerxes was doing until a few days after our, stroke of misfortune, happened. There was little that could've been done. The news came too late before that attack happened. But trying to avenge his honor will only be in vain! He would only be truely honored if you stayed with us. In fact, I heard that Glowrod is planning to create a reserection machine so we can start bring members back from the grave, even if the body's aren't well preserved. It's a marvelious marvel of magic and science. But we need to establish a new VA before hand!"
Past Qui: "That is what I'm trying to do! I promise you, Secret Founders. It's not the first time I got rid of potianional problems on my own. I'll be done with them in a millisecond. I managed to convince hostile tribes to work togather against all the harmless tribes, remember? I think I can handle less advanced villains. I'll only be gone for litterally a few minutes or so, then those heroes act guys will be back being subugated by us before you know it."
Secret Founder 1: "Qui, you have too much faith in yourself! You must not-"
Past Qui turns off the communicater, shutting out the Secret Founders.
The door closes shut and disappeared.
Morality Tex: "And you know what happened after words. Your promise of being gone for only a few minutes or so, turned into days. It turned into weeks. It turned into months. And finally, a few years. Without your presence, the remenisents of the VA, almost saw no reason to try and return to those days of Villain Power. You were litterally their messah, and you abandoned them. The Secret Founders through other means tried to make a new VA, sure, but all failed, or simply are not powerful enough to make a true difference. The Secret Founders hate you, because you abandoned them when they needed you the most. You left them in an eturnally unwinnable position. Villains were being defeated and captured, even worse, both to VA members, and even the various unallied Villains that thrived under your reign, were eventually taken down by the empowered Heroes Act. They are mad, because you left them to rot with your childish ambitions to seek vengence for something that, thanks to the absince of the real Tex, was destenied to meet such a fate eventually. The Lougers, merely prematurely started it off sooner."
Darkness Qui: "..... Are you saying that, the secret founders yarged on me, because, I ended up not living up to a mere promise? Ok, maybe I should've warned them that I might've been delayed once or twice so this doesn't happened, but seriously? They have Corrk to try and kill me over my own slight mis-steps? I mean, if I was impourent to them, why kill me?"
Morality Tex: ".... Perhaps, there's something they don't want you to find out for yourself. Maybe this assassination isn't real and it was intentionally planned for you to find out to scare and motivate you to get things right, or even to scare you to come back to them, begging for forgiveness on your transgression, and re-establish a new VA their way, with them. Any one of these things could be right. I can't nessersarly predict their motivations, for I am just a physical manifestation of your morality, not a prophet. But my point is, you must not be quick to abandon the lougers and heroes, even if they're not exactly people you are comfertable to be amongst with at the time being."
Darkness Qui: "........ Your telling me to say no, to a powerful robot buildt to really mess up it's enemies, in faver of people that'll still hate me no matter what?"
Mortality Tex: "Well, that would only be because you are likely to still be a villain after this. But at least give them the knowledge that you don't put aside morality for power. QP at least has possable knowledge of who you really are. That's why you desided to preserve her. But Omegaz.... He knows nothing of you and no amount of his power and control of vast robot armies, are worth disappointing them again. Give them the benifit you don't entirely always think of yourself, Qui. By all means, still be a villain if you want, I still have no power over that, but kindly put that down and see Omegaz the same as any traitor of the VA you dealt with in the past. He doesn't deserve speical treatment for being powerful."
Morality Tex vanished as everything returned to normal.
Icky: "Uh..... Are you ok, Qui? You conked out and were speaking gibberish back there."
Pinkie: "Yeah! You were all "Gab-gab BALALALALALALALALALALALALALALALALALALALALALALALALALALALALALA WHOOOOOOWHOOOOOOOOOOOOOOOOOOOOO BLAK, GAH, (RASBERRIES)" And you have the cutest Derpy-eyes ever!"
Rainbow Dash: "I know, I took pictures of it!"
Rainbow Dash shows pictures of Qui conking out with derped eyes!
Rainbow Dash: "I am so gonna post these on Equest-Blog!"
Icky: "Send some of those photos my way? I have a collection of villains making stupid faces in my Facebook account and I would really like to have that!"
Rainbow Dash: "You bet, Ickster!"
Darkness Qui: "......... Omegaz, your proposeal, is quite easily, the single most attractive proposeal I ever heard."
Applejack: "Oh shucks, here we go again, everyone. Just like Cyber-Jurrassic Park."
Cynder: "Qui, don't?!"
Darkness Qui: "It's an attractive idea to have Centaurians making things so much easier, it really is!"
Cynder: "QUI!?"
Twilight: "Not again!"
Darkness Qui: "But, begrudgingly, the heroes kinda offer me an alternate to deal with the founders, so I've to, relucently deline."
Cynder: "QUI YOU POWER HUNGRY SELF-SERVING WI- (Record Scratch), what?"
Po: "What?"
Furious Five: "What?!"
Shifu: "WHAT!?"
Kaa: "WHAT!?"
Icky: "SAY WHAT!?"
Nostaliga Critic: "(This video)"
Celisus: "..... Your Quiship?"
Narcotic: "AGGGH?! QUI HAS BEEN TAKEN OVER BY AN IMPOSTER AND/OR BRAIN PARASITE!? SHE'S NOT IN CONTROL OF HERSELF!?"
Omegaz: "What?! Are you serious?! You give up a powerful, strong robot army, in faver of a group of heroes that will still hate you after this is over?!"
Darkness Qui: "Insane, I know. I mean, QP was worth doing that because she has something impourent to me, like the possability of knowing some kind of weird conspiracty against me and about that other crazy universe! You? You'll just garrintie that this crazy bitch Cynder will kick my ass to death! I kinda want to lean for the side of not getting my ass kick, thank you very much!"
Omegaz: "........... You, failed the test, you disgrace!?"
Suddenly, Omegaz began to conjure up the silluette faces of the Seceret Founders!
Secret Founder 1: "YOU ABANDONED US AGAIN?! THIS PLAN WAS WORKING OUT SO GOOD TOO?!"
Darkness Qui: "Wait, you mean, you guys weren't gonna kill me?!"
Secret Founder 1: "ALCHOURSE NOT, YOU IDIOT!? YOUR TOO IMPOURENT FOR THE VA'S FUTURE FOR THAT NONSENSE?! In fact, we pretended to want you dead to trick Corrk to willingly go along in a plan that is likely to sacriviced him in the progress! We wanted QP to find that journel so she'll be motivated to turn these magnifisent machines against him so when you have been forced against your will by the heroes to come back here, you'll be tempted by the power these robots have on your side that we can have BOTH what we want! To have you help us re-established the VA, AND KILL TWO HERO GROUPS IN ONE SITTING!? You were suppose to faver power over them again, but, you just didn't!?"
Cynder: "You mean you faked an assassination just to make Qui get too attacted to the power of these machines to make her stay with you cretins?!"
Secret Founder 1: "Alittle extreme? Yes. But Qui was too impourent to let her continue her misguided quests to get even with you fools! And when we desided to have a compromise with her to statisfy both that, and our wishes as well, she conks out and flat out refuses?! Just, what did you fools do to her to break her like this?!"
Darkness Qui: "Actselly, it was my new, "real" master who caused that. He convinced the native villain team leaders to openly go against me on that, and simply put, I remembered the guidence of General Tex about not being TOO evil that just makes heroes want to kill your ass! I remembered what it was like to not be like that!"
Secret Founder 2: "CURSES?! THAT STUPID TEX INTERFEARS AGAIN, EVEN WHEN WE CAREFULLY PLANNED HIS DOWNFALL FROM THAT HUDSON IDIOT BY MAKING SURE HE WAS GIVEN A COMPLETELY INCOMPIDENT SPY AND MALMITULATING THE PRISON AERO WAS TO RELEASE HIM  EARLIER THEN PLANNED FOR HIS GOOD BEHAVIOR IN TIME TO EXPOSE HIM SO WE CAN BE RID OF THAT "GIVING THE VA MORALITY" NONSENSE AND EMBRACE THE EFFICTIVENESS OF EXTREMEISUM!?"
Darkness Qui: "WHAT?! THE SECRET FOUNDERS CONSPIRACTED AGAINST ONE OF OUR FINEST GENERALS?! YOU YARGED AGAINST THE HEAD SECRET FOUNDERS' WISHES!?"
Secret Founder 1: "...... OH NICE ONE, FOUNDER X, YOU EXPOSED US TO QUI WITH YOUR STUPIDITY?!"
Icky: "Oh so that's it! That's why the VA villains were asentually a universe full of Junjies! The ONE guy with some moral limits, got chumped by you secret founding assholes! Ohhhh, man! That's means it was making the VA into "Team Junjie" was the real downfall of it, we were just there to clean it off the map!"
Xandy: "And I, am espeically mad at you! Tex was respondsable of keeping the worse of the worse of the VA's radicals in line! EVEN XERXES!? Tex was the reason my my people were still standing in time for the lougers to completely save us! AND YOU INTENTIONALLY HAD HIM CAPTURED CAUSE YOU LIKED BEING EXTREMISTS BETTER THEN HAVING MORALITY?! Just for that, we're DEFFENTLY GONNA TELL THE HEAD SECRET FOUNDER ON YOU ASSHOLES?!"
Secret Founder 1: "I am gonna make sure you will never contact Head Secret Founder K, because he found himself too attached to the obsurdities of Tex! We cannot have you exposed us!"
QP: "Too bad, because I already recorded this all for him!"
Secret Founders: "WHAT!?"
QP rips off Omegaz' anntena and disconnected from the Secret Founders!
Omegaz: "AGGGGGGGGGGGGGGGGGGGHHHHHHHHHHHHHHH?! You will pay for this, virus!?"
QP pulls off a time bomb, plants it on Omegaz, and traps him in an electic net that traps him on the Robot Central Control!
QP: "It's time for us to scram! That bomb is powerful enough to turn this entire castle into a cater akin to where you can find on an inhapitate moon!?"
Private: "Isn't that abit over-kill?"
QP: "LET'S JUST GET OUT OF HERE, YOU FOOLS?!"
Omegaz: "NO! DON'T LEAVE ME LIKE THIS?!"
Darkness Qui: (To herself) Consider myself an independent villain, you pitiful excuses of founders! When this ends, I'll be plotting the next Villains Act and I'll lead it much better than you EVER will! (She leaves as the two constantly and barely dodge the laser fire of the remaining CBs, and make it out in time for the bomb to explode and destroy the entire Palace, leaving everyone to cheer)
(Dr. Nefarious):... So you just gave up having an all-powerful army at your disposal besides the Drones that I made for you?
(Darkness Qui): Yes. Sure I might not have been perfect after that choice, but if I have the skills to be a leader, then I will surely rule the next Villains Act all by myself without the aid of those back-stabbing scumbags.
(Dark Dragon): I hope for sure that never happens.
(Darkness Qui): Oh, shut up!
Later...
Corrk: (He is healed in the healing tanks inside the caves, and given an ordinary eye prosthetic)... Uhhgh... What happened? Am... Am I alive?
Salook: (Hugs him) Oh, Corrk! I'm so glad you're back!
Corrk: Alright, what the hell just happened? I deserved to be dead in the first place!
Kucran: Not true. Nobody deserves to die just because they're incompetent. But I'm afraid that, for your crimes, we're gonna have to turn you in.
Corrk: NO WAY! I'll- (Sees that his blade prosthetics have been removed)... What, where are my blade prosthetics?
Salook: I took the liberty of having them removed before we healed you. I also took the time to give you a new cybernetic eye. One that is not like the one you once had. I'm sorry, but... You need to be turned in.
Corrk:... So that's it? You're just gonna betray your own brother like that?
Fluttershy: It's your own fault for killing members of these misunderstood creatures. (Pets the juvenile) I'd say you need some serious punishment for violating the laws of the USRA!
Cloakblade: (Cuffs Corrk with electrically-linked cuffs) Indeed. He's gonna be going to Oranos for a very long time. And the Legion is not gonna be pleased with it, either.
Corrk: "(Sees Qui and Assosiates) Aren't you gonna arrest them as well at least? Aren't they guilty of crimes that makes mine look minisclue?"
Magnum: "Well firstly, in due of a costity transfer, they're legally in the lougers' juristition. Also, they gave up putting her in jail cause she's just too Darkenss Qui for their prisons."
Zosmo: "Ya wanna know something REALLY stupid? Turns out, the Secret Founders didn't really wanted ya'll to kill her."
Corrk: "WHAT?! But, they gave me written orders! Why give orders to kill someone you don't really want dead?"
Rarity: "Turns out, your "assassination" job was all but part of a needlessly complincated plan to make Qui stay in the alternate universe and help them re-establish a new VA their way. It was intended that QP found out about this and cause a robot revolution so the centaurian commander can sway her into being a self-serving she-twat again."
Corrk: "..... Omegaz was apart of this? They ruined my hope to stop Cranleen from subugating my people again, just to force Qui to mommy their organisation back?! BUT I WAS A BENUFACTOR TO THEM?! HOW COULD THEY DO THIS TO ME?!"
Magnum: "Likely, they were aware that you never had true loyalty and obvious dispain and dis-statisfaction with them and were only in it to get free robot armies for your own goals. You had espeically noticeable dis-satisfaction with Qui, and they simply sacrivice you to get her back."
Cynder: "But why the Founders would go through all that trouble just to keep Qui from going back to be a bother to us again?"
QP: "Hey don't look at me. I may not be fond of them anymore and had learnt about what is really going on, but I am kept from explaining anything by an independent program that only their voices can activate."
Icky: "And it's a safe bet asking for them to spill it is a bad idea?"
QP: "Well, Qui openly rejected their faultly plan to make Qui a moron again and be rid of you clowns. What do you think?"
Icky: "Ohhhh."
QP: "Well, I already got informing the Head Secret Founder about those idiots covered. Now that we're done being forced slaves, let's just get out of here before those idiot founders deside to forcefully make Qui obedient to their nonsense again."
QP, Celisus, and Narcotic left, but Qui stood behind.
Darkness Qui: "Uh, just a minute QP. I felt there's something I would like to tell Cynder."
QP's voice: "Well don't end up doing something stupid again."
Darkness Qui: "Ahem. Well, Cynder. I believe it's about time, I set the record straight! Afterwords, I want you finally acknowledge, that I don't have ANYTHING to do with your history at all! Cafinch?"
Icky: "You mean Capish?"
Darkness QuI: "No, I mean, yes, but- GAH!? I WASN'T TALKING TO YOU!?"
Cynder: "Ok Qui. If what you said finally proves that you really have nothing to do with me, I'll relent on taking this personaly... For now."
Darkness Qui: "..... Well, not what I hoped for, but better then nothing. I, never want to openly spoke outloud about my past to anyone. Not even to my most trusted allies.... Let alone chatter-boxes like Narcotic. You see, contaury to what these Heroes Act have a bad tendingcy to assume, I didn't just got born into a good life then deside to fuck that in faver to become an evil emperess! I mean, my god! Who is just BORN to be evil? That's so a one dimentional villain steriotype! I have a more realistic, tragic, and, extremely ugly, past. And man, it is, DEVINE DAMNED UGLY, so fair warning, you will end up hating me after telling it."
Icky: "Try us. We beaten villains who did and went through worse. How crappy could your life had been?"
Darkness Qui: "Ok, but I don't want to be smacked around again for saying it, ok? Hate me, ok, but NO physical abuse! Ahem! It all started when I was born, from a prestess mother and a royal guard father, both under the service of the grand Zewinsaur elders."
Flashback.
(Darkness Qui): "I was the cutest little yearling in the Zewinsaurian home planet of Zewishku. Our people take pride in being about peace and prosterarity. But wouldn't you know it? I was a child in the of the Zewinsaurians', "Un-enlightment" era."
Creatures the same race as Qui began to battle eachother!
(Darkness Qui): "A feud between the tribe I was in, and a rival group, fought over the mundane reasons of war. The most land, sheer dominence, the control of the planet and who gets to be the ruling tribe, take your pick, cause they're all right and all the reasons why that stupid feud even happened!"
A Yearling Qui was crying and running with her parents!
(Darkness Qui): But what fucked me over forever, WHAT REALLY, FUCKED ME OVER, was when the rival warriors nabbed my mother for sex slavery, and my father got impaled for trying to protact her!
Qui's father plopped to the floor, bleeding, as Zewinsaur Warriors dragged away Qui's mother to a wickedly chackling war chief.
Youngling Qui: "DADDY!?"
Qui's Father: "Qui..... If you, had the chance to gain the power to punish all of your enemies and avage our family honor.... Do it........"
Qui's Father died, as the rival Zewinsaur tribe left with Qui's mother.
(Darkness Qui): "..... I was orphaned. The monks of my people adopted me because they had respect for my mother, and didn't wanted her legacy to end with me prematurely dying."
Young Qui was seen training as hard as she could.
(Darkness Qui): "I trained myself in all of the elements my people can control, and asentually became a she-monk. My people have a serious value on peace and tolerence, something the elders established to all tribes. But knowing the elements, wasn't enough. What good is power, when that the rival tribe still has my mother, and the elders had yet to tell me when they gotten her back or not! I was getting a wee bit pissed, and desided to explore this myself!"
Qui as an adult was flying out in the dead of night.
(Darkenss Qui): "I wanted to get justice for my father's life and my family. Those rival tribe basturds were gonna pay!"
Adult Qui entered a forbidden temple.
(Darkness Qui): "I came to the forsaken temple of the Dark Arts, and embrace the forbidden arts to become powerful! I would get my revenge!"
Adult Qui flies torwords the village of the rivals.
(Darkness Qui): "It was time for me to save mother..... But then...."
Adult Qui gasped when she saw a lone tombstone just outside the rival Zewinsaur area.
(Darkness Qui): ".... Mother was...."
Adult Qui saw that the tombstone belonged to Qui's mother.
(Darkness Qui): "Now, most likely from a fit of broken heart ache endused rage, and possability the influence of the dark arts.... I, fucking, snaped!"
Adult Qui began to use her powers to destroy the rival Zewinsaur village and every warrior that tried to fight back!
(Darkness Qui): "I destroyed only those capable to actselly be a threat, the chieftens, the war ones espiecally, the warriors, anyone abled body to harm me, except oldsters, children, and the prince of one of the chiefs."
Adult Qui: "LET THIS TEACH YOU A LESSON FOR THE WAR YOUR STUPID CHIEFS CAUSED!? IF ANY OF YOU REPEAT THE SAME SHIT AGAIN, I WON'T BE SO MERCIFUL NEXT TIME!? GOT THAT!?"
The Survivers qoiled in fear!
(Darkness Qui): "Revenge and Justice, was sweet..... However....."
Warriors from Qui's tribe nabbed her!
(Darkness Qui): "It got bitter, REALLY fast! Turns out..... I, may've not kept up with current events during my training. Both my tribe and their tribe long had made amends thanks to the elders reminding all of them the impourents of their philosifies. The rival tribe buried my mother in respect after she was.... Violated, one too many times. And man, were the elders PISSED AT ME?!"
Qui was chained to the floor as she was before a council of angry Zewinsaur Elders.
Zewinsaur Elder 1: "Qui!? You attacked and desimated a tribe we have made peace with!? And over the mistakes of war?! I know you were young at the time, ALL of us were victims of that feud, but we DON'T EMBRACE THE FORBIDDEN ARTS FOR IT?!"
Adult Qui: "I, I didn't know! I spent so long training, I, I didn't know about the peace between our tribes being established! I thought they were still our enemy. Elders, I didn't know, I swear!"
Zewinsaur Elder #2: YOU JUST RISKED THE CHANCES OF PEOPLE ACROSS THE UUNIVERSES ACCUSING US AS BARBARIANS OVER THIS, MUCH LESS IGNITING A NEW FEUD, QUI!!! OUR SPECIES WILL POSSIBLY BE THREATENED BECAUSE OF YOU!!
Zewinsaur Elder #3: I'm afraid you left us no choice! We're putting you in eternal sleep for your crimes against our people!
Adult Qui: No! NO! DON'T! I'M SORRY, I- (The Zewinsaurs cast a powerful curse on her that put her to a deep sleep as she was placed inside a tomb)
(Darkness Qui): I was cursed into a deep sleep as punishment. I was unable to make out the details of what happened next until I was finally woken up by some figures. For some reason, I had felt like I lost my memories, but the Secret Founders rescued me from my curse and... After feeling betrayed by my own race, I thought that I would no longer be accepted on my home planet.
Present
Darkness Qui:... So I became the head honcho of the Villains Act ever since.
Cynder:... Are you SERIOUS?!?
Icky: YOU WENT ANAKIN SKYWALKER ON THEIR ASSES?!?
Mr. Krabs: YOU SHOULD BE ASHAMED!!
Merlin: MURDERER!
Shifu: TRAITOR!
Pinkie: PINKIE-PROMISE-BREAKER!!! (Everyone looks at her annoyed)... Sorry.
Darkness Qui: "Pfft! Typical. This is why I kept my troubles to myself.  People get WAY too judgemental!"
Icky: "Well you did FUCKED up royaly, Qui."
Darkness Qui: "It was a simple accsident born of not realising that the feud was long settled while I was training!"
Shifu: "AN ACCSIDENT THAT RUINED AND ENDED LIVES?!"
Darkness Qui: "Hey, it's the elders and the monks own fault of NOT KEEPING UP TO DATE WITH ME ON THAT!?"
Spongebob: "I guess they've been afraid that you wouldn't had the ability to forgive and forget and would've done that stuff you did anyway."
Darkness Qui: "Oh come on! I said I spared the young and elderly, did I? Along with that brat prince."
Squidward: "But you still ruined their lives and family over what ONE guy did! Yes, your mother was kidnapped, by the ONE guy!"
Po: "Well, if you wanted to get even with that war chief, that's fine, but you didn't had to hurt the rest of those people over it."
Darkness Qui: "What did you expected from me at that time? I was young, stupid, heart-broken, I lost my mother and father to those people, and under the influence of forbidden arts! What did you think was gonna happen? Ice Cream and Blumdrops?"
Pinkie: "Well, that could've made the story nicer to be honest."
Twilight: "As horrorable as that was, and is, we have no true right to judge you for it. You only wanted to claim back what you lost.... I understand that.... But.... You didn't had to hurt those people because you found out that your mother died from them over a feud long settled."
Darkness Qui: "Oh for crud's sake! Can we go back to the whole thing that I gave up having an even more powerful army for you guys?"
Sparx: "Yeah, uh, the fact that you royaly fucked up, whether you paid attention to current events or not, is kinda hard to get out of our heads!"
Cynder:... But... Strangely enough... That doesn't explain what you look like right now. You look like the dragons of MY world.... I've actually never seen another Zewinsaur, is... Is this what your kind looks like?
Darkness Qui: No. But I assume this was a result of side-effects of embracing the forbidden arts. They do that sometimes.
Cynder: Then... Then why would the Secret Founders put you through plastic surgery? It doesn't add up! You'd think they leave you like that for imtimidation against the VA's adversaries! For all I know... What those Secret Founders told you about your past was a lie.
Darkness Qui: It's not! I know these things like the back of my hand.
Cynder: Think about it, Qui! You're definitely NOT a Zewinsaur! If this is your true form, whether embracing the forbidden arts or not, you were surgically made to look like a Zewinsaur, then ask yourself this:... What are you?
Darkness Qui:... NO! I won't let your mind games sink in, you little brat! Somehow, telling you this, only incrised the loopiness! I'm out of here.
Darkness Qui turned and left.
Cynder: "Qui wait!"
Sandy: "Cynder, let her go.... I think we done finally got our answers. All this time, Qui really doesn't have anything to do with you at all."
Lord Shen: "Neither positively, nor negitively."
Cynder: "..... But..... My visions."
Lord Shen: "Like the prehistoric one once said, maybe they were made by your deludional brother to trick you to come to him, and used Qui and Xerxes as scape goats!"
Cynder: "But..... What about what he said about 'Quidelen'?"
Shrek: "Maybe your mother happened to be named as Quidelian."
Cynder: "But what about what QP first said about-"
Icky: "She was obviously nuts back then and said random shit to freak Qui out! And that stuff about holding secrets from Qui on the Founder's orders? More BS! For all we realised and know, we just found out that Qui really is nothing but a bitch!"
Lord Shen: "Cynder, I'm sorry..... But it doesn't look like that Qui truely has any connection to your past. The fact that she resebles a dragon realmian dragon is likely coincidence. And that the Founders desided to cover her up is perhaps an attempt to merely make her presentable for VA members that easily get intimidated."
Mr. Krabs: "Well, I hope that we're done with this nonsense for good."
Lord Shen: "Now, let us proceed to finish up with helping Kucran cleansing Cranleen of her deludions and be done for the day. It was a long, exhasuting battle."
The Lougers and other heroes leave but Cynder.
Cynder plopped to the ground and started to cry quietly.
Darkess Qui was actselly secretly watching while hidden. Surprisingly looked sad about this.
Darkness Qui: "(Sigh).... Ya think I would be more happy that she is like this. But, oddly, enough, I feel the exact oppisite of joy. Gahh, it's probuly the stress of this crazy planet. It'll pass..... Right?"
Darkness Qui leaves, unsure of herself.
Reality.
Darkness Qui: "And so, after the Lougers succeeded in purifying Cranleen, she and Salook made sure tec returned more peacefully to Grooka. Corrk got punished, the Head Secret Founder threaten to expose the other members if they do shit like that again, and I think, in throey, I had finally got Cynder to realise that I have NOTHING to do with her! And, pretty much, that's how I almost had them, then really ended up the exact oppisite."
Cobra, Junjie, Dark Dragon, and Dr. Nefarious just stared.
Cobra: "..... DAAYYYYYYYYYYYYYYYYYYYUM!?"
Junjie: ".... Wow......"
Dark Dragon: "..... And they called ME Dark!"
Dr. Nefarious: "Yeesh! I don't even feel like criticsizing you on how the story was no where near about the lougers being wiped from existence!"
Cobra: "Ok, you may haven't exactly got even close to snagging the lougers, but you earn the money for the story at least having a dark outlook! I am not fully approveal-like to where Cynder cries though."
Junjie: "Daughter's father!"
Mang zaps Junjie as he screams!
Darkness Qui: "Thank you gentlemen, your too kind."
Dark Dragon: "But don't count on keeping that for long, Qui! My attempt really did, AND ACTSELLY, had the lougers cornered into the wall like trapped Unicorns! And it didn't failed because of me chickening out, trusting the wrong guys, or end up covering a darker truth! I mean, granted, there was a minor over-sight, but MOSTLY, It failed, because of..... Mushu."
Dr. Nefarious: "MUSHU?! THE ANNOYING LITTLE EDDY MURTHY CHARACTER?!"
Dr. Nefarious laughed!
Dr. Nefarious: "HOW?! HE WAS NO BIGGER, THEN A SMALL LIZARD!? HOW CAN HE POSSABILITY-"
Dark Dragon: "LISTEN TO ME, AND YOU'LL LEARN, YOU SORRY EXCUSE OF A TRASHCAN!? It started, a few days after the Lougers' little escapede with Nefarious' silly allience plan with Blueblood during that Gala mess."
Cobra: "WHICH HE STOLE FROM US CAUSE WE WERE INCASED IN FUDGE?!"
Dark Dragon: "Whatever! It was when we first introdused one of our finest members: Mercurymon."
Cobra: "MERCURYMON?! But you can't trust him! He's a High Council Spy! He is trying to expose your base to the High Council! He cannot be trusted!"
Dark Dragon: "Oh, he told me how you dashed his potainional over that lie! Who even told you that?"
Cobra: "Etemon and Junjie. Why did you ask Dark Dra-"
Silence.
Cobra: "............ Mercurymon's not a spy for the High Council, is he?"
Dark Dragon: "Nope. We would've already had trouble by now if he was."
Cobra: "..... Junjie and Etemon lied because Etemon was jealious and asked Junjie to be rid of him, did they?"
Dark Dragon: "Well considering the track record of your little extremeist pest, I would be surprised if it wasn't him."
Junjie gulped.
Junjie: "It, it, it was so to earn Etemon's eturnal support to me, I swear! I didn't mean to give the scourge empire one of the most netorious Digimon villains of all time! Or at least, the evil manisfestation of the original Mercurymon who was seperated from the pure original after defeat! Like with Bowser adopting the evil verson of that Ranamon characer into his guild in the Pooh adventure series.... Along with being married to a sailor moon villain for some weird reason, and-"
Cobra grabs Junjie by the neck!
Cobra: "EXCUSE ME WHILE I DEAL WITH SOMETHING, POKER-ACCQUINTENCES?!"
Cobra angerly gets to the men villains rooms with a choking Junjie!
Cobra enters and slams the door!
Dark Dragon, Nefarious, and Qui: "..... 3, 2, 1....." (A magic explosion was heard as Junjie was heard squealing)
Adagio: WHAT THE HELL WAS THAT?!?
Freddy Kruger: The toilets better not be backed up again!
Wicked Witch: Well, I'm not going in there! At any moment, being sprayed with poo water would be both horrible AND disgusting!
Cobra: (Comes out with Junjie, who was turned into a creature similar to Creeper, only uglier) That spell will only last for the next two weeks, and it's irreversible until then. Next time, don't do anymore sneaky s*** again! GOT IT?!?
Junjie: (Nods yes)
Nefarious: (Laughs) You turned him into a goblin?!? Just like Creeper! Wait, is Creeper a goblin? Or is he a pigny troll like the wiki clamed he is? Maybe I should have Zurg's misquito hornet bots to snag some DNA for me so I can confirm it.
Darkness Qui: Ick! That's a bit over the top, even for me!
Dark Dragon:... Anyway, here's the story...
Chapter 5: Ancient Chinese Horror
Disney China's airspace in the story.
A Scougre Imperial Cruser was hearding torwords Disney China.
Mercurymon was seen in the command with Dark Dragon.
Nidhiki: "Mercurymon, you sure it's a good idea to come to a planet under High Council control?"
Chang: "I am not so thrilled about this excabiton either! Disney China is under control of a high council member, the Emperor of China himself! His imperial armies will outsurpass even the Vahki armies we have."
Mercurymon: "That's why I requested the "stealth imperial majusty", did I not? Based on my reshearch of the anichent history of Makuta, that he once had a secret hidden city deep within one of the High Council's own planet, right under their noses! It is said to contain a magnifisent army of darkspawnic machines, AND, a secret weapon that can only be stopped by a hero long lost in the sands of time. It is otherwise completely unstoppable, and no one has knowledge of what that hero was and who is even the current successer! All that is known, we have an unstoppable weapon ripe for the plucking!"
Dark Dragon: ".... My curiosity is peaked, Mercurymon. What is this, weapon, like? What does it look like?"
Mercurymon: Makuta legend says that this very weapon has the power to turn whatever it sees into pure silver. It is an ancient war machine that has the body of a dragon, but the intimidating nature of a snake. They called it the Silver Dragon. They called it the Silver Snake. They called it--
Dark Dragon: GET ON WITH IT!!!
Mercurymon:... They also call it Dragutha XIV.
Dark Dragon:... Well, are you sure we're heading in the right direction?
Mercurymon: "Now, Dark Dragon, I am in no position to lead you astray or on a aimless wild goose chase."
Dark Dragon: "Well it's just that, contaruary of what most people think, the Makuta didn't got involved with neither of the first 2 cartoonian wars at all."
Mercurymon: "Well obviously, not actselly WITH Chernibog OR Malefor. He was mainly an independent force. Now, clearly the first cartoonian war, the REAL one, was WAY before Makuta, and it isn't until the second war, which is stupidly mistaken to be the first due to the fact people hardly know what the real first was like, that the Makuta was made a darkspawn. But he has his own idea on how he wish to make the universe controlled. He wanted to be the next Chernibog, and acted on his own will. But alchourse, those High Councilers were, unfairly on to him, and surprassed him quite quickly."
Krekka: "Wait, but wouldn't that mean this lost hero is relitively recent?"
Mercurymon: "That did momentarly confused me.... Until I discovered that Dragutha, wasn't created by Makuta at all. But it was revived in his image, make no mistake. But it was once, a thoundson times different. You see, Disney China, was once an extremely, different place. Humans, actselly didn't existed in that world yet. It's nickname was "Land of the Dragons" for a reason though."
Flashback.
(Mercurymon): "It wasn't even nessersarly refered to as "Disney China" at all. It was like exactly what it's nickname is.... A land, or rather, a planet filled with Chinese Dragons called "Chi-Na". And the race, might be surprisingly, familier. Know of the louger refered to as, "Mushu"?"
The race was reveiled to be an entire utopia of small lizard size dragons like Mushu in varying colors.
(Mercurymon): "They were an intelligent and advance race. Their science, a marvel of wonder, their culture, inspired of chinese culture, but their polotics..... A horrendus mess."
Evil laughter was heard from the tallest building.
(Mercurymon): "A malicous imperial emperor of the race, called Kung Pow-"
(Krekka): "Ok, seriously, why do they name themsleves after food? It's kinda silly and-"
(A metal clang was heard)!
(Mercurymon): "AS, I was saying. The Emperor, Kung Pow, planned to reshape the world in his own image by creating a super weapon. A powerful world destroying mech we know, as Dragutha. Kung Pow, used the machine, right away!"
A siluette of a robotic force is seen destroying the cities of all of the planet!
(Mercurymon): "In doing so, Kung Pow, desistated his own race, for the sake of making himself powerfuler. That is when the unknown hero, desided he had enough, and took down the evil emperor and Dragutha for the first time!"
An epic battle between the hero and Kung Pao played out when the hero won!
(Mercurymon): "Eventally, what was left of the race, hid away the mech deep inside the mountain... And the rottan emperor, with it."
Kung Pow screams as he was tossed into the hole of the mountain!
(Mercurymon): "And thusly, he OR Dragutha were ever seen again, even when Humans have came to existence after the previous ruling race, vanished deep into the underground to seclud themselves into myth.... And this happened in the days before the REAL first cartoonian war. Cutting to a millenda later, the time of the second war began. And Makuta was newly crowned a Darkspawn, he managed to learn about Dragutha, and natrolly, he wanted to use it to upstart Malefor and earn the position of leadership for himself."
Makuta was able to find the mountain were Dragutha and the aged Kung Pao is.
(Mercurymon): "He began to colonised the very mountain prison, Kung Pao and Dragutha were prisoned in, and created, the darkspawnic machines. Makuta wisely acknowledged Kung Pao's nasty tendingcy to be needlessly furoious when he least expects it, so he forever fused Kung Pao's body AND soul, into Dragutha, and in the progress, brought the machine to life, and transformed the machine into his image!"
An even evilier form of the machine roars!
Flashback ends
Mercurymon: "Sadly, the High Council RUDELY intervined before he could actselly use it, and the Makuta was forced to flee for another day..... Until his unfortunate encounters against the lougers in their earlier days.... Of which tragicly this series wasn't able to throughly explain due to the producer's computer problems. Bottomline, Dragutha is still trapped and deactivated in this VERY mountain! And I know what mountian it was! Remember when the leage was invading there?"
Chang: "Yes. One of their campaigns during the Dark Cynder reign. I think it's nothing related to what we're after. I think they were just conguring a world."
Mercurymon: "That's what they wanted the lougers to believe! You see, there was a reason why the Huns and the Leage united togather so easily. Jafar was attempted to make up for his failure to secure the all powerful genie, by getting Dragutha! It was more then just a conquest! It was a conquest, and an exbitsition to contain the marvelious weapon! And according to where they battled at the Tung Shao Pass, they had a reason of heading to the mountains and battling the heroes there, it was more then just a faster shortcut to head to the imperal city. They wanted to activate Dragutha first. But they made the mistake of wanting to be rid of the lougers first. And I think history, is self explanatory."
Nidhiki: "...... You sure your not over-anilasing this?"
Mercurymon: "Would I even bother to make you all come here if I wasn't sure of it?"
Dark Dragon: "Well, it's just, kinda an extreme throey."
Mercurymon: "Well, I see some of us, are spectic. Remember, people were spectic about Taiklar. And they used to scoff at the idea about pirates getting keyblades! And just, what happened when the Spyro and a few friends were dragged by another one of Mang's incompident scemes?"
(Cobra): "HEY!?"
(Dark Dragon): "Hey, it's not my fault he's abit peeved at you guys for turning on him because an extremeist and a jealious elvis inpersonator said so."
Dark Dragon: "....... I see what your saying here. Taiklar turned out to be real, correct?"
Mercurymon: Yes. Because of Cobra's storm, the Lodgers were able to help their pony friends retrieve 5 missing Elements of Harmony, helped restore an Equestrian hippocampus kingdom, and even bring back Celestia's biological parents.
Dark Dragon:... You know, I'm starting to wonder why we don't appear in this series that much. We've only appeared so rarely in the series, that we haven't kept track of the Lodgers' adventures.
Mercurymon: Don't look at me, even MSM has little knowledge of the Makuta even though he claimed a few times that he collects Legos and made stop-motion videos of them on YouTube years ago.
Nidhiki: Okay, we didn't need you to break the fourth wall like that. Let's just get to the point.
Mercurymon: My point is that this very mountain contains Dragutha himself. We can use him to conquer this world, and nothing, not even the Lodgers, can stand in our way.
Krekka: Well, ok, I'm liking it already.
Mercurymon: Perfect! That same lost civisation should also be a perfect hideout for us. And once we take over this world and destroy the Shell Lodgers, we'll target the Villain League for not accepting my brillence!
Dark Dragon: Whoa, slow down there, big guy! We're only doing this for conquest, not for vengeance, not even if it's on those leage geeks! So let's not get personal.
Mercurymon: (Sighs) Fine! Let's just find that the lost civilisation!
(Cobra): "Holy shit, he's seriously wants to get vengence on us for a minor misunderstanding?"
(Dark Dragon): "Pretty much, and I doubt that would change for the better if I tell him about it turning out to be a scam by that extremeist of yours. That would likely just make him wanna hurt you guys even more."
(Junjie): "(Gulp)..... Now Mang! You already turned me into an ugly freak! There's no way you can be worse then that! Right?"
(Sounds of strangling is heard as walking away and the closing of the door. ANOTHER HUGE MAGICAL EXPLOUDION IS HEARD And returning steps as well.)
(Cobra): "I CHANGED YOU INTO AN EVEN UGLIER FREAK THAT WILL LASTS FOR MONTHS!?"
Tung Shao Pass.
The Scourge Imperial ship stealthly lands on the area without serious notice.
Mercurymon, Dark Dragon, Nidhiki and Krekka, Chang, and an army of Vahki came out of the ship.
Krekka: "Uh, Mercurymon? Exactly, WHERE are we supposed to find it?"
Mercurymon: "Oh, my simpleton companion Krekka. I was able to snag an old leage conquest file abandoned in a lost leager camp when I was scouting this place. And it said that Jafar was just unbelively close where he thought the hidden enterence to the Makuta civilisation resided. We just follow this map in the file, and then we shall proceed to contain Dragutha!"
Chang: "I'm still saying this might not really be worth it in the end."
Dark Dragon: "It never hurts to at least try, Chang. Anything like this, is worth it. After all, where the leage failed in, we'll surely succeed in. Mercurymon, lead the way."
Mercurymon: "Gladly. Now, we must be careful. Ever since the anti-climatic battle here, it was proven to be an avalance area, so no one is allowed to make a loud-"
Krekka burps loudly!
Mercurymon: "...... Noises."
Krekka: "Aw come on. Like a simple burp can cause-" (An avalanche appears in front of them) AN AVALANCHE!!! (The avalanche buries all of them in show, and they slide across the surface while screaming until they get sent into a cave where they are caved in by the snow)... Oops!
Dark Dragon: Yeah, the 'oops' always works. NOW WE'RE STUCK INSIDE A CAVE WITH NO WAY TO GET OUT, OR EVEN SECURE OUR SHIP!!!
Nidhiki: Nice going, Krekka! (Slaps him)
Krekka: You're lucky we're just biomechanical machines, so we can't feel pain.
Nidhiki: Oh, yeah? (Tears off his leg)
Krekka: HEY!... DISMANTLING FIGHT!!! (The two take each other apart like actual Lego pieces)
Dark Dragon: Knock it off, both of you!
Krekka: He started it!
Dark Dragon: Don't care, I'm gonna end it! (Puts them back together)
Mercurymon:... Uh, guys? Look! (They look to see a large Makuta-like city)... We made it!
Chang: Well, that was easy! Maybe Krekka did something good for once.
Krekka: Glad I could help. That soda I drank has finally paid off. (Everyone looked at him weird)... What?
Mercurymon: Let's just get started.
(Dr. Nefarious): (He and the other villains are laughing) YOU-YOUR MACHINE FRIEND BURPED AN AVALANCHE THAT ALLOWED YOU TO FIND THE LOST CIVILIZATION?!? (Laughs)
(Junjie): (With sloppy speech due to possible affects of ugliness) EVEN MY ASSOCIATES AREN'T THAT INCOMPETENT YET SURPRISINGLY PPPHHHHSUCCEPPPPPHHAL!!
(Cobra): Yuck! Junjie, let's agree for you not to talk for the remainder of your punishment. Your saliva is gunking up the table!
(Junjie): Well, EPPPPPPPHHHHHHCUPPPPPPHHHHHSSSSEEEE ME!! You're the one who caused this!
(Cobra): (Tape sounds are heard) There! Now you can't spit on us anymore! Anyway, you may continue the story.
Mercurymon: "Yes...... YES!? THIS IS EXACTLY LIKE IT WAS WRITTEN IN THIS LOST FILE! The uncompleted archutects! The evidences of battle. And the smell of Darkspawn."
Krekka: "WOO! No kidding! Me and Nihiki are darkspawn too, but I still can't get over the smell! P.U.!"
Mercurymon: "Well nobody said ultamate evil can smell nice. Now, Dragutha shouldn't be too far."
???: "He's more nearer then you think."
The Makuta-ised darkspawnic machines began to surround the Scourge Empire.
Mercurymon: "Well..... That saves us hours of scouting."
Voice: "I'm gonna show you something, beautiful."
Loud clanging and stomps are heard!
Voice: "Everyone screams, for mercy."
The stomps grow louder.
Voice: "Some would want to protact the world, but really, they just don't want it to change."
The Stomps grow louder.
Voice: "Your all puppets. Tangled in strings........ (Sinister voice.) Strings...."
A silluette of a monster foot lands before them.
Mercurymon: "..... (Evily laughs.)"
This begins to play.
The Imperial Palace.
The Weddings of Yao, Ling, and Chien Po and the Princess Daughters of the emperor from Mulan 2 are being held in a huge celebratefulness matter!
Emperor was about to finish his saying and make it offitcal before stomps are heard as creepy verson of "there are no strings are me" is heard.
The doors burst open as Mercurymon leading the darkspawnic machines torwords the palace, surprising everyone!
Imperial Palace Guards with Shang and Mulan intervine!
Mercurymon only raised his arms as the music began to climax, and when the song reaches "But now I'm free"-
Voice: "But now, I'm free."
The shadow of a chinese-shaped dragon looms over the area.
Voice: "There are, no strings on me......"
The Silluette began to spew a silvery substence all over the city as Mercurymon maniacly laughs!
Dragon Temple.
Shifu gasped and fell from his staff!
Shifu: "...... The Scourge Empire, has just unleashed a terrorable evil!"
Soothsayer comes in.
Soothsayer: "Not just any evil. But an evil from a forgotten time period made forgotten by the birth of the real first war."
Shifu: "..... Soothsayer, summon the other lougers and the High Council! This is an emergeny!"
Dragon Temple Briefing Room
Shifu: (He, Soothsayer, and the Dragon Guardians have gathered the other Lodgers) Well, are we all here? (The Lodgers mumble in agreement) Good! Because this mission we're about to go on involved the Scourge Empire.
Lord Shen: The Scourge Empire?
SpongeBob: Huh? I don't know how long it's been since we dealt with them.
Squidward: They haven't been active for a while.
Shifu: Well, now they're back, and this time, they're going to vast extremes.
Ignitus: Indeed. There's something we've been meaning to say involving a Makuta weapon we've imprisoned long before you guys came along.
Mantis: Well, what is it we need to know about this 'weapon' the Makuta created?
Cyril: It's not a Makuta weapon, per say! The Makuta only claimed it. It was created long before the First Cartoonian War, and it is said in legend to have the power to turn people into silver statues. It was called Dragutha XIV.
Icky:... It's the 14th model of it's kind?
Terrador: You might say that. The other 13 were... Well... Dysfunctional, or so we've heard in rumors.
Ignitus: This machine was created in the Disney China, or "Chi-Na" as what it was called. when it was being ruled by small dragons that.... Well, let's just say that they were Mushu's ancestors.
Mushu:... Really? There was others like me?
Ignitus: Yes. But what makes them different from any other dragon was their technological skills. The Emperor of these creatures, Kung-Pow, was-
Mushu: KUNG-POW?!? (Laughs) That was his name? Why would he be named after food? It's just ridi- (He is grabbed and muffled by Tulio) HMMPPPHH!!
Tuilo: "Hey genius, you and your cousin Chow Mein are named after food as well!"
Igntius: Anyway, this machine he built to revise the Land of Dragons into his own image until an unknown hero stood up against the leviathan. After words, bot it and Kung Pow got banished into a mountain in the Tung Shao Pass where it was never seen for millennia. But a few years before the Second Cartoonian War, the Makuta came across the Disney China and built a civilization there to unearth Dragutha and Kung-Pow from their prison. Kung-Pow was still alive, only he was aged. The Makuta were able to transfer his consciousness into the Dragutha machine, and he was made one of their ultimate weapons. Luckily, we were able to seal him back up before he could begin his first move.
Mushu: A-HAH!! Way to being ahead of them, bro! You rock!
Shifu: But now, Dark Dragon and Mercurymon have freed him, and he is wreaking havoc on Disney China. I saw a vision that they already got to the Emperor's Palace.
Mushu: DON'T TELL ME THEY GOT TO MULAN!!!
Volteer: I'm sorry to say, but they did.
Mushu:... Okay, that tears it! I'm getting over there, and I'm gonna kick his butt! NOBODY messes with Mulan, and gets away with it!
Igitus: "One problem. Dragutha is an unstoppable force, and people have little rekindition of what the desendents of the hero was due to the history made obscured by the first war. And while it's appearent that Mushu's spieces is somewhat immortal, we don't even know where are the rest of the original ruling spieces of the Land of Dragons and what became of them with exception of you and your cousin Chow Mein, Mushu. Only the hero and the desendents can actselly even harm Dragutha. Others are just destin to fail."
Trixie: "...... Are you sure we can't just let the Scourge Empire have Disney China? They already have worlds enslaved to them, exactly why this one's different?"
Gilda: "Because it still has a chance to actselly be helped Trix! I get it, your afraid of anything bigger then you, the Ursa Minor was proof of that, but wouldn't you like to become famous with the people of disney china for saving them?"
Trixie: "..... I would get fame for this?"
Gilda: "Pretty much!"
Chi Fu: "NOT TO MENTION, that place is my home! What kind of Emperor's council would I be if I wasn't there for him!"
Ignitus: "But most of all, if that device is left undefeated, it would drive the Scourge Empire down the warpath to conquest of an unstoppable nature! It's inadvisable to let them think the universe is theirs for the taking if Disney China falls into complete, unescapeable control!"
Trixie: "Ok ok, I get it. Major bad idea to not do this."
Kolwalski: "Alchourse, the best way to defeat an anichent threat, is to uncover it's history! ALL ABOARD THE EXCABITION EXPRESS!? WOO-WOO!?"
Skipper: "Ugh..... We may as well. It wouldn't be very smart of us to tackle that thing head-on without knowing what it truely is first."
Ignitus: "Ok, but be careful. The Scougre Imperials are likely to suspect your coming, and will have forces protrol everywhere for you. This will be rekindised as a difficult mission."
Tigress: So, how big is this Dragutha machine? Is it as big as Ke-Pa, because it sure feels like it.
Shifu: No, it's not... It's only 7% bigger.
Iago: Oh, THERE'S a big surprise! That's exactly what we need, a giant robotic Chinese dragon to battle. What're we gonna do, we got a big problem here, a big- (Sandy grabs his beak) MMPPH!!
Sandy: That's enough beak outta you! We've taken big stuff before, right, SpongeBob?
SpongeBob: Yeah! Stuff that YOU can barely handle yourself like that Alaskan Bull Worm that I told you that you couldn't beat.
Sandy: DON'T remind me!
Ignitus: I'm afraid this machine is much stronger than an Alaskan Bull Worm. Again, it can turn it's victims into silver statues. I'm afraid the only way we can beat him is to find the descendants of the hero that beat him before.
Po: How are we gonna do that? There's about a hundred worlds in these UUniverses, and it'll be a bit of a challenge to find them.
Cyril: We'll find them. All we have to do is ask some questions to Mushu's masters, the Fa Ancestors.
Mushu: Oh, boy! I knew that was coming.
Gilda: Oh, cut the crap, lizard-face, they're sure to know where your kind resides. If you're their masters, then they should know where they are. If not, we'll just find your cousin. If he doesn't know, then we're boned.
Mushu: Alright, I get it! Let's get this over with already! It's just that some of those guys have been sour with me since our first adventures where I tried to break Mulan and Shang apart because I just couldn't leave my job as a guardian.
Sandy: They're still pissed at ya' for that, are they?
Mushu: Yeah. I was even beaten up by the other guardians for it. I mean, come on, you know how much they hated me for the last time I tried to be a guardian, and ended up accidentally getting someone having his head chopped off, but at least I am a hero. You have NO idea what it's like to be in my shoes...if I wore any.
Spyro: I'm sure a few of us do, Mushu. Whatever disagreements you have with those guys, it doesn't matter. All we have to do is ask them about your kind.
Mushu: I know. Now are we going or what?
Icky: "Look, all we have to do is make them aware that stopping a giant murderious dragon robot is more impourent then petty grudges and they'll co-opperate."
Mushu: Less explaining, more going!
Sandy: Okay, okay, Mushu, we'll go, just pull yourself together. (The Lodgers enter the van, and travel to Disney China)
Fa Family House, Disney China
Mushu: (They arrive at the resting area of the Fa Ancestors, and Mushu picks up his old gong) Heh, haven't seen this baby in a long time since I was made a guardian. (The Ancestors appear from the murals)
Head Ancestor: Ah, Mushu! You've come back with your friends in the Shell Lodge.
Fa Ming: (Ghost with Dismembered Head) You're at least lucky that we still haven't kicked you out of your position as guardian since the last time we met your friends.
Elderly Ancestor: Yeah! You've been a real pain to us in the past.
Head Ancestor: Order! I assume he's here with the Lodgers for a reason. What is it you want?
Shifu: We've come because some enemies of ours have released an ancient machine out on this world that we need to stop.
Head Ancestor:...It's not Dragutha XIV, is it?
Mushu: Whoa, how did you know?
Head Ancestor: Word travels fast. The Fa Family heard of Mulan's imprisonment in silver, and are hoping that you would put a stop to it.
Fa Ming: And I assume you're here to ask about the race that Mushu descended from as a means to find the descendant to defeat the dreaded machine?
Patrick: OHH, they're good!
Head Ancestors: Well, our knowledge of Mushu's kind is very small, as well as that of the family guardians, or the Great Stone Dragon outside.
Mushu: I'm just glad that the producer didn't have me smash the guy like I did in the movie, and just allow you guys to give me a chance to make Mulan the war hero we know her as today.
Fa Ming: Yeah, thanks a lot, producer! (Suddenly, he is slapped across the face despite the fact that he's a ghost) OW!! SORRY, MAN!
MSM's voice: Actually, that was me! I just decided to save him the trouble.
Mushu: (Laughs) He got you good!
Head Ancestor: Well, as for the information you require, we do have a bit of knowledge of the hero that took down Dragutha, as does every other house of ancestors in this world.
Icky: So what's there to know?
Head Ansister: "Well, at first, they didn't actselly leave Disney China for awhile until the second war. During the time, the idea of that Makuta beast freeing Kung-Pow and Dragutha, even fusing the two togather, drove them to evacuate the planet to hide in a world of eturnal peace. The closet they got was a world that is MOSTLY, peaceful. From what I understood, it's some world with magical dwarf horses with tattoos on the side of their butts."
Icky: "AW WHAT!? THEY MOVED TO EQUESTIA!? I mean, granted, it makes sense why Chow Mein was there and not here, but why didn't Mushu went with them?"
Head Ansister: "Obviously, he was asigned to the Fa family back when Mushu's people ACTSELLY lived here. And ended up forgetting about him due to mass hysteria."
Icky: "Ok, we kinda don't have time to go to Equestia, TRY to find their hidden underground city, and ask them what to do in light of the current predicerment!"
Head Ansister: "Well, surely you must've made some friends there. Why not ask them to find them for you while you guys do what you can to keep Dragutha from being the downfall of China!"
Mr. Dodo: "I already have that covered in asking for seperate assisence."
Head Ansister: "Now, you just need to make Dragutha and those who unearthed that monsterosity focus on you."
Farmer Ansister: "AND MAY WE SUGGEST NOT DOING IT WHILE ON THIS DEFENDLESS VILLAGE, FOOLS?!"
Icky: "Ok, ok! No need to be testy, even in a crisis!"
Imperial Palace.
Mercurymon was sitting on the throwne while the Darkspawnic machines were tearing down royal trapisties and replacing them with Scourge Symbol Trapises.
Mercurymon: "So this is what is like to sit in the throwne. I loved Dark Dragon promising me to become emperor of this silly planet after we dealt with those headache lougers.... Speaking of which...... Where are they? They should already be barging into my doors like idiots by now.... Or perhaps, they know better then to do that and are devising a plan! If that's the case, then as my first act as future emperor, I am gonna hunt down those misfit losers! Machines, make Dark Dragon and the others aware that we're going on a hero hunt!"
Makuta Soldier #1: Yes, sir! (They leave)
Mercurymon: With Dragutha by our side, nothing will be able to stand against us. For once, I'm doing something far better than the Villain League! Hopefully, I can be the first villain to ever destroy them.
Makuta Soldier #2: Well, be warned though, Dragutha is not a very agreeable beast to ally with. If he sees someone that is willing to take his spotlight, he will destroy them no questions asked!
Mercurymon: What do you take me for, an idiot? Or a mindless glory-hog like Junjie?
(Cobra): (He was heard laughing)
Mercurymon: Unlike him, I actselly treat my assusiates like equils, not a personal means to an end. I'm doing this not just for myself, but for him! Trust me, I know what I'm doing.
Canterlot Equestia.
The Main 6 arrived to Celestia's throwne room.
Twilight: "We came as quickly as you called us, Princess!"
Pinkie: "What's wrong this time? Chrysalis? Sombra? Darkness Qui? Hank? Did Luna turn into that meanie Nightmare Moon again? Did Discord had another relapse?! WHAT IS HAPPENING?!"
Rarity: "Goodness Pinkie Pie, you don't need to be a druma-queen."
Celestia: "It's not nessersarly any of them. The lougers have a request to give indirect aide in terms of learning about an anichent machine unearthed by the Scouge Imperials."
Applejack: "Really? What's stopping them from just coming here and helping us with it, not meaning to sound rude about it, but-"
Celestia: "And you weren't. It's just, knowing the scougre, once they felt empowered in such a way, they tend to go on a dangerious warpath and conquest fest. Too many innosent worlds are already trapped under their gaze, no more should be included to that. They are staying in Disney China to have the scourge focus on them. So you have to help them to contain infomation on a beast refered to as "Dragutha" by finding, and I qoute, this may sound odd, but, a secret underground futuristic civilisation of small chinese dragons like Mushu."
Rarity: "..... Did I, heard that right? Did you say.... Secret undergrond futuristic civilisation of small chinese dragons? Like Mushu no less? Are you sure it wasn't Icky on the other end of the communicater? You know how he tends to play communicater pranks for cheap laughs on slow days when there isn't danger."
???: "It does kinda sound rediculious...."
Lightning Dust appeared.
Lightning Dust: "But it's actselly not. I mean, where do you think I got Chow Mein from?"
Chow Mein, the blue recolor of Mushu pops up.
Chow Mein: "You didn't actselly think I was actselly native here, right? Cause I obviously don't look one bit like the dragons you have here."
Applejack: "Well why in tarnation didn't you or Mushu say anything?"
Chow Mein: "Our people like to keep to themselves. They like privatcy. And we're also, shy of strangers cause.... Well, strangers are often bigger then us. I mean, it's like something out of "Shadow of the Collosius" for us!"
Twilight: "Well, they certainly have nothing to be afraid of us."
Chow Mein: "You guys, we know. It's just, overall exspearience with giants is... Far less then glammorious. I mean, when your little dragons the size of lizards, you don't get taken seriously. That was pretty much what our super-advance tec was compinsating for. That we're otherwise little pipsqueaks."
Fluttershy grabbed and hugged Chow Mein.
Fluttershy: "Aww, but being small has an advanctage. People will think your cute."
Chow Mein: "Offph! That's the thing! When it was not negitive, it was TOO positive for our comfert! THAT INCLUDES DEATHGRIP HUGS!? TINY BODIES, MAKE NOTE OF IT?!"
Fluttershy: "Oops, sorry."
Rainbow Dash: "Well, if you guys are asentually the Fluttershys of the dragon world, why do you and Mushu play guardians for "giants"?"
Chow Mein: "Our people also like to study the giant socity. We want to know what makes tick, what plays them, are they harmless or not, that's what the "Guardian" thing is for. The "Guardians" are choosen since litterally a day after their birth and sent to be guardians of a family of giants deemed the most worthy of reshearch. That included Lightning Dust's family, and the Fa Family in Disney China. Thing is, when Makuta tried to get after Dragutha, we, kinda paniced and left to come here, leaving Mushu behind.... Before, he even realises who he actselly was and actselly thought he's a spiritual dragon guardian."
Rainbow Dash: "Well how did you learn about this?"
Chow Mein: "Because the law was changed that you get the job AFTER you grow up to avoid more stupid mistakes like THAT again. I barely had the chance to tell Mushu everything thanks to the Gala mess, and when they left with you girls to see a Darkspawn Museum. Well, at least he might know who he really is through our situation now."
Celestia: "But now you are needed here. You are to find the city and try to find what became of the hero who originally beaten Dragutha. Chow Mein will have to be your guide. But be aware he's relucent cause he's bound by a code that otherwises forbid it."
Chow Mein: "But don't worry, my people will consider stopping Dragutha more impourent then a few busted rules. Now, I brought Lightning here for a reason. The enterence to our people's underground city is hidden in the ice dragon terratories in The Frozen North, and miles and miles down under the ground, likely passing through usual crawling grounds of Ground Whales, Death Worms, and, (Shudders), Ant-Taurs. Our city is protacted from them through a password asscessable force sheild and a few, extreme defences. Your gonna need me for that."
Rainbow Dash: "... Seriously? If they wanted to feel safe, WHY PICKED IT WHERE IT'S NEXT TO SOME OF THE MOST DANGERIOUS CREATURES IN EQUESTIA?!"
Chow Mein: "Well nothing discourages invaders like having neightors that can be a threat to them. My people, uh, have a habit of trying to use one or two threats to be against any bigger ones."
Twilight: "Isn't it abit un-nessersary to even be miles underground in a ice dragon terratory, passing through crawling colonies of ground whales, death worms, and Ant-Taurs?"
Rainbow Dash: "Well I don't mind THAT much. I'm for at least having some action on our side if we're not exactly DIRECTLY involved in this louger mission!"
Chow Mein: Well, that's good. Because our technology would have you dead in a matter of seconds without me. They're so advanced, they'd probably make those 'Alternate UUniversals' jealous.
Twilight: Well, I guess we're up for another mission, girls.
???: Did somepony say 'mission'? (Discord appears in a general outfit and carrying a battle rifle) Because I'm in the mood for a FULL FRONTAL ASSAULT, BABY! (Cocks the gun)
Rainbow Dash: (Sighs) How do you always know when we're on a mission or not? Seriously?
Discord: Because I'm magic, don't ask questions! (Turns to his normal self) I overheard your little problem. So you'll need me here since I've got enough power inside of me to light up Cincinnati!
Applejack: I'm sure we can handle it, thank you very much!
Discord: Well, it might interest you to know that I've actually made contact with those little lizards you're intending to find. Told them everything there is to know, and are expecting me to come with my friends.
Chow Mein:... You actually called my people while you were listening to our conversation?
Discord: Again, magic, don't ask questions! So screw negotiating when we get there, they'll be happy to help you out with your problem. But be warned that the Emperor of that city is not the nicest of dragons in these UUniverses, especially around us Draconequui!
Pinkie: Wow, I'm starting to like Discord. He knows everything. OOH, OOH, DO YOU KNOW HOW TO CURE CANCER?!?
Discord: (Laughs) I may be a near-omnipotent creature, but I'm not a scientist. I don't know HOW to make things come true, I just make them come true. Who the hell needs science when you can just manipulate the facts altogether?
Twilight: (Sighs)
Discord: Well, I guess it's off to the Frozen North! (Snaps, and they teleport away)
Frozen North
Discord, The Main 6, Lightning Dust and Chow Mein arrive in the frozen north, which thankfully Discord granted attire approbeate to cold areas.
Rarity: "Well, at least you gave us something warm to wear, Discord."
Chow Mein: "Ok, first, we need to past through the land of the Ice Dragons without ending up like popsicles. The Ice Dragons may be sapient, but they're still like normal animals. They'll either see us as threats, or lunch."
Fluttershy gulps.
Fluttershy: "S-s-s-s-s-s-s-s-s-s-s-s-Spike can breath fire, right? Why didn't we brought him with us to scare the ice dragons away!"
Chow Mein: "Well, if we're dealing with Ice Dragons MADE OF ACTUAL ICE, then yes, that would've work! We're dealing with ice dragons that just have ice themed features! Spike otherwise wouldn't be able to even make them say "Whoa, heads up boys, we gots a badass in here!"! The first thing they would've done, is turn him into a giant ice cube to have drinks with!"
Rarity: "Then I guess I'm glad we didn't brought Spike! He deserves better then to be used to cool liquid refreshments!"
Applejack: "Well, it shouldn't be too hard to find a land of Ice Dragons right? Just look for what looks like a group of Ice Dragons heading for there."
Chow Mein: Just remember that the Ice Dragons are not friendly creatures. They're big bullies when it comes to people trespassing on their turf.
Twilight: Oh, I do hope they're not like those dragons that gave Spike a hard time.
Chow Mein: Oh, you mean Garble and his friends? Yeah, I heard of how you had bad tie-ins with those guys. They're big bullies, especially at their own kind no matter how old or how big they are. Dragons not under the alligence of King Dragkis tend to be hostile to one another like that.
???: HEY! (Ice Dragons similar to Edger the Ice Dragon appeared, only with no clothing and different body shapes) What do you ponies think you're doing on our territory?
Ice Dragon #2: They must be asking for trouble by being here.
Ice Dragon #3: It'd be a shame if something were to happen to them.
Ice Dragon #4: I like raspberry cake! (Everyone looks at him weird)...(Chuckles)
Ice Dragon #1: Anyway, let's eat them!
Fluttershy: (Shivers in fear)
Discord: I wouldn't do that if I were you, jerks!
Ice Dragon #3:...Say, isn't that the guy that's supposed to be turned to stone?
Ice Dragon #1: I'd say he's got a soft spot for ponies now. (Chuckles)
Ice Dragon #2: That's just like people out there. To start having feelings for these tattoo-ass equines. What makes them so special?
Ice Dragon #1: Maybe it's because of questionable beastiality! (Laughs) What'sa matter, ugly? You actually falling in love with one of these little mules?
Fluttershy: How DARE you?!? (Flies up to their faces) NOPONY TALKS TO HIM LIKE THAT! Just because we both have a fanfiction story where we get married, it doesn't mean he feels that way about me.
Discord: Yeah. I have a girlfriend, too!
Ice Dragon #1: Oh, look at the cute little pony standing up against us! (They all laugh until Fluttershy grabs his crest) OW, OW, OW, OW, OOOWWW!!!
Fluttershy: Don't you DARE underestimate me! I don't care how intimidating you think you are, NOBODY makes fun of my friends, or tries to eat them!
Ice Dragon #1: OW, OW, LET ME GO, OW!!
Fluttershy: Not until you promise to leave us alone and let us do what we're here to do!
Discord: Yeah, we don't have time to deal with a bunch of cold-hearted freaks like you! See what I did there?
Ice Dragon #1: Okay, okay, just, OW, let my crest go! (She does that)...Let's get out of here! (The dragons fly away)
Fluttershy:...(Takes deep breath) Goodness, does driving off bullies make me nervous!
Discord: (Hugs Fluttershy) You didn't have to do that, Fluttershy! I could've handled them myself.
Fluttershy: Yes, but you know you're not allowed to use magic on the environment outside your home land unless it is for a good reason.
Chow Mein: Well, I guess we know that we're in Ice Dragon Territory, so the hole to my people's settlement is sure to be close by.
Pinkie: "Oh, I'm sure that wouldn't be too hard. We just had to look for a big hole in the-"
Pinkie suddenly disappears down
Pinkie: "GRRRRRRRRRROOOOOOOOOOOOOOOOOOOOOOOOOOOOOUNNNNNNNNNNNNNNNNNNNNNDDDDDDDDDDDDDDDD"
BLAM?!
Twilight: "PINKIE PIE?! ARE YOU OK?!"
Pinkie: "(Dazed singing) Daisy, Daisy. What a bunch of beautiful daisies."
Rainbow Dash: "Yep. That tecnecally quilifies as fine."
Twilight: PINKIE, WHAT DO YOU SEE DOWN THERE?
Pinkie: Oh, not much. Just dirt. LOTS AND LOTS OF DIRT!
Whale sound.
Chow Mein: "Uhhhhhhh Oh."
Pinkie: "Uh oh! GROUND WHALE!?"
Fluttershy: "Please tell me they eat small creatures like normal whales!"
Chow Mein: "Well, they do enjoy dirt krill. But here's the problem. Their eyesight is TERRORABLE! They can't tell the difference between Dirt Krills and anything NOT Dirt Krills! So we got to get Pinkie out of there and GET MOVING?!"
Rainbow Dash: I'll get her! (Goes inside the hole, and gets Pinkie out) Yuck! It feels slimy down there!
Chow Mein:... Slimy?... Uh-oh! (It is suddenly revealed that they were standing on a ground whale's blowhole as it rises from the ground, appearing as a whale with large mole-like legs and a mole-like tail)
Discord: WHAT IN THE WORLD?!?
Rarity: ".... Something tells me that we found the wrong hole."
Everyone else: "OBVIOUSLY!?"
The Ground Whale attempts to shake off it's unexpected, uninvited hitch-hikers by trying to get back into the ground!
Applejack: "HEADS UP EVERYPONY, LOOKS LIKE WE'RE GOING FOR A RODEO!?"
Pinkie: OOH, I CAN GULP A TON OF SNOW- (They go underground in the ice)... (They come out as Pinkie's mouth is filled with more than just snow, and she spits it out) PLECH!! NASTY!!
Chow Mein: Let's just hope this creature doesn't reach frozen water, or drowning will be the first of our problems!
Rainbow Dash: Uh... Is this water... Salty?
Chow Mein: No, why do you ask?
Twilight: Aw, crap! (The whale suddenly takes a dive in icy water as all except Chow Mein and Discord are unable to breath)... MMPPPHH!!
Discord: (Snaps, and surrounds their mouths with air-filled bubbles and they gasp)
Applejack: You know, you could've just temporarily gave us our merpony flippers.
Discord: Hey, you didn't ask. (Chuckles)
Chow Mein: These girls are merponies?
Discord: Long touchy story. (The whale breaches to shore and starts to get aggravated that it can't get the group off)
Rainbow Dash: DEAR GOD, THAT WATER WAS FREEZING!!! (The whale makes noises in aggravation)
Fluttershy: I think I can handle this. (Flies up to the whale's eye) Uh, excuse me, Mr. Ground Whale? We don't mean any harm. We didn't know you were here and... (The whale's vision of Fluttershy is blurred)... We were just heading somewhere important. (The whale calls)
Chow Mein: You can't communicate with them good unless you know their language.
Pinkie: OOH, OOH, OOH, TRY SPEAKING WHALE! (Imitating Dory's Whale-Speaking from Finding Nemo) EEHHHHXXXCYUUUUUSSSEEE MEEEEEE, SIIIHHHRRRR!! WHHEEEEE NEEEEEED TOOOO FIIIIIYYYNNNNNDDD AA PHHLLAAAYYYCCEE--
Discord: (Laughs) You call that whale song? Sounds more like a drunk guy trying to imitate slow motion to me! (The whale responds)... What did it say, Fluttershy?
Fluttershy: Well, I'm a bit rusty on whale communication since I rarely interact with them, but I think it said 'what were you saying'.
Discord:... You're telling me that Pinkie's foghorn talk is working?
Fluttershy: I think so.
Discord: Well, say something to it!
Fluttershy:... I'd rather not.
Discord: Oh, come on, you'd rather let being scared of humiliation get in the way of saving our butts?
Fluttershy:...Okay, I'll try!... (Takes deep breath)... (Softly)... Weeee neeeeed toooo gooooo...
Rainbow Dash: (Face-hooves herself) By Celestia's made-up beard!
Pinkie: Well, I guess it's up to me, then. I- (The whale is soon responding to Fluttershy's soft words)
Twilight:... The whale actually understands her soft tone?
Chow Mein: It's probably because baby ground whales start off with softer tones. The whale must be taking it to mean she's in trouble.
Fluttershy:...Soooo caaaann yoooou pleeease shooow us wheeeerrre weeee caaaan fiiiind thiiiis plaaace?...(Thw whale responds back)...I think it says 'As you wish'.
Rarity:...Okay, that was the strangest way to negotiate with a ground whale ever.
Twilight: But at least we have a ride.
Later...
Applejack: (The group rides on the ground whale's back across the series of undergroun tunnels) I have to admit, this beats walking.
Chow Mein: I still can't believe Fluttershy was able to negotiate with a ground whale through sheer convenience. Maybe we'll get through this after all--(Suddenly the whale smell something and it stops and panics)
Fluttershy:...Whhaaaaatt iiisss iiitt? (The whale communicates)...It smells something in the ground! And it's definitely not dirt krill. It's a different kind of arthropod.
Chow Mein:...Oh, crap! It can't be! (Suddenly the nearby hills turn out to be anthills for large centaur-like creatures with the upper body of a man, and the lower body of an ant, and they possess large claws and fangs) ANT-TAURS!!! (The group screams as armies of Ant-Taurs appear from the surrounding hills which hiss angrily at them) Oh, boy, we've crossed in their turf! They get pissy and aggressive if anyone were to do that. Next thing you know, you might end up as their lunch, even if you're a ground whale!
Fluttershy: These things EAT GROUND WHALES?!?
Chow Mein: Yep. Not just for their oily sides, but for their meat. Which oddly enough, doesn't taste that pleasant to any other creature in Equestria.
Fluttershy: Why those horrible barbarians!
Chow Mein: Don't worry, ground whales can defend themselves. Even though they're in the Ant-Taur diet, they are hard to hunt for their weight, their digging habits, and their--(Suddenly, the ground whale bellows a loud noise that drives the Ant-Taurs off)...sound blasts.
Rarity: Whew! I thought our gooses were cooked for sure! (Suddenly, a louder Ant-Taur screech was heard)...What was that?
Chow Mein:...I think...we just pissed off their queen! (A larger Ant-Taur appears from one of the hills as an armored female with a large abdomen and massive claws, shrieking at the group as they scream) WE'RE DEAD!!
A louder roar was heard that makes both the Ground Whale AND the Ant-Taurs panic!
Chow Mein: "Oh no.... I was afraid the nosie would bring THEM in?!"
Lightning: "Bring what in?"
A group of giantic worms with huge fang-filled mouths appeared!
Everyone: "DEATH WORMS!?"
Discord: "Oh, worry not, everyone. A simple snap of my fingers and these suckers are harmless earth worms before you-" (The Death Worms push over the Ground Whale as it cartoonishly flattens the group as the Ground Whale gets up and recovers)...Owch! (The Death Worms roar at the group trying to eat them until the Ant-Taurs attack them in numbers, and kill them through shooting acid from their mouths, slowly killing the Death Worms like real ants do with other insects)
Chow Mein:...Wow, I'd pay to see something like THAT! (The group recovers, and before they can see the Ant-Taurs finishing off the Death Worms, more Ant-Taurs surround the group shrieking at them and the queen enters the scene)
Fluttershy: (Screams) Please don't hurt us!
Pinkie: Yeah, you don't wanna eat us, we're too bitter! (The queen shrieks at them with a gruesome and slimy mouth display)
Discord: OH, GAG!!! I got two words for you, lady: tooth brush! (Suddenly, the Ground Whale uses it's bellow to scare off the Ant-Taurs and it manages to crush several of them as the queen and the others crawl back into their hills)
Chow Mein: (The whale calls and cuddles Fluttershy like a calf)...That's amazing. Fluttershy's communications with the ground whale must've made it think she was a baby that it can care for.
Discord: So that lady thinks your her baby? (The ground whale moans in offense)
Fluttershy: It's a male, Discord.
Discord: Oops, sorry! (They notice that the Ant-Taurs are still attacking the Death Worms)...Whoa, what a blood bath!
Applejack: Gross!
Fluttershy: I knew ants were real fighters in a group, but...(Shivers) these creatures make it look like a team assassination. (The Ground Whale groans)...He says we should get moving while the getting is good.
Discord: Then let's get moving! (Snaps, and teleports them on her back and they leave, leaving the Ant-Taurs to harvest the Death Worms' meat and drag them into the hills like regular ants do)
Later...
Chow Mein: "Ok, we gotten away from the Death Worms AND the Ant Taurs, and luckly, other Ground Whales have migrated for the season, so the rest of this adventure should be smooth sailing."
Ground Whale moans.
Fluttershy: "He saids we're almost there now."
Rainbow Dash: "Finally, cause being in a series of tunnels underground of the Frozen North is making me insane with boredom!"
Chow Mein: "Uh, be careful when you reference "Insane" and "Boredom" togather like that. That was how Kung-Pow turned rouge."
Rainbow Dash: "Uh, who was Kung-Pow?"
Chow Mein: ".... It's better explain through Uncle. The Underground City is just ahead."
Pinkie: Ooh, we're gonna visit your uncle? That would be nice.
Chow Mein: My uncle is the Emperor!
Twilight: Really?
Chow Mein: Yes. I'll explain everything when we get inside.
Fluttershy: (The group gets off and Fluttershy looks back at the Ground Whale, and couldn't help but think what to do about him)...Thaaaankkk yooouuu fooorrr eeeveryyyythiiiinnng! (The Ground Whale moans and cuddles Fluttershy, and leaves)...(Sighs, and leaves with the others)
Chow Mein: Alright, be watchful, there are turrets that are hidden across the area that will fire if you make a wrong move.
Applejack: Oh, we ain't got nothin' to worry about as long as they know we're coming.
Chow Mein: (They reach a dead end area where they find nothing)...Here we are.
Pinkie: Weird, I don't see anything.
Chow Mein: Exactly. I told you it was secluded and hidden. All we have to do is find a hidden button like this! (Presses a camouflaged button and the area suddenly turns into a domed elevator, scaring everyone until they reach the bottom where an energy shield barrier is blocking the way of the entrance)...
Speaker: Voice identification please!
Pinkie: Ooh, let me guess...uh...I got nothing.
Speaker: Voice key incorrect.
Chow Mein: Guys, the system recognizes voices of each of our kind. If you aren't careful with what you say too many times, it'll sound the alarm.
Speaker: Voice key recognized! Welcome, Chow Mein! Please address password to allow passage.
Pinkie:...Is it safe to talk now?
Chow Mein: Yes!
Pinkie: Oh, thank you!
Discord: Why didn't you tell us about this voice-identification thing before? What if we were to--
Chow Mein: It's under control, okay, remember the law that non-dragons aren't allowed here? You guys are clearly an exception since you want to protect us. Now let me just put in the password so we can get in. (Puts in password in a small keypad)
Speaker: Password accepted! You may enter! (The energy shield is deactivated and they enter to find a whole bunch of Mushu recolors living in a large high-tech city with flashing lights, large metal buildings, flying vehicles, and Chinese-like architecture)
Fluttershy: Aww, look at all the little dragons!
Chow Mein: Well, I guess the best thing we can do is to meet the Emperor in his Temple.
Discord: What makes you think the people won't get suspicious that outsiders are in their city?
Chow Mein: Easy, we just don't do anything that makes us stick out.
Dragon Guard #1: HEY, THEY'RE NOT SMALL DRAGONS!!! (They point gun-staffs at the group)
Dragon Guard #2: YOU ARE UNDER ARREST!
Discord: Good plan, Chow Mein! REALLY good plan!
Chow Mein: Oh, shut up!
Dragon City Temple
Dragon Guard #1: (They come in with the group) Here are the pony and Draconequus intruders we captured, your lordship!
Emperor Dragon (Emperor Sesame): (Takes off a large robe, and takes out a three-suctioned staff that gets everyone shocked, only for the staff to be a clothes hangar for his robe, and everyone sighs in relief. Then he takes out a crossbow, getting everyone shocked again, only for him to shoot the wall and hang the robe on the hangar, and everyone sighed in relief again. Then he takes out a shotgun, shocking everyone, then it turns out to be a lighter for him to light some candles, and everyone sighs in relief)
Rarity: Oh, will you PLEASE stop scaring us like that, darling! You're really starting to give me a heart attack.
Emperor Sesime: ".... Honestly, what kind of Giants get intimidated by a robe holder, a robe hanger dispencer and a candle lighter? It makes me wonder why we're cautious of them to begin with."
Chow Mein was brought in by some guards.
Sesime: "Chow Mein! I demand to know why you brought giants to our city!? You know your job was to study their culture and habits, NOT to bring them here!"
Chow Mein: "Now, Uncle, I know your abit, iffy about this, but, it was for a good cause! Our original home planet is in trouble again, with Dargutha!"
Sesime: "....... Kung...... But I thought he was locked up for good this time!? Who would be crazy enough to free HIM again?!"
Chow Mein: "A few members of the Dark Dragon Scourge Empire, a group of rouge giants that seek to dominate the universe. They are allined to the last guy who freed Dragutha."
Sesime: "Makuta...... Alchourse....... Then there's nothing we can do. We long lost my choosen son to defeat him when we.... Made the error of not bringing him with us. He was probuly destroyed in a massicure by now."
Twilight: "Actselly, the High Council managed to stop Makuta and Dragutha before they can even start. Up until now, it was relitively unscathed."
Sesime: "..... There wasn't a massicure? Aw damn it, the messingers got it mixed up again! Wait.... That means..... My son's alive..... But he's likely to have NO idea who he's suppose to be!? He's never gonna be able to lay a dent to Dragutha, much less actselly be a threat to him!?"
Applejack: "We have a few friends called the Lougers already there to help find him. What's his name?"
Sesime: "Well, I been away for so long, I forgotten his name.... But I remembered that we long asigned him to the giants known as Fa family."
Everyone dropped their jaws in surprise!
Everyone: "MUSHU!?"
Sesime: "Oh yeah, THAT was his name! Wait, you already know him OUTSIDE of his cousin Chow Mein?"
Pinkie: "Alchourse! He's with our louger friends! He's a part of them!"
Twilight: "Wait, if Mushu's the one who's suppose to stop Dragutha, does that mean YOUR the original hero who stopped Dragutha?! But how are you alive for so long!?"
Sesime: "Hey, dragons are known to be around for A LONG time. Us small guys ain't no different. Man, the crazy things I seen through my life."
Discord: "Well, I guess you might now have paid attention to my contact with you.
Sesame: What contact?
???: SIR! (A purple recolor dragon appears with a letter) We got a contact from an outsider claiming that Dragutha is...(Sees the others)...Am I late?
Sesame: (Sighs) Yes, Pupu, you were late again.
Pinkie: (Laughs) THAT'S his name? 'Poo-poo'?
Rainbow Dash: (Sighs) Pinkie, didn't we do this joke before? I told you it was 'pupu', a Chinese cuisine.
Pinkie: Ohh...(Laughs) But it's still funny!
Purple Dragon (Pupu): PLEASE don't remind me, a name like that tends to attract bullies in your school.
Lightning: "Oh yeah, REAL awesome contact, Discord. HE ENDED UP BEING LATE AND WE GOT ACCUSED OF INTRUDING?!"
Discord: Oh....But, anyway, since you missed it, I'll explain it to you. We were coming to gather info on Drag-u-butt-a to help the lougers get an idea on what they're dealing with. If you could just tell us what we're up against, we'll be gladly be on our way."
Sesime: "..... I, I can't.... I'm ashamed of what I had to do to Kung-Pow.... Someone who was half my brother!"
Everyone's jaws dropped again, only longer!
Twilight: "KUNG-POW'S HALF YOUR BROTHER!?"
Sesime: "He, came from my father's last unsuccessful marriage. And he was once, our people's emperor."
Flashback.
(Sesime): "Our home was that of peace and propstairity. He didn't had a problem in the world. Problem is... It was actselly too much for Kung-Pow to take."
Kung Pow was seen frustiated and angry at the city.
(Sesime): "He was growing litterally insane from boredom. He didn't found it fun being a leader with a world with no virtual problem."
Kung Pow was sitting in the throwne, growing inpathinely angry.
(Sesime): "Kung Pow was bored that his people prefer to live in peace, and there for, no known war or conflict ever existed in Chi-Na, all laws were fair and just, and the tec was echo friendly. To him, that means everyone was content and had little to complain about. He was bored to the point of insanity and self-corruption."
Kung Pow looked as if he suddenly gotten evil.
(Sesime): "..... He ended up wanting the world to change in a way that was more, "exciting", so to pull it off during his state of deludion, he desided to reshape the world in his image with a giantic, destructive mech called Dragutha. After 13 attempts being proven, "dysfuntional", it was the 14th that was a success. And the horror that followed shows."
A city was being destroyed by Dragutha as Kung Pow was inside it's head controling it!
Kung Pow was laughing Maniacly!
(Sesime): "Through the price of hurting his own people and looking like a madman, he finally got his wish for excitment. He became a threat to his own people, because of becoming insane from being bored! It was an atrosity, and a slap to the face to the name of our shared father!"
More cities were trashed.
(Sesime): "I desided at last, that enough was enough!"
Sesime stood before the Dragutha machine.
Kung Pow's voice was heard laughing in the machine!
Kung Pow's voice: "Half-Brother! I was wondering where you had went! I have finally resolved by boredom crisis! I am gonna make this place FAR MORE EXCITING soon! We'll have better tec, a bigger world, even more Draguthas! We can make the universe our bitch for looking down at us! I'm thinking of building like a thoundson statues of me to where those boring cities were! What do you think?"
Sesame: Half-brother, what are you thinking?!? Why are you doing this to your own people? The people who relied on you, the people who got you to your position, and you thank them by going on a rampage?
Kung-Pow's voice: Well, if you're so smart, THEN WHAT SHOULD BE DONE TO MAKE OUR HOME ANY BETTER THAN IT IS TOO PERFECT?!?
Sesame: I don't know!
Kung-Pow's voice: (Dubbed as Nostalgia Critic) Oh, I don't think that's true at all! I think you have some VERY DEFICIT IDEAS ABOUT THIS PLACE, AND I WOULD LIKE TO KNOW WHAT THEY ARE!!
Sesame: I think... Well... You should find something easier to do with this place instead of brood about it like you are lazy!
Kung-Pow voice: (Mockingly) 'YOU SHOULD FIND SOMETHING EASIER TO DO WITH THIS PLACE INSTEAD OF BROOD ABOUT IT LIKE YOU ARE LAZY', THERE IS NOTHING EASIER TO DO WITH THIS PLACE!!
Sesame: There has to be SOMETHING, Kung-Pow!
Kung-Pow's voice: HAVE YOU EVER SEEN A PLACE WITHOUT A SINGLE, SOLITARY, MOMENT OF VIOLENCE AND EXCITEMENT IN IT?!? OH, YES YOU HAVE, BECAUSE YOU'RE LIVING IN ONE!!!
Sesame: Pow, stop doing this! You can find something better to do with your life. I mean, war isn't the answer to your insane choice!
Kung-Pow's voice: INSANE?!? OH, I'M INSANE?!? (Chuckles) YOU TRY BEING BORED BY TOO MUCH PARADISE 24-7!!! IT'S MADDENING!?
Sesime: "Brother, if you don't stop this now-"
Kung Pow's voice: "WHAT!? In case you didn't took note, I'M IN A FUCKING GIANT ROBOT DRAGON!? JUST WHAT EXACTLY CAN YOU DO TO ME?!"
Sesame:... Very well, you leave me no choice. (Attacks Dragutha, and dodges it's silver attack, and manages to kick the robot to a wall)
Kung-Pow's voice: OOF! OH, SO THAT'S HOW YOU WANNA PLAY IT, HUH? (Fires his silver at Sesame, but he keeps dodging the attack) STOP MOVING!!! (He uses Dragutha to grab a support and tries to hit Sesame with it, but he still isn't able to hit him) GOD, HOW COME YOU'RE SO HARD TO KILL?!?
Sesame: This has gone far enough, Kung-Pow! Your reign of insanity must be put to an end.
Kung-Pow's voice: I'M NOT INSANE, I'M JUST BORED!! (Fires silver, but Sesame dodges it)
Sesime: "TRUE INSANITY OR NOT, WHAT YOUR DOING IS WRONG!? THE PEOPLE DESERVE BETTER THEN AN EMPEROR THAT TURNS ON THEM CAUSE HE GOTTEN BORED!?"
Kung-Pow's voice: Oh, yeah, what're YOU gonna do about it, shorty?
Sesame: (Offended by that statement, he begins to conjure up a powerful engry attack)
Kung Pow's Voice: ".... Huh? What the?"
Sesime fired the attack and desisated the machine as Kung-Pow was heard screaming in it!
Reality.
Sesime: "My engery attack was only powerful enough to assumingly disable Kung-Pow from ever being able to use that thing ever again. And he was seperated as well. I did not at wanted him to have him banished into the mountain, but the people, they were.... Too angry at his, stupid desidion on how he congured a mere case of boredom that..... He was banished seperately with the machine, where he would've stayed. We started to live under ground ever since cause of the world becoming too different then we were acostom to. Then when that Makuta beast attempted to bring him back, we fled from what was once our home and came here. And even when Dragutha was stopped almost anti-climaticly, we stayed here cause, outside of the butt-ugly monsters you have here, Equestia as you called it was, a peaceful place reminisent to Chi-Na, so we stayed here ever since."
Discord: "That's all we needed to hear. We'll be on our way now, and we'll be sure to inform the lougers."
(Darkness Qui): "Uh, small nitpick here.... THAT really detracked the entire story there and it didn't felt like it was needed to be added."
(Dark Dragon): "I know, I know, but this series has a "Pony qouta" it needed to statisfy, as much as I REALLY don't like it!"
(Darkness Qui): "..... Ok, honestly, what is it with you people talking as if we're putting on a thether or something?"
(Dark Dragon): "Look, Qui, just, just go with it. We're pretty much done with this half of the story. Now back to the main story, in where the prior actselly has a perpose later on."
Skies of Disney China.
The Louger van was flying around.
Mr. Dodo: "Brace yourselves everyone. The Scougre Imperials may soon be already onto us."
The Van Communicater begins to act up.
Sandy: "It's the Main 6!"
Twilight: Guys! Do you copy? We've got big news for you concerning Mushu's people!
Tweedle-Dee: Well, get on with it!
Rainbow Dash: You won't believe this, but Mu- (Suddenly, something strikes the van as it shakes, and the communication signal is lost)
Donkey: What the hell was that?
Mr. Dodo: It appears we're under attack by Makuta soldiers. (They see Makuta soldiers on the ground attacking the group with their weapons, and actually manage to bring the van down) WE'RE GOING DOWN! (Everyone screams as the van crashes to the ground)...
Mushu:... AAAAAAAAAAAAAAAAAAAAAAAAAAAAAAAAAAAAA- (Gilda covers his mouth)
Gilda: We're on the ground! (Knocking is heard)
Darkspawnic Machine 1: SURRENDER QUIETLY, LODGERS, OR WE WILL COME INSIDE AND TEAR YOU APART!
Bill: WAAAAAA--
White Rabbit: Don't even start!
Icky: "WHY DON'T YOPU FUCKING MAKE US, YOU FUCKING PIECES OF TRASH!?"
Lord Shen: "PREHISTORIC ONE!?"
Darkspawnic machine 2: "Ha! Stubbern to give up even at the face of defeat, huh? We admire that, but it's not gonna get you anywhere."
The Darkspawnic Machines began to approuch and surround the van!
Cynder: "Darn it, Icky, WHY DID YOU PROVOKED THEM LIKE THAT?!"
Icky: "You guys remembered Dr. Wordy? He repaid us for helping him by asking his revolutiony cousin Dr. Smarty, an Ick trying to introduse tec into Ichnos, and, well...... BATTLE-REX, GO?!"
A computerised voice: "Battle-Rex, activated."
The Van glows in a strange light, surprising the Darkspawnic Machines!
Darkspawnic Machine 3: "WHAT THE?!"
The Van turns into a robotic Tyrannosaurus Rex, surprising and scaring the Darkspawnic machines!
Darkspawnic Machine 4: "AGGGGGGGGHHHHHHHHHHH!? MONSTER!?"
Darkspawnic Machine commander: "RETREAT YOU FOOLS?! RETREAT!?"
The Darkspawnic Machines ran away like the cowerds they are!
Lord Shen: "..... Prehistoric One..... After this mission is done, remind me to SCOLD YOU FOR AN UNAUTHERISED ADJUSTMENT TO THE VAN!?"
Icky: "Seriously? Even when it saved us from being wasted by darkspawnic machines?"
Lord Shen: "Oh don't get me wrong, I am grateful for it, but it was NOT priorly autherised to be a feature for the van! After this is over, We are heading to Ichthos to have the adjustment perimently deactivated!"
Icky: "But then we would look like giver-backers! And no one likes a giver-backer!"
Iago: "Yeah, it would make us look like jerks."
Lord Shen: "But we can just merely explained that Icky didn't get it autherised by a highing rank offitcal, then they'll understand."
Mr. Dodo: "Well it'll have to wait, cause we need to restore the connection and get what we needed to know."
Icky: "Oh don't worry. It also a camopluse mode. Battle-Rex, camopluse!"
The Battle-Rex turns invisable.
Lord Shen: "..... Ok, I'll admit, it is KINDA useful. Ok, how's about I only ask to disable this "battle-rex" thing and I'll offitcally autherised this invisability comtraction?"
Icky: "Sorry, it comes with the Battle-Rex. You get rid of the battle-rex, bye-bye invisability!"
Lord Shen: "I see. Well, ok, we still get rid of the battle rex, and have this "Dr. Smarty" instell an invisability system independent of this mech?"
Icky: "Ok, but we're gonna end up waiting for him to do that sometime after the rest of 2014. Dr. Smarty likes to take his time."
Lord Shen: "..... Alchourse he does."
Meanwhile.
Mercurymon: "YOU INCOMPIDENT MACHINES DID WHAT!?"
Darkspawnic Machine Leader: "We didn't mean to forcefully retreat like that sir! You, you just didn't say their van can turned into a monster!?"
Chang: "Oh, wonderful! Their van can turn into something that makes demon created machines oil themselves! We're offitcally defeated now, or may as well be! I never had faith in this sceme anyway!"
Mercurymon: "Dear Chanceller, tis nothing but a minor setback. Perhaps it is merely my fault for not keeping tabs on what the lougers DO to thier blasted vicitle. Perhaps we just need something NOT so easily intimidated by unexpected surprises. And we already have one. Dragutha, I have a request for you."
Dragutha: "Oh what is it now? What am I? A servent to you? I am the ex-emperor of a sciencetificly advance race, not a pet to a bunch of invaders! Just because I am grateful you freaks freed me, THAT DOESN'T MEAN I'LL DANCE FOR YOU?!"
Mercurymon: "Now, now, Dragutha. I had been warned that you processed, a strong independent mind. And believe me, I don't consider you a pet, a servent, or any form of second banana at all. I view you, as an equil."
Dragutha: "HA!? Like I hadn't heard that already from this worthless demon named Makuta, after he cowerdly abandoned me to those "High Council" aliens! If I ever find out that if there was a team of villains dedicated to that guy, I'LL DESTROY THEM WHERE THEY STAND!? Say..... You guys aren't dedicated to the Makuta, are you? You seem to reference his name alot."
Mercurymon: "..... Uh...... Did we say "Makuta"? No! We were saying....... Kumata!? His richer, latino, and lady attracting brother from, Newer Mexico!"
Dragutha: "..... Newer Mexico?"
Chang: "Newer Mexico?"
(Cobra): "Newer Mexico?"
(Dr. Nefarious): "Newer Mexico?"
(Darkness Qui): "Newer Mexico? What's a "Mexico" anyway? Is it like the planet "Crexico"?"
(Dark Dragon): If that's where your version of Mexico is, yes!
Dragutha: I've never heard such a place as Newer Mexico.
Mercurymon: It's, a relitively new contrey. (Chuckles) We, uh,  despise Makuta, too! I mean, he's just, uh, a waste of a Darkspawn, am I right?
Dragutha: Damn right! That guy thought I could be his bitch. I'm glad these Makuta soldiers he had now serve me. And I'm just glad I won't have anything to do with him anymore. But if you want me to destroy those misfit freaks, then you don't tell me how to do my job! I will be the one who decides things from here. I'll go there and show them what happens when you mess with DRAGUTHA XIV!!!
Mercurymon:... Yeah, of course!
Dragutha: I'll be back later. (Flies away laughing)
Mercurymon:...Whew! (Dark Dragon appears after overhearing what Dragutha said)
Dark Dragon:... He... HATES MAKUTA?!?
Mercurymon: Well, in my defence, giving that Makuta was forced to abandon him when the High Council attack, it, would be kinda, realistic for this sort of thing to happen. I mean let's be honest, would you be loyal to someone who left you trapped in a mountain for a good sum of time? But over all, we just need to give him time to vent out his frustractions and-
Dark Dragon: YOU IMBECILE!! IF HE FINDS OUT ABOUT OUR LOYALTY TO MAKUTA, HE'LL DESTROY US ALL!!! YOU JUST GOT ME THE RISK OF BEING DESTROYED!!!
Mercurymon: I'm sorry, Lord Dark Dragon! I didn't anpisipated prior to this that he bared frustractions against Makuta! I swear!
Dark Dragon: You realize that we can't keep him around when this is over, right? We have to betray him when he destroys those Lodgers, and banish him back where he came from before he ever finds out about our loyalty to Makuta! And it's a fucking shame too, cause I was REALLY hoping to congure more worlds with him!
Chang: How perfect! We get an unstoppable weapon, and now we either drop it again or be destroyed by it! How could it get any worse?
Nidhiki: Well, if that's the problem, then it may not be such a brillient idea to sent him after those Misfits. I mean, when you think about it, the Lodgers might rat us out about our secret, and tell Dragutha we're serving Makuta.
Chang: (She and Dark Dragon are shocked at that statement)... Oh, s***!
Dark Dragon: (Grabs Mercurymon by the neck, choking him) THAT'S IT, MERCURYMON! YOU'VE JUST BEEN MADE THE DEATH OF THE DARK DRAGON SCOURGE!!
Mercurymon: PLEASE, AHHKKK, I DIDN'T KNOW!! IF I HAD, I WOULDN'T HAVE MADE THIS WHOLE PLAN TO BEGIN WITH!! OR AT THE VERY LEAST MADE A COUNTER TO HIS PENT-UP FRUSTRACTION AGAINST MAKUTA SO THIS WOULDN'T EVEN BE A PROBLEM!? YOU... YOU CAN'T BLAME ME FOR THAT!! AAHHKKK!!
Dark Dragon:... (Lets him go as he gasps for breath) After this is over, you're being punished greatly. And don't expect me to come to your aid when Dragutha comes after you, you can save yourself!
Krekka: Wow, that's pretty harsh, isn't it?
Mercurymon: "But, but, master, please! Wouldn't this only encourage the villain leage created steriotypes about you being a desertor because of what you did to Emperor Fang? They, they might decalire you a threat if you lead even someone like me to die to a monster! They could come and destroy the Scourge Empire if they get the impression that you leave members to suffer all because of momentary setbacks!"
Chang: "Sadly, master, he's right. Those leagers are already sour with us taking away their silly hope for Fang. If you abandoned Mercurymon for a slight mistake on his part, you'll be considered to have cross the "Complete Monster" terratory for them. And we all know what happens to villains who crossed the forbidden line."
Dark Dragon: "..... Aw, damn it! I hate this complincated morality bullshit?! Even when your already evil, people would judge you for certain things!? Alright fine, you'll be given SOME support of the empire if this were to come to pass, BUT I STILL EXPECT that, thing, to be locked up back into the mountain when this is over, and YOU, are still due a punishment for risking our butts! Understand?!"
Mercurymon: "Of, of course, Dark Dragon. I, I serverly apologies for this, major setback on my part. I should've considered the possability of Dragutha's, personal issue with Makuta. But consider this. We have only managed to get this far with Dragutha. The minute any possability imaginable if we were to be without Dragutha, do you think the High Council would let us keep Disney China, one of their impourent stragtic placement worlds? I would doubt that. As suddenly dangerious as he is, we just need to be rid of his ill-thoughts of Makuta, not Dragutha himself."
Dark Dragon: "I know what your saying, and NO!? I seen guys like Dragutha before, and they don't forgive people who accstdently or were forced to wrong them so easily. Once the time comes, whether the lougers are destroyed or not, we are gonna put Dragutha back where he came from!"
Darkspawnic Machine leader: ".... Well, good! We hate him anyway! He was seriously TOO butt hurt over something Makuta didn't had control over!"
Dark Dragon: "See? Even his "followers" agree with me! The kind of risk Dragutha offers is TOO DANGERIOUS for us at least! And I can't stand pretending to hate someone I swore to free! No weapon is worth that!"
Mercurymon: "My ledge, please! Your almost being as closed-minded as Emperor Fa-"
Dark Dragon punched Mercurmon in the mirror face and cracked it!
Dark Dragon: "DON'T, YOU, DARE, COMPAIRE ME TO THAT OVERCOMPIDENT SHORT-SIGHTED TWAT OF A WEAKLING SNAKE?! My desidtion here, is FINAL!?"
Dark Dragon walks off angerly.
Krekka: "Uh, Mercurymon, we're, sorry if the boss got angry like he did, he, kinda doesn't like being compaired to the previous emperor like that."
Mercurymon: "..... (Coughs).... I noticed...."
Nihiki: "Well word of advice, you wanna stay alive, DO NOT, say he's in anyway way like Fang! Dark Dragon SUPRIMELY hated Fang!"
Mercurymon: "Duly, noted."
Chang: "Well, now we're best be better returning to the imperial palace and prepare our defences against Dragtha in ANY event. We are about to enter one of the most dangerious battles the Scougre Empire has the misfortune to bring itself to."
Meanwhile.
The Louger Van is still invisable.
Mr. Dodo: "Good news, everyone. I finally got the communicater working again."
The Communicater returns to Twilight and friends.
Twilight: "Guys, what happened? We lost you for a bit."
Icky: "Oh you know us. We had to go through a traditional Scourge Empire welcoming commettie done by their new darkspawnic robot firends. But don't worry, we're fine. Now, what was it about Mushu?"
Rainbow Dash: Oh, yeah! We were told that he- (Suddenly loud roaring was heard)
Icky: AW, COME ON!! WOULD YOU GIVE A GUY A BREAK?!? (Dragutha appears and lands on the ground as everyone is shocked by his size)
Po:... That's DEFINITELY 7% bigger than Ke-Pa!
Dragutha: Hello, dear Shell Lodgers! Welcome to my kind's old homeworld. Now that you're all here, I can finally make sure you don't stand in my way while I conquer this place and all of it's inhabitants!
Puss: Well, as a villain, surely you know that it's our job to stop you!
Dragutha: Well, DUH! That's why I'm here! Now hold still!
Icky: "HEY DUMBASS?! WE'RE INSIDE OUR VAN THAT'S INVISABLE!? THERE'S NO WAY-"
Dragutha fires a lazer that disables the invisability part of the van.
Icky: "Well, uh..... WE'RE STILL IN THE MOST POWERFUL VAN EVER?! THERE'S NO WAY, YOU CAN FORCE US TO-"
Dragutha's eyes glow, and teleported the lougers out of the van.
Icky: "......... Ok, now your just being a dick."
Dragutha: "You wanna know what else quilifys as "being a dick"? THIS!?"
Dragutha fires the silver!
Banzai/Po: WHOAAAAAAAAAAAA!? (Po dodges Dragutha as he imprisons Banzai)
Shenzi: "Aw damn it! Why is it always Banzai that gets creamed by the Monster? I mean-"
Shenzi gets covered in Silver!
Skipper: TAKE COVER!! (More Lodgers get trapped in silver as others make a break for it to the van)
Dragutha: THAT VAN WON'T PROTECT YOU FROM ME, YOU FOOLS! (Tears apart the van, and freezes Merlin, Ed Otter, Max Cat, Sam and Max, and Spyro)
Cynder: SPYRO!!
Donkey: DANG, HE'S GETTING US GOO- (He gets frozen as well)
Shrek: DONKEY- (He gets frozen)
Patrick: AAAHHH, WE'RE LOSING!!! (Shakes SpongeBob) WHAT'RE WE GONNA DO?!? (The Lodgers scatter as Dragutha manages to imprison most of them, leaving SpongeBob, Sandy, Gilda, Trixie, Icky, Chi-Fu, Cynder, Po, the Penguins, Boss Wolf, Fidget, and Mushu the only ones left as they are cornered as Dragutha stands before them)
Dragutha: Say goodbye, you little douches! (Prepares to use his attack until he sees Mushu with them) SESIME?!
Mushu:.... Say what?
Dragutha: WHAT'RE YOU DOING WITH THESE MISFITS?!?
Mushu:... Look, you must have me confused with some other dragon, I've never seen you before in my life!
Dragutha: "Wait..... Your not Sesime, and yet your....... (Smiles wickedly), HAHAHAHAHAHAHAHA! That means you don't know what you are! Sesime never told you a thing about me?!"
Mushu: "Are, are you talking about Sesime Chicken man? Cause your not making a lick of sense!"
Dragutha: "AND PERSONALLY, I WANT TO KEEP IT THAT WAY!? Now, whoever you are, prepare to suffer under MY wrath!?"
Gilda: "Well, I hope getting rid of the best heroes the universe ever needs is worth making Makuta and his Scourge Imperialistic butt-kissers free to do whatever they freaking want, slime-breath."
Dragutha: "..... Wait what? But Mercurymon said they're allined to Kumata!"
Trixie: "....... Your not serious right? Are we even talking about the SAME scougre imperials with Dark Dragon in it?"
Dragutha: "So, there's no rich latino brother of Makuta named Kumata that gets women easily?"
Icky: "..... Uh, bud..... I think this a straight-up case of classic Scourge Empire lying. They lied their way to keep your loyalty considering you might not like Makuta for dumping you."
Dragutha growled in furious anger!
Dragutha: "It appears you silly misfits got lucky! For now anyway! I am now MORE interested in destroying the scougre THEN YOU TWATS!? But that doesn't mean you're being spared?! I'll be back for you soon!? And don't bother simply trying to retreat the world or call for aid! I, can do THIS?!"
Dragutha breaths a engery ray that traps the entire world under a sheild that prevents escapes, and prevents possable reinforcements.
Dragutha: "Consider your fates here, forever destined here. Perhaps it would've been better if you just let this rise of darkness slide, eh, heroes?"
Dragutha laughs as he flies off, leaving the remaining lougers to their losses.
Icky: "..... Well, I guess it's a safe bet that this is the end of the Shell Louge Squad guys. But at least we go down epicly to a psycotic mecha dragon. And the Scourge doofuses get fucked as well."
Cynder: "We can still fight this! We can't let what became of our comrades go in vain!"
Trixie: "But our Van is trashed and we lost our way to finally know what to do!"
Suddenly, the Main 6 appeared with Discord, Lightning Dust and Chow Mein!
Twilight: "DARN IT GUYS?! WHY DO YOU KEEP GETTING INTERUPT-"
The Main 6, Discord, Lightning and Chow Mein gasped at what they see.
Rarity: "....... I, do believe, we came at a bad time."
Icky: "But, I thought this sheild was suppose to keep people out or in."
Twilight: "Well, I was getting frustrated that you guys kept getting interupted, so I guess when I desided to just go to guys personally with everyone, I must've managed to get here before this sheild was put up."
Icky: "Well bad news guys and gals, your now stuck with us against a maniacal mech dragon now on the verge of exsterminating those Scourge idiots after it turned out he hated Makuta for ditching him!"
Chow Mein: "Oh, those Scougre Imperial fools! I knew this would happen!"
Sandy: "But at least we FINALLY had the chance to talk to you guys about that MUCH needed infomation."
Icky: "Well, better delayed then never, I suppose. Ok, out with it. The giant silver barfing jerk said he thought Mushu was some dude named "Sesime". Any comment on that?"
Discord: (Putting up a shield around the group) Just in case any OTHER douchebags decide to interrupt us!
Rainbow Dash: Good! Because... Mushu is the descendant of the guy who defeated Dragutha!
Mushu:... What?
Chow Mein: Cousin, I was meaning to tell you this during your time at the Equestrian Gala, but the Emperor of our race is your father!
Mushu:... Get out!
Chow Mein: No, I'm serious! Emperor Sesame is my uncle and your father. They left this place long ago after Dragutha was thought to had return cause of Makuta, and stayed in Equestia even after Dragutha was defeated the second time because, well the place was nicer with exception of the unbelieveably odd monsters they had. We only left you because you were assigned with the task of watching over the Fa Family.
Cynder:... Wow, I sure wish we had known that sooner.
Gilda: Mushu, do you realize what this means?
Mushu:... That I am not actually spirtual?
Gilda: YOU CAN STOP DRAGUTHA!!
Mushu: Are you kidding? I don't know much about fighting, except for this! (Releases a small amount of fire)... And even THAT doesn't help. I mean, granted, in the original Mulan, I fried Shan-Yu's bird, but that was edited out in faver of Max being the one to do it with a flame-thrower cause the producer thought it didn't made alot of sense for me to have THAT much power when I deminstracted how previously pathic it was and-
Skipper: Oh, stop being a wuss out and just acknowledge that you can beat that bucket of bolts and rescue our companions!
Mushu: HOW?!? NOT EVEN SPYRO, THE PURPLE DRAGON, THE FURIOUS FIVE, OR EVEN SHEN THE EX-WARLORD COULD BEAT THAT THING?! HOW, CAN LITTLE BITTY ME COULD DENT A GIANT SILVER SPEWING MONSTER?!
Chow Mein: You're kidding, right? You just find out you're the descendant of a great hero, and you still act like your aren't?!? Look, Uncle Sesame may not be the nicest to outsiders, but at least he cared enough to allow these ponies to come to our city. Sure, the information he needed came in late, but he just heard their reason, and he agreed to help us. He would probably be proud of you for stopping the leage many times, espiecally the first time you helped saved our former homeworld, and ending sexual discrimination in this place in the process.
Mushu:...
Applejack: Come on, sugar cube! He knows you're part of a group of heroes, and he would appreciate that you would follow his footsteps.
Mushu:... (Sighs) How does he possibly stand up to a machine as big as HE was?
Chow Mein: He just does!... And he believes that you can do it along the way. Now are you gonna shiver like a coward, or are you gonna be a hero for another time?
Mushu:... Alright! I'll try! (This music plays as a preparing for battle montage goes on.)
Mushu was dressed like a chinese Rambo and shouted!
Spongebob: "Now that's what I'm talking about!"
Sandy: "Thanks for the help Girls, and Discord and Mushu's cousin. We can take it from here. It's too dangerious for you guys to tackle on against that monster, so it's best you keep our imprison louger friends safe and see if Twilight can use her magic to reserve it."
Twilight: "Well, I feel like I am needed to help the silverised lougers anyway."
Discord: "Good luck lougers.... Your REALLY gonna need it this time around."
Icky: "The story of our lives."
Imperial Palace.
The Imperial Palace was in ruins and the entire Darkspawnic Machine army was destroyed. Series of busted Scougre Defences are scattered, and Silver Statues of Chang, Nidhiki and Krekka with horrorfived expressions are seen.
A damaged Mercurymon and Dark Dragon are hiding in the corner while evil laughter was heard.
Mercurymon: "..... It was unstoppable. Our defences meant nothing to him. NOTHING?! And now, in due to Dragutha magnifisently ensuring he'll finish off the louger remeniments for later, our reinforcements can't come for us. AND IT'S BECAUSE YOU WANTED TO BETRAY HIM BECAUSE OF BEING AFRAID OF HIM?!"
Dark Dragon: "Ok, so now I'M the one with the bad planning! We're even! Now please at least say you can somehow get us out of here!"
Mercurymon: "I wish I could. Even as my strongest digi-form, I would bare no match against Dragutha. Also, I am but an evil same named counter-part of the real Mercurymon that was born from when the real one was cleanzed at the end of that really odd Digimon generation where the humans become digimon. I am not exactly, uh, able to evolve as such."
Dark Dragon: "...... Well, fuck..... But if it's all the same, I would like to, repent on my threat about abandoning you. I was just, furious something as powerful as Dragutha is more our enemy then an ally cause of his resentment to Makuta, and like idiots, we freed him. And I am saying this, not just because to discourage the leage created steriotype that I'm a turncoat fanactic, but because.... Well, I desided to admit my soft-side to you, cause... Well we're asentually gonna be wasted by giant machanical monstrosity."
Mercurymon: "I humbly accept the apology sir. And yes, I will promise to keep this to myself if we were to survive this to preserve your maskinality and furoiousy."
Dark Dragon: "Thanks, I, I really needed to hear that."
(Cobra): "You do realise that you JUST told us that, right?"
(Dark Dragon): "Hey, what's been told in the evil chackle, STAYS IN THE EVIL CHACKLE?!"
(Darkness Qui): "Ok chill! Not like we're actselly creditable to any universe anyway."
Dark Dragon: "So, how long do you think it will be until Dragutha finally finds-" (Dragutha appears crashing through the wall, and Dark Dragon screams like a girl)
Dragutha: YOU LIED TO ME, MERCURYMON!! YOU SERVE MAKUTA?! MY MOST HATED EX-FRIEND!!!
Mercurymon: (Screams like a girl, and so does Dark Dragon, then both of them)
Dragutha: OH, WILL YOU STOP?!?
(Dr. Nefarious): HAH! I like it when strong people end up screaming like girls!
(Dark Dragon): Look who's talking! I'd say you sound like Eartha Kitt with a frog in her throat.
(Dr. Nefarious): HEY! MY MOTHER GAVE ME THIS VOICE!!! Not to mention that's SERIOUSLY offenceive considering Eartha isn't even among the living anymore!
(Dark Dragon): "WE'RE VILLAINS?! WE DON'T REALLY TEND TO CARE ABOUT THA-"
(Darkness Qui): Can we PLEASE continue?!? Did you end up getting frozen or not?
(Dark Dragon): I was getting to that until dome-head interrupted me! Now then...
Dragutha: PREPARE TO FACE MY WRATH, YOU FIENDS! (Fires his silver at them, but Po is able to push them out of the way, dodging the silver) WHAT THE?!
Dark Dragon: "..... Did we just, got saved by one of our enemies?"
Po: "Oh trust me. I won't be able to sleep properly at night as well."
Mushy appears, as do the rest of the remaining lougers.
Dragutha: YOU?!?
Mushu: THAT'S RIGHT, YOU BIG DUMB PUSSY, I KNOW ABOUT YOU AND YOUR HALF-BROTHER! I AM GONNA FINISH THIS ONCE AND FOR ALL!
Dragutha: (Laughs) Oh, yeah? I'd like to see that happen!
Mushu: As you wish! (Attacks with a karate kick, but only ends up getting his leg hurt) AA-HAOOW!! MY FUNNY BONE!!
Dragutha: (Kicks Mushu to the wall, and uses his silver attack, but Mushu dodges it) DAMN, WILL YOU HOLD STILL?!?
Mushu: YOU CAN'T REALLY MAKE ME, YOU KNOW!!!
Dragutha: "Your no threat, knowing the truth or not, you'll NEVER be like half-brother Sesime."
Mushu: "YOUR HALF MY UNCLE!?"
Dragutha: "Yeah, father had a previous unsuccessful marrage. I do not want to talk about it."
Mushu: "..... Man, I seriously need to talk to Chow Mein more!"
Dragutha: "WELL TOO BAD!? For as long as I am still capable to shoot silver, you fools seriously cannot-"
A random fireball went inside Dragutha's mouth and explouded!?
Dragutha: "AGGGGGGGGGGGGGGGGGGGGGH!? WHO DID THAT!?"
Dragutha seen Boss Wolf mocking him, Dragutha tried to shoot the silver, but nothing happened!
Dragutha: "..... What? No..... NO!? MY SILVER DISPENCER!? DESTROYED!?"
Boss Wolf: "Not so tough without your silver goo, huh, buster?"
Dragutha: "Gahh! I don't need silver to destroy misfits!? I AM A LEGACY OF WHAT COULD'VE BEEN A NEW AGE?! I AM AN AGELESS, LONG-EXISTING WEAPON OF DESTRUCTION!? I AM-"
Icky: "An egotisitcal jackass that's about to hate himself in the next few minutes!"
Cynder turns into Avatar Cynder, flies around Dragutha and destroys all 4 of Dragutha's legs!
Dragutha: "WHAT!? NO, NO!? WHY AM I SUDDENLY LOSING!?"
Avatar Cynder: "Because, like I expected, your previously unstoppable mech has become aged and worn, making you more vulerable then you thought, espeically that you can't hide behind speawing silver anymore!"
Dragutha: "I, I have magic! I could just restore myself! That's my TRUE reason of being indestructable!? Damage me all you want, but I can always repair myself afterwords and-"
Avatar Cynder: "Oh.... Don't worry. We're not gonna be the ones to defeat you. We were softing you up so the real hero can have the honor of the final blow."
Dragutha gasped when he realised that Mushu wasn't seen anywhere.
Avatar Cynder: "Are you ready Mushu?"
Dragutha looked to see Mushu on the golden statue next to him, seeing Mushu!
Mushu: "I AM READY BABY (Reveils a big ass firework!) Chi-kee, light me!?"
Dragutha: "NO!? NOOOOO?!"
Dragutha trieds to move his neck out of the way, but Avatar Cynder holds him with place with help from Po, and the rest of the remaining Lougers using Spongebob as a giant yellow net, holding Dragutha still!
Sandy: "NOW IT'S YOUR TURN TO HOLD STILL!?"
Mushu on the firework fired out and heads to Dragutha!
Dragutha struggled even more!
Mushu: "AS PO WOULD SAY, SKADOOSH!?"
Dragutha: "NOOOOOOOOOOOOOOOOOOOOOOOOOOOOOOOOOOO-"
Mushu goes inside Dragutha's mouth while he was still screaming and then-
BOOM
The Dragutha Beast began explouding in a spectatuler display, as the magic of the shield began to fade!
The Lougers landed in the pile from the effect of the exploudion pushing them off, as pieces of the Dragutha began to fell randomly!
Mushu was laughing wildly as he was landing back where the lougers were!
Chi-Kee landed next to him!
Mushu: "You, are a lucky bug."
Spongebob: "There! Mission Accomplish."
???: "DAMN YOU, MUSHU!?"
Mushu: "Uhhhhh Oh."
Coming out of the smoke, was Kung Pow, no longer fused with Dragutha.
Kung Pow: "YOU DESTROYED MY MACHINE!? YOU DESTROYED MY LEGACY!? AND YOU INTERUPTED MY REVENGE!? AND NOW, WITH MY UNDESTROYABLE GREAT MAGIC, (READIES HIS STAFF), I WILL DESTROY YOU AND THE LOUGERS, FOR NOW, I SWEAR HORRENDUS VENGENCE, MUSHU?! AND THIS TIME, NOTHING WILL STOP ME FROM REACHING MY--"
???: HEY, TINY! (Dark Dragon and Mercurymon arrived and their sizes towered over him)
Dark Dragon: You and I need to have a serious chat about what you did to our comrades!
Kung-Pow: STAY BACK! THIS STAFF IS POWERFUL ENOUGH TO- (Mercurymon grabs it, and breaks it in half) NOOOO!!!
Mercurymon: No more fooling around, you little lizard! It's time you paid dearly for what you did.
Kung-Pow: (Screams like a girl)
Avatar Cynder: (Grabs the two of them) THERE WILL BE NO MORE KILLING HERE, YOU TWO! WE MEAN IT!! This guy is not to be killed, he is to be given a proper punishment like everyone else, or you'll have to answer to us! GOT IT?!?
Kung-Pow: Oh, thank you!
Avatar Cynder: (Smacks Kung-Pow to a wall) DON'T THINK WE WON'T BE CROSSED WITH YOU EITHER, KUNG-POW!
Dark Dragon growled.
Dark Dragon: "Fine! I have better things to do anyway! Mercurymon, order some Vahki to pick up Chang and the Dark Hunters. We're out of here."
Mercurymon: "Alchourse."
The two turned and left.
Kung Pow got up moaning and in pain, and proceeded to escape while he still can, until he suddenly gets trapped in a jar!
Trixie: "Got ya, you little pest!"
Kung Pow: "Let me out?! Let me out! Is this anyway to treat someone who was emperor of this planet?! I demand an aturney!"
Icky: "Ah, pipe down, small short and creepy! Ya pretty much are on loser street from here on out."
Equestia, back at The Underground City, several hours later.
The Main Six and the Lougers, plus Lightning and Discord were invited to a speical congratulation ceramony being held for Mushu.
Twilight: "Wow, freeing the other lougers and half of the people of the imperial city of their silvery prison was hard work."
Discord: "And then there was the equily back-breaking labor of cleaning up the mess of a latest Scourge Imperal Escapie, no less."
Rarity: "And tearing down those awful scourge imperial taprescys and restoring the real Disney China ones."
Lord Shen: "But it was worth it in the end. Mushu is reunited to his lost family, Kung Pow will be kept inprison here and garrintied him escaping is impossable, the Emperor of Disney China has charged the Scougre Imperials a hefty fine! And the bonus of the High Council stripping away some of the Scougre's controlled planets as an indirect punishment to Dark Dragon for his outrage."
Banzai: "Yep. Outside of half of us being turned into 700$ dollar garden ornaments, this was one of our missions that started rough, but ended on a smoother note."
Private: "And Mushu is declaired a hero of China and earned the ansisters respect... For the most part."
Icky: "And wanna know something funny? The Scougre Dorks are gonna make Mer-dorky-mon combinsate for all the worlds the Scougre has lost in this mess. I can already picture it."
Meanwhile, the Scougre Imperial Palace.
Dark Dragon: "As punishment for a failure that costed us not just an oppertunity to have a powerful member, but a few funds, several of the worlds congured from the Fang Empire reign, our dignity, AND ALMOST OUR LIVES!? Your setneced to work in rebellion duty to quell a new rebellion in planet Battleax, the alien viking planet!"
Mercurymon: "No Dark Dragon, please! Battleax is known for it's violent warriors! They'll massicure me!?"
Dark Dragon: "Oh relax, you'll be around enough vahki to at least delay the ineditable. Your sentence has been carried out. I expect it to be followed now."
Krekka and Nidhiki grabbed and dragged a sadden and scared Mercurymon.
Krekka: "Spoiler alert. My exspearience of dealing with a Battleax rebellion?"
Mercurymon: "What?"
Krekka: "...... It wasn't fun."
Outside the Palace.
Mercurymon's screams are heard!
The Evil Chackle, reality.
Dark Dragon: "And Mercurymon suffered painfully as a result and Battleax became a step-further of being free of our control. And that was how I almost had them. And, I litterally even managed to have some lougers incompasipated."
Cobra: "Ohh, not bad D.D. You have yourself at a tie with Qui for being the only who actselly had lougers hurt in anyway way."
Junjie: "(Muffled)".
Cobra: "He said it just failed short of not realising that Dragutha, or now just Kung Pow, turned out to have some dis-satisfaction with your master in due to abandoning him. Though personally, I wouldn't blame him. I still resent Junjie for DUMPING ME TO SAVE HIS OWN HIDE WHEN I TRIED TO OVERTHROW OOGWAY!?"
Darkness Qui: "Well, you lose points for not getting Cynder for me, but at least you managed to somewhat had the lougers in a corner. Though tough break one of the unlikeist of ones trashed your plan in the end."
Dr. Nefarious: "Ok, now that we're done with amator hours, it's time an ol' pro showed you how it's REALLY done! It was sometime when the lougers discovered that Futurasia place during that space pirate mishap and something about a "Lamb E Stanly" or something. It actselly had inquired my curiousity about the kind of tec they would process. It's magnifisent world, akin to the galaxies found in the Rachet and Clank games, only the robots there ACTSELLY know what they're doing! Even argueably have some form of rights! I had wanted to see for it myself, and in doing so, I found myself an ally that would've made me the most badass villain of all of the history of the universes! INITSIATE, FLASHBACK EFFECT!?"
The screen starts to get wavey as we enter our story.
Chapter 6: UNNECESSARY EVIL INITIATIVE OMEGA 2001!!
Futurasia in the story.
Dr. Nefarious was disguised as the same human form he used for Nerdball, as Lawerence took a human disguise as well, with Scratch and Grounder looking like a chicken and a handicapped mole.
Voice: "Welcome to Futurasia, visitors of outside worlds. Known as the world of brighter tomorrows. Please co-opperate with security on being inspected for any weapons or contraband you brought with you on your way here."
Lawerence: "Oh dear. It appears that they have some very strict traveling protocals, sir. I suggest we make sure we weren't stupid enough to actselly arm ourselves with anything."
Dr. Nefarious: "Don't worry, Lawerence. This is a scouting mission anyway. We all made sure not to bring anything stupid. Right Scratch and Grounder?"
Scratch and Grounder: "..... Uhhhhhh....."
Later...
Scratch: (A large pile of weapons and equipment are found right near Scratch and Grounder)...
Security Guard #1: Why would you keep a large amount of weapons like this?
Grounder:... We're cowards?
Scratch: TOTAL cowards! We keep weapons everywhere we go just to protect ourselves.
Security Guard #2: Well, I'm sorry, but nobody without a Futurasian Weapon License is allowed to carry weapons on this planet. And since you're just arrivals, you can't have any here.
Grounder: But... How are we gonna defend ourselves?!?
Security Guard #1: That's your problem, not ours. Good day, gentlemen. (They leave as the group stumbles into a futuristic city)
Dr. Nefarious: Well, I guess that was easy. You guys REALLY had me on the edge of getting us busted. We'll have to talk about that later when our mission is complete. Alright, Lawrence, where exactly are we in this world?
Lawrence: (Checks a small iPad-like device which has an entire global map of Futurasia)... We're in the capital city of Byrd City.
Scratch: HA-HA-HAAAAH! They named a city after birds?
Lawrence: No, that's the last name of the founder of Futurasia, 'B-Y-R-D'.
Grounder: That's a strange last name. Who has a last name like THAT?
Lawrence: Well, there is Robert Byrd, a US Senator, there's Richard E. Byrd who was a naval officer that explored certain parts of Antarctica, there's William Byrd, an English composer of the Renaissance, and... Well, there's Sgt. Byrd from those old Spyro games.
Scratch: Okay, we get it! So, what're we here for?
Dr. Nefarious: "We're merely scouting this new world to study on what we may soon go after for a future plan. It's a simple, study mission."
Grounder: "Aw gees, pops, a study mission? And we lost our stuff fer nothing."
Dr. Nefarious: "Aw don't worry, it's not the first time we lost stuff like that. Though it's gonna be a headache to replace even HALF of those weapons."
Scratch: "We're sorry."
Dr. Nefarious: "Well, at least we won't end up getting into serious legal trouble. Now, the best way to do a study mission, is to get a tour of the place. And luckly, tourests get a generious tour price."
Later.
A tour guide bot: "Hello, new visitors. I am Trann 76725382616332637262719236272727362626 and a half. But you can just call me Trann. And today, we get to go on the tour of a magnifisent place that might be the socity of tomorrow of your local world."
A tour ship begins to fly around.
Trann: "And now, a long history about our world. Please remember to look at your holo-pads for a full exspearience."
Later.
The Tour Ship flies around and passes a old warehouse.
Trann: "And we just passed the old "BLF" Warehouse."
Dr. Nefarious: "BLF?"
Trann: "The "Best Left Forgotten" Warehouse. The most strictist Warehouse in the whole planet. It keeps many dangerious and failed exspearimental inventions, robotics, even weapons of all kinds locked up in one place. It has like a zillion security drones guarding it like a treasure of a lost civilisation. Now, who's up for Genome Pizza? The best place for organic pizza made with fresh ingredients, and friendly singing robotic animal mutants for the kids!"
Grounder: "Oh boy! Pizza! Can we get some Pizza, dad?"
Dr. Nefarious: "Alchourse, Gro- Ugh...... Rednuorg. (Quietly)... For it is the pizza of victory....."
Later again.
The BLF Warehouse is seen.
Nefarious, Lawerence, and Scratch and Grounder eating pizza, are seen hidden in the shadows.
Dr. Nefarious: "In light that we're armless and without weapons, we have to relie on wit, conning, and wit!"
Scratch: "You said wit twice."
Lawerence: "How's about we change our disguise devices to be respected millaterry generals and trick the drones to let us in?"
Dr. Nefarious: "..... Ok, fine, we'll do it like lazy villains."
The 4 changed their Disguises to 4 millaterry general humans.
Dr. Nefarious: "Ok, I'm general Suoirafen, Lawerence, your General Law, Scratch, your general Hctarcs, and Grounder, your general Rednuorg. I am sure that this disguise plan will work like a charm."
(Cobra): "Did it really?"
(Dr. Nefarious): "..... Uh..... Well, turns out......"
Later again.
Dr. Nefarious, Lawerence, Scratch and Grounder ran screaming as they are chased by drones firing lazers!
Lawerence: "Oh dear! I seemed to neglect to consider about the possability of these drones actselly having a databases of all known generals! My mistake of not pointing that out."
Grounder: "IT HELPED LITTLE THAT THEY HAVE SCANNERS!?"
Scratch: "MAYBE IT WOULD'VE BEEN BETTER IF WE JUST STAYED AT THE PIZZA PLACE!?"
A funny chase later.
The Drones were flying around, looking for the intruders.
 They dispearence and go in seperate directions.
Scratch: "..... Dad, I think they're gone."
Dr. Nefarious: "I'm sorry guys. I had to be selfish and got ourselves into a mess. And Lawerence made it worse."
Lawerence sighed dejected.
Dr. Nefarious: "But at least once we're able to escape and return to the pizza place and go on with the tour, I'll make up for it by buying everyone oiled ice cream! And- AGGGH!? Damn it, something is making my nefarious butt itch!"
Dr. Nefarious reaches down and pulls out an ominous looking chip.
Dr. Nefarious: "..... The hell is this thing?"
Grounder: "OHHH! IT'S A GAMEBOY ADVANCE CARTRAGE! I thought this world was too advance for the kind of video games we had these days!"
Lawerence: "Actselly sir, I do believe that looks to be some kind of millaterry chip."
Dr. Nefarious: "A chip? YES?! I SCORED SOMETHING!?"
A werr was heard.
Dr. Nefarious: "...... Uh..... Boys? We're in trouble."
The Drones rip apart the box to get at Nefarious and crew!
Dr. Nefarious: "LAWERENCE?! TELEPORT US BACK TO THE STATION!?"
Lawerence teleports away, along with only Scratch and Grounder.
The drones stared at Nefarious sitting alone.
Dr. Nefarious: "...... This isn't funny, Lawerence!"
Dr. Nefarious was suddenly teleported away!
Nefarious station.
Dr. Nefarious was marveling his prize.
Dr. Nefarious: "Ohh, yes, my marveliously evily obtained weapons chip! I can unvail all the secrets you have! Give me your tecno booty you have!"
Garble: "(Snickers), He said booty!"
Garble, the Dragon Teens and Diamond Dogs laughed!
Doofinshirtz: "Ok, so let me get this straight. You just managed to steal a strange futuristic chip placed in a Best Left Forgotten Warehouse without getting further word on it? Ya sure using that thing's a good idea?"
Dr. Nefarious: "I know what I'm doing, Doofy!"
Dr. Nefarious installs the chip into the station's hardware.
Suddenly, A hologram of a robed skull-faced being appeared before Team Nefarious.
Hologram: "K.A.M.I.K.A.Z.E is online. What is your request *Insert name here*."
King Dedede: "Uh...... Kama-whosze?"
Hologram: Kommanding Aerodynamic Master Intelligence for Kinetic Astro-Zeppelin Engagement, or K.A.M.I.K.A.Z.E. for short. The chip that you now possess is a cloaking clip that allows your ship to be undetected by radar or any location device. You can use this chip to perform kamikaze attacks on any area of the enemy.
Dr. Nefarious:... Did you say that this chip keeps ships from being detected?
Hologram: Correct.
Dr. Nefarious:... (Chuckles a bit) I DID IT!! I FINALLY DID IT!! I HAVE THE POWER TO DESTROY MY ENEMIES AND GET THE INFOR- (Glitches, and the Agent P song plays)...
Lawrence: Oh, dear!
King Dedede: Allow me! I've always wanted to do this.
Lawrence: Are you gonna use your mallet again? Last time you used that, it was a disaster.
Cutaway
Dr. Nefarious: (Is glitchy as Hooked on a Feeling by Blue Suede plays, and when Dedede hits him with the mallet, he suddenly malfunctions as several songs play in his head until he eventually falls to the ground)...
King Dedede:... Oopsie!
Present
King Dedede: Why the f*** would you think I would use it again?... Instead, I'll use a smaller hammer! I'm sure the blow will be so strong, he won't glitch anymore!
Lawrence: Never mind, then! (Slaps Nefarious himself)
Nefarious:... MATION I REQUIRE TO GET THE KEY TO THE BOUNDARY GENERATOR!!! (Cackles) SOMEBODY PINCH ME!!!
Escargoon: We can't, you're made of metal.
Nefarious: "Ok, Kami. I have some great plans for you."
K.A.M.I.K.A.Z.I. Hologram: "The K.A.M.I.K.A.Z.I. awaits the plan."
Later.
Several Team Nefarious ships are being fitted with exploudives by Nefarious Troopers.
Dr. Nefarious: "Members of Team Nefarious, I introduse you too...... (Dramatic sting and close-up to his face) UN-NESSERSARY EVIL INTITIVE OMEGA 2001?!"
Zigzag: "...... And, Un-Nessersary Evil Intitive Omega 2001 is, what now?"
Dr. Nefarious: A KAMIKAZE INITIATIVE!! (Cackles)
Zurg: Use plain English, sir!
Dr. Nefarious: Jesus, do I have to keep spelling it out for you nitwits?!? IT'S A TERRORIST OPERATION!!!
Mr. Smarty Smarts: A terrorist operation?
King Dedede: "Ohhhhhh, Skeeeeeeee, that sort of thing in these kind of times seems to be in really bad taste in recent years now."
Doffinshirtz: "Not to mention terrorisum is an EXTREME form of bad evil! We're villains by all means, but we're not like those insane alternate universe villains!"
(Darkness Qui): "HEY!? But then again, he's right."
Zurg: "Well, as odd it is coming from someone who's a criminalistic emperor, Nefarious, even I had to agree with that. I'm somewhat guilty and/or accused of that kind of crime once or twice..... Enforcers and heroes tend to treat you poorly over it."
Zigzag: "I object to it espeically! I am an arabian! And we kinda earned a bad rap cause of certain people in our race doing such actions! The rap's so bad, I'm surprised people can still look at the "Aladdin" movies and not try to boycott it! Heck, even an upcoming broadway verson still manages to still be considered loved!"
Rover: "Whoa whoa whoa! Criminals, bullies, world congourors, I'm ok with, but terrorests? That sort've thing gets a villain team disbaned and Prison 42 bound! Just ask those Lords of Bomb-Ra guys! One attempt to blow up Tri-corn's office, and those guys got massicured before they could even plant anything!"
Garble: "Yeah, I have t object to that too. I'm for being evil, but not the kind of evil where Heroes would want you dead for it!"
Morgana: "Nefarious, you HAD been known to pull extreme stuff before, but this is the kind of thing even your fellow Darkspawn would frown apawn!"
Dr. Nefarious: Enough! With this new chip we discovered, we now have the power to make those heroes spill the secrets about the Key to the Boundary Generator!
Doofenschmirtz: And how is terrorism gonna get us that aside from universeal backlash and repubicans dedicated to use extreme messures to destroy us?
Dr. Nefarious: Oh, pfft, it's foolproof! Terrorism is something that can give a villain riches, information, anything. And if it doesn't work, then... No, I'm not gonna say anything like that, because I know this is gonna work!
Undertow: Sure. Just like all our other attempts to capture the key to that blasted thing. Look, even someone who's a SHARK can openly say, turning into terrorests is considerably not a good thing to become, espeically this day and age.
(Dark Dragon): "Wow Nefarious. Really? Is getting a methorical key to the generator so impourent, you asentally risk your team to become compairable to terrorests?"
(Darkness Qui): "In his fairness, he does have a point. Half of the VA members were terrorests, whether relijustus or not. For the most part, they do get their way."
(Cobra): "But do they also get universeally hated and often or not get hunted down by govermental and millaterry forces?"
(Darkness Qui): "..... Well, they do tend to be the most briefly lived members, so.... I see what your saying there."
Dr. Nefarious: "Aw come on guys, why are you pussing out on me?!"
Warp Darkmatter: "Well, we're just careful not to make our rapsheats including causing man-made dishastors of a millaterry like level! Granted, terrorisum was never appresiated to begin with, but it got hated even worse when a certain infamous event happen. And remember when the organisation Cobra that used to be a terrorist organisation during the post-dishastor syndrone?"
Flashback.
Commander Cobra: "Attention members of Cobra. I, kinda have, awkword newssssssssss."
Baroness: "It's about what happened in New York, isn't it?"
Destro: "And it's very bad, isn't it?"
Commander Cobra: ".... Oh yeah. REAL bad. Well, a few, radical arabians desided to hijack a plane and..... Let's just say it concerned, very beloved iconic towers and, what's already a disliked ideal..... Became a, LOT worse."
Dr. Mindbender: "...... You don't suppose the Joes would over-act to a dishastor that we didn't cause and beat us up espiecally hard in result of post-tragity emotional meltdown, do you?"
Commander Cobra: "..... That's what this meeting is for. Alot of the Joes are american and, well.... We MIGHT wanna ease up on being, us, until this takes enough time for people to, well, at least learnt to move on with their lives."
Destro: "So what do we do instead till then?"
Commander Cobra: "Simple....."
A sound of viticles and crashing through was heard!
Voices: "GO JOE!?"
Commander Cobra: "....... RUN FOR YOU LIVES AND STAY ALIVE?! OVERLY EMOTIONAL JOES ON THE LOOSSSSSSSE!?"
Story Present.
Dr. Nefarious: "Whatever happened to those guys?"
Warp: "..... Ya don't wanna know."
Dr. Nefarious: "Well, this is different! We're not doing it cause a forgin contrey is being insensitive to our religen, that we don't have, or something claimed by anti-war protesters that it's for oil! We're doing it to make the universe our bitch!"
Garble: "That's also being done by known Terrorests, and it STILL doesn't exactly work for them!"
Dr. Nefarious: "Look, it's at least worth a shot."
Doofinshirtz: "You just go ahead and damnnate yourself then, cause we deside to momentarly quit Team Nefarious until it desides to stop being terrorests!"
Zigzag: "INDEED!? I AM NOT ENCOURGING THE STERIOTYPE THAT ARAB EQUILS TERROREST!"
Zurg: "And I am simply not in the mood to make myself even more bad with another be-smirtching of my name through what your trying to do! We're all gonna wait this out in Planet Z until this somehow gets resolved in anyway way possable!?"
The Members of Team Nefarious leave.
Dr. Nefarious: "ALL RIGHT FINE?! BUT WHEN I AM ACTSELLY SUCCESSFUL, YOU'LL COME CRAWLING BACK TO APOLOGIES FOR BEING WRONG!? Well, Lawerence, Scratch, Grounder, at least I got you guys."
Dr. Nefarious was surprised to see Lawerence with Scratch and Grounder crying while holding suitcases.
Lawerence: "I'm sorry sir, but even I cross the line at this. I'm going with Zurg to Z, and I'm claiming costity of Scratch and Grounder until either you get sense smacked into you or dropped this on your own."
Lawerence, Scratch and Grounder leave.
Dr. Nefarious: ".... But, Lawerence.... Scratch.... Grounder?"
Dr. Nefarious was actselly momentarly sad.
(Cobra): "Oh dear..... Your own followers deserted you for desiding to take something extreme even they couldn't stomich? YOU HEAR THAT JUNJIE?! EVEN THE SAME TEAM RESPONDSABLE FOR THE GALA MESS CAN CONTROL THEIR AMBITIONS AND NOT LET IT TRAMPLE MORALITY!?"
(Darkness Qui): "If only alot of VA members were abit more careful like Tex. Then maybe we can actselly still be around, if at best somewhat depowered."
K.A.M.I.K.A.Z.E. Hologram appears over a sadden Nefarious.
K.A.M.I.K.A.Z.E.: "There there..... I support your, albeit extreme desidtion."
Dr. Nefarious: "..... You do?"
K.A.M.I.K.A.Z.E.: "I knew what it was like. To make a great sacrivice for the greater good. In your case, to simply be taken seriously. Your fellow members are simply too acostomed to the status quo. They afraid of risks. This is obviously a mission we shall take togather, just you and me, Dr. Nefarious. Togather, we can open their eyes, as well as the universe, that your genius can triuth, even through the most questionable of times. I am willing to see your plan through. Let your members go if they must. They have a right to be afraid. The actions you want to commit, will attact negitive attention as a result of taking such a risk. You wouldn't want your "sons" to be hurt from a likely millaterry force raid, would you? Or worse..... It's for the best it's just us."
Dr. Nefarious: "..... Your right.... It's better, if they stay clear of what I'm about to pull. I had been warned doing these kind of things tend to make you be taken TOO seriously. I, I cannot really blame them for wanting to stay clear. Ok, Kami.... Let's, let's get to work. Do your incredable cyberspace magic!"
K.A.M.I.K.A.Z.E: As you wish! The kamikaze-bots are already settled in their spaceships and everything needed inside those spaceships are complete.
Dr. Nefarious: Excellent! At least I programmed these robots not to think like my own team, and to focus on one thing: sacrificing themselves for their master. Now, let Omega 2001 commence!
(Dark Dragon): Gee, I wonder how close this could get. Let me guess, that chip you had double-crossed you just like in our last 4 stories? Cobra's Blood Roots double-cross him, a prisoner double-crosses Junjie, the Villains Act Founders double-cross Qui, and Dragutha double-crosses me and Mercurymon. Correct?
(Dr. Nefarious): "Actselly, K.A.M.I.K.A.Z.E. never betrayed me at all... Well, not nessersarly in the true sense of the like. Not for power, not because of going crazy, not to just be rid of me, not because he hated me, not to control me, not even for the sake of doing a betrayal! Out of all of us, I actselly ended up with an an ally that didn't turn on me for his own benifit or any of the other reasons why those guys turned on ya. But, there was one thing concerning about Kami that DOESN'T concern true betrayal, but..... Well, he did had..... Conflicted prioritys."
(Cobra): "So, your saying that, spoiler, he turns on you, but not like how Blood Rooter, Wily, those secret founder jerks, and Dragutha did. He possability did it cause....."
(Dr. Nefarious): ".... Well, let's just say.... He had a complincated backstory..... And I'll get to it later. For now, at least here comes the exciting parts."
Dragon Temple.
Icky and Iago play Soul Caliber V.
Icky: "Oh yeah, Iago, I am kicking yo ass!"
Iago: "Well maybe it would've helped me if you didn't picked the fighting sytile of a strong character for your OC!"
Icky: "Well, granted, even though this Soul Caliber instailment doesn't have the best over story, or proper usement of all the characters. Heck, we don't even a justification why Cervantes is a human, and not a Zombie, or so I was told. Heck, we don't even get to get a good look of that badass demi-god guy that's normally the main villain of the series, I think. But at least the make your own fighter system is a step in the right direction. And the leveling system? Never known a fighter game to do that before."
Iago: "Yeah admitingly, for what this game did REDICUILOUSLY WRONG, it did to get right. Though I consider making that "Dampierre" guy DLC an extremely stupid choice."
Icky: "I know, right! I wished fighters were excluded from that DLC nonsense and reserve DLC to things that make sense to have it. But honestly, it's a gaming fad that destined to die out eventally."
Iago: "Ugh, knowing corperations, they're gonna beat the DLC horse to nothing but broken bones before they realise that it no longer be rekindiseable anymore."
Icky: "And now, here comes, my exploudise, UPPER-CU-"
BOOOOOOOOOOOOOOOOOOOOM!
Icky/Iago: "YAHHHHHHHHHHHHHHHHHHHHHHHHHHHHHHHH?!"
Aftermath.
The Dragon Temple was in ruins with the wreck of a Nefarious ship too destroyed and wrecked to be rekindiseable.
Icky and Iago came out of the rubble.
Icky: "..... Admitingly, that was a badass cuppercut."
Iago: "Uh, Ickster? I don't think that came from the game. I think some MORON alien desided to crash our temple in after getting drunk in alien beer!"
Icky: "Well if so, I don't think he was alone here. LOOK!"
Two extra unrekindiseable Nefarious ships are seen in other parts of the temple ruins.
Iago: "Gees. Something tells me the Galactic Federation has started to lighten up on drunk drivers lately."
Icky: "Iags, I don't think our temple was trashed by drunk aliens..... Again..... This feels too, intentional, espeically on how those ships really managed to trash the temple. Not to mention on how big they are! We need to find the others if they didn't became debre pancakes!"
Iago: "That's the thing! I haven't seen the others anywhere!"
Icky:... (Looks closely at the ships, and finds the Team Nefarious Symbol on it)... Oh, how perfect! Now Nefarious owes us money for the damages he just dealt on us.
Iago: I think our top priority before we do that is to search for the others.
Icky: Okay, I think you're right.
Elsewhere in the Dragon Temple
Sandy: WHAT IN THE NAME OF THE ALAMO JUST HAPPENED TO OUR HOME?!?
Trixie: AND HOW DARE THEY INTERRUPT TRIXIE'S SOAPS?!? Silver Mane was just about to propose to Misty!!
Mantis: Uh, guys? Is it just me, or are we trapped inside this room? (They find that they are trapped inside the room as their exits are barricaded by debris)
Fidget: Uh-oh!
Kowalski: WE'RE TRAPPED!!! (Beats on the barricade walls) CAN ANYBODY HEAR US, WE'RE STUCK IN HERE!!!... ANYBODY?!?
Suddenly, the sound of a jackhammer was heard as the wall was being destroyed by Icky weilding it!
Icky: "STOP! 'JACK'-HAMMER TIME!?"
Mantis: "Man, am I glad to see Icky for once! But that joke is still un-nessersary, though."
Icky: "Anyone else here?"
Shifu: A majority of us are here. I can imagine the others are looking around for each other hopeless and terrified.
Lord Shen: And I need to get Kairi and make sure she's safe!
???: IT'S OKAY, UNCLE SHEN! (Kairi's voice appears from behind another debris barrier) I saw everything from out the window, and the style matched the ships that Team Nefarious used.
Icky: Yeah, it's definitely them. One of those ships crashed next to us and we saw the symbol on it.
Lord Shen: (Growls in fury) I am going to strangle that toaster! He almost gave me a heart attack. (Suddenly, a microphone whine is heard)
(Dr. Nefarious): Attention, Shell Lodgers! This is Dr. Nefarious! I'd like you to know that it's time I no longer took things to a safe level. I had just come across a chip from Futurasia that allowed me to crash these ships into your place without being detected by any of your electronic devices.
Kowalski: So THAT'S why our security system didn't detect them.
(Dr. Nefarious): I've even been able to shield them from your 'magical' senses thanks to a special technological trick I picked up during my plans for the Great Clock. Quite clever of me, really. And just in case you're thinking of giving me bad talk, this is only a recording. I thought it would just be fair to let you know about my plan since my calculations say that this kamikaze attack would take down your defenses, power, and ways to get out.
Mantis: HAH! We've got Merlin, Spyro, and Cynder with us. They're masters of breaking through barriers.
Fidget: Wait, didn't we just tell them to check our Internet connection in the control room?
Mantis:... Crap, he must've got to them, and knocked them out or injured them or something.
(Dr. Nefarious): And don't think your dragons and wizard can help you because my chip is a strategic intelligence. It would know what to do to disable your most powerful comrades. So NO TELEPORTING AND BLASTING YOUR WAY OUT, BABY! (Cackles)
Lord Shen: Okay, Nefarious is really starting to get creepy.
(Dr. Nefarious): So you must be thinking I'm getting creepy. Well, guess what? This chip I discovered will allow me to get the key to the Boundary Generator and bring my life-long plan to completion. I have sent dozens of kamikaze spaceships across the UUniverses to attack important areas, even those of your allies. (Everyone gasps)
Skipper: SWEET AND SOUR MEATBALLS, HE'S GOING INTO TERRORISM!!
Po: Yikes, that's a bit too far, even for him.
Icky: "Not to mention EXTREMELY ballsy for Team Nefarious standerds! Why, I won't be surprised if the other Nefarious members dumped him for going into this!"
Squidward: "Also in bad taste might I add considering people have started to really hate the idea of it espeically thanks to the mess in new york!"
(Dr. Nefarious): "Oh, and here's this. Unless the High Council coughs up the key to the boundery generator, I'll commence an attack. This can only be stopped if I am told where or what the metathorical key is. You have a few minutes to inform me. Well, that is, if the espeically dangerious bombs in the wreckage of the ships don't destroy you first."
The Lougers gasp!
(Dr. Nefarious): "THEY have only the next 100 minutes to fess up! Failure will have another impourent spot, and possability your allies, suffer the same fate! Nefarious, out!"
The microphone stops.
Icky: "He's gonna blow us up, over the methorical key of the generator, and continue his Junjie-on-steriods rampage for whenever they refused!? Guys, we can't let this go on! We got to convince the High Council to just give the maniac what he wants so at least our friends won't suffer this!"
Skipper: "ARE YOU SAYING WE SHOULD NEGOSIATE WITH TERRORESTS, ICKY!? THAT'S QUITER AND DEMOCRAT TALK?!"
Shifu: "Not to mention that the High Council won't sacrivice the universe for the benifit of the few. They won't let the universe get subugated by that madman even if it's to keep us safe."
Icky: "BUT THEN HE'S GONNA CAUSE MORE PLACES TO GO KA-PLOOEY UNTIL HE GETS WHAT HE WANTS?! Our friends could get hurt, or worse?!"
Shifu: "I'm aware of how of a lose-lose situation this is! And yes, before you say anything, yes the High Council will be dispised by the public for failure to stop more attacks like these, but the hatred for selling them out to Nefarious of all villains is WORSE!?"
Po: "Then we have to find Cynder, Spyro and Merlin and get them to stop this somehow! Nefarious is known to be nothing but talk anyway! Maybe he's wrong about doing something to them and is trying to scare us into being hopeless and gloomy!"
Shifu: "Well, yes, that is typically true, Nefarious may be a genius, but he's not a COMPIDENT one. But we can only hope they're not disabled one way or another."
Icky: "Ok everyone, all board to the jackhammer express!"
Shifu: "We must hurry to the control room!"
Control Room.
Cynder was pulling Spyro out of the rubble, as Merlin was surprisingly relitively ok.
(Dr. Nefarious): "Unfortunately, they were right. I was bluffing about K.A.M.I.K.A.Z.E. disabling them. But still, Spyro was too injured to be of any serious use, Cynder is too emotionally inbalenced to control herself, and Merlin, while he still had magic, was needed to heal up Spyro, so he was too occupied being on healer duty instead of sloving it quickly."
Icky jackhammered the wall down and saw the trio!
Icky: "You guys fine?"
Merlin: "Well, thanks to my magic, I am at least. But I was too late on sheilding Cynder and Spyro espeically."
Patrick: "HA! THAT MEANS NEFARIOUS WAS LYING ABOUT DISABLING YOU GUYS!?"
Cynder: "NEFARIOUS DID THIS!? OUT OF ALL OF OUR ENEMIES THAT WOULD DO THIS, IT'S ONE OF THE DORKIEST VILLAINS EVER!?"
Icky: "You think THAT's bad? He did this as means to bully the High Council into selling out the universe in return to NOT do more shit like this! But since we know that's not gonna happen, both us and our firends that will be randomly targeted are fucked!?"
Private: "What's worse is that Nefarious said he has a nasty surprise in the wreckage of the ships he crashed into our home! I'm worried to what they may be."
Merlin: Well, we must do something. I would teleport you guys out of this situation, but there's little we can do if Nefarious is attacking several areas in the UUniverses. There's only one van, and dozens of places to plan an attack on. Plus, I've checked Spyro's injuries, and he's hurt pretty badly, and needs immediate medical attention. If I leave him for even a full minute, he'll surely die. Teleporting requires a lot of power, and I need a lot of energy and time to heal someone. It usually takes 2 hours for this process to be completed.
Kowalski: (Uses abacus to calculate)... That's not enough time for us to stop the surprise that Nefarious is leaving for us. He said it will go off in 100 minutes, which is 1.80 hours. We'll be dead by the time he heals.
Icky: Well, breaking out of this crowded up space shouldn't be hard as long as I still have my trusty jackhammer! (Suddenly a piece of heavy debris falls onto the jackhammer and destroys it) DAMMIT!! That was so uncalled for!
Merlin: Well, like I said, getting out won't help as much since we can't stop multiple attacks at once. Plus, we'll need to be here to stop this 'surprise' before it goes off.
Cynder: How are we supposed to do that in 1.80 hours?
Lord Shen: "Well first, we need to find out what this surprise is first if we want to worry what it is."
Icky: "We came from an area where we're at least were near one of the ships. We'll just have to go back the way we came and go back to the start until we find another way to get through this mess."
The Lougers but Merlin and Spyro go on.
Cynder: "Merlin, keep Spyro safe."
Merlin: "It's already in my to-do list."
Back to the first ship.
Icky: "Here we are, folks. One of the three crashers that wrecked our place!"
Lord Shen: "It might be too damaged for all of us to enter! Penguins, you and other small lougers are light enough to enter it without causing too much ruckus. Enter it, find Nefarious' little trick, and be careful."
Skipper: "We're on it! Boys, you heard the general's orders! Move out!" (The penguins enter the ship, and find a robot inside the cockpit)...
Private: I feel pretty sad for those who sacrifice themselves to do a job.
Kowalski: Private, I've seen these kinds of robots when on a trip to Ratchet and Clank's universe. It's a Kamikaze-Bot, a robot that is programmed to fly fighter jets and sacrifice themselves by crashing their ships into a structure to cause damage. It's long gone even BEFORE it's destroyed, and it's not something we should be concerned about. (Suddenly the robot comes to life, scaring the Penguins)
Kamikaze-Bot: (Speaks Japanese until it shuts down again)
Skipper:... That really scared the piss out of me. I should really think more about those 'peek-a-boo' defense drills more often.
Rico: (Laughs) What?
Skipper: Don't ask! Let's just find this 'surprise' that Nefarious talked about. (They search the ship for 20 seconds, and find nothing) Anything?
Kowalski: Nope.
Rico: Nuh-uh!
Private: Nope. It appears this ship looks harmless.
Skipper: Well, let's not get carried away. Nefarious may be loopy, but he isn't stupid enough to leave this 'surprise' in plain sight. (Leans on a hidden lever, and falls over pulling it, and a hidden cargo hold reveals a bomb similar to the one Amarillo Kid used to try and destroy their HQ, and they all gasp)
Kowalski: EGAD!!! A HYDROGEN BOMB!!!
Skipper: The pinnacle of nuclear warfare bombs! A blast from 3 of these things can destroy everything within a 10-mile radius!
Kowalski: Bu-bu-bu-bu-but where would Nefarious get hydrogen bombs?!?
Skipper: He's a genius, Kowalski! I'm sure even he is smart enough to make some of his own. Can we disarm it?
Kowalski: Well, I'll try. (Looks inside the bomb, and after 10 seconds of confusion and complaining, he comes out) Sorry, Skipper! The design of these things are too complex. Not to mention the design of this thing is similar to the thermonuclear reactor in my lab, and we couldn't even disarm that for God's sake! I'm afraid it's hopeless!
Private: Then... Then what'll we do?
Skipper: "..... Boys..... I really wish.... I had an answer for that."
Later, when the penguins got out.
Lord Shen: "HAS NEFARIOUS TRUELY LOST HIS MARBLES!?"
Skipper: "That marble bag may as well be completely empty at this point! He's gonna use Hydrogen bombs on us! Each of these three crashed ships are gonna blow us sky high, and anything unlucky enough to be caught in a combined ten mile radius!"
Alex: "THERE'S A CHANCE THE CITY THAT'S NOT REALLY TOO FAR AWAY FROM US WILL FEEL OR EVEN BE HARMED BY THIS?! FOR THE SAKE OF ALL THAT'S DECENT, WE GOT TO GET THE HIGH COUNCIL TO COUGH OFF THE METATHORICAL KEY SO NEFARIOUS CAN SHUT DOWN THE BOMBS!?"
Mr. Krabs: "It won't do any good. The High Council isn't gonna sold out the universe to a guy willing to stoop so low over a metithorical key to a universeal generator, even for our sake, considering the situation we're in now. They would asentually sacrivice a thoundson cities just to make sure Nefarious rules no one!?"
Lord Shen: "...... We REALLY should upgrade their way on dealing with terrorests. Sacriving a city, AND US, will NOT make them better then Nefarious! They would be like stubbern amoral assholes for doing it?!"
Icky: "Yeah, and not to mention he would just continute to fuck up more worlds and our friends until SOMEBODY fessed up!? Face it man! IT'S GAME OVER?! THE HIGH COUNCIL ISN'T GONNA SOLD OUT THE UNIVERSE EVEN IF IT PROTACTS EVEN OUR LIVES FROM HYDROGEN DOOMSDAY!? GAME OVER MAN, GAME OVER!?"
Cynder: ".........."
Iago: "I.... I never got to marry Thundra....."
Fidget: "..... TRIXIE, I LOVE YOU, AND I ALWAYS HAD?!"
Trixie: "WHAAAAAAAAAAAAAT!? YOU, YOU SICKLY LITTLE GROSS BAT THING!?"
Gilda: "....... Icky, there's something I wanted to say......."
Icky: "What?"
Gilda: "...... Ick.... Next to, even earning back Rainbow's trust when I captured Hiss' dork brother.... Becaming your girlfriend, was the greatest thing to happen to me."
Icky: ".... OH GILDY!? WHY DID IT HAD TO END LIKE THIS!?"
Icky grabbed Gilda and cried!
Gilda embraced him and was soothing him.
Skipper: "Gentlemen.... It was a thrill serving with you."
Private: "..... The feelings' very mutual, Skipper."
Tuilo: "...... I NEVER MADE ENOUGH GOLD?!"
Muguel: "...... Our greatest adventure ever.... Ended in such tragity."
Ed was crying as Banzai and Shenzi comferted him.
Sparx: "........... I..... I never even got a girlfriend......"
Shifu, the Furious Five and Po, bowed to eachother.
Cynder was looking around, seeing the lougers in newfound hopelessness. But what broke her the worse, was Spongebob walking way to sit down on a piece of broken debre.
Cynder came up to him.
Cynder: "...... Spongebob...... It's...... It's gonna be ok..... It...... It'll at least be quick. And we'll still be togather.... All the way through..... Spongebob?"
Spongebob started to cry loudly!
Spongebob: "I NEVER THOUGHT IT WOULD END LIKE THIS?! TO BE DESTROYED BY MANIACAL TWAT WHO'S DOING IT OVER A STUPID METATHORICAL KEY TO A BIG DUMB FANCY GENERATOR THAT ONCE DEVIDED OUR UNIVERSES JUST SO HE CAN BULLY THE LEAGE INTO TREATING HIM LIKE A KING?! IF I HAD KNEW THIS WAS GONNA HAPPEN, I.... I NEVER SHOULD'VE LEFT BIKINI BOTTOM, OR PRIDE ROCK FOR THAT MATTER?!"
Spongebob resumed crying wildly!
Cynder: "Spongebob, please I-"
Spongebob wouldn't stop crying!
Cynder shed a small tear.
Cynder looked at the other lougers, either crying giving "final" farewells, or trying to be strong and comferting the crying lougers.
Cynder: "...... This....... This isn't right...... This..... This shouldn't be happening. I..... I don't want this to happen. I.... I can't let this happen! Not to my friends! Not to my family! I want to help them, but, I can't protect them. Not to mention any unlucky poor soul that would suffer from this! The Beckworths, Tiki and Edger, Xenon and Kate! Axle and the police force! Many, many others! I'm even worried for Tri-corn's well being! None of them deserve this! I, can't let this happen! I refused to let this happen! I..... I..... I don't WANT this to happen?!"
???: "Oh for goodness sake, what's stopping you from actselly doing it, you silly girl?"
Suddenly, time stopped, and the sad scene before Cynder who was still moving, then suddenly, appearing from nowhere, was Saldaron.
(Cobra): "OH, SALDARON?!"
(Dark Dragon): "THAT GAME BREAKER?!"
(Junjie's moans are heard.)
(Darkness Qui): "I only known him from my once perfect plunder weed plan, and EVEN I AIN'T HAPPY FOR HIM APPEARING!?"
(Dr. Nefarious): "Tell me about it. And THAT's not even the WORSE of it!"
Cynder: "Saldaron..... Has this problem became so bad that you KNOW it's something we can't do on our own? Does this, shameful state of ours, disgust you on how we couldn't counteract against something we can't predict against? (Started to cry) Even, Spyro, a mighty Purple dragon, won't make it out alive from this! I'm basicly, the only one who can stop this, but, I have no way to-"
Saldaron: "Now, now, Cynder. This situation couldn't've been avoid thanks to Nefarious' new toy, K.A.M.I.K.A.Z.E. A causer of a robotic revolution in Futurasia in a stupidly misguided phase to help humans through trying to congure them. I'd explain the backstory more, but you have urgent business to care for. Luckly, I know two loopholes on how you yourself can change time. One loophole is the complincated work of indirectly changing time by warning Nefarious to never go to Furturasia, or the more, personal loophole. Ordenarly, we timelords are not allowed to mention this, but this is an emergeny worthy to stop a bad future. If time is changed from it's current path as far as, a few prior hours or minutes ago, it will be accepted and WON'T cause a paradox doomsday.... As long as you have timelord assitence to change it up afterwords to make it that the bad event won't happen either way."
Cynder donned a determined face.
Cynder: "..... THEN I CHOOSE THE PERSONAL WAY!?"
Salderon: "Perrrrrfect. I too want to espeically punish Nefarious of taking such an unacceptable route just to feel better about himself."
Salderon opens up a portal to when Nefarious was introdusing the plan.
Salderon: "Sic'im."
Cynder growled.
Past, a few moments prior to the mess.
Several Team Nefarious ships are being fitted with exploudives by Nefarious Troopers.
Dr. Nefarious: "Members of Team Nefarious, I introduse you too...... (Dramatic sting and close-up to his face) UN-NESSERSARY EVIL INTITIVE OMEGA 2-"
Cynder came through a portal and pounced on Nefarious!
Dr.Nefarious: "D'OWWWW?!"
The Members of Team Nefarious gasped!
Warp: "WHAT THE QUAZZBAR?!"
Zurg: "GREAT LOVE OF NEBULIOUS?! IT'S ONE OF THE LOUGERS?!"
Doofenshirtz: "Ewugh, and she REALLY let herself go."
Cynder: "NEFARIOUS!? HOW DARE YOU TRY TO KILL MY FAMILY THROUGH COMMITING TERRORISUM WITH DEADLY BOMBS AND A RENIGADE COMPUTER PROGRAM!?"
Zigzag: "HE WAS GONNA DO THE SAME STUFF THAT MADE ARABIANS LOOK BAD?!"
Doofenshirtz: "Ya know, I know we're suppose to be evil, but, that terrorisum stuff is SERIOUSLY bad evil!"
Other Team Nefarious Members began to agree and nod to it.
Dr. Nefarious: "How, how, how did you found out about it?!"
Cynder: "I'M FROM A FEW MOMENTS INTO THE FUTURE WHERE YOU COMMITED THE ACT, NEFARIOUS!? MY FRIENDS, MY FAMILY, ARE GIVING UP AND CRYING IN HOPELESSNESS BECAUSE OF YOU?!"
Lawerence: "..... Oh dear."
Dr. Nefarious: "GEES, LADY! CALM DOWN! IT'S NOT I'M USING ANYTHING DANGERIOUS HERE!?"
Cynder: "YOU PUT HYDROGEN BOMBS INSIDE THOSE SHIPS!?"
Team Nefarious members gasped in shock!
King Dedede: "GREAT GOOGLY MOGGLY!? DID I HEARD THAT RIGHT?!"
Escargoon: "YOU CERTAINLY DID YOUR MAJUSTY!? NEFARIOUS HAS OFFICTALLY RAN OUT OF MARBLES IN WHAT LITTLE HE HAD LEFT IN THAT BAG!?"
Scratch: "Dad.... I..... I know we don't like the lougers, but..... But three of those bombs would do more then hurt them. It could toss the planet in a hydrogen apoculise!"
Garble: "SERIOUSLY?! TAKING OVER AN OVERSIZED SHEILD GENERATOR IS NOT WORTH KILLING MILLIONS OUTSIDE OF THE HEROES!?"
Rover: "Yeah! WHAT ARE YOU TRYING TO PULL HERE, DR. PSYCO-DOME!?"
Dr. Nefarious: "But, but guys! Aren't we, suppose to be evil?!"
Lawerence: "Not in THAT sort of matter, I'm afraid sir. I speak for everyone when I say... We all resign!"
Lawerence and Team Nefarious leave, as Scratch and a crying Grounder gave one last, sad look, before walking off
Dr. Nefarious: "..... G...... G...... Guys?"
Silence.
Dr. Nefarious started to get mad!
Dr. Nefarious: "GRRRRRRRRRRRRRRRRRRRRRRRRRRRRAAAAAAAAAAAAAAAAAAAAAAAAAAAA?! BITCH, YO GONNA GET YO ASS KICK?!"
Dr. Nefarious rocket boots turned on, as he broke free of Cynder's grip, and turned on his wreist lazers!
Cynder: "Very well, Nefarious! We shall settle this!" (Suddenly, time freezes again)... What?
Saldaron: (He appears) I must warn you something before you go through with this, Cynder. As with time-travel, what you do will cause a lot of changes. And a lot of changes means a higher risk of tearing the space-time continuum up. What you did just now was an example of that. You just increased the risk of Team Nefarious being destroyed, and that would be enough for the UUniverses to tear apart.
Cynder: Why didn't you tell me this before? WHY TELL ME ABOUT THE PERSONAL LOOPHOLE IF A PARADOX DOOMSDAY WAS STILL GONNA BE A PROBLEM!?
Saldaron: I was hoping you had already known prior. But I see I was wrong. But perhaps that is my fault to warn you WHY we keep the personal loophole a secret. It's not a considerably, strong loophole. It still has limits like if you gone, WAY back in the past, even if it's only for a few moments. I know, it's confusing and complincated. It's why the producer prefers to avoid time travel in the original moisodes because time travel is SUCH a choatic plot element that it gets confusing, very fast. But now that you know, you have to be sure to balance it out when fighting Nefarious. Make sure that Team Nefarious stays alive and prevent the risks.
Cynder:... Are you sure that's a good idea? I mean, aren't you gonna alter this out by making it that Nefarious never encounters K.A.M.I.K.A.Z.I. anyway?
Saldaron: And don't get me wrong, I am. I was just making sure you don't make TOO much of a mess for me to clean up later. I may be misunderstood, but I am always true and certain on my words. Good luck. (Disappears, and brings time back to normal)
Dr. Nefarious: TAKE THIS, YOU WHORE!! (Blasts lasers from his hands, and Cynder dodges them) RUIN TEAM NEFARIOUS, WILL YOU!?
Cynder: "Ya know Nefarious, they only ran off because, you were gonna commit an atrosity that only, MALEFOR WOULD COMMIT?!"
Dr. Nefarious: "WHAT!? HOW DARE YOU COMPAIRED ME TO THAT JERK?! In fact, I'm pretty sure even he would frown at terrorisum."
(Cobra): "And he does!"
Cynder: "True, but in terms on how far your willing to screw up your enemies by commiting ANY kind of atrosity at all, you may as well be another Malefor! He did worse things to the dragon realms, and that was WITHOUT bombs!"
Dr. Nefarious: "I, AM NOT, ANOTHER MALLLEEEEEEEEEEEEEEEEEFOOOOOOOOOOOOOOOOOOOOOOOOOOOOOO-"
Dr. Nefarious glitches out and the Austen Powers theme plays!
Cynder: "..... Ok, that was rediculiously anti-climatic."
Cynder runs off to find the other Team Nefarious members.
Escape pod room.
Lawerence sighed.
Lawerence: "Highly likely now that Nefarious will be suffered a fate akin to the Queen of Hearts. It's best for Scratch and Grounder not to see this."
Garble: "Yeah, not to mention that we better beat it before-"
Cynder appeared
Team Nefarious gasped!
Doofinshirtz: "Ok okokokokokok, look, I know your abit peeved, but we just admit that we hate terrorisum back there, so I think that's worthy of NOT getting killed!"
Cynder: "I didn't killed Nefarious. I just told him he's no different then Malefor, and he glitched out."
Zigzag sighed in embarrisment.
Zigzag: "He seriously needs to get that fixed!"
Cynder: "And he's pretty much stuck like it. Ya know, now that he knows he would be compairable to Malefor if this goes through, he might stay clear of Terrorisum for good."
Rover: "I don't know. He's been known to go to extremes before. He's asentally an even more twatty Junjie."
(Cobra's laughs are heard!)
Cynder: "But at least Nefarious knows when idea isn't worth following anymore."
Morgana: "Ya know, that's pretty odd for a HERO to want to reband a villain team. Why would you risk your credability to do it?"
Cynder: "Because one: Saladaron would alter all this so that Nefarious never encountered K.A.M.I.K.A.Z.E. to begin with! But secondly, Saldaron just told me that the time loophole I choosed is too flawed for big changes like disbanding Team Nefarious, and letting you guys stay mad at Nefarious would cause a paradox doomsday."
Under-tow: "...... And suddenly I am not being mad at Nefarious anymore."
Spot: "Yeah, I'm for NOT being destroyed by a paradox vortex, so let's get to Nefarious and-"
???: "NOOOO?!"
K.A.M.I.K.A.Z.E's head appeared!
K.A.Z.I.K.A.Z.E.: "Nefarious revived my chance to make a more safer Futurasia happen, and to make the universe more safer! I was programed to end conflicts quicker, and even if it means to cause a paradox cataclisum, so be it?!"
Computer voice: "Warning, Warning, Nefarious space station is sprialling torwords the sun!"
(Dark Dragon): "Wow! That guy is willing to destroy the universe because he was robbed of an oppertunity to make it "conflict free"?"
(Cobra): "Wow you really nailed the worse of the cretins in our stories."
Cynder: "Ok, you guys find someplace safe, I'll deal with K.A.M.I.K.A.Z.E. myself."
Mr. Smarty Smarts: "ALREADY IN THE AGENDA?!"
The Team Nefarious Members panic and run around like idiots!
Cynder: "Ugh, no wonder the other villain teams mock you guys."
Computer Room.
K.A.M.I.K.A.Z.E.: "NO ONE DARES INTERFEAR WITH ME!? NOW THE ONLY WAY THE UNIVERSE CAN BE SAFE FROM CHAOS, IS IF I DESTROY IT BY ALLOWING THE PARADOX DOOMSDAY TO BEGIN?!"
Cynder barged in!
Cynder: "I won't let you do it, Kami."
K.A.M.I.K.A.Z.E.: "Then let us settle this."
K.A.M.I.K.A.Z.E. has hacked into the systems of Nefarious Troopers and Hornets and sicked them on Cynder!
Cynder: (She uses her wind ability to spin the robots out of control and tear them apart until some of them manage to get a direct hit at her) OW! (Falls to the ground and struggles to get up)...K.A.M.I.K.A.Z.E....you do realize that if you let these UUniverses be destroyed, you'll be destroyed with it, right? Is THAT what you would call 'a better place'?
K.A.M.I.K.A.Z.E: You couldn't be more mistaken. I know of those other UUniverses that you claimed to have rescued. I'll just take refuge there.
Cynder: And THEN what're you gonna do?
K.A.M.I.K.A.Z.E:... What?
Cynder: If you destroy these UUniverses, then what're you gonna do in order to shape it back to the way it was? You're just a machine, so you have no godly powers to make that possible, nor could you try and convince any gods to recreate them. So... How will you--
K.A.M.I.K.A.Z.E: I'LL FIGURE SOMETHING OUT!! This is what I was meant to do ever since the day I was created...
Flashback
(K.A.M.I.K.A.Z.E): Futurasia created me during the middle of the Radical War, where the military was battling against an entire terrorist group of radicals that threatened to blow up the government and allow them to introduce unethical technologies such as life-and-death manipulation. And the military was starting to lose greatly. So they had no choice but to attack the bases head-on with kamikaze jets. And thus, they created me to send a cloaked cargo ship to fly into the base and blow it up with dozens of nuclear warheads. Everything was going exactly as they had planned. However, the Magellan Cloud Core had come and threatened to shut me down because of this choice being too dangerous to pull of, for it would destroy more than just the base. However, when they tried to do so, the computer malfunctioned, as well as my programming, and my understanding of my programming had changed. I realized that people had a habit of destroying each other with wars. They created radioactive weapons, they intoxicate their worlds with factories, they spread garbage around them, and I thought that if they didn't stop soon, they would destroy themselves within the next few decades. So while they least expected it, the glitch the malfunctions had caused allowed me to hack into the planet's world-wide power network, allowing me to take control of all robots on the planet, commanding them to keep everyone indoors to protect them. And thus, I began the Second Robot War where I fought the planet's governments to the death for over several years. I was sure that this would be the war to end all wars and I was starting to succeed by destroying part of the Magellan Cloud Core's outposts through blowing them up with kamikaze robot-piloted jets. But I was sadly stopped by a group of robots that were not hooked into my network. They shut me down, and they stored my chip inside the BLF Warehouse where I stayed for years....
Present
K.A.M.I.K.A.Z.E:... Then Dr. Nefarious found me.
(Cobra): Oh, so this device just went I, Robot on everyone, huh?
(Dr. Nefarious): You might say that.
Cynder: Was declaring war on Futurasia REALLY worth getting everyone to come into peace? You couldn't just go with diplomacy?
K.A.M.I.K.A.Z.E: I'm a MILITARY chip, of course! If I wasn't, we wouldn't be talking right now. Nevertheless, I must carry out what I was meant to do.
Cynder: I'm afraid that won't happen. If you keep doing this, then you're no better than the people who wreaked wars on other worlds. You're sounding more like a hypocrite if your way of peace is the complete opposite of peace. So it's what I traveled back in time to do. Thousands of people will parish if I don't do this.
K.A.M.I.K.A.Z.E: Then you leave me no choice. I'm going to have to destroy this station with you in it. HORNETS, get me to the escape pods! (The Hornets do that, removing his chip out, and retreating while Large Red-and-Black Hornets and Hornet Sentinels come in and attack Cynder, putting up a good fight against her)
Cynder: (Sighs) This is gonna take a while.
Cynder used her darkness abilities to bypass the stronger hornets and destroy the weaker hornets holding the K.A.M.I.K.A.Z.E chip!
The Chip was sent flying as a screaming tecnological voice was heard!
Cynder blasted away the stronger Hornets for good!
The Chip lands on the edge, barely about to fall a beam of energy powering the Nefarious station!
Cynder approuches the chip.
The Chip: "Wait Cynder! Before you commit any un-nessersarly harsh act! Consider the fact that I'm the only one who can stop the station from sprialing into the sun! You litterally need my aide for this!"
Cynder: "I already have a time malmitulating cat creature that can futher alter this whole mess out of existence. I'm pretty much covered."
The Chip: "...... But, what about the Members of Team Nefarious? What will become of them? They clearly don't have the same benifit!"
Cynder: "Again, when Saldaron changes history to make it that Nefarious never gotten you, they'll be fine with no possable memory of this mess, and you. By all accounts, it tecnecally means I don't need to bother destroying you."
The Chip: "Well, I, appresiate the kindness, I-"
Cynder: "But I'll do it anyway just for the sake of punishing you!"
The Chip: "WHAT!? Wait, I know this will be altered out, but all the same, I would rather not go through it either way! I-"
Cynder kicks the chip, as it screams while in dramatic slow-motion, the chip falls into the engery beam, destroying it with a small blast!
Cynder sighed.
Saldaron appeared.
Saldaron: "Well, now that this is done, it's time for the second part. Preventing the whole mess from happening with a mere, this."
Saldaron's eyes glowed, and then, as we pan out of the Nefarious Space station nearing the sun, a big white glowing orb engulfs the surrounded area and to the camera!
Even earlier then that.
Dr. Nefarious, Lawerence, Scratch and Grounder ran screaming as they are chased by drones firing lazers!
Lawerence: "Oh dear! I seemed to neglect to consider about the possability of these drones actselly having a databases of all known generals! My mistake of not pointing that out."
Grounder: "IT HELPED LITTLE THAT THEY HAVE SCANNERS!?"
Scratch: "MAYBE IT WOULD'VE BEEN BETTER IF WE JUST STAYED AT THE PIZZA PLACE!?"
Dr. Nefarious: "QUICK, WE NEED TO-...... Wait a minute..... Didn't we already went through this?"
The Drones capture Nefarious and company!
Drone 1: "You are under arrest for trasspassing in the BLF warehouse."
Lawerence: "Oh dear. What turned from a simple scouting trip, ended up becoming another embarrisment for Team Nefarious- (Gasp)! Oops.... Maybe I shouldn't've said that outloud."
Dr. Nefarious: "GEE, YA THINK?!"
Drone 2: "Commence with the alarming of suprime command."
Dragon Temple, several hours later.
Icky and Iago play Soul Caliber V.
Icky: "Oh yeah, Iago, I am kicking yo ass!"
Iago: "Well maybe it would've helped me if you didn't picked the fighting sytile of a strong character for your OC!"
Icky: "Well, granted, even though this Soul Caliber instailment doesn't have the best over story, or proper usement of all the characters. Heck, we don't even a justification why Cervantes is a human, and not a Zombie, or so I was told. Heck, we don't even get to get a good look of that badass demi-god guy that's normally the main villain of the series, I think. But at least the make your own fighter system is a step in the right direction. And the leveling system? Never known a fighter game to do that before."
Iago: "Yeah admitingly, for what this game did REDICUILOUSLY WRONG, it did to get right. Though I consider making that "Dampierre" guy DLC an extremely stupid choice."
Icky: "I know, right! I wished fighters were excluded from that DLC nonsense and reserve DLC to things that make sense to have it. But honestly, it's a gaming fad that destined to die out eventally."
Iago: "Ugh, knowing corperations, they're gonna beat the DLC horse to nothing but broken bones before they realise that it no longer be rekindiseable anymore."
Icky: "And now, here comes, my exploudise, UPPER-CU-"
Both Icky and Iago realised something.
Icky: "Wait...... Do you get the feeling that feeling that we just went through Deja Vu?"
Iago: "And why do I get this feeling this was suppose to play out differently?"
Icky: "..... You don't suppose that something SO BAD happened to us, that Saladaron was forced to intervine and changed it?"
Iago: "Well, could be."
Po: "(Runs in) GUYS! THE NEWS SAID THAT NEFARIOUS WAS CAUGHT IN FUTURASIA!? WE'RE GOING WITH RACHET TO DO SOME VILLAIN PICK-UP! WOW, CAN YOU BELIEVE THIS?! NEFARIOUS WAS TRYING TO BREAK IN TO A WAREHOUSE FULL OF SECRET WEAPONS!?"
Icky and Iago: ".... HO, LE, SHIT?!"
Icky: "I think there was a bad thing that concerned Nefarious getting his hand on some kind of dangerious super weapon!"
Iago: "Well, I guess we can thank Saldaron for saaving our butts."
Po: "Uh, what're you guys talking about?"
Icky: "Well, obviously since we weren't around Saldaron's presence of litterally close to him, when he made the change, we didn't had memory of something that ended up never happening!"
Po: "Uh.... I'll have to talk to Shifu and Soothsayer about this later. We're needed to get Nefarious out of there."
Icky: "Good point. Let's get Nefarious out before the good people of Futurasia have TOO much fun with him."
Futurasia.
Nefarious, Scratch and Grounder, and Lawerence are trapped to tecnologically advance racks. People are seen throwing rotten food stuff at them.
Dr. Nefarious: "OW?! HEY!? GOOOW?!"
Scratch: "HEY, D'OH?! OW!?"
Grounder: "HEY, THIS IS NOT VERY NICE- (A PUMPKIN HITS HIM) D'OH?!"
Lawerence: "Oh, I do say! People can be so judgemental. (A tomato hits Lawerence in the face) Oof!?"
Dr. Nefarious: "Don't worry guys! These people have to run out of produce eventually! I mean, it's not like they have infinate food or any- (Suddenly a whole dump truck arrives with a load of fruits and dumps it to the ground)... (Sighs) I am NEVER coming to this planet again!"
Lawrence: Good choice, sir. And from the looks of it, it appears our eschourt is coming. (The Lodger van and Rachet's ship arrives, and out comes Rachet, Clank, Cynder and the other Lodgers)
Spyro: Thanks for saving me and the team, Cynder.
Cynder: Don't thank me just yet! We have some villains to drop off to Prison 42... Again.
Dr. Nefarious: Oh, thank god we don't have to worry about more tomatoes being thrown at us! (His face is splatted with a tomato by Icky)...
Icky: (Scoffs) Sorry, I couldn't resist! After all, this bastard almost blew up our home, AND our allies' homes.
Dr. Nefarious: Sometimes, I really hate that cat!
(Dark Dragon): Wait, plothole here! If Cynder and that Saldaron creep stopped you from blowing them up, then HOW THE HELL DO YOU STILL REMEMBER THE DETAILS?!?
(Darkness Qui): I agree, that makes no sense.
(Dr. Nefarious): Uh........ Cynder just explained everything to me.
(Cobra): And why would she do that?
(Dr. Nefarious): Uh..... Probably because she wanted to rub it in my face or something. Perhaps she still has a trace of Dark Cynder left in her if you know what I'm saying. (Junjie muffles) Luckily, I've escaped Prison 42 a couple of times, so it wasn't that hard to get back at my space station which was thankfully never destroyed in the star. But the same couldn't be said about my teammates.
Dr. Nefarious: (Pants heavily as he, Lawrence, Scratch and Grounder appeared back in the station to meet the furious other members of Team Nefarious)... Uh... Hi, everyone.
Zurg: Don't play dumb with us! The Lodgers told us everything!
Dr. Nefarious:... Oh, God, why won't those Lodgers give me a break?!?
Escargoon: Why should they? YOU RESORTED TO TERRORISM!!! The High Council would've sued us if Cynder hadn't stopped you. In fact, maybe even something worse!?
Doofenschmirtz: Yeesh, even I wouldn't resort to terrorism that much.
King Dedede: Oh, really? What about that time when you tried to burn your name through the Earth just because people were too stupid to learn your last name, and yet somehow remember your brother's last name?
Doofenschmirtz: Well, that wasn't terrorism, per say, it was a extremely stupid misguided attempt to make sure people have an idea what my name is!
King Dedede: That is but a tecnecally! Whether you meant it or not, it's terrorisum!
Undertow: And I can name a few, too!
Zurg: PLEASE don't! We've got to teach our boss a lesson of why villains today DON'T resort to terrorism for personal gain!
Dr. Nefarious: I am your boss, you know! I could have you all booted out if you want to.
Morgana: And lose your one chance to get the key to the boundary generator? HAH! I call whale-s*** on that one! You couldn't fire us even if you wanted to.
Dr. Nefarious:... (Growls in anger) I HATE it when logic disagrees with me!
King Dedede: GET HIM! (They beat him up, and spare Lawrence, Scratch and Grounder)
Lawerence: "Boys, it appears Nefarious might be busy at the moment. How's about we head to the Villain Market and stop by Le E'Vil Do'er's ice cream. My treat."
Scratch: "Oh boy! Thanks uncle Lawerence!"
Grounder: "Is Dad gonna be ok?"
Lawerence: "Well, it's nothing medicated theripy, and a long extended break, couldn't fix."
The trio left.
Epilogue
The Evil Chackle.
Dr. Nefarious: "And THAT'S, how I almost had them."
GLaDOS: "It's offitcal. Nefarious wins the house money through doing a dispictable act that even other villains frown on. You monster."
Dr. Nefarious: "OH YEAH! I'M RICH?!"
A pile of gold in a huge bag with the Wicked Witch's face on it is presented to Nefarious!
Cobra: "Hold it, GLaDOS! Something smells rotten here! I know Cynder! She wouldn't risk exposing time loopholes to even a normally harmless idiot like you to glout! I never known her to glout!"
Junjie rips off the tape, screaming in the process!
Junjie: "Also, YOUTHPPPPPPPTH WEREN'T EVEN PRESENT IN SALDARON'STHHHHHHHHHHHHHH PRESNECE?! SO DON'T TRY TO HIDE AROUND THAT!?"
Darkness Qui: "Yeah, and you wanna know WHAT ELSE I NOTICED!? You made a bunch of cracks and references, like with, whatever you said those waitresses were from, like some kind of TV show character!"
Cobra: "Well, I made a reference to I Robot, so, I don't see how's that suspitious. But considering this is NEFARIOUS, I do see the point!"
Dark Dragon: "BUT THE BIGGEST ONE OF ALL?!........ There's feathers coming out of his butt."
Everyone sees that familier black and blue feathers are coming out of Nefarious' butt.
Dr. Nefarious: "..... Uh....... I ate a black and blue feather duster this morning?"
The Bar villains noticed the strangeness and began to surround the poker table.
Cobra: "Call me Daffy, but if I didn't know better, and I ordenarly do know better, I'd say, YOUR NOT THE REAL DR. NEFARIOUS?!"
Dr. Nefarious: "W-w-w-w-w-w-w-w-w-w-w-w-w-w-w-what're you talking about!? I am the greatly evil Dr. Ne-Dork-Ious, I-"
Junjie: "Did you just insulted yourself?"
Dr. Nefarious: "Sorry, I paniced under pressure! I meant to say was, I am the greatly evil Dr. Nefarious!"
The door slams open!
Another Dr. Nefarious is seen!
Dr. Nefarious 2: "Sorry I was late guys. Lawerence was having difficulty parking my head-pod and..... (Sees the other Dr. Nefarious)...... What the fuck am I looking at? WHEN THE HELL ARE THERE 2 DR. NEFARIOUS!? DID SCRATCH AND GROUNDER BROUGHT TO LIFE AN EMERGENY NEFARIOUS BODY BOT WITHOUT MY PERMISSION.... AGAIN?!"
Junjie: "Wait, Nefariousthhhhhhhhhhhhhhh was busy parking with Lawerencethhhhhhhhhhhhhh!? If that'sthhhhh the case....."
Darkness Qui: "Then that Nefarious we're with all this time... Is....."
Cobra: "AN IMPOSTER?! I KNEW IT ALL THIS TIME?!"
1st "Dr. Nefarious": "You can't prove that!"
Dark Dragon grabs the first "Dr. Nefarious", and takes off the head, only to show it was really an animontronic mask! The villains groan in surprise to see the first "Nefarious", was Icky, completely featherless.
Icky: "(In Nefarious' voice): "AGGGGH?! MY FACE?! MY FA- (Coughs into his normal voice), (Normal Voice), Ok, ok! You got me! I'm not Nefarious!"
Cobra: "So, the lougers sent a spy on us to...... What is your reason here anyway?"
Icky: "Wasn't it obvious? The reason is because the Evil Chackle is commiting acts of bringing back previously dead villains, freeing the Dazzlings, freeing Abuz from his enturnal prison, bringing GLaDOS here, and uncountable cases of villains using it as a means to hold secret evil meetings for grand scemes! But most of all, they re-evilised Darth Vader, who in the Pooh's adventure series done by Bowsermovies, is considered a dear friend! The manitger of the evil chackle is planning a villain uprising!"
Cobra: "Holy shit, really?"
???: "Impressive job, you silly prehistoric freak."
A robotic chear with spider legs was walking torwords the crowd, which it then proceeds to rest, reveiling the mastermind of the Evil Chackle. Sour Cookie, from the Tallest Talltales EVAH! episode.
Sour Cookie: "I'm impressed you managed to figure all this out by yourself."
Icky: "Wait..... Your Sour Cookie! The guy who was Gingy's asshole real estate agent who tried to rob his fortune from him with help from Don Porker of the Barnyard mafia!"
Sour Cookie: "Ohh, and you figured that out all by yourself too, or did that Gingerbread twat told you about me?"
Icky: "Ok, just, how is a guy like you able to bring back some of the nastiest villains ever!?"
Sour Cookie: "I had asistence from a good friend who has a good friend who supplies him with, these marvelious beauties."
Sour Cookie shows a dark looking gem.
Sour Cookie: "Say hello to the reserection gem. A rare, Darkspawnic commodity. And also, to the corruption ruby of Malefor (shows the ruby), and the freedom garnet of Hexxus (shows the garnet)."
Icky: "Dude, what kind of friends have access to stuff like that!?"
Sour Cookie: "Let's just say, speical, and powerful friends. (Laughs). Now, my superior has asked me to use the Evil Cackle as new grounds to established a new villain team under the control of The Universeal Mafia Allience to get them out of our hiatus so we can indirectly cause crimes again. Also, we allowed Mang, Junjie, Darkness Qui, Dark Dragon, and THE REAL NEFARIOUS, to partake in our latest plan. This will bring the Mafia Allience back on the map after we lost Don Porker and Don Le Mor. Though personally, I viewed Le Mor as an idiot anyway, so it's not THAT big of a loss."
Icky: "Dude, you just confessed your evil plan to a hero, what makes you think I won't warn the lougers?"
Sou Cookie: "(Sarcasticly) Oops! I never thought of that! Oh now I feel like a silly little gumdrop! Oh that's right! That's what killing is for, isn't it?! (Seriously and evily), I think I can safely say, that is is a secret, you can take to the grave. Now then, to any that kills the ugly bird, will get free drinks for life!"
The Bar Villains cheer as they raised their weapons!
Lord of the Rings orcs growl menacingly!
Freddy Kruger: "Get ready to be fucked up, bitch!"
Jason Voogees raised the machece!
The Bar villains began to surround ever closer!
Icky: "..... Yeah, uh, here's the thing.... I didn't came alone."
The Chest of the Nefarious suit bursted open with the Penguins!
Skipper: "HE BROUGHT 4 ANGRY PENGUINS WITH HIM?!"
Sour Cookie: "WHAT?! GG-G-G-G-G-G-G-G-G--GET THEM?!"
Lord Cobra: "STOP THE PENGUINS?!" (The 4 Penguins were able to defeat the villains and restrain them in less than 5 minutes)
Skipper: WHEW! Busting a joint is hard work. Now, Sour Cookie, who is your benefactor?
Sour Cookie: I'll NEVER talk! NEVER!!
Rico: Oh, really? (Tries ripping off his gumdrop buttons)
Sour Cookie: (Squeals like a girl) NO, NOT THE BUTTONS!! ANYTHING BUT THE GUMDROP BUTTONS!!! I LOVE MY BUTTONS!!
Icky:... Did you REALLY just say that?
Skipper: The 'Gumdrop Buttons' Routine, gets them every time.
Sour Cookie: OKAY, I DON'T KNOW WHO THE BENEFACTOR IS!! HE KEPT HIMSELF HIDDEN!! HE SAID SOMETHING ABOUT GETTING VENGEANCE ON A GROUP OF HEROES WHO THWARTED HIS PLAN OF TAKING CARE OF A WORTHLESS DARKSPAWN HYBREED!!! THAT'S ALL I KNOW, SO PLEEEE-HEE-HEE-HEE-HEEEEZ DON'T RIP OFF MY GUMDROP BUTTONS!!!
Rico: (Lets him go, but then immediately rips off and eats one of the gumdrops)
Sour Cookie: (Squeals again as Rico cackles maniacally)
Skipper: (Laughs) THAT'S what I call showing no mercy!
Private: Isn't that what we're NOT supposed to do, Skipper?
Skipper: It's just a gumdrop, it's not gonna kill him or anything. Now anyway, let's being this cookie to jus--...(Sees that Sour Cookie was laying down bleeding melted icing)...Aw, f***!
Rico: Oops!
Later...
Rico: (Sour Cookie is bandaged and dragged into a candy-themed ambulance that drives off)... (Chuckles in nervousness)
Kowalski: This does explain why they hate having their gumdrop buttons ripped off. It's technically a part of their bodies.
Tough Cookie: Well, what did you think, we wear candy decorations just because they resemble clothes? It does more than that, they're actually part of our bodies. A crumb coming off is only a flesh wound, and a bite can only do so much, but tearing off a magic gingerbread man's gumdrop buttons is like ripping off someone's nose.
Kowalski: But wait, are you trying to suggest that your gumdrop buttons are your...OH, GOD!! IS THAT WHAT YOU USE TO MILK YOUR BABIES?!?
Tough Cookie: We're gingerbread MEN, not gingerbread BABIES, you moron!
Skipper: Okay, I'm sure Sour Cookie will heal in die time. What's important is that we send these villains back where they belong.
Icky: Can I throw water on the Wicked Witch?
Penguins: NO!
Icky: Aww, but I've always wanted to do that!
Sonata: Can we at least stay here for a couple more days?
Skipper: NO! Sour Cookie caused too much trouble with those gems that brought you free here to begin with! Speaking of which, they're heading to a nice place in the Darkspawn museum. You, and your possie are going back there so you won't end up causing anymore trouble. And the other villains with exception of Vader who's been de-corrupted and leaving with Boba Fett,  are heading to Prison 42 for safe keeping. And we already sent Mang, Junjie, Dark Dragon, Qui, and the REAL Nefarious running scared!
Adagio: (Growls) I could've made a great living in these realms! (The villains are escorted to a prison-transport ship as it takes off)
Wicked Witch: I'LL GET YOU FOR THIS, MY PRETTYS, AND- (She is smacked) OW!
Guard: NO TALKING! (The ship leaves)
Icky:...Thanks for saving me, guys!
Skipper: It's what we do. Well, I think our work here is done, everyone. Let's get back to the Temple and have some anchovy pizza! (They all cheer as they take Lord Shen's portal device and leave, leaving an unknown and familiar figure to brood at his failure)
???: Hmmph! Almost had them!...
FIN
Community content is available under
CC-BY-SA
unless otherwise noted.