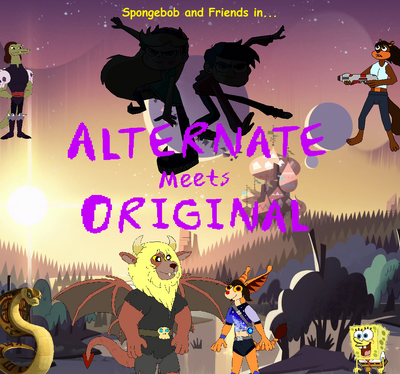 An interesting stranger is seen doing mixed work in the United Universes, and upon searching for clues, the heroes discover that it is, in fact, an enthusiastic multi-task and former investigative combat journalist, Freetrader, detective, and 'everythingish' in the form of a Luckiry named
Saetha
, whose species is known in the AUU to be mythical beings of adventure, good luck and fortune, as she spent her entire life since a toddler looking at interesting things, and thus spent her entire life taking interest in whatever is, well, interesting. She has been at this for so long, she ends up discovering that the Original UUniverses is actually far more interesting and mysterious, and thus wishes to live there, even if she has to cope with the dimensions' cartoon-based physical laws which she starts to slowly sink into, and is considering taking as much legal action as possible to make it happen, even if it's a threat who seeks to exploit her through them as revenge against her monster boyfriend by the name of
Coffee
.
Transcript
Chapter 1: An AUU Stranger/Off To Mewni
Dragon Realms New York.
A normal day in the city, when suddenly, A Tri-Corn Bank Explouded, as the perpatraitor is non-other then the work of the french super-villain, Le Mime Mine, a rogue Mime armed to the teeth with explousives.
Le Mime Mine: "... (Evil French Laughter). My sociopathic cousin was right! Being a super-vill-aine TRUELY is the best logical corse after le flunking of Mime School! Now the world will know my le pain of being a failed mime..... WHILE I SUCK IT DRY OF WEALTH?! (Evil Laughter!)."
???: "Excuse me, Mister, Le Mime Mine, was it?"
Le Mime Mine: "LE WHAT?! (Sees an odd-looking large Ear AUUian)..... Sacle Blu! One of those, AUUian types!?"
The Auuian: ".... Hi! My name is Saetha, and, I was going to make a depostit for my boyfriend, and, I couldn't help but notice that you're trying to rob the bank he wants me to place his money in. Can I ask you politely to put that money back and turn yourself in? Cause, you sounded like you're a very troubled person, and, I can tell."
Le Mime Mine: "(Snorts annoyed with a scoff), You sad le misereblah little alternate dimentional creature! I wouldn't even SPIT in your direction, let alone take YOUR silly demands into consideration!"
Saetha: "Look, Mister, do you want to talk about this? Are you only being like this because you failed your dream?"
Le Mime Mine was about to leave until he heard that.....
Later.
The UUPD arrived!
Bullington: "THIS IS THE UUPD, SURREND-..... Deeerrrrr?"
Saetha was seen comferting a crying Le Mime Mine as his make-up was ruined now!
Le Mime Mine: "YOUR RIGHT, SAETHA?! I, I SHOULD BE LE BETTER PERSON THEN THIS?! LE POLICIA?! (Runs to them) TAKE ME AWAY?! (Hugs Axle pathicly as he cried)....."
Pony Law: "..... Holy crud, lady! You just caused a new super villain of the week to quickly gave up on his path! You're almost Equestrian levels of amazing, I- (Realised that Saetha vanished)........ And alchourse....... She's gone."
Axle: "...... Chief.... I, am feeling very awkword around what I assumed was our bank robber....."
Bullington: "Take it easy with him, Axle. I think he's been neutrolised. (Janet picks Le Mime Mine up and cuffs him)."
Dragon Guardian Temple.
Scorch Scorchington: "In another miraculious case by this mysterious AUUian vigilantie, another would've-been rising new Super-Villain has been passively talked into seeing a better life. The Mysterious Saetha, nick-named, the Passive Vigilantie, tends to vanish without a trace before anyone can talk to her. We now go live to interview one of the would've been New Super-Villains, Le Mime Mine...."
Le Mime Mine: "It's like, she knows exactly who I was like, like, I was an old friend. She got me to reconsider my life, and I didn't even yet had to be countlessly humiliated and humbled by the Lougers or the 9 even! She just, knows how to talk to miserable lowlifes like me! And.... I le owe her this! I, will go back to mime school, and repractice the vow of silence!"
Skipper: (Drinks fish coffee) Hmm. This AUU immigrant sure is something.
Kowalski: Interesting that the people understood the AUU well enough that their first instict wasn't to confuse her as someone of the same race as the old mascot for Travelers Tales.
Skipper: Eh?
Kolwalski: "Well, apart from the obvious AUUian outfit, the resemblence is uncanny!"
Lord Shen: "...... This vigilantie concerns me.... She could be at risk of trying to redeem someone not so easily redeemable then a bunch of beginners. Sure, our native villain teams have grown cautious to ever tamper with AUUians unless they feel VERY confident they can get away with it, but it's the indie villains I worry about! Espeically Eagle-Beak. Eagle-Beak has yet to fully fear AUUians other then not messing with their tec, and though bound by his benufactors, if they were to say so, then all Eagle-Beak needs to do is send the right villain that has given up on life, and Saetha could be used to do the oppisite of what she's doing now! We must find this well-intentioner and put her under OUR protection and regulation."
Icky: "Ya sure, Shen? The kid seems to be like she knows what she's doing."
Lord Shen: "I'm positive. Anyone with the power to talk, even only novice-level villains, out of their paths before even truely starting, and if without great protection, is at risk of meeting a villain that would have an iron will! It is ALWAYS a matter of time with these kind of well intentioners!"
Viper: "Well luckly for you, I had asked for someone who is very good of finding anyone, and/or anything about them."
Po: "Your dad?"
Viper: "I'll give you a hint.... He's named after a chinese deity for serpents...."
Lord Shen/Po: ".... AW CRUD NO, YOU DON'T MEAN-"
This happened.
Icky: "..... Did we LITTERALLY just went through the same joke again?"
Fu-Xi: "What can I say, I'm about making badass enterences."
Pang Bing: "..... (Unamused) Fu-Xi."
Fu-Xi: "Crazy cat witch."
Gazelle: ".... I, take it you still have sour memories with Fu-Xi's part in stopping your evil plans?"
Pang Bing: "Oh don't get me wrong, Gazelle, I'm humbler then that..... I'm just unimpressed on what a horse's ass he tends to be."
Fu-Xi: "Well a ripe old "Screw you" to you too, pussy cat!"
Pang Bing: "...... Consider yourself lucky that I expect insults like that from you."
Viper: "AHEM! Fu-Xi, we need your help with something."
Fu-Xi: "Is it about the female AUUian that looks like she's the sister of the "Traveler's Tales" Mascot guy?"
Monkey: "...... Wow, he's very good."
Fu-Xi: "Well, that, and you're clealy watching the news about her, it was so obvious that even an idiot can guess that right away. And I bet you want my help to track her down? Well say no more! Fire, Mo Tong, Rash and Teddie, make yourselves at home in the nice Misfits little temple, because I am handling this from here!"
Fire: "Understood, sir. (Flies off as she sighed annoyed as Sparx goggling at her)."
Rash: "DIBS ON THE FRIDGE?! (The two ran off)"
Mo Tong: "Hey fellas, wait, you can't just charge in and eat other people's food?! (Chases after the two!)"
Icky: ".... That, sounds like we may have to consider restocking..... And/or make a clean up call."
Fu-Xi: "Now, the best way to encounter the AUUian is simple..... We wait, for another new-meat scrub to show up for her to instintly turn into a bitch."
Shifu: "The problem is that Le Mime Mine is the last new super villain for awhile. It could take a good while for a new super villain to just-"
Scorch: "BREAKING NEWS?! A nice Kindergarden Teacher, Miss Niceapple, has fallen victim to a Mega-Sci-Corp chemical accsident and has now turned into an angry mutant octopus-apple and has held her students and some sciencetists hostage! This is a crisis unfolding! More at 11."
Icky: "..... Well that's convinent."
Fu-Xi: "..... Well there you go."
Mega-Sci-Corp.
A mutanted Octopus Apple was seen terrorising the students and present sciencetists as she roared monsteriously!
Niceapple: "OF ALL MY YEARS OF TEACHING, NEVER HAVE I SUFFERED AN INDIGNTY WORSE THEN THIS!? I, WILL MAKE THIS STUPID COMPANY SUFFER FOR MY PAIN?!"
Xenon and Kate came in!
Xenon: "Kate, you go and get the students and the staff out of here! I'll handle Miss Niceapple from here! (Xenon Charges and proceeds to fight with Niceapple as Kate gets to work evacuating everyone)"
Niceapple: "YOUR COMPANY RUINED ME?! IT HAS TURNED ME, INTO...... BAD-APPLE?! (Roars angerly as she kept trying to attack the quick thinking Xenon!)"
Xenon: "MISSUS NICEAPPLE, PLEASE, I WILL WORK TO CURE YOU?! JUST CALM DOWN?!"
Bad-Apple: "HOW CAN I CALM DOWN LOOKING LIKE THIS?! I WILL MAKE YOU PAY FOR THE INCOMPIDENCE OF YOUR WORKERS?! I'LL MAKE YOU PAY?! I'LL-"
???: "Missus Niceapple?"
Bad-Apple got annoyed and angerly looked behind her!
Bad-Apple: "WHAT?! (Saw Saetha)...... An AUUian? Who are you, and why am I suddenly reminded of my faverite "Traveler's Tales" games?!"
Saetha: "Hi! My name's Saetha. And, it kinda looks like you need help with some curing. I can fix that."
Bad-Apple: "LIKE HELL YOU WOULD, YA LONG-EARED PEST?! (Tries to grab Saetha, but she flipped out of the way in a 13-forword flip) WHAT THE?! HOLD STILL, YOU GYMASTIC RODENT?! (Bad-Apple tries to grab Saetha, giving Xenon a distraction he needs to quickly start making a cure) HOLD, STILL, YOU ACTROBATIC RAT?!"
Saetha: "Wow, for a teacher, (Backflips from an attack), Ya don't really understand Luckiries very much, do ya?"
Bad-Apple: "DON'T GIVE ME THAT SMART MOUTH, MISSY?!"
Saetha: "Then how's about we talk about this? Talking would make you feel better."
Bad-Apple: "AND WHAT GOOD WILL TALKING DO?!"
Saetha: "..... You're afraid being a mutant octo-fruit would hurt your profession, do you?"
Bad-Apple stared in surprised.....
Bad-Apple: ".... Well uh, yes, cause.... How, how am I suppose to teach kindergardeners like THIS?! They were afraid of me?! I looked like a monster!"
Saetha: "Well, it didn't really helped you were also kinda acting like one in your little episode."
Bad-Apple realised this....
Bad-Apple: ".... I, I.... I never meant to, I, I.... I don't know, I paniced, or the chemicals did something to my brain, or, or, GAHHH?! I DON'T KNOW WHAT TO THINK ANYMORE?!"
Saetha: Just let us cure you and everything will be back to normal. Xenon?
Xenon: Thank goodness the wisest thing for any scientist to do while making a chemical experiment is to always make an antidote, even after an accsident with hazordious results under pressure! (Takes out his readied created antidote he was making earlier before and injects it into Bad-Apple and changes her back to Niceapple)...
Niceapple:... THANK YOU, THANK YOU!!!! (Hugs Saetha)
???: SAETHA WYLDE! (Xandy appeared) We need to talk.
Saetha: Aw come on, what is it with you following me everywhere, Miss Sea Squirl? I'm not hurting anyone. In fact, I'm actselly doing the oppisite.
???: Saetha... Whatever your last name is. (Fu-Xi and the Lodgers arrived) We need to talk.
Shenzi: Wait, Xandy? What're you doing here?
Xandy: Guys? What're YOU doing here?
SpongeBob: We just want to talk to Miss Saetha.
Xandy: So do I. Headmaster Warson sent me to check on this immigrant and make sure she's staying here legally.
Shifu: On your own?
Xandy: Yeah, the others are off on a mission. Something about halting an attempt to revive Crimetech, but don't worry, it's mainly just abunch of under-prepared criminals, they won't last long against the HA. But hey, I already have backup, let's- (Saetha was gone)...... Grock!
Icky: "And alchourse..... She buzzes off before we can even talk to her."
Fu-Xi: "No problem, we'll just wait for another Newbie Villain to show up."
Lord Shen: "Who knows how long that will be-"
Litterally a second later.
A flying Pie Saucer was seen with a Giant Pie in it.
A chackling witch-like granny was seen in it!
Granny: "NOW THE TIME IS RIGHT?! THAT I, GRANDMA PIE DYE, SHALL FORCE-FEED THE WORLD, MY DELCIOUS PIES?!"
???: "Well why force them?"
Granny Pie Dye got confused and looked at Saetha.
Saetha: "Why not just open a more legit business and not be a super villain?"
Granny Pie Dye: "..... Errum, well..... I was, recently retired from my job, even when I wasn't ready to give up cooking pies yet. I still got it in me!"
Saetha: "Then why not show the world that and not force it?'
Granny Pie Dye realises this.....
Later.
The Pie Saucer turned into a hovering traveling pie selling business as people bought her pies and enjoyed them.
Granny Pie Dye: "..... Actselly, Miss Saetha. You're right. This is WAY better then becoming a super-villain! You saved me from a costly dip of career!"
Saetha: "I was happy to help."
???: "Yer really on a roll, kid!"
The Lougers, and Fu-Xi and Xandy showed up.
Icky: "Ya got another new villain off the streets before they start! And we didn't have to be involved."
Saetha: "Aw gees, not this again! Look, my boyfriend said I shouldn't talk too much with popperazzi! They get too personal with questions!"
Granny Pie Dye: "Oh don't worry, deary. They're not media hounds. They're the Shell Lougers, (Sees Fu-Xi and Xandy).... And some guests."
Saetha: "THE Shell Lougers? Well why didn't anyone said so?!"
Icky: "Wait, you knew who Xenon was, but didn't reckindised us?"
Saetha: "Well, I've been here long enough to know what he looks like. With you guys, well...... Honestly, I figured you guys would look more badass, cause after-all, you beaten the VA!"
Lord Shen: "..... How, long ago, exactly?"
Saetha: "A year after you guys first came into my home universes."
Icky: "SINCE AFTER 2012?!"
Saetha: "Well tecnecally it was 2011 in my universe, though some people got confused and thought it was 2010, but I diegress."
Fu-Xi: "Well how did you not noticed what they looked like for THAT long?!"
Saetha: "Wellllll.... I didn't say I particually stayed in your dimention, persay, just into a sub-dimention that happened to be visitable in what you named "The Disney Universe", the one where Princess Star Butterfly lived...."
Icky: "..... You've been hiding out in the Star Vs. The Forces of Evil World this entire time? Even before the show was even a thing?"
Saetha: "Well, in some part, yeah. This "Passive Vigilantie" Stuff is considerably recent. But really, I just felt like these people needed some advice on how to deal with their woes without resorting to bad things."
Iago: "Well thing is, the people are REALLY appresiating you were keeping new Super Villains from happening, because we have an OVERT surplus of them throughout the series as it is!"
Icky: "Though just a heads up, you would end up eventually running into a villain that might be alittle more sure in being evil then first-timers, and trust me, not every villain's gonna be talked out of what they're doing so simply."
Saetha: "Tch, you sound like my boyfriend when you brought that up. Well, I should return to my sweet subspace home inbetween this and Mewni now, and-"
Lord Shen: "Wait wait wait, Miss..... We wish to understand your motivations better so we can better protect you from a less easily reformable threat."
Granny Pie Dye: "You may as well agree with them, Deary. The Lougers can be, stubbernly persistent like that."
Saetha: "I don't know, my boyfriend wouldn't be expecting guests."
Sandy: "Miss Saetha, you can trust us on this. We only wish to know how we can best help ya out of a jam in the future."
Saetha: "..... Awww, what the heck, you guys seem nice enough anyway. Wanna see how I disappear and reappear so quickly?"
Icky: "Is it gonna be like how Star does it and-"
Saetha: Voilà! (Takes out some dimensional scissors)
Icky: And yes it is.
Iago: "She said that she stayed in Star's home dimention and you still wanted to ask that Question?"
Saetha opened up a portal.
Saetha: "How's about we pay Mewni a visit before I take ya to my place, okay?"
Icky: ".... Well, this is an MSM created episode where, I assume he wants to make "Star VS. The Forces of Evil" a thing in this series now, and hey, it'll be a nice break from another Equestria/Friendship School Episode, (Quietly) Even for only THIS episode until the next row, (Openly) So, what the heck, why not?"
Pang Bing: "Well I suppose it's long over-due to see something new beyond the two United Universes we see."
Xandy: "An entire new Dimention? Wow, that sounds like it's worth missing out on kicking Crimetech butt again!"
Saetha: Well I can take you to Star's birth home. (They left)
Mewni
Saetha: Butterfly Castle! (They saw the castle) In all it's splendor!... Of course it's not her kingdom anymore because of... Certain discoveries.
Tulio: Well where is she?
Saetha: She and her human friend Marco went missing since then. Poor Star must be suffering because of this discovery.... Welp, onto the next location.
SVTFOE Earth
Saetha: This is where Star stayed for almost a year to train with her wand. She liked living here because it's where she could use her magic however she pleased. Her parents... Correction, her mother... Didn't like her using her wand inappropriately. Especially when they were planning to send her...
St. Olga's Reform School for Wayward Princesses
Saetha: Here! St. Olga's Reform School for Wayward Princesses.
Lord Shen: A reform school? That doesn't sound too bad.
Saetha: It wouldn't... Except when you hear how they did it. The former headmistress, Miss Heinous, sent princesses like Star here to either give them three strikes to do it on their own free will, or put them into the Solitary Conformant Chamber, where they would be brainwashed into proper princesses.
Squidward: Dear Neptune!
Sandy: Well no wonder this place was shut down.
Saetha: Technically it wasn't shut down. Star and Marco came here undercover to rescue Star's friend Princess Pony Head on her birthday. Marco became the head of their revolution as a princess named 'Princess Marco Turdina'.
Duke: 'Turdina'? (Laughs out loud)
Saetha: Yeah, Princess Pony Head has quite the mouth on her. But since then, even when his true gender was revealed, the princesses here still look up to him, and he gets a $650 royalty check every month and sells a ton of merchandise.
Boss Wolf: Wow that boy is loaded.
Saetha: Well, there's other places.
Bounce Lounge
Saetha: (The closed Bounce Lounge sign was seen)... This used to be Star's favorite place to party with friends. But it closed when it's owner got too old to party, despite Star and her friends trying to give it the money it needed.
Private: Aww.
Saetha: Next location!
Tom Lucitor's Underground
Banzai: (They were in a hellish underground) WHAT THE HELL?!
Saetha: Exactly.
Shenzi: HOW'D WE END UP IN THE BANISHED REALMS?!?
Saetha: This is a different Underworld. This is the home of Star's boyfriend Tom Lucitor.
Max:... Star dates a demon?
Saetha: Half-demon, actually. He's a demon on his mother's side. Tom's got some HUUUUUUUUUGE anger issues, but he does have a life coach to help and he tried to get a demoncism.
Miguel: A whatsocism?
Saetha: A demoncism. It's a way to get people's metaphorical demons out of them. Pony Head had a seahorse ex that got demoncized and is now an emotionless employee for ReflectiCore Mobile, which manufactures mirrors that act like oPhones in my dimension and iPhones in yours. Tom, on the other hand? He's got THOUSANDS of them.
Rita: Wow, that sucks.
QuestBuy
Saetha: This is QuestBuy. Mewni's perfect choice for shopping.
Icky: Looks like BestBuy's gonna sue somebody.
Saetha: But not only is it very hard to find something, but...
Gift Card: 2 MINUTES UNTIL EXPIRATION!!! (The card was zapping at it's own screaming user)...
Saetha: Some of their services are VERY questionable. Not to mention it's employees are... (It's sloth employees were lounging around about as much as doing their jobs)... Slow and lazy.
Duke: Duh. They're sloths. You should see Zootopia's DMV, it's practicly alike!
Bureaucracy of Magic
Saetha: And THIS is the Bureaucracy of Magic. Where the Magic High Commission watches over and governs magic.
Sean: Hey, Miss Saetha!
Saetha: HEY, SEAN! That's the building's omnipresent head security guard. He's odd, but very nice.
Po: I can strangely tell.
Johansen Kingdom
Saetha: This is the kingdom of the Johansens, Star's paternal family. They're mighty rough and tough. You might say it's where Star got her... Rambunctious behavior from.
Pigeon Kingdom
Saetha: This is a somewhat new kingdom of semi-sentient pigeons. The only one who knows how to speak English is their prince, Prince Royal Pigeon, despite it being illegal, so that an alliance can be made. Star, Marco, and Pony Head did NOT have a good first impression here after accidentally breaking their prince's leg.
Pony Head Kingdom
Saetha: This is Pony Head's family home. Her father is a large and in charge ruler, and Pony's sisters are... Well....
Cutwaway
Shonda and Shinda: (In a Shining tone) Come play with us!... PLAY WITH US!
Present
Saetha: Crazy as crap! But that's to be expected after you meet Pony Head herself, am I right or am I right?
Icky: "Holy crud, this dimention is nuts, how come we never came here until now?"
Iago: "Largely because Scroopfan doesn't really watch SVTFOE all that much. Alot of our adventures mostly consists of what he knows most about."
Lord Shen: "Miss Saetha, I'm curious now, how exactly did you came across these dimention portal sciessers?"
Saetha: Well, I got them from the forger of all dimensional scissors, Hekapoo. (Everyone burst out laughing) Ugh, here it goes again.
Tulio: HEKAPOO?!? WHAT KIND OF NAME IS THAT?!?
Saetha: One she doesn't like being laughed at for. She's part of the Magic High Commission after all. I met her when I saved her from a crazy wormhole incident and got these scissors as a reward not unrelenting courage.
Fu-Xi: "And thus it allowed you to disappear quickly to the point that we have to wait for you to show up again when a new scrub of a super villain shows up."
Saetha: Yeah, but it has drawbacks. They're not for locating people unless you know where they are.
Marty: That's stupid.
Saetha: Tell me about it. The Magic High Commission isn't exactly having the best time since they lost their Head Chancellor Lehkmet, AND were lying about the Mewni's true racial heritage for generations. You should see Rhombulus. He's an overgrown child with snake heads for hands and a crystal head that can crystallize people, especially evil ones, and gets a lot of time-outs.
March Hare: Wow, where'd they find that guy?
Saetha: Don't ask. He's super sensitive about it.
Fu-Xi: "I pity those snakes having to be attached to a stupid legger. Espeically a prissy over-sized snot-nose brat!"
Saetha: "WHOA, What is UP with the limbed creature hate?"
Viper: "Fu-Xi, was a victim of discriminators. His lost his family to the very village he saved from bandit raiders thanks to conspirating mongooses."
Saetha gasped....
Saetha: ".... You poor thing. No wonder you're nasty about people with limbs."
Icky: "Lady, nasty, is an UNDERSTATEMENT?! This one time, he-"
Fu-Xi smacked him!
Fu-Xi: "SHUSH?! The young lady doesn't need to know everything?!"
Icky: "OW?! Okay sheesh, but just an FYI, only the Lougers are allowed to smack my ass- (Shen Smacks him to shut him up) D'OH?! Like that."
Lord Shen: ".... Miss Saetha, care to elaberate on what precisely happened to the commision?"
Saetha: "Well, more or less, they just went out of sytile in terms of people trusting them. Their lie about Mewmans' true place in Mewni, kinda became bad publisity."
Gazelle: "So, they live in infamy? Why so?"
Saetha: "Oh, because Mewni once belonged to monsters, which- (Lord Shen was jesturing Saetha to not say where he thinks his going and jesturely warns her that Gazelle is overtly sensitive).... Errum.... Let's just say.... Interactions were, not nice....."
Gazelle: "..... How, "Not Nice" are we talking?"
Saetha: ".... Well...... You know that event in your universes when this Human called "Colombus" found North Ama-Ric'A and how that effected the native humans there after?.... Uhhhh...."
A hesitant explanation later.
Gazelle was utterly dumbfounded as her eye twitched.....
Saetha: "..... Miss Gazelle, is hyper-sensitive about these issues, is she?"
Icky: "..... Yeeeeeeeeaaaaaaaaaaaaaaahhhhh, Zootopians ain't really HUGE fans of Xenophobia and the act of wasting races."
Xandy: "This is nothing though. You should've seen her reaction to how she heard about the Ceallans."
Saetha: "Well, is she, okay?"
Duke: "I seen this before. She became so morally disgusted by a hateful act of racisum and genoside, her brain shutted off. Only happens to the particularly DISTASTEFUL cases, like how she learned about Herbavoris."
Icky: "(Quietly) A place that sounds like we'll need to have a look at, one of these days."
Pang Bing: "Is, the uniter going to be, okay?"
Duke: It eventually wears off.
Saetha: So, yeah, this lie all stemmed recently because long ago one of the Queens of Mewni abandoned her people and husband, eloped with a monster, and had a hybrid child. But she was crystallized because of both this and meddling in dark magic, and her ex-husband, didn't want anything to do with her hybrid daughter, and....... Swapped her out with a peasant girl named Festivia, who became the next Queen of Mewni, and this lineage gave birth to Star and her mom. (The Lodgers and Xandy were shocked)... I know, that was my reaction too.
Baloo: Well no wonder Star isn't princess anymore. A lie kept for generations because of hate towards monsters?
Smee: That's unbelievably cruel!
Icky: "Tell me about it. I'm surprised the Mewnians are still staying in Mewni after shit like THAT?! I'm surprised they didn't just gave up this dimention back to the rightful owners after that!"
Saetha: "It's, not actselly that simple."
Icky: Because of course it isn't.
Saetha: See, Star tried to establish peace between Mewmans and monsters, but after the revelation about the former headmistress of St. Olga's, Miss Heinous, being a Butterfly, most monsters left this dimension despite how close she was. Turns out, Miss Heinous was... Actually the abandoned hybrid child from long ago.
Mantis: WELL, WHAT ARE THE ODDS?!?
Saetha: I said the same thing. Her real name was actually Meteora, but was renamed Heinous upon her adoption by the robotic namesake founder of St. Olga's, because of an insult.
Monkey: Ouch!
Saetha: Said THAT too. So when she learned of her true origins, she...... Didn't take it well.
Po: Well of COURSE not!! I wouldn't take it well either.
Saetha: So yeah, Meteora got stronger by feeding on people's souls. Becoming taller than a Mewnian building. Star Butterfly, even in her Butterfly Form, could hardly put a dent in her. But then she was converted back into a baby by her mother, and now she's being raised properly with her mother and monster father. Star even returned the royal magic wand to her, returning the kingdom to it's rightful owners..... It was, quite a sacrifice. Now Queen Moon is missing and Star and Marco went missing looking for her, while Queen Eclipsa is now in charge again.
Po:... Deep.
Saetha: That was my word exactly.
Tigress: So... How's this 'Eclipsa' been faring?
Saetha: As well as she can be after being frozen for over 300 years. Her husband Globgor is still frozen thou- AAAAND CUE LAUGHTER!!
Sir Hiss: (They laughed only to stop abruptly) OH, GOODNESS, ARE WE REALLY SO PREDICTABLE?!?
Saetha: Hard for me to say, we just met after all, though, I just laughed at that name too.
Icky: "I think we did enough touring of Mewni. How's about we go to where your really staying as soon as Gazelle snaps out of.... That."
Gazelle's eyes still twitch.
Saetha: "Yeah, I've pretty much droned on long enough. I'll explain more about Star's life later. Let's jump. But sorry in advance if my boyfriend over-reacts. He, doesn't exactly know I would bring visitors on account that I didn't really planned for them."
Sandy: Especially since you've been here a couple of years before SVTFOE even aired.
Saetha: Ugh, enough breaking the fourth-wall. It's kind of an episode killer.
Icky: Whoa, time out... You can break the fourth wall too?
Saetha: Well yeah, I've been everywhere in this dimension and seen shows and movies about certain worlds. I'm technically a fourth-wall breaker after that. (Cuts a portal open) Now let's jump. (They did that as a lizard figure watched in secret before opening a portal with a golden magic crystal)
Chapter 2: Meeting Anewas And Coffee
Spatial Magic Zone
Saetha:... (They entered via her dimensional scissors)... Here we are. Home sweet home.
Icky:... Sweet buttery Jesus, your home, IS IN, (Brings out Portal 2 Space Core)
Space Core: SPAAAAAAAAAAAACE?!
Icky sends Space Core back to the Portal universe via the iconic portal gun.
Saetha: Well, not exactly TRUE space. It's a pocket of quantum energy that allows for a habitable home. This IS the system of Mewni.
Tigress: Not going to lie, out of all the views I had seen, this is amongst the most impressive.
Saetha: Oh, after all I've seen, you haven't seen anything yet.
Sparx: You know, I gotta ask, of all places, why the same place as Star vs. The Forces of Evil? I kinda figured this place's constint problems with inter-dimentional threats would not be a good home for an AUUian.
Saetha: Well, it IS the place I went to when I came to your dimension. Thanks to the famous Star Butterfly and Marco Diaz, Mewni has started to adopt more Earthly things.
Ralth: Oy! I can hardly believe this garbage. Another world of prejudice. Hoopty-damn-doo! As if we haven't had enough of those.
Fu-Xi: Make no mistake, my fellow snake. Prejudice is everywhere. You'll have to deal with it, EVEN IF IT GETS YOUR FAMILY KILLED?! (Breaths in to struggle against crying for it)..... You just, need to surpress it like a bad memory, or learning that something that sounds like a dude and looks like one, is actselly a woman.
Ralth: (Sarcastically) Gee, that's very helpful!
Fu-Xi: "Careful, I'm no stranger to sarcasum... Or blantent disrespect."
Ralth:... Maybe we shouldn't have brought him along.
Saetha: Wha?
Icky: "Sorry, he kinda tagged along to find you to begin with. Also because, this was meant to be a season 4 episode being moved up to season 3 because MSM wanted to balence-out the mass-MLP episodes based on the on-going inspiriation madness of MLP:FIM Season 8! I'd explain more, but that be spoiler terratory."
Ralth: "Well he didn't had to be a depressing spazz about it!"
Viper: Well, he's still a hero to snakes and I have to agree with him.
Gilda: You know, your opinion about him technically doesn't matter if you support him too much. He still has a shit-ton lot of redemption to do. Like, having to defeat a giant anichent evil that threatens many worlds levels of redemption.
Deadpool's voice: "Fore-SHAAAAAAAAAAAAAAAAAADDDDDDOOOOOOOOOOOOOOOOOWWWWWWWWIIIIIIIIIIIIIIIIIIIIIIIIIINNNNNNNNNNNNNNNNNNNNNNNNNNGGGGGGGGGGGGGGGGGGGGG!"
Icky: "DEADPOOL, GET THE F*** OUT, WE'RE STILL WORKING ON MAKING UP FOR THE BABE PROMISE, OKAY?!"
Deadpool's voice: "Okay okay, sheesh!"
Saetha: Well, since imprisoning monsters here have been banned by Queen Eclipsa, monsters here, or at least those who didn't leave this dimension, have just as much time to redeem themselves. Heck, I fell in love with one.
???: Ohhh, SAE-SAE!!
Saetha: Speaking of which. That's my boyfriend. (A dragon-lion monster appears)
Monster: I got a surprise for you-.... Who in Lucitor's underworld are these guys?
Saetha: Visitors who are questioning me about my interdimensional story.
Monster:..... STALKERS!! (Gets in front of her) BACK OFF, DIRTBAGS!!!
Fu-Xi: "You do realise your calling the famous Shell Lougers, "Dirtbags", right?"
Monster: "Wait wait wait.... You're THOSE guys?!... Honestly, I figured you guys' would be more impressive looking then what you are now, espeically since you fought these "Darkspawn" monsters I heard alot about."
Icky: "Join the club, they got jackets. You're not the first wiseguy to be unimpressed with us."
Monster: "Aw come on, if you're bad-mouthing me because of the dirtbag comment, then sorry! I just assume you were another collection of Popperazzi or nosy interviewers for media outlets, or tec corperate hacks that salvabate at the idea of getting ahold of the AUU's tec stuff."
Fu-Xi: "Mistaking us for overtly curious fools is no excuse for disrespect, beast!"
Viper: "Uh, please mind Fu-Xi, he's more of a ally then a true member."
Monster: "To be fair, as said before, I figured you guys would be more like the Grovairian War Heroes in size and stature! Not a bunch of cartoony misfits!"
Icky: "Well EXCUUUUUUUUUUUSE US, PRINCESS, that we're not a bunch of, whatever you just said, and that we're not always the steriotypical fantasised heroes! Though Gazelle comes rediculiously close at times."
Monster: ".... Yeesh. Okay, I know I didn't exactly treated you guys fairly before, BUT YA DIDN'T HAVE TO BE DICKS ABOUT IT?!"
Saetha: ANEWAS, CALM DOWN! You need to be more courteous to the Lodgers! They rescued my home dimension hundreds of times.
Monster (Anewas): And I know that now, it's just, because of how unimpressive they look, I only got the wrong idea, okay! I mean, why would any hero care about some immigrent from a troubled alternate dimention they saved from a dark and terrorable dystopian rule- Annnnnnnnnnnnnd I just answered my own question like a dumbass. Look, if you guys assumed she's a threat of some form, trust me, she wouldn't even harm a Hidiosmar Fly! And everyone wants to hurt THEM!
Lord Shen: "Oh don't be alarmed. We didn't seek her out because of lack of trust, NOR anything you assusiated with those with no ability of minding their business. We merely wanted to see her reasoning to come here and make sure she wasn't here because of a new threat or because she was troubled in some way."
Anewas: "And you assusiate her coming here because of her having a problem, why?"
Iago: "Trust us mac, her native United Universes, it's a mess over there. Mistakes and villains are so constent, it was why that dystopia existed in the first place! We are only asking her about it to try and make sure her coming here is harmless AND NOT BECAUSE ANOTHER ALL-POWERFUL THREAT IS BORNED?!"
Anewas: "Tch, WELL PARDON ME FOR ONLY PROTECTING MY GIRL FROM STRANGERS?! She didn't exactly told me she was gonna bring guests today, okay?! Ya don't need to be ASSHOLES about it! (Leaves angerly)."
Squidward:... And this guy's your boyfriend?
Saetha: Anewas can be rather... Possessive. Mewnian monsters are usually hard to understand if you don't get to know them. Didn't help that jerks like Toffee make that trust difficult.
Tigress: Toffee?
Anewas: SAE!! (Came back cartoonishly quick surprising the heroes) We agreed never to say his name! He betrayed monster safety, AND his brother walked out on me over it!
Icky: Whoa, time the f*** out, buddy! The lizard guy, who almost killed Star, had a brother?
Xandy: Wait, You watched their show?
Icky: With many others, yeah. That's why we were the most familiar about this place than you guys.
Anewas: You didn't know that? I, assume that was commen knowledge.
Lord Shen: "Well maybe in your dimentions, but our knowledge of him is limited to show canon. As far as we figured, Toff- (Anewas cleared his throat)..... Right, he you don't want to be named, appeared to be an only child sort."
Anewas: Well FYI, he, DOES, have a brother. Though in all fairness, now-a-days, people WISHED that "Only-Child" stuff really was the case! He was my best friend, too. He wanted to retaliate Toffee's defeat to Queen Moon through war, which was a risk too great for me to keep my promise to help him avenge the loss of his family. I wasn't going to just jump into a war against Mewmans! So I had to do what I had to do. I had Coffee exiled for his intentions.
Banzai: (Scoffs) That's seriously his name? Coffee? And I thought Scroopfan was the master of rediculious names!
Anewas: I know, I know, those two were netourious for those names, for the both of them as brothers have been mocked for such names.... Anyway, I left, because I couldn't bare to be with the Monster Army after I had to betray a friend to protect monsters everywhere.... Years later, I met Sae-Sae.
Saetha: I for one was concerned Coffee would want revenge, especially since he wasn't anywhere on Mewni. And we can't find him with my scissors without knowing where he is.
Lord Shen: "... Well, then it was good we went to ask you, Miss Saetha, for we indeed found our would-be threat."
Anewas: "Wait a minute, you guys said you were here to look out for threats from HER universe, there was nothing about that was said about anything that was from my dimention!"
Lord Shen: "By all means, yes, any threat from the AUU was a prioritised concern, but we won't shy away from anything more, native to these universes, or even something of your dimentions for that matter. Let's be honest, Anewas, Coffee would likely be rather resentful of you for not supporting him. A man hungry for any correction of injustice done apawn him, don't believe in uncrossable bounderies. What you did, only served to make you a target as well."
Anewas: "Look, I knew Coffie well enough that he would not be so petty as to do that to me! If anything, he would be more dangerious to Star's home kingdom then anything else."
Icky: "Yeaaah, but, you kinda betrayed the guy that wanted to make that happen. You crippled the dude's ability to even be a minor threat to the place. He's not gonna let you move away from that just because you were a pal to him. Heck, even Sae's nervious about him."
Anewas: "Look, Coff's different from his brother, he would not be so resentful."
Gazelle: "Are you really willing to put blind fate on the brother of a man you don't particularly like?"
Anewas: "Hey, I know you're trying to make me sound stupid for not thinking Coffie's dangerious, but trust me, Coffie and his bro did not have the greatest brotherhood! They don't agree to everything! That's why I don't think Coff's any real threat here. He wouldn't do things his brother would've done."
Icky: "Now, by all means, we get that it's one thing for the guy to be a carbon copy of his bro, we get that. But it's another to not expect trouble from him to say something like that. In fact, Facilier, had a half-brother that used to be an entirely different man from Facilier. But thanks to what occured with the revelation of the Princess and the Frog movie, the guy went down a dark path because of people mistaking him as Facilier."
Anewas: "Okay, look! You need to keep in mind that all Coffie wanted was justice for monsters! He wouldn't dare bring harm to a fellow monster, nor anything that a monster cares about, just because of something as petty as a falling out."
Gilda: "Then riddle me this, bud. Would your girlfriend be so afraid of him if he wasn't a problem?"
Anewas: "She was once afraid that the Ring Girl from a movie about a cursed video tape was gonna climb out of the TV when she saw those ring movies! Or just recently, that the Indoraptor was gonna break into her bedroom and eat her from those newer Jurrassic Park movies, erm, well, "Jurrassic World" as it is! She can become afraid of alot of imitating things!"
Sandy: "Okay, cowboy. If you're so dang confident that Coffee's a good hombre, then try to remember why you turned on him to begin with!"
Anewas: I HAD to! He was talking about war! After what Queen Moon did to Toffee's finger, even his army didn't want to attack. Monsters have been smart enough to never go to war unless they had no choice ever since, especially since events like Mewnipendence Day. Star DID try to make peace between us and we monsters love her for being a free-spirit just like us.
Saetha: She even dates a monster herself, even if it's clear that maybe Marco's the most promising candidate for her. The two have remarkable chemistry, and Marco's been hinted to go through the same hardships as Star when he was still with that Jackie chick since the two breaking up drove him to live in Mewni. He just wants the feelings to go away by pretending they aren't there.
Icky: Well at least as far as Starco fans are concerned.
Mushu: Guy, are we really discussing the show here? This is about Saetha and how she might be targeted by this Coffee bastard.
Anewas: Even if I did break my promise to him, he wouldn't just want vengeance on me like that, that just wouldn't be like him. I mean.... What would he have to gain from it? He would still be an outcast.
Shifu: This is infomation that is in need of being learned. But wherever he is and whatever he's planning, we'll be ready.
Anewas: "I just have my doubts, okay? Coffee may not had been a saint, but he's not as bad as his brother. Just, trust my word on this."
Little do they realised, the same figure was silently watching via a portal, which vanished quickly enough.
Villain League Castle
Junjie and Mang were seen facing off on the outside of the leage fortress.
Cobra: "..... I am DONE with your nonsense at long last, Junjie?!"
Junjie: "Oh is that right, you imbacilc serpent?"
Cobra: "Let's, END THIS?!"
Junjie: "Women and children first!"
DING DING?!
Cobra and Junjie charged epicly at eachother and display their power, as suddenly everything turned into a fighting game, as it turned out to just be Junjie and Mang playing a video game!
Cobra: "YOU'RE NO MATCH FOR ME, FOX?!"
Junjie: "SHOWS HOW MUCH YOU KNOW?! I MASTERED THIS GAME, AND I WILL WIN?!"
Cobra: "Oh really?! (Cobra has Video Game Mang eventually overwealm Video Game Junjie, as "Finish Him" Prompt appeared as Video Game Mang did a Fatality on Video Game Junjie) YES?!"
Voice: "Mang Simon Cobra, WINS! Fatality!"
Junjie: "..... (RAGE QUITS AND ZOOMS OFF)?!"
Cobra: "(Laughs!).... I love pwning Junjie at a rousing game of Villainy Combat! I just ADORE this game!"
Galaxhar: "Oh that's nothing! You should've seen Mirage on how she pwned Dark Dragon in the Mugshotra Game Tournament with that game."
Flashback.
Mirage has Video Game Mirage over-wealm Video Game Dark Dragon in a series of quick attacks and actrobatics, eventually winning a fatality!
Voice: "Mirage, wins! FATALITY?! Flawless victory?!"
Dark Dragon: "F**********************-"
Present.
Cobra: "Oh indeed, that moment will forever be unforgettab-"
Chrysalis barged in!
Chrysalis: "MANG?! We have a situation?!"
Cobra: "OH JUST WHEN I JUST ENJOYED PWNING JUNJIE?! This better, be good?!"
Leage Grand Council Room.
Cobra arrived.
Cobra: "IS WHAT I HEARD TRUE?! IS THERE, AN INTRUDER?!"
Jafar: "Oh trust me. It's about as true as the deserts are hot!"
Mirage: Who is this guy? Why is he causing such a ruckus?!
Cobra: Not sure, but his skills are impeccable!!
Dracula: He looks like that old Toffee guy from the world of Mewni.
Voort: Could he be related?
Dracula: How should I know?
Plankton: Uh... Guys? He's hacked into our henchmen communication grid!
Mirage: Open the channel and locate the communicator he's using.
(???): (Will Arnett voice) Villain League! I would like to talk because I have an offer you can't refuse!
Plankton: "Aw no, not another one of those "big promises" guys that end up dragging us into situations we didn't needed to get involved with!"
Galaxhar: "Or just as much, a Jevhovah's Witness."
Clayton: "In which case, (SCREAMS) WE ARE NOT INTERESTED?! WE ALREADY GET ACCUSED AS A DEMON WORSHIPPING CULT AS IT IS, WE'RE NOT INTERESTED IN HYPERISED CHRISTAINS?!"
(???): "..... Wha, duh...... Nonononononono! I am not that! I am trying to bring to your attention, that a being from an alternate universe is within your rea-"
Cobra: "STOP STOP STOP! No, we are NOT messing around with the AUUers! The last several intentses of tampering with those beings ended MISERABLY BAD?!"
Dr. Blowhole: "I mean, by all means, their hyper-futuristic tec's very nice, but it's alas, a risk not worth taking. That alternate universe is so unwilling to accept villains there! And we do NOT wish to incure the wrath of the HA for it!"
Junjie: "NOT EVEN I WAS ABLE TO SUCCESSFULLY CREATE A PLAN WITH THAT UNIVERSE?! I still feel the pain that basturd monkey Croker inflicted on me with his electric spear! Still glad he's long fired?!"
(???): "But what if I say that it's a rare and powerful spieces, that-"
Mirage: "DON'T CARE?! Messing with the AUUians are not worth it?!"
(???): "What?! Your passing up a golden oppertunity here-"
Cobra: "Good sir, I don't care if this AUUian is the deciple of that alternate universeal jesus thing they have going on there, we are NOT going to tamper with an AUUain?! So kindly get OFF of our transmission, and GOOD DAY TO YOU, SIR?!"
(???): "..... Tch. Some villains you guys are. (Disconnects)."
Mirage: "And good riddence to troublesome rubbish."
Hades: "Good call rejecting that guy, guys. Much as those skills are not too shabby, nothing's worth messing with AUUians."
Junjie: "Oh beleive me. Extreme as I am, not even I would tamper with them again unless I can EVER feel like I can get away with it!"
Cobra: "AND MAY YOU HOPE THAT NEVER COMES, YOU MEDDLESOME FOX?!"
Mirage: Now let's throw that lizard out.
(Shocktrooper): Uh, guys?... He was speaking on the communicator... With ANOTHER communicator- (They were heard being beaten up)
Hades: What- Does this guy even take no for an answer?!
Junjie: Apparently not! (The lizard figure burst in from the roof) YAAAH!!!
Lizard Figure: I will not be ignored because of your bad previous experiences. I know you won't say no when you hear how different and fulfilling this plan is.
Cobra: "WHAT PART OF NO, DO YOU NOT, UNDERSTAND?! (Teleports The Lizard Figure away, far away from the leage base)..... There we go, problem solved."
Lizard Figure: (He came back by using a stolen magic crystal)
Cobra: Aw c'mon!
Lizard Figure: That was the first thing I'd expect you to do. Lucky I have this Mewnian magic crystal fresh from the Realm of Magic. But luck IS the main promise I have here.
Gaspar:... Go on-
Mack Salmon: DO NOT GO ON!! I TOLD YOUR STUPID LIZARD TAIL THERE'S NO SUCH THING AS GOOD OR BAD LUCK!!! SOMEONE PLEASE GET THIS S***N STAIN OUT OF HERE?!?
Lizard Figure: "Oh why are you people being stubbern about this?!"
Cobra: "Well in case you went into a stuper about what Junjie referenced, (Quietly) Which honestly, I won't blame you, (Openly), Any plans that involved the AUU, NEVER ends well! Not to mention that the few times we or anyone else did so, IT ALWAYS END IN PAIN?! So go ahead and bring up how "Special" this particular one is! Cause as I said, SHE COULD BE THE DECIPLE OF THE AUU'S OWN TAKE ON JESUS, AND I WOULD CARE FOR IT AS MUCH AS I WOULD CARE TO HAVE CANCER?! SO, JUST, BEAT IT?!"
Lizard Figure: ".... Ughhhh. And you people came so highly recimended. (Finally leaves seriously)....."
Cobra: ".... Ughhhh..... And good riddence."
Tai Lung: "Thank goodness. No AUU-related pain for us."
Jafar: "Well, as much as I am abit curious on what he was droning on about this "luck" nonsense, perhaps it's for the best we don't assusiate with him. He had an aura not too disimular to that Toffie guy. For all we know, he was only trying to tempt us into this so he can claim this person himself, and that we would've only been brought along because he wants to make the capture easy for himself."
Mirage: "Well we will not be used to cheese through some lesser nobody's plans for some random AUUian we don't give a shit about! Now, let's all go back to do our own thing."
Coffee: (Watching through binoculars)... I know I came prepared to see how phathic villains here are, but this? If the prime villain team is like this, then I don't know what second best or even the 3rd rate are like.... Ughhh, perhaps I shouldn't even bother with the other two, and just settle this, myself. (Using dimensional scissors, he leaves)
Mugshotra
Coffee: (He arrives at the Villains Channel HQ)...
Receptionist: (Getting off iPad game) Hello, sir, please take a seat and I'll be right with you.
Coffee:... There's nobody else here and you look like you've got nothing else to do, so you don't seen busy enough to have me wait. I would like to see your evil bounty news broadcasting station.
Receptionist: "(Looks with a face of "I am NOT in the mood for your shit right now", and presses a security button.)"
Coffee: "Oh come now, do we really need to go through this- (Stomps are heard, as a trained Rancor Security guard came out and roared!)......... Oh, nice guardian monster you have there."
Outside of Villain Channel HQ.
Coffie was tossed quickly outside as he flew across the air, folding his arms.
Coffee: "(Sighs), Something tells me that evil in this dimention, has no sense of community spirit. (Crashes right into a dumpster)..... I suppose I'll have to get the attention of bounty hunters in more, localised means. (Uses the magic crystal to create a reward poster for Saetha and a good luck potion for eternal competence in villainy)... (Also writes "And before you say it, it's not a con/scam." and casts a visionary spell on it before scissoring away)"
A rat janitor came up whisleing, who was noticingly blind and was seen tapping the ground from garbage and using smell to location, and found the poster, which cause he can't see it, it doesn't effect him as he stabbed the poster with his pick-up stick and stuffed it in the garbage and walks on away as the poster magically cloned itself from inside the unnoticing blind rat's bag.
Coffee:... Now to wait.
Saetha's Home
Xandy:... I must say, Miss Saetha, your boyfriend is... Quite the charming brute.
Saetha: Yeah, Anewas is quite the charmer. He... Doesn't like talking about his old best friend OR his brother. They did... Some serious crimes to even Star's family.
Icky: I kinda already covered that.
Tigress: We know. Look, you're easier to talk to about this, so let's start with the basic question:... Who is Toffee?
Saetha: "Oh, imagine Coffee, but in a snazzy suit."
Tigress: "....... Walked right into that on-"
Banzai: WE CAN'T, STUPID, WE NEV- (Gets hammered by Shenzi)
Shenzi: "DON'T BE STUPID AND INSULT HER LIKE THAT?! THAT'S GONNA PISS OFF HER DRAGON LION BOYFRIEND?!"
Anewas' voice: "SHE'S NOT WRONG?!"
Tigress: "(Sighs), ALL OF YOU CALM DOWN?!..... Let me try to be more clear, Miss Saetha. I meant, grander details than the obvious or physical details."
Icky: "Tigress, ya don't need to ask her! (Brings up SVTFOE Wiki).... Just ask the wiki. Strange how iPhones are compatible to ReflectiCore Mobile."
French Narrator: One Wiki Page Search Later...
Tigress: "..... I see...... So, basicly, he escalated already bad tidings between races, did he?"
Saetha: "Yuppers, that's, Toffee in a nutshell."
Po: HOLY YINGLONG, THIS GUY IS UNBELIEVABLE!!! He turns Ludo against his suspecting second-in-command by making him look like an idiot? THEN he takes over Ludo's castle by using his fear of hair that he got on one of his birthdays because of a giant hairy monster guy whose name sounds like he's from Sesame Street, and the abuse he puts his minions in because of it?! THEN he kidnaps Marco to ransom Star's wand so she can destroy it using a chamber of glass that gets twice as strong after being destroyed and regenerated, AND Star's impulsiveness, AND exploding himself into one of Star's wand halves for Ludo to use and for Toffee to possess him and manipulate him into conquering Butterfly Castle, THEN have Star explode herself into the wand to try and stop him only for him to trap her in an ocean of black goo when he gets his finger back, almost killing her, and THEN get his butt whooped by Star in her new Butterfly Form?!?... That was QUITE a lot of effort to get his finger back.
Fidget: To his credit, he succeeded before Star Kamehamehaed him and Ludo crushed him underneath a tower.
Iago: But my question is what's so special about his lost finger. He could still regenerate without it, like when Star blasted his arm off when they first met.
Icky: I guess it was a catalyst to limit those abilities, maybe it discouraged his leading potential, or something related to some grand speical power, you tell me! My guess is as good as everyone elses!
Saetha: Well whatever the reason, he's gone. That's why Eclipsa isn't crystallized anymore. Moon made a deal with her when her Toffee killed her mother, Comet Butterfly, when she was 14, that in return for the spell to destroy a monster as indestructible as Toffee, she'd get her freedom. Thus began the quest that ultimately got Star to return the kingdom to Eclipsa.
Icky: Hard to believe Toffee is played by Dexter himself. Eclipsa surprised me, too. She's Ros in Game of Thrones.
Tigress: Okay, so where does Coffee fit into all this?
Saetha: Well... As you guys alreayd know, he was with the Monster Army.
Fu-Xi: "As is already made clear."
Saetha: Well, he also used to work with Coffee as a partner-
Fu-Xi: "Of WHICH we already can figure out based on what we heard!"
Saetha:..... Maybe I should just cut to the chase.....  He was there when the two talked about the plan for assassinating Comet....
Flashback...
Toffee was seen at a regel dinner with Anewas and Coffee, plus other monster generals, marking the plans.
Toffee: "The plan is simple..... Queen Comet would make herself vulerable with this peace treaty. While under the false impression that our kind would EVER accept something so insulting to us after the wounds THEY inflicted, I would, shall we say, make a decidive move that would show the Mewmans TRUE pain."
Anewas: "But, wait..... If they're offering peace, then, why not just accept it? I mean, I have been doing a lot of thinking lately, and, say we won as expected, what exactly's gonna become of the Mewmans after we take back our home? Wouldn't they be homeless? Maybe the peace treaty's a sign that, they take us seriously enough that, they want to stop treating us like vermin! And, I heard Queen Comet is earnest about what she's doing, so, maybe, actselly go through with it?"
Toffee: "..... (Chuckles) Anewas, Anewas, Anewas..... For a general, you speak as if you are still a first class private. (Flips the large table over which shocks Anewas and Coffee, and the surprised generals) IT, IS, NOT, THAT, SIMPLE?! What good is peace, even from a debatably earnest sympathizer, if it's earned because of signing an insignificant piece of paper? A piece of paper, will NOT bring back the monsters annihilated during the Great Monster Massacre."
Anewas: "Uh, duh, duh, General Toffee, I, I admit that maybe Queen Comet may be too idealist here, but, it's perhaps better then them still wanting war!"
Toffee: "..... What she's doing is merely worse than being 'too idealist'! It insults the name of those who died, monsters everywhere, and those that died trying to fight for these lands."
Anewas: ".... Not that it isn't a fair arguement, but, what good would just keeping them hating us do?! Won't killing a leader during a peace treaty just, confirm the accusations of us? Especially since she's a mother, and that Princess Moon still has a lot of learning to do?"
Toffee: ".... Try, to view this alternate scenario..... If this peace treaty is accepted, how long do you think it'll last until the rise of a less-sympathesing to monsters kind of leader is born?"
Anewas: "Duh, well, it, it depends on how well the kid was raised, and-"
Toffee: "Spare me the details, general.... Let's just say that this more hostile ruler is somewhat into the intermediate future after Comet rules no more..... What do you think will happen?"
Anewas: ".... Well, if he were to have his way, and get away with it, the peace treaty would..... Be no more....."
Toffee: "Exactly. A peace treaty is nothing more than an insignificant bandage to far more severe wounds. It will only be peeled right off regardless. Comet, is nothing more, then an oddity, to Mewmans who still despise us. They HATE us. They view us like we're not meant to exist. They deem us only for something for those imperialistic cretins to destroy!"
Anewas: "Look, sir, I'm not forgetting that we gotten hurt really bad, but, while it may be a sloppy attempt, it's, something, at the least..... I'm just saying that it matters little that even if we win the war eventually, we would only end up losing more spieces of monster anyway! Sir, I know this peace treaty won't bring back the lifes that were lost, but, just being in constint war, isn't really gonna make a difference either! What do you have to lose?"
Toffee: "More then you can ever imagine. You have ANY idea how upsetting it will be to monsters if we accepted something so, flimsy and not garrentied to be absolute?! They would SHAME me! They would shame all of us for accepting this!? And to me..... Losing the respect of monster kind, is WORSE, than this war never ending! Besides, I'm positive the Mewmans outside of Comet don't really back this anyway! If anything, they secretly EXPECT her to die for being so foolish. And I, am NOT much to disappoint people!"
Anewas: "Be that as it may, General, you need to understand that, we might have no serious hope in making the Mewmans leave at all! They wouldn't've kept this war on for this long if they weren't this dedicated. You'd think they would've left ages ago just from the first attacks alone! Now, I am not denying that what they did to us, wasn't exactly, fair, to put this lightly. But, for all we know, maybe they were from a dimention where Monsters weren't like us at all. They could've only harmed us because of prior bad exspeariences."
Toffee: ".... Say if that were to be true..... Why us?"
Anewas: "..... Sir?"
Toffee: "Why, us? Why OUR dimension? Was there not, INFINITE better choices like a dimension that DOESN'T already have life in it? There was likely dimensions that could offer the better resources and no reminders of their sad past. Yet they, picked, us?! And made us SUFFER ever since?! That isn't consistent to refugees, Anewas! THAT is more in line to murderous, imperialistic conquerors. It is just as much as likey that they could actually be dimensional conquerors that are destroying dimensions that don't match their ideals of perfection. This dimention, all monsters of this dimention, don't feel as if we're their first victims. Other dimensions could've suffered Mewman cruelty and couldn't fight back. HAVE YOU EVER CONSIDER THAT?! HMMMMMMMMMMMMMM?!"
Anewas: "...... (Gulps)..... For the sake of arguement, say, that much is right..... Then what does that make Comet?"
Toffee: "A hopeless, deludtional defect, at my best estimate. Trust me, many of the people she governs, are against this! Our spies confirmed this, this peace treaty, is LUDICROUSLY unpopular. That proves that the Mewmans don't want peace. Their queen is just going rogue. So, that further proves, that the bandage solution of this peace treaty, is not destined to last long. A ruler more in line of what their people want, will remove it anyway. Are we clear with eachother, General Anewas?"
Anewas: (Sighs) For the sake of giving some hope, yes.
Toffee: Excellent. Now let's go over the plan.
(Saetha): Anewas wasn't around for much following the invasion... But he was there with his brother following our preparation to invade Butterfly Castle. They were surprised to meet Comet's daughter.
Rasticore:... Uh, can we help you?
Young Moon:... I wish to speak to the general.
Monster #1: THE GENERAL?! (The monsters laughed)
Toffee: SILENCE! (Toffee came out of his hut and walked up to Young Moon)
Coffee: (Chuckles) This is going to be good. (Anewas was concerned)
Toffee: Hello, princess.
Young Moon: I presume you're the one they call 'The Lizard'?
(Saetha): Toffee came with a title just like the rest of them.
Toffee: Yes, but you may call me, Toffee.
Young Moon:... Toffee? How is that any better?
Toffee: What do you want?
Young Moon: I want you and your army to leave immediately, or face the consequences.
Rasticore: Your mom couldn't defeat us and NEITHER CAN YOU!
Young Moon: I was hoping you'd say that. (Arms up her wand)
Monster #1: WE'RE NOT AFRAID OF YOUR LITTLE GIRL MAGIC!
Rasticore: We're invincible! JUST WATCH!
Young Moon: No, wait, I ALREADY KNOW ABOUT THE- (Monster #1 bit off Rasticore's hand as she groaned in disgust and Rasticore grows his arm back high-fiving his severed arm as the monsters cheered)
Coffee: (Chuckles) She's going to be painting the ground red soon.
Anewas: Coff, I don't think she's fooling around.
Young Moon:... I call the darkness onto me, from deepest depths of earth and sea. From ancient evils unawoken, break the one that can't be broken... (Toffee got suspicious and Coffee got a bit worried along with Anewas) ... To blackest night, I pledge my soul, and crush my heart to burning coal... (Her arms become tainted purple with black magic) ... To summon forth a deathly power, to see my hated foe devoured- (Exclaimed at her tainted arms)
Toffee: ENOUGH OF THIS! (Young Moon shot off his right middle finger as Anewas covered his mouth in shock as the severed finger disappeared)...... Have you learned nothing? (Coffee smiled as Toffee tried to regrow his finger only for the new finger to crumble with a butterfly-shaped puff of smoke, shocking all the monsters)
Monster #2: IT'S NOT GROWING BACK!!!! (All the monsters ran off in panic except a shocked Coffee and a perplexed Anewas as Toffee got up, brushed off, and left abruptly without a word)
Young River: QUEEN MOON, YOU DID IT!
Young Moon: (Hugging him) Oh my gosh, River! Thank you! (Others including the Magic High Commission appeared)
Rhombulus: What, did you just do?!
Young Moon: (As Coffee and Anewas watched) I did my job. And as your queen, I will continue to do my job, of protecting this kingdom. I will hunt down the remains of the Monster Army, and scatter them, without country, OR leadership.... Now, are there any questions? (Everyone paused)... I didn't think so. (She walked back to Butterfly Castle as everyone bowed and Anewas and Coffee were shocked, then it cut to an unknown forest)
Anewas: I KNEW this was a bad idea!
Coffee: Okay, MAYBE we underestimated her. But, we can figure this out. Let's just report back to Toffee and restrategize.
Anewas:... No!
Coffee:... What? (Anewas discarded his uniform)...
Anewas: NO! I'm DONE with this. Our actions have only made poor Moon angry and declare to hunt us all down.
Coffee:... (Chuckles) Good one, Anewas.
Anewas: (Pushes him away) I'M SERIOUS!!!... Look, Coffee, I'm sorry, but the problem just got worse thanks to your brother! I can't fight this battle anymore!
Coffee: No, NONONO, FOOT DOWN TIME! Anewas, you PROMISED you'd help me avenge my family!
Anewas: I can't keep this promise anymore, Coffee! I don't want to hurt you, but if you were my friend, you'd do the right thing and stop fighting this war with me.
Coffee: SCREW THAT!!!! THOSE MEWMANS ARE THE REAL MONSTERS HERE!! THEY NEED TO PAY FOR WHAT THEY'VE DONE, AND IF YOU WERE MY FRIEND, YOU'D KEEP YOUR WORD AND HELP ME AVENGE MY FAMILY!!! So you're gonna have to choose: IT'S THEM OR ME!!
Anewas:...... Well maybe we're not friends. I'm REPORTING you!
Coffee:... I'm sorry?! WHAT did you say?
Anewas: You're coming with me back to Mewni so you can't hurt anyone!
Coffee: GET YOUR HANDS OFF ME!! (Lashes at him)... I TRUSTED YOU!!! NOW YOU'RE JUST GOING TO TURN ME IN AND BECOME A TRAITOR TO YOUR OWN KIND?!?
Anewas: COFFEE, YOU SAW WHAT MOON DID!!! IMAGINE WHAT ELSE SHE CAN DO!!!!
Coffee: I'M NOT LETTING THAT STOP ME FROM AVENGING MY FAMILY!!!
Anewas: SO WHAT, YOU'RE JUST GOING TO KILL YOURSELF?!?
Coffee: If THAT'S what it takes.
Anewas: (Sighs) I'm sorry. (He punches him unconscious as he woke up being arrested by monsters and the Monster Leader)
Monster Leader: Coffee, you're under arrest for crimes against Monsters and Mewmanity, and assisting in the murder of Queen Comet.
Coffee: WHAT?! LET ME GO, WE WERE JUST AVENGING MY FAMILY AND THOSE WHO MEWMANS SLAUGHTERED!! HOW COULD YOU BE ON THEIR SIDE?!?
Monster Leader: Because it's not right. Murder makes us the same thing they treat us as. We're going to let your former partner off for good behavior for doing the right thing turning you in, but you're going away for a long time.
Coffee: (As he was taken away and saw Anewas) ANEWAS, I CAN'T BELIEVE THIS!!!! YOU PROMISED!!!! YOU PROMISED!!!! I WILL GET YOU THIS!!!! YOU PROMIIIISSSEDD!!!!!...... (Anewas tears up briefly and took a deep breath)
Monster Leader: Thank you for turning Coffee in, General Anewas.
Anewas: I had to. He was planning to make the problem between our people worse than it was. Give my regards to Queen Moon... And if you can... Tell her to at least take it easy on us. I'm retiring.
Monster Leader:... But where will you go?
Anewas: Anywhere I want. We're monsters.
Monster Leader:... Then I wish you luck. (The two salute in a monstrous fashion)
Present
Saetha: And thus, he's been a renegade ever since.
Count Razoff:... I'm sorry he had to lose his friend.
???: He was NEVER my friend!!!! (Anewas came and smashes the table)....
Saetha: ".... Anewas, don't say that, you do have legit fond memories of him...."
Anewas: "..... (Sighs).... Then let me rephrase..... He is no longer the Sep I rememebred him as?! That Coffee, was gone. War, devoured the Coffee I knew, and spat out, a shameful shell of what I knew him as now?! It may as well been like the Coffee I knew died in the massicure of his family and an imposter took his place?! Now, monsters in general don't know what to think of me! They either liked me for capturing a conspiractor, or hated me for crippling their revenge..... And it wasn't any better with the Mewmans, largely because the Commission likely censored what I did to prevent their narrative on us from being compromised?! So, as far as Mewmans have ever known, I was no better then Toff or Coff?! Had it not been for Saetha, I WOULD'VE GLADLY KILLED MYSELF OFF A LONG TIME AGO?! (Groans)..... I would appresiate it if you all would just leave now. You got the infomation you wanted.... Now please, leave the both of us be."
Pang Bing: "(Sighs)..... I wouldn't say that our quest is fully complete, but..... We reckindise your desire to sulk....."
Icky: ".... Yeah, Sae, it's about time we get back to our dimention anyway."
Saetha: "Oh.... Okay. I know where this is going. (Brings out sciessers)..... Anewas, we are talking about this after I get back."
Anewas sighed as he left.
Saetha: "..... I'm really sorry about that, guys. Anewas is just, a very passionate person."
Xandy: Well we still have concerns about this Coffee guy attempting revenge, but we can give y'all some space. Let's go. (Saetha snipped up a portal) Besides, I have QUITE a story that even Magnum and Samantha are gonna have one hell of a mental strain trying to believe it! (The group entered it)
Chapter 3: Coffee's Revenge And Bounty
A Bar in Muggshotra.
A sign on it read "The Beer Bounty", as rough music played as a vast collection of Bounty Hunters are seen in the bar.
A fish alien was seen poking the knife repeatedly at where a bigger alien hand was place as he was getting faster and faster as the other aliens looked on.
An Alien from Scroop's Spieces was seen wearing a Cad Bane sytile outfit was seen resting on his table with his hat covering his eyes.
A Grizzly Bear wearing a tecno-spandex with a hammer and sickle was seen, along with a russian dance hat, enjoying a large jug of vodka.
An Asian Person Sized Dragon was seen in a meditive stance, under a spell of zen that tunes out the music.
Well-dressed suited bounty hunter triplets are seen being quiet, wearing Sunglasses and drinking.
A reptilian humanoid was seen surrounded by pet reptiles.
A Spider woman had managed to catch a buzzing fly to eat it.
A knife obcesser was seen cleaning his knifed teeth with a knife like a toothpick.
A multi-limbed arabian sword weilder alien was seen sitting down with arms at full display.
A hyena with hellhound traits was seen chackling about as he walked across the room.
A toxic waste beast was seen having a radioactive jacuzzi.
A Sythe-handed maniac in a reaper-like costume was seen cutting up a ham.
An Alien of Gantu's race seen crushing random skulls.
A Large Monkey alien with machinical hands was seen cheating at darts with his grabbling hook fingers and hitting the target every time.
An overcoat wearing raptorial creature was seen eating a raw steak.
The Blind rat arrived as he was still proding at nothing, coming in under the saloon doors.
The Fish Alien had stabbed the Larger alien in the hand after going fast enough, as the large alien screamed!
Fish Alien: "...... Pay up, sucker."
A weaker alien was forced to pay, to only then be punched.
Stinkweed Alien: "..... Hey boss.... Look. (Points to the Blind Rat). It's the blind junkrat again."
Fish Alien: ".... Tch. So it is."
The Blind rat was still proding at nothing, as a tenticled alien tripped the blind rat and made him lose his garbage payload, with the multiplying posters in it, as the patrons, minus the scary serious ones or those that just don't care, started to laugh!
Apawn the bag getting caught in the cealing fan, it began to spin around as it's contents and the now many posters are flying around the room, surprising the bounty hunters.....
One such poster landed where the Cad Bane Scroop-alien was, who reflexfully caught it as he started to growl.
The Angry Awaken Scroop Bounty Hunter, got up, getting the Bounty Hunters attention.
The Fish Alien: ".... Aw shit..... Scoundrel Taint's awake."
Scoundrel Taint: "..... (Cad Bane voice) Would someone like to tell me who's the jackass that made a mess of the place?"
The Patrons quickly pointed to the blind rat, who was trying to get up.
Scoundrel Taint hissed softly, as he got up to the blind rat, and picked him up.
Scoundrel Taint: "Do I need to report your incompidence to your superior, junk rat? Or would you rather start cleaning up (Holds up the poster) THIS mess you made, and-..... Wait a minute.... (Drops the Janitor to look at the poster)..... What have we here?"
The Other Patrons began looking up the posters as well.
Steam Punk Crab: "..... Is that, an AUUian?"
Lazer-Tooth Walrus: "The hell's a, "Luck-a-Kury"."
Biker Chick Horse: "Luck potion?"
Redneck Alien: "(Southern-tone) EEEEE-Turn-NAAAAAAAL Cooooom-Peeeeeee-Duuuuuuunce. That's a weird way to spell money."
Hog Alien: "That's because there is no money around this bitch. What good would hunting down an AUUian cunt and risking HA ire, if there is no money promised!? No wonder it was in the junk rat's bag! It's a worthless bounty offer!"
Scoundrel: "(Just as the Bounty Hunters were about to ditch the posters) Hold up, gentlemen...... And various ladies. We don't nessersarly need to do this for the money directly. Nor do we nessersarly need that potion for ourselves. We can take the potion to a sciencetist in Muggshotra, mass-produce it, and sell it on the Villain Market for millions! The Potion itself, WILL GET US OUR MONEY?! (The Patrons began to like the idea) And frankly, it seems to be centered around this woman. Now, the reason for why the poster's original placer has it out on the AUUian, is unknown.... But who are we Bounty Hunters to really question anything? Fact of the matter is, she could turn out to be as sweet as Snow White, and it would not save her from the WEALTH the potion is worth! Bounty Hunters?! We have a FORTUNE TO MAKE?!"
The Bounty Hunters shouted in cheer as they ran out of the bar, leaving the blinded rat confused and trying to prod at things again.
A viewing portal was seen as Coffee watched....
Coffee: "Well, at least I got their attendence on virtue that they would waste the potion's potaintional to sell it off.... But then again, they were bounty hunters, who are netourious diggers for gold and wealth, so am I honestly so surprised? Which means I only need to share enough to make their silly greed-motivated plan work, and that I don't have to share the potion TOO greatly."
Villain League Castle
Teen Mang: Uhhh... Daddy? Remember that lizard guy who attacked the lair a while ago?
Cobra: That Toffee look-alike, yes. Why bring him back into the realm of relivency?
Teen Mang: Heeee... Kinda managed to bring his offer out as a bounty. (Shows the flier)...
Cobra:... A reward for a good luck potion that... Makes you eternally competent?... Well, as much merit it has, I still say no.
Teen Mang: You sure? A potion to make us better villains sounds like something stupid to pass up.
Cobra: No, TM! That would involve messing about with an AUUniversal, and that is a risk proven TOO great to consider. Remember what almost happened to you last time we tried to deal with them? (Things tried to flashback, but Teen Mang shooed it away)
Teen Mang: Offscreen things don't matter. A potion that offers competence? How can you say no to that?!
Cobra: Just did. And I'll say it again...
Teen Mang: Okay okay! (Throws the poster away) Sorry for bringing it back up! Sheesh.
Cobra: "Good. Now, let us never talk about this, again."
Junjie: (Comes in) Did I hear something about a competence potion? Because if you want MY opinion-
Cobra: YOUR OPINION DOESN'T MATTER, P*** OFF!! (Blasts Junjie with his magic)... Blasted fox! Point is, Teen Mang, only crazed money seekers will tamper with that kinda offer. Now dispose of that poster.
Teen Mang sighed dejected and tossed the poster into a Garbage Can, that suddenly produced teeth and ate the poster madly!
Scougre Imperial Base
Meng Tao: SIR! I have urgent news!
Dark Dragon: It better be GOOD urgent news!
Meng Tao: Well... It's an offer, and one not exactly easy to say yes to. (Shows him the flier)
Dark Dragon:... An AUU resident... Is living here... And a capture is offering... A competence potion?... Tch, as if to assume we aren't compident?! Well, you weren't wrong, this isn't easy to accept. Anything involving that dimension isn't good for any of the three villain teams, not even us alone. But, then again.... A potion that makes you more successful?...
Krekka: Sir, are you sure it's a good idea?
Dark Dragon: F*** no, this is a terrible idea! It's never a good idea when the AUU is involved.
Nidhiki: Well, we are the least active villain team. We hardly do ANY major villain work.
Dark Dragon: "I mean, in one hand, it would be nice to use this on the select number of idiots we have here..... I'M LOOKING AT YOU, KREKKA?!"
Krekka: "(Mimicing Abridged Nappa mimicing Fonzy) Ehhhh."
Dark Dragon: "But in the other, THAT WOULD MEAN RISKING A POTSHOT FROM THOSE HA HEROES?! AND I AM STILL FEELING THAT GOLDEN SWORD FROM THAT TIME WE TRIED TO ESTABLISHED A CONGURED WORLD THERE?!"
Mercurymon: "In all fairness, my lord, it's highly unlikely the HA would even acknowledge what happens here."
Dark Dragon: "Well I bet that Professor Eagle-Beak guy thought the same thing, and look what happened?! He lost out having a cool Space Station Lair based around a Death Star wanna-be weapon!"
Meng Tao: "I take it, this is a diffenet no?"
Dark Dragon: "ALCHOURSE IT'S A NO?! I rather not risk another Sword-Ceptime on my ass?! (Breaths fire selectively at the flier as Meng Tao freaked out).... Only crazy greed-mongers would try to opt for that bounty! Meng Tao, you are to never bring this up again. Besides, the Lougers are bound to already be around the girl anyway, so it's too late for anything sneaky."
Meng Tao: "Understandable, if mainly because I don't want to risk knowing what dumplings go through! (Bows nerviously as he moved backwords)."
Coffee was secretly watching this in the shadows.
Coffee: "..... Oh hum. Why am I not surprised?"
Team Nefarious Station.
Lawrence: Sir, Scratch and Grounder are here with something to show you.
Nefarious: Those two kunckle-heads? Ughhh, what is it this time?
Scratch and Grounder bust in.
Scratch: Dad, Dad, look what we found!
Grounder: Hey, I thought we said I was gonna tell him!
Scratch: Uh-uh! We said I was gonna tell him!
Nefarious: Boys! You can BOTH tell me! Now what is it?!
Grounder: Here you go, Dad. (Shows him a flier)
Nefarious: Alright, let's see..... Alternate United Universe, mm-hmm... Wanted, okay... A competence potion is the bounty? What use would I have for that?
Scratch: Well, it's not like we aren't competent already.
Nefarious: Yeah, plus, we don't want to get involved with that dimension again. Not after our bad run-in with Oranos during the time Croker was still encharged. (Shudders), The many ways he had that electric spear probed me. AND I THOUGHT THE PROBIANS WERE BAD WITH THAT SHIT?!
Grounder: So, that's a no?
Nefarious: It's a HUGE no!
Lawrence: Sir, if I might make a suggestion, maybe if we acquired this competence potion, we could have our top scientists find a way to reverse its polarity and use it on the High Council to make them give up the Key to the Boundary Generator to us.
Nefarious: Well, I do want the Key to the Boundary Generator... But it's still too risky! Even the promise of THAT, isn't enough! We have to be greed mongering bounty hunters to do it, and even THEN, THAT'S a strech!
Bellwether: "Oh for Peter Rabbit's sake, was Croker's mistreatment of you THAT bad?"
Nefarious: "(Turns to his ass) WHY DON'T YOU ASK MY ASS?! (Pulls down the butt compartment as the camera was on Bellwether, who sheep screamed as Scratch chicken screamed as Grounder used a stock cartoon scream!)"
Lawerwence: "(Casually covers his eyes) Okay, sir. You made your point. We'll pass on this."
Nerfarious' voice: "(As the butt compartment was being placed back in) GLAD I made a point about this! On top of that, we are to NEVER bring this shit up again!"
As Scracth and Grounder tossed the paper into a recycling center, Coffee was secretly watching and grew beyond disappointed and annoyed.
Coffee: "Ughhh.... It's offictal. These villain teams are TOO useless! I'll just have to make due with the mangey bounty hunters instead."
Chapter 4: Saetha's Capture/Rescued by Unexpected Friends
Dragon Realms New York.
Saetha took the misfits back here.
Saetha: "Well, I hope you guys have everything you needed to know."
Lord Shen: "Well yes, Miss Saetha. I have reason to believe that you are in good hands all along."
Saetha: "Awww, thanks. Anewas would totally appresiate that-"
Suddenly got snagged by the Hellhound Hyena!
Hellhound Hyena: "SURPRISE?!"
Icky: "HELLYENA?!"
Hellyena teleported in brimstone as he reappeared far enough from the Lougers and made a run for it with the Lougers giving chase, as suddenly, the Steampunk Crab and the Biker Horse showed up!
Gazelle: "It's Shebiskit and Steam Crab!"
Pang Bing: "I am confused?! I thought they were only mere bounty hunters?! What do they want with Saetha!?"
Icky: "WELL LET'S REMEMBER THAT WE EARLIER BEFORE TALKED ABOUT COFFEE BOY?! WHO WANTS TO BET THAT THEY WERE PUT UP TO THIS?!"
The Lougers got more determined as they persued Hellyena!
Steam Crab: "I GOT AN IDEA, BISKIT?! GET ON TOP OF ME?! (Shebiskit got on top of Steam Crab, who laughed her into the sky like a spring platform!) RIDE LIKE THE WIND, SHEBISKIT?!"
Shebiskit pulled out her crowbars as she double flipped and torpedoed torwords the Lougers, which Pang Bing summoned a defenseive sheild that Shebiskit comedically smacked into!
Shebiskit: "..... That, felt like, it was meant to go better. (Slides down and gets caught by Steam Crab)."
The Group resumed after Hellyena, but just when they about have him, the other Bounty Hunters appeared!
Lord Shen: "Scroundrel Taint?! Comrade Grizzly?! The Outer-rim gang?! Lord Asian Dra-Goon, The Bounty Triplets, Repile Master, Missus Aracinis, Knigeman, Arabiar, The Toxic Wastemen, Sytheco, Groonus, Machankey, Raptorius, War-Lazor-us, Billy Blib, Spacehog, and we already established (Points to Hellyena, Shebiskit and Steam Crab) YOU THREE?! You heitens are ALL UNDER ARREST FOR ATTEMPTING TO KIDNAP AN AUUIAN?! YOUR ASSES ARE SO GONNA GET SHELL LOUDGED?!"
Scoundrel: "..... You can try."
The Lougers and the Bounty Hunters began to fight, as Xandy was suddenly taken by a mysterious figure not Coffee this time.
After an extended fight with the Bounty Hunters, they finally overwealmed the group, as the blissly too-joyful Saetha was finally cornered.
Saetha: "(Excited giggle)! This is the most fun I had in AGES!"
Silence.....
Scoundrel: "..... What is WRONG with you, child?! Why aren't you intimidated?! We are some of the firecest bounty hunters from Mugshotra you ever seen, and yet, YOU'RE NOT EVEN REMOTELY TERRAFIVED?!"
Saetha: "Well, originally I thought this universe was going to be too boring because how the Lougers overtly overpower baddies,"
Icky's voice: "OH CAN YOU NOT GO MSM ON US, LADY?!"
Saetha: "I'm sure your imaginary 'producers' aren't the only ones who think that, get over yourselves. But then you guys showed up and proved that the Lougers still have their work cut out! And I thought meeting Anewas was the highlight of my day!"
Scoundrel: "..... I, didn't planned on this girl being, an idiot."
Comrade Grizzly: "But at least useful idiot to make confidence potion for us to make money off of with her luck."
Saetha: "I-...... Wait what?"
Scoundrel: "..... Well.... (Brings out the wanted poster).... It's what it said on the bounty poster."
Saetha: ".... (Throws an epic giggle fit)!"
Scoundrel: "...... WHAT IN THE MOONS OF TONAMOON IS WITH THAT LAUGHTER?!"
Saetha: "(Laughs dies down), Everyone, I, I, I hate to be the barer of bad news, but, that stuff about my people being legendaringly lucky.... It's kinda, a myth."
Scoundrel: ".... But isn't your kind considered a mythical race?"
Saetha: "Fair point, but that doesn't mean everything SAID about a mythical race is true! Not every myth in a mythical reality is true. That'd be silly. Luckiries are no more luckier then everyone else! In fact, we have our own fair share of people with the worse luck ever in their lives! Why, in fact, if that good luck thing was true, would you guys REALLY be able to capture me then? The Lougers should've had a WAAAAAAAAAAY easier time beating you guys by now."
Silence.....
Scroundrel: "..... (Growls)?! WE'VE BEEN SCAMMED?! (Rips the poster apart, as it was seen that Coffee was about to enter in and congradulate the Bounty Hunters, but discovered that the luck ability is grossly inaccreate as he quickly retreated back to the shadows in seeing the Bounty Hunters' anger) IF I EVER GET MY CLAWS ON THE SHAM ARTIST WHO MADE THIS POSTER, I AM GOING TO-"
Saetha: "Hey no need to be upset, big guy. There's always the brightside of life. I mean, I hope it's not too personal, but, don't any of you have your own dreams?"
The Bounty Hunters began to mutter, as Scoundrel began to approuch Saetha angerly, pulling out a lazer knife.......
Scoundrel: "..... (Sighs)....... I did, had a dream. (Tossed the lazer knife at the direction of a near-by accordian player, who fearfully began to play)...."
Anewas: "(Shows up in aiming to Save Saethas, but saw that she took care of herself)..... Wow.... I know she brings out the best in people, but, THAT, was not expected. I can see where the myth comes from. It's actselly more like that Luckiries are so happy and carefree, they bring out the best in people.... I do NOT understand how that got mistranslated to that Luckiries have the power of good luck!"
Iago: "It's the AUU. They're proned to fuck-ups like that. It's why the VA was a thing!"
Icky: "Well not since Twilight and those non-darkspawnian demons have I seen usually evil looking folks talk about their feelings."
???: "OH, BOTHER!?"
Saetha suddenly disappears as reappears next to a very pissed off Coffee standing on a dimentional portal!
Coffee: "IF YOU WANT SOMETHING DONE RIGHT, DO IT YOURSELF?! VILLAINS IN THIS DIMENTION REALLY ARE SO, LUDICROUSLY STUPID?!"
Saetha: "Oh, so you must be Coffee.... Oh wait, forgot, I'm actselly kinda terrafived of you.... EEEEK?! (Coffee grabbed her)!"
Coffee: "My hopes for getting your APPEARENTLY MYTHICAL LUCK MAY HAD BEEN DASHED LIKE TRYING TO GET THE VILLAIN TEAMS INVOLVED, BUT THAT DOESN'T MEAN I CAN'T GET ANY COMBINSATION ON HOW MISERABLE THIS ATTEMPT AT REVENGE AGAINST YOUR BOYFRIEND BY THE NEXT BEST THING?! I'LL, TAKE YOU INTO THE REALM OF MAGIC, AND, I DON'T KNOW, TURN YOU SO MONSTERIOUSLY HIDIOUS THAT NOT EVEN ANEWAS CAN LOVE THAT FACE?! THIS, I SWEAR?! (Goes into the portal with Saetha before anyone can react!)"
Fu-Xi: "..... (Looks at a shocked Anewas)...... Believe us now that Coffee really is that much of a vengeful scrub?"
Anewas: You know I fought Norbros scarier than you, so don't bust my balls! That being said, I think I can say that I have DIFFENTLY underestimated Coffee's maturity here!
Comrade Grizzly: I know this may be bad time to ask, but.... How can we help?
Gazelle: "I'd question on how you guys suddenly turned into better people, but I assume that's just Saetha bringing out your better nature and just roll with it. That being said, depends, do any of you have inter-dimentional capabilities, or know someone who does?"
Scroundrel: ".... I am working on a bounty for a Buzzoron Mad Genius that keeps an interdimentional Zoo by the name of Dr. Colleczor."
Icky: "Oh what a cowinkydink, we're after that asshole too! That jerk commited some acts of stealing rare creatures from the AUU!"
Scroundrel: "Well, Good thing I know exactly where he is residing."
Icky: "Wait, just realised something.... WHERE THE F*** DID XANDY GO?!"
Colleczor's Zoo
Dr. Colleczor: (A giant bird man similar to this, but has short black horns, monstrous features, and parrot, buzzard, vulture, and condor features was observing them) RAAAAAAWWWK!!! What a remarkable specimen of Hydrocabiais halicolus at that.
Xandy: I AIN'T NO SPECIMEN, YOU GROOKIAN/XULTUREMAN RIPOFF!! YOU'VE BEEN ABDUCTING CREATURES ILLEGALLY FROM OTHER DIMENSIONS!!!
Dr. Colleczor: Well, it's what I've been doing since before it was made illegal. It's my livelihood. RAAAWWWKKKK!!!!
Xandy: LET ME GO, OR I'LL GNAW OUT AND KICK YOUR ASS!!!!
Dr. Colleczor: (As the two familiar silhouettes from before watched in secret) Oh, I would, but it's just... I've never even seen a Hydrocabiais up close. So adorable. RAAWWWKKK!!!
Xandy: Don't you f*****g try and pet me. You're not going to sway- (He pulled out a poulkey leg) -yyyyOH MY GODS, YOU SHOULDN'T HAVE!!!! GIMMEGIMMEGIMME!!!!
Dr. Colleczor: Only if you're a good girl.
Xandy: YEAYEAYEA!!!!!
Dr. Colleczor: Oh, you need to be ready. First, if you promise you won't tell anyone about this place, I'll give you the best treatment ever. Otherwise, I'm afraid I must keep you here... FOREVER! (Chuckles)
???: MEGA NARWHAL BLAST!!! (Pods of magical narwhals came out and wrecked the zoo) GLITTERING WHALE BATTERING RAM!! (A large winged whale freed the caged creatures) MYSTIC SUCK PORTAL!!! (Wormholes sent the captured creatures back to their dimension)
Xandy: HOT SPICEBERRIES!!!!
Dr. Colleczor: NOOOOO!!!! RAAAAWWWK!!! MY ZOO!!! MY WORK IS RUIIINED!!!!... WHO DID THIS?!? I'LL RIP YOUR INNARDS OUT!!!
(This music played as the culprits were Star Butterfly and Marco Diaz)
Star: UGGGGGGGGHHH, THAT MONSTER HERMIT SAID MOM WAS HERE!!!!
Marco: I told you not to trust anyone, Star.
Dr. Colleczor: YOU!!! THE EX-PRINCESS STAR BUTTERFLY!!!... And... Princess Marco Turdina?
Marco: (Sighs) Not in the mood for that alter ego right now. Right now, we were told this was a recovery shelter, but it's... AN INTERDIMENSIONAL ZOO?!? This doesn't seem right at all.
Xandy: IT'S NOT!!!! THIS BIG OL' BIRD'S TRYING TO BRIBE ME WITH FOOD!!!
Star: You sir have to answer to us for this con!
Dr. Colleczor: (Lands in front of them towering them)... Very well. But I don't play fair. (The music climaxes epically as the two fought Dr. Colleczor and defeated him).... (Dazed) That, being said, I never said, I was much for fighting. (Faints).
Marco: BOOYAH!!
The heroes and the Bounty Hunters arrived!
Gazelle: "OKAY, COLLECZOR, WE- (Saw that he was already defeated)...... Well THAT didn't last long."
The group saw Star and Marco.....
Anewas:... IT'S STAR AND MARCO!!!!
Icky: Well isn't that convenient that we'd bump into you two?
Marco: "..... Okay, this got awkword..... Fast."
French Narrator: An Awkward Explanation Later...
Star: So, you guys were looking for that bird guy, huh? We were too because one of his SPIES told us he ran a recovery shelter and mom was there.
Marco: I KNEW it was a scam the moment he sounded suspicious. Star can be too gullible for her own good.
Star: He was a monster, Marco.
Marco: Yeah, but monsters aren't always good, you know. Toffee comes to mind.
Anewas: Guys, I'm glad you're here. My girlfriend has been taken into the Realm of Magic. We were looking for a way to get there.
Star: The... Realm of Magic? (Shivers) Bad memories of that place.
Xandy: Miss Butterfly, this person is from my dimension. I believe she's been captured by a sibling of someone you might know as the aforementioned Toffee.
Star/Marco: WHAAAAAAAAAAAAAAAT?!?
Anewas: Yeah, I-
Star/Marco: TOFFEE HAS A BROTHER?!?
Icky: "Yeah, he has a brother!"
Marco: ".... Huh. Kinda thought he was an only child."
Star: So did I. How have I not heard of this? Surely SOMEBODY had to know. Mom, The Commission, Ludo, Maybe Dennis, Buff Frog, Deer Beard, any other monsters, SOMEBODY!!
Anewas: Well... His brother used to be... My best friend.
Star/Marco: WHAAAAA-
Marco: OKAY, WHOHOHOA, WAIT, HOLD ON, Who are you? Cause, I think I would've remembered a dragon lion!
Anewas:... (Sighs) I'm Anewas, formerly part of the Monster Army that Toffee and his brother were part of when they killed your grandmother.
Star: Uh, whose grandmother- OHHHHH, PSSSH, DUH!! MINE!!! BRAIN, WHAT'S UP WITH YOU, HUH?! (Laughs until she slowly stops)...... (Sighs)... Well, with all that being said, how can we trust you?
Anewas: Well, for one thing, I'm not trying to kill you. Does that count?
Marco: "..... That's, actselly the closest to a good arguement I can see. A rather blunt arguement, but, still a good one."
Star: Yeah, you're clearly not the one to properly lie. You sold me.
Marco: Well then what's his beef with you and your girlfriend?...
French Narrator: Another Long Explanation Later...
Star:... That must've been a painful sacrifice.
Anewas: "To the point of bitterness."
Icky: "So, we should, probuly get to work on getting at to the magic realms, right?"
Scroundrel: "Oh that much is easy. He's wearing the dimentional portal on his wrist. (Star takes it off)."
Spongebob/Patrick: "Magic Realm, here we come!"
Star sets the co-ordenates to the realm of magic as the portal to it opens up!
The Group charged into it!
Spongebob/Patrick: "REALM OF MAGIC?! HERE WE COME?!"
The entire group entered it!
Chapter 5: Finding Saetha/Final Battle With Coffee
Realm of Magic
The group arrived to the Realm of Magic.
They were awe-strucked by it's beauty......
Spongebob: "..... Pretty."
Icky: "I feel like we'd just entered a febreze commercal."
Iago: "Or Mr. Clean's wetdream."
Marco: "Oh can you guys NOT make this gross?!"
Star: You guys are lucky we showed up to help you out.
Marco: They already know that, Star.
Icky: Look, Mister Diaz, you should know Star Butterfly enough to get used her adorkable nature.
Anewas: Well let's go.
Private: (Was mesmerized by the creatures until Skipper snapped him out of it) WHA, WHERE AM I?! What happened?!
Star: Oh, dip, how could I forget?! Guys, there may be a lot of things you need to know. The Realm of Magic, deceptively, and surprisingly, is a very dangerous place. This place may seem like a beautiful paradise at first, but... You'll end up entranced and in so much bliss, you'll-
Icky: Forget who you are and just be a naïve and extremely-curious wreck?
Star:...... Yeah.... How did you know that?
Icky: Your brain will be more healthy if we never told you. Just know that we're no stranger to cursed paradises before, Starry.
Fu-Xi: Not to mention that stories about magical realms like this being connected to greater sources of magic all over the multiverse get around.
Trixie: "Wait, even to our Universes? So, Equestria isn't it's primary shorce of magic?"
Fu-Xi: "Oh be assured, it still is. Why, Equestria is why this realm is able to distribute magic into our dimention. So don't worry, your high horses is secured."
Icky: "Also, be honest, those magic pools had to get their shorce from somewhere!"
Kowalski: Besides, magic is just molecules given a charge of reality-warping quantum energy called mana. These magic realms are rich in them... In fact, it's entirety what they're made of.
Marco: Ugh, ya know what, how's about we split up? You guys go find Saetha! We suspect Coffee's too smart to just, mindlessly babysit her here, and is likely after Mewni, so.... We and your Mugshotran pals will go to Mewni and deal with him!
Frank: Aren't you coming with us, Star?
Star: To heck with that. I don't wanna be here longer then I HAVE to! When I saw my mom here, she was butt-naked. Good for her that the golden showers here cured her black magic hands- (Some of the Lodgers scoffed and laughed)... What's so funny?
Squidward: 'Golden showers'? You're telling me your mother showered in-
Icky: Uh, Squid, look what you're standing in. (They were standing in golden water)... Magic takes the form of golden water here.... BUT IT WAS STILL HILARIOUS!!! (Laughs)
Anewas: GUYS, CAN YOU STOP ACTING LIKE CHILDREN AND SAVE SAETHA ALREADY?!?
Sam: Relax. It's not like it'll get to many of us.
Skipper: No magical realm will make me forget who I am. Ironclad constitution up in here.
One second in the realm later after Star's group left...
Skipper: (Entranced with the other penguins chasing a magical flying fish) FIIISH!
SpongeBob: (Trying to catch one of the jellyfish creatures with a small net singing the Jellyfishing song in SpongeBob's Last Stand)
Sandy: (Blows bubbles in the golden magic water)
Merlin: (One of the only ones still self-aware)... Well, I can see why it's easy to get lost to this dimension. Thank goodness for my occlumency training.
???: That's how it works here, I'm afraid. (A giant graceful angelic creature with butterfly, human, mantis shrimp, mantis, jellyfish, coral, chameleon, and dragon details that towered even Insectasaurus by a dozen meters was seen)
Merlin: "JEHOSEPHAT!!"
Mewni
Star: (As they watched through her All-Seeing Eye spell)... That's the coolest thing I've seen so far.
Anewas: Okay, that's new. I didn't know the Realm of Magic had something like THIS!
Realm of Magic
Brandy: That's the coolest thing I've seen so far!
Icky: That's new. I didn't know the Realm of Magic had something like THIS!
???: I presume you're here to retrieve the ones called Saetha and Coffee?
Sandy: (Gurgling in the magic water) Who's thaaaaaat?
Patrick: I don't know, but it's the coolest jellyfish I've ever seen... Whatever that is.
Merlin: Ugh! I need to teach the lot of you occlumency one of these days. I think this is the preeminent guardian of the Magic Realms.
Guardian: I am. Your friends' non-mana composition and inadequate minds cannot process heavenly scenery like this. Not without the occlumency you possess. This dimension is one of the dimensions that acclimatize any otherdimensional visitors. The only way to do that here is to remove their identities, and decrease their perception and awareness. If not, then staying here too long will turn you into a 'quantum freak', which is what mortals call thaumadytes, or beings of pure magic, like me. You all cannot exist here unless you conform to the dimension's physical laws.
Icky: What's the alien guy talking about?
Gilda: Who knows? Who cares? I WANT to live here, FOREVER!
Merlin: Well, Guardian-
Guardian: Actually, I am known by many names. But you may refer to me as my Mewnian name. Thaumorpheus.
Merlin: Very well-
Max: (Squeeze laughs) SILLIEST NAME EVER!!!
Merlin: (Sighs) I'll just call you TM. That should make it less laughable. Do you know where Coffee is?
Thaumorpheus: He resides at Toffee's Crater.
Fidget: Ohh I LOVE toffee!
Thaumorpheus: The site where the recent Darkening began. (Shows a magic view of the described events starting when Toffee himself crashed after the events of the SVTFOE Season 1 Finale)... When a saurian figure crashed and fought for his sanity in this realm. The willpower this stranger wielded was unthinkable. He kept fighting until he turned into magic... But it didn't end there. (Toffee reformed himself as his melting area turned greenish-black and he reformed his body and started tainting the magic all over the realm)... He tainted the magic of the realm. He cut off magical access to Mewni and it's neighboring pocket dimensions, causing what they called 'The Fritz'. Then two newcomers came. The one referred to as 'Glossaryk' and the one called 'Star Butterfly'. Glossaryk made peace and a decent living, but Star Butterfly couldn't find any remaining untainted magic without drowning. Fortunately Glossaryk retrieved her unconscious body and the Firstborn was born along with the Rebirthing of the Realm. This world has been like this since.
Merlin:... Nice expositional story, didn't need it to tell me that's where Toffee crashed when he got here. (Suddenly blackish-green goo oozed into the golden water)
Thaumorpheus:... It has begun.
Iago: What has begun?
Merlin: That's actually a relevant reaction. What's happening?
Thaumorpheus: Coffee has detected your presence. He's going to poison anything within this sector to destroy you. (Storms occurred)... You must hurry. I will teleport you all as far as I can. Then you're on your own.
Merlin: Your assistance is appreciated, o' mighty guardian.
Icky: "Kiss-ass."
The Guardian's Place.
The Group were being treated in a speical pool.
Thaum: "..... That should give your friends an ability to resist the realm's charms."
Sandy: Sheeeyoo! Felt like I was in the WEIRDEST wet dream.
Xandy: Me too!
Merlin: "...... Yes. Now, may we continue our discussion?"
Thaumorpheus: Well, your theories on them being in different areas is completely accurate. Coffee isn't in Toffee Crater. But Saetha is. And the black goo is surrounding the area quickly. Saetha is unfortunately under the realm's charms and Coffee said that it was a surprise.
Ralth: AND SHE FELL FOR IT?!?
Brandy: That's what this realm does to you, dumbass. It makes you just as stupid as Whiskers.
Mr. Whiskers: Wow, you're such a-
Brandy: Bitch? I am. Deal with it.
Sandy: Well then where's Coffee?
Thaumorpheus: Likely went back to Mewni in figuring that he has no other use for her.
Mewni
Marco:... Then we made a good call here staying around!
Realm of Magic
Thaumorpheus: You will have to find Saetha before you can find Coffee.
Merlin: "Simple enough. Our thanks, Magic Realm Guardian."
The heroes proceeded to leave.
Mewni.
Coffee arrived in the outskirts of the capital city.
Coffee: "(Sighs), I, was hoping to come here with a new army of willing conquesters to fell the Mewni imperialistic reign, but then it turned out that the best villain teams for the job, turned out phathic..... This was why Toffee was more the planner...... Oh well, may as well rough it. (Readies the christail orb) I'll have to improvise and do things on my own, as per usual.
???: "Hey, Coff?!"
Star's group arrived.
Coffee:..... You people are more of a nuisance than you're worth.
Star: You heard Marco, Coff, SHOW'S OVER!!
Coffee: (Chuckles) At last, the infamous Star the Underestimated, and her.... Human friend, thing.
Marco: THE NAME'S MARCO, YOU TALKING PILE OF SCALES, STAR JUST SAID IT!!!
Coffee: Whatever. I've been waiting for this for a long time. To meet you face-to-face! So I can end you and avenge my brother and family!
Star: Yeeeeaaaaaahhhh, prepare to have this end with you in tears, Coffs! NARWHAL BLAST!!! (Fires her trademark spell from her hands only for Coffee to stop them and make them disappear with his crystal)
Marco: HAIYA- (Karate chops at him only for him to grab his arm and bend it painfully) GAAHAHAHAHAHA, WHAT POSSESSED ME TO ATTACK WITH THE MONSTER ARM, I DON'T WANT ANOTHER INCIDENT LIKE THAT, AAAAAAHAHAHAAAHAAAAOOOWWW!!!... Yup! You're Toff's bro alright! (Coffee kicks him away)
Coffee: (He magically immobilizes the bounty hunters before they can get him)... Honestly, it's not that impressive that you defeated my brother, Star Butterfly.
Star: CUPCAKE BLAST!!! (Coffee redirected the sharp cupcake projectiles all over the place as the bounty hunters and Marco avoided them comically) DAGGER CRYSTAL HEART ATTACK!!! (Coffee took them but only regenerated from them)
Coffee: Your impulsiveness only allowed Toffee to win. He accomplished everything he sought. The fact you "Defeated" him at all, was nothing short of fate being a fickle bitch, and that Toff always did has a problem of entertaining his hubris at the worse possable moments. Had fate favored him alittle while longer, PROPER justice for monsters would've had been done! And you mews, would've been nothing but another memory.
Star: WARNICORN STAMPEDE!!!! (Coffee magically froze the Warnicorns and teleported them away)
Coffee: Be honest. Without your little pet hairless ape and a few defectors of monster kind, nevermind your barely useable powers..... You're nothing.
Star: HONEYBEE TORNADO SWARM!!! (Coffee just summoned a giant garden of flowers that redirected the bees)
Coffee: Correction, you are at least SOMETHING..... A princess built from a web of lies. Made ignorent to the sins of her race.
Star: SUPERSONIC LEECH BOMB!!! (Glowing leeches exploded as Coffee regenerated)
Coffee: A dumb predictable child, that only managed to defeat a brillient icon of monster kind, because he got drunked on victory.
Star: GLITTERING WHALE BATTERING RAM!! (Coffee teleported out of the way of the winged whale that only plowed through the immoblised bounty hunters like bowling pins)
Scoundrel: D'OW, GOD DAMN IT, GIRL?! CAREFUL WITH THAT FRIENDLY FIRE?!
Star: SORRY!!
Coffee: But, you're worse then that, aren't you? You're a joke!
Star: SPIDER WITH A TOPHAT BLAST!!!! (A spider with a tophat came out with a hat that popped out a minigun)
Spider-With-A-Tophat: WAAAARCRYYYYYYYYYYYY!!!! (Coffee took the blasts and regenerated while stomping him as he vanished)
Star: Yeesh, merciless much?
Coffee: Perhaps, but at least I'm not what YOU are: A failure!
Star: JELLYBEAN HALLUCINATION MIST!!! (Coffee cast a magic bubble helmet protecting him from the mist popping it with the crystal after he gets out)
Coffee: An insignificant little girl who I only pity, though not because of genuine feelings of concern, but because you're yet another byproduct of lies created by your disgusting imperialistic race?!
Star: THERMONUCLEAR BUTTERFLY BLA- (He magically freezes Star)
Coffee: Okay, seriously, will you STOP THAT?! Nothing you're doing will garrentie any victory. And besides, this tecnecally wasn't your fight to begin with. This was meant, to be between me and Anewas, as he will pay for his mistakes!
Anewas: GET THE CRYSTAL, IT'S THE SOURCE OF HIS MAGIC POWER!! (Coffee froze him in place)
Marco: (Manages to trip Coffee and tussle for the crystal, which cracked, slightly freeing Star and everyone else)
Coffee: GRRRRGH!!! (He grabs him) Any of you touch me or do anything else, he dies!
Anewas: Coffee, you can't do this!
Coffee: Well, how, did you think, how I FELT, WHEN YOU CAUSED MONSTER KIND TO FORSAKEN ME?! You ditched me! Left my family unavenged! After everything they did to us, and after everything I did for you, you chose THEM over ME!
Anewas: I HAD TO!! After what happened to Toffee, I didn't want you to end up in a fate worse than losing a finger and unable to grow it back.
Coffee: And at what cost? You walked out on those who depended on you!
Star: (As they argued) Oh, guys, wherever you are, you'd better hurry!
Realm of Magic
The Lougers arrived and found Saetha dangling on a cliff.
Saetha: So cool. A new color!
Fu-Xi: SAETHA, FOCUS!! WE NEED TO- (A collapsing wall knocks Saetha out and sinking into the tainted magic water) OH FOR YINGLONG'S SAKE!! (Dives into the goo with Viper)
Sir Hiss: VIPER!!
Merlin: We have to go now!
Sir Hiss: NOT WITHOUT VIPER AND SAETHA!!.... And, maybe Fu-Xi, but him I'm confident would handle this!
Soothsayer: They'll be alright.
Sir Hiss: ARE YOU SURE?!
Soothsayer: Have I ever been wrong?
Sir Hiss:... Even with this reassurence in mind, I, AM, NOT LEAVING?!
Icky: ".... OKAY FINE, WE'RE STAYING?! BUT ANY AVOIDABLE DEATH'S ON YOUR ASS, HISSY-FITTY?!(They got under a sheild from Merlin as the debre covered them up!)
Mewni
Coffee: Toffee was my hero! He always knew when to get the job done. I looked up to him.
Anewas: Well our leader didn't agree with you. What you two did only makes us the monsters they said we were. What good is petty revenge on long forsaken sins if you just create more in the process? It just leads to a niche being replaced!
Coffee: If being monsters was what it took to get respect, then it was a risk that had to be taken.
Anewas: NO IT WASN'T!! War is not a risk worth taking!!
Coffee: WELL THE MEWIANS DIDN'T HAD SUCH A HESITATION?! ALL WE DID BEFORE WAS NOTHING BUT A FAILURE!!! AND I MUST REMIND YOU THAT MEWNI WAS OURS!! THEY STOLE IT FROM US JUST LIKE STAR'S FAMILY STOLE THE KINGDOM!!! THEY SHOULDN'T EVEN BE HERE!!!
Marco: Well where else were they SUPPOSED to live?
Coffee: THIS ISN'T YOUR CONVERSATION, BRAT?! That being said, THERE WERE PLENTY OF OTHER LIKEWISE DIMENTIONS FOR THEM TO HAVE TAKEN?! ALL I DESIRED TO KNOW, IS WHY?! WHY, TAKE AWAY OUR HOME?! WHAT WAS WRONG WITH SO MANY VASTLY DIFFERENT DIMENTIONS?! WE DID NOTHING TO THEM PRIOR TO THEIR ATTACK, AND WE WERE TREATED AS IF WE WERE AN INFESTATION?! THEY HAVE NO EXCUSE TO DO WHAT THEY HAD DONE?!
Anewas: It doesn't have to be like this! We CAN coexist with Mewmans.
Coffee: THAT'S ILLOGICAL!!!! AND FAR FROM POSSABLE?! WHY SHOULD WE COEXIST WITH THE INVADERS THAT STOLE OUR HOME AND WIPED OUT COUNTLESS MONSTER RACES?!? SO STOP TRYING TO STALL ME, ANEWAS!!
Anewas: I'm not stalling.
Coffee: Yes you are.
Anewas: No I'm not.
Coffee: (Chuckling) Yeeees, you are, you're doing it right now.
Anewas:... So I'm stalling?
Coffee: Yes!
Anewas:... Stalling?
Coffee: STALLING!!
Anewas:... Stalling?
Coffee: STALLIIIIIING!!!!
Marco: (Sighs).... Good grief.
Later...
Anewas:... So... You think... I'm.......... Stalling?
Coffee: OH FOR CORN'S SAKE, AM I REALLY FALLING FOR THIS?!? YOUR FRIENDS CAN'T ESCAPE THE REALM OF MAGIC ANYWAY!! I'VE GONE SO FAR WITH MY REVENGE AND- (Sam shot the crystal out of his hand as Coffee screamed, letting Marco go, as Merlin steps on it and destroys it, freeing the trapped heroes) NO!!
Saetha: Ha! You lost!
Coffee: "..... If Toffee was still here, he'd never let me live this down..... BUT HOW DID YOU ESCAPE?!"
Fu-Xi: "Well admitingly, there were some delays, but we got Saetha out, and our friends were generious enough to stay in a crumbling area as we then escaped thanks to the Magic Realm's guardian."
Coffee: "..... Well, SO MUCH FOR THAT STUPID REALM BEING UNESCAPEABLE?! (Makes a run for it)!"
Gazelle tossed the Uniter Blade at him, of which Coffee tried to dodged, but the Uniter kept on him and eventually smacked him down and pinned him!
Coffee: "GAAAAAAAAAAAAAAAAAAAAAAAAAAAH?!...... I think, I may've just found the shorce of why villains are so phathic in that dimention..... And suddenly, I don't blame them anymore."
Later once more.
Star: (As Coffee was being cuffed)... You know, I'm really embarrassed. I didn't even know Toffee even had a brother.
Marco: You said 'even' twice. That being said.... I for one am glad these guys dealt with him. When we find your mom, she is going to LAUGH!
Icky: Yeah, I doubt that. Didn't he kill her mother AND almost kill her daughter?
Marco: "Hey, it's not like Toff and Coff are serious threats anymore."
Fu-Xi: You're welcome on that we were the ones that painfully declawed this freak. Whatever monster friends you have, I sympathize with.
Star: Thanks. Glad that prejudice is common enough to have sympathizers.
Marco: I can kinda see why. Snakes are hard animals to get used to when you know what they can do. Especially cobras. I don't know who wouldn't freak after seeing the most poisonous snake in the w... Well, Earth, I guess? I don't know, are there cobras on Mewni? Mewni and Earth DO share a lot of the same fauna.
Star: Close, we have Norbros, and they're WAY worse.
Fu-Xi: "Sounds like my kind of snakes."
Coffee: Oh, f*** you, you little brat, your bloodline ruined my family and cost me my best friend!
Marco: Geez, ease off on the language, why don't ya? To repeat what the prehistoric bird said, Toffee tried to drown Star in greenish-black slime, AND killed her grandmother. Your bro also kidnapped me and tried to squish me to bribe Star's wand, and he got me worried for Star's life! And here you are, being an embittered jerk-off about it and tried to cause a new war! Guys like you two are the reason why monsters have such a crappy name in Mewni!
Star: Exactly! This problem is why monsters had to leave Mewni's dimension. I still miss Buff Frog and his babies. I might never get to see them grow up. A peace treaty could've fixed this a long time ago if your brother hadn't killed Grandma. All these years, I thought she was at a grandma farm with other grandmas.
Coffee: (Scoffs) Seriously? THAT'S what your mom told you?
Shenzi: It was better than just telling her too early at the time.
Star: I mean, it's bad enough Mom told me Toffee ruined the signing of a peace treaty, but I had to give up my wand because our bloodline stole the kingdom from Eclipsa, ALL BECAUSE OF SOME STUPID DISCRIMINATION THAT EVEN I CAN'T FIX THAT EASILY WITH THE WAND!! And the worst part, MEWMANS HATE ME FOR IT, TO THE POINT WHERE THEY ROAST US IN THEATER!! Monster and Mewman relations have tore apart my family and my life. My grandma was murdered by your grudge-holding brother, my ancestor Festivia was used because Eclipsa's ex-husband couldn't stand a half-monster daughter, my life as a princess including the stressful issues with my strict mom, the threat of being sent to a reform school that BRAINWASHES CAREFREE PRINCESSES LIKE ME, everything that I was expected to be as a princess? All that shouldn't have been mine in the first place!! It was a waste of my life. I couldn't keep the kingdom because not only was it wrong especially since Meteora was righteously angered by the truth and rampaged Butterfly Castle, but I can't bring myself to be Queen because of all the stress I had to endure BEING a princess, AND the fact that it was hard taking my mom's place. Most of the people in the kingdom couldn't think for themselves. Can you imagine what that's like? (Tearing up) Being constantly told how to dress or go, what to do and what not to do, just being yourself when there's an awful school that wants to turn you into a stock princess just so your family can be happy, everything that made me hate my mom, and wanting to be more like my dad, the fact that monsters adore me because I do whatever I please, just like them, AND THE FACT THAT MONSTERS ARE ALSO RESPONSIBLE FOR MY FAMILY'S SUFFERING AND GENERATIONS OF LIES?! ALL FOR NOTHING?!?...
Coffee: "Well how did you think monsters felt when your people booted us out and-"
Star: (Slaps Coffee in the face)! I GET IT?! WHAT HAPPENED TO YOU GUYS WAS UNFAIR?! BUT HOW WAS IT FAIR FOR YOUR BROTHER TO RUIN AN ATTEMPT TO MAKE UP FOR IT?! MY GRANDMOTHER WAS TRYING TO MAKE PEACE, BUT INSTEAD, HE DID THE OPPISITE OF PEACE?!
Coffee: "Oh sure, blame my brother for Mewni's LACK OF COMMONSENSE OF THINKING THAT YOU PEOPLE DID, CAN BE EASILY FORGIVEN BY A PIECE OF PAPER?!"
Star: Does it REALLY matter if it was smart or not for the Mewnians to think that monsters think no differently then them? You can say that my grandmother underestimated how bad the situation was all you want! You have the right to believe what you want! But at the end of the day.... Toffee, was the one who let discrimination get to him! LIKE IT CLEARLY DID WITH YOU?! THE REAL MONSTER WAS THE IDEA OF EVER HATING ANOTHR FOR, TRIVAL AND STUPID REASONS?! AND YOU?! YOU'RE JUST, ANOTHER BYPRODUCT OF THIS, STUPID HATE?! ANEWAS HERE DID THE RIGHT THING ABANDONING YOU!!!! YOU'RE LIKE, A FAD THAT REFUSED TO FADE AWAY, EVEN IF PEOPLE DIDN'T CARE FOR IT ANYMORE?!! I LOVE MONSTERS BECAUSE I SEE THE BEST IN ME INSIDE THEM!!! BUT MONSTERS LIKE YOU?! I JUST SEE THE WORST IN ME!!! I DON'T EVEN KNOW WHO I AM ANYMORE!!! WHY DID IT HAVE TO BE THIS WAY?! WHYYYYY?!? (Cries hysterically)
Coffee was admitingly, bewildered by this....
Anewas: I REALLY couldn't have said it better. (As he and Marco comfort a crying Star) Coffee, THIS is why I couldn't support you. Star Butterfly is a free spirit that was oppressed all her life just like us, because people often said that she ACTED like a monster. Mewmans don't deserve any of what you and your brother did. What you two did makes you no better than those Mewman naysayers that treat monsters like... Well, monsters. We monsters adore her for starting to see what we are on the inside. But she wasn't enough to save us from millennia of discrimination. Eclipsa seems to be much better at it than Star or her grandmother. Her mother has, or presumably had, a prejudice on monsters and poisoned her impressionable mind with that prejudice. She had time to see on her own that monsters just want what Mewmans want. To live and be respected. You and your brother don't know what's right for both monsters and Mewmans, and because I didn't take a risk not worth taking, you dragged in outer sources to get back at me. All you did was prove that you're just like your brother.
Coffee:.... Duh, TRY TO SEE THINGS IN MY PERSPECTIVE?! THE MEWINIANS SPILLED OUR BLOOD FIRST?! IN OUR EYES, THE FACT THAT THEY THOUGHT THAT THEY CAN BUY FORGIVENESS WITH PAPER, IT'S JUST, INSULTING?! REAL FORGIVENESS WOULD'VE BEEN FORSAKING THE LAND THEY TAKEN AND NEVER COMING BACK?! Brother may had made unpopular moves to you Mewnians, BUT AT LEAST HE UNDERSTOOD THAT SACRIVICES HAD TO BE MADE TO HELP MONSTERS EVERYWHERE?! It, was never meant to be TOO personal, Star, but at least you know how he and I felt about it, WHEN OUR PARENTS AND GRANDPARENTS DIED IN THAT MEWNIAN INVADTION?! Brother was only being the hero monsters wanted, and only giving what your bloodline deserved!
Anewas: Well here's the problems you're not seeing! The Butterflies that lead the invadtion were radically different people from the one that tried to made peace, even if it was deemed poorly in your eyes! Star's Grandmother, even if her idea of trying to establish peace was proven misguided at best, ISN'T what she deserved, nor the rest of the family for that matter. Toff's is no hero, just mistaken to be one because everyone had the wrong idea about the Mewnians because of deep wounds in their souls. He betrayed monster kind by nearly instigating a war against monsters that are regenerative and indestructible, they just weren't able to see that. If it makes you feel ANY better about what happened to your own folks, none of Star's family feel PROUD of the legacy the early Butterflies did! They even stopped celebrating holidays and birthdays named after them! Alot of Mewniains had done alot of soul-scearching ever since your bro's downfall! And ones that don't, are social pariahs now! Even Star here is appalled that Mewmans are looking so hypocritical, because apparently Mewmans ally themselves with people that SHOULD look like monsters, like Pony Head's family, Tom's Underworld, the members of the Magic High Commission, ect, ect, blah-blah-blah! That's what drove her to try and help us in the first place. She tried her best and she was close to succeeding. The Mewman-Monster party brought the two very close. A slime monster that cures a spider bite? Those two are good friends, and he had to leave the Mewni dimension. That alone shows that there's hope. How in Lucitor's Underworld, is NONE OF THAT GOOD ENOUGH FOR YOU?!?
Coffee:.... Because it doesn't bring back the ones that DON'T, get to see this appearent age of better relations. The Mewnian King and Queen of old that are respondsable for Mewdependence Day, have a DEPLORABLE rap-sheet of genoside and causing the extinction of monster spieces! The Yinner-Dinners! The Neets! The Klumagnono! The Skullcauri! The Unicoron! The Ragons, The Sclicks, The Jello-Mellos! And so many that can't be readily counted! All innosent monsters, that saw extinction, BY MEWNIAN HANDS?! To forgive the Mews, is to overlook their genoside?! That was what made the action your Grandmother tried to do, looked so, offensive to brother! It was not just the act of thinking a STUPID PIECE OF PAPER WOULD JUST WASH AWAY OUR PEOPLE'S SUFFERING?! It's the fact that the genoside of so many innosent races that are not among us anymore, can be just, overlooked, like it was nothing? My brother was in danger of being unpopular with people no matter WHAT he had choosen! He desided that it was better to be unpopular with you Mews, because you ALREADY don't look kindly on us anyway?! My brother, would've had it worse with monsters if he accepted that stupid paper?! Your grandmother, had the idiotic gull, to think that Genoside was something to be forgiven?! it just shows that you Mews are DANGERIOUSLY full of yourselves, and it's only a matter of time before the Butterflies produce a new generation of discrimination resurgence that UNDERMINES this already lackluster progress anyway and finish what was started?! THAT was what brother wanted to prevent?! For your feeble attempts at peace being UNDERMINED by your own hands anyway, as if nothing EVER HAS CHANG-
Star: IT'S NOT MY FAULT!!! *Sniffs* YOU THINK I LIKE WATCHING MONSTERS BEING DISCRIMINATED?! I WAS IN A SIMILAR SITUATION!!! I GAVE UP THE KINGDOM BECAUSE YOUR PROBLEMS ARE WHY I WAS ROYALTY!!! I ALWAYS WISHED TO MYSELF THAT I WAS NEVER A PRINCESS!!! I WANTED TO BE FREE AS A MONSTER. IF I WASN'T BORN A PRINCESS, I WOULD'VE BEEN FRIENDS WITH A LOT OF MONSTERS!!!
Marco: (Looking at the heroes and sighs) She's been having these thoughts recently. She may not have her wand anymore, but she can Dip Down now. She doesn't really need it anymore. We're... Still looking for her mom. I'm just more determined to help her because of this quarter-life crisis.
Fu-Xi: I'm exceedingly sorry for that.
Marco: Someone has to be. (Goes in front of the three before things get intense) WILL EVERYONE JUST SHUT IT?!? (The three did that)... Coffee, you can hide behind that your family were not treated fairly all you want, end of the day, you're still a sucky person. You're not going to win anything from this. Just drop it and accept your punishment like a real monster. (Coffee growled) Oh don't you growl at me! (Slaps him)! See that? I can disapleane you like my dog when he growls!
Icky: Aren't they puppies with laser beam eyes?
Marco: Well they have grown. Puppies aren't always puppies. Anyway... Star? (He stared at her super-sad face and almost cried himself before perking up) Coffee is just doing what Meteora did. Taking his own problems out on you and Anewas, and trying to make you feel like you're not significant. He's trying to guilt-trip you into becoming a misentrope, and basicly, hate on your own people! Don't let the past rule you like it did him. You're a tough girl. You come from a dimension where anything can kill you.
Icky: Including a holiday icon that would scare anybody into never celebrating it, AAAAND a gift card that DISINTEGRATES you when it expires.
Marco: NOT THE POINT!! You're not like the earlier strain of your family. You grew up so fast. You're not the same crazy magical girl I used to think you were. You're a shining star that can be better than a princess. You're willing to do something better for Mewni, and, whether Toff or his bro appresiate that or not, that's their problem, cause, as long as any one of your family is trying at all, even if it doesn't exactly magicly reversed the sins of the past, that's all that matters. You may not be able to do that as a princess or a queen, but it doesn't matter. You're a hero. You changed my life from a boring Earth school life into a life of, weird, crazy fantasy adventure and danger around every corner. You helped me admit my feelings for Jackie. You gave me a reputation as a free spirit like you by helping other princesses like you be free without people like Miss Heinous saying they shouldn't be like that. You gave me, purpose. A reason to move on and never give up.... I don't want that Star to go away.
Star:... Oh, Marco. (The two hug)
Coffee:.... Ugh... This is so insultingly sweet that I may risk cavities now. Thanks alot. (Marco kicked him in the face) OOF!
Marco: "Oh put a sock in it already, lizard breath!"
Sandy: Well, you two future lovebirds have fun with your journey.
Star: Oy, again with that. As if Rubariot wasn't enough. I already have a boyfriend.
Fidget: Yeah, but it might not last long if your breakup with Tom wasn't an indication.
Sandy: It ain't just that. Believe me. (Winks at Marco as he smiled)... Anyway, it's nothing. We just did this for you because Coffee tried to get our arch-foes involved, but thanks to them knowing better then to mess with AUUians without cause grander then implications or something as meager as a compidence potion, he was forced to settle with unreliably untrustable bounty hunters!
Star: Well, you can't imprison him here. Eclipsa-
SpongeBob: Banned it. We got that.
Icky: "Well, we're not keeping this asshole. The guy might be able to try his luck with the indie-villains after how much of total wimps the triple-A guys were, and we can't risk this guy being behind a spontantiously appearing VA in the AUU."
Coffee: "(Chuckles), Quite a dilemma. Well, short of just killing me off, which I'm sure will garrentie QUITE a reaction from my kind for such a feat, even dispite my ill-fated social status with them, guess neither of you have anything planned for me."
Lord Shen: "Would you dare be so confident? Just because traditional prisons aren't safe for you to be sent to, doesn't mean we can't get, creative, with what we intent for you."
Coffee ceased being confident.
Coffee: "..... Oh, poo."
Later...
Coffee's face was seen....
Coffee: ".... I, really should've, left Anewas' betrayal, well enough alone."
Coffee was seem glued to a wall to a tree surrounded by overtly happy creatures and beings as this song was heard.
(Icky): "(As the Van leaves through Saetha's dimensional scissors) HAVE FUN IN THE DIMENSION OF OVERT-HAPPINESS, COFFEE BOY!!"
Coffee finally lost his cool as the overt-happiness became too much!
Coffee: "CUUUUUUUUUUURRRRRRRRRRRSSSSSSSSSSSSSEEEEEEEEEEEEEEEEEEEEEEESSSSSSSSSSSSSSSSSSSSSS?!"
Mewni
Marco: (Shivers) Me and Star were there once when we were still living on Earth. It was too much even for her.
Saetha: No kid. I like being happy too, but that dimention was a one-trick Lony! It gets abit much after litterally just 5 seconds in there! I hope we can meet again someday, Star. And... Good luck finding your mom.
Star: Thanks. And good luck finding wonder on Mewni. And guys? (To the Lodgers)... Thanks for dealing with Coffee.
Icky: Yeah... Totally-tots-magoats no probs!
Star: (Chuckles) Very funny. FANTASTIC EXIT BEAM! (She and Marco launch away on said spell from Star's hands) WHEEEEEEEEEEEeeeeeee...
Saetha:... She's really funny.
Fidget: To a fault.
Fu-Xi: "Uh, hate to spoil the moment, but, can I be taken home now? I got snake-hateing leggers' butts to bite and names to take!"
Icky: "Aw don't worry, Prince Vegiacard of the Snake Race, we're just about to head to dreamworks china to drop ya off!"
Epilogue
A party for Saetha.
A party was seen being thrown for Saetha as all her new friends are att attendence.
Icky: Well this seemed like the shortest episode ever. Seems like the producers angered each other rushing it in thanks to pre-established scenes limiting creativity and gave pre-mature spoilers.
Saetha: And there's nothing wrong with, erumm, MOST, of that. (She and Anewas kissed)
Anewas: "Ashame Miss Xandy had to leave so soon."
Iago: "Well, she felt like she extended her stay in here for too long and felt the need to go back to the AUU. Besides, she felt like she REALLY needed to see the downfall of a latist attempt to bring back CrimeTech. And who are we to deny her of that?"
An Abandoned CrimeTech base on Ataxia in the AUU.
A tied up Xorabeak Judge was seen before a large gang of criminals, as two Yuruns came forth, one female, the other male.
Female Yurun: ".... Hiya, Judge Stinky Bottom!"
The Judge: "OH?! Good Lady?! I'll have you know that the name is Stinkshire Eugene Buttworth!"
Criminal: "So basicly, JUDGE STINK E. BUTT?! (The Criminals laughed uproariously!)."
Judge Stink: "..... Well I NEVER?!"
Female Yurun: "Anyways, Stinky. I don't think we properly met. We are the faternal twins of crime, Rippy and Offy! My brother's Rippy, and I'm Offy."
Judge Stink: "Oh yes. I heard of you two foul rodents. You're common con artists that scam UIS representives to make themselves LOOK bad! You're often trying to scare people into thinking that they're monsters by putting them in inconvinent contextless situations! The Grand Council made you two heavily wanted because you're both heavy flight risks to inter-universeal security!"
Offy: "Can we really HELP with that, Stinky?! Our parents were carted off to a Naaar Slaughterhouse in UIS terratory?! We mainly want people to see U-suks as the monsters they are?!"
Judge Stink: "But often those representives were peace-bringers and had aimed to paint UIS is a more understood light?! Had it not been for Warson's insistence that it was only because of YOU TWO VERMIN, those representives would've suffered bad press for AGES to come!"
Offy: "Well, they kinda deserved it, because UIS had the nerve to PROTECT THE NAAARS FROM EXILE SHEILDING?! Our people could've been safe?!"
Judge Stink: "That is an outdated assertion and you know it, young missy! Exile Sheilds can only be so relieable for so long until it either fails or gets savatoshed. They are only a temporary solution to problems that should be actively worked with! Also, they caused stagnation to the imprisoned race and only make their problems worse!"
Offy: "Tch, ain't that just like a UIS sympathiser to say!"
Judge Stink: "NOW SEE HERE?! By all means, my family are proud USRA supporters and I am capable to see the good th USRA CAN do! I just so happened to not allow myself to be blind to the good UIS can do, and not let politics and hysterics about UIS' particular practices cloud my judgement! Everything that they do, is all in the well intentioned aims for securing Independence that the USRA races inadvertingly destroyed in their terratories by making systems relie on THEM too much! You cannot deny that because of it, come the USRA's downfall, our universe basicly broke into war because we have no allience to rely on! And I believe that if the USRA races had failed to adapt to trouble like they did, UIS would've been the ones to repair everything!"
Offy: "Then WHAT UP WITH THE FACT YOUR MARRIED TO A SKEP?!"
Judge Stink: "Now see here, W'hite S'pindrel is a good and kind-hearted woman and is from a Pre-UIS family! Her family had lived on Ataxia long prior to UIS even being a concept and is just as much capable to see the flaws of both political spectrums as I am! You madam, on the otherhand, are too blinded by loyalty to the group to realise that the USRA was a mistranslated well intentioned dream turned into a nightmare tainted by misproportions of undesireables allowed to be entitled to do whatever they want, even if it was earnestly cruel and spiteful!"
Offy: "Tch. UIS lovin' pussy!"
Judge Stink: "Ma'am, if it eases your opinion about me, I am not afraid to admit that some of UIS' actions do need to be open to scrutiny. But I believe they should be done diplomaticly and respectfully, so to show UIS that we're not a legion of entitled corrupt brats they were given the impression of! Globex caused the Exo Wars through provoking a wronged genius! The 3rd Cartoonian War and the Interuniverseal War happened because of rampent entitlement and bitternesss torwords the USRA's failure to be stable! The USRA should be held to just as much scrutiny as UIS is being so! For all the good things that undeniably exist within it, the USRA has indeed made it's equil share of fatal errors and mistakes! It's time to stop pretending that the USRA is flawless and own up to it!"
Offy: "Okay, I'm done here?! I'm just gonna cut to the chase, Stinky?! As you know, there was talks that some of these former CrimeTech guys are trying to get CrimeTech back in business.... You're looking at the duo behind that, Stinky! Only, CrimeTech is looking to move beyond just being a criminal enterprise..... Now, just as much as we would STILL provide to the usual scumbags of our terratories, I'm thinkin' of also starting operations to undermine UIS! I'm talkin', fratintising with fellow UIS haters, starting Coyate operations in the isolated systems and give those isolated folks a chance to live with us, causing their isolation projects to fail, startin' crimewaves in UIS homeworlds and colonies, open "Illegal Colonies" in Isolated Systems depraved of USRA goodness, protect attempted Contactors, ya know, the usual stuff UIS haters WISH to do ever since UIS started to pull that isolation shit! But what me and bro want to do espeically? Make enough money to make our OWN Exile Sheild to use on the freakin' Naaars' homeworld, so FINALLY rodents like the Yuruns ESPEICALLY can feel SAFE at last?! And get long due vengence for what happened to our parents?!"
Judge Stink: "Please keep in mind that your parents were known Anti-UIS Terrorists that often savatoshed Naaar Slaughterhouses and risked both Naaar AND Yurun and rodent life?! UIS were well within their right to be symbolic with how they were punished! They were terrorising a race for having a different way of life! The Naaars evoled on a mostly rodent filled planet, they can't HELP but to defelupt a taste of such?! Rodents filled every niche for every creature and the Naaars were the one untige creature there! They didn't had a choice in terms of dieting!"
Offy: "Be that as it may, it doesn't make what happens to Yuruns everyday ever since UIS happened, any less sucky?! And now that I have one of the biggest UIS butt-kissers with an ear with the Grand Council, I can be able to bribe them with a ransom of YOUR sorry stinky ass for the money needed to get CrimeTech UP and running again! Then when thet crack and caved, I will enjoy giving UIS HELL for what they did to ma and pa?!"
???: "Now, much as I ain't a terrorably big UIS fan, (A wall was destroyed as it reveiled the rest of the HA, as Zosimo was speaking).... I also ain't a fan of a resurged CrimeTech being behind a UIS/USRA race war neither!"
Clifton: "Not too crazy about a criminal organisation WE JUST DISBANNED being brought back at all?! You had any idea how many damn robots we had to fight to make that happen, sweetie? ALOT?! And they weren't even that exciting to fight, it was just.... Monotionus!"
Offy: "AW CRABCAKES?! (Jumps up and flips in reverse and lands on top of Stink's head!) BOYS, KICK THEIR ASS?!"
Rippy and the gang of criminals brought out their weapons as the HA prepared for a fight, but then suddenly, Xandy drumaticly kicked in from the Window and knocked out all the goons! Rippy was surprised and lost focus, as Nytrox appeared from nowhere and pounced on Rippy, growling at him as Rippy surrendered!
Zosimo: "Well Xandra, ain't you a sight fer sore-eyes!"
Xandy: "(As Magnum quickly caught Offy in a bubble while Hudson proceeded to free Judge Stink) Sorry I was late guys, turns out our immigrant needed some last minute help, but she was otherwise fine. But you guys would NOT believe the day I have."
Samantha: "Well, you may as well tell us over while we enjoy our due snack break while we wait for Maxxus and the enforcers of Ataxia to come pick up our latest bust."
Xandy: "Oh trust me guys, what I have to tell, is QUITE a story!"
Hudson: "When the Lougers are involved, it's ALWAYS a quite a story!"
Meanwhile, In Equestria after the events of The Washouts.
Lightning Dust in her washout uniform was seen screaming as she eventually CRASHED RIGHT INTO A CLIFF-FACE?!
Her friends, Rolling Thunder and Short-Fuze, ended up crashing right into it?!
The trio all fluttered down gently....
Rolling Thunder: "..... Pain, is, NOT GOOD?!"
Short-Fuze: "Awww, would you shut up, Buster?! After all. (Turns into Caster the Changeling)......"
Caster: "It would've been worse, idiot."
Rolling Thunder turned into Buster the Changeling.
Buster: "Easy for you to say! Ya didn't have to pretend to be a hot-ass mare! It made me feel weird, like I wanted to see myself naked?!"
Caster: ".... We're already naked, jackass."
Lightning Dust angerly gets up as eyes glowed.
Lightning Dust: "(Deeper voice) QUIET YOU TWO PUPAS?! I'm trying to think?!"
Buster: "Duh, sorry boss. Tough break about gettin' ahold of that filly."
Lightning Dust: "That much doesn't matter, imbaciles?! Besides..... (Turns into a silluetted dark figure)."
Dark Figure: "She is already connected, to my grand master plans. (Makes Scootaloo's fan love appear)..... Chuckles wickedly)."
FIN?
Community content is available under
CC-BY-SA
unless otherwise noted.