Captain Axxus' Crew is a vast group of Alternate UUniversal space pirates who take residence in a fortress on Planet Ardalicron. Lead by Captain Axxus, the crew consists of both animals and machines. While they are clearly prone to not exactly be 'law-biding' citizens and claimed brief involvement with the Villains Act by complete accident, they're not legitimate evil like most pirates in both the Alternate and Original UUniverses (like Blot's Crew). They actually have hearts somewhat more golden than the treasures they collect, contrary on what people like Governor Foul Cheese believes. Since defeating the Governor and Axxus' nemesis Captain Rarxter, they do good piracy, which is just adventuring for lost treasures across the AUU and either donating them to the AUU Currency Troupe or keeping them for buying stuff. Though sometimes, when a corrupt govenor at any planet and/or moon rises, they won't hesitate to plunder the fuck out of the corrupt system to return the loot where it belongs until the Grand Council and Heroes Act can be able to take care of it from here on in.
Members
Animal Crew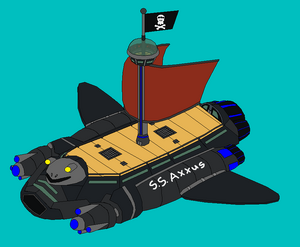 Robot Crew
Argh 17-20- personal first "Robot" mate is a personalised Skelebot Commander from the VA's Starbot Drone Series. Axxus' didn't had true membership or greater involvement to the VA's "Un-nessersary extremeist ideas" and only was a minor member just to accure robots from them. Among the named robots is this Skelibot commander. She adopted and adapted to the Captain's better intentions and never questions it once due to her loyalty program all of the Starbot's process, and has even painted away the VA symbol in place of a pirate skull and cross bones simular to the Pirates of the Carabean symbol.
Alpha Nepiton- Axxus' personal musle, A named Manbeetle Alpha. Like his fellow named personalised starbots, he adapted and accepted Axxus' good morals for being a fickle-minded anti hero pirate, and is among his most brutal and the strongest of his robotic crew. Nepiton easily aides Rodney and Croon in huge fights against Cheese's guards or Rarxter's goons and can go for hours with only a few dents or so. He did exspearience some damage serious enough, but recovers easily thanks to Little Snapper being a good machanic.
Lord Brains-in-a-Box- Axxus' top stragigest, A named Tactical Skelibot. Like his fellow named Starbots, he adopted and accepted Axxus' way of life. He is however, somewhat annoyed by Axxus' overcompident behavior and oddballness. While a loyalty program prevents BIAB from wanting to turn on Axxus, what also does that is that Axxus desire to help those tormented by Cheese also prevents this, making him logicly understand that Axxus may be a goofball, but he's a goofball who cares. As you may expect, his "name" is not his real unit name, but a nick name by Axxus thanks to his "Salty pirate humor".
P.O.L.L.Y.- A named Jetpack Commander that has a malfuntion that makes him behave like a parrot like creature that humoriously cuddles with Axxus who treats him like an actual pet. When threaten, the imfamous Jetpack Commander programing kicks in and makes Polly a force to be rekind with to both Cheese's Navy and Rarxter's crew alike.
Beetle-Bloob and Dim-Tin Can- two funny misfits of a Normal Manbeetle and a Strangely dimwited Conehead Skelebot, (based on the two pirate duo that used to work for Captain Barossa, the first main villain of Pirates of the Carrabeanian). Bloob and Dim are asentually the team comic reliefs, but they do have a higher funtion of holding out on their own... But don't expect them to carry out complincated scemes very well.
Community content is available under
CC-BY-SA
unless otherwise noted.