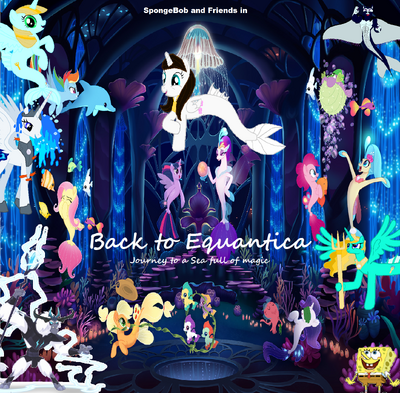 Marenia and Derek finally have their child, who is named
Harmony
, who grows up to be like Melody, and actually becomes friends with
Princess Skystar
, who goes to Destiny Islands with the other Equestrian sea inhabitants through portals that are linked in cities like Equantica and Seaquestria, and in Destiny Islands, are hidden in massive coral reefs of Equestrian origin, and the people of Eden hold a celebration for her 12th birthday with the Lodge. However, a crazy rouge creation of Geogra who almost usurped her in the form of a manta-like humanoid named
Mantrek
comes in, and when he endangers Harmony in order to get a hold on the Pearl of
Princess Maricolous
, whom Geogra, before her death, was hoping to search for if she ever gained control of Equantica, the Lodgers decide to help, at first by telling them to limit Harmony's travels because flat-out banning her from it will not be very fulfilling considering their
history on the matter
. Thus, they branch Harmony's swimming range with a net-like gate, and Springtime and Oceanious charm the gate so that only people outside of the gate can enter so Harmony can still hang out with friends like Skystar. However, Harmony has no fear of this threat because Marina becomes a little too overprotective. Since Harmony is enthusiastic and a little prideful, she ends up becoming curious as to what else is beyond the boundary besides what she saw in both Equestria and the KH Sea, and when Marina ends up going too far with her over-protectiveness, Harmony decides to disobey her and go beyond the boundary to prove she can take care of herself. But despite being harmless at first, Mantrek's shark henchmen capture her and he casts a curse on her that threatens to take away her merpony heritage permanently if she doesn't do as he says, and thus she is ordered to find the Pearl of Maricolous. So the Lodgers, with the help of Marina who realizes that, though not making the same mistake Ariel did with Melody as she only did the next worst thing by being far too overprotective as it can cause children to get far too confidant and cause them to throw themselves into danger, the Guardians of Harmony and Captain Celaeno, must find a way to stop Mantrek before he ends up taking over Equantica, though discovers that Storm King is back and, since his previous two defeats, has a new plan involving Mantrek, and hopes to betray him in the end following him going this far, and take all the power from both oceans as an act of revenge for Seaquestria's involvement in his first defeat, as well as to finish his job of eliminating the hippogriffs.
Material
Songs/Music/Videos
(TBA...)
Scenes
Harmony's 12th Birthday/Arrival of Mantrek
Equestria Shore
Marenia:... (She was heard harmonizing as baby props were seen)... WOW, does this offer memories!
12-Year-Old Young Alicorn Pony: Yeah. You naming me after a friend is one of the MANY rare things I remember as a baby. Didn't know who until I got older.
Marenia: (Laughs) Yeah. Fluttershy helped me get this far. She saved us all from the dangers of Geogra, Dead Sea, and many surface threats. And her kindness inspired me to give you the name, of Kind Harmony Typhoonica.
Harmony:... And you decided to give me the maiden name?
Marenia: Derek did, actually. Our side of the family is too unforgettable to be given the traditional parent name. But it doesn't matter. You're 12 years old now! So, this time, I'll give you a visit to your best friend's home.
Harmony: And I can't thank you enough for that, mother! (The two hugged as this song began)
Deadpool: (He dropped in before the song continued) Well, what did you expect? That years-later thing is too nonsensical these days. We now return you to your Equestrian Little Mermaid II bootleg already in progress.
(MSM/Scroopfan): GET OUTTA HERE!!! (The song continued with Derek, Alfred his Crane Butler and his other peers, as well as those of Marenia, including her siblings, Urchin, Wolfgang, Hoarse, Albert, who bumped with an ANK!, and some other faces from the 2017 movie, Skystar, who was happy to see Harmony as she dived into the water with Marenia and a 'why the heck not' expression Derek, as the two hugged, as the three went to a rock once Queen Novo and Queen Oceanious came in with a line of Ichthyocentaur guards gave them a line, as the song ended)
Harmony:... Hello, Grandmother!
Queen Oceanious: OHHHHHH, Harmony! Look how big you are! You look just like your mother!
Harmony: And I have the strength of my father, too. (She smashes a part of the rock they were standing on as it crackled)
Urchin: DYAAH! (He fell into the water after the part he was standing on crumbled)... WOW!
Harmony: Helps to keep me safe from sharks and other predators.
Queen Novo: And... You and Skystar seem to be gettin' along swimmingly. I wanted to make it up to her after years of isolation. I wanna pay my condolences to Queen Abysswish by catering to Maricolous' descendants, including her recent one, by not only giving my daughter the company she wants through her, but through a rockin' welcoming party in Seaquestria. And you are just in time!
Marenia: By Celestia, It's been millennia since I saw Seaquestria before we were exiled. Amazing how much we missed out on. How exactly has it been going? Is the Pearl of our Alicorn ancestor still safe?
Queen Novo: As it'll ever be.
Urchin: Well, what're we waiting for? Let's go for a swim!
Seaquestria
This music played as Harmony and her parents (Derek given a bubble to breath), arrived in a beautiful underwater paradise with the jellyfish-like security chandelier containing the many magic pearls, among other decorations, with the MLP-style seapony Mane Seven awaiting them, along with the Lodgers)
Fluttershy: MARENIA!
Marenia: FLUTTERSHY! (The two hugged) I'm so glad to see you again.
Fluttershy: And I'm glad to see your daughter again after so long. Look how big she's gotten.
Harmony: (She blushed) Hello.
Fluttershy: And... She seems to be a lot like me. Also... Try not to attract too much attention. Dead Sea's still in love with me.
Marenia: (Giggles) Is he?
Urchin: Unfortunately, yes. I saw he was obsessed with her before I was issued to you. He... STILL loves Fluttershy, but thankfully not how he was when he was evil.
Fluttershy: Well... I'm still not ready for a love interest. So, if he's around, be sure to-
???: FLUTTY!!! (A 16-year-old Dead Sea appeared)... YOU'RE BACK!!!
Fluttershy: (She shivered in shyness as she hid behind Marenia)
Urchin: Oh, God!
Marenia: Dead, please, give her some space. You know she's very shy around flirts.
Dead Sea: I know, I just, I can't get over her.
Discord: Dude, Fluttershy is too precious to socialize romantically for the moment. You may have to respect her wishes until she's available. Also, you're kinda too young to be dating her. She's like, I dunno, in her quarter-ages. An age of maturity, but you? You're only 16. You still have a lot to learn since you were youthfully regressed from your evil self.
Dead Sea:... Alright. But, can we hang out later?
Fluttershy: (She gave the same expression she gave to Discord when he made that volcano track)...
Dead Sea:... (Sighs) Hello, loneliness, my old friend! (He left)
Urchin:... You should probably talk to him.
Fluttershy: You're right. I'll talk to him after the party.
Marenia:... I must ask, Fluttershy, how did you meet our friends in Seaquestria?
Skystar: Oh, it was fun and... Somewhat took an unexpected turn. These are the heroes who saved us from the evils of the Storm King. I gave them our allies' sympathy, and they gave us a lot of gifts.... Unfortunately... Mom didn't take the time to see their desperate situation, and Twilight ended up trying to steal the Pearl of Transformation to save her home. Next thing we knew, we made hostile mistakes, and we had a lot of make up for and learn. See, much of us, including me and mom, were hippogriffs with pony purity after being the result of interbreeding with Equestrian ponies and griffins, and the Storm King destroyed Hippogrifia and left us with our seapony allies as our only companions. By... By seeing Twilight and mom having the same problems, and needing the same help... I decided to help them save Equestria in return for what they gave us. Now, Hippogrifia has not only been rebuilt, but another one called New Hippogrifia is being built near Questra with Straton's brother acting as the leader on mom's behalf, and mom's filling in rather well as the seaponies' new leader since Storm King turned Abysswish into sea foam. She's learning better now under her new mentor, Abysswish's cousin Wavedancer. Turns out, she's the leader of the legendary Pure Seaponies who are one with Maricolous' magic, and helped us stop another family member of Stormy, who was QUITE A WET BLANKET! Now, mom's gotten over EVERYTHING! She's found inner peace, and so have I! (She hugs Harmony) I now have a best friend to spend my life fighting for and with!
Harmony: Oh, Skystar! (The two giggled and hugged)
Spike: (In pufferfish form) Okay, I gotta ask again, you DO know I am a dragon, right? Even if we aren't sea dragons, we have aquatic nature.
Skystar: Yeah, but again, you're still a baby, so no help there.
Urchin: Sad, but still true.
Novo: Since the Chaos Wars, we seaponies have sworn to keep the Pearl of Maricolous safe from anyone who wishes to abuse her power, and as the new leader, I must fulfill Abysswish's... Well... Wishes, and protect it in her place. Now, she wishes to see a new face. The face... Of her current new descendant, Princess Harmony. Harmony? Come forth!
Harmony:... (She slowly swam up to the giant armored clam containing the Pearl, as the heroes sobbed a bit)... Uh... Hello?
???: (Annie Golden voice) Hello, Beautiful Harmony! (The clam opened to reveal a glowing beautiful pearl from which a beautiful white Alicorn with literal wet and effervescent watery hair, spectral fish swimming around her, a wave-heart-based cutie mark like Luna's, and gray royal attire was seen)...
Harmony:...
Twilight:... Never thought I'd see the soul of yet another Alicorn God who sacrificed herself to save Equestria from the Chaos Wars.
Queen Novo: This is her, everyone! Princess Maricolous, the Alicorn Goddess of the Sea. Her beauty is apparent to all corners of the ocean, from it's life, to it's wonders. She has been under our protection for eons. This clam which once acted as her crib, bed, and transport, now rests her very soul, and protects it. It only opens in the presence of pure hearts. And now, my dear Harmony, you will know, that Maricolous will be watching over you. As her most recent ancestor, she will be your guardian angel.
Princess Maricolous: Indeed. You will be swimming great lengths in the future, my child. The beauty of my sea is now within you. I'm sure you can protect it, and me, from whatever danger may come.
Harmony:... Thank you, your highness. I only wish I could hug you.
Princess Maricolous: As could I you. (Everyone cheered)
Urchin: Marenia's little baby's all grown up and- (Sobs) And getting to go on vast journeys, to save Equestria!... (To Spike) You have a tissue?
Spike:... I can't hand one to you. We're underwater, AND these fins aren't useful for handling things. (Sighs) I swear, the sooner I get a new form, the better.
Harmony: How... How could this party get any better?
Pinkie: (She and Skystar smirked at each other)... Glad you asked! (This was sung by Pinkie, Skystar, Novo, Marenia, Oceanious, Harmony, Maricolous, and many others)
Harmony:... In fact... I may already have something....
Skystar: Shoot, buddy!
Harmony:... Merlin? I shall make your water-breathing spell automatic should you need to do some underwater travels. (She does so with help from Maricolous as magic glowed)... But there's more! Twilight?... (She casts a powerful spell and gives her a present that she opens to find a duplicate of the Pearl of Transformation)... So my ancestor, can offer her services to you when you need them. I... Hope it doesn't bring back painful memories.
Twilight:... Thank you, Harmony! (The two hugged)
Harmony:... And Fluttershy? (Fluttershy squeed as she had her attention)... I have something special, in the black bag, for you.
Icky: Oh, sure, Wizard of Oz reference!
Fluttershy: What?... What is it, Harmony?
Harmony:... (She offers a necklace like hers as it showed her a magical hologram of Fluttershy having fun with her Equantican and Seaquestrian friends)... To remember us by, or talk to us.... And I wanna thank you... SO MUCH... For saving my mom!
Fluttershy:... (She sobbed in joy and hugged her) THANK YOU!!!! I LOVE YOU!!!
Icky: Hah, ga-
Lord Shen: (He pointed his sword at his neck)... Ruin the moment, and you're dead!
Icky:... Gay happy?
Lord Shen:... Good enough! (He lowered his sword)
Harmony: (She looked at Spike)... Spike?... I have something for YOU, too!
Spike: Oh, you shouldn't have, really!
Harmony: I wish to fix your... Form problem. Urchin?
Urchin:... (He came up) Yeah?
Harmony:... (She cast a spell by using Urchin's essence and infusing it into Spike, allowing him to have this form)
Spike:... (Gasps)... I'M A SEA DRAGON!!! YES!!! (He hugged Harmony) THANK YOU SO MUCH!!!
Rarity: Ohhh, Spikey-Wikey, you're so divinely cute now! (Spike blushed)
Harmony:... I wanna thank you all... For giving me a life, and allowing me a chance to be somepony BIG!... (Turns to Maricolous)... And... Your highness?... I wanna thank you... For giving me life! Life in the sea! I JUST LOVE THE SEA!
Fluttershy: ME, TOO! (Everyone cheered)
Sparx: Yeesh, cheesy much?
Maricolous:... I wish you joy as you grow up, Princess Harmony! I will always be with you in spirit!... I hope you swim vast distances... And indeed... Give one small thing, that'll make a BIG DIFFERENCE! (Everyone cheered)
Later...
Harmony: (She, Urchin, and her parents surfaced)
Derek: (Gasped for air) Wow! What a party!
Urchin: You said it!
Marenia: I am so proud to have a child destined for great things. (The two hugged) I love you!
Harmony: I love you, too, mother!
???: (Suddenly, two shark-like silhouettes appeared in the water beneath Derek, Marenia, and Harmony)... (Cackles)
Urchin:... Uh... What was that?
Derek:... There isn't a shark, is there?
Harmony: There better not be. They're big meanies.
???: Oh, it's far worse, Little Harmony! (Cackles)
Marenia:... That... That voice!
Harmony: What is it, mother?
Marenia:... We need to get outta here!... I don't know how, but- (Harmony was pulled down) HARMONY!
???: (A large ray-like figure similar to Evil Manta with much more changes, a spotted eagle ray coloration, purple stinging structures, a stinger-tipped mermaid tail, pony ears, and a crusted face was seen cackling)
Wolfgang: DAHHH!!! Geogra's crazy rogue creation!
Ray Being: Tell me, I didn't miss the cake and ice cream, did I? (He was holding Harmony like a baby) I've been DYING for a reunion with you since I was destroyed by my master.
Oceanious: No!... Mantrek! I thought you were dead!
Ray Being (Mantrek): Oh, not exactly. You see, ever since I was THIS close to ruling your kingdom, and seeking out the Pearl of Maricolous, I swore revenge on my creator for stopping me.
Oceanious: You mean since you tried to destroy her?
Mantrek: Yeah. She was a real control freak. I had the wits and skill to do anything greater than her. With the combined DNA of humans, merponies, seaponies, and any and all sea creatures imaginable, I have the cunning wits of a shark, the graceful stealth of a ray, the strength of a whale, the speed of a fish, the harmonic immunity of ponies, and the intelligence of humankind! I was not going to be bossed around by some dumb creation of some abused asshole like Dead Sea!
Dead Sea: HEY! I was of a bad lifestyle back then! I'm glad she's gone. I'm... Just not glad you aren't.
Mantrek: Nope. I was merely imprisoned in ice since last we met. And thanks to you heroes, and especially (Grabs and squishes Fluttershy's cheeks) This cute little heroic savior... Geogra is only a mere memory. All of her spells and wrong-doings, have been undone. And that INCLUDED my imprisonment. Now I'm back, and ready to take her place, as the scourge of the Equestrian seas!
King Barrier Reef: You know we can take you in a fight.
Mantrek: Well, strength is only relative, when a little LEVERAGE is applied. LAGAN?!? DERELICT?!? (Two large sharks similar to Undertow, Cloak and Dagger, and Flotsam and Jetsam were seen)
Lagan: GET OUT OF THE WAY!!!
Derelict: MOVE IT, CHUMBAGS!!! DINNER BELL'S CALLING!!
Mantrek: So... You wanna try fighting me now?
Harmony: (She was panicking as she was hanging above the hungry mouths of Lagan and Derelict)
Mantrek: And let's be honest, if Geogra was STILL around, she would've loved to come and see the show. But since dire circumstance came up that brought me here, I'd just be willing enough to spit in her dead face, and oblige in her place. In fact, now that we're all here and know each other, I think it's time I got back to my plans. I'd like the Pearl's location. Lest I have your daughter turned into shark chow.
Harmony: Yeesh, I know shark young are called pups, but come on, that's a bit of a stretch.
Lagan:... You know, when she puts it that way, I can certainly agree.
Mantrek: NOBODY CARES! Just gimme the Pearl.
Harmony: Oh, BTW, I've seen sharks before. Even ones bigger than these two. I've grown used to them.
Mantrek: (Dubbed as Ratigan) Would you kindly stay still, and shut UP?!?!
Harmony: YEECH!!! CAN YOU SAY HALITOSIS?!?
Urchin: (As the two argued)... Uh, guys? I think we should do something.
Fluttershy: I got this. (She used the Stare on both Lagan and Derelict)
Lagan:... What the heck are you doing?
Derelict: I think that's this 'Stare' thing Mantrek told us about. Heh, big deal, we've seen scarier eyes than that. We're freaking sharks. Don't think you can distract us so you can-... We just distracted ourselves, didn't we- (Thunderclap and Frostbite bit their tails, as their eyes were in a glass shatter, and they Tom screamed)
Mantrek: WHAT THE BARNACLE- (Harmony kicked him in the face as he too Tom Screamed)
Harmony: (She went back to her parents) Whew! That was close!
Derek: Proud of you, honey.
Marenia: I almost had a heart attack.
Lagan: GRRRGH!! YOU LITTLE GUPPIES!!!
Derelict: GET THEM!! (They tried to swallow the family until King Barrier Reef used the Trident to turn them into smaller fish)
Lagan:... WHAT THE HELL?!?
Derelict: AW, THAT'S JUST A D*** MOVE, ASSWIPE!!
Mantrek: LAGAN!! DERELICT!! MY POOR LITTLE POOPSIES!!!
Urchin: (Giggles) 'Poopsies'!
Harmony: I know! (The two laughed)
Mantrek: (Growls) This isn't over, sea scum! It's only the beginning! Mark my words, Oceanious! I WILL have that Pearl! You will NEVER find me, but I will find you, and ensure that your precious granddaughter is my first target! You'll never avoid my grasp! Soon enough, all of the seas of Equestria will be MINE to command! (Cackles)
King Barrier Reef: GET HIM!
Mantrek: (He unleashed a stinging field of energy that shocked everyone and disorientated them, as he created a whirlpool-based portal that he, Lagan, and Derelict swam into) See you soon, Barrier Reef! (He cackled and disappeared once everyone recovered)
Icky:... Well... Looks like we have another problem.
Later...
Queen Oceanious:... I'm afraid he just vanished. We're gonna do all we can to find him.
Harmony: And I'm sure you will. Until then, I'm sure we have nothing to worry about.
Marenia:... I... I don't feel you can be safe in the sea with Mantrek around. If he's anything like his creator, or worse, he'll never give up. I think we may need to-
Icky: Uh, Marenia, I feel we need to stop you right there! If you're thinking about going Frozen and/or Little Mermaid II, then let me tell you, it's NOT very fulfilling. Last time it occurred... It did NOT go well. You remember Ariel and her daughter?
Marenia:... Yeah?
Icky: And remember how Ariel's means to protect Melody from Morgana and Team Nefarious didn't go so well?
Marenia:... Yeah?
Lord Shen: I'm afraid Icky is right. It's not wise to fence her away from something she's naturally drawn to. Even if she ISN'T raised without the knowledge, it's STILL not a good idea. Melody found out on her own, and she nearly caused everything to fall apart since Ariel didn't explain what she deserved to know. Even if it was to protect her from Team Nefarious, she HAD to know if she was to understand. We tried to talk to Ariel before that s***, but Melody was already gone before we could set things right. Next thing we knew, Team Nefarious got the Trident, a lot of crazy s*** involving Saleen and a heartless AND nobody of Ursula occurred, and Melody had to get Sora to help stop them after insisting she fix what she caused.
Harmony:... Brave story, and... Mother, I think it's a good point.
Urchin: I can agree. No doubt Mantrek can use that against us in the same way Morgana did to Melody. We can't give him anything that could backfire on us.
Marenia: Alright! But I still insist we have a DIFFERENT wall. A border line to limit Harmony's travels.
Lord Shen:... I suppose, THAT'S an improvement.
Derek: Barely!
Icky: Better than Ariel building a wall between the worlds. Insert Trump joke here.
Lord Shen: Icky, you're not helping with pop-cultural references here. Plus, Trump jokes are kinda all over the place, including in any and all YouTube comments, so it's kinda pointless.
Harmony:... I suppose it CAN help. But... Are you sure about this mother? I HAVE been able to hold my own against that guy.
Marenia: Trust me, Mantrek is FAR stronger than his creator. He almost destroyed her and stole all of her power. If he HAD taken over, we would've been in deeper trouble than before. So... Until he is found, I feel you need to be as protected as you can. I will not make the same mistake Ariel did, but at the same time, I'm being just as cautious.
Alex: Well, at least you're making better progress.
Skystar: And what about her friends?
Marenia: I'll be sure to offer a way for you to visit Harmony. In fact, anyone outside the border can visit if they wish. But... Do know the purpose of it is to keep Harmony from being used.
Skystar: We understand. As long as I get to keep her company.
Marenia and Harmony's Argument
Harmony's Room
Harmony: (She was crying after the party from earlier as Urchin was trying to comfort her)...
Marenia: (She comes in)... Is she okay?
Urchin: Eh, more or less!
Marenia: (Sighs) Harmony, I'm... I'm sorry this had to happen. I mean, I was a little rusty when I came to this kingdom, so I understand why you can't fit in with this setting.
Harmony: I... This is unfair! My birthday was going well until that monster crashed it and caused you to be overprotective on me! I miss the glories of the sea, I miss the beauty of your home and Skystar's!
Marenia: I know. I miss it, too. But... Know that Geogra was a force that turned us against many land creatures. But I was able to retain some of my own by having a fixation for their props and inventions. That's how I came into falling in love with your father to begin with. Didn't help that Dead Sea made it hard for us. He destroyed my props, and the statue of Derek, which I only had for 30 seconds. I had to leave and take drastic measures. But know, that it won't work in this situation! I KNOW Mantrek's power! He almost destroyed his own creator, and all of us, just to get to Seaquestria! I haven't seen Seaquestria since we were exiled, and back then, it had a different ruler, and Abysswish didn't even exist back then. I'm still trying to bond with Novo.
Harmony: But... I feel that hiding and fencing me in is not going to fix anything. If they haven't found him now, they never will! We have to do something!
Urchin: Marenia, she-
Marenia: Urchin, mothers and daughters are talking! Harmony, please understand!
Harmony: Understand what? I can't help but feel you've become too overprotective since Mantrek came. Maricolous wants me to go far, and that's exactly what I intend to do. I am able to defend myself. You can't just control my life like this!
Marenia: I'm trying to protect you! That's what mothers do!
Harmony: And I'm grateful for that, but... I feel you're taking it too seriously. If we are to beat him, we have to do it in our own setting, and not one where even YOU cannot feel comfortable.
Marenia: (As Urchin watched) Look, honey, do you have ANY idea how helpless we were back then?!? We were distrusting of land creatures because of that curse.
Harmony: You're just saying that because Dead Sea taking away your Alicornhood has made you that way.
Marenia:...
Urchin:... Yeah, didn't think that through, did you?
Marenia:... Okay... I think... I think I... OH, WHAT AM I THINKING?!? Mantrek could do that, too! No doubt he can do that to you too, or worse! Until we can find him and defeat him, it's too dangerous to go too far in the sea.
Harmony: SO YOU'RE JUST GONNA LET YOUR PAST JUDGE OUR FUTURE?!? YOU'VE BECOME TOO OVERPROTECTIVE BECAUSE OF HOW TOUGH THE PAST WAS TO YOU! YOU'RE NOT BEING A GOOD MOTHER BY HAVING ME COOPED UP HERE! I CAN'T SPEND MY TIME BEING TRAPPED BEHIND A NET BORDER! I SHOULD BE FREE, LIKE A MARLIN! IT'S, IT'S LIKE YOU'VE NEVER EVEN BEEN IN THE SEA IN THE FIRST PLACE! (She cries and runs off right near Derek)
Derek: HARMONY, WHAT'S WRONG?!? (She was gone)... Marenia, what did you do wrong?
Marenia: I don't know! Probably everything!
Derek:... I think... You may be turning too overprotective on Harmony. You know that can give them a little too much confidence in themselves.
Urchin: Yay verily!
Marenia:... (Sighs) What have I done?
Derek: We need to get her and talk to her. However we need to deal with this threat, we need to do it in a way that benefits all of us!
Storm King's Alliance With Mantrek
Mantrek's Hideout
Mantrek: Believe me, guys! I am trying! But... Geogra's magic is... Just a little nutso! (He tries to change them back, but ends up turning them into shrimp)
Lagan:... You s*****g me?!? (Mantrek tries again as they were turned into crabs)
Derelict: IT'S LIKE YOU'RE NOT EVEN TRYING!!!
Mantrek: I AM TRYING!! (He tries everything, but it proves a failure as they are small again)... UGGGGGHHH!! It's just impossible! Only Seaquestrian magic can change you back!
Lagan: Glad to know!... REALLY glad!
Mantrek: (Sighs) Well, we're in deep whale s***! How am I supposed to get that Pearl NOW?!?
???: Bad day in office, Manny? (A familiar figure jumped into the water with a bubble helmet, silhouetted in the shadows)
Mantrek: Oh, hey! I expected you to be here later!
???: (Cackles, as the Storm King came in).... Call me Mr. Fashionably Early.
Derelict: "I thought it was the Storm King."
Lagan: HE WAS BEING COY, STUPID!! Look at us! We're anchovies! I'd say it was a total wash!
Storm King: Yeah, I saw that, it was a TOTAL flop! It makes me miss my commander. She never had to deal with that nonsense!
Lagan: "WELL WE CLEARLY AIN'T HER?!"
Storm King: Anyway, I came here personally since Spell Services are still only as useful as a wet napkin, especially since the Storm Clan was destroyed. Times have gotten tougher for me. I hope it hasn't for you, dips***!
Mantrek: Sir, I assure you, you'll get what you want from those Seaquestrians yet!
Storm King: I'd BETTER! I've wanted those seaponies to suffer just as much as I wanted the ponies of Equestria! I was humiliated by those f*****s since they escaped by dumb luck after I destroyed Hippogrifia! But... Here's a little insight I just gained that's small enough even for you idiots to swallow: If you try and get that Pearl through conventional means, you'll lose every time! Some more badly than even the last performance. All you need is a little... STRONG leverage! And I have JUST the thing! (He reveals Harmony escaping through the borders crying)...
Mantrek:... Marenia's daughter is... Running away?
Storm King: Seems that her mother made a HUGE mistake of being too overprotective on her. I knew she was stupid before, but I guess she affected her daughter the same way, and I feel HER stupidity can be advantageous.
Mantrek:... Okay, I don't think there's a way for us to even CONVINCE her to help us! She saw us nearly have her as shark chow!
Lagan: PLEASE stop saying that! Harmony made it sound kinda racist!
Storm King/Mantrek: NOBODY CARES!
Storm King: Anyway, I'm sure you CAN give her a good push. You've got magic. All you have to do is curse her into never being able to be under the sea again, unless she does what you say. Sure, it's not gonna work on any ordinary hero, but her? She's still learning, and given the stupidity she inherited from good ol' mama, I'm sure she'd be hopeless in that situation. She may be tough, as strong as her father, and determined, but she's NEVER been in a situation where she could lose her aquatic abilities, especially when she's in the WRONG place, in the WRONG time!... And there you go!
Mantrek:... BRILLIANT!!!
Storm King: And make sure the Pearl is brought to me as soon as you get it. Don't let anything follow you. That Pearl is our only hope of getting revenge on our enemies. If you screw this up, then I may just seal you back up in ice, and put you into the world's largest cup of fruit punch to drink with! GOT IT?!?
Mantrek: Got it, sir! Geez, it's not gonna help if you threaten me like that!
Storm King:... (Sighs)... You clearly want those ponies to suffer as much as I do. I've been dying to have this power since my final defeat. But after what has happened to my family since I was gone... This is now... FOR MORE THAN REVENGE!... THIS, IS FOR, DIVINE RETRIBUTION!
Flashback
(Storm King): (He plunged underwater submerged since his final defeat) Since they catapulted me into the distant ocean after desecrating my father's staff INTO LITTERAL NOTHING!... (He surfaced, gasping for air)... I realized that, it was not going to be easy to make good on my oath of making the staff strong again! (He made it to a shore and recovered in grotesque and strenuous ways) I have been trying to think of what to do next... But given where I was... (He discovered he was in a large uncharted and lifeless wasteland)... I wasn't gonna just come back very easily. (He got bold and went across the land destroying whatever was in his way)... It took a lot of frying, bloodshed, beating the clues out of whoever I found, and a lot of other crud, but I FINALLY found my home!... Or at least... (The Storm Clan Kingdom was gone)... WHAT WAS LEFT OF IT! I discovered that my family was gone and imprisoned in a magical realm by those rotten Guardians since I was gone.
Storm King:... (He got angry, and stormed up a powerful burst of energy as he was distraught)... YOU INSOLENT MISFIT MANIACS!!!... YOU DESECRATE MY STAFF, YOU DESECRATE MY FATHER, AND NOW... YOU DESECRATE MY FAMILY AND KINGDOM!!! (He screamed in rage)
(Storm King): My entire kingdom and family were gone. I was too late. Thus... (He absorbed what magic was left within the destroyed kingdom in paid respect)... I SWORE, TO MAKE THEM PAY! At first, I thought Tatibus after making me a new Staff og Sacanas would help me get there via the hippogriffs, but.... (The Storm King was seen cowerdly running across the water from the Hippogriff terratory)...... I, ended up forgeting that my family were not in the best shape ever. I also eventually realised that I can't run on water! (He fell into the water, gurgling comically and came out coughing)... Since then, I wondering how to do it right. Then I realized I was looking at it the wrong way.... (He noticed the oceans swarming with a seapony migration of giggling and happy seaponies, some ponies and other pure individuals joining them)... I had the next best plan in my sights all along! I was gonna go after the Pearl of Maricolous! The power of the ocean itself, was more than enough to destroy everypony in that pitiful land, as well as the hippogriffs I was after for so long. (He dived into the water and cast a bubble helmet, and he was seen searching) So I have since spent the next few years searching for clues as to how to get it. Then I found the portal to Destiny Islands' ocean. It was here I finally found what I had been missing. Princess Marenia, Queen Oceanious, and Geogra's old rogue creation!
Present
Storm King: With everyone against me learning my true intentions, and making sure I never had any impact left in this world, RIGHT UP TO MY OWN FAMILY... I am NOT going to go back on my oath to make this staff strong for my father again, IF NOT GREATER THAN ANY OF OUR OTHERS COMBINED! That Pearl is my best chance of having us BOTH get what we want! I cannot risk anymore setbacks! NOT, ANYMORE! Understand why I am having you do your best, Manny! I AM DONE PLAYING FAIR COMPLETELY! NOBODY DESECRATES MY ENTIRE FAMILY, AND LIVES TO TELL ABOUT IT! I WILL ANNIHILATE THOSE CUTE EQUINES, IF IT'S THE LAST THING I DO! SO, NO LONGER WILL I ACCEPT INCOMPETENCE IN ANY SHAPE OR FORM FROM WHAT I HAVE! Remember this, Manny! One little slip-up can cost us everything! We must do what whatever we must, to see our enemies at our mercy... And receive none!
Mantrek:... Understood.
Storm King: Excellent! Good luck with that Mary Sue! (He left)
Derelict:... Wow! He's taking the loss of his family REALLY hard!
Lagan: No kidding! He's not gonna be playing nice on this one.
Mantrek: Well, who am I to judge him, and deny him the chance? We'll get that Pearl, no matter the cost!
Marenia Searches for Harmony/Harmony's Capture
(Ocean Borders of Derek's Kingdom)
Marenia:... I can't believe this happened!
Oceanious: Well, neither can I, but you WERE a little overprotective.
Marenia: I know! But I just don't know how to fix it now that Harmony's gone!
Fluttershy: Marenia, I get what you're coming from. I lived in solitude much of my life. Not just because I'm shy, but... Well... The outside was a little stressful for me. I never spoke a word out in public, because ponies were just a little too social for me to handle. They either called me pretty, a pushover, a recluse, and given what I've dealt with in my fillyhood, I thought I could only fit within my own setting.
Marenia:... You told me your talent was animals, hence what got you to my home in the first place, but... How could you not grow before Twilight arrived?
Fluttershy: Well, when it comes to the stress of socializing, I was still not good at that until later on when I got lessons from Iron Will. He taught me how to be assertive, and I took it a little too far, and learned how to grow from there on my own. I started to sing more actively and publicly, I started to stand up for my social life including helping my brother get a job, and obviously, I started exploring environments out of my reach. The sea is just BEAUTIFUL, that much is true! The first life I saw as a filly couldn't compare. And when I saw how helpless you ponies were, I didn't want to be scared the whole way, and I wanted to help as best as I can, especially given your first impression.
Marenia: Yeah, you're lucky mother told me to explain myself, otherwise it wouldn't have been pretty. You are a very kind person, Fluttershy. But... I feel being free from Geogra and Dead Sea's terror is not enough. It's been over 12 years, and I still can't put it behind me. I know that the sea is a part of both me and Harmony, but the threats of the past are just making me just as scared as you are. I WANTED another way to fix this, but I couldn't find one.
Icky:... Marenia, let me lay a little wisdom on ya... I mean, if you can even call it that. Remember again about the situation with Ariel and Melody?
Marenia:... Yeah?
Icky: Well... I feel, if you wanna know more on the perspective, you'll have to talk to them.
Urchin:... You brought them here?
Icky: Actually, no. Merlin?
Merlin: Easier done than said. (He casts a viewing portal to show the two in their world)
Ariel/Melody: THE HECK?!?
SpongeBob: HI, ARIEL! HI, MEL-MEL!
Melody:... ALEX? HOW DID YOU CALL ME THROUGH- (She sees the portal clearly)... Oh, it's you, SpongeBob!
Alex:... Whose Alex?
Ariel: It's the first mermaid she met in Atlantica during our second movie. The two have formed a romantic connection.
Alex: You mean the one she bumped into twice? Come on, I know they like to ship you two, but he's Flash Sentry at this point!
Melody:... Whose that?
Marenia: Never mind that. Hello.
Ariel:... Who are you?
SpongeBob: This is Marenia, your Equestrian counterpart that Fluttershy saved back in 2012. The one we talked about the last few times we were there?
Ariel: Ohhh, right! Heck, she has my voice.
Marenia: Charmed, really. (Sighs)
Melody:... She seems... Pretty glum.
SpongeBob: Long story short, her daughter's going through the same motions Melody did when she learned of her heritage. Recently, this chumbag creation of Geogra named Mantrek crashed her 12th birthday, and Marenia had to limit her travels in the sea through a border line, but... Let's just say, she ended up being too overprotective, and now Harmony's out and possibly at the mercy of Mantrek. We figured you'd give a little insight given your experiences when we helped you with Nefarious and Morgana.
Melody:... I don't feel like bringing that up. I still feel like an idiot for falling for Morgana's lies.
Ariel: So do I for thinking that keeping you out of your most comfortable setting was a good choice, and thus left you confused enough to do so.
Sandy: Eh, you two apologized anyway, so no harm done. Marenia... She needs to find Harmony and help find a new compromise.
Melody:... Oh, jumping jellyfish, where do we start?
Ariel: No idea! It was definitely our weakest moments, but when you think about it, it helped me see something my father did. He felt the surface was dangerous the same way I thought the sea was given Team Nefarious' threats. Thus, we both made mistakes that nearly cost us our lives, because we both didn't see what our daughters did. Protecting our family can sometimes blind you to better solutions, and when it finally comes back to bite you, all you can do is feel stupid and gullible.
Melody: Well, I've forgiven you at this point. You were still trying to protect me, even if the way was not of my liking. But hey, I still had many chances to experience it as a beginner.
Ariel: And believe me, I missed the sea and wanted to go there as much as you did. I tried to help you co-exist in your father's setting, but... It's too clear that the impact the sea has left on you has given you a hard time adapting to human society. It was hard for me the first time I arrived in their ways. I couldn't speak since I sold my voice for human legs.
Melody: Oh, it's still okay. Point is, being protective is natural. It's just how you do it that counts. If I EVER grow up and get married to Alex, I'll treat my kids better, since there's hardly any threats around. The worst there is are the worst examples of humans in the form of pirates and whalers, and people like my mother's old foes before she met my father. Del Ray is still locked up, Evil Manta is somewhat reformed, and Madam Cuda is an Equinox Master thanks to Icky and Iago.
Ariel: What you need to know is that Harmony can still forgive you if you explain yourself clearly. I was going to tell the truth before Melody left, but it was all too late, and next thing we knew, we were almost done for.
Melody: I was left to drown upon discovering my errors, but luckily, I had friends to help me correct those errors. Upon discovery, all my hate for my mother's illogical choices washed away, because they were immediately justified. If you think about it, disobeying her provided a perfect balance. I had the experience to learn everything on my own once I discovered my necklace. I made friends and enemies, but the land and sea finally got back to peace once more. I fit into my human peers at last, I wasn't an outcast to them, I found a future in the world I longed for, and I grew used to any dangers at this point. I stood up to pirates who would risk our coexistence, and I did what I could to have us live in peace.
Ariel: I suppose that's true. I left her time to grow on her. And let's be honest, given how I tried to protect her without giving the reason, she wouldn't have listened at that point.
Marenia:... I... Never heard your story that way.
Melody: Yeah. But the results were beneficial for both land and sea. Though I still find my father's human society a little boring in one way or another despite adapting perfectly thanks to my embracing peers, I still find the sea as my most preferred home. I have more friends there than at my birth home. I still co-exist perfectly. You just need to find her, apologize, and find a compromise. That could've fixed everything had I not left after my last argument with my mom, but I got a little caught away.
Marenia:... I... I don't know how.
Ariel: Well, that's something we can't help with. You'll have to conquer your past sooner or later. It's hardships are what allow people like Mantrek to control you, the same way it allowed Morgana to get to us. Think about that for a moment.
Melody: Yeah. Only you can fix your daughter's crisis, and it's time to step up and confront your fears of the past. We wish you good travels! (The view portal closed)
Celaeno:... They're right, Marenia! My crew used to be in a hopeless situation when Storm King got us as slaves, then Rainbow Dash convinced us to get over our fears, and be more proactive.
Rainbow Dash: Yeah. I mean, Mantrek WANTS you to be scared, because it's how it gets to you, and even allowed you to bring Harmony into his turf.
Marenia:... THAT CUNNING FIEND!
Celaeno: Exactly! So are you going to let Mantrek scare you into playing into his tricks, or are you gonna stick up, and... BE AWESOME! (They sung this, and Marenia and Harmony elsewhere joined in later on)
(Later...)
Harmony: (She went in with Skystar)... There it is! I knew we'd find it!
Skystar: And it only took us a whole day! (Sighs) But... Are you sure it was worth the risk of me getting grounded? You KNOW how touchy my mother gets!
Harmony: Skystar, this guy threatened our friendship, and is going to drift us apart! My mother and your mother are too scared to deal with them together. So, to that, I say, if I go down, you go down with me.
Skystar:... (Sighs) Well, I still say this is a bad idea- (This music played as they were suddenly sucked into an underwater tornado)
Skystar: DYAAAA-AAA-AAA-AAA-AAA-AAA-AAA-AAA-AAAAAAAAAAH!!!
Harmony: HANG TIGHT, SKY!!! WE'RE GOING IN HOT! (They were slowly going down and hit their heads)
Skystar:... Ouch!
???: Welcome to my evil lair, my little ponies.... Ugggh, I wish I did not had to say it like that, I would'ved liked to just say evil lair and leave it at that! (Mantrek came in with Lagan and Derelict) But reguardless, about time you showed up.
Lagan: And good timing, too! If I was gonna spend this long in this ridiculous form, I was gonna get us eaten by another shark.
Derelict:... Eaten by our own species. That seems low.
Harmony: You're gonna pay for what you did to our mothers, you son of a cod!
Mantrek: Tch, like your in any position to threaten me. You're not even a threat to a worthless minnow! Even a starfish is more intimidating then you!
Lagan: "Espeically if they're the Sun Starfish ones. I heard those guys are NASTY!"
Harmony: "Mock us all you want, Mantrek, but we're ending this now!"
Mantrek: "(Sighs unenfusiasticly), Let's get this over with! (The music continued as they fought, yet the two failed, even with Harmony's father's strength, and Skystar's magic) You can't touch me! My purity immunity makes me vulnerable to Equestrian magic, my human intelligence makes me resourceful, and the power of virtually any sea creature in the ocean makes me slick, fast... (He charges his stingers and takes out his tail stinger)... AND DEADLY! (The two continued fighting him as they ended up losing, with Skystar being poisoned by the tail sting, and Harmony being stung, as the two went into unconsciousness).... Like I said..... Your not even a threat to a minnow."
Later...
Mantrek: (The two woke up)... Hello! I trust you're ready to listen to what I have to say?
Harmony: (She recovered)... In... In your DREAMS! I'LL MAKE YOU S- (She suddenly gurgled and felt a pain)... What's... What's happening?!?
Skystar: (She showed signs of regression as well)... I... I could hardly breath for a second!
Mantrek: Let's just say, you two are in my power now!
Harmony: WHAT DID YOU DO TO US?!?
Mantrek: A classic curse Geogra had in her disposal. It watches you every second. So, here's the deal, ladies: Either you help me steal the Pearl of Maricolous, or... Well... You'll never live in the sea again, because you'll be regressed permanently back to a unicorn and hippogriff.
Harmony:... YOU... YOU MONSTER!
Mantrek: I could've done worse to justify such a title! At least I was generious enough to let you actselly live! Also, kinda your own fault going after me. You couldn't stay in the safety of the borders. So, you paid the price. Now, whenever you choose to disobey me or if you try to remove it, POOF! Your underwater days are done! And trust me, you do NOT wanna do it in the wrong setting. So, your choice. Get me that Pearl, or sleep with the fishes!
Lagan/Derelict: EXCUSE ME?!?
Mantrek: IT WAS MEANT TO BE IRONIC?! By the Alicorns, must you idiots be SO SENSITIVE ABOUT EVERYTHING?!
Harmony: "I would sooner die then betray everyone for you?!"
Mantrek: "TCH! Loyal to your people till the bitter end, eh? I considered that a factor. So how's about I raised the stakes. (Brings out Angela in a cage as she looks sick)....... See this fish? She had an unfortunate encounter, with this. (Brings out a caged Litteral Box Jellyfish)."
Harmony: "(Gasps!).... A Box Jellyfish?!"
Mantrek: "Oh yes. And like their less litteral counter parts, their venom is infamous for it's intensity.... So, if you would not get the Pearl because of doing me a favor or to save your swimming abilities.... At least, do it for her."
Angela: GIRLS, DON'T! MY LIFE'S NOT WORTH IT! UGGGHHHHHH!!! (She coughs bubbles)
Harmony:... You bitch! You are gonna pay for this, if not by us, but by our family and friends! They'll find us, and hopefully stop you and us from making this awful betrayal!
Mantrek: Well, too bad. You and your friend will be MORE than grounded for letting this happen to their homes, so it will be sweeter than seeing you be landlubbers forever and letting this poor fish die!
Skystar: (She sobs) Harmony? What do we do? I don't wanna betray my mom!
Harmony: Neither do I to my ancestor... But what choice do we have? I'm sure they'll understand!
Mantrek: "That's abit more like. Now make it fast! I have better things to do then watch over a dying angel fish!"
Harmony Steals The Pearl of Maricolous and Skystar's Freedom/Celaeno And The Heroes Rescue Angela
Mount Aris Seaquestrian Castle
Harmony:... (Sighs)... I can't believe I have to do this!
Skystar: I agree. Mom is gonna ground me for this. But... I think I may have an idea on how to get you far.
Harmony:... You sure?
Skystar: I'll distract my mother so you can get the Pearl of Maricolous. It WILL open for you, and... Know that she stepped up security and used the strongest alarm jellyfish we have surrounding it to keep a theft like this from occurring with Mantrek around... Just... Go do your thing, and I'll handle the rest! (The two nodded and swam off)
Throne Room
Novo:... What's takin' Skystar's visit so long? It's almost curfew! I'll be darned if she's doing something washed up again!
???: MOM! (Skystar came in)
Novo: Oh, there you are!... I was beginning to worry about'cha!
Skystar:... (She sobs)... Mother!... We need help!
Novo: What? What happened- (Skystar started to be affected by the curse)... WHAT HAPPENED TO YOU?!?
Skystar:... MANTREK CURSED ME AND HARMONY INTO-... INTO... (She transformed back into a hippogriff as she suffocated)
Novo:... Well, we'll need to have a SERIOUS talk about this later, young lady! (A suffocating Skystar face-palmed herself in aggravation as Novo retrieved a Pearl from the security jellyfish chandelier above and used it to undo the curse, restoring her back to a seapony as she gasped)... Tell me, daughter, what's Mantrek planning?!?
Skystar: He placed this curse on us, AND poisoned Angela, so we'd get the Pearl of Maricolous! It's clear that, since we didn't tell the security jellyfish to recognize curses... She could earn their trust and get to the Pearl!
Novo:... WE GOTTA STOP HER AND CURE HER BEFORE-
Harmony quickly tooked the pearl and replaced it with a beach ball.....
Novo:... Did you just tell me the truth to distract me and get the Pearl out of the security jellyfish just for THAT to happen?
Skystar: "...... Sorry mom, but Mantrek REALLY had us trapped with Angela poisoned and that curse! If it helps, I'm free, and we can get help!"
Novo: It definitely does, so no hard feelings! Let's go stop her!
Harmony was swimming off as they stopped her!
Harmony: "I'M SO SORRY MISS NOVO, BUT I CAN'T LET MY MOTHER'S OLD FRIEND DIE ON MY HOOVES?!"
Novo: "HARMONY, DON'T!! THAT BOTTOMFEEDER'S OBVIOUSLY USING YOU!!"
Harmony: "I DON'T EXACTLY HAVE A CHOICE?! EVEN IF YOU CURE ME OF THIS CURSE, I CAN'T LET ANGELA DIE!"
Harmony swam out as guards tried to stop her but ending up crashing into each other and failed miserably!
Sir Ripple:... Ouch! I wish she didn't have the strength of a horse like her father! Owww!
Novo: "..... SOMEONE, CLOSE OFF ALL EXITS!!" (Harmony got far even with all the coral-based bar barricades, the security jellyfish traps, among other traps, and she finally reached the other underwater entrance)
Skystar: Darn her athleticism and knowledge of our defenses! I swear, it hurts when you strengthens someone's core and love for the ocean, and it comes back to haunt you! Harmony, please stop! I distracted mom so she could also cure ME of the curse! We can do the same for you if you just-
Harmony: Well, what if Mantrek senses we're freed? He'll have Angela killed quicker!... I'm so sorry, Novo! I don't wanna betray you, mom, and Maricolous like this... But if I don't... I'll never forgive myself for letting her die!
Skystar:... Well then, we'll get help! Just... Do what you must, and we'll see what we can do! I'll be right behind you as best as I can, friend! (Harmony sobbed to herself and left)
Novo:... You sure that was a good move?
Skystar: Well, there's clearly no reasoning with her! We gotta get the others!
Novo:... (Sighs) Welp, the pearl's outta the oyster now!... I just hope you know what you're doing. (Sighs) I swear, these days, daughter, you're just like your father!
Skystar: Mom, at least have confidence in me for once after grounding me one too many times!
Novo: Just go!
Skystar: Going! (She left)
(Rescuing Angela)
Lagan:... This is crazy! CRAZY I TELLS YA!!!
Derelict: Oh, shut up! If we wanna get the heroes off of our trail before Harmony comes, then we NEED to give a diversion! (A sick Angela was seen in an impenetrable magic bubble)...
Lagan: I still say it's suicide! We're not sharks for the moment, so there's NO way this is gonna work!
Derelict: That's why we chose THIS spot! (They were in a massive trench)...
Lagan:... Hmmm... The Phorcys Trench! The most treacherous area of the Celestial Sea.
Derelict: Exactly! If the sirens related to those Starswirl exiled don't get them with their hatred for ponies, then the sea monsters, the Neunauges that feed on sea magic, the undead souls of the drowned in the distant graphic days of this sea, and the hazardous waters will!
Lagan: You are SUCH a sly shark!
Angela: (Coughs) You'll... You'll never get away with this!
Lagan: "Well gee, the fact Harmony's stealing the pearl for Mantrek seems to suggest otherwise, bitch!"
Angela: "(Coughs), What do you two even have to gain from this?!"
Derelict: "Well, basicly, me and Lagan were creations of Geogra too! Along with our old shark mates, Snap-Jaw and Bear-Trap! Look, if it helps, we ain't really fans of screwing over those ponies like that, at least, not as serious as what Mantrek wants, but we're mainly doing this to avenge our shark mates! Snap and Bear were like brothers to us! We at least owe them a chance to be avenged! And if it means history will remember us as the sharks that ruined ponykind, well hey, sharks already have a shitty rap sheet as it is, so what's a stunt like this being added in? Just another excuse for shark hate! It won't change either way, so why worry?" (A shadow appeared above them as this music played, showing Celaeno's ship as they flew their colors)
Lagan:... THAT'S OUR CUE! (They dropped Angela as she sank towards the trench)
Angela: AAHHHHH!!!
Skystar: THAT'S WHERE THEY TOOK ANGELA!
Celestia:... Oh, no! The Phorcys Trench!
Luna: Nobody's ever swam out of there alive!
Twilight: Well, we don't have a choice in the matter! Marenia? You, your friends, Urchin, and my friends on me! We've gotta go save Angela!
Celestia: I wouldn't recommend swinging at any enemy you find! There's sea monsters out there! Not to mention there's sirens related to the Dazzlings that are very likely to hold a grudge against us ponies for their banishment, as well as a healthy population of Neunauges!
Skystar: (She gasped)... You mean those nine-eyed lamprey-eels that consume sea magic, and the victims as they drown?
Celestia: The same!
Luna: You'll know when they come by their screaming.
Icky: Are we talking Princess Bride screaming eels here?
Luna: On steroids, as you would say.
Twilight:... Well, we have no choice! We MUST take the risk! Come on girls! JUMP! (They jumped and fell in the same fashion as when Celaeno's ship was destroyed, Pinkie giggling all the way, and Rarity looking in a mirror, among others)... EVERYPONY, BRACE FOR IMPACT! (They plunged into the water)
Celaeno:... Now the rest is up to us! We gotta secure their location!
Inside the Trench.
Angela in her prison was sink, but a hoof caught her.
A slightly aged siren was seen.
Aged Siren: "Ohhh. A rare find indeed. At least I got something to make for dinner. GIRLS?!"
4 Siren Halfings showed up!
Aged Siren: "We finally have a nice meal in our mists! Invite the other families! (Sniffles), We finally have something to honor your sister Adagio..... (Gets stern) NOW GET BUSY?!"
Sisters: "YES MAMA DILL WEED?!"
The Young Sirens zoomed off to the other siren homes!
Mama Dill Weed: "(Chackles), Your just what I needed to complete my honor feast for my dear lost daughter. (Reveils a well prepared whale carcuss stuffed with the corpses of Quarray Eels added with a hint of citrus). And your the cherry on top! (Laughs!)"
Angela: "Fair, to warn ya.... I kinda been poisoned...."
Mama Dill Weed: "..... It's not Buzzerray poison, is it? That shit's uncurable!"
Angela: "..... Uhhhh, YEEEAAAAAH, that's, EXACTLY what I have! I have a bad run in with a Buzzerray!"
Mama Dill Weed: "..... Ehhh, no problem. I'm just gonna have to cleanse the poison out with my oven!"
Mama Dill Weed laughs as she takes a panicing Angela to her underwater oven!
Mama Dill Weed: "Cooking ya'll in boiling water to.... (Looks up a cookbook).... 60000989889 Degrees should do the trick!"
Angela: SUPREME MARICOLOUS ALMIGHTY, LADY, THAT'S GONNA BLOW UP THE OVEN!!!
Mama Dill Weed: Ah, shaddap, I know what I'm doing!
The Mama Dill Weed was about to put Angela into a boiling hot pot of water!
Angela: "HOW DOES THAT MAKE SENSE?! WE'RE ALREADY IN WATER?!"
Mama Dill Weed: "It's a cartoon, kid. Work with it."
???: UNHAND THE FISH! (The ponies arrived as it was seen that the sisters were back!)
Sister #1: AAAHHHH, PONIES!!!
Sister #2: THE DEMONS THAT BANISHED SISTER ADOGI AND HER FRIENDS INTO A BLACK HOLE!!!!
The Sisters squirled and retreated!
Mama Dill Weed: "(Sighs)..... The sooner those girls get a backbone, the better."
Applejack: "Well ya may as well take that act of being afraid to heart and give us back that fish, or else we won't hestitate to reunite ya with Adagio soon enough! Now let that fish go!"
Mama Dill Weed:.... Like this? (Drops Angela's prison)
Angela was screaming as she was about to hit the hot water!
BLOP!
Angela was panicing in the prison as she was surrounded by hot water!
Rainbow Dash: "OH NOW YOUR GONNA GET IT, FISH-BITCH!"
Mama Dill Weed: (Cackles wildly)... You silly seaponies! You do NOT wanna get near us! Whenever ponies come into OUR turf, it usually doesn't end well, what with our HUNDREDS of pet Neunauges!
Applejack: We didn't see any coming down here, old-timer!
Mama Dill Weed: You CLEARLY don't know em'! They, as well as the other predators here, like to take their sweet time, and isolate yall' before attacking! (Blood-curdling loud shrieks were heard)... Speak of the devil! (Nine-eyed lamprey-like eels were seen swimming towards them)... ALRIGHT, MY BABIES!! IT'S CHOW TIME!! GIVE EM' A WATERY HELL!!
Sister #3 (That was seen hiding instead of having ran off) MA!!! (Skystar was seen swiping Angela's bubble as they retreated)
Mama Dill Weed: AWWW, BOB SAGET, THAT ALWAYS HAPPENS!!!! GET THAT SEA PONIES, MAH PRETTIES?!!! (The eels charged in magical electricity charging their absorption abilities as they chased them down)
Marenia: DON'T LET THEM CATCH US! IF THEY TAKE OUR SEA MAGIC, WE WON'T BE ABLE TO BREATH!!! (They went through a dramatic chase as they avoided the Neunauges, dodging them in every turn until they caught Pinkie, consuming her magic and leaving her to suffocate)
Rainbow Dash: LET HER GO! (She kicks the eel until another absorbed her magic and left her unable to breath)
Twilight: PINKIE!! RAINBOW DASH!!!
Mama Dill Weed: SHOW THEM SINNERS OF SIRENS NO MERCY!!! SQUEEZE EVERY LAST BUBBLE OUTTA THEIR LUNGS, AND WE SHALL HAVE OUR DINNER!!! (Cackles)
Marenia: (She fought off the eels and managed to save Pinkie and Rainbow Dash by giving them bubble helmets as they gasped for breath) COME ON! (They swam for the surface as the Neunauges shrieked and swam after them) COME ON!! THE NEUNAUGES CANNOT STAND SUNLIGHT!!! (Suddenly, something bigger was seen from far away)... But... That's not the worst of our problems! (A giant sea serpent similar to the one in Spy Kids 2 was seen as, upon the Neunauges being held back by the glare of the sun, they were consumed by the sea serpent)
Mama Dill Weed: "MY LITTLE POOPSIES?!"
Spike: OH, CRAP BASKETS!!!
Novo: By Maricolous! (The heroes approached the surface as the sea serpent came up roared in their faces as they screamed in fear)
???: HEY!!! (The serpents looked in the distance as Steven Magnet was seen)
Rarity: STEVEN?!?
Steven: Washmede, what did we say about being hostile to ponies? What have they EVER done to us?
Sea Serpent (Washmede): (John Cleese voice) Steven, come on, we're sea serpents! It's eat or be eaten out here! I swear, you're just like my grandfather!
Steven: HEY, I RESENT THAT!
Mullet: (As the two were talking)... Is it just me... Or is a sea serpent saving them from ANOTHER sea serpent?
Celaeno:... I think it is!
Luna: I think it's Steven Magnet down there!
Celaeno:... Who?
Luna:... Long story, I met him since the girls cured me from being Nightmare Moon.
Steven: Washmede, you go your fill from those wretched trench-dwellers! They were gonna drown and eat them! You helped just enough!
Washmede: NEUNAUGES ARE NOT ENOUGH FILLING!
Mama Dill Weed: "YOU OWE ME ANOTHER DANG BATCH THOSE, BY THE BY?!"
Steven: You'd best leave these girls alone, tough guy, or you'll have to answer to ME!
Washmede: (Shrugs in a monstrous fashion) Fine, you overgrown sea pen! Be passive like you were when we were kids! You were ALWAYS an embarrassment to us sea serpents anyway! (He left)
Steven: I DON'T TELL YOU HOW TO LIVE YOUR LIFE, SO DON'T TELL ME HOW TO LIVE MINE!... (He faces the heroes)...
Novo:... Who is this?
Rarity: This, is Steven Magnet. He's... An old friend of ours.... AND one of our first as a whole.
Steven: The generous one here gave up her tail to fix my ruined moustache, and I later joined them in the wedding of a rough-earned friend of Pinkie. We've been pals ever since.
Skystar:... Wow, girls, you go places!
Spike: You have NO idea!
Mama Dill Weed was seen trying to go after them herself, but was held back by her husband and other Sirens!
Dill Weed's Husband: "HONEY BUNCH, THEY AIN'T WORTH IT?! YOU'LL BE BANISHED TO ANOTHER DIMENTION IF YOU GO AFTER THEM?!"
Sonata's Mother: "FOR GOODNESS SAKE, JUST LET THEM HAVE THE FISH IF IT'S SO IMPOURENT TO THEM?!"
Aria's Mother: "We're as hurt about what became of our daughters as you are, but we ain't gonna be any real help to them getting banished to another dimention like them too, Dill! Let it go?!"
Applejack: ".... I guess that even though the other sirens hate us too, they know better then to risk the same fate as the dazzlings. Well, baring Miss Weed obviously."
Rarity: "Well let's not let their generosity go to waste and leave them be!"
The heroes escape!
Mama Dill Weed: "COME BACK HERE AND LET ME REAP VENGENCE APAWN ON WHAT YOU DID TO MY BABY?! SHE WAS MY WORLD AND YOU TOOK HER?! (CRIES HISTERICALLY)!?"
Fluttershy: "(Was hurt by Mama Dill's crying)....."
Twilight: ".... There's very little we can really do to mend that Siren's broken heart. Because the only real solution is to free Adagio and the other Dazzlings.... And I don't think those three are ready for a serious change yet, let alone anytime soon. Besides, Harmony's more impourent now."
Steven: I'll... Talk to em' later! What seems to be the problem ladies?
Novo: We'll explain on the way!
Steven:... Oh, hey, Novo! Haven't seen you in a while.
Twilight: You know her?
Steven: Well, YEAH! Every sea creature knows her! She rules the seaponies after all!
Novo: (She shifts to her hippogriff form) Let's just move! We'll need all the help we can get!
Urchin: But... Where do we go?
Skystar: Well, me and Angela have been at Mantrek's place, so... Angela will lead you in, while we come in when you need backup.
Albert: Yeah! If anything goes wrong, just signal me!
Urchin: How?
Albert: Anything, as long as it's subtle, like 'CA-CAA! CA-CAAAAAAAAAAAAAAAAAAAA!!!! RRRRRRRRRRRRRRRICOLLAAAAAA!!!'
Urchin:... Well, at least it's subtle!
Marenia: As subtle as anything a gull yells can be. Let's move! (They did so)
Mantrek's Lair
Mantrek:... Well... I guess things are starting to look well.
Lagan: AND THANK NEPTUNE!!! I couldn't stand being a small fry any longer!
???: I'm back! (She came with the Pearl)
Mantrek: Well, there you are! I was beginning to think you chickened out. You pulled through better than I expected.
Harmony: Know that I am not fond of you doing this to me!
Mantrek: Yeah? Well, that's what happens when you make the biggest mistake of your life.
Derelict: GIVE IT TO HER, GIVE IT TO HER, GIVE IT TO HER!!!
Mantrek: Both of you, calm your swim bladders! Just hand it over, and the curse is lifted!
??? HARMONY, NO!!!
Harmony: MOM?!?
Marenia: DON'T LISTEN TO HIM!!! HE'S USING YOU!!!
Mantrek: Oh, Marenia, I was expecting you to come. And I see you brought back AND cured Angelica!
Angela: (Grown-up) HEY, STING-BREATH, IT'S ANGELA! (Lagan and Derelict went into her nose)
Lagan/Derelict: GRRRRRRGH!!!
Angela: GRRR YOURSELVES, PIPSQUEAKS!!!
Lagan: SAY THE WORD, BOSS! WE'RE BASICALLY SEA PIRANHA! ONE BITE, AND SHE'S SHRIMP TOAST!!!
Mantrek: And, by the way, I never used her! I mean, not all the way. All I did, was threaten the one thing she loves more than anything else: Being able to live in the sea.
Marenia: YOU BASTARD!!! YOU KNOW SHE'S SENSITIVE!!!
Mantrek: And THAT'S why it was so sweetening to see how you turned her away from you, and into MY hands! So overprotective! She was scared that you'd end up like her. Helpless. Hypocritically hating humans yet admiring their technology. Afraid to see you share the same fate she did for thousands of years.
Marenia: HARMONY, DON'T TAKE IT THE WRONG WAY! I'VE NEVER BEEN PREPARED FOR THIS IN YEARS!
Harmony: Is that an excuse? Now he's gotten me in his clutches! You know how much I love the sea, and you didn't consider how much it would affect everyone around you, INCLUDING YOURSELF?!?
Marenia: Harmony, I was going to do something about it before you left. I knew how miserable you were about this! Believe me, if there was ONE thing I could do over again, it would be this! If you could just give me the chance to help us reach a compromise-
Harmony: I'm sorry! But... (Sobs) But it's too late! If I don't do this, I'll never be happy again! I'll regret this, but it must be done!
Marenia: HARMONY, DON'T!!! (Mantrek grabbed the Pearl)
Mantrek: (Cackles) YEEEES!!! AT LAAAST!! ALL THE POWER OF THE SEAS OF EQUESTRIA, AT MY COMMAND!!! (Cackles)
Lagan: HELLO?!? Can we get with the program?!? It's still a small world down here for us!!!
Harmony: THERE! You got what you wanted! Now can you lift the darn curse?!?
Mantrek:... (Cackles) Did you honestly think I was going to give it back to you THAT easily? I do NOT fraternize OR deal with your kind! You should've stayed with mommy. Instead, you let your overconfidence and stupidity be your downfall, and as a result, you had no choice but to be a very naughty girl, to steal from your own godmother's home!
Harmony: YOU DIDN'T GIVE ME A CHOICE!!! YOU THREATENED TO TAKE AWAY MY HERITAGE AS A MERPONY!!!
Mantrek: Too bad! You've got no one else to blame but yourself! You had the opportunity to come up with a better way, and you never had the chance. And so, you paid the price. And the price, will be your watery grave! (He stung her into staggering into an ice prison with Angela)... Good luck with your final breath! The curse will be withering away your merpony alicorn genetics very slowly, and you will die just as slowly! (He imprisons her) CATCH YOU LATER! I GOT BIGGER FISH TO FRY!
Lagan: BIGGER FISH! NOW THERE'S AN IDEA!!
Derelict: GET OVER HERE AND MAKE US BIG AGAIN!!!
Mantrek: Be patient, and let me rejoice in the fact that Storm King's plan worked better than I expected!
Marenia: STORM KING?!?
Mantrek: That's right! I've got someone of stronger power to help me get revenge! And now, you'll watch as not only will your friends and family suffer and drown, but so will your daughter! Now, let's get the show ON THE ROAD!! (Cackles)
Ice Prison
Harmony:... (They failed to break through the thick ice even with her father's strength) UGGHH! IT'S TOO THICK, EVEN FOR MY STRENGTH!
Angela: JUST KEEP TRYING!
Harmony: (She tried again and failed) NO! (She cries to herself) It's all my fault!
Angela: It's not your fault! Well... Kinda, but you and your mother were not acting rationally with this threat. You know how much they suffered over the past thousand years!
Harmony: Yes, but... I can't help but blame myself for this! Now I'm gonna drown soon, and I'll die knowing that I destroyed my family, my home, and my friends!
Angela:... I think we still might have a chance to give ourselves more time to escape.
Harmony: And that would be?
Angela: Remember the bubble apparatus breathing spell Skystar was trying to teach you in case of a situation like this?
Harmony:... I... I'm still a little rusty on that, but I'll give it a shot!
Storm King's Betrayal/Skystar Rescues Harmony
Storm King's Lair
Storm King:... So, was it a success?
Mantrek: Yes. Harmony was driven out thanks to her mother's overprotectiveness, and I had her bribed into getting this for me. Now she's left to drown, and we can use this to wreak havoc upon the oceans.
Storm King: Hey, good for you! Way to pull the ol' one-two onto them! Now my family can be avenged! However, Manny, ummmm, yeeeeaaaaaaaah, I, think this is where we have to part ways.
Mantrek:... What?
Storm King: Look, it's not you, it's me, and my family! And, this is me saying, I don't need ya anymore, Manny! Ever since the ponies and a collection of others pretty much HUMILIATED ME back in 2017, and then further on me and my family, I have not been able to cope with it, let me tell ya! They took my power, my family, my kingdom, and my, everything else! Now, I have the Pearl, and I think I can get even now!
Mantrek:... And what about ME?!?
Storm King: Oh, you get the sweet consulation prize of knowing that you helped me! Also, I'm totally gonna take your idea and roll with it with my Storm King ways, m'kay?
Mantrek:... YOU... YOU'RE STEALING MY PLANS?!?
Storm King: Hey, it's kinda what I do! And let's be honest, you were just another Tartarus resident waiting to happen... Does Tartarus even have an underwater level? Oh, of course it does, the Leviathan and the Lake of Styx hasn't slipped my mind! Anyways, if I kept you around, they'll just pull their deus ex machina again and you'll stupidly just stand still like a disbelieving fool and get toasted! So, see it as, I'm getting rid of the middle Manta Man to bring forth the MAIN EVENT! So... (He places the Pearl upon his staff as he is overwhelmed by water-based magic, as he cackled wildly)... ALL THE POWER OF THE SEA, IS MINE! I WILL UNFURL 10,000 FATHOMS UPON THE WORTHLESS PONIES OF EQUESTRIA, AND SINK IT TO THE DEPTHS OF THE OCEAN, AND MY FAMILY, SHALL FINALLY KNOW VENGEANCE!!... And I'll earn myself my own private resort on the side! I get revenge for my clan, AND a place to chillax! Heck, maybe I'll make Squirk forget his independence and make a good pawn out've him yet! And as for you, Manny? Oh, I know! TEST SUBJECT! Toodles! (He froze him again)
Mantrek: AAAAAAAAAAAAAAAAAAAAAHHHH!!! (He was frozen with a frozen expression)
Storm King:... Yup, it works alright! I'M BACK IN THE GAME, BABY!! Now let's see what else it does! But first... (He looks at Lagan and Derelict and approaches them ominously)... You two work for me now! Provided, if you want to become frozen shark fishsticks instead!
Lagan: HELP! DEFINITELY HELP!!!
Derelict: YEAH! I'D RATHER NOT BE PART OF THE FROZEN SEAFOOD SECTION RIGHT NOW!!!
Lagan: But... How do we do that in these forms?
Storm King: Ohhhh, right, that! Well, bibbidy-bobbidy-boo, wish granted! (He returns them back to normal as they breached wildly)
Derelict: OH, YEAH!!! WE'RE BACK, BABY!!!
Lagan:... You know? I always thought Mantrek was a total dried-up douchebag! You'd make a MUCH better boss! You destroy Equestria, we will help you do anything!
Storm King: Wow, loyalty is NOT a thing with sharks! Note to self, learn to sleep with eyes open, and be in unreachable shark-proof land! Not that it'll be available for long, but okay! It's Equestria-sinking time, boys! TIME TO SEE WHAT MARICOLOUS CAN DO!!! (He cackles as he starts making a large ice monument in a same fashion as Morgana) NOW, ALL HAIL STORM KING!!
Lagan: WE'RE HAILING, WE'RE HAILING!!! (Storm King started to play with his new powers as he made ice obstacles, a powerful tropical hurricane, made waterspouts, whirlpools, and so on as he cackled) YES! MARICOLOUS, YOUR POWER, IS GOING TO GET ME BACK WHERE I STARTED SINCE THOSE AWFUL CUTESIES HUMILIATED ME, AND DESECRATED MY FATHER, AND MY FAMILY AFTER HIM! (Suddenly, Albert came in with Derek, Oceanious, Marenia's Siblings, Novo, Skystar, and everyone else)... Speak of the devil!
Skystar: DON'T WORRY, MARENIA! THE CAVALRY'S COMING- OHHHHH, BARNACLES, IT'S HIM?!?
Derek: (Gasps) MARENIA!
Oceanious: STORM KING?!?
Lodgers: STORM KING?!?
Donkey: DONKEY!
Shrek: (Dubbed as Kevin) WILL YOU CUT THAT OUT?!?
Count Razoff: AW, DAMN!!!
Iago: "Oh not this sudu Hades Ape-Saytr asswipe again?!"
Storm King: Who else but, ladies and gentlemen?! Did you miss me since Hippogriffinstone?
Icky: LIKE COKE AFTER LENT, WE DID!!!
Storm King: Cola or cocaine? Bah, whatever! You had this coming for a LONG time! YOU DESECRATED MY STAFF, THEN MY FATHER, FOLLOWED BY THE REST OF MY FAMILY! NOW, IT'S TIME FOR THEM TO FINALLY SEE YOU ALL DROWN IN MY PRESENCE!
Iago: (Sees the ice-imprisoned Mantrek) Annnnd, I take it you took care of literal Manray for us.
Storm King: Gee, ya noticed? I thought he would go great with the punch! And you all are just in time to join the party! I'M JUST ABOUT TO 'BREAK THE ICE'?! (He fires a beam that causes an ice block to fall and destroy the ship as everyone avoided it, including Derek) (Laughs maniacly) Get it? I broke litteral ice!!
Mr. Krabs: "Stick to being an evil villain unlike like Batman and Robin Mr. Freeze, buster!"
Mad Hatter: Hey, I liked that movie!
Mr. Krabs: You're a Wonderlandian, so your opinion doesn't matter.
Storm King:... Killjoy! Anyway, as you had LIKELY guessed by now, I've been helping Mantrek right under your noses, to make you pay for what you stole from me! My power, Tempest, Grubber, my family, my father, my staff, MY, EVERYTHING ELSE! I SLEPT HORRIBLY AT NIGHT REMEMBERING WHAT YOU DID TO EVERYTHING I EVER HAD! I HAD SPENT GOD KNOWS HOW LONG SINCE YOU MADE A JOKE OUTTA ME, AND I CAME BACK TOO LATE! I was done playing the silly big bad! THIS TIME, IT'S PERSONAL!!! SINCE HIPPOGRIFFINSTONE, I HAVE BEEN SEARCHING FOR THIS PEARL, AND I HAVE MADE SURE TO MAKE TRUE TO MY OATH OF MAKING MY FATHER'S STAFF STRONG AGAIN, AND MORE AFTERWARD! AND I WILL START, BY SINKING ALL OF EQUESTRIA, AND EVEN THE WORLD FOR THAT MATTER, INTO THE WATER! THIS STORM WILL BEGIN A GLOBAL CATACLYSM AND A HALO OF DROWNING FOR ALL OF YOU! THE MOON WILL COME CLOSER, I WILL MELT THE ICE CAPS, I WILL DO ANYTHING TO FLOOD AS MUCH AS I CAN, AND FROM THE WASHED UP ASHES OF YOUR WORLD, I'LL MAKE IT BETTER! (Cackles)
Sparx:... Forgive my ignorance to the problem at hand, but DAMN, he's not joking around, and not being... Well... An ENTIRELY complete joke anymore! I mean uncertain sarcasm when I say, THIS OUGHTA BE GOOD!
Spyro: "Sparx, don't compliment the villains, even if your glad that they're not gonna be complete jokes anymore."
Sparx: "Hey, what did you expect? It was an MSM written line."
Spyro: Well it's not an excuse to get cocky about this.
Oceanious: Well, your misdeeds will NOT go unpunished, and we will ensure that NEVER happens! (Ichthyocentaurs came in and started attacking as he wiped them out with a powerful wave that the heroes recovered from)
Storm King: ICHTHYOCENTAURS?!? (Laughs) Oh, come ON! Is that the best you can do?!?
Gazelle: You KNOW we can take you in a fight!
Storm King: Not with the Pearl, you grasslands insult! And THIS time, that Uniter Blade will not be enough!
Duke: Don't test us, monkey boy!
Storm King: "SATYR?!"
Duke: "Who LOOKS like a monkey!"
Storm King growled in annoyance and attacked with powerful waves which they avoided as the tides got higher and thunder and lightning was heard!
Oceanious: You'd better surrender the Pearl, release my daughter, surrender my granddaughter, or things will get inconvenient!
Storm King: OOOHHH, I'm so scared! Bleh! What're you gonna do, throw the crab at me- (Sandy spun-tossed Mr. Krabs as him as he screamed a battle cry and smacks into Storm King's face) OWWWWWW, GODDAMN IT, I WAS KIDDING!! (He slaps Mr. Krabs off as he fell down the structure and landed on his back)
Mr. Krabs: (He got up) AHH! MY BACK! (SpongeBob did his back-fixing technique in Naughty Nautical Neighbors and fixed it)... Thanks, lad!
SpongeBob: Don't mention it!
Wolfgang: Tempt us again, and it'll be my turn, mon!
Derek: I WANNA KNOW, WHERE HARMONY IS!!!
Storm King: Oh, you wanna see the Mary Sue? Well, I guess THAT can be arranged! (He cast waves onto him that forced magic currents to drag him into the water)
Marenia: DEREK!!!
Novo: GUARDS! (The Ichthyocentaurs went to retrieve him)... Skystar! I'll hold this pile of sea-waste off! You go find Harmony!
Skystar: Already on it, mom! (She went off as Derelict saw this and went after her)
Marenia: (She broke free of her ice prison and dove to save Derek, fighting off Lagan in the process)
Storm King: GRRRGHHHH!! (He continues making the storm more powerful, made the moon come closer to the world, melted ice caps in many corners of Equestria, and so on, cackling) YEAH!... ON BEHALF OF MY FALLEN CLAN, THIS IS THE FINAL DAWN OF EQUESTRIA! YOU WILL ALL TAKE YOUR FINAL BREATH, IF IT'S THE LAST THING I DO... AGAIN!
Ice Prison
Harmony: (She was still trying to cast the spell)
Angela: COME ON! Put your horn into it!
Harmony: I'M TRYING!!! (She exhausts herself)... It's no use! This spell requires air from the surface. And there's not much I can see here! I'm not gonna survive for long!
Angela: Don't give up! We are going to figure this out!
Harmony: I don't know if we- (She felt pain)... OH, NO! NOT NOW!!! (Her tail fin started converting into back hind legs, and her Alicorn wings disappeared as she was turned into a normal unicorn)... NO!! NO, NO, NO, NOT NO- (Gurgles)
Angela: HARMONY, IT'S NOW OR NEVER!!! YOU HAVE TO GET THAT SPELL ROLLING!!!
Harmony: (She was still failing to cast the spell, as she couldn't concentrate while being deprived of air, then notices some bubbles, which she started using to fuel the spell, and yet it only allowed her to create a small bubble apparatus for her to breath)... MMMHH!!!
Angela: Okay, I'm sure we can get out of here before that air is out! Have you tried taking air from the water?
Harmony: Mmm-mmm!
Angela: (Sighs) Well, that IS much harder to do than using the bubbles around you! Don't worry! We can STILL figure this out!
???: HARMONY! THERE YOU ARE!! (Skystar appeared) I was worried SICK!
Angela: Skystar! Well, you couldn't have come at a better time! Harmony just reverted to a unicorn! We need to keep her alive!
Skystar:... I can tell she's using that breathing apparatus spell. Well, that's not enough air! You need to take some out from the water like gills!
Angela: But doesn't that take more training than using the bubbles around her?
Skystar: It's the best she's got! Now, lemme see if I can find a way to bust open this ice!
Angela: I don't know! Harmony's paternal strength isn't enough! It's too thick for even her to bust open!
???: Oh, I know someone whose gonna get busted! (Derelict came in)
Harmony: (She blubed in surprise, releasing her apparatus until she got another)
Angela: AW, NO, NOT YOU!!
Skystar:... You know, I think I just found what I was looking for!
Derelict: (Chuckles) Good luck, sea lily! (He attacked and fought Skystar)
Angela: GREAT! He just had to show up! Harmony, you need to get it ready! The fate of our homes and lives are in the balance thanks to that ray bastard!
Skystar: Actually, it turns out he's been betrayed by someone worse! The Storm King is back!
Angela: WHAT?!? AW, NO, NOT THAT BASTARD! Harmony, you gotta- (She was slowly falling weak and unconscious)... HARMONY! (Harmony was able to spark more bubbles for her to breath) SKYSTAR!! I THINK SHE NEEDS YOUR HELP HERE!!!
Skystar: ON THE OFF-CHANCE YOU'RE NOT SEEING ME HOLDING OFF A SHARK, I'M IN THE MIDDLE OF SOMETHING HERE! (She holds off Derelict's mouth)
Angela: DO SOMETHING!!!!
Skystar: UGGH!! HARMONY!! IT'S LIKE A BUILDUP OF A MAGIC SPIRIT BOMB! SUCK IT INTO YOUR HORN LIKE A TUBE!!!
Derelict: THAT'S WHAT SHE SA... Wait, that doesn't make any sense!
Harmony: (She had little energy left and she could barely absorb enough air, and she took her last breath and energy and finally drowned from exhaustion)
Skystar:... (Sighs) Might've taken too much from her!
Derelict: (Cackles) Like I said, you'll NEVER- (Skystar punches him in the nose) AAAH, NOT THE NOSE!!! I SMELL WITH IT!!!
Skystar: WILL YOU SHOW THE COURTESY TO NOT RUB IT IN OUR FACES, TOUGH GUY?!? I KNOW YOUR A BAD GUY, BUT DEAR MARICOLOUS, THAT'S RUDE!! Time I taught you some MANNERS!! (She started stepping up, used kelp to ride him like a horse) YIPPIE-KI-YAY, MEAT-BREATH! (She charged Derelict into the ice prison) BRACE YOURSELVES!!! (They burst through as Skystar retrieved the unconscious Harmony) Let's get outta here! (They swam away)
Derelict: HEY! GET BACK HERE, I'M NOT DONE WITH YOU!! (He chases them)
Skystar: (She was carrying Harmony's unconscious body around as Derelict chased her until she managed to outmaneuver and lose him)... Whew!
Angela: Yeah! I guess we- (They were surprised as Derelict took them by surprise and started chasing them in and out of the water like this)
Skystar: (In slo-mo)... OOOOOOOOOOOOOH, S*************************T!!! (They avoided Derelicts jaws and made onto a land where he couldn't reach)
Angela: (She made it to a small pool where Derelict couldn't reach) WHEW! That was close!
Harmony Saves The Day
Later...
Harmony: (She was back on the surface as she was given CPR, reviving her as she coughs)... I... Thanks, Sky!
Skystar: What're friends for? Not bad for your first try, though.
Storm King: (Cackles) Well, took ya long enough!
Harmony:... Who... Who are you?!?
Storm King: I, AM STORM KING! THE GREATEST CONQUERER EQUESTRIA AND THE WORLD, HAVE EVER KNOWN... And the last of my family clan! No thanks to your excitable hippogriff friend there which I'll take pleasure in seeing Novo suffer when I GUT HER LIKE A FISH!!!
Harmony: Where's Mantrek?
Storm King: Well, let's just say.... Clean up in the frozen seafood section, if ya know what I mean! With him giving the Pearl of Maricolous to me, THE WHOLE EQUESTRIAN SEA, IS IN MY POWER! And man, is payback from that fateful incident in 2017, AND EVERYTHING SINCE, gonna feel BLOODY sweet! And it starts for ALL of you with fins! (He starts warping them into bowing and being immobilized as the effects of his storm got worse and posed a challenge for the heroes, who were still struggling to survive and breath, and the moon continued to ease closer)
Harmony:... Are you forgetting something, big guy?
Storm King: Actually, I pretty much have everything covered in a nifty to-do list! First, find Mantrek. Then, get him to cause trouble. Next, wait. Then, get him to get the Pearl through a sucker. Then, profit!
Harmony: One snag, you overgrown ice monkey!
Storm King: SAYTR!!
Harmony: Really? Uh, I mean, your little pawn reverted me to a normal unicorn, remember?
Storm King: Actually, that's next on the list. TIME TO WASTE THE PRETTY PONY!! (Harmony dived back down again, and this time, managed to get back to what she learned from Skystar and used magic to absorb air from the surface like a whirlpool and create a bubble apparatus)... That, edgy, bitch! LAGAN!? DERELICT?! (The two sharks go down to find her)
Marenia: HARMONY! (She was immobilized by Storm King's powers as the hurricane-like storm grew with Storm King standing under the eye with his newfound power)
Storm King: (Cackles)... I DID IT, FATHER! YOU AND OUR CLAN WILL FINALLY BE AVENGED! AND IT'S NOT EVEN 10:00 AM! NOT A BAD MORNING, IF I SAY SO MYSELF! (Cackles as thunder crackled in the background)
Harmony: (She leaped out like a fish and barely dodged ice obstacles as the harsh tides made it difficult) DAA- (She plunged)
Storm King: YOU CAN SWIM, BRAT, BUT YOU CAN'T HIDE!! (Underneath the surface, Harmony was trying to find an entrance, and Storm King's hurricane and powers caused the whirlpools to get stronger, causing her to lose balance and control over her bubble apparatus, Lagan and Derelict chasing after her)... I'LL FLUSH YOU OUT EVENTUALLY!! (Cackles as Harmony suffocated again, all while dodging Lagan and Derelict, getting air when she could)
Twilight: (The Mane Heroes and their allies were still struggling due to the storm and Storm King's immobility spell) AAHHH!! AAAAHhh-UGgggh! NOO!!!
Storm King: (Turns to Novo and Oceanious as he freezes them in place) Alright, you two! It's time for a standing ovation! BOW DOWN BEFORE YOUR NEW GOD OF THUNDER AND WATER!!
Wolfgang: No, your majesties! You mustn't!
Queen Novo: URRGGHHH!! HEE... HE HAS CONTROL OVER THE ENTIRE OCEAN, WOLFGANG... WE HAVE NO CHOICE!! (They bowed)
Oceanious: WE'RE HOPELESS NOW!
Storm King: Yeah, ya like that?!? Makes ya wish you did more then just entomb that mistake of nature, did ya? NOW, THE SEA AND ALL IT'S LAWS, BOWS TO MY POWER!! (Cackles)
Harmony: (She manages to make it to a ledge, gasping heavily after being deprived of air, getting on land before the sharks could catch her and she kicked one of them)... (She looks up)... I'm coming for you, your highness! (She climbs up in the same fashion as Melody did, struggling in the icy surface unable to fly without her wings, but using magic to keep stable)
Storm King: (Cackles as he summoned more powerful sea storms, which included waterspouts, more hurricanes, and powerful thunderstorms)... Who's up for a fate WORSE than being trapped in another world for eons?!? I know I'm game!!
Celestia: (Notices Harmony climbing after him)... YOU... YOU WON'T GET AWAY WITH THIS!
Storm King: I pretty much did, sunbutt! (Harmony got close) Get ready to kiss that fireball in the sky, goodbye, and into my clutches again, as I sentence you, to OBLIVION!- (Harmony tried to reach for him, but he dodged) WHOOPS!! Did ya think I wouldn't figure you came back? (Harmony stopped herself before she slipped off the edge as he chuckles)... I hate to say it, but... I'm disappointed. This, is the daughter of the mare who lead the way to an entire city's salvation, yet can't handle myself? You were even duped by your grandmother's defeated enemy! You, you're pretty much a freaking dunce! So why not run along and hide somewhere?
Harmony: (She recovered)... Don't get ahead of yourself, Mr. Big Storming Voice! I caused this, and I am going to fix it!
Storm King: Face it kid, it's BEYOND repair at this point! This world is still mine for the taking! I REFUSE to let my family go unavenged! ESPECIALLY NOT IN THE CUTE HOOVES OF SOME LITTLE MARY SUE BRAT LIKE YOU!!! (The two tussled for a bit, as Storm King got the upper edge)... Look at yourself! All you did was help an obviously evil manta man help me and only served to doom Equestria, and all because you went Mary Sue on everyone and wanted to be special! To make your Alicorn ancestor proud! I'd say she's the opposite of proud now! (To the Pearl) Whaddiya say, Maricolous? You proud NOW?!? (Cackles) That's gotta sting HARD, don't it? Now the entire land is gonna sink hard for what they did to me!
Harmony: Story of my life for the last few days!
Storm King: Honestly, you were insultingly easy to control. Even more than Manny! Though considering your mom, should I really be that surprised? Mantrek wasn't even that good of a manipulator, and you still let yourself right into his grasp, lock, stock, and barrel! Way to inherit that stupidity, kiddo.
Harmony: You and Mantrek have done ENOUGH to our family, thank you!
Storm King: That may be true for Manny, but I am just getting started! (Harmony fired magic as Storm King reflected them) Chickity China the Chinese Chicken! (He started levitating her back legs)
Harmony: YAH!
Storm King: No more games, Mary Sue! It's time to finish you!
Harmony:... First of all, it's Harmony! Second, you know sometimes, in the most unnecessary of ways, it pays to be a UNICORN! (He pokes him in the chest with her horn)
Storm King: YEEEEEEEEEEOWWWWWWWWWWWWWWWCH! WATCH IT WITH THAT BLASTED HORN!!! Sheesh, sometimes I forget about them!
Harmony: I'll be taking THIS! (She snatches his Pearl-powered staff)
Storm King: Pfft! Oh please, do you even KNOW how to use that thing?
Harmony: Back off, Storm-Top! (She points the bottom end)
Storm King:... (Laughs out loud) I thought you were stupid before, but... WOW! Wrong end, SWEETHEART!
Harmony: Oh, is it? (She dispenses the Pearl from the staff head holding it as it's indestructible nature caused it to bounce down)
Storm King:... You, edgy, Mary Sue! HOW DARE YOU SCREW ME A NEW ONE?!? (He smacked her off the balcony as she fell without her Alicorn wings)
Skystar: (She flew up and caught her before she crashed as they descended back into the water)... Gotcha, buddy! (Harmony smiled as bubbles escaped her nose and hugged her, until Lagan and Derelict came charging after them as Harmony pointed at them)... Aw, barnacles! (They chased them)
Storm King: (He uses his staff to try and get the Pearl back)
Novo: NOT SO FAST! (They tried to get it as well, and the Lodgers and other heroes tussled for it comically)
Discord: (As his power was drained by Storm King earlier) Hmmph! Stubborn overgrown satyr!
Storm King: I HEARD THAT, FREAKAZOID! (Discord dodged his attack)
Marenia: Where's Harmony?
Novo: She and Skystar are very tough for their ages. (Sighs) Can't believe I'm finally admitting that after the 87th recent grounding! (Openly) I assure you, they'll be fine as a fiddle. (Back underwater, Harmony had another magically-made bubble apparatus to breath as she and Skystar continued fleeing from Lagan and Derelict)
Lagan: COME HEEERE!!!
Derelict: GET OVER HEEERE!!!
Harmony: WHY DON'T YOU COME OVER HERE AND MAKE US?!?
Skystar: I THINK THAT'S THE IDEA!!
Harmony: I know. I'm just trolling them! (The two giggled)
Derelict: WE'LL TROLL YOU! (They dodged them by breaking up)
Lagan: YOU CAN'T STAY UNDERWATER FOREVER!
Harmony: Yes I CAAAAAAN!
Lagan: Let's fix THAT! (Harmony surprisingly manages to hold him off, even with lack of fins) WHAT?!? YOU'RE JUST A CHILD!!!
Harmony: And YOU'RE just a swimming mouth with teeth!
Lagan: OY!! RACIST MUCH?!?
Harmony: Oh come on, you're bad guys, you didn't seriously expected to be treated with respect here, did you? Also, it's called speciesism! There's a difference. Now, do you want your chum or not, ya carcuss munchers? (Whistles as the two got angry and attacked)
Skystar: (She keeps avoiding Derelict) Missed me!
Derelict: (Growls aggressively) YOU SCUMMY BRAT!!! (The two managed to overwhelm the two until they finally got them to knock each other out)
Harmony:... And THAT'S how the shark lost it's teeth.
Skystar: (They tried their fin high-fives, until they briefly held back due to Harmony's back legs as they did it with their front legs instead, and got to the surface, where Storm King was still storming up the tussle for the Pearl)
Harmony:... Hmm. I could've sworn they had it in the bag.
Skystar: I think they may need a little help!
Harmony: You're right! (They flew/galloped for the Pearl)
Storm King: (He sees them) OH, NUTS!! LAGAN!!! DERELICT!!!... WHERE ARE THEY?!? AW, DON'T TELL ME, THE TROPE WHERE THE MINIONS GET THEIR BUTTS KICKED!! (Growls) YOU PISSED ME OFF FOR THE LAST TIME, MARY SUE!! (He shocks the heroes before they could tackle him, as he leapt down, right in front of the two, smacking away Skystar, and approaches and grabs Harmony before she could get the Pearl) THAT PEARL IS MINE! I CHEATED THIS WHOLE PLOT FROM MANNY FAIR AND SQUARE.... Kinda sounds ironic now that I say it out loud, BUT REGARDLESS, I'M NOT GOING OUT THAT EASY! (He throws her to the ground and grabs her by the staff, and plunges her through the ice and into the water as she started drowning, unable to use her magic as Storm King strangled her further)... YOU PONIES COST ME EVERYTHING! (He failed to notice that Princess Maricolous walked up from behind and obtained the Pearl) YOU TOOK MY POWER, MY FATHER, MY SLAVES, MY FAMILY, AND MY KINGDOM! (As Harmony was hopelessly gurgling in panic) SO, I WILL FINISH YOU, FOR GOOD, AND IT STARTS BY WATCHING THIS POOR PRETTY CUTIE TAKE HER FINAL BREATH!!!
Princess Maricolous: Excuse me?
Storm King: (He turned around) WHAT?!? (He was shocked to see who it was as he realized he left the Pearl alone and saw that Maricolous has contained it)... Awwww, craaaaaaap....
Princess Maricolous:... Never again, will you or anyone else, threaten my family, my sea, OR my friends! If you EVER come near my home again, you will have to answer, TO ME!
Storm King: (Nervously laughs like the now-depowered coward that he is as he lets Harmony go).... Is it not too late to say.... Sorry?
Princess Maricolous: (Gives an "Are you serious?" face, then unleashes a powerful wave spell that washed him away into the water as he panicked and was taken away as Harmony gasped for breath when she was released, and Storm King's activity immediately wore off)...
Storm King: "WELL FIND ME IN THE ALLLLLLLLLLLlllppppppppppppppppppppppp- (Voice fades away as Storm King was sent away by the waves)
Lagan and Derelict were seen recovered.
Lagan: "..... Let's beat it while the going's good, dude!"
???: "HOLD IT, DIPSHITS?!"
Lagan and Derelict see the Lougers and Heroes.
Duke: "Do we have a friend in Paradisa that would LOVE to make an exsample out of you little s***holes!? GET READY TO BECOME FUTURE SHARK SKINED BOOTS, ASSWIPES?!"
Lagan and Derelict scream like girls and swam off while the heroes chased after them!
Harmony got up and coughed out water.
Harmony: "..... Did we win?"
Peace is Restored
Afterwards
Harmony: (As she was changed back to a merpony Alicorn)... Mother... I... I'm sorry! I'm SO sorry!
Marenia: No, no... I'm the one who should apologize, for being too hard on you. I was so scared of the past, it affected my judgment on you.
Harmony:... Well... We both apologized, so... No harm done, really. (The two hugged)
Princess Maricolous: (Queen Novo and Oceanious bowed to her)... Harmony, I have to say... I am sort of proud of you.
Harmony:... Really? After I... Sorta nearly doomed the sea and Equestria?
Princess Maricolous: It wasn't your fault. And neither was it your mother's fault. It was Mantrek and Storm King to blame. They scared us and nearly tore us apart.
Harmony:... Yeah, you're right.
Icky: Eh, bad guys always have that bad hapit of showing up when people NOT villain enfusiests want them to. Storm King was one MENTAL son of a gun, even if he IS a bit hard to take seriously as a major big bad, and he's done a LOTTA stupid shit! He was so hell-bent on making Equestia and by extention the ocean suffer for the defeat of himself and his family and to finish what he started with the hippogriffs, that he dragged Geogra's creation into it to use as an errand boy to ditch at the very end.
Oceanious: At least Mantrek is not a threat any longer either.
Celestia: "And we'll see to it that his frozen space waster of a body is hauled right into Tartarus to prevent the possability of him return. (Guards were already seen doing just that with help from the Demon Vultures). Begrudgingly, I'll give the Storm King credit on this. Mantrek would've been a typical case of Twilight and friends pulling out Rainbow Power and just imprisoning him in ice."
Oceanious: "Well I personally would've liked it just went down like that and NOT be humiliated to bow to that insufferable goaty baboon! I wish the worse onto him!"
Luna: "Well, if any luck, he is unlikely to survive his latest blunder. And even if he did, he no longer has any real power. The Storm King's ability to be a true threat once more is truely done. Any other future threat onto us by him will only lead to him sharing the same fate as the rest of his ilk. Either way, I think this chapter onto Equestia's history is finished up either way."
Princess Maricolous: But onto the matters at hand. I was expecting Harmony to be in a situation where she could make things right on her own. Since Marenia was hopelessly conflicted on what to do, I had to... Offer a little push.
Marenia:... So... You drove her outside the border?
Princess Maricolous: Well, I gave her a vision in her sleep, to take matters into her own hooves. I had to find a way to keep this from tearing you all apart. If this were to continue, Mantrek would've done far worse, and so would Storm King. I couldn't allow that after the incident with Novo and Twilight and their rash decisions and determination to avoid and stop Storm King.
Harmony:... So... You helped me get the boost I needed?
Princess Maricolous: Yes. Given how you were starting to lose it yourself, I had to make sure things didn't escalate any further. So... I can happily say, I am proud of you, Harmony. You've grown up big. (Skystar and Fluttershy started sobbing in joy)... So... It's time you fulfilled a destiny of your choice. Would you like to join the sea, or would you like to keep your family company?
Harmony:... You know what? I have a BETTER idea!
Later...
Harmony: (She ascended to a new Alicorn form, basically a blend between merponies and seaponies, and eliminated the boundary)... (Laughs) Now, we can finally be together again! (Everyone rejoiced as this song played)
An Added Insult To Injury For The Storm King
A Close up on the Storm King's face was seen as bubbles flouted around.
The Storm King fast awoke as he realised he was in a place he did not reckindise......
Storm King: "..... Oh NOW what!? As if it wasn't bad enough that one little distraction was all it needed for everything to be ruined, now I'm on an underwater trail, I-..... Wait, how am I not drowning?"
???: "You were granted an ability to breath underwater......"
Storm King: "..... Oh, cool, thanks. Now, I take it that since you helped me, your obvious bad guys, so, can I ask some favors from you, I'm already brainstorming on a new plan and-"
???: "SILENCE?! And how DARE you think I am going to help YOU after what you did to my best servent Mantrek, let alone what you DID TO ME?!"
Storm King: "...... Ohhhhhhhhhhhh. Look, it wasn't anything personal on ol' Manny, I just have a very bad hapit of turning on people once they outlived their purpose. It, kinda runs in the family, actselly. You see, we're like this because we're tainted creations of an orderly alicorn by his choatic doughebag brother and-"
???: "THAT DOESN'T CHANGE THE FACT THAT YOU HAVE BASICLY CONDEMNED MY BEST MINION TO TARTARUS?!..... And you have him sympathise with you, even felt sorry for you and your ilk, and you rewarded his ill-placed loyalty to you with BETRAYAL?!"
Storm King: "Okay, okay, cool it! I, now realise that maybe ditching Manny to do things my way was an obvious mistake! Look, how's about, I help ya get Manny back, and, I'll promise I'll never mess with your followers again, and, I'll see about learning to NOT betray people again like that! Look, I admit that the whole "Betray my assusiates at certain points in time" trope is OBVIOUSLY not helping me out anymore, I now reckindise the impourence of comrodery, and-"
Giant angry eyes appeared!
???: "SILENCE?!...... Given your insane nature, I can't risk trusting you in not knowing how much that was sincere or a scoiopathic attempt to malmitulate me?!"
Storm King: "Yeah, yeah, that's fair! Lord Choas screwed my clan up BAD! Although Lame Uncle Order King was BARELY an exception-"
???: "IRRELIVENT?! For the crime of robbing me of Mantrek, AND my chance to get the Pearl into my position for your own ILL-GOTTEN IDEALS FOR REVENGE?!, ALONG WITH WHAT YOU DID TO ME IN FRONT OF NOVO SO MANY YEARS AGO?!"
Storm King: "NOVO?! That Hippogriff Bitch?! How would you know about her- (Realises who this stranger could be.....)..... Oh, fuck no! It, it can't be! You..... YOU WERE TURNED TO SEAFOAM?! YOU, YOU WERE SUPPOSE TO BE..... NOT ALIVE?!"
???: "(Evil Laughter). Your magic is greater then your feeble mind has even BARELY came to comprehend! Yes, you DID killed me.... Or at the least, you placed me into a death-like curse that placed me through a Phenix-like process that would revive me into a beast of anger and revenge! I am enraged that Novo never ONCE attempted to avenge me even with the pearl in prosesstion, and she ignored the first oppertunity to get that justice like a phathic cowerd?! HER OWN DAUGHTER DID THAT BETTER THEN SHE DID?!"
Storm King: "(Gulp)..... If it helps, she agreed to helped this time when I came back!"
???: "THAT DIDN'T COUNT?! SHE BARELY EVEN DO ANYTHING?! AND DON'T BRING UP YOUR LATEST ATTEMPT, YOU WERE AT BEST DEFEATED BY THE ALICORN OF THE SEA WITH THE PEARL AS SUPPOSE TO NOVO!? YOU, ARE, THE REASON WHY I AM LIKE THIS NOW, AND NOVO..... Novo, never came to avenge me. SHE IS A COWERD?! THAT IS WHY I HAVE THAT SILLY ABOMINATION SQUIRK TO DO MY BIDDING AND MAKE NOVO SUFFER WHILE UNDER THE GUISE THAT HE WAS JUST A RANDOM BEAST THAT DOESN'T SEEM TO LIKE PONIES IN HIS SEA?!"
Storm King: "Wait, so, your why I couldn't get Squirk to join me to do EXACTLY THAT?! YOUR WHY HE SO MAD ABOUT BEING INDEPENDENT?!"
???: "In a way. Though honestly, it didn't helped that you sent Demon Worshippers to ask him to join you. Not by a long shot."
Storm King: "Look, it's not like I'm still with those gutless jokes anymore, they pretty much ran like chicken shits when the Guardians of Harmony showed up!"
???: "IRRELIVENT?! Now, I am going to make you suffer a punishment far more painful then ANYTHING those heroes would even conjure up even in their most darkest of sides?! A punishment WORTHY of an idiot like you who DARED took Mantrek from me?!"
Magic began to glow in the figure's eyes as did the Storm King.
Storm King was in fear as he was when he was first defeated!
Storm King: "WAIT, PLEASE?! I, I AM STILL OFFERING THAT I CAN GET HIM BACK FOR YOU?! NO, NO, WAIT?! STOP, STOP?! I'M WILLING TO SHARE HALF OF EQUESTIA WITH YOU WHEN I EVENTUALLY RECONGURE IT?! WAIT, WAIT, WAIIIIIIIIIIT?! AHHHHHHHHHHHHHHHHHHHHHHHHHHHH (MAGIC BLINDING FLASH)!"
The Camera appears out side of a dark lair as the figure's evil laughter was heard as rows of rows of creatures simular to Ursula's "Poor Unfortunate Souls" Garden were seen moaning and looking sadly at their tormenter's latest victim's likely fate.
Transcript
Coming soon...
Community content is available under
CC-BY-SA
unless otherwise noted.