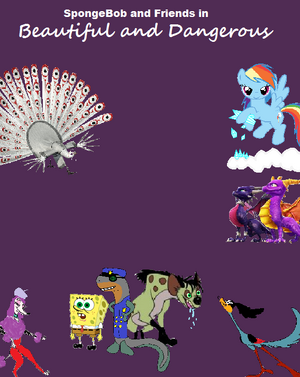 Beautiful and Dangerous
is the 8th Episode of the 2nd Season of the
SpongeBob and Friends Adventures Chronicles
series. Banks are being robbed by a duo of very beautiful robbers named 
Senior Larry
 the Former Mexican Roadrunner racecar driver, and
Le Fifi
 the French Poodle. Their beauty is capable of affecting everyone but themselves. As such, their plan is to get their careers back after losing them to Lord Cobra by stealing money from various banks. How will the Lodge be able to deal with the duo's attractiveness without being affected?
Transcript
Chapter 1: The Hottest Thieves in Town
Dragon Realms New York Bank
Chief Bullington: (The cops aim their guns at the bank) ATTENTION! WE HAVE THE BANK SURROUNDED! COME OUT WITH YOUR HANDS UP!
???: "Oh dear, officers, are you really gonna be so rough? Why not take it easy on us, no?"
???: "Si Seniors. You should know better then to do the tango with us."
Axle: "Come on out, ya scum! We have every right to be rough! Cause your scum!"
???: "Oh, Mousier Axle, must you be so, mean-spirted, no?"
Jenet: "We are asking as politely as we can to ask you guys to reveil yourselfs."
???: "Very well, Seniorita."
???: "But don't say you weren't warned, oui?" (They come out, and all the cops are traumatized)
Officer Axle: (Jaw drops)
Janet: SO HANDSOME!!!
Chief Bullington: (Attractive whistles) (A road-runner and a French poodle come out of the building with their moneybags) LOOK AT THAT PIECE OF ASS!!!
Officer Axle: (The poodle comes up to him and grabs him by the shirt)...Uhh...
Poodle:...What is it, Monsieur? You too swept off your feet to arrest us?
Officer Axle:...OH, YEAH! (Slaps her in the butt)
Poodle: UGH! (Punches him in the face) I'm not avail--
Roadrunner: SSSHHHHH!!! Quiet, Le Fifi! You say that, we lose our chance to get our old jobs back.
Poodle: Of course, my snooka-wookums!
Officer Ducker: HOLY HONK, LOOK AT THAT SEXY BODY!!! I WANNA BANG HER!
Poodle: UGH! (Punches him) So inappropriate, monseiur!
Roadrunner: So long, mi amigos! (The duo escape with the money)
Janet: (Out of her senses)... Whoa, that was some kunoichi! That roadrunner was SO hot!
Officer Axle: DAMN IT! They got away!
Bullington: "It's almost like those 2 are, charmed, or something. Like, magic."
Janet: "Do you think, they have, some sort of, souccer or soucceress with them?"
Axle: "Oh no, if there's magic or any other form of strangness involved, that ALWAYS mean we have to ask-"
???: The Shell Lodge Squad! (The Lodgers appear)
Axle: (Dubbed as Skipper) UUUUUUUUUUUUUGGGGGGGGGGGGGGGGGGGGGGHHHHHHHHHHH!!!! Not again!
SpongeBob: Yep, again! We saw you had a little kunoichi problem... Whatever THAT is.
Sandy: It's a Japanese female ninja method of sensually distracting the foe before striking, SpongeBob.
SpongeBob: (Too distracted by her eyes to have been paying attention)... Yeah, that's nice.
Sandy:... And I see I have my own kunoichi as well.
Lord Shen: Enough flirting around, please. We have business to attend to.
Axle: Listen, Lodgers, this is police business. Keep your big noses out of it.
Chief Bullington: Now, now, Axle! That's no way to talk to the Lodgers.
Janet: Yeah, Axle, when can you just give them a chance for once?
Axle: They're just vigilantes. Especially those psycohtic penguins. When I first met them, they were totally cracked in the head. Especially the one who keeps an entire amount of bombs in his stomach.
Rico: HEY!
Bullington: "May I inform you Axle that I been on your case since the Xenon fiasco, and that if you do something like THAT again, your really gonna get it!"
Axle: "(Growls), Fine."
Bullington: "Anyway, there's two thieves we're having problems with, A Mexican Roadrunner, and a French Poodle. We suspect, a souccer or soucceress may be invovled with them."
Janet: That roadrunner was so hot, his face looks like it was carved by angels.
Puss in Boots: Hmm, sounds dreamy.
Merlin: Sounds a bit like a charm spell like the one Clare Buckington used on Twilight years ago.
Spyro: So how do we stop them? I'm sure we'll be affected by their charm as well.
Merlin: No idea. But some magicians like me and Twilight have been trained in occlumency. And I'm sure you know what that is after Twilight's story. But learning it at a high level takes nearly a week of training.
Sparx: Well, we don't have time for all that crap, now do we?
Spyro: No. We'll have to find a way to stop them by ourselves.
Icky: Don't worry about it, it'll be as easy as getting a cat out of a tree.
Cutaway, Equestria
Icky: This'll be easy, Rarity. All I have to do is fly up there and grab Opal--(The cat shrieks, and begins clawing Icky) AAHHRRGH! UHHGH! OW! EASY, OPAL! EASY-OWCH! OW! OWW! WATCH IT, YOU ALMOST CLAWED MY THROAT! AAAOOWWW!! AOOOOWWW!! AAOOOOWW!!! AAAHHHRRRRGGGH!!! (Comes back down with Opal with scratch marks) See? That wasn't so hard, was it?
Present
Icky: Okay, ALMOST as easy as getting a cat out of a tree.
Iago: "Uh, I am not sure if that joke was anti-catisum or not."
Icky: No, I'm sure Opal is okay, so it can't be ALL anti-catism, right?
Fidget: "I think Iago was talking about the Opal attacking you thing."
Icky: Oh, well...then, I guess it'll be easier than...uh...
Fidget: Pie?
Icky: Yeah, pie.
Cutaway
Pie: (Po has already made it (Icky didn't make it himself because of his cookie treats incident) and the kitchen is seen a mess, as well as Po looking like he's covered in ingredients.) YOU THINK THAT WAS EASY?!?
Present
Iago: Much better.
Axle: "Are you done being morons and are ACTSELLY gonna do something?!"
SpongeBob: Yes, Officer Axle. We're just having our moments. We'll catch these guys like a jellyfish in a net.
Alex: Of course, we'll still need to come up with a plan to catch them WITHOUT being mesmerized by their charm.
Lord Shen: Pfft! Their silly hottiness can't affect us. We're like rocks when it comes to who's sexy and who's not. Isn't that right, yellow one?
SpongeBob: (Still attracted by Sandy)... Oh, uh, yeah.
Skipper: Leave it to us, Chief. We'll try and catch these guys.
Officer Ducker: Thanks, Shell Lodgers. We don't know how life in these worlds would've been without you.
Axle: I can hardly believe life WITH them.
Chief Bullington: Axle, please, don't be mean.
Private: Really, Chief, those guys can't be THAT hot, can they?
Chief Bullington: Trust me, you'll find out when you see them.
Skipper: Alright, boys, let's roll.
Chapter 2: The Lodgers Get Charmed
Down the road.
The Poodle is seen riding on the Roadrunner.
The Poodle, who was earlier reveiled as Le Fifi: "Oh Senior Lar-ry, this is a red latter day, oui? The Polici were like putty in our hands, no?"
Senior Larry: (Laughs) Actually, dear Seniorita, I have wings. But yes, I do agree to your statement.
Le Fifi: So where should we go next?
Senior Larry: Hold'a momento! We have company! (The van is seen flying above them)
Le Fifi: It's those Shell Lodgers we've been hearing about! We must retreat! HYA! (Larry picks up the pace)
Mr. Dodo: They're speeding up!
Lord Shen: Well, don't just stand there, pick up the pace! No wonder your species is extinct in most worlds!
Mr. Dodo: DON'T JOKE ABOUT THAT, OR SO HELP ME, I WILL WALLOP YOU LIKE A RAGDOLL! (Speeds up the van, and chases the duo, then turns on the intercom) STOP RIGHT WHERE YOU ARE, OR WE'LL BE FORCED TO ACT WITH EXTREME PREJUDICE!
Senior Larry: (Sticks out his tongue like Road Runner) MEEP MEEP yourselves, you incessant enemigos! (Speeds up)
Iago: It's a good thing we can't see them very good. LET'S FLOOR IT EVEN HARDER!
Mr. Dodo: This is as hard as we can go.
Sandy: OH, GIMME THAT! (Throws Mr. Dodo out of the driver's seat)
Mr. Dodo: You know, you could at least ASK a guy before you throw him out of the driver's seat.
Sandy: Never mind. We're NOT gonna let those crooks get away! (Pushes down on the gas, and the van goes into hypersonic speeds)
Le Fifi: "Sucleblu, Lar-ry! Their flying van actselly puts your speed to shame!"
Senior Larry: "Carumba! If only I still had my old car from el glory days!"
Le Fifi: Then I guess it's time for Plan B. Surrender.
Senior Larry: WHAT DO YOU MEAN SURRE- (Remembers his "skill") Oooooohhhhhhhhhh! I gotcha! (They both stop, and the Lodge Van goes right past them)
Sandy: WHAT THE--?!? (Stops the van, and goes back to them, and lands)... Alright, everyone. Avert your eyes! (Everyone does that)
Sam: Alright! (Takes out gun, and covers his eyes, then kicks the door open) REACH FOR THE SKY, DIRTBAGS! (Senior Larry uses one of his feathers to tickle him) STOP THAT! (Opens his eyes)
Le Fifi: HELLO THERE, HANDSOME!
Sam: (Gets lovestruck) WHOOEY! LOOK AT THAT PIECE OF ASS!!!
Lord Shen covered his eyes very hastingly!
Lord Shen (to himself): "I have a girlfrriend, I have a girlfriend, I have a girlfriend, I have a girlfriend!" (A gunshot is heard) WHAT?!? (Opens his eyes, but then finds out Senior Larry fired a gun in the air to get their attention)
Le Fifi: Hello there.
Lord Shen: (Attractive whistles)
SpongeBob: ANYONE WHO'S GOT A GUN START FIRING RANDOMLY!!! (They do that, and every time they missed) Did we get them? (Opens his eyes, and sees nothing) I... I think we got them.
Le Fifi: (From the van's roof) YOU GOT US ALRIGHT!!!
SpongeBob: (Gasps) SO SEXY!!!
Icky: How're we gonna stop them? One glance, and we're in a trance! (Laughs) That rhymes! But seriously, we're doomed. We'll never catch them.
Merlin: Allow me. (Uses magic to try and get them, but they both dodge each attack, and manage to knock him out) Ouch!
Senior Larry: (Laughs) You're SO pathetic! ANYONE ELSE WANT SOME?!?
Tigress: We'll take care of them. We're good at wits and cunning. (The Kung Fu masters go outside, and search for any sign of the duo)
Po: Where'd they go? Where'd they go? (Suddenly Le Fifi and Senior Larry appear in the center of their circle)
Senior Larry: Right here, mi amigos. (Everyone is surprised)
Shifu: NO! Don't look at them! Don't move a muscle!...
Senior Larry: Are you serious? (Tickles them all with feathers, and they all fall flat except Shifu)
Mantis: Seriously, that's cheat--(They all see their faces, and Mantis' jaw drops)
Po: WHOA! SHE'S SO HOT!!!
Monkey: I get to keep her!
Shifu: (Still standing perfectly still)... (Then reacts by jumping right out of the way of the sight of Le Fifi) NOT SO FAST! You can't make me get mesmerized by your trickery.
Senior Larry: Oh, really? (Pulls his ears)
Shifu: AAAOOOOWWWWW!!!! (Opens his eyes)
Le Fifi: Greetings, fox-thing!
Shifu: (Gets lovestruck) WOW!
Mr. Whiskers: BLAST, THEY'VE OUTFOXED US AGAIN! OOH! THEY KNOW OUR EVERY MOVE!
B.O.B.: "These guys cheat!"
Icky was wearing a paper bag on his head.
Icky: "HA! You can't charmed me when I am wearing defence!"
Senior Larry: "But don't you need to see where your going, Senior?"
Icky: Nope. Not really. (Senior Larry rips the paper bag) Oh, you have GOT to be fucking kidding me! (Gets mesmerized by Le Fifi) WOW, SOME SWEET ASS!
Senior Larry: Come on, Le Fifi! Let's kick these Lodger enemigo's derrieres tango style!
This song plays
The lougers found themselfs humiliated.
Le Fifi hugged Senior Larry!
A far distence laughing was heard!
Axle in spiecal glasses is seen.
Axle: "I must admit, you guys showed those smug vilanties! But the party's over! You see, these here are speical anti-charm glasses I bought from a roped stranger will protact me from yer charms. It's a hundred percent garretied, or my money back! How's about those-"
Mr. Krabs: We're not giving up, Axle! Shell Lodgers NEVER give up.
Sandy: And by the way, what was that thing about those anti-charm glasses?
Axle: Well, I told you, I got them from a roped stranger.
Shifu: Who was this guy you bought those glasses from?
Axle: I have no idea! But why should I help you guys? You had your chance to catch them, and you failed, so I guess it's up to ME to catch them since I have the only anti-charm glasses in stock.
Dr. Cockroach: (Uses an electronic scanner to scan the glasses) Well, not anymore. We'll just have to make some ourselves.
Axle: (Zaps the scanner, destroying it) I'm afraid that's not gonna happen!
Skipper: What?
Axle: Duplicating someone else's creations without permission is against the law, and is punishable by 5 years of jailtime. No exceptions.
Dr. Cockroach: Whoa whoa whoa! Who said we weren't gonna ask for permission?
Axle: What?
Shifu: We were gonna ask for this guy's permission before we duplicate their glasses.
Axle: Oh, crap.
Iago: You owe us an apology, Axle.
Axle: And who's gonna make me do that?
Chief Bullington: Axle? (Axle sees him staring grudgingly at him) You destroyed their device without paying attention, and it is your responsibility to make it right. Now, you are gonna apologize to them right now, and that's an order.
Axle: (Shrugs) Fine, I'm sorry. But can we at least- (Senior Larry and Le Fifi are getting away)
Senior Larry: "THANKS FOR THE HEAD START, ESTUPIDOS?!"
Axle: NOT SO FAST! (Tries zapping them, but Larry was too fast, and Fifi wasn't zapped at all due to riding Senior Larry) DAMN IT!
Icky: Well, I guess we're even, now.
Dr. Cockroach: (Scans Axle's glasses again) Now if you'll excuse us, we'll continue on our mission, find who this roped stranger is, find out how to duplicate your glasses, and take these guys out. Now, what did this guy look like?
Axle: "(Sigh), Fine. He was skinny. His robe looked, black, and it had some, weird cobra symbolisum. I didn't see his face thanks to that giant hood of his, but his hands were always folded togather like when a chinese guy does when he haves a rope with sleves. When he did reveiled his hands when he handed over the glasses, it looked like his hands look, un-naterol, and he had, some freaky looking finger nails, like, he had a madd-peddi. Weird, cause, I think he was a guy."
Shrek: Hmm, who do we know who looks like that?
Patrick: Could it be one of the Villain League?
Puss in Boots: Well, if this guy IS one of the Villain League, then he/she must be the person who charmed the duo we're after.
Axle: And you're saying that he did that AND let me keep some glasses that I could use to defeat them? THAT'S IDIOTIC!!!
Tigress: We don't know for sure, Axle. What I do know is we need to find him if we're ever gonna stop these guys.
Axle: "I'm just saying, why would this "Possable Leager" want to help me if he/she had something to do with those 2?"
Kolwalski: "Maybe the glasses are more then just blessed with Anti-charm magic. Maybe there's also Spy magic in those things!"
Axle: "Pfft, you don't have any proof."
Icky: "Uh, is it me, or, do those glasses almost look like what Crane's brother wore when he was duped to turn Equestia into a toxic dump?"
Axle: What?
Sandy: (Takes the glasses off of Axle) Hmm... Yeah, they sure DO look like the same glasses. I guess that means Lord Cobra is involved.
Icky: Well, it's about time Cobra recovered from that cold.
Iago: I actually didn't know colds could last only an episode. It's as weird as violating the laws of Christmas.
Cutaway
Mad Scientist: (Creates a machine that turns coal into toys) EUREKA! I have finally created a device that turns coal into toys! No longer will kids whine and cry about not getting their presents after waiting for an entire year to get them due to some dumb excuse for being naughty.
Santa: (Comes in) Ho ho ho! What's that you got there, sir?
Mad Scientist: Uh... Nothing.
Santa: Don't play dumb with me, sir! I know it's SOMETHING!
Mad Scientist: Why should I tell you what it is? (Suddenly, elves come out and point candy cane guns at him) WHAT THE--?!?
Santa: Dr. Cranky Pants, you're under violation of Christmas rule #128958: Never criticize Santa's choices for giving or not giving. When kids are naughty, they don't deserve any presents, and they will NOT get presents from me.
Dr. Cranky Pants: Oh, please, my child is thinking about killing himself thanks to you. He's been waiting 306 days to get a baseball bat for Christmas, and- (Santa kicks his face into the device, and it self-destructs) NOOOOOO!!!!!
Santa: Take him downtown, boys! Well, not 'downtown', maybe UPTOWN! (Everyone laughs)
Present
Icky: "Well that was surprisingly mean-spirited for someone who's a symbol of peace and goodwill."
Iago: But at least he's not like the Santa from Robot Chicken.
Axle: "Can we PLEASE cut the cutaway/post-moderncy crap and focus on what's going on please?!"
Mantis: Right. Let's at least find out what Cobra's up to. That is IF he's involved.
Panic:...'If'...'If' is good.
Spyro: Then let's go. We need to find out where these glasses came from, who owns them, and how we can use them to our advantage, and stop these two lovebirds. The fate of many banks is in our hands.
Kaa: Actually, not all of us have hands.
Lola Boa: I know I don't want hands anymore. Especially how I winded up with that weird Monkey's Paw I found back at that Mayan Temple. It actually gave me multiple hands, and turned me into a snake-caterpillar. AYE-AYE-AYE! That Paw was some bad stuff.
Mr. Whiskers: Tell me about it. It almost cost me my life and Ed's.
Ed: (Laughs)
Mr. Whiskers: Not YOU Ed, THAT Ed!
Ed the Otter: (Eating a mollusk) Well, I technically don't know what Whiskers is talking about, but it sounded bad.
Sam: Nevertheless, we need to get to the bottom of why these two are very attractive.
Max: I wish I could've seen your face when you were looking at that hot lady, Sam. It would've been a bit funny.
Sam: Yeah, that wasn't funny. What WAS funny was when you were stuck in the Funnel of Love.
Max: Yeah, THAT WASN'T FUNNY EITHER!!!
Viper: Guys, stop arguing. Don't we have a mission to do?
Max: I thought we WERE doing it.
Chapter 3: Exposition on the Duo
diserted ally.
A hooded stranger watches everything from a see-through portal.
Stranger: "Oh, just my luck THEY have to get into this! Irreguardless, that Poodle and the Roadrunner are my next in line in my latest in my long line of corrupted additions of the leage. With Dread gone, Tai Lung starting to lose his luster, Malock still hidden in the realm of obscureity ever since Dark Dragon's turncoat uprising, Cynder gone good, that idiot Alex lion never fully working out, even Shen back to basicly hating me, these simple thieves are my next in line of the perfect warriors of darkness. Though brief, I say the long awaited test run on those 2 was perfect. I must rid of them of their independent minds and that silly grudge against me if I hope to have them as leagers. I'll make those two appresiate my gift to them one way or another. (Revealed to be Lord Cobra) And this time, The Shell Losers are NOT standing in my way."
Shell Lodge Van
Dr. Cockroach: (Hooks electronic scanner to computer, and activates it) Computer? Analyze data we picked up from these strange glasses.
Computer: Scanning unknown glasses...(A few computer sounds are heard)
Lord Shen: I'm just asking, how often do you manage to find an object that could be of use to you when you're on a mission?
Icky: You got me there, Shen. I have absolutely no idea.
Computer: Glasses identified.
Dr. Cockroach: Wow, that only took 10 seconds.
Icky: "Well, is it what we're expecting?"
Computer: Glasses recognized to be crafted by Olympian Gods. Glasses identified as: The Glasses of Aphrodite. These glasses have been known to protect the Gods from invasion of love and lust deities. These glasses allowed them to look at these deities without being charmed by their beauty and glamour.
Icky: "But I thought this was Mang's work!"
Computer: "However. due to some interestingly modern ingredients to it, and the useage of dark magic, this may most likely be a conterfit."
Lord Shen: "Modern ingredients?"
Computer: The ingridients used to create these ancient glasses are hard to create with the use of light magic, but is much easier with the use of dark magic. It started with a normal pair of glasses, then it needed the essence of nymphs and sirens, some cloud crystals, rainbow residue, and a bolt of electricity.
Merlin: It takes dark magic to create these glasses quicker?
Phil: Yeah. Aphrodite didn't have any trouble using light magic to create them. She's immortal, so she's basically like a robot. She doesn't get tired or worn out, so she was able to complete enough glasses for the Olympian Gods in only 25 years.
Skipper: 25 YEARS?!? DAMN, THAT'S A LONG TIME!
Mushu: How did you know that, Phil?
Phil: Aphrodite told me herself. God, was she smoking hot.
Kowalski: Well, what did you expect? She's the God of love, beauty, pleasure, and procediation. (The penguins look at him) I GOTTA DO SOMETHING WITH THIS TRIVIA!!!
Tulio: Were love deities really a big problem for the gods at those times?
Phil: DAMN RIGHT THEY WERE!
Icky: "So, there's a chance this is Jerk-bra's handywork?"
Phil: I suppose so.
Icky: But that still raises a question. Why would Cobra give a pair to Axle? It makes no sense that he would give it to a cop who could arrest him with 100 volts in 2 seconds if he knew who gave it to him.
Tigress: "Maybe Mang had intentions to spy on us with those glasses, so when it looked like we're about to capture them, he would come in the last minute, and rescue them."
Po: Hmm, that is a good plan.
Kowalski: Well, we have the ingridients for the glasses, so let's make them.
Cynder: No. You heard Axle. We're not allowed to duplicate the glasses without permission. That would be like counterfeiting.
Kowalski: (Dubbed as Stewie Griffin) CRAAAAP!
Sparx: Well, (Scoffs) That's easy. We just talk with Aphrodite and ask her if we can duplicate the glasses. Then we use them to defeat the crooks, they're in jail, the Lodge wins, The End.
Phil: Well, talking with her in person might be very difficult. Especially since you're looking at a very hot God lady with smoking hot tits. (Gilda smacks him)
Gilda: Too much info, Phil.
Phil: I needed that.
Fidget: This oughtta be fun.
Spyro: Well, it's worth a shot. So far, there's no other way for us to get those glasses without breaking the law.
after they did get permission.
Icky: "Well, now that we're under way of getting spiecal glasses with permission, let's work on finding out who we're dealing with here."
Lord Shen: (Lovestruck after seeing Aphrodite) I have a girlfriend, I have a girlfriend, I have a girlfriend- OH MY GOD, SHE WAS SMOKING HOT!!!
Kowalski: Well, the computer gave us the ingridients, and we happen to have a lot of glasses to spare. Rico?
Skipper: HEY! I give the orders around our team, thank you very much! Rico? (Rico hacks out a huge pile of glasses)
Private: How is that even possible?
Iago: Now, who are we dealing with?
Sam: Well, we did learn the duo's names. The roadrunner was named...uh...I can't seem to recall.
Max: I think it was Senior Larry.
Sam: Oh, yeah.
Tigress: It took me a long time to realize that the poodle's name was Le Fifi.
Icky: Alright. Let's get this party started.
SpongeBob: Computer? Give us information on Senior Larry and Le Fifi.
Computer: Senior Larry Gilligan Rodriquez was a former race-car driver in Mexico who won 5 races in a single season. He was a great champ 8 years running until his big wreck 5 years ago. The wreck was said to have been caused by an unknown blast from an unknown location. The blast disabled Larry's car, and he was unable to control it. He survived, but was uncontrolly attractive, and he gained unwanted attention from alot of women, even his male maniger's wife. He was soon fired from his job, and went to a life of crime.
Viper: No doubt Lord Cobra is responsible for the loss of his job.
Kolwalski: "And his fam fatale accomplise?"
Computer: Le Fifi Tracey Archambeau was a former supermodel from France who's attractiveness made her rich and famous. Unfortunately, a blast of magic made her insanely attractive, and prone to volient anger. Her female boss was force to fire her by relucence, and became a shame to her passifist family.
Skipper: Totally Lord Cobra's fault.
Mantis: Definitely.
Computer: Senior Larry and Le Fifi eventually met each other in Miami, Florida, where they discovered that they both lost their jobs because of an unknown evil sorceror. They started forming a bond with each other, and began a crime spree throughout the UUniverses robbing banks. They are currently hatching a plan to get revenge on this sorceror and get their old jobs back.
Crane: Well, that explains a lot.
Icky: "Uh, do they honestly think they can be back on top if they rob banks? I mean, that's gonna make them infamus instead of back in the job. Their convinently same gendered bosses won't hire them back!"
Merlin: "It's possable the charm spell on them has a corruptive side-effect, so they are unable to get a proper sense of moral ethics."
Agumon: Then if that's the case, we need to make those glasses pronto.
Kowalski: Alrighty, then. Let's see, the computer said we needed essence of nymphs and sirens, cloud crystals, rainbow residue, and a bolt of electricity.
Spyro: Essence of nymphs and sirens? Crap! I thought we would NEVER come across sirens. Especially since Scroopfan cancelled their appearences back on our pirate adventure.
Kolwalski: "We are dealing with more triditonal sirens then what the producer canceled. The kind of sirens that relied on beautiful singing instead of loved one mimicry."
Icky: "But where are we gonna find that, nymph essences, cristail a-la cloud, rainbow stuff, and a shock of electrisity?"
Monkey: Well, there's some cloud crystals and rainbow stuff in Cloudsdale, Equestria.
Tentomon: I'll give the shocks.
Phil: And last but not least, there's some nymphs where I live. But I should warn you that they're shy. They can blend in with the flora easily, and once they do, you can't get the essence. You need to get it when they're in their nymph forms.
Shrek: Fabulous. How do you reckon we get nymph essence from shy nymphs?
Phil: That's easy. They trust me since I hang out with them a lot. They only didn't acted like that when you grossingly scared them away.
Sparx: Yeah, my bad.
Icky: "Now, we just need Siren essence. if only we know where to find Sirens in such short notice."
TV: "We interupt your pointless and boring lives for an impourent news annonsment: A Siren of triditional origin has been captured and sent to a zoo. Speical procautions were made to prevent it's beautiful voice to make it's escape, and for a limited time until it is to be re-release in a world that is the home of mythical creatures and legends, you can see this creature for just a 1.99$. Kids get in for free. We now return you to your lives as we are sure you are now gonna spend good money to see a woman-bird abomination who's kind murdered who knows how many unlucky sailors."
Gilda: "Strangest luck in the world much?"
Tai: I have an idea on how we can get in there. They said kids get in for free. So me and my friends will just arrive to the Siren's pen, and obtain enough essence to create the glasses.
Phil: Then we'll head to my island where I'll talk with the nymphs.
T.K: But let's remember not to be hypnotized by her wonderful singing.
Joe: Yes. Heaven forbid we get attracted by not just Senior Larry, Le Fifi, or Aphrodite.
Bill: FLOOR IT! WE'RE OFF TO THE ZOO!!! (They take off)
Chapter 4: The Scavenger Hunt
The Dragon Realms New York Central Park Zoo
A Bored-Looking Zookeeper: "Welcome to the Dragon Realms New York Centrol Park Zoo, temporary home of the captured Siren. How can I help you sir or madam?"
Girl Sora: Yeah, we'd like to see the siren.
TK: Yeah. I've never actually seen one before.
Zookeeper: Sorry, but kids cannot go in without adult supervision. (The Lodgers are hiding somewhere in the park)
Tulio: (To Skipper) I TOLD YOU THEY NEEDED AN ADULT!!!
Skipper: Then I guess YOU have to fill in for them.
Miguel: I'm going in, too. No traditional siren can persuade us. We're tough guys.
Tulio: Fine! (They walk up to the entrance) Sorry I'm late, boys. I had to use the bathroom really badly. Believe me, those tacos did NOT agree with me.
Joe: (To Tulio quietly) What are you doing here, Tulio? We're supposed to be undercover!
Tulio: Look, you heard the guy! You need an adult. So I guess you're stuck with us, pal.
Zookeeper: Go right in. But be careful, this siren will try and seduct you into freeing her with her singing voice.
Miguel: Puh-LEASE! We barely even know the meaning of the word 'love'. (They enter the zoo)
Mimi: Now where is this siren?
Matt: Yeah. I hope it doesn't pop out of nowhere like some kind of falcon. (Suddenly, beautiful singing is heard)...Wha--What is that?
Girl Sora: Oh, boy.
Miguel: (Both he and Tulio are hypnotized by the singing)...So beautiful!... (The siren appears in her pen, being a beautiful bird lady with golden shiny hair floating around like it's underwater. She also had beautiful golden orange eyes, and is half naked (Wearing a two-piece swimsuit), and has pale flesh skin and white wings similar to Celestia's)
She begins to sing this:
Miguel:...So...gorgeous!
Mimi: (Unaffected by the singing because she is a female) GUYS! Whatever you do, DO NOT look at the light!!!
Tulio: I can't help it! It's so beautiful!
Girl Sora: Guys, stop! (Tries pushing the boys away from the siren, but they are too strong to push)
Siren: That's right. Come to me, my precious! Set me free!
Mimi: STOP!! (Tries hitting them with a frying pan, but it has no effect) What? Since when did they have hard heads?
Girl Sora: Well, we gotta do something! That buck-naked siren is gonna do stuff to them!
Siren: Set me free, and I will give you my endless love for all eternity!
Mimi: OH, SHUT UP!
Tai: So...sexy!
Matt: Must...set...free...and...love...her!
Siren: Yes! YES!
Girl Sora: No! NO!
???: "Oh crikey, not again!"
Suddenly, the Siren was shot by alot of tranquliser darts, the Siren flopped to the ground in a stuper like sleep.
A female Kangeroo appeared in zookeeper getup.
The Kangeroo: "I knew bringing that beast into the zoo was a bad idea. It should've been better if that creature was just sent straight to the planet Mythos. But no, the commissioners want to profit from it, the damn money wanting pigs. You folks okay?"
Tulio: (The boys snap out of their trances) What the--?
Miguel: Well, am I embarassed!
Tulio: Well, if she was completely naked, then we would be falling for her all the way.
Kangaroo: Yeah, that's the reason why we fit her with the swimsuit. Mythozoologists said that siren hypnotism is completely unstoppable when they're naked. But trust me, it's not the only reason. Say, aren't you guys from the Shell Lodge Squad?
Tai: How did you know?
Kangaroo: I watch your series a lot, mate. And I also keep track of Shell Lodge history on the Internet. What brings you blokes to this zoo, anyway?
Tulio: We just need some essence from this gorgeous creature.
Izzy: The reason is need-to-know top secret.
TK: You know how we get some from this creature?
Kangaroo: Well, if all you need is essence, then I could loan you some. (Takes out a huge bag full of it) Voila.
Miguel: How did you get so much of THAT?!?
Kangaroo: Well, it's basically like clean-up duty. She leaves a lot of this stuff from her feathers whenever she begins flying. The essence is getting to everyone's allergies here, too. So, go ahead, mates. Take them.
Tulio: (He and Miguel high-five) Thanks a lot, miss.
Izzy: "And personally, I share with your consern about the creature being here. The sooner it does head torwords Mythos, the better."
Miguel: "I find it strange Tri-Corn actselly even allowed this."
A limozene appeared!
Tri-Corn comes out of it angry!
Tri-Cron: "I demand to speak with the comissioners who desided to let a Siren stay in a zoo and the Zoo's owner, RIGHT NOW?!"
Jamica: "Calm down, Senator Tri-Corn. I'm sure the comissioners have a justified reason... Maybe. It's just that, Sirens are very rare in the dragon realms."
Tri-Corn: "And with damn good reason! And you want to know what that reason is?"
Jamica chooses to play along.
Jamica: "And, that reason would be?"
Senator Tricorn: BECAUSE OF DAMN PROFIT!!! Zookeepers think they can introduce highly dangerous creatures just to raise more money than normal! DEATH TO CHEAPSKATES!!! THEY SUCK QUARTERS!!! IF JACK WAS A CHEAPSKATE, HE'D SUCK GOLDEN EGGS!!! CHEAPSKATES SHOULD BE STUFFED WITH THEIR OWN MONEY, AND SUFFER ZINC, NICKEL, COPPER, AND SILVER POISONING ALL AT THE SAME TIME! F**K CHEAPSKATES! F**K THEM TO HELL! CHEAPSKATES ARE NOTHING BUT F****NG GREEDY ASSHOLES!!!
Mr. Krabs: (Gasps, seeing and hearing Tricorn in the bushes) WHY THAT INSOLENT BITCH! (Jumps out of the bushes, and grabs Tricorn by the throat) WHY I OUGHTA RIP OFF YOUR TAIL AND BEAT YOU WITH IT FOR USING SUCH LANGUAGE!!!
Tricorn: YOU?!? Where'd you come from?
SpongeBob: MR. KRABS!!! We are SO sorry, Senator.
Senator Tricorn: You aren't the ones who should apologize! HE'S the one who should apologize for almost cutting my head off and threatening to cut my tail off.
Shifu: And are you aware WHY he did that?
Mr. Krabs: Oh, I'm sure she does! DON'T YOU?!?
Senator Tricorn: LET ME GO, YOU CRUSTACEOUS FREAK, OR I'LL CALL FOR BACKUP!!!
Lord Shen: ENOUGH OF THIS NONSENSE! Krabs, release the Senator this instant!
Mr. Krabs: Alright. (Lets her go)
Senator Tricorn: (Gasps for air) Uggh! You vigilantes are crazier than I thought!
Jamaica Boa: Geez, Senator Tricorn, keep your temper down. You don't wanna look bad in front of all these people, do you? (They notice that people are watching them with awkward grins)
Senator Tricorn:... Good point. Sorry, folks. Now, what are you misfits doing here?
Kowalski: Why should we tell YOU after how you insulted Mr. Krabs?
Mr. Krabs: Yes. I've never heard such foul language about cheapskates in all my life.
Senator Tricorn: I'm sure it's not the first or last, you cheap bastard.
Mr. Krabs: (Dubbed as Scar) WHAT DID YOU SAY?!?
Senator Tricorn: Oh, come on, you know it!
Jamaica Boa: Tricorn, please, behave yourself!
Senator Tricorn: NOT NOW, JAMAICA! (To Mr. Krabs) I'm sure you know what being cheap and greedy can lead to. I heard you almost fed your customers a moldy hamburger patty and refused to throw it away. (Laughs) Not to mention how you almost tore someone's arm off for a stupid penny. (Laughs)
Mr. Krabs: (Gets angry)
Senator Tricorn: But trust me, you're not the only cheapskate that ruined lives. Just ask Ebeneezer Scrooge and Jacob Marley! They were so cheap, they didn't give a damn about the poor. All they cared about was wealth. And Jacob blew it ultimately, and look where it got him. But Ebeneezer, DAMN! He was a real prize in his day. He gave up his only love for MONEY in his younger years, and hell, if he didn't change his greedy ways, he would be totally screwed. Say, I wonder if that'll happen to YOU!
Mr. Krabs: (Gets even more angrier)
Senator Tricorn: I even heard of this cheapskate who was SO cheap, he charged his employers for the most rediculous reason ever... GOOFING OFF! Oh, wait a second... THAT WAS YOU!!! (Laughs)
Mr. Krabs: GRRRR!!!
Senator Tricorn: You know someone else who was cheap? Gordon Gekko! (Imitating him) "Greed, for lack of a better word, is good!" UGGH! Such foul language! I eat cheapasses like him for breakfast! You know what he did? He tried to take down an entire corporate airport just for money! Do you have ANY idea what that would do? For all I know, you're the one who should be arrested by the Securities and Exchange Commission.
Mr. Krabs: GRRRRRRRRRRRR!!!!!!!!!!!
Senator Tricorn: And don't even get me started on Scrooge McDuck!
Mr. Krabs: AAAAAAAAAAAAARRRRRRRRRRRRGGGGGGHHHHH!!! (Beats up Senator Tricorn)
Shifu: THAT IS ENOUGH, MR. KRABS!!! STOP THIS MADNESS RIGHT NOW!!!
Mr. Krabs: WHY I OUGHTA DO MORE THAN JUST RIP YOUR TAIL OFF AND BEAT YOU WITH IT! I SHOULD RIP OFF ALL OF YOUR CYBERNETIC PARTS!!!
SpongeBob: (Gasps) Mr. Krabs! You shouldn't talk about Senator Tricorn like that!
Senator Tricorn: That's right. I am a senator. (On intercom) Security, I want the crab arrested for assault and battery--(Rico grabs the intercom, and destroys it)
Rico: Uh-uh-uh!
Sandy: Senator, you insulted Mr. Krabs about his cheap ways, and he had every right to do that... Except for the violent parts. If you arrest him for standing up for himself, that's just wrong.
Senator Tricorn: ALL OF YOU, JUST SHUT UP!
Po: No way. Not until you apologize for insulting Mr. Krabs.
Jamaica Boa: He's right, your grace. You did kinda offend him a lot.
Senator: Fine! I apologize!
Mr. Krabs: (Rasberries at her)
Senator: GRRRGGH! (Jamaica stops him)
Mr. Krabs: "Look, I can respect that sometimes, when a person that loves money too much that his greed harms socity, I can get that. People like that make me sick. But don't punish other cheapsakes because of the un-controled greed of others. Why, as a genune cheapsake meself, I know greed is not pretty, in fact, it's among the most deadly sins in crisianity, I can understand that you don't like greed if it goes too far or if someone actselly got hurt. And if you wanna give these comissioners and the zoo's owner what's coming to them, fine! But leave cheapsakes, who DO know when to stop, out of it!"
Senator Tri-Corn was surprised, and confused by what Krabs had said.
Senator Tri-Corn: "But what about the times where you yourself DID go to far?"
Mr. Krabs: "Moments of weaknesses, happens to even the best of us."
The Kangeroo: "Ok, uh, before anything else happens, Miss Senator, how's about I take you to the snack bar while I make the maniger aware of the situation, and, he'll make a few calls to the comissioners respondsable."
Senator Tricorn: Not yet. I have to have a talk with the misfits first. Why're you here?
Icky: "Ah, we may was well owe her for this guys, we acted like jackasses."
Fidget: Just for some siren essence so we can create these glasses so we can stop these incredibly hot bandits.
Senator Tricorn:... Okay, that's just gross. But if it means saving the UUniverses like you always do, then knock yourselves out. (Leaves with the kangaroo zookeeper)
Tulio: (Arrives with the others) Guys, we got the essence. (Shows them the bag)
SpongeBob: Nice work, guys.
Phil: (Checks to-do-list) Okay, siren essence, check. Now we need to head back to Greece so I can have a chat with those nymphs.
Spyro: Don't eat those bugs this time, Sparx.
Sparx: AWW! 
one quick trip later.
Phil is seen beaten up.
Phil: "Well, those nymphs were surprisingly extra fisty today. But we got the essence. Seesh. It had to be on the day those nymphs are in one of their moods."
Icky: "I'm guessing it was thier time of the month."
SpongeBob: To find mates?
Spyro: Something like that. Legend says that nymphs are curious creatures. Some may be shy like the ones here. Others might be really dangerous and might sometimes threaten any traveler who sees them. Legend also says that it is really offensive to them if someone disturbs them during the time of the month where they try mating rituals.
Nymph: (Disguised as a flower) AND DON'T YOU FORGET IT, GOAT-BOY!
Phil: HEY! You're not supposed to talk! Anyway, nymph essence, check. (Checks it off on his to-do-list) Next on the list is... Cloud crystals and rainbow residue. Both of which can be found in Equestria.
Mr. Whiskers: OOH! Maybe we can ask Rainbow Dash to help us.
Brandy: I just hope she's in the mood of helping. I don't think I can handle another day where she snaps at us for disturbing her lazy naps.
Cutaway
Crane: (Rainbow Dash is sleeping on a cloud, and Crane flies up to him) Hey, Rainbow-
Rainbow Dash: PINKIE, DON'T CUT OFF MY WINGS!!!... (Sees the Lodge) (Shrugs) YOU LOUSY DUMBASSES!!! YOU COULD F****N' SCARE THE PISS OUT OF SOMEPONY LIKE THAT!!! I MEAN, SERIOUSLY, I F****N' HATE BEING F****N' SCARED AFTER SOME BASTARD SNEAKS UP ON ME LIKE THAT! CAN'T YOU TAKE A F****N' CLUE AS TO WHAT YOU'RE DOING?!? GRRRGH! MOTHERF****R, MOTHERF****R, MOTHERF****R!!!! AHHHRRRGGGHHH!!! (Pants deeply)...Sorry. I was having a really bad nightmare about Pinkie trying to kill me for some crazy reason.
Crane: "You mean like in that divine awful fanfiction "Cupcakes"?"
Rainbow Dash: "Something like that. and just to be clear, it's NOT gonna end up like that other awful one, "Rocket to Insanity", where I go nuts and hurt Pinkie! I am actually going to therapy."
Present
Mr. Whiskers: Yeah, I don't think I could look at her the same way again after that.
Icky: And here's hoping Dashie is going to therapy.
SpongeBob: Alright, now let's go to Equestria in an amazing Batman cut. TO EQUESTRIA!!!
Batman Cut with Rainbow Dash in Rainbow Swirls, Equestria
SpongeBob: Well, that was easy.
???: GUYS!!! (Fireworks burst behind them, and the Lodge shrieks to see Pinkie Pie using fireworks)
Boss Wolf: Oh, it's only Pinkie. And she's playing with fireworks.
Lord Shen: Oh, of course. That seems pretty ni-wha-FIREWORKS?!? Pink one, we can't trust you with those deadly objects!!! They'll blow your head clean off if you use them wrong.
Pinkie: (Giggles) Don't worry, guys. I can handle these fireworks. I'm just preparing for the new Grand Galloping Gala this year.
Sandy: You're havin' another Gala?
Pinkie: You bet. Celestia said she's gonna announce the new bearers of the Old Elements of Harmony there. But she technically hasn't found all of them yet. She still needs Courage and Guidance.
Po: SWEET! ANOTHER PARTY!
Spyro: But let's get to the point. Have you seen Rainbow Dash? We need a favor from her.
Pinkie: Oh, she's at her house. Odd to believe she still hasn't woken up yet. She must've gotten tired at that whole 'Around-The-World' bet yesterday.
Cynder: She seriously flew around Equestria?
Pinkie: Yep yep yep. A total 360 degrees in a whole 5 days, 14 hours, 26 minutes, and 47 1/2 seconds.
Icky: "Aw great. Now's she's gonna be a sourpuss if we wake her up. How does one wake-up a pony that once almost cracked Spyro's skull open with a rock without pissing her off?"
Patrick: "Oh i know! Breakfast in bed!"
Squidward: That would work... but THAT IDEA IS STUPID!!!
SpongeBob: Actually, it might work. I think Rainbow Dash would be appreciative if we woke her up with breakfast. She must be starving to death right now since she hasn't gotten out of bed for a long time.
Meanwhile
Rainbow Dash: (Still asleep, and her stomach is growling, but she's too asleep to notice) Quarray eel ate my paperwork... Fluttershy turned into a kitten... I'm drowning with robot dinosaurs... Daring Do found the Crystal Skull... A flying pig stampede is coming... I'm a filly in a box...
Before
Patrick: Let's just hope she's in the breakfast mood.
???: Hello, guys. (Everyone turns around to see Fluttershy)
SpongeBob: Oh, hey, Fluttershy.
Fluttershy: If you guys need help waking up Rainbow Dash, I think I can help.
Crane: Hmm... Of course. You're soft-spoken, so Rainbow Dash can't seem to go sore with you.
Fluttershy: What do you guys need?
Icky: "We also need help on what Dash likes to eat as breakfast items."
Fluttershy: Oh, that's easy. She likes to have pancakes with extra butter and syrup. She also likes to have a glass of chocolate milk along with it.
Pinkie: It's too bad Discord isn't here for the moment so we could get her some chocolate milk instantly... Come to think of it, he could actually make it for Dashie with his magic.
Spyro: Well, what if his magic makes the pancakes alive like he did with the treasure map?
Fluttershy: Yeah, Discord told me he hasn't worked out the bumps on his magic since then. He used to be a spirit of chaos after all.
Pinkie: Curious... Where is he at the moment?
Fluttershy: He's at Canterlot. Twilight decided to help him with the problems with his magic so things like that can't happen again.
Alex: Well, I guess that means we're cooking the pancakes.
Patrick: Does she, by any chance, like the pancakes from McDonalds.
Fluttershy: Actually, I don't think there's a McDonalds in Equestria.
Shenzi: Yeah, and besides, it's 11:45. McDonalds has stopped serving breakfast.
Banzai: Well, that blows.
Po: I can make the pancakes.
Icky: "Not meaning to sound racest, but, aren't you capable of making only chinese related food."
Po: "No raceial offence taken if it was not meant. Normally, yeah, but I have taken up more non-chinese resipeces."
Patrick: Well, that's good. We want Rainbow Dash to wake up good. We don't want her to throw a s**t fit again like last time.
Cutaway
Crane: (Rainbow Dash is sleeping on a cloud) Hey, Rainbow-
Rainbow Dash: PINKIE, DON'T CUT OFF MY WINGS!!- (Record Scratch, and the cutaway pauses like a movie)
(Marty): I think we did that joke already.
Present
Patrick: Did we? I lost track.
Pinkie: (Laughs) Do another cutaway!
Iago: Whoa, whoa, Pinkie! You can't just use a joke multiple times for your own personal entertainment. By then, it's not funny anymore. Yeesh, you're as enthusiastic as a dragon who recently ate peppers- OOPS!! (The cutaway slide pushes him) OOF!!! (Iago tries pushing the slide back) OH, NO...YOU...DON'T!!! GET... BACK... IN THERE- (He gets pushed away completely)
Cutaway
Spyro: (After eating peppers, his eyes are fire orange, and he's uncontrollably breathing fire) WHOOOOO, BABY!!! I FEEL SO GOOD, I COULD RIP THE SOUL OUT OF MALEFOR WITH MY BEAR HANDS!... WELL, ACTUALLY, I DON'T HAVE HANDS, BUT I DO HAVE FRONT LEGS, WHICH I GUESS TECNECALY ARE MY ARMS AT TIMES AND THERE FOR, CAN BE MY HANDS, BUT SERIOUSLY, I FEEL LIKE A MILLION BUCKS!!!
Ignitus: Alright, who fed Spyro peppers?
Po: Uh, sorry.
Spyro: I CAN SEE HADES FROM HERE! WHOO, HE'S SO SMALL! HE'S AS SMALL AS PLUTO! I MEAN, NOT THE DOG, THE PLANET! OH, WAIT, THE PLANET DOESN'T EXIST ANYMORE! OH, WAIT, I MEAN IT TECHNICALLY STILL EXISTS, I MEAN, IT DIDN'T EXPLODE DESPITE BEING DESTROYED BY COSMO ON THE FAIRLY ODDPARENTS! AT LEAST IN HIS WORLD, ANYWAY! IT'S TECHNICALLY A DWARF PLANET!!! WHOOO, IT'S GETTING HOT IN HERE! SO TAKE OFF ALL YOUR CLOTHES! I AM GETTING SO HOT, I WANNA TAKE MY CLOTHES OFF! WHOOOOOOO!!!! HAHAHAHAHAHAHAHA!!! I FEEL LIKE BANGING A CHICK AND DRINKING A RED BULL!
Cynder: I'm out of here! (Runs off)
Sparx: Spyro, will you get a hold of yourself?!? You're acting like a guy on crystal meth!
Spyro: WHAT'S THAT? IS IT SPICY? IF IT IS, THEN I FEEL LIKE HAVING IT!!! HOLY HELL, IT'S A FIRE!!! (Sees a candle) I'LL PUT IT OUT! (Tries using ice breath, but the peppers have made him so hot, he uses his fire breath instead) WHOA! NOW IT'S BIGGER!!! I NEED AN ASPIRIN! SOMEONE GET ME A--(Falls asleep)
Present
Pinkie: (Scoffs, and laughs out of control) DID THAT REALLY HAPPEN?!?
Spyro: Yeah. Peppers make dragons burn in adrenaline since they're so spicy.
Fluttershy: Ohh... gosh. I don't think I wanted to see that.
Icky: "Ok, before ANYTHING ELSE happens, let's get pancaking!"
Everyone was silent.
Po: "Seriously? First "Sharking", now "Pancaking"?"
Icky: Well, I'm not ALWAYS funny!
Later...
Po: (Comes out of Sugarcube Corner covered in flour, icing, and cake) Whew! I'm so big, I can touch the ceiling in there. Anyway, I made the pancakes. (Takes out some fresh pancakes) With extra butter (Adds the butter) Do you guys have any chocolate milk?
Mr. Cakes: Uh, no, but we have some chocolate syrup and some milk. Maybe that'll help.
Po: Perfect! You guys hold the pancakes. I'll make the chocolate milk. (Goes back inside, and chocolate bursting is heard) WHAAAOOO-HO-HO-HO-HO-HO!!! (Then a burst of milk) YIKES!!!
Mrs. Cakes: This isn't gonna end well, is it? (One of their babies are heard crying) Nope. I guess not.
Po: (Comes out covered in chocolate syrup and milk) Whew! That was... Hard!
Viper: How hard is making chocolate milk? All you had to do was pour a glass of milk, add chocolate syrup, and stur it for a few seconds, and boom, done.
Po: Well... You'd be surprised. But I got it. (Takes out the chocolate milk inside a cup with a lid on it) Thanks for your helps, guys.
Mr. Cakes: (Both he and Mrs. Cakes, and their two babies are covered in chocolate) Our pleasure.
Pumpkin Cake: (Laughs) Chocolate!
Pinkie: Don't worry, guys! When we're done, I promise I'll clean the place up.
Mr. Cakes: Well, don't stay out for too long. The kids crave chocolate- HOLY EQUESTRIA!!! (The babies are licking the chocolate off the walls) Oh, boy, Oh boy, Oh boy, Oh boy! (Mr. and Mrs. Cakes run off to their babies)
Squidward: Yeah, you take care of your chocolate-loving fillies, and... Ee'll be going. (The Lodgers enter the van)
Rainbow Dash's Cloud House
Crane: (The Shell Lodge Van lands on the ground below, and the Aerial Lodgers land on the clouds) Well, here we are.
Icky: Wow. I never knew the clouds here were... Solid. (Knocks on the cloud, and punches a hole in it) YIKE! (Digs up cloud like snow, and patches up the hole, only to find more holes) EEK! (Does the same thing for a while until Gilda comes by with some more cloud) Oh, thank you. (Patches up the holes)... WHEW!
Fluttershy: Alright, I'll just bring the food to Rainbow Dash, and... Wait... Oh, no. I don't have opposable thumbs.
Icky: Can't you just use your mouth?
Fluttershy: I don't think my mouth will support the tray.
Gilda: Oh, for Pete's sake! (Positions Fluttershy's hooves and makes them carry the tray nicely) There. Much better.
Fluttershy: Nice.
Iago: Now, be careful, Fluttershy. Try not to drop it. Especially not on Rainbow Dash. They're still hot.
Fluttershy: (Shakes a bit, and so does the tray) Uh... (Gulps) (Goes inside the house)
Rainbow Dash: Zzzzzzzz... Zzzzzzzz... Zzzzzzzz... Zzzzzz...(Smells pancakes)... Hmm, father, those are some good pancakes... Zzzzzzzz...
Fluttershy: Um... Rainbow Dash?... Hello?...
Rainbow Dash:... You dishonored me for the last time, Scootaloo! Now, you must die!... (Gets anxious in her sleep) Urrrrggghh!!!... No! No! Not Scootaloo! Not Scootaloo! I wouldn't... I wouldn't... Where is that smell coming from? Is that the Spectra? I didn't know it smelled like that... Urrrghhh!
Fluttershy: Oh, my... Rainbow Dash? (Puts the tray down on a table, and confronts her) Rainbow Dash? Wake up! You're having a bad dream!
Rainbow Dash: YOU'RE A DISGRACE TO YOUR NAME, SCOOTALOO!!! I WILL KILL YOU! I WILL... NOT... KILL YOU!!! Wait a minute... We don't even need to... Hold on! Someone give me anything... Organic... Aw, shit! I can't believe I'm going to pony hell for nothing!... Well, Scootaloo, I guess I can give you a chance...
Fluttershy: Rainbow Dash?... Hello?...
Rainbow Dash: AND SERIOUSLY, WHAT SMELLS LIKE PANCAKES!!! THE ONLY OTHER THING I SMELL AROUND HERE IS BLOOD! Zzzzzzzz... Zzzzzzz.
Fluttershy: (Breathes in, attempting to yell to get Rainbow Dash's attention)...(Lightly) Rainbow Dash! Wake up!... Oh, dear! My assertiveness is wearing out on me.
Rainbow Dash: (Suddenly wakes up)... Uhhgh!... (Yawns, and stretches) URRRRRRRRGGGGGGHHH!!! (Suddenly, sees Fluttershy, and jumps) AAAAAAAAAARRRRRGGGGHHHH!!! (Jumps through the clouds on the ceiling) Fluttershy? What're you doing in my room?
Fluttershy: Well... I tried to wake you up because... We got you breakfast. (Shows her the pancakes and the chocolate milk)
Rainbow Dash: Oh, boy, my favorite! (Flies back down) And it's still hot. Wait a minute, 'We'? Who's 'we'?
Fluttershy: Well, the Shell Lodge is here, and they say they need your help.
Rainbow Dash: WHAT?!? Well, why didn't they wake me up before?
Fluttershy: "You shouted at Crane the last time you woke up. Oh speaking which, it's ok, Dashie's awake."
Crane: "Hey Rainbow. Uh, were you, having another bad gorey fanfic dream?"
Rainbow Dash: Yeah, it was about that horrible story about grinding fillies into rainbows. What was it called...uh...'Rainbow Corporation'...uh...'Rainbow Company'...'Rainbow Industries'...
Icky: "Rainbow Factory"?
Rainbow Dash: YEAH, that's it. Besides, who came up with that? It's a good thing that fan-clip by FiMFlamFilosophy made my dream better than I thought it would be on the original. Especially that catchy song.
Icky: "You mean those guys who have that parody show of your real show that has you sound like an annoying guy?"
Rainbow Dash: "Well, that show had to move to it's own site thanks to copyright issues. Did you know Celestia actselly hates Rainbow Factory the story then even the Celestia Memes, or that fanship where she is in love with Discord?"
Crane: "Why's that?"
Rainbow Dash: "Well...."
flashback.
A viewing of Canterlot castle.
Celestia's Royal Canterlot Voice: "WHAT?! I CAN'T BELIEVE THE RAINBOW FACTORY IS DOING THIS?! I MUST GO THERE AND STOP THEIR EVIL SLAUGHTER OF FILLIES AT ONCE?! AND UNDO THE CORRUPTION THEY DID APAWN THE ELEMENT OF LOYALTY!"
Present
Lord Shen: Then I do NOT wanna ask her about it.
Rainbow Dash: Yeah, the guards had to remind her that the story was just a stupid, volient story becuase she thought it was real. It really prevented a SERIOUSLY awkword moment. And after all, I saw that parody show a dozen times. You do NOT believe what kind of character I was in that parody. I'm too embarassed to say it. And worse is that the show made Pinkie a crazed maniac! They even made Celestia a cruel tyrant that has this austrailian accent, or maybe it was a brute british thug, Rarity a nymphomaniac, Scootaloo a Johnny Bravo speaker, and Sweetiebelle under the posession of a weird spirit named Thrackerzod. And don't get me started on what they did to me. In that show, I was an idiot who thrived off attention, and heck, I didn't even know what sex was! I thought of it as some kind of hug. I even thought 'Lesbia' was a place, for Celestia's sake!
Ed: (Laughs)
Banzai: It's not funny, Ed. What a rediculous name. Lesbia!
Ed: (Bursts in laughter)
Banzai: HEY, SHUT UP! (Ed continues laughing, and then Banzai bites and claws him)
Shenzi: WILL YOU KNOCK IT OFF?!?
Banzai: HE STARTED IT!
Rainbow Dash: Okay, can we seriously stop the awkwardness and get to the task at hand. Besides, my breakfast is getting cold. (Starts eating, and takes a gulp of chocolate milk) What did you guys need with me?
Skipper: "We need your help on a mission we're doing. We need some ingredients. We must inform you that the mission in of it's self is classifived."
Rainbow Dash: "I'm gonna take a wild guess, another OC villain problem? Cause you guys fight alot of Oc villains as of late."
Private: Lucky guess.
Kowalski: We need some rainbow residue and some cloud crystals.
Rainbow Dash: Well, if that's what you needed, then I am SO your pony. There's some rainbow residue outside my yard. (Points it out)
Skipper: Thanks. Kowalski, extract the substance!
Kowalski: On it! (Jumps on some trees, and manages to reach the cloud yard, only to fall through the clouds, and crash to the ground) Ow!
Skipper: BLAST! I forgot we can't walk on clouds! We're flightless birds for Christ's sake!
Rainbow Dash: (Rolls eyes, grabs the jug from Kowalski, and flies up to fill the jug with the rainbow residue) There you go.
Phil: Alright! (On to-do-list) Rainbow residue, check!
Rainbow Dash: Now, you also said you need some cloud crystals. Well, I don't know if I have some in my home. They're very rare and can be found in the biggest of clouds.
Private: You mean like that one? (Rainbow Dash sees a huge cumulonimbus cloud far away from their location)
Rainbow Dash: Oh, yeah, I forgot. It was supposed to rain today. I'm sure their's HUNDREDS of cloud crystals in there.
Icky: Then let's go- (Rainbow Dash grabs his tail feathers)
Rainbow Dash: Hold your fire, Icarus! Cumulonimbus clouds are the most dangerous clouds we pegasi have to control. It takes a group effort to keep them under control. And that one is currently setting a rainstorm 45 miles from here. You get too close to one of those babies, your feathers will stand on end.
Crane: Well, if it's the only place we'll find cloud crystals, then I guess we don't have much of a choice.
near the area under the cloud.
Icky: "CONFOUND THIS SKY-WATER?! AND YES, WE EVEN GAVE RAIN WEIRD NAMES IN THE VALLEY! IT'S NOT JUST OUR PREDATORS?!"
Rainbow Dash: Alright, you know the rules of cloud-crystal harvesting, right?
Crane: Give us the short version.
Rainbow Dash: Alright. Once you enter the cloud layer, you might feel tingly after feeling the static electricity in the air. Do NOT let that electricity stop you. Once you enter deep enough, you'll find a clear white cloud barrier. You just go through that white barrier, and you'll find the cloud crystals.
Iago: You're telling us the cloud crystals are in the CENTER of the stormcloud?
Rainbow Dash: Uh, yeah! Where else did you think you would find them, on the surfaces of the cloud? Anyway, just follow my lead, and you'll be fine.
SpongeBob: Good luck, guys. (The aerial Lodgers and Rainbow Dash take off)
Icky: "This is possably the craziest thing I ever done all week." (They enter the cloud as it begins brewing with lightning) Whoa!
Iago: This is gonna be shocking.
Rainbow Dash: Just watch out for the lightning. They could brew up anywhere in this cloud.
Crane: I'm with you all the way, Dash. (Suddenly, they see a glowing electrical current in front of them)
Rainbow Dash: LOOK OUT! (They dodge the lightning bolt in time)
Crane: Whoa. Tough cloud. (Other lightning areas start building up)
Rainbow Dash: Uh-oh. EVERYONE MOVE!!! (Everyone dodges each lightning bolt)
Iago: (Lightning strikes his tail) WHOA!!!
Gilda: It's like this cloud doesn't want us in here.
Rainbow Dash: Just follow me. (The group flies through the cloud dodging each lightning bolt they come across)
12 minutes later...
Spyro: HOW BIG IS THIS CLOUD?!?
Cynder: Just keep moving. We'll make it.
Icky: "So, Cristails are solid matter, right? And clouds are considered to be made of water for something that looks like sky cotton? So, how are these cristals able to be up here without falling down?"
Rainbow Dash: Well, clouds are said to be made up of water droplets, ice crystals, and other chemicals. Some of the water droplets mix with the many chemicals and freeze into crystals the same way diamonds are formed by magma and heat in the earth. The result is cloud crystals. And the silly thing is that the crystals are so light, they can stay in the clouds for years until they turn into hailstones.
Iago: Amazing.
Rainbow Dash: Well, here we are. (They have reached the clear white cloud barrier) We'll find the cloud crystals behind that barrier.
Icky: I'M RICH!!! I'M FILTHY RICH!!! (Flies through the white barrier)
Spyro: Well, let's get going. (They all go through the barrier, and see a patch of millions of white and blue crystals in different sizes)
Icky: I'M TOTALLY RICH!!!
Rainbow Dash: Actually, cloud crystals are not that valuable since they can be melted easily.
Icky: F**k!
Spyro: But let's at least grab as many as we can and get out of here. (They do that, and put some cloud crystals in a huge bag)
???: "UNHAND OUR CRISTALS NOW?!"
Rainbow Dash: "Oh no! I thought we wouldn't have to encounter them?!"
Spyro: "Encounter who?"
Rainbow Dash: "Cloud Sprites?!"
Cloud themed sprites with enchanted looking daggers appear!
Cloud Sprite 1: "Unhand our cristails now! It's our only defence against Dragon Hawks!"
Icky: "How does unpriecious snow rocks protact you from Dragon Hawks?"
Cloud Sprite 2: "Dragon Hawks don't like to get wet. Their skaley feathers are fragile."
Iago: "Then why would they go into a dangerious cloud full of electrisity and filled with water if they don't wanna get their feathers wet!"
Cloud Sprite 3: "Those monsters are ammuned to electrisity and lightning, and the cloud is not wet enough to actselly or directly harm them! So leave our cristail alone, or we will kill you?!"
Spyro: I thought sprites were supposed to be harmless. Besides, we don't want ALL the crystals. We need a few.
Cloud Sprite 1: Okay, first of all, not all sprites are harmless. Some of them know dark magic. But we're not like black-magic sprites. We won't let you take our crystals. Second of all, even the loss of a few crystals will attract the Dragon Hawks. So hand them over.
Cynder: Well, I think you might need to know why we need them. There's a duo with uncontrollable attractiveness running around robbing banks, and we need the crystals as part of the ingridients we need to make these special glasses so we won't be affected by their charm abilities.
Cloud Sprite 3: If you speak of the Glasses of Aphrodite, then we must agree with you. But what we CAN'T agree with is that we need those crystals more than you need them.
Rainbow Dash: You can't persuade them, guys. They're relentless creatures. They will stop at nothing to keep their homes safe from these Dragon Hawks.
Sparx: Then where else can we find some cloud crystals?
Cloud Sprite 2: No cloud crystals are free for trade in Equestria. Cloud Sprites everywhere rely on them so that Dragon Hawks don't prey on them. Since the Windigo Ice Age, the Dragon Hawks have been aggressive and were thought to have gone extinct after the wet snowy climates wiped them out. Many were able to find shelter from the climates in caves and underground tunnels.
Cloud Sprite 1: But even though the Equestrians began to treat each other warmly, and ended the Windigo Ice Age, the Dragon Hawks were still unsafe from the outside world. We Cloud Sprites are charged with the duty to help the pegasi regulate the weather by using the power of the cloud crystals. The Dragon Hawks want us because they want to make sure that the outside world is dry enough to sustain them.
Icky: Do they wanna harm the pegasi as well?
Cloud Sprite 2: No. The Dragon Hawks don't want to come across a pegasi the same way a shark doesn't wanna come across a dolphin. The pegasi can control weather, so if they find out that Dragon Hawks are not extinct, they might use the weather to kill them.
Iago: And why would they want to do such a terrible thing?
Rainbow Dash: Because ponies in Equestria don't care if they're still extinct because during the Windigo Ice Age, the Dragon Hawks were so mad at us for attracting Windigoes and making the climate so wet, they began attacking our villages. They will risk being in a snowy climate if it means clearing it up by killing it's source.
Cloud Sprite 1: "The Ponies fought back using rain and snow, scaring the dragon hawks from continuing their wrath on them. But the Dragon Hawks turned their rage on us. It's bad enough the Dragon Hawks like to eat us thanks to being uneffected by our bad taste defence as due to our sprite herritage, now it's personal."
Crane: Well... We can't say we don't agree to your intentions. We respect what you are trying to do. But we need some cloud crystals so we can stop this duo. Is there any way we can get some without the Dragon Hawks attacking you?
Cloud Sprite 2: I don't know. But as far as I know, no.
Iago: Wait a minute. If you don't want the pegasi to know that the Dragon Hawks are not extinct, then why does Rainbow Dash know?
Rainbow Dash: Because they trust me. I care about them as much as I care for Twilight and Celestia. I would never reveal the secret of the Dragon Hawks to the ponies if they're just gonna deliberately kill them off. I think killing such a creature, even if they did do something bad, is so cruel.
Icky: Then I guess we have only one option. We have to help these Cloud Sprites with their Dragon Hawk problem so they can spare some of their crystals.
Cloud Sprite 3: We appreciate your sympathy for us, but we can't take any chances. The Dragon Hawks are stubborn and arrogant. They refuse to listen to reason if they impeach their goals. All they want to do is live in dry clear peace. They'll tear you apart if you stand in their way.
Spyro: Should we restrain them so they won't do that?
Cloud Sprite 1: No. That'll make them more angry. And the angrier they get, the stronger they'll be, so they'll be able to elude your restraints. Trust me, it's best if you leave the crystals alone. So, hand them over.
Icky: "Ok, then I guess this calls for extreme force. (Brings up his Ipod, and types up a number.) Hello, Princess C, yeah, there's these Cloud Sprites that refused to give us some cloud cristails for a mission we're doing involving super-attractive criminals because without those things, a type of dragon that was thought to be extint but are not called Dragon Hawks are gonna kill and attack them. Can you help us out?"
Celestia's voice: "What? The dragon Hawks still live? I thought those reported sightings mean something. But just to be sure, I need you to hand the Ipod over to someone more crediable. No offence, but due to your history of being somewhat of some with slightly inferior intelligents, I want someone who's more credable to confirm this."
Icky: "Cynder, it's for you."
Cynder: Hello? Princess Celestia?
Celestia: Oh, hello, Cynder. Icky told me you need cloud crystals.
Cynder: Yeah, we need your help. The Cloud Sprites say they need the crystals to protect themselves from Dragon Hawks. We need some so we can stop these two attractive guys from robbing banks throughout the UUniverses. Do you have any suggestions on how we handle this problem? We really need those crystals.
Celestia: Well, I don't know. The Dragon Hawks were aggressive creatures who don't want to be bothered. All they wanted was to be in a dry environment without the Windigoes to get them wet. I'm assuming they want the Cloud Sprites because they help the pegasi with the weather. Where are these creatures located? I would like to speak with them in person.
Cynder: Actually, the sprites didn't say where they were. (To the sprites) Where are the Dragon Hawks homeland?
Cloud Sprite 2: In the Badlands of Equestria just east of Macintosh Hills.
Cynder: (To Celestia on the phone) In the Badlands east of Macintosh Hills.
Celestia: "Well, i'd better make King Dragkis aware of this. Even the most hostile of dragons would not dare upset him."
Cynder: Great. See you later.
Celestia: Bye. (Both hang up)
Cynder: Alright, the Princess is gonna see what she can do about your Dragon Hawk problem.
Cloud Sprite 2: For your sake, I hope you're right.
hours later.
The ipod rings.
Icky picks it up.
Icky: "Yello."
Celestia's voice: "Well, it was, difficult, but we convinced the Dragon Hawks ro end their terror on the Cloud Sprites. I convinced them with Dragkis's help that they can live in Saddle Arabia now, a land that rarely has rain, in fact, alsolutely no rain period."
Icky: Well, that's good. The sprites don't want them perking them up from now on.
Cloud Sprite 3: Thank you for this generous favor, heroes. As promised, we shall give up some of our cloud crystals so you can stop those criminals. Take them as a token of our gratitude.
Crane: You're too kind. Now... I'm just asking... Are those Dragon Hawks similar to the ones on World of Warcraft?
Cloud Sprite: "Actselly, those are just their cousins. They're completely differnet otherwise."
Rainbow Dash: Well, thanks, anyway.
Shell Lodge Van
Phil: Well, it took 13 hours of work, but we got all we need to stop that crime-commiting couple of crazy catastrophy!
Icky: "Well we still need to make the stuff, then zap it."
Iago: "Well, we do need to be careful. If Jerk-bra is spying on us with the glasses he made, this would be the right moment for him to try and savitosh us." 
Gilda: Then we shall find a secluded location. Somewhere where nobody would dare spy on us.
Skipper: And I know just where to go.
The Everfree Forest
Kowalski: The Everfree Forest? Really?
Skipper: Well, it's the only secluded location I can think of here. Cobra wouldn't dare follow us here.
Tigress: I hope you're right.
???: Hello, there, Shell Lodgers wise and brave. I suspect you're again keeping the worlds safe? (The Lodgers turn around to see a familiar zebra)
Skipper: Who are you?
Trixie: Wait a minute. She's that crazy zebra that enters Ponyville a lot.
Lord Shen: Oh, yeah. Zecora. What're you doing here?
Icky: "If your wondering why we're here, well, we hope if he hid out here, not even Co-Jerk would be crazy enough to come here. I mean, ya know, Everfree being considered, dangerious and all."
Zecora: I am sure that what you say is true, but what is it that you intend to do?
Sandy: Well, we're after this attractive criminal couple who mesmerizes people with their charmin' good looks. So, we basically got a few ingridients to help us create these special glasses so we can be shielded by their beauty.
Zecora: The Glasses of Aphrodite I presume, but how do you attempt to resume?
Icky: Uh... We actually don't know how to make them with all the stuff we collected so far.
Mad Hatter: (With some tea) Oh, phhbbt! That's easy. All we need to do is ask the compu- WHOA! (Falls over, and spills his tea all over the computer, short circuiting it)... Oops.
Lord Shen: MAD HATTER, YOU RETARDED ASSHOLE! NOW HOW ARE WE SUPPOSED TO MAKE THE GLASSES?!?
Zecora: If it is answers you intend to seek, maybe I can help despite your profound beak.
Lord Shen: Apologies.
Boss Wolf: So you know how to make them?
Zecora: "Well, when one lives in a place no living soul would venture unless brave, there's really not alot one can do that many from the outside would easily be able to that they would crave."
Po: "I see, but, about the being able to turn this stuff into glasses."
Zecora: Yes, if you will just follow me, I will help you with the glasses you need. (They follow Zecora to her hut)
Zecora's Hut
Icky: Wow. This place is pretty nice. Despite the smell of herbs and spices. I'm at least surprised you haven't appeared in our series, Zecora.
Lord Shen: Now, here's the ingridients.
Zecora: (Finding a book of Greek God relics, and opens it to flip to the page about the Glasses of Aphrodite) The glasses are a thousand years old, used to combat love deities' scold. Making such glasses require clever smarts, a Midas touch, and a God's heart. 
Patrick: EEW! How are we gonna get a God's heart? It's all slimy and disgusting.
Sandy: Patrick, she's being figurative.
Patrick: What's that?
Squidward: (Face palms himself)
Zecora: The process starts with the essence of nymphs. You rub them on the glasses until they're stiff.
March Hare: What did that poet say?
Gilda: I think she said we need to rub the nymph essence on the glasses until they get hardened.
Po: Right. (Does that to every pair of glasses which are all lined up on a table)
1 minute later...
Shifu: (Feels the glasses) Indeed.
Zecora: Then you use the essence of sirens, and you rub the lenses hard like a titan.
Po: Rub the lenses with the siren essence. Got it. (Does that to every pair of glasses, and each one bursts in light as the effect takes effect)
2 minutes later...
Sandy: Things are goin' as nice as a jackrabbit in a funfair.
Cutaway
Jackrabbit: (In Disneyland) WHOOOO, I'M IN DISNEYLAND!!!
Present
 Sandy: I DIDN'T NEED A CUTAWAY!
Zecora: Next, you paint the glasses with rainbow residue, and wait until the lenses glow in a rainbow hue.
Boss Wolf: I can assume that means you paint the rainbow residue on the glasses and wait for the lenses to glow.
Po: (Puts the rainbow goo onto each pair of glasses)
3 minutes later...
Patrick: (Carrying the '3 minutes later...' timecard) Can you move along, I'm all out of timecards.
Po: We're still waiting for the glasses to glow... (They do that, and the lenses glow bright blue) AARRGH! (Knocks over a few of Zecora's tables)... I'll clean that up.
Zecora: Next you take two crystals of cloud, and put then in front of the glasses and they will shine around.
Po: (Puts 2 cloud crystals in front of one pair of the glowing glasses, and the crystals shine the lights across the hut) WHOA!... WOOO-HO-HO-HO-HOW! AWESOME!!! (Does that for the rest of the glasses quickly, and the entire room is illuminated by the light)
Zecora: And last but not least, you use the bolt, and zap the glasses once they jolt. (The glasses just do that)
Tentomon: Here we go! (Zaps the glasses, and they all glow bright, and the entire place bursts in light, but nothing happens to the place. When the light clears, the Lodgers see that the glasses are complete)
Baloo: Alright! We did it.
Suddenly, an eel like snake bursted through the ground, and roared!
Everyone paniced!
The Creature grabbed the glasses, and went back underground.
the outskirts of the everfree.
The ell-like snake resurfaces in front of Lord Cobra, who the creature was one of his eel-like snakes.
Lord Cobra: "I bet the lougers didn't realise my eel-snakes have the ability to burrow underground. I can't say I didn't admired their attempt. Now, I better scram before I am met with Shen's spear at my face."
Shen: (Puts the spear in Cobra's face) I should've known you were involved in this.
Merlin: We were lucky I teleported us all here instantly.
Lord Cobra: CURSES!!!
Icky: "Ok Jerk-bra! Hand over the glasses!"
Cynder: "We need them to stop your latest attempt for power the leage!"
Lord Cobra: "First of all, that project has gone on for awhile even before Dread. Secondly, you only have ONE glasses! They wouldn't be able to shield ALL of you! 3rdly, Senior Larry will just use his super speed to snag the glasses and leave you all exposed either way! It's too bad you don't have caster's amunnity, where since your's truely was the one who casted the attractiveness spell on those 2, I am amunned because I was the one who gave them the gifts, like, even when I am near Fifi, I would still be able to talk to her without being a babbling booty seeking idiot, though Larry, even if I didn't have casters amunnity, he still wouldn't effect me..... Although, Now that I think about it, the attractiveness spell doesn't work on those of the same gender and eachother for some interesting reason. But for the same gender thing, I guess that's what I get for using the Heteralsexual spell, and not the magic hogging Bysexual spell- D'OH, I JUST REVEILED THE SPELL'S FLAW?! Oh what does it matter, those 2 are always togather."
Icky: "What makes you think they're won't be times when their seperated, like when one of them has to use the bathroom, or their own seperate rooms?"
Squidward: Yeah. Besides, we got many more glasses to--(Lord Cobra has gathered up the rest of the glasses with his magic, and then destroyed them) use.
Lord Cobra: Did you seriously think I had bad hindsight?
Sparx: Well, maybe a little.
Lord Cobra: But still, I am NOT gonna let you foil my plans once again. I'm taking drastic measures. I am gonna make sure that Senior Larry and Le Fifi NEVER separate.
Shrek: Really? And how do you think you will be able to do that?
Lord Cobra: Simple. (Takes out magical chains similar to the ones Spyro and Cynder had in their third video game)
Spyro: Oh, crap!
Lord Cobra: "I brushed up on history. And I think an old trinket of Malefor will prevent those two from seperating."
Icky: "But, won't it be awkword if they have seperate bathrooms, or bed rooms? They might hate you more if you chained them, and that you would respondsable for them smelling like poop and have sleep depravition."
Lord Cobra: "..... Gee, O never thought of that...which is why whenever they're separated, they will automatically gain a force field. HAH! Try and beat THAT!"
Icky: "Uh, that still does not slove the sleep detravion and them smelling like poop thing."
Lord Cobra: "Oh yeah, that. (Turns around and begins to pound himself on the head) STUPID, STUPID, STUPID, STUPID, STUPID, STUPID!!... But... Maybe I can magically bring them fragrance and... And I... Uh... OH, FUCK IT, I GIVE UP!!! YOU WIN! JUST DEFEAT THEM! I already knew this plan would be foiled anyway. Just do it so I can come up with a new one! I'M GETTING THE FUCK OUT OF HERE! (Teleports away)
Icky: "What about our glasses ya jerk?"
Lord Cobra reappears, throws them at Icky, hurting him, and vanishes again.
Icky: "Ya could've just give them to me."
Villain Leage fortress.
In Cobra's room, crying can be heard.
Chrysalis, Teen Mang, and other villains appeared.
Etemon: "Oh what's wrong with the boss man this time?"
Cobra: (Sobbing) I DON'T WANNA TALK ABOUT IT! I ADMITED DEFEAT! I AM SUCH A SKINNY RETARD!!! I'M A SKINNY FAILURE!!!
Mirage: WHAT?!? (Bursts into his room with her claw slashing spell) HOW DARE YOU SAY SUCH THINGS?!? THIS IS THE FREAKING VILLAIN LEAGUE, AND WE NEVER GIVE UP! WHY, I OUGHTTA DIP YOUR HEAD IN BOILING LAVA RIGHT NOW!!!
Chrysalis: Mirage, please, don't pressure him. He needs time to come up with a new plan. Besides, I know just the way to cheer him up. Hey, Coby? I got a new tape for SLSFV.
Lord Cobra: Shell Lodge Squad's Funniest Videos? You shouldn't have.
Chrysalis: Oh, but I do. It's gonna be as funny as hell. (Puts the tape inside the TV)
outside.
The Villain Leage fortress is fine for the first few minutes, but suddenly explodes!
The Villains are seen smoked and ashed covered.
A scroll appeared in front of Mang's face.
Lord Cobra opens it.
Lord Cobra: "Dear Villain Leage, we have been aware that you have been unahorisingly taking moments of the lougers with their pants down (so to speak) for sometime now, and considered this magicly bombed video as a warning that this behavior will not be tolerated. Ignoring this will result in you suffering worse then video bombs and cartoonish like results. If you disire to get yourself to get better, watch your dirty underground villain's channel from here on out. With some love, Celestia and Ignitus. P.S. As an act of personal revenge, we asked hermes to start filiming your most embarising moments starting as of now. (speaking)...SON OF A B***H!!!"
Chrysalis: Uh...Coby?
Cobra: Chrysalis! Don't talk to me. NONE of you are to do anything stupid from now on! Anything stupid will get Hermes' attention. Now someone get me a new television and some new cheering up hobbies. I've been totally screwed. This is the WORSE DAY OF MY LI-HI-HI-HI-HIFE!!!
Hermes: (Laughs) That's gonna make BIG box office! Now, to see what the Lodge is up to! (Peels the scene frame to the next scene)
Chapter 5: The Attractive Couple's Lair
the van.
Icky: "Just great. We only have one pair of glasses, and we been told those 2 never seperate. Now what're we gonna do? Banks are gonna start going out of business and the ecomonity is gonna go to shit, because those 2 have the wrong idea on how to get their old careers back!"
Skipper: "And to worse it off, Axle will use this setback against us, LIKE HE ALWAYS DOES, THAT SNAKE-FISH?!"
Shifu: Then I guess this means we have only one last solution. We'll have to separate them by force.
Sparx: And how are we supposed to do that?
Shifu: Well, remember Cobra's error? They never separate unless they have to go to the bathroom or have separate bedrooms. All we need to do is find out if they DO have separate bedrooms. If they do, then we all will have to separate into two gender teams. The male team will attack Senior Larry, and the female team will attack Le Fifi.
Po: But what if they don't? What if they're so in love with each other, they both share a room together until they get conveniently married?
Shifu: Then we'll have to force one of them to go to the bathroom, and once we got them separated, them we'll attack...that is when they're done, that is.
Po:... Clever.
Icky: "Well, we still don't know where they are."
Spyro: Well, we can always use the Pool of Visions.
Mushu: Yeah, I'm sure that holy water can help.
Spyro: It's not holy water, Mushu.
Mushu: It's not?
Spyro: No. Holy water is used for more religious practices.
Mushu: Well, isn't magic a religious thing?
Spyro: No... Well... Maybe... But... I don't know. But let's just get back to the Temple.
Temple
Ignitus: I'm surprised Lord Cobra gave up just like that. And you're sure your new plan will work?
Mushu: Is this holy water?
Ignitus: No.
Mushu: Oh.
Spyro: And to answer the question, yes. Cobra said it himself that their charming abilities only works on their opposite genders. So if we attack Senior Larry with our male members, and we attack Le Fifi with our female members, then each of us will not be charmed. It's sure to work. All we need to do is separate them.
Ignitus: Well, if you're sure it'll work, then go right ahead. (They look inside the Pool of Visions, and see the crooks' lair in the Dragon Realms version of Phoenix, Arizona)
The hidden lair.
Inside, Senior Larry walked up to a poodle themed door.
Senior Larry knocked.
Senior Larry: "My dear Fifi. It is time to shine once again."
Inside Fifi's room.
Fifi's room is very poodle-themed, as Fifi awakes, as this all to familier song begins.
Senior Larry: Good performance, my dear.
Le Fifi: Thank you, my darling Larry.
Senior Larry: "Now I think it's about time for our next heist. But first, we need to freshen up. Nothing mars a charm spell by a wizard more then slight inperfections. We can't afford to even have ONE hair out of place."
Le Fifi: Oui oui, Larry. Step 1: We must stay together at all times.
Senior Larry: Si, mi amigo. Step 2: Make sure those Lodgers aren't on our tail again. Meep meep.
Le Fifi: Check. We'll keep an eye out for them. Next time they strike, we'll be waiting for them.
Temple
Spyro: Oh, you will, will you?
Tito looks angry!
Tito: "Oh how dare that copycat rip off My gal Geogratte! I'll kill her, i'll kill her, then sue her! (Growls)"
Dodger: You can't sue a dead person, Tito.
Tito: Then I'll sue her first, and THEN I'll kill her, man. Either way, she will pay for ripping off my gal's song.
Francis: Good grief.
Spyro: Well, now that we know where they are, let's go get them.
Tito: I wanna take down the poodle! She's a total pussy!
Spyro: No, Tito. You're a male. You'll be charmed by her- (Tito is wearing the Glasses of Aphrodite)
Tito: You were saying?
Sparx: Oooooh, you just got served.
Spyro: Sparx, shut up. Tito, we're not taking any chances. They are good at sneaking up on us. You're with the male group.
Tito: AWW!
SpongeBob: Not to worry, guys. We're the Shell Lodge Squad. We took on an entire army of mutant zombies. We saved alternate worlds from villain domination. We battled a mutant shark and lived to tell about it. Hell, we even killed an evil warlord twice. There's nothing we can't do if we work together. Now let's crank some gears.
The lougers cheer, and ran off!
Patrick: (Still in the room)... I didn't get any of that.
SpongeBob: (Stretches his arm out, and grabs Patrick)
Patrick: WHOA!!!
Phoenix, Arizona
Tigress: Why would they hide theirselves in Arizona? While it may be hidden, it might be an odd choice for living.
Kowalski: I agree. They could've tried a different place in Arizona besides it's capital. They could've tried the Grand Canyon, or something.
Spyro: Still, they chose a great hiding spot. Inside an abandoned mining facility. It gives us a challenge on capturing them, too. So dark in those tunnels, you can barely see them when you least expect it. You just feel their presence in a dark tunnel, and you're like 'Stay on your toes, everything will be fine', and BOOM! You run smack into their pretty faces.
Baloo: So how'll we separate them in such a big place?
Icky sees a power generator.
Icky: "A power Generator?"
Inside the tunnel, lights on the tunnal walls are seen.
Shifu: "It seems they ruined their own advantage against us."
Tigress: "That's because a dark tunnel can be both an ally, and an enemy."
Iago on his Ipod: "Well that, and it saids here that Le Fifi is afraid of the dark."
Sparx: (Laughs) Are you serious?
Iago; That's what it says, yes.
Sandy: Then we shall use that to our advantage.
Tito: (Chuckles menacingly) Is she gonna be scared to her knees. What a wiener who's scared of the dark. "AARRGGH! I'M SCARED THAT MY EXPOSURE TO DARKNESS WILL FORCE ME TO UNCONTROLLABLY USE MY IMAGINATION!!!" Chicken.
Francis: Good grief.
Icky: "Hey, it's not nice to make fun of people who are afraid of the dark. Nor is it nice to make fun of anyone with a phobia."
Kolwalski: "As strangely Mature Icky's words are, that is right Tito. A phoba can make a person mentally cribbled in everyday life and causes parania."
Tito: "How is being afraid of a lack of light cribbling? (Dodger puts a cover over him) AAARRRGGGHH!!! I CAN'T SEE! I CAN'T SEE! I'M BEING TIED INTO A SACK!!! (Dodger takes it off) Whew!... I stand corrected... But whoever I'm making fun of is a villain, right? So I guess it doesn't matter.
Rita: Oh, it matters, alright, Tito. What if Lord Shen was still evil? Would you call him a birdbrain if he hadn't changed his ways?
Tito: No... I guess not.
Rita: There. I guess you've got your reason.
Patrick: (Laughs like an idiot) SHE'S SCARED OF THE DARK! (Gilda smacks him)
SpongeBob: Well, let's get this over with. Let's split up into males and females. I will lead the males, and Cynder will lead the females. Sound cool for everyone? (Everyone mumbles) Alright. (They split up)
Chapter 6: The Battle of The Same Genders
In a Hallway.
Senior Larry was humming la cocoracha, and enters the bathroom
Senior Larry: (Massive pooping is heard outside the bathroom door) ARRRGGHH! Oohh! Must've been those Mexican burritoes I had this morning. (Gasps, Dubbed as Peter Griffin) Aw, damn it! I dropped my cell phone in the toilet!... (Slushing is heard) Uhhhgh! It's so cold and it's under everything! Uhhgh. I feel like rootin' around a picture of San Gria. Uhhgh! Where is it? Oh my God, why haven't I found it yet? Oh no, my feathers smell like shit. Uhhgh! Why didn't I flush when I got in here? UHHGH! This isn't even all mine! Oh no, there's a spider crawling up my face! (Slosh) ARRGH! WHY DIDN'T I USE THE WING THAT WAS ON THE FLOOR?!? WHY DID I USE MY TOILET WING?!? Oh, wait, here it is, behind the toilet... OH, SHIT! MY WING SMELLS LIKE SHIT!!! And trust me, amigo, the word 'shit' isn't profound in Mexico cause we speak Spanish. Uhhgh! This is gonna take a while.
In another hallway
Le Fifi was powdering her nose.
Le Fifi: Whew! God! I'd better be clean if I'm gonna get the cops attention again. Good thing those nasty Lodgers don't know where we are. It'll take them a million years to find me and my Larry-Warry.
Cynder: (The female Lodgers have found her) "Larry-Warry"? Really?
Le Fifi: AAAAHHHH!!! NOT YOU AGAIN! Why aren't you affected by my- Oh shoot! I forgot! I can only effect men! Why didn't that stupid wizard hit me with a bysexual spell!?
Tigress: Rope her! (The females prepare to do that)
Sandy: Come here, mutt! (Grabs Le Fifi's hair)
Le Fifi: HYAH! (Kicks Sandy in the stomach) HYAH! (Smacks her in the face) I wasn't just a mannequin, you know. I am also a centuire noire in karate and this asian fighting art of kung fu.
Sora: What did she say?
Mimi: I speak French. She said she wasn't just a fashion model, and she is also a black-belt in karate and kung-fu.
Sandy: Oh, great. Not another- (Le Fifi kicks her in the groin) OOOHHHH!!!
Trixie: AW, C'MON, SHE DOESN'T EVEN HAVE BALLS!!! NONE OF US DO!!! (Gilda smacks her)
Tigress: "So, your a master in Kung-fu, and yet you use good looks to get what you want?"
Le Fifi: "I am not what you would call, the volient type. I normally let good looks handle my problems. Also, Larry does all the nasty fights for me, if though he sloves conflicts via ripping off that Roadrunner from those looney toon cartoons."
Cynder: "You 2 really lack originaly for OC villains."
Le Fifi: "Whatever, none of you reject collections can defeat moi. I can last long enough until my dear Lar-ry comes to my rescue."
Meanwhile...
Senior Larry: (Runs his wing in a sink to get the poop smell off of him) Uhhgh! This is disgusting! Why must I be so estúpido? But at least I got the phone. And I'm at least happy those Lodgers don't know where we are. It'll take them millions of years to find me and my Fifi-Wifi.
Mantis: (He and the other male Lodgers find him) 'Fifi-Wifi'? Really?
Senior Larry: YOU!!! How are you not affected by my- Oh, mierda! I forgot I only affect muchachas. Why didn't that wizard use a bisexual spell?
Squidward: Then he'd be bisexual himself, THAT'S why.
Senior Larry: But no matter. You inadaptados cannot defeat me. It'll be a few moments before my Le Fifi comes to my rescue.
Fidget: Sorry, but our female members will be taking care of her.
Po: Totally. It's a battle of the genders for you and her. So, surrender, and no harm will come to you, Larry boy!
Senior Larry: "Ha! You have to capture me first, estupidoes!"
Senior Larry zoomed fast out of here!
Po: "GET HIM?!"
Max the Cat: But how're we gonna catch him? He's too fast!
Merlin: Allow me. Teleportus! (Teleports Senior Larry back to them)
Senior Larry: ¿Qué diablos? (Translation: What the hell?) How did I get here?
Lord Shen: We're lucky we have a magician with us.
Senior Larry: (Shrugs) Pray for mercy! I HATE magicians!
Po: Grab him! (Grabs one of his wings, but then lets go) EWW!!! WHY DOES YOUR WING SMELL LIKE POO?
Senior Larry: (Sighs) Que humillante! (Translation: How humiliating!) I had a bit of a situationo earlier! I thought my phone was in the toliet, only to discover it was behind the toliet, then a spider was on my face and I accsidently used the smelly wing, and it was a moy el bado day.
Icky: "Wow. Epic fail on your part."
Senior Larry: "Thanks for the uncalled for insult, el ugly one! Now, to ensure you don't cheat again!"
Senior Larry was fast enough to steal Merlin's wand, and escaped!
Icky: "Aw fudge, now we really do have to chase him?!"
Melman: What'll we do now?
Sam: I have a plan. (He and Max take a mine cart off a track, put it on the ground, and attach jet packs and fireworks on it) Voila, fini!
Max: Me and Sam will catch this guy like there's no tomorrow. Plus, it comes with extra fireworks! (Presses a button, and more rockets pop out of the fireworks)
Shifu: Are you sure you can operate that thing? It seems a little dangerous.
Max: Does THIS answer your question? (Presses button, and the mine cart takes off)
Sam: Uh, Max, we probably should've been on that.
Max: F**k!
Skipper: Well, you only get one chance and a first impression.
Senior Larry appears behind them.
Senior Larry: "ARIBA?! ONDELAY?!" (The Lodgers except Shifu scream and jump to the ceiling) HAH! I'm too much! (Blocks Shifu's attack with his wing, and then smacks him away) (Senior Larry sticks his tongue out like Road Runner) Did I forget to mention that the Road Runner is my nephew? HAH!
Mantis: You're from the Looney Tunes world?
Senior Larry: Well, yes, but I wasn't in the Studio in my day! I was too busy being a Racecar driver until this stupid wizard made me too attractive to work. Anyway, see you later! (Zooms off)
Sam: We have to catch him!
Icky: "How? He's too fast!"
SpongeBob: Hey, guys? Over here! (Points out huge mine carts that lead down the tunnel Senior Larry went down) This'll work.
Patrick: SpongeBob! YOU'RE A GENIUS!!!
SpongeBob: Of course. Otherwise, I wouldn't be the leader. Now let's catch this bird.
Rico: (Hacks out rocket jets, and attaches them to the carts while the Lodgers hop inside the mine carts)
Banzai: Hey, C'mon! I should get the front seat! You got the front seat last time.
Mr. Krabs: (Dubbed as Shenzi) Oh, you're right, sorry. (Both switch places) HEY, WAIT A MINUTE!!! There WAS no last time!
Ed: (Laughs)
Mr. Krabs: No way, you ride in the back with bark-breath! (Hyenas and Mr. Krabs fight)
Skipper: Tone down the shenanigans, HUH! Alright, Rico, launch! (They take off after Senior Larry)
Senior Larry: (Sees the Lodgers persuing him) ¿Qué diablos? (Translation: What the hell?) How is that even possible?!?
Skipper: Rico! Gun me! (Rico hacks out gun, and Skipper points the gun at Senior Larry) Alright, you ripoff! Stop now and we won't bother getting our hands bloody.
Kaa: But none of us even HAVE hands.
Skipper: If I had a nickel for every time I heard that. Now STOP, you undergrown ostrich!
Senior Larry: Puh-lease! Like you could shoot me. You can barely even catch me. (Dodges Skipper's gunfire, and Rico's bazooka fire, and then jumps on the mine carts, dodges each of the Lodge's attacks, and smacks the gun and bazooka out of the Penguins' flippers) Vigilantes like YOU shouldn't be using guns. (Skipper attacks, but Senior Larry jumps out of the way in slow motion, then kicks him with his talon, and continues running off) Lástima! (Translation: Pity!)
SpongeBob: I got him! (Stretches arm out, and tries grabbing Senior Larry, but Larry stops running as the mine carts pass right by him) WHAT THE--?!? (Looks behind him)
Senior Larry: Adiós, losers! (Zooms the other way)
Icky: DAMN IT! We lost him!
Rico: I don't think so! (Hacks out dynamite, and throws it on the tracks)
Kowalski: RICO, ARE YOU CRAZY?!?
Rico: Wait for it! (The dynamite explodes as the mine carts approach it, and the carts flip sideways, and then point the other way, and the rocket jets thrust them forward)
Spyro: Yikes! That was unexpected.
SpongeBob: But now, we're back on track. (Senior Larry sees they're still after him)
Senior Larry: Aw, c'mon, man!
There was a series of muliable tunnels!
Senior larry: "Ha! I'll lose them here!"
Senior Larry goes into a tunnel that has no tracks!
Rico: Oh, no, you don't! (Hacks out dynamite that destroys the trackway, and allowing the Lodge to go off the rails, and persue Senior Larry)
Senior Larry: (Looks behind to see that the Lodgers are still gaining) No puedo creerlo! (Translation: I can't believe it!) They're outfoxing me no matter what I do!
Senior Larry sees a darker tunnel at the end of the area.
Senior Larry: "This always gets them."
Senior Larry went inside!
The Male Lougers on the van as well!
HONK!
WAMP!
The Male Lougers are seen smacked into a Huge Red truck exiting the tunnel
Icky: "THE HELL'S A TRUCK DOING ALL THE WAY OUT HERE?!"
Kolwalski: "It's part of the Roadrunner and coyote long line of jokes and comedy!"
Senior Larry: (In the distance) USTED CHUPA, EL LOSERS!!! (Translation: YOU SUCK, LOSERS!!!) (Laughs, singing) You suck and I rule, nanny-nanny boo-boo! (Laughs until he gets burned to a crisp) AARRGH!...(Sees he has no feathers) Dios mío, I'm naked!!!
Mushu: Now THAT'S what I call Mexican BBQ. (The Penguins pin him down)
Skipper: (Dubbed as Joe) You're not gonna get away this time, you son of a bitch.
Otherway way.
The Female Lougers are still battling Le Fifi, who is still hanging stronging and fighting hard, and the female lougers are getting stressed and tired.
Le Fifi: "I exsirsize every single day to be at this shape! I never get tired!"
Trixie: "I thought you got that way cause you keep making yourself throw-up!!"
Le Fifi: "That is just a steriotype, and it has been proven that it's an unhealthy method these days!"
Gilda: Let's just get this whore! (Attacks, but Le Fifi grabs her by the leg, punches her in the beak, and throws her to the wall. Then Sandy attacks, but Le Fifi grabs her by the feet, spins her around, and throws her to the wall. Then Tigress attacks, and Le Fifi punches her in the face, grabs her by the arm, and throws her to the wall. Then Shenzi attacks, but Le Fifi punches her in the chest, grabs her by the leg, and throws her to the wall.)
Shenzi: SERIOUSLY, LADY, THE WALL THING IS GETTING OLD!
Sandy: (Dizzy) How much wood could a woodchuck chuck if a woodchuck could chuck wood? (Faints)
Girl Sora: Looks like we'll have to do this the HARD way. Biomon, Digivolve!
Biomon: (Begins to Digivolve) BIOMON DIGIVOLVE TO...(Turns into Birdramon) BIRDRAMON!
Le Fifi: (Laughs) That beast doesn't scare me. (Jumps onto Birdramon, punches her in the back of the neck, and knocks her out)
Girl Sora: BIOMON!!! (Runs over to the knocked out Birdramon, which turns back into Biomon)
Mimi: OOOHHHH!!! Now you've made me mad! PALMON, DIGIVOLVE!
Palmon: (Digivolves) PALMON DIGIVOLVE TO...(Turns into Togamon) TOGAMON!!!
Le Fifi: (Laughs) STILL doesn't scare me. What can an overgrown cactus possibly do to me?
Togamon: Just watch! NEEDLE SPRAY!!! (Shoots needles at Le Fifi, and she dodges then with swiftness and gracefulness in slow motion) WHAT?!?
Le Fifi: Is that the best you've got? I've seen sharper needles on a sea urchin with a bad hairdo.
Gloria: WHAT KIND OF LINE IS THAT?
Le Fifi: Actually, I heard that from my father. He was a Kung Fu master from China who married a French poodle.
Trixie: And we didn't need to know that.
Togamon: NEEDLE SPRAY! (Sprays needles again, and Le Fifi dodges them again, this time deflecting the needles back at her with a metal plank, causing her to fall over, and chance back into Palmon)
Le Fifi: Anyone else want some?
Cynder charges, but Le Fifi kickflips her into the ceiling!
Trixie: "Well, at least it's not the over-used wall trick."
Gloria: Alright, everybody, stand back! I got this one! (Runs towards Le Fifi, but Fifi beats her up off camera, and she gets flung to the floor)...Uhhgh, never mind.
Trixie: Maybe I can deal with her. (Uses magic to levitate Le Fifi, but Le Fifi, still carrying the metal plank she used to reflect Togamon's needles, throws it at Trixie, knocking her out cold)
Viper: She's whooping us good!
Brandy: There's gotta be something we can do to catch her!
Lola Boa: Like what?
Thundera: I know just what to do, mi amigos! Watch and learn! (Casts lightning at Le Fifi, and Le Fifi dodges it. Thundera then casts multiple lightning bolts, which Le Fifi dodges) Aye aye aye! This lady's good. (Inhales, and exhales, causing a gust of wind on Le Fifi, but she dodges the wind gusts)
Le Fifi: (Rasberries at Thundera)
Thundera: WHY I NEVER! (Brings multiple lightning clouds above Le Fifi, but she dodges them in slow motion) Okay, Plan B! (Casts a tornado, causing Le Fifi to spin around. However, she manages to grab the metal plank from before, bends it into the shape of a boomerang, and throws it at Thundera, hitting her in the head, and knocking her out)
Brandy: Darn it!
Le Fifi: "Frankly, I am somewhat disappointed. I mean, this is what le Villain Leage has been bested by time and time again?"
Lola Boa: Oh, we're not done here! (All the conscious female Lodgers jump onto Le Fifi) PIN HER DOWN!
Le Fifi: (Manages to beat them down) HAH! You think you can use numbers on me? RIDICULOUS! (The females try there best to catch Le Fifi, but she is just to skillful to capture) Donnez encore inscrit? (Translation: Give up yet?)
Sandy: (Tries getting up and saying something, but she collapses in exhaustion)
Le Fifi: (Dubbed as Yzma, Laughing) I win! (Suddenly, she gets zapped by an unknown bolt of electricity) YA-A-A-A-A-A-A-A-A-A-A-A-R-R-R-R-R-R-RGH! (Faints)
Rita: What the-? (They see that Officer Axle, still wearing the glasses, has zapped her)
Officer Axle: Not bad for a few girls, but not good enough. I'll take it from here.
Thundera: (Regains consciousness) Well, for once, thank goodness YOU arrived.
Officer Axle: Don't bother, birdy! Anyway, Le Fifi, you're under arrest for bank robbery. (Cuffs Le Fifi and places a ski mask on her so she won't affect anymore men, and chains the ski mask to her head) But where's Senior Larry?
???: We got him! (Everyone turns around to see the male Lodgers with Senior Larry)
Sandy: (In a trance seeing Senior Larry) SO HANDSOME!!!
Officer Axle: (Chains a ski mask onto Senior Larry's head) And that's enough attractiveness out of YOU, you total ripoff. By the way, you're under arrest. (Cuffs him)
Senior Larry: I hate my life.
Axle: "I normally don't say something like this, but I have to somewhat confess, You lougers did good...... And that's the closest thing any of you will hear something nice out of me PERIOD! But still, You lady lougers did a good job, distracting Fifi long enough for yours truely to give the final blow, so, I guess it's argueably something."
Le Fifi: "Please, none of you understand, we are only doing this because that awful snake mutant did this to us! He made us too attractive for our own jobs... A weird sense of irony there..... We were only robbing banks to get it back."
Axle laughs like an asshole.
Axle: "And you thought causing the ecomity to become worse then it was and cause banks to go out of business was gonna fix everything for ya?"
Le Fifi: "What do you mean?"
Officer Axle: Well, robbing banks all over the UUniverses is NOT gonna get you anywhere. If you REALLY wanted payback on Cobra, and I don't normally recimend this, but, what you SHOULD'VE done was become vigilantes, and try and capture Cobra by yourselves. You had attractiveness, so you were sure to get enough people to help you do that. But NOOOOOOOOOOO, you decided that money will get you on the right track.
Le Fifi: Oh woe is me... I, I, I didn't know about that.
Senior Larry: We're so sorry, everyone. We should've known better.
Cynder: "Well, that attractiveness spell Mang placed apawn you prevented that."
Iago: Sorry isn't enough, mister. You must return the money you stole back to where they belong. But on the other hand, I could take it off your hands. (Officer Axle points his finger at him preparing to zap him) I TAKE IT BACK, I TAKE IT BACK!!!
Spyro: "If it's any consinlation, we'll see if we can find a cure for the corruption placed apawn you."
Merlin: "Well, it depends on what kind of corruption levels the attractiveness spell bared. We weren't able to asked Mang how strong those levels were."
Axle: "I'm guessing strong enough that they actselly thought robbing honest peoples' money was gonna help them. You guys can do your latest "Reform" project all you want, but these clowns are heading to seperate prisons!"
Senior Larry and Le Fifi: "WHAT?!"
Axle: "Look, it's kinda a rule. Guys go to guy's prison, Ladies head to chick prison."
Le Fifi: "No, no! Please! (begins crying, causing makeup to melt) you can't seperate us! Eachother's all we had?!"
Axle: "Hey, I wasn't the one who desided woman and men have go to seperate prisons!"
Senior Larry: "You can never tear us apart, pig dog?!"
Axle: "First of all, I'm an eel, jackass, and second, watch me!"
Le Fifi: But--
Chief Bullington: Axle, why must you be so rude to the criminals we catch?
Axle: But sir, you know tha--
Chief Bullington: I won't take any chances for these two to be separated far away from each other and let them be depressed. They shall go to one prison that legally houses both males and females.
Axle: But sir--
Chief Bullington: No 'buts'! They're heading to that prison and that's final. Do I make myself clear?
Axle: (Sighs) Yes, sir.
Chief Bullington: Maybe next time you meet the Shell Lodge, you'll be a bit more nicer to them. And as for you two, I'm not gonna let Axle treat you two like pigs.
Le Fifi: Really? I heard you weren't such a nice cop, monseiur.
Chief Bullington: Not when I'm angry, no. I'm gonna put you two in a prison where both males and females can legally stay. You'll both be able to see each other every week, and for your well-concerned understanding to your choices, you'll be able to sit together in the cafeteria.
Senior Larry: Why thank you very much, amigo.
Chief Bullington: Don't spoil it, Larry. Now, take them away. (The cops just do that) Lodgers, I wanna thank you for another victory.
Icky: "Sure thing Chief."
Bullington: "And I hope you guys do make that cure soon. With that magic still inside them, they might easily be cohersed by another villain. All they have to do is say the right words, and those two would be doing tricks for them."
Spyro: "Oh don't worry, they hate Mang for what he has done to them, and the leage for housing him. and we don't know any villain that would be interested in an attractiveness spell charmed duo anyway."
as the Lougers and Bullington left, they were unaware that they were watched by a Viper-shaped figure in the shadows.
???: "Maybe those two would be of help to me someday. I can see why that lab-coat Griffin has his sights on them. But it's not ready yet. Not yet. I will come for you soon enough, little sister."
the figure briefly reviles herself as Sing Jin Sue, before vanishing in the darkness again before anyone is the wiser.
Epilogue.
the temple.
Icky: "Well another day, another bad guy or bad guys get due commupence."
Cynder: "Although, Senior Larry and Fifi were not truely evil, just victims of My other father's wickedness. I hope we can help them."
Shifu: "Hopefully, as long as Mang has truely forsaken his quest, and that no other will gain an interest, a cure for their madness will come."
Icky: "Now, can we finally relax before something else happ-"
News: "This just in: Reknowned Sciencetist Dr. Edger Eagle has discovered a prefectly presevred in ice Pteradacyal! Tri-Corn, after she had the zoo comissioners punished for allowing a Siren in the zoo, will be holding a press converence for this momentious occation, as the prehistoric creature will be held live for the world to see! Who knows? Maybe there's the chance the creature may be alive!"
Icky: ".... Ok, anyone else concerned about this?"
Spyro: "We better keep track of this just to be safe."
A hidden lair.
Sing Jin Sue slithered to a Siluetted Griffin on a throwne.
???: "Have you been convinved of the potainional of those 2?"
Sing Jin Sue: "Yes, but they are already being taken torwords Prison 42. There's a chance Mang himself has given up on them."
???: "Then he's my ticket to earn their trust. Until then, the big plan will have to wait. I want the lougers and Celestia to believe my confindence withdriwindled over-time by faking them out that my plan is to simply corrupt Twilight and Taiku, that love child of Maleficent and The Dark Dragon, for it to fail expectingly. so I am to be placed in Prison 42... But the big plans relies on you being able to rid yourself of that big ape in the guild of china's worse to complete the army."
Sing Jin Sue: "I am still working on that Professor. I just need the right amount of followers to do so. Till then, I have to humor the fact I am still considering him a leader."
???: "(Laughs), good. Serve me well enough, and i'll see to it, that you'll be reunited with your sister, for good."
Sing Jin Sue: Oh, thank you. Thank you, Professor Eagle Beak. You have NO idea how much this means to me.
Professor Eagle Beak: No problem. (Cackles)
THE END
Community content is available under
CC-BY-SA
unless otherwise noted.