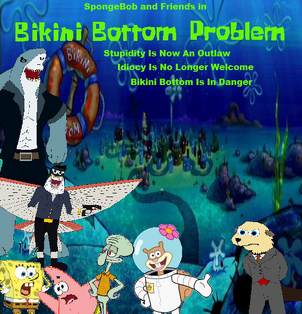 Bikini Bottom Problem
is the 32nd Episode of Season 3B of
SpongeBob and Friends Adventures Chronicles
. SpongeBob and his native friends have returned to Bikini Bottom as he wants to recover from his boneheaded wish with the Birthday Wish Cake, and finds that Bikini Bottom is recovering greatly since the Krabby Patty Apocalypse caused by the actions of Burger-Beard. Peace is being restored, property damage is being repaired, and most importantly, the Krabby Patty is back to being where it belongs. However, this event has greatly upset a Bikini Bottom senator named
Huxley Ottaway
, a sea otter who has been watching the upsets of Bikini Bottom since Day 1. He took it as much as he could, but he found it atrocious and ridiculous that this apocalyptic event occurred because of the loss of a simple food product. He was fed up, and today, on the event's 5th Anniversary, decided that Bikini Bottom needed to change completely because, in his eyes, people will view Bikini Bottom as a place of corruption and stupidity. So now, he has been elected mayor, and thus, he establishes the Ottaway Act, which will oversee the behavior of Bikini Bottom and outlaw nonsense completely. As a result, all of its inhabitants, including SpongeBob and his friends, are put under probation. But worst of all, the Krusty Krab has been shut down because the Krabby Patty had to be mass-produced to avoid another Apocalypse event. Plus, Mr. Krabs is sent to jail for the many crimes he committed in the past. SpongeBob and Patrick are sentenced to a penal colony as community service after being dubbed 'criminally insane' for what their stupidity has caused in the past. While Squidward personally likes this since an event earlier that day involving the two pushed him too far, and begins to support the Ottaway Act until it turned sour on him inadvertently by putting him in a containment device since he is declared 'the most miserable and vulnerable person in Bikini Bottom', with him unable to get out and getting in the way of his personal life, he now changes his mind about Huxley if only due to being in an even more personal inconvenience than normal Bikini Bottom standards. With Spyro acting as temporary leader of the Lodge until SpongeBob, Patrick, Squidward, and Mr. Krabs are released from custody, the Lodgers must now find a way to convince Huxley to stop taking his position too far just because he finds Bikini Bottom a flawed society. Problem is, how are you suppose to advocate a society with a mostly unreliable law and justice system and problems with hypocrisy, stupidity and even moral surrealism, especially when there's a flying fish who thrives off of it named
Flynt the Crimegiver
? Gazelle has, some ideas.
Transcript
Intro/Suspense Music (Silent Hill 2- Theme of Laura)
Chapter 1: One Day In Bikini Bottom
Bikini Bottom
???: (As the opening theme played in the background)... Bikini Bottom! A city that once knew peace and love for all. Back in the early years since 2000... It was a good place for many to live in. But... It's easy to see how all that has changed. I've been distraught with what has become of it. I've watched it since the election of the last mayor. And it was as tolerable as it was for a while, but now, it is nothing but a cesspool of hatred and evil. Not only is everyone I meet a jerk, but often than naught, people who wrong others get off scot-free while the innocent get blamed. Who in their right mind would wanna hang out in a messed up place like this? As the years passed, I have no doubt that this has officially become one of the meanest places I've ever had to sit in. I mean, just look at how much it's crime rate has raised. They seem to be blissfully unaware of their cruelty, believing they're being good people. Even the law enforcement is a little misguided. I've been present at trials where innocent people were blamed and I had to do a lot of discipline. I couldn't believe the police were acting like that. Heck, many people are starting to act stupid and moronic every day. I'm sometimes afraid to get home from work as a result of this. This is jarring, and hell, even creepy. This is not good for people, and if people let this city's impact get to them and be too weak to stand up to itself and only reinforcing the cruelty, making it worse, or flat out acting childish, this city is not only bad, but potentially dangerous to any visitors. But after what happened in a certain, forever infamous year, I had to do a LOT! I had to sacrifice friends, had to fire people, and even send people away, because of one, little, thing! (The Apocalypse incident of 2015 was seen as everyone was insane)... This... Was... SICKENING! Everyone went insane and tearing up the place, all because there was, no, Krabby Patties! Now, I know the food is like a well-beloved relic to this place, and, well, even I love it, but it is SICKENING, to think that people would act this idiotic and childish. One of my colleagues had killed another, and I had to fire him, AND send him to prison for that act. Heck, I had to do the same to those who do similar things. Everywhere I turned, people were stupidly acting insane for a stupid as hell reason! Where the heck did this come from? This, IS A JOKE, TO THIS GOOD TOWN!!! TEARING ITSELF UP BECAUSE OF A PILE OF FOOD?!? AN-OTHERWISE STANDARD LOOKING BURGER NO LESS?! GOOD TASTE OR NOT, THAT'S, THAT'S STILL A LUDICRIST REASON TO TEAR SOCIETY DOWN?! THAT IS ILLOGICAL, RETARDED, FOOLISH, AND AN ABSOLUTELY DANGEROUS THING THAT HAS TO BE CORRECTED! People here are willing to do this, because of simple fasfood? Are you joking me? What kind of mayor would let this happen? What kind of idiot cares so much about an easy to replicate burger that they cannot live lawfully without it? It's senseless, and it makes us look AWFUL!!! And don't ANYONE, in Bikini Bottom, dare tell me, that the Krabby Patty is something that deserves respect. It, is, just, FOOD!!! I'm fine if it has just the right ingredients to make it so beloved, but, IT BE LIKE IF THE ENTIRE US CONTINENT TORE ITSELF APART, BECAUSE POPEYES WASN'T MAKING CHICKEN ANYMORE?! THAT'S HOW COMPARINGLY CRAZY THAT WHOLE TIME WAS?! If you love it so much, then marry it, you childish fanatics! Because the way I see it, if society falls apawn because of the abrupt absence of a fast-food burger, I would fear what would happen if the Krusty Krab closes down with Mr. Krabs gone or if Pearl inherits it and radically change it's fundamentals as shown from her contemporary ownership from the "Kuddly Krab" craze! Look, I'm not against beloving the Krabby Patty. I get it, it's above the standard burger fare, but, BY NEPTUNE PEOPLE?! YOU SERIOUSLY ENDED UP BELOVING A SANDWICH TOO MUCH THAT IT RUINED SOCIETY?! YOU GAVE IT MORE RESPECT THEN YOU RESPECT EVEN YOURSELVES?! MUCH LESS OTHERS?! You must respect it in a LOGICAL way. This... WAS ONLY HARMING IT'S NAME AS MUCH AS IT WAS RESPECTING IT!!! Justify it with whatever way you want as if this was a cartoon, but even if it IS, it is not called for....
Bikini Bottom City Hall
Otter: (He was seen in city hall broadcasting)... I've choked on the nonsense of this city since the beginning. Everyone, I am not trying to offend anyone. I am asking you to grow up, and I am merely warning you that this is NOT us! Bikini Bottom has been RUINED by this chaos! We have just recovered it from the event in 2015, ON IT'S 5TH ANNIVERSARY, and yet I feel as if NOTHING, HAS, EVER, CHANGED! We need to step up, and bring more fairness to this city before it runs the risk of visitors being chased off and spreading the word of how cruel this place has turned. If this spreads across the ocean, then what's to say we won't be attacked by fanatical terrorists? What's to say we won't be threatened in any way? Where I was born, it was all but too late to fix what was destroyed. I'm scared for the well-being of those of whom I've loved in my first days as senator. That image was lost for years, and after choking on it for so long, I will NO LONGER STOMACH THIS MEAL! So, as your newly-elected mayor, there are going to be a LOT of changes to ensure we get back to what this good city used to be. I am establishing the Ottaway Act! From now on, stupidity in any form will not be tolerated. Those who commit it will be given legal action, no matter who it is. Anything considered unbiased or anything else will be dealt with lawfully and we will not hesitate to punish any who resist. Most importantly, if this food product has the tendency to cause chaos, then I have no choice in the matter. I am ordering that we have it sold commercially. If the Krusty Krab staff act irrationally about how these changes are detailed, they will be tried and punished. If it goes too far, even if under understandable reactions, I am gonna have to shut down the Krusty Krab for good. That means you, Eugene H. Krabs! I don't care if it's your property, you are known to extort the product however you wish. In fact, I will say this because it's gone unsaid for a long time. A person as cheap as you, should NEVER own something as popular as Krabby Patties, because the Krusty Krab has had enough controversy as it is. If this apocalypse should repeat history, then I will have no choice but to order a mandatory quarantine against everyone until a solution to this cruelty is done. I understand there might be of discontent to some of you on how far-fetched the Act's measures seem, but know that I am doing what is best for Bikini Bottom. You want to be harmed by the cruelty here? I want to protect you. I care for all of you. Granted, I do it in a way that is tough and firm! I don't want harm to come to you. It's easy to get used to these changes. Believe me. Just know that this is for the greater good. This place has gone unenforced of its peace for a long time, and I need to fix it so I can save you from the danger this cruelty poses. That is all. (Everyone hesitantly cheered)
A guy: "PFFFFT! Ahhh, I'm sure that stupid mammal is just yapping his gums. He's no threat to us."
Another guy: "Yeah! Stupid mammal!"
The Citizens suddenly started to make fun of the new mayor.
City Hall Office
BB Executive: Okay, Mayor Ottaway, I understand where you're coming from. New Kelp City was a GREAT place. Even New York City, how the local Treedome Enterprises employee described it, pales in comparison to what it used to be. But ever since the economy collapsed many times, it's just gonna be hard to make it better again. I know I don't have to remind you of how ruined it was since the bubble incident it suffered!
Ottaway: Indeed. I loved the city when I was a kid. It was GORGEOUS! As a child, there was a BEAUTIFUL view of the flowered sky, and the city below. I loved the city, and hoped for the best. But as I grew up, all of that changed. Crime went up. Economy fell. Law enforcement was getting weaker. Now, it's without a doubt beyond hope. I don't want Bikini Bottom to suffer the same fate, just know that.
BB Executive: O-Okay, I understand sir, but once again, I must implore you, that this Act of yours, as good-intentioned as it is, 'kay, is not only gonna take a LOT of sacrifices of freedoms, and anything within the boundaries of rights, but it is socially AND politically irresponsible, and our PR will take a NOTICEABLE impact!
Ottaway: Well, you see, Executive Brine... I've tolerated this city as much as I could, and I put trust in it to heal itself. But it's clear it can't do that without help. So from now on, I must now live in a world of... Absolutes.
Executive Brine: Oh, yes, I agree! As in, this is an ABSOLUTELY RISKY PLAN!! Okay, okay, I'll use a metaphor: It's like running an orphanage, AND THREATENING THE POLICE ON THOSE WHO ARE ACTING LIKE THEY ARE, CHILDREN!!!
Ottaway: If by children , you mean the MENTALLY ILL!!
Brine:... Lemme rephrase that, it's like running the orphanage and having kids arrested for making a big mistake. It's EXCESSIVE, even by the standards of the law! I'll be honest, this sounds like something a fascist yelled out in a meeting, and NOBODY challenged him on it!
Seal Executive: Oh, why would they challenge such a practical plan, Brine?
Brine: Because, it's practically GOING TO BACKFIRE!!! Mayor Ottaway, we are going to make a LOT of enemies with this Act! Not only are we heavily surveying MANY people in Bikini Bottom, but given the budget required, we're gonna have to sacrifice MUCH of what we like, and not just the Krabby Patties, but MUCH of our most PROFITABLE places! The Jellyfish Milking Factory, Goo Lagoon, Jellyfish Fields, THAT BIKINI BOTTOM MALL THAT WE ALL REALLY LOVE GIVEN HOW IT NOT ONLY HAS A LOT OF PRODUCT PLACEMENT AND FAST FOOD WE ENJOY, BUT HOW IT SAVED OUR LIVES IN THE BATTLE OF BIKINI BOTTOM, BOTH THE HISTORICAL EVENT, AND DURING THAT GREAT ROBOT DISASTER PEOPLE KEEP NAMING AFTER THAT EVENT FOR SOME DUMB REASON, AND THAT LITTLE GOO TSUNAMI INCIDENT INVOLVING THAT CRAZY MARINE IGUANA?!? As the head of Urban Developments, THIS IS THE MOST COUNTER-PRODUCTIVE SITUATION IMAGINABLE!!!
Seal Executive: Oh, I'm sorry, Brine! As one who agrees with Ottaway's goals because HIS WIFE KILLED HERSELF OVER NOT HAVING KRABBY PATTIES, LIKE A F*****G MORON, I say we're just being people of logical action, while you were making that table coral tree in your office your WIFE! (He laughed)
Brine: I'll make YOU MY WIFE, YOU SON OF A-
Ottaway: Both of you enough! (They stopped) Our PR WILL take a noticeable hit with what this Act will entail. I won't pretend that this is the most benevolent act I ever made, but the alternative is to do nothing and let Bikini Bottom continue to rot as the joke of a city it is. And I know this is something neither of you wanted, espeically not you, Brine.
Brine: "And by all means, I don't want Bikini Bottom to continue this direction, but-"
Ottaway: Consider what had just occurred since 2005! People like the Treedome Enterprises worker HAVE been wronged by the dysfunctional government we had. At least Ms. Cheeks was able to fix it all herself. We've had far worse, I'll grant you. But do recall, that one of your brothers, was MAIMED in that Krabby Patty Apocalypse incident! His left arm is GONE! He's blamed many people for it, including you. So many people have suffered in Bikini Bottom. Everyone has been RIGHT UP MY TAIL, to make things better since they were well-aware of my campaign. But given what occurred on 2015, considerably the 10TH F*****G ANNIVERSARY OF THE MAYOR'S ELECTION... Then it's time to stop it right now! I am willing to utterly, and completely, make sacrifices for the greater good, no matter how many 'children' need to be broken. Everything has fallen thanks to the idiocy displayed by the people I had to lock up for their criminal behavior all because of a simple fast food dish, it's iconic nature and popularity aside. The only logical choice I have now, is the Ottaway Act. I am done standing by and letting Bikini Bottom continue to make an insult of itself any longer. Do I make myself clear, Brine?
Brine: Yes sir.....
Ottaway: Good. You and Sears are dismissed!
Elsewhere, at the Krusty Krab.
A Very Proactive Business Day in the Krusty Krab was seen.
Mr. Krabs: "(Sniffs it all in)..... Ahhhhhh. I kinda miss this scenery."
Squidward: "I'm kinda already starting to miss the Lodger stuff. At least something interesting happens there. If though not necessarily a GOOD interesting."
Spongebob: "(Singalong) K-R-A-B-B-Y P-A-T-T-Y, Says I-I-I-I-I. (Readies fresh wave of Krabby Patties) Next wave of Krabby Patties, coming at ya! (Flings them around which landed cartoonishly perfectly to tables without orders!)"
Customer 1: "Ohhh yeah, I missed this!"
Customer 2: "It's worth the extremely over-the-top prices!"
Spongebob suddenly brings in a condiment tank!
Spongebob: "WHO'S READY FOR CONDIMENTS?!"
Customer 3: "MUSTARD?! (Gets blasted with a stream of mustard!)"
Customer 4: "RELISH?! (Gets blasted with a stream of Relish)!"
Customer 5: "KETCHUP AND MAYO?! (Gets double-blasted by both)
Customer 6: "SEANUT BUTTER?!..... Aww- (Gets blasted by a ball of Seanut Butter) WHOO-HOO!"
Spongebob: "I'd offer jelly, but the Jellyfish insist on not going THAT route again."
Squidward: ".... Do I even wanna know what was with the guy that wanted Seanut Butter to go with a meat-sandwich?"
Mr. Krabs: "Don't ask questions that can scare away customers, Squidward. He can eat his Krabby Patty anyway he wants."
Patrick: "I'LL HAVE ONE OF EVERYTHI- (Gets blasted by an array of condiments, making a bigger mess than already!).... Thanks buddy."
Sandy: "..... Spongebob, how and WHY do you have a giant condiment tank anyway? Mr. Krabs is too cheap to sometimes not always change out expired condiments."
Mr. Krabs: "Hey, I changed from that time! (Yaga Hagfish was seen at a table and gave a thumbs up of approval as she was seen with Madam Hagfish, who facepalmed in embarrassment at that)."
Spongebob: "Oh, I actually commissioned this from Professor Buzzord. I asked if he can make a Condiment Tank with all conventional and unconventional condiment choices."
Mr. Krabs: "Did he asked for money?"
Spongebob: "No, he was happy to do it for free, he said someone benefiting from his creations is payment enough."
Mr. Krabs: "Then I approve of that condiment tank 100%! (Thumbs Up as a cash register sound was heard)."
Sandy: ".... Spongebob, on the behalf of Shen, I can't condone ya messing with one of that crazy ol' buzzord's gismos! You know how those things tend to litterally dramatically blow up!"
Spongebob: "Oh don't worry, he's been improving his craft thanks to Euri! See? (Points to a button) He made it that these babies won't explode unless to press a certain button."
Patrick was seen near that button.
Patrick: "Touch-"
Spongebob/Squidward/Sandy/Mr. Krabs: "PATRICK?! (All 4 pounce onto Patrick and cartoonishly beat him up!)"
A Duo of well-dressed Barracudas came in and saw the mess AND the tank, and the main 5 fighting!
Male Baracuda: "..... EXCUSE ME?!"
The fight stopped....
Mr. Krabs: "..... (Sees the suits).... Fancy suits. That means BIIIIIIIIG money! (Charges off to meet the Barracudas) What can I do ya for, you fine looking torpedos with teeth?"
Female Barracuda: "Sir, we're not interested in any consumption today, nor any day."
Male Barracuda: "Mr. Krabs, we are government officials with the Bikini Bottom Food Law Agency."
Sandy: "..... There's a Food Law Agency?"
Mr. Krabs: "THE FOOD LAW AGENCY?! Uhhhhhh, I know this ship got a little messy, it's just-"
Male Barracuda: "Actually Krabs, even if it wasn't for the irresponsible use of condiments, questionable reuse of a millaterry grade vehicle, on top of all previous misdeeds YOU YOURSELF had commited, we're afraid that we'd still shut down the Krusty Krab anyway."
Mr. Krabs, Spongebob, Patrick, Sandy, even Squidward, gasped, as did every patron present!
Mr. Krabs: "CLOSE DOWN THE KRUSTY KRAB?! UNDER WHOSE AUTHORITY?!"
Female Barracuda: "The new mayor. He's banning Krabby Patties."
Spongebob was motionless as he had a sadden shocked face.....
Spongebob: "...... (Whimpers) Banning Krabby Patties? (His face flushed in)....."
Sandy: "Spongebob?"
Spongebob: "(SCREAMS AS HIS FACE CAME BACK IN, THEN RUNS AWAY CRYING)?!"
Patrick: "(Whimpers).... (BREAKS INTO CRYING TOO)!? PATRICK SAAAAAD?! (RUNS AS WELL AS BOTH SPONGEBOB AND PATRICK WERE RUNNING AROUND CRYING)?!"
Mr. Krabs: "Duh, duh, WHY WOULD THAT BARNACLE HEAD OF A MAYOR DO THIS?!"
Squidward: He can't do that! How am I gonna get my paycheck?
Male Baracuda: "Our apologies, Eugine Krabs, but you'll have to take it up with the mayor himself. We're just here to confiscate all property. Down to even the secret formula."
Mr. Krabs: Believe me, we will- (Glass shattering sound) ME SECRET FORMULER?!?! YOU'LL NEVER GET THAT FORMULER OUTTA ME! (Barricades his door) NEVER! I'D RATHER HAVE THAT APEX BARRACUDA FROM THAT MANEATER GAME SWIM IN HERE RIGHT NOW (FOAMS AT THE MOUTH) AND EAT YOU BOTH ALIVE!!! (Heavily pants)...
Sandy: "..... AHEM! He uh, he means we're gonna go see the mayor about this."
SpongeBob: HOW COULD THIS HAPPEHEHEHEEEN!!
Squidward: SpongeBob, it's happened ALREADY. Remember Gristlepuss?
SpongeBob: Yes, but this is government business! We have GOT to talk to the mayor for this OUTRAGEOUS declaration!
Male Barracuda: Be my guest, but don't expect him to listen nor agree with what you say entirely.
Bikini Bottom City Hall
Huxley: I actually expected you to come in and ask the obvious question as to why I had to do what I did, Eugene.
Sandy: Whoa. A sea otter, as president? There's something I never thought I'd see.
Huxley: Got a problem with that, sea mamma-... Wait, you're that Sandy person who got arrested for public nudity, aren't you?
Sandy: Yes, and the law enforcement wasn't doin their job right.
Huxley:... Anyway, to answer the fat question here, I had to ban the Krabby Patty because, as we all know, Bikini Bottom has JUST recovered from what happened in 2015, when people were stupidly tearing it apart for it's loss.
Mr. Krabs:... Well... Yeah, that's kinda how it works.
Huxley:...
Mr. Krabs: Wait, did I really say that?
Huxley: Eugene, you KNEW that the loss of the Krabby Patty would trigger such an event. This had to be addressed sooner than later. I banned Krabby Patties, from being sold at the Krusty Krab.
Mr. Krabs: Wait, what?
Huxley: I've already concocted a plan to cure the people of this... Stupid obsession with the Krabby Patty itself. I'm going to establish a mandatory vaccine on the addictive effects of it and-
Mr. Krabs: Whoa whoa whoa, lower the anchor here!... You think me Krabby Patties, are drugs?
Huxley: Well, it feels like it to me. And you've been extorting it to immoral levels. Now, I WAS going to have the Krabby Patty sold commercially, but some pondering made me realize that any real healing wouldn't be done if I kept those things around, so I figured that Bikini Bottom was better off without it and everyone cured of it's... Addictive effects. So, I'm making a vaccination and everyone is going to take them, whether they like it or not. Krabby Patties, they're done! Forever! End of story!
SpongeBob: YOU CAN'T DO THAT!
Huxley: You dare question my authority?
SpongeBob: KRABBY PATTIES ARE BIKINI BOTTOM'S PRIDE AND JOY!
Huxley: Not anymore. I'm sorry, but this has to be done. That incident in 2015 has killed 1,890 people, and injured 2,566 people... That I know of. So I MUST ban Krabby Patties because they're corrupting the people of this town.
SpongeBob: But I'll never be able to fry cook again!
Huxley: Nothing personal about that, Mr. Squarepants, but tis an unavoidable casualty of this decision. I'm doing this for everyone's own good. Do you KNOW how stupid they've become? They act as hypocrites who enjoy reading YOUR diary and then shun the one reading it to them later the moment you turn sad from it? Not to mention, I recall an incident where Mr. Squidward here became giant and they expected him to act nice or they'll kill him, to the point where they EXPECT him to say 'bless you' after a sneeze, like dumbasses! Plus, they can't tell the difference between a puppet and the real thing, they make fun of people like Miss Cheeks for no good reason, and they even think that it's wrong to scold someone for crippling another and putting their joy in front of their pain, case in point SpongeBob's wringer incident. People these days are idiots, and it's MY job to make them see things more clearly. And I made it REALLY clear that if the 2015 incident repeats itself, I'll have no choice but to establish a mandatory quarantine until each civilian is cured of their stupidity.
Sandy: Mister Mayor, not that I abhor you for trying to protect Bikini Bottom, but, this seems a little extreme.
Huxley: If being extreme is what it takes to save Bikini Bottom from sharing a similar fate to my hometown of New Kelp City, something I'm sure SpongeBob here is familiar with, then so be it. I gave this city a chance to heal on its own, and it never learned. And worse, if visitors come in, they'll not only get infected by the stupidity, but they'll spread the word of how corrupt it is to other cities and lands and we could face serious lawsuits, or worse. If I don't do anything about this corruption, who will? So, I will not say this again, Krabby Patties are forever banned from Bikini Bottom, whether you like it or not.
SpongeBob: NOOO!!!
Mr. Krabs: "Now hold up?! Look, I get ya hate that the town's gone downhill, BUT DON'T PUNISH THE KRABBY PATTY, AND ME BUSINESS, OVER IT?! The kind of things your doing is gonna call for MUTINY?!"
Huxley: I will ALSO not tolerate insubordination! SECURITY?! (They all came in)
SpongeBob: NO!! YOU MONSTERS!!!
Huxley:... As per the Ottoway Act, you, SpongeBob SquarePants, and your friend Patrick Star, must be sent to my new Ottoway Asylum as you have been labeled 'criminally insane'.
SpongeBob/Patrick: CRIMINALLY INSANE?!?
Huxley: "Oh I'm sorry, did I stutter? YES, CRIMINALLY INSANE?! That's what you two are?!"
SpongeBob: NONSENSE!! When were we EVER this dangerous?!
Huxley:... (He showed all his worst moments on a TV, showing his actions in Good Neighbors, Choir Boys, House Fancy, Demolition Doofus, Boat Smarts, Shuffleboarding, Restraining SpongeBob, The Card, The Nitwitting, Smooth Jazz in Bikini Bottom, The Main Drain, Rule of Dumb, Pet Sitter Pat, Yours, Mine, And Mine, and many others)... And furthermore... (He showed them SpongeBob's obliviousness in A Pal For Gary)... You are hereby revoked of your pet Gary, for animal abuse.
SpongeBob: WHAT?!? NOT GARY!!! DO WHAT YOU WANT WITH ME, BUT LEAVE GARY ALONE?!
Squidward:... I never thought this day would come... THOSE TWO ARE GETTING PUNISHED FOR ALL THEIR MISCHIEF!! (Laughs hysterically) THIS IS THE BEST DAY, OF MY MISERABLE LIIIIIFE- (Record scratch as Squidward was placed in a bizarre self-defense device)... WHAT THE?! WHAT GIVES?!?
Huxley: Also according to the Ottaway Act, all people who are victimized the most are to have restraining regulations, including protection against those who are deemed 'criminally insane', and a massive schedule of curfews. And you? You're the most miserable and vulnerable person in Bikini Bottom, so you must go through these precautions for your own safety.
Squidward:..... OKAY, YEAH, THIS IS TOO MUCH!! THIS HAS IMMEDIATELY KILLED ANY JOY I WOULD'VE HAD FOR ALL THIS?! HOW AM I SUPPOSED TO PLAY MY CLARINET OR ENJOY TIME HOME?!?
Huxley: You can. You just have to stay home at all times, and whenever you leave, you MUST wear this device. That's the new law.
Squidward:... (Sighs) Typical. I NEVER have true joy in my life.
Mr. Krabs:... Well... At least it- (He was arrested) D'OOOOH, SPOKE TOO SOON?!
Huxley: And YOU, are under arrest for countless crimes.
Mr. Krabs: WHAT?!?
Huxley: Come on, Eugene, you knew this was coming someday.
Squidward: Yeah, Mr. Krabs, you KNEW it was coming someday.
Sandy: Okay, uh, Mayor, are you sure all this is necessary?
Huxley: Yes. I must idiot-proof Bikini Bottom whatever it takes.
Squidward: Mayor, I hate to break it to you, but, there's no such thing as idiot-proof. Idiots ALWAYS find ways around idiot-blocks. And I should know. Those two are harder to get rid of than cockroaches.
Sandy: How can there be cockroaches underwat- (Quickly saw that two Cockroaches in diver suits swam by)..... Okay, Sandy, don't question that, it's a cartoon, dang it.
Huxley: Well, that's what the Ottaway Asylum is for. All people who have harmed Bikini Bottom in one way or another, and everyone who did the worst crimes during the 2015 incident, are there. SpongeBob and Patrick are to be sent there until they can be properly rehabilitated.
Squidward:... I'm now mentally debating if that's a good thing or a bad thing.
Huxley: And don't think I'm letting any law enforcement off the hook either. I have arrested cops who have been unprofessional, biased, mean, or otherwise disrespecting Bikini Bottom's law enforcement as a whole, and put them in Ottaway Asylum as well.
Sandy: Mayor, I get where you're coming from. Really, I do, but-
Huxley: But nothing. Bikini Bottom needs help, and I have to save it from itself.... Religious implications' unintended.
Sandy: Did you really have to make us think of it by bringing it up?
Mr. Krabs: "And why did ya immediately backed off from selling Krabby Patties outside of the Krusty Krab? You know well that event ya don't like happened BECAUSE of no patties to enjoy and consume! People will just go nuts again anyway?!"
Huxley: "WELL THAT'S JUST THE PROBLEM NOW, ISN'T IT?! The fact, it only took, a measly sandwich's absence, to SUDDENLY CAUSE SOCIETY TO FALL APART, is a sign that ocean society is starting to fail?! It is so bad, I'm surprised there was never some sort of higher being that attempted to cleanse this broken world?!"
Patrick: "Oh, well, there was Drainthus, but-"
Sandy bonked his head!
Patrick: "Nevermind."
Huxley: "..... I'm going to ignore that. This town is an embarrassment to this world, making the world itself, AN EMBARRASSMENT TO THE GRANDER UNIVERSE COMMUNITY?! Potaintioanlly the biggest embarrassment to all realities beyond comprehension?! If there were higher deities then even the likes of the Two Neptunes we have for some, unexplained reason, THEY WOULD BE DISGUSTED AT THIS?!"
Spongebob: "(Quietly to Patrick) Then I think it's best he doesn't know about Outer Gods, Patrick."
Patrick: "(Head still stuck-in from Sandy's smack) Fair enough."
Sandy: "Look, I don't disagree with your reasoning, it's just the methods I have concerns with! You're basically resorting to causing a dictatorship in response to albeit a series of legit problems! That in of itself ends up being a problem too! ESPEICALLY since you're doing that on inter-national waters near the US of A! And trust me, America and Dictatorships DON'T MIXED! Just ask WW2!"
Huxley: ".... Be kept aware I am not ignorant to your own flaws, Ms. Cheeks. While I sympathize with you as a victim of hypocrisy, it's no secret you once commited a very questionable experiment that one time."
Sandy: "Okay, can you NOT drag my dirty laundry into this?! Even I can have stupid days?! Espeically since we are talking about something that happened in a Modern Spongebob Episode. Can't help it I'm apart of a canon series that was kinda going downhill for sometime in terms of quality."
Huxley: "..... I'm sorry, can you, repeat that? Or am I assuming your madness from 2015 is making a comeback?"
Sandy: Okay, look, point is, nobody is perfect. Not even me.
Huxley: And by all means, I am not asking for perfection. That's ludicrous. But at least I'm asking for people to act like they have brains. They have them, and yet they never use them. The Ottaway Asylum is going to fix that.
Sandy:... Still... I don't know. This feels... A little wrong.
Huxley: I've heard enough. Security?
Later...
SpongeBob/Patrick: (They were screaming inside an asylum cell in a large high-security asylum)
Mr. Krabs: (He was screaming from inside a regular cell in the BBPD)
Squidward: (He was screaming from inside his large self-defense device)
Sandy:... Why did you do that?
Squidward: Because THIS, is insanity.
Sandy: Hey, you weren't exactly helpful by at first SUPPORTING this crazy extremist decision.
Squidward: Oh, don't get me wrong. Despite my mean thoughts, I still care for SpongeBob. Otherwise, I'd be like...
Squidward:... That, and if I didn't value my freedom from jail.
Sandy: ".... Did we seriously just referenced a parody of that kind nature-.... Ugh, ignore it Sandy, ignore it. But why were you initially excited for this?"
Squidward: "Well that didn't meant I wasn't hopeful for Karma to stop picking on me for once. But I guess this is sort've a punishment for siding with that morally questionable otter."
Sandy: ".... Okay, I'll cut ya some slack, the canon show didn't always treated ya right, I'll be fair by THAT much. Besides, being orny at you for briefly enjoying this isn't gonna help matters."
Squidward: "Let me guess, you want to try and get Spongebob, Patrick and Eugine out? Well be reminded that Huxley isn't ignorent that you're not always the better of the evils of this town given that one experiment you did!"
Sandy: "Hey, that was because I was getting curious about how noticeably stupider folks had been getting at the time and wanted to test the severity! It was the one time my curiosity got the better of my ethics!"
Squidward: "Okay, glad to understand the context of why you did that, but dare I ask why you didn't pursued it further-"
Sandy: "My boss chimps found out and scolded me from pursuing it further due to ethical concerns. Kinda, (Nervous chuckle), also how I realized that I wasn't being myself that day."
Squidward: "Figured as much. Should we call the Lodgers?"
Sandy: Yeah, maybe we should. (She did that)... Hey, guys? It's Sandy. We gotta situation in Bikini Bottom.
(Icky): Um, does it involve outside forces, because we're kind of concerned with something else.
Sandy:... No, but-
(Icky): Then we can't come. We're trying to reestablish ourselves, remember? That involves staying out of any concerns on each other's worlds. We don't want to make these worlds overreliant on us.
Sandy:... That UIS thing we've only heard about from the HA back at the New Mewni fiasco has been getting to ya, huh?
(Icky): Yeah, that stuff made us think. And not just of implications of that we'll have to worry about those guys someday, but also, their arguments about over-interventionism are, kinda good arguments. If we showed up to every problem not nessersarly based on the league or other enemies or if it doesn't have the potaintional to be a problem to the universes at large and/or if something happens that makes it personal, then that could risk making worlds over-rely on us and it ends up being like what happened with the Powerpuff Girls where we get called to do stupid manual tasks! Shen wants the worlds to think we're for SUPER Emergenices only! So, this is kinda on your hands now. That said, afterwords after your done, we WILL come to pick ya up, cause the Jungle Crew are on Jake Long's world doing with a personal matter. Seems that Dark Dragon has been BUSY in his years of absence.... Obviously with the Toa battles.
Sandy:... Okay, that's understandable. Good luck. Bye. (She hung up) Yeah, it's just us now.
Squidward: WHAT?!
Sandy: Well they did say they will pick us up to contend with another Dark Dragon thing, but otherwise, this thing's kinda our sole problem.
Squidward: "But who's gonna run the Lougers in the meantime?!"
Sandy: "Well DUH! Spyro is pretty much a Tman-Designated Stand-in Leader. He has this covered."
Squidward:... Heh. Been a while since he had a 'Spyro and Friends' opportunity.
Sandy: A WHILE?!
Squidward: Okay, a LONG while. But hey, they're dealing with dragons, and he's a dragon, sooo...
Sandy: "Well' point is, we're kinda on our own."
Squidward: "Fishpaste, it's like the Drainthus thing was foreshadowing what things are gonna be like for now on! Same-applies to the majority of the other stories from That very long Anthology series about the "Truths" of certain legends, with minor exception to the Mermaid Man and Barnicle Boy one, obviously. Now I'M starting to wish that Princess Salvation didn't happened! Not that I'm inviting things like that magical birthday cake to get any ideas!"
Sandy: Yeah, seems like it, don't it? Well honestly, it wasn't like Huxley was a universal threat nor too much for locals to handle on their own yet nor are the Leagers or other enemies are involved anyway, NOR it's enough of a personal Louger issue AND that a more serious concern happened to be going on while this is happening, so, their inclusion would've been over-kill anyway. Let's just figure this out.
Squidward: How? You're the only one not burdened by this whale s*** and I'm in a FREAKING BODYGUARD CONTRAPTION!!
Sandy: "I'm a scientist, remember? It's just a matter of using logic."
Squidward: "Well keep in mind that Huxley has logic too, and obviously he will KNOW you are the one genius within MILES of here, well outside of Plankton, but I'm sure that microbe has already been mandated to jail by now, cause this thing feels VERY competently made!"
Sandy examines it.
Sandy: ".... Wow, you're onto something Squidward. Even for something made in a town normally netourious for bad hindsight, this is a WELL made invention! I'm guessing Huxley was able to recruit outside geniuses to help in his endeavors! But rest assured, even competently made contraptions have designs flaws and weakness."
Squidward: Yeah, like what?
Sandy: I'll figure that out. It's just, this thing is good at hiding it.
Squidward:... This is gonna take a while.
Meanwhile...
SpongeBob: LET US OUT OF HERE!! WE ARE NOT BAD PEOPLE!!!
Patrick: YEAH, WE'RE TOTALLY NOT!!
Doctor: Well, you're not exactly good neither. Mentality is not the same as morality. But you two DO have a destructive record.
SpongeBob: Uh, okay, I know Patrick and I have, a history, but-
Doctor: But nothing.
SpongeBob: BUT SOMETHING!! I WOULDN'T EVEN DO ANY HARMFUL THINGS, ON PURPOSE!!
Doctor: No, but your friend here DOES. He pretends to be stupid to everyone.
Patrick: Ugh, why does everyone keep saying that?! I'm pretty sure what I said back then was NOT what I was implying. What that was meant to be like is that I try to be MORE than just the "Hur-dur" kind of stupid! That was meant to say I'm trying not to be a cliche!
Doctor:... It none the less doesn't ease any implications of self-awareness, Mr. Star. So either you're secretly sadistic, or just blind to reality. I'm open to both, to be honest.
Patrick: I WAS MERELY SAYING THAT EVEN I CAN'T EXPECT ME TO BE ACCURATE WITH MY STUPIDITY, AND I EVEN MIX IT UP FOR MYSELF!!
Doctor: Then be more specific. Now stop talking. You two MUST be vaccinated for Krabby Patty withdrawal. (Another doctor came in with a needle)... When this is done, you will NEVER love Krabby Patties again.
Patrick: NOOOO!! I DON'T WANNA STOP LOVING KRABBY PATTIES!!! THEY'RE MY LIFE!!!
SpongeBob: MINE TOO!!! I'M THE GUY WHO MAKES THEM?! WITHOUT THAT LOVE, I MIGHT JUST END UP BEING AT LEAST A MORE CHEERFUL VERSION OF SQUIDWARD AND BECOME CRITICAL TO MY JOB, THEN I MIGHT END UP, PERSUING MY OWN CAREER?! I DON'T WANNA LEAVE THE KRUSTY KRAB CAUSE OF NOT HAVING LOVE FOR IT ANYMORE?!
Doctor: Well even then, you kinda have to anyway cause of the ban, which means the Krusty Krab will have to close up shop either way.
Patrick: "BUT KRABBY PATTIES BRING HAPPINESS AND JOY?!"
Doctor: That's what everybody keeps saying, and yet they have done terrible crimes in its name.
SpongeBob: WHEN HAVE WE EVER DONE SOMETHING BAD IN THEIR NAME?!?
Doctor:... Do you REALLY have to ask that? (He showed him arresting a cop for wasting a Krabby Patty in Shuffleboarding and his love for a Krabby Patty in To Love A Patty on a TV)... False arrest, over that? AND falling in love with one? You are sick, AND obsessed with them.
Spongebob: "Hey, for the first thing, that was power going through my head! And the second thing, I WAS GOING THROUGH A PHASE?! I, I get lost in my craft sometimes?!"
Doctor: "Then I believe being exposed to the fumes of making those burgers gave you even more extreme effects then what it does to others for only EATING those things! If anything, you actually need this MORE now!"
Patrick: Why are you being so MEAN about this?!
Doctor:..... Because I lost my daughter to the 2015 incident. I want the Krabby Patty GONE just as much as our new mayor does. Bikini Bottom is BETTER OFF WITHOUT IT!!
SpongeBob: BUT-
Doctor: NO BUTS, KRABBY-PATTY-LOVER!! Doctor? (He injected the serum inside the two)
SpongeBob: OW!
Patrick: OW! (They both suddenly saw horrible visions of Krabby Patties leaving in a void forever as they were both knocked out)
Doctor:... Is it a success?
Doctor #2: As we thought, it is. It's quelling their addiction to whatever is in that stuff.
Doctor: And the side-effect?
Doctor #2:... It's working too. People who are administered our new Krabby-Patty antidote, will never want to try another Krabby Patty again. They'll actually be well aware of the danger it has, and forbid anything to do with it.
Doctor: Good. (He called Huxley)
Huxley: Head Doctor Whitney Wittes?
Whitney: Mayor, the experiment is a success.
Huxley: That's great! Now nobody is going to give a damn about those Krabby Patties anymore. I want that antidote administered on everyone, am I clear?
Whitney: Yes, sir-
Doctor #2: Uh, sir?... These two... They haven't been affected.
Whitney/Huxley: WHAT?!?
Whitney: How is that possible?!
Doctor #2: I think... They refuse to give up this addiction. It's like, their hearts are driving them on, or something.
Whitney:... Doctor, don't be absurd. Give me a REAL diagnosis. Why isn't it working?
Doctor #2: I DON'T KNOW!!! IF IT'S NOT WHAT I JUST SAID, THEN I DON'T KNOW!!
Whitney: (Sighs) Great! That may be a sign that these two have a more extreme case then already expected. These two may need a specialized antidote for them.
Huxley: Whitney, that doesn't fill me with confidence?!
Whitney: We're on it, Mayor! Give us time. We ALWAYS have time.
Huxley: Maybe we do, maybe we don't... I fear Miss Cheeks MAY be a nuisance to us later.
Whitney: The squirrel? Why?
Huxley: She seems to view my ways as unnecessarily extreme, when it's COMPLETELY necessary. Then again, she is from Texas, a netourious conservative state, so I'm hardly surprised she believes that. I've TRIED necessary already, and it didn't work. These people can't get their sense back without help. THAT'S what this Asylum is for. As the head, you are in charge of making sure everyone in Bikini Bottom has their brains washed.
Whitney: Well we ARE trying, Mayor. I'll be sure to perfect the antidote to be even more intense to anymore extreme cases like these two.
Huxley: "Not just that, Whitney.... I want you to see if there's something in the Krabby Patty that is even able to DO things like that. Because this is TOO strange for it to be the work of merely a sandwich capable of habit-forming addiction."
Whitney: "You mean this addiction effect might be more extreme then just because it's fast food?"
Huxley: "Yes. I already asked the Food Law agency to analyze the formula itself, but they cautioned that there may be an unknown ingredient not readily available in the current recipe. I mean, it makes sense. No normal fast food is THAT good to cause a collapse of society in its mere absence! Why else did you think I halted myself from having the Krabby Patty be sold outside of the Krusty Krab?"
Whitney: "And it's a good call you stopped yourself from that, sir. Cause if it were true, then I worry that what happened in 2015 was a wake-up call that something ELSE is at play here then just an abnormally delicious type of hamburger."
Huxley: My point exactly. Now, do your job.
Whitney: Yes sir! (They kept at it)
Mr. Krabs' area.
Krabs was seen sitting on the bunkbed as a large-muscled Hermit Crab stared at him.
Hermit Crab: "..... Hey sailor. New around here?"
Krabs: "..... Ohhhhh no! I know where this is going! I heard the stories! (Uses chalk to draw a land) You stay in YER side of the brig?!"
Hermit Crab: "Hey come on, honey, the bunkbed's on your side- (Snaps are heard as Krabs had snipped the bunk bed in half and placed the snipped off part on the roommate's side)..... Wow, you're such a prune."
Krabs: "NOW STAY ON YER SIDE OF THE BRIG?!"
Hermit Crab: ".... There's uh, also the matter of the bathroom arrangement."
Krabs saw that the toilet was caught smack-dab in the middle of the line.....
Mr. Krabs: "..... Oh you gotta be kidding me?!"
Hermit Crab: Hey, there can't be two toilets, and we sure as heck can't split it. Well yes, technically we can, but it MIGHT not be the same afterwords, and that's not even mentioning the plumbing fiasco that would come that the Head Warden will make US pay for.
Mr. Krabs:...... I've ALWAYS got me eye out for people when I drop the soap, you know.
Hermit Crab: WHA, NO! I'M NOT GOING TO STOOP TO THAT DISGUSTING LEVEL! Not when it's happened too many times to ME.
Mr. Krabs: Suuuure, that's what they all say, I'm sure. If I known ANYTHIN' during my times in the Navy, I KNOW prisoners are UNPREDICTABLE. I REFUSE to allow myself to be another victim of prison rape.
Hemit Crab: I AIN'T GONNA RAPE YA, DAMMIT!
Mr. Krabs: "THEN WHY DID I CALLED ME "SAILOR" AND "HONNY" LIKE YOU WERE ONTO ME?!"
Hermit Crab:.... Okay, admittingly, my bad, abit of bad habits I adopted in prison life, but for the first thing, you look alot like ya been to the Navy! In fact, back onto the earlier thing, I once thought that word meant cutting someone... And THEN cutting their... Unmentionables, usually by slicing them through their a-
Mr. Krabs: Okay, okay, look, I'll at least PRETEND to believe ya.
Hermit Crab:... Fine by me. Better than not believing me. Name's Chel.
Mr. Krabs:... Wait... I know that name. You mean... Chel Shellenberger? The famous Naval officer?... I... I thought ye were dead.
Chel: Huh? Someone ACTUALLY believes me then. These old coots always pushed me around.... Wait... How do ye know me?
Mr. Krabs:... I was once in the Navy too. I'm Eugene Krabs.
Chel: Ohhh, so I was right about ya looking like a sailor-... Waaaaiit... Where have I heard that name before?... Oh, yeah, you were Victor 'Jack of all Trades' Krabs' son. The one who worked as Head Chef on the S.S. Diarrhea, and briefly had a relationship with a sea otter pirate when you and Scarfish were transferring suntan lotion.
(Deadpool): Wait, that role Sandy was playing in that one episode... Was an otter?
(MSM): Well what'd you expect? SpongeBob likes to embellish its lack of much-needed world-building. Also, Scarfish was a necklace starfish instead of a pink one, those two guards of the brig, Spotnitz and Ensign Porras were a blue-ringed octopus and a yellow tube sponge.
(Deadpool):... Well, he didn't say it was non-canon. Resume episode!
Mr. Krabs:... Yeah.
Chel:... Wow, you must've been in some huge trouble when you helped Captain Swimburne escape.
Mr. Krabs: Hey, love is the cruelest mistress of all, ya know.
Chel:... Well... Much has changed since then. Scarfish got KIA, Porras got the frycook business he wanted in the Caribbean, Spotnitz... Well... He died pathetically... And as for Swimburne... Not many's seen her these days.
Mr. Krabs:... She still in fighting spirit?
Chel: Oh hell yes. She's still a pirate and she'd rather die that way than a frail old woman, and she never wed. Guess she couldn't get over you, huh?
Mr. Krabs:... Yeah, I guess not.
Chel:... What exactly have YOU been up to, then?
Mr. Krabs:... Owned a restaurant until me Krabby Patty caused a rather... Nasty incident 5 years ago.
Chel:... You mean that incident Ottaway wouldn't shut up about?
Mr. Krabs: Yeah?
Chel:... Well... Crap. You actually made something that caused all THAT?!
Mr. Krabs: Actually, I was makin' it WAY before I joined the Navy. I did make it after me and Plankton went our separate ways.
Chel:... Uh... You think it was PLANKTON who did that?
Mr. Krabs: Nah. I told him to not test any of his 'experiments' on ANY of the people tasting our food... Or at least... Old Man J.
Chel: Well, I guess that's a relief. I suppose-
Mr. Krabs: Wait a sec!...... Why are YOU here? I mean, you were always a naughty crab, but... Why are you HERE specifically?
Chel: "I, got smackdab in the ugliest accidental vehicular manslaughter Bikini Bottom ever witnessed. Involving a clownfish family, and a poor little sea poodle pup barely beginning to live. I, don't want to get into further details. I'm haunted by it."
Mr. Krabs: "Wow, that bad, huh?"
Chel: Yeah. So I ended up stuck here.
Mr. Krabs:... So... It seems like QUITE the coincidence we both got here, huh?
Chel: Indeed it does. It's sometimes weird like that.
Mr. Krabs:... Or maybe it's fate. You think there's some silly connection between Huxley and Swimburne?
Chel: Possibly, or possibly it's just cliche to think that way.
Mr. Krabs: Probably.... So... Um... What now? Not like we can break out of here.
Chel: Eh. Despite the recent controversy cops are having these days, they're still going to do what they can today until policing is changed.... Neptune knows THESE cops are no better.
Mr. Krabs:... We REALLY need to stop talking about that factoid.
Chel: Look, we-
Mr. Krabs: Wait! Hold on!... Who's THAT?! (They saw a familiar otter in a cloak)... I know that cloak anywhere... Swimburne wore it when she... Went undercover!
Chel:... You don't think-
Mr. Krabs: I do think.... SWIMBURNE! (The figure stopped and saw them)... Knew it. It's DEFINITELY her. (She ran away)... And another classic move.
Chel: What is SHE doing here?! It can't be the cliche that she and Huxley may be connected.
Mr. Krabs: No, but there's no doubt SOME connection. Maybe he's a son, boyfriend, though that is unlikely given age discrepancies, family relative, friend, whatever. Either way... I think we have our ticket outta here. We just have to wait.
Chel: "Well, Swimbrine takes her time with these sorts'of things, she's always been, thematic like that."
Mr. Krabs: SwimBURNE!
Chel: Right, sorry! I'm older than your ass, you know.
Mr. Krabs: "Yet you managed to keep fit."
Chel: "Well alot of that is a leftover from the navy days."
Mr. Krabs:... Eh, this is a cartoon.
Chel: It's a what?
Mr. Krabs: Never mind that. Just... Let's just wait for... SWIMBURNE... To get here.
Cop: Krabs? Shellenberger? You have a visitor.
Mr. Krabs:... Wow. That was fast.
Cop: Who would like to join you. (The figure was tossed into the cell with them)
Chel: DAMMIT! (The figure was dazed, and when they removed the hood, they saw it really was Swimburne, different from how Sandy portrayed her, as she was a sea otter with blue eyes and was slightly as old as Mr. Krabs)....
Swimburne:... (Zoe Saldana voice)... Eugene! Long time no see.
Krabs:... Selena.
Swimburne:... How've you been?
Mr. Krabs: Well, I would've been free if you clearly hadn't f****d it up.
Swimburne: HAH! Like I'd do that. I ALWAYS gotta plan.
Chel: Then what is it?
Swimburne: I don't know YET. Just turning myself in is a way to... You know.
Chel/Krabs:... Ohhhhhhh.
Chel: "I get it now."
Swimburne: If an opportunity can ONLY come along for my mind to get working.
Chel/Krabs:... Dammit!
Treedome
Squidward:... Find anything?
Sandy:... Nope. Seems like the guys who made this contraption made it... Unbreakable. I can't find a SINGLE weakness inside this thing.
Squidward: Yeah, it's SUPPOSED to protect me from my 'torture porns'. It's technically not SUPPOSED to have a weakness.
Sandy: Hey, you're the one who said there's no such thing as idiot-proof.
Squidward: "Idiot-Proof and Weakness are separate entities, Sandy."
Sandy: "Ugh. Well I suppose the next best thing I can do is try to track down the guy who made this and shake out a method to deactivate this."
Squidward: "Well so far, I nary see any company brand name, so-"
Sandy: Ottaway had scientists make all of them. They're made by Ottaway Asylum. So, we can't just break in and demand answers.
Squidward:... Damn, I was hoping for that to give us our first clue.
Sandy: Look, this thing is designed to make sure NOBODY finds a way to get out of it. I won't be the only one looking for answers. Surely you have enemies who'd look for the same answer.
Squidward: AAAAAAAAAAAAAAaaaaaaaaaaAAAAAAAAAAAAAAAAAAAAAAAHHH!!!
Sandy: Give Huxley credit, he's spared no expense in his albeit understandable goals.
Squidward: DON'T GIVE THE BAD GUY CREDIT!!
Sandy: HE'S NOT A BAD GUY!! HE'S JUST SOMEONE COMING FROM AN UNDERSTANDABLE SITUATION!
Squidward: WELL A BAD GUY IS A BAD GUY, AND HE'S RUINING BIKINI BOTTOM!!
Sandy: Squidward, you KNOW there's a specific definition of what makes a bad guy.
Squidward: I don't care! Just find a way to get me out of here!
Sandy: Can't you exit it in your house?
Squidward: Yes, but authorities are surveying the houses of people with them. I am not allowed to be outside without this piece of garbage on.
Sandy: Then we just have to find a way to activate that command. Easy as pecan pie.
Squidward: "Ya know, it's a bit of an irony to say "Easy as Pie" in general, and yet there is a complicated and dedicated art to making pies-"
Sandy: "Hence WHY it's purely an expression, Wiseguy Tentacles."
Squidward:... Okay, whatever, how exactly do you plan to trigger this thing open for me?
Sandy: That's what I'm going to find out. First off, how do you exit?
Squidward: The thing just swings itself open for me when I enter the house through a front exit.
Sandy: Then that's where I'll take a look. (She analyzed the containment device)...... Hmmm... Seems to have some hinges... Locked by... Some kind of advanced locking systems. And they're... Oh great.
Squidward: What, WHAT?!?
Sandy: Seems that this thing is connected to the Asylum's network. If it's open outside of your house, it'll alert them and we'll all be arrested. The locks on this thing are programmed to set off a silent alarm if it's locks are not there.
Squidward: So... So we CAN'T get this thing off me?!
Sandy: Not without the authorities knowing, no.
Squidward: CURSE YOU, HUXLEY, YOU MAD BUT OTHERWISE BRILLIANT GENIUS?!!!
Sandy: What did you expect? I just said he spares no expense in following through with his decree. He likely doesn't trust me anyway, and just letting you out by picking the locks will confirm his mistrust.
Squidward: Then what are we going to do, GENIUS?!
Sandy: (Sighs) Sorry, but there's no way to get you out of there. You'll only be able to exit in your own house.
Squidward: Can't I just escape from my own house?
Sandy: Nope. I just said that your house is being heavily surveyed. If you were to leave without the device, you'd be pinned and cuffed before you could get here.
Squidward: Then can't we just take those out?
Sandy: Squidward, doing that would just alert whoever's looking through the cameras to call in the authorities. Stop trying to suggest things. Huxley has thought of EVERY possibility.
Squidward: (Sighs) I am NOT going to spend this entire mission in this thing.
Sandy: You'll have to. There's no way out of that thing. Any attempt to remove you will just get us arrested, and with things getting too serious and too strong for us, we CAN'T afford that. So I reckon you better make your pantless butt comfortable in that thing.
Squidward: "D'ohhhhhhh, FINE?! But I better be-promised that it comes off once this whole mess is completed!"
Sandy: "The best I can offer is around the time Huxley isn't in charged of things anymore."
Squidward: "Ugh, I'll take what I can get, I guess, all things considered."
Chapter 2: The Motive Behind Huxley/Flynt the Crimegiver
Bikini Bottom City Hall
Huxley was seen addressing a wave of answer-hunting press members, behind them, waves of newfound protesters!
Reporter 1: "Mr. Huxley, any statement about the dictatorship you now found yourself in?!"
Reporter 2: "Do you consider it a wise idea to ban the Krabby Patty all things considered of the very event you complained about?"
Reporter 3: "Do you see yourself still being mayor for any longer than the few moments you're in office?"
Reporter 4: "WHERE'S OLD MAN JENKINS?!"
Huxley: "One at a time, people!"
???: "TYRANT?!"
A Misfit Trio teen fishes in make-shift and ridiculous costumes are seen!
Teen 1: "We are the Justicy Teens with Attitude, and we're here to stop your reign of terror! We-"
Huxley: "(Unbemsued) Security!"
Teen 1: "I WASN'T FINISH YET-" (Security beat them all into the distance with a crash)
Fred: MY LEG!!!
Another Fish: MY CAR!!
Yet Another Fish: MY SEA CABBAGES!!
Huxley: Everyone, I must remind you I did what I had to do, for your own safety. And I am warning you, if you decide to go apocalyptic right here, I'll have to establish a mandatory quarantine on all people in Bikini Bottom. I am DONE letting the people here let themselves die from their own stupidity.
Reporter 1: But why? Why force this on everyone?
Huxley: Because you all had your chance to do it on your own, and much of you killed people over the Krabby Patty. Ottaway Asylum is working on a cure to this addiction you suffer. It's not coming back, and for good reason. It caused the death of hundreds.
Protester 1: "BUT WE'RE STILL AS NUMEROUS AS EVER?!"
Huxley: "That's because you fish breed like rabbits?!"
A Mother with 1000 children: "Oh whatever gave you that impression?!"
Huxley: Look, you're fish. You guys get along in numbers.
Protester 2: BUT WHAT GOOD IS THAT IF-
Huxley: Okay, okay, okay! You want to know why I'm doing this?...... Because I used to live in New Kelp City. (Everyone was confused)... Yeah. I know. Someone from there being a Senator for Bikini Bottom, and THEN your mayor? I know some of you consider that a political downgrade, so why did I do that? Why? Well, I'll tell you...
Working Fish: "(To another fish quietly) Is this gonna take long? I got work in 9 minutes."
Flashback...
(Huxley): "New Kelp City used to be in a far more stable state."
(Reporter 1): Yes indeed. NKC was once the most populous city in the Pacific before the Great Barrier Reef.
(Huxley): "Thank you for the free trivia, but I was in the middle of sharing a story!"
A New Kelp City in a better state of being was seen.
(Huxley): As I was growing up, New Kelp City was a great city. So many sights to see. But what I was never old enough to be aware of at that time, was the growing crime rate. It continued getting worse until my adulthood, where I heard of the most idiotic excuse for a street gang ever... the Bubble Popping Boys!
(Reporter 5): "Kinda hard to take them seriously with a name like that."
(Huxley): Exactly. Because of them, bubbles were forbidden, But, that also counted for bubbles that appeared naturally in the water. Anywhere there was bubbles, that gang was always there. Everyone feared them, and because of that the economy ran rampant. Anywhere bubbles appeared and that meant they were too. It was so idiotic to me that the city would even allow these minor jerks to push them around. They were no threat, and yet, they just... Seriously, why were they even a damn threat?! They were just five dumb people who didn't like bubbles. WE'RE UNDERWATER FOR NEPTUNE'S SAKE! So when they killed my mother, I had to do something. I ran for a secretary for the mayor, I did everything I could to make them realize that these five bubble-haters were nothing more than common thugs. But no matter what I did for everyone, they never learned! They killed kids who blew bubbles for years, and yet, NOBODY, IN THE CITY, COULD DEAL WITH THEM?!? NOT, A, ONE!!!
(Reporter 2): Seriously?!
(Huxley): I'm NOT even kidding. All the law enforcement in the city, and they couldn't even threaten the Bubble Poppin Boys. It was absolutely nonsensical. And even with all my hard work, nobody in that Neptune-forsaken town learned. So if they weren't going to learn, they never would. I had no choice. I had to leave. Then I came here to Bikini Bottom. It was exactly like New Kelp City before it...
Present
Huxley:... And then 2015 happened! Even with my political upbringing, NONE of you were able to wise up. I do great things, and THIS is the thanks I get. (As many of the people were hurt) Tearing yourselves apart over a stupid piece of FOOD?! I thought I set a BETTER example than that, but I was dead wrong. I REFUSE to let you all end up like New Kelp City, tearing yourselves apart for a DUMB reason. And worse, compared to the Bubble Poppin Boys, a simple burger, IS A DUMBER REASON TO FALL APART! I gave you all a chance to grow, and yet again, you never learned. Just like New Kelp City. I lost ONE home, and I will NOT lose another one to stupidity. So this is your last warning: GROW UP! BUY YOURSELVES BETTER BRAINS!! This is for your own good! Do you know HOW many people died in 2015? HUNDREDS!! And for what?! FOR A DUMB PIECE OF FOOD?!? SO YOU BETTER GET WISE, BECAUSE IF ANOTHER INCIDENT LIKE 2015 HAPPENS AGAIN, I AM GOING TO FORCE MY ISSUE ACROSS FOR THE GREATER GOOD! NOBODY WILL BE ALLOWED ANYWHERE NEAR ANY OTHER UNTIL YOUR MENTALITY IS CURBED!! NOBODY WILL BE ALLOWED ANYWHERE WITHOUT GOVERNMENT ESCORT!! I know it's extreme, but you all brought this upon yourselves that year. It's time for Bikini Bottom to stop being stupid!... So, good day, and let this conference be a reminder should you EVER get the urge to do something stupid! (He left)
Fish 1: "..... Wow, in hindsight given that speech he made WAAAY earlier before, we probably should've seen this coming."
Fish 2: "Well now it's too late and we're stuck with this guy!" (A great white was seen smiling maniacally with heavily-detailed sharp teeth before leaving)
A Distent Thug Bar.
The music was heard as various thug fishes of various predatory fish and sharks were seen rough-housing a place as an amoral Giant Red Octopus bartender cleaned glasses and messes from prior fights.
Lacetfish thug: ".... Got any threes?"
Baracuda Thug: "..... Go fish."
Eel Thug: "(Looks at the Baracuda's thug) OY?! This guy's got nothin' BUT threes!"
Lacetfish Thug: "WHAT!? YOU SON OF A- (He and the Baracuda started to brawl)!"
Thug Lobster: "(Flirting with a Female Lionfish) Hey baby, you beautiful. How much is the fun times, sister?"
Tiger Shark: "(Got up) OY?! THAT'S MY WHORE?!"
Thug Lobster: "Ya wanna start something, cartilage boy?!"
Tiger Shark: "BRING IT ON, YA FUTURE CLASSY SEAFOOD?! (The two got into fighting)!"
Lionfish: ".... Tch. Boys. (Walks off)."
A Very Buff Starfish thug was seen making out with a female eel on a bar table as two thugs were annoyed.
Thug 1: "DAMN IT, GET A ROOM YOU TWO?!"
Thug 2: "HEY TAKE IT TO THE WHORE ROOM LIKE EVERYONE ELSE?!"
A Male Pufferfish was seen dragging in some held hostage persons and smacked down on the Bartender's area.
Pufferfish: "Gimme a drink, Barkeep. The Blue-Ring Poison special. I'm celebrating the fact I'm about to commit a ransom to two beloved rich-folk from Bottoms Up!"
The Bartender grabbed a Blue Ring Octopus thug!
Blue Ring: "OY?! WHAT'S WITH THE DISRESPECT- (Gets squeezed comedically as his venom gets into glass) OOOOOOOOW?!"
The Bartender gives the Pufferfish the venom, who drinks it like it's nothing and burps out toxins like a badass!
Pufferfish: "HA HA HA, Poison is NOTHING to me!"
Manfred the Manta Ray was seen hosting an animal fight between a Sea Bear and a Litteral Sea Lion as roars were heard as the thugs cheered it on!
Manfred: "Do I hear 90 bucks for the Sea Bear?! Do I hear 500 for the Sea Lion?!"
Parrotfish thug: "(Pats Manfred) This betta not' be rig'd, Manfred!"
Manfred: "Hey now, just because I'm Bikini Bottom's premiere conmanta, doesn't mean I'm a cheat!"
Parrotfish: SuuUUUUUUUuuuuuu-
Manfred: AND HERE IT GOES!
Parrotfish: AW DAMMIT! (The Sea Bear and Lionfish fought)... Yes, yes, I'm gonna win- (Suddenly the great white appeared bursting in, distracting the Sea Bear and causing it to be killed by the Lionfish off-camera)
Great White: EVERYONE! I HAVE AN ANNOUNCEMENT!!
Manfred: AND THE LIONFISH WINS!!
Parrotfish: BULLS***!!! THAT'S DEFINITELY A CHEAT, THAT SEA BEAR WAS THROWN OFF GUARD!! I WANT A REMATCH!!!
Manfred:... Uh, the Sea Bear is dead. You lose. Period.
Parrotfish: I KNEW IT, BITCH, YOU ARE A DIRTY CHEAT!!!
Manfred: It's not my fault the Sea Bear let it's guard down. If anything, it's Sharko's fault.
Parrotfish:... YEAH, IT'S YOUR FA- (He noticed Sharko's size and his heavily-detailed teeth)... Um... On second thought... It's just a gamble. Nothing serious. Ehehe.
Sharko:... If you guys are finished whining like small fries, then can I PLEASE move forward with my announcement?
Manfred: Alright, shoot. (Everyone got guns out) NOT THAT KIND OF SHOOT, IDIOTS!!
Sharko: Speaking of idiots, Huxley, our new mayor, seems to be squeezing law and order into people and making them mistrust him. The guy is so paranoid of losing Bikini Bottom to another 2015 incident that he's forcing his issues on everyone.
Lobster: WHALES***!! THE 2015 EVENT MADE OUR CRIMINAL EMPIRE BLOSSOM!! That incident gave Flynt a reason to exist in STYLE!
Sharko: It did. And the stupidity people went through since our previous mayoral election in 2005 got him off the ground.
Pufferfish: "Well where is Flynt anyways? Shouldn't he be informed of this?"
Sharko: He's already here. (A flying fish appeared)
Flynt:... S'up, my favorite scumbags. Puffhart, looking puffier than usual.
Pufferfish (Puffhart): Thank you. And I got us a ransom special from Bottoms Up!
Flynt: I'm proud of you. Those hoity-toity snobs had it coming to them. Klaus, how's the claws?
Lobster (Klaus): Tough and unbreakable as always.
Flynt: Manfred?
Manfred: Well, I'm sure you heard these sore losers whining.
Parrotfish: BECAUSE YOU RIGGED THE BET!!
Flynt: Parr? Shut the whining!
Parrotfish (Parr): Yes sir!
Flynt: Octavius?
Giant Red Octopus Bartender (Octavius): These beers are serving like hotcakes over here, man.
Flynt: Good. Eekman?
Eel Thug (Eekman): Vicious as a moray eel over here... Which, I am.
Flynt: Yeah. Lanci?
Lancetfish: Hardcore.
Flynt: Good as pie. Baracudi?
Lanci: Caught him cheating at Go Fish.
Barracuda (Baracudi): No wonder they call you Lanci SNITCH!
Lanci: Yeah. DEAL WITH IT!
Flynt:... Tiegs?
Tiger Shark (Tiegs): Tiger Tiegs, teeth sharper than ever. Klaus tried to steal Lea from me, AGAIN!
Lionfish (Lea): YEAH, STICK YOUR CLAWS UP SOMEONE ELSE'S SKIRT FOR A CHANGE!
Klaus: CAN A GUY GET SOME ASS AROUND HERE?!?
Flynt: OKAY SHADDAP!!! AND STARFIELD AND EELA, GO TO THE WHORE ROOM IF YOU'RE GOING TO DO THAT!!
Starfield: UH, SHE JUST HAD SOMETHING IN HER EYE!
Flynt: Sure she did. And, uh, Bobb and Drowne? (Thug 1 and Thug 2 had his attention) Next time you tell someone to do what they're supposed to, MAKE THEM DO IT!!! Words are worthless nowadays.
Bobb/Drowne: YES SIR!
Flynt: Damn right 'yes sir'! And then there's our newest member, Spotnitz. (He faced the blue-ringed octopus as he got his normal form back after being used to make a toxic drink of a litteral verity) The former navy officer who faked dying in a very stupid way, after being shamed. How does it feel?
Spotnitz:... Well, they never appreciated my piccolo talents. They kept saying it was bad and when they broke it like the bullies that they were, that was the final straw! I had to leave for good.
Flynt: And you are now forever wanted for the crime of desertion. You are a criminal unlike any I've met.
Spotnitz: I am. So, what is it about the new mayor?
Flynt: Oh, I've got LOADS planned. Huxley is a paranoid otter who has actually given much potential for us all.
Starfield: You sure, sir? He seems to be having all of Bikini Bottom on big lockdown. And I'm PRETTY sure his law absolutism is bad for us cause, well, we're criminals and I'm sure he's against that with the Bubble-Poppers in mind.
Parr: Yeah, but it's GREAT for reducing idiots! I always HATED Bikini Bottom for it's stupidity. Even by the cops. I've seen one ticket the same damn person for mistaken accusations of littering. Professionalism my big fat hiney. But when I came in, I starting finding it funny.
Flynt: Yep. It really is. That's what's so fun about being the great Flynt the Crimegiver. Some of the stupidity out their makes a great comedy show. I've seen the silliest things happen in my days as the Crimegiver.
Cutaway
Fish: A BULLY'S GONNA KICK MY BUUUUUTTTT!!! (Everyone saw an old man)
Old Man:... Hey there, young people. Eh, nice day today.
Fish #2: So, ya STILL like kicking BUTTS, huh? WELL, YOU CLEARLY NEED ANOTHER LESSON, OLD MAN!! (They charged for him)
Old Man: (Everything went into slo-mo)... ("Not this time!") (He did something like this)
Old Man:... I love the young people... (Flynt, watching this, had his jaw cartoonishly drop in reaction)
Present
Flynt: (He and the other criminals laughed out loud)... And that's what I live for. Sharko's little observation, has given me a bigger goal. One I thought would never show up this year. We're going to cause some patented Bikini Bottom stupidity chaos.
Blue Ring: Ooh, I LIKE the sound of that.
Flynt: We all do. But before we begin our next phase, I couldn't help but hear rumors, that a lot of you idjits here have come to believe, that I like crime! PBBBBBBBBBBBBBBBT, you couldn't be FURTHER from the truth. I don't LIKE crime!... I... LOVE... Crime! I love thefts! I love smuggling! I love gambling! I love fraud! I love gang wars! I love rigging things for my own pleasure! I love watching the people of this town be screwed around by corruption, ruin, misery, and despair! I love murdering people and watching them and their loved ones in delicious misery, and just eat them up! I love money being supplied to me in EVERY easy form imaginable! I love watching those hopeless simpletons and retards all over Bikini Bottom squirm like worms! It moves me DEEPLY within my sadistic heart, to see people being used over and over and over into the unwilling grasp of a very happy and wicked enemy. The sight of people being arrested on trumped-up charges, the sight of them being framed for crimes they didn't commit, the sight of even the retarded actions of the police AND the people who act as if they didn't do anything wrong, the way they behave, the way they do anything stupid for equally-stupid reasons, the way people treat others like whale-s***, the way these idiots even expect monsters who seem destructive to have a certain etiquette or else they attack him, the way their idiocy turns them into unlikable assholes, the way they think they can do whatever they want, whenever they want, however they want, why they want it, and whoever they want to do it-to. There is NOTHING, more entertaining and better, than watching innocent bystanders and morons getting their just desserts and their unexpected comings, screaming in agony and release, as they are told off by people who have the power to say they can do whatever they want!... What I am telling you all, is that I am the purveyor or crime! I WILL ensure that my position in Bikini Bottom, will remain unchallenged, not even by a moronic, hypocritical, gay-toned, Krabby-Patty-fetishizing sponge, a brain-dead insensitive bully of a starfish, a d***-nosed, d***ish selfish, heartless, and soulless octopus, a greedy, criminal, scamming, money-fetishizing crab, and a smartass, air-breathing, water-loving, beaker-sucking, science-worshipping, brainless lab rat, AND CERTAINLY, NOT HUXLEY! It is time, we made sure they remember THEIR place, and ours! This place of morons was MEANT for us! You want them to take that away from us?!? NO?!? THEN HOLD YOUR FINS HIGH!!! (They all did that in celebration)... Hell, f*****g, yeah!
(Deadpool): "Wow, two main antagonists for the price of one!"
Ottaway Asylum
Huxley: And you're SURE this new antidote will work for people with 'too strong a heart'?
Whitley: We have already agreed that it is not that whales*** nonsense.
Huxley: I said it mockingly. We both agree that it's nonsense.
Whitley:... Well, to answer your question, this BETTER work, because I swear to Neptune, if it doesn't, I am going to LOSE it!... Figuratively.
Huxley: Have you tried before besides that one I saw?
Whitley: DOZENS!!! Each one was an embarrassing failure! These two, are just, impossibly resistant to this antidote to whatever the Krabby Patty does to them.
Huxley: Did it at least work with the other prisoners?
Whitley:... Impossibly... No!
Huxley: WHAT?!?
Whitley: They all have the same damn problem!! NONE OF THEM WANT TO LET THE KRABBY PATTY GO!! Every batch I gassed each cell with, and every time, it never worked! It's, it's ABSOLUTELY UNACCEPTABLE!!
Huxley: Whitley, breathing exercises.
Whitley: Right, right, right. (He took deep breaths)... Namaste!
Huxley:... So, you're SURE none of the batches worked?
Whitley: None of them! It just doesn't make sense. Each batch is supposed to contain a cocktail of formulas meant to numb this 'will' nonsense or some whales*** like that, but none of them worked. Whatever the Krabby Patty did, it's withdrawal seems to be a PERSISTENT addiction!
Huxley:... So... These people won't just let themselves be free of the Krabby Patty?
Whitley: No! This, Krabby Patty withdrawal... If it can't be cured... I fear that, and I hope to all that's holy that it's not the case, we have to put them all out of their misery.
Huxley: ABSOLUTELY NOT!!
Whitley: I JUST SAID I HOPE IT WOULDN'T COME TO THAT!
Huxley: Yes, but THAT IS ABSOLUTELY OUT OF THE QUESTION! That squirrel has already compared to what I'm trying to do to be a dictatorship, KILLING OFF EVEN THE MOST LOST OF CAUSES WOULD BE TOO MUCH?!
Whitley: What choice do we have? If these guys can't be cured of this addiction, what are we supposed to do about it other than cleansing the town of them? They're killers anyway.
Huxley: Not that I disagree, but I'm TRYING to rehabilitate them to be normal civilians, NOT have them euthanized for something we CAN cure. Addictions have been quelled before, and THIS is no different... It's their minds and their wills. As long as they love that poisonous Krabby Patty, they'll never let it go.
Whitley:... Then... What are you suggesting?
Huxley:... You'll have to send in the best hypnotist in Bikini Bottom.
Whitley:... A hypnotist? Are you sure that'll work?
Huxley: It must. The doctor of Hypnotherapy has worked with people like SpongeBob before.... Or at least, his intern, that weird living human hand Hans.
Whitley:... You mean Doctor Mesmer? That mandarinfish who has worked in feng shui and all that stuff?
Huxley: Yes. He said he was considering helping to stop the Krabby Patty addiction once and for all.
Whitley:... Well, what was stopping him?
Huxley: He initially said that it seemed 'wrong to erase something against one's will, especially when it concerns some kind of addiction'. The man does not realize how serious this situation is.
Whitley:... Then how are you supposed to-
Huxley: I have already shown him the gravity of the situation and why I tried to help both New Kelp City AND Bikini Bottom. He has now agreed that this has to be quelled, because at this point, their own will doesn't matter. He should be there any minute- (Knocking was heard)... And that must be him.
Whitley:... I hope this works.
Later...
Mesmer: (He witnessed SpongeBob and Patrick going crazy)... This is more serious than I considered.
Whitley: And the only way to save them is to ensure that they never have a SINGLE memory of the Krabby Patty. We've already tried sedating them and the other inmates with any concoction we have, but it seems that their 'willpower' is too strong.
Mesmer:... You DO know that no drug will quell this, right?
Whitley: I do now.
Mesmer: (Sighs) I got this. I don't entirely agree that this is right... But if doing this is for the good of Bikini Bottom... Then I must do it. (He did some techniques)...... Hmm... Seems that this one... Has been addicted to Krabby Patties since he was a fetus.
Whitley: Wait, what?
Mesmer: Exactly. This is why he's the most difficult subject. He can't be cured of this addiction, because if he is, he will forget his own self. This is why he is passionate about Krabby Patties. Krabby Patties have literally founded his life. If I was to erase them... I'll be erasing his own identity.
Whitley:...... Do it!
Mesmer:... I... I can't!
Whitley: What?
Mesmer: I can't do it! If I erase his memories of the Krabby Patty, I'll mentally murder him. What if there's other cases like this?
Whitley: Then we'll just have to keep them in here forever for all we care.
Mesmer:... I'm sorry. This is not something I'm willing to do. I was WILLING to give this a chance, but now, I see more harm in this than I even conceded.
Whitley:... Doctor, the Krabby Patty addiction killed people! What's worse? Mental murder, or ACTUAL murder?
Mesmer: In equal amounts, BOTH! Though with physical murder, it's at least over quickly! But mental-murder? The person may be physically alive, but, the person people would know them as would be gone. And I can't, on good conscience, mentally murder people, even in the name of reducing the risk of another 2015 event!
Whitley: "Be reminded that the addiction has GOTTEN PEOPLE KILLED?!"
Mesmer: "I get the "Necessary Evil" argument! But in my professional second opinion: The necessary evil appears WORSE then the problem it's trying to stop! How can you not ask yourself, "Is Huxley's utopia WORTH the atrocities being commited here'?!", I mean, this is no different from Plankton brainwashing people with Chum Bucket Helmets years PRIOR to the 2015 event!"
Whitley:..... Fine, be that way! Can you at least-
Mesmer: NO! If I do this, I'm basically choosing who has to stay in incarceration forever, and who has the chance to be reformed. The thought is just, heart-wrenching. It hurts me to choose their lives based on this addiction.
Whitley: What you're doing, is going to SAVE BIKINI BOTTOM! It's only a FEW mentally-insane people!
Mesmer: Oh, so because their brains weren't wired correctly, that makes them not worth preserving?
Whitley: "Duh, I admit that came out wrong, I meant for that being that the amount of lost causes isn't that great-"
Mesmer: Still doesn't paint you in a great light, Whitley. It's STILL wrong!
Whitley: JUST DO SOMETHING, DAMMIT, I DON'T CARE WHAT!!
Mesmer: NO! I want NO part in this... INSANITY! All I will give you is THIS: There's no evidence that the Krabby Patty itself is the cause of their stupidity. The people here were likely stupid way before it existed. So, who's to say that getting rid of the Krabby Patty will change anything? What if their stupidity is NOT the Krabby Patty's doing? Sure, taking it away CAUSED the 2015 event, BUT THAT'S MORE THE FAULT OF IT'S ABSENCE THEN ANYTHING?!
Whitley: "Just what are you suggesting?"
Mesmer: What if the Krabby Patty was merely a coping mechanism for something deeper, and taking it away was, something like, taking away what allowed them to get used to some kind of deep pain from a loony town like this? You said it behaved like a drug, right? So, what if it was a special KIND of drug? An antidepressant? I have NO idea what Eugene put in the patty batter for the Krabby Patty, but clearly it's a double-edged sword. These people must love the Krabby Patty for a fairly rehabilitative reason. Did you EVER consider that? That, AND the fact that keeping them locked up here to force them to let the Krabby Patty go, is making them even MORE pained? If you ask me, what you're doing to them, is making them want the Krabby Patty even MORE!
Whitley:...
Mesmer:... Looks like I have just completed your puzzle. All you were doing was simply fitting puzzle pieces from different puzzles together hoping they'd fit together, when you SHOULD'VE been sticking to ONE puzzle at a time. What you have been doing, is mental torment! The reason your 'drugs' aren't working, is because it's not the Krabby Patty that's the problem. It's not what the Krabby Patty does TO them. It's what the Krabby Patty does FOR them.... I suggest you take some time to reevaluate how you are treating these people, because clearly you are looking at the negatives too much to see the big picture. Good day. (He left)
Whitley:... I...... (His shellphone rang and Huxley called)
(Huxley): Whitley? Has Mesmer done it?
Whitley:... Well... Kinda.... But before you say anything, he, ended up losing his nerve and got all high and mighty with us. He up and left.
(Huxley): "UGH?! SERIOUSLY?! Ugh?! If I wasn't afraid to hire someone of less ethic-worry and the risk of hypocrisy, I'd had better results?!"
Whitley: "BUUUUUT, don't worry, he, left with something compensating short of any actual help. You see...."
Later...
Huxley: So let me get this straight: Mesmer suggests that whatever addictive stuff was in the Krabby Patty, was also an antidepressant?
Whitley: Seems like it. It makes a weird sort of sense. There WAS no evidence that the Krabby Patty was responsible for Bikini Bottom's stupidity as a whole. It wasn't their 'hearts' just like I knew it wasn't. It was because they, well... The Krabby Patty seemed to help them... Cope with their own stupidity.
Huxley:... Are you sure?
Whitley: There's NO other explanation as to why my concoctions never worked. You can't cure someone who isn't ill. We need to come forward with this discovery.
Huxley:... Well, that would be wise. But, how do you think the people will feel, IF THEY FIND OUT THAT I'VE BEEN JUST MENTALLY TORMENTING PEOPLE AND IN ESSENCE MAKING PEOPLE WORTHY OF AN ASYLUM?!? I'LL BE RUINED!!
Whitley: We can't keep this a secret!
Huxley: We're not going to keep it a secret, FOREVER! Not until we undo our mistakes. (Puffhart was watching him speak by inflating himself like a balloon) We will only come forward when it's time. I don't want my efforts being made to look vilified. That said, I believe this revelation does give me a new inspiration. If the Krabby Patty is like an antidepressant, then what if, we make a Krabby Patty that removes the influence?!
Whitley: "You mean, like a-counter-food stuff to Krabby Patties? Like the Krabby Patty, but with a depressant? "
Huxley: Depressants aren't the opposite of antidepressants. That's a common misconception. That's stimulants. But, otherwise, yes.
Whitley:"... A bit unorthodox, but.... It might work!"
Huxley: "Well lucky the Food Law agency is holding the recipe. I'll call them to give the recipe to me, and I can make a reverse formula and create a food designed to counter Krabby Patties! Not only that, but it will also be a COUNTER to Burgers as a whole! I will introduce..... Tofu Burgers!"
Whitley: "LE GASP! You brilliant mad genius!"
Huxley: "And from henceforth, they will be called:.... Huxwiches!"
Whitley: "..... The name, could've been better, sir."
Huxley: "To be fair, I'm a politician, I didn't took part in the food industry! Besides, the name doesn't matter! This is purely to fight back the addiction! Remember that, Whitley!"
Whitley: Well, as soon as we receive that formula, we'll see what we can do.
Huxley: Excellent. Glad that, as much as Mesmer was against this, he at least gave SOME good advice.
Whitley: We'll be all over it, sir. But, it's still going to be a concern should people find out we've been hiding our, accidental torture to these prisoners.
Huxley: They're NEVER going to find out! We're going to correct all this, and pretend it NEVER happened.
Whitley: So, you're resorting to doing-conspiracy by omitting this act?
Huxley: I have to! If anyone knows about this, they'll never trust me again- AHEM! Okay, admittingly, saying they trusted me is a stretch, more like, their discontent will become more aggressive then we're prepared to handle, and I'll lose my home... AGAIN! I know it's irresponsible, but some truths are not meant to be known, for everyone's sake. Doing the right thing sometimes requires making tough decisions and tougher sacrifices. And I'm willing to decide and sacrifice, whatever it takes, to make it that these people don't tear themselves apart for any minuscule reason.
Whitley:... If you say so, I just, it still feels wrong to hide this from everyone.
Huxley: It IS wrong, but it must be done. (Puffhart smiled and deflated away)... Did you just heard the sound of a balloon losing air?
Whitley: "May had been a stray balloon from a long-ago birthday party meeting the end of its journey."
Flynt's Hideout
Flynt: So he's hiding his own crime of mental torture from the people, eh?
Puffhart: That's what I heard, Flynt.
Flynt: Well, then, that would cause a lot-of-mischief if THAT was to spread... Maybe we should propose a jailbreak of Ottaway Asylum. Once those cracked-heads run out and about the streets muttering everything Ottaway did to them, then who knows what funny s*** will go down?
Puffhart: Um... How do we do that? Ottaway Asylum is locked up tight and guarded massively.
Flynt: I always find a' way. (Makes crazy expressions) AAAALLLWAAAAAAYYYYYSS!!!
Puffhart:... Yee, that was creepy.
Starfield: "Uh, actually, I kinda heard that the Sponge guy has a Squirrel for a girlfriend, and, I hear stuff that she knows her shit, so wouldn't it be easier to-"
Flynt: "Use that to our advantage? Not bad for a creature not known for their brains! She'll do ALL the heavy lifting for us!"
Klaus: I don't think she's stupid enough to fall for that when she's already on the heroic alert-
Flynt: "(Smacks Klaus) I DIDN'T MEAN HAVING HER KNOW ABOUT IT, DUMBASS?!"
Klaus: "OKAY SORRY, YOU AREN'T VERY SPECIFIC SOMETIMES?!"
Sharko: I believe he means that her smarts could mean she'll be smelling for anything that'll complicate her own plans. That includes us.
Flynt: "Same point applies! She won't know about us EVER!"
Sharko: I don't know. Anything can happen. But you're the boss, so, we'll take your word for it.
Flynt: You better.... Wait, am I seriously threatening a great white? Whatever, look, point is, I'll make DAMN sure that that aquaphilic squirrel never finds out about us, and we can make more chaos erupt throughout the streets with this new information.
Spotnitz: Uh... We didn't exactly RECORD that conversation. Puffhart, did you have a camera?
Puffhart: No.
Lea: Well, then, how are we supposed to prove-
Flynt: PROVE?! (Laughs) Is it REALLY so hard to believe that Huxley would torture people in a point immediately considered moot considering all the other whales*** he's done?
Lea:... Well, when you put it like that, no.
Flynt: There you go. This'll be easy as pie. We just have to spread the word all over Bikini Bottom. So, everyone, I'm counting on you to do that.
Eekman: Pffft, c'mon, that's WAY too easy.
Octavius: Except wouldn't it be a little eye-raising that some random strangers found out something like that? The authorities will accuse people of trespassing on government property.
Lanci: THAT'S why we won't just be yelling it out in the streets, seaass! We'll just have it leaked out some other way.
Starfield: "This, uh, being?"
Flynt: "(Facepalms)..... JUST USE THE INTERNET, MORONS?!"
Drowne:... The what?
Flynt:... (He face-palmed) What a bunch of dweebs! Let me show you-
Octavius: No need. I'll do it. I know more about the modern-day Internet than any of these bottomfeeders. (Klaus was doing that to Lea's butt until Tiger bit his butt as he Tom screamed)
Later...
Octavius: (He typed on a computer wildly and sent a message everywhere)... See? Simple as that.
Bobb:... So we weren't exactly needed.
Parr: What a rip. Seriously, we can do better!
Flynt: You WILL! But at least ONE of you had the smarts to do this. Now, any moment now, the people who read this message will go-
Later...
Fish #1: OTTAWAY ASYLUM TORTURED PEOPLE FOR NO REASON?!?
Fish #2: TEAR IT DOOOOWN!!! (Bikini Bottomites went crazy)
Flynt and gang saw the news covering the riot....
Lea: ".... Wow. That wasn't even microseconds in, and already these people are in a riot."
Eekman: "These are the same people that caused society to collapse, over an albeit delicious sandwich. Can you say you're really this surprise?"
Lea: "Toushe."
Flynt:... Someone make me some popcorn. This is going to be so priceless I can't even sell it.
Starfield: "Wait, we were gonna make money off of this?"
Flynt: YOU KNOW WHAT I MEAN!
Starfield: No I don't! That's why I a- OOOOOH, now I do!
Flynt:... Work on your brainpower next time, Starfield. It's slow as molasses.
Meanwhile...
Sandy: Alright. I think I've come up with a plan.
Squidward: You THINK you've come up with a plan?
Sandy: What else am I supposed to say, this place is in too much manure for us to navigate well in as it is.
Squidward: Well this 'think' idea better work.
Sandy: I'm saying that to myself right now, okay? Look, this jailbreak idea is going to require some intense machines, and- (Suddenly something hit the glass of her Treedome cracking it) WHAT IN TARNATION?!?
Fish #1: HUXLEY IS A TORTUROUS MANIAAAAAAAAAAAAAC!! (They completely shattered the Treedome as Sandy quickly got a helmet on)
Sandy:... (She did this)
Squidward:... Why have you never considered making your Treedome even the LEAST more durable?
Sandy: IT IS DURABLE, BUT YOU'RE THE ONE WHO KNOWS THAT EVEN IDIOTS CAN GET PAST THE MOST DURABLE!! BESIDES, DURING THAT NEPTUNE'S MOON INCIDENT, YOU MELTED UP MY TREEDOME! I'm, still waiting on the chimps to supply a replacement glass.
Squidward: Heh, then maybe it's not safe to live underwater in the first place.
Sandy: Oh shut up! Also, WTF WAS THAT FOR, YOU MANIACS?!?
Fish #2: WE HEARD NEWS THAT HUXLEY TORMENTED ALL THOSE PEOPLE IN OTTAWAY ASYLUM FOR NO REASON WHEN HE COULD'VE JUST MADE AN ANTI-KRABBY PATTY, BECAUSE IT FINALLY GOT THROUGH HIS HEAD THAT WE HAD KRABBY PATTIES FOR IGNORING THE HELL WE LIVE IN IN OUR EVERY DAY LIVES!!!
Fish #3: WE ARE BEING GOVERNED BY SOMEONE WHO WE CAN'T EVEN PROPERLY TRUST WITH OUR SANITY!!!
Fish #4: SO WE'RE TEARING THIS PLACE APART TO GET TO HIS ASS!!
Fish #5: YEAH, F*** THIS TOWN!!
Sandy: "..... Don't you guys stop to think that maybe THIS is why he was so secretive?!"
The Fishes stopped to think that.....
Fish 6: ".... WELP, WE ALREADY STARTED, TOO LATE TO STOP?!"
The Fishes resumed crazy rioting anyway!
Squidward: ".... This, is kinda why I was into what Huxley was doing before he got fickle and put me into this contraption!"
Sandy: Eh, at this point, I'm starting to see the annoyance of these people.
Squidward: Exactly! It's like I always say, everybody's an idiot except for me.
Sandy: Yeah, whatever. We can't hide here no'more, though. Let's head to your house.
Fish #6: HOLY S***! LOOK AT THAT BOD!! (A fish was eyeing Sandy as she was still in her swimsuit)... MUST, HAVE IT!! (He ran in until Sandy twisted him in painful ways in self-defense)
Sandy: Seriously? My Treedome is transparent, and yet NOBODY did that before when I was outside my tree?
Squidward: Guess it works the same way as with SpongeBob. It works when you're like that underwater.
Sandy: (Sighs) Let's just forget this before it gets bigger. Let's get to your house and-
Squidward's House
Squidward: (He and Sandy, in her pressurized suit, were there and Squidward screamed in a cartoonish manner as it was destroyed by rioters)... MY HOOOOOME!!! (Gasps)... No!!... NO!!! (He saw his clarinet destroyed)... NOOOOOOOOOOOOOOOOOOOOOOOOOOOOOOOOOOOOOOOOOOOOOOOOOOOOOOOOOO-
Sandy: Really? Your clarinet's destruction concerns you more than your destroyed house?
Squidward: Uh, to be fair, this is like, what, the umpteenth time my house got destroyed? Sure, first-time it's not Spongebob's fault nor directly involves him, but still.
Sandy: "..... Toushe."
Squidward: NOW LET ME SCREAM! (He resumed screaming until Sandy smacked him)
Sandy: GET A HOLD OF YOURSELF!!
Squidward:... Thanks.... Alright... I can't believe I'm saying this, but... (He did this)
Sandy:... Why'd you say it like that?
Squidward: I DUNNO, I'M JUST A LITTLE OVEREMOTIONAL AFTER THE DEATH OF CLARINETTE!!! (He cried)
Sandy:... Well at least there's some things to laugh at in this whole adventure.
Meanwhile...
(Flynt and his gang watched the Bikini Bottomites going crazy in something like this as he laughed the same way)
Flynt: AAAHAHAHAHAHAHAH!!
Parr: OH HELL, THIS IS THE FUNNIEST THESE MORONS HAVE EVER GOTTEN WITH THEIR RETARDATION!!!
Sharko: HAAAAAAAAAHAHAHAHAHAH!! Oh, I LOVE my job!
Manfred: "Whoooa, the violence they're doing at that pet center?! They're causing another Snail/Worm revolt!"
Lea: TOTALLY!
Tiegs: It's the best show so far.
Eekman: And did you see what they did to the Treedome?
Flynt: WHAT?!? (They saw that the Treedome was destroyed)... BAHAHAHAHAH!!! I never thought they'd stoop that high!
Octavius: Whoa! Sandy's hot!
Flynt: DUDE! Can ANY of you stop focusing on boobs for ONCE?!? They're not even that big!
Klaus: Totally, I've seen sea otter boobs bigger than-
Flynt: AHEM! CAN WE NOT MAKE THIS ABOUT BOOBS?!? THIS IS ABOUT THE CHAOS!! THINK OF BOOBS ON YOUR OWN DAMN TIME, OR IN THE WHORE ROOM LIKE EVERYONE ELSE!!
Sharko: Right.
Spotnitz: Well, seems like Ottaway himself is in quite a pickle. (They saw that Bikini Bottom City Hall was being overrun by angry Bikini Bottomites being controlled by SWAT riot teams) It's a bloodbath out there.
Sharko: No it's not. Riot squads aren't meant to kill anyone... Though results vary.
Flynt: Exactly. Let's watch the wackiness!! (Fish and SWAT officers were seen comically wrestling and being in comical slapstick routines as they all laughed)
Puffhart: HAHAHA!!! DID YOU SEE THAT?!? THAT GUY HAD HIS POLICE CLUB SHOVED UP HIS BUTT!!
Bobb: HAHAHA, STOHOHOP!! I'M GONNA PEEHEEHEEHEEHEE!!!
Drowne: I ALREADY DID!!! HAHAHAHAHAH!!!!
Baracudi: Disgusting.
Eela: BAAAHAHAHAHAHAAA!! (They all laughed with cartoonish comical expressions in a similar fashion to Patrick and his fake parents in I'M With Stupid before SpongeBob ran out screaming in that episode)
At City Hall.
Huxley was horrified at the ruckus outside.
Brine barges in!
Brine: "Okay, I was willing to stand aside to allow you to go out of your way to do what you did, but.... YOU WERE TORTURING PEOPLE?!"
Huxley: IN MY DEFENSE, I DID NOT KNOW THE KRABBY PATTY WAS A COPING MECHANISM FOR THE HORRORS OF REALITY!! I THOUGHT IT WAS A DRUGGED FOODSTUFF, OKAY?!? I ASSURE YOU, I WOULDN'T HAVE DONE IT IF I HAD KNOWN!!
Brine: STILL, THIS IS, WITHOUT A DOUBT, THE DUMBEST THING EVER!! NOW EVERYONE KNOWS AND THEY WANT YOUR HEAD!!
Huxley: BUT HOW?!? HOW DID THIS GET LEAKED OUT?!?
Sears: HOW SHOULD WE KNOW?!? THAT WAS ALL CLOAKED!! NOBODY COULD HAVE FILMED IT OR SEEN IT, BECAUSE THE SURVEILLANCE IS THE BEST MONEY CAN BUY!!
Brine: WELL CLEARLY NOT!!! NOW PEOPLE ARE GOING INSANE AGAIN!!
Huxley: This is exactly why I had to keep it a secret. If they were to know at the wrong time, THIS would happen! Whoever leaked this, must REALLY despise me.
Brine: WELL I DON'T BLAME THEM!!
Huxley: LOOK, WE'LL FIGURE IT OUT SOON ENOUGH!!
Brine: NO WE WON'T! IT'S ONLY A MATTER OF TIME BEFORE THOSE PEOPLE BREAK' THROUGH AND GET US!!
Sears: WHY ARE WE ALL SCREAMING?!?
Huxley: (As the people screaming outside were blocking their voices) I don't know!
Sears: I... WHAT?!
Huxley: I SAID I don't know!
Sears: I CAN"T HEAR YOU!! THE' PEOPLE ARE... OH, OKAY, QUESTION ANSWERED!
Huxley: (Sighs)... IS OTTAWAY ASYLUM AT LEAST INTACT?!?
Brine: REPORTS SAY PEOPLE ARE STORMING IT TOO!! (They saw it on surveillance)
(Whitney): MAYOR OTTAWAY!!
Huxley: DAAH!! WHITNEY, DON'T DO THAT!!! HOW'S PROGRESS ON THE HUXWICH?!?
(Whitney): Do you have to yell?
Huxley: YES, BECAUSE THE PEOPLE OUT THERE ARE SCREAMING LIKE TORTURED SNAILS!!!
(Whitney): ALRIGHT, THEN, TO ANSWER, WE WERE THIS CLOSE UNTIL THE RIOTS OUT THERE RUINED OUR PROGRESS BACK TO 45%!!
Huxley: DAMMIT!!! WHY DOES THIS KEEP HAPPENING TO ME?!?
Brine: "MAYBE THAT'S BECAUSE YOU THOUGHT IT WAS A GOOD IDEA TO TAKE THE KRABBY PATTY AWAY FROM PEOPLE?!"
Sears: "I HATE TO AGREE WITH THE WIMP HERE, BUT MAYBE WE SHOULD'VE JUST PLAYED IT SAFE AND HAD THE SANDWICH AVAILABLE LOCALLY LIKE ORIGINALLY PLANNED?!"
Huxley: "WELL, I GOTTEN TOO INTO THINKING THAT THERE MAY BE SOMETHING WRONG WITH THE BURGER'S RECIPE?! THAT'S WHY I HAD THE LAST MINUTE CHANGE TO THE PLAN?!"
(Whitney): "I OTHERWISE THOUGHT IT WAS A DECENT CHANGE THOUGH?! ALL THIS IS JUST BAD CIRCUMSTANCES!"
Huxley: LOOK, I SWEAR, I'M GOING TO FIX IT!!
Brine: TOO LATE! THEY DON'T TRUST YOU ANYMORE!
Huxley: "THEY NEVER TOOK ME SERIOUSLY UPTIL MY CHANGES HAPPENED?!"
Brine: "THEN I GUESS THE CORRECT TERM NOW IS THAT THEY ARE TAKING THINGS SERIOUSLY IN A DIRECTION YOU WEREN'T PREPARED FOR?!"
Huxley: BRINE, IF YOU'RE NOT GOING TO HELP OR MOTIVATE ME, THEN GET THE F*** OUT!!
Sears: YEAH, WE'RE ALL ON THEIR LIST TOO!!! THEY'LL BE AFTER US TOO, YOU INCLUDED!!
Brine: WHAT?! WHAT DID I DO TO THEM?!
Sears: NEGATIVE ASSOCIATION?! BESIDES, IT DOESN'T MATTER WHAT YOU DID TO THEM!! THEY'RE AFTER YOU BECAUSE YOU'RE WITH THE GOVERNMENT!!
Huxley: WELL HOW CAN THEY EXPECT ME TO REDEEM MYSELF IF THEY'RE WRECKING UP EVERYTHING?!?
Brine: YOUR OBVIOUSLY AT A POINT OF NO RETURN WITH THEM?!
Huxley: WELL, NOW THAT IS TRUE WITH ME FOR THEIR ACTIONS AGAINST ME!! I WARNED THEM WHAT WOULD HAPPEN IF THEY REPEATED THE 2015 INCIDENT, AND KRABBY PATTIES BEING RESPONSIBLE OR NOT, THAT HASN'T CHANGED!! SEARS, ESTABLISH A MANDATORY QUARANTINE ON ALL PEOPLE IN BIKINI BOTTOM!
Sears: YES SIR! (On intercom) ATTENTION EVERYONE IN BIKINI BOTTOM! MAYOR OTTAWAY HAS DECLARED MANDATORY QUARANTINE ON ALL PEOPLE IN BIKINI BOTTOM! ALL LAW ENFORCEMENT ARE TO ESTABLISH MANDATORY CURFEW ON ALL PEOPLE IN BIKINI BOTTOM, AND KEEP THEM THERE! (The police and SWAT team did that as they arrested everyone they could find)
Ottaway Asylum
Sandy: (They saw that Ottaway Asylum was being ransacked by angry citizens)... Well I'll be.
Squidward: Guess these 'idiots' aren't so bad after all. They just made it easier for us.
Sandy: But I suspect Huxley will correct this soon enough! Let's go and get SpongeBob and Patrick!
The duo entered the asylum, and saw Orderlies being over-whelmed by angry citizens, some stronger orderlies managing to straight-jacket some rioters while fighting off additionals!
Hammerhead Head-Orderly: "REMEMBER YOUR TRAINING BOYS, PUT EACH OF THESE PSYCOES IN THEIR PLACE?!"
Sandy: "(Quietly) They're distracted, but the window is closing fast! Come on!" (They went in and found SpongeBob and Patrick)
SpongeBob:... Whoa... A land squirrel. I never thought I'd see one.
Patrick: "Ohhhhh, that's a Squirrel? I thought it was a hairy fish from one of those toxic waste dumps."
Sandy: Oh tarnation, they've been mentally broken.
Squidward: You mean more than-
Sandy: YES! Let's just get them out of here, I can at least get them cured.
Squidward: How can you cure mental shattering?
Sandy: Anything is possible, this is a goshdarn cartoon!! NOW HELP ME GET THESE TWO CHOWDERBRAINS OUT OF HERE!!
Patrick: I can't feel my anything.
Squidward: Uh, I can't. This contraption is-
Patrick: Maybe a walk can get my feeling anything back. (He got up and ended up smashing Squidward out of his quarantine device)... Oh there it is.
Squidward:... I... See what I mean? There's no such thing as idiot-proof! But, wow, I never thought I'd be thanking an IDIOT for being... Well, an idiot.
Sandy: LET'S SCRAM! (They left with SpongeBob and Patrick)
SpongeBob: (Seeing everyone fighting) Oooh, what kind of game is this?... And what's a game and how did I know to say that?
Squidward: Okay, I can take SpongeBob and Patrick's stupidity, but I DRAW THE LINE WHEN THEY'RE EVEN MORE STUPID!!!
Sandy: WELL WHAT DO YOU THINK WE'RE DOING WITH THEM, PUTTING THEM DOWN?!?
Squidward: NO, I'M JUST SAYING WE BETTER GET THEM FIXED BEFORE THEY GIVE ME AN ANEURYSM!!!
SpongeBob: What's an aneurysm? And why do I feel like I know you?
Squidward:... FAST!!!
Sandy: GOT IT!! (They fled until guards blocked them)
Guard #1: NOT SO FAST- (They were plowed by angry citizens)
Squidward: PFFHAH! Suck my suckers, suckers!! (They fled)
Sandy: Now let's go get Mr. Krabs!
The Jail.
It was being rioted by citizens as well, which had lead to prisoners running from the prison during the chaos!
Mr. Krabs was flabbergasted at this!
Mr. Krabs: "WHAT IN THE FLIMFLAM HAPPENED FOR THIS TO OCCUR?!"
Swimburne: Beats the tar outta me. But hey, we got an opportunity to escape, and it wasn't something I anticipated, so let's scram! (She, Mr. Krabs, and Chel left)
Chel: (Pants heavily) UGH! CURSE ME AND MY AGE!!! (Swimburne cracked him painfully)... HOLY CRAP, I FEEL MORE FLEXIBLE THAN EVER!!
Mr. Krabs: How did you-
Swimburne: Pressure points. You'd be surprised what they can do. NOW C'MON, OLD TIMER!!
Chel: WHO ARE YOU CALLING AN OLD TIMER, OLD TIMER?!?
Swimburne: WATCH IT, BUSTER! (They kept running until they bumped into Sandy, Squidward, SpongeBob, and Patrick)
Sandy: HEY, WATCH WHERE YOU'RE-... Oh, hey, Mr. Krabs.
Mr. Krabs:... Well ain't that convenient?
Swimburne: Friends of yours, Krabs?
Mr. Krabs: "Well, more like, two of me employees at the Krusty Krab, an on-and-off best/worse customer, and a scientist martial arts trained daredevil Texan squirrel. (Chel and Swimburne just stared confusedly at him).... What can I say, I have a habit of knowing "Interesting" people even after retiring from the Navy. (Laughs)."
Sandy:... Mr. Krabs, who's the new meat?
Mr. Krabs:... Well, these are two of some Navy friends of mine. This is Navy legend Chel Shellenberger, and me old flame, Selena Swimburne, the pirate queen I fought off when I was shippin that sun lotion to that island.
Squidward: Wait, that was actually true?
Mr. Krabs: YE ACTUALLY THOUGHT I WAS MAKING THAT UP?!
Swimburne: He actually told ye about us?
Squidward: One time when it was raining snails and worms at the Krusty Krab.
SpongeBob: WOW! ANOTHER LAND SQUIRREL!... BUT WITHOUT A WEIRD BUBBLE ON HER HEAD, NO ALIEN SUIT, AND NO BUSHY TAIL! LIFE IS WEEEEEEEEEEEEEEEEEEEEIRD!!
Mr. Krabs:... What happened to him?
Sandy: The Asylum, DID things to him and Patrick, and we need to fix em.
Mr. Krabs:... Ya sure that's possible?
Swimburne: Oh, I seen this. This is a clear case a' PTSD, or something like it. They've been traumatized so much, they've lost their perception a reality.
Sandy:... Huh? Kinda obvious when I think about it. But, they've also been injected with drugs.
Swimburne:... Oh, they must've been from that silly Asylum, then.
Sandy:... Kay, uh, no offense, but, I ain't comfortable working with strangers in Bikini Bottom during these conditions.
Swimburne: PHEH! You must not have had much oxygen down here, land-lubber. When's the last time you breathed REAL air?
Sandy: Literally every day. I ain't always here.
Chel:... What?
Sandy: I don't have time to explain. We gotta get outta here before-
Cop #1: NOT SO FAST!! (Rioting angry citizens attacked them)
Squidward:... I never thought I'd say it, but I LOVE the idiots in this town now.
Sandy: You'll regret that after this stuff is done.
Squidward: I know, I said 'NOW'. C'MON!! (They ran off)
Huxley's Office
Huxley: "SANDRA HAS EUGENE, MR. SQUAREPANTS AND PATRICK STAR NOW?!"
Whitley: "I, know that's not the best news to you, but-"
Huxley: "WHITLEY, HOW COULD YOU FAIL TO KEEP A CHILDISH SEA SPONGE AND A MENTALLY CHALLENGED STARFISH IN YOUR CUSTODY?!"
Whitley: "THE ORDERLIES WERE DISTRACTED WITH THE RIOTERS AND THE GUARDS GOT PINNED DOWN?!"
Huxley: "UGGGGHH?! INCOMPIDENT?! SIMPLY, IN, COMPIDENT?! Whitley, YOU'RE FIRED?! YOU'RE BEING REPLACED IMMEDIATELY?!"
Whitley: "WAIT, I- (Gets dragged away by Orderlies) WAIT, WAIT, WAIIIIIT?! (Gets dragged off)...."
???: "I had advised that I was the better option before, Heir Huxley."
A Dragonfish in a long white lab coat and arm-length lab gloves slithered in.
Huxley: ".... Ugh, Begrudgingly, Dr. Mal C. Ontent, I do now see what you meant by Whitley not being, readily reliable."
Dr. Mal: "But alchourse, Heir Huxley. Whitley failed to keep Mesmer in-line and took forever to realize what we know now. Whereas my genius would've uncovered this truth AND kept Mesmer onboard with no trouble at all."
Huxley: "But at least HE has a shred of ethics, Dr. Mal! You were too extreme with what I wanted!"
Dr. Mal: "But in hindsight, Heir Huxley..... You see what your attempt at frail compassion of these, TRILOBITES, has brought? (Points to the rioting being out of control)..... In thanks to Whitley's blundering incompetence, the savages of this city are once again destroying society! I'm afraid the time of treating these, ANIMALS, like equals, is now a beaten dead seahorse! Addiction may be one thing, but, it's just a minor PARASITE, to your real enemy: UNBRIDLED STUPIDITY! These, BARBARIC FOOLS, must be CLEANSED from existence, if Bikini Bottom is EVER expected to recover!"
Huxley: "BUT YOU'RE SUGGESTING I EXECUTE PEOPLE, I-"
Dr. Mal: "Oh, my apologies. I mistook you for someone who wanted to avoid the repeat of New Kelp. Much less someone who DOESN'T want to be promptly kicked out of the only other home he'll have again! But this time, I can't promise that any other city would welcome you, not with the rapsheet expected to follow! Oh well. At least an attempt was made. If though, a disgustingly pitiful one. (Was about to leave)."
Huxley: "..... WAIT! (Dr. Mal stopped)..... (Defeated) I'm, prepared to give you permission to do what you deemed absolutely necessary as new-head of Huxley Asylum, Dr. Mal. (Mal smiled a made wicked grin)."
Dr. Mal: "(Chuckles).... Just what I wanted to hear, Heir Huxley. (Claps, and summons a legion of mercenary Whale Sharks and Megamouth Sharks) Gentlemen, time to put those rioting trilobites, in their place. (Chuckles wickedly)."
Dr. Mal broke in maniacal laughter as the Mercenary Sharks went out and use suction to immediately capture every rioter insight.
Huxley looked down in self-regret....
Huxley: "I, have effectively, lost control of my life."
Flynt's location.
Puffhart: "Things have gotten serious now, boss. Huxley just replaced Whitley with that anti-stupidity extremist, Dr. Mal C. Ontent."
Flynt: "WHOOOOOOOOA NELLY! I expected Huxley to pull out to big guns, but now we're about to enter the nuclear option! Mally's gonna start-up operations to put down idiots like seadogs and start pulling out lethal-dose treatments!"
Sharko: "Yikes. Huxley's gonna look like a MONSTER for that."
Manfred: ".... Well, I dare say we pulled this scam off better than expected. Huxley looking bad just became a gift that keeps on giving."
Flynt: Well, someone like Mal seems like a greater and more dramatic show.
Drowne: But, you KNOW what Mal is like. He KILLS people he deems 'too stupid to live', and that includes civilians.
Flynt: Hey, one or more less dummies to worry about. If anything, people should be thanking him for what he does. From what I heard, the people he killed in his own hometown were all the same idiots we're dealing with. Since then, his hometown had never been more peaceful.
Eela: As much as such an act could work, it still required mass murder. And I for one don't think it's a good idea to stoop to THAT level.
Flynt: We've got NOTHING to do with this, Eela. It's HIM who's doing this, NOT us.
Baracudi: But we were the ones who leaked that info and got them to riot, which in turn INVITED Mal here. Any blood spilled into the water is on our hands.
Flynt: It's HARDLY our fault if Mal invited himself here. We never ASKED to bring him here, HUXLEY did. Now stop worrying.
Parr: We're worrying because all this started because of us.
Flynt: I TOLD YOU, NOBODY IS GOING TO KNOW ABOUT US!
Octavius: WELL, WE'RE GOING TO MAKE DAMN SURE OF THAT, BECAUSE WE JUST GOT TOSSED INTO DEEP S***!!!
Eekman: Should we stop Mal?
Octavius: No! We have to at least keep him from killing anybody. Anyone who dies is going to likely be traced to US!
Spotnitz: Yeah, I will not be ruined by this dragonfish butthole!
Flynt: EVERYONE, THIS IS OF NO CONCERN!! THIS WILL NOT CHANGE ANYTHING!!
Bobb: WELL MAYBE YOU DON'T KNOW THAT!!! (Everyone gasped as Sharko oohed in excitement)
Flynt:... Are you questioning my judgment? (Sharko brushed his teeth madly and chomped them while also cracking his knuckles)
Bobb: NONONO, WE'RE JUST, BEING PROACTIVE HERE, FLYNT! WHAT IF, WHAT IF THESE GUYS CATCH US OFF GUARD?!
Flynt: THEY, WON'T!! I, KNOW, WHAT I'M DOING!!
Sharko: Exactly. He's been hidden from even the private eye since 2005! 15 years! He's never been caught off guard NOR caught by anyone. Never has, AND NEVER WILL!!
Spotnitz: Well, I for one, with all due respect, won't take ANY chances. We're going to make DAMN sure you don't get caught, even if it means we have to save people with low IQs out there. We can't risk anyone dying out there because of a mad doctor with a Thanos complex! Those cops out there look like they're taking this as seriously as they should, so if ANYONE out there dies, then we're done for. Flynt, we're going to do what we can to protect you, even if it means we defy you!
Flynt: Fine! Go ahead. Get yourselves arrested. See if I care! But don't expect me to bail you out!
Lea: Not like we'd ask for it. If we get arrested out there, then we'll know EXACTLY who to blame for it. One of these days, if not today, your lust for crime and chaos will get us all in the slammer, or worse! Flynt, you should be grateful we try to save your ass from your own badly-executed plans, so consider this a test of our loyalty to you! C'mon, everyone, we gotta bunch of idiots to save... And DAMN I cannot believe I was forced to say that! (They left)
Flynt: YOU'RE MAKING A MISTAKE, EVERYONE! THAT MANDATORY QUARANTINE IS MERCILESS, YOU ALL WILL BE CUFFED BEFORE YOU CAN EVEN SAVE SOMEONE! (Laughs)... Eh, who needs them? They weren't the first people who stuck their necks out for me, and they won't be the last. But you, Sharko? You've been with me since the beginning. YOU are TRULY irreplaceable.
Sharko: Thank you, Flynt.
Flynt: So, whaddiya say we watch those idiots blow it like all the rest? But hey, maybe some WILL succeed. Only time will tell.
Sharko: Oh, you know I can't resist watching even those who fail to listen to you get their comeuppance. (The two laughed)
In Downtown.
The Megamouths and Whale Sharks were seen leading groves of Bikini Bottomites in mass droves into a series of Large Trucks, all ready to go to Huxley Asylum.
A Scarred Angel Fish was seen talking to Dr. Mal on iPhone.
Angel Fish: "Good news, Doctor. We just rounded up the rioters."
Dr. Mal: "Yeeeesssssss, Excellent, Angelia Fallenhouser. You were always my number one assistant. Be cautious of the whereabouts of the Sponge and companions. They're a priority 1 threat."
Angelia: "I'm practically the squirrel's equal. I'm ready for anything."
Dr. Mal: "Excellent. Soon, another idiot cleansing will take place. Then Bikini Bottom will become another Highlight in my eradication of morons in this world! If not the biggest! That will scare idiots outside of this town to get an education, OR ELSE?!"
Angelia: "Considering what I had suffered for Angel Bottom, you're doing this world a' service, Doctor."
Dr. Mal: "And this, is only the beginning, of a glorious change of history! (Laughs darkly)."
Chapter 3: The Mandatory Quarantine/Doctor Mal C. Ontent
Bikini Bottom Streets
Cop #1: (The police were all cuffing all the people in Bikini Bottom) SIR, THEY'RE ALL RESTRAINED! WE ARE NOW INITIATING THE NEXT PHASE! (All the people of Bikini Bottom were forcibly confined in their own homes under maximum security)
(Huxley): As of right now, Bikini Bottom is under maximum lockdown. All citizens are to stay in their homes, and are not allowed to leave without government consent. Those who are caught in violation of this will be immediately arrested and tried. Thank you, and sorry for what I kept from you, but THIS was why I kept it from you. Really, you should've seen this coming. Good day. (He hung up)... (Deep breath)... Why did I have to bring Mal into this?
Brine: I was JUST about to ask you that question! He's a mass murderer! He believes that those like the people we're after are to be executed. He cleansed his entire hometown of stupidity. Though his plan brought beneficial harmony to his hometown, the ends do not justify what had to be done to get it. Mal is DANGEROUS, Huxley!
Huxley: I know! But, Brine, what choice do we have? Bikini Bottom is in worse shape thanks to that leak.... In fact, I want the culprit BEHIND that leak found!
Sears: How are we going to find the one responsible? Most of the authorities are working on the mandatory quarantine.
Huxley: ".... I do have a prime suspect in mind..... That, Squirrel!"
Sears: "Alchourse, IT WAS SO OBVIOUS?! She made it clear that she was against ya!"
Brine: "DON'T YA THINK THAT'S A BASELESS ASSUMPTION?!"
Huxley: "Well until something NEW happens, it's all I got! I trust that Dr. Mal is already having his forces prepare for that Squirrel and the others! Just a matter of time. (Sighs), I can't believe this, why would a genius of her caliber protect idiots?"
Sears: "Misguided sympathy because she's dating one?"
Brine: "Technically an unofficially reckitnesed marriage, I-"
Huxley: IRRELEVANT! I WANT WHOEVER CAUSED THIS PUNISHED, BY ANY MEANS NECESSARY?!? AM I MAKING MYSELF CLEAR?!?
Sears/Brine: YES SIR! (They cartoonishly zoomed off covering Huxley in bubbles)
Huxley: UGH! I just brushed all the bubbles out of my fur this afternoon!! Unbelievable!
Sandy's Location
Sandy:... Whewee! Did we lose em?
Swimburne: Seems like it to me, but I can't know for sure. We sea mammals DO have accurate hearing because of sound being crazy amplified down here.
SpongeBob: HOW COME YOU DON'T NEED NO BUBBLE ON YOUR HEAD?!? HUH, BUBBLEHEAD?! HOW COME?!?
Sandy: I don't know, but it's a cartoon, you really don't have to explain it. If the semi-aquatic critters down here DID need air, they'd never get no sleep NOR could they even LIVE down here. There probably had to be a air company that puts air in soda cans just so sea mammals can even BE down here! So, it's probably a good thing we live under cartoon laws.
SpongeBob: This is a cartoon?... AWESOME!!
Sandy: (Sighs) PLEASE tell me someone has a solution to this!
Squidward: You're the scientist!
Sandy: There's a difference between a scientist and a doctor, Squidward. I can't pull a mind-restoring serum outta my butt, even for cartoon standards! Can anyone else? What about you, Squid?
Squidward: No.
Sandy: Then again I ask, anyone got any ideas?
Chel: "..... Well, prison has been speaking of rumors of a legendary strain of brain coral known as "Memory Coral", a coral said to restore any memory lost to even ones that could've been made when ya were a baby! Rumors say that one guy found the coral and licked it, and he was given so much forgotten memories, he wrote a 100% accurate autobiography! He even remembered dreams he had from way back in his life!"
Squidward: "Oh please, the Memory Coral is a myth! It was made up by those across the Pacific Ocean as a means of inspiring hope in dark times like this, even the stupid ones."
Sandy: "Ya said that considering what our Louger adventures had shown us?"
Squidward: "..... Touche."
Mr. Krabs: "Well no problem. We'll just be looking for that coral and-"
Chel: "There's a catch though! It is guarded by the Memory Squid! A creature that possesses all knowledge of memories and the dreams and nightmares of all! He knows every person's greatest weakness and will use it against us to protect the coral!"
Squidward: "Well why would he do that?"
Swimburne: "To be fair, you have any idea how dangerous a brain coral that makes people remember things can be if ill-sorts got their mitts on it? That kind of coral can end up restoring the kind of memories not meant to be remembered!"
Sandy: "(Quietly) Something I think I should make Outer Force concerned about. They might want to keep tabs on that kinda thing."
Squidward: ".... Okay fair enough, but can we explain to the Squid that we have a reason for being there?"
Chel: "The Memory Squid is unsentient."
Squidward: "Well okay, so it can't talk to us, but with all those memories, surely at least it is sapient in some fashion!"
Chel: "True, but it doesn't want the knowledge of the location of the coral to be found, lest it ends up being known to the public!"
Squidward: "Then where did the rumors COME from?!"
Chel: "I didn't say prison rumors mentioned any direct location! Prison life makes ya gossip."
Squidward: "Well can we at least get the name of the guy who found the coral himself?"
Chel: "That's, the other thing. There's another catch apart from the Memory Squid. The Coral takes away the memory of the location the coral's in, in return for all other memories restored."
Squidward: "Ya mean the guy doesn't remember where the coral is?"
Chel: "Well you think there'd be a fuss about that by now!"
Sandy: "But still, that coral can help us. We just need another means to find it."
Mr. Krabs: "Well, then all we gotta do is find a crazy old eccentric guy that is obsessed with finding that coral."
Swimburne: "..... I think I know where to find someone like that."
Squidward: Then we're all ears or earholes, Swimbrine.
Swimburne: SwimBURNE!
Squidward: JUST TELL US!
Swimburne: I'll just TAKE you there instead. Yeesh, SOMEONE'S got no friends.
An Outskirts Bar
Road Pirates and Bikers were seen at the bar enjoying themselves in typical fashion, as the group arrived outside the bar. Swimburne looks at the window and looks around a bit, and found what she was looking for, an old but very buff elephant seal arm wrestling with a big biker lobster.
Swimburne: "..... Let me handle this. Stay out here. These folks eat newcomers alive. (She enters the bar)."
Patrick: Did she mean that metaphorically, or...
Sandy: I don't think we'd like the answer.
Swimburne: (She approached the elephant seal)... Monty Nosce?
Monty:... (Arm-Wrestles the Lobster Biker away as a Goofy Scream was heard, followed by a crash!)..... Selena Swimburne.
Swimburne:... So... How's it been? How are you?
Monty:... A little slow in the head.
Swimburne: That's normal. How do you feel PHYSICALLY?
Monty: Oh, in great shape. I just snapped a lobster's pincer in two. SNAP! Wow, lobsters these days are so fragile. (He laughed nearly like Squidward with his bloated nose) FRAGILE! HAHAHAHAAA!
Lobster: HEY, I CAN WALK THIS OFF!... I hope!
Monty: "Ahem! So, what brings ya back here?"
Swimburne: "Well, to make a long story short, Bikini Bottom's in a serious pickle."
Monty: "(Points to the TV Displaying the news about what's going on) So I heard. I hear talk Ontent's involved now. That guy's bad news to dumbasses."
Swimburne: "Well, I'm with a couple of people that need.... (Quietly) The Memory Coral's help."
Monty immediately reckitnesed those words....
Monty: "(Quietly) That's a big gamble to go after the coral, Swim, even for you. I respect ya, but.... I can't stress enough that the Squid doesn't make things easy. (Shows a badass back scar). I was lucky I was too fat for it to chomp me in half. That thing is mad protective of the coral. Also that the path of even going there is rough as well. Rogues and Monsters like nobody would believe."
Swimburne: "(Quietly) Ya don't nessersarly have to come with us. I know the squid took alot from you, in terms of pride, and the gang you lost in the quest.... I'll settle for the map equally."
Monty: "(Gives a sigh).... (Brings out an old worn piece of paper) (Quietly) I only ask for ya to be careful with this. This paper has seen better days. I only gotta ask you to take care of yourselves. And keep aware. That Squid will be ready for ya."
Swimburne: Yeah, we already established it's all-knowing. Trust me, the God Squid isn't going to be a problem... I hope.
Monty: You HOPE?!
Swimburne: Whaddiya want from me, perfection? Just go and eat your boogers or something!
Monty: Uagh! Still saucy as ever, and yet so serious. (She left)
Squidward: That guy looked like he's seen better days.
Swimburne: No duh. We got what we needed. This map should lead us to the only patch of Memory Coral this year.
Squidward: Wait, what?
Swimburne: Yeah, apparently, the Memory Coral never spawn in the same place twice. It's smart and it likes to relocate itself. It's also got only a 1-year lifespan.
Mr. Krabs: "Well, I guess that's another reason why it wasn't so easily found by now."
Sandy: Then, how does it reproduce?
Swimburne: Like any other brain coral. They're hermaphorditic and the fertilized stuff attaches itself to any surface. These suckers just rely on their guardian, the Memory Squid, to carry them along. Right now, the Memory Coral is a few moments away from dying, spawning, and relocating again. So we better hurry.
Mr. Krabs: Oh, great, there's also a deadline. Those are ALWAYS a good sign.
Sandy: It won't help if we spend it complaining.
Swimburne: "Couldn't've said it better myself, missy." (They searched with the map for a long while and also looking after the still-braindead SpongeBob and Patrick)
Chel:... You sure you have a plan to convince the UNSENTIENT Memory Squid to give us a share of Memory Coral before their spawning moment?
Swimburne: Oh, we don't do anything. We don't need to.
Everyone: WHAT?!
SpongeBob: WHAT'S WITH THE WHAT?!? (Laughs insanely)
Swimburne: Just trust me on this one. It IS all-knowing, right?
Sandy: Yeeees?
Swimburne: Then that's all we need.
Mr. Krabs:... Selena... Can you please explain-
Swimburne: We're here! (They saw a patch of glowing pink brain corals)... Behold. The rare and severely protected Memory Coral.
Sandy:... It's beauti- (Swimburne pushed them all down)
Swimburne: It's coming! Just let me handle this! (She walked up to the patch and a large firefly-squid-like giant squid with a partially-exposed brain glowed in pink colors appeared)... (Deep breath)... (She opened her hands as the Memory Squid just gave a piece to her, baffling the others)... Happy trails, noble creature. (The Memory Squid went derelict again)
Squidward:... Okay... Can you PLEASE explain why it didn't just attack you right there?!
Swimburne: Like I said, it knows everything. Thus, it knew why we were here and knew we needed the Memory Coral for a good cause. That's why the knowledge of it's all-knowing nature was all we needed.
Squidward:... You could've just specified that earlier.
Swimburne: Meh, I hardly trust you guys anyway. The only reason I trust you at all is because you're with Eugene. Now let's not waste time and let this Memory Coral die eventually. (She broke the piece in two)... Alright, you two barnacleheads, time to wake up. (She fed them the Memory Coral)
Mr. Krabs:... C'mon work...
SpongeBob:... I... Wha... Sandy? Mr. Krabs? Squidward?... Random hermit crab and otter?
Patrick:... I feel like we just woke up from the most surreal dream ever. One where we were dumber than ever.
Swimburne: That's because you were.
SpongeBob:... Someone tell me who this chick that's just about as old as Mr. Krabs is.
Swimburne: OLD?!? WHO ARE YOU CALLING OLD?!?
Mr. Krabs: This, lad, is me ex-girlfriend from me Navy days. Selena Swimburne, AKA the Pirate Queen.
Patrick:... I thought she was a squirrel like Sandy.
Sandy: Seriously?
Swimburne: Seriously? WTF kind of cartoon logic made you think THAT?
SpongeBob: Never mind that. What about the hermit crab?
Chel: Chel Shellenberger. Another former Naval officer around the same time as your boss.
SpongeBob:... What about that ensign, squid, and Scarfish? Where are THEY?
Chel: Respectively, in the Caribbean as a prized fry cook, like you I suppose, died pathetically, and KIA.
SpongeBob: KIA?
Chel: Killed in action.
SpongeBob: Oh. Why didn't I know that?
Mr. Krabs:... Okay, let's just get back to Bikini Bottom. There's a lot we need to catch up on.
SpongeBob: Uh, Mr. Shellenberger, sir... you know, it's funny. I also don't remember seeing you at Mr. Krabs' navy reunion. I saw Iron Eye, Mutton Chop, Torpedo Belly, and Lockjaw Jones.
Chel: Well, Eugene and I weren't as close as he was with them, heck, he even mistook me as a normal prisoner and assumed tha-
(Deadpool): "YER SLOWING DOWN THE PLOT, MOVE IT ON?! (Forces a scene change)
Back In Bikini Bottom.
Angelia was seen having the Megamouths and Whale Sharks ready.
Angelia: "Remember men. Expect the unexpected with Sandy and her companions. Their strength comes from being unconventional and being unpredictable. Nary allow them a chance to surprise you."
Megamouths/Whale Sharks: "Ma'am yes ma'am!"
Angelia: "Good. Now, you will take care of the others. The Squirrel is mine to deal with.... And I know exactly where they might go first."
Krusty Krab
SpongeBob:... Well, this just happened. Did this just happen?
Squidward: Yeah. So much for this being a change for the better. THIS is just being excessive.
Sandy: Yep. This happened while we were gone? We GOTTA spend more time in our own worlds more often. I knew this place was idiotic, but now... I don't know what to think of it. On the bright side, people won't be as dumb as when I was arrested for public nudity.
Squidward: Oh, um, how did that go?
Sandy: HAH! I was let off with my own testimony.
Flashback
Fish Prosecutor: Sandy Cheeks, you stand accused of public nudity. How do you plead?
Sandy: Oh, I've gotta LOT to plead about. Starting off with, NOT GUILTY! EXHIBIT A! (She brings in the jar with Plankton in it as his eye cartoonishly melted from irritation) THIS is the reason for what I was doing. I was trying to get my pelt back because HE stole it.
Jury Member #1:... Why didn't you just use your suit?
Sandy: Because he stole my helmet and I had to use a coffee pitcher. My suit couldn't fit it.
Fish Prosecutor: Well, there's other ways to cover yourself. This does not excuse your laziness to cover yourself.
Sandy: Ohho. There's also another thing. How can I be blamed for public nudity, when many of the townspeople HERE were more indecently exposed than me? (They all realized as many of the background Bikini Bottomites weren't wearing certain types of clothing or even none at all)... I mean, holy cow! It's fine when YOU all are naked or half-naked, but NOT me? Yall can't punish me when YALL are just a buncha' big fat hypocrites.
Fish Prosecutor: I, uh, IRRELEVANT!
Sandy: Uh, no, it's COMPLETELY relevant!
Fish Prosecutor: NO! There's mammals that-
Judge: ORDER! Prosecutor, she speaks the truth. I now realize that we cannot dub her guilty because that would label us hypocrites.
Sandy: Now, as for the REAL criminal, the one who STOLE MY FUR AND STARTED THIS!
Plankton: I can't see! The irritation literally melted away my eye!! AND IT STILL HURTS!!! THANK GOODNESS FOR MY EXPERIMENTAL EYE REPAIR RAY OR THIS MIGHT BE PERMANENT?!
Judge: "Well, for this, I believe the jury has no need to retire, for I hereby declare that Miss Cheeks is not to be declared guilty out of courtesy and acknowledgement of unfortunate circumstances. Mr Plankton, however, will be scheduled for his OWN trial soon."
Plankton: ".... Can I at least call Karen to call me a Lawyer?"
Judge: "One will be provided for you."
Plankton: "Oh thank goodness, I-"
Judge: "And it's Hammy Hammerhead."
Plankton: "....."
Outside the Courtroom.
Plankton was heard screaming in anguish!
Present
Sandy: So, yeah, goes to show that the end of an episode AIN'T the true end.
Squidward: As if putting me in some kind of defensive device isn't bad enough... Well... Huxley's laws have been a little... Well... Extreme.
Cutaway
(Lloyd): And the fact that you said you were the most miserable person in Bikini Bottom! (Plays tape recorder)
((Squidward)): I'm the most miserable person in Bikini Bottom!
Police Officer:... Why were you recording that in the first place?!
Lloyd: "Evidence."
Police Officer #2: And WHY would you need evidence, for such a random occasion like that?
Police Officer #1: How would you have known it would happen? You're NOT psychic.
Police Officer #2: That's right. If you ask me, you were recording it for ANOTHER reason.
Lloyd: "Oh what up with the mistrust?"
Police Officer #3: Oh, come on, you would've done the same. It's nature to suspect things that seem... Odd. And given the Ottaway Act, you might've put this person who has been dumped on his entire life, in some dirt. So you're under arrest. (They cuffed him)
Present
Squidward: Though I would admit much of it was fine, it all got ruined when I was put in THIS!
Sandy: "Well I guess that was Karma setting you straight for enjoying an authoritarian's uprising even if it happens to be somewhat beneficial in theory."
Squidward: I'm at least glad I'm not trapped in some over-glorified wheelchair anymore.
Mr. Krabs: Really? That's the best metaphor you could come up with?
Squidward: Look, I'm not really in the mood. Bikini Bottom is getting f****d with peace to the point where it's not peaceful anymore. Now everyone's DROWNING in peace. We all know there can ALWAYS be too much of a good thing.
Mr. Krabs: Well, we best fix this soon. HEY, CHEL, SELENE?!? ANYONE AROUND?!?... SELENE?!?... CHEL?!?... GUYS!... (The Krusty Krab was silent)......
Sandy: Okay, we're going in!
SpongeBob: Wait, what if it's a trap? (They were immediately caught by Angelia and the Whale Sharks and Megamouths)
Squidward: Well, if it was a trap, then we DEFINITELY still fell for it.
Angelia: That's right. So, this is the squirrel Huxley wouldn't shut up about.
Sandy:... You... You're Dr. Mal's forces, aren't you?
Angelia: "(Sarcastically while holding a badge with Dr. Mal's initials) Gee, whatever gave you that impression?"
Sandy: ".... Okay, that was a very Patrick thing to ask, admittingly!"
Angelia: "But still, proper introductions are in order! I am Angelia Fallenhouser of Angel Bottom, a city once over-run with idiots until Dr. Mal cleansed them away!"
Mr. Krabs: "Angel Bottom? I heard-of that place! It was once the moron capital of the seas due to an extreme lack of an educational system!"
Angelia: "(Angerly) Don't, remind me! I rather that past be as dead as the idiots that once infested my home city! And now, I repay Dr. Mal by helping cleanse more idiots! And doing it to the infamous cesspool that is Bikini Bottom, will be his magnum opus!"
Sandy: "Well ethically speaking, I don't think the genocide of even the worse of idjits is something to be proud of."
Angelia: "Would you like to fight me on that, rodent? (Martial Art combat stance!)"
Squidward: ".... I think it's safe to say we found Sandy's rival for this episode."
Sandy:... Look, you and Mal are looking at this like a Thanos villain. Though your plan KIND of makes sense, it's STILL wrong.
Angelia: I've gotten SO tired of people telling me those exact same words! That's exactly the problem. Angel Bottom was a wreck, and thanks to Mal, it's NEVER been more peaceful. Everyone there is smarter. The idiots there ruined it and Angel Bottom was better off without them. People just can't see it because of morality. Besides, you honestly think that we don't care for those who had to die to make it possible? If we weren't, we would not have even BEEN true mortals. There's NOTHING wrong with morality, but sometimes, tribunal sacrifices have to be made.
Sandy:... Try to excuse your actions all you want, but all that proves is that you're denying and undermining your own morality, because there IS none!
Angelia: WE DID IT, TO PROTECT ANGEL BOTTOM!! PEOPLE LIKE HUXLEY ARE IDENTIFIABLE BECAUSE PLACES LIKE NEW KELP BOTTOM AND BIKINI BOTTOM ARE TOO DUMB TO LIVE! THAT'S HOW THE WORLD WORKS! YOU CAN EITHER BE STRONG AND BE PART OF IT, OR YOU CAN BE DUMB AND BE ABANDONED! WHY DO YOU HAVE THE NEED TO DEFEND PEOPLE WHO HAVE LIKELY WRONGED YOU IN SO MANY WAYS?!
Sandy:... Why should I even answer? The answer is just one of many things, YOU'LL NEVER UNDERSTAND! (She karate kicks towards her as she just moved out of the way, and in slow-motion punches her in the chest and through the Krusty Krab glass door, shattering it)
Angelia:... You think you're hot karate s***, don't you? Well, I got news for you, squirrel, there's ALWAYS gonna be people in this world, who know better karate, than you could ever learn in your LIFETIME!
Sandy:... Don't forget what a place like Texas can do. Texas can breed MONSTERS!
SpongeBob: SHE'S NOT WRONG!! YOU SHOULD SEE HER COUSINS!!!
Angelia: Monster or man, I don't give a damn! LET'S DANCE! (They fought as Angelia proved superior, even managing to surprise Sandy as she was beaten down)
Sandy:... (She tries to get up)
Angelia: Stay down! You're defeated!... Unless you want THEM to be the first to die here. (The Whale Sharks and Megamouths held them at gunpoint)... It's over, Sandy! Bikini Bottom will not be saved any other way. If you DO win, who's to say the 2015 incident won't repeat itself? We're done doing this the pacifist way, and that's why Huxley had nobody else to turn to but us.
Sandy: That's EXACTLY the problem! Forcing the issue isn't going to change anything.
Angelia: Neither is leaving it alone. Doing nothing will just make it worse, and you're saying that trying to rightfully impose it will only make it worse? When both methods fail, then tell us, GENIUS, what is there to be done then, huh?
???: Nobody EVER said it was easy. (Chel and Swimburne just knocked the Whale Sharks and Megamouths out and saved Sandy's friends)
Angelia: WHAT?!? ALRIGHT, WHO WAS IN CHARGE OF WATCHING THEM?!? (They were all knocked out)... Spectacular! I always have to do EVERYTHING myself!
Swimburne: "Not bad for two folks abit out of their prime."
Angelia: "Well prepare to be kicked right into a retirement home, otter!"
Swimburne: "No thanks, I heard how boring and sometimes having dishonest nurses retirement homes can be, I'll pass, missy!"
Angelia: You'll regret that when I break your fragile bones like coral branches! (She attacked as Chel and Swimburne showed more brutal fighting moves despite their age)
Swimburne:... We're about the same age as Eugene. If HE can still fight, then so can we. Chel here use to be stiff as a rock, but a little pressure point application and BOOM, he's in a younger fighting spirit again.
Angelia: PRESSURE POINTS?!?
Swimburne:... So, you don't know pressure point combat huh? Figured as much. (She used pressure point combat to just immobilize her)... Consider yourself out of the game.
Sandy: HAH! Looks like there's people with us more skilled than YOU!
Angelia: SHUT UP! GET ME OUT OF HERE!!! (The Whale Sharks and Megamouths retreated with her) UGH! HUXLEY AND MAL WILL NOT LIKE THIS!!! (They were gone)
Sandy: WELL TELL THEM THEY CAN GET OVER IT!! (She laughed)... Thanks for that back there, Swimburne.
Swimburne: Nothing to it. I mean, really, nothing can restrain me. Krabs taught me that long ago. (Mr. Krabs blushed)
Mr. Krabs: Well, I hate to disappoint, but, I'm not single no more.
SpongeBob: Believe it or not, he's dating my driving teacher.
Squidward: "Still, even after Pearl's mom was found in the Bermuda Triangle?"
Mr. Krabs: "(Bitterly) She and I are legally divorced now cause she fell in love with a Humpback Whale that also happened to be a scientist under that secret company of Lizzie's. She understandably assumed I would've moved on and started being into him, and discovering Puff confirmed it. She also decided to stay in the triangle because, well as ya know, because it's one of them "Scientific opportunities" for research and whatnot, so it's like as if she's still gone from me life. Pearl has been at my throat about it since."
Spongebob: "Oh I'm sorry to hear that, Mr. Krabs."
Mr. Krabs: "Don't worry, that's what happens when a married lover ends up being lost for awhile. Ya assume they're dead until ya discover circumstances to prove otherwise. Besides, she was as high-maintenance as Pearl is. So being a whale wasn't the only thing Pearl inherited from her."
Swimburne:...... Eh. You win some, ya lose some. But I know there just MIGHT be a day when that don't work out, and I'll be there for ya. No matter how wrinkled ya got, Eugene, you're STILL as handsome as the day we met. (She tickled his multiple chins with her tail)
Mr. Krabs: (Chuckles) Selena, there's people present. (Spotnitz was spying on them and saw this to his shock, and got on a shell phone)
Spotnitz:... Flynt? Yeah, I know, save the rants about us walking out on you, and for you, for later, but... We might be in more danger than I thought. I KNOW, I KNOW, DON'T RUB IT IN!... Swimburne is in town!...... Yes, THAT Swimburne.... Yeah, odds are pretty slim, but it's true. That lady, she's more dangerous than Mal or Sandy. Hell, she's a sea otter' like Huxley.... No, that's too cliche. Just because two otters are in this entire debacle doesn't mean there's a connection... Look, I'll figure it out, okay?! Now I better hang up before they hear me. (He hung up and left)
Huxley's Office.
Dr. Mal: "ANGELIA?! HOW COULD YOU FAIL TO HANDLE AN OLD OTTER AND A HERMIT CRAB OF ALL THINGS?!"
Angelia: "I'm sorry Dr., but, she was tougher then she looked."
Dr. Mal: "Ugh! Who was that Otter?!"
Angelia: "I believe she was an old friend of Eugene Krabs from his navy days-"
Dr. Mal: "An old friend of Eugene's?.... YOU MEAN THAT WAS SWIMBURNE?! STILL ALIVE?! I heard of her exploits in my youth, but I would've assumed she departed by now!"
Angelia: "I'm worried the operation may be compromised now."
Dr. Mal: "..... Huxley, you wouldn't happen to know about this, do you?"
Huxley: "Duh, I, NO ALCHOURSE NOT! It be too contrived for me to be of any connection to her!"
Dr. Mal: "..... Due to lack of evidence, I can't confirm whether or not this is true. But I am prepared to upgrade security to properly accommodate against Swimburne. If you thought my security measures are extreme now, Hohoho, wait until you meet.... Project Stingray."
Outside.
Shadow circles hovered over Bikini Bottom, as they are revealed to have belonged to Stingways with cybernetic enhancements
Cyber Stingway 1: "(Borg-voice) Project Stingray inbound. Location: Bikini Bottom. Targets: Sandy Cheeks and Swimburne, +Others. Mission: Search and Contain, destruction optional if proven dangerious. Proceed search protocols."
The Cyber Stingrays began to fly around all over Bikini Bottom.
Huxley: SEARCH AND DESTROY MANTA ROBOTS?!?
Dr. Mal: Yep. Stolen by Stingways a few years ago, these babies will make our plans MUCH easier.
Huxley: I, I, I, Okay, this is ALL I can stand! I was willing to accept this last-resort option that was already insane, but you've officially carried it too far!
Dr. Mal: Do you want to save Bikini Bottom or NOT?!?
Huxley: NOT THROUGH THIS METHOD I DON'T!! THIS IS MASS MURDER!! I've already had the perfect solution, and I should've just stuck to that. The Huxwiches are going back to business. Dr. Mal, you're fired!
Dr. Mal:... Hmmph. I always knew you had no true vision, Huxley. BOYS AND GIRLS?! (Angelia, the Whale Sharks and Megamouths restrained him)
Huxley: HEY! SECURITY!!! (Security and the Whale Sharks and Megamouths got held at a standoff with guns)... (The Whale Sharks and Megamouths shot them all down) NO!
Dr. Mal: This isn't my first time contending with governments. I gave you a chance to do this the easy way, Hux, but you're just like all the rest. Imperfect. Bound by the shackles of morality. Pathetic. So, as usual. I must do everything, myself! As of today, I am the Mayor of Bikini Bottom!
Huxley: YOU WILL BE NO SUCH THING- (They held him at gunpoint)
Dr. Mal: You brought this upon yourself, Hux, just like you brought it upon Bikini Bottom! You will pay dearly for this. I'll make sure they'll NEVER forgive you. (They watched as the rays got to work)
Huxley: NOOOOO!!!!
Dr. Mal: YEEEESSS!!!
(Deadpool): "Wow, we're not even into the next chapters and already things went to s*** for Huxley."
(YB Deadpool): At least Huxley's not a true villain.
(WB Deadpool): I think we already knew that.
Flynt's Crew's Location
Spotnitz: (They all saw the Stingrays)... What are those things?!
Starfield: "They look like the future just puked on them!"
Parr:... Those look like Stingways technology.
Drowne:... What's Stingways?
Bobb:... You seriously don't know what that is?
Lea: "To be fair, it's my first time hearing about these guys too."
Parr: Eh, I've just heard about it many times. Maybe it's some kind of fancy-schmancy tech company?
Manfred: "Well that's some tech! I thought it was only the land dwellers with the fancy toys!"
Starfield: Well, whatever it is, it's crazy stingray robots are going around and I think trying to kill people.
Lea: What makes you say that- (A Stingray Robot destroyed a house and chased the people inside it cartoonishly)... Okay, no denying that.
Starfield: But why would they do that?
Spotnitz: I don't know, but... I think we've already lost.
Baracudi: OH NO WE HAVEN'T!
Spotnitz: What do you mean 'Oh no we haven't'?!? We can't take THOSE things on!
Baracudi: Aren't you a former Naval officer?
Spotnitz: I was more into the shanties than the actual combat.
Octavius: Wow. Then I guess it's not hard to believe that you'd die so pathetically. However you faked your death, it must've been PRETTY DAMN CONVINCING!
Spotnitz: "Oh HA-HA! It's to laugh?!"
Octavius: Okay, I'm pretty sure Huxley can do something about this. I mean, I'm sure even HE has a conscious. He WAS doing this for the safety of Bikini Bottom, so he'll take care of this before- (Suddenly the sirens all over Bikini Bottom screeched)
(Dr. Mal): AAHHHHHHHAHA!! I HATE it when these pieces of garbage do that!! Ahem!! Attention Bikini Bottom! You'll be happy to know that Huxley is taken down. But some will also be happy to know that I'll be cleansing your home of stupidity. I, am Dr. Mal C. Ontent. And before you say it, yes, I am aware of the irony of my name. But there's such a thing as a necessary evil. As of now, Bikini Bottom is under new management! I shall cleanse Bikini Bottom of the vermin who ruins it every day, and these machines you see in the sky, are my special gift to make that happen. All that have been dubbed menaces to Bikini Bottom or idiots, are going to be executed on sight. (Everyone in Bikini Bottom, including Sandy and her group, listened in horror) Think of this as evil all you want, but I've done good things doing this, like in Angel Bottom. That place was plagued with idiocy, and since my genocide, it's never been any more peaceful. And if you think of running away, don't bet on it. I've got the identification of every citizen in Bikini Bottom, and I know where each one who deserves their fate is. I'm sure you idiots lived good lives, but your deaths will help save Bikini Bottom. It's the kindest thing you can do right now. So, goodbye, and when you get to hell, pray that Neptune have mercy on your souls. (Robotic Stingrays swarm Bikini Bottom and chase more people around)
Octavius:... Okay... We're done for.
Spotnitz:... Ohh.... No! AMSCRAY, YA SHMUCKS?! (The group ran for it as they hid away!)...
Starfield: "..... Wow, I'm surprised we all survived that."
Parr: "(Looking cooked from the lazer) If though not relatively unscratched."
Manfred: "I, don't believe even Flynt has really planned for this to happen! He wouldn't've gone through with this if he knew Dr. Mal was gonna be in this picture!"
Octavius: Exactly why we left in the first place, remember?
Manfred: OF COURSE I DO, STUPID!!!
Baracudi: Well, what do we do now?
Eekman: We go back to Flynt and save him?
Starfield: "He might be still not like us anymore though."
Manfred: "Well it's better than waiting to be destroyed by THEM!"
Spotnitz: Sounds like a good idea to me! RUN LIKE BABIES!! (They ran comically from the Stingray robots)
SpongeBob's Location
Sandy:... Un, guys? (They all saw the Stingray robots)
SpongeBob:... Uh, Sandy, What dose?
Sandy:... They look like Stingways tech.
SpongeBob:... Okay, I'm stupid, what is Stingways?
Sandy: "It's basically like Treedomes Enterprises Limited, but without the Treedomes and everything's run by Stingrays. They're an underwater based company and sort've competing rivals in terms of inventions and robotics."
Squidward: "Well I was under the impression only the land animals were the ones with the brains."
Sandy: "Well to be fair, not every sea creature is gonna be as dumb as Patrick, obviously. You guys saw that when you visited that all scientist city when you went on that adventure with Rarrgh to find another of his kind."
Mr. Krabs: Yeah, that's true. I mean, we're mostly fish, but we're not stupid.... Okay, yeah, we're stupid, but we're not CHAOTICALLY stupid.... Okay, yeah we are, but, OKAY, POINT IS, WE'RE NOT ALL STUPID!
Squidward: Eh, coming from the crook who sold a food product that CAUSED all this and exploited it, that's saying a lot.
Mr. Krabs: Hey, I may be a cheapskate, but I HAVE a conscious. I mean, I STILL spend half the money I hoard because me father managed to get me to balance it out.
Squidward:... The canon one that showed up in that one episode where you were showing off your elder grandfathers and father, or the one who was dead?
Mr. Krabs: Hey, to be fair, the Yaga mess was BEFORE a canon episode was made about me father!?
Squidward: And let's not forget other crimes like, well, that Krusty Towers lawsuit.
Patrick: There was a lawsuit from that?
Mr. Krabs: Yeeeah, when I took that fancy hotel's motto 'We shall never deny a guest even the most ridiculous request', they sued me for stealin' it. Apparently hotels are touchy about "Motto Infringement".
Sandy: AHEM! We're getting off the subject... AGAIN! Sheesh. We gotta learn to ditch certain habits we gained from our Lodger adventures.
Squidward: "So that brings up a question, what is WITH these things anyway?"
Sandy: "Well no duh this being Dr. Mal's dirty work. Something tells me he's playing really dirty now."
Squidward: "Well I'm sure Huxley won't approve of it."
Sandy: Yeah, given Dr. Mal overtrhew him as mayor of Bikini Bottom, no DUH he didn't approve. At least he's still got morals.
Squidward: Pssh.
Sandy: Don't 'pssh' me! Can't you see that manure got more real out there? Those robot stingrays are goin' around killing people.
Squidward: Well, how're we gonna fix it without the entire Lodge? (Suddenly SpongeBob's phone was ringing)
SpongeBob: Yellow?
(Gazelle): Hey, SpongeBob, it's Gazelle.
SpongeBob: Gazelle? You're not with the Lodgers and the Jungle Crew?
(Gazelle): No. I decided to set it out because they figured that, as another way to reevaluate themselves, to not rely solely upon me.
SpongeBob: Heh, smart decision.
(Gazelle): But they did say that you had some kind of situation in Bikini Bottom?
SpongeBob:... It's a long story. Too long to even explain in time.
(Gazelle): I'll make time, and I'm sure you will too- (The Stingrays found them as they all screamed)
SpongeBob: OKAY, I'LL MAKE IT QUICK!! THIS SEA OTTER NAMED HUXLEY BECAME MAYOR OF BIKINI BOTTOM...
French Narrator: Later...
SpongeBob: (As the heroes were running from more Stingray robots in Downtown Bikini Bottom)... THEN HE DECIDED TO BRING IN THIS THANOS-CLASS VILLAIN NAMED DR. MAL C. ONTENT, YEAH, ANOTHER CASE OF THE SILLYNAMIA EFFECT, AND I HATE IT...
French Narrator: Much later...
SpongeBob: (As they were chased by the Stingray Robots around Coral Cliffs)... AND THEN WE GOT CURED FROM OUR MENTAL TRAUMA BY THESE FREAKY BRAIN CORAAAAAAaaaalllllls...
Another French Narrator: So much later that the old narrator got tired of waiting for the chase to stop and they had to hire a new one...
SpongeBob: (They finally found a spot to hide from the Stingray robots)... Now these Stingray robots are all over the place, and we JUST found a hiding spot. Convenient we found it when I JUST finished explaining our situation.
(Gazelle): ".... Aie, Dios, Mio..... I mean, I know I said I have to back off abit more often from intervening for you guys, and that this would kinda be cheating that, but, I think over-powered robots count as being beyond what a world's natives can handle! Just, since you guys are natives, I hope you don't-"
Squidward: "MISS GAZELLE, AS A NATIVE OF THIS WORLD MYSELF, I AM GIVING YOU FULL PERMISSION TO INTERVENE FOR THIS AT LEAST?!"
(Gazelle): ".... Ooookay, fair enough, I'll count that as approval. Perfect time to test out that cool space armor thing Ventus Aqua and Terra once showed me!"
Squidward: Can't you just teleport here instead? Alot quicker than using that Kingdom Hearts space armor thing!
(Gazelle): (Sighs), Another day, I guess. Well, I'll just use Shen's portal-remote. (She did that and went directly to Bikini Bottom, while also using an aquatic spell to breath)
Spongebob: "Nice save."
Gazelle:... Glad I remembered the moment I opened the portal that you guys lived underwater. Still trying to get used to the idea of different worlds having different rules. Okay so- (Sees the stingray robots) Holy St Bernard! You guys were not kidding about those stingray robots! I was expecting this to be as bad as you said, but seeing it myself is like, WOW! Got my work cut out here!
SpongeBob: So, can you get rid of them?
Gazelle: Can't I? (She fired a powerful golden focus beam of magic that destroyed them all, shocking everyone who saw it including Mal and his forces)
BB City Hall
Mal:... WHAT THE STYX WAS THAT?!?
Huxley: Don't look at me, that was new to me.
Mal: Yeah, surrrre! You had this as a secret weapon, didn't you?
Huxley: NO, I SWEAR, THIS WASN'T MY DOING!
Mal: BOYS AND GIRL?! GET THE MIND-READING DEVICE!!
Angelia: But, sir, wouldn't we have to cut open his head and root his brain for it to work?
Huxley: UGH, NO, CAN'T YOU JUST USE A LIE DETECTOR?!?
Angelia: YES! Someone said that! THANK YOU... Uh... Never mind, get it out! (They hooked it to him)... Are you ABSOLUTELY SURE that you don't know what this is?
Huxley: No!
Angelia:... He's telling the truth.
Mal: (Sighs) Alright, fine! You live for now. But whatever made that Final Flash attack, we're going to hunt it down!
Huxley: Are you sure about that? Whatever did that looks WAY out of your league!
Dr. Mal: "Oh it's not like we're dealing with an over-powered space messiah here?!"
Sears: ".... Did ya have to say that specifically?"
Dr. Mal: "Purely a worse-case scenario example! If anything, that was likely Miss Sandra with some hidden surprise cause of YOUR failure to contain her, Huxley!"
Huxley: "Well that looked well beyond anything even Sandra is capable of! Treedomes Enterprises, while fairly innovative, are still only experimenting with things that only barely even come CLOSE to being like THAT?!"
Dr. Mal: "Well I guess she decided to test something special out! Either way, Angelia, I want you and your team to go after that rodent and companions!"
Angelia: Are you sure? Maybe Huxley was right, and this isn't something Sandy is capable of. That kind of energy looks like anything beyond science.
Dr. Mal: THAT'S AN ORDER, ANGELIA!
Angelia:... Fine! But if I come back critically wounded or don't come back at all, it'll be your fault. You'll end up betraying my trust in you.
Dr. Mal: I am absolutely confident that this is no threat.
Huxley: Yeah, sure.
Dr. Mal: SHUT UP BEFORE BEFORE SOMETHING YOU'LL REGRET HAPPENS?!
Huxley: Alright, alright, just.... You better pray that you're right.
Dr. Mal: Don't need to, because I already know.
Gazelle's Location
Gazelle:... Alright. We should have enough time to defeat Mal before he makes more of those killer stingray robots.
Chel: "Well, there's just the matter of Mal's mercenaries and that Angelia."
Sandy: "Oh don't worry, those guys we can plan around."
SpongeBob: Even IF she did whip our butts, yours included?
Sandy: Well, who's the one who whipped THEIR butts?
???: Oh, there'll be no butt-whooping THIS time! (Angelia and the others arrived)
Sandy: Speak of the Devil.
Swimburne: Hey, uh, lady, you DO know how this ends, right?
Angelia: Oh, we prepared this time. (They fired nets that caught all except Chel and Swimburne)
Chel:... Alright, lady. You want to dance? Let's dance! (He did something like this and it ended the same way)
Chel: *Crack* AHHH!! O-OH MY BACK!!! EHGH!!...
Mr. Krabs: ".... It was a good attempt, Chel."
Chel: "Thanks Eugene.... SWIMBURNE, CAN YOU DO THAT TRICK- (The group grabbed Swimburne)"
Gazelle:... Well, it was fun to watch your new allies hold their own, but I think it's time we got serious. (She burst herself and the others free with her magic, shocking everyone)
Angelia:... YOU'RE THE ONE WITH THE GOLDEN BEAM WE SAW IN THE DISTANCE?!
Gazelle: "Well, I was hoping to reveal myself later, but I get I'm dealing with competent bad guys here, so, Si."
Megamouth 1: "Awww nuts, there really IS a Space Messiah here?!"
Whale Shark 1: "Welp, we're f****d."
Gazelle: (She pointed her Blade at them)... Leave!
Angelia:... (They all fled, some in a comedic way)
Gazelle:... Good riddance to bad garbage.
SpongeBob:... What was Mal really thinking if they knew about your power? Did he REALLY think ANY of his forces were a match for you?
Squidward: Yeah, he's an idiot. A BIG one. I dare even say, he shouldn't be here.
Sandy: "Don't get cocky. They only ran away cause they weren't expecting Gazelle. Now that Mal knows Gazelle's here, he's gonna try and adapt accordingly, or worse, a Mothron could get involved."
Squidward: "Well it's gonna have to be one that can hold their breath or is a DANG good swimmer."
Sandy: "You'd be wise to not challenge Karma again, Squidward."
Squidward: "..... Yeah, fair point, forget I said it!"
Sandy: "Dang straight! Cause let's not forget that Mothrons are no slouches as an elder alien race connected to Kingdom Hearts! They don't mess around and play for keeps!"
Chel: "Uh, not to be rude here, but, what are you guys talking about?"
Spongebob: "Long story."
Chel:... I'll just take your word for it. Let's scat. (They left)
French Narrator: Later...
Huxley: Well, I hate to say I told you so, but that's because you could kill me in an instant.
Mal: SHUT UP! Ughhhhhh..... Okay, I'm prepared to admit that perhaps I underestimated the situation. But now that I KNOW for certain there's a space messiah, I am prepared to adapt accordingly! I will research this Space Messiah myself and learn of her enemies and weaknesses and utilize such!
Huxley: "Are you sure you want to trifle with such things?!"
Mal: I HAVE to! She's a threat to our plans to make Bikini Bottom a better place.
Huxley: Genocide of the idiots is NOT making it a better place.
Mal: Tell that to Ang-
Huxley: I DON'T CARE, ABOUT ANGEL BOTTOM!! THAT PLACE PROBABLY DIDN'T WANT WHAT YOU DID EITHER!! WHO THE HELL WOULD?! YOU'RE NOT A SAVIOR! YOU'RE A MASS MURDERER!
Mal:... You take that back-
Angelia: Uh, Mal, not to interrupt, but we can't waste time. He's probably trying to give that Space Messiah more time.
Mal:... You're right. Nice try, Huxley.
Huxley: Uh, that wasn't really the intent.
Mal: Yes it was, who's stupid enough to say things that'll kill-... You know what, don't answer that, I already know. EVERYONE here is! And that messiah is threatening Bikini Bottom's only chance to be saved. I need ALL information on her right now!
Angelia: Uh, where exactly can we find something like that? She looked like she was not from this world. What information about her could even be found here? It's like looking for information about Martians on Earth.
Mal: ".... UGH?! Why couldn't this Space Messiah be of someone of THIS planet?!"
Sears: "Well there's talk that there had been messiah attempts here before, but all six of them were ax'd off by a long-gone supervillain."
Mal: "...... You don't say?"
Huxley: "SEARS?!"
Sears: "Well, it's mainly just rumors I heard from this Great White Shark guy who's now a retired supervillain."
Huxley: "SEARS?!"
Sears: "Hey not like he's gonna take me seriously here-"
Mal: YOU MEAN THE GREAT SHARK LORD KNEW ABOUT THIS THING BEFORE?!?
Sears:... Uh... Like I said, it's just dumb rumors, FROM a supervillain, you can't trust those assholes.
Mal: Well, let's still look into it.
Huxley: YOU CAN'T!
Mal: I CAN'T?! This messiah is threatening my plans and there's nothing I can do except fight fire with fire. I will NOT be defeated by some outside meddling! So, if THEY want to play outside meddling, SO WILL I! I see no reason not to!
Huxley: I see PLENTY of reasons. Getting whatever forces we're dealing with, MIGHT not be the best idea, and I'VE HAD SOME DUMB ONES IN THE PAST FEW DAYS!!
Mal: I HAVE NO CHOICE! I'm GOING to find that Shark Lord, and you can't stop me, NOR anyone.
Huxley:... I'm warning you, Mal! Abusing outside powers seems to be, a little desperate.
Mal: OH?!? WHAT ABOUT SANDY AND HER FRIENDS, BRINGING OUTSIDE POWERS AND BY TECHNICALITY ABUSING THEM?! They brought this upon themselves!
Angelia: Yeah, I have to admit, you can't defend this if the HEROES are doing the same thing.
Huxley: THAT'S NOT THE POINT!
Mal: Yes it is! They're escalating this campaign, and I will NOT accept it, so I am simply LEVELING the playing field. Boys and girls? We're going to find the Shark Lord! (They left)
Huxley:... Dammit, Sears, WHY?!?
Sears: I JUST SAID I DIDN'T KNOW HE'D TAKE IT THAT SERIOUSLY!!
Huxley: WHAT DID YOU EXPECT FROM A ZANY SITUATION LIKE FLYING STINGRAY ROBOTS AND FREAKING SPACE MESSIAHS?! AT WHAT POINT DURING ANY OF THAT DID YOU HAVE THE IMPRESSION THAT HE WOULDN'T TAKE THAT SERIOUSLY?! Now things are going to escalate FURTHER because of YOU!
Brine: GUYS, we're not going to make things better arguing like children!
Sears: "OH NOW LOOK WHO DECIDES TO TALK, MR. VOW OF SILENCE?!"
Brine: "I WASN'T BEING QUIET OUT OF CHOICE, I WAS JUST SO SHOCKED BY HOW BADLY THINGS SPIRALED OUT OF CONTROL THAT, I WAS JUST SPEECHLESS?!"
Sears: "WELL YOU COULD'VE ENGAGED IN THE CONVERSATION AND-"
Brine and Sears argued!
Huxley sighed dejectedly.
Super-Villain Prison.
Shark Lord was seen suddenly held for-interview as Dr. Mal was behind duraglass, in case of surprises.
Dr. Mal: "..... So, according to your most recent action, you had, and I quote.... Attempted to go after a yellow pearl?"
Shark Lord: "Well since ya read that from a paper, what ya need me for? Ya would've known that I retried after my one last bout to be great ended in albeit the most badass way for someone like me to be beaten."
Dr. Mal: "Riiiiight. But along the way, you're partners in more modern villains had mentioned..... Perfect Tartarus?"
Shark Lord: "Hooo boy. That guy was a legend. He was even too much for 6 Uniter Attempts on this planet, Golden Dolphin one of them. But he ice'd himself because he was afraid of Lovecraftian Horrors going after him or so said so by Gree. P.T. is deader than dead now."
Dr. Mal: "(Quietly) I was afraid of that. (Openly) But are you by chance aware of where Perfect Tartarus' lair is?"
Shark Lord: "Tch, you're out of luck, doc. That place is said to be lost to time after P.T. destroyed himself. Heck, even I had trouble locating P.T.'s place. Heck, even Dirty Bubble and Manray are scratching their heads trying to figure out where that place is."
Dr. Mal: "(Quietly) Figures. (Openly) But, is Perfect Tartarus by any chance, connected to any, enemies of Uniters?"
Shark Lord: "Well Gree once claimed that P.T. was raised by some really dark moth aliens, but, I found that as weird as the Lovecraftian Horror thing. I just assume that P.T. just lost it for being too perfect."
Dr. Mal: "Did this Gree ever mentioned, names in question?"
Shark Lord: "Gree, never specify anything, but, it was said to be a Mothron that hunted for heroes like trophies and- (Realises something).... Wait a second.... I think I know you! Aren't you that crazy idiot-killing doctor Omegamouth said he once pulled his cousin out of working for? I heard messed up shit about you, even for me, and I'm the best Supervillain of my time?!"
Dr. Mal: "Tch, a pity even glorified criminals criticize my greatness."
Shark Lord: "Buddy, you cross lines even the infamous Unredeemer is afraid to cross! You're so nasty, ya make demons go to church to repent their own nature?!"
Dr. Mal: Look, can you just-
Shark Lord: No! This conversation is OVER! I will NOT help you wipe out most of yet another poor town cursed with idiocy. Any help I gave you could be connected to me!
Dr. Mal: I am TRYING to save Bikini Bottom from it's population of idiots!
Shark Lord: By killing them all? Even I'M not that sick.... Anymore. I said, this conversation is over.
Dr. Mal: Shark Lord, you-
Shark Lord: AHEM! What part of 'THIS CONVERSATION IS OVER' did you NOT understand?!
Dr. Mal:... Fine. Then we'll have to do this the hard way. Like usual. (Angelia and her forces beat him up as he watched with a smile on his face)... What is the name of that Mothron? I want the answer immediately!
Shark Lord: I'm not talking! NEVER! And you'd be doing me a favor killing me.
Dr. Mal:... Hmmph. We'll make you talk.
Shark Lord: How? Torture and death are not exactly options here, so what kind of slick moves could you POSSIBLY pull to make me talk? I ain't scared of death! In fact, I once tried to embrace it in wanting to go out like a badass?!
Dr. Mal: "(Snaps his fingers as Brutha was brought in by Angelia)...."
Shark Lord: ".... The old threaten the love one trick, huh? That cliche old bluff? Even the Dishonorable Eel from the Silver Age would think you're predictable."
Dr. Mal: "One key difference. (Pulls out a very sharp and rusty harpoon and points it Brutha's way).... I don't, bluff. (Shark Lord now became concerned)."
Shark Lord: ".... (Gulps). Okay, NOW I'm taking ya seriously."
Dr. Mal: "THEN Tell me the name of this Mothron?!"
Shark Lord: "Duh, thing is, Gree, never got into the specifics of the name of the Mothron who raised P.T.-"
Dr. Mal: "THEN TELL ME, Is there abit of a theme with why Perfect Tartarus named himself as is?"
Shark Lord: "..... Ohhhh, okay, I would guess there'd be abit of a greek-theme this Mothron has going for, I'm betting for he's either named after Hades or any other negitive-association god, or maybe based on something of dark greek thing, I don't know!"
Dr. Mal: "(Gestures Angelia to let Brutha go) I can tell that's the best I can get out of you, then. Then I guess I'll ask the old Greenland Shark himself."
Shark Lord: "Tch, he'll see you coming and won't work with ya."
Dr. Mal: Oh, I'll ensure this 'Gree' person talks, just like I did with you. I do not hold back when I'm serious about this.
Shark Lord: Why do you even NEED this kind of information-
Dr. Mal: THAT'S NONE OF YOUR BUSINESS, OLD MAN! JUST ACT YOUR AGE AND DIE, WILL YOU?!
Shark Lord:... Wow. But I should warn you, Gree, is NOT the one to take s*** from ANYONE. Not even YOU!
Dr. Mal: We'll see about that.
Gree's Cell
Greenlund was seen meditating as Dr. Mal and co arrived.
Greenlund: "Don't think I haven't sensed your arrival..... Dr. Mal C. Ontent. And I bare no ignorance to your, particular brand of villainy. Ugh, I've met and worked with worser villains, but even all of them wouldn't come near YOU with a pole as long as the mighty World Serpent, doctor."
Dr. Mal: "Oh good. Then I can skip the filler. Then you know I seek out the Mothron that created Perfect Tartarus."
Greenlund: "Surely, as a fish with a hatred of idiocy, you should know better than to seek out the likes of ANY Mothron, much less one responsible for Perfect Tartarus. You'll just earn needless enemies in the Lightflies, espeically considering what Perfect Tartarus has done."
Dr. Mal: "Be made aware, old shark.... I won't let the fact you're an elder slow me done from doing anything, extreme."
Greenlund: "On top of my species being around for long periods of time, I myself am immortal. How can you hope to death threat an immortal?"
Dr. Mal: "Ah, your file has mentioned that. You can find that I can be, creative. (A Whale Shark brought in a dark looking clam)"
Greenlund was surprised.....
Greenlund: ".... The...... The..... The Life Alteror Clam?! An object even the gods fear?! It can either grant or take away immortality?! How the blazes did you find this?! It was said to be lost to time?!"
Dr. Mal: "It was in the possession of a very gross sewer cleaner from Raw Bottom. (Shudders), He was initially using it to pick out what DIDN'T left his hindquarters..... (Sternly) Which Reminds me, (To Angelia) Angelia, Raw Bottom is NEXT after we finish Bikini Bottom!"
Angelia: "Mental Note made, sir."
Dr. Mal: "Anyway, you do not believe the amount of cleaning this relic had to go through, even after we got the obvious filth off!"
Greenlund: ".... Now on top of being at odds with the Lightflies, YOU ARE EARNING THE IRE OF GODS AS WELL?! And say if you got what you want in finding, Perfect Tartarus's maker, Tartarus ended himself because he feared Outer God reprisal?! I'M SURE THE COSMIC FORCES WILL NOT SMILE FOR YOU EITHER?!"
Dr. Mal: "Okay, aliens and deities I can understand, but bringing in the entities of H.P. Lovecraft is just being silly now?! (Annoyed) And silly is a few steps shy from stupidity."
Greenlund: "..... Do you really despise intellectual inferiority this much? It can't be just because you are among a select number of earnest geniuses in this, sad world. Are you like Huxley and over-reacted to a mundane reason ruining your hometown? Or is there something, more personal?"
Dr. Mal: ".... (Takes the clam and aims it at Greenlund).... (Darkly) I don't have to explain anything, old man. (Threatens to use it).... Name, NOW?!"
Greenlund: "..... (Admits defeat)..... The Mothron's true name is unknown, but his surname, is after the Greek god of death, Thanatos of Infidnate Dark Perfection. But that Mothron hides in only a' darkness so absolute, light can't thrive in it. Just because you now know his name, doesn't mean you can reach him."
Dr. Mal: "I don't have to come to him.... I bet the mere presence of a' Uniter, will drive him wild to come here himself. (Chuckles), It's just the matter of making contact. Now, Shark Lord mentioned that Perfect Tartarus had a lair..... Where, is it?"
Greenlund: "Tartarus, was bold to have his lair in an undersea volcanic area, a place even the greatest of whales and boldest of humans worry about venturing. Cerberus Valley."
Dr. Mal: "(Chuckles), And I bet Tartarus would keep a Mothron Communication device, no doubt. I think we're done here. (Angelia takes the clam and places back into its unit until further use is needed)...."
Greenlund: ".... I cannot promise a certain future for this path."
Dr. Mal: "Tch, you don't need to, you hasbeen..... I forge my own. (Leaves with his crew)...."
Greenlund:... I know why you resorted to this, Mal. You're afraid of the current Uniter Princess because she has posed a threat to your plans. Unfortunately, all who have resorted to going to forbidden powers like you, have never come back the same way, neither alive nor dead. If you do this... There's no guarantee, that you'll get out of it less unpunished than even being sent to prison for life. I have seen people like you do things like this to counteract Uniters. They have always come off as desperate and cowardly.
Dr. Mal: (As he opened the door)... If leveling the playing field because those 'heroes' decided to abuse the Uniter for their own worldly ends is a crime, then call me guilty.... I have to do this. You wouldn't understand. Nobody ever does. (He shut the door and left with followers)
Greenlund:... Neither will the powers you seek.
Angelia was abit concerned about what Greenlund was saying, though loyalty for the doctor has her soldier on.
Chapter 4: Things Get Serious
Flynt's Hideout
Flynt was just flabbergasted by the power of the Uniter on how quickly it bursted the robots.....
Sharko: ".... Uh, boss? Maybe time to skip town."
Flynt: "..... Actually, Sharko..... Things, just, got, interesting. That Space Messiah is PERFECT to finally get my fins on some sweet alien tech! Can you imagine how powerful I could be with that?!"
Sharko: ".... Actually, I'm getting what your selling here."
Parr's voice: "WOW, SERIOUSLY?!"
Flynt's former gang was seen.
Parr: "We wanted to give ya some leeway about Dr. Mal, but then suddenly you now want to mess with some dark alien shit?! WE'RE OUT?! AGAIN?!"
The Gang eave again....
Sharko: ".... Tch, figures those wimps wussed out on ya again."
Flynt: "Ahhhhhhh let them! They were just a stepping stone for me to live up to my dream of being like my idol! Perfect Tartarus!"
Sharko: "Didn't know you were into comic books, sir."
Flynt: Hey, we all need to have a HOBBY! This power? It could allow me to create MORE misery to laugh at, and even do it in OTHER cities in the Pacific. I'll be the best crime boss of misery EVER!
Sharko: Agreed.
Flynt: This'll be so much fun!
Sharko: Totally.
Flynt: Okay, are you just going to keep saying things like that?
Sharko: Right- UH, I MEAN, Ugh, let's go!
Later...
Parr: ARE YOU KIDDING ME RIGHT NOW?!? NOTHING THAT HAPPENED GOT THROUGH TO HIM?!?
Eela: Are you surprised? He was willing to risk his own head before!
Parr: Yeah, that was typical Flynt, but THIS?!? SEEKING POWERS HE SHOULDN'T HAVE?!?
Drowne: Yeah, uh, I prefer we stay as criminals who love to laugh at the delicious misery of others.
Octavius: Me too! Besides, we wouldn't even BE in danger if it wasn't for him messing it up with PUFFHART over here!
Puffhart: Well EXCUSE me for not knowing that THIS would happen!
Klaus: Can we panic now?
Everyone: NO!!
Klaus: Then what DO we do? Try and stop Flynt from taking this too far?
Spotnitz:... As a matter of fact, yes!
Everyone: What?
Spotnitz: Clearly Flynt's lost it right now. NOW he's tampering with forces far beyond his comprehension! We'll be in HUGE trouble!
Tiegs: Yeah, to be honest, I liked it better when we were just criminals.
Spotnitz: EXACTLY! NOW Flynt wants us to STOP being criminals and just steal power that we should instead leave alone?! Guys, we have to do something before he goes too far!
Lea: We can't just disobey him!
Spotnitz: We KINDA already did when we left the first time!
Klaus: But, what can we do? He's GOT Sharko!
Spotnitz: Well, we got something he doesn't anymore. Numbers. Not even Sharko can stand against that!
Puffhart:... Well, that is true.
Bobb: Then what're we waiting for?
Flynt: Hey, guys, I want in on the plan too!
Spotnitz: Uh, no, Flynt, the point of this is to be against you for your own GOOD! Alright, everyone, let's- (Everyone realized)... Ohhhh, poop!
Later...
Flynt: (They were all tied up) So you all decided to conspire against me, huh? I should've expected this after the last time you left!
Spotnitz: YOU CAN'T DO THIS! THIS POWER IS GOING TO GET US ALL IN MORE TROUBLE THAN WE SHOULD BE IN! YOU KNOW THIS!
Parr: Not to mention that nobody even knows about us! They've never been this entire shebang! Let's not escalate it any further!
Klaus: Yeah, I prefer us as we are now!
Flynt: Sorry, but you lost me when you decided to BETRAY ME!
Spotnitz: FOR YOUR OWN GOOD!!!
Flynt: Oh wah! Too bad, I'm getting that power and THAT'S FINAL!
Spotnitz: But-
Flynt: THAT, IS, FINAL!!
Spotnitz: YOU-
Flynt: SHARKO?!
Sharko: SHUT UP!!!
Spotnitz:... okay!
Flynt: Yeah, you better shut up! Higher powers, HERE WE COME! Sharko? Put them in our semi-truck. We're going on a ROAD TRIP! Oh, and uh, make sure it's soundproof and disguised, okay?
Sharko: Sure thing, boss!
Spotnitz:... We're warning you, Flynt! If you do this, you will lose! And you won't just lose, you'll lose EVERYTHING!
Flynt:...... Worth it! (He left)
Spotnitz:... And I actually looked UP to him!
Manfred: "Well it's true what they say. Never meet your idols."
Spotnitz:... What do we do now?
Sharko: I'll tell you what you'll do now. Sit down in the cargo truck, right where I can see you and nobody else can, AND SHUT UP!! (They were all placed inside a semi-truck and drove off as Flynt chuckled)
(Deadpool): "I feel like the plot is bouncing around a lot ever since the new bad guy came in."
(Scroopfan): "Ugh, I know, We need to practice having more concrete plots again."
Meanwhile...
Sandy: So, Gazelle, got any ideas to fix this?
Gazelle: "Well straight forward enough, I suspect Mal might be desperate enough to try and find a way to adapt around me and would likely try to seek out any possible source of Mothron presence here."
Squidward: "Well the worse one possible is a now dead super-villain named Perfect Tartarus, but he killed himself because he knew the Outers would have a problem with him."
Spongebob: "Of course! Didn't we learn that he was raised by Mothrons?"
Squidward: "Well yes, but that doesn't mean the Mothron or Mothrons responsible are here on this world. For all we know, they could've long blown the coup after Perfect Tartarus offed himself."
Swimburne: "But you're sure that any trace of Perfect's legacy is gone with him?"
Squidward:... Well... I can't really say-
Gazelle: Then we must stop him.
Squidward: Well, this is just perfect. Maybe we SHOULDN'T have brought you after all. Now we've turned this Mal guy into a desperate bed-wetting weenie who'll cry for help like a screaming stupid child on the street to get whatever matching power he can find. We REALLY should fix problems on our own worlds by ourselves.
Gazelle: Well, it's too late, mi amigos. I'm here, and Mal is going after Perfect Tartarus' secrets.
Squidward:... Are you insinuating this is OUR fault?!
Gazelle: No, I'm just saying, what's done is done.
Sandy: "Exactly! It's too late to change course, NOR is whining about it gonna help!"
Squidward: "Ugh, fair enough point, I guess."
Mr. Krabs: "Well, at least this'll be a lesson on how to be careful about calling for backup in the future."
Chel: Well, where the hell are we even going to FIND PT's secrets?
SpongeBob: Haven't you even READ the comics regarding PT? His own hideout is still preserved. We have to get THERE before Mal does, meet him there, and then just kick his butt.
Patrick: Well what about Huxley?
Swimburne: Well, I don't think he'll be a problem as of now.
Patrick: Well, Mal DID betray him. We should at least do him a favor for at least TRYING to stop Mal.
SpongeBob: Yeah, he's right, it seems like the right thing to do.
Squidward: "Well there's the matter that Mal is CLEARLY smart enough to not leave Huxley undefended! And besides, if we waste time going for Huxley, that'll give Mal a head-start on getting at PT's secrets!"
Swimburne: "Then I guess some of us will have to split up to cover both sides. The strongest will go after Mal, and the weakest will rescue Huxley."
Squidward: And who exactly are you calling WEAK?!
Swimburne: Alright, to sound less insulting, the UNCOORDINATED will save Huxley.
Squidward: That's NOT less insulting.
Swimburne: Oh, grow some thicker skin, penis-nose! That said, how's about this, the ones capable to be an actual threat to Mal can go after him, while the ones that AREN'T, can go for Huxley. Better?
Squidward: ".... To move this forward, I will say yes."
Swimburne: THANK YOU!... Ahem... Well... Okay. So that means me, Chel, Gazelle, and Sandy will go. SpongeBob, Patrick, Squidward, and Mr. Krabs will go save Huxley.
Mr. Krabs: Sounds like a plan!
Patrick: I think it IS a plan.
Mr. Krabs:... *Sigh*... You're a strange one, you are, Patrick!
The group splited up.
The Bikini Bottom Mayor's office.
Angelia: "(To a Squad of Elite Lobsters) You are some of Mal's finest elite crustaceans. Focused, Competent, and Prepared for even the unexpected. I can trust you boys can babysit Huxley and his little bickering friends while Dr. Mal and the rest of our forces attend business."
Lobster Elite Leader: "We're ready for everything, Miss Angelia."
Angelia: "Good. (Gets on a jeep and drives off to join a vehicle exidus that holds the rest of Dr. Ml's forces.)"
Lobster Elite Leader: "..... Alright men, the job's simple. Prepare for any surprises and make sure the otter and his pals don't leave the area."
Other Lobster Elites: "Sir!"
Lobster Elite Leader: "Good."
The Lobster Elite Leader enters the building as the other Elites proceed to expand and guard the area.
SpongeBob: (They arrived there)... (Quietly) Whoa! These guys look like they could give Larry an inferiority complex.
Squidward: (Quietly) Well, that's just great! How are we supposed to get past THAT?!
Mr. Krabs: (Quietly) Just think! Is that so hard?
Squidward: (Quietly) It is when we're too distracted trying watch out for any surprises.
Mr. Krabs: "(Quietly) Do remember I was in the navy! I faced guys like this all the time. This will have to be a stealth operation."
Squidward: (Quietly) Oh, sure, you were head chef in the SS Diarrhea, and was part of a ship that carried suntan lotion. And how long does it take before your back gives out, you know, like Chel's did? No Swimburne to pressure point it back, you know.
Mr. Krabs: (Quietly) Squidward, don't start that with me! Let's get Huxley out of here and away from them lobsters, quietly!
Squidward: (Quietly) What good is stealthy in a cartoon universe? We'll just end up getting caught for laughs anyway.
Mr. Krabs: "(Quietly) Well at least it would look smarter than just running at that building shouting Yolo!"
Patrick: (He ran out) YOLOOOOOOOOOOOOOOOOOOOOOOOOOOOOO!!! (He ran towards the lobsters as they just punched him and attacked the group)
Squidward:... Well, true, if we didn't do the stealth thing, Patrick would do the latter. Why is he even best friends with SpongeBob?
SpongeBob: Not sure it's something you'd understand. CHAAAARGE! (They charged towards the lobsters and they had their butts kicked comically)
Mr. Krabs: "(Beaten face) You see WHY I wanted to do this stealthfully, Mr. Squidward?"
Squidward: HEY, IT WAS PATRICK'S FAULT, NOT MINE!!!
Mr. Krabs: WELL, WHO DIDN'T STOP HIM WHEN HE HAD THE CHANCE?!?
Squidward: UGH, LET'S JUST RESCUE HUXLEY ALREADY!! (The lobsters proved too strong for them)
Lobster #1: We can do this all day.
Lobster #2: Yeah. No WAY you're going near Huxley!
Huxley: UH, FOR THE RECORD, I DIDN'T THINK THEY'D ACTUALLY COME AND SAVE ME, AND I THOUGHT I BRAIN-DAMAGED SPONGEBOB AND PATRICK... Though, that WOULD explain how Patrick blew their cover like that-
Lobster #1: SHUT UP, OTTER, OR WE'LL SHAVE YOU!!!
Huxley: NO! YOU HAVE ANY IDEA HOW UGLY I LOOK UNDERNEATH THIS FUR?!?
Lobster #3: THAT'S KINDA THE POI- (The heroes attacked the distracted lobsters with their own fighting specialties)
Mr. Krabs: YEAH, HOW'S YER SISTER?! WOOOEEEE-HO- *Crack* AAAAHH, OH, MY BACK!!
Squidward: Wow, didn't take that long.
Mr. Krabs: MR. SQUIDWARD!!!
Squidward: Hey, we gotta lau- (Lobster #3 headbutted him into a wall)... Ouch!
Lobster Elite Lobster: "(Gags Huxley's mouth with cloth) Eyes on the prize, boys! They may be without the Squirrel for some reason, but keep focus!"
Lobster Elites: "SIR!
The Lobster Elites kept focused!
SpongeBob: "Okay, time for me to tap into some old "Creature of the Krusty Krab" Strength to show these guys one-two!" (He did similar acts to said game and tossed them around) Lucky for you I'm not a violent person.
Squidward: NOT INTENTIONALLY!!
SpongeBob: Squidward, you're ruining the point!
Squidward: JUST SAYING!
Huxley: (Gets cloth removed from-mouth)... Okay, seriously, how are you guys not as braindead as I last saw you?
SpongeBob: Long story, let's get the heck out of here!
Huxley: "Okay, fair point!" (They ran)
Lobster #1: GET BACK HERE, YOU RUFFIANS!!! (They chased them)
Patrick: THEY'RE GAINING ON US!!
Squidward: WE NOTICED!!! (They managed to avoid them by getting them hit by a bus)
Patrick: "Thank goodness the bad guys didn't get Crazy Bus Driver Pete yet."
Squidward: Well for once I begrudgingly consider that a saving grace. WHEW! That was a close one!
Huxley: That was a RECKLESS one!
SpongeBob: Well, we had to lose them SOMEHOW, and in a situation like this, I think any method is preferable.
Huxley: I don't think so, but at this point, I don't care. After Mal betrayed me, I think I'm DONE with this gig.
Squidward: THANK you-
Huxley: AHEM!
Squidward:... Sorry.
Huxley: "Also, SERIOUSLY, THIS TOWN HAS A BUS DRIVER NAMED "CRAZY BUS DRIVER PETE"?!"
Spongebob: "We prefer not to talk about it much."
Huxley: "..... (Facepalms) Ugh, what a note to give up my career on."
Squidward: Welcome to MY pain.
Huxley: More like welcome to MY pain.
Mr. Krabs: Guys! Focus! We need to get Huxley to safety!
Huxley: Why are you even helping me anyway? I put you all in Ottaway Asylum, prison, or inside a piece of junk that I didn't think was going to stay on forever anyway!
SpongeBob: We heard about you trying to stop Mal from taking your goals this far, and in good conscious, we-
Huxley: Okay, stop, that's all I needed. What exactly is next?
SpongeBob: Now we reunite back with the others.
Huxley: Aaaaand where might they be?
SpongeBob: Going to Perfect Tartarus' hideout... Wherever that may be.
Huxley: Don't YOU read MM and BB comics too? How can you not know that?
Patrick: Hey, not EVERYTHING can be revealed in comics! If you were a geek like us, then I'm sure you'd know that.
Huxley:... (Sighs) I swear, it's a MIRACLE I survived being rescued by YOU barnacleheads!
Squidward: "Well it's also nothing short of a miracle that we escaped those otherwise competent Elite Lobster guards."
Huxley: "Touche."
SpongeBob: Look, look, look, wherever it is, Sandy has said she'll call us later. We just need to wait for her to call us the moment she and the others find it.
Huxley:... We have to wait... IN THIS?!? (They saw all the chaos Bikini Bottom was in)
Patrick: Aaahhh, it's not so bad. It's been in WORSE shape.
Huxley:... Riiight... Ugggggh, f*** me! And to think I opened the floodgates to this madness because I was upset about what happened in 2015, roughly a few years ago!
Squidward: Hey, this city gets to all of us.
Huxley: Well then where are we supposed to stay?
Patrick: Let's go under my rock. Nobody EVER looks under a rock.
Everyone: Except yours.
Patrick:... DARN!
SpongeBob: We JUST need a place to hide that NOBODY would look. Not even Mal.
Squidward: Isn't Mal NEW here? Why would he not- You know what, I'm done asking logical questions right now.
SpongeBob: Oh, I already have a perfect location....
French Narrator: Later...
The Group found themselves in the Chum Bucket.
Huxley: "The Chum Bucket? How is that a place nobody would ever look? It's literally across the street from the Krusty Krab!"
Spongebob: "Ahhh, but they would think to look in the Krusty Krab, and not the Chum Bucket. C'mon, why would anyone think to look at the home of Mr. Krabs' enemy?"
Huxley: "I-....... Okay, I am seeing the logic in this, but they will exhaust all obvious hiding spots and will start looking into less obvious ones, even down to this place. So at best this is a contemporary hiding spot."
Spongebob: "I'd figured you say that, cause it's quite convenient that Plankton has a random library bookshelf here. (Points to that bookshelf)."
Huxley: "You do know that since he's considered a bit of a genius, OF COURSE he would have a bookshelf. Reading is par-of-the-course for the intelligent."
Mr. Krabs: "Well if I knew Plankton, looks are deceiving! (Gets to the bookshelf and pulls a book, but it was more like a lever as the bookshelf opened up like a mechanical door and reveals a panic room bunker) Figures that sneak would have a panic room bunker in an event of emergencies. Course, he didn't figured you would happen, so he didn't get to use it."
Squidward: I'M surprised he didn't use it during the 2015 incident.
The group opened the bunker door and saw an expansive luxurious room with a fridge filled with actual food, cable-access TV, bathroom plumbing and a simulated fireplace.
Squidward: ".... How the barnacle was Plankton, a failing restaurant owner, able to afford all this?"
The group saw a plague with the League's Symbol on it, reading as "Donated by the Villain League"....
Squidward: ".... Yeah, figures this was from the League."
Patrick: "Alright! Dibs on the fridge!"
Spongebob: "Wait! We have to be careful here! This does belong to Plankton after all."
Mr. Krabs: "Aye, we have to be on the lookout for defense systems before we even think about relaxing about here."
Huxley: "Well the fact it was easy to even be in here, I don't believe that-"
???: "Excuse me sirs."
A Butler Robot of Dr. Blowhole's make wheeled in.
Butler Robot: "I'm sorry sirs, but this is a private League panic room. (Produces cartoonish amount of weaponry turrents).... I'm gonna have to ask you to vacate the premises."
Mr. Krabs: ".... That looks too competent to be of Plankton's doing."
Squidward: "So I'm guessing Dr. Blowhole then-"
The Group were forced to take cover as the Butler Robot fired as the group hid behind the luxurious furniture!
Huxley: ".... Nevermind, looks ARE deceiving!"
Spongebob: "Ugh, I know! Sometimes we forget that the League was ALWAYS filled with surprises!"
Mr. Krabs: Now why didn't he even use THESE things to steal the formuler?
SpongeBob: This isn't about the formula, Mr. Krabs, this is about waiting for Sandy and the others to come back with information about Mal and PT's hideout. Let's just take this thing down.
Mr. Krabs: Well, it IS a robot, so we short-circuit it with water?
Huxley: You mean goo, right? People around here keep calling goo water because, you know, THERE'S WATER ALL AROUND US!!! Also, WHY DOES GRAVITY EXIST UNDERWATER?!
Patrick: (He grabbed his shoulder)... This is a road you don't wanna go down. (Everyone nodded no at him)
Butler Robot: "May I offer your recommended daily duce of death, good sirs? (Readies a Tartar Sauce cannon, filled with hot Tartarsauce)."
Spongebob: "Tartar Sauce! THE HORROR?!"
Huxley: "IS THAT A CANNON WITH HOT FISH-SPECIFIC CONDIMENTS IN IT?!"
Mr. Krabs: "You're asking TOO many questions, buddy!" (They kept fighting it as they actually managed to damage it critically enough to tip it over)
Butler Robot: Warning, warning, mobile unit compromised. Unable to move. Require assistance.
Huxley:... Plankton's 'League' friends seriously didn't bother to make-
Mr. Krabs: Too many questions! (They crushed it with Patrick)
Patrick: HAH! (Electricity crackled under his butt) Hahaha! That tickles.
Huxley:... At least idiocy can serve as a good bodyguard.
Squidward: Don't EVER call us bodyguards! We're simply saving you from the mess you made.
Huxley:... *Sigh*... What I wouldn't give for some espresso from Last Chance Coffee right now! (Meanwhile, Flynt's semi-truck was seen driving by the Chum Bucket)
Flynt: Hahahahaha! Alien tech, here I come! HEY SHARKO?! HOW'RE THE TRAITORS?!
Sharko: "Wrapped up in the GOOD Seaweed!"
Flynt: Excellent! (They drove out of Bikini Bottom city limits)
???: Hold it right there! (Border security arrived)
Border Guard #1: Nobody exits Bikini Bottom without authorization as per the accord of the Ottaway Act!
Flynt: WHA- THE OTTAWAY ACT?!? IT'S STILL UP AFTER WHAT HAPPENED TO HUXLEY?!?
Border Guard #2: Yeah. Just because Huxley's not in charge anymore doesn't mean the law isn't useful to the doctor. Mal doesn't want anyone running away.
Flynt:... Ugh! Great!
Sharko: What do we do now, boss?
Flynt: "(Quietly) We're gonna have to find a creative way out."
Sharko: Should I introduce them to my fists? That's the easiest way out.
Flynt: No, we need to get out without drawing attention to ourselves!
Border Guard #1: AHEM! We told you to turn around, or we'll have to call for backup!
Border Guard 2: "Actually sir, something doesn't feel right about this truck."
Sharko: (Quietly) They're onto us!
Flynt: (Sighs, quietly) Just knock them out and destroy their communicators!
Sharko: (Quietly) Thank you! (He came out, knocked the two out, and smashed their walkie-talkies)... All you had to do was ASK!
Flynt: Riiiight. Let's get out of here! (They drove off)
Border Guard 3: "(Shows up with coffee) Hey guys, I'm back with Coffee. (Saw that his compatriots were knocked out)..... Oh what did I missed this time?"
Chum Bucket Panic Room
Huxley:... Well... I'm bored.
Patrick: I'm BEYOND bored... I'm BEYORED!
Huxley: "Then why not watch Plankton's TV? It has cable access."
Patrick: "Alot of the TV Channels are Villains Channel Stuff! It's only things villains like!"
Huxley: "..... THERE'S A VILLAINS CHANNEL?!"
Squidward: "It's from off-world, FYI. In Muggshotra."
Huxley: "STILL THOUGH?! WHY ARE CRIMINALS AND ROGUES ALLOWED TO HAVE THEIR OWN NETWORK ACCESS?!"
Mr. Krabs: "Ya think that's bad, wait until they get their streaming service up and running: Villain Streaming."
Huxley: ".... (Deadpan) I'm starting to think it's not just this world suffering from nonsense. (Distressed) IT'S THE CONFOUND IT UNIVERSE ITSELF?!"
Squidward: "Well compared to what other dimensions and/or timelines are like, this is still a' tolerable at best existence!"
Huxley: "...... (Plops down)..... Why did I bother with this?"
Patrick: "Because you over-reacted to what happened in 2015?"
Huxley: AND WHY NOT?! Innocent people DIED! All because of a fast food product. It wasn't as stupid as the reason my own hometown tore itself apart, but still, it was stupid. Could you even imagine how the rest of the world would feel if they found out that a place like that existed?
SpongeBob: To be fair, that was because of a reality-warping book.
Huxley: Nevertheless. It was the last straw of my patience for them. Now I FOOLISHLY trusted a genocidal maniac with it and he overthrew me. I tried and failed to save my own home, and I had to leave it behind. I didn't want to lose ANOTHER home to equally-stupid reasons.... I... It just isn't fair!... Why is this world so, STUPID?!
Squidward: Again, welcome to my pain.
SpongeBob: Well, I'll just leave the meta reasons of this being a cartoon out and say that we have no idea.
Mr. Krabs:... Really, lad? Couldn't you have just said you don't know and not sound cuckoo-crazy?
SpongeBob: Hey, that's what you get for being aware of your own fictional existence, right DP?
(Deadpool): Right. So DEAL WITH IT!
Huxley:... What was that?... Okay, let's just figure this out because I'll chock that up as me going crazy from paranoia caused by the hell I caused.
SpongeBob: Eh, wouldn't be the first time anyone trusted a genocidal maniac. That's what caused magic to briefly be destroyed.
Squidward: SpongeBob, how is that relevant to our situation?
SpongeBob: It's not. It's just my way of saying that nobody's perfect.
Huxley:... Still... All of this is my fault. I trusted Mal, and he betrayed me, as I should've known from the beginning he would... Well, I kinda did, but I didn't see any other choice simply because you guys ended up being beyond what I was prepared for. UGH!
SpongeBob: Look, Hux, there's nothing wrong with making mistakes. It's mistakes that help us learn. Don't think people who have power like yours as benevolent people who could do no wrong. It doesn't matter how much you know or how wise you are or anything like that. EVERYONE'S a screw-up, and everyone wishes that they weren't. That's called being mortal. But hey, you're trying to make it better. You TRIED to stop Mal.
Huxley: Yeah, but I still failed.
SpongeBob: Not yet you haven't. We saved you, and gave you another chance.
Squidward: Yeah. Consider yourself lucky we bothered to do it at all after what you did to us.
Huxley: ".... Not that I don't got the idea, but there's the matter of how, and, even if Mal is defeated, it was my actions that opened the floodgates to him, I'll be lucky if I'm ever trusted with politics again after this. Which I know better to not hold my breath-to."
Patrick: "Well you were kinda really unpopular with Bikini Bottom, so, I don't think Mal changes too much."
Huxley: "WELL YES, BUT, TRUSTING HIM TO BEGIN WITH WILL KEEP ME FROM BEING IN POLITICS OF ANY OTHER CITY?! I'd imagine this fiasco would make ocean-wide news?! Sure, Mal will get most of the direct coverage, but it WILL be discovered that his inclusion is MY doing?! I'll be, doomed to being a pariah!"
Spongebob: ".... Well, I can't promise stopping Mal would change that, but, no one said doing the right thing is always absolutely awarded."
Huxley: ".... Well, true. Doing good may not mean that my own actions are just, swept under the rug, but.... I suppose the least I can do is reverse the mistake at all. Sure, it may only minorly negate that I invited him at all, but.... Better I did anything at all than to look like a Pariah AND a coward."
SpongeBob: Look, we'll discuss this after we stop Mal.
Huxley: Then I'm at LEAST glad you have greater help. But... Well, did you think it was a good idea to just call your Uniter friend? Shouldn't people meddling in otherworldly affairs be, I don't know, forbidden?
Squidward: I stopped counting how many times we had to count that. By all means, it IS forbidden. Unfortunately we do it because that rule had ALREADY been broken. When otherworldly beings violate the rules for their own conquest, then it's kind of redundant we don't do the same.
Huxley: Well YOU were the ones who did it first. You scared Mal into searching for unlimited power to level the playing field. You guys TECHNICALLY broke the rule by bringing your friend here.
SpongeBob: Well what were we supposed to do, get ourselves KILLED by those manta robots?!
Huxley: ".... Okay fine, so I guess all that concerning Gazelle's is just bad luck, right? Still, if my time as a politician have taught me anything, it's that rules are absolute. Whether it was for self-defense of yourselves and Bikini Bottom, I don't exactly think bringing her into this was a good ide-"
SpongeBob: (Grabs Huxley painfully as he did with Mr. Krabs when he was refusing to take Squidward back) TO BE FAIR, YOU LAW ABSOLUTIST, YOU'RE THE ONE THAT ALLOWED MAL INTO THIS TO BEGIN, (STARTS SHAKING) AND WE'D WOULD'VE BEEN MORE THEN WILLING TO LEAVE GAZELLE OUT OF IT IF IT WASN'T FOR THOSE ROBOTIC RAYS?!
Huxley: "(Gags), Okay, okay, we're BOTH at fault here! (Gets let go)..... Ahem.... Right, my apologies, I, admit, I, aggregated things by allowing Mal bring in those terrible machines. I, guess you can argue that, things were getting desperate."
Spongebob: If it helps, as before, we're trying to establish a new style of heroing here. We only got Gazelle into this because it was becoming well beyond what we alone were capable of! We're KIND of reevaluating ourselves as the Shell Lodge Squad here. We don't need to look after Kairi anymore since she got married to Sora and is going to live with him on Destiny Islands. Basically, we're redefining ourselves as otherworldly heroes. It's been roughly 11 years since we first went beyond Bikini Bottom, and the rest of our team is on another mission somewhere else. We're trying to change with the times, and... Well... Without the other Lodgers, we're basically like we were when we went to Pride Rock. As in, when it was just me, Patrick, and Squidward. We didn't know about the rules of otherworldly travel. Granted, there's an argument that those rules are abit outdated now, but I digress.
Patrick: Yeah, we were young as a series back then, and we kinda still need to get better at it. Being leaders of people who know about otherworldly travel and the rules to doing it, we didn't really NEED to... Until now.
Huxley: So in other words, you've become too reliant on your otherworldly friends.
Patrick: Pretty much.
Huxley:... Okay, I may not understand much of that considering I don't know what much of the stuff you say is, but I DO need to say, if you want to reevaluate yourselves, the first step is to change how YOU as leaders act. On top of that... How are YOU THREE, the leaders of what I can assume is a group of heroes who fight across worlds against villainous threats?
Squidward: (Dubbed as Kronk) Well you got me. By all accounts, it doesn't make sense.
Huxley: ".... I'm going to assume, it just unceremoniously happened?"
Patrick: Essentially. Well, I mean, to be fair, the hyenas are leaders too since THEY'RE the first members of the Lodge we had. They're more coordinated, ish, it's mostly Shenzi alot of the time and Banzai keeps up alittle, while Ed is..... Ed. But, they're about as misfitted with each other as we are. That counts... Right?
Huxley: "..... Have you bunch ever considering letting the Purple Dragon take over completely?"
Squidward: "Well that's a very Tman thing of you to say."
Huxley: "No seriously, was there ever consideration to-"
Spongebob: "Well sometimes he takes over whenever we and the Hyenas get absented for whatever reason, so-"
Huxley: "Fair enough, fair enough, but seriously, you might want to think about giving him that promotion one of these days! Cause no offence, but just because you're the founders doesn't mean the founding party is always right for leadership!"
Squidward: "Well it'll be a topic for the next Louger meeting, but no absolute promises."
Huxley: "Fair, fair. But besides the point. Let's get this conversation back on track."
SpongeBob: Back to what Patrick said, I guess that means both yes and no, right?
Patrick: I don't know, but... I guess that means... Okay, yeah, not sure if that's true.
SpongeBob: Me neither.
Huxley: Is there a rest stop between now and the blubbing point?
Spongebob: "Look, as you said before Huxley, our leadership position just, happened without much thought. In fact, the Name for the Shell Louge Squad was based on the fact we had this club that follows (Brings up the "Magic" Conch Shell) The Magic Conch Shell, alot of what made the Lougers, the Lougers, just happened."
Huxley: ".... Well, I guess there was something about your optimistic, albeit kinda childish demeanor, that drove far more serious entities to even consider following you. I mean, the vast majority of your allies are accomplished fighters, magic-users, and even the kind of people I otherwise don't think they would've EVER realistically change themselves around! What was your driving force for such kinship?"
Squidward: "Well basically it was abit of a common theme in the old crossover episodes that we got together because the League was causing trouble in their respective worlds."
Huxley: ".... Alchourse.... It's because, you all united against a common adversary. So, it wasn't TOO unceremonious. Because in their darkest hour, you were there to have been able to inspire them to fight back. And yes, I heard you were not always the ones to defeat the actual main threat but rather mostly there to negate the Leagues or others intervention, but, your real power comes from being heroic inspirations. And, I think, I think it's why the Lougers are so beloved even if they're not exactly the ones to beaten the main threat.... You're basically.... Inspirations. You're symbols of hope that are even WHY the threat is halted, even if not always directly."
Spongebob: ".... I mean, we are technically aware of that, but.... We, never looked at it like that before."
Huxley: "Well I'm glad being able to give an outsider's opinion here, cause I'll state it again. Your real power comes from MORE than just being, comical misfits, heroes for hire, or heroes on accidents! And even more than being bodyguards to a princess! Why, there's even a point to your netourious lack of taking things seriously! All that, is all part of your power of inspiration! Not taking threats seriously negates their ability to inspire fear, ergo, allows hope to foster! Sure, you can be VERY easy to underestimate sometimes, but that's also the power of inspiration: Being the heroes the worlds need vs what they would've personally preferred. And thus you defy expectations on a routine basis in your 11-year escapades. And in-cause of it, you're why Miss Gazelle is even a-Uniter. Your why an entirely alternative futuristic realm is not suffering anymore. You had even prevented a cosmic doomsday and quelled the tirade of cosmic entities..... Or, so I was told by Brine and Sears. Point is, if you can do all that, then.... Then I believe Mal's luck might be running out with you' people."
Patrick: Are you done with your speech, because political speeches are BOOOOORING!
Huxley:...
(Deadpool): "Well that ruined a beautiful speech epicly."
Squidward: Ignore him. Everyone, from now on, ALL idiot statements are to be ignored.
Patrick: What? We're already wasting time as it is... Wait, we were waiting for Sandy and the others. Right. Then if that's the case, WHERE THE GUNK ARE THEY?!?
French Narrator: Meanwhile...
An extremely aggressive underwater volcanic area was seen....
Gazelle:... And this is supposed to be it?
Sandy: Yep. And it's mighty aggressive. (The volcano screamed up tiny amounts of lava)... Wow. That's the first SpongeBob-style cartoonism I've seen since we started this episode. MSM been watching us lately? Anyway, let's go inside.
Chel: We're going in THERE?! You're kidding, right?
Sandy: Perfect Tartarus did, and HE made it HIS HIDEOUT!
Chel: Well, if he was looking for a death wish, he would've.
Sandy: Then why didn't he die? If he did, he wouldn't have had stories.
Swimburne: AHEM! We're SUPPOSED to be beating MAL here! So, where should we be right now?
Chel: Inside the volcano?
Swimburne: Bingo! Now, GET YOUR BUTTS INSIDE!!! (She cartoonishly kicked them all the way inside and into a volcanic cave pocket)
Chel:... Damn. With legs like that, I can see why Mr. Krabs liked her.
Swimburne: Oh haha! (They were all spooked by her appearance)
Gazelle: How did you get here so fast?!
Swimburne: Because I'm badass, don't ask questions, just do what we came to do.... Also, the lava? (The lava was slowly rising up and they left)
Gazelle: "Now, we got pasted the hard part. Now it's just the matter of looking for what looks like an older era villain's cartoonishly evil secret lair."
Chel: "Well, that's abit of an obscure reference, cause alot of us CLEARLY aren't much for comics."
Sandy: "Well, I read some about comics based on the wild west, but I guess that doesn't count fer much."
Swimburne: "We would also have to keep in mind that it would look like it had seen better days, so also lookout for something that looks like it's on its last legs."
Chel: And how long is THAT gonna take? This volcano is huge.
Sandy: Let's just practice some patience, and-
Gazelle: Ahem. You guys have me, remember?
Sandy: No offense, Gazzy, but maybe it'd be best if we do this on our own. We all agreed that we can't rely too much on ya.
Gazelle: Well, if you don't want to rely too much on you, then why did you call me in the first place?
Sandy: It's JUST a onetime thing. SpongeBob was the one who called ya. I love the guy, but if his brains were dynamite, he couldn't blow his nose.
Gazelle:... So, all you needed me for was those robots?
Sandy: Now hold up, that isn't to imply anything! Now sure, ya got rid of the Ray bots, but now, we COULD use you to get rid of the Uniter/Lightfly/Mothron-related stuff here to make sure this doesn't happen again.
Gazelle:... Yeah, I guess that makes sense.
Chel: "Oy, what's the point of having a Space Messiah here if we ain't allowed to have the full benefit here?"
Sandy: "You can thank the fiasco caused by Xehanort that allowed us to start making changes around our style."
Swimburne: "Besides, it'd probably be too flashy and alarm Mal again, or worse, that Mothron said to be responsible for that Tartarus guy."
Sandy: Yeah, so, next time, leave this kinda stuff to us, because even if it ain't in front of you, we KNOW what we're doing.
Chel: Sure. (They searched the volcanoes and hopped across bubbling lava pits and came across tube worms that shrieked at some of them)
Swimburne:... Okay, this is taking too long. Where the HELL is this stupid, HIDEOUT?!? (She smacked a wall and ended up opening a secret entrance)... Wow. That was unrealistically convenient.
Sandy: Deal with it. Let's head inside. (They entered an aged hideout)...
Chel: Alright. Let's just get in, find what we need, destroy it, and get out.
Swimburne: Wait, don't, the place could be- (As Chel stepped on the bridge, the bridge's weak integrity gave out and destroyed the entire bridge)... Too weak to stand on.
Chel: NEPTUNE DAMMIT, THIS WAS SUPPOSED TO BE EASY!
Swimburne: Hey, Chel, Neptune called. He said 'if I had to make it that way, I have to make it that way for everyone. It's called life.'
Chel: DON'T YOU START WITH ME, SWIMBURNE!!
Sandy: (She stepped on both their feet)... Are you two done acting like children? There's other ways. You know, like THIS?! (She lassoed themselves to the other side climbing there)...
Swimburne:... Showoff.
Sandy: Says Ms. Flawless Former Pirate Queen.
Swimburne: THAT WAS DIFFERENT!
Sandy: The fact that I played as you would disagree. Now, let's see what we got here. (She pushed a button and found that there was another tunnel and everything was revealed to be a hologram)
(Perfect Tartarus): HaHA!!! Ohhhohoh, Mermaidman and Barnacleboy, I can't believe you fell for the FAKE hideout trick, AGAIN! HAHAHAAAAAA!!
Sandy/Chel: AGAIN?!
(Perfect Tartarus): Surely you don't think I'd let such great power be stolen that easily. I'm old, not dumb. You'll have to go through the SAME booby traps you went through last time. (They saw the tunnel was filled with cartoonishly-crazy booby traps)
Swimburne: HAH! He said 'booby', AND 'traps'.
Chel: Really?
Swimburne: Hey, have a laugh in bad situations, why don'tcha?
(Perfect Tartarus): Good luck getting past all this. Chao. Okay, let's hope that those two spandex-wearing clowns don't find out about my personal tunnels that go around the booby-trapped caves. No way I'M going through ANY of those caves... Oh dear Neptune, is that thing still on?
Sandy:... Eh, I guess that laugh would've been spent on THAT better!
(Perfect Tartarus): Good thing those caves only open to MY DNA.
Sandy:... Horny toads!
(Perfect Tartarus): Unless those two break through it with their fists.
Sandy: HAH!
(Perfect Tartarus): Although, I DID make them with high-tensile titanium alloy steel. Their fists and arms would snap like twigs.
Sandy: SON OF A FISH!!!
(Perfect Tartarus): Though they wouldn't exactly NEED their fists to bust it open.
Sandy: OH GOOD!
(Perfect Tartarus): BUT they'd have to find it in this dark hot volcanic cave first.
Sandy: AW C'MON!!! PLEASE TELL ME THERE'S A FLAW TO THAT-
(Perfect Tartarus): Okay, why am I still recording? (He cut off the recording)
Sandy:... I feel, like screaming loud in the lava right now.
Gazelle: "I take it Mermaid Man and Barnicle Boy didn't cleaned out all of the potaintional trap zones before Perfect Tartarus ended himself, correct?"
Chel: "Again, never got into comics much, so I ain't the right guy to ask."
Gazelle: "I'll assume no. So, Miss Cheeks, you're the one who doesn't want to rely too much on me, so, go any ideas?"
Sandy: I might. And by that, I mean we just gotta look about this place and find the secret entrance.
Chel: Well maybe Swimburne will just come across the switch again.
Swimburne: Shut it. (They started looking and ended up coming across a hidden entrance)... Okay, good advice.
Chel: An old guy knows everything.
Sandy: Yeah, let's just go. (They went through the secret hall and arrived on the other side, only to find another booby-trapped cave and another hologram fooling the group briefly)
(Perfect Tartarus): Okay, in the case you just so HAPPENED to come across the hidden button by sheer dumb convenience, THIS time it's NOT the case.
(Perfect Tartarus)/Sandy: Yeah right, you're just saying that to catch us off guard. (Sandy was surprised)
(Perfect Tartarus): Yeah, I knew you were gonna say that, and that's why I went through with it this time. Looks like you lost, Mermaidman. (He ended the recording)
Sandy:... (Dubbed as 'Spyro Does A Thing' Spyro) DAAAAWW DAMMIT!!!
Swimburne: "Hey, fair's fair, I wouldn't expect a fella with a name like "Perfect Tartarus" to be a stinken cakewalk of an enemy."
Sandy: "I get this was a guy even Uniters had a hard time to get at, but given that he's dead anyway, these misdirections are ANNOYING at best, time-wasters at worse!"
Chel: "So annoying time-wasters then?"
Sandy: (Deep breath) Alright, let's get this over with. SpongeBob, yall better have more patience than a vulture round a wounded deer.... Wow. MSM actually tried to make me use Texan metaphors. Guess this reevaluation thing'll go well after all.
Meanwhile...
Flynt: (He and Sharko were driving around)... WHERE ARE WE EVEN GOING?!?
Sharko: Maybe we should've brought a map... Or comics... Or something.
Puffhart: Yeah, you REALLY should've thought this through. Now we're Neptune knows where in the Pacific Ocean.
Flynt: SHADDAP! I'll have you know that I was born with an innate sense of a-direction! So, we should be in better luck, on the ri- (They drove right off a cliff and into some crazy shenanigans that destroyed the semi-truck as this music played) -IIIIIIIIIIIIIIIIIIIIIIGHT!!
The Trunk was seen bouncing crazily across the land-seascape!
Sea Turtle Camp Scout Master: "(Before various cute scouts) Alright scouts, we're almost here to Camp Dreamscomeatrue, (A Beautiful Child-Friendly Campsite was seen) Right just about-"
The Truck bounced and utterly destroyed the camp senselessly as it bounced right off as Flynt and crew were heard screaming!.....
Scout 1: ".... Well, frick. There goes my parents' money in this stupid thing."
A Bachelor Whale was seen laying on his private pool on his vacation home.
Whale: "Ahhhhhhhhhhh, this is the life."
The Truck crashes through the vacation home and crashes right into the Bachelor whale as it continued to bounce forward!
Whale: "...... Ow."
Tour Guide: "And where we are at our final destination, (A Giant Sea Geyser) Ol' Conveniently Placed Plot Convinencer... Please don't ask why the geyser's named like that, I wasn't the guy who first discovered it in the 1900s. This geyser has the power to, theoretically, fire a track straight into like, a volcano area at a possible distance where we are now."
The Truck fell right into the hole!
Tour Guide: "(Was oblivious to that as the tourists saw that) And in any moment, it would fire its load in three, two, one- (The Geyser blows as it fires the truck right into the sky as screams were heard!) (Tourists took pictures)."
The Volcanic Area.
The Truck crashed right into an old Blue Whale Skull.
Sharko: "..... ROCKING TRIP, BOSS?!"
Flynt:... Uh, yes, I, totally planned that! Exqueeze me for a moment... (He stepped out and went far away)... PRAAAAAAAAISE NEPTUUUUUUNE!!! (Echo: TUNE, TUNE, TUNE, TUNE!!!)
Manfred:... He totally didn't plan that, did he?
Eekman: He totally did NOT! The only thing he SHOULD be praising Neptune for is that WE AREN'T DEAD!!!
Sharko: "Hey SHUT IT, wise guys!"
Eekman: I'm just saying.
Flynt: Well, everyone, we finally made it to the hideout of Perfect Tartarus.
Klaus: How do you know it's THIS volcano specifically?
Flynt: I recognize it from the comics, duh.
Octavius: You're absolutely sure you're not going to think this through? This seems a little bit much, even for you.
Sharko: YOU DO NOT GET TO ASK HIM QUESTIONS, YOU PIECE OF FUTURE CALAMARI!!!
Octavius: Okay, ouch!
Flynt: Now, to find the entrance. (He flew across the area)
Spotnitz:... You know, that's the first time I've actually seen him use those flying fish fins of his.
Puffhart: "I know, right? Ya think he'd be doing that more often."
Sharko: "FOCUS, DUMBASSES?!"
Flynt: Besides, there wasn't a good time to use these until now. (He soon found the entrance)... Boo-yah! (They entered and then ended up going through booby traps off-camera with comical screams) Oh, quit belly-aching, they're just flesh-wounds!
Meanwhile...
Mal: Alright. We should be getting close.
Angelia: "We do need to keep in mind that Perfect Tartarus is bound to have left behind alot of diversion entrances meant to distract hero adversaries, sir."
Mal: "But alchourse. Even for being a glorified criminal, he was a genius. It's just the matter of being able to think like him. And I would imagine that the decoy entrances are meant to distract away from the likely location of the real base. So, he might be smart enough to not use something as extreme or obvious as the volcanos themselves, but rather, by estimate, have his real lair be MANY miles underground of the volcanic area!"
Angelia: "Good, then we're spared from having to humiliate ourselves."
Dr. Mal: "However, at the same time, he might also be smart enough to further complicate things by making it that one of the fake entrances could hold a secret WITHIN a secret, in figuring that the humiliations would be bad enough that most would give up by the 5th or 7th time."
Angelia: ".... He was a mad genius. Though, this complicates our own search as well."
Dr. Mal: "Well, it would.... If it not for the likely theory that certain heroes might try to circumvent us. They'll unknowingly do all the hard work for us, and when the right cave is finally found, we will strike!"
Angelia:... HAHA! Good strategy.
Dr. Mal: COURSE it's a good strategy! I didn't become this famous by making basic ones. Come on. Who knows? We could get a little bit of entertainment out of this. Said heroes and/or scapegoatfishes could be running rampant trying to get to the ACTUAL base.
Meanwhile...
Sandy: (Her and Flynt's crew were seen going through crazy booby traps in a comical manner) DAAAAAAAAAAAH?!
Gazelle: "Okay, this is going nowhere, fast."
Sandy: Hey. You know what they say, Gazz. No pain, no gain.
Chel: IT DEPENDS ON WHAT KINDA PAIN IT'S GOTTA BE!! I CAN'T FEEL MY ANYWHERE!!! (He fell to pieces)
Sandy: Oh, you're a crab. Crabs CAN regrow their limbs.
Chel: ONLY DURING MOLTING SEASON! (His shell cracked and exposed his fleshy parts)... Which is right now, apparently.
Swimburne: PFFT! Guess age is a bitch to only you, huh? Arthropods aging must really suck.
Sandy: (Sighs) Well.... 11th time's the charm!
Gazelle: "Shows how determined we are given that even Mermaidman and Barnicle Boy would've given up 5 or 7 attempts ago."
Sandy: "Well, you and I are more than old-world super-heroes, Gazelle. I'm a Louger, and your the Uniter. Besides, I think I'm starting to get the idea that he has so many fake entrances for a reason! One of them could have a secret within a secret to show where the real hideout is! Thing is, PT intentionally made these things so hazardous that it's hard to keep track of your surroundings, which makes him mighty brilliant, yet also glad he long-off himself before the Lougers came to be!"
Gazelle: "No kidding. This guy managed to be dangerious to even Uniters, and I'm still at a stage where I'm still only figuring out what the ins and out of the Blade are, if albeit I did had a great beginners luck streak that I feel, has started to wain nowadays."
Chel: Then... If these tunnels are supposed to be a diversion from the REAL hideout... WHERE IS THE REAL HIDEOUT?!?
Sandy: Dunno. Maybe it's deeper underground or something?
Gazelle: Seems so.
Swimburne: Well, how are we supposed to find it when every direction we turned to is a DEATH TRAP?!?
Sandy: "Well there has to be even the slightest thing different from the other caves."
Gazelle: Good start. Anyone notice a difference?
Chel: Well, we couldn't notice any since we were, you know, TRYING TO STAY ALIVE!!... Or at least with all our body parts attached.
Swimburne: Well, that's no problem for you crabs, but for us mammals? Yeah, we can't grow back any limbs or survive being f*****g impaled!
Sandy: What wouldn't impalement kill? C'mon, ain't there ANYTHING you picked up?
Swimburne: Well, as one who's used to danger, I WAS able to detect a pattern. (She drew a diagram in the dirt) See, there's actually supposed to be 4 traps. But the 4th one, actually leads us right back to the first. We've just been so, crazed by our mortality being preserved, we didn't notice the pattern.
Chel: WHAT?! You mean to tell me, WE HAVE LITERALLY BEEN GOING IN CIRCLES?!
Swimburne: Yep.
Chel: THEN... THEN THIS ISN'T THE HIDEOUT?!?
Swimburne: Well, I'd think of it more as a... Sorta, defense outpost. Sandy may be right. Maybe the REAL hideout is deep underground. We just, ended up in one of it's defense systems.
Sandy: But then, how do we get INTO the real hideout?
Swimburne: Oh, THAT'S where a pirate's good eye is needed. It's simple puzzle-solving. When you're trapped in a loop like this, it's clear you gotta think OUTSIDE the circle.... Or the sphere? Whatever. Point is, we don't need to follow the tunnels. Instead, we need to look, somewhere ELSE.
Chel: Then where?!
Swimburne: Well, we're in a cicle, right. So, where do you go to get out of a circled trap to find the key?
Sandy:... The center.
Swimburne: And where ARE we to go in the circle to go to the center?
Sandy:... Our left. YEEEHAH, way to go, Swimburner.... Except, how do we-
Swimburne: I got this. (She took out her pistol and shot several spots on the left side of the volcanic cave and revealed a hidden entrance)... Voila!
Gazelle: Dios mio. Great work.
Swimburne: (Blows the smoke-off the gun) All in a day's work.
Gazelle: Andale! (They went for the hidden entranceway)
Chel: "Finally we're going somewhere!"
Sandy: Well this could also have booby traps, so, we best be careful- (They were suddenly raided with massive booby traps) AW SON OF A- (They ran as fast as possible from the booby traps)
PT's Hologram: "(Appears) Dare I say, I'm almost impressed, Mermaid Man, you finally figured me out with abit of minorly unforeseen persistence. But that doesn't mean it'll pay off! I always prepare for everything, and- (Sandy destroyed the source of the Hologram with one of the traps)!"
Sandy: "GOOD GRIEF, THAT WAS GETTING ANNOYING?! (They finally arrived at their location)... A generator?"
(Perfect Tartarus): Oh, yeah, I guess it's time you finally realized what this is. See, these circles, they're outposts. Outposts that guard each of the 10 generators that hide the true location of my lair.
Everyone: YOU'VE GOTTA BE KIDDING ME!!!
(Perfect Tartarus): Nope. I'm totally serious. Yeah, I knew you'd say that. Who WOULDN'T be frustrated after trying to find my lair and going through all the booby traps? I would. At this point, it's PRETTY amusing. So, yeah, you'll have to take down all 10 generators to find my lair, starting with this one. But just be warned, they all aren't the same as this one. They're like trials or puzzles. Each one can't be the same nor too easy. That's just too generic these days. Anyway, good luck. (He ended his message as the generator had a shield around it)
Gazelle:... Dios mio. Even I'M starting to get annoyed by this. Alright, I got this-
Sandy: Uhuh! INDEPENDENTLY from you, remember? PLUS, your spells COULD lure Mal to us quicker since he MIGHT be in the area. You do that, he'll be following us and ambush us when we reach our final destination.
Gazelle: How do you know he's not following us already?
Sandy: Look, I'm sure I'd know if I was being followed, even by some guy who masters what he does.
Cutaway
Angelia: (They were sitting patiently having lunch)... What exactly are we sitting around here for? Aren't we supposed to be following the heroes?
Mal: Yes. But we must wait until their guards are let down and when it's the best time to do it, like say, they unlock the TRUE location of PT's lair. All we have to do is wait.
Angelia: Alright... (They were silent for 12 seconds)... HOW LONG IS THIS GOING TO TAKE?!? (Flynt heard this but they hid quickly in the bushes)
Flynt: Eh, that was probably nothing.
Mal: Angelia, we're supposed to be QUIET!
Angelia: Sorry sir! It's just... This could get so damn boring!
Mal: "Well nobody said stalking was a quick and easy process!"
Angelia: Yeah, let's just find ways to entertain ourselves. (Everyone groaned) Oh, shut up, you have food!
Mal: Let's just keep waiting until something big happens. Soon, the power to match the group's precious otherworldly princess will be ours and we can get back on track of our plan to annihilate the idiots of Bikini Bottom without ANY interference. Everything is all but assured. (Chuckles like abit of a madman)
Whale Shark:... What's so funny about that- (Angelia shoved a hoagie sandwich in his mouth)
Chapter 5: The Raid On Perfect Tartarus' Hideout
(Deadpool): Hey, what happened to all those otter puns you guys OH SO CLEVERLY thought up? Not that I'm complaining.
(MSM): I just felt it was a little too immature, so I changed them.
(Deadpool): Heh. Honestly, you can also say that the episode's barely even about Otter boy anymore anyways. Well, Scroopy, you must be glad someone's got a better brain than yours.
(MSM): Hey, no need for that kind of disrespect!
(Deadpool): Well, it's true.
(MSM): Deadpool!
(Deadpool): Heh, guess you're defending him from your OWN insult through MY lips, huh? And I thought you were a kissass before.
(MSM): OKAY, THAT TEARS IT! (He grabbed Deadpool Roller Coaster Tycoon pincer style and dropped him into the lava as he did Woody's scream when he was given the sun laser from Sid as he melted away)... What? He's survived worse.
(Deadpool): "(Gross and melty) And luck you, that's always been the case. Still, excessive though, even more my standards."
(MSM): Don't hear you, don't care. Back to the story.
Flynt: (They arrived at another one of the outposts)... This looks like it.
Sharko: Hopefully.
Drowne: Unless of course it's a little set-up. Perfect Tartarus WAS renowned for his smarts.
Flynt: Pssh. He WAS renowned for it. If he was that smart, he wouldn't have died then. I mean, c'mon, suicide? That's the coward's way out. And over Lovecraftian junk? What a yuts to let himself go to waste because of overtly depressing space-monster melodrama! Heh, bet you guys would've gotten along great with him.
Manfred: Oh, hahaHA!
Lea: Well, the guy was YOUNG when he built his hideout, so CLEARLY, he spared no expense!
Flynt: We'll see about that. He may've been smart, but I'M smart too! Soon, we'll be in his home and get access to alien tech in no time!
French Narrator: Literally 10 Minutes Later...
Flynt: (He and the others were running around the circle of the outpost from all the booby traps and then stopped)... Okay... Time to let out all the screams... (He ended up screaming inside a toilet that he was hit with earlier) AAAAAUUUUUUUUUUUUUUUUAAAAAAAAAAAAAAAAAAAAAAHHAAHAHAHAAAAAAOOWW!!!!!
Baracudi: I REALLY wish we were spared this so we could laugh at him. So, you realize that this isn't worth it?
Flynt: PHAH! Not in your ugly life! Mermaidman and Barnacleboy never stopped in this place, and neither will I!
Starfield: Oh for Neptune's sake, Flynt! NOT EVEN ALL THAT PAIN WAS ENOUGH TO HELP YOU TAKE THE HINT?!
Flynt: We've ALREADY gotten this far!
Lanci: Yeah, outta dumbass convenience.
Klaus: Those traps were merciless! (His limbs fell off)
Spotnitz: And I thought Scarfish was merciless with how he ran HIS OWN ship! THIS made him look like a noob!
Flynt: That just means whatever we're looking for is REALLY valuable. (Everyone groaned angrily) Sharko? (Sharko lashed their tied ropes on their faces whipping them) Trust me, everyone, it's worth EVERY SINGLE MOMENT! It was going to get boring the original way anyhow. Now, surely there's gotta be a pattern with this stinking misdirection malarkey.... Waaaaiiiit... Haven't I seen THIS place before?... Oh, Neptune... HAVE WE BEEN TRAVELING IN CIRCLES?!? (Bobb scoffed at that)
Drowne: HOW IS THAT FUNNY?! WE FELT THE SAME PAIN HE DID!!
Bobb: LET ME COPE WITH THE PAIN BY LAUGHING AT OUR FORMER BOSS'S EXPENSE!!
Flynt: Hey, how would you like to be dunked in the lava? Now then, let's see... AHA! Maybe the secret is inside the center of this circle. (He flew off to the hidden entrance and took out sticks of TNT, exploding open the entrance) VOILA!
Spotnitz:... Not sure how to feel. One, I'm disappointed he's getting close to stealing things he shouldn't. But on the other, I'm relieved that we're finally going to FIND the hideout-
Later...
Spotnitz: -THAT'S REVEALED FROM 9 MORE OF THESE DEATH TRAPS?!?
Flynt: Hehe. Clever bastard. But it's fair to consider that this is the guy that has his bases covered. He was described to be the perfect supervillain after all.
Parr: "Then I guess it's nothing short of a miracle Lovecraftian stuff scared him into destroying himself, that guy would've already ruled the world by now given how good he was at being evil."
Flynt: Well, we're not gonna repeat PT's mistake. I promise you this... (As he disabled the generator)... That alien tech, WILL be ours!
Baracudi: And I'm going to warn you for the last time, Flynt, if you do this, there's NO guarantee you'll get to do what you love, EVER again!
Flynt: And for the last time, I'll pretend you NEVER said that. (As they exited the outpost, they ended up bumping into Sandy and her group)
Sandy: WHAT IN TARNATION?!?
Flynt:... YOU?!?
Sandy:... Me?
Gazelle:... Quien eres tu?
Flynt:... Ohhhh, right, we didn't have a proper introduction before and weren't able too cause of the Mal thing.... Also, the F*** did you say, spontaneous underwater African deer?!
Baracudi: She's asking who we are. And I believe this may be the 'uniter' people kept talking about.
Flynt: Oh... Uh... We are... Uh... Travelers?
Sandy: You think I can't tell when you're lying, varmint? Nobody just WANDERS in this area as travelers, UNLESS it's exactly for finding Perfect Tartarus' hideout.
Gazelle: And you JUST said you knew me.
Swimburne: Are you working for Mal?!
Flynt:... Who's Mal?
Sandy:... Okay, you DEFINITELY know who Mal is, so you're here for SOMETHING involving the hideout!
Flynt: WHAT HIDEOUT?!
Puffhart: Flynt, cut the crap, they're not buying it!
Flynt:... FINE! SHARKO?! (He beat them around)... WTF, what kind of helmet is that squirrel wearing, it shouldn't be malleable like the rest of the damn body!
Sandy: HEY, YOU GALOOT, THAT REALLY HURT!!
Sharko: UH, DUH, THAT WAS THE POINT, RAT!! (He stepped on her crotch)
Sandy: AAAUUUUUA!!!
Chel: Wh... WHO DO YOU THINK YOU ARE, YOU CRAZY C**T?!
Flynt:... Well, in a nutshell, that's what I am. I, Flynt Craig Crime the Crimegiver... AM a c**t!
Puffhart: "Are we seriously gonna do that old song agai-"
Flynt: YES WE ARE?! NOW, LIKE WE REHERSED?! (He and the others sang this)
Gazelle: "..... Well..... That was..... A thing."
(Deadpool): "Yeah, he was pretty much the INTENDED secondary antagonist before Mal showed up and complicated things. You guys need to work on having more concrete plots."
Flynt: "Yeah, I admit, our bad for not being able to get a proper introduction, but I guess you can say Mal crashing the party, complicated matters. He's certainly more aggressive then Otter boy was, that's for sure. And not as easy to get away with crimes and screwing around with."
Sandy: ".... Is that to imply something?!"
Flynt: "Ah ah ah, a crime officiando never kisses and tells."
Sandy: ".... Did you had something to do with Huxley being exposed as the way he was?!"
Flynt: "(Coyfully) Ohhhhhhh, maybe I did, maybe I didn't. Who are you to assume that?"
Sandy: ".... I'm getting the feeling that you are?! So that makes Mal showing up YOUR fault!"
Flynt: "(Teasingly confident) Awwww shucks, ya figured me out! (Seriously) But in my defense, that Mal thing came out of nowhere for me too."
Chel: "WELL YOU KINDA PUT HUXLEY IN THE POSITION HE HAD TO ACCEPT THAT PSYCOPATH'S HELP?!"
Flynt: "Pfft, well, I'm not the one who brought a Space Messiah into this, now am I?"
Gazelle: "To be fair, had it not been for Mal, they wouldn't even NEEDED to bring me here! They only did because Mal got too intense for this to be a solitary affair!"
Puffhart: "She's not wrong, Flynt. Those ray bots almost got us too."
Parr: "I'M LUCKY TO STILL BE ALIVE TO END UP KNOWING WHAT A FISHSTICK GOES THROUGH?!"
Flynt: "Well guess what? When I get my hands on that alien tech, even Mal will know better to mess with the Crimegiver! Even the strangely two Neptunes we have in this world will QUIVER before me! Cause I'll use that tech to give me the power that PT had but squandered in fearing made up space monsters!"
Chel:... (He laughed dryly for 10 seconds)... Oh, dear Neptunes, you're serious!
Swimburne: WHAT ARE YOU, CRAZY?!?
Sandy: YOU WANT TO STEAL ALIEN TECHNOLOGY FROM WHO KNOWS WHERE, JUST TO TAKE OVER BIKINI BOTTOM?!?
Manfred: Trust us, we TRIED to talk him out of it!
Lanci: We liked it best when we were manipulating all the chaos in Bikini Bottom, just for a good laugh.
Sandy: Wait, what?... You... YOU'RE the ones who made Bikini Bottom idiots?
Flynt: BZZZZZZT, WRONG! These fishbrains were dumb WAAAY before I even showed up. Though I admit to had contributed to keeping that from changing, anytime soon. But at most, I, just decided to have a LOT of fun with it. The people of Bikini Bottom provide the best thing crime can give: entertainment.
Sandy:... Soooo, in essence, you're the Joker.
Flynt: Pretty much. That's why I LOVE crime. I LOVE watching people suffer in all the silliest of ways. After all, that IS the basic rule of comedy: it's based on misery. All the people tearing each other apart for the most retarded of reasons. I have to say, 2015, was the BEST laugh I'd EVER had! I almost died of laughter, too. It was SO priceless!
Sandy:... There is something SERIOUSLY wrong with you!
Flynt: I know, and I LOVE it. Now, if you'll excuse us, we have to-... Wait... You came here for the same reason we did, didn't you?
Sandy: Yep.
Flynt:...
Sandy:...
Sharko:...
Swimburne:...
(Deadpool): "Awwwwwwwwwkwoooooooooooooooord."
Flynt: AAH!! (He shot Deadpool dead)
Lea:... What was that?
Flynt: Sorry, I get a little jumpy sometimes.
Eekman: Haha, can't imagine why.
Flynt: Haha my asshole! But yeah, what was that? Whatever, it wasn't important. Let's-
Sharko: The misfits are gone. (They were running for the next outpost)
Flynt:... THOSE LITTLE- (They went after them as Flynt flew towards them) BANZAAAAIIIIII!!
Deadpool: Ehk... That's... MY LINE... I know I have regen and I'll be fine again later, but I kinda wanted to say this famous line from Red Vs. Blue.... Hrrrgh, BLEEEH!!
Flynt: (He dived down towards Sandy, but she grabbed him by one of his wing fins, spun him around, and tossed him into Sharko and the others with a bowling sound)
Chel: STEEEEEEEEEEeeeeeeRIKE!!
Flynt: GRRRH!! I'LL SHOW YOU A STRIKE!! (They kept chasing them)
Gazelle: "Ya know, it's kinda pride insulting that a-Uniter is made to run from the kind of guys I can litterally just smack away like they're nothing."
Sandy: "Trust me, even if it's just about the end of the episode, MSM would likely find elaborate ways to still make it that you can't just smack them out of the plot! Also, that would count as helping us and-"
Gazelle: "Si si, I got the memo!"
Sandy: Just to clarify, it's nothing personal. It's just reevaluation reasons.
Gazelle: I just SAID I got the memo!
Flynt: RAAAAAAAAAAAAAAAAAAAAAAAAAAA- (Sandy moved and stuck her fist out as Flynt dove straight toward it and took the punch) D'OHCH!!!
Sandy: Had enough?
???: AHEM! (Sharko appeared)
Sandy:... Oh.
Sharko: Did you forget about ME?!
Sandy: I REALLY wish I could've- (He punched them all into a rock)
Sharko:... Seriously, why is your helmet so... Cartoonishly mushy? It should be too solid to act like that!
Sandy: Well, let's leave the meta reason out and say that I've been working on a way to make it less solid and made it out of a kind of durable and flexible plastic. It's 2020, glass helmets are SO caveman work now.
Sharko:... Okay, that makes sense.
Flynt: SHARKO!
Sharko: Right right right! (He charged with teeth shown and they rolled out of the way as Sharko bit into the rock, shaking it as teeth fell out and grew back, and he spit out the rock) GRRGH!!
Swimburne: (Picking up a tooth) Heh! Souvenir.
Sharko: "Oh you wise guys and gals are gonna get it now!" (He kept attacking multiple times)
Sandy: What'sa matter, big boy? Too big to keep up?
Sharko: Oh, I don't know... (He smacked a giant rock and crumbled it apart)... You tell me! (Starts throwing rocks at the group as they dodged)!
Chel: "Oh, we deloved to using rocks now, eh shark boy? Some Apex predator!"
Sharko: WE LIVE IN A WORLD WHERE GRAVITY EXISTS UNDERWATER, WHAT DID YOU EXPECT?!? (He charged at them again and kept attacking as they just kept dodging, until he got the upper hand by getting out a gun which clicked)... Tartar sauce! (Much of the heroes laughed until he took out another gun, this one loaded)
Sandy: AOOOH NO YOU DON'T! (She lassoed him, but end up being pulled around painfully before he grabbed Sandy from the rope)
Sharko: LOOK, DADDY! I CAUGHT ROADKILL AGAIN! HAHAHAA! (He smacked her around everywhere as the helmet wouldn't break) AH! BREAK, YOU, NEPTUNE, DAMN, HELMET! UGH! UNGH! AHGH!! BREAK, DAMMIT, BREAK!!
Sandy: Trust me, mac, I've lost count how many times my opponents did this before, so I'm too smart to let it happen again. You ain't breaking it no way no how.
Sharko: "Okay fine, I'll just take it off- (Sandy decked Sharko right in the nose) DAAAAAAAAAAAAAAAAAAAAAAAAOWWWWWWWWWWWWWWWWWWWWWWWWWWWWWWWWWWWWWWWWW?! MY NOSE?! (LET'S SANDY GO?!) MY NOOOOOOSE?!"
Sandy reclaimed her rope and tied up Sharko into such a knot even his strength couldn't get him out!
Flynt: "AW SERIOUSLY, SHARKO?! THE STUPID NOSE THING?! I THOUGHT THAT WAS SUPPOSE TO BE A CONFUSED HUMAN MYTH?!"
Sandy: "To be fair, that was more like I hit him hard enough that I MADE that old wives tale work!"
Flynt: "..... Wow, you're more unpredictable then I thought."
Sandy:... Now you're next!
Flynt: IN THAT CASE, BUH-BYE! (He flew off)
Puffhart: HEY, GET BACK HERE, YOU DON'T HAVE US ANYMORE, REMEMBER?!?
Flynt: I DON'T NEED YOU ANYMORE! ONCE I HAVE THAT ALIEN TECH, I'LL BE UNSTOPPABLE! SO SAY GOODBYE TO EVERYTHING, TRAITORS! (He flew off towards the next outpost)
Sandy:... Well, good thing I carry an EXTRA LASSO! (She tried to lasso him, but he made zig-zagging movements to throw her aim off-course to where she couldn't reach him anymore) UGH! DAG NABBIT!!!
Flynt: SEE YOU WHEN I GET THE ALIEN TECH!
Gazelle: I'll stop him! (She aimed her Uniter Blade)
Sandy: AHEM! No overreliance on YOU, remember?!
Gazelle: Wha- No puedes hablar en serio!
Sandy: How unserious do I LOOK?! Besides, HE'S not the' big problem here. THAT'S Mal! Compared to him, this Flynt guy is just a bug. Let him TRY to get what he wants. In the end, that varmint's gonna be in over his head.
Gazelle: "(Sighs), Okay, fair enough, but just a fair warning, it CAN change in an instant once he would get ahold of Mothron tech."
Sandy: "Fair enough, if Flynt gets more serious, we'll wallop him together, deal?"
Gazelle: "Deal."
Sandy: And besides, we PREVIOUSLY agreed that we'd need you when it COMES to Mothron stuff, so, yeah, we would've-
Gazelle: Yeah, yeah, I get it.
Parr: "Hey, I know we're likely not cool with you guys, nor are we nessersarly out to reform from otherwise still being local crooks, but, is it cool if we get in on the act of going after Flynt?"
Sandy: "Well I suppose it's better then you bunch being an obstacle in this too, at the least."
Sandy and troupe charged off as Sharko angrly muffles, still trapped in the rope.
Elsewhere.
Flynt was seen flying across the caves, chuckling smugly!
Flynt: "Soon, everything will be going, MY WAY! (Reaches the end of the tunnel and found the hideout of Perfect Tartarus, even more of an old ruin then expected, but notices something extremely different as he quickly hid out! He noticed a statue of Perfect Tartarus built like an altar, as legions of robed sea creatures were seen.).... (Quietly) Making a wild guess here, but I suspect PT is now the subject of a random cult."
A Male Hagfish was seen before the cultists.
Male Hagfish: "(Hisses in breathing in).... My brothersssssss. In the olden days, we were but henchmen in the days of our master's living days. But, fear of Outer-God retaliation for not being balanced out, ever, drove him to self-destruction! And we, for many generations, have been left to preserve his legacy and the lair, as a sacred shrine, and our only home, given that our life of sin will catch up to us back on the surface. We now live in a secluded society of darkness, and our lord's tech, became our own. We have embraced his Mothron master's and father's gift. And we pay tribute, with an annual sacrifice. (The Cultists brought in lost cave explorers and held them in place).... The Sacrifice, of the Mothron Tradition, of banishing the unworthy, (Pulls a level that pours in a vat of Darkness Ooze) TO KINGDOM HEARTS?!"
Cultists: "To Kingdom Hearts."
Male Hagfish: "So said I: Your lord and high priest: HORAS?!"
Cultists: "To Kingdom Hearts."
High Priest Horas: "And now..... The Ladies first."
The Cultist began to pull the female fishes first as they get dragged kicking and screaming!
High Priest Horas: "May you lovely ladies find paradise, with Mother Darkness."
Fish Girl 1: "YOU PEOPLE ARE OUT OF YOUR MINDS?!"
Fish Girl 2: "I am like, so writing a nasty tweet about you guys on Twitter."
High Priest Horas: "Our secret society will not allow it. Besides, you will return to darkness and to a blackened inky paradise, resting on the womb of Mother Darkness, as is given by Perfect Tartarus' Mothron Mentor and father. PRAISE DARKNESS?!"
The Cultists began to chant phrase darkness!
Flynt: "..... (Quietly) D'awwwww crap, JUST my luck PT just HAD to have leave his henchmen behind, and they turned into crazy cultists!!"
High Priest Horas: "Now, may the ritual, be-"
A Cultist charges through!
Cultist: "WAAAAAIT!! MASTER HORAS, I NEED TO SPEAK WITH YOU!!"
High Preist Horas: "D'OOOOOOH, WHAT IS IT, SANDERSON?! I'M IN THE MOOD HERE, AND YOU'RE KILLING IT!"
Sanderson: "I'm sorry, it's just.... It happened..... Perfect Tartarus' defenses were breached!"
High Priest Horas: "..... By the two Neptunes.... Has Mermaidman finally figured it out?"
Sanderson: "Uhhhhh, no, it's actually like, a sea-diving squirrel with some oldsters, an underwater belly-dancer gazelle, and a bunch of criminals."
High Priest Horas: ".... Oh. But hey, that means more sacrifices."
Sanderson: "That's, the thing.... (Gulp)..... The Underwater gazelle..... She, has the Uniter Blade."
The Cultists mutter in surprise!
High Priest Horas: "(Makes a surprised face!) WHHHHHHHHHAAAAAAAAAAAAAAAAAAAAAAAAAAAAAAAAAAAAAT?! THE UNITER?! HERE?! WELL WHY DIDN'T YOU JUST SAID THAT, SANDERSON?! THAT IS A THREAT?! Cultists?! We much get to the great communicator and alarm the Mentor?! He will protect us and this holy shrine?!"
Cultist 1: "But what about the sacrifice?"
High Priest Horas: "ON HOLD DUE TO PRIORITIES?! Now, put the rock explorers in cages for until we're done!"
The Cultists dragged the cave explorers off!
High Priest Horas: "And then, I want our defenses to be prepared and for all cult members to ready weapons?! I, shall speak, with Perfect Tartarus' mentor, myself! (Slithers off)...."
Flynt: ".... (Quietly) Oy, I wish I still had Sharko, he'd have made mincemeat outta these Hasbeens."
Sandy: (The heroes appeared behind him) Hey.
Flynt: DAAH!!! (His screams alerted the cultists)... AW DAMMIT, YOU GAVE ME AWAY!!!
Sandy: More like YOU gave US away with your girly scream.
Flynt: SHUT UP!
Cultist #2: INTRUDERS!!!
Cultist #1: IT'S THE UNITER PRINCESS!!
Gazelle: FINALLY! I get to do something about the Mothrons' influence here!
Sandy: Knock yourself out, tiger.
Gazelle: Haha. (She armed up her Uniter Blade)... Who is this 'MASTER' you and your lord speak of?
Cultist 3: "Tch, as if we would expose Thanatos of Infidnate Dark Perfection to you, Uniter."
Cultist 4: "Duh, SIMMONS, YOU IDIOT, YOU JUST DID?!"
Simmons the Cult member: "..... Uhhh, please pretend you didn't hear that?"
Flynt: "Yeah, it's clowns like you that are why Dr. Mal has a raging murder boner for dumbasses."
Cultist #4:... Simmons, you know the penalty for things like this!
Simmons: Simone, please, I have been nothing if not loyal to Horas for years.
Simone: Rules are rules! Perfect Tartarus never allowed incompetence in this cult, and neither would Horas. How else are you the perfect supervillain?
Simmons: PLEASE!
Simone: No! (He took out a powerful ancient relic that glowed in darkness)... You must be sacrificed to Kingdom Hearts!
Simmons: SIMONE, I'M YOUR BROTHER!!!
Simone: Doesn't matter.
Simmons: AFTER ALL WE'VE DONE TOGETHER?!?
Simone: SILENCE! (Simmons was being separated into a Heartless and Nobody until Gazelle blasted the relic and destroyed it)...
Gazelle:... I'm beginning to sense some serious cruelty here. If you're his brother, why would you do this to him?
Simone:... Protocol states that all who make the tiniest mistake must be sacrificed to Kingdom Hearts. NOBODY is above that.
Gazelle:... So you all have the same problem... And... THIS must be why Perfect Tartarus existed. He too is a victim of this world's stupidity.
Sandy: Oh for the love of- HOW MANY PEOPLE ON THIS WORLD HAVE THE SAME COMPLAINT?!
Simone: I wouldn't expect you do-gooders to understand. Our former boss hated this world for it's 'comedic stupidity and comedic cruelty'.
Simmons: Even Thanatos said that another potential new member of our cult named Dr. Mal C. Ontent had enough power to expand our cult.
Simone: SIMMONS!
Sandy:... Wait, what?!
Flynt: Time out here... Your boss... KNEW Mal was coming?
???: YOU'VE HEARD TOO MUCH! (Horas appeared and a Mothron was seen with him. This was Thanatos)
Thanatos:... Hello, Uniter.
Gazelle: STAY BACK, MOTHRON! I HAVE THE UNITER BLADE, AND YOU KNOW WHAT IT DOES WHEN YOU TOUCH IT!
Thanatos:... (He teleported her allies to his side and threatened them with knives) Uhuh!
Gazelle:... Fine! (She lowered the Blade)
Thanatos: I was once one of this planet's Uniter's enemies in my prime. Since her time passed, I've done everything to ensure that MY plans that have gone on for millennia are NEVER ruined. When I was informed that the current Uniter was here, I HAD to act.... Oh, and uh, Horas? I believe you have an IDIOT to punish... And given he made TWO of the same stupid act, he deserves twice as worse!
Simmons: WAIT, WAIT, WAIT!!! (Horas separated him into a Heartless and Nobody and banished them to Kingdom Hearts, in the Keyhole of Bikini Bottom, with everyone in shock of what just occurred)
Swimburne: YOU BASTARDS!!!
Thanatos: But he was correct. I want Mal to come to me and be part of this cult. The Cult of Infinite Dark Perfection exists for the sole purpose of tainting this world with stupidity, and allowing the impact they have to bring more of us. There have been worse despots and fanatics out there WORSE than Mal, and they have all been a part of us.
Flynt: How does increasing stupidity make it any better- Wait.
Thanatos: HAHAHAHAHA! Who said I WANTED to make it better? Stupidity on this planet gives me POWER! Perfect Tartarus was weak the moment he killed himself over Outer God-fear. Why, the statue is more in tribute to what he could've been, not what he became. I had to find the fitting replacement to inherit the title of the BEST SUPERVILLAIN ON THIS PLANET! You, Flynt? You're nothing compared to those who have walked to my doorstep. Mal and you aren't the first morons to come here looking for power like this. If it was REALLY that simple to find this power, it would've already been found AGES ago. Everyone who has ever tried has only become one of us. That's how Perfect Tartarus did it in his prime. That's how he had power.
Baracudi:... So, in essence, you and Mal fell right into THIS guy's trap.
Octavius: Wow. Way to go, FLYNT!
(Deadpool): "Well this was, unexpected. A NEW surprise villain. That... MSM really DOES have a better brain than-"
(MSM): AHEM!
(Deadpool): Right, right. (He left)
Thanatos: Yep. That's what we Mothrons are good at. Find the weakest of worlds, take advantage of that weakness, and take it over. That's why every Mothron on every world has a title pertaining to the weakness of each world. I, am Thanatos the Stupefier. I make the people of this world stupid, and I have done so for AGES! And when I see someone who hates that stupidity, I lead them to my doorstep. I just didn't expect that one being scared by the likes of YOU would bring one here for me. I should honestly thank you, Uniter Princess.
Gazelle: Well, too bad. Your reign of stupidity ends today.
Thanatos: Heheh. Good luck. What will defeating me accomplish? I'm not the one who brought stupidity to this world. I just use it to be stronger. That's how being a villain works. Hell, Perfect Tartarus WASN'T the first perfect supervillain of this world, and he won't be the last... And I'll make DAMN sure of that!
Flynt: ".... I, feel like I just walked into the middle of a really crazy Sci-Fi movie."
Sandy: We all do.
Thanatos: Now I have you ALL where I want you!
Gazelle: You really think I'm not going to fight you? And you REALLY think you're a good match for me?
Thanatos: I am if your friends are in perfect killing distance! For I- (Gazelle instantly blasted Thanatos away from the group)..... (Gets up with only minor injury)... Okay, fine, we'll keep this between us, Uniter. If only because I cannot resist an invitation to a fight.
Gazelle: "Well it helped if you don't talk too much."
Thanatos:... You're right. (He then attacked this time with no dialogue as he and Gazelle fought spectacularly)
Sandy:... Well at least Thanatos has too much pride to fall into the cliche 'villain speech' manure.
Swimburne: Shoo right.
Chel: No WONDER he made the perfect supervillains on this world.
Flynt was seen trying to use the distractions to his advantage and slowly sneak into Perfect Tartarus' HQ.
Follower: (He appeared in front of him) And where do you think YOU'RE going?!
Flynt: OUT OF MY WAY, YOU FAT SEA CUCUMBER!
Follower: (He kicked him in the groin as he squealed) NOBODY LEAVES THIS HIDEOUT ALIVE!
Flynt: FOR THE LOVE OF NEPTUNE, WHY ISN'T SHARKO WITH ME?!? I normally wouldn't even have to put up with clownfish like you otherwise?!
Thanatos: Too bad for you. You're ALL, NEVER, leaving!
Gazelle: You're right. We're not leaving, UNTIL WE TAKE CARE OF YOU AND YOUR EVIL REGIME!!
Thanatos: "Oh ain't that just light the Lighflies lapdog to instantly charge at the first Mothron she sees- (She charged in with her Uniter Blade cleaved cleanly in his chest) AAUUUUUUHHHUUUUAAAAA!!!!"
Gazelle: I don't know, seems to be working well for me.
Thanatos: (He found the urge to resist the pain long enough to tear the Uniter Blade out of his chest regardless of the burning touch, used the burning touch to cauterize his wound screaming wildly, and tossed it back at Gazelle, who was able to grab just in time before it hit her head) YOU... LITTLE... PARASITE!!!... UHHHHGH!!!
Sandy: HOLY...
Swimburne: CRABCAKES!!!
Chel: HEY!
Swimburne: OH SHUT UP AND GROW A THICKER SHELL!!
Gazelle: ".... Okay, props where it's due to the first Mothron ballsy enough to do that."
Thanatos: "Your phrase is clearly empty as doing that still had a painful price?! I am scarred painfully?! I'm likely my heart managed to only be MINORLY damaged from it, though that is STILL a dangerious thing to have! Horus, heal me?!"
Horas: "One darkness healing spell, coming up my-"
Chel: "AW NO YA DON'T YA HAGGY HAGFISH?! (Pounces onto Horas and fights over his staff)!"
Horas: "Get, off me, your old war relic?! Or consider yourself the first volunteer for the sacrifice to Mother Darkness!"
Chel: "Oh you're one to talk about being a relic, I mean, those winkles, buddy! Also, first dude I ever met to have crows' feet!"
Horas: GrrRRRRrrr!!! (He got up, pushed him off, and despite his fighting skills, he threw out his back again and Horas beat him up)
Swimburne: CHEL!
Horas: "Let this, be made an example to any who-"
Chel: "Hold up! I know I may have to go some time, BUT NOT TODAY?! (Kicks Horas right into the air)!"
Horas: "(Flies up) AHHHHHHH (Falls) AAAAAAAAAAAAAAAAAAAAAAAAA- (Splashes into the Darkness Ooze and gets swallowed by it)!"
Sandy: "Gross, but a befitting irony."
Thanatos sighed as he was able to get Horas' staff.
Thanatos: "I always lose cult leaders this way. (Heals himself with the staff)...."
Gazelle:...  At least now you'll give a proper fight now. (She charged her Uniter Blade and it fired as Thanatos countered it with an equally-powerful darkness beam, getting them both into a beam lock)
Sandy:... Okay, I think this is when we need some backup, cause THAT was close! (She called for SpongeBob)... SpongeBob! We found the hideout, but we're gonna need some help!
(SpongeBob): How much longer can you hold?
Bikini Bottom
(Sandy): YEAH, WE'RE KINDA OUT OF TIME!!! GAZELLE CAN HOLD IT OFF, BUT NOT FOR LONG!! GET OVER HERE!!! SANDY OUT!! (She hung up)
Huxley:... So they found it, huh?
SpongeBob: Sounded like they were in a doozy of a pickle. We gotta get over there FAST!
Squidward: They've gotta be MILES away, how are we possibly going to get there in time?!
Patrick: ".... I know what I must do.... PINKIE PIE?!"
Pinkie Pie appears in scuba gear.
Pinkie Pie: "Yes Patrick?"
Huxley: "Duh, IS THAT A PONY?!"
Patrick: "We need you're forth wall powers to instantly take us to where Sandy and the others are!"
Pinkie Pie: "Ookie dookly loki!"
Pinkie suddenly grabbed the floor, ripped off the entire current scenery and brought the 5 right into the area of PT's HQ.
Pinkie Pie: "Here you go, Patrick. Now I gotta get back to Equestria. See you next episode. (Pops away)."
Huxley: "..... Uh, duh, wha..... WHAT JUST HAPPENED?!"
The Cultists saw the group!
Cultist 1: "Hey, I don't remember those guys being there?!"
Cultist 2: "LET'S GET THEM FOR SACRIFICE?!"
Squidward: "Oh you gotta be kidding me, another secret underground cult?"
Huxley: "THIS HAPPENED BEFORE?!"
Mr. Krabs: "1100 times from across the United Universes and beyond, as a matter of fact.... THIS Week."
Huxley: "(Anerisums)..... (Faints)."
SpongeBob: "Poor Huxley."
Squidward: Oh, I'm sure he'll bounce back. I'm sure he's seen and heard worse. He's probably had hundreds of aneurysms- (They were caught)... OH GREAT, LOOK WHAT YOU DID, YOU GOT US ALL CAUGHT!!!
SpongeBob: I JUST SAID 'POOR HUXLEY', YOU WERE THE ONE WHO WISECRACKED AND DISTRACTED US!!
Cultist 1: Now we have you where we- (Sandy smacks him down)!
Sandy: "Back off, ya crazy?!"
The Cultists surround the now united heroes.
Sandy: "Thanks for making it so quickly Spongebob, but next time, use something more subtle than having Pinkie Pie use forth wall powers."
SpongeBob: What's wrong with that?
Sandy: Uh, we can't go around playing writer, like Deadpool. We end up being like him.
(Deadpool): Hurtful, but a solid burn nonetheless.
SpongeBob: Anyway, where's Mal? All I'm seeing is a bunch of strangers I never seen before in my life.
Swimburne: Oh, turns out we had one extra problem in the form of a random flying fish thug that- (Looks at Spotnitz closer in examining the thugs)..... Waaaiit... ONE of these faces are familiar how that I see him... SPOTNITZ?!
Spotnitz:... Ahh, balls!
Swimburne: YOU'RE SUPPOSED TO BE DEAD!!!
Parr: "Wait, Spot, ya know that otter?"
Spotnitz: "Uh, whadda talking about, I never seen this otter before my life-"
Swimburne: Uh, yes you do. I was the pirate queen Krabs fought when I raided his sun lotion cargo ship with Scarfish.
Spotnitz:...
Parr:... Wow. THIS is the otter you told us about? What're the odds of THAT?!
Spotnitz:... Yeah... What're the odds of that?! Seriously, Swimburne, WHAT THE HELL ARE YOU DOING WITH THESE GUYS?! SHOULDN'T YOU HAVE OTHER BETTER PLACES TO BE?!?
Swimburne: I believe you didn't answer my question... WHY ARE YOU STILL ALIVE?!?
Spotnitz: "Now, I would love to get into detail, but, (Points to the surrounded Cult and that Gazelle and Thanatos are still in a beamlock) NOW MIGHT NOT BE A GOOD TIME?!"
Chel: "He has a good point, ya know."
Cultist 2: "You will pay for sending Horas to the pre-mature blessing of seeing Kingdom Hearts!"
Chel: "Wait, I thought you guys like that sort've stuff."
Cultist 3: "Well it's more like we kinda have to do things first before we embrace the arrival to nestle into the embrace of Mother Darkness. Horas still had too much to do before you kicked him into the Darkness Ooze!"
Patrick: "Aw man, you guys got to do half of the fun stuff."
Thanatos: ENOUGH BANTER! TIME TO DIE! (He attacked opening his wings wide and attacking with all the dark magic he had)
Gazelle: GET BACK! (She shielded them all)
SpongeBob:... Seriously, though, where's Mal?
Sandy: Yeah, uh, we might wanna keep him away from this place! He's walking into a trap. These guys want him and his group to be a part of their cult.
SpongeBob: Yeesh! Another surprise baddie? Who would've seen that coming?
Mr. Krabs: "Yeah, we really need to work having plots based around what the summery established."
Gazelle: Well, at least I was saved for said summary considering the other Lodgers are off with the Jungle Crew fighting Dark Dragon... For the first time in who knows how long? Seriously, when's the last time you fought him?
Mr. Krabs: Not counting team-ups with other villain teams or cameos or things that canonically didn't happen yet: Equestria. Involved Suri Polomare. And that was only a few years ago.
SpongeBob: Well, let's stop stroking the fourth wall, take this guy down, and keep Mal away from this guy.
???: AHA! (Mal and the others appeared)
Swimburne: Oh, f*** me!
Mal: FINALLY, WE HAVE THE POWER TO MATCH THIS... Space savior?!
Thanatos:... Mal C. Ontent. (He magically levitated him and all of them to him) You finally made it, so you can be my NEWEST perfect supervillain!
Mal: WHA-WHAT ARE YOU TALKING ABOUT?!?
Thanatos: You came here looking for the power to destroy the Uniter Princess? Well, you have it now. All you must do is swear your allegiance to me, forever.
Mal: "Well you see, I'm more interested in trying to eradicate stupidity, and I only sought you out to deal away with the Space Messiah that was randomly brought here, so-"
Thanatos: "(Laughs), How bemusing that for a genius, you didn't realised that everything that has happened to you and others was for a purpose!"
Mal: "..... What?"
Thanatos: "Well, for starters, did you think it was some cosmic accident of the Might Outers that this world just so happened to be so infested with utter incompetence?"
Mal: "I blame schools and the education system being terribly underfunded, honestly-"
Thanatos: "Beyond that! For it was no fluke why this world is such a cesspool of utter incompetence!"
Mal finally got the hint.
Mal: ".... (Angerly) Is that to imply anything?"
Thanatos: "Alchourse it is, for-"
Mal: "BECAUSE IDIOTS HAVE BEEN NOTHING BUT HELL TO ME?! From my very childhood, I had always been bullied by idiots!? At one point, I was made to do ALL the hard work for such an idiot bully on a science project, OF WHOM TOOK ALL THE CREDIT?! I had been made to tutor tormentors?! And in my teen years, I've seen idiots awarded for doing LESS or NOT AT ALL while we who worked hard have LITTLE TO NO ACKNOWLEDGEMENT!? So it had pushed me into wanting to eradicate ALL IDOTCY AND ALL SOURCES OF IDIOCY?! AND ARE YOU DESCRIBING YOURSELF, (FOAMS AT THE MOUTH) AS BEING BEHIND THE RAMPANCY OF IMBECILES?!"
Thanatos: "..... Iiiiiiiii..... I was going to say I was out to eradicate idiots too."
Cultist 7: "But Mentor Thanatos, I thought you said all the idiots of the world was your doing-"
Thanatos: "(Vaporises that cult member with Lazer Eyes)."
Cultist 7: "..... Ow. (Ash gets blown away)."
Mal was seen twitching crazily and foaming at the mouth.
Thanatos: ".... It appears my methods had been, too well executed."
Sandy: "NO KIDDING?! YOU ENDED UP CREATING A MONSTER YOU CAN'T CONTROL?!"
Thanatos: ".... I wouldn't say THAT! I just need, a more aggressive influence! (Starts corrupting Mal with his darkness power)!"
Angelia: "DOCTOR?! NO?!"
Mal:... Angelia!... It's time... To destroy the Uniter Princess!
Angelia: Doctor, please, don't do this, fight it- (She and the other Whale and Megamouths were corrupted alongside him)
Sandy: Awwwww boy- (Flynt was under the same mind-control)
Gazelle: STOP- (The Megamouths and Whale Sharks restrain her as she dropped her Blade, as some tried to retrieve it)
Thanatos: NO! Do not touch that Blade! You know what it does to you! We'll dispose of it later.... In the meantime... It's time I did what no other Mothron could ever do. (He took out an energetic dark magic blade)... Someone lay down a towel and get some shark cages, because this is going to be bloody MESSY!
Huxley: (He woke up and saw what was going on, and then decided enough was enough, sneaking his way to a button and pressing it)
Computer Voice: WARNING! SELF-DESTRUCT INTO KINGDOM HEARTS HAS BEEN ACTIVATED!!
Thanatos: WHAT THE-?!? (Huxley smashed the controls) YOU!!!
Huxley:... This might not undo the idiocy you spread... But at least YOU won't be able to control them!
Thanatos: You foolish mammal! You SHOULDN'T have done that!
Huxley: I caused this from the beginning! It's MY job to END it!
SpongeBob: HUXLEY, ARE YOU CRAZY?!?
Huxley: MAYBE, AND AT THIS POINT, I DON'T GIVE A FLOATING BUBBLE!!! IF I CAN'T END OR CURE IDIOCY, AT LEAST I CAN KEEP IT FROM BEING USED FOR EVIL!
Thanatos: YOU WILL DIE WHERE YOU STAND FOR THIS!!!
Huxley: "But obviously I won't hold still for that! I might end up never staying still and make you waste time!"
Thanatos: ".... Grrr?! (Makes a fly for it!)"
Cultists: "(They make a run for it) RUN AWAY, RUN AWAY?!"
Huxley: "Everyone, this may be a good time to retreat!"
Chel: "(Frees the captured cave explorers) I couldn't agree more! (They ran comically out of the hideout and leapt-out in comical slo-mo as the hideout imploded and got sucked up into the Keyhole, of which it's true location unknown.)"
Swimburne:... That, was REALLY freaky.
The Uniter Blade rose from the area and returned to Gazelle.
Thanatos returned!
Thanatos: "You had not truly evaded me yet!? I still have my perfect supervillain! (Began to held up Dr. Mal with his powers, and began to transform and mutant Dr. Mal, turning him into a heartless hybrid now surrounded by sea-theme Heartlesses)."
Sandy: "Figures we're not yet done with this bug."
Gazelle: Of course not, amigo! Mothrons NEVER go down easy, otherwise they aren't Mothrons.
Flynt, Angelia, Mal's Henchmen and the Cultists showed up as well!
Squidward: "And alchourse, THEY'RE back too!"
Gazelle: Yeah, it's best to let the native authorities handle THEM later. In the meantime... TOMA ESTO!! (She fired a powerful golden beam at Thanatos, which he countered with clones that all-fired powerful black beams at her at the same time which she counters with a golden magic shield which expands and knocks them all away, knocking the real Thanatos into a rock, scaring off scallops and getting him covered in poison sea urchins as he itched)... Te rindes?
Thanatos: (Coughs and magically heals himself up from the poison)... TU DESIAS!
Gazelle: Wait, you can speak Spa- (She was smacked into a rock and suffered the same poison sea urchin infliction)
Thanatos: WE'RE NATURALLY MULTILINGUAL! COMES FROM BEING AN ELDER RACE?! (The heroes fought the mind-controlled villains while Gazelle and Thanatos continued fighting in a way that shook the area)
Huxley was playing it safe and keeping out of the fight to avoid being a liability!
Huxley: ".... Probably wasn't planning on getting dragged into a battle of epic proportions when I got elected into office- (He ended up getting rammed when Sharko came out and grabbed him by the neck as his eyes cartoonishly engorged) AUHHKK!!!"
Sharko: DID YOU FORGET ABOUT ME?!? Took one HELL of a long time getting out of that rope!
Thanatos: Oh, another player! And he looks perfect for me! (He mind-controlled him too)
Sandy: WHY DIDN'T WE STOP THA- (He punched her so hard, she knocked down all the heroes except the flying Gazelle like a pinball with a 'TILT' and a pinball sound being heard)... Ow!
Sharko: FOR, THE PERFECT, SUPERVILLAIIIN!!!
Squidward: "Well this is getting out of control fast!"
Gazelle: AND THAT'S AS FAR AS IT WILL GO! (She upped her magic and so did Thanatos as their battle shook the ground as everyone decided to just back off for a further distance)
SpongeBob:... Alright. Back to fighting. (They did that)
Huxley: "(Bewildered by that moment).... I, will need a nice long alcohol break from this."
Gazelle: (She kept fighting Thanatos) AYE CARUMBA! DO YOU EVER RUN OUT OF ENERGY?!?
Thanatos: You don't MAKE the perfect supervillain when you're being held back by limited energy, stamina, mana, or what say you?! (He unleashed a powerful Final-Flash-ish black beam of energy that Gazelle was able to contain by using a wormhole)
Gazelle: Okay, THAT was REALLY enough! (She attacked him some more)
SpongeBob: Wow, that was a close call!
Swimburne: We were almost roast chicken!
Sandy: "But I believe that was a good excuse to why we need to nip this problem in the butt and for good!"
Mr. Krabs: "Aye! It's time to end this! (Takes a Cult Member's sword after knocking him out) HAVE AT THEE, BOTTOMFEEDERS?!"
Cultist 8: "CHAAAAAARGE?!"
The Cultists charged!
Mr. Krabs: EEEEEEEEEEEEEEEEEHOO!! (He fought them off along with the others, knocking them out one-by-one, until all but Angelia and Mal were still standing)
Angelia:... For, the perfect. supervillain! (She attacked and fought them with her great karate skill that even they were overwhelmed by)
Sandy: Sweet sassy-molassey, this woman has NEVER had a break when training, has she?
Spotnitz: APPARENTLY NOT! (She lept fighting them alongside Mal who had guns out)
Mal: DIE! MWAHAHAHAHAHAH!!!
Squidward: First off, weakest evil laugh ever. Two, guns? That's not fai- (He was blasted Daffy Duck style as his nose spun around)... Ow!
Mr. Krabs: "Thank goodness for Cartoon Logic."
Thanatos: LET'S FIX THAT, SHALL WE?!? (He snapped and removed that)
Mr. Krabs: "..... Well, that's a first."
SpongeBob: AW, CRAP!! (They hid)
Sandy: Great! Now I have limited air in my suit!
Swimburne: (Gurgling) Yeah, and- (She suffocated alongside Huxley and many of the semi-aquatic members of the group)
(Deadpool): "And here's where Scroopfan's scrapped concept for air in soda cans would've come VERY useful."
(Scroopfan): "(Deadpan) Don't remind me."
Sandy:... And of course THAT has to be a problem.
Mr. Krabs: Hey, I got a pocket of air in my head, remember? (He found himself unable to detract his eyes)... Of course, cartoon logic.
Gazelle: Um, we have magic, remember? That's why I'm not drowning. (She just had her breath underwater again as she gasped)
Swimburne: UGH! THAT OVERGROWN MOTH!!
Mal: SURPRISE! (He fired his guns as they dodged them but they even ended up floating like they were actually underwater)
Sandy:... Ohhhh, no cartoon logic means no weird underwater gravity. Luckily, I swim like a fish.
Thanatos: COME OUT HERE, UNITER PRINCESS, AND SHOW YOUR FRIENDS!!!
Gazelle:... Uno momento... The rest of the area doesn't seem to be affected. (They saw the anti-cartoon-logic bubble around the area)... So, that must mean he has a limit to his power. He can't affect the rest of the world.
Squidward: "Well it does look like it covers a wide-range though, so knowing that limit at all is a negated benefit."
SpongeBob: Like it matters, really. We can figure another way around. (They started swimming circles around Thanatos as Mal and Angelia kept seeking them out, with Angelia's superior karate getting her the closest to finding them)
Thanatos: HAH! So pathetic. You're all used to cartoon logic acting as your shields, you have nothing when it's taken away. I always KNEW that was the case for this world. Cartoon worlds are ALWAYS the easiest to control. We just take away their cartoon immortality, and BOOM, they're at their weakest and easiest to control. So tell me, HEROES, what are you going to do now?! Have your precious Uniter fix your situations with her magic?
Sandy: Normally, we would, but we're trying to rely less on her this time.
Huxley: WELL, HOW ABOUT THE FORMER QUESTION?!?
SpongeBob:... Meh. We'll wing it, like always.
Huxley: ".... "Wing it" he said. Sometimes I wonder what's even going on anymore."
Squidward: Join the club, we got jackets.
Huxley: Hahaha. (They kept avoiding Thanatos and his mind-controlled forces as Gazelle continued fighting him)
Thanatos: I figured you'd be sticking by your friends given they won't be lasting long.
Gazelle: Well, I won't let some stupid trick hold me back. You're going down eventually.
Thanatos: Yeah, maybe, but I can last long enough to take you down WITH ME! (They kept fighting)
Sandy:... Is it me... Or am I losing air in this suit? Because I feel the need to eat coral, suddenly.
Patrick: "Well I gotta warn ya, coral tends to be very crunchy and a bit hard to chew, so- (Sandy was seen doing that as her buck teeth broke off and she gurgled in pain)"
SpongeBob: (Girly shriek) NOT THE BUCK TEETH!! I LOVED THOSE!!!
Swimburne: Relax. She's a rodent. The teeth constantly grow back. (That was seen happening as Sandy got her helmet back on)
Sandy:... Okay, never do that agai- (She did it again)
Gazelle: Aye carumba! (She cast an aquatic spell on Sandy allowing her to breath underwater)
Sandy:... Okay, if I had enough air going to my head, I would've thought of that.
Patrick: "Told ya coral's hard to chew."
Sandy: "I take it you know that from personal experience?"
Patrick: "It happened at elementary and I was curious!"
Sandy: Alright, we gotta do something to help Gazelle. But what?!
SpongeBob: Eh, let's try bubbles! (He could only blow regular bubbles)... Oh, right, no cartoon logic. (He tried to shapeshift)... Oh, right, again, cartoon logic... UGH, THIS IS SO LAME!!!
Angelia: HAAAAAAAAI-YAH!! (She chopped and destroyed a rock)
Sandy: WHOA!!
Mal: EAT BULLETS!!! (He fired his guns as everyone panicked and ran around scrambling in a non-cartoony manner)
Patrick: WHAT'RE WE SUPPOSED TO DO?!?
Parr: DON'T ASK US!!!
Sharko: How about you die? (He pounded the entire area knocking them around)
Eekman: DAMMIT, YOU'RE AWAKE ALREADY?!
Sandy: Wait!... HEY, SHARKO, YOU LOOK SO RIDICULOUS WITH THOSE MUSCLES, I CAN SEE WHY YOU'RE A CRIMINAL TO BEGIN WITH! I MEAN, LOOK AT THAT S***!! You must've acted like QUITE the pup in gym class.
Sharko: WHY YOU!!! (He tossed rocks that Sandy dodged, as they managed to throw off Thanatos)
Thanatos: WHAT THE?! (All the other henchmen woke up and continued attacking the heroes, as they only managed to trick them all into attacked Thanatos by just simple dodging)
Mr. Krabs: Guess we don't need cartoon logic to beat your captain's quarters and swap the poop deck after what you do to it afterward! (Laughs)
Thanatos: INSULT ME, WILL YOU?!? (Gazelle took the opportunity, and zapped the distracted Thanatos, weakening him as he fell face-first into the ground and the cartoon logic was restored, and even free everyone from mind-control)
Huxley: FINALLY!!
Swimburne: FINALLY!!
Huxley: I just said that!
SpongeBob:... So, you give up yet, Thanny?
Thanatos: HAHAHAH! In your dreams- (Gazelle just stomped on his wings as he screamed a lud girly shriek)
Gazelle: I figured you'd say that, because I'm sure everybody here is really angry at you for what you did to them all these years.
Thanatos: GRRR!!! (He tried using his powers, but they were too weak to work)... WHAT DID YOU DO TO ME?!
Gazelle: Well, let's just say, Thanatos the Stupefier, is no longer a title you can keep. (Many of the muscular slaves cracked their knuckles)
SpongeBob: Some of us better get outta here. This could get nastier than a day at the Salty Spitoon or the Thug Tug.
Thanatos:... Oh darkness help me! Uh, now now, let's not be hasty here-
Whaleshark 1: "DOGFISH PILE?!"
Thanatos: "OH SWEET DARKNESS N-" (He was beaten up)
Lanci: Oh, I can't look!
Patrick: I can't look away. I've never seen anyone beaten up in THIS fashion before. It's kinda hilarious.
Dr. Mal: ".... Well, this was a waste of time."
Flynt: "Hey, that wasn't a very good spending of my valuable time neither, buddy. We BOTH lost out on sweet alien tech and/or the ability to have Perfect Tartarus' powers."
Dr. Mal: "Don't, remind me, criminal!"
Huxley:... Sooo, does that mean stupidity is gone?
Sandy: Sorry, no. Thanatos just used it for his own stupid yet successful plans of world domination. So, you'll have to live with it, probably forever. I know that's hard to hear, but it's true.
Huxley: But-but-but, it's the reason I lost my home! I can't lose it the same way again!
Squidward: Sorry, Hux, but forcing your views on people doesn't change anything. All it does is make the problem worse.
Hux: WELL WHAT THE HELL IS IT GONNA TAKE?!? I GAVE THEM ALL A CHANCE TO CHANGE ON THEIR OWN, AND THEY NEVER DID! None of them learned!
Patrick: At this point, good sir, stupidity is what makes this world what it is. You can't change that no matter what you do.
Huxley:...
Sandy: Patrick, did you REALLY have to say that?
Patrick: SOMEONE had to.
Sandy: (Sighs) Don't mind Patrick, he's one of these idiots, you know. He doesn't know anything.
Patrick: HEY!!!
Huxley: Maybe, but still... Not cool. If... If this world is beyond hope... Then what's the point of living in it? (He took one of Flynt's guns)
Flynt: HEY! (Huxley was stopped as Sandy threw the gun away)
Sandy: WHOAWHOAWHOA, let's not jump into a dark place because of this, Huxley. Just because this place isn't going to be free of stupidity, doesn't mean-
Huxley: Doesn't mean WHAT?! Do you have ANY idea how painful it was to be a politician in a city consisting of MORONS?! Nothing you EVER do gets through to them, and all they do is let a common street gang control their lives, or worse, a simple foodstuff?
SpongeBob: Hey, nobody said being a politician was easy. In fact, people make fun of it all the time. Do I find myself questioning how this world works? Of course I do! But, that's just how it does.
Huxley: So, you're saying I have to put up with this, and wait for the 2015 incident to REPEAT ITSELF?!? 5 YEARS SINCE THAT TIME AND NOTHING CHANGED!! I TOLD YOU THAT PEOPLE DIED!!
SpongeBob: And how was YOUR decisions ANY better?
Huxley: I never said they were... Did I? I mean, I forgot thanks to Mal. But you have to make the toughest decisions in the name of peace and doing what's best for your people. It was too late for New Kelp City, and... And after 5 years of that horrid incident-
Squidward: We told you that was merely because of this magic book.
Huxley: Yes, but didn't a less-crazy incident occur when SpongeBob lost his memory? A magic book is no excuse for the incident, because it would be something those, BRAINLESS fishheads would do.
SpongeBob: Yeeeeah, he's got a good point, we can't necessarily blame Burger-Beard for that one.
Huxley: 5 years of trying to make those people learn going nowhere, so I had no choice. If the people are too stupid to-
SpongeBob: Okay, Huxley, that's where I'll have to stop your ranting. I'm sorry for what you had to go through. Really, I am. But, you kinda blew it. Nobody'll want to be changed by you anymore after what you did.
Huxley:... Maybe not... But what I did, might just serve as a cautionary tale of why stupidity could ruin them.
SpongeBob: Well, I wouldn't count on it, fuzzy. Bikini Bottom, however chaos it runs, is fine as it is. It's clearly going to take more than 5 years to expect people in Bikini Bottom to just change like that. You just got impatient.
Chel: Yeah, fair's fair, you just couldn't wait for them to do it on their own. Hell, this year, they were probably doing great, so if anything, all you did was bring the stupidity back! (Huxley realized)
Swimburne: Ohoho, yeah. Didn't think about THAT possibility, did you?
Huxley:......
Octavius: Something tells me we should cover our ears or earholes.
Huxley: (The camera panned on the world) "AYYYYYYYYYEEEEEEEEEEEEEEEEEEEEEEEEEEEEEEEEEEEEEEEEEEEEEEEEEEEEEEEEEEEEEEEEEEEEEEEEEEEEEEEEEEEEEEEEEEEEEEEEEEE-HAHAHAHAHAHAHAHAHAAAAAAAAAAAAAAAAAAAAAAAAAAAAAAAAAAAAAAAA?!"
Dr. Mal: "Well if we're done fooling about, I may as well deal with you fools myself, since- (Sandy roped him, Angelia, and Flynt up)... Well that was barely even 5 seconds!"
SpongeBob: Not so fast, buster! You think we're gonna give YOU a chance? You guys are TOTALLY going to jail!
Baracudi: Yeah, we told you this would happen, and you didn't listen. All you wanted was to steal alien technology to rule the world, and whoopsies, it was part of that giant moth's plan the whole time.
Flynt: DON'T RUB IT IN!!!
Dr. Mal: "Begrudgently I double that, that experience wasn't to my preference of tea flavor neither."
SpongeBob: Look, all of you, I have to say this. Flynt, what did you expect to DO with that tech you were after? (Flynt thought about it) Yeah, all you thought about was world domination, but in the end, would you have been comfortable with keeping it? Maybe you should've listened to your comrades instead of pushing them away, and avoid this.
Flynt:... (Sighs)... WHY DIDN'T YOU ASSCLOWNS TRY TO STOP ME HARDER?!?
Drowne: IS THAT EVEN A QUESTION?!? YOU HAD SHARKO WITH YOU!!
SpongeBob: And as for Mal, I repeat my previous talk with Huxley. This is KINDA what this world is about. It inconveniences us all sometimes, but it's not worth forcing your views. ESPECIALLY with genocide. It doesn't matter what good intentions that act is for, it's still wrong.
Mal: Pssh, why should I listen to the words of some sponge who doesn't even know how to drive without wrecking anything... COUNTLESS TIMES?!
SpongeBob: Because son of a gun, you ended up falling into the same trap Huxley did with you. Thanatos made you his replacement for Perfect Tartarus, and if we weren't there, he would've succeeded.
Patrick: Yeah. So, where's our thank you?
SpongeBob: Patrick, he's not going to give it to us.
Patrick: Oh, yeah, of course. Then, I guess I can say you're wel-
Mal: I DON'T NEED YOUR WELCOMES!!
Patrick: Thank yous. Wait, that came out wrong.
Mal: I don't care if you saved me from-
SpongeBob: YOU SHOULD! THIS is kinda why we need to have you locked up. There's gonna be people out there like Thanatos who'll use people like YOU AND everyone's stupidity to take over the world. It's a basic villain tactic. Turn a world's weakness into a strength. Your Thanos-like goals only played into his favor.
Mal: The HELL is Thanos?
SpongeBob: Well, too bad I'm not gonna tell you that.
Huxley: And neither will I. And because of what you did, NEITHER of us will be mayor anymore. You destroyed BOTH our trust more than I destroyed my own. So, hopefully, I hope you ROT in prison!
Mal: "Ugh, there goes my perfect streak of eradicating imbeciles."
Swimburne: You can't just solve your problems by killing the weak and starting anew. Forcibly imposing views change nothing. At this point, if you live in a world of idiots, you might as well GET USED TO IT, BUSTER!!!
Mal: Sure, try saying that when YOUR hometown destroys itself for mundane reasons like New Kelp City, Angel Bottom, or Bikini Bottom. People CANNOT change by themselves. Believe me, I know, because I TRIED! Killing the weak is the only way.
SpongeBob: WELL MAYBE THAT'S THE PROBLEM! People keep trying to force this issue and all it does is hurt more people. All this foolish attempt to force stupidity away is doing is more harm than good, so at this point, it's best to leave it how it is.
Mal: Kid, I wouldn't expect you to understand how hard and painful it is to live in a world of morons. They ruined my life, and-
SpongeBob: You're right. I won't understand. But, what IS the point of understanding anyway? People are just going to change nothing forcing this on people. Don't you see? There's a REASON these forced views always fail. This is how the world works, and you can't change that no matter what you do!
Mal: So, you're saying I should just ACCEPT the idiocy and give them a good meal for killing people?
SpongeBob: No, just deal with them accordingly! That's it. Don't pin the actions of only a few on everyone in the world! I'm SO sick of people who keep saying that this world is too stupid to live, it pisses me off! Much of the villains we have here have the exact same motivation, and I'm tired of it! So, yeah, I have a NEW mission as the leader of the revamped Shell Lodge Squad: Put crybabies like YOU in their place!
Chel: "Ahem, shouldn't we finally get to the idea about the shoure of that black goop?"
Spongebob: "Oh sure, (Pulls out own Keyblade, before blowing the cobwebs off it)... Now it's time to keep this world safe from ANY Kingdom Hearts harm.
Sandy: Dang, SpongeBob, how long has it been since you used the Keyblade Tman gave you?
SpongeBob: I don't remember. (Goes to the crator and saw nothing).... Uhhhh, slight issue guys, I, don't see the keyhole anywhere."
Sandy: ".... (Grabs a Cultist) Okay, smart guy, how exactly did ya'll get that Darkness Goo!?"
Cultist: "The keyhole obviously!"
Sandy: "BUT WHERE, IS IT?!"
Cultist: "Well, tough break, the Keyhole's abit out of your reach! Just because we have the goop here doesn't always mean the Keyhole's close! It's held in a special place only Thanatos and Horas know, and well, you basically got Horas to ascend to Kingdom Hearts early, and Thanatos might look to get too beaten up to say anything anymore, so- (Gets punched out by Sandy) D'OOOOOW?!"
Spongebob: ".... Well, thank goodness revaluating the Lougers means we can have alot of opportunities to look out for any would-be surprises relating to it or at least somewhere close."
Sandy: "Well, it's good we stopped these idjits from mining the stuff at least."
Spongebob: So, yeah, Mal, if you gotta problem with how this world works, then maybe you should rather live in PRISON! Trust me, it'll be a better place for you than the HELL you say we live in.
Swimburne: Absolutely.
Flynt: "Well depends if whether or not you're giving him a prison with a rapey problem or not."
Squidward: "Oh, I think the doctor's reputation would inspire too much unquestionable fear for even the most thirsty of those animals."
Mal: "Though I'm not crazy for the thing that never changes: Prison Food."
Flynt: "Hey if it helps, sometimes they have Chili Thursdays. The one time they served something other than whatever slop they weren't able to feed to kids in schools."
Mal: "I, can't handle spicy food."
Squidward: Then you better get used to the prison food. I've been in prison many times thanks to SpongeBob, and trust me, it can actually get tasty.... Even if I question why.
Mal:... Eeeeh!
Huxley: What about me? I can't be mayor anymore, so, am I going to prison to?
Sandy: ".... Tell ya what, Hux. Compared to these guys, (Points to the other antagonists), you were not really the worse of the problem here. So, the worse we'll do to you is not let ya be in politics and we'll call it a done deal."
Huxley: Hah! I don't even care about politics anymore. What's the point of being a politician if nothing I do is going to get through the thick minds of the fishheads that plague the seas? I should probably live on my own from now on. I find my life is a lot safer that way.
SpongeBob: Yikes. That sounds like a miserable existence.
Huxley: This world is already a miserable existence, and I want NO part of it! If suicide isn't a thing, then all I can do is shut off everyone.
SpongeBob: I meant that to be a MORE miserable existence. I mean, c'mon, you gotta get laid one of these days... Neptune knows I never got to get laid to... (He looked at a stern-looking Sandy)... Any girl.
Huxley: You mean like Sandy?
SpongeBob: HOW DID YOU- Uh, whatever, look, point is, living alone is no way to live.
Huxley: It is in THIS world. So, I'll just tender my resignation as a politician and save you the energy. Just continue living in your hellhole, and leave me out of it. All I'm good for is making it worse. Goodbye... Probably forever. (He left)... Wait... Which direction is Bikini Bottom?
SpongeBob:... That's, actually a good question.
Patrick: "I got this. PINKIE-"
Pinkie: "(Grabs the scenery) CHAPTER CHANGING POWERS, ACTIVATE?! (Pulls the scenery that changes into the next chapter)!"
Epilogue
Bikini Bottom
Huxley:.... (Sighs), Just let it go, Huxley. Now as I was saying, I'll just tender my resignation as a politician and save you the energy. Just continue living in your hellhole, and leave me out of it. All I'm good for is making it worse. Goodbye... Probably forever. (He left)
Spongebob: ".... (Sighs)."
Sandy: "Don't worry about him, Spongebob. We'll keep an eye out for him too. I feel like one of these days we'll deal with him too."
Thanatos was seen being dragged off by Lightfly Guards as prison wagons were lining up to collect the cultists, Mal's goons, and eventually the mad doctor and Flynt themselves, along with Angelia.
Flynt: "Ya know, I feel like this wasn't a proper introduction to you, misfits! In fact, just you wait?! Cause, Joke's on you: I DON'T SEE SHARKO ANYWHERE?! HE'LL BREAK ME OUT?! JUST YOU WAIT?!"
Mr. Krabs: "Oh don't you worry! We'll be ready for him soon enough, ya scoundrel!"
Flynt was tossed into the prison van as it drove off, Sharko hidden in the alley....
Sharko: ".... (Quietly) We'll test that statement soon, Krabby. (Waks off into the shadows and vanishes)."
Brine: "(Gets to Mr. Krabs) Eugene Krabs, you'll be happy to note that Krabby Patties aren't banned anymore and that the Bikini Bottom Food Law Agency will be returning your formula."
Mr. Krabs: "I'm glad to have that settled. That said, I will try to look into that claim about it being beyond addicting. Something like that capable of interrupting my business like that needs to be looked into."
The Food Law Barracudas came in and were about to give Krabs the recipe back.
???: "YIPPIE?!"
Plankton flew in on a jetpack and flew off with the formula?!
Plankton: "THAT PRISONBREAK AWHILE BACK PROVED ALOT MORE BENEFICIAL THEN I THOUGHT, AND NOW I'M FREE, AND WITH THE SECRET FORMULA?! I'M RUNNING YOU OUT OF BUSINESS, KRABS?!"
Mr. Krabs: "OH NOW YOU'RE REALLY GONNA GET IT, YA MICROSCOPIC SCOUNDREL?! (Chases after Plankton)!"
Squidward: "Well not even 20 seconds in and things are back to normal."
SpongeBob: As they should be.... Now, what about our Lodger friends? I bet Spyro's doing well leading them without us, given, you know, his many times leading them.
Sandy: "Well, soon as we put Plankton in his place for the umpteenth time in a row, we'll go see for ourselves. (The group charged after Plankton)"
American Dragon World.
The Long Family were still held by restraints, being monitored by Dr. Fozzil and Professor Nortan Nimmul.
Dr. Fozzil: "May I say, that after many a scanning, I will say that their DNA is remarkable! Had it not been for Dark Dragon's personal insistence for his "Own Plans", their DNA is perfect for my own ideals of the return of dinosaurs!"
Professor Nortan: "I know, right? Think of the genetic monsters I can make with just a STRAIN from them!"
Mercurymon and Meng Tao were seen.
Mercurymon: "Try not to distract yourselves on your hubris, gentlemen."
Meng Tao: "There'll be plenty of time for your silly science experiments when the Dark Dragon's game plan is active. Just a matter of catching that talking mutt and his "Jungle Crew" annoyances. Now, is the containment of these fools still operational?"
Dr. Fozzel: "They're as hung up as a fossil display."
Meng Tao: "Excellent!"
Mercurymon: "Now ensure it stays that way, gentlemen. Besides the Lougers, these people are the biggest threat to our operation, and their containment is the most impourent of the operation."
Mercurymon and Meng Tao walked off, as the Lougers were seen in the vents, having saw that meeting unfold.
Lord Shen: ".... Okay, let's review our strategy, we-"
Max: Hey, heard the good news guys!?
Icky: "What news?"
Sam: Didn't you hear? We're getting a new video game next year.
Max: It's been a whole... (quietly) let's see, Devil's Playhouse released in 2009 to 2010... 25th anniversary at Poker Night 2 in 2013, Sam said we were enjoying the downtime, carry the one... (Outloud) 8-to-11 years since we've had a game! Isn't that great?!
Lord Shen: "..... And you interrupted a stealth mission in the middle hostile territory, FOR THAT?!"
Max: "Well admittingly it's one of those V-R thingies, ya know, following a trend, but hey, at least it's something to look forward to when things HOPEFULLY settle down by that year."
Alex: PSSH, that's nothing. Hulu and Peacock are releasing a prequel series involving me, Marty, Melman and Gloria during our childhood.
Lord Shen: "(Flabbergasted gibberish), Are we suddenly forgetting we're in a high-stakes operation here?!"
Gloria: "Shen, hunny, we've stealth around baddies, HOW many times? Even with being careful and quiet as a church mouse, the plot will make the attempt a disaster EVENTUALLY, and another thing, alot of the Scourge's Big Players are distracted anyway, the rest of them aren't that threatening."
Lord Shen: "But that's not to say the Dark Dragon is some south of a false emperor?! That reptilian is a legitament threat!"
Gloria: Yeah, we kinda got that, all these years absent means he must've been upping his game.
Marty: But look at it like this, at this point, stealth is overrated.
Lord Shen: It's not always.
Marty: Not to you, it ain't.
Spyro: Everyone, just silence yourselves. We can still catch them by surprise-
Bananas B: Oh, hey, Lodgers, what'cha up to? Throwing a surprise party for DD?
Max: Oh, we actually are, BB, thanks for aski- (His eyes engorged as with the cartoony Lodgers) AHHHHH?!
Lord Shen: Relax, it's just Bananas B. He's against violence.
???: But I'M not! (Councilor Chang appeared and zapped at them all, immobilizing them)
Boss Wolf:... I see YOU guys have been working on surprise parties yourself.
Chang: Flattering, but not enough to spare you. Dark Dragon has been expecting you.
Lord Shen: SEE?!? THAT, is exactly why we should've done this with stealth!
Shenzi: Oh, boo-hoo, you're not exactly the leader, Shen.
Chang: Come along. Dark Dragon would like to see you.
Iago:... What a way to transition into the next epis-
FIN?
Community content is available under
CC-BY-SA
unless otherwise noted.