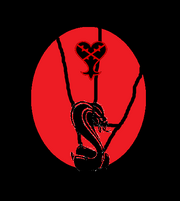 A Story Arc about the League going through personal turmoil after "Princess Salvation" and aiming to bring themselves out of their rut and establish a villainous legacy away from the Great Cycle Incident. For Clarity's sake, the reason why Viral Vi-Tor Gets Real and Perytons'of'Fun are included to this Arc because they held key features about the elements of Princess Salvation, from Kingdom Hearts 3 finally coming forth, along with bringing forth the Main trio's transition to new forms, to the big revelation that'll lead to Princess Salvation to begin with, ergo are classified as "True Build-Up" Episodes. Additionally, Dystopia In Zootopia shares with this arc cause of it's side story of the Kingdom Hearts trio returning to Radiant Garden and the loose ends being tied up about Seperoth. This said, episodes that were building up to the Great Cycle event will not be included cause of minor references to it and such were barely even focuses.
Trending pages
All items (6)
Community content is available under
CC-BY-SA
unless otherwise noted.