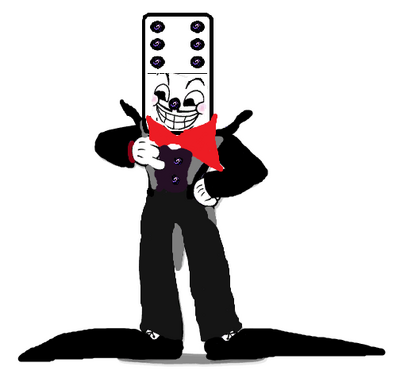 Chancespawn
are Outer Gods that are very sacrificial entities normally shaped like Dominoes, that float outside dimensions. Though they can appear like Amoral Ones, but instead of a faceless mirror head or TV head, they have domino or other form of gambling-eqsed objects like dice of any form as heads. Their main instinct of existence is the very dangerous game of chance, hence the name, in which whenever they see a universe or world of potential challenge, they will use their reality-bending heads to test their resilience, and end up causing unauthorized tests of sentience, through a game of chance that will either kill them or itself. When it wins, the world or universe will be destroyed. If it loses, it gets permanently turned into a normal domino or whatever it's head is based on, collected immediately by other Outer Gods. Though in many instances, Chancespawn cheat or make the game harder as they wish, playing dirty to heighten the stakes. Their dice heads have multiple personalities with the number depending on the number of sides it's dice head has. Though sometimes, Chancespawn are not always like this, as some of them like to do their gambling love in other ways. The most common alternate means of chance is often gamble on how universes would work out in the confines of the Vegasy Dimention of The Gambler Dimention, of which they came to rule thanks to their infinate bag of tricks to win at gambling games, legit or otherwsie, a realm where gambling is wide spread, where often they like to organise events where universe residence are put in Rat Race like situations, often involving a powerful object, even the netourious 
The X-Infinity Neckbrace
, being placed in the universes and given to the perfect downtrodden being to be the subject of interest, and make bets on what would happen in the end, where the winning better, would not just get a cosmic cash prize, but also gambling rights ownership of the unverses where the event took place in, as show in the black dots on certain parts of it's body that is a symbol of the Chancespawn's ownship to rights to gamble in that universe. Another thing they like to do is collaberate with like-minded forces on gambling on the fate of universes, like so with 
Chaos Incorporated
, as a Chancespawn was a co-founder along-side it's main leader and gets an equil share in the profit it makes on misery. Chancespawn are basicly resemblent to profit first businessmen and winner-takes-all gamblers with 50's speaking lingos, made worse with standerd Outer God Amorality, if not that they're also cheeky sneaky devils about it. What Chancespawn do with universes they have gambling rights to is often allow for secret portals that can't be detected by 
Pathmakers
 to allow for other devients to use and enter a universe as they wish, for a spefific cosmic price, alchourse. Chancespawn typically view mortal and inrealm gods as just pieces of a game to gamble with, and often have little sympathy or care of what becomes of them. Chancespawn are also the only beings with any understand of money, and have abilities to access many of it via control over wealth centric dimentions, like that of the endless gold rush dimention and the Money Tree Dimention, of which they shamelessly used to coherse greedy enough individuals to serve their spefific whims in return of partnership contracts, as sometimes they enfluence capitalist mortals of the dimentions to sign agreements to make even more money for business and themselves alike, often enfluencing businesses to accept and do shady practices and making them very pro-profit. In laymen's terms, they're behind half of the corruption of business goers beyond simple temptation of wealth.
Community content is available under
CC-BY-SA
unless otherwise noted.