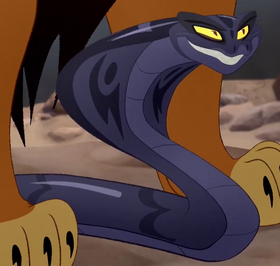 Chonge
, AKA
Strange Cobra
, is an unnamed black-necked spitting cobra and the friend of
Ugomvi
who was the one that delivered the namesake scar that is present on
Scar
. He was Ugomvi's best friend who was expecting him to do well as the best in the Lion Guard lead by
Mufasa
's uncle
Mwokozi
, and helped him cause strife when his hopes were crushed by driving Scar to villainy as revenge for what he was denied. Though they almost died by being flung into a volcano by the Roar of the Elders, they escaped planting seeds to take over the Pride Lands. Chonge sent pawns for Scar to set up the near-downfall of Pride Rock and the destruction of the Lion Guard.
Role in the series
Coming soon...
Community content is available under
CC-BY-SA
unless otherwise noted.