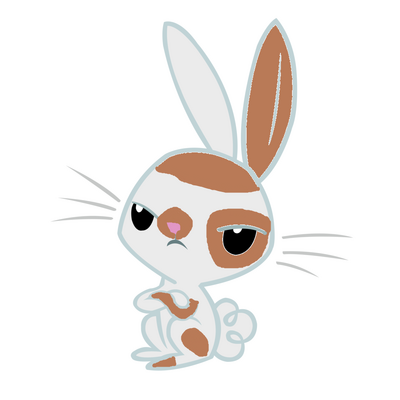 Cupid Bunny is a female bunny from Equestia that is the pet of
Starlight Glimmer
. Cupid was in Starlight's procession for a long time, Starlight raised her when she was young, and Cupid is loyal to Starlight expenendsally. Cupid also comferts Starlight in her troubles, espeically so when she was recently dethrowned from control of a village. Though not able to talk, Cupid is quite intelligent for a bunny, and makes sure Starlight's new allies, 
Cyber Caera
, 
The Batmen Bros
, and the more violent members of the 
Jailbird Troupe
 are kept in line. She even asserted dominence to the cousin of 
The Wolf from the Sword in the Stone
, 
Mange
, and uses him as her speed and legs cause her small size isn't buildt for long distence travel. Being unsentient, she is not truely evil, she is just being a loyal pet to Starlight.
Community content is available under
CC-BY-SA
unless otherwise noted.