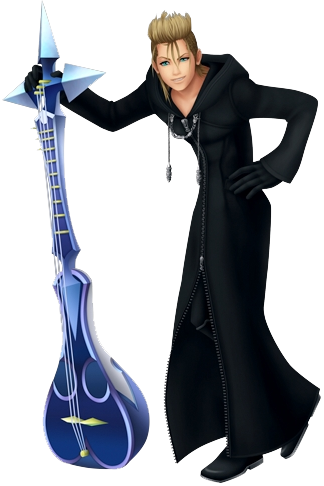 Demyx, the Melodious Nocturne (夜想のしらべ Yasō no Shirabe?, lit. Nocturnal Poem), is Rank IX within Organization XIII. He controls water, and uses his weapon, the Sitar, as a musical instrument to make water fight for him in battle. He commands the Dancer Nobodies.
Demyx plays a minor role in Kingdom Hearts II, where he is tasked with tracking down Sora to liberate Roxas's "true disposition". Although he dislikes fighting, he is directed to use "aggression" against Sora and his companions to bring out Roxas. Demyx is a playable character in Mission Mode in Kingdom Hearts 358/2 Days.
Role in Kingdom Hearts Lore.
Organization XIII's Number IX.Organization members all wear black coats, and it's said their numbers were assigned in the order they joined. In addition, their names share something as a mark of their brotherhood. He was surveying the world of Olympus, and even swiped the Olympus Stone. He's a lousy fighter. Demyx called Sora "Roxas." He used a type of instrument called a "sitar" to control water...but he wasn't very good at fighting. Demyx was under orders to "liberate Sora's true disposition".
Demyx appears in Hollow Bastion with all of the other Organization members, but like the others (except for Xigbar), he does not contact Sora. However, you can hear Demyx's higher-pitched, nervous laugh in the background.
Demyx's role in the Organization's plans is minor. He is sent after Sora on suggestion by Xigbar to find him and "liberate his true disposition", either to keep Sora on the path Organization XIII wish him to take, or try to awaken Roxas. He also contacts Hades, but no deal was made and Demyx promptly flees, saying "Run, run away!", passing by Sora and co. and leaving them puzzled at his outburst. Later, Demyx steals the Olympus Stone, and soon encounters Sora within the Underworld once more.
Although Sora doesn't understand the meaning of Demyx's objectives, nor why Demyx calls him Roxas, Demyx is unable to fulfill them and took the next ordered step, which is to attack Sora. Demyx at first only summons "forms" of water— shaped into himself and musical notes, which then attacked Sora, Goofy, and Donald—which he controls with his sitar, similar in design to the Organization symbol. He is unsuccessful in defeating Sora with his water forms, however, and escapes instead of continuing the fight. Before he takes his leave though, he begs "Roxas" to come back to the Organization, leaving Sora even more confused.
Demyx confronts Sora later in Hollow Bastion during the Battle of the 1000 Heartless, again greeting Sora in a rather friendly manner. However, Sora and his companions' response is hostile, even claiming that Demyx is unable to fight. Demyx still maintains his personality despite the insult, with only a "You shouldn't judge anyone by appearance" in a slightly deeper tone. But when Sora and co. claim that the Nobodies do not have hearts, Demyx's normal carefree air vanishes, and he silences them with a much darker tone and attacks the "traitor" again with all his strength. In the end, however, Demyx is defeated again and fatally wounded. After lamenting his loss, he fades into watery darkness, the first Organization XIII member to fall in Kingdom Hearts II and sixth member overall.
AbilitiesEdit
Demyx is portrayed as being weak, cowardly, and lazy, but proves to be no pushover in the battle with Sora. Most players have trouble defeating him due to his ability to summon water clones in a time limit to defeat all of them. Demyx, being a musician, uses music to control the water around him and to summon "water forms", objects shaped out of water into musical instruments or copies of himself, which move about the battle area to hit Sora, forcing him to defeat the forms in a certain amount of time to avoid an automatic loss. He can also summon violent geysers that erupt from the ground, forming strong streams of water which damage Sora and throw him into the air. His sitar is rarely used as a weapon, but most often used to play his music instead. However, Demyx does use one move using his Sitar as a weapon, but it does little damage to Sora. Demyx does little fighting by himself, instead relying on his control of water to make it fight for him.
In Kingdom Hearts 358/2 Days, Demyx has a Limit Break called Wave Gigs. During Wave Gigs, the player must press and time the attack button in specific "beats" as Demyx jams out on his sitar, summoning up large pillars of water to rise and strike enemies. The more efficiently the button inputs are performed, the faster and more plentiful the attack will be. Enemies that are hit by the pillars take water damage. Meanwhile, Demyx's movement speed is reduced to a slow march, allowing him to slowly advance on an enemy as he attacks, but not much else. His falling is also slowed.
During Demyx's Final Limit, Demyx releases a large ball of water while jamming out on his sitar. The ball creates a watery explosion that knocks enemies back and deals water damage.

Demyx is very open about his dislike of fighting, and prefers music instead. So, he carries an enormous Sitar, named Arpeggio, a stringed Indian instrument similar to a lute or guitar, into battle. The Sitar itself is shaped like the Nobody insignia, in varying shades of blue.
With it, he can cause water to take the form of people and musical notes, making them "dance" to his music. Although not very useful in battle itself, it can cause some damage if swung at an enemy. He mostly uses its strings to control water and make it fight for him.
Role in the SAF series.
He was considered to be reserected, but NOT, by the Villain Leage, who deemed him a useless weakling. However, he instead was gonna be reserected, and was successfully, by Team Nefarious when his reserector, Doctor Nefarious, wanted a Nobody to counter against the Leage's own. However, such dreams were short lived when Axel, Larxene, and Vexen came, beaten the crud out of Nefarious, and Axel used little force to make Demyx reconsider his role as a villain, who he considered it too much of a hasle anyway. Demyx has a surprising amount of respect for the lougers, and espeically a fan fo Po. He certainly quickly given up being evil... Being a lazy cowerd, that is still part of his nature, but when forced to, by either cirtinstances, and own team members, he can handle himself quite fearsomely.
Community content is available under
CC-BY-SA
unless otherwise noted.