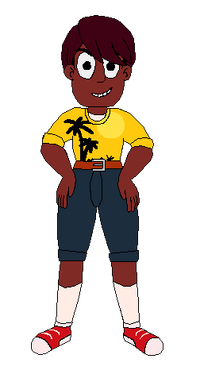 Devontae A. DuFresne
was a human in the world of
Steven Universe
. He was part of the same Space Camp attended by
Connie Maheswaran
during the times of
Steven Universe: The Movie
, and was a very mean bully to her and was jealous of her achievements of helping establish peace across the universe, when he could've done so because of having information regarding the Gems. When he pushes Connie too far, she gets herself suspended standing up to him. Later on, when
Steven Universe
and the Crystal Gems deal with an artificial copy of Pink Diamond meant to replace her after she faked her own shattering,
Cubic Zirconia
, she wreaks havoc on the Space Camp and kills Devontae, unable to respond to Steven's warnings to avoid her in time. While Cubic kills herself upon realizing her own pain, everyone including Connie hold a funeral for him. However, Devontae's true fate was not as simple as it appeared. He was revived into a creature called a Snakeatari, which is also known popularly as the Sneeple, who are a race that aims to restore all the alien races that the Gems wiped out in their universal conquest during Era 2 and take them out.
PTE Redux Conditions: PTE's version of Devontae will be drastically different. In the PTE Universe, he appears in one of Steven and Connie's adventures and flirts with Connie before becoming good friends. He also appears different, being overweight, with a shaved head, and having a darker skin color.
History
Coming soon...
Link
Community content is available under
CC-BY-SA
unless otherwise noted.