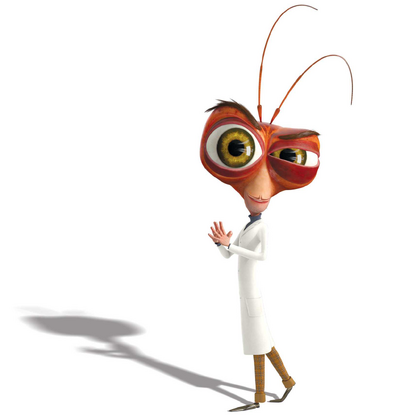 Dr. Cockroach, Ph.D.
is a brilliant professor and a mad scientist with the head and abilities of a cockroach. He created a device that would give humans a cockroach's ability to survive forever. He tested it on himself and found that there was a side effect of giving him the head and abilities of a cockroach. He can climb high walls and objects and eats garbage. He was captured in 1962 and put into the recently set up monster prison in Area 52.
He can turn a pile of garbage into a super computer as long as he dosn't eat it first, build a rocket car, make a missile in his cell and an explosive. Also he was able to hack through the alien's core computer and set it to self destruct the ship.
Dr. Cockroach is an expert dancer (it happens to be his PH.D) and a polite, charming and sophisticated man/cockroach. He accepts his role as a mad scientist and in the middle of experiments and plans he does his evil laugh. He also helped Susan get used to the monster prison and to her new power and size as soon as she was catpured and brought to the monster prison. he reformed and helped bring down the mence of Galaxhar.
he formerly was gonna meet Spongebob and Friends in Spongebob and monsters vs. aliens, but it was canceled due to copyright, and truely met him for the first time in Spongebob and friends go home on the range. he joins in Spongebob and friends meet dinosaur. He is the brains of the team like Kowalski, since both are very intelligent and use the works of science. he's like the intelligent uncle, next to Kolwalski.
Dr. Cockroach is a parody of the titular character in the film, The Fly. He was inspired by Dr. Andre Delambre . In the teleporation experiment gone wrong, a scientist's body was combined with that of a fly.
Community content is available under
CC-BY-SA
unless otherwise noted.