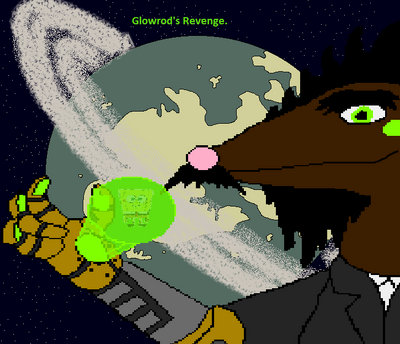 Dr. Glowrod's Revenge
is the 44th Episode of Season 3A of the
SpongeBob and Friends Adventures Chronicles
series. Glowrod is still a problem. While the Heroes Act managed to stop the Pharagu uprising and only able to capture Celisus and Narcotic in
Alternate UUniversal Reconstruction
, Glowrod was booted back on the barren planet by the name of Xenaros, the tracherious home of a series of mutated creatures called Xenaratinoids, the remains of a once-proud race that went through a biological accident caused by a genocidal maniac. Zigmond, his crew, Death Screeched, Matrix and Pyro were able to recapture the insane Glowrod and with help from Narcotic's gift of a modifived Sanity Serium, were able to make Glowrod only 90% less insane and more morally acceptable, though not less evil. Regretful of what he was like before, he aims to make up for it by doing what was originally asked of him from Narcotic and Celisus: Return Qui to evil. He has built a de-reforming machine called the 'Psychonitor', used from old neuroshock corruption technology, where with help from small drones all controlled by the single supercomputer that are all designed to seek out reformed villains, he will capture them and return them to evil again. With most of the reformed villains turning evil again, the heroes decide to find whoever is responsible, where he is, and how to find him. And this is espeically important because this endangers the Equestrian Monastery, where Cadence is held up with and preparing to give birth to a new child while Shining's away to make preperations in the Crystal Empire, and if the Monastery members get turned evil there, Cadance will get in trouble. When their mission takes them to a planet that Glowrod calls 'The Most Perfect Hideout of All Time', anything can happen.
Transcript
Chapter 1: A Planet of Xenomorph Look-Alikes
Earlier in the Two Previous Episodes, AUU, Planet Xenaros
Zigmond's ship was seen heading there.
Pyro: "..... Bros, you sure it's a good idea to return to Glowrod after we turned on him like that? I know we still need to make Glowy less extreme, but-"
Matrix: "Hey, I am not 100% comfortable with this either, but Glowrod's still otherwise a good villain, and Celisus and Narcotic still consider him impourent to re-evilise Qui."
Screeched Death: "(Walking down) Indeed. Glowrod and his tamed monsters are powerful allies. That's why it's impourent to include them into our inner circle."
Zigmond: "Fair enough for me. Now, you are gonna make us magicly ammuned to that planet's toxicity, right?"
Screeched Death laughed abit.
Screeched: "I would've been a very neglectful ally if I would had not. (Casts the spell and makes everyone ammuned)."
Pyro: "So, should we start looking for him in his faverite lair, Fort Pharagu's Beauty or whatever it was called?"
Screeched: Oh, I have a knowledge of a navigation spell. There may be a lot of ruins there, but it'll be easy for me to lead us there. Plus, I can easily protect us from the untamed Xenaratinoids out there.
Zigmond: Good to hear. Now let us get moving. (They landed on the planet as massive sandstorms were seen, and they exited the ship as they came out to see what was left of what was once a prosperous civilization)... (Sighs) It pains me to see what a rogue Villains Act "terrorist" as non members can discribe him can do all by himself.
Screeched: Indeed. Gordon the Animal was a murderous racist who wanted all he was 'wronged' by during a war he wasn't a part of wiped off the face of the UUniverses. And he almost succeeded had it not been for the luck of the last of his final targets. I'm as glad as the next Villains Act villain with actual standerds that he's in Oranos where he belongs. He only saw the VA as a means to get weaponry against the races that harmed his people in a long ago war he didn't even seen.
Pyro: Yeah, that guy had no place in the Villains Act, even after he kicked major ass in the VA Deadlockers.
Screeched: Come. We must head for the fort. Glowrod's probably picked up our ship's arrival, and though he might not be happy to see us, I have a few tricks to persuade him that we are going to make it up to him. We had to turn on him because we had no choice. (They wandered the wastelands as the storms got to a few of them)
Later...
Ghasma: (The storm got worse as some of the group got tired)... Yeesh, the storm is intense. I don't think an immunity to toxicity is going to protect our eyes from the sand that's being thrown into our faces.
Zigmond: (With his helmet's covering over him) Calm yer'self, Ghasma. We only have a sheer mile to go.
Screeched: And I've already given us enough protection to combat this intense weather. But be reminded that the toxins and the storms aren't the only thing dangerous here.
Zigmond: Yes, there be the Xenaratinoids, the remains of what was once this planet's very indigenous race. (A distant shriek was heard)... Speaking of which.
Pyro: That sounds like it's coming for us.
Screeched: They have highly-accurate senses. But as I said, I can defend us from them. (More shrieks were heard)
Ghasma was worried.
Ghasma: "I didn't drank enough beer for this! I'm usually braver drunk!"
Matrix: "Your also more stupider drunk."
Zigmond: "This is what be odd to me. Narcotic and Celisus came to this planet before and the creatures never bothered them even once. We're here and yet suddenly, they be batting their eyes at us."
Screeched: "That be because of Celisus being a fire being... And the creatures FEAR, fire."
Pyro: "The stupid monsters fear alittle fire? (Brings out a flame thrower) In that case!? (Wildly starts displaying the flamer-thrower) WHOOOOOOOO YEAH?! FEAR THIS FIRE, YOU BEAKED BITCHES?!"
Screeched: "NOT LIKE THAT YOU IDIOT?!"
The Shreks were heard moving away from the group's location.
Screeched: "(Sighs angerly). You were lucky you scared off a group of weak-willed scouts and not far braver soldiers! We could've been killed, you imbacile?!"
Pyro: "It worked, didn't it bros?"
Matrix: "But for how long?"
Screeched: "It would be wise to not wait for the answer. Come on."
Fort Beauty of Pharagu.
The Group finally arrives at the place.
Screeched: ".... Allow me to enable an enterence."
Screeched Death teleported the entire group into the fort, still going through the sterilisation progress.
Zigmond: "Aye. The inside of this place is as beautiful as ever. Tis indeed a sight to behold."
Matrix: "Well it IS his faverite lair after all. Ok, let's find Glowy and-"
Growls are heard, as Brut-Tu and Xi-Xi appeared.
Ghasma: "..... Oh yeah. We totally forgot about Xi-Xi and Brut-Tu. Think they remembered us?"
Brut-Tu and Xi-Xi growled louder.
Matrix: "Well, they're espeically angry at us outside of being uninvited, so it's very likely they do."
Zigmond: "Screech, I think we be needing to disable those creatures for the time being so they won't misguidingly interfear with fixing Glowrod." (Screech put up a soothing melody that ends up putting the creatures to rest)...
Screech:... See? What did I tell you? Leave everything to me. (Suddenly, more shrieks were heard as more Xenaratinoids appeared)
Pyro: "Hey wait a minute! I thought Glowrod only had the Ape-Monster and the Yinvern Monster! When did he get more Xenarats?"
Matrix: "Well it has been a long time since the Pharagu mess, genius. OBVIOUSLY, he took time to get more."
Screeched: "Overall, I have NO patihence in playing pet sitter."
Screeched Death trapped the other Xenarats in inescapable black bubbles.
Glowrod's voice on an intercom: "Well well well, if it isn't a few traitorious colleagues of mine. I actselly hoped you would've been captured and sent to Oranos by now. You might be thrilled to know that Croker has been relieved of service thanks to his failure to be considerate to the planet's real owners."
Pyro: "Oh we heard about that, and it was hilarious on how he cried like a 1st grader and was begging for even Kraan himself to kill him! (Laughs)! I totally wished I seen it for myself!"
Glowrod's voice: "Well your beloved female Naurodan ape is calling the shots now! Oranos has become almost akin to a luxerious resort then a prison now! They even serve real food, not slop! She even gotten around to that Hot Rog Tuesdays plan she wanted to do."
Matrix: "Yeah but outside of that, it's still jail! They still won't let ya leave and still make ya follow a shedgule."
Glowrod's voice: "Just leave! You don't have to return to your precious Chokera but you can't stay here!?"
Zigmond: "Look, to be fair, we only turned on ya because you violated the deal. Ye said ye weren't gonna used that garbage to harm someone, yet you were anyway."
Glowrod's voice: ".... Perhaps that is my own fault for being like Blacker, but still. It's not like the USRA races would've appresiated the betrayal on me! You all are still guilty of crimes worthy of Oranos! Even if they are thankful, you would still be arrested on sight, little questions asked!"
Matrix: "Why did ya think we didn't stuck around? We know those heroes are a fickle bunch, so we took advantage of the situation while it was good and amscray. Though, we ended up losing Narcotic and Celisus because the morons didn't got out of dodge in time."
Screeched: "But we still aspire to bring Qui back to proper evil. But even with our set of skills, we are little capable of it. We would be too easily counter-acted by some of our personal enemies and the Lougers before we can even get close. You offer unpredictable stragity. We just wish to alter you out your OTHER kind of unpredictableness so you won't end up going Gordon on us again."
Glowrod's voice: "NO!? AND YOU CAN'T MAKE ME?! THE GASES INSIDE ME HELP ME BECOME AMMUNED TO XENAROS' AIR?! WITHOUT IT, I'LL BE COMDEMNED TO THE LAIR?!"
Matrix: "Hey, we didn't say ALL OF IT! Just enough that you won't be insane with trying to destroy the USRA races anymore. Trust me. The Pharaguians no longer see you as a hero anymore. It be pointless to still try to avenge them when they're like everyone else now. And because you killed Lighthead, only for him to come back as a dark Magilo abomination only for Screecher's rival to banish to some dark realm, you pretty much don't have any real supporters there."
Glowrod's voice: "YOU WANT TO TAKE AWAY MY AIM FOR AVENGING PHARAGU?! THAT'S WORSE THEN THE OTHER THING I THOUGHT?! JIM-JIM-JIM CHERRO?! (Sounds of self struggle were heard as well as a poke) I will never expose myself to you gentlemen?!"
Pyro: ".... Dude, we know your likely hiding in your basement laboratory, right?"
Glowrod's voice: "...... No I'm not?"
Zigmond: Some of us have really good hearing, ya' know. We can literally hear where yer' voice be coming from.
Glowrod's voice:...This is your last chance, you traitorous fools! Leave now or pay the price!
Zigmond: "We pretty much beaten even your best Xenarats! What else be there?"
Loud clanks are heard as a recolored War Spider drone came from the shadows.
Glowrod's voice: "Did I neglect to talk about my War Spider drone BJ-222? Did I? Oops. He's my INORGANIC security should people SOMEHOW get pass Brut-Tu and Xi-Xi. ARE YOU STILL GONNA BE DEFIENT AND-"
Matrix fires a zapper that disables the War Spider.
Glowrod's voice: "..... Oh right. Matrix, Matrix has a buildt-in robot deactovater, does he? (Nerviously laughs).... Can I at least ask politely that I just want to be left alone? (Nervious Chuckle)?"
Zigmond: "Now what kind of villains would we be if all it took was to ask nicely to make us stop?"
Pyro: "Yeah! What do you take us for? Guys like Flark?"
Glowrod's voice: "..... Ok, Plan B! Escape pod!!"
Ghasma: (Drunk on blue grog, he ended up launching the escape pod as it blasted off and crashed in the distance)... You... You mean THAT escape pod- (Burps)
Zigmond:... Well, Ghasma, for once, yer' drunkenness played well in our favor.
Glowrod's voice: THAT WASN'T MY ONLY ESCAPE POD, YOU-
Ghasma: (Pressed another button labeled 'Emergency Escape Pod Disposal') I'm sorry, wha-... Are you pretty in person? (The other escape pods blasted off and exploded)
Pyro:... You seriously added a button like THAT?!?
Glowrod's voice: Well... It was to trap my enemies and rob them of any exit in case of lockdown.
Matrix: Well, you just left yourself trapped.
Ghasma: And...what...what...what...what...what...what about us? Shouldn't we be trapped here as well?
Zigmond:... AW, HAGRY MOANS' S***!!!
Glowrod's voice:  Well now, now your drunkenness played well in MY favor. (An alarm was raised as everything was locked down)
Screech: You do realize that none of your security measures are going to protect you from us.
Glowrod's voice: OH, REALLY?!? (Several turrets were seen and pointed directly at the group, cocking rapidly)... Let's see you magic your way out of this! (The turrets fired as several different forms of firepower were shot at them, but Screech put up an energy shield protecting them until all the turrets exhausted their ammunition)
Screech:... You have NOT been paying attention, Glowrod.
Glowrod's voice: JUST LEAVE ME ALONE, YOU FOOLS!!! I DO NOT WANT TO BE THROUGH THIS S*** WITH YOU!! NOT AFTER HOW YOU BETRAYED ME, WHETHER IT WAS FOR THE RIGHT REASONS OR NOT!!
Screech: We're not leaving until you come out and talk to us, Glowrod. We're doing this for Narcotic and Celsius.
Glowrod's voice: THEY ARE JUST A BUNCH OF TWATS ANYWAY!! I wish to do my vengeance schemes for Pharagu on my own. And you wish to TAKE that ambition away from me!
Zigmond: It be for the best, Glowrod. People think yer' a monster anyway, so there be no point at continuing this ambition.
Glowrod's voice: IT'S STILL MY DECISION TO MAKE!! I WILL NOT ALLOW YOU TO WARP ME OUT OF WHAT I WANT THE MOST!!!
Matrix: "Think about it, Glow. Even if you DO eventally, even minorly, damage the USRA, it still won't change the Pharaguians' mind. Your just gonna end up risking making the HA want to put you out of your misery, just to make sure you stop being a threat. While it's true they're still gonna throw you in jail, at least let us give them the satisfaction you deside not to be a monster about being a villain anymore."
Glowrod's voice: "Well jokes on you! I locked the door to my lab and only I have the key! So you have no way to enter-"
Pyro: "Dude, we have a dark magilo guy, remember? He can either teleport us in, or teleport you out."
Glowrod's voice: "You can't prove that!"
Ghasma: Oh, noooooooo... You had to say tha- (Burps)
Screech: (Teleports him in front of them)
Glowrod: DAH!!... STAY BACK!! My cyber-arm holds a blaster! (He fires, but Screech freezes the blast in place and rebounds it back to Glowrod) OOF! (He falls to the ground)
Pyro: Dude, there's nowhere to run, and nothing you can do to stop us. Just admit you're beat, and accept the fact that you're NOT what Pharagu needs.
Glowrod: NEVER, NEVER, NEVER!!! AND YOU'D BETTER STAY AWAY FROM ME!!!
Zigmond: Or what? Who's going to stop us?
Ghasma: The Shell Lodgerrrrrr... Squads! (Burps) Wait, they don't know what we're... We're... We're doing.... Glowrod doesn't look like a glowrod.
Glowrod: It's my last name, you drunken loony!
Zigmond: Yer' not going to avoid us, Glowrod. (Uses his cyber-hook to freeze Glowrod in ice)
Ghasma:... Is it chilly in here... Because I LIKE chili. (Cackles wildly)
Pyro: What do we do with him?
Screech: We're not going to leave this place yet. We're just going to restrain him so we can de-insane him just enough for him to renounce this senseless 'justice' for Pharagu. It won't wipe away his evil, but it will do what we came here to do.
Later...
Glowrod was in the bed as Matrix administered Narcotic's modifived insanity serum into Glowrod through his finger.
Matrix: "Yeah, Narcotic said that it's gonna take awhile for the new serum to take effect, so... We're gonna be here for awhile."
Zigmond: "Well, with that War Spider de-activated and those Xenarats safely disabled in those stables, we may as well give ourselves a free tour of Glowrod's lair. We can even check out his lab."
Pyro: "I'm down with that. We can at least check out some cool inventions he has. Maybe he even created that reserection machine he said he would one day build."
Screeched: "Provided if you agree to NOT LOUSE ANYTHING UP?!"
Pyro: "Oh when have I ever loused anything up?"
Screech: Remember the Harrathor's secret crush on Xandy you exposed?
Pyro: Oh, right... That.
Ghasma: (Now fully-sober) Yeah, that was actually a d*** move. So we're trying to make sure you don't do anything silly again.
Screech: The first step is to NOT TOUCH ANYTHING!!! Don't be like drunk Ghasma and press the shiniest button you see. Some of these things could hold things that could be useful and we could waste in a good fight.
Pyro: Oh, I may be an idiot, but I'm not the one to press a button. Have I ever done a stupid thing like that?
Zigmond: No, but ye' might.
Pyro: Oh, you guys have got nothing to worry about. Let's just see what the insane doctor has been working on.
Later, in a Lab...
Screech: (They searched the large lab as the rest of Zigmond's crew was seen accompanying them)... Many thanks for getting the rest of your crew to take a look at this place, Zig.
Zigmond: It be a pirate's pleasure.
Orhes: Well, so far, there's nothing much to see in this place. All that we see is yellow, red, and white machinery.
4-Tusked Walrus: Actually, he has kept a decent amount of firearms. They appear to be stolen judging by the fact they still have price tags on them.
Orhes: Good eyes, Scaff, it can give us good defenses.
Zigmond: The best defenses the doctor had were his mutants, his machines, and those turrets of his. See if there be any ingenious inventions he be workin' on.
Synapsid-like Creature: Well, some of these devices ARE labeled. This one appears to be a prototype resurrection machine. He's just been testing this variant on those Xenaratinoids we saw earlier. Could explain why he has more than Xi-Xi and Brut-Tu now.
Gorilla-like Pirate: Oh, the guy has a lot more than that, Sygey. He's got PLENTY of untested machines. He's got... Uh... I can't seem to read these good. Not only are they rusted off, but I can hardly read.
Orhes: (Walks up)... I do believe that this is a DNA-Sequencer for efficiently creating genetic serums and s***, Hoger.
Gorilla-like Pirate (Hoger): Oh, neat. I've always wanted to see one of these things. I wanted to create my own mixed-breed rog.
Orhes: Even if you could find one, you could never actually figure out how to work the damn thing. Anyway, the rest of these are... Wow, he's actually been working on a new variant of those synthesis-based fabricator machines. This guy can synthesize, craft, and refine anything as long as he finds the resources needed. Only the richest of scientists have those things. He's also got a... WHOA! He actually used fabricator technology to create a device that can modify anything including weapons, tools, and equipment. That's technology worthy of the Yatorans.
Screech: Well, the Villains Act DID have control of the AUU Currency Troupe, AND this world has been known to have mines rich in rarium. A handful of those gems can make you wealthy for a millennia. Anything else of worth?
Orhes: Well, he's got a reactor that gives him plenty of power, and it's all controlled by this large control panel.
Matrix: And oddly enough, the greenhouse where he stores all those Pharaguian plants is automatically nurtured and controlled by a control panel in another room not to far from here. It's even got an artificial weather system. And it appears he's been working on an artificial intelligence system, but he requires a power source greater than a reactor to power it.... And I think he was intending to create ANOTHER reactor for that.
Scaff: There's also... This thing.
Matrix: Let me check that out. (Looks at the device)... Hmm... I think it's supposed to be some kind of supercomputer (Turns it on and opens up a holographic screen and keyboard)... Oh, great, of COURSE the damn thing requires a password.
Screech: (Magically hacks into the supercomputer, and the screen says 'Access Granted')...Cyberspace Spell. Works every time.
Matrix: Ya know, my robotic arm has an automatic password decoder, but thanks anyway to prove that I'm otherwise grateful. Now let's see here... (He goes through the computer)... Wow, Glowy knows how to make his computers. This is a supercomputer capable of storing a whole metric ton of data. And not just ANY data. This guy has been cataloging Villains Act plans, rating them on a scale of 1 to 10, and using them to create strategies. He also made a list of his own plans, whether it be for avenging Pharagu, or for other Villains Act-centered plans like UUniversal domination. Wow, this guy must've been pretty busy.
Zigmond: Hey, this control panel is for mapping out ALL his sub-labs, his emergency hideouts across this planet, and for all the machines in them that he's been working on. Wow, he really WAS busy, says I!
Matrix: It says that right here. He's created over a hundred new inventions, backup war machines, and plans to use them, and they're all being taken care of by security and maintenance drones. Wow, no wonder he was a valuable member of the Villains Act. He thought of everything a mad scientist can think of.
Pyro: Never thought Glowrod was the organized type.
Screech: Wow, there's so many 'wows' going around, I can't even keep track of how 'amazing' this all is. Anything else to see?
Zigmond: The only other thing this control panel has is a map of the rest of this hideout.
Jaguar-like Mustelid: And the rest is just storage crates, cargo, lockers, and some energy kegs for storing infusible energy. We'd have to be careful with them, they are highly explosive when they get excessive damage.
Screech: Well, we've seen everything we can here. Let's go check out the rest of the hideout. Zig, can you print that map out?
Zigmond: You bet your poop deck! (Presses a button and prints out the map as they head out)
Chapter 2: Glowrod's Recovery
A very long self-tour later...
Glowrod was still in the bed as it was shut with a transparent-green seal.
Glowrod awoke.
Dr. Glowrod: "Ohhh..... What happened? Where am I?..... Sue? Sue? Did my gas invention work? Please answer me, Sue, and (Looks at Xi-Xi and Brut-Tu through the seal and is actselly scared and shock of them) AGGGGAAAAAAAAH?! Neither of you two are Sue! Where is she!? What you have done to her?!"
Brut-Tu and Xi-Xi look in confusion.
???: (Some figures appeared blurred through the seal) "Hmm. Narcotic did warn us that sometimes the medicine will give him momentary amnesia."
??? 2: "So, does that mean he's forgotten what happened to him, Screech?"
???: "Obviously. It'd be wise to give him his space."
Dr. Glowrod freaked out and started struggling rapidly.
Dr. Glowrod: "WHO ARE YOU PEOPLE?! LET ME GO!!! WHAT HAVE TO DONE TO MY FRIEND SUE WAI!? SHE NEVER HARMS ANYONE!?"
??? 3: "Ya be meaning one of the.... WOW, HE REALLY DID FORGOT!?"
Dr. Glowrod: "EXPLAIN WHO YOU ARE NOW!? WHAT HAVE YOU DONE TO HER?! ARE YOU ANGRY USRA BULLIES THAT'VE COME TO COMMIT VIOLENT VENGENCE ON ME?!"
??? 1: Alright, look, you've got some short-term memory loss. You may not like what you're about to hear, but you need to know. You see, you're a supervillain who turned against Sue Wai and made her an evil member of this villain force called the Villains Act.
Glowrod: I'm a WHAT?!?
??? 2: Uh, Screech, I don't think I'll like his reaction.
???: I've got it all under control, Pyro, I know a few mental spells to calm him in case things go wrong.
Glowrod: I would NEVER turn against Sue Wai! Why would I do such a thing?
??? 4:... (Sighs) We really have to explain his whole history to him, don't we?
??? 1: Afraid so. We'll just use his databanks and show him everything ourselves. (They do a few key commands on a control pad in the seal, and a holographic screen was seen in his view which shows everything he's been through in his life)
A few minutes of viewing later...
Glowrod:... I... Oh, now I remember everything.
??? 1: There. (The figures opened the seal and freed Glowrod as they got more clear, Screeched Death reveiled to be the one speaking) And you were so worried that he might not react very well.
Glowrod: Well, normally, you guys wouldn't be a sight for sore eyes after you betrayed me, but... Now I realize that Pharagu is better off cleaning up it's own mess.
Zigmond: Well, shiver me two-by-fours, it worked.
Glowrod: What worked?
Matrix: Well, you see, Doc, we gave you a sanity serum that wiped away your old pointless intentions to avenge Pharagu so you won't make yourself anymore foolish than you already have. Now, you're more moral, but not completely reformed.
Glowrod: Yes, I still feel awful about Pharagu, and Sue Wai's plans for reforming worms needed to be stopped. And I take it that Narcotic and Celsius need me to lead them again?
Zigmond: Not just them, laddie. ALL of us. We're a team....Well, we were, but now we can safely say that we can take orders from you again.
Glowrod: Indeed. So what do they need from me?
Matrix: "What do you think? They pretty much still want you to be able to re-evilise Qui."
Glowrod: "No surprise. Well, luckly, even in my former insanity ridden state, I still value Qui and sympathised with Qui's ill troubles. But then, it got me thinking.... Qui clearly is not the first ever villain to reform. Villains seem to have the misfortune to reform when they lose their edge or lose their nerve. I mean, it's understandable. We're much more complex then straight-forword evil like demons..... Or saterday morning cartoon villains. We don't do evil because we fancy it a nice career choice. We're either victimised by tragity or a very suckish circumstances. We all know of my, rather unfortunate case of my exspeariment gone awry over a litteral screw-loose in my hest to prove ungrateful USRA loving bullies wrong. Heck, even you guys are like this because of tragity or at the least because of an unfaverable life, correct?"
Pyro:... Well... Yeah. I lost my family to a pyroclastic flow because I was raised on that volcanic magmaball of Rugulach, and the toxins seemed to make me almost as loopy as you.
Zigmond: I was from Folbox, and I tried to defend a friend who was a pirate from his corrupt captain, but my own home treated me and him badly. I ended up being taken away by the very captain after my parents had the feds take away my friend. I was reduced to becoming a member of his crew, and I ended up tricking my old captain into a trap where the very feds finished him off and I had since went into becoming the new captain. Yeah, Pirate polotics is very crazy like that.
Ghasma: Yeah, you were a much better captain than Pnajis. He was a jerk to his crew. You, while weren't an exact imporvment, are not as much of it as he was.
Orhes: We're still a little sore that you took him away from us, I mean, I understood you blame him for taking you away from your old planet and because of Ol' Tsakm but it was kinda cheap of you luring him to be gunned by the feds... But you soon grew into being just have a reputation as fearful as his.
Screeched Death: I was raised on Magelio, and I couldn't take so many rules by my father, and I ended up murdering him when I discovered dark magic. Then I tried to take over Magelio, and I was this close, too. Then Samantha ended up thwarting me with a stroke of luck.
Matrix: I was a black-sheep to my family, and I had it worse then even my cousin over his little conspiracy against Globex. I ended up becoming more oppressed by the people, and one such situation resulted in the loss of one of my eyes. This left me vengeful and I joined the Villains Act as a scientist. Then... I ended up losing more than just my eye to the Zircianian military when defending a project.
Glowrod:... Then it appears I was right. You guys, as well as Narcotic and Celsius, CAN be worthy enough to work for me after all. I will help us all get Qui back one way or another. Not just that, but we can also start re-evilising villains that dare lose their edge and nerve to prove that their evil nature is truely absolute! But judging by Qui now knows about her past, it DEFINITELY won't be easy dealing with her. No thanks to those anomamus idiots. I'm glad the one successful thing that came from the Pharagu mess was at least we caused the other VA members to denounce their stupidity. Luckily, I happen to have made something to fix Qui's momentary issues. You see, I have been studying corruption technology, and have been working on a more efficient version of those neuroshock devices.
Ghasma: Is it in that sub-lab where you keep all those disassembled and broken neuroshock devices? Because the only other thing I noticed there was a big device labeled the 'Psychonitor'.
Glowrod:... That's EXACTLY what I plan to use. Come with me, and I'll show you what it is.
Chapter 3: The Psychonitor
Neuroshock Device Sub-Lab
Glowrod and the gang entered the sub-lab in the dark.
Matrix: "Uh, is the lights in this place off, or, is it just turned off?"
Pyro: "Either that, or a major issue with the electric company bro."
Glowrod: Oh, you'll have to excuse me. The lights are supposed to be automatic, but currently, it's been having some technical difficulties. (Uses his cyber-arm as a flashlight and fixes the lights as they turn on, revealing several chairs with technological head-gear and wires being partially disassembled, and a much larger yellow, red, and white device labeled 'Psychonitor')... Here it is. My newly-acquired associates, I present to you, THE PSYCHONITOR! (He presses a button, and the entire thing transforms and becomes a large transparent chamber with a red lens on the top, large pylons on the top, supports, and a control panel)
Matrix:... Impressive design. Compliments your genius. So... What exactly does it do?
Glowrod: Like I said before, it uses old neuroshock technology to corrupt it's victims. Yes, it's as painful, but what neuroshock treatment ISN'T painful? (Chuckles) Now then, I figured that just a chair wouldn't accommodate all species in these UUniverses, so I replaced the chair with a chamber with strong polyurethane that can resist a lot of blows, and it actually uses a proton field to restrain the victim within while the device does it's neuroshocking work. This little marvel, is the future of corruption devices.
Suddenly, the lights suddenly turned on and the invention is seen in all it's dark glory.
Glowrod: "Oh now the stupid lights come on. WAY TO BE TOO LATE TO THE PARTY, YOU INCOMPIDENT ELECTRONICS!?"
Ghasma: "Oh it doesn't mean to. You said yerself. Tecnecal difficulties."
Glowrod: "Yes, but it really ruined the dramatic moment. I have to remember to fix that."
Screeched: "This device will be perfect for-"
Glowrod: "I have to stop you there! You see.... The Psychonitor has.... Bugs. It may be more powerful, but it's corruption is..... Not absolute. All it takes is for it's victim to be reminded of what it was like for the victim to be good, and suddenly, the effect is reservesed."
Matrix: "..... So, it may as well be an over-glorifived weaker verson of our usual corruption devices?"
Glowrod: "I may be a brillient mind, but I am still a mortal! Even geniuses sometimes have to deal with problem projects. It was why I didn't initionally released this thing into our use. Qui back in the day would've rejected it for the flaw."
Pyro: "To be fair, Glowy, corruption from the normal divices aren't that periment either."
Glowrod: "But they require complincated science to reverse! Anyone corrupted under this thing.... Just love and you'll win. IT'S THE SADDEST WAY FOR A VILLAIN TO BE DEFEATED BY?!"
Matrix: "Ya know, I could be more then happy to help you fix the bugs. I can't nessersarly garrentie we'll be completely rid of it, but I think we can at least make the corrupted victims more harder to cure then just a visit to memory lane."
Glowrod: "Yes, but be advised that it'll take time to so. So we'll both be here for awhile."
Zigmond: "Fair enough."
Pyro: "So while we're here, let's talk about a jerk villain's failure! Hey Glowrod, (laughs), did ya hear on what happened to that jerk Roboface?!"
Glowrod: "I have actcess to the news secretly and cataloged Roboface's plot into the network, so yes."
Pyro: "How, epicly failure-worthy his attack on the Lougers Universe in one of the few higher Teadr leveled planets was! HE PRACTICLY DEFEATED HIMSELF BY ABUSING HIS ROBOTS INTO ATTACKING HIM!? WHAT A DUMBASS?!"
Glowrod: "Tecnecally, Roboface was a genius.... He was just marred by his feelings torwords the idea of giving machines rights, or even so much as treating them like equils when they were things that were created, not born."
Pyro: ".... Oh, I thought you would find it funny."
Glowrod: "The humor wore off in me. Now, I just use it as an exsample on why you should never mistreat your robotic henchmen, ESPEICALLY NOT A JET COMMANDER AND A MANBEETLE ALPHA?!"
Matrix: "Yeah honestly, why did the VA let that inhumble joke into the ranks anyway?"
Glowrod: Actually, they were considering kicking him out for years. But it turns out, it was difficult for them because his robotic skills are INCREDIBLY adequate. He created many war machines during his early membership. But ever since the Villains Act was destroyed, he's been trying to force his silly beliefs about robot counter-ethics onto other worlds. He's a real jerk that was basically wasting his time in the Villains Act. I'm glad karma was a bitch on the day of his attempt onto "Furturasia" and that those unfortunate Starbots who were mistakenly given to him finally had enough. It's just a shame the VA Council wasn't willing to sacrivice his albeit impressive skills sooner and got rid of that egotisitcal headache.
Screeched: "Let us be glad we didn't desided to include the inhumble ingrate into our inner circle. Hell, I actselly even used to enjoy it when he had the gull to insult Croker, only to end in his ineditable abuse!"
Matrix: "I LIKED THEM TOO! I even recorded some of that! Anyone wanna watch?"
Pyro: DO I?!? (They looked at it on a small iPhone-like device as his many situations were seen off-screen, as everyone laughed)
Zigmond: What a joke, says I!
Glowrod: Well, I say we'd better get started on this thing. It's going to take a while to fiddle with it, but cities weren't built in a day as they say.
By the end of the Two Previous Episodes...
Glowrod and Matrix are seen doing some needed touches on it.
Matrix:... There, I think the improvements are finished.
Glowrod: By my calculations, I'd estimate that this finishing touch should improve the efficiency of the corruption. But again, enough love might lead to the process being reversed. But now, the amount possible practically needs to be doubled.
Matrix: Never doubted you for a second there, Glowrod. You are now a MUCH trustworthy supervillain.
Glowrod: Indeed. Now, we should probably get started in finding Qui.
Matrix: But how do we do that? She could be anywhere.
Glowrod: Not to worry. I happen to have some locator drones that are programmed to locate anyone I wish... Provided I get the DNA.
Pyro:... You mean to tell me... WE NEED HER DNA?!?
Glowrod: Lucky for us, I NEVER come unprepared. (He gets out a piece of reptilian skin) This is a piece of Qui's shed skin.
Zigmond: Never knew her to do that.
Glowrod: She's a reptile. Almost all reptiles shed their skin, including 'dragons' if that's what they're called.
Ghasma:... Is that from her plastic surgery skin? Because from what I know about Peerbonian plastofruits, their artificial skin cells seem to be a little... Fuzzy.
Glowrod: That's a job for my fabricator. (They head over to it and he does a few key-commands and lasers start to synthesize the plasto-skin into actual living tissue from Qui)... And presto, we have a sample of Qui's DNA. Now we can use it to allow the locator drones to seek he out and capture her.
Orhes:... And how good are these drones at doing that?
Glowrod: Ohh...
Later...
Orhes: HOLY CAUTER CUBS!!! (The drones were revealed to have the same color scheme as the other machines, and are much larger than the common drone, having 4 rotary turbines, advanced eye lenses, rotary multi-function cannons, and had an ominous monotone voice)
Drone: AWAITING COMMAND!!
Pyro: Oh, GOD, their voices are scary!
Glowrod: I know. It impresses even me. These drones are the best I have to offer. They can seek and scan anything they are commanded to find. Though when they need a specific target, they require... (Takes out a DNA vial)... A DNA sample, which I have of Qui right here. (Inserts the vial inside a computer terminal as it feeds in the system, as the screen shows that the DNA is being analyzed and identifies it as Qui, and the Drones receive their command)
Drone: TARGET CONFIRMED! ALL UNITS PROGRAMMED TO SEARCH AND APPREHEND DARKNESS QUI!
Zigmond: (Shivers) I bet these big ol' toys'll scare the poop out of those scurvy heroes.
Glowrod: Indeed, they do. Even Qui herself has been intimidated by their voices.
Screech: "I wouldn't assume the heroes would be intimidated just yet. I once heard they went into Grooka and dealt with the netourious Grook-Grook Birds and not only lived, but saved it from a problem. I doubt they would ALL be so easily intimidated by the drones. Also, it would be too risky to chase after Qui now. That would easily make them put two and two togather and easily figure this was our fault. Instead, why don't we start the re-evilising other reformed villains plan sooner before we chase after Qui? That way, someone else will be blamed for the mess."
Glowrod: "Hmm. You're right. Drones, cancel the mission for Qui's capture for now. It might be too premature to attempt such. Instead, seek out any known shorce for a massive forming of reformed villains in known establishments of this and the other universe."
Drone: "THESE UNITS HAVE RECOGNITION OF REFORMING AREAS IN THESE UUNIVERSES LIKE ON PLANET ZO, BUT DATA ON ESTABLISHMENTS IN OTHER UUNIVERSES ARE INCONCLUSIVE."
Matrix: "A little research on their version of the Omninet will certainly fix that up. (He gets on the data supercomputer from before). My hideout's database has the ability to interface with any network, old or new, including, the Internet."
Hoger:... What exactly is the Internet?
Matrix: Basically a primitive version of the Omninet. (Uses the holo-lens on the palm of his cybernetic arm to show an Opte Project-like diagram)... You see, while the Omninet is a network that has access to everything through broadcasting, knowledge, mobile devices, laptops, social websites, analysis on health, surplus and economy, science, weather, game accounts, anything public that exists in the AUU... (Shows a different Opte Project which was much smaller)... The Internet has a much smaller capacity than that. The people of the other UUniverses have yet to develop the advancements that the Omninet has. Luckily, the Internet is something that we can access easily.
Matrix:... Have you even had a chance to try this 'Internet' out?
Glowrod: A few times since the fall of the Villains Act. And it's actually easy to get comfortable with. It's like the Omninet, only it's not as expansive in activity and has a limited amount of commands. Now then, let's see, (Continues work on the supercomputer)... Bypassing out networking interface, and connecting to the Internet.... And there we go. (They see the home page for Google)... Well, this is the search site that the people of that other UUniverses use the most. Let's see... Looking up 'reforming establishments'... (Types 'reforming establishments' in and gets the Equestian Monastery as a suggestion).... Ohh.... There's something interesting. The "Equestian Reforming Monistairy"..... AND WOW, it's a hotspot of villains who lost their edge! They even have a repenting former immortal conquester in there! I seem to recognize his name in the recent Dark Radical databases. They described him as 'Amutt'."
Pyro: "Dude, that's abit mean calling him a mutt."
Glowrod: No, no, no, that's his name, Amutt. A-M-U-T-T, Amutt.
Pyro:... Wow, I bet a LOT of people misinterpret that name.
Glowrod: A lot of people did. There's a lot of former villains in there that could be useful.
Matrix: Can you program the drones to seek them out?
Glowrod: Does a Cauter roar? Giving the commands now... (The drones got the order)
Drone: NEW TARGET CONFIRMED! AWAITING ATTACK STRATEGY.
Ghasma:... Wha?
Glowrod: Oh yes, that's what seperates these drones from the likes of the less intelligent drones of the Starbots. They don't just fool-heartedly charge about and do something stupid or fail without a plan or a stragity. These drones are always programmed to work cooperatively, and require me to plan strategies for them to follow. With a few programming commands, they'll be ready for a fight, and will even have a limitless number of backup plans in case a few options fail.
Screech: "But firstly.... We need someone to act as scapegoat so we won't be suspected right away."
Glowrod: "Good call. I recimend that ostrasized Moon Govenor Foul Cheese."
Pyro and Ghasma laughed!
Pyro: "Dude, that's an uber-lame name!"
Glowrod: "It's actselly only a humorious abridged verson of his proper name. It's actselly Fouliouios Cheeseworth. Alchourse, given the words "Foul" and "Cheese" are in there, you can guess where people got the idea to make fun of the old fool like such. He was removed from power for tyranny and for being exposed for "framing" the VA for his violent attack on a defient moon. He's the perfect scapegoat."
Screech: "Indeed. But you must make it look like he wasn't kidnapped by your drones."
Glowrod: "They can do that. Drones! Make it look as if Foul Cheese wasn't kidnap in any shape or form."
Drone: "COMMAND RECOGNIZED."
The drones flew off into a secret hanger that is sealed off from the building.
Drone: (The drones all lined up into large freighter ships with autopilot systems)... BEGINNING MISSION.
Ship AI: (Turns on, and analyzes data in the drones)... COORDINATES IDENTIFIED. COMMENCING APPROACH TO IDENTIFIED LOCATION. (The ships take off, and enter hyperspeed upon breaching the atmosphere)
Zigmond:... So you're sure this is going to work?
Glowrod: I'm 100% confidant in my locator drones. They are coordinated strategists, and they have actually succeeded in defending my hideouts multiple times from even the greatest rebellions and intrusions.
Zigmond:... Except for ours.
Glowrod: Yeah, but to be fair, I couldn't give them the command in time before you teleported me there. Anyway, the drones will be carried there by the drone deployment ships, which are operated by AI and have cloaking devices. They can enter any location stealthily and have special laser compartments for storing any prisoners. I assure you, they'll work. Now...all we have to do now is watch as this all progress from the drone computer terminal.
Chapter 4: The Balance of Good and Evil Briefly Destabilizes
Planet Zo.
A reformence building was seen.
Foul Cheese was seen sleeping in his room.
He suddenly awoke.
Foul Cheese: ".... I'm gonna go get some water refreshment."
Foul Cheese lazily gets up and slowly walks to the water foundton with a personal cup and starts filling it up. Unware that drones in cloaking devices are slowly sneaking up to him.
Foul Cheese commence with drinking the water.
Foul Cheese finished it.
Foul Cheese: "Ahhh.... That is some refreashing water. Though granted, water is basicly always the same. It was never a lidquid of differenting tastes and-" (The drones knocked him in the back of the head) OOOLOLOLOLOLOLOLOLO!! (He falls to the ground unconscious)
Foul's unconjustus body was dragged as evidence of him being harmed, from the cup to the spilled water, are being removed. Then they took off with him.
Later...
Foul Cheese slowly awoke inside the Psychonitor.
Foul Cheese: "Aw, where am I....? What is all this? Am I..... Am I inside a glass chamber?"
Glowrod's voice: "Good evening, Ex-Govenor.... How's retirement treating you?"
Foul Cheese: "(Gasp)! Who's there?! Who are you!?"
Glowrod: (He appears with the other villains) I'm sure you might know me already, Cheese.
Foul Cheese: (Gasps)... Dr. Glowrod! And... And those villains that escaped since the Reconstruction Clause was established. I thought you-
Glowrod: They work for me now. And as for avenging Pharagu, well, thanks to them, I have officially grown out of that nonsense, and have two new quests: Getting villains who lost their edge back into proper villainy, and getting back the Villains Act's greatest villain leader.
Foul Cheese:... You know she reformed, right?
Glowrod: Did you not hear me, you blasted bird? I said "Getting villains who lost their edge back into proper villainy"! What do you THINK that means!?
Foul Cheese: Oh......  What does that have to do with me? And what is this blasted dome you trapped me in?
Glowrod: Simple. The device you are in will help us get Qui back. It will corrupt you back into your villain self again. This device is an improved version of traditional Neroshocks. You'll be the perfect scapegoat for our entire operation. Everything we do will be blamed on you.
Foul Cheese: YOUR GOING TO WHAT?! No! NEVER!!! LET ME OUT OF HERE- (An energy field restrains him) YAH!... Urrghhh! I can't move!
Glowrod: You're not getting out of this, Ex-Governor. We'll have Qui and any other edgeless villain back into evil with this thing one way or another.
Foul Cheese: The Grand Council will send the Heroes Act on an investigation to find me once they realize you captured me!
Glowrod: Oh, yeah? And how will they know it was me? I made sure your capture was unnoticed and unable to be blamed on me. So they'll never know it was me until it's too late.
Foul Cheese: They'll put two and two togtather eventally, even without obvious evidences, you heiven!? They have magic users!? EVEN YOUR STUPID HUNKS OF JUNK CAN'T AVOID THAT!? THEY'LL SENSE THE TROUBLE BEING MADE?!
Glowrod: "..... Ok, I'll admit, I probubuly should've better predicted that. But still. Even they can't ignor a suddenly re-evilised ex-govenor tyrant working with robotic drones attacking the OUU's own monistairy on a deluded path on building an army to congure Arca to finally introduse law there. Either way, we would still be free to seek out Qui and other reformed villains reguardless."
Foul Cheese: "IT'S NEVER GONNA WORK?! NOTHING SCARES THEM?!"
Glowrod: "Perhaps. But they still have limits. Even they won't be too ballsy enough to enter a toxic planet crawling with mutanted victims of Gordon's."
Foul Cheese: "ARE YOU SERIOUS!? THEY STOOD UP TO A GIANT SNAKE-MAN SKELETON PIRATE!? I DOUBT THINGS LIKE YOUR LITTLE PETS WOULD ACTSELLY INTIMIDATE THEM!?"
Glowrod: "The Xenarats don't need to intimidate.... They can just as easily, just kill. And FYI, they don't HAVE to be my pets. Instincts will do that for me. (Starts the Psychonitor)"
Foul Cheese: You'll never get away with this, Glowrod! The Lodgers WILL seek you out.
Glowrod: Somehow I am not intimidated by that, Cheesey. (Activates the Psychonitor as it shocks the screaming Foul Cheese as he is knocked out cold)
Zigmond:... Great balls of fire, is he dead?
Glowrod: No. The neuroshock is taking affect in his brain. When he wakes up, he'll be back to his evil self again.
Screeched: "Good. Then afterwords, have your drones to look as if they are taking his orders and have them start attacking the Monistairy. Perhaps the HA and the Lougers wouldn't be so easily fooled, but they still can't ignor any threat."
The Equestian Monistairy.
Rarxter and Grimoors are seen playing Ping-Pong.
Rarxter: "Ha-ha, silly mostly de-haired primate! You can't beat Ping-Pong with someone with great Trunk-Eye cordination!"
Grimoors: "Don't go underestimating a 

Viking 

master of blocking, Elephant."
Rarxter: "Uh, just to be clear, I only look simular to "Elephants" as you discribe them, but, I'm actselly an otherwise difference spieces."
Grimoors: I'm surprised you don't even know what a human is. Didn't you have some in your worlds?
Rarxter: Of COURSE I know what humans are, you silly tail-less monkey! It was merely a derogatory term and all! All in the sport of verbal rough-housing.
Grimoors: Well, you still can't beat me! (He smacks the ball and Rarxter ended up missing as the ball went through a hole in the wall as a shatter was heard)
Mouse: (Came out with the ball) I TOLD YOU, THIS TIME I'M KEEPING IT!! (Goes back inside)
Grimoors: Aw, dammit all, that was the last ball.
Rarxter: Well, there's other things we can do. Hmm... Perhaps I can introduce one of those sports from our UUniverses.
Grimoors: Like what?
Rarxter:... Like trajectionball.
Grimoors:... Rejectionball?
Rarxter: No, no, no, TRAJECTIONBALL! It's a game of physics where you have to use trajectory to send a ball through a hoop in a 3D environment.
Grimoors:... What's trajectory?
Rarxter:... You know what ricocheting means, right?
Grimoors: Ohhhh, now I get it.
Rarxter: Yeah, the goal is to bounce the ball across a 3D environment and get it into the hoop.
Grimoors: Well, I'm not the one for physical games, so is there anything else?
Rarxter: How about wild chess? It's a strategy game like checkers, only it has animals. Different strengths, moves, weaknesses, and so on.
Grimoors:... So it's like dejarik?
Rarxter: The heck is that?
Grimoors:... Oy, you Alternate UUniversals need to spend more time here.
Rarxter: "The same would be implied to you other universeal lot as well."
The front doors open forcefully, as a darkly appearing Foul Cheese came forth.
Rarxter: "..... Ohh, top of the morning, Foul Cheese. I didn't know you were planning a visit today. So, how was Zo treating you? Is it as beautiful as I was told it was?"
Foul Cheese: "......"
Grimoors: "..... Well, you're feeling chatty today, eh?"
Rarxter: "But he clearly didn't say anything."
Grimoors: "Oh bloody hell, it's a joke, jumbo!"
Foul Cheese: ".... Gentlemen..... I, have a revelation.... I, gave up too easily on my asperations on introducing order into Arca again! Arca pirates being unlike usual space pirates or not, I will not stand for any form of lawlessness in any universe! That is why I am drafting others into helping me reignit my noble cause to cleanse out criminal behavior!"
Grimoors: "(Wispers) Head's up, jumbo, sounds like yer bird friend's relapsing big time."
Rarxter: "(Wispers) I can clearly see and heard that. Let's try reasoning with him. (Openly) Ahem. Now, Cheeseworth dear boy. I can respect and sympathise that you just want to be remembered in history other then, originally, being a moon govenor. But, your not in the healthiest condition to even be an anti-villain. Remember your weak heart and all. Not to mention that Goveness Blue would much prefer it if you finally take things easy and try to forget about this sort've deal, huh?"
Foul Cheese: "OH THAT'S HUMORIOUS COMING FROM THE SAME IDIOT WHO FREED LAMISTAN?!"
Rarxter: "..... In my defence, it was tecnecally the fault of Skullera corrupting me to be so stupid, so-"
Foul Cheese: "Thanks to your reckless greed, I lost my position! I can no longer turn men into soldiers! I now have to relie on my own wits to build a new army! And who better to be part of it then a fat moronic packidum-dum in due need to redeem himself to me?"
Rarxter: "(Gulp).... I, feel as if your in due need to speak with Miss Candence about getting over your history rememberence anxity, so, how's about, before we end up getting needlessly violent, that we go talk to her and-"
Foul Cheese: "I AM NOT HERE FOR PITY, YOU SORRY FAT LOUTS?! I, AM HERE, TO BUILD MY ARMY OF LAW!? And I will not leave until I build such!?"
Stomper and The Black Vanguard came in overhearing Foul Cheese's rant!
Stomper: "Be warned that trouble-makers have to deal with us."
The Black Vanguard: "Yeah, and even IF you get by us, you'll still have to be at the mercy of Amutt! That guy takes NOBODY'S shit!"
Foul Cheese: "So is THAT how you lot want to play this? DRONES?!"
The Locater drones appear from nowhere.
Foul Cheese: "..... Show these worthless peons their place."
Stomper: "Lucky for you, birdy, I ENJOYS ME A GOOD FIGHT?!"
Stomper and The Black Vanguard proceeded to attack and fight the drones!
Ann-Tena flew in and saw the fight.
Ann-Tena: "Ugh, Rarxter, Grim, what did you two chowder-heads provoked this time?"
Rarxter: "Well, not, intentionally, miss Ann. I think my old partner Cheeseworth is having a sevre relapse and is trying to force us to join his army of order against my old home of Arca, and Stomper and Vanguard are now fighting his new mysterious robot friends."
Ann-Tena: "(Flies up to Cheeseworth) Mr. Cheeseworth, that sounds to me that your in due need of another reality check. Now co-operate nicely and we'll have Cadence talk to you about your problems, or do I have to be forced to get the Lougers involved?"
Foul Cheese: "(Brings out his lazer sword) Don't you dare threaten me, you insectoid equine!?"
Ann-Tena: "Whoa whoa whoa! It's more firm but friendly advice then a threat!"
Grimoors: "Looks like Ol' Grimoors (Brings out his sword) will have to be the one who cages this bird."
Rarxter: "He has a lazer sword, Grim, your primitive weapon will be destroyed in minutes!"
Grimoors: "Well how do you suggest I fight him then?"
Rarxter: "We're not yet at the point of violence, we can still negosiate here."
Ann-Tena: "Rarx, he's threatening me with a lightsaber, I think the negotsiations have ended!"
Rarxter: "Now, Cheeseworth. I know tensions are high, but be reasonable."
Foul Cheese: "AMBITION HAS LITTLE TO NO ROOM FOR REASON!?"
Stomper and Vanguard look like they got the Drones on the run!
Stomper: "IS THAT ALL YOU WORTHLESS TIN CANS GOT?!" (Suddenly, other disturbance sounds were heard)... What the hell?
Foul Cheese: My drones are meant to fulfill my deeds cooperatively. Fighting you was merely a distraction. (Some of the drones were seen stealing the monistairy reforming villains and putting them in the deployment ships' laser compartments)
Kevin: "Dude, NOT COOL!?"
Othello: "Just another day at the Monistairy I suppose. Honestly, these sort of things ALWAYS HAPPEN?!"
Karl: "Hey, uh, Erikson, Stomper? If it's not too much to ask...... HEEEEEEEEEEEEEEEEEEEELP!?"
Stomper: "OY! YOU PUT THOSE FOLKS DOWN NOW, OR-"
The drones Stomper and Vanguard were fighting suddenly overwealm and capture them!
Stomper: "..... Stomper, you just forgot warrior rule number two.... Never ever forget your in a fight."
Ann-Tena: "STOMPER?!"
Grimoors: "..... Well, Night Fury dung, THAT'S an embarrisment!? 

Well... AMUTT WILL STILL HAVE THE POWER TO DESTROY THOSE THINGS!!

Rarxter: Speaking of which, where did you get such devices? They don't look like something you can just buy from a store.
Foul Cheese: I found them somewhere, ripe for the taking. But I assure you that even Amutt has no power over this.
Grimoors: Since when? He can obliterate your trashy bots without lifting a finger. I bet in a few seconds, he's going to be sending these things straight to the scrap yard. (They waited for a while, and nothing happened)... Uh... Why isn't there some awesome explosion, or Kamehameha's being heard right now?
Foul Cheese: These drones are pretty smart. They have their ways of taking down powerful members. (They see the drones taking away Amutt and his family as some spots on then were seen with purple nerves)...
Grimoors: "..... Oh WAY TO PULL A CELESTIA ON US, AMUTT?!"
Foul Cheese: You have to thank chemicals for that.
Rarxter: But... I thought the USRA outlawed mind-control serums! Nobody's used it since the Villains Act! Which means... Are you allied with Villains Act members?
Foul Cheese: Well, you might notice the symbols on these drones. The place I found them in belonged to them after all. I was able to put two-and-two together. Believe me when I say, nothing you do will stop me from bringing law to Ardalicron.
Grimoors: "Well aren't you a bloodly hypocrite using something meant for lawlessness to bring law into a pirate planet!"
Foul Cheese: "I'm no stranger to being ironic. Ask Rarxter."
Rarxter: "It's true. He did ask me to hunt down Axxus for him when his govenor tyranny was causing trouble for the less fortunate, so Axxus stole from him to help the poor."
Foul Cheese: "Well if we're all done wasting our breath..... (Snaps his fingers)."
Rarxter: (The drones cocked their weapons and surrounded them)... Oh dear.
Grimoors: ".... Odin's beard."
Later...
Foul Cheese: (Rarxter, Grimoors and the others were thrown in the laser compartments, as they were all being sedated by knockout gas)... Bring them back to our hideout. We'll make good use of them in no time.
Deployment Ship AI/Drones: COMMANDS ACKNOWLEDGED! (Foul Cheese entered one of the ships as they took off)
In the Christail Empire.
A Pregnent Candence gasped!
Candence: "SOMETHING HAPPENED TO THE MONISTAIRY?! I GOT TO GO HELP!?"
Candence started running!
Shining: "Candence wait! Your not in the right condition to fight!"
Candence: "BUT I NEED TO PROTECT THE MONISTAIRY MEMBERS?! SOMEONE HAS KIDNAP THEM AND-"
Shining: "Candence, please, you have a child in you, and it could be ready to be born in any minute! It could even come at a bad time in the middle of something dangerious! Besides, Amutt and Cuda are normally capable to stop any sort of problem."
Candence: "That's the problem.... I SENSED THAT EVEN THEY ARE IN TROUBLE?! I HAVE TO HELP THEM?! (Candence flies off!)"
Shining: "GUARDS?! THE PRINCESS IS NOT THINKING STRAIGHT?! SHE NEEDS TO BE CONTAINED!?" (The guards caught her)
Cadance: NO! LET ME GO! I NEED TO PROTECT MY- (The guards were able to magically put her to sleep)... Monastery... (She fell asleep as the guards restrained her)...
Shining Armor: Sorry, Cadance, but it's for the good of you and our baby. Just let ME handle what went on at the Monastery. Guards, I need to check up on that Monastery and see what went wrong, and I might need backup.
Guards: Yes, captain!
Hero Hive.
Samantha had a mingrain during meditating and gasped.
Samantha: "..... Pow, what are you and your allies up to?"
Samantha barged into the main room.
Samantha: "Everyone, we need to make a call to the Lougers! I'm afraid Screeched Death and the others may've finally found Glowrod and are up to something."
Magnum: "I can confirm that I sensed a disturbence as well."
Xandy: "Say no more, ladies. I'm emergeny call, coming up!"
Dragon Realms, Original UUniverses
Lord Shen: (Some of the Lodgers were seen looking at the picture of the reception)... Well... Only a few days, and already, Kate and Xenon are making good progress in fixing what they did during Kryptonia's mayhem.
Icky: (On his iPhone)... Uh-huh... Yeah... Well, okay, we'll be there eventually. (Hangs up) Guys, that was Shining Armor! Looks like Cadance is finally expected to go into labor tomorrow.
Lord Shen: Really?
Boss Wolf: Wow, she's finally letting the cake out of the oven.
Icky: Yeah, the many days of pregnancy were rough on her. She had a few moments of craziness and vomit, but otherwise she's okay. And for some reason, she says that the baby is kicking pretty hard, and it feels like her womb is bursting with magical energy.
SpongeBob: Then we need to get over there and make sure her labor goes smoothly- (Suddenly, the communicater acts up) I got it. (Picks up and answers.) Yello?...
(Xandy): SpongeBob, hey, this is Xandy.
SpongeBob: Oh, hi, Xandy! We're currently planning on watching Cadance give birth to-
(Xandy): Sorry, but you might wanna skip that. We have reason to suspect that Dr. Glowrod is back and is planning something nasty, and we might need your help since he's go a legacy of being the most organized and expansive criminal genius in the Villains Act.
SpongeBob: What? Glowrod? Aw, fish-paste! (Sighs sadly) Don't worry, we're on it.
(Xandy): Good. See you at the Hero Hive. Nytrox will be there to greet you. (SpongeBob closes the communicator)
SpongeBob: Well, I guess the ponies will have to go on that baby fiasco without us. Turns out, Dr. Glowrod is back and doing some evil again.
Sandy: Aw, nuts! And I wanted to see how beautiful the baby would turn out.
Lord Shen: "Well bother! Then I guess we'll have to inform Celestia that dealing with another fiasco in the alternate universe kinda has a bit more urgentcy.... Unless there's a VERY off chance Equestia's threaten by Glowrod's nonsense. Though I hope that isn't the case."
Icky: "Another day, another baddie in need of a tushie-whooping."
Space.
The Van was seen flying.
Shen was seen with Celestia on the communicater.
Celestia: "It's really a shame you won't get to see Candence's baby being born, Shen. I really would've loved to have you being among the first things he/she would've seen."
Lord Shen: "Oh don't worry. There's no shame in coming in second place. Besides, the problem with Glowrod is, he tends to play evil to extreme levels. We can never afford to ignor someone who plays evil hard and loud. We're talking about someone who was able to cause residents of a garbage dump planet to hold a mutanity and almost caused terrorisum by garbage!"
Celestia: ".... How, is using garbage terrorisum?"
Lord Shen: ".... Well, in one hand, it's eco-terrorisum since obviously garbage is mostly not eviomentally friendly, not to mention an unpleasent thing to be around. But also, I was told of Pharagu's history, and it's as messy as it's living conditions. When a reckless moronic govenor convinced a great alternate universeal allience that it was a "brillient" idea to turn the planet into a garbage dump for it's acid lakes, ignoring obvious evidence of life which were falsely accused of being fake and thus, garbage was foolishly dumped hestly and some of it ended up killing those that couldn't escape!"
Celestia gasped.
Lord Shen: "Exactly. It was so bad that even though it was tecnecally an accsident, the govenor nonetheless had to be exicuted just to make sure the USRA's reputation doesn't get TOO destroyed."
Celestia: ".... Isn't, it, abit harsh to exicute someone over a mistake?"
Lord Shen: "Don't get me wrong, they do and did felt that themselves, but it would've been worse to leave the well-intentioned fool alive, for would've look like they don't take the tragity seriously. Also, Cheesepuffus was INFAMOUS with these kind of mistakes! He once tried to make a swimming pool out of the naterol habiat of his people's predators!"
Celestia: "Well, I imagine it otherwise didn't change anything since you said Glowrod was able to cause that revolt anyway."
Lord Shen: "Well, that was mainly because of Lighthead being proven to be a negitive influence made worse by Glowrod. It's a shame the fool is dead and then banished to a dark realm when he became a magical abomination. He was otherwise an extremely broken father who lost his family to an idiot's mistake."
Celestia: ".... Wow.... You guys seem to have a bad habit of, not being able to save everyone."
Lord Shen: "Likewise words from our own critics. Well, you have to understand that sometimes there's people that don't want to be save, espeically that to them it means that they have to forgive the very thing they hated. Lighthead was too dangeriously determined to avenge his son over a centauries old mistake already slowly being made amended on and would've proceeded to hurt anyone who got in his way! You have to understand that we tried, but he proven himself to be too far gone."
Celestia: "I know, but... Aren't you afraid that eventally someone would somehow bring him back? Nothing stays imprisoned or dead forever Shen. You adventures with the lougers proved that many times."
Lord Shen: "I understand the concern, but we have very little enemies even remotely aware of Magelio."
Celestia: "Ma-what now?"
Lord Shen:... Magelio, the planet in the AUU where the banishment spell used to send Lighthead to the dark realm originated. It's got a magical culture since magic exists almost everywhere there. The Forbidden Forest in Camelot would look like a simple prairie compared to the enchanted forests on Magelio. One member of the Heroes Act wields it's magic.
Celestia:... I never knew they had magic there. Especially since I wasn't there that much.
Lord Shen: Oh, yeah, the AUU has just as much magical worlds as we do. Even the AUU itself has limited knowledge of magical worlds because of reasons including the fact that THEIR First Cartoonian War is COMPLETELY unknown, unlike our First Cartoonian War.
Celestia:... Wow... We DEFINITELY need to learn about that place more often.
Lord Shen: I'm sure we'll go on plenty of adventures there.
Celestia: Well, just be safe. Cadance is estimated to go into labor in a few hours, and I don't know how this baby will turn out since she feels like it's a magical pregnancy.
Lord Shen: (Shivers) We'll be there after we beat this mad scientist. Goodbye. (He hangs up)
Icky: So how do you think Glowrod will be ready for us this time?
Viper: More importantly, WHAT is he up to?
Sparx: Probably a garbage asteroid, or a garbage monster, or a garbage anything, because we all know what he's dedicated his life to.
Spyro: By the circumstances, I don't think protecting any worlds from being overrun by garbage will be what Glowrod's planning. It's likely those escaped villains from Oranos would've taken cared of that by now. From what Xandy said, Glowrod is an organized and expansive genius.
Gilda: Ah, expansive schmexpansive, we beat that mole before, we can do it again.
Lord Shen: "Never underestimate any oppenent, even ones that were defeated before. We mostly gotten lucky that Glowrod was overwealmed with his artifictial insanity and the fact that even his partners had standerds. This time, I doubt Glowrod would be able to ever return to his garbage-based extremes again."
Icky: "Relax Shen, we dealt with reoccuring villains before. They usually tend to get easier and easier to beat each-episodes. It's why the Wiki invented the "Complete Threat to Complete Joke" Catagory."
Lord Shen: "Name one exsample."
Icky: "Other then Junjie?"
Lord Shen: "Yes."
Icky: "Well, there's almost the entirity of Team Nefarious. With exception to the Buzz Lightyear villains, those guys are pretty much jokes. Heck, even Nefarious isn't what he was like in the games anymore.... Well, more like, his goofier side from the games is made greatly exaggerated then originally."
Lord Shen: "Perhaps, but I still suggest we do not get over-compident here and just believe we can handle Glowrod just as easily as previously. We still know little of his origins."
Icky: "Yeah but- Wait, you mean the episode of his first appearence never covered his backstory?"
Lord Shen: ".... Well..... Yes. The closet we got to an origin story was onto how Pharagu became a garbage dump, and, that's it."
Icky: "..... Ya mean, we never asked on how Glowrod came to be?"
Lord Shen: "Well in all fairness, knowing the villain's backstory doesn't typically help in actselly defeating them, it just gives us what caused them to become evil to begin with."
Icky: "I get that, but, it still helps to know thy enemy well so it can at least help us better understand and possability be able to better intervine against the guy."
Lord Shen: "That is an exsellerent point, Prehistoric one. We'll have to be sure to ask about Glowrod's origins when we get to the Hero Hive."
Cynder: Then that shall be Priority #1. Glowrod had to have a reason for being this insane.... I mean, besides the toxic air of his home planet.
Mr. Dodo: Relax, we'll be headed for the AUU Interdimensional Portal in about 30 minutes. Until then, let's just sit back and enjoy some radio. (Turns on the radio)
Radio: Welcome back to Comedy 630 with PJ and the Hyena! (Low-pitched) HYENA! (More low-pitched) HYENAAA!! (Insane cackling was heard) Coming soon is more classics from classic comedians of all kinds. Then after that, prepare for some of the richest in satirical stories from Hyena's Laugh Book, where he will tell a hilarious story about how the Easter Bunny got the most priceless sugar rush of all time. (SpongeBob Chocolate Guy: CHOCOLAAAAAAAAAATE!!!) And don't miss- (Patrick changed it)
Patrick: I hate this station.
T.K: AW, COME ON, I WANNA LISTEN TO THE COMEDY!!!
Icky: "Hey I just remembered. The last episode didn't covered you guys and the becoming like Xenon problem."
Joe: "Kate already took care of that off-camera."
Icky: "Right, just thought we establish that."
Hero's Hive.
Calixto: "Your certain Glowrod may be up to something again?"
Samantha: "My senses do not lie to me.... I felt a strange disturbence."
Calixto: ".... Well, we would all do well not to ignor the words of a magic user. And considently, your Glowrod concerns came at a time where the Zo reabilitation center reported that Foul Cheese vanished into nothing. Even his faverite drinking cup is missing!"
Hudson: "(Scoffs), Who name's their kid after cheeses?"
Calixto: "It's a nickname, Hudson. I was just about to ask you guys to investigate what happened there, but, since you brought up the Glowrod concern.... It, may be possable Glowrod is finally up to something. You already got the Lougers involved, right?"
Clifton: "We called them first before contacting you."
Calitxo: "Good. Then it's only a matter of time before they show up before I even finished this sent-" (Nytrox was heard barking)...
Xandy:... Oh... (Chuckles) Looks like Nytrox is a good-enough doorbell since we have no doorbell.
Calixto: Indeed. Now let them in.
Xandy: On it. (She took off)
Hero Hive Entrance
T.K: (He was laughing as Nytrox was licking his face)
Girl Sora: Okay, easy, Nytrox, we know you're happy to see us, but you need to be careful around kids. Xandy said you've never seen humans before, so you need to know how to handle their children.
Nytrox: (Mimics the word 'Okay')
Kowalski:... And your mimicking of speech never stops impressing me. (Xandy comes out)
Xandy: Whoa, easy with the human kids, Nytrox. These are humans with a different biology to ours, so we won't know how to treat them. Now come on inside. (Nytrox runs back inside) Alright, guys, onto the situation at hand. I'm sure yall are familiar with the planet that Glowrod makes his hideout?
Private: Don't exactly remember he HAD a hideout. Always thought he lived on Pharagu.
Xandy: First of all, if that was true, we would've captured him by now. Him being in Pharagu would be like a VA villain hiding in a USRA planet. It's too freaking easy! Secondly, I kicked him back into the planet of his real hideout called-
Hero Hive Briefing Room...
Calixto: (On the screen) Planet Xenaros. Eta Universe, Eta Core Sector, Gorvina System. It was a world that has... Seen greater days. It's not as much an improvement as Pharagu. Unlike Pharagu, which had a small amount of toxins in it's air, Xenaros has a LOT of toxins in the air. It's completely uninhabitable thanks to a crazy terrorist act by a rogue Villains Act villain named Gordon the Animal. He had a huge prejudice against it's main race, the Xenoids, over a war he was never even born to see, so he biologically ravaged the entire planet through "clever thinking" and plotting, reducing the entire world to being barren and poisonous, as well as reducing the Xenoids into mutant beasts that we have officially dubbed Xenaratinoids. (Shows a hologram of it on the holo-table as it shrieked)
Iago: Oh, I DEFINITELY recognize that species.
Icky: Yeah, I think Ridley Scott's gonna sue somebody.
Iago: No, I meant Glowrod had two of those things the last time we fought him. Except the ones he had are more akin to A Wyvern and a Gorilla.
Icky: Ohhhhhh, that's right.
Calixco: "Ah yes. The native animals of Xenaros also suffered from that, becoming mutant beasts as well. You seen Brut-Tu, the ape Xenaoriod and Xi-Xi the Vinyern Bird Xenariod. I'm surprised even to this day Glowrod managed to tame those creatures."
Sandy: "It could be possable he either raised them from birth or saved their lives, possability both of those things in some way."
Calixto: Bottomline, thanks to Gordon, that place is no longer exactly something worthy of a tourest industry. So you're pretty much gonna need some environmental protection suits when entering that planet. Either that, or some kind of magic spell.
Merlin: I happen to have a spell, but like the water-breathing spell, it can have some side-effects that take place within an extended amount of time. The body getting used to breathing toxins through magic is like trying to get used to a drug's effects. It's just crazy. I'd estimate the side-effects would be hallucinations, nausea, or dizziness.
Samantha: Well then, allow ME to do the spell. Magelian magic has little to no limitations, and thus there's no side-effects like yours.
Merlin:... Would you by any chance teach me any magic spells of yours?
Samantha: I would, but you need to take it up with the Magic Council on Magelio first. It's forbidden to do unauthorized teaching to other wizards for... Certain reasons. Magelio magic, because of it's mostly-unlimited capabilities, is pretty corruptive. Believe me, Screeched Death wanted such power, which is what started disagreements with his father that got him evil in the first place.
Merlin: Drat!
Samantha: "Hey I didn't say no, I'm just saying that you need to get approveal first."
Merlin: "I heard you on that, it's just, it'll have to be on a better time I suppose."
Lord Shen: "Are we DONE with the unrelated subject? Let's go back to talking about Glowrod."
Spongebob: "Speaking of which, on the subject of our mole friend, we realised we didn't get the chance to know how the guy came to be. Could you guys allude to use the origins of Glowrod?"
Calixto: "But alchourse. We don't want you be left in the dark about these sort of people."
Icky: "So let me guess: Are we talking, generic mad sciencetist origin where his science was unappresiated by socity for X reason?"
Calixto: "Not exactly. You heard about how he hated the USRA, right? Well.... Let's just say, you bad mouth the USRA, even for their most legitamently awfulist of mistakes, you get panned for life."
Flashback.
(Calixto): "Like any citizen of Pharagu...."
A younger Glowrod happly attended a "Burning Man" like festival where wooden statues of USRA leaders were being burned.
(Calixto): "He grew up with a great hatred for the USRA over the infamous Pharagu Garbage Dump controversey. He loved every single anti-USRA holiday it offered. He was the most upset he was borned into a gross and disgusting world, and not what Pharagu used to be. A beautiful lush jungle-like forest planet. Glowrod was, the most ungite mind of his kind. He was able to make inventions greater then what the enturnally trapped Victorian-age planet would allow. By his teens, Glowrod was allowed an oppertunity to join into a space station school. Natrolly.... His opinions quickly made him.... Unpopular."
Teenage Glowrod was seen ganged up by angry USRA bullies and non-USRA loyalists.
Teenage Glowrod: "Come on, guys, all I said that if the other races weren't so dependent to an allience of idiots, maybe those wars wouldn't've happened and-"
The bullies pounced!
BLAM!? PUNCH?! SMACK?! CLANG!?
Teenage Glowrod: "AHHH?! OW?! OWCH?! HEY!? OWWWWWWWWWW?! WOW?!"
(Calixto): "But there was one who always defended and cared for him."
???: "ALL OF YOU STOP?!"
The Bullies gasped and cowered in fear of a tall figure.
(Calixto): ".... That, was miss Sue Wai."
A young Sue Wai, an alternate Gazelle/Antelope like creature, came forth.
Sue Wai: "It's not like he doesn't have a reason to be so mean about what became of Pharagu. Now are you creeps gonna leave him alone, or do I have to get my uncle, the principal, involved!?"
The Bullies ran away like the cowerds they are!
Teenage Glowrod was seen crying.
Sue Wai: "..... Elias, are you ok?"
(Icky): His first name is Elias? (Laughs) It may not be the first Original UUniversal name I've heard being used in these worlds, but it's definitely one of the funniest.
(Tigress): Just shut up and let him finish.
Teenage Glowrod: "..... Why do these people hurt me? Pharagu was the victim here....."
Sue Wai: Yes, but you need to watch what you say. People like the USRA because it's what helped us out of wars like that. What they did to Pharagu was just an accident. You can't blame them.
Teenage Glowrod: Who else am I gonna blame?
Sue Wai: Blame Cheesepuffus. He was the one who made the ultimate mistake that earned him the electric chair.
Teenage Glowrod: But it was the USRA's fault for listening to such a screw-up, so they are no better!
Sue Wai: Look, Elias, you need to know that the USRA is still making contributions to fix that. They're holding funerals for all that have died in the garbage incident, and they are starting a plan to clean the place up.
Teenage Glowrod: THEN where are they going to dump it? I mean, that garbage has to go somewhere, you know.
Sue Wai: That's what recycling and incinerators are for. Now please stop trying to prove a point as if it means something. We need to get to class.
Teenage Glowrod:... (Sighs) Okay, I'll try not to get that mad about it.
(Calixto): Glowrod and Sue Wai were great friends who did a lot of things. But as you can guess, the toxic air of Pharagu seemed to make Glowrod... A little loopy.
(Spyro): You mean a LOT loopy if he doesn't have his sanity serum.
(Calixto): Not exactly. More like, he forgets his memory insanity, or akin to the mentality of a rude jester. THAT kind of insanity wasn't born of Pharagu. It was actually a DIFFERENT toxin. Sue Wai was a well-known healer for ailments such as poisoning, and it inspired Glowrod to become a scientist. He was pretty great at it, too. But he was still oppressed for his views, and that he claimed that gases can effect one's morality, which added to his bully problems. In order to prove them wrong, he intended to do an experiment that would prove that gases such as the ones on Pharagu can affect your mentality and even morality. But thanks to a litteral screw-loose on his device, all it did... (A large blast of toxic gases were seen across his lab)... Was make him even worse. (Glowrod was seen laughing crazily with green eyes, a missing right arm, and he went off running off madly in the distance to the shocked students and a horrorfived Sue Wai, who already shed a tear)... And he never came back.
(Bagheera): Goodness.
(Baloo): Wow. So he got insane because of a lab accident?
(Calixto): Yes. He was later found by the Villains Act, and his insanity lead him to join. Though they couldn't tolerate his complete insanity and his missing arm, beleiving that if nothing fixes those issues, he'll end up becoming a useless liability and a waste of their efforts of even bringing him into VA service, so they gave him a cybernetic holo-arm that could help him inject a sanity serum that had some omega-3 fatty acids to limit his insanity, though only for as long as he doesn't get too excited. Then came the day when Sue Wai attempted to cure insanity through some special worms called Moramecium, or Morality Worms.
(Brandy): Ew... Why the hell would she use worms?
(Zosimo): She originally went with a device similar to the neuroshock corruption technology the Villains Act used, but she later decided on the morality worms since not only was it a... Less painful alternative, but she also felt that using a simular verson those nasty things felt hypocritical and no better.
(Skipper): Oh, sure, and we all know how worms operate when they turn your intestines inside-out.
(Calixto): Don't underestimate her decision. Those worms are surprisingly more harmless then what you normally expect from a parasite. All they do gain a massive control of morality and that's about it. Anyway, the Villains Act felt that this would be a threat to their villainy, so they had Glowrod betray her and have her corrupted onto their side by order of the Villains Act Council, those of which are now what you know as the Dark Radicals, which... Sue Wai is sadly a part of now, thanks to still being corrupted by their mind-controlling member Mind-Warper.
Present
Calixto: And Glowrod has been trying to avenge Pharagu ever since.
Samantha: "There's a chance that Glowrod may no longer seek that out anymore. Let's remember that the escaped Oranos prisoners have Narcotic's modifived medicine, and have likely fixed him of that."
Lord Shen: "He may be without being a deluded fool trying to avenge a long-corrected injustice, but I doubt that means he and his friends are over-all done with being evil as a whole. It's likely that based on what you said that they would still aim to re-capture Qui and get her to establish a new VA. And even if it disincludes the Secret Founders, we can all agree that we're still against that idea."
Xandy: "Yay verily."
Clifton: "Better standerds or not, the VA would still be out to wreck everything we care about, so who's up for a game of "Thwart-A-Mole"?"
Magnum: "Worry not, Counciler. We'll be sure to finish what was started in Pharagu and contain him and his allies."
Meanwhile, back in Xenaros.
The Captured Reforming Monistairy Villains are seen in containment units.
Amutt: "You mortals are wasting your time. No earthly device can control Amutt. I am a being beyond you comprehensions."
Matrix: "Said the guy who got his ass kicked by robots."
Amutt: "Those devices didn't fought honorably! Your machines would've failed otherwise and the poor fool would've been helped out of his deludions!"
Zigmond: "We'll see about that after the Psychonitor deals away with that kind of lilly-livered thinking."
Screeched: "One slight issue: He, his family, and the fish Madam Cuda and that equine-flying rodent hybrid are truthfully in-corruptable. Amutt's family being nearly god-like, and the fish and the girl she has are a speical breed of magic users named "Equinox Users". The Device will end up destroying itself if it attempts to corrupt any of them."
Glowrod: "How unfortunte to say that your right, Screech. I meant for the device to corrupt mortals, not gods or god-like beings, and I have done some study on other universe culture and learned that Equinox Users are an unbelieveable balence of light and dark magic. They learned to be above any form of corruption.... Sadly, that even includes science borned corruption."
Pyro: "Seriously dude?! We got like, some of the most powerful magic users here, and we can't be able to have them play for team Villains Act!?"
Foul Cheese: "WHAT!? But, if that's true, then why did any of them played villain before?!"
Glowrod: "I looked that up to. The Amutt family were only lead a astray on their rise to villainy, Madam Cuda was more a misguided false messiah then a true villain, and the creature "Starfem" simply needed to be given "Balenceo" prior to her antics as a villain."
Foul Cheese: "..... THEN I WAS F****** LUCKY YOUR MACHINES CHEATED?! IF THOSE GUYS GOT OUT, EVERYTHING WOULD FALL APART?!"
Grimoors: "HA! EPIC FAIL ON YOUR PART, MOLE-FACE!?"
Glowrod: "Oh don't be so whiney about this, Cheeseworth. At least we can still restore the villainious edge of the MORTAL villain."
Foul Cheese: "But what about the Ringmaster robot?"
Glowrod: "We don't need my device for that thing. A simple corruptive reprograming will surfice."
Foul Cheese: "Well I'm suggesting that you upgrade that thing of yours to be able to corrupt gods or god-like beings or whatever kind of magic users the fish and the hybreed are! You have any idea how useful they would be for my conquest of Arda?! Let alone your dreams fo re-establishing a new VA!?"
Glowrod: Unfortunately, there's nothing I can do about that. Corrupting godly beings are beyond my power. It's beyond science itself. You can make any ingenious invention you want, but godly powers are not something that can easily be messed with. Even the Yatorans couldn't possibly come close to such a thing. It would take Teadr 0 technology, AKA trans-sentience, AKA TECHNOLOGY OF THE GODS, to accomplish such a thing. And we all know that doesn't exist since the AUU Gods were banished eons ago.
Amutt:... You guys had Gods that were banished?
Glowrod: What, you didn't think that all these UUniverses had was just science, did you? We have magical and godly worlds, too. Ok granted, they're all about science too, but I diegress. OUR Gods had technology beyond mortal understanding, and they NEVER shared their technology. Legend said that Teadr 1 technology was granted by an AUU God, but he was punished harshly for it. Learning about your UUniverses helped me learn that there are many similarities to both of ours, and not just because we had humans.
Zigmond: Well, if we cannot corrupt these people, then what must we do with 'em?
Glowrod: All we can do is keep them hostage in these stasis chambers. They'll be in stasis, and the mind-control serum in their systems should be enough to restrain them. If not, it's easy to sedate them with more.
Pyro: Or worse-case scenario, we give them a nanovirus to execute them.
Glowrod: (Sighs) They're immortals, idiot! Even if you introduse the virus they never dealt with before, they'll never die from it. I should know, The Skeetraziods from one of Qui's attempts failed to slay a god named "Celestia"."
Zigmond: "Oh now ye be telling me. Then that means if there's no more serum, then we're f*****."
Glowrod: "Worry not. For as long as the serum doesn't get cured out or doesn't wear off sooner then expected, then we'll be fine."
Amutt: WELL JOKE'S ON YOU, VAINFUL MORTALS!? THIS STUPID LIDQUID WILL NEVER- (He gets woozy)... Restrain me... Forever.... (The veiny injection spot was seen pumping as he and his family got knocked out)
Glowrod: So we've got nothing to worry about.
Pyro: And you're sure the heroes will fall for our little trick?
Glowrod: We've already established that it's not possible thanks to the magical beings in their ranks. They've most likely figured out our involvement, and are on their way here as we speak.
Hoger: HAH! They'll be poisoned in a pinch, says I!
Glowrod: (Sighs) Have you even been paying attention, primate? THEY HAVE MAGIC!! They can make themselves immune to the toxicity just as much as Screech can do with you guys. Especially since one of them is Screech's enemy. So there's no saying that the toxins will finish them off.
Screech: Indeed, I would not put it past Samantha for that.
Hoger: "..... Oh magic users ruin everything for us bad dudes."
Glowrod: But like I told Cheese, if the toxins won't kill them, the Xenaratinoids, tamed or not, will.
Pyro: ".... But..... What if they had members that can use fire to scare away the Xenaratinoids? It's was how me and the guys were able to avoid the ones after us."
Glowrod: "..... (Facepalms) OF COURSE THAT STUPID FEAR OF FIRE THING WOULD BE AN ISSUE?! Even the braver warriors would eventally finally be scared off by a powerful enough blast of fire!"
Foul Cheese: "Seriously?! The most nastiest creatures ever are afraid of a little fire!?"
Glowrod: "In all fairness, their blood is very flamable and explousive as a rather unfortunate side-effect of their mutantion, so the fear is justifived."
Foul Cheese: "UGH!? Great!? Then even so much as a little match would even make a brute like Brut-Tu cower in his tousers and run the other direction!? NO WONDER I GAVE UP BEING EVIL?! IT NEVER WORKS OUT IN THE GRAND SCEAME OF THINGS?! (Looks as if he is getting less corrupt)..... And that means...... I made myself look horrorable for nothing."
Glowrod gasped in surprised!
Glowrod: "..... OH NO, I WAS AFRAID OF THIS!? His corruptive effects are wearing off?!"
Matrix: "WHAT!? HOW!? HE WAS NEVER EXPOSED TO LOVE?!"
Glowrod: "Well, to make it stronger against being exposed to love, I, have to weaken the part that makes the corruption durable to when evil plans quickly are reveiled to have more flaws then hoped for. And the fact that we can't corrupt the immortals started it, and the exposure to the fire weakness in the Xenarats made it worse."
Matrix: "YA MEAN THE THING IS EVEN MORE FLAWED THEN ALREADY!?"
Glowrod: "THAT'S WHY I NEVER SHOWED THIS OFF?! I CAN'T MAKE IT TRUELY PERFECT WITHOUT AT LEAST ONE OR TWO THINGS WRONG WITH IT?!"
Foul Cheese: "..... And..... My niece..... She'll..... She'll never forgive me for this..... (Foul Cheese gets completely de-corrupted)...... WHAT HAVE I DONE?! (Kicks Glowrod straight into the villains, runs torwords the containment for the Amutt family and presses a few buttons!)"
Glowrod: NO! DON'T TOUCH THAT!!
Computer: "Emergency Mind-Control Serum Reversal Activated"
Glowrod: NOOOO!!! (The containment placed needles onto the Amutt family that injected a small blue substance that initially healed the veiny mind-control serum injected spot, instantly freeing the Amutt family from control, and waking them up) NO, NO, NO, NO, NOOO!!!
Amutt: (Broke free of the chamber with his family) "AS, I, WAS SAYING?! THE STUPID LIDQUID WILL NEVER TRUELY CONTROL THE AMUTT FAMILY?!"
Rarxter: "Tecnecally, that was only because Foul Cheese was self-freed from his corruption by the villains' own dumb luck and-"
Amutt: "Please let me have this, Rarxter, I was humiliated by machines and placed under a mortal drugging, at least allow me to redeem my failure earlier in the day and let me get everyone to escape." (Amutt and his family began freeing the other monistairy members)
Glowrod: NOO!!! LOCATORS, STOP THEM, NOW!!
The drones flew in and charged!
Amutt: (Magically froze the Locators in place with his magic)... You malicious machines won't be doing anything for a while.
Glowrod: OH, NOW THAT'S JUST-
Amutt: What? Cheating? Like you said, magic is beyond your control. Which means you're powerless against it.
Foul Cheese: (To Stomper and Vanguard) You two, you need to destroy that blasted corruption device before it does anymore harm!
Stomper/Vanguard: ON IT! JINX! (They proceeded to run down the hall)
Glowrod: YOU IDIOTS, DO SOMETHING!!!
Screech: I got this! (He magically teleported in front of them)... Going somewhere? (Aims his staff at them as it magically glowed in energy) I sure hope not.
Amutt: (Magically freezes Screech in place)... Won't have any of THAT! You two, proceed! (Stomper and Vanguard proceeded to enter the sublab and battle-cried)
Glowrod: NO, NO, NO, NO, NO, NO, NO, NO, NO, NO, NO, NO, NO, NO, NO- (The Psychotonitor was heard being destroyed) NOOOOOOOOOO!!! MY BABY!!!
Foul Cheese: This is far enough, Glowrod! You can no longer use us as leverage. As long as we have magic, you're no match for us.
Glowrod: I WILL DESTROY YOU- BOOPITY-BOOP-BOP- OHHHHHHHHHHHH, YEAAAAAHHHHHH!!! (He sedates himself)... Ahhh!... I WILL DESTROY YOU!!!
Amutt: I'm afraid not. (They were all levitated, spun around, and flung all the way across the hideout as they were dazed and disorientated) MAY THAT TEACH YOU A LESSON ABOUT MESSING WITH AMUTT!! (Turns to Foul Cheese sternly who flinches and winces)... Thank you for your change of heart.
Foul Cheese: "..... I, figured you would be angier at me for dragging you all here to begin with?"
Grimoors: "Oh, you were obviously not in your right mind, Cheesey."
Samutt: "Now let us leave this wreched place."
The Monistairy with Foul Cheese teleported off.
Afterwords.
Zigmond: "SHIVER ME TIMBERS?! THE LOUGERS DIDN'T EVEN ARRIVED YET AND WE STILL ENDED UP HAVING THE PLAN FALL APART?!"
Pyro: "We didn't even get to capture Qui yet, bros! Narc and Celly are gonna be piss at us yo?!"
Matrix: Arbasus Kraan, Glowrod, for an organized and expansive genius, you're starting to look as threatening as General Flark!
Glowrod: "........ One over-sight was one thing, but....... a lot of them? But.... I'm suppose to be the most brillient mind in the VA. How, how did this happen?"
Screeched: "..... I might have a throey, but you might not like it. It's possable that your only got to be that way because the universe used to be geared torwords the favering of villains. But when the Lougers arrived, their gearment on the universe favering their victory changed everything. Think about it. Why else is Qui reformed? Why else did the VA fall at all? It's because this universe is now contaminated by karma favering heroes now. That means villains are condemned to suddenly become either incompident or less fortunate then they usually are. That's why you failed to notice those flaws."
Glowrod: "..... Of, course!? The VA was doing just fine until the Lougers came and ruined everything?! That's why Qui lost her edge! That's why the HA is growing stronger?! That's why my attempt to avenge Pharagu is a periment failure?! Karma is geared against us now?! That means getting Qui back is forever impossable, unless..... We fix Karma by taking down the lougers, perimentally..... But not fatally, cause one of them IS Qui's daughter after all. If we defeat the Lougers, Karma will go back to favering us again! And we'll be free to re-evilise Qui and other villains, even Foul and those monistairy home wreckers, at our leasure!"
Pyro: "OH YEAH! KICKING SOME HERO ASS?! WHOO-HOOOOO!? I'M GAME, BROS!? (Takes out a ridiculously and cartoonishly-big gun) YEEEEAAAAAAAHHHHHH!! (The villains were surprised at the weapon he has)"
Glowrod:... Great balls of fire, Praveen! How can you even lift that thing?
Pyro: I get used to it.
Matrix: But I can agree with Glowrod and Screech. The Villains Act is starting to lose it's edge since the Lodgers changed the course of our history. So many villains beaten, and so many greatness in them, lost.
Screech: Some universes are similar, others are not. They came from worlds where heroism ruled above all else, and they came here, where villainy ruled above all else. That can really catch a lot of successful villains off guard. And worse off.... It happened on a case of accsidently getting sucked into a black hole portal. A mere twist of fate, ruined our previous success. And only by defeating the spawn of the accsident, will our success be restored, and hopefully if it were to be the case, for good if their influence wasn't great enough that the universe would still be able to better prevent our up-rising since then even without the Lougers. If we're going to put down those heroes for good, especially with their magic, we need a plan.
Glowrod: "And fortunately, I have the perfect one to prepare for them."
Chapter 5: Search in a Planet of Poison
Space of Xenaros.
Xandy: (The Van and HA dropship was seen flying towards the planet)... Behold, Planet Xenaros.
Icky: Wow, it's like Earth had Saturn's rings.
Xandy: What had what's rings?
Sandy: If our humans' home planet had a neighboring gas giant's rings.
Xandy: Oh, gotcha.
Icky: You guys need to get out of your UUniverses more often.
Magnum: We do a couple of times. Though we rarely have the time to learn some of your Alternate UUniversal customs. It took Vancer three visits to learn how to play what you call 'mini golf'. In our worlds, a lot of sports resemble 'golf'. There's comboball, mazeball, puzzleball, angleball, and so many others.
Iago: Those games might sound just as good.
Skipper: (To Private) Who knows, 'Mr. Tux', you might be good at those games.
Private: Well, I would if I knew what they were.
Zosimo: Oh, they're similar games, they-
Samantha: People, we have a mission, remember? We need to get to Xenaros and stop Glowrod and his associates from causing any corruption trouble.
Skipper: Relax, Samantha, our minds aren't that distracted by dialogue... For the most part. (The two ships entered Xenaros)
Xenaros
Clifton: (The heroes landed as the outside world of Xenaros appeared with sandy winds, the landing site being old military grounds right near city ruins, and there was intense lightning storms)... Aw, Kraan! It had to be in the middle of those crazy sand storms.
Zosimo: Yeah, we might get sand in our eyes.
Fidget: Is... Is the weather out here more severe than on Earth?
Xandy: If you mean that version of Marbon you spoke of missions ago, then yes. Toxins and inhospitable conditions, as well as deterioration of life-giving waters have made the sky rich in water vapor and acid, so... Expect some intense lightning storms and acid rain.
Kowalski: Aw, blast, acid rain. That's going to be a pain in the tush.
Samantha: Relax. I'm beginning the toxic immunity spell now. (All the heroes glowed in green magical energy as it went up their windpipes and they took deep breaths)... There! Now we are officially immune to the toxins outside.
Icky: Good. Then we'd better get ready for a bug hunt.
Boss Wolf:... Really, dude?
Icky: Hey, it fits, right? I mean, the monsters here are like those Xenomorphs, so why the hell not?
Lord Shen: Let's just move out. (They all exited their ships, and saw the poisoned world before them as lightning crackled in the sky)
T.K: YIPES! Lightning!
Xandy: Relax. The weather may be intense, but the lightning is not that lethal this time of the year.
Tai: THIS TIME OF THE YEAR?!? You mean it gets worse?!?
Xandy: Yeah. Lightning can set any dead vegetation ablaze. But in case it DOES get dangerous, we must find some shelter. As for the progress to Glowrod's location... (Takes out a small device, places it on the ground, and a holographic map of the area appears) It's going to be one doozy of a trip, I'll tell y'all that!
Zosimo: Quite so. We had to land to the closest source of shelter on our way to the location by foot.
White Rabbit: Why not just teleport there?
Mr. Dodo: Don't be ridiculous. We are unfamiliar with this planet, and that's exactly what Glowrod would expect. It's why we didn't land to his base. It would be too easy for his defenses to take us out. That, and the plot forbids it.
Icky: Oy, and the fourth-wall awareness seems to ruin the moment.
Magnum: He's right. We need to do this when they least expect it. And that means continuing on foot.
Sparx: Eh, that doesn't sound so bad.
Nanobyte: I guess not, that is if you've been trekking in sandstorm-driven lands with intense conditions and monstrous beasts before.
Sparx:... That sounds really spine-chilling when you say it like that.
Magnum: "Well fortunately, the infamous reputation of the Xenaratinoids is mostly, exaggerated. I'm not saying it isn't well earned, but, they do have one weakness.... Due to their flamable and exploudsive blood, they gain a natoral fear of fire."
Spyro: "And how lucky are you guys to be around some dragons?"
Mushu: "Oh yeah, I'm gonna make some Xenomorth rip-offs afraid of me, WATCH THIS HERE! (Blows out a little spark.) AH-HA! NOT BAD FOR A LITTLE GUY HUH, Or maybe I don't have to singe nobody to prove no point."
Magnum: "Well, a small and medium display of fire can scare away workers and scouts, but, you need a high-percentage of fire if you want to scare away the braver soldiers and warriors."
Spyro: "I, Cynder, Cornwall and Devon more then have that covered."
Kowalski: However, if their blood IS as flammable as you say it is, I'd estimate burning one can easily cause it to combust and explode, and that could be dangerous for anyone too close.
Icky: Yeah, that sounds much more painful than acid for blood.
Telthona: Oh, gross! I can't even IMAGINE an alien with acid for blood.
Icky: Welcome to the Alien franchise.
Xandy: "Now, it shouldn't be hard to find a fort named "Fort Beauty of Pharagu", Glowrod's most faverite."
Samantha: "Alright, let's head out."
The Heroes marched on.
Later...
The Heroes marched on into the city ruins as they went over a destroyed city bridge and entered a street with hundreds of buildings, though exhausted as the sandy winds blew right past them.
Iago: Oh, God! I got sand in places I didn't even know I had.
Savio: And the winds are starting to get colder.
Zosimo: Luckily, the weather balloons I deployed should give us a clear picture of what to expect. (Checks a small device)... Well... I'm afraid the next sandstorm will near in 30 minutes.
Xandy: Then maybe it's time we get to that shelter.
Icky: "No, freaking, kidding, because my eyes are starting to burn."
Kowalski: Even if there's a lot of buildings here, I feel that they might have too much damage for us to be protected from the storm.
Magnum: Relax. There's a strong enough building just ahead. (They saw a formerly-glamorous govermental building seen amongst a city ruins as they enter it)
Shaded bird figures loomed around the area hissing softly and drooling acid.
Inside the building.
Ruins of a once beautiful govermental hall-way are seen.
Icky looked in awe of a barely preserved golden statue of a beautiful robed bird.
Icky: "Yeesh. This Gordon guy ruined this place? Over something that never happened to him?"
Samantha: "..... Gordon was, a confused fool. He couldn't believed that anyone, let alone the Xenoids, would've wanted to harm his people. Worlds were victimising each-other in that war it happened in. The feuds between this and his world, and several others, were not isolated insodents. This and other victimised worlds made proper amends and signed a peace treaty to Vandora."
Icky: "Let me guess: Ape-face thought those amends are bulls*** and thinks this place and the other worlds hated Vandora."
Samantha: "More like, he looked a gift-Zambora in the mouth and didn't liked it. When this world and others attacked it, there was some things mere apology couldn't fix. The attacks took away lives and communities, and to some, such actions are barely excusable."
Icky: "There ya go. The guy did it out of thinking that these people and the other races were monsters. The war broughted out their worse and attacked that Vandora place."
Samantha: "True, but it doesn't make Vandora innosent. Vandora was once ruled by a terrorist tyrant who wanted to enslave the worlds that resulted in having them attacked Vandora, of which the attacks were out of scaring the tyrant into being the cowerd he is. It wasn't anything truely against Vandora as a whole, it was under a regine that otherwise would've never survived against the USRA that this place and other worlds just wanted to protect themselves from."
Iago: "So, it's a case of answering violence with violence gone south, huh?"
Zosimo: "Alot of worlds were confused, nobody knew any better or had the right answers. It was a wild west sort've deal. Everyone looked out for themselves and only such."
Magnum: "And ultamately, Gordon is still otherwise wrong for making this world and several others suffer for something that was more the fault of war and confusion then any being's misdoings, reguardless of morality."
Private: "Well I'm sure if Gordon had just realised that Vandora was under a terror regine, then-"
Samantha: "He does. But he doesn't think the races involved were right for harming those that were innosent over it. But again. Everyone, was confused. They had no way to tell the difference between who was good and who was evil. No one, not Xenaros, Vandora, any world, knew any better! Gordon is at fault for never understanding this, and dare asked for a cup with no bottom! He had the NERVE, TO THINK THE PATH OF REVENGE WOULD GARRINTE HIM ENTURNAL HAPPINESS, (GETS EMOTIONAL), BUT HE'S WRONG?! IT'S SHALLOW, EMPTY, UNINVITING, BITTER, AND LONELY?! ALL IT DOES IS MAKE YOU WORSE THEN THE VERY DAMN THING YOU WANTED TO DESTROY AND/OR RUIN TO BEGIN WITH AND-"
Clifton grabbed Samantha by the shoulder and nodded his head "no".
Samantha breathed in and out.
Samantha: "..... I, am sorry for that outburst, it's just that..... I, had a friend who's a member of a race who was nearly gensided to extintion by an angry racist monster who was furious at his race over a long ago war that he too, was never borned to see. The Kangrons are critically endangered as a result."
Clifton: "..... Once apawn a time, the Kangrons were once at war with the Kliygians, over universe terratory. The wars were unpleasent and bloody..... Eventally, the USRA were able to establish peace between the two.... However, several dozen years later, the Kliygians ended giving birth to a Pre-Gordon monster: Noob-Butt the Terrorable."
Silence.
Icky, Iago, Thunderclap, the Hyenas and the Raptors laughed!
Icky: "NOOB-BUTT!? (Laughs hysterically) AW MAN, I HEARD STUPID NAMES, EVEN IN THIS PLACE BEFORE, BUT, (WEEZES), NOOB-BUTT?!"
Samantha: "Do not dare be fooled by his name.... Noob-Butt is a monster in the making. Noob-Butt used every form of warfare against the Kangrons and pushed them to a very critical state! Noob-Butt was thankfully slain by a respected Kliygian hero and saved the Kangrons. They were given an endagered race status as a result. That means they are restricted to their own planet until they can repopulate with only very few exceptions ever allowed to venture out. One of them included my dear friend Norus. Norus was given unbelieveable speical treatment because of his endangered status and made a lot of students jealious. I always had to defend him. I wasn't very forgiving to anyone that picked on Norus, and epsiecally so to anyone who desided to be racist about it. I stabbed one such racist on the hand with a fork!"
Icky: "JESUS?!"
Hudson: "..... How, did you became a Magelio user despite moments like THAT!?"
Samantha: "THAT, was before I became interested in Magelio.... I was a lost and confused girl back then. The fork incident made Norus afraid he was being a bad influence on me, and convinced the school to have him transfered back to a school in his planet to prevent me from ending up worse than bullies. His... absence lead to me discoving Magelio and eventally.... Well, here I am now."
Icky: ".... Wow. How, come nobody knew that before?"
Samantha: "(Sheds a small tear) Because, I am ashamed of who I once was. It originally made me almost doubtful of ever becoming a Magelio user. I was once even afraid they wouldn'tve accepted me because of the stupid fork thing! Magelio users are suppose to be above violence! I, I even think they only made me a Magelio user because they wanted someone to get rid of Powawa! If it wasn't for him.... I.... They probulity wouldn't even..... (Sobs)."
Magnum: "...... I see..... You are filled with self-doubt about why you were choosen for your desteny? You hid under that mask very well, but then, it finally broke off to reveil a sad soul when Gordon was brought into this."
Samantha: "Think about it?! The Magelo council choose me out of needing someone to take care of a problem of theirs! I'm truthfully otherwise the last ever person they would pick, and-"
Soothsayer: "Samantha, listen to me. Don't ever doubt who you really are based on the past. That is the same mistake Gordon made. He acted out because he wanted to be something he was not. A punsiher of sins already amended, of which he never exspearienced. Even your personal foe made that mistake when he wanted more then what he was allowed."
Po: "Yeah.... You don't have to be like a Magelo user that never even threw a punch in his life.... You just need to be you...."
Samantha: "..... Uh, is that, suppose to be a metaphor? Cause, I don't think it makes sense."
Lord Shen: "I know it doesn't, but, it means, don't worry about something you are not or were suppose to be, but be happy with what you are now. Gordon and Pow failed to embrace their true selves. Now look at them. A pair of failed messes. But you embraced yourself and look at you. Your a hero now. Listen..... Don't ever let self-doubt get to you. And don't get troubled by reminders of an inhumble past. The present has proven you rose greatly above that."
Magnum: "You already did that up until now.... Why stop all the sudden?"
Samantha: "..... You all, believed in me, even knowing about the fork thing?"
Icky: "Well, I'm not gonna lie, that part was freaky, but judging that you didn't even acted alittle jealious about Xandy trying to steal your man, your clearly not Forky Mc-Handstabber anymore. (Gilda bonks him) OW!?"
Tigress: "He means that you didn't let mistakes of the past define you for who you are, and made a good effert to rise above them. Perhaps these Magelo users knew you were more then just a solution to a problem. You were worthy to know their knowledge. They saw you worthy of an equil. Trust me. They wouldn't drag a random outsider to fight against a rouge of their's if it wasn't true."
Samantha: *Sniff*...Thanks guys.
Lord Shen: Enough with the mushy stuff, we need to find a way to remain safe during the night. With that sandstorm blowing outside, there's bound to be other creatures out there that want to take shelter here.
Marty: No kidding. I hope they don't bite me in the butt, not only would that hurt more, but my butt wound is even more sore since Alex bit it.
Alex: Corrupted predatory insanity and all.
Gloria: But this is just predatory insanity. These Xena-whatevers are gonna do more than just a bite in the butt. They're gonna turn you into a partially-consumed carcass until it is buried underneath the sands of this f*****-up world.
Sparx: That sounds pretty sick.
Spyro: In that case...
Later...
Spyro: (Creates a large wood structure and sets it on fire with his flame breath)... Just to make sure any beasts know we mean business.
Cynder: Don't exactly know how long that fire will last. Those creatures might wait until it goes out.
Spyro: Dragon's fire lasts pretty long. It'll stay up long enough for us to wake up and defend ourselves.
Tito: Yeah, no silly freakazoids are gonna mess with us, am I right? (Chuckles as he high-fives Francis)
Xandy: (The heroes get themselves ready to sleep as she and Hudson slept near each other)... You know, Hudson, this may seem like a great enough adventure for us to go on.
Hudson: No joke. Glowrod is sure not going to surrender that easily, and is going to let this planet finish us off.
Xandy:... Well... Whatever happens... I can't bare to lose another close person to me.
Hudson:... ANOTHER close person?
Xandy: Yeah, there was another person I had fun with long before my parents died. You know Councilman Oswin in the High Council?
Hudson: You mean the most recent semi-aquatic lagomorph member? What about him?
Xandy: He has a son named Chase. They were both from my home planet.
Hudson:... Get out, his son was a friend of yours?
Xandy: Yep. His name was Chase. We had a lot of fun together, swimming, playing hero, watching hero cartoons, playing video games, and doing a lot of stuff.
Hudson:... So what happened?
Xandy: Well, when his father became a member of the Grand Council after a legacy as a warrior, he had to leave Carbungia, and bring Chase with him. I haven't been able to see him that much despite where I am today.
Hudson:... How long have you guys been apart?
Xandy:... Since I was 10.
Hudson: Aw. I'm sorry.
Xandy: I just hope for sure we can make it through this place. I haven't been on a planet like this. I wouldn't want to lose a person whom I've shared a closer relationship than a friend.
Icky: You guys nervous about this mission already?
Hudson:... How much did you hear?
Icky: Oh, I heard Xandy talk about her close friend Chase. He's a semi-aquatic rabbit?
Xandy: If that's a lagomorph, yes.
Icky: "Great, just thought I get to establish something."
As the heroes get to sleep, the same silluettes of the bird-eqse monsters, this time with a unfamilier character, came forth onto the still standing window.
???: "....... Bring them to me......"
The figure magicly caused the fire to silently die out without alarming the sleepers.
As such, the Xenarats quietly walked into the room and began to slowly surround the group.
Chapter 6: The Shocking Secret of the Xenaratinoids
Later that day.
The Heroes woke up in a place they do not reckindise.
Icky: "....... Aw, shit. Spyro, I think your fire lost it's edge. It somehow died out too soon?!"
Spyro: "WHAT!?"
Lord Shen: "We'll worry about how that happened later?! RIGHT NOW, LET US ESCAPE!?"
Samantha: "We're in a Xenarat nest! We need to follow the main tunnel back out to the enternece! It's the only way out?!"
The Heroes began to run for it!
The main area of the nest.
The Heroes ran for it until everywhere, Xenarats popped up everywhere and blocked the exit.
The Xenarats surround the group.
Spyro: "Hmmpt! It seems these creatures won't let us leave without a fight!"
Lord Shen: "Then I hope these miserable creatures have an understanding of first-aid, cause that's what they need after we're done with them!"
The Heroes prepared to fight as the creatures moved out of the way for a larger Xenarat to come in and growl menacingly.
The Heroes get into an intense stand-off as the Big Xenarat reaches the center.
Intenseity incrises as it looked like the Xenarat reared up on the hind-legs and bared it's fore-arms, looking like it's about to make an attack.
The Heroes prepared for the worse, when suddenly-
Big Xenarat: "WELCOME TO XENAROS!?"
Record Scratch!
Boss Wolf: "....... WHAAAAAAAAAAAAAAAAAAAAA?!"
Xandy: "..... Did..... Did you just talked?"
Big Xenarat: "..... That's a weird question. Wait, did you thought I was gonna be all "ROAR?! HISSSSSSSSS?! ROOOOOOOOOOOOOAAAAAAAAAAAAAAAAAAAAAAAAAAAAR?!" and try to rip you guys apart or something?"
Xandy: "Well yeah! You're mutant monsters born from a race ruined by Gordon!?"
Big Xenarat: "Pfft! You actselly believed that old lie we made to keep people from coming to this planet being like this!? Don't get me wrong, that Gordon dude did screwed us over, but.... Thing is..... Xenaros was like this in to beginning."
Samantha: "..... It was..... Already a post-apopilictic mess with toxic air?"
Big Xenarat: "(Scoffs), Toxic air she said!?"
The Other Xenarats began to laugh!
Big Xenarat: "Listen, let me be frank here. There's no toxic air. There never was a "toxic air"."
Hudson: "Then..... How was Gordon able to ruin this place?"
Big Xenarat: "Well..... Let's just say..... The Xeniod form was actselly the result of after we got rid of our ugliness and that of the planet and transformed it into a purple mist we named "Poi Son". It means "Ugly Mist" in our tongues."
Icky: "WAIT WAIT WAIT!? You mean to tell me all this time, you people were ALWAYS Xenomorph-Ripoffs?!"
Big Xenarat: "Whatawho-ripoffs?"
Samantha: "What they mean is, the Xeniods were never destroyed?"
Bid Xenarat: "Alchourse not! We, just ended up having our ugliness back. So did the planet, and all the animals here, and it brought back the nasty storms that really wrecked our homes, place of business, barely our goverment buildings, and-"
???: "Let me explain everything, Bobbos."
The female figure, a female Xeniod, came forth.
Bobbos the big Xenarat: "...... Oh, sorry about that, mi'lady. Spoke too much before you got to say anything. Silly old Bobbos the chatter-box."
Icky: "OK LADY, THE HELL'S GOING ON HERE?! WHY ARE THE XENOMORTHIC BIRD THINGS TALKING LIKE THE KIND OF GUYS I WOULD HAVE A BEER WITH!? AND HOW THE YELLOW ARE YOU NOT A MUTANT LIKE THEM!?"
Female Xeniod: "Allow me to explain. I am Lady Xenaria, immortal daughter of the founder of Xenaros. And I will tell the balled truth of Xenaros."
Flashback.
(Xenaria): "When we came into sentience, Xenaros was already the miserable dump you have seen before you. The bad weather and always hostile fauna was unabareable, but it was the closest home we have. Then one day, my father, Xenaros himself, discovered a relic capable to turn ugliness, into a purple mist."
A Xenarat with a relic glowed as he turned into a Xeniod.
(Xenaria): "The relic was used to turn our people from, what you racistly called us as "Xenaratiods", to Xeniods."
The Relic absorbed the features of the Xenarats into a great purple mist!
(Xenaria): "And we didn't reserved this to ourselves."
The Relic was used to obsorb the hostile and unpleasent nature of animals and the hostility of the evioment and weather into more purple mists.
(Xenaria): "We placed the purple mists into a great dome, and named the purple mists for our word for ugly.... "Poi", for Ugly, "Son", for mists.... Problem is, many far years later, after we were among the races that needlessly, agressively dealt with Vandora's terrorest regine through violence, a vengeful violent idiot mistaken the purple mists for actual poison."
A silluette of a maniacally laughing brute smashed open the dome and freed the mists.
(Xenaria): "Cause of it, our ugliness, the hostile home, and the animals with un-neigberly temperments, returned."
The Xeniods returned to being Xenarats.
(Xenaria): " I was lucky to use my magic to trap my ugliness in the spector and stayed beautiful.... But I was not able to save my immortal father and my mortal subjects. We were fearful socity would fear us as a result... So, we desided to not to cry over spilled milk, and avoid direct contact. We used the power of rumors to scare people from ever seeing our true selves by saying our planet had poisonious mutantive air and that we were hostile beasts..... We didn't however asked for our new names to be the racist slang "Xenaratinoids"! In our tongues, it means "Butt-Faced Bird-Reptile Look-Alikes"!"
Reality.
Xenaria: "Honestly, if this is what you non-Xeniods are like to us when we only lied about our appearence, I don't want to know what it could've been liked if we were honest about all this!?"
Xandy: "..... Oops. Sorry. We, didn't realised about this."
Icky: "Wait, but, what about the skulls and bones lying around?"
Xenaria: "Gordon attacked us on Grim Night. Those are left over relics of that fateful holiday."
Spyro: "But.... Why did you people kidnapped us?"
Bobbos: "Try to see it as more of a, forced invitation."
Xenaria: "It's because you people would've been TOO judgemental on appearences. Like the rest of those outsiders hiding out with that rude mole who brainwashed two of our native creatures and some of our people into working for him!"
Private: "Well, we were on our way to capture those other outsiders for you."
Xenaria: "And as much as we would love that very much, we would prefer if you can help us relocate our lost relic and restore Xenaros to it's former glory. I want my people to look nice to you judgemental beings again."
Icky: "Why do you guys hate being, uh, like this? It looks WAY more badass!"
Xenaria: "You have any idea how judgemental people like you are for appearences like this? I was able to used my magic to trapped my ugliness in my scepter so I can stay like this. As mentioned before, people, like my own father, weren't so lucky."
An aged Xenarat came in with a cane.
"Xenaros": "Being immortal isn't fun when your ugly."
Po: "Well, I think that's the problem with you guys. You're too afraid of what you really are, so you hide being smoke and mirrors, so you try to be something your not, instead of being you."
Xenaria: "Don't take it the wrong way, that metathor works fine for you people, but not us. We had dreams of socially intergrating among socity and help contribute to it. And we were doing that as our beautiful forms. We can't do it as our true forms! People would be afraid of us!"
Sandy: "Are you people really that afraid that socity would be so vain as to judge y'all based on your looks?"
Icky: "They're not exactly wrong about that, Sandy. Remember Xenon and Hank?"
Sandy:... Oh... That's right.
Icky:...  So... You guys were fully-sentient this whole time? That Xenomorph-like act was just a way to cover up your pain?
Xenaria: Oh, the noises we make are actually part of our nature. It's for intimidation and scaring people off our planet.
SpongeBob:... Were you ALWAYS like this before you decided to-
Xenaros: That's only half of it. Before the relic basicly sloved everything for us, we admitingly did had a nicer appearence prior, which basicly is this appearence, but less, hard to look at, but in our prior persuits to make ourselves less like this, well, when you end up screwing around too much with trans-being technologies hoping to create the perfect being, you tend to look as ugly as this. But on the whole, we are actually reptosectoids, or insect-reptilians... In our case, with some bird-like features, alou to our beaks and some traces of feathers. We also had scales and exoskeletons, the ability to lay larvae though bird-like eggs, we could regenerate, and we've always had flammable blood. This kind of blood makes us more warm-blooded and used to colder temperatures than other reptiles. But as the result of relying too much on trans-being genetic sedations, this is the result. We have since relied less on science and more upon magic, which allowed us get rid of these appearences into Poi-Son in the first place. And we were enjoying our nicer appearences until that Gordon really desided to be a jerk over something that he wasn't even born to see.
Xenaria: We're also experts at mimicking our evolutionary feral ancestors which is what spawned our legacy as monsters in the first place.
Batty: Wow! You are by far the craziest race I've seen in the Alternate UUniverses.
Xenaros: It seems to put us beyond belief as well. Now, will you help us restore all that was lost to us? If you do, then we'd be more than happy to help you run Glowrod off our planet. We'll even get rid of his additional hideouts... That is if we are capable of finding them.
Icky: "Have you tried his most faverite lair named "Fort Beauty of Pharagu"?"
Bobbos: "But, isn't Pharagu a garbage-dump planet?"
Zosimo: "Let's just say, like this world, it had seen better days."
Hudson: "As for the relic thingie, sure. But, if you had in the first place, how did you lose it?"
Xenaros: "Well, Bobbos was originally encharged of being hereld, but.... He ended up paniacing like an idiot AND HE LOST IT SOMEWHERE IN THE BASEMENT OF THE MOST LOCKED UP PALACE IN OUR PEOPLE'S HISTORY!? GUARDED BY OUR FLYER DRONES?! Granted, some of them were taken by that nasty mole and corrupted by him and were re-created to look even nastier then already, and given those weird upside down A stickers. But there's still enough that keeps the rest of us from going in. Some of our bravest ended up dying from those machines, for they don't reckindise their masters, and their bodies were mysteriously brought back by the Mole and were corrupted by him somehow to suddenly serve him."
Xandy: "So where is this palace?"
Bobbos: "..... Pretty much that goverment building we forcefully invited you from?"
Sandy: "Ya'll mean to tell me we were there the entire time and you took us from it?"
Bobbos: "In our defence, had we woken you up and tried to explain everything there, well.... To be frank, I'm actselly kinda scared on what the bird with the blades would've done to some of us."
Shen was seen over-displaying his blades.
Mantis: "Trust me. You guys were right to be scared of him."
Merlin: "Well fortunately, we can simply teleport back and-"
Bobbos: "No need. It's only about a mile away. A good quick walk once the latest storm clears up and your all set."
Merlin: ".... Oh. Good point."
Icky: "Wow, for a second, I thought we were gonna be attacked by mutanted monsters."
Bobbos: "Oh trust me, you're still gonna have to be careful of our native fauna. We took away their Poi-Son for a reason. They were MORE violent then nessersary, even for surviveals sake. They even sometimes come after us. (Roars are heard) AHHH LIKE RIGHT NOW?!"
Xenomorth-like Scorpions are seen marching into the enterence as the Xenarats run away!
Tulio: What the heck are those things?!?
Kowalski: (Uses the same analysis device from The Land Unknown to scan the beasts)... They seem to be genetically-perfect breeds of an insect called the Peroxoid. Scorpion-like, flexible tail, hydrogen peroxide for venom, and acidic blood.
Icky: Well, NOW we need to go on a bug hunt.
Spyro: Well, if they have acidic blood, it's best we took them out at a distance.
Po: "HEADS UP!? Look's like we get to fight some mutants after all!?" (The creatures shriek at them as they drew their Xenomorph-like tails which displayed deadly venom)
Lord Shen: "Stand back! This is the job for a cannon!"
Shen brings out his cannon and aims at the creatures!
Aurlena: "Wait a minute, HOW DID HE GET THAT THING HERE SO QUICKLY?!"
Icky: I have no idea, and we might never know.
Lord Shen: (Lights it as it blasts one of them into an acidic splat, then more of the creatures ended up surrounding them shrieking)... Come and get some- (The creatures blast acid from their mouths as it hit the cannon, melting it instantly)... Aw, come on!
Spyro: (Blasts fire across the surrounding monsters as they backed off briefly)
Xandy: Heroes, ready your firearms! (Xandy, Clifton, Vancer, Aurlena, and several others drew their guns)... FIRE! (They fired their guns as almost all of the monsters splattered with acid while others were barely phased)
Xandy/Clifton: Armor-piercing!
Guns: Armor-piercing activated! (They both fired their guns as they managed to deal powerful blows to the monsters. Though some of them were climbing on the ceiling as they prepared to jump down and surprise them)
Magnum: WHOA! (She levitates them before they struck, and knocked them into a wall)
Sam: Okay, on my signal... Three... Two... (He and Max took out ridiculously-large rocket launchers) STAY BACK, FOUL XENO-SCORPION THINGS!! (The heroes were able to fend off several of the monsters until they were all killed and splattered in acid)
Banzai: HAH! Take that, you feral monsters! (Cloakblade heard several shrieking noises)
Xandy: Well, I reckon that's that. Let's-
Cloakblade: I think not. I can feel that those weren't the only ones. (Suddenly, skittering noises were heard as an entire army of the creatures appeared)
Sparx: AARRGGHH!!!
Icky: "OK, FUCK THIS NOISE!?"
Icky angerly shoves his wing into Rico's mouth and pulls out the nuke!
Icky: "YOU STUPID ASSHOLES ATTACK US AND I'LL BLOW US ALL TO KINGDOM COME WITH THE NUKE?!"
This actselly greatly intimidates the creatures as they slowly began to move backwords.
Icky: "Yeah that's right, scram, vamoose, go on, get out of here, AMSCRAY!?"
The Creatures all leave.
Icky: "AND STAY OUT?!"
Icky gives Rico the nuke back.
Icky: "Thanks for the nuke bomb, Rico."
Rico: Uh-huh!
Lord Shen:... ICKY, YOU COMPLETE IDIOT!!! THAT WAS ONE OF THE CRAZIEST THINGS YOU HAVE EVER DONE!!! YOU TRIED TO BLOW THIS ENTIRE AREA UP, AND RISK EVERYONE WHO IS WILLING TO HELP US!!! WHAT IF THOSE CREATURES DIDN'T UNDERSTOOD THE THREAT OF NUCLEAR ANNILIATION AND-
Tigress: "Shen, just be glad that Icky did SOMETHING to scare off those oncoming creatures! We would've eventally have been overwealmed and killed?!"
Lord Shen: "But-"
Shifu: "Shen, be glad that the threat was actselly taken seriously by those creatures, and do NOT risk an arguement that'll get us killed!"
Lord Shen: "(Groans frustraightedly)..... Fine?!"
Icky: "Yeah, and besides, (Waits for the creatures to be completely out of earshot), It was only a scare tactic."
Lord Shen: "JUST-...... (Sighs)..... For all it's worth, we were lucky the creatures actselly understood the dangers of nuclear weaponry, so I guess it was an AGURABLELY DEBATABLE, good call, this time.... Just..... Don't be so quick to do it like that again."
Icky: "Ok, ok, if it rustles your jimmies that badly, I won't threaten to use Rico's nuke again."
Lord Shen: And just to make sure, we need to have a talk with Ignitus about removing it. I'm afraid that using a nuke as a scare tactic might make us look like reckless idiots.
Icky: Aright, agreed.
Aurlena: "..... Am I the only one concerned about as to why the lougers have a member armed with a nuclear weapon?"
Zosimo: Yeah, besides, using that thing could've gotten us arrested. Nuclear weapons are banned in over a hundred worlds because they are just too destructive and cause too much harm. In fact, it's got such a bad reputation, it spawned familiar weaponry such as nuclear-based astro-lasers that can destroy whole planets.
Kowalski:... Oh, God, you guys HAD to create weapons that put nuclear bombs to shame.
Xenaros: (The Xenaratinoids arrived again) Well, I must agree with the Ranacock-like creature, that was a pretty reckless act of protection.
Icky: But it was an effective act of protection, can't argue with results.
Xenaria: Now then, back to business. While you're on this small mission, you'll have to expect more of those beasts. Especially the braver castes. Even a nuclear bomb won't deter them.
Icky: Okay, do you have a name for these 'beasts'? I don't think I feel comfortable just calling them that.
Xenaros: We referred to them as Peroxodons. They were genetically-bred for their meat and eggs, but when Gordon sabotaged our perfect way of life, they ended up going feral and eating our people. But I feel that the Poi-Son-
Icky: Okay, let's just call this 'Poi-Son' by it's literal term 'Ugly Mist', because I don't want the idiots of this team to confuse it for that swamp planet back in our UUniverses.
Xenaros:... Well, to be fair, it was a part of our native tongue, but why not? Anyway, I feel that the, "ugly mist" had made the Peroxodons worse and made them evolve into better eusocial creatures. So when you're on this quest to restore our society, then be sure to watch out because not all of those creatures will be intimidated by even the strongest of bombs. Their queens trained them better than that.
Boss Wolf: Of course they did.
Xenaros: "But don't worry. Being braver doesn't always mean being fearless. All one has to do is make it look like they're about to actselly do it and even they will reconsider killing you."
Xenaria: "But all the same though, I rather we retire the nuke threat thing. The Peroxes are just as fearful to fire as we are, so, try using that instead."
Lord Shen: "Now that's a better alternative."
Merlin: "How's about another better alternitive? We just all teleport back to govermental building and seek out the basement? Honestly, it's almost the end of the episode now and more mutant fights would only serve to annoyingly elongate it."
Sparx: You kidding? We just had one fight and it didn't take that long because Icky took the-
Spyro: "I have to stop you there, Sparx. The fight there in the building would concern the drones, not the Perox-things."
Iago: "Still sounds damn good to me either way. As long as we're actually getting somewhere quicker, I don't care."
Later...
Simular drones to Glowrod's are seen hovering and patroling around the basement.
Merlin: (The group teleported there as they saw the rogue drones patrolling the area)...
Iago: Oh, good golly! Those drones look ugly! (A drone heard that as it went towards their location)... Hide! (They all blended in quickly through the environment as the drone looked around, and after seeing nothing, flew off as the heroes got out)
Xandy:... Okay, let's just be quiet. They seem to hear everything.
Magnum: You may be right because that drone is coming with reinforcements. (The drone was seen with more drones as they all retreated and were almost spotted. The heroes then ended up going to a very far spot in the area away from the drones' senses)
Vancer:... Okay, how the f*** are we supposed to get past THOSE things if they hear everything?
Samantha: Simple. We turn invisible.
Magnum: I don't think that will work, Samantha. That can't prevent them from following the sounds of our breathing and whispering. And trust me, we can't make ourselves mute completely because we do need to communicate with each other.
Trixie: Blasted contraptions. How do we get in?
Samantha:... I think I might have ANOTHER spell for that. But problem is I haven't perfected it yet.
Magnum:... Are you talking about that robot-mimicry spell?
Samantha: Yeah, that's the one. Such a spell is pretty crazy for the one that's under it. It seems to take away some form of complete sentience and give you the personality of a literal robot... Which is actually whay you would become.
Skipper: So one of us is going to be disguised as a robot and infiltrate that building and get into the basement?
Kowalski: I don't see how the volunteer will cooperate well since what you said about the side-effects could be pretty crazy.
Samantha: Yes, robots are mostly incapable of complete self-awareness, and the only AI that has full sentience from what I heard is from Teadr 1 technology. And these drones are like an average Teadr 2.
Kowalski:... What if a genius was to volunteer? Would that give enough intelligence to allow the robot body to develop an actual consciousness to concentrate properly?
Samantha: I'm not sure. But I guess we can test that out.
Sandy: Then it looks like me, Kowalski, Jumbaa, and Dr. Cockroach are goin' in.
Samantha: Alright... Are you sure you're prepared for having the mind of a machine? It's sure to be a bit of a pain for even you to comprehend well.
Dr. Cockroach: Oh, don't insult our intelligence. I can get through this with my antennae tied around my chin.
Samantha:... Alright, then. Here we go. Now this will take awhile as-
Crashing and smashing is heard as Aurlena was seen beating the snot out of all the robots!
After-awhile, the Drones were all defeated.
Aurlena: "..... All set."
Samantha: "....... And it looks like what would happen had I been given the chance to use the spell would remain a mystery."
Icky: "..... Wow..... For a bunch of super-advanced Teadr 2 bots, they went down like a bunch of pussies."
Lord Shen: "Well, that could be because of those things looking vastly aged and worn-out."
Xandy: "Dang it Aurlena, what drove you to prematurely start things?!"
Aurlena: "..... Because the Relic was right there on that pedsistail. (Points to the Relic on the pedistail)."
Icky: "...... Yo, boss, why are you suddenly back to just handing out short-cuts to us?"
Scroopfan's voice: "Hey come on, at least in this case, it was because I'm excited for an upcoming episode you guys will do and being stuck on this episode is making me anxious, so I'm speeding things up here!"
Icky: "OF COURSE it's to get to a later episode quicker! I should've guessed!"
Samantha: "Well, at least now we'll proceed to use the relic."
Chapter 7: Glowrod is Defeated
Fort Beauty of Pharagu.
An extremely elaborated trap was seen as Glowrod laughed victoriously.
Glowrod: "Yes, yes, YES! My glorious trap for the lougers should the Xenarats fail to destroy them is set! Brut-Tu, set a victory feast after-"
Brut-Tu suddenly starts to roar uncontrolably as purple mist was seen coming out of him, as Brut-Tu turns- less xenomorth-like and more proper-ape.
Glowrod: "(GASPS)!? BRUT-TU!?"
Glowrod saw that his slave Xenarats and Xi-Xi revert back to their proper forms as well as the purple mist gets sucked away by an unknown force?!
Glowrod: "COMPUTER?! GIVE ME A FULL VIEWING ON WHAT'S HAPPENING?!"
A screen pulls up as it was shown that Xenaros is changing from a "Post-Apopalictic Wasteland" to it's beautiful form.
Glowrod: "WHAT!? WHAT IS HAPPENING TO XENAROS!?"
The other villains came in in shock.
Screeched: "..... No wonder my magic senses were out of wack in this place. I never thought those old rumors to be true."
Pyro: "What old rumors?"
Screeched: "..... That the "Poison" Air Gordon cause wasn't actselly poison at all. I once heard stories of a anichent relic that can take away ugliness and all things negitive into a purple mist the natives named "Poi Son". In their tongues, it means "Ugly Mists"."
Zigmond: "Wait..... You be telling me the Xeniods were ALWAYS ugly freaks even BEFORE Gordon ruined this place?!"
Screeched: "I'm afraid so, appearently. All Gordon did was bring their ugliness back in his foolish mistaking of the mist as an actual poison thanks to their, confusing languise."
Glowrod: "BUT WHY WERE THEY SO VISIOUS!?"
Matrix: "They could've pretended to be like that to scare people away from the real dangers like the storms and the nasty animals they had. I bet it's also because they don't want to be picked on for their ugliness."
Ghasma: "So, I think that means.... It was never a good idea to hide in Xenaros to begin with, Dr. Glowrod. Glowrod?"
Glowrod looks like he was about to have a major mental relapse!
Matrix: "...... He's gonna have another mental breakdown, is he?"
Glowrod: ALL MY WORK IS GOING TO BE DESTROYED!!! PERFECT INVENTIONS, AN ENTIRE LIBRARY OF PLANS!!! BO-BWOY, BO-BWOY, MAMA LUIGI!!! (Sedates himself) Ahh!... Guys, listen very carefully if you want to still work with me as a villain. I don't want all this machinery to go to waste and be confiscated by those do-gooders! Without them, I can't hope to be the same supervillain I am. So I need some of you to get to the hidden underground maintenance sector of this hideout and find a device that says 'Emergency Dislocation Beacon'. It's a teleportation device derived from fabricator technology that's designed to relocate all the equipment of all 52 of my hideouts and store their digital blueprints inside a small data disk. Once everything is in there, we need to keep that data disk safe at all costs. We need it if you want ANY hope of getting Qui back. Can you handle that?
Screech: Me and Matrix will go. I can teleport us there and Matrix will know how to operate it.
Matrix: What about you guys?
Glowrod: The Lodgers are practically bound to succeed quickly, and with our Xenaratinoids turning back to normal, I don't think we'll last this long. We need to get the data disk, get back to the Phantasy, and get the hell out of here before it's too late. NOW GO!
Voice: "Yeah, good plan, except for the part that my friends just went to that underground secter of your place and are now proceeding to destroy that beacon thing."
The Gang looked shockingly at a smug Xeniod standing as it was heard that a device was being wrecked?!
Glowrod: "NOOOOOOOOOOO?! MY BABY!?'
Xeniod: "Yeah you probulby should've made sure we were disabled, doc. Oh, P.S., telling us about the location of the "hidden" underground area was a bad move and bad future hindsight."
Matrix: "..... Yeah, Screecher, this deffently proves your "Karma is geared against us" throey correct."
Zigmond: "Ok, there be a new plan! We save our selves?!"
Glowrod: "NO?! NO?! I DON'T WANNA LEAVE ALL MY BABIES ALONE!?"
Zigmond: "WOULD YE RATHER BE RISKING TO GET ARRESTED?!"
Gloword: "BUT MY BABIES!?"
Pyro: "Oh they're just gadgets and gizmos anyways, so we better scram?!"
Pyro and Ghasma grab Glowrod as the villains make a run for it!
Xeniod: "Oh, did we forget to mention that we emptied out your ships fuel?"
Zigmond: "WHAT!?"
Outside.
The Phanasty was completely out of fuel.
Ghasma: "..... Oh this not a very good day fer us, captain."
Zigmond: ".... No it be not, Ghasma. No it be not."
Matrix: "..... Yeah, that whole destroying all the escape pods thing is now a stupid thing in future hindsight."
Pyro: ".... Wait, what about Glowrod's ship?"
Glowrod: "IT WAS LEFT BEHIND IN PHARAGU!? AND I DON'T HAVE ANOTHER?! I WAS KICKED BACK HERE, REMEMBER!?"
Screeched: "Oh for glories sake, I'll just teleport all of us off this planet and-"
Suddenly, all the villains were frozen in ice as Spyro was seen.
Spyro: "Oh, sorry about my ice breath, fellas. This ALWAYS seems to happen when I'm around villains."
Pyro: "(Muffled) I'd totally tots can melt this ice, but I'm stuck!?"
Zigmond: "(Muffled) Can't, activate, me hook!"
Matrix: "(Muffled) Heat mode's frozen!"
Screeched: "(Muffled), Ice, too, unbareable, to my cold-blooded body, can't consintract."
Glowrod muffled screamed!?
Spyro:... Well, Glowrod, you need to chill out.
Icky: Well... I'm starting to feel that this was too easy.
Lord Shen: Let's just get these guys to the authorities and get this stuff commandeered.
Glowrod: (He muffle-screamed)
Xandy: Look, pal, you've done quite enough! Besides, Oranos is not that bad anymore now that Chokera's in charge of it all. But this stuff is still going.
Later.
A Glowrod was seen pitifully crying as he and the other villains were taken aboard a prison transport.
Icky: I still can't believe we handled you so easily. You Villains Act villains are REALLY starting to lose your edge.
Glowrod: PLEASE... DO NOT... REMIND ME!!!
Zigmond: "I'd be curious. Why didn't you tried to activate the self-destruction seqieunce?"
Glowrod: "One, that would mean hurting my babies, and I can't bring myself to do that. Two.... Not even I believe to be THAT kind of a sore loser."
Zigmond: "..... Fair enough."
Glowrod: "But do not worry, gentlemen, even without my precious inventions, I will still do what I can to get Qui back to us, but it's obvious we can't do it without some intermedium actitivities. All this only confirms Screeched Death's throey that we need to non-fatally defeat the Lougers and HA first. We take them down, we restore karma to favering villains again, and THEN we get Qui back! And since Oranos is no longer a ground prison planet in thanks to the Grand Councilers desiding to be politically correct with the native ice bugs, escape is as simple as taking a ship! All it takes is one clever plan and-"
Guard: "Don't bother with stuff like that, Glowy. We found other ways to still make escape doubtful WITHOUT endangering the Cryos' plants. You'll see."
Pyro: "Well, at least Choker's not a part of Oranos anymore."
Matrix: "Yeah, but we'll soon have a new thing to have a problem with it: Every prisoner there, member of the VA or otherwise, is gonna laugh at us for being captured like amaturs!"
Ghasma: "That's not the worse of it..... One of us will have to break the news to Gordon."
The villains made shocked faces of relisation.
Zigmond: "...... I BE VOTING FOR GLOWORD, CAUSE HE WAS HIDING HERE FIRST?!"
Pyro: "GLOWROD?!"
Matrix: "GLOWORD?!"
Screeched: "GLOWROD!?"
Ghasma: "GLOWROD?!"
Zigmond's crew: "GLOWROD?!"
Glowrod: "WHAT!? WHY ME?!"
Pyro: "Cause that Gordon dude is scary when he's mad."
Screeched: "Even I don't have enough courage to deal with the temper tandrums of a genisideal madman!"
Glowrod:... (Gulps)...
Icky: "Sucks to be you guys."
Glowrod: Oh, shut up! You all took everything I had, and I swear I will make you pay greatly for it! I'll even get my hands on freaking MAGIC if I have to! AND ANOTHER THING, I-
The Transport door closes and flies off with the villains.
Lord Shen: Now then, let's get all this equipment of his commandeered and put in good hands.
Magnum: Actually, I think it'd be more wise to destroy it all. Other villain geniuses we defeated had technology similar to this, and I say we should destroy it so other villains won't get their hands on it.
Samantha:...  She may be right. Glowrod wasn't the only one with technology like this, so it wouldn't be wise to let it get stolen by other villains.
Icky: "Oh relax, after how badly Gloword got pwned, no villain wants anything to do with something made by the hands of a "failure"."
Monkey: We had no idea the Villains Act was THAT pathetic following their disbanding. Then again, I guess when you're defeated by heroes from parallel converted universes with an opposite winning streak, I can see how they would start getting pathetic.
Samantha: Indeed. Of course, the independent villains we've had to deal with WITHOUT your help have put up a few good fights, give or take. But that's probably because losing your edge is a slow process.
Xandy: But hey, at least us heroes are still winning and making justice prevail.
SpongeBob: And at least we discovered a crazy truth about this planet, and that it wasn't really poisoned. The Grand Council, and even that Legion you've been talking about, are not going to believe this.
Xenaros: And you know what? We've never actually seen technology like this before. A device that can synthesize and upgrade anything with the right ingredients? Supercomputers that can store a lot of data? More advanced robotics?
Zosimo: If you're asking for it, then you may have to wait until we take it up with the Grand Council. All this technology is technically contraband since it belonged to a supervillain. And protocol says that contraband villain technology has to be taken into law-enforcement custody.
Clifton: He's right. Besides, I thought you guys were starting to grow out of technology.
Xenaria: Oh, don't get us wrong, we still use it. But we're still using magic to see if it's a better alternative. Perhaps we can combine the two things, and use it to a better advantage, and become a great race.
Magnum:... Well... I don't know. Does that seem to violate the law against introducing technology to primitive races?
Zosimo: It might not, because from what we read about the Xenoids before we assumed they were mutated by Gordon, they were classified as a Teadr 2 race.
Xenaros: Wait, we are? I always thought we were Teadr 3.
Xenaria: Well, we did participate in an other-worldly war, so we DID have access to space travel, and even had a period of crusades before we discovered genetic perfection technology. It's one of the reasons why Gordon's senseless prejudice came from since he assumed that we did something bad during that war, despite not being alive during it.
Xandy:... I guess we still need to talk it out with the Grand Council. We need to follow protocol and have their approval, as well as that of the anonymous Legion.
Icky: "(Talking to his IPhone) HOLY SHIT, WOW?! REALLY?! YOUR SERIOUS?! Well as soon as we finish up helping a de-mutanted race get re-aqquinted with modern socity, we'll see the little dickens ourselves! Also, by the way, give the Monistairy folk our thanks for handling themselves, huh? And tell Cheese we're gonna have a serious talk to him, ok? Ok. Bye. (Hnags up). Well guys, your not gonna beleive what went down with Candence's baby!"
Lord Shen: "Oh I'm sure it's nothing TRUELY surprising."
Icky: Well, while we were gone, Twilight and her friends had a little... Problem concerning the baby almost destroying the Crystal Empire. And Sunburst had helped save the day.
Lord Shen:... You're serious? A baby almost destroyed the Crystal Empire?
Icky: Well, she WAS born an Alicorn. And it was pretty much the first one born in millennia.
Lord Shen: "AN ALICORN?! BUT, BUT WASN'T CANDENCE A PONY WHO WAS TURNED INTO AN ALICORN!?"
Soothsayer: "Then I believe this deserves our greater attention."
Francis: Then we must get to Equestria.
Dodger: Luckily, we can watch what went down there on the TV in our van on the way there. It's sure to bring us up to speed.
Icky: "Yeah that means we can't attend the remoderning the demutanted people after all."
Xandy: Leaving, huh? Well, I guess it's goodbye for now until the next threat comes by.
Sandy: You bet.
Ed Otter: Then what're we waiting for? Let's go to Equestria and see what we missed. (The Lodgers went back to the van and waved goodbye to the Heroes Act as they took off into space)
Epilogue
Villain Leage Fortress.
A Changling flew straight into the room of Chrysalis.
Changeling: "My queen. I bringth the newsth from my scoutingsth from The Chrysail Empireth."
Queen Chrysalis: "Oh for gods' sake, Mutton, I thought I told you not to speak in old-timey equestia speak."
Changeling: "Forsooth, my queen, but I bringth news!"
Team Nefarious base.
Scratch and Grounder were running as fast as they can!
Scratch and Grounder: "DAD DAD DAD DAD DAD DAD DAD?!"
The two ended up bowling down several Team Nefarious members in the progress until they finally ran into a lounging Dr. Nefarious!
Dr. Nefarious: "Oh WHAT is it this time?"
Scratch and Grounder: "DAD DAD DAD?!"
Dr. Nefarious: "WHAT WHAT WHAT?!"
Scratch and Grounder: "CANDENCE CANDENCE CANDENCE?!"
Dr. Nefarious: "YES YES YES!?"
Scratch and Grounder: "SHE HAD SHE HAD SHE HAD?!"
Dr. Nefarious: "OUT WITH IT YOU HALF-WITS!?"
Scourage Imperial palace.
Mercurymon and Meng Tao bowed before the Drak Dragon.
Mercurymon: "Our leage, our scouts have returned with news most vital."
Meng Tao: "And it concerns the niece of the High Counciler Celestia."
Dark Dragon: "..... Explain."
Eagle-Beak's hidden lair.
A freed Hank, Anima, Batula, Celisus and Narcotic are seen as well as the returned Blot and the Pirates, where they and the other villains formed around Eagle-Beak.
Eagle-Beak: "I welcome you all to an impourent meeting. A meeting where two of my good benufacting friends wish to disguss something."
The two figures formed.
Short figure: "And do we have news, so pay attention."
Tartarus.
Tirek was seen meditating in his cell while the other tartarus prisoners, the bug animals, Snakemantis and Jeorbo say bored and angry.
Tirek: "...... I, sensed..... A great, new power shorce..... A power, great enough to make me powerful then all of equestia......."
Snakemantis: "And what's that, Tirek?"
Tirek: "..... A new Alicorn. And-"
Leage Base
Team Nefarious station
Scourge Palace.
Eagle-Beak's lair.
Short figure: "RIGHTFULLY-"
Tartarus
Fin?
Community content is available under
CC-BY-SA
unless otherwise noted.