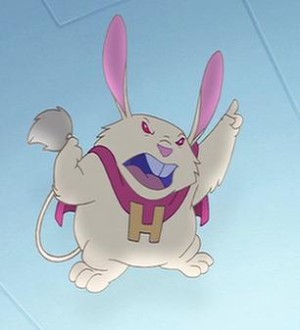 Doctor Jaques Rupert Von Hamsterviel is the main villain from Lilo and Stitch, and is a member of the Villain League. Hamsterviel first appears in the film Stitch the Movie! where he begins his plans to take over the galaxy. Hamsterviel is the former partner of Jumba who later becomes one of his enemies.
Appearances
Hamsterviel makes his debut in the second Stich film in the franchise. Hamsterviel plots to use Jumba's experiments to take over the galaxy along with his new sidekick Capatain Gantu.
In Leroy & Stitch, Hämsterviel escapes prison and forces Jumba to create a new experiment, "Leroy." He then repeatedly clones Leroy and uses the clones to take over the Galactic Alliance, firing Gantu afterward for his incompetence. This proves to be the key to his downfall, as Gantu breaks Lilo and 625 out of prison. When Hämsterviel goes to watch Leroy and his clones destroy the other experiments, his plan is thwarted by the arrival of the reformed Gantu, Lilo, Stitch, Reuben, Jumba, and Pleakley, who team up with all the other experiments and defeat Leroy. After Lilo, Stitch and Reuben defeat all of the Leroy's with Aloha Oe, the remaining angry experiments toss him around like a beach ball causing him to yell "I am not beach ball like, I am hamster like!" Hämsterviel is sent back to prison afterward, with all the Leroys in the cells around him.
Role in the Series
Dr. Hamsterviel reprises his role from the movies, but has not appeared yet in the series.
Community content is available under
CC-BY-SA
unless otherwise noted.