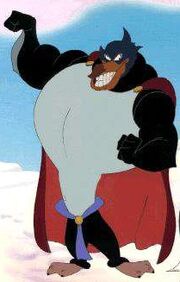 Drake is a member of the Villain League and is the main villain from the Pebble and the Penguin. While Hubie lacks self-confidence he is bullied by the much more impressive but vain and cruel Drake. Drake also wants Marina but clearly out of lust. After Hubie is casted out to sea by Drake, Hubie eventually comes to the rescue and they have a fight which Hubie gains the upper hand and he falls from a pier into the sea below, but he comes back for one more scare and attempts to crush Hubie, his friend Rocko, and Marina with a rock but an earthquake occurs and the rock lands on top of him and the area crumbles causing him to fall to his death.
Role in the Series
Drake is a villain leager who has not appeared yet in the series. it depends if the Pebble and the Penguin will become a spongebob moisode, or after a spyro verson of that movie. But he is confirmed to appear in Spyro's adventures of Who Framed Roger Rabbit, alongside Ursula, Fagin, and Ratigan.
Community content is available under
CC-BY-SA
unless otherwise noted.