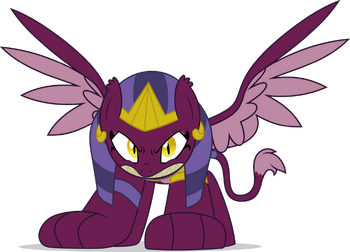 Egyptia
is a powerful
Equestrian
Sphinx, and arguably the last of her kind. Since her kind was supposedly exterminated by their own pony slaves, she intended to get revenge by creating a curse that would make them so weak and hopeless, they would have no choice but to not fight, which is the source of her ability to take away flight, as she could do the same to magic and Earth pony strength. But when Hisan and Somnambula stood up to her and drove her off, she ended up learning that if Somnambula was gone for good, she didn't have to follow the agreement of staying out of her home forever anymore, and thus she looks into her ancestors' God, the Egyptian Mothron
Pharaoh Plague
, and the lost Uniter Blade Accessory of turning any foe of it's master into heartless/nobody/unversed, thus gaining the power to take her revenge. Though she has the voice of a male (And the voice actor seems vaguely familiar mind you), her species is naturally androgynous.
Community content is available under
CC-BY-SA
unless otherwise noted.