Fairweather Skip
, formerly
Cruelshy
, is a clone of
Fluttershy
created by
Doctor Nefarious
in order to serve as one of the bearers of his Elements of Disharmony to represent the Element of Rudeness being reversed in personality after being corrupted into self-harm into harnessing and mastering chaos magic through a virtual scenario. Once she eventually gets reformed, she becomes one of Twilight's first students at her new Friendship School. She lacks a cutie mark due to being freshly born, but later earns it in the form of three colorful butterflies which is a higher meaning than her DNA donor's cutie mark as she discovers she loves and cares about everything.
History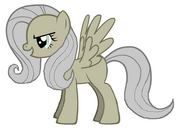 Fairweather was born from a sample of Fluttershy's DNA, cloned and incubated into a same-age duplicate with the same personality but no long-term memory and a confused mindset. Then Doctor Nefarious placed her into a corruption machine that corrupts via mental simulations. Thus Cruel is shown her DNA donor's life, and then introduced to a scenario where the Element of Kindness is conflicted. She sees a scenario where Fluttershy's kindness for a secretly cruel con artist cost her everything she ever loved, putting her through self-harm and corruption, and thus harnessed and mastered black and chaos magic, becoming convinced that kindness was a weakness that showed complete and blind trust and swore allegiance to Nefarious with her equally-corrupted clone friends into becoming the Elements of Disharmony, only as a ploy to betray him in the end and pursue a bigger goal.
Personality
Coming soon...
Cruelshy
Cruel is a reversed Fluttershy, meaning she is mean, cruel, and not afraid to lash out at anyone she hates. She also isn't in any way shy or timid, and is as strong as steel and as fast as a dragonfly, she hates animals, she likes to be a disturbance, and is a complete bully. She is also a seductive and innocent manipulator, has far more cruel assertion than her DNA donor ever displayed, has chaotic mood swings, mentally imbalanced, hurts those who treat her like a leper, and is a pushy socialist. However Cruelshy didn't prefer being with Dr. Nefarious, and instead wanted to be less of a threat, indicating that some good still remains in her.
Abilities
Fairweather, since her time as Cruelshy, is in no way shy or timid, and is as strong as steel and as fast as a dragonfly. She can fly and dodge quickly, has the aggression of an animal making her very powerful, she is a seductive and innocent manipulator, and as Cruelshy, her Stare is enough to mentally torment with chaotic hallucinations and cause chaotic and nonsensical ways of thinking. Her assertion is monstrous, and she can be a very clever bully.
Community content is available under
CC-BY-SA
unless otherwise noted.