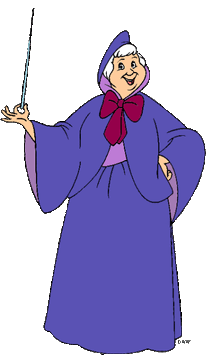 The Fairy Godmother is Cinderella's fairy godmother who helped her get to the ball in Cinderella. She is also a good friend to Cinderella and everyone. She has appeared in all three Cinderella motion pictures. Over the years, the Fairy Godmother has become the most famous and popular character from the film (after Cinderella herself). Her evil sister is the fairy godmother from Shrek, who takes advantage of her sister's good disposition and uses it to gain money and power for herself.
The Fairy Godmother is very sweet and kind and a motherly type of person. She cares about people and loves to make her god-daughter, Cinderella, happy as well as her friends.
Fairy Godmother first appears in the film after the stepsisters tear Cinderella's gown to shreds before Prince Charming's ball. She appears in the garden, and transforms her appearance for the ball. She transforms the mice into horses, Bruno the dog into a footman, Major the horse into a coachman, a pumpkin into the carriage, and transforms her torn dress into a beautiful blue dress with glass slippers. Cinderella departs for the ball after the Fairy Godmother warns her that the spell will expire at the stroke of midnight.
In the second installment of the Cinderella series, Cinderella ll: Dreams Come True, the Fairy Godmother is shown at the very beginning telling the story of Cinderella to the mice. She later help the mice create stories of their own. In the middle of the movie, she turns Jaq into a human so he can help Cinderella become princess material. She appears once more in the end where she helps the mice show Cinderella the story book they've created.
[6]Fairy Godmother in Cinderella III: A Twist in TimeAdded by DTierney30
In the third film of the Cinderella series, Fairy Godmother is shown at the beginning of the film celebrating the end of a year filled with magical events. In the movie, the wand is stolen by Anastasia and is used by Lady Tremaine to gain revenge on Cinderella. When trying to get her wand back from Anastasia, the Fairy Godmother was accidentally turned into a statue by Anastasia. She is reverted back by Cinderella and the newly reformed Anastasia at the end of the film.
Role in the series
The Fairy Godmother is one of the original druids that sealed away Chernabog in the first Cartoonian War, and is both a member of the Court of Oberon and the High Council of Heroes.
Community content is available under
CC-BY-SA
unless otherwise noted.