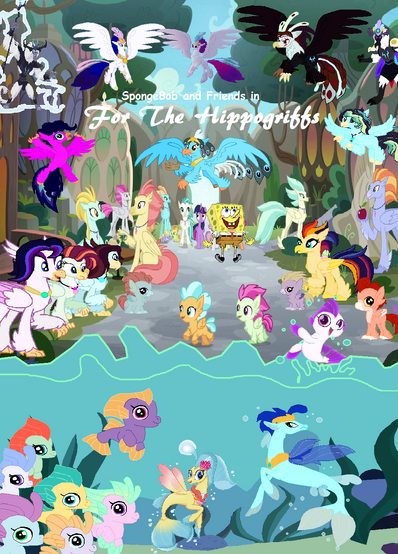 The Mane Heroes are invited to Hippogriffinstone, the homeland of pure hippogriffs, along with many seapony allies, by it's ruler,
King Nephostratus
, to wash away all the awkwardness that called for the summit Celestia authorized after the events of the movie, as he helps them plan a Festival with his daughter,
Princess Ocheasha
, and many new hippogriff friends. However, there is already a new problem in the form of not just the returning Storm King, but the one who found him afterwards, a brother of Wind King named
The Weather King
, who was one of the many defects who still stuck close to the Clan, though is like both Iago and Latifier in personality, but is still as menacing as Storm King. Worst of all, the two have gained a new Tempest in the form of a tormented hippogriff named
Shroud Glory
, whose PTSD from fighting against Storm King allowed her to become a sleeper agent with just as much ferocity and evenly-matched skill as Tempest, this time with no repercussions. Now the two plan to destroy Hippogriffinstone and chase the heroes underwater and off to nearby areas, and now they must avoid Weather King's stormy reach at every turn, and find a way to deal with him once and for all. Meanwhile, Novo has a problem of her own involving her sister
Queen Corono
, the new leader of the rebuilt Hippogrifia as she couldn't lead again because of Abysswish's departure, as the two have had disagreements for a long time, and Novo doesn't feel like she can save her people without patching things up with her as her harsh words on even her choices in the movie make her hard to cope with new threats including Weather and the return of the same person who chased them underwater from the beginning, and for the fact that Corono was the reason why she was strict and stern from the beginning.
Scenes
Welcome to Hippogriffinstone
Queen Corono
Novo: CORONO?!? What're... What'chyou doing here?!?
Corono: Oh actually, I was just passing by and I thought I tried the cuisine, then I thought about doin' some shopping here, get some Tofu Eggs, see a show, maybe consider living here- WHAT THE SQUAWK DO YOU THINK I'M HERE FOR, HALFWIT?!? As the new leader of the rebuilt Hippogrifia in Mount Aris, I'm obligated to be among these sort've things. Tchhh, still as idiotic as you were before.
Pinkie: (Gasps)... That's not nice!
Novo: (Sighs)... Everyone... Meet my sister, Queen Corono.
Queen Corono: Charmed, I'm sure.
Spyro:... Never knew you had another sister from Ocean Flow.
Icky: Duh, because this ain't canon to the MLP:FIM series!
Spyro: Okay, can we NOT be meta about that and ruin the moment? How's about we ask for the in-universe reason why she wasn't around in the events of the movie, and why she didn't ever reference her.
Novo: I prefer not to talk 'bout it, because... Let's just say she hated me for being quite... Ridiculous, and after I was chosen to be the leader of Hippogrifia, I guess, Corono just got jealous.
Corono: I don't do jealous! I was more... Disappointed, because I was TWICE the ruler you'd ever be! I would've ruled Hippogrifia better than you, but Dad had the IDIOCY, to pick the black sheep of the family!
Icky: Wait, you were the family's black sheep? Well, no wonder why you were such a c**t to Twilight and friends about not wanting to help them, you're actually the complete and utter family twat!
Novo: DON'T YOU ENCOURAGE HER!!
Corono: Oh, you know it's bad if even your own little entourage agrees with me!
Po: We're more acquaintances, actually.
Corono: Besides the point! Fact of the matter is, as dumb as our father was being, at least even HE wouldn't've let the Storm King reduce our people to be cowards and refuse to help people in need because you're afraid that stupid glowing ball would be abused! As if that big ape wasn't already abusing powers, what difference would the pearl make?!? If I was queen, I would've lead a charge against the entire Storm Clan, not just the Storm King, and slain them all in one fell swoop with the right strategy and the right powers, or maybe an alliance or two with strong enough races. I could've rendered those Storm Clansmen into chickens if they ever threatened the pure hippogriff race, but nooooOOOOOOOOOOOooooo, he had to go with THE FAVORITE!!
Novo: HE DIDN'T WANT TO MAKE THE FAMILY LOOK MEAN THROUGH YOUR METHODS!
Corono: Oh, pfft, 'mean' is SUCH a childish word! Then again, you ARE the baby sister, so it makes sense!
Icky: ANNNNNNNNNNNNNNND YOU'RE THE BABY SISTER?!? That makes your c**t attitude in the movie make even more sense- (Gets smacked by Gilda) OW!
Gilda: (Through clenched teeth) Honey, shut up!
Corono: A more accurate word would've been.... Decisive, no-nonsense, and threat-intolerant, at best. Other nations would've respected the hippogriffs! By Tartarus, even the DRAGONS would've kneeled before us! I dare say, even the fearsome Tirek would think twice about messing with our kingdom! Compared to the Storm King and his immaturity, Tirek was a force that would've been more UNDERSTANDABLE TO DO THAT COWARDLY HIDING YOU WERE DOING!! The Storm King is, at worse, a bully and a spoiled brat being allowed to wield power! Almost not too dang far off on how badly YOU were being! Though perhaps I'll give brownie points in that at least your not using the Pearl to conquer nations.
Novo: And THIS is only proving my point. YOU'RE suggesting that we should automatically declare war on anything that even only LOOKS like a threat when it means darn near nothing!! I mean, okay, the Storm King I would get, but, what about if you declared war on a nation that holds a large gathering that you could've mistaken to be a planning for invasion, when really it could've been a harmless celebration? You were basically wanting the hippogriffs to be reactionary warmongers at even the slightist bit of activity any one nation DARES to do!
Corono: Those are such strong words, Nope-Vo!
Novo: AND STOP CALLING ME THAT! WE'RE GROWN-UPS HERE, DAMMIT!!
Corono: Whatever! At least hippogriffs would've been cautious that way, cause we have to remember that the rest of the nations ain't like ours or Equestia's! Minotaurs and Centaurs are often brutes! Dragons are blinded by a false sense of superiority and think they own everything! Impure hippogriffs created Cutie Mark Communism! Griffins are anti-social greedmongers!
Gilda: HEY!!
Corono: Oh don't act like that, you know it's true! I mean, didn't your home city basically fall apart because it lost a fancy giant cup to a cyclopsic goat beast? (Gilda got dejected)... Point proven. You may be ancestors to us, but we've grown quite above such nonsense! To cut a long conversation short, unlike ponies and the hippogriffs with purity, other nations and races have a greater population of dangers, and the Storm Clan were the biggest of those problems! All I wanted was to make our people cautious, the RIGHT way, and not your stupid way after trusting the WRONG individuals!
Novo: Okay, fine! I won't deny that I made honest mistakes, but that does not mean the hippogriffs would've been better off with you!
Corono: Oh, I believe they would've, and then some, sis. When push comes to shove, protecting the place from the wrath of Storm King would've been WORTH such concerns! I wouldn't have hid underwater for THIS long and make decisions that make the family, kingdom, AND EVEN THE SEAPONIES, LOOK LIKE COWARDS!
Twilight: How DARE you judge her for what she did for your people?
Corono: Why are YOU, of all people, standing up for her? She refused to aid you bunch, made your dangerous journey that almost got you drowned go to waste, and gave you good reason to steal her pearl!
Twilight: Yes, but-
Corono: Well unlike YOU, SHE acted like a weak-kneed coward, and further made herself and her people look like BIGGER cowards by labellin' ALL outsiders as troublemakers!
Novo: FOR THE LAST DAMN TIME, THAT WAS NOT THE INTENT!
Corono: Oh, and whaddiya' call saying that you DON'T wanna help them face a common enemy WE SHARED WITH THEM, because the Princess albeit created her own international incident, HMMM?!? They showed your kind the best time, and showed that they were worth saving. And just casting them out for an incident which was your fault from the beginning given their ruler sent them there, effectively betraying their trust in us as a race, and blaming your own daughter for it, seems to be a pretty POOR way to repay them!
Novo: OH, DON'T ACT LIKE YOU WOULDN'T THINK THE SAME THING IF YOU WERE IN MY POSITION, FEATHER-PANTS!!
Corono: Well, at least I WOULD'VE AGREED TO HELP 'EM AND AVOIDED THAT MESS TO BEGIN WITH!! IN FACT, I WOULD'VE HAD THE STORM KING DESTROYED WITH THE PEARL!!
Lord Shen:... Forgive me for aligning with the Prehistoric One, but, that does sound more like a decisive leader. I think your father was a bit of a biased twat!
Corono: THANK YOU!! I'm glad that even your own inner circle agrees with me! That international incident, even if their own doing, was only made worse by YOU BEING A COWARD!! AND YOU EVEN BANISHED 'EM FOR REQUESTING AID?!? Even as blind as he was, I DOUBT FATHER OR EVEN ABYSSWISH WOULD EVER APPRECIATE SUCH STUPID BEHAVIOR!! YOU DON'T DESERVE THEIR RESPECT OR ANYTHING THEY GAVE YOU!! (Gets tail smacked by Novo) GAH!! (The group gasped)... You, little BRAT! IF THIS IS HOW YOU TREAT YOUR SISTER, I SHUDDER ABOUT HOW YOU TREAT YOUR DAUGHTER!! ESPECIALLY HOW YOU TWO REACTED WITH EACH OTHER AFTER THAT MESS!!
Icky: Trust me, the Internet and I would say the same thing, but you DID kinda provoke her.
Corono: Well, it doesn't mean it ain't true!
Novo: I WAS JUST WARNING SKYSTAR TO BE CAREFUL WITH TRUSTING OUTSIDERS! I NEVER SAID ANYTHING ABOUT ALL OUTSIDERS WERE ROTTEN!!
Corono: That's not how you worded it, as I recall. You said, AND THY QUOTE, 'This is why we don't bring strangers into our home', as if you made it sound like anyone who came in were rotten and wanted to do the same! And by the way, I TOLD YOU THAT IT WAS STILL YOUR FAULT, AND YOU PLACE THE BLAME BLINDLY ON YOUR OWN DAUGHTER?!? THIS is why I would've been a BETTER ruler of Hippogrifia than you'll ever be. I wouldn't've made such a rash reputation-destroying decision, and hell, I WOULDN'T'VE HID UNDERWATER, FOUGHT STORM KING, AND BEAT HIM WITHIN AN INCH OF HIS LIFE BEFORE HAVING HIS HEAD ON A STAKE!
Skystar:... Aunt Corono, isn't that a little... Overkill?
Icky: That's funny coming from someone who suggested we do that and hang him up by his entrails when the whole Storm Clan mess started.
Skystar: Modesty and possible momentary insanity! Do those things mean ANYTHING to you?
Corono: It's called making an example, dear niece! It's meant to be discouraging to those that would wanna take advantage of ya, and shows that you're just as unafraid as they would be, to spill blood.
Novo: And it's STILL precisely my point! Dad did what was best for our people. If you were ruling, we would've looked like monsters.
Corono: Well sometimes it's better to be feared but respected than to be loved but easily pushed around like we're pansies! And c'mon, it ain't like the Storm Clan have any ounce of redeeming quirks to them!
Banzai: (Quietly) At least not yet anyway if this series' history is any indication!
Novo: The point wasn't about looking like wimps or cowards! It was about being approachable! Look, being aggressive and decisive is fine and dandy for impure hippogriffs, Griffins, Dragons and so on, but we're obviously NOT like them! By choosing me, we stuck to our peaceful ways.
Corono: Well, look what happened because father was afraid of necessary change! You became a coward, and father was lost to us when Storm King slayed him. So, I corrected that mistake! With me around, we'll not worry about being attacked again.
Novo: HOW DARE YOU JUDGE DAD FOR THIS-
Nephostratus: SILENCE, BOTH OF YOU!... Queen Corono! Your father meant best, and I order you to take that into account. It was not his fault, OR Novo's, that Storm King destroyed Hippogrifia. Also, you are a disgrace for judging your own sister for her, albeit-rash decisions. She had her own good reasons, and though they were strict, she did what she felt was best for her people. Nobody's perfect, and neither is she. I will not stand for this disruption any longer. I'm gonna have to ask you to leave!
Corono:.... I don't have to take orders from you, you spineless lout!
Nephosttratus: Wha-wha, SPINELESS?!?
Novo: CORONO!! THIS IS THE LEADER OF OUR PEOPLE YOU'RE SPEAKING TO-
Corono: YOU HEARD ME!! I CALLED YOU A SPINELESS LOUT?! WHAT'RE YOU GONNA DO ABOUT IT?!?
Novo: (She and Skystar covered their mouths and the Lodgers were shocked at her display of treason)... Corono!
Nephostratus: I, I-... I, am, going to write a strongly-worded letter to the Council about this and-
Corono: YOU SEE WHAT I MEAN?!? I should've been slapped to the face bare claw for that comment! Not having to be scolded by the Council getting involved to fight for him while he hides in the sidelines! That is why I am going to appeal to the people so greatly, Novo will no longer be allowed to even be a squire, while I finally get my rightful place as ruler! Now, I am off to paint myself in the light that I DESERVE to be painted in!
Lord Shen: Oh, so you're not just making yourself the new leader of the lost city, but you're now also after Novo's title for the seaponies?!?
Corono: Oh, come now, they're not actual seaponies... At least, not all of them! They are fellow hippogriffs that were TURNED into seaponies. And legally, they are in a Hippogriffian Colony, and as new leader of Hippogrifia, I WILL get legal athority over it and have you removed from power in favor of someone that agrees with my ways! I mean, hey, at least I'm removing her from power legally. Now, ta-ta! (She leaves, leaving Novo distraught for her embarrassment)
Novo:... (Sighs) If you'll excuse me, I'm gonna yell in a pillow for a few minutes.
Skystar: (Sighs) I swear, Aunt Corono NEEDS to agree with Mom on SOMETHING!
Sandy: What's their beef with each other?
Skystar: Eh, Aunt Corono and Mom have been like that since before I was born.
Flashback
(Skystar): (As Novo muffle-screamed in a pillow as she explained) The two have been at odds with each other, and NEVER agreed on anything. Aunt Corono may've been the oldest and more level-headed, but that's because Mom was a young annoyance and naïve 'moron' in her words. Because of this, Aunt Corono was expecting that she'd be the next ruler of Hippogrifia. So, when Dad chose Mom because her calm personality and somewhat-adequate ruling skills would keep the kingdom the same, then Aunt Corono was, understandably upset. When Storm King came by, Corono wasn't going to 'tuck her tail between her legs and run', and went to fight Storm King... But then never came back... Then when Hippogrifia was starting to get built, with Straton offering to be the new leader as we said... That's when she came in.
Straton: "Corono? Your back, and alive?! We, we figured the Storm Clan.... Ended you!"
Corono: "(Scoffs), DO YOU WIMPS REALLY HAVE SO LITTLE FAITH IN ME THAT YOU ASSUMED AN IDIOT LIKE THE STORM KING WAS A THREAT TO ME?! Why, no storm clan was dangerious to me! Why, I even TOOK someone from them! (Reveils a freshly killed female Storm Clanner and tossed the corpse to the group with a sickening smack!)....."
Straton: ".... Oh, by the Alicorns, is, IS THAT THE CYCLONE QUEEN?!"
Corono: "And the whore mother of the Storm King. It's not the actual cretin, but, I think it gave a surviceable dent to their ranks."
Straton: "AW, AW, FOR THE LOVE OF ABYSSWISH, OH, OH, (PUKES INTENSELY)!? WHY DID YOU DO THAT?!"
Corono: "TO PROVE THAT THEY'RE NOT INVINCABLE?! In fact, her lifeless corpse proves that they're pretty killable?!"
The Hippogriffs began to talk amongst themselves, realising the truth Corono brought.
Straton: ".... Well, tecnecally your abit late on that, because, the Storm King kinda already died before hand."
Corono: "Ahhh, but you see, this witch was on her way to Tartarus to free it's filthy contents onto the world as an act of revenge. I managed to intersected her, showed our kind's naterol ferosity, and.... Well, here you go."
Straton: "WHY THOUGH?! I mean, I know the Storm Clan aren't exactly redeemable folk, but.... This is not our way!"
Corono: "Tch, you mean it's not NOVO'S way?! (The Hippogriffs began to mutter amongst themselves). You see what my rule could've lead?! THAT, COULD'VE BEEN THE STORM KING INSTEAD WHEN HE FIRST THREATEN OUR KINGDOM?! His death, would've weilded, THESE results?! Hippogriffs share the genes of Griffins! A spieces that would've NOT had bowed to the Storm King?! We should've been PROUD of our potaintionally aggressive nature?! Not turn into cowerds?! I mean, look at Stratus-"
Straton: "I'm Straton."
Corono: "Straton! HE PUKED AT THE SIGHT OF THIS UGLY WITCH'S CORPSE?! HIPPOGRIFFS, ARE OMNIVORES?! WE CAN EAT MEAT?! But Novo..... She made you lean more to the plant side. HAD I BEEN RULER, WE WOULD'VE STILL ENJOYED PLANTS, BUT AS COMPLIMENTS TO THE MEAT OF OUR FALLEN FOES?! Now, would it look discouraging to neightbers? Perhaps, BUT THAT'S KINDA THE POINT?! BY DOING THINGS LIKE THAT, WE SHOW THAT WE WOULD NOT TOLERATE BEHAVIOR LIKE THAT OF THAT IDIOT STORM KING THINKING THAT THEY CAN DO WHATEVER THEY WANT WITHOUT A SERIOUS RESPONDSE?! Well, THEY HAVE NOW BEEN GIVEN A RESPONDSE?! The Cyclone Queen is murdered, (Reveils blood-stained talons) By my claws! And now, I'm taking her carcuss to the throwneroom, and eating it, as a final act of indignation for my fallen enemy!"
Straton: "MISS CORONO, PLEASE, THAT'S, NOT VERY CIVILISED?! WE-"
The Crowds began booing Straton and threw junk at him as he was forced to run away and back off!
The crowd then began to cheer for Corono!
Crowd: "ALL HAIL, QUEEN CORONO!?"
Corono smiled at her victory.
Corono: "(Chuckles quietly)..... Now this is more like it. (Proceeds to drag the Cyclone Queen's body) Now if you all will excuse me, I have a private brunch to attend."
The Crowds cheer as Corono got into the throwne room.
(Twilight): "She killed, the Mother of the Storm King...... AND ATE HER BODY?!"
(Icky): "Hey don't be TOO surprise! That was actselly normal Hippogriff behavior. They are part bird of prey after all. Your actselly lucky that Novo was such a freaking wuss about it and mostly pussy-i-fived the other hippogriffs like she did, or that would've given the movie a garrentied PG-13 rating, or R if you were THAT unlucky."
(Skystar): Quite. Anyway, just like that, she ruined Stratus' brother's chance to rule the rebuilt Hippogrifia, because she still couldn't accept the fact she wasn't queen before.
Present
Tigress:... What a dishonor to her family name!
Novo: (As she continued screaming in the pillow)
Skystar: Mom, are you done?
Novo: Hold on, got one more in me! (She screamed one last muffle-scream in the pillow)... Okay, I'm good!
Skystar: Great!... Why don't you just talk to Aunt Corono? I mean, she may not have been agreeable before, but-
Novo: Honey, I already tried countless times. She doesn't agree with me on ANYTHING!
Viper:... She sounds like she's going to cause quite a lot of trouble.
Novo: Trust me, Corono ain't the one to, "go villain", as it were, on everyone. She's too honorable for that. She KNOWS that any act like that would not avoid consequence, and she would NEVER wish to harm her name like that. She's just under a lotta pressure, and doesn't know how to help our home. She's just isn't agreeable to my ways of peace, because she wishes for us to be more aggressive to avoid situations like Storm King's invasion.
Cynder:... It's clear what you need to do, isn't it? She's the aggressive side of the family, and YOU'RE the peaceful side.
Twilight:... Cynder may have an idea there. Queen Novo, there's no point in fighting for how hippogriffs should act. You two can rule TOGETHER! She can be the side that encourages their inherited griffin boldness and resilience, and you can help them keep in touch with their pony purity.
Novo:... Hmmm... I never really thought of that.... But it still ain't gonna be easy to convince her of such a compromise. She hates me with a burning passion.
Icky: "Well ya did turn your entire race into wimps, so it's not like it's unjustifiable hate and-"
Novo: Hey, DO remember why I tried a last-minute apology BEFORE Rainbow Dash insulted me! By calling us all cowards, Twilight made everyone in Seaquestria looked horribly at me, either because they WEREN'T cowards and would've gladly fought alongside them and I made them look that way as the leader, or because they were upset that I let a simple mistake of lack of courtesy, hospitality, or empathy which was washed away when I saw what not having it in the first place caused, and thus it made 'em think that Corono was right, and it was something their last ruler would've taught me better than to be. They were convinced that I was easy to be turned against, and thus play in the Storm King's manipulative ways. By calling us cowards, Twilight gave me the harshest reality check ever! Plus, I WASN'T the kind for combat. Corono was the rough one of the family. Can you blame me for doing such a thing?
Icky: Well, to be fair, by blaming Skystar for the theft, you DID make yourself look like a p***y!
Novo:... (She sobbed)... I know! I'm SORRY!... DAMMIT, CORONO! HOW COULD YOU COME AT SUCH A BAD TIME, AND HUMILIATE ME IN FRONT OF THE PEOPLE I CAME TO TRUST?!? WHY... WHY COULDN'T YOU HAVE STAYED DEAD?!? (She sobbed and flew away)
Skystar: MOM!... (Sighs)... (She got angry)... Alright, that does it! I'm having a talk with Aunt Corono, and working out that compromise! One way or another, this sibling rivalry's gotta STOP!
Tempest: "Are you sure doing so just won't aggrovate her? Considering that she complained about not being smacked in the face for a comment, she's clearly the kind of person that punishes open defience with physical assults! And I doubt she would be afraid of doing so to even family if it meant securing dominence."
Rarity: "Tempest is right, Miss Skystar. You could get hurt. I mean, this is the same Hippogriff that wasn't shy about taking a storm clanner's life! Chances are, she's not above physical abuse in the name of proving she's the alpha female!"
Skystar: "Well, won't you guys come and help me out and make sure she listens?"
Icky: "Lady, this is the same chick that NAILED A STORM CLANNER?! Even with magic, that lady can pretty much kick our asses to the last guy without even trying!"
Shifu: "Being afraid of her power is not gonna help us!"
Skystar: "Exactly-"
Shifu: "But NEITHER will aggrevating her!"
Skystar: "Darn."
Shifu: "That's not saying we won't talk to her. But we are doing it in a respectful and non-provoking mannor. That means WE ALL must avoid sounding like we challnage her athority!"
Skystar: "How am I suppose to do that after seeing my mother cry like that!?"
Twilight: "Then maybe let US do all the talking. Your obviously too emotional right now, so, maybe go and comfert Novo?"
Skystar sighed frustraightedly, but calmed down.....
Skystar: "...... You're right. Mom needs me right now. (Walks off dejected)....."
The Heroes walked off themselves.
The Hippogriffia Throwneroom.
Corono was seen sitting apawn a throwne made from the skeleiton of the fallen Cyclone Queen.
Two Guards were holding a convict that looked like he was from Klugetown.
Corono: "So, you admit to the crime of stealing bread?"
Badger: "Well, yes, but please understand, my family was hungry, and, I don't have a job! Klugetown, even with Allard, is still on a slow path to recovery! People are still poor and miserable!"
Corono: "That doesn't give you permission to be a thief!! For that, (Bares her sharp teeth), that bread will cost you LITERALLY an arm and a leg as I will eat 'em!"
The Badger was panicing as the guards help him still and exposed a selected arm and leg!
Badger: "NO?! PLEASE?! NO?! I THOUGHT YOU HIPPOGRIFFS TAKE MORE AFTER PONIES?! EVEN THE IMPURE ONES AREN'T THIS BAD?!"
Corono: "(Growls) ALL THE MORE REASON WHY MY SISTER IS SUCH A DOLT!! FIENDS LIKE YOU THINK YOU CAN GO AROUND AND TAKE ADVANTAGE OF US?! WELL ONCE YOUR TWO LIMBS GET DEVOURED AND IT GETS HEARD, THAT'LL CHANGE!! (ROARS LIKE AN EQUESTIAN GRIFFIN WITH A TOUCH OF RODAN, AS SHE WAS ABOUT TO CHOMP OFF THE DUDE'S LEG)!?"
A Rope appeared and strapped around Corono's mouth before it got closed!
Applejack's voice: "WHOA THERE, CORONO?!"
Applejack was seen holding the rope with her tail as the heroes were seen!
Applejack: "Now I can understand ya'll don't want to be taken advantaged off, but biting off a bread thief's leg and arm off?!"
Fluttershy: "Even after admitting that he has a family to take care off?! That could potaintionally kill him?!"
Guard 1: "Oh, don't worry, we'll give him cool prostectic limbs afterwords. The de-limbing is meant to scar the thief for life so he never steals again!"
Twilight: "THAT DOESN'T MAKE IT BETTER?!"
Guard 2: "How does it not? He would have cool robot limbs!"
Twilight:... The fact you maim someone for stealing is TOO brutal. Even more so if it's something as easily replaceable as BREAD! There's a reason why we consider that taboo, even though there's countless lands and worlds that still do it, INCLUDING Agrabah. It's appalling, and cruel and unusual punishment. So, as Princess of Friendship, I forbid this harsh act! Let him go! NOW! (They did so)
Badger: Bless you, your highness! (He scurried off)
Corono: (She was freed) YOU MEDDLING FOOLS! THIS IS TREASON!
Twilight: We did what was right! THIS is exactly why your father chose Novo over you. These choices could've made hippogriffs look horrible and cruel. Novo kept them in our ways to spare them of harsh PR impacts.
Corono: Are you saying we SHOULDN'T be proactive?
Twilight: NO! I'm saying that you should be courteous and compassionate. We have friends in the High Council like King Neptune... Or at least King Neptune II, who learned the hard way that harsh punishments can only result in misunderstandings and failure of listening, and in some worlds out there, failure to listen was considered an act of war. No doubt if you had been chosen, you would've been destroyed before Storm King even showed up.
Corono: Oh, if aggression and absolute pain offer nothing but ineditable self-destruction, then why do Dragons still exist? Why are Griffins still around? Why aren't Minotauria and Centauria wastelands created by one of their enemies? (Twilight was admitingly stomped by those counter arguments).... Exactly. So pardon me if I had an issue with a "Passive" way of life. Besides, it's not that I don't appresiate courtisy and compassion, they aren't just welcomed adtributes for a successful strong race! If I recall, Tempest here, tricked my sister through compassion, and in the end, it got 'em chased out! After all that, the truth's all too clear: All compassion does is show weakness, and violence is the ULTIMATE authority and it shows we AREN'T to be messed with, or mocked.
Lord Shen: Your highness, have you seen Camelot? Well, okay, granted, a poor question, cause likely you haven't considering you don't have much in movie technology and you're not that much in touch with the UUniverses as the ponies, but there's one line from said movie you must take into account: Violence is not strength, and compassion is not weakness. You're clearly blinded by your sister's methods that you believe that violence is the best way to rule.
Twilight: And that's why we've come to a compromise: Why don't the BOTH of you rule?
Corono:... Pardon?
Twilight: Think about it. Novo's the passive one, and YOU'RE the aggressive one. We've seen a lot of passive-aggressive races in our times exploring the world outside of Equestria, and they have proven to be formidable and able to fend off successfully against threats like the Storm King and at the same time, make themselves look pleasant and inviting. With this sibling rivalry, your people are flip-flopping between nature. You're wishing for hippogriffs to be as tough as your griffin ancestors, and Novo wants them to be as passive as you pony ancestors. But, if you two were ruling together, theeeeenn...
Corono:... You are so full of s***!
Twilight: What?
Rainbow Dash: AW, COME ON!!!
Corono: I AM NOT COMING ON!!! I WILL NOT CO-RULE THE LAND WITH MY SISTER!
Boss Wolf: Well, you technically kinda are since Hippogrifia and Seaquestria are in the same location. Novo still rules Seaquestria, and you embarrassed Straton after returning... In the most hurtful and violent means possible.
Corono: One, she doesn't deserve that throne anyway. Her little venomous friend is right and false seaponies have no place there. Two, how'd you EXPECT me to react? When I came back to close proximity to Mount Aris, upon learning the choices Novo made that almost resulted in a harsh damage to our PR, I was... BEYOND upset that she didn't TRY to see things the way I did!
Flashback
(She was a seapony in the presence of the royal guard and after seeing everything through a magic bubble, her reaction was like this)
Corono: NOVO MADE YOU LOOK LIKE COWAAAARDS?!?
Hippogriff Guard: E-nyyeeehh?
Corono: "OF ALL THE STUPID, ASININE, INCOMPETENT, MORONIC ACTIONS MY DIMWIT SISTER HAS DONE, THIS HAS TO BE THE WORSE!! SHE DESTROYED OUR REPUTATION! I've got a bone to pick with her! (She smacks the guard away and charges forth, going into the Seaquestrian castle, going through the throne room, admiring the beauty for only a split second before barging into Novo's room) NOVOOOOOOO!!!!
Novo: (Noticing during a seaweed wrap) CORONO?!? YOU'RE ALIVE?!?
Corono: (Snarls intensely) Oh, I'm alive, alright, and I AM NOT PLEASED!! I HEARD WHAT YOU DID, YOU HAD LEFT PRINCESS TWILIGHT'S PEOPLE TO DIE, AND I AM ABSOLUTELY APPALLED!!!! YOU HAD A CHANCE TO AVENGE OUR FAMILY, OUR HONOR, EVEN YOUR MENTOR ABYSSWISH, AND YOU BLEW IT OFF BECAUSE OF SOMETHING THAT'S YOUR OWN FAULT?!? I THOUGHT I TAUGHT YOU DIFFERENT WHEN I LEFT, NOVO! WHAT, ARE MY VIEWS FOR A MORE PROACTIVE RACE JUST ONE BIG JOKE TO YOU?!? (As seaponies, including Backwater, and false seaponies noticed the argument) I COMMITTED TO SEEING YOU GROW UP, AND I THOUGHT I COULD RELY ON YOU, TO BE TRUE TO BOTH HIPPOGRIFFS AND SEAPONIES AS A GOOD RULING ROLE-MODEL WHILE I WAS PRESUMED DEAD! BUT I GUESS I WAS WRONG!!!
Novo: Sister, it's not what it looks like-
Corono: OH, SURE, I BET THAT'S WHAT YOU SAY TO EVERYONE! WHAT'S TO SAY YOU DIDN'T DO THIS TO OTHER RACES, HMMM?!?
Novo: HEY! If it's any consolation, sister, they did give me a harsh reality check before they left. I did try to apologize and offer our services afterward, but, the rainbow one, got a little, mean.
Corono: MEAN?!?
Novo: SHE WAS SINGING A RUDE SONG ABOUT ME BEING, A NAUGHTY WORD, OKAY?!?
Corono:... You mean, she was calling you a bitch, in song? (Scoffs) In all fairness, I would do the same too, BECAUSE THAT'S EXACTLY WHAT YOU ARE, AND IT PROVES EVERYTHING I'VE SAID TO YOU BEFORE!! They obviously risked their lives and came here to see the mighty hippogriff race as per their rulers' instruction!! And what did they find instead? A BUNCH OF COWARDLY SEA CHICKENS THAT ABANDON THEM AND LEAVE THEM TO BE CONQUERED ALL BECAUSE YOU LEFT THE PRINCESS EVERY RIGHT TO TRY AND STEAL THE PEARL!! WHAT?! DO YOU THINK THE STORM CLAN'S ON PAR WITH SOMETHING STRAIGHT FROM TARTARUS THAT IT'S WORTH FEARING AND HIDING?!? THE STORM CLAN ARE NOT IMMORTALS!! THEY CAN BE KILLED WITH THE RIGHT IMPLEMENTS!! In fact... I'M GONNA F*****G PROVE IT!! I'M GOING TO KILL ONE OF THE STORM CLAN, AND BRING THEIR CARCASS BACK HOME TO PROVE THAT HIPPOGRIFFS ARE AND SHOULD BE THE AGGRESSIVE CREATURES WE DESERVE TO BE!!
Novo: Corono, we've had ENOUGH as it is!
Corono: NO YOU HAVEN'T!! (As more inhabitants noticed) YOU LEFT OUR ANCESTRAL RACE TO THEIR DOOM, ALL BECAUSE YOU WERE A HORRIBLE RULER AND A TRAITOR TO THEIR RULER WHO WAS COUNTING ON YOU!! THIS IS THE KIND OF THING I WAS AFRAID OF!! (As Novo felt guilty) I AM VERY DISAPPOINTED IN YOU, SISTER!!!! IF OUR PARENTS WERE ALIVE, THEY'D BE ASHAMED OF WHAT YOU DID!! AND LEMME TELL YOU SOMETHING AFTER THIS CHANCE WAS BLOWN: ALL THOSE TIMES I TOLD THEM I WOULD TRY TO ACCEPT YOU AS BEST AS I COULD, I WAS FAKING!!! (Before Novo can stop her, Corono already swam off)
Backwater: ".... Tch. Not exactly a graceful reunion, now was it?"
Present
Corono: "And then I did. I ran into the Cyclone Queen who was aiming to unleash the beasts of Tartarus, killed her effertlessly, brought her corpse back home, ate it, and turned the remains into my regel throwne that serves a clear warning."
Lord Shen: "Well, true, nothing screams "don't tamper with me" like the bones of your enemies being turned into a throwne! We do get where your coming from, and yes, I do agree that maybe your father was a biased fool in not respecting your beliefs by picking your very young sister. It's just, I wouldn't say he was an UNREASONABLE biased fool. Now, that's not to say we don't understand the desire to not look like an easy target, but, maybe your father had the intention of not having the Hippogriffs look like savages as well!"
Corono: "Well surely you know what happened to him when he wanted the Hippogriffs to look "Social" and "Friendly"...... HE'S DEAD, BECAUSE HE REFUSED TO UNLEASH HIS INNER BEAST?! He, was slain, by someone who's no less different then an immature brat that gotten into the weapon cabinate who should've been killed by A PROPER HIPPOGRIFF!? In our ansisterial days, we rip apart our enemies into unreckindiseable pulbs, and that's the way mother should've had it if father didn't had the power he misused?!"
Icky: "Ohhhh, so your mom's the one for the more aggressive Hippogriif culture, huh?"
Fluttershy: "Your saying that, Pure Hippogriffs used to be far more meaner?"
Corono: "Mean" is such a childish word, and from an adult pony no less! Then again, the mighty Alicorns did had a "sheltering their mortal creations" problem, so, I'll pardon it. Let me weave the epic tale on how TRUE Hippogriffs behaved!
Flashback
Hippogriffia was a more macabe and morbid place.
(Corono): "This city was not built on traditional building materials..... It was build, on the foundation of the corpses of our enemies, after we feasted on their flesh and used their bones as building implaments!"
The Hippogriffs were seen eating the bodies of fallen orc invaders and turned their bones into homes and furniture!
(Rainbow Dash): "Yikes. I guess Chain might have something in commen with you, lady."
(Corono): "Our ferosity was something to fear and respect! As a matter of fact, the most aggressive of races, even DRAGONS, pay tribute to us, to show that they respect us!"
Dragons and other usually agressive mythic creatures are paying the Hippogriffs tribute!
(Corono): "We lived in glory! We lived in infamy! Our people were safe from a cold and unforgiving world, by being TWICE as much! Crime was non-existent in Hippogriffia, no one wanted to delcare war on us, and certainly no one wanted to congure us?! We were proud and majustic creatures of ferosity!"
(Icky): "Well if that's true, then how the hell do people like your sister and dad exist if Pure Hippogriffs were proud to be monsters?!"
(Corono): "MONSTERS?!"
(Icky): "Uh, speaking from an outsider's perspective of course, please don't break my bones!!"
(Corono): "..... I'll pardon that for now, but DON'T SLIP UP LIKE THAT AGAIN?! That being said, how can such a fall happen to Hippogriffs when we were proud of who we are? Well, that was because of the tale of two siblings. A brother and a sister."
Two Hippogriffs were seen.
(Corono): "The sister was a proud follower of the true way of Hipoogriffs and the rightful heir to the throwne, but the brother-"
(Rainbow Dash): "Let me guess..... He was the wimpy-dink little brother who's super sensitive about things?"
(Corono): "Uh.... Exactly. You see, the parents knew better in that the sister was more fit to rule then the brother, because the brother didn't even had the gull to kill an insignifient hobgoblin tribesmen! He wasn't even a threat to a parasprite! He was so, un-Hippogriff like! He was never gonna asend to the throwne! The sister, was a shoe-in."
(Squidward): "But let me guess..... Something happened to secure the brother's rise to power, didn't it?"
(Corono): Yes. You see...  By being a violent race, APPEARENTLY, we couldn't control our own PR. Everyone else preferred to stay away from us. Course, by all means, we still consider respect-through-fear then any cuddly nonsense, and with everyone distencing away from us, at least it would include their ilk and scumbags, so it wasn't nessersarly a serious issue.... At least, until that forementioned event that otherwise ruined the sister's EASY chance to rule. One day, a princess of the Hippalectryon race, who was netouriously obnoxious and opinionated, paid the Hippogriff kingdom. The sister was, understandably annoyed by that princess's impudent and obnoxious words, so.... You can piece togather to what followed from there. (The Sister snarled and pounce that chicken-screaming Princess).... Unfortunately, even when that idiot princess was still left alive, if though adoned with stern reminders of holding her tongue, the king of the time, somehow lost his sense of respect to us, and had the nerve to want to get revenge! And if that wasn't enough, the Hippalectryons had the NERVE to called us out on our actions when the sister pushed their ways over the edge of tolerance. This caused a deadlocked war, that left the sister crippled when he battled a knight with affections for the impudent pirnces. That ended up being the war, that ruined our minds, and sadly, thus, because the sister was too crippled to ever be a proper leader in being vulerable to potaintional usurpers, the brother was made to be put in charge, to the parents great relucentence, when the sister got crippled of her flight forever. However, it was a costly decidion, unavoidable as it was, because the wimp brother was then allowed to turn the proud hippogriffs, into shivieling cowerds. The war ended and we became this, soft-minded shame of a race ever since....
Present
Corono: We ended up leaving our true ways thanks to those damn Hippalects! But that ended up causing an event that split the people into the Passives and Aggressives. When the Passives saw the far worse consequences of passiveness that destroyed their entire livelihoods, they had to disband themselves. Complete pacifism was since unwelcome here. I embrace that fact with pride. Novo, on the other talon, chose to be a dirty pacifist. She chose to be a killjoy. A black sheep. She chose a weaker path. And because of that, she paid the price. She DESERVES to feel bad about what she did and she DESERVES that pain. That's why she's the black sheep of the family. She prefers to be a cowerd and allowed an obvious idiot push her around like it was nothing. The true way would've LONG destroyed the Storm Clan!
Starlight: Well, that's how other races in Equestria can be, sadly. They just don't understand friendship like we do.
Corono: And who can seriously blame them? As of recently, since the princess's school, everyone's been criticizing you. And I say that friendship ain't a reliable and relevant topic to us no more. We aren't like you for a reason.
Icky: Because you're jerks?
Corono:... This close.... To ripping you to shreds now. (Icky backed off)..... Since ponies centered themselves in Equestria, races like us have had to struggle with evil, and reality, on a regular basis. We dealt with racism, evil, terrorism, disease, famine, poverty, survival, suffering, the list is endless. You ponies were sheltered from that thanks to the magic of this world's creators. As for other races, even those with pure variants who embraced Equestrian magic, there's no running from reality. But Novo CHOSE to do that by hiding underwater. She's the wrong one here.
Spyro: But it doesn't make YOU right neither. You chose to judge her harshly for a not, too unreasonable choice. Not everyone likes the world's harshness, and Novo was no different. You made being tough look like a bad thing when there's balances that need to be used. Like you said, there's a fine line between passiveness and aggressiveness. You are just too aggressive while Novo is too passive. That's why you two need to co-rule. If you can't change, then why try and just balance it out?
Corono: Novo's already screwed up enough as it is when she betrayed Celestia.
Icky: "But didn't you criticised the ponies for hiding in Equestria, and mocked that friendship religen?"
Corono: "Criticising their choices is one thing...... Abandonment, is another...... The Hippogriffs should've NEVER cowerd away to begin with! The Storm King is really nothing but a phathic blundering boob without all those parlor tricks he always hides behind! And my sister was given MANY oppertunities to have him defeated and slain, and never took them?! That is cowerdice that later serve to disbenift Equestria, clearly! And it's ALL because of those moronic Happalects! Had they just respected us like everyone else, the Storm Clan would've been a forgotten obscured threat by now?! Do you think Pana would be in the state it was in if the Pure Hippogriffs stayed true to our old ways?! We could've had those tyrants long destroyed?!"
Shifu: "And we don't question the logic behind these claims. It's just, as explained in the story, the Hippalectryons had their reasons for their actions against this once rightful ruling sister."
Rainbow Dash: Yeah. She clearly did something to deserve it.
Twilight: But that's beside the point. Neither of you are right or wrong. There's nothing wrong with being passive-aggressive, Corono. You two just need to agree on something.
Corono: If this was the point of the conversation, then you just lost me. If that's how Novo treats you ponies, any other race could be next. She left you to the mercy at the Storm King irresponsibly, and who's to really say she won't end up cowering away at another oppertunity again? Who should trust someone who treats them that way?
Pinkie: She'll learn.
Corono: She'll NEVER learn. I pounded the nail into her head with the hardest hammer I had, and she remains a coward. There's just no need for anyone like her in this miserable existence. She doesn't deserve to be the leader of either race.
Twilight: Seriously? You're THAT stubborn?
Corono: This conversation has no purpose. You're dismissed.
Fidget: But-
Corono: YOU, ARE, DISMISSED!!! (Everyone scurried away)... Ughh..... Talk about litterally losing your appitight.
Outside.
Icky: "..... Well, that went exactly as expected, in that she wasn't gonna back down easily."
Cynder: "Is she seriously this afraid of her people looking like cowerds that she would maim bread-thiefs?"
Iago: "I think her bone throwne is more then enough proof that she's no one's bitch!"
Lord Shen: "Well, this is certainly a dilemma. Corono seems fairly devoted to that anichent belief. I shudder to imagine if she is allowed to have the Hippogriffs go back to those days."
Gilda: "Well, let's look at the pros and cons of this.... Pro: Badass Hippogriffs could mean less threats in Equestria given how Corono creamed Storm King's mom. Con: It'll scare people back into not having anything to do with them and, if the conditions are right, it'd cause fear to grow to hate, and then war. For passives.... Pro: It'd make them as friendly as any other pony and more social. Con: It makes them weenies to combat, defense, and offense."
Skystar: (Walking up overhearing the conversation after comferting Novo) Exactly! I had to put up with their arguing almost my entire life! It was so annoying that I swore to try and make it right.
Ocheasha: Trouble with your aunt and mom, Sky? (She and her friends flew in)
Skystar: As usual, yes! Ugh! If there's anything I hate more than living with my head stuck in the water, it's that mom and Aunt Corono are just too dysfunctional. They literally can't meet each other without squawking at each other.
Horizon: Tell me about it! If only those two could agree on SOMETHING!
Meridia: We could literally hear their bickering for miles.
Applejack: "No kiddin'. Fightin' Roosters get along better then those two."
Pinkie: "Yeah, she's so stubbern, mules would get jealious."
Twilight: I don't get it. Why won't she just agree to co-rule with her sister? Would it really kill her?
Soothsayer: The two are polar opposites. Both only see the bad parts of their choices. Corono can no longer trust Novo with their race since she banished Twilight and her friends and took the role as ruler of Mount Aris. Novo can't trust Corono because of her aggressive, frightening and insulting tendencies. They'll never agree on anything unless they see the benefits of co-ruling.
Donkey: Well in Novo's defence, it'd be pretty hard to help someone when your magic pearl was being stolen by them.
Soothsayer: Corono doesn't care about that technicality because she knows it was Novo's fault for denying help even after they traveled vast distances and almost having died multiple times to find them. She's just too blinded by her sister's choices to be logical.
Ocheasha: Well, it's probably for the best.
Twilight: No it's not! Their choices have potentially dangerous consequences that must be balanced or they'll end up destroying themselves. Corono could be right and Novo could underestimate other races like she did us. But Novo could be right and Corono could endanger the hippogriffs with aggression and fear.
Gazelle: Look, whatever can be done, it can't be done now. We must come back to it later.
Lord Shen: "Indeed. For now, let's worry about damage control."
Pinkie: Well, we'll need a break. How's about we go to the swimming hole where we found Skystar and almost drowned?
Airglow: You read my mind. You'll love it.
Brandy: Well those of you who want to go on ahead. I for one am not in the mood to be pampered and spoiled for once when there's tension afoot.
Rarity: Well I guess I could use a break.
Fluttershy: I could use a swim. I wasn't the breath-holding champion for nothing.
Rainbow Dash: And yet you couldn't swim before meeting Marenia?
Fluttershy: Not in deeper waters like the ocean. I was just in water where I could still reach the bottom with my hooves.
Pinkie: Well I can go for a swim too. I liked what they did with it when we saved Seaquestria from Storm King's first return.
Ocheasha: Weeeeeellll...
Swimming Hole
Pinkie: (She squeals when she saw the swimming hole was different from it's last two appearances)... YOU MADE IT BETTER!!!!
Ocheasha: Eh, Novo did most of the work. Said that she wanted to surprise you should you drop by for another visit after finally renouncing your banishment. It's got underwater life, fish, some of which are cleaner fish that'll give some spa services, the entrance to the underwater castle has a bubble gate to give anyone who swims through a bubble helmet, and the pool goes deeper the further away you go. There's also slides, waterfalls for showering, diving heights, and-
Applejack: Alright, ya don't need to impress us with these surprises. Fluttershy's already enjoying herself. (She was seen underwater in her seapony form swimming)...
Icky: ".... Oy. That pony is so hard to read sometimes."
Twilight: Hey, she's happy, so what does it matter?
Lord Shen: "Well, you may as well enjoy ourselves while we're here. The rest of us will deal with the mission."
Pinkie: You do you. WHEEEEEEE- (Splash and gurgling) -EEEEEEEEEEEEEE- (Transforming into a seapony) -EEEEEEEEEEEEEEEEEEE!!!! (Breaches wildly laughing)
 Fluttershy swam off somewhere and found a group of young sea ponies.
Fluttershy:... Sea Poppy? Is that you?!
Sea Poppy: "Well last time I check, I- (Sees Fluttershy) FLUTTERSHY!"
Fluttershy: SEA POPPY!!!
Sea Poppy: FLUTTERSHY!!! (The two hugged) I thought I never get to see you again!
Sea Poppy: Yeah, I didn't want you to leave. I was neutral about both Twilight and Novo's choices. Buuuuuut, my friends didn't share the same feelings. (Several more seaponies arrived)
Crystal Pearl: But in all seriousness, some of us didn't appreciate their choices. It was Twilight's fault for taking it personally when she could've gotten the obvious sympathizers instead of resorting to theft.
Bubble Splash: Hey, it wasn't her fault! Her friends gave us so much and she rewards them by obliviously banishing them without acknowledging it was her fault!
Sea Poppy: Oh Maricolous, not again!
Fluttershy: Poppy, can you watch your language?
Sea Poppy: "Aw come on, since when is the name of Princess Maricolous a cussword?"
Fluttershy: "I was refering to saying an Alicorn's name in vain. It's just as impolite as any bad words."
Ocean Gem: I agree with Bubble, Novo was an ignorant irresponsible jerk, no treason intended. She should've known it was her fault instead of just lying to her daughter and herself that she was right.
Jelly Bee: Yeah, but I don't blame both entirely. We all know the impact Backwater had on her with his constant verbal bullying. Twilight just did what she felt was good for her home when Queen Novo politely said 'buzz off'.
Ocean Gem: You stay out of this, Jel!
Sun Twist: Hey, lay off, she's just trying to help!
Sea Foam: Well what's the point if you both hate neither? I hate both! Twilight for thinking an act that would cause controversy was a brilliant idea, and Novo for being so cowardly, ignorant, irresponsible, and unsupportive.
Ocean Gem: Your opinion doesn't count either! (They argued)
Sea Poppy:... (Sarcasticly) Welcome to my inner-circle! I'm the only one keeping them in line.
Fluttershy:... That explains why the map didn't summon us to fix this. But, seriously, children, you shouldn't argue about that time. What's done is done. It's better to just forget about it and move on.
???: Daaaaah, don't listen to the zoophile! (A preteen hippogriff came in swimming like a duck) Your pointless debate was starting to get good.
Sea Poppy: Aw darn it, Nacre, I thought Flash and Flutter got you off our backs!
Nacre: Aw come on, Pops, ya should know it takes more then that to make me to AWOL.
Fluttershy: ".... And, who do I have the kinda pleasure to have met?"
Sea Poppy: This is Nacre Spark. The bane of our existence. Since his mother was arrested for trying to sell the Pearl to a Klugetown mobster just to pay off literal loan sharks from Reefa who his dad was heavly indepted to. Cause of it, he's been a nasty troublemaker.
Nacre: Awww, Pops, I'm hurt. I was only having some fun with you.
Sea Poppy: "YOUR CONSTINTLY TRYING TO BREAK UP MY FRIENDS?!"
Nacre: "Hey, I didn't say it was fun for you. And came on, what did you expect from someone who's mom was thrown to the slammer for only trying to help a now crippled dad from those Loan Sharks? Sunshine, Lollipops, Rainbows, Ice Cream and Gumdrops? I can't help but to feel I'm a disappointment to you in some way!"
Ocean Gem: "Well why are you picking on us? Neither of us are related to Queen Novo! Why, some of us don't exactly have anything nice to say about her too!"
Nacre: "Well it ain't like I can just mess around with Novo's daughter or her nefpew and nieces without the guard on my ass about it, now can I?! With you brats, at least the worse I get is a teacher's scolding in sea school!"
Jelly Bee: "Hey come now, Nacre. For what it's worth, I actselly feel sorry for your parents, Nacre, and I feel bad about how sad about life you are. Your always welcome to hang out with us."
Nacre: ".... (Sarcastic) Aw that's so sweet, I think I got cavaties from it! (Deadpan) Tch, no thanks! Leave me out of your inner-circle of condesendence! I'm out of here! Call me when it's fun to mess with you again, okay? (Swam off!)."
Fluttershy: "....... Why, hasn't the map, ever called any of us about him?"
Sea Poppy: "Maybe it knows better that it can't fix everyone?"
Fluttershy: ".... More like it just can't find the right ponie or creature to really help him."
Sea Poppy: ".... (Sighs), Look, I get what you mean. We all see where he's coming from, and some of us want him to feel better, but, as you just saw, he just pushes the attempt to console him away as us being "The Inner-Circle of Condesence". It makes me feel like he WANTS to be miserable."
Fluttershy now feels awful for Nacre.
Fluttershy: "...... Can you excuse me, for a bit? (Swam off, Grabs Twilight and swam off somewhere hidden)!"
Twilight: "What the, Fluttershy!"
Fluttershy: ".... Twilight, I kinda need your help with something!"
Twilight: "Well what is it?"
Weather King Blows Right In/Shroud Glory's Story
Hippogriffinstone Palace
Nephostratus: (A large zeppelin came in)... Oh, no!
Airglow: OOOH, THOSE MUST BE THE CLOWNS I ORDERED!!!
Pinkie: Trust me, they're not! (They came in as a familiar voice was heard)
???: Hello, all hippogriffs! (Everyone gasped)
Twilight: No!... NO, IT CAN'T BE!
???: OH, IT IS! (The Storm King came in)... I'M BACK! (He slided in dramatically with his new staff)
Icky: AND THE PRODIGAL ASSWIPE FINALLY RETURNS AFTER HAVING BEEN MISSING FOR GOD KNOWS HOW LONG!!!
Novo: STORM KING! I assumed you drowned!
Storm King: Well, yeah, NO THANKS FOR THAT, BY THE WAY! Now I smell worse then a sea bird's underbelly!
Gazelle: "How did you get a new staff that looks like your old one?!"
Storm King: Glad you asked! I had some help to make a new Staff of Sacanas, just for little ol' me. ESPEICALLY SINCE YOU JERKS RUINED MY DAD'S OLD STAFF?! Oh, speaking of that, I'd like to introduce..... TATIBUS STORM... BUT YOU WILL CALL HIM... (Another Satyr came in with a hippogriff-style attire but still traditional armor like Storm King's)... THE WEATHER KING!
Weather King:... (Gilbert Gottfried voice) HIYA, SCHMUCKS! (The Lodgers laughed)... WHAT'RE YOU LAUGHIN' AT?!?
Iago: Dude, you just ruined your image with that greeting! You're now just Latifier as an ugly-ass creature and feathers!
Weather King: Oh, am I? Well, YA BETTER LEARN TO RESPECT ME SOON ENOUGH, BECAUSE WE'RE THE NEW OWNERS!!!
Everyone: NEW OWNERS?!?
Weather King: That's right! Listen here, birdbrains! I slayed a TON of you hippogriffs when I long heard about my aunt's death in the hands of the queen's sister, AND, spoiler alert... I GOT ONE ON MY SIDE! (He shows them a corrupted bald eagle-like hippogriff)... Say hi, to Shroud Glory!
Shroud Glory:... (He only grumbles in annoyence of having to be assusiated with the Weather King.)
Icky:... What's so glorious about big bad 'HMMM-MMMHH!!!'?
Twilight: I think it's glory as in the optical phenomenon.
Novo:... Wait... I know him!... He used to be part of Hippogrifia's royal guard before Storm King arrived, then disappeared afterward. He was pronounced dead.
Duke: (Shroud growled ominously)... And he doesn't look like he's happy to see you when he really should, your highness.
Novo: But why is he with you?
Weather King: None of your business, that's why! Now, let me explain on how this is gonna go down, either give up or get rekt?! And I know alot of ways to wreck shit, see? (He sung this)
Iago: AAAND, you ruined your image further by stealing my song like Latifier did! You are the lamest, villain, e-
Weather King: Shroud? (He threw an Obsidian Orb at Nephostratus)
Ocheasha: DAD!!!
Iago: OKAY, MAYBE I GOTTA LEARN TO KEEP MY BEAK SHUT!!!
Banzai: GAHOI, YA THINK?!?
Weather King: "Now, are you gonna give up, or- (The Hippogriffs suddenly turn feral and roared?!)..... WHAT GIVES, YOU SAID THESE GUYS WERE WIMPS?!"
Storm King: "THEY SHOULD'VE BEEN?!" (The Hippogriffs viciously charged as the Storm King and The Weather King to run screaming and boarded back onto the Zeppleon and retreated with Shroud flying off with them)
Iago: "..... Okay, I'm back not taking this bozo seriously again."
Corono showed up.....
Corono: "..... You see how satisfying that is to reduse your former "Boogeyman" into the gutless cowerd that he was?!"
Hippogriff 1: "YEAH?! I CAN'T BELIEVE WE WERE EVER AFRAID OF HIM?!"
Hippogrif 2: "CORONO WAS RIGHT?! NOVO AND NEPHOSTRATUS ARE WEAK?! I NEVER FELT SO ALIVE?!"
The Hippogriffs began to cheer Corono's name!
Icky: "..... But, it looks like things are gonna suck for Novo either way."
Novo: CORONO! WHAT IS THE MEANING OF THIS COUP DE'TAT?! THIS IS NO EXCUSE TO-
Corono: Silence! (To the hippogriffs) Everyhippogriff, let me ask you a question. What kind of leader forces you to hide underwater when things get rough, refuses to take any proactive action, puts other races in harm's way, dubs all outsiders as bad people, and shows no appreciation for their sacrifices?
Novo: CORONO!!
Corono: What kind of leader has the support of the purest race in the world at her fingertips, and gets judged right out of it by the consequences of her cowardice and irresponsible actions?... You ask me, I think you deserve better.
Novo: SHUT UP!! All of you, don't you DARE listen to ANY of her lies!!
Corono: Am I wrong?
Novo:... Well, not exa-
Corono: Yes or no!
Novo: NO!!
Corono: Then why should they listen to you? I'm sorry, Novo, but you are no longer serving as our voice of reason, OR our leader. Now, all hippogriffs have no choice but to answer to me!
Ocheasha:... Not all!
Corono:....... What?
Ocheasha:... If you've got a problem with my father... You've got a problem with ME! So, I REFUSE to heed to this bribery!
Airglow: Me, too!
Horizon: Me, three!
Wideawake: Me, four!
Golden: Me, five!
Meridia:... Me... Six! (She shied away from cowardice and finally stood up)...
Corono:... Then you bunch are banished.
Novo: WHAT?!?
Skystar: AUNT CORONO, ARE YOU NUTS?!? YOU CAN'T JUST BANISH THE PRINCESS OF HIPPOGRIFFINSTONE!! THAT'S HIGH TREASON!!
Corono: Tch! Nephostratus wasn't a REAL king anyway! Besides, since he's now, (Points to his petrifived statue) THAT, I MUST declare martial law! I will be leading from here on out! IF I EVER SEE YOU ALL HERE AGAIN, THE PENALTY WILL NOT BE MERCIFUL! GUARDS! (Hippogriff Guards chased them out and into the ocean)
Novo:... I... I can't believe she would do this!
Airglow: Me, neither! She BANISHED THE KING'S DAUGHTER?!?
Golden: I KNOW! IS SHE OUT OF HER MIND?!?
Ocheasha: Novo, are you SURE she's not evil?!?
Novo: I swear, she's not! She's... Just misunderstood. She STILL needs to learn that we both cannot rule a kingdom without each other. It's best we leave her to learn a hard lesson, and leave the threat to the REAL heroes.
Icky: "Well it's not exactly gonna be freaking easy since acting aggressive made Stormy and his Iago-sounding dork friend ran away like scared chicken shits and how the King got the Discord treatment!"
Novo: Well, it isn't like it's just them we have to worry about. That hippogriff they had?... Let's just say... He's one of the oddballs of Hippogrifia. He served in my guard.
Lord Shen: "Well yes, who was that individual and what is he doing with those Storm Claners?"
Skystar: He was Shroud Glory. When I looked into his eyes, my empathic abilities told me everything....
Flashback
(Skystar): I read his feelings before. He was a mute, antisocial, and had no friends or family. He left his own orphanage seeing family as a sign of weakness. He was a vigilante who eventually joined the royal guard. The first time we met... What I read about him via my empathy was... Quite sad. He was a troubled soul. But he was an excellent fighter. Fast, strong, and fierce. Then came the day the Storm King attacked. We had assumed that he died... But turns out he almost died too many times to count. This guy's been through a lot of pain.
Present
Skystar: And the worst part of it is... He holds mom responsible.
Icky: "Then what the f*** is he doing working with the Storm King and his dork cousin if he's upset about what happened to Hippogriffia?"
Skystar: "I suspect it wasn't willingly. He could've been captured and enslaved to them. Apparently the blame was used to manipulate him into wanting to get revenge on mom for weakening the hippogriffs and Aunt Corono for failing to do anything about it, and sees the Storm Clan as that chance. He's very mean and just as merciless as Aunt Corono, if not more."
Iago: "Fair point, otherwise I would've called that d*** a f*****g race-betraying hypocrite."
Novo: Terrific! I can't avoid a soggy past no matter how hard I try. I just feel PEACHEY knowin' that.
Wideawake: Well much of your choices weren't exactly responsible or logical. As wrong as your sister is, there are parts she's right about.
Novo: That's what I'm TRYING TO AVOID!!! HAS IT NOT OCCURRED TO ANY OF YALL THAT I DON'T LIKE BEING REMINDED OF PAST MISTAKES BECAUSE THEY MAKE YOU STRESSED, GUILTY, AND UNSURE OF YOURSELF?!?
Rainbow Dash: Well, you did waste our journey to find you.
Novo: (Pushing Rainbow Dash away) DON'T, F*****G, REMIND, ME!! (The heroes were shocked at her outburst) YOU THINK I LIKED BETRAYING YALL?!? HOW WOULD YOU FEEL IF YOU WERE LIVING IN FEAR AND FELT DECEIVED?!? I WAS ONLY PROTECTING MY PEOPLE!!! IF RESPONDING TO AN ATTEMPTED THEFT AND PENALIZING YOU IS SOME SORT OF CRIME, REGARDLESS OF NOT BEING SUPPORTIVE BECAUSE WE JUST AIN'T LIKE YOU, THEN LOCK ME UP AND THROW AWAY THE KEY!!! I'VE MADE MORE MISTAKES LIKE THAT!!!! GO AHEAD AND GIMME YOUR WORSE, BECAUSE GODS KNOW I NEED MORE AFTER THE BAD WEEK I'VE HAD!!!! (She sobbed)
Rainbow Dash: Geez, your highness, I wasn't trying to be mean.
Queen Novo: YOU'VE BEEN MEAN SINCE I BANISHED YOU!!! AND YOU'RE RIGHT!! EVERYONE'S RIGHT!! I... I don't deserve this crown. (She took it off and brought it to Skystar)...
Skystar: Mom, no! Aunt Corono's trying to get to you. I'm not ready to lead. Just... Just take a deep breath. This is not the time to get upset and take what just happened out on us! Please... Don't let Aunt Corono get you down. You're still a good ruler. You're just as flawed as Twilight. Please, PLEASE... I love you.
Novo:... (Takes a deep breath and breathes out bubbles)... Thanks, hon. At least you're like your daddy in so many ways. (She put her crown back on)...
Applejack: Good. Now let's see if we can find any available seaponies to help us set things straight.
Meeting Tidecaller
Tidecaller's Kingdom
Tidecaller: You're saying that Corono has overthrown you?
Novo: That's what I just said.
Skystar: So can you please help us, Stepdad?
Tidecaller:.... I'm afraid it sounds like a "You" problem, not something we seaponies should waste our concerns with.
Novo: Why?! We came here for help!!
Tidecaller: You should've thought of that a long time ago, when the Storm King and his ilk began to cause trouble for pretty much everyone. We seaponies could have helped you stop the Storm King, but you chose to be a chicken of the sea about it.
Rainbow Reef: Tidecaller, how could you be so unwilling?
Tidecaller: Rainbow, you know why! We were left helpless, and every land refused to help us, BEGINNING, with the betrayal of the hippogriff I trusted. I swore I would never let my kingdom have anything to do with a heartless world, and I meant it. My people and ourselves are to stay out of this and that's final!
Squidward: THAT'S TOTALLY SELFISH!!!!
Tigress: Not to mention completely irresponsible!
Tidecaller: It's what's for the best. We're better off on our own. It's no concern of mine that Novo's no longer queen. It's not my problem, NOR responsibility. It's hers. Now leave.
Squidward: LEAVE?! NOW YOU LISTEN HERE, SEAHORSEHOLE, WE DID NOT COME ALL THE WAY HERE TO LEAVE AND BE TOLD OFF WITH NO CONCERN!!! WHO DO YOU THINK YOU ARE?!
Skystar: Squidward, stop!
Tidecaller: I am simply trying to survive in a world that shunned me off with no thought or courtesy. Novo told me she had it under control. So who am I to interfere?
Novo: ".... Tidecaller, YOU'RE the one that talked me into convincing father to not letting Corono be queen to begin with! (The Lodgers were surprised from that) You said so yourself that you didn't want the Hippogriffs to be mindless savages and make any who befriended them look bad!"
Tidecaller: ".... Admitingly, yes, I, I suppose I did. Perhaps it would be rather improper to let all that hard work go to waste-"
Icky: "Wait wait wait, wait a minute...... You talked Novo into being the Hippogriff Queen instead of Corono?!"
Tidecaller: "Ugh, I know land dwellers aren't exactly the brightist creatures ever, but surely you cannot be THIS dumb! Yes, you heard right! I talked Novo into using her magnifisent magic powered empathy to coherse her simpleton father to deem Novo the faverite to be heir to the throwne! I felt like the Hippogriffs could use being more like their better halves then to behaive like uncouth savages. Trouble is, I didn't had the hindsight to realise that in doing so allowed the Storm Clan to do whatever they want with their conquesting shenanigans with Hippogriffs made too cowerdly thanks to her! I think I would've rather have Corono be the ruler to begin with! Because at least she would've wiped the scum off of the face of the world of Equestria the moment their bad-tempered man-child Sacana even so much as sneezed in their direction! But, it's my bed, I had made it, so, I'll have to sleep it, I guess."
Twilight: "...... You mean, you're the reason why the Storm Clan have ruined the world beyond Equestria?"
Tidecaller: ".... Err, well, not intentionally, by all means. I was only trying to keep this beautiful world and your lands from being tainted by savages that use bones of their fallen foes as building materials and drink said foes' blood like a nice beverage! No one would've wanted anything to do with those beasts if they were as foul as they were!"
Applejack: ".... Now look, we all respectfully have to agree that the hippogriffs were better off without those kind of traditions. And by no means, is Corono winning any favors from us with that rattlesnake attitude she has. But all the same, though. Based on what we discovered, it turned out that Corono was meant to be queen all along and Novo's ascension was a fluke because you stuck your nose where it done don't belong."
Tidecaller: "I have to! Novo's mother was a blind believer of those barbaric practices and wanted Corono to ascend! So I had Novo lead her weak-willed imbecile of a father, which thankfully has more favor with the councils, to pick her instead! With that, I saved the hippogriffs from being savages, and everyone's respect for seaponies in due to that we're friends with them. Everyone wins!"
Boss Wolf: "..... Yeah. Even the Storm Clan."
Tidecaller: ".... Look, I assure you that the fact they benefited from hippogriffs now becoming pathetic cowards is nothing short of bad happenstance!"
Twilight angerly flared her horn and aimed it at a wimpfully yelping Tidecaller?!
Twilight: "A "BAD HAPPENSTANCE", THAT ALMOST LEAD TO THE FALL OF EQUESTRIA!!.... And..... Almost ruined my friendship!! I once tried to get the hippogriffs' help to stop him upon Celestia's request, but thanks to you letting HER into power, I ended up being refused to the point I caused an international incident to save Equestria!! And now, I find out that, the Storm King's attack, could've been LONG prevented, if Corono never had her place in the throne, STOLEN BY YOU AND NOVO?!"
Tidecaller: "Now see here, you ungrateful brat!! I only wanted the hippogriffs to not be savages!! I didn't ask for the Storm Clan to mess everything up!! What kind of monster would I be to want that?! I just as much disbenefited from their insanity as you all did!! I lost a friend to those maniacs, who t'was also Rainbow Reef's father!! I perfectly regreted ever helping this cowardly wrench to begin with!"
Lord Shen: "Oh, I think we understand the gist of your INCREDABLE STUPIDITY?! You deemed Corono's plans to return the hippogriffs to more extreme practices, a tough pill to swallow, but then you figured that since Novo's more passive and gentle, she'll make the PERFECT ruler and keep hippogriffs from making the seaponies look bad! BUT GUESS WHAT?! Without balance, hippogriffs became too passive!! And thus, they were rendered pansies to the Storm Clan, so all they had to do was just scare them away! And then you decided to have buyer's remorse, and not stand by your mistake because your afraid that everyone's gonna blame you for it?!"
Tidecaller: "..... (Angerly) What, are you, implying?!"
Fu-Xi: "Basicly, if your gonna take a really big s*** that ruins everything and harms the nostrils of all who are affected by it.... At least stand by the s*** you made. Because not standing by Novo, even when it was your stupidity that got her into power to begin with, that, buster, makes you look like a scrub."
Tidecaller: "(He makes the same face as an angered Yellow Diamond)..."
Novo looked in shock!
Twilight: "..... (Quietly to Novo) Now you know exactly how I felt!"
Novo: (With clenched teeth) DON'T, PUSH IT!!
Tidecaller: "..... AND JUST, WHEN I WAS DECIDING TO GIVE AT LEAST A BIT OF AIDE?! YOU, HAVE THE NERVE, TO BLAME ME FOR WHAT HAS HAPPENED, EVEN WHEN I COULDN'T'VE PREDICTED SO, AND THREATEN MY RULE?!"
Patrick: "Well it is kinda your fault. I mean, we saw it ourselves. The Storm King and his Iago-Sounding Cousin ran away like scared chickens when the hippogriffs turned feral like when Gary sees Squidward."
Po: "Also, you commited the act of interfearing with another nation's politics. It wasn't any of your business on what the rulers were originally gonna pick! And you got some nerve manipulating Novo into doing what she did and expect her to be of any benefit to you!"
Gloria: Not to mention being incredibly dishonest and unfair to your own subjects.
Mantis: "YEAH?! NOT COOL, MAN?! NOT COOL?!"
Tidecaller: "MANIPULATING?! HOW, DARE YOU?!"
Pinkie: "If the horseshoe fits, wear it?!"
Tigress: "You're nothing but a filthy dog for what you did."
Rita: "I kinda have to complain about that. Calling him a dog, is an insult to dogs."
Monkey: "Even for guys like him."
Iago: "Buddy, you succeeded in making Jafar look like the nicest guy in Arabia!"
Gazelle: ".... On second thought. Trying to ask for your help, was a mistake. (The group leaves, but Novo)...."
Novo: "..... Tidecaller, please, they, they only overreacted, I- (Gets tail-smacked by Tidecaller)!"
Tidecaller: "GET, OUT, OF, MY, KINGDOM, YOU, WRENCH?!"
Novo: Tide, please, I'm tryin' to set things right!! You were right, Corono is ruining the Hippogriff race! They just don't know how to address that because, well, they can be over-reactionary! We could be ruined forever, and you're the only one left I know who can fix this!
Tidecaller: Again, that's not my problem! You brought them here, so it proves you're nothing but a greedy monstrous hippogriff, and you don't deserve to be one of us! (Novo was shocked at those words as they were far too familiar) Now get out of my kingdom before I get out my pearl! (Novo sobbed and swam away)...... AND AS FOR YOU, RAINBOW! THIS is why outsiders are forbidden here!
Rainbow Reef: But they needed help!!
Tidecaller: It's not our business to deal with their problems. My loyalties are for my subjects, and no one else's! It's better to stick to your own race than rely on others. Never try, never fail, and never end up like my chicken ex-girlfriend or the Princess of Friendship who was betrayed and left behind by her.
Rainbow Reef: How could you be so dishonest and mistrusting to everyone, including yourself?!
Tidecaller: Oh, should I have been more open and trusting like, oh, I don't know, my ex-girlfriend who trusted a Storm Clan pawn, or being more trusting to disastrous idiots like those uncourteous Lodgers or gutless cowards like Novo?
Rainbow Reef: Hey, they were nice! You just took it too far!!
Tidecaller: Screw them, Rainbow! And screw the world! And screw me for giving it another chance which I WILL NEVER DO AGAIN!!!
Tidewater: Geez, dad, you can't speak that way to your friend's son!
Tidecaller: Well, IT'S NOT LIKE HE CAN RISE BACK FROM THE DEAD TO SCOLD ME FOR IT, NOW CAN HE?! The Tythoon King, did too good of a job on him so that he can never come back!?
Rainbow Reef: So just because life screwed you over, you're going to keep us here forever without giving life a chance?!
Tidecaller: Life sucks, Rainbow. Get used to it.
Rainbow Reef: "Don't you ever stop to think that it wouldn't really hurt as much as you think it would to give life another chance?! Haven't you tried asking for help?!"
Tidecaller: "..... I tried to ask for help, son, but nobody wanted anything to do with us since they were too weak, JUST LIKE NOVO!! They couldn't stand up for themselves or avoid giving into the harsh world's temptations. They were too selfish and uncaring."
Tidewater: "Well aren't we the Blacktip calling the Great White a killer? You're not exactly being any better then Queen Novo or the other broken leaders yourself! Why can't you just admit that you feel awful about what you did to the Hippogriffs and admit that what happen IS your fault?"
Tidecaller: "HAVE YOU COME DOWN WITH CABIN FEVER, YOUNG LADY?! If I did that, no seapony would ever trust me again! To admit that would mean that what happened to my friend is my fault, even when Typhoon King was the killer!"
Tidepool: ".... No offence dad, but, you are kinda the reason why all these bad things happen. Hippogriffs under Corono's rule could've stopped those bullies from doing what they did before they could even start. The bad things, only happened, because, well, you interfeared with something you shouldn't've, or at the least, you should've talked with Abyisswish about it."
Tidecaller: "WHAT DID I SAY ABOUT SPEAKING HER NAME?!"
Rainbow Reef: "Oh, don't tell me, you still feel awful about causing her death as well?"
Tidecaller stared angerly at Rainbow Reef......
Tidecaller: "...... I am going to get a spongebath to cool me down. (Leaves)....."
Tidepool: ".... Sis?..... I liked daddy better when he was nice and happy."
Corono Fails To Stop Weather King By A Margin/Novo Almost Declares War
Snowy Hippogriff Lands
Storm King: OW!... That, was painful. Not really surprising from the bitch that murdered mother!
Queen Corono: Don't flatter me. Where's the Weather King?
Storm King: HAH! You're stupid if you think you can negotiate with a guy whose mother you slaughtered!
Queen Corono: Tsk tsk tsk, wrong answer- (Shroud charged into her, but Queen Corono back-punched him, knocking him out).... Anyway, wrong answer?!
Storm King: "AW, COME ON?! Weather, your henchmen sucks?!"
Queen Corono: "NOW WHERE'S THE WEATHER KING?!"
Storm King: "OKAY, OKAY, OKAY?! HE'S IN THE ZEPPLEON?! HAPPY?! NOW PLEASE DON'T HURT ME?!"
Queen Corono: "..... Yet further proof that you are nothing but a weakling, a cowerd, a spoiled brat, a bully. You cower away the minute a real challnage shows up. You're seriously suppose to be the new clan leader that replaced Hurricane King?"
Storm King: "...... DON'T, F*****G, INSULT, MY, FAMILY?!"
The Storm King and Corono began fighting for an extended period of time as her army cheered her on!
Shroud got up and readied an Obsidian Orb, as the heroes arrived!
Novo: "SISTER?!"
Shroud tossed the orb and hits her, causing her to become coal!
Novo: "NO!"
The Hippogriffs are now caught into a state of hopelessness?!
Storm King saw this!
Storm King: "AHAHAHAHAHAHAHA?! FINALLY?! NOW WITH THIS STUPID C**T OUT OF THE WAY, THE HIPPOGRIFFS WILL GO BACK TO BEING THE GOOD OL' WIMPS I REMEMBER, AND- Wait, why are you still relitively NOT COAL?!"
Corono kept confident, even dispite her predicament.
Corono: "...... Let me enlighten you on WHY I want Hippogriffs to be aggresive again. Our aggresion can be connected to our magic. We have a certain magical ability. Skystar is an empath, Silverstream can read magic, Nephostratus can persuade out of spells and resist them, Stratus can increase his magic and physiology via combat, Ocheasha can hypnotize through physical contact, Terramar can enhance memories, Novo can enlighten her mind for a limited time, and me? My aggression is my perfection. It can give me, and potentially us, the will to resist even your stupid orbs! Our magic can allow our will to be so great, we can free ourselves from such silly curses!! My magic superpower, is being augmented through aggression, and block out pain! HERE'S A DEMONSTRATION!! (Roars as she breaks free from the orb's magic and turns back to normal!)!"
Storm King: "WHAT?! NO?! THAT'S, THAT'S NOT FAIR?!"
Shroud:... (He clearly knew that the Storm Clanners were complete fools as he desided that revenge isn't worth it anymore as he flew away)
Storm King: ALSO, WHERE DID THIS "RESISTENCE TO MAGICAL ORB DEUS-EX MACHINA" BULLS*** COME FROM, YOU CHEAP BIRDBRAINED BITCH- (Gets smacked painfully as he yelp wimpfully as he finally lost his nerve)
Corono: "How did you think I was able to kill your whore mother, Storm?! She tried to entrap me with the same nonsense, and I used my aggression powered magic and willpower to break free and kill her at my leisure while she cowered at my mercy?! This is why Hippogriffs shouldn't be passive!! OUR AGGRESSION, PROTECTS US!! OUR HERITAGE OF EQUESTRIAN MAGIC, MAKES US A FORCE TO BE RECKONED WITH! AM I RIGHT?!?"
The Hippogriffs cheered!
Storm King started to cower!
Queen Corono:... That's more like it. Now, since I'm more interested in your cousin, I'll let you off with YOUR ONLY WARNING! Now, BEGONE FROM OUR LANDS AND NEVER DARKEN THEM AGAIN!!!
Queen Corono roared loudly into Storm King's face as he looked scared as a sheep baa was heard!
Storm King screamed like a bitch as he ran away so fast, he was able to run on water!
Icky:... Hey, admittedly, that's badass.
Rainbow Dash: Why is it always that easy for us?
Rarity: Would you rather it be HARD for us?
Rainbow Dash: Not necessarily, but-
Rarity: Oh, will you PLEASE spare us the MSM-esque attitude, and at least be glad that the problem's being resolved as smoothly as it gets?!
Lord Shen: "..... No offence, Novo, but I'm starting to think that maybe your father REALLY WAS A BIASED IDIOT!!"
Novo: "OH DON'T ENCOURAGE HER?!"
(Weather King): (From the zeppelin) OKAY, THAT'S IT, I'M F*****G GONESO?! (The Zeppleon retreated)
Corono: "DON'T LET HIM ESCAPE!!"
The Hippogriffs flew after the Zeppleon?!
The Zeppleon entered through a magic portal before the Hippogriffs can catch it!
Queen Corono: "...... DAMN IT?! I ALMOST HAD HIM?!"
Icky: "But hey, at least we defeated him and Storm King. It's VERY unlikely those two would team-up ever again and/or mess with Hippogriffs again after this, so, a win for us."
Queen Corono: "It's not as satisfying to just scare away your enemies as suppose to ending their miserable existence! I only spared Storm King because he was an insignifigent joke?! Not worthy of killing?! But Weather King, given his continious crimes against Hippogriffs, deserves to die?!"
Novo: Corono, killing is NOT the answer!
Corono: Not to you, maybe, but for the True Hippogriffs, it's a forgone concludion. Also, you're supposed to be banished!
Novo: I had this in the bag with the seaponies' help until you ruined it, AGAIN!! You banish me and commit high treason, AND NOW HERE YOU ARE DOING IT AGAIN?!!
Corono: Well now you know how Princess Twilight felt when you betrayed them. Hurts, don't it?
Novo:... What is your problem? Does making me look bad make you feel proud about your pitifully jealous existence?
Corono: Tch, that is SO like you to assume low of me! Admit it! I have proven that the aggressive way gets things done! And I'm sure our race agrees with me. Am I right? (The Hippogriffs cheered)
Novo:... YOU, SANCTIMONIOUS SELF-RIGHTEOUS STAIN OF PIGEON S***, YOU STOLE MY LIFE!!!!
Corono: Oh, really? Who do you think had more stolen from them when you made dad pessimistic and therefore pacifist? I knew that you weren't the rightful leader since the beginning, and you cheated your way to the throne because dad was too agreeable. You act like a predator, but you're prey! You use your enlightenment technique to get what you want. It's how you survive. I survive because I have mad skill, the Lodgers survive by annoying the s*** out of their problems and being hacks, "for the sake of plot", as it were, the ponies survive because they're the Alicorn Gods' successors devoid of outside hardships, and YOU survive because you thought 'Oh, why won't anyhippogriff listen to me? If only I had the manipulative intelligence to get what I want. Oh, cool, I got it, now they'll have to listen to me'. (The hippogriffs slowly agreed)
Novo: DON'T LISTEN TO HER, SHE'S PLAYING YOU!!!
Corono: On the contrary, No-Go! I haven't lied since this whole mess started.
Icky: "Okay, look! You're right about how badass being badass is, but I think you may be taking some things askew! Novo isn't malmitulative here!"
Corono: Am I? Novo shut herself off underwater for weeks until they shut off the only race she KNEW could help. Novo wanted what was best for herself, she doesn't care for the Hippogriff race! Not the right way, anyway. That enlightenment technique makes her wise enough to get what she wants. Why do you think the rest of her people agreed and bowed to her, dispite knowing who she was? She used wisdom to manipulate them, but that wisdom is nothing more than artificial. True wisdom never allows people like her to be leading anything. She doesn't want others to tell her how to lead because it meant going against her preferred methods, and caused the risk of questioning authority, which leads to defiance, which leads to REBELLION!! Novo likely banished Twilight to get you six off her scent.
Novo: Corono, stop!!
Corono: But I don't want to.
Novo: CORONO, I MEAN IT-
Corono: SILENCE! Everyhippogriff, who would you rather trust? A leader who leads and fights for peace, or one who forces it by hiding and stunning off those who are just trying to help? (They cheer for her)
Novo: I CAN'T BELIEVE YOU!!!
Corono: (Venomously) It would be wise to do as the people ask! (Novo was shocked)... Leave! You are no longer useful.
Icky: "(Quietly) Just walk away, just walk away, Novo."
Novo:... You'll pay for this!
Icky: "(Face-palm) AW, CRAP?!"
The Other Lougers and the Main 7 stared in concern!
Skystar: MOM?!
Corono: That's not going to happen. Nobody will listen to you. Not anymore. Not the hippogriffs or the seaponies. No magic or enlightenment will ever fix that. If you violate your banishment again, you'll be tried as an invader.
Novo: OH, I'LL HAVE THE SEAPONIES AND HIPPOGRIFFS GO TO CIVIL WAR IF I MUST!! (Everybody gasps)
Corono: (Laughs amused) You?! Civil War?! Against Hippogriffs that embraced aggression, with Sea Ponies?! (Laughs uncontrollably) Oh my God, Novo, how desperate are you? War? ALL YOU'LL DO IS LEAD THEM TO SLAUGHTER?! How's about you quit while you're still worthy of not being given the Tartarus express?!
Novo: I MEAN IT, YOU WRETCHED C**T!!! I WILL MAKE YOU PAY FOR EVERYTHING!!! I WILL DO FAR WORSE THAN YOU EVER WILL!!!! I WILL MURDER YOU FOR WHAT YOU DID TO ME!!!
Corono: Then do it. Right here. Go ahead.
Novo: (Hesitated)... I SWEAR TO MARICOLOUS, I WILL-
Corono: And THERE it is. That right there. That is why I DESPISE you! You know what everyhippogriff here have in common? They may have their moments of weakness, but they're still fighting with me, not just for their lives, but for everything they ever known. Even the CHICKS are doing their best. (A chick was seen with a Storm Creature's hand as the said original owner was screaming in pain!)
Devon: Oh, that, that is something not even Robot Chicken would mess around with.
Novo: THEY DON'T KNOW ANYTHING!!! YOU'RE GETTING THEM TO KILL THEMSELVES, AND I'M TRYING TO SAVE THEM FROM FLYING HEAD-FIRST INTO SUICIDE LIKE A BUNCH OF DUMB PIGEONS!!!
Skystar: (The hippogriffs were very offended) MOM!!!!
Corono: Well they're still standing. This threat is nothing.
Novo: THAT'S NOT THE POINT!!!
Corono: Well SCREW whatever point you were gunning for!
Novo: WHY CAN'T ANY OF YOU SIMPLY TAKE WHAT I SAY SERIOUSLY?!
Corono: BECAUSE THAT'S WHAT YOU WANT! And you are NOT going to get it! Traitors like you don't deserve to be taken seriously. They're doing this, because they all want to be saved. They're all the true definition of hippogriff. But none of them, NOT, A, SINGLE, ONE, shares that one trait with you that made you oh so vile that it drives me to wretch. You, Novo, ARE A COWARD!!
Novo: NO! I'M JUST A PACIFIST!!
Corono: In other words, a coward patting herself on the back. (Some of the hippogriffs and heroes oohed at that) All you do is dodge danger with excuses and cowardice. That is why you banished Twilight. When she gave you the perfect opportunity to get rid of them before they question why you were so insistent on avoiding the Storm King, you took it without thinking about the consequences. You were afraid of being found out. And that's why nohippogriff will believe you no more. All you're doing is trying to scare us with threats that are nothing but empty. Well it will never work. You're not getting the throne back, and that's the end of it.
Novo: I WILL DESTROY HIPPOGRIFFINSTONE AND MOUNT ARIS IF IT MEANS YOU ARE STOPPED!!!! (Everyone gasped) YOU'RE BARBARIC AND THINK CRUELTY HAS NO CONSEQUENCES!!! WHEN YOU'RE RIGHTFULLY PUNISHED, I'LL REBUILD IT FROM SCRATCH AND-
Corono: EVERYTHING, YOU SAY TO ME, IS PISSING ME OFF!!! You had your chance, Novo, and in the end, it didn't even matter. You will NEVER matter for as long as you live. This is your last warning, if you set foot on my territory, you will be dubbed an invader and executed! Guards, get them out of here! (The heroes were chased underwater)
Underwater
Ocheasha:... What were you thinking?! What was with all those heartless threats?!
Icky: "Even if it wasn't a scare tactic that your sister is too smart for, not only is that a bad idea, but it would only serve to have Corono rise up on top because of how much more aggressive hippogriffs following her ways are! You'll only end up getting people massacred?!"
Novo: (Shrugs) I was trying to get those birdbrains to realize they were being absurd! They didn't see the hidden power of the Storm Clan and by blindly following Corono, they're GOING to get massacred!! They are just too stubborn to take me seriously!!
Shifu: "Look, it's not that we don't understand that the Storm Clan are no laughing matter, it's just..... We have pretty much defeated the Storm Clan with each appearing member. Even their original king. Any seriousness the storm clan had, is likely long gone, and any stragler will only be defeated in some way or another."
Icky: "Also, that Iago-voiced Yuts looks like he could be the final Storm Clan member. With him gone, Stormy is pretty much on his own! So, yeah, that "hidden power" crap, may as well you be trying to say that you're still the wise one here as a defence mechinisum to not admit that your sister was right and that it WAS possable to stand up to the Storm Clan! Heck, she might've torn down the Storm Clan WAAAAY faster then we did in pretty much the entirty of late Season 4!"
Skystar: Besides, even if that hidden power thing was true, you were making an empty threat! Nohippogriff would believe you could pull any of that off. Heck, Aunt Corono actselly LAUGHED at you about you actselly declareing war! That's how confident she is! She KNOWS you don't have the nerve to do it! I mean, you basicly let the Storm King scare you into hiding when he's nothing but a bully that hides behind magic and cheating! That's how sure Corono is that you're no threat!
Sparx: "And say that you DO desided to have the vagina to go through with this war, you'll only get sea ponies CREAMED by the Hippogriffs that embraced Corono's ways! Corono will use THAT against you as well, and will make it that NOBODY WILL EVER TAKE YOU SERIOUSLY AGAIN?!"
Horizon: Was she right? Is that enlightenment technique just so you can get others to do what you ask? Well apparently so, because it would explain why you didn't want to help Twilight. You were just trying to cover up your cowardice and used the near-theft as an excuse.
Novo: Don't you dare overanalyze that! I got the enlightenment technique to try and be more helpful and less socially awkward. And what Corono was doing was suicide! She did so much to hurt me. She turned me against both races to stay in power. If it came to war, then I had to risk it.
Rainbow Dash: ARE YOU INSANE?! WAR BETWEEN TWO ALLIES?!? I think it's pretty clear that you want revenge on Corono. Also, like Icky said, Sea Ponies fighting against Hippogriffs that returned to their old ways? THAT BE LIKE BAMBI VS. GODZILLA?! AND THE HIPPOGRIFFS ARE GODZILLA?! YOU'LL ONLY END UP GETTING THE SEA PONIES GUTTED LIKE FISH?!
Novo: I am trying to save them from making a mistake!! The Storm Clan isn't as pathetic as the Storm King made it out to be.
Icky: "HOWEVER...... Thanks to us, THERE'S BARELY NO STORM CLAN LEFT, NOW IS THERE?! It's all down to Stormy and his dorky cousin now?! Not much a clan, now is it?!"
Novo: MY POINT, BEING, they can't just charge in like a herd of angry rhinos and expect to save the day in the end. CORONO'S MAKING THEM OVERCONFIDENT!! I AM TRYING, TO SAVE THEM, FROM CHARGING INTO AN UNSTOPPABLE THREAT IN THE FUTURE, OR LOOKING LIKE HEARTLESS MONSTERS WHO THINK THEY CAN GET AWAY WITH ANYTHING!!! WHY IS THAT SO HARD FOR ANY OF THEM DUMB PIGEONS TO UNDERSTAND?!
Icky: "Because Corono's a successful leader! And to be fair, if there was a guy that can scare Chernibog back into his mountain with little effert, and he said that Darkspawn aren't to be feared, no one would take Darkspawn seriously ever again neither!"
Trixie: "Let's also remember that she KILLED THE STORM KING'S MOMZY! Once it turns out that you can kill your worst fear, it is no longer so frightening!"
Sandy: "She also WILLED herself out of from being entrapped in coal?! That's kinda more then enough reason to show that she was right on how Hippogriffs should stop being yellow-bellies! And you saw how cowerdly Storm King and Weather King reacted! They turned spineless the minute their usual ways don't work! That seems to prove that running from them, wasn't the solution at all!"
Novo:..... Hmmph. I can see why you agree with them, given you ain't so unfamiliar with treating the world like a fairy tale and judging villains as complete losers.
Lord Shen: Now see here, that is not called for! First off, we DO take everything seriously! It's just that, Corono turned out to be right, and the Storm Clan really are nothing but cowerdly mauraders that hide behind cheap tactics, magic power, and people being cowerds to them because of the first two things! Remove all three of those things, and the Storm Clan aren't actual threats! Secondly, you're one to accuse US of being the unrealistic ones when you mistook the Storm King and the Storm Clan to be an unstoppable threat when we had effertlessly, EFFERTLESSLY, many times, proved otherwise!
Novo: IT'S NOT ABOUT THE STORM CLAN!!! IT'S ABOUT A WORSE THREAT OR A GRUDGE-HOLDING KINGDOM POSING A DANGER TO THOSE THEY CROSS!!!
Lord Shen: Does that matter if your sister seems capable of dealing with them?
Novo: YES!!!! THERE'S LIKELY STRONG THREATS OUT THERE!!! I'm seriously starting to reconsider letting you morons in my kingdom. If you can't see the gravity of the situation, then you really DON'T deserve to be with us.
Rainbow Dash:... OH, NO WONDER YOU'RE THE BLACK SHEEP OF THE FAMILY!!! YOU REALLY ARE A COWARD AND AN INSECURE JERK!!! I can see why you're a single mother and why you were hiding and treating outsiders as bad. YOU CLEARLY DON'T DESERVE THAT CROWN OR ABYSSWISH'S SYMPATHY!!!
Novo: (The camera eased onto her dramatically)... What did you say?
Rainbow Dash: "Whoops."
Twilight: Oh, now you've done it!
Novo: How DARE you take my name and life in vain?!? YOU... YOU... EERRGH, THAT'S IT!!! (Takes the Pearl of Transformation)
Airglow: YOUR HIGHNESS, WHAT'RE YOU DOING?!?
Novo: I will not let this aggravation go unpunished! If you're not with me, you're my enemy! (She uses the Pearl to take away the Equestrians' seapony forms)
Fluttershy: NOO, PLEASE!!!
Ocheasha: YOUR HIGHNESS, SHE DIDN'T MEAN IT!!
Skystar: MOM, DON'T!!!
Novo: THIS IS A FAMILY MATTER, AND BARRING SKYSTAR, YOU ALL ARE NOT FAMILY!!! I WAS HOPING YOU'D SEE EVERYTHING MY WAY, BUT YOU CONTINUE TO REMAIN STUBBORN AND JUDGMENTAL!! YOU'RE JUST LIKE CORONO, YOU'RE JUST LIKE EVERYBODY ELSE!!! STUBBORN AND JUST LIKE THE FOOLS WHO TRIED TO STEAL THE PEARL!!! AFTER EVERYTHING I DID FOR YOU, YOU REPAY ME BY SIDING AGAINST ME!!! YOU'RE ALL, THE BIGGEST MISTAKE I'VE EVER MADE!! (The forms were taken and replaced with bubble helmets) SO, YOU ALL ARE NO LONGER WELCOME TO SEAQUESTRIA!! I'M DECLARING WAR WITH CORONO!! I FORBID YOUR INTERFERENCE!! GO!! YOU'RE NO LONGER ANY USE FOR ME!!
SpongeBob: Novo, please, you're smarter than this!!
Gazelle: "The problem isn't intelligence, Spongebob...... It's immaturity."
Twilight: This is the Pearl all over again. After all WE did for YOU, you continue to reward us POORLY!!
Novo: (Sighs) I'm sorry to do this to you all, but it's for the greater good that I do this. I can't let the hippogriffs kill themselves and let anything else be a liability. Not even you. Go. We have some work to do! (She swam away as Skystar was shocked and shedding tears, as well as Fluttershy as her tears flooded her bubble helmet as she gurgle-cried)
Sandy: (Sighs) What has gotten into these two siblings?
Gazelle: "A classic case of a sibling rivalry. Each sibling always wants to prove that they are better then the other, even often going to ugly extremes."
Icky: "And this extreme's so ugly, it won't be allowed to enter an ugly contest because of a "No Professionals" rule. (They left)"
Novo: Hmmph! We never needed them anyway. They were always against me. Now maybe we can- (She turns to see a sad and distraught Skystar)...
Skystar:... Mom... How could you?
Novo: Honey, It's nothing personal, I'm trying to-
Skystar: Nonononono, it is, because I'm starting to see it all. It's all over your face. It IS revenge. You hate your sister for doing what she did this entire adventure, so you want this war so you can have her punished. You always try to scare others with empty threats and expect them to believe you because you're scared. You use false intimidation to survive, and if it doesn't work, you just use that enlightenment spell on them. You do nothing but try and make excuses and try anything no matter how wrong it is and expect everything to work out for you. You're more scared of the world than any other hippogriff out there.
Novo: SCARED?! AFTER ALL I DID, YOU'RE CALLING ME SCARED?! YOU WATCH WHO YOU'RE TALKING TO, YOUNG LADY!
Skystar: I KNOW true fear! True fear is 6 innocent ponies looking for help, shivering in fear and desperate to save everything they ever loved that once their only hope says no, they turn to drastic measures and are given nothing for what they inspired because of a scared, selfish, insensitive and uncaring ruler who only cares for her people, but not nessersarly in the right way! THAT'S true fear. It's also inside of you. You choose to cheat out of your cowardice with your powers, and yet you don't see the irony in all this. You're now in Twilight's hooves. You're the one who's pleading for help in a cruel world. You're indeed prey acting like a predator.
Novo: I DO SEE THE IRONY!!! THERE'S NOT ONE DAMN DAY WHERE I FELT HORRIBLE FOR CAUSING AN INTERNATIONAL INCIDENT!! CORONO'S DOING THIS FOR HERSELF. SHE JUST WANTS THE POWER SHE WAS DENIED FOR A GOOD REASON.
Skystar: AND YET LOOK HOW GOOD SHE'S DOING!! She's looking much more competent than you.
Novo: THAT IS NOT THE POINT HERE!!
Skystar: Yes it is!
Novo: UGH, ET TU, SKY?! WHY DOESN'T ANYONE GET IT?! SHE'S A MONSTER!!! A violent barbarian who kills for honor and protection even at the most unnecessary of times, and is insane enough to do things people shouldn't, like slaughtering innocent families or members of her own kin.
Skystar: "Corono never harmed any of us to that extent."
Novo: Well, I am mainly reciting what Tidecaller said as an example! (Skystar realized the source of why Novo is this pathetic) Anyway, as he once told me! No matter what the consequence, no matter how much it threatened us and our kind, she never learned! She wasn't cut out for the throne because she'd be a violent, harsh, barbarian queen that could've turned us into something we aren't, and lead to a self-destructive path. I did the right thing convincing father of the risks of her lead. What I did-
Skystar: Wasn't personal?
Novo: IT WAS MERCY!!
Skystar: Are you sure? Or did stepdad tell you that as well? I mean, which is it, Mom? Are you merciful, or are you a coward? Did you banish Twilight because of the safety of our people, or because you were afraid she'd question your leadership?
Novo: It's not that simple. You have no idea what I've been through and the choices I had to make. This world doesn't care about spirit, mercy, or friendship. It's just a mess that I couldn't let Corono provoke. If she was ruling, we would've been dead before the Storm King even showed up. Violence is not strength. Corono' actions AREN'T strength. It's barbarism. There's a clear difference. She's not as strong as she claims! Not by a long shot!
Skystar: OH, REALLY!!? WELL THE STORM KING'S FREAKING MOTHER WOULD HAVE TO DISAGREE WITH YOU, AND THE FACT THAT THE VERY SAME STORM KING WAS SCARED AWAY, TWICE, AND EVEN A STORM CLAN MEMBER WHO SPEICALISES IN HURTING OUR KIND, IS MADE TO RETREAT CONSTINTLY?! I mean, say Aunt Corono really is full of sea s*** like you say, DON'T YOU THINK IT'S WEIRD THAT EVERYTHING SHE SAID SO FAR TURNED OUT TO BE RIGHT, THAT SHE DRAGGED IN THE CORPSE OF THE STORM KING'S OTHERWISE POWERFUL MOTHER'S CORPSE LIKE A FRESH KILL, AND HOW STUPIDLY EASY IT WAS TO FIGHT BACK SAID STORM KING AND THAT COUSIN OF HIS?! SHE EVEN DID THAT EPIC BACKWORDS PUNCH TO THAT SHROUD GUY LIKE IT WAS NOTHING?! Otherwise, YOU'D THINK SHE'D ACTSELLY BE DEAD AT THIS POINT IF SHE WAS JUST MAKING IT UP AS SHE WAS GOING ALONG?!
Novo: "..... Okay, I admit that, with that knowledge in mind, it does sound stupid to say that Corono isn't brave and strong. Well what I meant to say, that even with that fancy ability to will yourself out of the Storm Clan's tricks because of embracing aggression, that doesn't make her invincible. Harder to beat then normally, yes, but everyone, including you, make it sound like being barbaric murderers and aggressive jerks have no consequences."
Skystar: Well, it's not like running away from problems really helped the world any better. All it does is just keep ourselves from being targets while the Storm Clan still had an entire world to ruin. It's not that I don't agree that Corono isn't a god among Hippogriffs, but I don't disagree that she was right about everything either! Espeically how she was right about you!
Novo:... How are you not getting this? I am trying to save my kingdom AND my people!! I've stared reality in the face over and over again and learned from it. I know strength. Strength is making sacrifices for the better of your life and peers. STRENGTH IS BEING EMPOWERED IN THE RIGHT WAY!!! CORONO HASN'T DONE ANY OF THAT!!!
Skystar: "You don't exactly know that! Maybe she DID made sacrivices that you just didn't get to see?! Maybe she is empowered, but in her own way! Also, you took a look at reality and hid away in an underwater echo-chamber.... At least Aunt Corono was willing stare at reality and even took quick jabs at it to show dominance. That's pretty strong on her part."
Novo: I KNOW STRENGTH MORE THAN SHE DOES BECAUSE I'M SMART ENOUGH TO KNOW THAT VIOLENCE IS NOT MORALLY ACCEPTABLE!! I'M STRONG ENOUGH TO KNOW WHAT SHE'S DOING IS OVERKILL!!
Skystar: Says the queen who made her entire people retreat to the ocean because three people, TRIED TO STEAL THE POWER AND ONLY MANAGED TO HARM ABYSSWISH BECAUSE IT COULD JUST BE A LUCKY SHOT AND THAT IT COULD'VE BEEN MEANT TO SCARE US!!
Novo: WHY ARE YOU JUST AS STUBBORN AS EVERYONE ELSE?! YOU SHOULD KNOW ME!!! I KNOW THIS WORLD LONG ENOUGH TO KNOW STRENGTH!!! AND EVEN IF CORONO IS DOING BETTER, SHE IS USING FORCE AND VIOLENCE TO SURVIVE AND EXPECTS EVERYONE IN THE WORLD TO LISTEN TO HER FALSE DEFINITION OF STRENGTH!!!
Skystar: OH SHUT UP!! You're not kidding anyone, Mom! You don't know the first thing about strength!! You turn your back on people for your own sake, you hide when things get too hard, you make weak excuses instead of facing problems head-on, and you put other races in harm's way instead of your own. You may be enlightened in your own simulated bull shark s*** way... But that doesn't make you strong.
Novo:... WHAT KIND OF DAUGHTER ARE YOU LECTURING ME ABOUT HOW I SHOULD RUN MY KINGDOM?! I HAVE SEEN TOO MUCH CRUELTY TO LET THIS HAPPEN TO BOTH HIPPOGRIFFS AND SEAPONIES ALIKE!! It's all on me. I'm the rightful leader, and if Corono ain't gonna listen and agree with me for just five damn minutes, then I'm the one who must fix this.
Skystar: YOU'RE ALSO THE ONE WHO DOESN'T TRUST ANYONE WHO TRIES TO HELP YOU AND PREFERS TO HIDE FROM HER PROBLEMS INSTEAD OF FACING THEM LIKE A REAL HIPPOGRIFF!!! NOT EVEN YOUR OWN FLESH AND BLOOD!!! (Novo was shocked)..... Aunt Corono was right about two things: Maybe I am a disobedent daughter, and that you're a shameless cowerd. Maybe Grandpa should've allowed Corono to rule instead! Maybe Stepdad shouldn't've stuck his nose where it didn't belong! The Storm King would've been a non-issue, maybe not even a problem, had Corono been in charge! The Storm Clan could've been wiped out!"
Novo: ".... Skystar, I am not pretending that Corono doesn't have the ability to make good on the threat. I'm worried about the oppisite problem in that she CAN make them with the ability! What good is having the Storm Clan wiped from existence if our people are viewed no differently from them?!"
Skystar: "WELL PUBLIC OPINION DIDN'T IMPROVED FOR THE BETTER BY BEING COWERDS?! And guess what? The Storm Clan are pretty much toast anyway, because they were bravely stood up?! BY SOMEONE ELSE?! A bunch of misfits, proved that the hype about the Storm Clan being unstoppable congurors, WAS A GROSS, EXAGGERATION?! They're tough, sure, but they were not unstoppable! And if misfited aliens had no problem stopping the Storm Clan in the time they took to end their reign with each member, then think how quickly Corono could've gotten rid of them?!"
Novo: "...... Admitingly, yes..... The Storm Clan would've been redused to shamples in a matter of one week. I, I am only trying to say that-"
Skystar: "SAVE IT, WILL YOU!! (Growls), This is SO, INFURIATING!!! I HATE IT WHEN YOU BOTH ACT LIKE THIS, AND THIS IS WHY!!! When Aunt Corono keeps proving you wrong and embarrassing you, you choose to take everything that builds up in you onto everyone you know. YOU NEED TO THINK LIKE HER FOR ONCE!!! IT MAY SEEM CRUEL TO MAIM SOMEONE FOR STEALING AND IT MAY MAKE AUNT CORONO LOOK 'MASOCHISTIC' FOR EXPECTING A SWIPE TO THE FACE AS A SIGN OF ASSERTION, BUT FOR MARICOLOUS' SAKE, YOU NEED TO SHOW AUNT CORONO THAT IN HER LANGUAGE!!! YOU BOTH ARE TOO DESTRUCTIVELY DYSFUNCTIONAL, AND JUST TOO ARROGANT TO LISTEN TO EACH OTHER!!! I AM SO SICK OF THIS!!!! YOU JUST LET YOUR CONFLICT HURT OTHERS JUST LIKE YOU HURT PEOPLE BEFORE!!! YOU BOTH ARE ONLY DOING MORE HARM TO THE WORLD THAN THE STORM CLAN COULD EVER DO IN IT'S HALCYON DAYS!!! THE TRUE THREAT IS THE BOTH OF YOU!!! It doesn't matter if hippogriffs are passive, aggressive, or both. The only thing that matters is that your clashing differences will bring greater trouble. Seriously, Abysswish, expected BETTER from you! (Leaves angrily)......."
Novo was defeated........
A sectratary came up.
Sectratary: "Ma'am, the forces are all set, but I can't garrentie that they would survive against Corono's vastly larger numbers, and/or, other factors they have an advantage over our forces..... You sure you want to go through with this?"
Novo: "...... I'm cancelling the war."
Sectratary: "OH THANK THE ALICORNS, I THOUGHT MY BONES WERE GONNA BE MADE INTO HOUSING MATERIALS, I-.... (Ahem), Apologies, your majusty. I'll be sure to inform the soldiers that they won't see combat. Though, as much as for the better it is, why the sudden change of mind, I mean, apart from because Corono would pretty much slaughter us to bits?"
Novo began to cry....
Novo: "(Sobs), Because, all it did, was push away everyone I cared for. (Cries greatly)!?"
The Secratary: "..... I see you clearly want to be alone, so, I'll get right to telling the generals that the war's cancelled. (Leaves)."
(Later...) Seaquestria
Novo: (She sobbed in her bed as Swellsea and Ripple watched)......
Swellsea: Your highness, if it makes you feel any better, not all seaponies hate you. You are still the Queen of Seaquestria.
Novo: Okay, Swellsea, you don't have to try cheering me up! I don't blame you seaponies or anyone else for turning on me. I blame Corono, FOR USING HARSH TRUTHS TO ALMOST RUIN ME!!! I don't care if the Storm Clan is too weak to be a legitimate threat. I don't care if she's right. All the logical points, don't change the fact that she's forcing this on both our races. She's just using that information to get what she wants. As far as I can tell, the kettle's callin' the pot black after it did so first. We're both fightin' for how to lead our races and trying to get revenge on one another. She's just being way too stubborn after being proven right.
Swellsea: "To be fair, actselly standing up to the Storm Clan, lead to them being in complete and utter shambles. They were relying on people being helpless to stand up to them and cheap tricks to stay in power. It's like a house of cards. The minute some impourent pieces go missing, it just falls apart."
Novo: Well I ain't lettin' harsh truths allow Corono to win. She wants me to stop being a coward? Fine! I'll replace her as the one in charge on the fight against Weather King.
Ripple: WHAT?!
Swellsea: You serious? You sure you'll be able to pull that off?
Novo: Never been more serious in my life! I'm tired of letting my cowardice torment me. I'm tired of just running and never doing anything proactive and letting that be an excuse to push me around. I'm going to put that bitch of a sister in her place and I'm going to tell them hippogriffs that she's only using harsh truths to manipulate them to not giving me a chance to grow because she's got the same damn problem, only the opposite. I'm ready for whatever that jerk has to throw at me. I'll free Nephostratus, tell him everything because they'll certainly listen to him more, have Corono taken off the mission, and have Weather King stopped once and for all.
Swellsea: Your highness, that sounds a little too much for you to handle. Are you sure you're not bluffing this-
Novo: (She destroys a piece of support brutally)... Does THAT answer your question?... You two get me an expert in depetrification. It's time I stop hiding.
Novo swam off!
Ripple: ".... I, do not forsee this going well."
Novo Takes Over The Fight (A Bit)/Dethroning of Corono Failed
(Freeing Nephostraus, Coming soon...)
Novo: (She had the expert free Nephostratus as he recovered)... Your highness!
Nephostratus: Novo! What happened? Where's the Storm King and Weather King?
Novo: Storm King's been dealt with, but Weather King isn't. He's stealin' hippogriff magic and Corono's usurped me, turned many hippogriffs and seaponies AND my family and friends against me, and... And the worst part?... She was right. I was being a coward and I haggled myself to self-destruction....
Nephostratus:... I'm sorry, Novo.
Novo: Oh, I ain't done yet. I'm doing what I should've done in the first place. I'm redeeming myself by replacing Corono in the fight against the Weather King. They won't listen to me anymore, so that's where you come in.
Nephostratus: Are you sure? Your talking about someone that has zero respect to the new ways. She even had the gaul to call me a cowerd like I was nothing! This is clearly someone who doesn't fear even a serious reptribution.
Novo: Well it's better then doing nothing! And certainly better then trying to declare.... Besides the point, your highness! I realized that neither of us are right or any better than each other. She's trying to impose her views just like I was. Hell, she banished your daughter and her friends. (Nephostratus was surprised at that) If that don't say she's as thoughtless as I was, I dunno what will. I have to set things right. So... Will you help me save our race?
Nephostractus: ".... I can't promise she'll take me seriously, but, with what you said about what she did to my daughter in mind, then for that I say-
Corono's Throneroom
Nephostratus was tossed across the throneroom and crashed about across the floor, looking servely beaten up and all of his feathers torned off!
Nephostratus: "...... Pluck me right in the feathers, (Wheezes in pain)....."
Corono was looking very feral and rabid at what was said to her.
Corono: "......YOU HAVE SOME DAMN NERVE SAYING THAT TO ME?!"
Nephostratus got up phathicly, admiting defeat.
Nephostratus: "(Wheezes), I'm sorry, I'm sorry. I'll take it back. It, it was never anything (Wheezes) Peronsal, (Breaths in), I was only doing what Novo asked me to do-"
Corono: "NOVO?! NOVO PUT YOU UP TO THIS?!"
Nephostratus: "..... That, felt like the worse ever thing to say right now- (Corono punches Nephostratus so hard, he was K.O. unconscious)....."
Corono: "..... FROM NOW ON, YOU, ARE NO LONGER KING OF ALL HIPPOGRIFFS, YOU PATHETIC COWARD!! I HAVE NOW, COMPLETELY, TOOK OVER, AS QUEEN OF THE HIPPOGRIFFIN LANDS!! (Looks angerly at the surprised Novo)..... AND, YOU!! YOU, ARE BANISHED, FROM BOTH LANDS, AND REMOVED FROM YOUR TITLE AS QUEEN, INDIFFENTLY!! YOU, ARE NOT, A TRUE, HIPPOGRIFF, FOR YOUR CONSPIRACIES?! I KNEW TIDECALLER WAS A BAD INFLUENCE ON YOU?! GET OUT OF MY SIGHT?! NOW?!"
Novo, finally defeated, flew away as tears drenched her face.
Corono looked away from the retreating Novo, still very furious and having some tears of her own.
Corono: ".... (Recovers and looks at her guards) GET THE BIG LUNKHEAD OUT OF HERE?! WHEN HE WAKES UP, TELL HIM HIS EXILED TOO?!"
Guard Leader: "..... Y-y-y-y-y-y-yes, Queen Corono."
The Guards did as they are told.
Novo: (She stops)... You know what? No!
Corono:... Oh now what?!
Novo: I didn't come here just to be humiliated and shamed AGAIN! I came here to say... You were right!
Corono: I'VE HEARD ENOUGH, NOVO?! GET OUT OF MY SIG-... Wait, what?
Novo: You were right! I was a fool! I thought hiding from my problems was the key to keeping my people safe.... But I never took into account until Twilight came what that was doing to my people and myself. Maybe because I got my aggression from the wrong person, but I wish to make it right, because I must tell you... Neither one of us are truly right.
Corono:... Is that sea water getting to you?
Novo: All of you hippogriff subjects, before you scoff me off, just think. Your usurper leader is a pot callin' the kettle black. She claims to have stopped me from forcing my issues on you, but what has she been doing this entire time besides force her issues on you?
Corono: (Laughs) Are you kidding? I did what was best for everyhippogriff!
Novo: But at what cost? Need I remind you that some hippogriffs still support me? They just didn't say so because they found you scary. Who wants to be ruled by someone who does so by nothing but fear and violence? You probably haven't given even a single hippogriff a break. Not even the ones who had their magic stolen. You think all I am is cowardice? Well I got you because you're nothing but ruthlessness and violence.
Hippogriff #1:...  Aw quit bullshiting us, Novo!
Novo: "..... Wow, seriously?"
Corono: HA! But seriously, are you sure the sea water is not not driving you crazy?
Novo: Let's put it to your subjects. You turned the monarchy into a democracy by having them decide who's the better leader, so let's play again. Everyhippogriff? Who would you rather lead you against the Weather King better? Corono who's nothing but force and fear...... Or me, a hippogriff who is finally standing up for herself and is willing to make a final sacrifice and redeem herself?...
Hippogriffs: "CORONO?!"
Novo: ".... I, Uh..... ARE YOU SERIOUS?! WHAT IS WRONG WITH YOU?!? Did you NOT paid attention to what I said?!"
Hippogriff 2: "Hey, maybe Corono IS abit of a hardass, but, AT LEAST SHE'S A HARDASS THAT GETS S*** DONE?! I MEAN, SHE MADE THE STORM KING, RUN LIKE A COWERD ON WATER?! And made the Weather King retreated!?"
Hippogriff 3: "She ended up being right about how easy it was to fight back against the Storm Clan! All you did was lead us to be cowerds?!"
Hippogriff 4: "She even willed herself out from an Obsidian Orb?! Can YOU will yourself out of an obsidian orb?"
Novo: "Uh, I, well..... No."
Hippogriff 5: "THEN F*** YOU?!"
Novo: "Oh come on, she's being aggressive on you all?!"
Hippogriff 6: "So what she's being rough? If it means we're not being anyone's bitch anymore, then I say, let her do what she wants?!"
The Hippogriffs: "YEAH?!"
Novo was dishearten how quickly her subjects deserted her.
Hippogriff 7: "IN FACT, I RATHER TAKE MY CHANCES WITH A ROUGH RULER THAT AT LEAST TEACHES US TO STAND UP FOR OURSELVES THEN TO GO BACK TO YOUR WEAK ASS EVERY DAY OF THE WEEK?!"
The Hippogriffs: "YEAH?!"
Hippogriff 8: "AGGRESSIVE HIPPOGRIFFS ALL THE WAY?!"
The Hippogriffs: "YEAH?!"
Dumb Hippogriff: "I LIKE PIE?!"
The Hippogriffs: "YEAH- huh?"
Hippogriff 9: "AHEM! (English Accent) And that's another thing! You say you want to "Redeem" yourself, and yet here you are doing the exact same thing that ruined our civilisation to begin with! You came here bringing the now FORMER king of the Hippogriffin Lands to try and dethrowne your sister, then you have the gull to stick around and try to rally us against her because you have Sudo-Empathy? I mean, really. Were you not the one who was lead into temptation by Tidecaller to prevent Corono's succession to begin with through using said Sudo-Empathy to malmitulate your weak-willed father to let you succeed instead?"
Novo: "I, I...... Yes....."
Hippogriff 9: "So HOW do we know you mean what you said that you want to "Redeem" yourself and that it's not another such attempt?! Feels quite shady if you ask me!"
Hippogriff 10: "YEAH?! IF ANYTHING, IT'S ANOTHER TRICK TO LET YOU BACK INTO POWER?! WELL F*** THAT S***, IT AIN'T WORKING?!"
Corono: He's right. All you're doing is proving you just want to steal the throne back. It's not happening. End of story.
The Hipoogriffs started to boo at at Novo as they threw rocks and Seashells at Novo, Corono standing victorious.
Corono: ".... Well, you got the subjects honest opinion on this. Satisfived?"
Novo, said nothing, and flew off crying, truely defeated!
Hippogriff 11: "AND GOOD RIDDENCE?!"
The Hippogriffs resumed phrasing Corono.
???: NO!! (Everyone paused to see Sea Poppy and her friends, Ocean Flow, Sea Beak, Seaspray, Tang, and Terramar)
Corono:... What do you mean no?!
Terramar: Aunt Novo was right about one thing... She still has supporters.
Corono: I ORDER YOU TO TAKE THAT BACK!!!
Terramar: Oh look at you, thinking you can herd us like Sea-Sheep because how loud and angry you sound. You can't expect us to be truly loyal by forcing us to lie about our opinion. We support her enough to know why she feels this way. The reason she brought Nephostratus is to have a chance of being heard. She truly wishes to redeem herself. She's just having a hard time trying because you're pressuring and punishing her too much. She doesn't know what to do because of you making it hard for her.
Ocean Flow: I agree with my son. Corono, I once looked up to you. And, by no means do I want to stop doing so, but since you took over, you've been too hard on everyhippogriff. She may have failed, but she said you were right. If she said that, would she really have been doing that for revenge?
Corono: She was just saying that to play us. She manipulated father to turn against me. Who would blindly trust that?
Terramar: I sensed no lies when she said it. She was clearly trying to redeem herself. How come that isn't good enough for you?
Corono: You say that, WHEN SHE TRICKED FATHER TO GIVE THE TITLE OF QUEEN TO HER AND NOT ME?! SHE BETRAYED MY TRUST AS A SISTER FOR DOING THAT?!
Ocean Flow: ".... I see. Your wounded about what she did in the past. Corono, by all means, I agree that what she did was VERY unfair! And I shame Tidecaller for having her do that! But please, don't be ruled by your wounded heart and give Novo a chance."
Corono:.... I tried that. But even with Tidecaller no longer with her, SHE'S NOT ANY BETTER?! SHE BETRAYED EQUESTRIA AND HER OWN RACE WITH THE SIN OF COWARDICE?!! SHE BROUGHT SHAME TO THE THRONE!!!! SHE BROUGHT SHAME TO ABYISSWISH?!
Seaspray: And you just made a similar mistake by not giving her a chance. She tried to apologize and acknowledged her mistakes and you refuse to give her a chance of redemption? That's no more responsible than what she did. If you don't trust her, why should we trust you?
Corono growls angerly that scared Seaspray out of his willingness to stand up to her!
Seaspray: ".... Errrummmmm....... Then again, Novo DID tried to have you dethrowned, so, boo on her? (Nerviously laughs!)"
Sea Beak: "Really, Seaspray?"
Seaspray: "(Quietly) Have you even seen what she did to Nephostractus?!"
Ocean Flow: ".... Ahem! What Seaspray MEANT to say, is that, Novo wanted a chance to reconsile, to make amends..... And you just, refused her."
Corono: "..... A rightful king or queen does not forgive their usurper. Doing so would risk giving them another chance to do so. And any say about how she wants to kiss and make up, IS RUINED BY THE FACT, SHE TRIED TO ASK NEPHOSTRACTUS TO DETHROWNE ME?!"
Sea Beak: "And by all intents and purposes, yes, we, agree that was, abit stupid. She should've remembered that you took his athority as seriously as a great white does to a lone Flying Baracuda trying to attack it. We understand that you were upset by the attempt-"
Corono: "THAT, IS NOT WHAT'S ENTIRELY UPSETTING ME?! NEPHOSTRACTUS IS BUT JUST ONE EXPECTED THING IN WHEN AN AGRESSIVE HIPPOGRIFF TRIES TO RULE IN AN AGE OF PASSIFICATION?! I CAME TO EXPECT CRAP LIKE THAT AND I WOULD BE PREPARED TO FIGHT IT?! IT'S THE FACT THAT NOVO'S FIRST LINE OF TRYING TO REASON WITH ME IS THE SAME AS HOW SHE GOT DAD TO TURN AGAINST ME?! IN THAT SHE WOULD RATHER LET SOMEONE OF HIGHER STATURE, FIGHT HER BATTLES INSTEAD OF BEING A TRUE HIPPOGRIFF AND FIGHT HER OWN BATTLES?!"
Terramer: "..... Oh, I get it?! IT'S BECAUSE TO YOU, ASKING FOR NEPHOSTRACTUS' HELP WAS AN ACT OF A COWERD?!"
Ocean Flow: ".... So, it goes back to how you don't like that Novo doesn't rage out like you then? Are you saying that the only way Novo can earn your respect and love again is if she starts drinking the blood of her enemies from a skull?! Or sitting on a thrown of bones like you?! Or to be simplestic.... To just, fight you or something?! Would you be satisfived THEN?!"
Corono: "More or less. Then at least Novo would've finally embraced TRUE Hippogriff Nature!?"
Ocean Flow: "...... Then I'm sorry, Cory.... You ask too much for Novo....."
Corono: "..... Then I can't promise that I'll ever forgive her if being a real Hippogriff's too steep a price. Now, I want you all to take back what you said about backing her...."
Seapsray finally got his nerve back apawn understanding Corono abit more....
Seaspray: "With due respect, Corono..... I'm afraid you'll find that you'll have to arrest us, because, again, expecting us to be truly loyal by threatening us into lying about it is irresponsible and costly...."
Corono: "...... Then at least I'll get to make sure that all of you, are not in my way. Guards?! Arrest the naysayers?!"
The Guards arrested the only Novo supporters left.
Sea Poppy:.... I can't believe you people! All of you, think! You're saying that no matter how monstrous it makes you, no matter how much it threatens our future as a race, you're really going to listen to a stubborn vindictive brat like her?
All Hippogriffs: YES!
Sea Poppy: WHY?!?
Hippogriff #12: BECAUSE WE DON'T WANT TO BE PUSHED AROUND ANYMORE, YOU DUMB CHILD!!!
Jelly Bee: IS THAT REALLY WORTH BEING VIOLENT AND HEARTLESS BARBARIANS?!?
Hippogriff #13: If it means we stop being made to look like cowards, then yes.
Seaspray:... Now I see how Novo feels! I can't believe how stubborn and selfish you all are! You should be better than that! You're all FOOLS to not give Novo the chance she deserves.
Hippogriff 14: "WELL INSULTING US AIN'T GONNA CHANGE OUR MINDS, NOW WOULD IT?!"
Sea Beak: "(Quietly and sternly) I kinda have to AGREE with THAT!"
Sea Poppy: SAYS THE ONES WHO CALLED ME A DUMB CHILD!!!
Hippogriff #15: Yeah, idiot, not helping our argument!
Corono: Enough. This conversation has no relevance anymore. Take them away.
The remaining supporters are dragged off as the Hippogriffs resume cheering and phrasing her.
All this was watched by a surprisingly concerned Narce......
Narce: "..... Oh no..... Poppy!"
Hippogriff Prison.
The remaining Novo supporters were tossed in!
Seaspray: "YOU IDIOTS SERIOSULY HAVE THE NERVE TO TURN ON YOUR COMMANDING OFFICER LIKE THAT?!"
Guard 1: "Ya lost the position for questioning Corono the great, PEE-SPRAY?!"
The Guards began to laugh as the closed the cell and left!
Seaspray: "AND ANOTHER THING, YOU THROWN CHILDREN IN HERE, YOU MORONS?! (The Guards ignored them and left)..... WELL YOU CAN FORGET ABOUT THAT HEARTH'S WARMING BONUS?!"
???: "Hey don't bother with them!"
A Female Hippogriff in Narce's colors are seen.
Female Hippogriff: "Once ya in here, ya may as well be part of the decor around here."
Sea Beak: "..... Oh, right. Facre Spark. Your, Nacre's mother, right?"
Facre: "Oh, gee, ya think? I figured you would've remembered arresting the poor wife of the man who got beaten to near death by Loan Sharks I was trying to pay off, ASSHOLE?!"
Sea Beak: "Look, Miss Spark, I'm sorry, I, I was only protecting something that was dear to our people! I, I didn't know your husband was in trouble with Loan Sharks!"
Facre: "WELL NOW YA DO, ASSWIPE?!"
Seaspray: "Madam, I understand your not exactly thrilled to see us right now, but please, your tirade comes at a bad time?!"
Facre: "Ya mean about Corono taking over the Hippogriff Lands with her aggression and arresting you dumb s***s for not standing by her because she's still butthurt that Novo double-crossed her to get into power?"
Ocean Flow: "How did you here that?"
Facre: "I heard her f*****g screams and rants! I wasn't exactly 1000 f*****g miles away, ya know!"
Terramar: You know there's children present.
Facre: I'M ANGRY!? DO I LOOK LIKE I GIVE A SHIT AT THE MOMENT?!
Sea Beak: "Look, Missus Spark, please understand, I couldn't let something that belonged to Abysswish be taken by the mobster "Phonesy Balonesy", it would've desistated us..... And I wouldn't get to be a Hippogriff again if we lost that pearl!"
Facre: "Oh, so leaving my husband CRIPPLED FOR LIFE, is worth having feathers and a beak again, huh?!"
Sea Beak: "Miss Facre, please, what made you sure a guy named "Phonesy Balonesy" would've lived up to his own word?"
Facre: "He knows how to get money to him! I even seen it! That was going to be enough to save Tacre from the loan sharks! BUT THEN YOU HAD TO RUIN IT?! He earnestly wanted to help me?!"
Sea Beak: "Say he did, and then what? You could've allowed a mobster to take over the world with that pearl, have you considered THAT?!"
Facre: "....... I.... I..."
Seaspray: "He could've used the pearl to turn all the rulers of the lands into useless animals so he can be king of all of them! Was THAT worth saving your husband from those loan sharks!?"
Facre: "Uh, yes, duh, no, duh, TRICK QUESTION?!"
Ocean Flow: "..... This being said, Facre, what's in the past, is the past. It's time we move on. If you agree to help us with this, I'll put a in good word for you. I'll get you out of jail, and I know some good ponies and people that can help your husband. You just need to help us."
Facre: "..... D'oh, it, sounds good, but even then, we're locked up here, and there's no way we can-"
Guard's voice: "Right this way, young Nacre."
A Guard let's Narce in as the door closes, leaving Narce alone....
Sea Poppy: "...... Oh no. Not Narce. Not now!"
It was seen that Nacre was carrying some cake as we reached the cells of his mother and the defecters.
Sea Poppy: "Here it comes...."
Nacre: "..... Pops..... Everyone...... I'm here to help."
Sea Poppy: "UGH?! THAT IS SO TYPICAL OF HIM- (Boing was heard as she made a surprised face!)..... Huh?"
Nacre: "Aw come on, don't make me repeat it. I'm embarrised of it as it is."
Jelly: "Nacre..... Your helping us? Why?"
Nacre: "Aw come on already, I know I've been rough with you guys, but I'm not BACKWATER bad! I heard that guy's so venomous in personallity, he actselly HAS venom!"
Bubble: "Nacre, we, we don't understand. We thought you hated us."
Nacre: "Hey, I never said I HATED you guys. It was just fun to mess with ya, that's all."
Flash Feather: "Ya know, some part of me can't help to make me feel that's not just it. Admit it! You have to be doing this beyond not being able to mess with us again!"
Nacre: (Groaned in frustration) BECAUSE I LIKE-LIKE SEA POPPY, OKAY, ASSHOLES?!
Silence......
Sea Poppy: "...... You...... Like-like me?"
Nacre realised he admited his feelings in frustraightion.....
Nacre: "Uh..... Is, it too late to say I only shouted that to get your attention?"
Sun Twist: ".... Buddy..... That ship, has LONG set sail....."
Nacre: "....... AWWWW, BULLSHARK SHIT?!"
Facre: "DAMN IT, NACRE?! WHAT HAVE I BEEN SAYING TO YOU ABOUT LANGUISE?!"
Ocean Flow: "Said the mother kept cussing in front of children."
Facre realised the irony.
Facre: "... S, s-sorry."
Nacre: ".... Okay, you got me..... Pops, ugh..... Sea Poppy..... I, like you like you. Your eyes, are as beautiful as a baby whale's. Your smile, makes me warmer then a summer beach. Your laughter, gives me some purpose in life when I was left to take care of my crippled dad with mother in jail. Your voice, can make a mermaid jealious. You sing better then the most enchanting Siren. Your so cute, dolphins won't allow you in because of a no professionals rule! Your the sweetest thing since Honey and Suger combined! Poppy, I, I, I, I, I WANNA MAKE YOU MY SPEICAL SOMEPONY!?..... For lack of our own Hippogriff word for it, I mean."
Sea Poppy: "....... I...... I don't, know what to say..... I mean, I know I'm not toddler levels of young, but, you are at least 2 years older than me, I, I feel awkword about this. I mean, what happened to that stuff about you being a bully?"
Nacre: "AWWW WHAT DO YOU WANT FROM ME, WOMAN?! I HAVE A CRIPPLED DAD AND A JAILED MOM AND EVERYONE, (Starts crying) TREATS ME LIKE AN OUTCAST BECAUSE MY MOM WAS JUST TRYING TO SAVE THE FAMILY, HOW WAS I SUPPOSE TO ACT AFTER THAT?! MY DAD WAS LUCKY HE'S NOT BREATHING THROUGH A TUBE, AND, AND, AND, (CRIES)?!"
Facre realised the full sevreity of her actions......
Sea Poppy: "Nacre, Nacre, NACRE?! (Nacre stopped crying as he was full of tears and snot)...... Thank you....."
Nacre gave the stupidest smile, face still covered in tears and snot.
Sea Poppy: "..... Uh, can, someone give him a tissue?"
Ocean Flow did so, as Nacre used it.
Nacre: "Ahem..... Okay, so are ya gonna take the cake or what?"
Seaspray: "..... And, why do we need cake?"
Nacre: "(Quietly) Because there's a nail-file, in the cake."
Seaspray: "A nail-file-...... How did you get passed security with that cake?!"
Nacre: "Ya mean the guys that let me see my mother without restrictions all the time because they don't wanna look like heartless jerks to someone who's only seeing their mother?"
Seaspray: "...... (Quietly) Oh they can MOST CERTAINLY forget about their Hearth's Warming Bonus! In fact, this has demotion written all over it?!"
Nacre: "AHEM! Look, I ain't exactly doing this for free ya know! I'll only give ya the cake, if you get my mother out!"
Ocean Flow: "Actselly, we were asking if she can help us if we agree to put a good word for her."
Facre: ".... And thanks to my son's cake baking skills he learned due to my absince.... Yes. But only on the grounds that I kinda hate Corono's yelling! I mean, I'm not against that "Might is right" stuff myself, I just hate the yelling! At least Novo's quieter!"
Sea Beak: "(Sarcasticly) Nice to see your priorities are straight, Miss Spark."
Facre: "Hey, at least I'm honest."
Nacre gives Poppy the cake, who digs out the file.
Sea Poppy: "..... Wait, what are the bars made off?"
Seaspray: "Well, because this place hasn't been upgraded in ages..... Bamboo."
Sea Poppy: "...... (Deadpan)..... Bamboo?..... Stuff we can just break without the nail-file?"
Seaspray: "Oh make no mistake, this is unitge bamboo to our lands. Light-Iron Bamboo. The toughest bamboo in our lands."
Sea Poppy uses the file to effertlessly break the bars....
Sea Poppy: "...... (Deadpan) But not enough to survive a stinkin' nail-file?"
Seaspray: "..... Sea Beak, note to ourselves..... Get, money, for, renovations."
Sea Beak: "Yes sir."
(Later...)
Novo: (She was crying on her bed as Nacre and the others came)...
Ocean Flow: Sis?
Novo:... Ocean?
Ocean Flow: Yeah, it's us.... We're sorry for what Corono did.
Novo:... That's quite a cruel joke, don't you think? You just wanna shun me like all the blind gullible pigeons out there!!
Seaspray: She means every word, Novo. We agree that Corono is being too vindictive on you and-
Novo: "WELL SAVE IT?! If I can't trust my own subjects to trust a word I say, then HOW DO I KNOW YOU ALL ACTSELLY WANT TO STAND BY ME?!"
Seaspray: ".... It seems this is not as easy as we hoped."
Ocean Flow: ".... Sister, are you, seriously that hurt about the Hippogriffs leaving you?"
Novo: ".... I.... I had hoped, that at least even a minority of them would be easily imtimidated by that behavior of hers, but instead, they still asided with her!"
Facre: "To be fair, it's not like the loudmouth was lying about how being tough works. She kinda proven herself right multiable times how truely phathic the Storm Clan are. Like, they shouldn't've been issues at all, kind of phathic."
Novo: ".... OH WHAT IS THAT MISERABLE SELLOUT DOING OUT HERE?!"
Facre: "(Sarcasticly) Hi to you, Novo."
Seaspray: "Calm down your highness. Like it or not, we're, pretty much that minority you craved for."
Novo: "..... Just leave me alone. (Curls up)... All I did was made my standing with the Hippogriffs worse. I never should've gotten Nephostractus involved."
Facre: "Yeah it was kinda stupid of you to expect Corono to respect the word of someone she CLEARLY had no fucking respect for."
Ocean Flow cleared her throat, getting Facre to ease up.
Seaspray: ".... Well, blunt as that statement was, mi'lady, it is true. You have to remember that usurping, er well, not allowing Corono her chance to rule was what made her upset with you to begin with. Why, did you think Corono would have any better light with you basicly doing the same thing with Nephostractus? In doing that, you made yourself look like she was right about you being the bad egg in the story."
Novo: "I NEVER MEANT TO?! I, I, I FIGURED THAT CORONO WOULD'VE HAD THE ABILITY TO RESPECT AT LEAST SOME SHRED OF ATHORITY?! I DIDN'T COUNTED ON NEPHOSTRACTUS GETTING HIS TAIL FEATHERS HANDED TO HIM?! I, I FIGURED HE WOULD'VE DEFENDED HIMSELF?!"
Seaspray: "Well, kinda the consiquence of Hippogriffs living in pasification, now is it? It's like what Corono said earlier, had we still been agressive, alchourse Nephostractus would've been more capable to not let himself be so, easily humiliated. But because we live in a more overtly pasifived era, alchourse even a king would be smacked around like that! The royal Hippogriff Lands bloodline forgoten the art of battle. If anything, it's a wonder why he or a prior desendent didn't lose the title AGES ago!"
Novo: "WELL HOW ELSE WAS I SUPPOSE TO GET EHR ATTENTION NOW?!"
Sea Beak: "Well..... You probuly would've had her attention alittle better, if you spoke her languise."
Novo: "..... You mean act like a savage like her?!"
Seaspray: "She said so herself. She would only acknowledge you better if you fight your own battles and not hide behind those of higher athority. The problem is solely the fact she was usurped entirely. It's because you hide behind those like your father and Nephostractus.... She doesn't like being dealt with the "Cowerd's" way, if you will."
Novo: ".... Then I'm never gonna get her attention, BECAUSE IF ANY OF YOU BARNICLE HEADS HAVEN'T NOTICED, I'M NOT EXACTLY A FIGHTER?! I, I DIDN'T EVEN KEPT TRUE TO MY THREAT OF WAR?! I CAN'T FIGHT CORONO FACE TO FACE?!"
Seaspray: "Then your only shot now is to pretty much defeat the Weather King before her, and prove to her that the Storm Clan can be stopped without her methods. Now, realisticly it won't nessersarly get Hippogriffs to favor you again. In fact, some harsher ones would call you a glory thief. But, it would ease Corono's opinion about you being nothing BUT cowerdice."
Novo: "Why bother? Corono still won't accept me eitherway. (Turns away from the group) Besides, why sympathise with the cowerd? All you all are doing is putting yourselves on Corono's badside. Even my own daughter wants nothing to do with me after I-"
Seaspray: "Banished the Lougers and the Main 7 for not backing your war craze?"
Novo: ".... That."
Ocean Flow: "Well, I don't blame the Main 7 and the Misfits for that lack of willingness to support you. All that war could've done is get Sea Ponies killed and ruined a long existing friendship."
Novo: "It's not just that?! They also made my bad tidings with Tidecaller worse by calling him out!"
Facre: "Hey, in all fairness, this crap's his fault to begin with. I mean, Tidebutt was why your relation with your loudmouth sister is as bad as it is! That's kinda why she's being a bitch to you! Because you helped that sneak cheat Hippogriff politics and ruin everything!"
Novo: "(Gets angrier) HE DIDN'T KNOW ABOUT THE STORM CLAN BEFORE IT'S TOO LATE?!"
Seaspray: "Be that as it may, what your mother and father were originally gonna choice, wasn't his business! If he was so afraid of Corono's ambitions, he should've Abysswish discuss things with your parents instead! It could've been arranged that you and Corono would've shared the rulership instead of it just being you, that way, we could've seen the rise of a more modernised verson of the aggression traditions, yet still be approuchable! Has it ever occured to you about that Tidecaller was too absolute and figured a you only rule would've benefited him? And then there's the fact he denounced you the minute things went south seas? Novo, I know you loved him, but, when you think about it.... He truely was a bad enfluence on you. I mean, remember how you reacted to Sparkle's desperate mistake and how he reacted to the misfits calling him out? Those events have alot in commen, don't they?"
Novo: "I, I don't wanna be reminded. I-"
Ocean Flow: "Please, think about them, Novo. That's what Corono wants. You won't feel better unless you try."
Novo closed her eyes.
Ocean Flow: "Think back about how much those two events have in commen." (Novo begins to see the two events through each eye magically and sees the same emotional aura from them, seeing the angry auras from her past self and Tidecaller and the hurt and betrayed aura of her other past self and Twilight)...
Sky Beak:... I think it's working. She's developing her family's empathic abilities.
Novo: (Starts sobbing)...
Ocean Flow: Let it flow.
Novo:...... (She felt the emotion of all 4 in the scenarios and became angry and sad at the same time as she saw Twilight's fight post-banishment and felt Twilight's sadness, and felt Tidecaller's pain)...... (She continues crying and began destroying things)
Jelly Bee: WHOA!!!
Seaspray: She's doing it!
Novo: (Continued releasing her pain via destruction and it ended with a final hysterical cry)......
Seaspray:...... Novo?
Novo:... Sea? Get Ripple ready! I'm leading a movement. I'm showing Corono WHO I REALLY AM!!!
Seaspray:... Yes, mam!
Novo: "Sea Beak, I want you to go and find the Lougers and the Main 7 and I want them back here, I... Have alot to explaining, and apologiesing to make."
Sea Beak: "I'll see what I can do. And, Skystar as well? I, heard about your bad tidings with her as well."
Novo: ".... Her especailly, she's likely with the Lougers and Twilight's friends."
(A song for later down the road).
The Weather King's Final Stand/Novo Sacrifices Her Enlightenment Spell
Weather King Mountain
Weather King: WHAT DO YOU MEAN YOU LEFT HIM TO RUN ACROSS THE WATER LIKE A P***Y?!? (Shroud communicated magically via body language) YOU DO KNOW THAT HE'S THE MOST IMPORTANT STORM CLAN MEMBER!!! YOU WANT REVENGE ON THAT NOVO CHICK, PUN INTENDED, YOU NEED TO KEEP US TOGETHER!? What do you have to say for yourself?!
Shroud: "..... I QUIT?!"
The Weather King stared shock as Shroud turned his back on him and left.
The Weather King: "HEY DON'T LEAVE ME!? I STILL KINDA NEED YOU FOR THIS?! (Shroud was too far away now)...... CRAAAAAAAAAAAP?! (His Messinger arrived) YA BETTER GAVE ME SOME GOOD NEWS NOW, BECAUSE MY BEST GUY QUITED ON ME?!"
The Messinger was about to speak until the film scracthed to a screeching halt.
Deadpool: Well that guy was a pointless addition. He hardly did any good work and he never got a chance to look awesome. Way to waste his potential, Scroopfan! Booooo!!
Scroopfan: "OH COME ON, THE EPISODE IS ABOUT OVER AND HIS CONTINUED PRESENCE WOULD BE REDUNDENT?!"
Deadpool: "..... Fair point, BUT AT LEAST KEEP HIM AROUND ALITTLE LONGER UNTIL HE GETS A PROPER RESOLUTION THEN HIM JUST "QUITING"!?"
Scroopfan: "HEY, IT'S MORE ORIGINAL THEN ANOTHER TYPICAL STORM CLAN BETRAYAL?! YOU WOULD'VE COMPLAINED ABOUT THAT JUST AS WELL!?"
Deadpool: "Also a fair point....."
Scroopfan: "Besides, I already have a resolution planned for him at the very end, okay? I won't say much because of spoilers but trust me, it's worth it in the end."
(Novo Fights Weather King and Sacrifices Her Enlightenment Spell)
Novo:... I'm here to stop you and return all the magic you stole from us.
Weather King: (Cackles) You?! The cowardly racist ex-ruler?
Novo: Yes. Because she's no longer a cowardly racist ex-ruler.... She means business now. Now stand down or face the consequences.
Weather King: You seriously think you can defeat me after how strong I've become? I have more power than hippogriffs and ponies combined! Why don't you chicken away like you always do? You've got no nerve to- (Novo clawed him in the face scarring him to his surprise)...... (Gets scared) But, but, YOUR SUPPOSE TO BE THE COWERDLY ONE?!
Novo:... At least be glad I have more restraint then my sister! (They fought in a similar manner to this)
Novo: You think all that stolen power makes you unstoppable? All you do with power like that is abuse.
Weather King: Oh that's rich, coming from you, Miss Usurper?!
Novo: At least my power was used for lesser personal reasons than yours.... That's why I'm setting things right! (They continue fighting as the song from the scene played and Weather King tried to briefly steal her magic with his swordstaff until Novo had used the environment to her advantage)... Had enough?
Weather King: SHUT UP, YOU ANNOYING LITTLE BIRD!!!! AT LEAST I STOLE SOME OF YOUR MAGIC!!!
Novo: Actually, it wasn't really stealing if I allowed you to have it.
Weather King:... What?
Novo: I gave up an ability I no longer wanted after how much it ruined me. I replaced my enlightenment spell for a much better ability.
Weather King: What?!
Novo: How 'bout you get your yeti ass over here and find out? (She approaches him)
The Weather King started to cowerdly back away, even more then he normally does.
The Weather King: "WHAT GIVES?! I KNOW I'M ABIT UN-NERVED ABOUT HOW BRAVE YA ARE, BUT I SHOULD STILL AT LEAST HAVE THE NERVE TO FIGHT YA?!"
Novo: "As I expected, you gaining my empathy has a side effect. Because I was a cowerd with it, it ending up taking some that with it and now, you know what it was like to be as afraid as I was."
The Weather King began to suffer the effects as now he began to regret what he did to the Hippogriffs!
The Weather King: "GAAAAAAAAH?! THE POOR HIPPOGRIFFS?! WHAT I HAVE DONE?! (Burps out all the Hippogriff Power into the sky as it flies into the air and into nothing!)..... (The Weather King becomes incredably weaker, but is now even more cowerdly)..... YOUR EMPATHY MADE ME GAVE UP MY POWER?!"
Novo: "That would also be years of regret hitting you hard. But your not out of punishment yet, you filthy ape?!"
The Weather King: "No, no please! You basicly freed all the magic of every Hippogriff I managed to take down?! I'M NOTHING NOW?! WHY DO YOU STILL NEED TO BEAT ME UP!? YA TRYING TO PROVE SOMETHING?!"
Novo: Because I ain't done with you yet. There's a lot you should be rid of. I now have the ability of a collector crystal. I can not only give and take magic powers without things like the Pearl, but I can mimic any magic ability. (Weather King was shocked)... Certainly better than using pseudo wisdom to get what I want.... So now I'm taking what else you stole.
Weather King: WHAT'RE YOU TALKING ABOUT?!
Novo: My empathy doesn't lie. I know what you're feeling. You're scared of losing more than what you gave up and lost. You have a lot more than you gave up. I ain't letting you keep it.
The Weather King: "AW GIVE ME A BREAK, LADY, I WAS RAISED IN AN EVIL EVIOMENT AND POCESSED BY A PIECE OF A BANISHED CHOAS ALICORN?! I CAN'T HELP BEING WIRED BAD LIKE THIS?!"
Novo: And you expect me to let you go Scott free with anything you have left? If so, you're as dumb as you look!
The Weather King: "WELL EXCUSE ME FOR TRYING TO BARTER, HERE?!"
(After Battle)
The Weather King looked beaten and battle damaged!
The Heroes stood trithumently.
The Weather King: "..... Tch..... What did I really expected from the same people that beaten my brother? That redused him to cloud? If anything, I'm glad that at least I was beaten by worthy oppendents. (Secretly readied a nimbus orb)...... That being said..... I ain't however, a fan of LOSING?! (Throws the nimbus orb at the group)!"
The Heroes dodged, but not Skystar, who was hit by the Nimbus orb as she yelped!
Novo: "SKYSTAR?!"
Skystar was slowly turning into a nimbus cloud.
Skystar: "(Coughs rain-like blood)..... Mother..... Everyone...... Help me!"
Novo started to cry.....
The Weather King: "....... HA-HA! That's what you get for thinking you can win without sustainable casalties! Now, she will be turned into a Nimbus Cloud, and there's VERY little you people can- (A low creature growl was heard)....... About....... It?"
It appeared to be coming from Novo as fur and feathers risen up like a rabid animal.
The Weather King: "........ Oh, oh, riiiiight, that, that was your daughter, wasn't it? Look, consider it to be, even steven. You took my brother, now I take your kid. We're even now, right?"
Novo turned quickly barring intensely sharp teeth, which put The Weather King in a state of fear!
The Weather King: "Whoa-whoa-whoa! Wait, wait, wait a minute, you, you, you, YOU WERE SUPPOSE TO BE THE WIMPY ONE!? THE COWERD THAT PREFERED TO HIDE INSTEAD OF BEING A PROPER HIPPOGRIFF?! YOU'RE SUPPOSE TO BE A BIG CHICKEN OF THE SEA?!"
Icky: "DUDE, INSULTING HER IS NOT HELPING?!"
Novo: "(GROWLING VOICE) YOU MONSTER?! THAT WAS MY CHILD?! A PIECE OF MY LEGACY?! AND YOU PRACTICLY PLACED HER INTO DEATH?!"
Twilight: "Novo, calm down, we have the magic to reverse thi-"
Novo: "(With a face like a raging Starlight) SILENCE?!"
The Heroes were taken aback by this!
Icky: "..... JESUS CHRIST LADY?!"
The Weather King: "Uh, duh, okay, maybe it's best if I just surrendered willingly and let myself be arrested by the Guardians, I'm beaten?!"
Novo: "NO?! WHAT YOU DID WAS UNREDEEMABLE!? NO ONE HARMS MY BABY AND EXPECTS TO GET AWAY WITH IT?! (Roars like a girffin with a pitch of Rodan in there)!"
The Weather King yelped like a wimp at this and began to run away from a raging Novo!
Lord Shen: "WHAT IN THE DEVIL'S WRONG WITH HER?!"
Tempest: "Because the Princess was harmed by the Weather King, her true primal Hippogriff insticts are tapped! Now it's loose, and if she gets him-"
Icky: "He goes the way of Malfroy if Buck-Beak wasn't held back! Novo's gonna maul the fuck out of him?!"
Shifu: "..... Look, we can all agree that the Weather King is not exactly redeemable as of now, but it is NOT our way to let him fall into death?!"
Tempest: "Agreed?! I'll try to slow her down and trapped the Weather King in a Guardian Gold Statue Prison before she can get to him! Gazelle, see if you can save Skystar!"
Gazelle: "Already on my bucket list?!"
The Weather King screamed!
The Weather King: "WHY DID I HAVE TO WASTE MY LAST NIMBUS ORB?!"
Novo: "(ROARS AGAIN)?! COME BACK HERE AND DIE BY MY CLAWS?!"
The Weather King: "(Like Markiplier) NO THANK YOU?!"
Tempest magicly lassoed Novo, as the Weather King saw his chance to run away!
Gazelle cured Skystar and saved her life, though Skystar was still weaken.
Novo struggled with Tempest, and saw that she was cured, it greatly calmed her down....
Novo: "Skystar!"
The Weather King was about to climb onto an escape vichile!
The Weather King: "YA KNOW WHAT?! FINE?! SCREW AVENGING THE FAMILY, AND SCREW SACANA?! THE STORM CLAN'S OVER?! THE CURTAIN'S CLOSED ON OUR REIGN?! FOR NOW ON, I'M DONE WITH HUNTING HIPPOGRIFFS, FOREVER?! THEIR POWER AIN'T WORTH BEING MAULED!? I AM GOING TO FIND ME A NICE UNCHARTED ISLAND, LIVE IN IT AND MAKE A COCONUT FRIEND NAMED "BOB"?! I JUST DON'T WANNA DIE?!"
Tempest tossed the Gold Guardian Orb at the Weather King, hidding it foot as he started to slowly turn to gold, causing him to fall off from it and scream, plopping down in defeat!
The Weather King was phathicly squieling trying to get the goldification off!
Tempest: ".... It's done, Weather King!"
???: "Not yet! (Corono appears and smacked Tempest away!)!"
Novo: "CORONO?!"
The Weather King paniced and tried to get away from Corono!
The Weather King: "WAIT, WAIT, BEFORE YOU MAUL ME, I'M, I'M ALREADY BEING TURNED TO GOLD BY A GUARDIAN ORB?! I'M ALREADY DONE FOR?!"
Corono: ".... That doesn't make you their victory. (Grabs The Weather King and flew off and hung over a boiling pot of metal in the Weather King's ship)"
The Weather King: "NO?! PLEASE?! WAIT?! STOP?! STOP IT?! I'LL DO ANYTHING YA WANT?! I'LL, I'LL REVEIL THE NAMES OF THE FAMILIES THAT THERE BRED WITH THE STORM CLAN?! YOU CAN HAVE THEM INSTEAD?! JUST PLEASE DON'T HURT ME?! (Was slowly turning into complete gold)...."
Corono: ".... I'll come after them, IN MY OWN TERMS?! Because of their interuption, and that I can't get the statisfaction of mauling you as a golden statue, and based on what you said that the Storm Clan families that married their ilk, I WILL NOW HAVE NO CHOICE BUT TO COMPLETELY WIPE OUT ANY TRACES OF THEIR LEGACY?! I, WILL DECLARE WAR ON PANA, AND WIPE OUT THE PANAIAN SATYR SPIECES, FOREVER?!"
Corono dropped the body of the screaming Weather King, as he screamed in slow motion to his melting metal doom!
SPLAT-TISSSSSSSSSSSSSSSSSSSS?!
The Group looked in shocked, as the Weather King was no more, as the entire pot was turning into gold, then followed all of the air ship, forcing the heroes, Corono, and other inhapitance to escape the goldifying ship, everyone made it to a cliff side as they watch the completely golden ship crashed into a large lake and sink into the bottom.....
Icky: "..... Oh that's gonna take the guardians forever to fish that shit out."
Corono arrived, as her army cheered her name in victory, and lifted her up!
Novo: "NO?! STOP?! CORONO STOLEN OUR VICTORY FROM US?!"
Hippogriff 1: "Tch, please, YOUR the ones that tried to steal HER victory! She only RECLAIMED IT?! SO BOO ON YOU?! (The Hippogriffs booed the heroes and made them retreat from a barrage of shells and rocks!)"
Corono: "Don't waste time booing them! Besides, I learned that getting rid of The Weather King was too small a victory anyway. It's no longer enough to get rid of the Storm Clan! There were fools that DARE mated with them?! The Land of Pana, will and shall, have to be cleansed of the Panaian Saytrs, by our firy rage, AS PANA WILL RUN RED OF THE BLOOD OF THOSE BEASTS?! I, DECLARE WAR, ON PANA?!"
The Hippogriffs mindlessly cheered for Corono!
Corono embrassed her phrase, but looked to see that Novo was stareing at all this, looking defeated, and left.
Corono was still hurt that Novo didn't even tried to apologies to Corono for what has transpired earlier, and now is more upset then ever....
Corono: Oh, no! Nonononono! (She flies in) You CANNOT pull that little sad pouty routine and expect it to work! You still owe me an apology!
Novo:... Apology? I SAID I WAS SORRY ALREADY AND YOU DIDN'T BELIEVE ME!!! IF ANYONE DESERVES AN APOLOGY, IT'S ME!! You STOLE my victory from me!!!
Corono: "(Annoyed and sarcastic) Oh, I'm sorry, where you the one that rallied this grand army against The Weather King?"
Novo: "......"
Corono: "..... Just as I thought..... You were the one that tried to steal my victory, just like how you stolen the heirship of the throne! Though you succeeded in preventing me from having a satisfying maul on that killer, I at least made due with what I can and used his goldifying body to destroy his ship. But, t'was a small victory anyway. I learned that there were satyrs that bred with the storm clan! That means that Pana needs to be cleansed, of Panaian Satyrs! So, I suppose that it means I should thank you for showing me how pointless just destroying the Storm Clan is. I should've focused on a more bigger target."
Novo: "Wait..... Are you saying that you want to wipe out an entire race because of a few families consorted with the Storm Clan, even if it might not nessersarly had been willingly or when it was a different time?!"
Corono: "It isn't meant to be malicious to the Panaian Saytrs. If anything, it's like a mercy kill, like putting down a rabid dog! Since we all know that the Alicorn Lord Choas corrupted the Storm Clan, it has likely infected those that have consorted with the Storm Clan! That means that even if we gotten rid of the major pieces of Lord Choas' ways, it's hard to say if those un-storm clanners are any better off! That corruptive taint could exist somewhere with them, and I.... I would rather not let another Storm Clan rise with them. And because we don't know how serious Lord Choas' enfluence is, I can't afford to just wait and find out. I rather be safe then sorry. So, Pana will have to be cleansed of the Panaian Saytrs!"
Novo: "Corono, please, I-"
Corono: "I MEAN IT, NOVO?! I can't afford to trust that these Storm Clanner-Assusiated Families would never rise up against us?! It may not be easy to cope with destroying an entire spieces, but if it means peace, then I have to do it?!"
Novo was almost tempted to use the collecter power, but, she can't risk souring things with her sister more by using power against her.
Corono: "..... Oddly enough, I half expected this being the part you using this new power against me,"
Novo: "..... Misusing my powers ruined my bond with you to begin with, Corono. It wouldn't be right to do it again, not after everything I learned."
Corono: "..... Tch, it wouldn't help you anyway. I would've willed it back in the moment you use that. (Leaves) You can hold that apology for now if your this stubbern. I have more impourent things to do anyway."
Novo:... No!
Corono: Ugh, NOW what?!
Novo: This is where even I gotta draw the line! What you're planning is wrong!
Corono: Wrong?!
Icky: Yeah, for once, I agree with Novo! Declaring war on a land for a single bunch of menaces is not right. You're essentially treating them like- 
Shenzi: "No real-life references!"
Icky: Ugh, of course! Ahem! Your basicly being like how ponies treated the Changelings because of what Chrysalis did! Did it ever occur to you that maybe those other Panans are just as much victims of the Storm Clan as everyone else, INCLUDING your race? I hear talk that Pana didn't exactly got the best side of the Storm Clan's existence either!
Rainbow Dash: "Heck, the Storm Clan, congured them first?!"
Twilight: I agree. I met their leader King Thyrsus. He's been mentally wrecked by the bad reputation that the Storm Clan left on their own race. Are you seriously blaming THEM for what the Storm Clan did, or their existence in general?
Golden Hour: Yeah! You lady, are racist!
Corono: "THEN EXPLAIN WHAT THE WEATHER KING HAD SAID THAT FAMILIES HAD CONSORTED WITH THEM?!"
Iago: "Now, I do agree that doesn't sound good, but like Novo said, those said families could've been either forced into it or it was back when the Storm Clan used to be the Heaven Clan!"
Corono: ".... And that's another thing?! It wasn't like the other Panans did anything to STOP the Storm Clan?!"
Icky: Uh, what exactly did you expect them to do? Your talking about the biggest conquerors in Equestria. That doesn't exactly sound like amatur hour. I mean, sure, you handled them fine, but that's only because your a freaking badass. The other Pananians, even if they had the same weapons, likely don't have that excuse! Those Storm Clanners are otherwise capable backing that big talk they had! If they weren't, then they wouldn't have conquered a single land before Pana stopped them. They were pretty damn good conquerors and didn't get this far by being pushovers. How do you know they COULD do something about them?
Corono: How do you know they COULDN'T do something about them?
Lord Shen: We're not basing this on a 'could'. It doesn't matter what they could've done about it, it's still wrong!
Corono: No, it DOES matter! Whether or not they could take down the Storm Clan makes them weak. This has to be done.
Novo: CORONO, YOU'RE TALKING ABOUT GENOCIDE!!!!! MURDER!!! THAT'S EXACTLY WHAT I WAS TRYING TO WARN YOU ABOUT FROM THE BEGINNING!!!!
Corono: You don't speak for your race anymore, remember? You had your chance to be a good leader and you failed! The people have already spoken-
Novo: THIS IS A MONARCHY, NOT A DEMOCRACY!!!!! UGH!!! WHAT IS WRONG WITH YOU?! Why are you being so vindictive on me?! I'm trying to redeem myself and you are constantly dissing and mistrusting me! Why is nothing I do good for you?! WHY CAN'T YOU TRUST ME OR LISTEN TO REASON FOR JUST A F*****G MINUTE?!
Corono: Don't be an idiot, Novo, you know why! I came home expecting you to be a good leader. But what did I get? I get told you hid underwater in a seapony colony for WEEKS, refusing to take action, lost a boyfriend because of it, though given that it was Tidecaller, I won't complain TOO much on that, but it's the principal of the fact that Skystar doesn't have a father figure to look to is what bothers me about it, thus making her an obedience-depraved mess, commit unsupportive, uncourteous, irresponsible, selfish, and racist behavior, and leave our ancestral race to die in the claws of the Storm King after an incident that was YOUR FAULT!! That's not being a good leader!
Novo: And declaring genocide IS?!
Kaa: OHHHH, BUR- (Corono grabs Kaa's neck!)..... Shutting up!
Corono: (Let's go of Kaa)... I am not pretending it is the most holiest and wholesome decidtion in the world, but sometimes, doing what needs to be done for the betterment of the world, NEVER IS HOLY, WHOLESOME OR PRETTY TO LOOK AT!? If I don't go through with it, then those Storm Clan assusiative families will become something WORSE?! Neither of us exactly know their true morality, now do we?! For all we know, the Storm Clan were but catalysts to a far more wide-spread problem within the panans, and now they're all under Lord Choas' influence! So do we REALLY, want to risk just leaving them alone?! Besides..... Every time you try to 'redeem' yourself, it's all just to steal the throne back.
Novo: NO, IT WAS TO HAVE US BOTH RULE!!!
Corono: Well, I told you I'm never trusting you again. You're still not getting any kind of power.
Novo: I GAVE UP MY ENLIGHTENMENT ABILITY, GAINED COLLECTOR POWERS, AND BECAME MORE AGGRESSIVE AND/OR ASSERTIVE!!!!! IS THAT NOT PROOF THAT I'M TRYING TO SET THINGS RIGHT?!?
Corono: Tch. That enlightenment spell is forever apart of you. It'll on day free itself from the Weather King's immoblised body and eventually return to you. For as long as The Weather King remains inactive, it WILL, come back to you. On top of that, it WASN'T just about the enlightment powers, Novo?! It was the fact, that my sister, betrayed me?! (Novo made a realisation face, discovering that the only supporters she had were right about Corono's deeper reasoning) You agreed to play along with that Tidecaller basturd's plans to stop me from bringing Hippogriffs to their true nature, and even when he ditched you out of buyer's remorse, you still acted no less different then him?! You can say that you lost all that all you want?! I don't care how far you've gone, you're STILL banished! Because, if I couldn't trust you as a child, what tact is there, in trusting you now?!
Novo:..... I'll discuss that later. Until then, sorry to say, that I can't let you kill any Panans!
SpongeBob: Neither can we.
Wideawake: Yes! This is still wrong! Genocide is wrong! You're not going to spill a single drop of blood! Not this time!
Corono: And who's going to stop me? You? Nobody will listen to you anymore, remember?
Gazelle: "To be fair, that could largely be because you are pretty much an intended ruler and that the Hippogriffs respected you greatly and that you proven yourself pretty accreate about the Storm Clan. It wasn't like you were just making things up as you were going along."
Corono: "THANK YOU! That's what I wanted people to accept!"
Gazelle: ".... Now, by all means, yes, you proven yourself unafraid of all physical threats..... But there is something you are afraid, that bares no physical form..... (Corono started to get annoyed).... You're afraid of failure."
Corono: "Tch, as opposed to anyone who WANTS to fail?"
Shifu: "She means, you're afraid of losing control of your desteny, like what happened in your youth. You're afraid that if you fail to stay consisently mad at Novo, you would risk losing your title and be made helpless to another case of Novo's rule falling apart!"
Novo: "Guys, please tell me this is meant to go somewhere?"
Corono: "YA MEAN OTHER THAN PISSING ME OFF?!"
Po: "Yeah, it is meant to go somewhere beyond upsetting you. Corono, you're hiding behind all that brovado of being an amazing badass, legit as it is, because, as clear as it is that your mad at Novo, you actselly hate yourself more because you hated that you weren't able to stop your own usurption by Novo, because you failed to have Novo by your side!"
Corono: "(Surprised by that)..... ARE WE SUDDENLY FORGETTING ABOUT TIDECALLER AND ABOUT HE WAS THE ONE WHO RUINED EVERYTHING?!"
Fu-Xi: "Oh don't get us wrong, he's still a blasted scrub. We're just saying that you are trying to prove to yourself that you can never be THAT fallible again, by being this kind of persona who's angry at everything! If anything, I bet you only want to kill off the Panan Satyrs, because you're afraid that sparing the race would lead to you making a mistake! Ergo, your afraid, of making a mistake!"
Corono started to growl intensely at made the misfits cautiously back off.....
Corono: "...... I, am, going to pretend, this conversation, NEVER HAPPENED?! (Angerly flies off as the Hippogriffs followed)...."
Novo: "..... So..... That was the problem all along...... It wasn't just not being able to make Hippogriffs aggressive again...... She's afraid of being put in a bad spot again."
Gazelle: "Well, yes. Because she failed to consider Tidecaller a would-be problem, he ended up getting to you, and it lead to you to turn on her. It's why she wants to harm the Panans. It isn't out of true malevolence. She's afraid that showing mercy will just lead to another Storm Clan arising."
Icky: "Well, that depends. Did we ever asked the Guardians how wide-spread Lord Choas' enfluence was beyond the Storm Clan?"
Twilight: I did actually. It was at the same time I met King Thyrsus. They said that the only other remnants of Lord Chaos were just petty criminals. The Storm Clan was just his biggest success. And given the racial tensions we get on a regular basis, we can see why.
Gazelle: Then that settles it. Corono is afraid of failing again. But that doesn't excuse her attempt of genocide. We must stop her!
Novo: But how? All we've done to reason with her has failed!
Link: Pretty sure all YOU'VE done to reason with her has failed!
Meridia: Well you did try to convince her to co-rule with Novo.
Ocheasha: Yeah! That hippogriff is as stubborn as a mule! And so are our people! There's no way they'll listen to us! 
Seaspray: "Well that's because we were trying to speak with an aggression accepting race with passive means. The best way to get their attention is to speak their languise. Novo, I think your best shot to finally get your sister to stop thinking you're weak, is if you fight her."
Novo: "What?! No!? I, I am not strong enough to even fight Corono who is holding back abit, let alone when she's that THIS kind of state of anger!"
Sandy: "Well hate to break it to you Novo, but your sister is obviously the kind of person that only takes people seriously if they ain't afraid to throw a punch! Why did you think she even beaten up Nephostractus like she did? Because she knew that physically he was no threat and the worse he would do is threaten politics! It's clear the kind of diplonacy she would understand, is wild diplonicy!"
Novo: "Well that's just it! I'm too civilised to resort to that! And even then, I'm obviously extremely weak compaired to Corono! Corono embraced this way of life for her entire existence, I only got into it by dumb chance when the Weather King nearly slained my daughter?!"
Sandy: Novy, you have the power to fight better now! Your empathy is stronger now, so you can read the feelings of them stubborn hippogriffs and decide what's better for em!
Skystar: Yeah! Why do you think we're a monarchy? Our empathic abilities allow us to feel how our subjects feel. Clearly Aunt Corono didn't have the chance to develop HER empathy after what transpired.
Sandy: Not to mention you can give and take magic from others now.
Novo: But Corono said-
Sandy: Forget what Corono said! Her willpower is strong, but so is yours. If you wanna set things right, you gotta fight fire with fire! You willful enough, you'll be able to surpass even HER powers and nullify her.
Novo: You sure?
Ocheasha: You gotta do something with that new power.
Novo: "BUT THAT'S THE THING?! USING MY POWERS AGAINST HER HAD HER TURN AGAINST ME TO BEGIN WITH?! (The group realised that) Doing that again in this level would, well, let's just say, I would rather not see how much more angerior she would get!"
Icky: "Well given the kind of charmer she was over you using those enlightenment powers to sway your softie dad to get you into power.... You're right, maybe NOT use those powers against Corono."
Gazelle: "I see what you mean, Corono. The last time you used your powers to stop her rise to power, it undermined your sisterhood as well. Everyone, we'll have to agree against Nono using her powers."
Sandy: "Well, then that only leaves Novo having to fight her physically, and to be frank..... It's no contest, Corono has this in the bag with you."
Novo: "Now, maybe we should try to wait for her to pasify abit after how much you people called out her issue. We can try waiting for her to enter at least, a slightly more negosiable state."
Ocean Gem: Are you kidding?! You're choosing not to stop her from killing people?! You have the power to be like her, AND YOU DON'T EVEN TAKE ADVANTAGE OF IT?!
Novo: Gem, being against her is the problem!
Ocean Gem: THIS IS DIFFERENT!!!! That was a wrongful use! THIS is using it for good!! How can't you see this as any different?!
Sea Poppy: OG, Corono won't care if it's different. It's Novo using her powers to her own advantage while leaving Corono helpless to stop it. That's what started this problem to begin with! She'll only use truths or half-truths to bring her down again. Nothing Novo will do will help, even if it's right. Corono doesn't trust her and you know why!
Terramar: She's right.
Crystal Pearl: Uh, why are you suddenly contradicting yourself? Didn't you say we should only speak Corono's language of aggression?
Skystar: Yes, but Mom just said being aggressive won't be enough.
Crystal Pearl: THEN WHAT ARE WE SUPPOSED TO DO?!? LET THAT SELFISH MONSTER KILL INNOCENT PEOPLE TO QUELL HER OWN FEARS?!? And here I was actually starting to understand you more!
Sun Twist: WILL EVERYONE PLEASE SHUT UP?!? We're not going to go anywhere if we're complain about how to do this!
Sea Foam: You don't get an opinion if you don't have one!
Sea Poppy: Will you all stop?!? Let's just agree to disagree that just fighting through our problems the way Corono would will not make Novo any better.
Ocean Gem: MAKE UP YOUR MIND!! WHAT SHOULD WE BE?!? PASSIVE OR AGGRESSIVE?!? WE CAN'T JUST LET HER GET AWAY WITH THIS!!! BY THE TIME WE WAIT FOR A BETTER TIME, IT COULD BE TOO LATE!!!
Novo: (Sighs) And I thought Skystar was this annoying as a kid.
Ocheasha: Girls, please, calm down!
Ocean Gem: WHY?!? CORONO IS ABOUT TO PROVE NOVO RIGHT BY...... Declaring genocide.... Waaaaait...
Sky Beak: Exactly! The problem can take care of itself. If and when Corono goes too far and the subjects see how horrible this is, they'll realize that Novo's right about something and give her the boot.
Seaspray: Provided they have some conscience left.
Icky: "Well, that's not the only concern. There's also the fact that the closest Hippogriffs saw of Panan Saytrs, WAS from the Storm Clan. So, likely, everyone's gonna assume that every person in Pana is as spaztastic as the Storm King! They would end up not taking any plea for mercy seriously cause they might view it as them trying to trick them!"
Ocean Gem: ".... So, letting her doing it's out of the question too?"
Sky Beak: "Well unfortunately, yes. It sounds too risky now with that in mind."
Nacre: "Good grief, how difficult is this?!? We can't use Novo's power against her, and letting them go through this is out of the question because they might not wake up from the bloodlust, and just telling a higher figure on her CLEARLY ain't gonna help after what happened to Nephostractus! Everything we try is proven wrong in a fraction of a second!! Any other guy we get involved into this would get his ass kicked too!! It's aggravating!!"
Novo: "Look, I already have a plan in mind! I'll wait for Corono to calm down on her own terms."
Facre: "But what about that geniside stuff?"
Novo: "Corono, likes to over-prepare. It would actselly take days before she gets to do what she has vowed on. I'll give her this, she may be implusive, but, she's not as reckless as Tidecaller made me believe. She does know that the Panans aren't exactly an easy oppendent, even in their state of disorray. She would want to help Hippogriffs learn her ways before she even thinks about threatening Pana."
Icky: "Good to know, but even then, talking it out with Corono isn't exactly successful neither. She's clearly very pissy at you for doing that shit to begin with."
Novo: "Well, it's better then repeating the same thing, or letting Corono pull this off at the risk of neither Hippogriff waking up from this madness. Trust me. I seen the Hippogriffs. Even when they acknowledged her flaws, they still stand by her, because of the fact she was right at all, as suppose to her never having been right."
Lord Shen: "That's true. Corono's talk of how powerful she is, indeed has been well proven."
Po: "Yeah. It wasn't exactly like Corono was faking it for the sake of looking cool. She has perfectly backed those claims."
Mantis: "Probuly didn't help that the Storm Clan was proven pretty stoppable, by not just her, but, kinda us as well."
Twilight: ".... Novo, are you sure this would work?"
Novo: ".... It's my best solution right now."
Jelly Bee: Well I hope you know what you're doing. If this gets us in a deeper trench than before, then there's no stopping her.
Novo: I hope so too.
Corono and Novo Still Fail to Console
Hippogrifia
Corono: (She was sulking angrily as Novo came in)... Why have you come back?
Novo: Corono... I'm sorry for what happened-
Corono: OH, DON'T GIMME THAT S***! You disrespected my desires to protect the entire world from any trace of the Storm Clan to be reignited in another clan!!
Novo: NO! YOU COMMITTED HIGH TREASON, AND MADE THE BOTH OF US LOOK BAD, BY USING WEATHER KING AS AN EXCUSE TO SEEK OUT WHAT YOU AIM TO DO, AND THEN MADE THE HIPPOGRIFFS LOOK LIKE A WAR NATION BY ATTEMPTING GENOCIDE!! THIS IS EXACTLY WHY WE NEED TO BALANCE EACH OTHER'S PERSPECTIVE OUT AS CO-RULERS!
Corono: Well, too bad! We NEVER will, BECAUSE YOU ARE NOT THE HPPOGRIFFS' TRUE RULER!!
Novo: (Skystar and Swellsea were watching their arguing nervously) YOUR RECKLESS WAYS WILL RUIN OUR RACE'S REPUTATION!! BY DECLARING WAR ON THE STORM CLAN'S RACE, YOU'VE PROVEN NO BETTER THAN ME!
Corono: I WAS TRYING TO KEEP THEM FROM DOING WHAT THE STORM CLAN DID TO OUR FAMILY!
Novo: THE STORM CLAN DID NOT REPRESENT SATYRS AS A WHOLE! YOUR ACTIONS ARE TOO MUCH FOR OUR RACE'S GOOD! WE MUST MAKE A COMPROMISE!
Corono: NEVER! YOU ARE STILL TOO WEAK TO BE A TRUE RULER, AND YOU STILL SUPPORT THAT ROTTEN OLD BIRD NEPHOSTRATUS FOR BEING SO BLIND!
Novo: HOW CAN YOU BE SO BLIND WITH EYES THAT SHARP?!? YOU MAY BE A BETTER RULER THAN ME, BUT THAT DON'T MEAN YOU'RE RIGHT BOUT EVERYTHING!!!
Corono: I'M RIGHT ABOUT MORE THAN WHAT YOU KNOW IS RIGHT!!!
Novo: Don't you get it, sister? We're the same personality but have opposite tones. We can't rule properly without each other!
Corono: YOU'RE WRONG!! I STILL DON'T TRUST YOU!!! THAT'S WHY I HAVE NO CHOICE: YOU WISH TO BE WITH THE SEAPONIES?!? WELL, YOU CAN BE! WE'RE BOTH DONE! WE'RE NO LONGER ALLIES!
Novo: WHAT?!?
Skystar/Swellsea: WHAT?!?
Corono: YOU HEARD ME! YOU'RE ALL BANISHED UNDERWATER!! I DID WHAT I HAD TO, BECAUSE CELESTIA WAS COUNTING ON YOU TO SAVE THEM, AND YOU, BETRAYED, THEM! I AM STILL THE TRUE LEADER FOR HIPPOGRIFFS! SO AS PUNISHMENT, THERE WILL BE NO PACIFISTS IN THIS KINGDOM! GET OUT OF MY SIGHT!
Novo:... (Sighs)... Fine! If that's how you feel... Then I no longer wish to be considered a Hippogriff.
Corono: "GOOD?! YOU WERE NEVER, A REAL HIPPOGRIFF?!"
Novo:....... (Shed a tear)...... (She left)
Skystar:... Aunt Corono!
Swellsea:... You disgrace your sister's name, Queen Corono!
Corono: Tch, I'm not scared of a seapony! Just go!
Skystar:... (She sobbed as she left)
Swellsea:... I just can't believe you.... (Left as well)
Corono: (She brooded angrily as she noticed her guards looking disappointed at her)... I forbid a word about it from ANY of you, or you're all banished with them!
Head Guard:... Well... I quit, then! (He hands her his armor and weaponry)
Corono: (Bewildered)... Sir Precipitorius... What is the meaning of this?
Head Guard (Sir Preciptorius): If you are going to banish our previous ruler for this honest mistake... Then why should I serve you?
Corono grabs Preciptorus by the neck?!
Corono: "I, WILL, NOT TOLERATE, THIS INSOBORDINATION?! NOT NOW?!"
Sir Preciptorius: "(Gags)!"
Corono: "NOW TAKE IT BACK?!"
Sir Preciptorius: "SORRY, ACK, I'M SORRY?!"
Corono lets him go, as the guards fall back in line....
Corono: "..... DON'T, EVER, ATTEMPT THAT AGAIN?!"
Sir Preciptorius: "Yes Queen Corono, we'll do as obeyed. (The Guards backed off)...."
Corono: "... That's more like it."
Sir Precipitatous:... I just want to ask some final questions, that does not involve questioning your leadership.
Corono: Speak, then.
Sir Precipitatous:... What's next for our race? If Novo and Nephostratus can no longer rule, what will become of them? And lastly...... What will we do to prove Novo wrong?
Corono: Well I have been awaiting any kind of question like that. The first answer: We restore the original legacy of the hippogriffs. The warrior race that fights for the safety of their survival. The ultimate embodiment of the raw magical prowess of ponies, and the unrestrained strength and power of griffins. Together they are a power no other race can match. Second answer, Nephostratus will be an embassy. Novo? Well, that's not my problem. She can do well on her own. And final answer: We will not be barbarians. We were never barbarians before Novo betrayed me. We only act as such when there is no choice or as the ultimate example of why you must NEVER challenge the might of the mighty hippogriffs. We were born to fight and use magic at it's full potential. I assure you, Precipitatous, I may not seem that way, but it will all be clear soon.... (The hippogriffs bow to their new leader)
Ember and Pharynx Show How It's Done/Tidecaller almost ruins things again.
Shores of Hippogrifia
Novo sat in defeat, as the group shows up.
Novo: "...... I don't know what to do anymore. Why is my sister so, persisently stuck in her ways?"
Po: "...... To be fair, that, ability to will yourself out of magic entrapment orbs is, pretty cool."
Novo: How bout y'all just IGNORE HER VALID ARGUMENTS AND 'COOL' AND JUST FOCUS ON ME?!? (Everyone was taken back)... No? Then leave me alone!! (Sits)
Icky: "..... Look, you're, you're just gonna have to accept that, maybe your dad was wrong all this time and that, your sister, really is a ruler that the Hippogriffs honestly want."
Novo: "........ Well if that's the case, then..... I ruined the king's legacy....... Why must I be so, phathic?"
???: "Ya see, that there's your problem."
Ember and Pharynx flew in and landed.
Pharynx: "The problem isn't Corono. It's that you're afraid of being tough. Hurting someone's feelings, litterally and metathoricly. You're too afraid to get yer hands dirty. Alchourse she's not gonna take you seriously with your kind of attatude."
Ember: "I mean, look, we agree that it's not like Corono is 100% right in what she's doing, but at the same time.... Ya can't deny that she did turn out to be right about the Storm King. I mean, without his magic and his cheatery, he really IS a cowerd! And you let yourself and the people be afraid of him?"
Novo: "........ So what? Does it automaticly make it okay for her to have my people make the Satyrs of Equestia face exticntion because of the actions of one measely clan?"
Pharynx: "Oh hell no! That kind of shit makes Chrysalis look like Celestia! The point I am trying to get across is that, well, in a way, maybe making Hippogriffs softies wasn't honestly the way to go about it. Now keep in mind, I'm not trying to advocate having you guys make houses out of the bones of your enemies and that whole Satyr geniside crap!"
Ember: "What we're trying to say is that if you want your sister to stop ignoring you, then show that you're not gonna take her saying no to you and her insults lightly! Do what Nephostratus did not have the guts to do! Speak like her idea of a hippogriff! And she said that real hippogriffs don't take crap from anyone that messes with them, right? Then show her that you want the hippogriffs to be ruled with balance, and it has to be through the only way she understands!"
Novo: "But I tried hitting Corono, and it just makes her mad!"
Pharynx: "Oh trust me, she knows the difference between a REAL Hippogriff's smack, and a slap! She can recover from a slap, but a REAL Hipoogriff swipe draws blood! In that outdated culture, drawing their blood proves that you're not afraid to take their life if they don't take you seriously!"
Novo: "ARE YOU CRAZY?!? RUIN COMPLEXION JUST TO SHOW ASSERTION?!? That's exactly my point! That's barbaric, and even then, she is not a Hippogriff that takes such things lightly. She will see it as a challenge."
Ember: "And if it comes to that, then do it like what dragons do, beat the assulter with an inch of their life! That is always garrentie to make them listen!"
Novo: "ALL YOU'RE SAYING IS TO RESORT TO AN ACT THAT COULD START A WAR!!! BARBARIC ACTS LIKE THAT ARE UNCALLED FOR AND UNNECESSARY!!! THAT'S THE ACT OF A MONSTER!!!"
Ember: And you think Corono doesn't know that? You think she doesn't know to only use such acts as a last resort? Corono may be barbaric in your eyes, but she's obviously proven she's no psychopath. Nothing you've done has worked, so what have you got to lose?
Novo: "But, but, I don't wanna hurt any of my family!"
Pharynx: "Well consider this. Ya let Corono do what she wants, then the Satyrs are done for, and everyone goes back to being afraid of the Pure Hippogriffs."
Ember: "And we know that's not what neither of us want. Espeically not you. I am still trying to get dragons painted in a better light. I would hate to see that happen to Hippogriffs as well."
Shifu: "...... And believe it or not, Novo. You do have that kind of Hippogriff ferosity in you. You were being an animal when The Weather King nearly killed your daughter. You need to tab into that aggression again."
Novo: "I NEARLY DEFEATED THE WEATHER KING THE WRONG WAY LIKE THAT?! I don't have the heart to do that to my own sister."
Skystar: (Sighs) This has gone far enough!! Mom, will you just GROW UP?!
Novo:... PRINCESS SKYSTAR!!!
Skystar: "You heard me. I'm tired of this stupid sibling war, and I've had it to the max because it's finally gone too far. Mom, you act like you're the only one suffering. But I can assume Aunt Flow has some stories that all end with 'and then she died too'. And before you start whining about Aunt Corono potentially bringing the downfall of our race with this act of genocide, AGAIN, AND I GET IT, take a moment to consider that we and so many other races INCLUDING Panans, are all enemies of the Storm Clan, that have made far worse mistakes than she and you did. By casting off Twilight and her friends, you inadvertently almost helped the Storm King win. They came for our help, and you reward their effort with unwitting refusal and banishment. And that's not even the worst thing a race did. Corono was right.
Novo: Yeah, heard that for the thousandth time- (Skystar slapped her surprising everyone)
Skystar: AND YOU'LL KEEP HEARING IT UNTIL YOU TAKE THE HINT!!! The point I am making, is that you think you know better than everyhippogriff else, but there you stood: the good hippogriff doing nothing. And while evil or the antiheroic triumphs, and your rigid passive-aggressive pacifism crumbles into blood-stained dust, the only victory afforded to you is that you stuck true to your guns. You were a coward, to your last empty threat. I won't act like Aunt Corono is completely wrong, but neither will I act like you are completely right. I don't fear dying to threats worse than the Storm Clan, but the one thing I'm terrified of to tears right now is if you two destroy yourselves AND our race with your intense bigotry. So, please, Mom... STOP HOLDING BACK!!! And if that's not enough to motivate you... THEN I KNOW EXACTLY WHAT WILL!! (She ran off)
Novo: "Skystar?! Where're you going?! Young lady!"
The Group ran after Skystar!
Hippogrifia
Queen Corono: (Was over seeing the "Needed Improvements" of the kingdom as a more morbid scene was being defelupted.) (Skystar came charging in)...... Skystar?! I thought I told you all to-
Skystar: AUNT CORONO, THIS OUTRAGING CRAZINESS BETWEEN YOU AND MOM HAS GOT TO STOP!!! SO, THIS IS FOR BOTH OF YOUR OWN GOOD!!! (She smacks her in the face)
Queen Corono: ..... Wha...... WHAT?! YOU, DISOBEDIENT CHILD?! (Grabs Skystar by the neck) I am going to ring out that little neck of yours, (The others arrived), TO TEACH YOU THE DISAPLEANE, NOVO FAILS TO DO?! (Novo was getting triggered as her primal insticts were trying to get out, but Novo's fear of looking like a monster held them back).... (Skystar saw this)....."
Skystar: "..... DO YOUR WROSE, YOU, MISERABLE OLD C**T?!"
Queen Corono made a face of utter shock, as Queen Corono entered a blind rage and proceeded to beat up Skystar!
Queen Corono: "I, DO, THIS, BECAUSE, I, CARE?!"
Novo finally lost it and entered a feral mood!
Novo roared!
Queen Corono was surprised by this and saw Novo charging!
Queen Corono: "WHAT IN THE-"
This music started to play as Novo charged into Corono and started to take into the sky and battled an elegant, graceful and near-actrobatic sky battle.
Queen Corono: NOVO, WHAT HAS GOTTEN INTO YOU?! IS THIS A DECLARATION OF WAR?!
Queen Novo: CALL IT WHAT YOU WILL, BUT EITHER WAY, SKYSTAR IS SO GROUNDED FOR THIS INSANE CHOICE!!! NOW I HAVE NO CHOICE BUT TO LET EVERYTHING OUT!!!
Queen Corono: WHAT?! (The two continue fighting)
Sir Precipitatious:... Which one was it, Skystar? WHICH CONCUSSION DID YOU SUFFER ON THIS JOURNEY THAT MADE YOU THINK ANY OF THIS S*** WAS A GOOD IDEA?!
Skystar: "I know what I'm doing!"
Sir Precipitatious: "YOU INSANE GIRL?! I AM GOING OVER THERE AND- (Pharynx encased him in Changeling goo!)....."
Pharynx: "..... This ain't our fight, Sir Fancy Pants.... This is between siblings."
Skystar: He's right, you know.
Sir Precipitatious: (The head was the only thing ungooed) BUT WHAT IF ONE OF THEM DIES?!
Skystar: Neither of them will allow the other to die. They just need to let out all the frustration of this nonsense the best way they know how. By beating the tar outta each other.
Sir Precipitatious: And that was worth nearly having Corono beat the tar out of you?
Skystar: Hey, Aunt Corono wanted toughness, so we sure as heck are giving it to her.
Sir Precipitatious: "BUT THAT IS NOT OUR WAY?!"
Icky: "Maybe not the passive Hippogriff way, but it is how Corono wants it."
Sir Precipitatious: "But, THIS ISN'T DIPLOMIACY?!"
Ember: "Hey, to old shcool Pure Hippogriffs and Corono, THAT, (Points to the fight), IS, Diplomiacy."
Sir Precipitatious: BUT-
Iago: OH, WILL YOU SHUT UP ALREADY?!
Sir Precipitatoius: "..... (Wimpers like a crybaby)..... (Whiny) DON'T YELL AT ME?! (Cries!)"
Fu-Xi: "...... YA KNOW, BEHAVIOR LIKE THAT IS WHY CORONO IS GIVING NOVO SUCH SHIT?! YOU'RE A DIGIFIVED BEAST OF GRACE?! FUCKING ACT LIKE IT?!"
Twilight: "Good grief. I think we now understand why she wants to return the Hippogriffs back to their roots."
Corono: YOU SEE MY POINT, NOVO?! YOU LIED TO ME ABOUT LEADING THE HIPPOGRIFFS TO THE PATH TO VICTORY, JUST LIKE YOU LIED TO THEM ABOUT NOT BEING STRONG!!! YOU THOUGHT I WAS DEAD BEFORE THE STORM KING BIT THE DUST!! BUT I DIDN'T JUST FLY AWAY NOW DID I?! YOU NEVER MISSED ME BECAUSE YOU THOUGHT I WAS A BAD INFLUENCE!! THERE'S NOTHING BAD ABOUT STRENGTH AND FEARLESSNESS, AND YOU KNOW IT!! (She throws Novo to a wall)
Novo: Corono, you are overreacting!!
Corono: DON'T YOU PLAY GAMES WITH ME!! YOU DON'T REMEMBER WHAT HAPPENED THE DAY AFTER DAD CHOSE YOU, AND THE DAY THE STORM KING ATTACKED?! WE WERE IN THIS VERY ARGUMENT, TWICE!! I OFFERED YOU THE SLIGHTEST CHANCE TO VICTORY AS THE QUEEN AND YOU REFUSED! ALL BECAUSE YOU LISTENED, TO THAT BASTURD TIDECALLER?! MY RULE WOULD'VE CHANGED EVERYTHING!! I HAD TO TRY TO PREVENT YOUR IDIOCY AND MISGUIDED OPTIMISM, BUT I WASN'T ONCE ACKNOWLEDGED!! I DIDN'T WANNA CHALLENGE OR HARM YOU, BUT YOU LEFT ME, NO, CHOICE!! (She swung several punches at Novo leaving her dazed) WHAT KIND OF LEADER DOESN'T GIVE HER ARMY, THE BEST CHANCE TO WIN?! (Novo continued fighting) HOW CAN YOU VALUE SOMETHING AS PETTY AS MAKING OUR PEOPLE "PRESENTABLE" MORE THAN OUR FUTURE AND OUR STRENGTHS?! AND LOOK WHAT YOU DID WITHOUT ME!! WITHOUT MY WAYS OF RESILIENCE AND STRENGTH!! YOU, LOST, HIPPOGRIFIA!! YOU LOST OUR PARENTS!!! YOU, LOST, ME!! (She overwhelmed Novo with her superior strength, agility and reflexes) BECAUSE OF THAT CESSPOOL OF LIES SLURPING BOYFRIEND OF YOURS?!
Novo: CORONO, I WAS SCARED!! WE WERE SO YOUNG AND AS THE YOUNGEST SISTER, I DIDN'T GET THE CHANCE TO AGREE WITH YOUR WAYS!! I DIDN'T HAVE THE OPPORTUNITY TO SEE THROUGH YOUR EYES, BUT NOW I DO!!
Corono: ALITTLE LATE FOR THAT?! I'LL NEVER TRUST YOU AGAIN!! YOU ARE BETTER OFF UNDERWATER WITH THOSE CUTE CANDY-COLORED SEA-HORSIES THEN REAL HIPPOGRIFFS!!! THERE WILL BE NO MORE WEAKNESS AS LONG AS I'M AROUND!! (She attacks as Novo started holding her own) BOTH TIMES, YOU REFUSED TO SHOW THE TRUE FIGHTING NATURE OF US HIPPOGRIFFS!! YOU SNITCHED ON ME, AND YOU WERE RUNNING AWAY FROM THE DANGER, JUST LIKE YOU DID TO BECOME THE SEA RULER YOU ARE NOW!! HONESTLY, LOOK AT WHAT GETTING WITH THAT MISERABLE WIMP TIDECALLER DID TO YOU?! YOU ARE A COWARD!! (She attacks multiple times) A NOVICE!! AN IDIOT!! A STARRY-EYED BLIND BITCH WHO PREFERS TO BE PASSIVE!!! (As they fought, a column cut to the two times when they were younger and Novo was scared to fight Corono as it never fulfilled Corono) I tried my hardest to show you that we can't just be nice and pretty birdies who trust the very first thing that shows up. We couldn't let the weakness take control of us. I COULDN'T LET IT TAKE CONTROL!! BUT YOU WERE JUST TOO MORONIC TO SEE WHAT HAPPENS WHEN YOU LET PASSIVENESS DEFINE YOU!! NOR DID YOU REALISED HOW MUCH OF A SKIRMY SCUM BAG TIDECALLER WAS BEFORE IT WAS TOO LATE!? AND NOW LOOK WHAT HAPPENED?! THE STORM KING, DIDN'T EVEN NEEDED AN ARMY TO MAKE YOU TURN TAIL AND RUN WITH IT BETWEEN YOUR LEGS?! ALL HE HAD WAS A PONY AND A BADGER WITH A STUPID HAIRCUT?! I WARNED YOU MULTIPLE TIMES THAT IT WOULD NOT GET YOU ANYWHERE!! (It cut to present time)... And even today, YOU DON'T LISTEN!! (She continued attacking Novo) I WOULD'VE TAKEN THE STORM CLAN'S LEADERS AND SHATTERED THEIR SKULLS BEFORE THEY THOUGHT ABOUT ROBBING FROM US!! I WOULD'VE SAVED, EVERYHIPPOGRIFF!!! (She tossed objects at Novo as she dodged)
Novo: I WAS ONLY ACTING THAT WAY BECAUSE I THOUGHT OUR MAGIC WAS A GIFT THAT SHOULDN'T BE USED FOR THINGS LIKE VIOLENCE AND DEATH!!
Corono: "DO YOU THINK THE STORM CLAN CARED ABOUT HOW MAGIC WAS BEING TREATED WHEN THEY USED THEIRS TO CONGURE LANDS?! AT LEAST WHEN I WOULD'VE USED MAGIC FOR (MOCKINGLY) MAIMING AND TORTURE, (SERIOUSLY) AT LEAST IT WAS USED FOR DETERENCE AND SELF-DEFENCE?! IT WOULD'VE SHOWED A COLD WORLD THAT WE SPOKE IT'S LANGUISE PROUDLY AND UNAFRAID TO HURT IT BACK?! IT WOULD'VE REDUSED COWERDS LIKE THE STORM KING TO BE AS SUCH FROM THE MOMENT THEY ARRIVED! HECK, THROUGH OUT THIS MADNESS WITH HIM AND THE WEATHER KING, OUR AGRESSION SUCCEEDED IN MAKING THEM RUN AWAY?! ANY PLAN THEY HAD FELL APART BEFORE IT EVEN STARTED?!"
Novo: LET ME EXPLAIN MYSELF BECAUSE YOU MISUNDERSTOOD ME?! I THOUGHT IT WAS A BLESSING AND A PATH TO A BETTER FUTURE. A FUTURE BETTER THAN BEING AN AGGRESSIVE OR EVEN A PASSIVE-AGGRESSIVE RACE!
Corono: "DO YOU THINK THE DRAGONS WOULD BE AS POWERFUL AND SUCCESSFUL AS THEY ARE IF THEY WERE ABUNCH OF SKALELY PANISES?! WOULD OUR GRIFFIN HERITAGE BE ABLE TO BRAVE AGAINST THE ARMAMASTI IF THEY WERE MORE INTERESTED TO PICK FLOWERS THEN TO BREAK THEM?! AND WOULD ANYONE REALLY FEAR DEMONS IF THEY WERE JUST MISUNDERSTOOD SWEETHEARTS?! NO?! AGGRESSION, EARNS REAL RESPECT, FROM FRIEND AND FOE ALIKE?! NO ONE, FUCKS, WITH THOSE WHO AREN'T AFRAID TO BREAK SOME BONES TO ANY DISRESPECTOR?! I, WANT WHAT IS BEST FOR OUR KIND?!"
Novo: WELL GUESS WHAT?! I WANTED THE BEST FOR OUR KIND TOO?! I DIDN'T WANT YOU TO GET TOO CARRIED AWAY BY YOUR VIEWS AND POTENTIALLY MAKE US LOOK BAD.
Corono: "Oh, so avoiding bad press is worth having us LOOK LIKE WIMPS?!"
Novo: THIS STEMS BEYOND ALITTLE PR?! I was... I was scared that if you ruled, with an attitude like that, you would've made us hostile and mean. (Corono was about to speak) You have already many times mocked the useage of the word as an adult, it's getting old! But, for the sake of maturity, I didn't wanted us to be another exsample of the world being as cold as you discribed. Now, I agree that perhaps I took Tidecaller alittle too seriously, and that, I should've have more trust in your abilities as a ruler. Fine. You win. I should've just let you be the ruler you should've been. I never should've meddled with anything. I never shouldn't've turn father against you. I never should've hid behind Nephostacus. I should've just confronted you myself like a TRUE Hippogriff. But, hear me out before you glouted about being right..... Try to see things in my perspective.... What good is fighting fire with fire if it just leads to worser flames? Look, whether or not I did everything because I was listening to Tidecaller's advice, at least, what I did, it wasn't to secure power! I am sorry, if I ever gave you the impression that I was a nasty baracuda-faced usurper! I am FAR from that! What I did, I was only looking out for mostly my own people, because I didn't want them... To be like the Storm Clan!
Corono: "(Scoffs annoyed), THAT'S THE BEST YOU GOT?! Sister, the Storm Clan, use aggression to congure LANDS?! We, used aggression, for lack of a more digifived term, TO BASICLY TELL OUR ENEMIES TO NOT FUCK WITH US?!"
Novo: And I am not ignorent to the difference..... (Sighs), Perhaps the Storm Clan were a bad exsample. But how's this for a better exsample? You are being just like Tempest, defining the world by the bad, and only the bad. Not ONCE did you show any compassion.
Corono: "Well excuse me, for trying to avoid the ways of the hypocrite! I, was trying to lead by exsample!"
Novo: Well look where your avoidence of hypocroicy has lead you! You have no friends, no boyfriend, no mutual of social life. You clearly believed that we were better off that way, and, I knew that wouldn't be any better than being passive. That being said..... I should've respected that you were only being you, and that it was wrong me to not see that. I'm no longer afraid to admit that your talk of making Hippogriffs tough wasn't a deludtion of granduar, but it had an actual point. I never should've let Tidecaller blind me of that. And I'm sorry for ever taking away your rightful place. I was only trying to make you see that, because I loved you. You are my sister. I didn't want you to destroy yourself like you did when you declared war on Pana for the actions of the Storm Clan.
Corono: "Sister, I, survived, against, the mother, of the Storm King, AND BASICLY ATE HER AND TURNED HER, INTO MY THROWNE?! YOUR WORRY IS UN-NESSERSARY?!"
Novo: At least humor me and let me finish. A passive race is completely trusting and welcoming and that's my specialty. An aggressive race is all toughness, seriousness and strength, and that's your specialty. We simply had to find a compromise so we could balance our kind out. You saw the consequences of being passive which made me the queen of Seaquestria, and you saw the consequences of being far too tough and strong when you were almost exiled for your actions.
Corono: "But toughness, GOT ME OUT OF THAT, where being like you, would've RUINED EVERYTHING?!"
Novo: "And I realise that now.... That is why..... I am not going to try and take away your position anymore."
Corono: "........."
Novo: "..... You can stay Queen of the Hippogriffs. It's what our parents would've wanted. What they REALLY wanted. I'll just, go back to being Queen of Seaquestria. Just, please, don't go through with this war, and I'll vow to stop trying to take away your power."
Corono: "N...... N....... No...... Novy............. (She grabbed Novo and hugged her) THANK- YOOOOOOOOOOOOOOOOOU?! (Breaks into crying!)!"
Pharynx and Ember highfived.
Pharynx: "Jackpot."
Skystar: "...... Uh...... JUST AS I PLAN!"
Twilight: "(Quietly) Let her have it, Twilight."
Pinkie: ".... So, does that mean that Hippogriffs are gonna stay being Gildas?"
Gilda: "HEY?!"
Corono: "Um, about that..... I'm not one to be afraid to admit that, maybe the old ways could use a more modern update. By all grounds, I don't want Hippogriffs to go back to being pansy pushovers. But, maybe there is room for, some cheeryness."
A still defeathered Nephostacus arrived.
Nephostacus: "Well, coinsidently, I discovered that my feathers are never gonna grow back. I might not never be king again. And with you taken over the title, well, that makes Swellsea not a princess. I might have, an idea. Can you, please make my daughter your adviser? She could help find the modernising your desired ways can bring."
Corono: "..... Well, I suppose I can owe you this, given that, I was the reason you lost those feathers."
Icky: ".... Well, we'd atthived the balenceing rule we were trying to get. Just, in a different direction."
Ocean Flow: ".... So, Novo, how, does it feel not being Hippogriff Queen anymore?"
Novo: "Well, it was clear that the Hippogriffs didn't want me to lead them anymore."
Corono: "Novo..... I take back what I said not being a real Hippogriff. Not only did you embraced your aggressive nature, but you were willing to give up power, to earn back a sister's trust. That takes real courage to give up power like that. You are brave in your own ways. (Hugs Novo) And that's all I would ever need from you. (Novo returned it, as all the others joined in the hug)."
Hippogriff 1: "And it's more then enough for all of the Hippogriffs to forgive your actions today, Novo."
Icky: ".... So, Nephost, your, gonna be cool not being king anymore?"
Nephostacus: "Well it's not like I can rule looking like this. Besides, I admit, I was getting tired of being ruler. It, gets boring, after awhile."
???: "HERE SHE IS, COUNCILERS?!"
Everyone looked to see that Tidecaller had arrived with a collection of Hippogriff Councilers.
Tidecaller: "THERE'S THE FOUL WRENCH THAT USURPED THE RIGHTFUL KING OF THE HIPPOGRIFFS FROM HIS THROWNE?!"
Icky: "Awwwww, shit?! Numbnuts is back?!"
Headmaster Hippogriff: "Corono, you are under council arrest for the crimes against Hippogriffia!"
Corono: "(Guards grabbed and restrained her)..... NOVO, WHAT IS GOING ON?!"
Novo: ".... TIDECALLER, WHAT ARE YOU DOING?!"
Tidecaller: "Well, Rainbow Reef and my daughters' persistence had led me to give you the help you asked for alittle while back, my dear, in bringing Corono down so you can freely defeat the Weather King and Storm King and get Hippogriffs away from Corono's savage ways!"
Skipper: "HEY JACKASS?! YOU'RE TARDY TO THE PARTY?! STORMY AND HIS COUSIN ARE GONE?!"
Tidecaller: ".... Oh. Well, wow. You people worked faster then I thought. That, or perhaps the Storm Clan did became that phathic. But I am at least here to remove Corono's disgusting enfluence here and let you resume business as usual, Novo."
Novo: "TIDECALLER, STOP THIS?! Why are you suddenly doing this?! You initionally refused to help me?!"
Tidecaller: "Well like I said, Rainbow Reef and my daughters convinced me to put aside your entourage's open disrespect and help you out with Corono."
Corono looked betrayed once more.....
Corono: ".... (More sad then mad).... You, you never meant what you said moments ago, did you?! YOU WERE DISTRACTING ME FOR HIM TO SHOW UP, DID YOU?!"
Tidecaller: "Oh hush up, you barbarian?! You're the one that kept disrespecting royalty and their customs?! It's not my fault you're getting what you deserved, you barbaric savage?! Hippogriffs will NEVER, EVER, see the return of being a barbaric, savage, aggressive spieces?! (Gaves a sadist-worthy smirk, mocking Corono).... And now, Novo will coherse the council to have you banished from the Hippogriffian Lands with her beautiful magic empathy, so neither side will EVER have to worry about you again!"
Novo: "..... I'm not going to, Tidecaller."
Tidecaller lost his smirk and turned into confusion.
Tidecaller: "..... Novo, this is, NOT the time, for jokes!"
Novo: ".... I mean it. Not only did I lost that power to Weather King, who ended up becoming more cowerdly from it as a side-effect, but, even if I still had that accursed ability, I will NOT do that to my sister Corono! Never again! (Corono realised that this isn't part of Novo's plan at all, her broken heart amended once again). Tidecaller, as much as my feelings still ring true for you, you were a bad enfluence to me! YOU MADE ME INTERFEAR WITH MY PARENTS' DECIDTION TO PICK CORONO AS THE HEIR INSTEAD, (The Councilers were surprised), BECAUSE YOU DIDN'T WANT HIPPOGRIFFS RETURN TO AGGRESSION CAUSE IT WOULD MAKE SEA PONIES LOOK BAD?! AND THEN YOU DENOUNCE ME BECAUSE YOU DISBENEFITED FROM YOUR OWN ACTIONS GREATLY?!"
Tidecaller: ".... You ungrateful wrench?! I THOUGHT YOU WANTED TO MAINTAIN CONTROL OF THE HIPPOGRIFFS AGAIN?!"
Novo: "I wanted to rule them in balence with Corono, not get rid of her?! Besides, I desided that the Hippogriffs were never my desteny to rule to begin with?! I'll stick to ruling Seaquestra. Besides, Nephostractus' daughter will help Corono find a way to modernise those "Barbaric" ways with less extreme practices, so YOU don't have to worry about Sea Ponies being embarrised around them, you egocentric clownfish?!"
Tidecaller: ".... BUT YOU WERE THE ONE WHO CAME CRAWLING BACK TO ME, ASKING FOR MY HELP TO BEGIN WITH?! AND WHAT'S WITH THAT WHOLE LOSING YOUR EMPATHY THING?! THAT WAS WHAT MADE YOU SPEICAL?!"
Novo: "(Starts scowling).... You mean it's what made me useful to you! I realised now that you didn't nessersarly loved me at true heart, but you only cared for me because I was a means to pasify the Hippogriffs and keep them passive so you could keep the Seaponies reputations' nice and clean and free of controversey?! IS THAT IT?!"
Tidecaller: "Novo, don't you DARE villify me?! I did earnestly loved you beyond that-"
Novo: "Then why did you abandoned me over what the Storm Clan did to your beloved friend?!"
Tidecaller: "....."
Novo: ".... (Sheds some tears).... That's what I thought. You figured that I would've been able to pasify threats with empathy, did you? You wanted me as a means to make friends out of enemies, did you? You wanted me as a means to peaceify the world, did you?"
Tidecaller: "Novo, please, I-"
Novo: "YOU ONLY WORRIED ABOUT THE HIPPOGRIFFS BECOMING AGRESSIVE BECAUSE YOU WERE AFRAID THAT THE HARSHNESS OF THE WORLD WOULD BE A STEP CLOSER TO SEA PONIES, DID YOU?! YOU WANTED TO PUT SEA PONIES IN A FALSE SENSE OF SECURITY THAT EVERYTHING'S ALL SUNSHINE AND RAINBOWS, DID YOU!? WAS THAT, YOUR REAL REASON FOR PASIFYING US?!"
Tidecaller got a defeated scowl!
Tidecaller: "..... Fine. My reasons were beyond protecting the Sea ponies from embarrisment of the Hippogriffs being savage, though THAT was still a first primary goal, I ensure you! The lands beyond Equestria and the oceans near it, are always a mess! A horrorable, depressing mess! I was worried that, like an oilspill, that way of life would effect the fragle nature of Sea Ponies, and ruin our beautiful civilisation. I, wanted a means to pasify the entire world. And you, were perfect for that. But please note, that I DID earnestly loved you beyond your ability...."
Novo: ".... But you had no problem leaving me when I failed to be useful to you. So, seculding your seaponies was a plan B then?"
Tidecaller: "WHAT ELSE WAS I SUPPOSE TO DO AFTER I LOST MY PERFECT PEACE-BRINGER?!"
Novo: "..... Well, I'm done being a pawn to you! Without that power of empathy, I would never be of use to you again?!"
Tidecaller: "..... You're right..... You're not. If you can't be ruler of the Hippogriffs anymore.... Then I'm gonna make sure you don't rule Seaquestra neither. One day, you'll regret ever losing those essental powers. (Leaves just when Rainbow Reef and the Tide Daughters were about to embrace their due thank-you, but Tidecaller gave them a stern glare, surprising them, then resumed leaving)..."
Rainbow Reef: "..... What, happened?"
Fu-Xi: "Your scrub dad almost busted our happy ending."
Tidewater: "What?! But, I thought, you needed his help."
Icky: "Well, we're sorry kids, but, he was gonna end up ruining everything, so, in a twisted karma sort've way, turns out, we actselly, kinda didn't needed you guys, at all, frankly."
Tidepool: "But.... But.... (Sniffles) We were finally gonna be free....."
Max: "Well, let's this be a lesson that one must check themselves before they wrecked themselves. Probully should've checked up with us before asking your dad to do something that made him look like a complete aqautic jackass and-"
The Tide Daughters started to cry and retreated!
Sam: ".... I think that advice was ill-advised, little buddy."
Rainbow Reef got mad.
Rainbow Reef: "...... I was finally gonna see father happy again?! I worked very hard to have Father give Novo another chance and to come back to her?! He would've gotten his Sea Pony kingdom out of isolation?! Only for you to reject him because he came at a bad time?!"
Lord Shen: "I'll admit it was our faults for not keeping you posted in that things had changed between Novo and Corono, but please understand, Tidecaller could've ruined Novo's sisterhood with Corono again! We couldn't exactly pardon that."
Pinkie: "We also didn't think that you WOULD be able to convince him to overlook what we said to him. We, kinda thought you guys were one and done.... Sorry."
Rainbow Reef: ".... (Deadpan) Ya know what?..... Maybe Dad was right about trying to help the outside world. Maybe we ARE better off alone! (Rainbow Reef angerly left back into the ocean)......"
Twilight sighs depressed.
Starlight: ".... Don't worry, Twilight. We'll smack sense back into that Sea Pony kingdom.... Eventually."
Corono: "...... Novo, I know it was tough for you to turn on Tidecaller like that, just, please, don't hate me for being the reason why-"
Novo: "Don't worry sister. I only blame myself for not realising that Tidecaller wasn't a real friend to me."
Corono: Well... If he wants to kick you off any throne... He'll have to answer to the mighty hippogriffs.
Meanwhile...
Tidewater: (The Tides cried)... You were right, dad. Life DOES suck!
Tidepool: "It's not fair?! How were we suppose to know that Corono and Novo CAN actselly work togather!? (Cries loudly)! It's just not fair?!"
Rainbow Reef: THEY, THEY, THEY BAILED ON US!! THEY MADE US LOOK LIKE COLD-HEARTED BASTARDS!!! I can't believe I ever wanted to help them to begin wth?!
Tidecaller: Exactly. This is why we never EVER fraternize with the surface. Now that she betrayed us... We must rid our kind of any surface involvement!
???: Perhaps, I can be of service to that. (A familiar figure appears in the shadows)
Tidecaller:... Who, are you?
???: I'm hurt, Tidecaller..... Wasn't I your inspiration to prevent Corono from assending to power to begin with?
Tidecaller:...... Oh.... It's only you... Forgive me, I, I almost didn't reckindised you. Please, explain yourself, good sir.
???:... (Chuckles and reveals himself as Backwater)... Now that's, more like it. Time to remove ourselves of the treachery we endured.
Fin?
Transcript
Intro Theme (League of Legends- Freljord)
Coming soon...
Chapter 1: Hippogriffinstone/King Nephostratus and Princess Ocheasha
Chapter 2: Queen Corono Spoils The Party
Chapter 3: The Weather King
Chapter 4: The Penultimate Battle
Chapter 5: Novo Almost Declares War/Novo Takes Charge
Chapter 6: The Ultimate Battle
Chapter 7: Sisterly Bonds Healed
Epilogue
Material
Songs/Music/Videos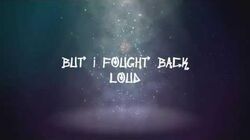 Community content is available under
CC-BY-SA
unless otherwise noted.