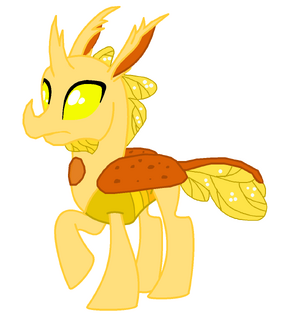 Gaster
is an
Equestrian
Changeling from the Changeling Hive of
Thorax
. Oppressed since he was named after hatching butt-first, he became a bully and one of the worst Changelings under
Queen Chrysalis
rule, as he was forced to kill his own brothers for being zombified by a powerful parastie themed staff made of a petrifived tape worm Chrysalis wanted to gain in an uncharted swamp, finding hinself exiled after Chrysalis abused him for this and went into
Destiny the Changeling
's wing, and had since vowed to never follow any leader who is either 'power-hungry or self-entitled', making him a rebellious bully. He has a bit of an insulting attitude on him, and though he is loved and therefore in a true Changeling form, he deals with insecurities of not getting along with any other race by being mean and is often times violent and foreboding. His main target is
Ocellus
who had been with him for a while and was suggested to be at the same school as her by
Pharynx
, as all that time he confused her for a male and started developing a crush on her when seeing she was a girl, teasing and embarrassing her every chance he got. Despite this, he has some good inside of him.
Community content is available under
CC-BY-SA
unless otherwise noted.