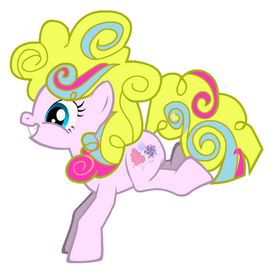 Giggle Glee Candy
, formerly
Meanie Pie
, is a clone of
Pinkie Pie
created by
Doctor Nefarious
in order to be one of the bearers of his Elements of Disharmony as she represented the Element of Torment being reversed in personality after being corrupted into self-harm into harnessing and mastering chaos magic through a virtual scenario. Once she eventually gets reformed, she becomes one of Twilight's first students at her new Friendship School. She lacks a cutie mark due to just being born, but earns it later in the form of an all-day sucker, cotton candy, a balloon and confetti, representing her ability to cheer up and reform with parties, amusement, and a laughable behavior.
History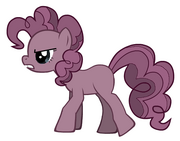 Giggle was born from a sample of Pinkie Pie's DNA, cloned and incubated into a same-age duplicate with the same personality but no long-term memory and a confused mindset. Then Doctor Nefarious placed her into a corruption machine that corrupts via mental simulations. Thus she was shown her DNA donor's life, and then introduced to a scenario where the Element of Laughter is conflicted. She sees scenarios where laughter turns out cruel and hurtful to others and one's self, and sees a scenario where Pinkie gets herself banned from Ponyville for a joke that was supposed to be Pinkie-harmless turned bad, hurtful, disrespectful, and insulting, putting her through self-harm and corruption, and thus harnessed and mastered black and chaos magic, becoming convinced that laughter was a method of harm without consequence and swore allegiance to Nefarious with her equally-corrupted clone friends into becoming the Elements of Disharmony, naming herself Meanie Pie, only as a ploy to betray him in the end and pursue a bigger goal.
(TBC...)
Personality
Coming soon...
Meanie Pie
Meanie has a mean and hurtful sense of humor is from telling hurtful jokes, and acting very tormenting and grudgingly towards people who laugh at her, and will attack or bully anyone who do so to her, using the worst possible pranks and acts of bullying imaginable. She is also quite cartoonishly insane, loud, startling, idiotic and childish, a huge glutton, likes to roast people and hurt their feelings, destroy friendships and social relations, completely annihilates the fourth wall with her chaotically drugged meta powers, isn't always the same personality or mood, can be like Discord in the need to amuse herself with abusing her power, has a smarty backtalk attitude, and often times hinted as a schizophreniac. But while she hates laughter, she still has good in her because she prefers to be not that big a threat, and instead prefers to be a lesser threat with only her other 5 clone friends.
Abilities
Even as an Earth pony, Giggle has high-level knowledge of magic. She can break the fourth wall, can sense and even cause things to happen with her Pinkie Sense which are made far worse with her chaos magic, and is an expert at destroying friendship and social relations with her tormenting skills. She acts like an insane and invincible cartoon, cannot be avoided when she holds a grudge, and is too smart to be outwitted by even Pinkie. She even has untold immunity to chaos magic.
Community content is available under
CC-BY-SA
unless otherwise noted.