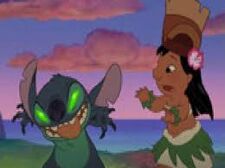 Glitching stitch is basically stitch under the influence of a glitch, activated by Fagin from behind the sences.
In Lilo & Stitch 2: Stitch Has a Glitch (set shortly after the first movie), Stitch is living well and is reasonably well-behaved (although still hot-tempered and mischievous) with the exiled Jumba and Pleakley, with Cella as the family guardian, in Lilo's (and her older sister Nani's) house, until he begins malfunctioning. Since he was not fully charged after his creation, Stitch experiences periodic glitches that have him reverting back to his original destructive programming, appearing to suffer from a "fit" or "seizure". Seeing this, Jumba strives to create a proper charging chamber for Stitch. Not wanting to hurt anyone and not knowing about Jumba's plan, Stitch attempts to leave Earth for a remote planet, while Lilo, Jumba, and the others desperately try to have him return so they can recharge him. Although they are too late when they place him in the recharging pod, Stitch seems to be revived by Lilo's love, in accordance with her belief that love is more powerful than death. (but really, the recharger has a slow effect, but i'm not the one to crush beliefs.)
Community content is available under
CC-BY-SA
unless otherwise noted.