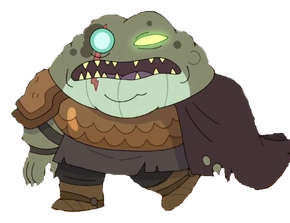 Captain Grime is one of the main antagonists of the 2019 Disney Channel animated TV show Amphibia, serving as the main antagonist of Season 1, a major antagonist in Season 2 and a major character in the third and final season.
He was a villainous one-eyed toad who is the ruler of Toad Tower and he was the main villain of the series. Described as the cruelest Toad soldier of all time, he took in Sasha as his commander and previously his prisoner before she gave him disciplinary advice and saving them from giant herons, promising they'll help reunite her with Anne Boonchuy and Marcy, all while executing Hop Pop for inspiring a rebellion across Amphibia. He is voiced by Troy Baker (Rhys in Tales from the Borderlands.)
Role in the series
Grime reprises his role but doesn't know that Sasha sneaks out to sometimes be with Anne, regardless of her betrayal, and even attempts to find Marcy. But when Hank Jr takes over the rebuilt Toad Tower in Hank Jr's Revenge, Grime reluctantly has to help Anne, Sasha, Marcy, and their new friends Star Butterfly, Marco Diaz, their group, Trista Hylander and her crew which includes former Toad Warrior Nickson, and the Shell Lodge Squad stop him from coming across a dangerous magic secret with help from the treacherous Wormtongue. Though he himself seeks this power eventually as he once tried and failed to find them.