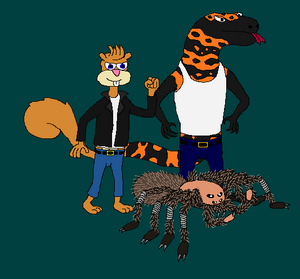 Harry 'Hairy' Atherton the Tarantula
,
Grayson 'Greasy' Gilligan the Squirrel
, and
Scooter 'Skins' Lipper the Gila Monster
are three bullies from Sandy's hometown in Texas. They have a well-known history with Sandy and her ex
Dandy
. They bullied Dandy for his cowardly nature, and Sandy had to be the one to save him. They are very prone to causing trouble, and having fun all the way. They eventually find 3 more friends and form a group they call
The Junkyard Society
. They are mostly just unassuming punks with no world conguring insterest (aside from a forced allience from Qui), and would normally persue the lifesytile of a trouble maker, showing no true evil nature, but are still jerks. They once litterally painted the alamo red, who many viewed as a disrespect to america, but they personally think the alamo needed a due paint job, and are also prone to mess up holidays of others as per their traditions for holiday celebrations. They do have some morals, if though askew, having lines even they won't cross, deminstracted when 
Punkster Hawk
, a later member, gets in trouble with 
The Sponge Haters
.
History
Hairy
Coming soon...
Greasy
Coming soon...
Skins
Coming soon...
Community content is available under
CC-BY-SA
unless otherwise noted.