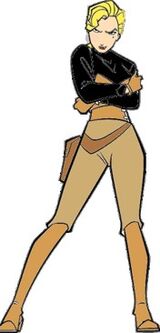 Helga is Rourke's dragon in Atlantis the Lost Empire, and is a commando in the Villain League. She was the second German American character that appear in the film alongside with her boss, Commander Rourke. Later on she helps take over Atlantis and takes Kida hostage, during the battle Milo appears on the blimp and fights with Rourke, Rourke decides that the blimp is too heavy so he decides to throw Helga off she is angered by this and beats him up but he catches her and throws her off badly wounding her, using the last of her strength she manages to fire a flare gun at the blimp before she dies. Her situation near the end of the film is similar to Fidget from The Great Mouse Detective, even though he survived and reformed. however, a defferent altercation was in play instead of the origenal, with the battle taking place at the trown room, not the volcanio sthaff, it was Tigress who defeated Helga when she was attacking Milo, and also calling Tigress "Ugly". cause of this, Helga remains a member of the villain leage, and it's currently unknown if Scroopfan would deside to have her turn on Rourke in retailiation of him turning her, and even if it does happen, she'll just be reserected, corrupted, and have her membory erased of Rourke betreying her to prevent her to reforming or ending up in another villain group.
Community content is available under
CC-BY-SA
unless otherwise noted.