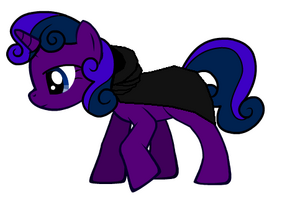 Hidden Shadow
, AKA
Hilary Shade
, is a unicorn from Equestria who was secretly adopted by
Pred Judu Des
 and was promoted as the Eye in the City by her uncle,
Councilpony Cometelius
, from the Equestrian Unicorn Council. Cometelius is the only one who knows that Pred has adopted her, and all the Council knows about her is her job. However, her past is much darker as she has two legal names as the result of Cometelius protecting her for her mother and his sister
Aphelion Shadow
, who was thought to be dead because Aphelion herself said she asked so after losing her older sister
Tempest Shadow
to the
Storm King
and even asking Cometelius to not only protect her, but change his last name to their mother's maiden name, and give her two names, to conceal her identity to Storm King so she can stay out of danger.
History
Cutie Mark
Coming soon...
Adoption and Job
Coming soon...
Community content is available under
CC-BY-SA
unless otherwise noted.