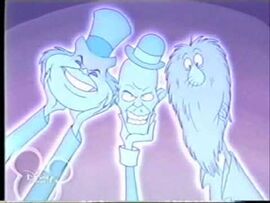 The Hitchhiking Ghosts
are infamous ghosts that are located near the end of the
Haunted Mansion
in the Disney theme parks. They rarely appear as face characters, only appearing during events such as the Haunted Mansion's 40th-year anniversary. They sometimes appeared on the animated television series
Disney's House of Mouse
. The ghosts also had a minor role in the 2003 film
The Haunted Mansion
. The Skeleton, however, did not have a speaking part. Fans often refer to the characters by the unofficial names "
Phineas
" (Traveler), "Ezra" (Skeleton), and "
Gus
" (Prisoner).
In the Spongebob series, the Hitchhiking ghosts appear as their House of Mouse selves, first debuting in Spirited Away as minor characters who help Chihiro and the Shell Louge Squad find their way out of the Spirit Realm, while also singing Grim Grinning Ghosts at appropriate moments of the film to comment on the story as it progresses. They disappear from the story when Sora and Spyro are kidnapped by Vanitas to be transformed into vessels of Xehanort's heart, and reappear at the end to see our heroes off into the distance. Their song was also used (or should it be, ripped off) by Lord cobra and the Tranzvilvanian monsters in SpongeBob and Friends Find the Black Cauldron.
Community content is available under
CC-BY-SA
unless otherwise noted.