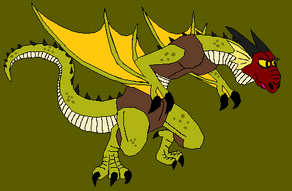 Hon R. Wing
, AKA
Honey Wing
is a female red-faced wyvern who was born on a dragon-populated world with sentient dragons who could stand erect, and was in an industrialist era. Honey was an orphan who was put up for adoption by her parents when she was just an egg. She grew up and became a singing pin-up girl who was fired for killing someone who tried to sexually assault her. She was then briefly placed in house arrest, but afterward, she became a part of the
Heart-Breakers
Space-Biker Gang, known to have ruined lives through mental pain. They caused divorces, crumbled friendships, and had ruined family lives. Even the members of the gang are attracted by her appearance. But she does know some self-defense moves that protects her from another rape attempt.
History
Coming soon...
Community content is available under
CC-BY-SA
unless otherwise noted.