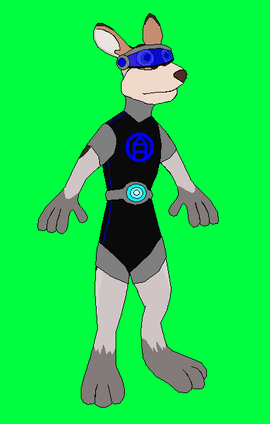 Homer J. Einthoven
, AKA
Hopstar
, is an Alternate UUniversal Joppa from Planet Eslurn. He is a large leopard-sized agile rabbit that has quick reflexes, adaptive physical training, can wield a gun and reload it quickly, his martial arts and speed are uncanny, and he has developed his own extrasensory perception of the world around him. He is a former bounty hunter and the partner of his older brother who was very egocentric and neglectful of his own brother. But when this self-centered nature got him killed, Homer has hated heroes, bounty hunters, or people who do good that are full of themselves, seeing them as inevitable failures. He especially became hateful of the
Heroes Act
when they displayed undisciplined behavior on a mission on his homeworld, and wanted to be their leader by joining as a candidate for the Leader Initiative where
Councilman Calixto
has to choose a leader for the Heroes Act. Though he didn't win the role, he was tasked as the training coach for the Heroes Act, getting his own virtual reality gear to use on the battlefield including smart shades.
History
Coming soon...
Abilities
Coming soon...
His UIS Identity, Jackine Coopler, is a creature called a Kremlin, a lagomorph with wool alongside fur and are a very common creature in UIS forests. Naturally his jumping ability and speed are vast. His acrobatics are very grand, he has a wearable computer and a wrist laser, but he also has a suit of intelligent armor and an ISD for containing some equipment. He is described as a former hero cop that found little enjoyment in defending either the UIS or the USRA, abandoning the force after an invasion feeling his precinct was incompetent, instead becoming a freelance police officer.
Gallery
Community content is available under
CC-BY-SA
unless otherwise noted.