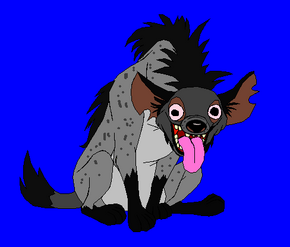 Hud
, birth name
Azibi
, is an Alternate UUniversal Malfil from Planet Animolity. He is an adopted orphan brother of
Zhensi
and
Bongki
after his single father died trying to stop
Morgue
for his crimes against Malfils and Cauters. After the murder of his father and because of Morgue dropping him as a pup, he's mentally retarded and yet comical, he was one of Morgue's new commanding officers until he killed him and ate
Scratch
for causing their parents' deaths and betraying them, becoming a member of the
Clam Lounge Squadron
. He's the AUU version of
Ed the Hyena
, and unlike him, he can speak, but he has an unintelligible lisp that makes it hard to understand him, and his mentality is ranged from just saying dumb nonsense to being average smart for only a short period of time.
History
Coming soon...
Quotes
"ARESUME!!!"
"URH MUN, YEEIIR SURH ARESUME!!!"
"URRRH NURH YU DURRNT!!!"
"YEERRSS DUR BURRHDY BUUUIILLIIRR!!"
"YERA DUURRMMY!!"
"DUUUNNNGG!! THUURR'S BLUUUUUUUD EVRYWHHUUURRR!!!"
"GURVE US TEH MEEETT!!!"
"CERMURE, YUH LIRLE BURNBURN!!"
"GUURRTT TEHT RUUURRRNT!!!"
Link
Community content is available under
CC-BY-SA
unless otherwise noted.