Obi-Wan Finale - The Loop
Play Sound
Iago faces the worse depression ever since the passing of his voice actor. As a result of denial, he has been avoiding immediate invitation to the same club Batty is a part of and is very clearly going through the five stages of grief, being stuck in the first two, denial and anger. Icky, aiming to cheer Iago up, and also to avoid a repeat of when Batty went through such a woe, he takes Iago on a double-date with Thundera and Gilda to go to a part of Agrabah where all the parrots come from, a rain forest tropic area within Thundera's rainforest, which of course they had to take the teleporter device since Deadpool wrecked the van as a means to prevent repeat Equestria adventures. Iago is given a chance to re-connect with fellow birds of his homeworld, but found that his domesticated life has left him too disconnected to interact properly with the way the birds live. However, things take a turn when feathered serpents like Malcho invaded the area and started to snag parrots left and right, and our four heroes were closed to being next until they were rescued by, the most unlikely of allies: Malcho himself. Naturally, Thundera was cautious of typical foul play and called out Malcho of being a part of it, alongside some caution of it being another League affair! But Malcho barely manages to earn the group's willing ear by explaining that the serpents that were attacking the parrots were his former tribe, explaining that he was once the rightful leader until defeated by his brother, Malcaliantie, who forced himself as the mate of Malcho's mate, Queen Mi'Amore, and aims to "Rule all of the Skies" by putting all bird and/or flight capable creatures under his roof so to aim to awaken the elder god serpent of the skies and a key creator of the world of Agrabah, with Malcho admitting that his "Tyranny with the Weather Medallion" was him training with the powers to be able to one-up Malcaliantie since on his own without such, Malcaliantie is a strong serpent. Seeing the obvious danger of a serpent worse than Malcho with Elder God powers, the four reluctantly agree to help Malcho rescue his former tribe, WITH the firm condition he won't try to get them to help out in the league afterwards, and if possible, that Malcho himself quits the league in return that the info relating to the whole arrangement of said league membership be obscure to his tribe. Can our four heroes handle an uneasy alliance with Thundera's and Iago's old foe to stop a worse new one, especially if they are all that's available since Deadpool wrecked the van and that the Lodgers are caught in something else as they are doing this?
Transcript
Previously... (Deadpool: :X)
Previously on SpongeBob and Friends...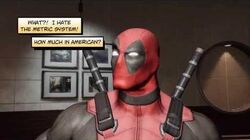 Deadpool: (He's seen sneaking into the Shell Lodger Garage and carrying some explosives in his arms) Okay, we only get one shot at this, so we better not mess this up. How much do we need to blow this joint up?
WB Deadpool: If you're talking about the van, and assuming they haven't made it indestructible, by which I mean Deadpool-proof, I'd say about 75 kilograms.
YB Deadpool: What?! Ugh, I hate the metric system! How much in American?
WB Deadpool: Let's see, uh, carry the seven, and uhhhh-
Deadpool: Dude, f*** math, just use whatever it takes! (Puts explosives on and inside the van)
BOOOOOOOOOOOOOOOOOOOMMM!!!
YB Deadpool: (Deadpool was seen outside the temple, hiding in a bush) OH YEAH! THAT WAS AWESOME!
WB Deadpool: I told you, 75 kilograms! That was pretty sweet, though.
Deadpool: How's that for Deadpool-proof bitches?! (to the readers) There! They're not going back to Equestria to stall for any more original stories! Hope you guys are happy to see Tiki again! Give or take something special that is happening AT THE SAME TIME?!
WB Deadpool: "Ya do realize it might be just that episode that's a break, right, cause immediately after is-"
Deadpool: "Hey at least it's the ONE episode that gives Equestria Missions some PAUSE! Just, roll with it! Now, on with the show!"
Chapter 1: The Depression of Iago
(In the Temple...)
Icky: (He came out of Iago's room)… Well, he's screamed so much he lost his voice. Oh the irony.
Sparx: Ugh. We're REALLY gonna be doing these kinds of episodes EVERY time one of our voice actors shuffles off the mortal coil? For some reason, I feel like we're being forgotten because something more EXCITING is happening somewhere else in the multiverse. Well, OURS anyway.
Tulio: Well, he'll hopefully get over it and HE won't end up taking Gilb's soul for days on the town. Grimsy wouldn't LIKE it if that happened again.
Skipper: (Hears the explosion) WHAT IN THE NAME OF CANDIED YAMS?!… Rico, no weapons testing indoors! We have a funeral to prepare.
Rico: Wa-n't me.
Skipper: "...... Yo, Shen, were you testing your cannons again?"
Shen: "No, no maintenance checks were done today-...... SPONGEBOB, WHAT DID YOU BREAK THIS TIME?!"
SpongeBob: IT WASN'T ME THIS TIME, I SWEAR!
Private: And it wasn't Kowalski. In fact, I think it came from the garage.
Icky: "(Came in and stopped when hearing that)..... Oh f*** no, please don't tell me that means what I think that means?!"
Garage
SpongeBob: (They see the van totally destroyed with moiwah moiwah music) FLAPPING FLOTSAM, OUR VAN!!!!
Lord Shen: (Dubbed as Mr. Herriman) WHAT IS THE MEANING OF THIS?! WHO IS RESPONSIBLE FOR THIS?!
Kolwalski: "Okay, (Puts on detective hat and brings out magnifying glass) We'll have to dedicate a lot of time and effort to- (Suddenly ditches them) Oh who am I kidding, IT'S DEADPOOL!!!"
Private: But why?
Icky: "I bet ya it's because he got fed up with the MLP marathon from before."
Lord Shen: (He is close to bursting in anger, but surprisingly quickly calms down)...... We'll have to worry about that later... Right now, we have to honor a great actor.
Icky: "..... Wow. Usually you'd be mount Vevousivious in a Peacock's body right about now."
Lord Shen: It's pronounced VESUVIUS!
Icky: WHATEVER! But yeah..... We need to do that for Iag's sake. (Ringing was heard)… Speaking of which, that must be Iag's voice twins. (They opened the door and found all the Gilbert Gottfried characters)… Called it.
Aflac Bird: (Crying) AFLAAAHAHAHAHAHAAAAC!!!
Icky: Don't worry, we'll get insurance from you in Gilb's honor. Come on in. (They entered much to everyone's mixed feelings)
Penguin: GLAD I AIN'T FREEZING MY NUTS OFF AGAIN!
Icky: Oh, I LOVE THAT VIDEO!!!
Penguin:… You haven't seen Farce of the Penguins, dumbass?!
Icky:… Apparently not.
Mxyzptlk: Look, buddy, we aren't here to-
Icky: HEY!!! NO DC CHARACTERS!!!! You see the rule sign on the way in?! (A copy of the Wiki's Rules and Guidelines page was seen at the entrance)
Mxyzptlk:… I'm not a strong reader. Also, CHARACTERIST!!! And even then, wasn't that rule amended to now being a bit okay now?
Icky: Is "Characterist" even a word? Ah, f*** it, it works. Also, even then, you're abit too unpredictable to work with as is, so, you're gonna have to wait until these guys are off camera and you're invited to that dead voice actor's club again to get with this group again.
Chaos: I got this. (He mind-controlled him)
Mxyzptlk: KLTPZYXM! (He vanished)
Digit: THANK YOU!
Widget: Yeah! I know WE'RE ones to talk, but HE WAS ANNOYING!!!
Million Ways To Die In The West Abraham: HIYA SCHMUCKS!!! FOUR SCORE AND SEVEN YEARS AGO, I WAS BRO-
Wendell: IDIOT, THAT WAS NOT FUNNY THE FIRST TIME!!!
Billy and Mandy Santa: I cannot BELIEVE there's more annoying people in these UUniverses who make me ashamed of my voice.
Sal: GET USED TO IT, BECAUSE YOU AIN'T THE ONLY ONE!
Barn Buddy: Get used to it?! We sound like dying birds!! (The doorbell rang as Squidward answered)
Parrot Doctor: Yeah, uh, we're with the pet hospital down the street and I understand you might have some dying talking birds on the premises.
Squidward: Sorry, it's a gathering of characters voiced by Gilbert Gottfried.
Parrot Doctor: Ohhhh. My apologies then- (Squidward slammed the doors)
Barn Buddy: YA SEE?!?
Penguin: I DON'T GIVE A S***!!! WE'RE PROUD OF OUR VOICES… Well, VOICE!
Digit: "Now settle down, fellas. Our shared voice actor would've wanted us to get along better than this.... Say, where's our Brother from the Disney side of things?"
Icky: "He's, still mopey. Annnnnnd a bit shot in the voice for saying no for a prolonged period of time."
MWTDITW Abe: "Well how the HELL does he think WE FEEL?! I feel like I'm technically a ghost since I'm the only one of the life-action characters who showed up here?! AND ONE BASED ON A DEAD OLD CENTURY PRESIDENT?!"
Billy and Mandy Santa: "I'm an odd one out too, buddy. I'm the ONE Santa that didn't have the traditional deep voice shtick the others have."
Barn Buddy: "You're also the Santa that married a blood bank vampire."
Billy and Mandy Santa: "Hey now, let's keep personal bis irrelevant, huh?"
Digit: At least my voice is more reserved than the rest of you. And we should be grateful Barn Buddy here isn't exhibiting his "evil, erratic behavior" he was advertised to have.
Barn Buddy: Only out of respect for our voice actor!
Mxyzptlk's voice from a suddenly appearing portal: "For the record, I was asked to behave too for the OG Voice Actor's sake too?!"
Icky: "Well sorry but our producer's a bit limiting about how quick he wants to include Marvel and DC characters too much into this barring exceptions of his choosing."
Mxyzptlk's Voice: "Well can I at least be allowed a cameo?"
Digit: "Technically, ya were."
Mxyzptlk's Voice: "Oh..... Well I'll see you guys after the funeral when we get into that club, IF off-camera on this episode, I guess."
Meanwhile in Iago's room
Iago is still depressed about his only voice actor's death, when Genie peeks in.
Genie: Boy... and I thought I was blue. Hey, Iago, I don't mean to intrude or anything, but you're gonna be late for your own actor's funeral service.
Iago: "(Laringitis'd and depressed) Heaven forbid that happen, clearly."
Genie: "Yikes. Ya did got a shot voice. So ya did say no for a prolonged period of time."
Iago: I just can't believe that Gilbert's dead. How could this happen?
Icky: "(Looking up his Wikipedia page) It said that "On April 12, 2022, at the age of 67, Gottfried died in Manhattan from recurrent ventricular tachycardia, complicated by type II myotonic dystrophy. He had not made his condition public.". Well basically it's a fancy way of saying he had heart problems-"
Iago: "IT WAS RHETORICAL, YOU PREHISTORIC NUMBSKULL?!........ (Cries).... I'm sorry, I'm sorry, I'm, emotional right now, I'm not myself at the moment."
Icky: We all aren't in our heads after our voice actors' deaths. But not ALL of us. When David Ogden Stiers died, Jumba had the decency to cry on the inside. When Don Rickles died, Cornwall only cried for a single day, which compared to the other drama queens, is impressive. Plus, some of us are characters from the early-to-mid 1900s, like the Wonderlandians. They have voice acters that have been dead for a GOOD WHILE NOW, and they handled it just fine.
Genie: Uh, should you try beginning that sentence with 'sorry'?
Icky: "..... Alright, yeah, I'm sorry too, I did NOT read the room properly there, it was just something I was curious about and looked it up. Well now we know, right?"
Iago: "Does it really make it better?"
Icky: "...... Truth be told, I.... I ain't sure there's a right or wrong answer for that. But, at best it could be, closure for why it's the case."
Iago: "Well the fact he didn't make it public makes it WORSE?! I wasn't emotionally prepared for this?!"
Genie: "Yeah, I hear ya. Batty and Me weren't prepared for Robin to buy the farm on us too."
Icky: Yeah, but Batty took it worse than you did, and I don't like to mention that incident so loosely, especially in times like this. Added to that, that became a controversial episode because it wasn't considered a "Proper Tribute" to Robin, heck, Shen even started to make it a thing to preemptively prevent another "Batty Situation" by doing a thing that we have to babysit the griever, even more so ever since how Spongebob and Patrick handled their show creator's death not that far ago in the season.
Iago: "I just can't believe this. Why didn't Gilbert let the world know about this?"
Icky: "Iags, him making this public probably wouldn't have a guarantee that he wouldn't still, go the way he did. Conditions like what he had, don't just stop just from having a high number of people knowing about it."
Iago: "...... But that's just it. It wasn't like it was cancer or anything, don't we have modern medicine that's suppose to stop things like this?"
Icky: "Well, yeah, that stopped people from dying AS OFTEN as back in the old eras, but it didn't just CANCEL death. It's sadly one of those, delayed inevitabilities at best. We HAVE brought people back to life before, starting with Megara, but, I think Death himself-"
(Deadpool): OR HERSELF!
Icky: SHUT UP, VAN WRECKER, LADY DEATH OF THE MARVEL UNIVERSE OF THINGS IS A RARE OUTLIER AND YA KNOW IT, DEATH IS OFTEN A DUDE IN OTHER UNIVERSES?!… Is NOT willing to let us do anything about our deceased comrades, like Stoick or Mufasa. The former only being a surprise death while the latter, kinda has a stronger role as a spirit anyway.
Iago: "..... Sometimes I question on, whether it was right of us to stop any of those kind of villains that are trying to discover immortality or just, over all stop death."
Icky: "Hey careful with that kinda talk, that triggers Shen to be extra strict as s*** on ya! And honestly, a lot of those villains are often either just doing that to help themselves, are potentially either insane or too scared of death to appreciate life for what it is, or often cause the power they are after is either too dangerous, risks abuse or is taboo enough that it pisses off associated gods or entities, and even THEN, ya know how the High Council are stern about "respecting balance" and what not! Even MORE so ever since this series started having a cosmology where we have Outer Gods that are EASILY triggered at any dimension being OP or off balanced! And I'm DAMN sure this series alone has said Immortality is HORRENDOUSLY OVERRATED AND OVERHYPED?! Remember MORALITY ILLNESS?! Ya saw that f****d up s*** in action before and what it does to gods or immortals that don't play to their alignment?!"
Genie: (Turns into Meme Eggman) SILENCE! (Icky and Iago were shaken up as he turns back to normal) Sorry, it's just, Iago's under a lot of pressure. Whaddya say we attend the funeral service, and we'll work something out after that?
Icky: "Tch, yeah I felt like that's X wanting the show on the road. Fine, but for Iago's sake, not cause X is pushing the plot along and limiting character development and lore building."
The funeral.
The Gilbert Characters are all gathered with Iago front and center.
Lord Shen: And so, it is with great sadness that we mourn the departure of Gilbert Gottfried, the Man of the Funniest Bird Voices. His voice and legacy will live on for all of eternity.
The doves were released by the wolves.
Lord Shen: "Iago will be permitted to say the final words."
Digit: "Well honestly it would still be like we heard it from our own words, so no complaints from any of us."
Barn Buddy: "Well that and he's more or less the animated progenitor to a lot of us and arguably existed first, so it's his automatic right to send the Big G off."
Icky: Do your best, Iags.
Iago: I'll try. (Clears throat)… Gilbert Gottfried was the greatest star I've known in 1001 Arabian Nights. Would you believe before he voiced me, he was a toaster in a Pop Tarts commercial?
Said Toaster: I'M RIGHT HERE, YOU KNOW, AND SINCE 1996, I'VE STILL BEEN RAGING WITH EMOTION HERE!! (He popped out Pop Tarts)
Iago:… Sheesh. Some of us need to get a life. Ahem. Anyway, he voiced me for many years before his death... well, that and the unfortunate remake where I was given a second voice-- well, technically third because Seth Green voiced me in a Robot Chicken sketch, but let's keep that out of the way for now. May I get a new, better vocal role in the future, and may he long rest in peace. Gilbert, I hope you continue to delight in the heavens. (The group applauds)
Digit: "Well said."
Heaven
Gilbert Gottfried:… AND SO I SAID, "WHERE DID YOU GET THAT PARROT, AT MY HOUSE?!" And then HE said "No, I got it from a regular pet store where the owner watched Aladdin a LOT!" (Everyone laughed) And that ain't a joke, that actually happened to me once. (They laughed)
Robin Williams: l REALLY missed HIM.
Living Realm
Iago: So… Let's not screw up this funeral like we did Robin's.
Batty: Trust me, man, we do NOT joke around with death anymore… Unless we gotta cope. And even then it has to be done with good taste or at least funny enough that it can be pardon as it being meant to be like Family Guy style humor.... Even for as much as Family Guy has a mixed reputation now.
Icky: "Yeah they started to just do whatever they want to the point that them being "Shocking" is ironicly not surprising anymore. In fact it's just them trying too hard now. And that's the NICE way to describe them."
Iago: So… Anyone know how to play Amazing Grace on the bagpipes or something?
Wendell: HAH! You toothless imperfect beaked lunatic, THAT'S been better served at LEONARD NIMOY'S funeral years ago. Uhhh… What songs did Gilbert sing in life?
Iago: Ones that aren't mine? Not much we can think of that's appropriate for a funeral. So… Let's just give a moment of silence. (They did that as many of them sobbed)
Digit:… *Sniff*… I'm impressed with us. Gilb's characters are usually loud and obnoxious.
Aflac Bird: AFLAAAHAHAHAAAC!!!
Iago:… Close enough…. We'll miss you, man.
Chapter 2: A Planned Road Trip- I mean, Teleport Trip
Later…
MYTDITW Abe: See ya at the CVBDC?
Iago: Yeah yeah, sure sure. If I'm in the mood.
Batty: C'mon, Iags, they ARE helpful at making you feel better.
Iago: Aren't villains there too? INCLUDING some of OUR enemies?
Batty: Villains gotta have lives too. They were pretty much BORN to be villains.
Iago: Still. Many of them like Mrs. Beakley got a ticket out of there thanks to a reboot. Some of us? Not so much.
Icky: Hey, canon works in mysterious ways.
Iago: Yeah, but… You know what? Not talking anymore. (He left)
Lord Shen:… We must let him cope. He needs time to himself.
Sandy: "Pretty much how this is supposed to work."
SpongeBob: I have a feeling that's not how this is going to work, though. It's a cartoon show made by two wildcard fans of my show, one of them a former obsessive fan of Sandy, and and other introduced essentially an off-canon story of our lives into becaming its own timeline when original events turned for the creator's disliking.
Sandy:… Pretty colorful way to define the show.
SpongeBob: And again, feels like said producers hardly touch on us because of the SAF EU ends up getting more attention.
Shenzi: SpongeBob? My main sponge man? What have I always said about going too meta?
SpongeBob:… It bores the audience.
Shenzi: Exactly. So tone it down a notch. Don't want our audience dying prematurely. So if you're sure Iago isn't going to just get over his VA's death alone since things are HARDLY normal anymore, then what-
Icky: "Shenzi, the chapters alone already suggest what needs to be done next, we don't need to meander at this."
Shenzi: "...... (Sighs)."
Icky: ".... Okay fine, non-metanese it is then! I was thinking of having Iago to go on a double date with Thundera and Gilda on Thudnera' forest home in Agrabah."
Banzai: "Might be kinda hard to do bro, with the fact DEADPOOL BUSTED OUR VAN TO HALT ANOTHER MLP-BASED EPISODE?!"
Icky: "Well if canon knowledge serves, we have a teleporter device that's meant to serve as a stand-in to whenever the van's crippled."
Lord Shen: "That it does, but it kinda needs to be available at all times-"
Icky: "Shen, for as much Shenzi now has a newfound distaste for meta jokes, I think I can safely say that the plot isn't doing anything other then what this episode is gonna tackle later on and I don't think we're due for minor joke villains for this."
Sandy: "Also, I think Iago could really use cheering up."
Lord Shen: ".... This is something that is mandated now. Very well, but this would mean we would have to put the van on an advanced state of immediate repairs and send a signal to the worlds that we may be crippled at the moment, just be sure to bring a communicator to warn us of any serious problems if possible."
Icky: "Yes, Angry Peacock Dad."
Lord Shen: "(Rolls eyes) You are taking this seriously, right?"
Icky: "Relax, relax, I am, just thought I jab in some humor at ya making alot of this "in-advancement" stuff of when/if trouble shows up."
Lord Shen: "There's no shame in keeping your guard up."
Later
Someone knocks on Iago's door...
Iago: Go away!
Thundra: Iago, it's me.
Iago: Oh, well, then, come in.
Thundra came in.
Thundra: "Iago, I get you are muy muy hurting, but, Icky has something to offer you to cope with your voice acter, moving on from us."
Iago: "This being?"
Thundra: "A double-date in my rainforest in the world of Agrabah."
Iago: "..... Well, some time at home would be nice."
Thundra: "Iago, I know you're distressed but- Oh, I see you said si to this."
Iago: "Well honestly, it's healthy to be with loved ones in times of sadness.... That and Shen's gonna mandate that I do this to get over it, you seen how strict that albino peacock is."
Thundra: "Well, it'll give us plenty of an ability to catch up on old times."
Iago: You mean when I first met you because Agrabah needed water, and Aladdin decided I play bachelor just to steal one of your rainclouds?
Thundera: I meant memories outside of those.
Iago: Like when you joined us because you mistook the Hyenas abducting me as a kidnapping when we were on that Prehistoric Madagascar with Aladar?
Thundera: Why were you even there, anyway?
Iago: We needed SOME random location to try a crazy exercise in hot potato training to keep a key item out of villain hands, and Whiskers took it a LITTLE too seriously and scored the wrong side. (Whiskers voice) I'M OOPPPEEEN… Okay, I'm closed.
Thundera: Aye crumba- I MEANT GOOD MEMORIES, MUST I BE MORE SPECIFIC!!
Iago: I'm just joking, babe. C'mooon, you know me. Also, glad to have Charlie Adler as my voice for a change.
Thundera: You have time before a likely VA larynx surgery. So what say we not rehash Batty's VA death episode and go to my world?
Iago:… Even if it wasn't being mandated by Shen to prevent such a case anyway, I'd like that. I'd earnestly like that.... As long as MALCHO has nothing to do with it.
Thundera: When have we ever seen HIM?
Iago: When have we ever seen the VILLAIN LEAGUE?
Thundera: I'm guessing they're still going through woes of their own since they lost the Princesses of Heart and have to give up on that cause of the idea being tainted to them now with Nega-Xehanort's betrayal and what not.
Iago: Ahhh, they'll get over it. That plan was getting too old anyway…. Why WAS Nega-Xehanort an Outer God?
Thundera: Are you still on about that, mi amor?
Iago: I think a LOTTA us are. But you're right, let's just assume that was part of the cosmotogity train Scroopfan's using and call it quits on that. C'mon, let's hit the bricks.
Mad Hatter suddenly charged in and punched a brick wall!
March Hare: "(Shows up) BRICKS HIT?!"
Iago: "NOT LITERALY, YOU MORONS?!..... Also, THIS AIN'T YOUR EPISODE?!"
Mad Hatter: "Oh, we know. Just making the most of the limited appearance before ya set of on what's technically another Icky and Iago adventure. Hohoho! OWCH, JUST NOTICED THE PAIN FROM PUNCHING A BRICK WALL, OWWW!?"
Thundera:… Let us be off.
Later…
Wendell: So then she said "NO TEETH!"
AMTODITW Abe: SHEESH, man, what is your old man's obsession with teeth?
Digit: When you have oversized chompers like THAT, how can't they?
Iago: SHEN!
Lord Shen: Ahhh. You're in a better mood. Perhaps Thundera did the trick… Like usual.
Thundera: We shall be off to Agrabah to my home forest.
Icky: Wow, I was just about to ask I take ya to a double date between me and Gilds for that.
Brandy: Yeah, if we had our FREAKIN VAN!!!
Mytzptlk: Hey, COMIC-HATERS! Look who I FOUND! ANOTHER COMIC BOOK LOSER! (He brought out Deadpool)
Deadpool: IT WASN'T ME! IT WAS THE ONE-ARMED MAN!!
Mr. Whiskers: Huh? How can someone blow up a space van with just one arm? Monoplegics are usually bad at things like that.
Boss Wolf: It means a guy with a gun, dumbass.
Mr. Whiskers: Oh… Then just say that.
Lord Shen: You are SO DEAD, HUNDREDS OF TIMES!
Deadpool: WELL, EXCUUUUUSE ME for wanting you guys to solve problems on OTHER WORLDS, especially when MSM is REALLY lagging off in favor of the SAF Expanded Universe with Amphibia, Kipo, Owl House, Star vs. The Forces of Evil, Gravity Falls, and Steven Friggin Universe. Scroopfan doesn't exactly help doing at least half of that other stuff with Security Breach and even doing stories for A WEB SERIES ON YOUTUBE OF ALL THINGS, SPRINKLED IN?!
Icky: Don't forget Star's AUU timeline twin Astra. Also, the Security Breach stuff is Non-SAF material, none of what went down is canon to us, it's its own thing."
Deadpool: Yeah that too, and second thing, but ya can't deny he certainly writes a certain way that ya can't help but feel it would debatably exist at least within our Multiverse.
Icky: "Well judging he never released a Multiverse for that nor the fanfiction for said certain web series, I think he's keeping those stories separate as their own things."
Lord Shen: Making the conversation go back to the subject, we COULD have done it on our own.
Deadpool: YOU CAN'T KNOW THAT WHAT WITH THE RULE OF SPOILERS, ESPECIALLY SINCE NEXT EPISODE YOU GOTTA BEAT A T-REX, SPOILERS!! (Neuralyzer flashes were seen) So, YOU guys could do with fixing some issues HERE, since your asses were gone. The UUPD could use some help.
Frank: It's the UUR now.
Deadpool: I REFUSE to call them that, they're just p*****s who just changed the name because of a controversy that, while it should be taken seriously, is just another of an ongoing saga and even then, people have more or less moved on now.
Icky: "Well it was largely done cause Axle and pals really need to be able to do their jobs without controversy holding them back, so, the re-branding is meant to make them controversy slog-proof."
Deadpool: Tch.... Whatever happened to the rule of no real-life topics?
Pang Bing: Well like we told Mytzptlk, our rules are getting more flexible. That and our writers simply at times forget to really adhere to them, give or take both. But YOU?! (She grabbed Deadpool) THIS subplot of both fixing up trouble in the Dragon Realms AND giving you what you deserve… IS GONNA BE FUN! But mostly the latter… STARTING WITH THIS! (She used a magic blade to stab him in the groin as he harmonized screaming) Good luck growing THOSE back.
Deadpool: (Squeaky voice) OHHHH, SO GLAD I NEVER HAD CHILDREN… DO I?! LINKARA HAS THE CONTINUITY ALARM FOR A REASON, OWWWW!!
WB Deadpool: Probably best not to think about it. And even if you did, they probably either got retconned or they're alternate marvel universe shenanigans.
Iago:… Aaaaaaanyway, Shen? Can we use the Portal Remote?
Lord Shen: It's the only mode of otherworldly travel we have left until the van is fixed.
Patrick: Wasn't the van destroyed in our LAST mission? Merlin fixed it with magic.
Merlin: SOME of us don't want to do EVERYTHING with magic. If we just went around fixing everything with magic, would we NEED much of the Lodgers we have?
Icky: "Well that and the plot isn't letting you guys quick-fixing this cause the rest of ya are gonna be needed for the next episode as it's gonna be one of those shared continuity things."
Patrick: Ohhhhh. That makes sense.
Deadpool: Sheesh, are the idiot Lodgers only good for saying dumbass lines nowadays?
Patrick: I did smart things LAST episode. AND HERE'S SOMETHING THAT SMARTS!! (He kicked Deadpool in the groin)
Deadpool: YAAAAAAAAAHHHH!!! NOW IT'S GONNA TAKE LONGER TO HEAL!!!
Patrick: Neptune knows you of all people should get a vasectomy.
Deadpool: Joke's on you. My healing factor won't let that vasectomy happen anyway. It requires a LOTTA snipping. (As they argued, Shen just gave Iago and Thundera the portal remote and they with Icky and Gilda just went to Agrabah)
Agrabah, Thundra's Rainforest
Icky: "(Breaths in), SMELL THAT NATURE?!"
Gilda: "Certainly a nice change of pace from being exposed to Deadpool's, Deadpooliness."
Iago: "Same!"
Thundra: "It's extra special to me cause it's home."
Iago: Yeah... I remember the first time I came here... And I feel like the canon continuity kinda confounds with SAF continuity-
Icky: "Okay, like, to fix that, we can say that before the Mulan Adventure happened, you may had met Thundra in a non-canon way and work off from that."
Iago: "Okay, fair enough, this series is always known for doing its own thing."
Thundera:… I wonder how it has been since I left.
Gilda: We spend more time home since the reevaluation began.
Thundera: Si, but have you ever seen others like me before?
Gilda:… Have we? (Icky and Iago shrugged unsure)
Icky: "I mean, we did run into birds like Iago and birds like me, but never another bird like Thundra."
Thundera: In that case, that changes right now!
Icky: "Okay, but this may contradict a far-off future episode about meeting members of your kind-"
Thundra: "Well if we did the Great Cycle hoopla early, we're going to do THIS early, only fair. (they flew off into the forest)"
Iago: "I have to admit, there's a strange instinctual nostaglia from flying in a rainforest."
Icky: GeeeEEEEEeeeeee, I wonder why?
Iago: Yeah, I wonder WHYYYYYYYYY?! It's not like PARROTS CAN BE COMMONLY FOUND IN A RAINFOREST!!!
Gilda: UGGGGH, AND I WONDER HOW MUCH MORE ANNOYING YOU GUYS CAN GET! And in Ick's case, NOT IN A CHARMING WAY!
Thundera: AND I WONDER WHEN WE CAN ACTUALLY GET TO MY HOME!
Iago: THANK YOU, BECAUSE I'M GETTING TIRED OF USING MY VOICE RIGHT NOW!!!
Icky: "Yeesh, sorry, just practicing my right to sass here."
Thundera: Allow me to guide you, mi amigos, and amor. I know this place like the back of my wing.
Iago: You mean the back of your hand-wing?
Thundera: Si, let's go with that. Though that does open questions I'm not prepared to ask. (They flew off as they followed her, unaware that something serpentine was watching them in the shadows)
Icky: "Yeah artist liberites from the 90s is becoming increasingly baffling these days, am I right?"
Chapter 3: Parrot Paradise
Chapter 4: Flying Serpent Attack
Chapter 5: Malchoing Revelations
Chapter 6: The Sky's the Limit
Epilogue