Imaginary Troubles is the 30th Episode of Season 3A of the SpongeBob and Friends Adventures Chronicles series. Following the earning of their cutie marks, The Cutie Mark Crusaders are named great heroes by the Lodge, and are impressed that their worse bullies are now their friends and that they will no longer be hunting for cutie marks and will instead dedicate the club to helping those in need, whether cutie mark troubles or others. And their first task couldn't be more convenient since a new student has come to their school named Sweetheart. This mute filly has been bullied all her life because of her abnormally-large horn, and less of the time for no cutie mark. At first they think this will go well until they find that she's not the only new student. A mean and nasty colt named Emerald Ace, who's even worse than Tiara and Spoon once were, comes in and makes a bad impression with Sweetheart. So the Crusaders have Tiara and Spoon bring Sweetheart to the clubhouse and try to make sure she doesn't end up like Babs Seed, and maybe even help her get a cutie mark along the way. But because of Diamond Tiara and Silver Spoon not exactly helping with putting their hooves in their mouths trying to explain the horn in good quality, she runs away. Sweetheart implausively uses her large horn to make her own imaginary friend, Princess Sunshine, and Sunshine cares for her like a mother. This evolves to the point of her seeking to punish anyone who wrongs her. She returns to Ponyville, and everyone is surprised when Emerald ends up being turned into a baby goblin. Everyone but Mayor Mare, Sweetheart's Parents, even Emerald's own mother, starts to think she was cursed because of the fact that no one sees Sunshine and Sweetheart can't speak. The Lodgers get word of this, but even they can't discover what's wrong with her. They believe they need to teach her how to use her uncontrollable magic capacity, and the Crusaders decide to help along the way, even inviting Discord along for extra magic support and for the fact that he once said that he has the power to see imaginary friends or magic apparitions. Sunshine starts to fall in love with him since his head is filled with imagination. With Sweetheart becoming friends with Discord, and Discord disturbed by the fact that he can see what Sunshine is doing, the heroes realize that Discord may be the key to helping her control her powers. Will she get it right, and stop other crazy things from happening, and will they have to deal with a new problem in the form of Emerald Ace's retaliation, that is if an unexpected surprise doesn't come to complincate things?
Transcript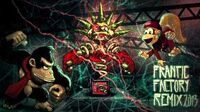 Intro (Donkey Kong 64- Frantic Factory Remix)
Chapter 1: The New Crusaders
Ponyville.
The Ponyville Shcool was seen as fillies and colts were approuching it.
Scootaloo: So, girls, you excited for our 1-week anniversary of us finally getting our cutie marks?
Applebloom: As I'll ever be. Everypony in school LOVES us now. We helped ponies in need, and we actually discovered what we were good at.
Sweetie Belle: I never doubted it for a second. I knew we'd get them sooner or later. And I'm glad to know that we'll no longer be bullied for being 'blank-flanks', and that we reformed one of our biggest bullies.
Applebloom: Yeah. I'm just excited for what we'll do next with our new talents.
Scootaloo: Relax, Crusaders. Another task for us to fill isn't going to just fall out of the sky at the last minute. (The Lodgers van came out of the sky and accidentally crashed into a nearby forest)...Hey, it's the Lodgers!
Cherilee: Look, everypony! It's the Shell Lodgers! (The kids cheered, and once the Lodgers arrived, the fillies and colts ran around and swarmed them)
Marty: Yikes! I know we're famous, but Jesus!
Filly #1: Can I have your autograph?
Filly #2: I adore the squirrel!
Colt #1: I keep laughing at the funny birds!
Icky: Wow... Nobody's ever commented positively on our comedy before.
Sandy: And I see that MSM wasn't the only guy with a child-like obsession with me.
SpongeBob: As for autographs, I think you can have a bubble wand and solution. (Gives it to Filly #1)
Filly #1: (Squeals) I will never stop using these things again!
Cherilee: What brings you guys here?
Skipper: We heard about the Crusaders finally getting their cutie marks, and wanted to give them our greatest thanks.
Kowalski: And let me tell you, tears were shed when we heard the whole thing. Even Private won't stop crying about it. (Private is seen crying)
Applebloom: You came here just to give us some praise?
Sweetie Belle: Well, that's pretty kind of you. I mean, we've only had our cutie marks for a week.
Icky: "Well, we would've came sooner while it was relivent and recent, but ya know, duty calls."
Snips and Snails laughed and gaffawed!
Snails: "He said "Duty"!"
Icky: "....... In all fairness, those two are MLP:FIM's boy steriotypes, alchourse they're gonna laugh at poop jokes."
Trixie: You see why I find them annoying?
Shenzi: You girls are lucky to have made it this far. You're heroes in another definition of the word. You prove that even kids can be heroes if given the chance.
Applebloom: Aw, shucks. I mean, granted, it took us until last week to see that we were good at helping others, but at least we finally realized something we can do with our lives. Heck, we're grateful that Tiara and Spoon won't be bullyin' us anymore.
Scootaloo: Which is why we're inviting them to our clubhouse after school today for our 1-week anniversary of our cutie mark earnings.
Sweetie Belle: We've even gotten Pinkie Pie to plan our party. We had hoped she was okay after she was... Acting all squirrely days ago, as if she was hiding something.
Icky: Oh, yeah, that new episode. We didn't get to watch that episode just yet. Don't know what Pinkie was hiding, though. Maybe we should go to the Castle and figure it out.
Shifu: I know you three will make us proud now that you're destined to be great heroes.
Applebloom: Oh, thank you, Mr. Shifu.
Shifu: It's MASTER Shifu.
Applebloom: Right, MASTER Shifu. Go on and check up on Twilight. And... Make sure you help her out with something. She's always been complaining that the map hasn't called her with a mission yet.
Trixie: Yes, she's been acting all bored like that ever since the griffin episode. At least the map has somepony to speak for it.
Gilda: Well, we'd better not keep her moping any longer. Let's head out. We'll get the van out later. (They teleported away)
Cherilee:... They actually congratulated you three? How sweet.
Applebloom: Yeah. And they actually called us REAL heroes.
Cherilee: Of course. You three have done some heroic deeds not just in our show, but also in THEIR show.
Snips: Yeah, I'm just glad you three aren't doing life-threatening actions just to get your cutie marks.
Scootaloo: Nope... Now we do those for fun. (Fail sound plays)
Cherilee: GIRLS!!
Applebloom: What? When we thought about it more, we agreed to have some spare time to continue doing those things for fun. Sure we almost get killed, but at least since Discord is a Crusader since the comics, he'll at the very least sense us in danger and rescue us.
Cherilee:... Well, that's kind of a relief.
Applebloom: I can already tell that we're going to be a great team.
Crusaders: CUTIE MARK CRUSADERS FOREVER! (They all high-hooved each other)
Twilight's Castle
Twilight: Well... Shining Armor and Cadance are having a baby soon. I'm already excited to become an aunt, and I'm already starting to feel confident in who I'm going to be in the future. And Equestria? Well, Equestria has never been SO... (Pauses as she looks at the map)... BORING!...
Rarity:... This is just sad. Even the revelation of her brother being a father wasn't enough to lift her spirits. It's odd why the map didn't choose her for any missions as of yet.
Applejack: Oh, you know Twilight, she's just an adventure-seeking hero who wants to do amazing things other than reading books... Which she's basically been doing all her life.
Twilight: MAP, find me something to do! ANYTHING, possibly even a friend being nasty to another! Even if it's to point me torwords another Junjie sceme?! ANYTHING!! (Oak Golden Bind appeared in the middle of the map)
Oak: Sorry, Twi, the map doesn't have anything for you to do yet. It's well-aware that you don't like how it won't let you do anything with your friends since the Griffonstone mission, but you should know that it's got some pretty precognitive and knowledgeable abilities. There's a reason why it chooses certain members and not you. You shouldn't let that make you bored.
Twilight: Yes, but I'm basically tired of doing outside adventures because I do them almost every day. I want a mission on my world that can actually lift my spirits as the Princess of Friendship.
Oak: Trust me, Twilight, I understand. The map sympathizes with you just as much as me and your friends do. You just need to be patient. The map will find you something to do soon enough.
Pinkie: (Arrives) GIRLS, THE LODGERS ARE HERE!!!
Twilight: Really? What're they doing here?
Pinkie: They came to congratulate the Crusaders in earning their cutie marks, and they said that they wanted to cheer Twilight up since they said she's been bored lately.
Twilight: Oh, I don't think anything they say can cheer me up. (Lays her head on the map and groans)
The Lougers came in.
Icky: "Still down about the Map not giving you a friendship mission thing, huh? I mean, with Griffinstone, I would understand, that place was a mess, even the Libary was a dump! It wasn't even a libary at all! Just, ruins! No offence Gilda."
Gilda: "No offence taken. But it has started to litterally clean up it's act."
Twilight: "Perhaps, but what was the reason why it didn't included me into Manehatten? I could've EASILY fixed the original stage and more!"
Applejack: "Well, some MLP analists said that would've worked against the episode. One such named Dr. Wolf espeically. The episode wouldn't be able to deliver the lesson well if we just had magic fixed everything."
Icky: "Well, that, and magic would've taken out the feeling of a job well done when it fixed just about everything."
Twilight: "..... I guess so, but still.... I don't feel like a very great Princess of Friendship when I am not given the chance to help in a friendship problem."
Icky: "Hey, if it helps, Fluttershy wasn't yet picked for a friendship mission. And heck, wasn't that first tangoing with Starlight Communist-light good enough?"
Twilight: "That was kinda more the start of season thing then anything else. I'm used to saving Equestia with my friends as a group. But then the Map started to send them by twos. Pinkie and Rainbow get to discover and cure a decade long age of anti-soicalness that appearently plauged the griffin city. I mean, I'm surprise Celestia didn't attempted to reach out for the ecomonicly troubled city!"
Gilda: "Well, that was mainly the griffins fault. We're used to hardtimes in our past, so we're not BIG on asking for outside help. Again, Griffin Pride can be SUCH a bitch!"
Twilight: "Then it turned out that Manehatten only had their "Colorful charm" was because of forgetting their sense of community."
Icky: "Oh trust me, I don't think a play has any real effect on new york attatude. People always have somewhere to go, even when they don't know WHERE to go."
Twilight: "Well maybe not the "New Yorks" of your world, but Manehatten might surprise you on what a little play can do for a community in even a big city. Agian, we ponies have purity."
Icky: "Touche."
Viper: "So, we heard from the Crusaders that Pinkie was acting weird in an episode we weren't able to see yet. Care to explain?"
Pinkie appeared from nowhere!
Pinkie: "NO NEED TO!? We can watch from my, (Brings out a party-themed movie projector) PARTY PROJECTOR!?"
Po: "..... You have a party-themed movie projector?"
Pinkie: "Why yes. I have alot of things party-themed. I have a party-car, a party kiddie pool, a party jet, a party Baseball Team, a party rap gang, party animals, party space ship, party castle, a party party, a party inception, a party dimention, party shoes, and, a party toilet that can speak in 1,937,809 different languages!"
Twilight: "..... You have a party toilet?"
Pinkie: "Yeah, but, he's kinda in a bad mood recently, so I didn't brought him over."
Twilight: "Uh.... I'm gonna ignor the toilet thing."
Icky: "Ok then Pinks, roll le camer-a."
Pinkie: Okey-dokey-lokey. (Rolls the episode)
Later...
Icky/Iago/Po/Tigress/Fidget/Sparx/Spyro/Cynder: SHINING ARMOR AND CADANCE ARE HAVING A BABY?!?
Pinkie: Yep. And trust me, it was a pain in the flank to hold it all in.
Sparx:... Wow, so much for the master of keeping secrets.
Pinkie: Hey, a fact like that is not like the others I've been good at keeping. It's something that's too big for me to hold in.
Sparx: Suuuure.
SpongeBob: And here I thought the two were 'too busy for having kids'. I mean, why else would their last kid from that alternate reality Clare made was given to Ms. Harshwhinny?
Twilight: Oh, I'm sure Galiax and this child will be the best of friends.
Sandy: And I can tell that the Crusaders don't know yet.
Rainbow Dash: Nope. We were too busy to tell them. But now that you're here, and you said they're planning their 1-week anniversary of their cutie marks, you can be sure to tell them. I'm sure they'll be delighted to know.
Crane: Oh, definitely. Them getting their cutie marks is practically by far the second best thing that just occurred in this show recently.
Twilight: Oh, trust me, the greatest of this season has yet to show itself. But, I just don't see that happening because I'M SO F****** BORED!!! (Bangs her head on the map) GIVE, ME, ONE, SINGLE, SOLITARY, MISSION, PLEASE!!!
Oak: Twilight, please stop doing that.
Twilight: "I would do anything to get a mission, even if it has to be litterally in ponyville and comes COMPLETEY out of nowehere?!"
Rarity: "Be careful what you wish for, darling. You might just get it, and EVERY pony might feel the BLUNT of it."
Chapter 2: Sweetheart's Horn/Emerald Ace
The School.
Cheerilee: "Class, today is even more speical then it was previously. Cause today, we have some speical new students."
Silver Spoon: "New Students?"
The classmates began to chatter excitedly.
Cherilee: Settle down, class, I'm excited too. But keep in mind that these two are not ones that have had it good. Expect the last one to be late because his mother is having a difficult time getting him here with her job in archaeology. But the first student got here just in time.
Sweetie Belle: These two are not normal?
Applebloom: What do you think that means?
Scootaloo: Perhaps it's something we can help with. It's already our 1-week anniversary, and yet maybe a pony in need just fell out of the sky.
Applebloom: I don't know if she is in need of help yet, Scoo. But let's just see.
Cherilee: Class, meet Sweetheart. (Nothing comes up for a while)...Sweetheart?...Come on, please don't be afraid. They're not going to laugh at you.
Scootaloo: Laugh at her? What do you mean? (Cherilee brings out Sweetheart as she appears as a yellow-and-cyan blue filly with no cutie mark and an abnormally-large horn)...
Applebloom: HOLY EQUESTRIA, WHAT IS WRONG WITH HER HOOOORRRNN?!?
Cherilee: Applebloom, calm down, okay? (Some of the students couldn't help but snicker) Class, I don't want any chuckling at her. She's been laughed at for the same reason. Her father had a mutation that gave him an enormous amount of magic capacity, making him just as powerful as an Alicorn. And... When Sweetheart was born, this was the result. Sweetheart has an uncontrollable magic capacity in this large horn of hers.
Scootaloo: No joke. It's roughly the size of an adult Alicorn's horn.
Tiara: Yeah, I'd say it's about as big as Princess Luna's horn.
Cherilee: Students, please, Sweetheart's sensitive about it!
Colt #1: Miss Cherilee? Does a horn grow when a unicorn gets stronger with magic?
Twist: Of course not, silly. That'd be ridiculous. This poor filly might just have a growth disorder in her horn.
Cherilee: Actually, Twist, this is not exactly natural. That mutation is what gave her this large horn. With a magic capacity as strong as her father, I think her body needed to increase it's horn length in order to- (Some of the students chuckled)... Okay, I'm not even going to ask why some of you chuckled at that. Now I want everypony to say hi to Sweetheart.
Students: Hi, Sweetheart. (Sweetheart nervously waved hello)
Sweetie Belle:... Does she speak, Miss Cherilee?
Cherilee: No. She's a mute. She's only 6 years old, and yet she still hasn't learned how to speak. Her parents said she spoke a few times, but not when she was growing up.
Applebloom: Aww.
Cherilee: Well, class, let's make Sweetheart comfortable with her new learning environment. (Clopping was heard outside)... Hmm... That must be the other student. (They all went outside to see a horse-drawn carriage, and out came a green-and-dull-yellow young stallion with a relic as a cutie mark)
Diamond Tiara: WOW! Look at him! He seems like a nice guy.
Emerald saw a small ant crawling by, and stomped on it hard, even punching a hole in the ground in the process
Diamond Tiara: "...... Once again, Karma sucker-punched me."
Scootaloo: Wow, what a jerk. Miss Cherilee, who is that awful colt?
Cherilee: His name is Emerald Ace. He's being raised by his archaeologist mother after his diamond-mining father was... Shall we say... A bit too rough on him. And we all know what happens to kids when one parent seems pretty rough.
Emerald Ace: HEH! What a puny school. Mom, are you sure I'm old enough for this place?
Emerald's Mother: Well, by one year, actually. After you move up a grade, you'll be done with it.
Emerald Ace: Well, good. I'd hate to waste another whole year stuck with such puny fillies and colts.
Emerald's Mother: Now, now, son, be nice to the other students. Some of them are victims of bullies.
Emerald Ace: Oh, trust me, I'll make them adore me. (Chuckles)
Sweetie Belle:...I don't know if I like the sound of that chuckle, Scoo.
Scootaloo: Oh, relax. He's probably not as rough as we think he is. So what if his father left a rough impression on him? Is he REALLY going to be this school's next biggest bully? (The carriage left as Emerald grinned sinisterly at the kids)
Applebloom:...With THAT look, I'd say that's a big fat yes!
Tiara: Oh, great. ANOTHER bully. And here, I thought he was going to be a nice sexy hunk of a stallion.
Spoon: Plus, he looks WAY too old to be in this school, what gives, Miss Cherilee?
Cherilee: Well, he is 12 years old, only a year away to getting out of schools like this. But don't worry, girls, I'll deal with this. (Approaches Emerald) Hey, Emerald.
Emerald: There's nothing 'hey' about it! So, you the lady that's gonna be my teacher?
Cherilee:...My, aren't you...(Chuckles)...just a ray of sunshine.
Emerald: You kiddin'? My hair isn't that yellow. But it's stylish and freakin' awesome. (Clicks at some fillies after brushing back his hair)
Tiara:...I'm not even aroused anymore. I can tell he's going to be the next bully.
Applebloom: I sure hope not.
Spoon: Oh, what're you three worried about? You can't be bullied for blank-flankery anymore.
Applebloom: Yeah, but...what about HER? (Points at Sweetheart)
Sweetie Belle:...Oh, boy.
Emerald: What is this supposed to be, Manehatten? Get your flying feathers out of my way! (Pushes the kids out of his way)
Tiara:...DANG!...He's even more bulkier than I expected.
Emerald: (Sees Sweetheart, who is shocked at his appearance)...(Laughs) LOOK AT THAT HORN! It looks like something I'd rather not get into. And looky here! (Grabs her by the tail and sees her lack of a cutie mark) No cutie mark. Looks like I've got myself a double-baby to suckle! (Chuckles as he drops Sweetheart, who cowers in fear)...What, are you gonna say something?...Oh, I see, you're as silent as a mouse. And that means you can't speak up for yourself. Another victory for Ace! (Cackles)
Tiara: HEY! You leave her alone!
Emerald: "Well excuse me, princess!"
Tiara: "....... Huh. I am confused whether to be offended by that or complinmented that you called me Princess, cause that is not ordenarly an offencive word. Espiecally not in a world that exists from a TV show meant for little girls."
Emerald: So you ain't a princess? Well, I guess that tiara of yours really had me fooled.
Tiara: Hey, do you see me with wings? No! I'm not a princess. Besides, I'm too young to be a Princess.
Emerald: Yeah, duh, you're not from Canterlot. Besides, you have no power over me, tiny! I'm 12, and you're younger. So back off, sister, and let me be who I am!
Applebloom: You must be awful bein' that way to somepony who's new in the school.
Emerald: A stranger? Ohh-ho-ho, another score for Ace! We're going to have SOOO much fun. What's next, are you the subject of several ma--
Cherilee: Okay, Emerald, know this right now, you need to behave against new ponies. This poor filly has had a hard life, and she doesn't need ponies like you making it worse. I expect you to treat her with respect, is that understood?
Emerald:...(Looks at Sweetheart who has moderately-teary eyes)...Fine, then!
Cherilee: Good. Now let's get back to class.
Emerald: (Snickers as Sweetheart shakes in fear)
Applebloom:... You were right, Scoo. A pony in need DID fall out of the sky.
Spoon: Poor filly's been bullied before?
Tiara: Of course she was! I mean look at her! She's...different! She's a time bomb waiting to go off if she has massive ounces of magic she can't control.
Sweetie Belle:... Which is why we're inviting her to our 1-week anniversary party at the Clubhouse.
Other Fillies: What?
Sweetie Belle: Why not? It looks like she'll need some friends...and confidence...and plenty of time to forget about the pain she had suffered. We don't want the poor girl to end up like Babs Seed.
Scootaloo: Finally. Our first heroic task. (The three Crusaders high-hooved)
After School
Emerald: (Everyone leaves as Sweetheart was staring at all the fillies and colts who looked disturbingly at her horn)... HEY! (Sweetheart sees Emerald and tries running away until Emerald grabbed her by the tail as she cartoonishly paves the ground trying to run) Going somewhere? Because I'm certainly not through with you yet, freak! We've got a lot of bonding to do. (Sweetheart squeaks in fear and she ends up perched on top of the school flagpole as Emerald laughed)
Applebloom: HEY!! (The Crusaders, Tiara, and Spoon arrived) Let her go!
Emerald: Oh, wow! If it isn't the heroes, and the princess! Looks like this just got a mite more interesting. I'm gonna beat the living mare-s*** out of you!
Scootaloo:... Your father SERIOUSLY cussed in front of you?
Emerald: Uh, yeah. What's it to you? Now hold still so I can make this painless- (Sweetie Belle levitates a rock at his leg) AOOOWCCHH!!! (Hops in pain) WHY YOU LITTLE RATS!!
Applebloom: We ain't afraid of you, biggo. You may be older than we are, but we're the Cutie Mark Crusaders, and we defy fear. It's what we're meant to do! (The three show off their cutie marks)
Emerald:... HAH! You think those special cutie marks make you special, kiddos? Well, I'll have you know I have the strength to bust through earth.
Spoon: Which fits since you're an Earth pony.
Emerald: Shut your whinny-holes! Special or not, I'm going to kick you all the way to Whinny Land!
Sweetie Belle: You think we don't have a way to deal with you, you big jerk? Cherilee is still here, and we can call her even from here. So you'd better let that poor filly down before she sees her up there. Or worse, we TELL her she's up there.
Emerald:... (Growls and let Sweetheart down) You win this one, phallic horn, but I'll be back soon enough. There'll be nowhere in Ponyville you can go that I can't find you. NOWHERE! (Chuckles as he left)
Tiara: (They approached the barely-sobbing Sweetheart)... Are you okay, Sweetheart? (They look at her sobbing face)
Spoon:... Well, she can certainly cry even when mute.
Applebloom: We're sorry you had to be pushed around by that awful varmint.
Scootaloo: He's just a cruel jerk who's father left a bad impression on him.
Sweetie Belle:... Oh, where are our manners? I'm Sweetie Belle, and this is Applebloom and Scootaloo, and we're the Cutie Mark Crusaders.
Tiara: Diamond Tiara and Silver Spoon. We're week-old friends to them.
Applebloom: "And no need for introductions from you cause.... Well, Miss Cheerilee got them covered."
Scootaloo: "How do you feel about seeing the Cutie Mark Crusader Clubhouse? We recently got our cutie marks last week, and are celebrating our 1-week anniversary of earning them there. Would you like to come along and get over Emerald's sour attitude?"
Sweetheart wimpered, but gave a slow nod.
Sweetie Belle: "..... I, can see your abit relucent."
Spoon: "Almost as much shy as Fluttershy."
Tiara: "AHEM! (To Silver Spoon) And considering what she goes through, it's not hard to see WHY!?"
Spoon: "Oh, sorry. You didn't had to get snippy though."
The Crusaders and Tiara and Spoon take Sweetheart with them.
Twilight's castle.
The Map begins to act up. And while the Lougers and the Main 6 were busy chatting, all the Main 6 felt their cutie marks light up.
Pinkie: "(GASPS EXTENDEDLY)?! DO YOU KNOW WHAT THIS MEANS?!..... (Quietly) There's a friendship problem!"
Twilight squeed when she saw that her cutie mark glowed.
Twilight leaped up in the air as magical fireworks appeared!
Twilight: "YES!? THE MAP NEEDS ME FOR SOMETHING!? I'M ACTSELLY NEEDED FOR A PROBLEM?! FINALLY?! YES?!"
Applejack: "Uh, Twilight-"
Twilight: "OH OH OH?! IS IT SOMEWHERE EXCOTIC!? LIKE, THAT JUNGLE WE MET DARING DO IN?! OR IS IT A CITY WITH BEAUTIFUL SIGHTS LIKE MANEHATTEN?! OR, BETTER YET?! EQLANTICA NEEDS US?! OH, I DON'T CARE WHERE IT IS, I FINALLY GET TO DO SOMETHING AS A PRINCESS OF FRIEND-"
Oak: "Uh, I hate to disappoint you, Miss Sparkle, but..... The Map is only calling you to somewhere...... Right here in Ponyville."
Twilight looks at the map with heart-shattering surprise and saw it was where the cutie mark indicaters are pointing at.
Rarity: "Well, at least we don't have to travel too far."
Twilight gets so stressed out, she gets her "Lesson Zero" face on!
Twilight: "..... The map calls me out, for a mission, that is right here in PONYVILLE?! (Spontaniously turns angry as mane catches on fire and inadvertingly summons forth a new problem!)"
Spike's voice: "OH NO?! NOT AGAIN!?"
Applejack: "Oh boy. Here we go again."
Trixie: "Here we go WHAT again?"
Rarity: "...... Twilight has a, unitge method in releasing her stress..... Come, it's, best explain through the old, "show, don't tell" approuch."
Kitchen Door.
Spike got out breathing heavily as he was seen covered in food.
The Lougers and the Main 5 arrived to him.
Icky: "Jesus christ, what happened to you?"
Spike: ".... See for yourself, at your own risk."
Spongebob nerviously opens the door and gasps at what he sees?!
Magical Blue Monkeys are seen ransacking the kitchen for amusement as they sing this.
Icky: "SUPER JESUS CHRIST?! FIRST PINK ELEPHANTS, NOW BLUE MONKEYS?!"
Rarity: "In Equestia, we call them "Stresskeys", Magic Monkeys borned from stress and magic. You see, Twilight discovered them from an old book from Starswirl, and, still feeling regretful ever since Lesson Zero, she, channels her stress through.... Those ruffians."
Applejack: "And they're nothing but pure trouble. They have a bad habit of breaking out into Ponyville and cause mayhem and mischief. They did unspeakable things to Sweet Apple Acres!"
Spongebob: "Well, considering they're monkeys, does it concern.... You know what?"
Applejack: "Again, UNSPEAKABLE?!"
Iago: "Good God, these guys are like a cross between Gremlins, The Monkeys from Jumanji and the Monkeys from the Rugrats movie!"
Icky: "They're wrecking the place like them too!"
Pinkie: "No problem! We'll just make sure they'll never notice the window at the center of the kitchen wall (Unknowingly points at it) right there. (The Stresskies looked at it and smiled mischiviously.)....... Oopises."
Rainbow Dash: "Celestia damn it, Pinkie, this is almost "Filly Vanili" levels of bad Pinkie Pie humor!"
Fluttershy: "Please don't remind me of those dark times."
Icky: "But I thought that episode was good."
Pinkie: "It is, but..... (Mane deflates)..... It was not one of my better episodes."
Merlin: JUST DEFEND THAT WINDOW!!! KEEP THOSE PRIMATES IN HERE NO MATTER THE COST!!! (The Stresskies made a break for the window, but Shifu did a sweep kick to kick them away as Merlin magically locked up the window)
Po: PANDA POTHOOOLE!! (Jumps on one of the Stresskies and squishes it, turning it into mist)
Tigress: Fight them off until there's none left! (They do that as they eventually reach the last Stresskey) As for you!
The Stresskey smiled nervious until it got kicked in the fact and into a wall, mistifving it!
Brandy:... Spike... You have GOT to show Twilight another way to release her stress that won't mean risking the lives of other ponies through CRAZY BLUE PRIMATES!?
Spike: I've been trying to do that ever since Lesson Zero. And... You should know that it wasn't the last of the Stresskies.
Lord Shen: What? (They look in the throne room to see Twilight is still beating herself up and summoning more Stresskies)
Icky: OH, FOR THE LOVE OF ALL THAT'S HOLY!!!
Spike: "Yeah, the Stresskey spell is OBVIOUSLY not good for someone like Twilight."
Rainbow Dash rushes into the Map room to Oak!
Rainbow Dash: "OAK, YOU NEED TO CONJURE UP A SHEILD TO KEEP THESE THINGS TRAPPED HERE?!"
Oak: "Luckly for you, I saw Twilight was gonna use the old Stresskey trick and I had already magicly sealed the entire castle in so you can deal with these annoying brutes. But hurry, the Stresskeys have a notourious habit of trying to make their own exits."
Rainbow Dash: "Hurry's my middle name!?"
Pinkie: Oh, so you're Rainbow Hurry Dash? Huh, never knew that.
Rainbow Dash: No, no, no, it's just an expression meaning... Oh, screw it, we need to stop these crazy primates from causing chaos in Ponyville.
Pinkie: Well...actually...remember the Crusaders' 1-week anniversary? I...kinda Pinkie Promised I'd plan their party for it.
Rainbow Dash: WHAT?!? But there's a whole bunch of Stresskies we need to deal with here. Can't you just do it later?
Pinkie: No, it's 3:30 PM, the time when I said I'd meet the Crusaders. Sorry, but a Pinkie Promise is a Pinkie Promise. (Gets out a party cannon and puts herself inside) FIRE IN THE HOLE!! (Lights up the cannon, and it launches her through a window and into the sky where her face pushes through the wind as she went off)
Icky:...You know, she's right, she DOES need to tone down a bit on the Pinkie Promises.
Rainbow Dash: YA THINK?!? (SpongeBob cartoonishly puts a bunch of plywood on the broken window preventing the Stresskies from getting out)
SpongeBob: None of you chimp-for-brains are going ANYWHERE!!! (The Stresskies start stretching him around painfully like rubber) AAAOOOOOWWWW!! IT'S NOT SUPPOSED TO STRETCH THAT FAR!! AAAOOOWW, AAAHHH!!!
Sandy: "HANDS OFF MY MAN, YA DIRTY POO SLINGING VARMITS?!" (Suddenly, she is hit by brown slime, which is revealed to be chocolate cake from the kitchen and the Stresskies laughed)...Well, at least it wasn't poop.
Fluttershy: I can't tell you how disturbing it was that my monkey pets always liked to throw their feces around, and that's why I have to keep them outside.
Lord Shen: I guess I should just get Twilight to snap out of it--(Soothsayer knocks him out with tranquilizer)...Not again! (Faints)
Soothsayer: (Sighs) The day Shen learns to do things less-violently will be a great day.
Boss Wolf: Allow me! (Takes out his hammer, but Soothsayer knocks him out too)
Soothsayer: Anyone willing to talk to Twilight WITHOUT physical action?
Applejack: (Sighs) Looks like her friends will have to do it, minus Pinkie Pie.
The remaining Main six approuched Twilight.
Applejack: "Twilight, your friends would like you to come back to Equestia now."
Twilight: (Throws Applejack to the wall) AAAAHHHHH!!!!
Oak:...Oy, this is gonna take a while.
Chapter 3: Sweetheart's Bad Luck/Princess Sunshine
CMC Clubhouse
The Crusaders and Tiara and Silver arrived with Sweetheart to the clubhouse.
Applebloom: "And lo and behold, our crusader clubhouse."
Diamond Tiara: "We know it's not much and all, but I had offered to give this place more regel renovations, but Apple Bloom insisted the tree might not handle a Club Mansion."
Applebloom: Nah, it would make this place too regal. I'd say this place is good enough as it is. Okay, looks like we're ready for the anniversary to get started. All we have to do now is wait for Pinkie Pie....wherever she is. (A distant 'Wheeeee' is heard in the distance)
Scootaloo:...What's that? (They look out the window to see Pinkie Pie falling towards them, and Sweetheart shivered and hid)
Spoon: Oh, Celestia, she's gonna wreck the clubhouse, RUN FOR YOUR LIVE--(Pinkie stopped as she got close to the clubhouse, and landed safely, and that left Sweetheart confused)
Tiara: How in the world?
Pinkie: (In Batman-like voice) IT'S BECAUSE I'M PINKIE!! (Normal tone) Well, I'm here to plan your party. But, it's just a shame that I had to abandon my friends and the Lodge just to get here. The map summoned us to a friendship problem here in Ponyville, and Twilight through a stressy fit ended up summoned those crazy blue monkeys again, which I'm sure my friends and the Lodge can handle on their own.
Tiara: "Stresskeys again? Ugh! I still can't get over what those brutes once did to my mane?! The sooner they are gone again, the better!?"
Applebloom: There's a friendship problem here in Ponyville?
Pinkie: Yeah, that's what the map told us. Still don't have a clue what it is though. But heck, we'll figure it out soon. So let's get started, and... (Sees Sweetheart hiding as she panics upon her noticing)... Who's that?
Sweetie Belle: Oh, she's a new student for our school. Sweetheart, come on out. This is Pinkie Pie, Ponyville's greatest entertainer. (Sweetheart slowly came out and revealed her large horn)
Pinkie: (Was dumb-founded by the horn)... Cream and cupcakes, she's certainly... Nice.
Scootaloo: Yeah, Sweetheart's father had a mutation that gave him great magic capacity, and when Sweetheart was born, this was the result. She has a great magic capacity too, but has little control over it.
Applebloom: Speaking of which, Sweetheart, can you show us your magic? (Sweetheart nodded 'no') Oh, don't worry, it's okay. I mean, really, what could happen?
Pinkie: "Yeah, it's not like we'll end up with duck heads or anything."
Sweetheart hesitated, and then decided to use her magic...
Later...
Pinkie, The Crusaders, and Tiara and Spoon now have duck heads.
Scootaloo: "...... Quack."
Pinkie: "Quack."
Tiara: "Quack."
Spoon: "Spoon."
The others stared at Silver Spoon confusedly.
Sweetheart nerviously looked at this and tried to reverse it.
Pinkie: (Sweetheart ends up giving them camel heads)... Oooh, a camel's head. At least they're known to talk here. (Sweetheart tried again, but ends up with snakes)... (Sweetheart whimper, and then gives them ostrich heads, and then a rabbit, turtle, elephant, squirrel, dog, cat, fish, squid, and then lion)... (Sweetheart panics as her magic goes nuts and turns several props into human-like appliances such as recliners, TVs, and turning the Clubhouse into one with royal architecture, and this was all noticed from Ponyville, but not at Twilight's Castle as the heroes were still too busy fighting off the Stresskies to notice)
CMC Clubhouse
Tiara: (Panics until Tiara shakes her and, instead of speaking, she lion-roars due to her lion-head, scaring Sweetheart into having teary-eyes)... (Turns back and finds a piece of paper, and writes some words for her to read, as the paper said 'I said stay calm and tell your mind to reverse this without fear.')...(Sweetheart reads it, and tries it, and everything goes back to normal)
Pinkie:... Sweet and sour tarts! She really DOESN'T have control over her magic. (Sweetheart turns away in shock as she softly started sobbing)
Applebloom: Sweetheart, don't cry. We can still have a great anniversary. I promise I'll never ask you to use your magic again. How does that sound? (Sweetheart hesitates, and then nods 'yes')...Okay.
Pinkie: Well, I guess that's that. Now I guess it's time to get this party started. (Brings out several party supplies, and begins to decorate)
Later...
(This song plays as the party decorations were up and the fillies and Pinkie were celebrating)
Applebloom: (Prior to the party and song)...Well, Pinkie, you REALLY outdone yourself. This was the best anniversary of our cutie marks ever!
Pinkie: No problem. And this party sure has been the best...(Checks watch)...15-in-a-half minutes of our lives.
Tiara: I'm sure that's what you say about almost EVERY party you planned. You didn't disappoint with my cute-cenara either.
Scootaloo: And I can tell Sweetheart is starting to have a good time, right? (Sweetheart was actually enjoying herself)...
Sweetie Belle: So, Sweetheart? Still upset about that dirty Emerald? (Sweetheart nodded 'no') Great. Because we'll surely always be there to protect you. It's what the Cutie Mark Crusaders are for after all.
Tiara: "Honestly, I don't get why people would want to make fun of Sweetheart. She otherwise doesn't do anything wrong."
Spoon: "I totally agree. In fact, that horn can actselly be useful. Why, you can roast marshmellows with that horn."
Tiara: "Oh yeah, and it's great for making flower-ca-bobs."
Spoon: "Though, you gotta wonder though, how does that thing NOT break her neck from sheer over-size, it's beyond anyone's guess!"
Tiara: "Why, I wonder, what would Celestia's reaction be like if she met someone with a horn that rivals hers? I mean, thankfully, Celestia doesn't look to be the jealious type, but still, what would her reaction be?"
Spoon: "And it's like this when she's still a filly! Why, could you imagine what it would be like when she grows up? Do horns grow with the ponies? Do they get larger with each age? I mean, if so, then going through doors and not accsidently poking somepony's eyes out or even sewering them would be a NIGHTMARE!"
Pinkie: "Uh, girls?"
Tiara: "But on the plus side, they would make a great bluff, AND it makes a great weapon! Why, I imagine a horn like that makes for a great head spear and-"
Crusaders and Pinkie: "AHEM!?"
Tiara and Spoon looked at Pinkie and the Crusaders.
Applebloom: "Did it ever accured to you that maybe half of Sweetheart's shyness with other ponies often has to do with WHAT YOU TWO ARE BASICLY SAYING?!"
Tiara: ".... At least, it's not being intentionally mean?"
Spoon: "Yeah we still have a problem with putting our hooves in our mouths."
Sweetie Belle: "Well, we understand that, but poor Sweetheart CLEARLY doesn't! I mean, look at her!" (They all see that she's teary-eyed)
Applebloom:...Don't mind them, Sweetheart. They're just not thinking straight.
Pinkie: Yeah, I mean, I don't mind that your horn looks like an Alicorn's horn. I'm sure you'll learn to use magic better as you mature.
Tiara: Yeah. I mean, it's not like anyone's actually going to say something dumb about it, like, say, calling it a phallic symbol.
Crusaders: TIARA!
Tiara: What, she doesn't know what that is....or...DOES she?
Spoon: Maybe, because I think they've said it so much, she's found out what it meant by now.
Tiara: Oh, I'm sure she doesn't. But I sure hope that horn isn't too long when she hits puberty. Soon it's going to go from bullying to- (The whole thing cuts outside the Clubhouse as the Crusaders groaned in disgust)
Pinkie: Is THAT what the term 'phallic symbol' means? (Shivers in disgust, and Sweetheart couldn't take it anymore, and just broke down crying)
Applebloom: TIARA!
Tiara: WHOA, I DIDN'T MEAN IT THAT WAY!!! I WAS-
Pinkie: I got this. (Makes funny faces, but it doesn't work as Sweetheart continued crying and just ran out the Clubhouse)
Scootaloo: SWEETHEART, WAIT!!
Tiara: DON'T GO! I'M SORRY!!... (Sighs) You know, I don't think the fact that 'shoving hooves in mouths' thing didn't work out either since... Well... It looks like-
Crusaders: TIARA!
Tiara: Okay, okay, sorry!
Spoon: We gotta get her back and apologize!
Pinkie:... Girls, I think I'd better get back to the Castle. Perhaps those heroes have dealt with those blue monkeys by now.
Meanwhile...
SpongeBob: (He was being stretched around by the Stresskies and was used as a trampoline for other Stresskies to bounce on, and the same thing was happening to B.O.B, and the Stresskies were doing torturous things to the other Lodgers including tickling, physical abuse, and so on)
Applejack: (She is being tickled as she was being hung by a Stresskey chain) STO-STOP IT! I- (Laughs) GET OFF! (Punches a Stresskey as it turned into dust)...TWILIGHT, PLEASE, WILL YOU DO SOMETHING!!! YOU'VE BEEN GOING NUTS FOR 15-IN-A-HALF MINUTES!!!
Spike: Oh, trust me, it takes her a while to let it all out. Let's just hope Pinkie comes back and gives us a hoof in this. (Twilight is still seen going insane as she makes her Lesson Zero face again and chuckles wildly)
CMC Clubhouse
Applebloom:... I sure hope my sister's okay out there. Well, we'll let you go. You've thrown us a good anniversary. We can practically find Sweetheart ourselves.
Pinkie: Okey-dokey-lokey! See you later. (Gets out a party cannon, and fires herself from it again) WHEEEEEEEEEEEEEEEEeeeeeeeeee...
Tiara:... Okay, we'd better go find her before she gets lost... Or worse... If Emerald finds her. (The fillies went out following Sweetheart's hoofprints)
Elsewhere.
Sweetheart stood behind a great oak and cried her heart out.
Unknowingly, her horn lighted up and behind her, casted forth an Alicorn shaped figure behind her, as she began to cuddle her, to Sweetheart's surprise as she let out a small "Meep"!
The figure began to sing this.
Alicorn Figure:... It will be okay, Sweetheart. You can trust me. I will make sure you stay safe at all times. Princess Sunshine will always be in your heart. (Sweetheart hesitated, and then gave her a hug)... Now, tell me dear, what troubles you?
Sweetheart didn't say a thing.
Sunshine: "..... Oh, alchourse, I see that you're incapable of speech. Then I'll be your voice. So, did you had some trouble with people. (Sweetheart nods 'yes')... Bullies, perhaps? (Sweetheart nods 'yes')... Well, I'll make sure they learn a hard lesson. I'll always be there to watch over you. (The two hug)"
Meanwhile...
Applebloom: SWEETHEART! (They search a nearby area)
Tiara: SWEETHEART!
Spoon: WHERE ARE YOU?
Tiara: I DIDN'T MEAN TO CALL YOUR HORN A PENIS!!
Scootaloo: Okay, time out, Tiara, where did you even learn the definition of a phallic symbol anyway? You seem TOO young to know what that means.
Tiara: "..... I used to have a butler that cusses..... ALOT."
Scootaloo: "Oh, you too? I mean, with me, it's Rainbow Dash. Let's just say, her mane isn't the only thing that's colorful."
Sweetheart appeared coming out of the tree, and appears to be alone.
Sweetie Belle: "I SEE HER!?"
The Crusaders and Tiara and Silver raced torwords Sweetheart, who nerviously looks the other direction and acts franticly as if to calm someone down!
Tiara: "Uh, what is she doing?"
Spoon: "...... (Wispers) You don't think she's gone crazy do you?"
In Sweetheart's point of view, she was keeping Sunshine from hurting the Crusaders and Tiara and Silver Spoon.
Sunshine: "What's wrong? Aren't these fillies the bullies?"
Sweetheart shoke her head no.
Sunshine: "Then, are they your friends, but.... They just said the wrong things?"
Sweetheart nodded yes, and pointed to Tiara and Silver Spoon.
Sunshine: "..... I see, mainly those two who I assumed are rich fillies. Alchourse. Regels always have a habit to put thier hooves into their mouths. Well, if they're not bullies, then they're fine by me. Well, introduse me to them."
Sweetheart smiled and walked up to the Crusaders and Tiara and Silver, holding Sunshine's hoof in taking her to them, where in their point of view is holding nothing.
Tiara: ".... Ok, she either has an imaginary friend, or is espiring to be a mime."
Silver Spoon: "(Wispers) Or worse case scenario, she's gone crazy."
Apple Bloom: "(Wispers) Obviously it's an imaginary friend, and she wants us to be introdused to her, so behave nicely around her. It's probuly another reason why she's so shy. She's afraid ponies would think she's crazy. Like you done just admited, Silver."
Spoon:... Well... Hello, imaginary friend.
Sunshine: It's good to meet you all.... Not that you can hear me anyway. (Sweetheart chuckles a bit)
Sweetie Belle:... You think that horn of hers conjured up something we can't see?
Applebloom: That may be the case. Wish we knew what this 'something' looked like and what it was saying. (Sweetheart looked at Sunshine worried)
Sunshine: Do not worry about it, Sweetheart. They don't exactly have to see me in order to make me feel welcome. I'm sure these 5 are harmless. And those three seem pretty significant since those cutie marks they have seem pretty special. And the fact that the three have the same cutie mark, I can tell they're companions.
Scootaloo: Well... What do you think the manifestation is saying to us?
Tiara: It's probably thinking things I wouldn't like concerning the whole 'phallic symbol' comment I made.
Sunshine: OH, MY!! Where would a filly learn such a bad definition?
Tiara: Oh, pfft, I'm just going to take a WILD guess that the manifestation is asking where I learned the definition of that? (Sweetheart nods 'yes')... Uh... My butler has bad language in certain occasions.
Sunshine:... A butler who swears?... Dark.
???: HEY, SMALL FRY!! (Emerald appears)
Tiara: Oh, no! Not that jerkoff again!
Emerald: I noticed that magic burst of energy from home, and back-traced it here. I'm going to enjoy having fun with you now that no little toddler brats can tattle on me! (Sweetheart backs off and Emerald grabs her by the tail)
Sunshine: Wait, what is he doing?!?
Applebloom: Uh, Emerald, I don't think that's a good idea.
Emerald: Why not? Is the little brat cursed or something? PFFT, there's no such thing as curses. This little b**** is going to feel my wrath! (Prepares to punch Sweetheart)
Sunshine: YOU CRUEL MONSTER!!! (Magically blasts him as the magic energy makes the whole perimeter burst in electrical magical energy as the 5 fillies screamed and landed far away from the blast zone)
Emerald:... (Gets up silhouetted)... What the hay was that? What did you do, filthy phallic-head? (He reveals himself to be a baby goblin)
Tiara:... (Scoffs, and she and Spoon laughed, along with Scootaloo who softly scoffed until Sweetie Belle nudged her)
Emerald: What are you laughing at?... (Notices his new hand, and gasps) WHAT?!? (Looks at his body)... WHAT HAPPENED TO ME?!?
Applebloom:... I think... You may've been turned into a baby goblin.
Emerald: A BABY WHAT?!? (Looks at Sweetheart)... So you really ARE cursed! (Sweetheart nodded 'no') Don't play denial with me, you little monster! Just wait until my mother finds out about this! You will be in SERIOUS trouble. You'll be the greatest outcast in town!
Sunshine angerly stares ay Emerald and levitates her magic on Emerald, who to the crusaders and Tiara and Spoon, virtually nothing is holding Emerald in a strange magic and begins smacking Emerald around into the ground and about!
Emerald: "GAH, D'OH, DOW, BOW, GAH, OG, EEK, HI, HO?!"
Emerald is sent flying across ponyville!
Emerald: "AHHHHHHHHHHHHHHHHHHHHHHHHHHHHHH!?"
Scootaloo: "....... I, don't think this imaginary friend is so friendly."
Tiara: "I think it's more of an imaginary BODYGUARD then a friend!"
Sunshine: "Well, I wouldn't call myself a bodyguard, but I do see myself as a protector."
Sweetheart pulled Sunshine's mane to get her attention and stared disappointed.
Sunshine: "..... Are you, upset that I didn't handled him better?"
Sweetheart nodded yes.
Sunshine: "I'm sorry, but, I was mainly created based on our frustaingtions and your disire to be protected. I, mainly acted on impluse."
Sweetheart was hopping furiously and pointed to them!
Sunshine: "..... You're, afraid I might end up scaring off your friends because of how I acted?"
Sweetheart nodded furiously!
Sunshine: "..... Then, I'll try to be more careful. Anything for you, Sweetie."
Sunshine and Sweetheart hugged.
The Crusaders, and Tiara and Silver Spoon, see her hug nothing.
Apple Bloom: "...... I don't think the manisistation means any real harm. It was just trying to keep Sweetheart safe.... And, MAYBE it did over-done it on punishing Emerald."
Silver Spoon: "Won't Emerald get in trouble as a baby goblin? I mean, don't we have like, a resident semi retired crazy old beast slayer and his three adopted psyco daughters?"
Emerald's voice is heard screaming!
Sunshine:... There's a beast slayer in Ponyville?... Oops.
Sweetie Belle: "..... You, just HAD to provoked Karma, Silver."
Apple Bloom: "Sweetheart, we're gonna have to hide you into the Clubhouse. I think it's only a matter of time before ponies start to get the wrong idea."
Ponyville.
Emerald screams as Pred and the Sisters chased him down with their blades don!
Mayor Mare with an Archiologiest hat wearing mare, A Staillian with an abnormally tall horn, and his wife, are staring at the display while they were on tour of ponyville.
Mayor Mare: "Oh no, not again! I better go get Mara and stop this."
Long Horned Stailian: "Who are those ponies and why are they chasing a poor baby goblin?"
Mayor Mare: "Oh, let's just say, every town has their, rejects. Don't worry, as soon as Mara gets in here and cools Ol' Pred's jets, the little creature will be fine and-"
Emerald: MOMMYYYYYYYYYY!?
Emerlald's mother: Wait... That voice!... EMERALD!!! (She races up and stops Pred and the sisters) You guys get your hooves off of him. He's my son!
Pred:... A goblin is your son?
Chain: I assure you, lady, that's impossible. (Woody laughs until Axe slaps her)
Axe-Rella: Unless he's adopted, stupid!
Emerald's mother: He was ONCE A PONY!!! I don't know what happened to him, but I'm going to find out right now.
Pred:... How do I know he was a pony at some point?
Emerald: Hey, I could barely stand when I was transformed into a goblin, and I can barely stand now! (His legs wobble and he falls to the ground)...
Pred: That's probably because you're a baby.
Emerald: But can baby goblins TALK?!?
Pred:... Well.. No, I-..... Oh, snap, am I feeling really stupid right now.
Emerald: That's right! If anypony should be blamed, it's that long-horned filly who just got cursed!
Emerald's mother: "Emerald, don't be rediculious. The poor little dear is NOT cursed. You proubly did something to upset her or were about to do something, and then she reacted on impluse and made you less of a threat. It happens sometimes."
Emerald: "BUT MOMMMMMMMMMMMMMMMMMMMM?!"
Emerald's mother: "Do NOT accuse poor ponies who suffer from misfortunes for your own! Chances are, you brought this to yourself!? Why, this isn't exactly the first time you turned into something ese because you messed with unicorn fillies!? You were once turned into a water bear, and the end result lead to me having to hire a germ exbert to fine you! Now please do NOT make me look like an idiot in front of Sweetheart's parents!?"
Emerald: "YOUR AN IDIOT FOR NOT BELIEVING ME?!"
Chain/Axe-Rella: "Ohhhhhhhhhhhh!"
Sharp-Pay: "Can you say, "Grounded for life"?"
Emerald's mother: "...... Did you, just call one of the finest archiological reshearchers of all of Equestia, the discoveror of King Pootentooten's tomb..... AN IDIOT?!"
Mayor Mare: "Uh, Now, Miss Beryl, the young colt's in alot of stress obviously, curse or no curse, being a goblin isn't exactly an enjoyable exspearience. Now, let's calm down, and I'll treat you and the Hearts for some coco."
Beryl: "..... Thanks, I, I needed that. I, am just SO tired of him making me look bad in front of ponies, espeically ponies I feel sympathic for. Alot of those ponies ended up basicly HATEING me because him and basicly booed my work out of because of how awful my son was to their children! I, don't want to become hated here as well, not in the town that houses the Princess of Friendship, it's, it's my only hope now."
The Hearts look sympathicly for Beryl.
Mayor Mare: "Oh don't worry, Princess Twilight made us above such petty resentment. We assure you, you will not be dispised over your son's behavior, nor we would judge you because of him. I will have to however ask that, he is kept from causing some serious trouble here. Alot of Ponyvillains had children who came here to escape from bully problems, and we pride ourselves to make this a Bully-Free town, even more so after miss Diamond Tiara recently repented as one. She was the closest Ponyville had as the bully here, and some want it to keep it that way. If they were to discover that he's MUCH worse, even a minor act of physical violence, they're gonna protest and try to force me and Princess Twilight to have you two orcinstraigted out of ponyville! Keep in mind that Twilight and I don't believe in such medevil nonsense, but, we also don't believe in ignoring the pleas of the people when they're angered, cause any good polotisian knows that if you ignor the people, it will either lead to a revolt, or even vigilantie vengence aganist you and your son.... And, often, the wrong doers are often, (Gulp), never heard from again. Really, I meant this for your own protection."
Beryl: "Thank you, it's just, the discovery commetie is threatening to have me kicked out from it because of my son, ignoring my potanional! The ungratful ingrates want to kick me out because of something that wasn't inheredly my fault!? Honestly, why do people take bullies so seriously?!"
Mayor Mare: "Well, bullying tends to either lead children into killing themselves because of feeling like they're never to be accepted, or worse, they end up becoming villains! In fact, at least 72% of the rising number in villains is blamed on bad childhood exspeariences, bully problems being one of them."
Beryl: "It's not the first time I heard that, but it still makes my heart sink that a little anti-social behavior can cause such serious consinquences."
Mr. Heart: "If it's all the same Beryl, we don't judge you for this. We had heard that Emerald's upbringing was mainly the father's fault. You're at least are trying to change this."
Beryl: "Thank you, I, I needed to hear that."
Mayor Mare: "All the same though, something concerning is going on. I think it's possable that Sweetheart may've unknowingly created an invisable force that is protecting her. Ponies with that kind of mutantion are known to not being able to control their magic. We should at least check they are ok."
The Hearts nodded in agreement as did Beryl.
Emerald: "BUT SHE IS CURSED?!"
Beryl: EMERALD, not one more word! You've done enough trouble for once since you walked out on me when you weren't supposed to. I didn't bring you here simply so you can become a new bully. I brought you here because you're supposed to better yourself. I've put up with your nonsense for a long time, but no more! So either you stop with the curse nonsense, or you're grounded! UNDERSTAND?!?
Emerald:... Yes, mommy.
Beryl: Good. Now we'd better find Sweetheart and take her to the Princess of Friendship. She'll certainly know what to do about this.
Emerald: Hey, what about me?
Beryl: Well, consider your transformation a hard lesson for you to learn not to bully others.
Emerald:... Oh, I KNOW you did not just say that! I DEMAND TO BE OUT OF THIS BODY RIGHT NOW!
Beryl: (Slaps him) Don't you talk to me that way, young colt! I've had enough of your nonsense! We'll change you back when we feel like it!
Emerald:... Fine! I'll just take my knowledge of where Sweetheart is and go back home.
Beryl: OH, NO! NO BRIBERY!! YOU TELL US WHERE SWEETHEART IS RIGHT NOW, MISTER!!
Emerald: No! Ground me all you want, but I'm not saying a word unless I get my body back.
Axe-Rella:... Yeesh, what a needy little brat.
Beryl: Yeah, he's always like this. It's like grounding him doesn't affect him anymore. Dear Luna, whatever his father did to him, it sure was wretched.
Mayor Mare: Well, let him be that way. I'm sure we can find her on our own. I think Miss Cherilee might know where Sweetheart is.
Mayor Mare, Beyrl and the Hearts leave.
Pred gave a begruding sigh and left, convinced well enough that the Baby Goblin before him is indeed a pony, or originally was, and the Sisters followed him, but not without Sharp-Pay doing the "I'm watching you" pose.
Emerald: "....... That long horn's gonna get it now."
Chapter 4: Helping a Filly in Need
CMC clubhouse.
The Crusaders and Tiara and Silver Spoon take Sweetheart in, as Sunshine was inside as well, but not seen by all but Sweetheart.
Sweetie Belle:... Well... That's that.
Sunshine: Rightly.
Scootaloo:... Do you think it was bad for us to leave Emerald to get chased around by that nasty pony?
Applebloom: Eh, I wouldn't worry about it. Plus, I'm sure nobody would take him seriously if the guy was to go around screaming 'SWEETHEART'S BEEN CURSED, SWEETHEART'S BEEN CURSED!!!' (Scoffs) Like anypony's EVER gonna believe such manure.
Sunshine: And thank Luna that's true. I'd say it would teach Emerald a hard lesson about bullying. (Sweetheart looked at Sunshine angrily)... Okay, sorry.
Tiara: So I guess there's no reason to hide Sweetheart, then?
Applebloom: Oh, we still might have to. Emerald's sure to throw a hissy fit if he ever gets out of his debacle. Not only is his mother gonna be cheesed off that he walked out on her, but Sweetheart's parents are going to be cheesed off that Emerald was accusing her of being cursed like an idiot.
Spoon: "And LUCKLY, her parents are on tour with Mayor Mare, so they'll be distracted for awhile."
Scootaloo: ".... But, what if Emerald runs into them and makes them concerned about what's going on with Sweetheart?"
Sweetie Belle: (A glass-shatter sound was heard as the entire room realized) AW, GREAT!! Emerald probably already has done such a thing, and now they'll have to postpone the tour.
Tiara: Oh, how wonderful.
Applebloom: Well, shoot. Looks like we'll have to let Sweetheart go and tell her parents everything. I can tell with a bragger like Emerald doing nonsense, I feel she may need some help. And... Well... I think it's time we Crusaders did our first mission. (The Crusaders, Tiara and Spoon, Sweetheart, and even Sunshine, put hooves together and raised them in the air)
Tiara: And I think we need to find SOMEPONY who can see whatever this manifestation is, because I need to know a few things about it.
Sweetie Belle: I agree. They might want to take Sweetheart to Twilight and our sisters. I'm sure THEY know somepony who can see this manifestation.
Tiara: Then we'd better find Twiight, her friends and the Lougers and tell them everything. We may not know much about this manifestation, but we DO need to start learning if we're going to fix this as a team. Let's just hope they've gotten that 'blue monkey' problem over with by now.
Twilight's Castle
Twilight: AAAAAAAHHHHHH- (Water gets dumped on her by Pinkie as she comes out through the window)... What... What the hell?!?...(Sees all the Stresskies she created)... Ugggh, I have GOT to learn another way to let my stress out. (Magically makes the Stresskies disappear as the Lodgers and ponies recovered from their torture)
Rainbow Dash: Thanks for the help, Pinkie.
Pinkie: Not a problem. The party wasn't that long, anyway. So, can we get started on the friendship problem? (The icon on the map suddenly got red)... What's the red glowing thing mean?
Oak: (Appears) It means the problem has gotten worse. You guys left it unchecked for so long, it escalated.
Icky: Oh, way to go, Princess! Your monkey business made the problem worse. If you didn't have all that magic, I'd slap you across your pretty face right now. (Gilda slaps him) OW!
Twilight: "It's ok. Icky's kinda right to conplain. I should've respected the map's overall desidion."
Applejack: "Aw shucks, Twi, don't feel too bad. At least we tecnecally kept the Stresskeys from escaping.... Albeit not in a way that protects us from abuse."
Oak: "Should I now take down the sheild since Blue Primates are no longer an issue?"
Twilight: Yes. (Oak does that)... Now, we need to find out what this whole new friendship problem is, and solve it.
Tigress: And it looks like we're roped in it, too.
Pinkie: I think it might be that bully problem the Crusaders have concerning a bully and a filly with a large horn.
Twilight:... What?
Pinkie: Oh, yeah, when I planned that party, the Crusaders were accompanied by Tiara, Spoon, and a new filly named Sweetheart with an abnormally-large horn who's been picked on by the school's new bully.
Applejack:... Pinkie, you may have just found our mission.
???: "PRINCESS TWILIGHT!?"
The Crusaders, Tiara, and Silver Spoon run in with a shyfully walking Sweetheart, with Sunshine comferting her to move forword, though no one sees Sunshine.
Icky: "And appearently it walked itself in."
Apple Bloom: "Twilight, we would like to introduse you and everyone else to Sweetheart."
Sweetheart shyfully hides behind The Crusaders.
Icky: "...... (Wispers) Oh great, a next gen Fluttershy."
Sunshine heard that and summoned an anvil to hit Icky!
Icky: "DOW?! RANDOM ANVILS?!"
Twilight: "Oh no, is Derpy droping cargo again?"
Pinkie: "Actselly, no, because.... My pinkie sense didn't act up."
Applejack: "That and no holes."
Scootaloo: "That's about it..... We think Sweetheart may've implausively created a manisfestation to protect her from anything that means her harm or, anything that's being a jerk."
Icky gets up painfully.
Icky: "Ya mean to tell me that people suffer if they say ONE nasty thing or do anything unacceptable to the kid?"
Savio: "Oh is that right? In that case, no body tell the filly that her horn would make a great Wonderboner."
Sunshine teleports an elephant into the room and it starts beating up Savio!
Fluttershy: "OH NO! MR. GRUMPY TRUNK?! MY PET ELEPHANT WHO REALLY DOESN'T LIKE SAVIO?!"
Icky: "YOU KEEP A FUCKING PET ELEPHANT!?"
Sparx: Shouldn't he be sentient since he's an Equestrian ungu... Un... Unga-whatever?
Kowalski: Actually, elephants are NOT ungulates. They're not in the Ungulate Clade, but are actually in the Afrotheria Superorder which includes hyraxes, manatees, and aardvarks. So that technically means that elephants shouldn't be sentient here. As, far as we can tell at this point of the season. (Savio continues getting beat up by Grumpy Trunk)
Fluttershy: GRUMPY, NO! (Grumpy stops)... Drop him! (Grumpy Trunk does that)
Savio: Okay... I can tell we found the right friendship problem. Now please, send this thing back to Fluttershy's cottage before it gives me such a pinch.
Twilight: I'll do it. (Summons Grumpy Trunk away as a trumpet sound was heard, and Sweetheart was shy around everyone)
Fluttershy: Oh, that poor filly.
Applebloom: Yeah, and we need to get her some help before... Some jerkoff adolescent goblin-turned stallion starts getting to everypony in town.
Twilight: Hmm... Do you happen to know ANYTHING about this manifestation you speak of?
Sweetie Belle: No, but we've seen what it does. It turned that Emerald meanie into a baby goblin, and... You've pretty much already seen it summon a giant elephant to beat up Savio, and hit Icky with a anvil.
Tiara: We're hoping to find somepony who can be able to see this manifestation besides Sweetheart.
Discord appeared!
Discord: "FLUTTERSHY, I CAME TO TELL YOU THAT GRUMPY WENT MISSING AND IS SUDDENLY BACK AND SITTING ON TOP OF DEATH COFFIN AND- (Sees Sunshine)..... And......... And....... Ok, question, who's the new Alicorn?"
Everyone was confused.
Sunshine: "..... He sees me?"
Lord Shen: "..... What're you playing at, Discord?"
Discord: "..... Is everyone going poison joke mad now? Do you not see the Alicorn next to the little filly with the unusually tall horn of who convinently has the same colors? Come on, even the idiots of your group cannot missed a stranger Alicorn on the room!"
Pinkie: "What Alicorn in the room?"
Discord was stuttering and angerly points at Sunshine, where to everyone else, it was nothing.
Discord: "THIS ONE?! THIS ONE?! THE ONE WHO LOOKS LIKE A RECOLOR OF THE LAURN FAUST ALICORN!?"
Pinkie: "I DON'T KNOW WHAT YOUR YELLING ABOUT?!"
B.O.B.: "LOUD NOISES!?"
Twilight: "EVERYONE STOP SCREAMING!?"
Everyone calmed down.
Discord: "..... Ok, could someone explain why NOBODY but me can see something as PAINLY AND CLEARLY OBVIOUS AS AN ALICORN NO ONE HAS SEEN BEFORE?!"
Sandy: "That's because there IS NO NEW ALICORN IN THE ROOM, DISCORD?! You're just being crazy again!"
Spongebob: "Or maybe...."
Patrick: "Maybe......"
Spongebob: "Maybe......"
Patrick: "Maybe......"
B.O.B.: "(Quietly) What is going on right now?"
Pinkie: "I have NO idea."
Spongebob: "Maybe, the "New Alicorn" IS Sweetheart's magical manisistation."
Discord: "Manisistation? Actselly, since no one else sees it, It's actselly an Imaginary Friend."
Patrick: "Oh, you mean like the ones from that Cartoon Network show?"
Discord: "Well, yes, except we're dealing with a more traditional one in that only the child who created it can ACTSELLY be the one to see it. Oh, that explains so much to be honest. I thought everyone was playing a prank on me."
Sandy: "In that case, I guess Sweetheart must've used her magic to implausively create a protecter friend, ya know, like Eduardo."
Icky: "Well at least the lug from that show knows when someone doesn't meant the insult."
Tigress: "Meaning it or not, it's still disrespectful."
Rarity: "Well, problem sloved. We'll just have Discord turn this friend visable and-"
Discord: "Up up up! I'm not allowed to do that! Only the child who created the friend is allowed to make them visable."
Icky: "Is that a real rule or are you just bullshiting us again?"
Another anvil hits Icky!
Icky: "OW?! WHAT WAS THAT FOR THIS TIME?!"
Sweetie Belle: ".... The friend probuly doesn't like you to cuss in front of kids."
Icky: "But I cursed earlier before and nothing happened."
Spongebob: "I guess the friend just doesn't like you."
Icky: "..... Figures."
Patrick: "Pretend to be someone else!"
Sunshine: Like THAT'LL help.
Discord: I know. Don't mind the bird, he's worth nothing to the Lodgers' other than comic relief.
Icky: OHHHHH, giving me the Humdrum theory, are you? Well, f*** you- (He gets hit by an anvil again) OKAY, I DIDN'T MEAN TO SAY IT IN FRONT OF HER, WHEREVER YOU ARE, YOU ALICORN MANIFESTATION IMAGINARY FRIEND, SO PLEASE, CUT ME SOME GODDAMN SLACK!!! (The anvil hits him again) OUCH! (He gets hit again) All I said was 'Ouch'! (He gets hit again)
Sunshine: I know. I just felt like doing it again.
Discord: HAH! BURN!
Icky:... What exactly did she say to me, assuming it's female? If I could see and touch her, I'd slap her across that face- (Skipper covers his mouth)
Skipper: OKAY, let's not let Icky get hit by an anvil again, or he might just end up getting amnesia. Let's just be grateful that SOMEONE here can see the manifestation.
Applebloom: Well, great. We probably should've called for him earlier.
Fluttershy: "Well, then all we have to do is ask Sweetheart to make Sunshine appear."
Tiara: "Slight issue with that: She's not exactly like Twilight."
Sweetie Belle: "Before the imaginary friend gets the wrong idea, we mean as in, she can't control her magic."
Pinkie: "Yeah, we asked her to try her magic once, but it ended up giving us random animal heads."
Twilight: "Then OBVIOUSLY we need to train Sweetheart to be able to handle her incrised magic so she can be able to make the friend appear before us. I'll be glad to mentor Sweetheart in magic like I did with Sweetie Belle."
Spoon: "Just hope it doesn't end up as badly as with Sweetie Belle...."
Sweetie Belle: "..... We need to have a talk about that after all this."
Trixie: "Just hope she doesn't end up sending this castle into space or anything."
Sunshine lits Trixie's tail on fire.
Trixie sniffs.
Trixie: "Does that smell like burned hair? Ugh, I hate that smell. One of the most oxnious forms fo smells ever."
Gilda: "Yo genius, your tail's on fire. (Trixie sees her tail on fire, and she screams around the room, making Sweetheart laugh a bit until Merlin does a water spell to put it out)"
Trixie: Whew!... Okay, if that imaginary friend wasn't already invisable, then I would SO make her disappear!
Skipper: Trixie, what did we say about provoking her?
Discord: I thought it was funny. It even made Sweetheart laugh.
Scootaloo: Yeah, she knows how to cry and laugh, yet she can't talk.
Cornwall: Sad, really.
Lord Shen: "Now, we admire the offer, Sparkle, but problem is, you're an artifictal Alicorn, and something among the likes of a pony with a unigte condition like a greater magic compasity is best resolved by a True Alicorn."
Twilight: Perhaps that might help us better. Did you girls consult with Sweetheart's parents yet? They might probably be worried sick looking for her.
Applebloom: "..... Oops. We forgot. Now they probuly ended up shearching up and down in our clubhouse for nothing!"
Twilight: "Then we have to get back there."
Twilight teleports everyone!
Clubhouse.
Mayor Mare: "They normally hang here, but they're nowhere."
Mr. Heart: "I guess they went somewhere to play."
Mrs. Heart: "Or maybe they went to see the Princess about the force Sweetheart may've created."
Mayor Mare: "Both are possable possabilities. I promise we'll find them, Grand Heart and Love Heart. Then we're gonna have to consult with the princess and-" (The heroes teleported there)
Twilight: Not to worry, Mayor, Sweetheart's parents, and Beryl Ace. We have the kid you're looking for right here. (Shows them Sweetheart)
Love Heart: Oh, my baby! (The two hug her)...
Grand Heart: Why didn't you kids tell us Sweetheart was going to spend an afternoon here?
Sweetie Belle: We were going to bring her back as soon as our anniversary party was done. But... Well... Things went bad quickly.
Love Heart: Now, kids, you know you should let the parents know about these things before you go willy-nilly with the parties.
Twilight: Relax, Mrs. Heart, she's still okay. And we mean to help her because the Crusaders here told us she had some kind of imaginary friend who protects her.
Discord: And it seems me and Sweetheart are the only ones who can see this imaginary friend. Her name, as she says, is Princess Sunshine. And we feel that in order to make us see her, Sweetheart has to be trained to use her magic.
Grand Heart: "You sure? Cause, she's, not much capable to do what you asked."
Beryl: "Can't you do it instead? Your the Draconquus here."
Discord: Look, it's not MY imaginary friend, I already have one to keep company whenever I go to sleep in my dream realm. Only SHE has the power to do such a thing. So Mr. and Mrs Heart, I'm afraid you have no choice in the matter.
Love Heart: Are you kidding? She once turned our house into a bowling alley and it took us weeks to get that fixed. She's not ready to handle such powers.
Twilight: But we know somepony who can help her. What better way to teach a filly with Alicorn powers than with the Princesses? I may be an Alicorn, but I'm only an ARTIFICIAL Alicorn, and am therefore not as powerful as the Alicorn Gods.
Love Heart:... I don't know. What if she ends up causing a dishastor to happen?"
Icky: "Want a dishastor prevention team? You got them RIGHT here. Moments ago we helped prevented a Blue Monkey outbreak."
Mayor Mare stared blankly at Twilight who nerviously laughed and blushed.
Mayor Mare: "You realise alcourse I will petition Celestia to ask her to have the Stresskey spell removed, right? This monkey business with Stresskeys are not good for this neightberhood."
Twilight: That's actually okay, I didn't want it anyhow. I was thinking about finding another way to let my stress out. And as for the petition, you won't have to, I'll ask her to remove it myself. And as for Sweetheart, I can assure you two that we'll have your daughter fixed in no time.
Applebloom: I hope ya'll weren't leaving us in the dust. We caused this shenanigan, we're going to end it.
Scootaloo: That's what we were meant to do after all.
Applejack:... And I respect your boldness, Applebloom. If I protest, I protest your cutie mark.
Applebloom: Great!
Scootaloo: And I think we need to keep an eye on Emerald, too.
Beryl: I agree. With the fact that we're going to keep him in his goblin body to teach him a valuable lesson, he's not going to let this go unanswered. Leave keeping him out of trouble to me.
Mayor Mare: "Good Idea. Sadly, Ponyville folk has grown supersitious in thanks to, well, Nightmare Moon turning out to be true. We became MUCH more cautious around urban legends. I better help as well and be the sense of reason in this town."
SpongeBob: We'd like that.
Twilght: Well, I'd better send the letter to Celestia concerning this before we go. She could be busy and it would be rude to interrupt her on important business.
Grand Heart: Take good care of our baby. (The two hug Sweetheart, and Sunshine hugs them without them noticing)
Discord: Wow, I'm amazed they don't notice that a large Alicorn is hugging them.
Sunshine heard that and realised that, giving any attempt to pass out love is an empty exspearience to others that can't notice her, and looks sadder.
Love Heart: Oh, don't take it so hard, honey. I'm sure we can feel her love even without us seeing her. Take care out there. (Kisses her on the cheek)
Beryl: Well, I suppose I should head back home to make sure that Emerald is there. I swear, little one, I won't let Emerald tease you anymore.
Icky: Actually, I'm pretty sure it's not likely the kid will stay at home. The fact that he's been turned into a goblin, and you just pissed him off by letting him stay that way, he's NOT going to take that crap lying down. So, yeah, if you think that kid is going to be at home, you've probably got another thing coming.
Mayor Mare:... He might be right, Ms. Beryl. With a kid as wild and despondent as him, he's going to be too stubborn to listen to reason.
Beryl:... Oh, dear. Then we need to look for him. But I'll check back at the house just in case. If he's not, then I'll join in the search.
Shifu: "In the meantime, we shall focus on the matter that is of greater urgentcy."
Twilight:...Your faithful princess, Twilight Sparkle. (Spike sends the letter)...There. She should get the message and know what's going on soon. We'd better get moving.
Lord Shen: Alrighty, then. (Takes out the Atlantean Amulet, and converts it back into the Van) Everyone hop in.
Merlin:... It's amazing how we forgot about that function after 3-in-a-quarter seasons.
Alex: Oh, we still knew it. We just showed it off-camera. Now let's get our asses moving. (The ponies and Lodgers enter the van and fly off and the rest go searching for Emerald, unaware that he was watching the whole thing and left before anyone could notice)
Canterlot
Twilight: (They land next to a diner where Minuette, Lemonhearts, Twinkleshine, and Moondancer)... WHEW! What a way to travel. Teleporting may be nice, but I really like the old-fashioned methods. They make travel more... Comforting.
Minuette: (Gasps) It's Twilight!
Twinkleshine: (Gasps) And the Lodgers! (She and Lemonhearts scream in surprise)
Batty: Brace yourselves, you're about to get into a fan-girl's wrath.
Sam: Yes, we can clearly see that the fillies and colts aren't the only ones in Equestria who adore us.
Max: Well, of course. We've saved this place more times than I can count. And... Aren't these girls, like, her Canterlot friends, along with that anti-social recolor of Twilight, Moonwalker?
Twilight: MoonDANCER!
Max: Yeah, that's it.
Patrick: Wait, she dances on the moon?
Moondancer: (Sighs) Every mental retard in the School for Gifted Unicorns said that to me when I introduced myself. My parents named me that because they said I was so beautiful, they felt like dancing on the moon.
Sandy:... Pretty nice naming.
Icky: Yeah, the girl had kind of a mental breakdown in that episode... You know, kind of like Twilight.
Twilight: Not helping! Besides, we're not here for a reunion. We're here to talk with Celestia about Sweetheart.
Minuette: AWWW, isn't that the cutest wittle filly I've ever see- (Notices her large horn) SWEET CELESTIA, WHAT IS THAT?!?
Moondancer: "It's her horn, obviously."
Twinkle: "Isn't it like, OMG, too big for a filly like her?"
Sunshine angerly stared at the Mares as she conjured up 4 face-huggers ready to latch onto them!
Discord stopped her!
Discord: "UP UP UP! You're dealing with the only one who can see you besides Sweetheart, missy, so send those horrorific head-crab inspirations back wherever they came from, before you risk a lawsuit from Ripley Scott."
Lemon: "Who's Ripley Scott, and- (Sees the Facehuggers) WHAT ARE THOSE!?"
Icky: They're Facehuggers, baby aliens that impregnate-
Discord: (Covers Icky's Beak) Oh, I wouldn't say the Xenomorph's disturbing reproduction cycle in front of a sensitive filly like Sweetheart. That's gonna give you a one-way ticket to another anvil in the head.
Icky: (Muffled) Okay, sorry!
Private:... Do you think Celestia and Luna can see Sunshine like Discord can?
Discord: Oh, trust me, when we were playing together as younglings, it took Celestia and Luna a while to know that Screwball was pulling pranks on them when they couldn't see her. Trust me, they can't see imaginary friends not their own like I can. Though they CAN gain the power to do that through a magic spell, though only for a limited time. It's one of the kinds of complex spells that they have yet to master since they were the last known Alicorn Gods to be born. And believe me when I say that a magic spell like that is so complex, it takes Alicorn Gods centuries to master it. Though Celestia and Luna haven't been with their parents long enough to get the hang of it. So yeah, that's a no.
Twinkle: "Uh.... What're you guys talking about?"
Moondancer sighed.
Moondancer: "They were talking about the invisable force that summoned the Xenomorth Larva, or "Facehuggers", into Equestia. It seemed to have done that became you lot were over-acting to the poor filly's horn. Speaking of which, can someone please send those things away before we risk discovering what Xenomorth Ponies look like?"
Discord: "Yeah seriously Sunshine, send those freaky crab things away. You're asentally risking tecnecal murder, and that would be a VERY bad exsample for Sweetheart, and we don't want to set bad exsamples, now do we?"
Sunshine:... (Chuckles and makes them disappear)... Sorry, Sweetheart. I promise to go easy on people from here on in. (The two hug)
Pinkie: Aww!
Discord:... Can you even see her?
Pinkie: I don't need to see Sunshine to know her love is shining on, silly.
Discord:... (Sighs) I gotta stop questioning her logic.
Twilight: Well, let's all move up to the castle. The princesses are probably waiting for us. (They turn the van into an amulet again and they leave)
Lemon:... (Sighs) I'm their biggest fan.
Twinkle: No, I'M their biggest fan.
Moondancer: Oy, will it make you two stop fighting when I said you should consider YOURSELVES TOGETHER as their biggest fans?
Twinkle:... It actually does.
Lemon: Sorry for the rough tone. (The two hug)
Celestia's Throne Room
Celestia was concerned and pacing back and forth.
Luna came in.
Luna: "Are you still troubled by what you have been told about?"
Celestia: Not just that, sister. It's just that... Well... I've been following this child for a long time.
Luna: What?
Celestia: Yes. A filly with the powers of an Alicorn is a very serious problem. This mutation her father suffered was once suffered by another long ago. The last time another child with a simular problem tried to past the exam, she ended up destroying half the school. Surprisingly, no casualties, not even on the filly... But she ended up being considered an outcast ever since over something not of her intentions.
Luna: Was this when I was still banished?
Celestia: Yes it was... Don't, get me wrong, she eventally was able to find a happier ending. Her magic was able to defeat an Orc Overlord and became an admired pony for the rest of her life.... But I wasn't able to be the one to make that possable. It just happened because the filly believed in herself. But this one might need a lot of help.
Luna: It'll be okay, Celestia. The Lodgers and your faithful protégé will be helping us. With their help, you can be sure to make this filly shine.
Celestia:... I sure hope so. One more slip-up like that is sure to ruin my credibility.
Luna: "(Playful Scoff) Assuming being beaten by Chrysalis and being kidnapped by a plant wasn't bad enough? Heck, not being able to stop a pile of goo would've long made that credability look iffy."
Celestia: "I appresiate the attempt to lighten the mood, but at least those slip-ups have justifications. Chrysalis was momentarly powerful then me because of Shining's love, and I have more then often redeemed that mistake by defeating Chrysalis whenever the Leage had accured, the Plunderweeds also kidnapped YOU as well, and that they were MEANT to kidnap us by Discord, albeit several many years too late, and Smooze was capable to be amuned to magic. He was a forgotten Draconquus weapon after all..... How DID Discord found the Smooze to begin with?"
Discord: (Appears with the heroes) Oh, I can answer that.
Luna: Guys! You're here.
Discord: To answer your question concerning the Smooze, I actually found him while I was making my home in that chaotic void.
Lord Shen:... Question, why were you living somewhere else besides Fluttershy? Aren't you supposed to be doing community service?
Discord: Yes, but that doesn't mean I have to live with Fluttershy ALL the time. By all means, I'll be there to do my community service, but since that place started getting crowded as Fluttershy started getting more residence, Draconequua gave me a place to stay in that void, which Tyranny once used to banish war criminals and get rid of bad magical creations... You know, like the Smooze, and was turned into a backup place for Draconequui to be themselves. By all means, some of those rogue creations are still there, and I've learned to live with them.
Icky: And another question, you said you've had more than one friend since 'you were centuries old', yet you told Fluttershy you never had a friend before.
Discord: Oh, Smoozy and I were just acquaintances. Our relationship was like Me, Celestia, and Luna while we were still young. We acted like friends, but were not that in actuality. I didn't believe in friendship yet since a few ponies never bothered to interact with me and teach me how... And because of the fact that my brother told me that ponies were just discriminating jerks.
Lord Shen:... Is THAT what he did to turn you evil? He told you that ponies were prejudicial monsters?
Celestia: It's true. I still couldn't believe that Discord would fall for those lies.
Discord: Yeah, well, I'm sure that wherever the idiot is, I'll NEVER see him again. Oh and don't worry, the mere act of Fluttershy being kind would forever discourage that halfwit getting away with the same trick again. Why he would truely be an idiot if he tried the same stragitys again!
Skipper:... I'd be careful with statements like that. If he truly wanted you evil like that, there's no denying he'll come back and urge you into the same predicament again.
Discord: Oh, he can't get into Equestria. Nightus and Heavenslight put up a shield that forbids his entry. As long as that shield is up, he doesn't have a chance.
Twilight: But we're starting to get off-track here.
Icky: "Yeah, you have OUR help in making sure this mess doesn't repeat the mess the last chick was in."
Boss Wolf: Trust me, babe, as long as we got your back, this filly won't destroy ANY buildings.
Celestia:... Good. Now, I'd send her to the School for Gifted Unicorns, but I'm afraid that would take too long and result in yet another destructive incident. Looks like we'll have to teach her to use her magic ourselves.
Sunshine:... And I'll be with you all the way. (She and Sweetheart hug)
Luna:... Ah, yes, that imaginary friend you told us about.
Discord: Yeah, the chick looks like an Alicorn with Sweetheart's coloration. Calls herself Princess Sunshine. She's nice enough as imaginary friends go. But she gets all slapsticky when you cuss or treat Sweetheart badly. So don't cuss or treat Sweetheart badly, word to the wise.
Luna: "Yay varility."
Celestia: "Just how exactly 'Slapsticky" do you mean?"
Icky: "She turned some punk kid into a baby goblin, repeatedly assulted me with anvils, got Savio beaten up by an elephant, set Trixie's tail on fire, and just now she almost risked causing a Xenomorth infestsation in Equestia on Twilight's Canterlot buds over-commented on the horn. This is why we're even here. We hope that getting her to handle magic better would make the friend visable so morons like the Punk kid won't accuse her of being cursed or something, but it's also to keep Sunshine from getting violent or nasty with people just for being jerks."
Celestia: "Oh my. I have to admit, something like that NEVER happened to the last filly."
Shifu: "There is not telling what else would happen, so whatever you do, do not make any kind of comment on the horn, even if you tried to put a positive spin on it, or else-"
A Pony in a Jester's outfit appears from nowhere!
Luna: "Oh no. Our court jester, Punsy Mcglee."
Punsy: "HEY THERE HI THERE HO THERE, LADIES AND GERMS?! AND MY OH MY, DO WE HAVE A MAGNIFISENT AUDIENCE TONIGHT! Say, Lord Shen, seen any good communic cultures lately? Hope you didn't ended up burning them into the ground again."
Lord Shen: "EXCUSE ME?!"
Punsy: "You're excused. Say, how many snakes does it take to screw in a lightbulb? NONE, BECAUSE THEY LIKE LIVING IN DARK HOLES IN THE GROUND UNDER ROCKS?!"
Lola: "HEY THAT'S RACIST, SMART ASS!?"
Punsy: "Hey, Squirl Girl, has anyone ever told ya you can open an airport with your mouth?"
Sandy growled.
Punsy: "Hey, ever wanted a quick visit to a wasteland, go to that guy's head! (Point's to Squidward)"
Squidward: "I'd be offended if it was the first time someone made fun of my head."
Punsy: "Has anyone been a former evil empress of the darkspawn worshipping team?"
Cutaway.
Villain Leagers: "WE'RE NOT A CULT?!"
Back here.
Cynder blushed.
Punsy: "(Sees Sweetheart) WHOA?! Is that your horn, or are you just happy to see?"
Sweetheart blushed with shocked eyes apawn that!
Luna: "Punsy, I do not believe your humor is appresiated here-"
Punsy: "Look at this beauty! You can de-boned a fish with it! Has anyone ever said it would be GREAT for discabobs?"
Luna: "Punsy, it's not just for the sake of your job, but for your own safety, please refraign from-"
Punsy: "Honestly, is that a horn or a missing Manehatten Skyscraper?"
Luna: "Punsy?!"
Punsy: "Hey, a Knight in Shining Armor called, he needs a replacement jousting weapon for a big tornament! Baba-Boom!?"
Sunshine couldn't take it anymore and summoned a creature behind Punsy, who looked behind and looked surprised!
Fluttershy: "NANDI BEAR?!"
A Bear with one eye, a hyena-like coloration, long saber-like incisors, and sharp claws was seen, stood on it's hind legs, and roared at Punsy!
Punsy: "..... Wow, does someone need a dental check up or what!?"
The Nandi Bear look offended by Punsy's comment, and roared louder and smacked him to the floor!
Fluttershy: (Shocked at that) HEY, WAIT!!!
The Nandi Bear looked angerly at Fluttershy!
Fluttershy: (Uses the Stare on the Nandi Bear, which doesn't seem to affect it at first) YOU LEAVE THIS POOR PONY ALONE! HE DOESN'T KNOW BETTER FOR THIS!! NOW LEAVE HIM ALONE OR I WON'T HESITATE TO USE FORCE!! (The Nandi Bear backed off)
Private: Uh, what's a Nandi Bear?
Shenzi: Oh, it's just a mythical creature that my surrogate parents told me, Banzai, and Ed to behave. It's a hyena-like one-eyed bear that has been said to eat the brains of it's victims.
Private: (Scoffs in disgust) It eats brains?
Kowalski: Well, yeah, that's what the local legends about it say.
Twilight: And these creatures in Equestria are very rare and can only be found in places like the Everfree and jungle areas.
Sweetheart: (Face-hooves herself)
Sunshine: Okay, I'm sorry. I went too far again. (Makes the Nandi Bear disappear)
Luna:... Punsy, are you okay? (Punsy gets up only with a sore mark on his face)
Punsy: Uh, yes, of course. Now if you'll excuse me, I need to go panic, curl up in my bed, and wish to myself that never happened. (Leaves)
Lord Shen:... Is he ALWAYS like that?
Celestia: You get used to it.
Lord Shen: "Why did you hire such an offencive pony like him?"
Celestia: "..... I did it out of sympathy cause his bad habits to speak his mind end up leading to a terrorable childhood."
Mushu: And what exactly stopped everyone, including the Unicorn Council, from kicking him out?
Celestia: Because all of Canterlot enjoyed his performances. If the Unicorn Council even thought about kicking him out, then everypony would hate them.
Mushu:... Oh.
Celestia: Well, it seems we have our point across, so... I suppose we should get started in helping this filly.
Scootaloo: And we're going to be there every step of the way.
Applebloom: After all, this will be a perfect job for us as the Cutie Mark Crusaders.
Celestia: Well, you three are grateful for doing such a thing since your cutie marks in my experience is considered legendary.
Scootaloo: Really? Somepony else had cutie marks like these?
Celestia: Lots. You three are not the only ones who have gained cutie marks like these. These cutie marks are known to be gained through inspiring revelations. You inspired your greatest bully to change her ways and stand up to her problems, as you did with many others, and you sacrificed your personal needs for it. And these cutie marks, which are said to be among the rarest and are known to be legendary, represent the ponies' drive to do something inspiring, bold, and sacrificial.
Sweetie Belle:... Wowie! I never knew these cutie marks were legendary. I thought they were just special.
Celestia: It's so rare, only the greatest of young Equestrian heroes gain them. It shows off that you have made a great sacrifice when doing something important. You girls gave up your needs for cutie marks when helping others, and that is among the most legendary things a pony can do.
Applebloom: (The girls shed tears, and jumped screaming) WE'RE LEGENDARY!!! WE ARE LEGENDARY, WE ARE LEGENDARY!!! WE ARE LEGENDARY!! (Discord takes off his antlers and stuffed them in his ears)
Discord: Yeah, yeah, we're happy for you, now will you PLEASE tone down your voices before I have a tantrum?
Applebloom: Don't worry, Princess. We'll do our best to help Sweetheart become as famous as that other long-horned filly. That's a royal promise.
Gilda: ".... You do realise that you just put yourselves in perial, right? Remember Trixie's Biggest Problem and our includion of the RPE, and the rewrite that still allowed him to still do his job as long as he doesn't go too harsh on the punishments? If you end up falling making Sweetheart famous, he'll punish you three for breaking a royal promise."
The Crusaders made the faces they made in the start of Hearts and Hooves.
Scootaloo: "Wha-wa-wa-wa, what would happen to us if we failed the promise?"
Pinkie: "Oh relax girls, it's not like the RPE is gonna take away your cutie marks for failing to make a long-horned filly famous or anything."
Twilight: "PINKIE?! That's almost "Fillie Vanilie" Bad!?"
Pinkie: "Oops."
The Crusaders screamed!
Tiara: "Oh would you three relax?! You can always re-earned the cutie marks!"
Patrick: "That is unless he makes losing the cutie marks periment."
Spongebob: "PATRICK?! That's..... Modern Spongebob series Patrick bad."
Patrick: "Oops."
The Crusaders screamed so loud, every stained glass window shattered and break!
Luna: "..... And once again we need to repair the stain glasses.... For the upteenth time in the row."
Applebloom: (They all scream and panic running around the throne room)
Celestia: (In royal voice) ENOUGH!! (The Crusaders stopped)... You know, I'd rather you make a normal promise and avoid risking another RPE incident.
Scootaloo: Yeah... You may be right. I mean, what is this RPE thing anyway?
Gilda: It's a member of the Great Spirits who enforces royal promises, and used to do harsh punishments to those who broke them. MSM says it was just one of his earliest and craziest fantasies.
Icky: You know, like that pointless and cutted out plot line in that Extremely Goofy Movie moisode where I had to repair a machine that I broke due to some dumb rule? Like the Lodgers, in their right minds, wouldn't do that. That's not the say that the Main Producer doesn't have his fair of crazy ideas, but that's unrelated.
Lord Shen: Yes, I was beginning to question why he added it. Let's just say that early MSM was like a guy who has often-thoughtless imaginations.
Sandy: Not to mention a furry-like obsession with me. He did stop-motion Lego videos of me depicted as a town hero. It was nice, but now he admits it's a child-like fetish that he'd rather not have anything to do with again.
Celestia: What we're saying is that you'd rather not risk another crazy incident with the RPE. Though he no longer does punishments as harshly as he used to, he's still doing them fair but firm.
Applebloom:... Does a Pinkie Promise work better?
Pinkie: Nah, this is not a promise you can utterly leave to chance. You only make a Pinkie Promise when you KNOW you can fulfill it.
Icky: Yeah. I've seen how Pinkie acts when somebody breaks a Pinkie Promise, and it is SCAAAAAAAAARY!!! First time I saw that episode, it gave me nightmares for weeks.
Sweetie Belle: Okay, you've made your point. We'll just go for a normal promise. We'll do whatever we can to assist in helping Sweetheart out on this.
Icky: "Isn't it nice when episodes do continuity call-backs?"
Applejack: "Why do you think MLP:FIM is so popular with people these days?"
Spongebob: "And why my show has SEEN better days?"
Celestia: Now let's stop stalling and get started. The sooner Sweetheart learns how to manifest her powers, the sooner she won't do anymore accidents.
Chapter 5: Emerald's Revenge
Meanwhile...
The Ponies of Ponyville were minding their own business.
Emerald: (He appears from an alley, still a baby goblin, and sneaks his way through town avoiding all eyes looking for him)...Leave me a goblin as a retarded way for me to learn a lesson, huh? Well, I don't need them. I'll find a way to turn back to normal and get payback on that long-horned freak myself. And I know just the place to look. (Sneaks into Twilight's Castle)
Twilight's Castle
Spike, Big Mac, Mr. Cake, and Death Coffin are seen watching the game.
Spike: "Thanks for joining us for guys' night, Death Coffin."
Death Coffin: "Well, it's mainly because I have to somehow learn to appresiate mortal culture, and I suppose entertaining their aimless persuits in sport is one of them. That and, I wanted to be away from that blasted elephant for reasons that shall be given no explanation."
Big Mac: Yeah, I admit, Guys' Night is the only time in a while where I decide to use more vocabulary than just a simple 'Ee-yup'. I'm glad the producers of the show gave me more things to say in that Brotherhooves Social episode weeks ago.
Mr. Cake: "You have a faverite team, Death Coffin?"
Death Coffin: ".... Run that by me again?"
Spike: "Uh, guys? We kinda have to remember he used to live in a creepy dark cave for all his life. He's not terrorably aware of our way of life. In fact, he shunned it because he believed that our way of handling Alicorn jobs was childish and unworthy for them. He said our Winter Wrap-Up Song was bad, and he said that traditions like not using magic was, and thy quote, 'making limits to something SUPPOSED to be done with magic'."
Mr. Cake:... Why did you always you say that?
Death Coffin: Alot of that was before I started living with Fluttershy.
Mr. Cake: Well, sorry, you can't judge mortals for having their own way of life. It's not our fault nopony in Ponyville does Winter Wrap-Up without magic. The town was founded by Earth ponies who couldn't use magic after all.
Death Coffin: BUT DOES THAT REALLY MEAN YOU NEED TO BRING "TRADITION" AS A JUSTIFICATION JUST TO TURN AN ALICORN'S JOB IN MAGIC INTO A JOKE?!? CHANGING SEASONS IS A VERY POWERFUL FORCE OF NATURE THAT REQUIRES MAGIC IN ORDER TO MAKE IT WORK, AND IF YOU LIMIT IT WITH "TRADITION", YOU MAKE YOURSELVES UNWORTHY TO-...(Everyone looked at him weird)... Sorry, I just... Still have a habit of getting angry with your customs.
Spike: Yeah, I admit, I once questioned that tradition.
Big Mac: And yet you make Twilight look bad by encouraging her to do it, and then denying it later?
Spike: Look, I'm sorry, okay? Is it such a huge crime to be curious about these customs?
Mr. Cake:... Oh, it is sometimes, Spike.
Death Coffin: "Well, if everyone's done being crazy about the Winter-Wrap Up stuff, I suppose I'll favor whoever has a chance of winning in this game."
Big Mac: "Then that would be our boys the Equestian Bulldozers. They got minotauria's team in the ropes."
Death Coffin: "Minotaurs? But aren't they brutes that dispise our cultures?"
Mr. Cake: "Things change thanks to Celestia. Now the Minotaurs are at best jocks. They still like to think they can beat ponies in everything though, so it's GREAT Ponyball's a sport we can prove them wrong!"
Death Coffin: "Then why does it look like they're about to lose?"
Announcer: "Minos Makillingham is about to reach the goal and (BLAM) OHHH, but the Pony Bulldozers piled onto him like a pile of vultures on ham!"
Death Coffin: "..... Ok, never mind then. Maybe there's potainional here.... Course, (Brings out his sythe) It wouldn't hurt to make sure it stays that way."
Mr. Cake: "Uh, Mr. Coffin, your not gonna do what I-"
Death Coffin, through his sythe, casted a spell that turned the Minotaurs in the TV into Breezies!
Announcer: "OHHH, MY GOOD CELESTIA!? The Minotauria's team has been turned into Breezies!? That means the team is unable to win the game! The Pony Bulldosers win by default?!"
Spike: "...... DUDE, THAT'S CHEATING?!"
Death Coffin: "It's merely making sure the faverable team wins."
Big Mac: "Well it ain't right to cheat for them. Ponies, and espeically the Minotaurs, are gonna be suspitious of what happen. They'll have the pony FBI investigate this."
Death Coffin: "(Scoffs), Like ANY mortal is gonna find out that a ex-death god turned an entire team of minotaurs into breezies! My magic is undetectable! What could possably go wrong?"
Mr. Cake: "GAAAAAH?! KARMA-PROVOKING WORDS?!"
Death Coffin: "What did you say-" (Pony FBI agents came in)
FBI Pony #1: Death Coffin, interfering in a Ponyball Game calls for severe punishment.
Death Coffin: HOW IN THE WIDE WORLD OF EQUESTRIA DID THAT OCCUR SO QUICKLY?!? IT'S PHYSICALLY IMPOSSIBLE!!!
Mr. Cake: That's what you get for triggering karma.
Death Coffin: WHAT DOES THAT EVEN MEAN?!? IT MAKES NO SENSE FOR THAT TO OCCUR SO QUICKLY, I-JU-GU-BA-DUH-DAAAHHHH!!! Look, I apologize, officers, I'm just trying to get used to pony customs. These guys were just telling me about sports, and-
FBI Pony #1: Well, sorry, accident or not, you still committed a crime. (Writes a slip and gives it to him as it says 'Crime: Interfering in Ponyball Game, Penalty: Community Service in Ponyball Court')
Spike: We tried to warn you, Coffin.
FBI Pony #1: We expect you at that court by 8:00 tomorrow! Good day. (They leave)
Death Coffin:... Oh, God, how am I gonna break this to Fluttershy?
Spike: "Well, I'll tell you what NOT to do. Lie about it. Trust me, that ends up screwing you over eventally."
Mr. Cake: "Oh yeah. Espeically during that "Princess Spike" mess."
Death Coffin: "Oh, after how badly my attempt to win my beloved Magi over to my side thanks to this sad physical condition, I know I can't lie about this. But how am I gonna make this gentle so she doesn't get mad."
Spike: "Are you kidding? Fluttershy's an understanding pony. The worse you'll get is a lecture that you should've known better."
Mr. Cake: "And, maybe some scolding."
Death Coffin: "Ugh. Your mortal customs continue to confuse me."
Emerald was hiding out and spying on this.
Emerald: "..... If THAT's the best Princess Twilight had watching her castle, then I have NOTHING to worry about. He-he!" (Sneaks into the library)
Castle Library
Emerald: (Arrives to find all the books stacked up, and Emerald looks at a piece of paper that says 'Bored' 3 times with a smudge on the third)...The princess is seriously bored? She's got everything, what more could she want? Oh, whatever, there's gotta be a book listing some hand-performed spells somewhere around here. (Searches the lower shelves) Lame, lame, lame, crap, major crap, garbage, junk, s***, crap, trash, waste, poopie, dirty diapers, URRGHH!!!...(Looks up at the higher shelves and tries reaching them, but is unable to do so due to his height) URRGGGH!! CURSE THIS BODY AND IT'S HEIGHT!!! (Notices the ladder for Spike)...You know, I have no idea why I didn't notice that.
Later...
Emerald: WHOAA!! WHOA!!!... (Stands still on the ladder)... Urrgh, I hate having to get used to this stupid body!! I can barely stand on these stupid legs even on a stupid ladder! URRGGHHH!!! I SWEAR, I WOULD BLOW A ZEBRA IF I COULD JUST FIND A BOOK ABOUT HAND-PERFORMED MAGIC SPELLS!!!
A poof of smoke appeared.
Emerald looked to see a Trench coat wearing magicly flouting Zebra holding a book.
Zebra: "Did you say, you would blow a Zebra?"
Emerald: "...... Hey, I read about you. Your that creepy pedophiliac Magic Zebra that is among the escaped freaks from Tartarus. Look, if it's about what I said, (gets nervious), I was just being angry about it!"
Zebra: "Now, now, relax my boy. I'm not a GAY pedophile Magic Zebra. I'm straight. And I came to tell you that I can help you out of your silly little predicerment from Sweetheart's imaginary friend."
Emerald: "You can? Oh that's great and-..... Wait, Imaginary Friend? An Imaginary Friend did this?"
Zebra: "Why yes. I am powerful enough that I can see what the naked eye can't. Prevents me from assuming the poor girl's bearing a curse like an idiot akin to you."
Emerald: "...... AW MAN!? THEN THAT MEANS SHE WASN'T CURSE?!"
Zebra: "True, but all of Equestia doesn't have to know that, now do they? You can still do your silly curse games AND get revenge on Sweetheart for ever created that imaginary fiend that turned you into this. I'll even give you this hand spell book for free if you agree to do one favor for me...."
Emerald: "...... What?"
Zebra: "...... You must, bring me the cutie marks of the Crusaders."
Emerald: "...... AND HOW THE HELL AM I GONNA DO THAT?!"
Zebra: "Simple! Your gonna have to momentarly stay as a baby goblin awhile longer to use a cutie mark theaft spell, then you must bring them to me, then, once I have the cutie marks, the ponies who had them will forever belong to me! I wanted them espeically cause, I had spied on them even in Tartarus for awhile. Then, I got to study them more when the Master of the Bug-Animals organised a masterful escaped that enabled me and a few others to escaped that hellish dunguin! You see, I was defeated by ponies who had those exact marks! Those ponies caused my beautiful child wife to ultamately turn on me and breaking our bond curse, allowing Celestia to banish me there to begin with?! Now, I, Zeorbo, or sometimes that name is with a J, like Jeorbo, but for mortals I like to be called with a Z, am free to make new wife childs out of the ponies who dare bare simular marks?!"
Emerald: "ARE YOU NUTS?! I may think they're dorks sticking up for that freak Sweetheart, but, I am not gonna sell them out to a pedo! Your not even an Equestian Zebra."
Zeorbo: "Your correct. I, like my goody-two shoes cousins who stays invisable and prefers live in the dreams of that over-rated loser of a purple dragon named Spyro, as well as some crazy teenage girl in the Disney Universe and that Kronk guy from "Dexter's Lab", are from the dimention X-5621, the dimension of Trenchcoat wearing Zebras! I am considered a disgrace to my kind, because I desided to be visable?!..... And because I'm a pedo."
Emerald: "Well, I don't care if you do garrintie to make me normal, not even I would ever-"
Zeorbo: "Agree to do this, and I'll make it that your mother and father will like eachother again!"
Emerald gasped!
Emerald: "..... You...... You would bring my parents togather?"
Zeorbo: "Alchourse! Ol' Zeorbo here is a promise maker. And I am, (Chuckles), A promise keeper. I will repair your family, if you could repair my lovelife. What do you say, sport?"
Emerald: "....... Well...... It...... It would be nice to have dad stop being a dick to me and mom..... You promise that those dweebs won't get hurt?"
Zeorbo: "Oh why would I hurt my own future wives? It's as garrintied as stink on garbage."
Emerald: "........ Ok, your on, you pan-dimentional weirdo!"
Zeorbo: "Great choice, kiddo! Now, first, you need to use your goblin body to earn sympathy! I'll cast a curse of ignorence to anyone not you to prevent nay-sayers to disrupt you! Then, I'll open up a short-cut for for you to get to the Crusaders and Sweetheart! Everyone gets what they want! Sweetheart's declaired an outcast, you get a family again, and I get wives! Sounds like a plan worthy of a football couch?"
???: "More like a plan worthy for a return to Tartarus?!"
Zeorbo dodged a Sythe that appeared from nowhere?!
It was Spike, Big Mac, Mr. Cake, and Death Coffin who summoned the sythe back!
Death Coffin: "The next toss won't miss!"
Spike: "Death Coffin sensed your presence, Zeorbo. And we heard what you were trying to do with Emerald."
Mr. Cake: "You have some tasteless NERVE taking advantaged a poor troubled pony-turned-goblin's feelings like that?!"
Big Mac: "And if you done know what's good for you, you stay away from mah little sister?!"
Zeorbo: "Oh, calm down dear brother-in-law..... I'll promise I'll be gentle. (Laughs maniacly hysterical?!)"
Death Coffin: "STOP THOSE TWO?!"
Zeorbo grabbed Emerald and vanished before Spike and friends could act!
Spike: "DARN IT?! THAT CRAZY ZEBRA GOT AWAY!?"
Death Coffin: "We must warned the Mayor and the young fool's mother before his grave mistake gets worse for both him, AND those unlucky fillies!?"
Spike:... Wow... A magical non-equestian pan-dimentional zebra pedophile from Tartarus? Now I've seen everything.
Big Mac: "And I thought the Bug-Bear was the freakist thing in existence."
Later...
Zeorbo: (They entered a secluded area far from Ponyville)... Whew, that was close!
Emerald:... Well, I guess we're screwed. Those guys will probably warn the town before we can make our move.
Zeorbo: "Then YOU need to act quickly, twerp! Get those ponies attention while it's still good, I'll take care of the rest!?"
Emerald: Look, I appreciate the help, but the name-calling I don't think I can put up with. Just get started. (Runs off)
Zeorbo:... Yeesh, kids these days. But at least they are so easily controlable..... (Chuckles), and so humoriously gullible.
Emerald: (Goes out to public and anyone gets hit with an ignorence spell so when his finders appear, they begin to disbelief them). Here goes nothing. (Lays to the ground and starts fake-crying)
Pony #1: (Several ponies notice him)... What's going on, little guy? Are you lost?
Emerald: I was cursed by a bully at school and became a goblin. And that dumb bully manipulated my friends and family into not giving a flying feather about it. I'm going to be stuck like this forever! (Fake-sobs)
Pony #2: Oh, you poor thing. Who could've done this?
Emerald: A long-horned freak named Sweetheart. (The ponies were confused)... Don't let the name fool you. She was just named that because she was sweet as a child. This child is so powerful, her harm comes out of nowhere. She needs to be stopped from harming anymore children. Can you help me?
Pony #3: Of course we can. We'll inform Princess Twilight immediately.
Pony #2: Actually, she's out of town. Said it was an emergency.
Pony #4:...Well, then I guess we'll just have to help get a petition to get this colt back to normal and that awful filly punished. (The ponies agreed)
Emerald: ("Suckers!")
Elsewhere.
Beryl: "Oh.... I can't find Emerald anywhere.... It's like he's turned invisible or something."
Mayor Mare: Well, I'm sure we'll find him. (Notices the sympathizers of Emerald)... (Sighs) Ponies these days getting excited about Nightmare Night, they follow a simple child. But hey, at least it'll be nice to spend it with Luna.
Love Heart: That is if they can help our daughter in time.
???: MAYOR! (Spike, Big Mac, Coffin, and Mr. Cake arrived)
Mayor Mare: Hey, it's the guys of Guys' Night at the Castle. I saw the FBI agents bursting in, what happened in there?
Coffin: Oh, I might've done something wrong to get me into community service, but that's not the point. There's something you need to know about that colt you're looking for. He's gotten involved with a pan-dimentional pedophilic magic zebra from Tartarus.
Beryl and the Hearts started confused.
Death Coffin: "..... You think that's weird? This place was once attacked by a Bear-bee hybrid awhile back."
Beryl:...And who would want to sympathize with Emerald? He's proven to be a huge jerk.
Death Coffin: "Depends. How many people besides us have known of his true nature, considering that he and Sweetheart just moved here?"
Beryl made a concerned face.
Mayor Mare: "He's..... Not really wrong though. Your son hasn't really interacted much with the rest of ponyville, why, he's pretty much unknown to them."
Mr. Cake: Speaking of which, isn't that him over there? (They see Emerald getting sympathizers)
Big Mac:... Ee-yup.
Beryl: "I'm gonna fix this right now and-"
Death Coffin used his sythe to blook Beryl's way.
Death Coffin: "It's too late. The poor fools have been lored in by Zeorbo's tricks. Doesn't matter if we're the only ones, we'll be ignored by the curse of ignorence. Not even the mayor could resolve this."
Mayor Mare: "Then..... What can we do?"
Death Coffin: The only thing we CAN do. We have to warn the Lodgers and Princesses and make sure they're well-prepared for Zeorbo. He wants the Crusaders' cutie marks so they can be his...(Shivers)...f*** buddies.
Grand Heart: OH, THAT IS JUST NASTY!!!
Big Mac: Ee-yup.
Beryl: Then we MUST let them know. I don't want those poor fillies being ruined by some pedophile from another dimension.
Love Heart: And...I take it that Emerald is wanting revenge on our baby?
Big Mac: Ee-yup.
Spike: The poor kid is going to be hated if we don't do something. That Zeorbo jerk promised that he could make you and your ex-husband love each other again.
Beryl: HE SAID WHAT?!? Oh, I refuse to allow that. If we get back together again, the whole thing will happen all over again. I don't think Emerald will handle another bad impression by his father. He'll become even worse than he is now. We must stop him!
Spike: I think the communications computer is still available to use. Let's talk to them through that.
The Group runs off.
Zeorbo saw this.
Zeorbo: "I would just as easily stop this, but it's un-nessersary. By the time the message is reached, it'll be too late." (Laughs)
Canterlot
Celestia:... Well, Sweetheart, now that I can see your imaginary friend, albeit not for long, I think it's time we got through with your troubles. While we would send you to the School for Gifted Unicorns to learn how to control your powers, I don't want you to end up like the filly that last had your mutation. I want you to be appreciated with your magic. That's why I'm going to teach you personally.
Sunshine: "Didn't you say you weren't good at it?"
Celestia: "I didn't say it like that. I just said I didn't get to be the one who made the last filly truely great in the end. I'm sure I can truly help Sweetheart from making the same mistake."
Applebloom: So... How do WE help?
Celestia: You three will not be needed yet. We need to see how she starts out first. Then we'll be sure to have your assistance. You'll have your chance eventually, I promise.
Sweetie Belle: "Well, we hope it's soon, cause I'm worried about Emerald."
Sunshine: As am I. He'd better not be doing anything sneaky.
Celestia: Now, Sweetheart, see if you can try to use your magic. And do it VERY gently. (Sweetheart does the magic gently, and despite the intensity, she managed to levitate a rug, and rode it like a magic carpet)... Very nice.
Crusaders: Woooow!
Sunshine: Well, it's still an improvement. She at least learned how to levitate things. She needs to learn how to handle other spells. But I guess one thing I can say is that if you're going to use small spells, do them gently. If you try too hard, you'll end up using too much power. Just take baby steps. (Sweetheart nods 'yes')
Sweetie Belle: "I think this is going smoothly."
Rainbow Dash: (Appears) Hey, guys! Double-time it over to the communicator, would you? Mayor Mare and Spike are calling us, and there's something the Princess needs to know about Emerald.
Applebloom: Is the jerk finally making his move?
Rainbow Dash: Apparently. Now let's move! (Flies out as the Crusaders and Sweetheart looked worried at each other)
Communications Computer
Scootaloo: (The fillies and Celestia arrived) We're here, Mayor Mare! What's Emerald been doing this time?
Death Coffin: Well, you're certainly in for a treat. It appears Zeorbo has escaped from Tartarus and is helping Emerald get to Sweetheart and the Crusaders so they can make Sweetheart look bad, and take the Crusaders' cutie marks so Zeorbo can 'own' them if you know what I'm saying. (The Crusaders panicked after realizing what that meant)
Celestia: Zeorbo? Oh, boy! It was only a matter of time before that trouble-maker did something nasty.
Icky: Hold up, who's Zeorbo? Because his plan... Seems pretty awkward.
Celestia: It should. He's a pan-dimensional zebra who was exiled for being a pedophile, and he terrorized harmless fillies. He's capable of controlling ponies with cutie marks the same way the Devil does with souls... Only without the penalty of death. When he has somepony's cutie mark, he can control those ponies like puppets and turn them into his personal and sexual enjoyment. It was rather disgusting to see him do that to poor children. I can see why his people oricasized him. So I had him banished to Tartarus.... Or at least until he escaped along with Tirek, the Bug-Creatures and several other of Tartarus' monsters in thanks to a clever yet rediculiously simple plan to trick Cercerbus to leave it's post through... A bone. The Tartarus Demon Vultures and Grimmer were no serious enough threat without Cercerbus, so he and the rest escaped. We couldn't find him ever since, cause like the other monsters, he simply remained absint until he would deside to make his move and masterfuly avoid any attempts to seek him out. Now it seems he's finally have a reason to do such, and sadly.... It's on the Crusaders cause he admires their rare cutiemarks, and deems them worthy to be his wives.
The Crusaders scream and started to cry alittle!
Applebloom: WE'RE GONNA BE F*** BUDDIES TO A PANDIMENSIONAL ZEBRAAAA-HA-HA-HAAAHH!!!
Applejack: CALM DOWN, YALL!!! (The Crusaders stopped)... First of all, Applebloom, watch your language. Secondly, you're not going to be that zebra's victims if we have anything to say about it.
Spyro: Yeesh, this might just be the second sexual-based Equestrian enemy we've faced... Even though it's not exactly from Equestria.
Celestia: That zebra must be stopped before he does something bad!
Sunshine: Indeed. That foolish child has gone too far with his lust for payback.
Spike: "Uh, that, might not be inheredly true. Emerald pretty much rejected the standalone offer to get even with Sweetheart cause, he relitively didn't like the idea of the Crusaders' suffering under his grip, even if they defended Sweetheart from him. He's only now doing this because that dimentional pedo jerk sweeten the deal by saying he'll get his parents to love eachother again as a side-deal."
Death Coffin: "He was even mostly relucent and asked if Zeorbo wasn't gonna hurt the crusaders during this, with the cheeky devil insisting he wouldn't dream harming his wives."
Icky: "And he actselly believes him like a moron?"
Death Coffin: "Oh, trust me. As a ex-death-god, I seen this too many times. Pedophiles are masters of deception when it comes to dealing with children. From basic candy bribery, to the kind Zeorbo pulled. Why do you think you mortals created these "Stranger Danger" rules?"
Icky:... Well, I guess that makes sense. Still, we've got to stop him.
Mayor Mare: Well, hurry. Emerald's got an ignorance curse around him and he's starting to get sympathizers. He'll soon be on his way there. You might wanna brace yourself, your highness.
Celestia: We shall, Mayor. And thanks for the warning.
Lord Shen: Yeah, we'll tear them apart like- (Celestia looks angrily at him)... Heh, sorry, I think Dark Shen really left some of his essence in me when we beat him.
Applejack: Take care of yourselves in the meantime, y'all. Fill us in on anything new that comes up. Think you can do that?
Big Mac: Ee-yup.
SpongeBob: Great. We'll see you once we've finished our mission with Sweetheart. (Ends communication)
Jumba: Well, it would seem that Emerald gave us more than what we bargained for.
Applebloom: Hmmph! I hoped he wouldn't be a threat since he was a goblin and incapable of magic or showing sympathy. But, PHHBBTT, were we wrong.
Scootaloo: I'm worried that we're going to be puppets to a pedo!
Rainbow Dash: Not if we can help it. We'll be waiting for them.
Lord Shen: "Course, it wouldn't hurt to throughly prepare for the event. A Pan-Dimentional anything tends to be a difficult abversary."
Icky: "Oh yeah, just ask Superman and his problem with that otherly dimentional jerk Mr. Mya, Myo, Mayo, uh.... The loud-mouth dimention traveling dick!"
Kowalski: You mean Mister Mxyzptlk?
Icky:... HOW THE HECK CAN YOU PRONOUNCE HIS NAME?!?
Kowalski: The name may not have any vowels, but they're there.
Iago: Yeah, I know the guy since he was voiced by MY voice actor in Superman: The Animated Series. His name sounds like 'mix-yes-pit-lick'. And trust me, the guy sounds more annoying than me. (Imitating him) NO! REPEAT AFTER ME, BRIGHT BOY! IT'S MIX... YEEEES... SPIT... (Spits on Icky)... LICK! KLTPSYXM!!!! KLTPSYXM!!! UGGGHH!!! HE PISSES ME RIGHT THE HELL OFF!!
Icky: (Wipes the spit off) Well, that was actually a good impression.
Iago: DUH! We have the same voice.
Icky: But hey, he did give some great comedy to that series, didn't he?
Iago: At least he's not allowed to be in this series since... You know... He's DC comic material. I hope I NEVER have to see that midget of a scrambled name again.
Celestia:... So, let's just get ready for Zeorbo's next move. He's not going to show any sign of mercy during this whole thing.
Lord Shen: "Well first is to smack some sense into the townsfolk and get them to stop taking that ungrateful brat seriosuly."
Merlin: Oh, that's surely our specialty. Undoing that ignorance curse will be a piece of cake for me.
Icky: "But what's stopping that Pan-Dimention Trench Coat Zebra from just redoing it?"
Rainbow Dash: "Ahem! Your looking at them!"
Celestia: Oh, trust me, Zeorbo is not an easy adversary. He would be foolish to heed to our whims no matter what we do to him. Plus, his magic is umpredictable. Just trying to fight and disorientate him is not going to work. Luckily, I have a plan.
Lord Shen: You do?
Celestia: "Well, again, he's no idiot, but, he's not entirely above being easily tricked. We just need to be able to cater to his sickening pedophilic nature. That's the only thing stronger then his intelligence. Otherwise, would such an intelligent individual like him even BE a pedophile?"
Lord Shen: "Ah, used his abominable nature against him. But we can't risk using real children for OBVIOUS reasons. We need someone to volenteer to momentarly allow themselves to temporary be children."
Trixie gulped and slowly tried to hide away.
Gilda: "Trixie and I volenteer for the job."
Trixie: "WHAT IN THE, (STUTTERS), GRIFFIN, ARE YOU INSANE!? And besides, Griffins don't have cutie marks, he won't be interested in you."
Gilda: "Well OBVIOULSY Twilight can turn me into a pony, AND then I would get one."
Trixie: "You sure you won't end up being a blank flank pony?"
Gilda:... Hmm... That's actually something I didn't think of. And even then, this series made it clear that you can't artificially grant cutie marks.
Applebloom: Yeah, duh!
Patrick: How about we make you a tattoo that resembles a cutie mark?
Gilda: OH, HELL, NO!! I am AGAINST tattoos! Tattoos are for punks.
Smee: AHEM?!? (Shows them his 'Mother' tattoo)
Gilda:... Oh, but it looks good on you, Smee! (Chuckles) Let's only say I'm against tattoos, even ones that aren't permanent. So if you think you're going to tattoo the side of my pony-fied ass, then you're SOLELY mistaken!
Icky: "Really Gilds? Three poor fillies are not worth a momentarly pile of paint on your rump? Three poor fillies who finally got their cutie marks and discovered that they're even more speical then any other, only to have them taken away by a trench-coat-wearing magical pedophilic african stripped horse from some other dimention, aren't worth having a tattoo? THESE three, aren't worth a tattoo?"
The Crusaders gave the puppy-dog eyes.
Gilda: Not the puppy-dog pout, PLEASE! There's got to be other ways. Besides, even if I WERE to get a tattoo, that black-and-white candy cane is STILL going to know it's fake. If he's really as freaking powerful as we think, he'd know what's a cutie mark and what's not.
Sunshine:... That is a rather good point.
Luna: Yes. And I would point out that fake cutie marks are illegal for personal purposes, but that probably doesn't have to do with this situation.
Celestia:... Perhaps we won't have to. I do have a certain spell that can make the tattoo SEEM real.
Gilda: What?
Celestia: While we can't artificially create cutie marks, there ARE cutie-mark based spells out there, and Starlight's cutie-mark-removal spell is one of them. Though they too are mainly outlawed for several reasons. But this spell has been useful for pony spies for many moons despite controversy. The Cutie Illusion Spell is something a rather misunderstood descendant of Star Swirl developed. It allows a fake cutie mark to be made to look and feel like the real thing.
Gilda:... And you're sure such a spell will work, and we won't even be scolded by nasty whiners for using it?
Celestia: Judging by what you said about Zeorbo sensing fake cutie marks, I'm afraid it's the only chance we've got.
Luna: "That, and luckly, Shineflare and the Unicorn Council are on vacation for the fall, so, what they don't know, shalt not hurt them."
Icky: Thank GOD because if I have to deal with another one of their lectures, I'm gonna have to pour molten metal into my ear-holes and hope it hardens hard enough for me to never hear her again!
Pinkie: Wouldn't that hurt?
Icky: Yes, but not as bad as how we've dealt with the Unicorn Council in the past. They once threatened to send us to Prison 42 as punishment for protecting THIS guy... (Points at Discord)... Which is essentially what we were meant to do.
Celestia: Hey, in their defense, they got authorization from a higher governmental power.
Icky: Yeah, but still, it made them look like desperate jackasses who would risk throwing well-praised heroes in jail for their own selfish needs. Why should I cut them some slack after that, huh?
Luna: They're still a perfect government for Equestria regardless of what they did wrong. Now unless anyone else wants to criticize the Unicorn Council who has helped us in certain times before, can we start with stopping Zeorbo?
Gilda: Fine, we'll do it. As long as this tattoo isn't permanent.
Fluttershy: "Well, um, I once saw Starlight make herself a fake equil-mark. She used make-up and paper with shape-holes on them."
Rainbow Dash: Yeah, but that can be wiped off easily. The last thing we need is a smear of water to get on the makeup, and you're busted.
Rico: Allow me! (Hacks out a can that says 'waterproof tattoo ink')...
Kowalski:... Oh, yeah, that's right.... But... This is just one color. How can we- (Rico hacks out more colors of the tattoo ink)... Your cauldron of a stomach still surprises me. (Rico chuckles and blushes)
Gilda:... So... If we're doing this temporary, then what kind of cutie mark am I gonna get? And for that matter, won't Zeorbo recognize Trixie?... I mean, sure, he might've known she was an outcast who got a powerful corruptive amulet as an act of personal payback...
Trixie: HEY! That was mainly because Rainbow Dash kicked me through space at a speed of 27,000 miles an hour all the way from the Dragon Realms to the Valley of Peace one Thanksgiving. Don't push it.
Gilda:... But I'm pretty sure he knows that she was involved in some sort of hero team from stragglers.
Celestia: "Oh, don't worry, he may be smart and intellectual, but he's not omitipent. He doesn't know EVERYTHING and everyone. Also, he was pretty much still locked up on Tartarus when Trixie first happened, and he doesn't care for current events, so he never figured about Trixie during his freedom. But just in case your still gonna be afraid about this, if I was you, I wouldn't mention my name, and make up a new one."
Trixie: Really? What if the sympathizers spill the beans? Surely THEY know who I am because of my actions with the Alicorn Amulet. I basically kicked Twilight out of her own home and enslaved everypony there. With THEIR knowledge, I'm pretty sure it won't be hard for that zebra jackass to learn about me... ESPECIALLY for my inclusion to the Lodge.
Luna: "Worry not. As said before, he cares NOT for things unrelated to his sick fetishes. So he would have NO idea what you would be. Trust me, if he was to meet you and somepony were to comment, he wouldn't want to listen."
Icky: Yeah, I have to fully admit, villains these days are getting stupider. MSM fully admitted that he hated how villains are being taken down without any conflict, yet was afraid to admit it.
Sandy: Well, can you blame him since that time he unknowingly criticized that part in the Christmas episode when-
Scroopfan's voice: "AW COME ON, YOU GUYS TOO?! It's bad enough when my friends criticisized my writing, now the characters are too?! Do you guys WANT to go back to impossable doomed situations?! Like with Devious Puppet? I am NOT intentionally trying to make these people stupid, it's just Season 3, it's going downhill!?! I am trying to make you guys look like compident heroes in compairison cause of the critics?! They mocked the original series, espeically the hercules episode when Fidget failed to stop Pain and Panic and that it was un-nessersary because of the brief camio of the "more convident" guards and that they were phrasing Fidget getting kicked out when not really because of their commen complaints about the whole thing!? It's because of how the villains are basicly over-powered?! So, I de-powered them around this time?!"
Icky: "So, you basicly mostly indirectly turned them into half-wits or over-compident jokes that fail because of bad hindsight, bad luck and inconvinence, or other reasons? That isn't nessersarly gonna make us good heroes, that's only gonna make otherwise good villains look like pathic educational villains when they're abunch of generic idiots! That's been known to be critic bait as well, then NO one is happy!? Now, I know what're your trying to do. Your just leveling the playing the playing field, and making that neither hero or villain is smarter then each-other, but, would it REALLY hurt to at least not have villains COMPLETELY fail because of a little bad luck or their own bad hindsight, just to make us look good? Cause it's kinda half the reason why Season 3's going downhill and-"
Scroopfan's voice: "WHAT DO YOU WANT FROM ME?! ALOT OF THINGS ARE GOING ON IN MY LIFE NOW THAT I DON'T KNOW WHAT TO DO!? (Runs away crying)?!"
Icky: "WAIT, WAIT, BOSS, I....... OH NOW LOOK WHAT YOU DONE, SANDY?!"
Sandy: "WHAT?! YOU STARTED IT, YOU PREHISTORIC MORON!?"
Icky: "WELL YOUR THE ONE THAT MADE THE POOR GUY STARTED TALKING!?"
Sandy: "WELL YOU WERE THE ONE WHO BROUGHT IT UP FIRST!?"
Icky: "IT DON'T MATTER, CAUSE I THINK WE JUST RISKED THIS EPISODE GETTING LOST DRAFTED BECAUSE HIS FEELINGS GOT HURT!?"
Sandy: "YOU MEAN YOU!?"
Icky: "NO, WE?!"
Sandy: "YOU!?"
Icky: "WE?!"
Sandy: "YOU?!"
Icky: "WE?!"
Sandy: "YOU?!"
Icky: "WE?!"
Sandy: "YOU?!"
Icky: "YOU?!"
Sandy: "WE?!"
Icky: "YOU!?"
Sandy: "WE!?"
Icky: "YOU?!"
Sandy: "I SAID THAT IT'S BOTH OUR FAULTS AND THAT'S FINAL!?"
Icky mischiefiously grins.
Icky: "Ok, if you said so, super-genius squirl. It's both our fault."
Sandy: "Exactly. And don't you for..... Get..... It? AW MAN!? DID YOU DONE PULL A LOONEY TUNE TRICK ON ME?! WHY I OUTTA RING YOUR NECK LIKE A-"
Icky: Too late, you admitted it, no way to take it back. (Chuckles until he and Sandy get into a brawl)
Twilight: Guys, guys, please! (The two stop) This IS still a hard opponent to take down, and not all villains are the same. Some are stupid, some are not. Nobody's ever perfect. Now let's stop complaining and get to stopping Zeorbo.
Pinkie: And yep, you were right, you were going to be a blank-flank.
Kowalski: Well, the thing we should do now is to decide what kind of cutie mark tattoo she needs.
Twilight: Hmm... I think I remember reading an encyclopedia of cutie marks in Canterlot's library when I was 13. That book should give us a-
Celestia: Actually, a guard here might've checked that book out. And he actually left the book here in this room. (Takes it out)... I had realized this before you guys came here. I'm sure this book will be of use to us.
Icky: "Wait, cutiemarks are suppose to be a mystery to you ponies, right? And yet you keep a book of them in hand, er, hoof? Doesn't that make the mystery moot?"
Luna: "Not, exactly. The magic of Cutie Marks themselves is still being figured out, but what we do know is recorded. And in this book is an epicenter of cutie marks we recinised."
Savio: "You have a book dedicated to butt tattoos?"
Luna: "It may seem odd to NON-Equestians and Non-ponies, but it makes sense to us. Cutie Marks are pretty much part of our culture and history."
Icky: "Well, does it know of cutie marks that exist based on ponies being tough gals like Gilda?"
Celestia: "Yes. In fact, it even has it's own chapter." (Reads book) Cutie marks which represent bravery and victory. (They look in the book and see pages of cutie marks including swords, shields, treasure chests, and so on)...
Private: Wow... How many cutie marks concerning bravery are there?
Celestia: So far, only 32. This treasure chest cutie mark is one that represents sailing fo treasure with a heart of gold. This clashing sword cutie mark represents marksponyship and talents with a sword. This shield cutie mark represents being unstoppable, protective, and able to do the impossible.
Crane: Hey... Isn't THAT Pred's cutie mark? (They see the fedora cutie mark)
Celestia:.. It certainly is. And the overview is specific, it's a beast-slayer cutie mark, and it says that the only lineage able to bare this is the Des Clan.
Icky: Well, duh, nobody would WANT to be a beast-slayer except them.
Celestia: This mace cutie mark represents being a hero straight out of nowhere. And... Oh, my... THIS is the cutie mark that you Crusaders share. (They see the purple shield cutie mark with a question mark in the middle)...
Scootaloo: (Reads the description)... Yeah, you were right, princess, this IS a rare and legendary cutie mark.
Gilda: Alright, look, are we going to sit here and admire the cutie marks that have been dated throughout history, or are we gonna look for the right cutie mark tattoo?
Celestia:... Lucky for you, I just might have one to fit you. (Shows her a cutie mark in resemblence of a eagle symbol)
Gilda:... What does THAT represent?
Celestia: It represents boldness and facing tough situations. It's perfect for you because of your acts of kindness to the suffering griffins in your hometown.
Rainbow Dash: Speaking of which, how is that side job doing?
Gilda: Oh... Mot much. I do it every Wednesday and so far, some of the architecture has been restored. Sure griffins are still sour, but so far, I've changed the hearts of at least 5 griffins. I'm sure that's enough to restore the town, but these things usually take time. My house has been rebuilt, and Grandpa Gruff... Well... He's okay, if not still cranky.
Icky:... You were raised by your grandpa?
Gilda: Well, yeah. His cranky attitude is what made me the pony-shunning bitch you knew I was. My mother... Well... She moved on to a new kind of life.
SpongeBob: What kind of new life?
Gilda:... A life in the wild. She wasn't exactly born in Griffonstone like dad was, but when the two divorced, the two left Griffonstone to go with their own lives. Mother couldn't bare to raise me in a jungle environment, so she left me in the wings of Grandpa Gruff.
Spyro: What about that brother of yours who almost ruined Pinkie?
Gilda: I don't know much about him. Someday, I'll figure it out. But until then, I'm still working on the fixing of Griffonstone. Now, can we get started with this waterproof tat already?
SpongeBob: Yeah. Let's get our brushes ready. (Takes out a big brush)... Uh... Maybe we should use a smaller brush. (Takes out a small one and plucks out a nose hair, and Patrick does the same thing and rips out a ton of nose hair)
Icky: JESUS!!
Kowalski: Actually, this requires a TATTOO brush, not a paint brush. (Takes it out)
Applebloom:... You think you're going to coincidentally gain a cutie mark for being who ya' were in Griffonstone?
Sweetie Belle: In fact, shouldn't that accomplishment mean you should already have it? Or would you have to do it all over again?
Gilda: How should I know? Your pony customs still confuse me.
Celestia: She needs to BE a pony when accomplishing that in order to gain a cutie mark. And yes, it is possible for that to happen. I knew a griffin hundreds of years ago who was cursed into being a pony forever, and he happened to get a cutie mark in the same manner.
Twilight: Yeah. Even if you're a HUMAN turned into an Equestrian pony, it's possible for you to gain a cutie mark. The story I told to the Baby Cakes is sheer proof of that.
Applebloom: Yeah, but that was just a made-up story, wasn't it?
Twilight: Yes, but still.
Gilda: Well, screw getting a cutie mark, I'm not going to be a pony forever. I can't spend my entire life without any opposable digits.
Icky: Yeah, come on, it isn't like she's twice as beautiful like that, I- (Twilight uses the spell she used to turn her and her friends to Breezies by scanning Rainbow Dash, and using the essence to turn Gilda into a pony as Icky sees Gilda in sheer beauty as one, having a golden-brown body and white-and-purple luscious hair)
Gilda:... Well, I admit, it's going to be a while for me to get used to having no opposable digits.
Icky: I... I... I HAVE TO GO TO THE BATHROOM!! (Goes into the bathroom and disturbing noises were heard)
Sunshine:... Okay, that's just gross.
Sweetie Belle:... Is he always like that when nature calls?
Sparx: Oh, he's just m- (Sunshine gives him a dog's head as he barks)
Kowalski:... Well, it's now or never. (Gets the tattoo brush and makeup ready)...
Later...
Gilda: (Sees her eagle cutie mark tattoo)...Nice.
Icky: (Comes out of the bathroom)... WHEW! What a blast! I-- (Sees Gilda's beauty again)... I... AH, CRAP!! (Goes back inside)
Patrick:... Does he need a prostate exam or something? (His face disappears) MMMPPPHHH!!!
Sunshine: Oy, what is with you misfits, there's a child present!
Sweetie Belle: "Uh, Sunshine, if your there, you don't need to constintly do that. There's tecnecally no problem cursing in front of Sweetheart cause she's mute. It's not like she can curse anyway."
Sunshine: "Well, not that your able to responde, but it's STILL indecent."
Discord: "She agreed with you but said cursing in front of children is still indecent, mute or not."
Scootaloo:...Yeah, that is true.
Trixie: Well, I suppose it's time we got ready. Do you think that pedo zebra is still doing something sinister?
Celestia: (Opens up a magic portal to view as they see Emerald getting more supporters which becomes an army, and Zeorbo is watching in a wicked grin)...Yes. It would seem that way. (Sweetheart shivers in fear)
Applebloom: Look, it's gonna be okay, Sweetheart. We promised we'd help you, and we're sure as heck gonna keep that promise. That awful goblin-turned stallion and his supporters ain't gonna lay a hoof on you.
Sunshine: "And I'll make sure he'll never take away your chance to shine..."
Sweetheart: "(Looks as if she was gonna cry again, but then gets a determined face...).... N-..... N-....... N....... N.......... No..... No......... NO, MORE?!"
Everyone stared shocked at Sweetheart's first word!?
Trixie: "...... You..... TALKED!?"
Sweetheart: "...... I, have enough?! I am tired of being pushed around over as something misproportionate as a larger horn!? I AM TIRED OF HIDING BEHIND OTHERS AND LETTING BULLIES THINK I'M A COWERD!? (Glory Halleula starts to play) I AM TIRED, OF GETTING SAD TO THE POINT THAT I GET MYSELF INTO SITUATIONS I NEVER MEANT TO HAPPEN?! AND I'M TIRED OF BEING BLAMED AS MEANING IT OR BEING CURSED?! AND I AM TIRED OF MORONS LIKE EMERALD AND THAT PEDO ZEBRA!? I AM TIRED OF BEING SOMEPONY'S PUNCHING BAG?! I AM GONNA STAND UP FOR MYSELF AND MAKE EMERALD WISH HE KEPT HIS BIG FAT MOUTH SHUT AND KEPT HIS MORONIC, UNIMPOURENT, MEANINGLESS OPINIONS TO HIMSELF, AND LEARNT TO TALK TO PONIES ABOUT HIS PROBLEMS INSTEAD OF LETTING THEM TURN HIM INTO AN UNREASONABLE JERK?! DOES HE HONESTLY THINK BEING AN ASSHOLE WOULD MAKE EVERYONE LOVE HIM!? WELL IT'S THE POLOR BEAR OPISIDE, FATASS?! AND HONESTLY, WHERE DID THE ZEBRA EVEN COME FROM OTHER THEN SOME ALTERNATE DIMENTION!? IT FELT LIKE HE WAS ADDED THE LAST MINUTE FOR THE SAKE OF HAVING A VILLAIN FOR NEFARIOUS THEN A STUPID BULLY?! AND FURTHERMORE, I AM DONE BEING THEIR PUNCHING BAG!? I AM SWEETHEART!? (TURNS INTO A DRAGON MAGICLY AND GETS A VOICE CHANGE) HEAR ME ROAR?! (GODZILLA ROAR?!)"
This causes Canterlot ponies to panic!
Fluttershy turned white and fainted!
A Yellow Puddle was seen around Pinkie.
Pinkie: "...... (Brings out a cup)..... She made me spill my lemonade."
Squidward: "...... Holy, shrimp....."
Luna: "........ Ah, Nostagila. I remember when I throw a bad enough tandrum, I refluxly turn myself into a dragon or a chimera during my tirade and roar my head or heads off."
Celestia: (Fires a magical beam that changes Sweetheart back to normal) WHOA, WHOA, WHOA!!! Sweetheart, calm down! Violence has never been the answer. That's the thing you're against, isn't it? Besides, now that you can speak for yourself, you can finally stand up for yourself. You can tell everypony about who you are and about the whole situation.
Sweetheart:...I...I can?
Iago: Well, duh!
Discord:...Now that you're not yell-speaking, you sound EXACTLY like Sunshine.
Sunshine: Because I have the voice she would've had and has now. She is perfectly capable of standing up for herself.
Scootaloo: And yeah, she still needs to learn to control her magic. I knew right away that dragon spell was out of control.
Sweetheart:...Sorry about that. This is the first time I spoke up for myself. There was just so much built-up thoughts that just needed to be released. And when Emerald started getting an army of supporters...I just couldn't hold it in anymore.
Applebloom:...Well, ya' sure let it out HARD! That was the scariest thing ever...and it's almost Nightmare Night.
Gilda:...So...me becoming a pony was...unneeded?
Celestia: Not quite. We still need someone to distract Zeorbo while Sweetheart handles the sympathizers.
Sweetie Belle:...And we're going to accompany her all the way through.
Sparx: Oy, again with their determination, look kiddies, just because you're SUPPOSED to be bold, it doesn't necessarily mean you have to be like that ALL the time. Those ponies will be all over you like stink on a skunk!
Applebloom: Up-up-up! Never question us. We're going out to help, and that's final!
Gilda:...Well, at least I know this pony disguise wasn't a waste.
Discord: "Well you still to be able to look like a filly, so there's still that."
Icky: (Comes out again) WHAT HAPPENED?!? I heard a Godzilla roar from the bathroom, as well as loud child-yelling. What happened?
Sweetheart:...Uh, I learned how to speak and stand up for myself.
Icky:...(Sighs) As if this day couldn't get anymore crazier. I...(Looks at Gilda again)...Okay, my unmentionables are already exhausted, so I'll just get back to being a hero...for now...(Quickly takes a picture of Gilda on his iPhone)...(Quietly) I just got a new hobby!
Gilda: What was that?
Icky: NOTHING! Just taking a picture to put in our scrapbook, that's all. (Chuckles) Certainly not going to be used for something gross or anything.
Sunshine: OKAY, THAT'S IT! (Makes Icky's beak disappear)
Sweetheart: SUNSHINE!!
Sunshine: Sorry, but I can't take any of these idiots' pottymouths anymore. We're going to continue this mission RIGHT NOW without anymore nonsense, and from now on, anyone who swears will lose their mouths until further notice!
Discord:...She's demanding that we move on and anyone who cusses loses their mouths.
Iago: Well, s***! (He loses his beak, and groans in anger)
Twilight: Then what're we waiting for? Let's get moving. (They all teleport away)
Chapter 6: Sweetheart's Destiny
Ponyville
Emerald was still getting supporters.
Death Coffin: "Ok, seriously, didn't anyone heard the Kaiju roar, at all?"
Big Mac: Ee-yup.
Mayor Mare: Well, again, the sympathizers don't give a damn, and are only focused on Emerald thanks to that curse.
Grand Heart: Oh, that wasn't just ANY Kaiju roar. I've heard it before. Sweetheart once turned into a dragon when she got angry... Which only happened once when she realized she didn't like scaring ponies.
Spike:... So, you're saying that your daughter has learned how to use her abilities?
Love Heart: Oh, that was an out-of-control spell. Perhaps the princess has helped her with assertiveness.
Death Coffin: "..... Your saying the little idiot was bulling someone who could turn into something that could easily shallow him whole?"
Love Heart: "Well, turning into a dragon doesn't change a pony's diet. She's still a vegatarian afterwords. Why, if she does even the mere attempt of it, the poor thing would puke."
Death Coffin: Well, that's...partially true. She wouldn't like meat because she just isn't used to it and it would take her years to adapt to the new diet. Ponies like Sunset Shimmer from that alternate human world have proven that even ponies can adapt to a new diet. She claimed a few times that being a human means you become an omnivore by nature, yet can't eat meat upon changing back into a pony. When she visited Starlight in the Black Stallion Asylum, she told ponies about her changed diet.
Love Heart:...Okay, that's kind of weird.
Death Coffin: Indeed. Interspecies spells have a lot of consequences besides a different form. Metabolisms change, diets change, your senses change, and even your intelligence changes.
Grand Heart: I sure hope our poor baby is okay.
Beryl: And I hope they do something. The sympathizer count is through the roof now. Zeorbo and Emerald need to be stopped!
Death Coffin: "Well we can't exactly do anything in the meantime, now can we? They're currently ignorent unless something happens."
Beryl: Yes, but we can't just stand here and do nothing. It's like a fish not wanting to swim. We need to do something, like stalling Zeorbo until the heroes arrive.
Death Coffin: That's simply not going to work. Zeorbo is too smart to let people distract him. I'm afraid there's nothing we can do to stall them. Even your son is too angry at you for keeping him stuck in that body to let you boss him around.
Mr. Cake: And believe me when I say that physical punishment is not going to help either. I knew a guy who knew a guy who was too rebellious to heed to his parents demands no matter what, and spanking him only made him even MORE angry. Trust me, you spank him, you'll only make him more angry.
Beryl:...Uh, I wasn't the one doing all the physical abuse, that was his father. It's EXACTLY what made him this way from the start, and you're telling me that I don't know that? Either way, I suppose you're right. But by the time the heroes arrive, it'll be too late.
Death Coffin: Oh, I wouldn't quite say that, Ms. Ace. Look. (They see Trixie and Ponified Gilda both as fillies)...
Spike:...Is that Trixie turned into a filly?
Big Mac: Ee-yup.
Spike: And is that Gilda ponified and turned into a filly?
Big Mac: Ee-yup.
Death Coffin: See? They don't need a van to get them where they want to go when they have magic. They'll handle this no problem.
Trixie: (With younger voice)...Uggh, is this supposed to be a great plan? The Great and Powerful Trixie turned into a filly?
Gilda: (With same young voice from flashback in Lost Treasure of Griffonstone) Look, Zeorbo doesn't give a flying feather about adult ponies. But fillies are sure to catch his attention. Celestia knows what she's doing.
Trixie: I sure hope so. And it really sucks that I had to give up my hat and cape.
Gilda: It's to make the trick flawless, okay? We discussed that Emerald is sure to be the only one who Zeorbo listens to the most. So you NEEDED to lose your clothes.
Trixie: (Sighs) You guys owe me BIG for this! (They all entered the town) La-la-la-la-la! (Teasing sounding) I'm a little filly, with a young flanky, (starts shaking her booty) Booty-booty-booty-booty-booty Rocking every-where!
Gilda face-hooved!
Gilda: "What did I say about trying TOO hard?"
Trixie: Sorry. (They wandered across the town as Zeorbo noticed them, and chuckled sinisterly as he teleported away)
Gilda:...Hmm...I can feel him coming.
Trixie: How? Do you have, like, senses for this kind of thing?
Gilda: (Grabs her mouth) Shut up! Just run when you see him! (They continued moving across the town until Zeorbo finally jumped out and caught them)
Zeorbo: COME HERE, KIDDIES! Daddy wants to have fun with you!
Trixie: MOMMYYYYYY!!! (The two ran as Zeorbo chased them off and around Ponyville, yet away from Emerald and the sympathizers)
Celestia: (Saw that the two were being chased)...Great. We removed Zeorbo from the area. Now you girls can come up and do the rest.
Sweetheart:...(Takes deep breath)...Okay. Here I go. (She and the Crusaders arrived up to City Hall and everyone noticed them)
Emerald:...THERE'S THE BULLY WHO MADE ME LIKE THIS!! GET HER!!
Love Heart: NOO!!!
Death Coffin: (Stops her) No, no, I'm sure they've got this covered. (The ponies were running towards Sweetheart)
Sweetheart:...STOOOOOOOOOOOOOOOOOOOOOOOOOOOOOOOOOOOOOOOOOOOOOOOOOOOOOOOOP!!! (The word echoed as everyone was surprised)
Grand Heart:...She...she spoke?!?
Emerald: She spoke?!?
Sweetheart: EVERYONE, STOP THIS RIGHT NOW!! Everything this wretched little brat told you was a lie! I barely have control over my magic. I accidentally created a imaginary friend who did this to him because he was the REAL bully! I'm too young to be a bully. I mean look at me! Do I LOOK like a bully, or do I look like the bully's PLAYTHING?!? (All the ponies looked at her large horn, and started agreeing with her)
Emerald: NO! Don't listen to her! She's trying to trick you into turning against me!
Sweetheart: Me? Trick a bunch of ponies? I sincerely doubt that. YOU seem to be old enough to be the bully here. You hung me on the school flagpole, and tried to harm me. And to make it worse, you tried to trick everypony else to think that I was cursed, when really, my imaginary friend was just protecting me.
Emerald: RUBBISH!! Imaginary friends are not physical! They're concoctions of the mind! If they HAD the power to turn ponies into goblins, then they'd be manifestations, and COULD be seen. Everypony, she's just a child suffering delusions. You can't trust six-year-olds who say garbage like this. NOW GET HER!!
Sweetheart: IT'S THE TRUTH! Don't you believe him, everypony! Would I, in my right mind, EVER want to turn him into a goblin? I'm just a harmless child, and most of my magic issues are accidents. This ugly sap only got his comeuppance.
Emerald: Yeah? Well, if you're so harmless, then why don't you PROVE it? Show us this 'imaginary friend' of yours and show us what it can do.
Sweetheart: "..... PRINCESS SUNSHINE, I WISH FOR YOU TO APPEAR?!" (Suddenly, a large bright light appears in a spot, and Sunshine herself appears, visible to everyone)
Sunshine:...Do you believe her now?
Emerald:...But-but-but...HOW?!?
Sunshine: Emerald Ace, you are a disgrace to us all. You tricked so many ponies into following your silly example, and foolishly got assistance from a pedophile zebra. You should be ashamed of yourself.
Emerald:... I... EVERYPONY, THIS IS JUST A TRICK!! Don't let her fool you! (All the ponies wondered to themselves)... Well, what're you waiting for, GET HER!!
Pony #1:... Why?
Emerald:... BECAUSE SHE'S A BULLY OF COURSE!!! GET HER!!!
Pony #2: NO! This looks nothing like a trick. This imaginary friend is real.
Pony #3: You lied to us!
Emerald: No, I didn't! You're letting yourselves get--
Beryl: You LIED, Emerald! You tricked everypony into feeling sorry when they shouldn't have! You've been nothing but trouble doing this.
Emerald: YOU STAY OUT OF THIS, MOTHER!! THIS IS NONE OF YOUR BUSINESS!!
Beryl: (Slaps him) Don't you talk to me that way!
Emerald: It's MY mouth, and I'll do what I want with it, bitch! (Everyone gasps)
Applebloom: Ohhhhh, now you've done it!
Beryl:...Alright, that's it, Emerald, you're coming with me!
Emerald: I'm not going anywhere, and you can't make me! Not anymore! You've made a GRAVE mistake leaving me in this disgusting body.
Beryl: Young colt, you'd better stop this right now!
Emerald: I'm NEVER going to stop. NEVER!
Beryl growled and grabbed Emerald and began smacking him?!
Emerald: "OW?! OW?! OWWWWWWWWWW?! OWOWOWOWOWOWOOWOWOWOWOWOWOWOOWOWOWOWOWOWOWOWOWOWOOW?!"
Crusaders: "OHHHHH!?"
Sunshine: "Yikes."
Sweetheart: "Owch."
Beryl continued this for awhile until Death Coffin stopped her.
Death Coffin: Easy there, Ms. Ace. You don't want to give him too much, or you'll certainly make it worse for him. I think he's suffered enough. (Emerald was seen crying his lungs out)
Sweetheart: Yeah, that's right! Cry! Cry like the baby you are!
Grand Heart: Sweetheart!
Sweetheart: What? He treated me so badly, why shouldn't I see how HE likes it?
Applebloom:...So...what do we do now?
Death Coffin: Simple. We wait for the little tyke to let it all out. (Emerald continued crying hysterically)
Sweetie Belle:...This is gonna take a while...
Elsewhere...
Zeorbo was still chasing Trixie and Gilda!
Trixie: You DEFINITELY owe me for this! This is NOT the way the Great and Infantile Trixie should go on!
Gilda: Oh, get over it, you boast-buster, and stick with the plan! It'll all pay off soon!
Zeorbo: COME BACK, KIDS! I JUST WANNA BE YOUR FRIEND!!
Trixie: FRIEND?!? YOU LOOK LIKE SOME KIND OF WEIRDO WHO STALKS KIDS FOR FUN!!
Zeorbo: OOOHH, I LIKE 'EM FIESTY!!!
Gilda: Oh, nice one, Trix, you've riled him!
This chase continued for awhile!
Trixie: WE NEED AN ADULT!!! WE NEED AN ADULT!!!
Zeorbo: I AM AN ADULT!!! (Chuckles wildly)
Trixie: YOU'RE AN EXCEPTION, CREEPO!!! (Bites Zeorbo in the foot)
Zeorbo: YAAAOOOWW!!! (The two run off)...(Chuckles) Playing hard-to-get, huh? Well, not this time, kiddies! (Teleports away and right in front of Gilda and Trixie) Not so fast, little ones!
Gilda: WHAT DO YOU WANT FROM US?!?
Zeorbo: Your CUTIE MARKS!!
Trixie: No, please, we just got them last month, and we were enjoying them so much. Please don't hurt us!! We're too young and pretty to die!!
Gilda: Will losing our cutie marks kill us?!?
Zeorbo: Oh, of course not. It'll only make you belong to me! You'll be mine to cherish FOREVER!!! (Mimics echoes) Ever, ever, ever, ever!
Trixie: MOMMYYYYYYY!!!
Zeorbo: "Where your going, your parents are never gonna become an issue ever again!? (LAUGHS MANIACALLY)?!"
???: "STOP RIGHT THERE, PERVERT!?"
Zeorbo gasped with surprise and saw the Main 6 with the Princesses.
Zeorbo: "...... No, no!? Impossable!? I evaded you all for so long, how, how did you capture me!?"
The rest of the Lougers appear as Trixie and Gilda get teleported to their side by Merlin, who turns them back to normal.
Twilight: "Word of advice, Zeorbo. Do your homework on what happened to Equestia SINCE your banishment!"
Zeorbo: "WHAT!? WHAT'S WITH THE MISFITS!?"
Spyro: "We're the Shell Louge Squad, Zeorbo. A serious threat to your ill-earned freedom you should've rekindised."
Zeorbo: "Hey, I heard of you! Your that Spyro guy! Which means........ Oh, shit."
POOF?!
Another Trenchcoat Zebra, the one from Spyro's dreams and hallusinations, appeared.
Other Trenchcoat Zebra: "Hello, Zeorbo. How's greek hell treating you?"
Zeorbo: "Oh WHAT DO YOU WANT THIS TIME, BRAZA!?"
Braza: "Oh, just thought I get a chance with my dear cousin again before he ineditably gets sent back to greek hell again. In all seriousness though, you really should reconsider that peodphile lifesytile, it's gonna lead to nothing but misery."
Zeorbo: "NEVER?!"
Braza: "Have it your way. I'm sure a few dozen more years, a millenda, perhaps, should correct those feelings? I'll visit you on visiting hours, M'kay? He's all yours, Kevin and friends."
Braza vanished.
Zeorbo: "Get ready to be disappointed, because I have, THIS?!"
Zeorbo summoned forth a powerful magic sheild!
Zeorbo: "Behold, a magic sheild great enough that not even the Elements of Harmony and the combined power of the princesses can't break through!? YOU'LL NEVER SEND ME BACK!?"
Zeorbo laughed maniacly!?
???: "WILL YOU STOP LAUGHING ALREADY!?"
Zeorbo got confused and saw Sweetheart and Sunshine.
Icky: "Oh hey, there IS a blue colored Lauren Faust Alicorn."
Discord: "THANK YOU FOR NOTICING?!"
Sweetheart: "I AM SICK AND TIRED OF YOU BULLING INNOSENT LITTLE KIDS FOR THE BENIFIT OF YOUR TROUBLED AND SICK FANISTIES!? I AM GONNA MAKE YOU REGRET EVER THREATENING MY FRIENDS!?"
The Crusaders cheer for Sweetheart from a bush!
Zeorbo: "Oh, so you talk now and everyone else can see your uninventive clone of another character. OH, GOOD FOR YOU, BITCH?! (LAUGHS?!)"
Sweetheart: "GOOD AHEAD?! INSULT ME ALL YOU WANT?! WORDS WILL NEVER HURT ME ANYMORE?! THE SAME SHY MARE YOU ASSUMED I AM HAS GROWN UP?! ALL YOUR DOING IS MAKING YOURSELF LOOK PREHENCABLE?!"
Zeorbo: "Well, if your gonna try and do anything, YOU CAN'T?! I am protected by a sheild, even the Elements of Harmony can't break through?! And you may have a powerful magic compasity, there's NO WAY YOU CAN FIND A WAY TO BREAK THROUGH!? IT'S HOPELESS?! (LAUGHS OUT OF CONTROLLY?!)"
Sweetheart looked as if she was gonna submit to her fault again, but Sunshine comferted her.
Sunshine: "..... Just believe in yourself, and you can do anything."
Sunshine lifted Sweetheart with her while Zeorbo was still laughing!
Sunshine and Sweetheart consintracted their combined magic to summon a spell to disable Zeorbo's powers for good!
Zeorbo was still laughing like a nut!?
In a beautiful display that finally got the laughing stripped jackass's attention, the two fired a heart ray that hits Zeorbo hard, as his sheild shatters, and Zeorbo felt his powers disabled?!
Zeorbo: "AGGGGGGGGGGGGGGGGHHHHHHHHHHHHHHHH?!"
Zeorbo fell face first into the ground?!
Sunshine and Sweetheart landed back, Sunshine holding Sweetheart who gotten super exhausted from the spell.
Zeorbo angerly got up.
Zeorbo: "OK, NO MORE MR. NICE PAN DIMENTIONAL ZEBRA?!"
Zeorbo tried to magicly attack, but nothing happened?!
Zeorbo: "..... No...... NO!? MY MAGIC!? I CAN'T DO ANYTHING NOW!?"
Sweetie Belle's voice: "YEAH, SERVES YOU RIGHT, YA DINKUS?!"
Zeorbo saw Sweetie Belle as Scootaloo took her back into the bush!
Zeorbo smiled as he finally found his prize, but as he charged in, Celestia and Luna intervined!?
Luna: "I think Equestia is FINALLY done with you child-snatching games, Zeorbo."
Rainbow Dash: "HELL YEAH, WE ARE?!"
The Main 6 turned into their Rainbow selves.
Zeorbo looked in horror of this!
Zeorbo: "No, no, GET BACK!?"
Zeorbo makes a run for it?!
Twilight: (She teleports herself, Fluttershy, and Applejack in his way) You're not going anywhere!
Zeorbo: STAY AWAY FROM ME!!! (The Rainbow Mane 6 charge up their Elemental powers, and they fire the 6 beams at him, banishing him straight back to Tartarus) NOOOOOOOOOOOOOOOOOOOOOooooo!!!
Grimmer:... Welcome back, Zeorbo-Reino! How was freedom for you? Was it a plan that fell flat in it's face or something?
Reaper: (Chuckles) Enjoy your failure. You have uber long time to stew in it now.
Zeorbo:... (Growls in anger)
Ponyville
Applebloom:...Well, girls, a first job-well done as the New Cutie Mark Crusaders! (The three high-hooved)
Sweetheart:...(Takes deep breath)...
Sunshine:...Sweetheart, look! (They see that she has a curled-up hoof in front of a magic swirl as a cutie mark)
Celestia:...It's the cutie mark that represents courage and balancing powerful abilities from the book.
Sweetheart:...I...I actually got a cutie mark for doing all that?
Grand Heart: Oh, Sweetheart, I'm so proud of you! (The two hug Sweetheart, as well as Sunshine)
Pinkie: Oh, that feeling again...except it's visible.
Celestia:...Well, Sweetheart, this is a great day for you. Not only have you learned how to manifest your magic, but you learned how to use it to your advantage. I suppose I could give you a chance to come with me to the School for Gifted Unicorns so you can learn more about your magic.
Sweetheart:...(Looks at the Crusaders)...I don't know. I've made so many friends during this adventure. I don't feel like leaving them will help.
Celestia: It's quite alright. You can visit them anytime you want, especially since you might learn teleportation. Besides, I don't think you should stay. Beryl has assured us that she can't let Emerald leave Ponyville because him changing is what she came here for.
Gilda: But...but what about all the trouble he caused?
Celestia: He's still getting punished with a month in juvenile hall. But that doesn't mean he'll be the same bully he was. Beryl says that he's toned down on the violence and will possibly still be a bully upon returning, but only at a degree that Tiara and Spoon once were.
Scootaloo: Oh, great. We reform a bully, only to get another one.
Applebloom: Hey, they said he'll be gone for a month, AND he won't be as big a jerkoff as he used to. The worse the guy will offer is being a jerk to blank-flanks and even hating us for ruining him.
Trixie: Will the guy be back to being a powerless Earth pony soon?
Luna: Well, Beryl's having second thoughts about having his current state a punishment since he could use hand-performed spells. She'll have him back to normal soon enough.
Scootaloo: Oh, what the heck, at least he won't ever get to see Sweetheart again.
Tiara: "Tecnecally, at least only for a month."
Scootaloo: Yeah, but Sweetheart will be in that Canterlot School, and Emerald will remain in this school. We won't have to worry about that green meanie being one of those violent bullies anymore.
Tiara: I hope so. That guy has pushed us too far.
Applebloom: And don't worry. If he does something like this again, we'll be there to deal with him. Because...
Icky/Crusaders: We're the Cutie Mark Crusaders!
Icky: Yeah, we got that.
Lord Shen: Well, Twilight, I hope this friendship mission was all but enough to satisfy your boredom.
Twilight:... Well, not exactly, because... (Shrugs, through clenched teeth) IT WAS STILL IN PONYVILLE!! (Normally) I wanted one out of Ponyville and one that could give me a chance to shine. This certainly didn't help. But hey, at least I did something as a princess.
Fluttershy: Well, I guess that's that. Now I'd better get ready for Nightmare Night.
Max: Oh, you're gonna decorate the place?
Fluttershy: No, I'm gonna shut all my windows, lock doors, put all my rations under the bed, and hide under there the entire night. (A 'moiwah-moiwah' was heard)
Iago:... Seriously? THAT'S how you spend Nightmare Night?
Rainbow Dash: Well, yeah, she's just a quivering ball of fear, what did you expect?
Spyro:... Well, we're actually going to be having our own plans for Halloween. Me, Cynder, Sparx, and Kairi talked about heading to that Halloween Festival in Destiny Islands where we can see Marenia and Derek, and our Destiny Islands friends. They're starting it on October 30th.
Lord Shen: And don't forget me, because where Kairi goes, I go!
Sparx: SHEESH, Shenny boy, why must you be so over-protective? It's just a Halloween Festival. The worse she'll experience there is a few scary attractions.
Icky: As for the rest of us, I'd estimate that there won't be ANY sign of danger, and we'll certainly have the WHOLE Halloween all to ourselves. We'll enjoy as much candy as we want... That is if B.O.B doesn't eat it all... AGAIN!
Fidget: Yeah, of course. I mean, it's not like something crazy will happen, like, a House of Wax parody with an enemy of the Penguins and a Sega character which looks NOTHING like a Sega character.
Pinkie:... That's a lot to take in when you say it all at once.
Applebloom: Oh, we're going to have a great time, too. We already picked our costumes. Scoo's gonna be a Wonderbolt.
Rainbow Dash: Yeah, I asked Rarity to make it for me.
Sweetie Belle: Oh, and she also made mine to be like a duchess.
Applebloom: As for me, I'll be a platypus.
Sparx:... A platypus? Seriously? Why would you dress up like that, they don't do much!
Applebloom: It was the only costume AJ could afford. It's not that bad a costume, anyway.
Lord Shen: "Well, I'd imagine those will be great Halloween stories to tell eachother about afterwords when we visit next time. Until then, enjoy yourselves."
Epilogue
A day after Halloween, Skullian Prime.
Two Figures stood while bowing for mercy before the Architect.
???: "Great Architect. Forgive our failure to secure the replacement villain army. Those misfits moved faster then we expected."
??? 2: "Yeah, and that Jerk'o jackass didn't really helped much expect for being an ass!"
Architect: "Calm yourselves, friends of Titan.... I had already mentioned that I didn't had very stong faith in the project anyway. I would've liked it to survive, but even three of their most annoyence idiot members proved to be a threat. But still, your failen creations alone still proved your worth. I always say the first time around isn't gonna be the grandest. Mistakes must be learned from. And I trust you two are capable to learn from your mistakes."
??? 1: "Oh yes, my lord. I take learning from slight miscalulations on my part, VERY seriously."
??? 2: "Oh yeah, we're not gonna end up blowing the next time ya need ol' Big D here!"
Architect: "Good. Now.... Your both dismissed."
The Two were teleported away as Titan scrolled up from the TV.
Titan: "Look, Big A, I'm sorry if even the findest geniuses Fem has managed to find ended up not living up to expectations, I promise they'll show their A-game next time and-"
Architect: "Ease your worries, Titan. Their first outing is but a test. There would always be another.... That is, if the next attempt at them doesn't get to them first. It's still ashame this break we made missed out on Zeorbo."
Titan: "I know, that REALLY sucked balls. On top of that, we ruined and delayed a villain wax museum for nothing. And worse it off, the Burdbrains and the flying rat know about our influence thanks to the octopus's jabberjaw?!"
Architect: "Then simply used the Nobody Talisment to erase their memory...."
Titan: "...... Uh....... Abouts that...... Are you gonna have a bad reaction when I say...... A FREAKING PONY STOLEN IT FROM ME?!"
Architect: "WHAT!?"
Titan: "Oh yeah, you deffently over-reacted!?"
Architect: "What, did she LOOK LIKE!?"
Titan: "Well, she, looked like some kind of overly disguised unicorn! Some of the guys that attempted to nab her heard her said "For her father"! Is she nuts or what?!"
Architect: "....... Sopony."
Titan: "..... Beg your pardon?"
Architect: A realic of my past with, a former student with, troubled beliefs. I always knew she and Sombor would get in the way! I've been looking for them ever since Sopony was changed into a normal pony. I've sent Fem and her interplanetary pets to go search for them, but they kept getting away!
Titan: Look, boss, I'm sure we'll get them.
Architect: We'd better. I cannot risk even ONE secret about our plans getting leaked to even those Lodgers! It would seem that we need to step up our game. We need a way to distract those heroes so we can snag the Nobody Talisman from Sopony without anybody interfering. But what?
Titan:... Well, if it'll make you feel any better, Fem did get SOMETHING just today. She said that the Lodgers had been called for another mission in those other UUniverses. Dealing with some tyrant loser named Jall or Jell or something and taking him to that snow jail.
Architect:... Really?... How long do you think those heroes will be gone?
Titan: Who knows? Probably about a few days.
Architect:... Then that gives us a grand opportunity to locate Sopony and capture her AND get back that Talisman! We need that Talisman so we can make sure this plan stays secure! If word reaches too many people, then our plan will be compromised. Order Fem to do an immediate search for Sopony, and send in the best she has!
Titan: It will be done, sir. (the screen turns off)
Architect:... I hope you heroes will enjoy your business out of your UUniverses, because you foolishly gave me a chance to secure my plans. Not even YOU will stop me, Sopony.
The End?
Community content is available under
CC-BY-SA
unless otherwise noted.