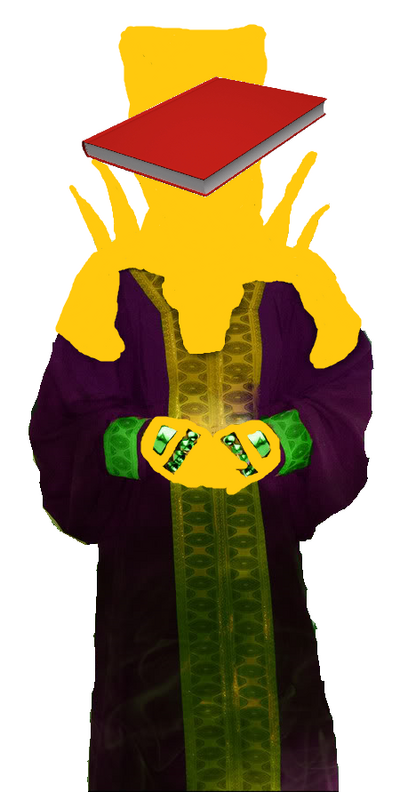 Infinity Libarians are direct race creations of 
The Amoral Ones
 and keepers and preversers of all of the Multiverse's knowledge. They are robed book-headed beings with great cabailities in knowledge, philosify, and intelligence. They are however, extremely order-bound, logic-dominated, and very guideline heavy beings. Their infinate knowledge allows them to understand, reckitnise, and comprehend every form of magic, power, science, and even the powers of devine and demonic effertlessly. It is so they can be able to accreately protect 
The Multiverse Book
, of which they came to adapt and learn to resist being made to forever read it's never-ending new pages. Of the Amoral Ones' creations, the Infinity Libarians are, at the very least, the most considerably benevolent of them, if though the Libarians mostly exist to just preserve knowledge of dimentions, otherwise, they're just as amoral as the other creations, if though the Infinity Libarians tend to look down to certain outer gods like 
Wasteland Guardians
, 
Fearbenders
, and 
The Xexaxez
, as prime exsamples, Wasteland Guardians looking replusive and bruteful to them, Fearbenders, well the name speaks for itself, and the Xexaxez being deemed boarish, monsterious, and overtly brutal to any universe that dares get too powerful if not a glitched universe. But a respect for obeying the word of law prevents any Infinity Libarian from interfearing their sibling creations and intervining for mortals, though it doesn't always mean they never contributed to give some aide, even if it's not always the absolute greatest. They commenly reside in the immortal dimention of the Dimention of Knowledge.
Named Infinity Libarians.
Community content is available under
CC-BY-SA
unless otherwise noted.