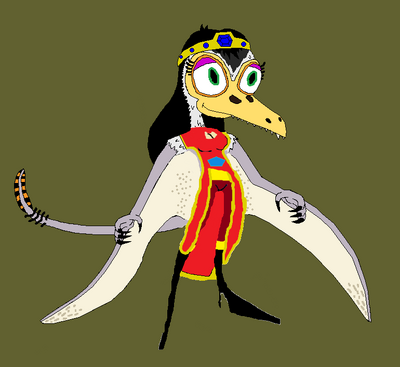 Jemmy M. Skrawn is a Superior Sordes pterosaur from Kratos. She is the current ruling princess of the underground Superior dinosaur world of Hades, which is infamous for having controversial views on the UUniverses and freewill. Despite being royalty, she can be abit more of a tomboy, and hardly even dresses like a normal princess. She's also free-spirited and adventurous, and has been known to do alot of aerodynamic and acrobatic tricks for thrills, and has even used some of them for combat whenever defending herself or attending tournaments. She is the philosophical daughter of Kem. Despite being concerned about being a bit too light about omnipotence and Illicit Superiors, she overall supported everything her father did. She maintains the order of Hades and kept it from turning into a lawless city, battling it's growing controversy every day. Though her father wasn't the original ruler of the democratic monarchy of Hades, Jem was elected because they believed that she could help keep Hades safe from the people that killed her father, who was closer to being viewed as a ruler. She cared very greatly for her father since her mother died at childbirth, and would always protect her father from angry 'free-thinkers' and those that disapprove of his beliefs. But she was extremely unsure of her father's friendship with Grotch Prometheus, a complete opposite of him, especially since Grotch tried to regulate his beliefs so they didn't wind up getting him in trouble. She knew that Grotch was a great hero, but she just didn't think Kem should get involved with someone his complete opposite. But she was heartbroken when the Kratosian Senate forced Grotch to arrest and execute Kem after his beliefs made him do some actions that got him accused of treason, heresy, and religious fraud. Though she knew Grotch couldn't do anything about it because the Senate was too powerful, and that he regretted ever doing it in the first place, Jem wanted to make Grotch pay for what he did. But what she did next on the days following Grotch's 1105th birthday made the relationships between Hades and Kratos worse. Grotch had planned to arrange a peace jubilee with the Hadesians to demonstrate a tolerance between their views, but Jem tried to force Grotch to leave his position as leader to show her that he truly does feel regretful for her father's death. But her telekinetic torture onto him ended up affecting his weakening body, and caused him to die of a heart attack. To avoid a terrible war, she made it look like he died of old age, removed all evidence of her presence, and isolated Hades forever in the fears that someone would arrive and figure it all out. However, while she was there, Master Algorithm had fallen in love with her, not caring for her heritage and beliefs. The two ended up meeting each other privately in Hades' cave entrance to hang out and build a relationship, and tried to keep their relationship as secret as possible. They agreed to get married and complete what Grotch intended to do for the last moments of his life. While Jem loves Algor, she is worried that marrying Algor would complicate her ability to keep her sin a secret if she becomes a queen. Like her father, she's omnipotent, yet her favorite is an undocumented organ-manipulation superpower which she rarely used.
History
Coming soon...
Quotes
"If looks could kill, well, I would have to be given the death sentence 101 times. (Giggles)"
Concepts
Community content is available under
CC-BY-SA
unless otherwise noted.