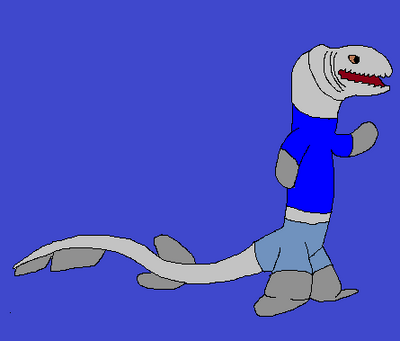 Jiku the Fossil
, nicknamed '
Fossil'
, is a Japanese frilled shark that use to serve as a high-rank commander in the Shinto Bottom Defense Force. Now he's a known wrestler. But be careful! When you call him ugly, he'll rip you to shreds!
He appears in the SpongeBob and Friends Chronicles episode "Boxing Out, Man!", where Icky owes an ant queen a large amount of money for a loan, and makes Shen compete in a wrestling match to get the money.
History
Jīku was born as the son of a Sargeant of the Shinto Bottom Defense Force in the Japanese Coast. His father, Sgt. Sāberu, was one of the most ferocious leaders in the Japanese military. He showed no mercy to his victims, and won a fight with an iron fist. Sāberu knew his son would be as successful as him someday. Once Zeke matured, he was already successful, and won 5 battles in a row.
Then one day, during a civil war with the Japanese seas and the Chinese seas, Sāberu was killed after being bazookaed in the chest. Sāberu's dying wish was for Jiku to take his place as Sargeant of the Shinto Bottom Defense Force, and avenge him. Jiku, having been heartbroken, proved himself an excellent leader in his anger. He led the Defense Force to blow up the Chinese forces, and brutely succeeded. After his success, he was thereby made an official sargeant.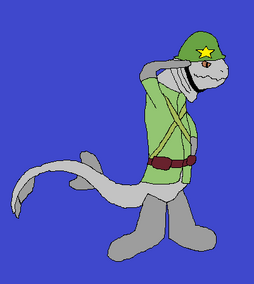 After his iron fisted, but nonetheless still fair, term lasted for 20 years, he was discharged after breaking his back in his growing old age in the battlefield. So he got a job as a wrestler, and became really famous. He proved to be a top champion. Whenever he is called ugly, like he was when he was younger, he gets angry like Pumbaa does when he's called a pig, or when Po is called a big fat panda, and he begins a major beatdown by punching his opponent 5 times per second, taking down the challenger very quickly. So be careful! Zeke's fight-promoter is an amoeba who had been made large by an engorging ray. With the amoeba on his side, Zeke's the top wrestling champion in all of the UUniverses.
The Interaction with Shen and Zeke.
Icky- Okay, Lord Shen! I heard of this guy, and he obliterated his last challenger just for bad mouthing his looks. He has a mean left hook, he tail swipes, and he's Ex-Marine.
Lord Shen- A FORMER SOLDIER?
Icky- So? You're a former mad warlord. So you outrank him.
Lord Shen- ARE YOU INSANE?
Icky- Aw C'mon! We need this money so I can get Queen Grinder IX off my back! She said I'll be buried alive if I don't pay off the debts! And I mean literally, they're freakin' fire ants!
Lord Shen- Icky, seriously! You should just admit the truth! The other Lodgers have to know sooner or later.
Icky- NEVER! If they find out, I'll be swabbing the kitchen for months! I must keep this on the hush-hush! Now go out there and kick some Japanese butt!
Lord Shen- I hate you so much right now.
Announcer- LET'S GET READY TO CLASH! (Lord Shen and Jiku meet at the center ring)
Jiku- You're going down, clown! Down to Chinatown!
Lord Shen- I've been there, and it's quite lovely this time of year. (Jiku makes an angry face)
Jiku- 私はこれが私の立派な祖先の友人と私の仲間のすべての名誉のためにしてはいけない! (Japanese: I do this for the honor of my fellow friends and all of my honorable ancestors!)(Jiku throws a punch, but Shen blocks it) What the-? (Shen kicks Jiku in the gut) OOF! My self-service pump!
Icky- Go! Kick the dude's butt! (Jiku throws another punch, but Shen slaps it away, and punches Jiku hard enough to make a black eye, Jiku tries again and again, but eventally, Shen defeats him without effort, and Jiku dramatically falls)
Coach- 1, 2, 3, YOU'RE OUT!
Announcer- WHOA! I CANNOT BELIEVE MY EYES! LORD SHEN ACTUALLY DEFEATED JIKU THE GREAT! THIS IS A PHENOMENAL MOMENT TODAY FOLKS! JIKU IS NO LONGER THE STRONGEST THERE IS! NOW HE'S NOTHING MORE, THEN ONE UGLY FISH!
Jiku- Beaten by a peacock! Oh, the irony!
Lord Shen- Well! I must say that prehistoric shark is 'prehistory'!
MR. UGLY gag
Community content is available under
CC-BY-SA
unless otherwise noted.