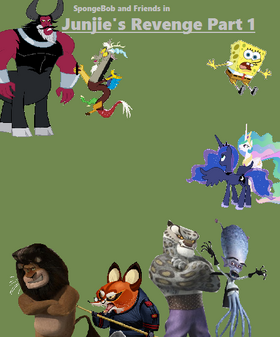 Junjie's Revenge Part 1
is the 1st Episode of Season 3A of the
SpongeBob and Friends Adventures Chronicles
series. Junjie has grown tired of being treated like a second-rate member of the Villain League, and tired of being viewed as a 'useless' extremist. He and his peers, Tai Lung, Makunga, and Galaxhar, finally decide there's only one way to prove Junjie's worth once and for indefinitely all: Releasing a Darkspawn. He chooses the first Darkspawn that he can find, which is
Tirek
, who is still locked away in Tartarus after the time Twilight defeated him with her friends, and attempts to get past
The Vultures of Tartarus
, and use him to not only get his reputation fixed for good, but replace Cobra, and use Tirek to conquer the UUniverses and become the best Villain Leaguer of all time. Meanwhile, the Lodgers end up getting distracted by
The Sinister 7
by order of Junjie while he frees Tirek and gathers the powers of Unicorns, Pegasi and Earth Ponies, and then eventually, Alicorns. But little does he know that Tirek is not fond of Junjie's "silly beliefs" cause of a rather awkword first encounter of Junjie and friends not properly handling
Grimmer
 before Equestian Cerberus arrived, and attempts to betray him like he did with Discord. But little do they know that the heroes are already one step ahead of them. After storeing the powers of Celestia, Luna, Candence AND the Main 6 into Trixie, Saldaron has been requested to make the situation a paradox. However, Saldaron warns that not all paradoxed outcomes lead to automatic wins for heroes. Sometimes, they end up making certain situations worse in an unexpected way.
Transcript
Chapter 1: Junjie's Inevitably-Unpredictable Plan
Villain League Fortress
Junjie was seen reflecting on a series of failed plans.
Junjie growled when he started to recollect on each of them.
Flashback.
Junjie: "Once I cause a zombie acoplolise on Spongebob's world, I'll be rekindised as the greatist leager ever!"
Junjie used dark magic from a book that awakens the undead.
Junjie: "YES, YES!? AN ARMY OF ZOMBIES OF EXTREMEISUM SHALL BOW TO MY EVERY-"
Mr. Krabs suddenly appeared and beaten all of the undead!
Junjie was suddenly shocked.
Mr. Krabs: "Nice try. Ain't my first time I dealt with these boneheads. Your act's over, fox!"
Boss Wolf: "BOOYAH?!"
Boss Wolf slams a hammer into Junjie's head!
Flashback 2.
Junjie: "I knew my allience to Farmer McPsyco would benifit me! Now I have an army of evil fruits and veggies, I'll use them to violently congure the dragon temple, and-"
???: "Yo jerkwads!?"
Junjie and A super-villain farmer look down to see Icky!
Icky: "One word: APHIDS?!"
Icky opens a jar of aphids that devours all of the mutant plant monsters!
Farmer McPsyco: "Well, I reckind this the last time I ever get involved with demon worshippers."
Junjie: "WE DO NOT WORSHIP THE DARKSPA-"
Boss Wolf slams Junjie's head again!
Flashback 3.
Junjie: "I have successfully posed as a hollywood directer and created a movie that'll be so hypotisingly bad, it'll hypotise people into becoming my obedient followers! And then, I shall become King of Kratos! IT'S INGENIOUS!?"
???: "Yeah, except for the part I recorded it all on a live news camera."
Junjie is shocked to see Squidward with Sandy holding said camera.
Junjie: "..... NOOOOOOOOOOOOOOOOO-"
Boss Wold slams him again with the hammer!
Flashback 4
Junjie: "I HAVE CHEATED CELESTIA HER RIGHT TO RULE THROUGH A RIG ELECTION?!"
Trixie: "TRIXIE HAS PROOF IT WAS RIGGED!"
Junjie gets slammed by a hammer again!
FlashBack 5
Junjie: "I SHALL DOMINATE THE WORLD THROUGH BECOMING A BELOVED CHILDREN'S ICON!?"
A hammer slams into Junjie!
Flashback 6
Junjie: "I'LL REBAND THE BROTHERHOOD OF EVIL!?"
A hammer slams into Junjie!
Flashback 7
Junjie: "I'LL CONVERT THE FIVE NIGHTS AT FREDDY'S ANIMONTRONICS INTO THE SIDE OF THE LE-"
A Freedy mask was stuffed onto Junjie!
Junjie: "Ow."
Boss Wolf's hammer smacks into him again, and this repeated 10 times.
Reality.
Junjie screamed as he throw the plans everywhere!
Junjie: "FAILURE AFTER FAILURE?! It's always the same! Those, Louger-for-brains Shell-heads, ALWAYS TWHARTED MY PLANS!? Whether when I used to go after them to become their leader just to get smug with Shifu for a high amount of times, to trying to prove to the leage as of late that I can bring extremeisum back! My plans shatter and shatter like glass, a house of cards, a, glass house of cards! Actselly, I haven't tried that yet, a Glass House of Cards! Yes, I'll make a giant glass house of cards, trap the lougers in it, and cause it to fall on them! Galaxhar, Tai Lung, Makunga! Get alot of sand and fire! I have a plan that's sure to-"
An entire mess of a plan later...
Junjie: (He is bandaged from the sharp glass)...Okay, to be fair, that was a stupid idea to have plated glass in my plan when it could shatter and hurt me. But still...FFFFFFFFFFFFFFFFFFFFFFFFFFFFFF...(Runs around and banging the walls making the same noise until he comes back)...FFFFFFFFFFFFFFFFFFF...(Camera on Villain League Fortress)...FFFUCK!!! (The word echoes out in the distance)
Makunga: Well at least we're still alive, and won't have to be resurrected and face the crazy yelling of Lord Cobra. Things can't--
Lord Cobra: (From distance) JUNJIIIIIIIIIEEEE!!! GET THE F*** INTO MY ROOM NOW!!!
Junjie:...You weren't gonna say 'worse' were you?
Makunga:...Actually, it was more along the lines of 'he wouldn't take this as seriously as our last inevitable failures'.
Galaxhar: SUUUUURE you were!
Lord Cobra: JUNJIE!!!
Much yelling later...
Junjie: (He and the others go out with smack-marks on their faces) You know, if that wasn't one of his magical attacks, that slap would've REALLY hurt.... Not that it's any less painful.
Makunga: Yeah, his bitch-slaps put that old lady's to utter shame. And trust me, it's happened to me so much, I've gotten used to it. Not to mention when we still had those videos of the Lodgers doing embarrassing things, I made my own version of Alakay and that old lady fighting. It was...(Scoffs) Hilarious!
Cutaway
Makunga: (Seeing the old lady and Alex fighting each other in a Peter vs. Chicken Family Guy reference) HAH! I gotta upload this on YouTube!
Present
Makunga: It had me laughing my mane off.
Junjie: I don't CARE if you laugh your mane off, douche bag! All I care about is GETTING MYSELF RECOGNIZED IN THIS DAMN PIECE OF A FORTRESS!!! (Stomps some cracks in the floor) AAHHH!!!
Tai Lung:...Damn, calm down, Junjie, it's not that bad. We can always try again.
Junjie:...You know, I'm just gonna sit this one out. I probably need some rest. I won't be making an idea that's sure to work by morning. I'm nothing but a failure.
6:00 AM
Junjie: (Tai Lung, Makunga, and Galaxhar have fallen asleep in a room together playing video games until Junjie bursts in and scares them awake as they crash into each other) GUYS! I HAVE IT!!! IT'S THE BEST IDEA SINCE UNDERWEAR!!!
Makunga:...That's the silliest metaphor I've ever heard!
Galaxhar: I mean, granted, underwear was a good idea, but--
Junjie: NO TIME FOR JIBBER-JABBER, GUYS, COME ON! (Drags the three over to his room)
Junjie's Room
Seven ponies representing the seven deadly sins, where at least six of the seven are seen training in a speical training room!
Junjie barged in with his three assusiates and startled the seven.
Junjie: "LUST, GREED, SLOTH, WRATH, ENVY, GLUTTON, PRIDE!? FRONT AND CENTAR!?"
They did just that.
Junjie: "Now that is obedience! Now, Sin Ponies, I have yet another new plan that is SURE to be a winner! I-"
A lazy sin pony: "Lame."
Junjie: "..... You didn't even heard it yet, Sloth. How, can you be sure, it's "lame", before you heard it?"
An envious pony: "HOW COME SLOTH GETS TO SASS YOU!? I WANNA SASS YOU! SASS SASS SASSITY SASS?!"
Junjie: "Envy, please control yourself!"
A fat colt: "When's lunch Pa?"
Junjie: "IT'S SIX, GLUTTON?!"
Greed: "Fellow sin ponies, do please! Our dear, "father", if we can call him that, clearly has an announcment for us."
Sloth: "..... It's still lame."
An overly affectionect pony: "Well, I for one, think it's (cuddles Tai Lung in an uncomfertable way) very smexy. (Purrs)."
Tai Lung: "Bad touch, bad touch, BAD TOUCH?!"
A self-rightious pony: "Bah! Whatever it is, tis what we might be looking for, to make ME the shining exsample of one of the TRUELY best of the Sin Ponies!"
Envy: "YOU THE BEST!? I WANNA BE THE BEST PRIDE!?"
Pride: "Not with THAT kind of unlady like attatude your not!"
Greed: "Oh bother, (While Pride and Envy began arguing), here we go again. Another "Cat fight" as one would say."
Glutton: "Oh boy! Is there food in this fight?"
Sloth: "Fights are lame. I wanna play Xbox."
Lust: "Ohhhhhhhhhh! The thought of an Xbox makes me wanna come!"
Tai Lung: "Uh, "Come" from where, exactly?"
Makunga: ".... I don't think it's the one with an "O"."
Tai Lung: "...... GAHHHHHHHH?! MADAM!? WHERE IS YOUR SENSE OF SELF RESPECT!?"
Greed: "Isn't that the idea for "Lust"? To be too much about mating? Honestly, she would be the universe's most successful prositude with that attatude."
Sloth: "Lame."
Glutton: "Hey! I found another of these giant cenatides!"
Glutton aims to eat it!
An angry looking colt: "ENOUGH?!"
The Sin Ponies take note of him.
Angry Colt: "Lust, give Tai Lung his space! Greed, shut the fuck up for ocne?! Sloth, at least PRETEND your actselly interested! Envy, Pride, stop fighting?! And Glutton, REFREIGN FROM YOUR EATING HABITS FOR 5 MINUTES AND LET OUR FATHER, SAY WHAT HE NEEDS TO SAY!?"
The other sin ponies obey.
Junjie: "That's my boy, Wrath. You always demand such respect!"
Wrath bowed to Junjie.
Wrath: "Thank you, master. I aim to please."
Envy: "(Wispsers) I wanna please him more."
Junjie: "Now, if there are NOT anymore interuptions........"
Silence.
Junjie: "Good. Now, do I ever have another evil plan that I promise is not, "lame", and garrinties victory! I just remembered that earlier in the year, there was this darkspawn by the name "Tirek", a powerful creation of Chernibog! He has SERIOUS leager material! He would do ANYTHING to crush Equestia under his hoof, and has no time for WEAKNESS! My kind of guy! He is what we need to not only have a powerful darkspawn, BUT TO MAKE EQUESTIA, BOW TO US LIKE OUR BITCH!?"
Greed: "Such vulgery. But an overall, charming little pipedream, is it not?"
Sloth: "Still lame."
Galaxhar: "Tirek? THE TIREK?! One of the nastiest Darkspawn Lords in existence?"
Tai Lung: "Ok, I can respect your tired of losing to them all the time, but, Tirek? From what I can understood, he doesn't have a friendly bone in his body! Chernibog did too great of a job making him "anti-friendship", and it's not just because of a lousy brother! The guy acts as if Chernibog never granted him a soul!"
Makunga: "Yeah, the guy's asentually the super mega dick of the demon world. Heck, I think even Malefor might have an issue with him!"
Junjie: "Now now now, I understand the concern. I am aware of Tirek's..... Social issues. He's obviously prefers to be a stand-alone guy, considering he had an ungrateful brother turn on him. But maybe there can be a way to, "correct", that way of thinking. Which is why (brings out a medailain) this baby, an expsearimental little toy of Mang's, will enable us to make sure Tirek helps us and stays our ally, whether he wants to or not!"
Tai Lung: "And most likely he will not!"
Junjie: "But again! If extremeisum can reminy that "issue" about him, and make him embrace having our idea of friends, then we'll be HAILED in the leage, and the lougers will finally fear us!?"
Tai Lung: "You know that doesn't tecnecally always work like that, right? What if as soon has he regains some power, he turns on us?"
Junjie: "Medailian. Remember? The minute he even thinks about turning on us, I'll use this mediallian to fuse with him, and become the dominaent will! It will discourage ANY treacherious thought!"
Galaxhar: "But that thing's exspearimental! What if you end up NOT being the dominate will? And most impourently what if we're somehow dragged into it cause of how untested that thing is?!"
Junjie: "Then what better ginni pig, then Tirek? Well, provided if he does turn on us. But don't worry. He only turned on Discord cause he was a nitwit! Surely, he'll appresiate a TRUELY evil appresiating soul, like myself."
Makunga: "Famous last words, qouted by Junjie."
Music plays as Junjie growled!
Junjie: "I'm telling you! I will show them all! The Leage, and ESPEICALLY Mang!"
Greed: "Oh, dash it all, he's not gonna sing is he?"
(Junjie sang this.)
Makunga started laughing
Makunga: "SERIOUSLY!? THAT SONG SUNG BY THAT LOSER CEDRIC FROM SONFA THE FIRST?! (LAUGHS LOUDLY) Ok, ponies are one thing, but THAT?! (LAUGHS UNCONTROLABLY?!)"
Junjie: "..... Wrath, hit him where it hurts the most."
Wrath kicks Makunga in the crouch!
Makunga: "D'OH?! IT'S WORSE THEN THE OLD LADY?!"
Junjie: THAT'S the spirit, Wrath!
Makunga: Could you PLEASE not acknowledge him in this one situation please? HE KICKED ME IN THE BALLS!!!
Junjie: You kinda deserved it, so I'LL DAMN PHRASE HIM ALL I WANT IF IT REMINDS YOU AND OTHERS OF THEIR PLACE!? Now then, let's get started with this plan of ours. The first step: finding Tartarus.
Tai Lung: Well, good luck with that one, that place is the most sadistic in Equestria. It's guarded 24-7 by Cerberus and those nasty Tartarus Vultures.
Junjie: And as insulting as those birds are, they are very bad at their job. They're only there because they were complete potty-mouths to those ponies, and Celestia punished them by making them guardians of Tartarus.... Or at least, that's what I heard of their backstory. Yet as bad as they are, they are known to be real killers, so you'd wanna stay as FAR away from those birds as possible.
Galaxhar: And what about Cerberus?
Junjie: Stay away from him, too. Sure he has the personality of a real dog, and can be distracted by dog toys that Pinkie can pull out of her ass, but when it comes to doing his job, there's absolutely zero chance that'll be of an advantage to us.
Tai Lung: Anything else?
Junjie: Well, the only thing left to worry about is this little midget named Grimmer. He's similar to the Horned King's old errand gnome in the Shell Lodge. In fact, he's his half-cousin 600-in-a-half times removed. But he's not much to worry about because while he's just as annoying as the vultures, he tends to be stupid that way. You can just knock him out, and boom, he's taken care of. Just hide the body when you do it.... And that's about all we have to worry about when sneaking into the place.
Galaxhar: "...... Wow...... You'd think a planetary underworld holding some of the nastiest evils of all time, would have tighter security."
Junjie: "Well, that's what happens when a planet has mostly exspearience a few dosen years of peace based on a religenious questionably centared on a pet name for allience. Ya get stupid in the head for it."
Greed: "And, this concerns us, because-"
Junjie: "Well, OBVIOUSLY, a Kung Fu Sholin Master Fox, A rouge kung fu snow leopard, an alien, and a fat lion looking for Tartarus in a peaceful land of ponies, tends to attact unwanted attention. So, we need something JUST as distracting as that! That's, where you seven come in. The Christail Empire is holding a jubelie for Twilight in celebrations for her contributions in making evil look like a weakling! What you lot simply have to do, is what your best at. Lust, tackle Celestia's Peacock boyfriend with your lack-of-respect attatude, Greed, cause a scam uproar with snake oil you marketed off as "Revival Potion", Sloth...... Be yourself. Wrath, find a local beast trader and contain 4 of his finest beast: A Parrot-dauctyl, A Drago Turtle, A Frozen Northen Ice Penguin, and the depective, Shark-Mouth Bunny. Those are known to be some of the nastiest "pet" beasts in equestia, and in your hands, it would be a bit of a dishastor of any of them, gotten loose. Envy, tell Twilight how you REALLY feel about her, Glutton, help your self to their delious little lamb creatures they have, and Pride, take advantage of all the lovely reflective surfaces of the kingdom so you can admire yourself, oh, and be sure to do it on the Cristail ponies as well. They "really love" that. So, anyone accepted their orders?"
6 of the seven Sin Ponies assuluted.
Sloth: "Whatever, I guess....."
Junjie: "Exseltent...... I have a feeling that this plan is gonna be a GOOD one!"
Wrath: "You will not be disappointed in us, father. Our first time out will be a garrintied nightmare to those lougers and their stupid allies."
Chapter 2: The Sinister Seven's Distraction
Cristail Empire.
A Jubellie was held in the castle.
The Lougers are seen having attended as well.
Lord Shen: "Everyone, A simple plockmenation! A toast, to Twilight! For all her contributions to keep Equestia, and in some cases, the Universe, safe from the dark forces and their attempts to harm everyone! Cheers!"
Icky: "Amen to that brother!"
Everyone else: "Cheers!"
Twilight: "Aw, everyone, this the sweetest thing you ever done for me, I-"
Beeping was heard!
Mr. Krabs: "(Gasp)! Miss Twilight! Languise!"
Spongebob: "I don't think that was Twilight."
Sandy: "That sounded like a traffic situation."
Crane: "But didn't we got rid of all the cars my brother made for this place?"
Luna: "Actselly, driver ponies sometimes use nosiemakers or have learned to mimic a carhorn in alternative to actselly having cars."
Icky: "Ok, let's see what the damage is."
Christal Empire Shreetway.
A long line of angered Christail ponies with cristail charriots are shouting and making beeping sounds, as all the way in the top, Sloth was seen laying around, playing Gameboy.
Taxi Chariot Pony: "HEY LADY, I HAVE AN IMOURENT CLIENT TO TAKE TO THE CHRISTAIL PLAZA OVER HERE, COULD YOU BE A LAZY VAGABOND SOMEWHERE ELSE?!"
Sloth: "Impourent Clients are lame."
Taxi Pony: "NOT IF THEY GARRINTED A DECENT PAY THEY AREN'T?!"
Hospital Chariot Pony: "Please move! There's a pregnet mare in the back about to give birth! It's urgent!"
Sloth: "Urgentcy is lame."
A business pony: "AW COME ON, I'M LATE TO MY JOB?! MY BOSS IS VERY UNFORGIVING ABOUT TARDINESS!? I HAVE A FAMILY TO FEED?!"
Sloth: "Jobs are lame."
An Ice Cream Chariot Pony: "Hey come on, miss! I need to do my rounds here!"
Sloth: "Rounds are lame."
Twilight and the others appeared.
Twilight: "What's going on? Was there an accsident?"
Taxi Pony: "A LAZY VAGABOND WON'T BUDGE AND GET OFF THE ROAD!? ALL SHE DOES IS, LAY AROUND LIKE A SLOTH OR SOMETHING AND PLAY VIDEO GAMES?! YOUR THE PRINCESS, GET HER OFF THE ROAD?!"
Icky: "No need to shout like your on top of Mt. Everest, buddy, she's got this."
Twilight approuched Sloth.
Twilight: "Uh, exquse me Miss? I can see your clearly busy with your game and all, but, your kinda causing a few ponies to be late for some impourent dates and-"
Sloth: "Impourent dates are lame."
Twilight: "..... Wow..... Aren't you just a ray of sunshine?"
Sloth: "Rays of sunshine are lame."
Twilight: "Wow....... What you went though must've drove you into a state of louthing life in a way never though possable before. Did you by chance had a bad exspearience with family?"
Sloth: "Nah."
Twilight: "A terrorable friendship breaking?"
Sloth: "Nah."
Twilight: "A devorce?"
Sloth: "Marrages are lame."
Twilight: "Well, then.... What exactly is wrong with you?"
Sloth: "Most everything to me is just lame. Even this conversation we have."
Twilight: "Seriously? A conversation, with one of the princesses of Equestia, a repeated savior of Equestia and more or less the universe, an all likeable mare, lame?"
Sloth: "...... Everything you just said, is lame."
Twilight: "Oh my! I never seen such boarderline indifference in a pony like this! It's at an almost un-naterol degree!"
Icky: "Or she could be just a freaking downer. Case close."
Rarity: "No pony ever gets so depressed or down that they would be indifferent of talking to THE friendship princess!"
Boss Wolf: "Ok, you guys are taking some random downer too seriously. It could just be part of her personality. She could actselly be just, depressed for no reason."
Applejack: "I can understand your used of seeing people of your worlds' being like that cause there's always plenty for ya'll to be sad about, but Equestia's a generaly happy place. This girl has no reason to be like this."
Pinkie: "She also has a weird cutie mark based on a video game controller for some reason."
Icky: "Wait.... Is that, a Playstation 2 controller as a cutie mark?"
Po: "And is she holding a gameboy system?"
Tigress: "Wait, I thought Equestia was mostly a less advanced community. How can she have these such things?"
Iago: "Ok, maybe there IS some legit concern about this one over here."
Lord Shen: "We must take this mare and exsamine her at o-"
A pink hoof grabs Shen away from the group!
Shen has been taken to Lust!
Lust: "Hey big boy! Nice feathers!"
Shen: "Uh, madam, kindly let me go. Firstly, I am already interwined with Princess Celestia, and secondly-"
Lust was trying to touch Shen immprobeately!
Shen: "Madam, what're you- No, no NO! PLEASE KEEP YOUR HOOF AWAY FROM MY PRIVATE AREA!? NO, NO, NO?! BAD TOUCH, BAD TOUCH, BAD TOUCH?! I NEED AN ADULT!? I NEED AN ADULT?! MOMMY?!"
Applejack: "Hold on there, lover girl (Seperates Lust from Shen before she can touch him immapprobeately) I hate to disappoint ya'll, but this Peacock is happly with Celestia! Who may I remind ya'll is the princess of ALL of Equestia? She might not take kindly for you to be harassing her boyfriend."
Lust: "Aw come on, don't be a cock-blocker! I just wanna play around with him for abit, then see if I can get him to touch my pussy!"
Pinkie: "You want Shen to pet your cat? Well that's neightberly of you. But where is your kitty?"
Rainbow Dash: "..... Pinkie..... We need to have a talk."
Applejack: "Dang it girl! Don't you have any sense of self restraint and control?! There's more to life then to get laid!"
Rainbow Dash: "Yeah, so cool it, or we'll be forced to have to get you neutered!"
Lust: "Oh, what's the matter, baby girl? Tensed? (Grabs Rainbow Dash in a immapprobetae position) Does mama need to relief the tension? (Straightens out one of Rainbow Dash's wing) I once heard wings on a Pegicious are sexually sensitive! Let's test that out, shall we?"
Rainbow Dash: "Hey whoa whoa whoa! That's only a dumb brony rumor! Our wings are not sexually- (Lust attempts to lick Rainbow's wing) NO, NO NONONONONONONONONONONONONO!? BAD TOUCH, BAD TOUCH?! I NEED AN ADULT?!"
Twilight traps Lust in a magical sheild bubble!
Twilight: "My goodness! I never know ponies to be so, lusty like that neither! Something must be wrong with her too!"
Rainbow Dash/Lord Shen: "NO SHIT, SHERLOCK SPARKLE?!"
Icky: "Jesus Christ man! What is wrong with those two ponies?!"
Twilight: "Something serious I bet! (Places Sloth in a magical sheild as well) Something unusual is happening and-"
???: "BAAAAAAAAAAAAAAAAAAAAAAAAAAAAAAAAAAAAAAAAAAAAAA?!"
Fluttershy gasps!
Fluttershy: "OH NO?! THE CUTE LITTLE LAMBS?!"
Fluttershy zoomed off into the distence!
Rainbow Dash: "FLUTTERSHY, WAIT!"
Lamb farm.
Glutton has put all the lambs under a giant hero sandwich!
Glutton: "Yummy! Lambchops sandwich, my new fav! Look out, Mr. Tummy, here it comes!"
Glutton open his mouth as wide as a mega mouth shark.
Lambs: "BAAAAAAAAAAAAAAAAAAAAAAAA?!"
Fluttershy: (Zooming in and halting Glutton) NOOOO!! DON'T EAT THEM!!!
Glutton: Hey! It's very rude to interrupt somepony's lunch, you know.
Fluttershy: "What are you doing to those poor lambs?!"
Rainbow Dash: And, DAMN, look at how fat he is! What have you been eating?!?
Glutton: Well, some roast beef, some chicken, a pizza...
Rainbow Dash: Oh, I think you've been eating more than that, big boy!
Glutton: Big? BIG?!? I'M NOT BIG!!!... Much! I just have an eating disorder, that's all. I'm ALWAYS hungry.
Rainbow Dash: Okay, that doesn't mean you eat somebody's pets. Oh, and on top of THAT! Since when did our kind adapt to eating meat, anyway?
Fluttershy: I thought we ponies were vegetarians.
Glutton: I tend to adapt to a different diet when certain foods are scarce. (Burps)
Rarity: (Arrives) Oh, you could at least say 'excuse me'! (Glutton then farts loudly)
Glutton: Excuse me! Like that?
Rarity: OH, DEAR LORD!!! THAT SMELLS HORRIBLE!! IT SMELLS LIKE A ROTTEN FISH CARCASS THAT'S BEEN SITTING ON THE LAND FOR WEEKS!! UHHGHH!!!
Rainbow Dash: Okay, pal, you need serious help! That's not any kind of eating disorder I've ever seen before.
Glutton: Oh, I'm fine! Now let me eat in peace!
Fluttershy: (Grabs Glutton by the nose) YOU'D BETTER LEAVE THOSE CUTE LITTLE SHEEP ALONE, OR I WON'T HESITATE TO MESS YOU UP LIKE THE JELLY YOU ARE!!!
Rarity: Whoa, Fluttershy, that's a pretty rude thing to say to someone like that. (The sheep suddenly panic and escape)
Glutton: AW, CRAP! YOU MADE ME LOSE MY LUNCH!!
Fluttershy: Yes you have! (Punches him in the stomach and he barfs a puddle of vomit on the ground, making him a bit thinner) How's THAT for losing your lunch? You'd better stay away from those sheep next time!
Glutton: (Gulps) Sure thing! (Chuckles)
Fluttershy: Good. And I'm sorry for being so rough on you.
???: UH, GUYS?!? YOU MIGHT WANNA SEE THIS!!
Rainbow Dash: Let's take this guy with us. He's probably involved with those lazy and horny ponies.
Crystal Empire
Twilight was screaming as Envy was pulling on her wings!
Envy: "HOW COME YOU GET TO HAVE WINGS!? I WANT WINGS?!"
Twilight: "Miss, they're kinda attacthed to my body, so if you could-"
Envy: "I WANT WINGS?!"
Envy pulls her hardest!
Po: "Whoa whoa whoa, hey lady! That kinda quilifys as assulting royalty, lady! (Grabs Envy) I mean seriously, what is the matter with-"
Envy: "HOW COME YOU GET TO HAVE HANDS?! I WANT HANDS?!"
Po: "Uh-oh."
Envy pounces on Po and tries to tear his hands off!
Icky: "Geese, lady, are you some kind of overly jealious brat or something?"
Gilda: "Oh great. First a lazy dragabout, then a horny slut, and now whiney over here. This is more weirder when then me having a prehistoric bird for a boyfriend."
Envy heard what Gilda said!
Envy: "YOU HAVE A PREHISTORIC BIRD BOYFRIEND?! I WANT A PREHISTORIC BIRD BOYFRIEND!?"
Envy grabs Icky and ran off!
Icky: "HEEEEEEEEEEEEEEEEEEEELLLLLLLP!?"
Gilda: "HEY, HANDS OFF MY MAN, LITTERAL MAN-STEALER?!"
Gilda chases after her!
Twilight: "We need to help Gilda capture that pony! There may be more like the ones we have! (Rainbow Dash and Fluttershy arrived with Glutton) Girls, we're helping Gilda capturing a VERY envious pony, Lougers, you guys split up and scout for more weird acting ponies. Spike, take the ones we have back to the chrsital castle for questioning!"
Spike assuluted, as the heroes split up!
Downtown Christail Empire.
Greed was seen on an overly glorifived sales stand.
Greed: "HURRY, HURRY, HURRY!? STEP RIGHT UP TO THE GREATEST HEALING LIDQUID IN HISTORY! A POTION THAT FINALLY CURES DEATH!?"
Cristail Pony: "A potion that curse death?"
Cristail Pony 2: "This is almost to good to be true! Please, let us have it!"
Greed: "But alcourse, dear cristialised equines. For only 100 easy payments of 9000 bits."
Cristial ponies started to throw hard earn money at Greed's feet!
Greed chuckled sinisterly.
Greed: "(Quietly) The symptahy of the pitter patter of coins..... And the cheering of suckers..... Music to my ears."
Po: What's this? (They see the ponies lining up)
Trixie: Aw, butt-sauce! It must be the Flim-Flam Brothers again with their usual con-artist scams. I remember when they scammed me of one of their products long before I found that Alicorn Amulet. They promised me a potion that would give me stronger magic experience, only to end up with a longer horn and a splitting headache. Those f****** bastards. I wonder what fascinating little invention they whipped up this time. It's probably a new kind of credit card, or a new video game console, or-
Cristail Pony #1: A NEW DEATH FOR CURE!!! (Chuckles) I'm gonna live forever!
Squidward:... Just when I thought they couldn't get any stupider. (They go up to see that it's not who they were expecting)... Who is THAT?
Crane: (Flies in) No idea. He's claiming to have a 'cure for death'.
Sandy: HAH! That's the most rediculious and ethically challneged thing I heard all my life! As a squirrel of moral character... (Thinks about the time in the episode SpongeBob, You're Fired where she fed people chemical waste, This here is a psychological test to see how much weird gunk folks will eat... If it's free!)... Mostly, I'm not some crazy person who tries to find a cure for death, and play God. I say we stop this guy.
SpongeBob: (In his karate attire) Way ahead of you! (Jumps towards Greed)
Sandy: SPONGEBOB, NO!! (SpongeBob pounced on Greed as all the christail ponies gasped)
SpongeBob: Hey, pal! Don't you think con-artists, as scamming as they are, should have some kind of morality? Do you think that a cure for death is ethically sound? Huh? DO YOU?!?
Greed: Hey, everyone is paying for the crap, who gives a shit? I'm sure there's a LOT of people out there who wanna live forever.
Puss: Ay carumba!
Sparx: LET'S LOCK UP THIS VIOLATION OF NATURE!!!
Spyro: Sparx, will you PLEASE shut up for once?!?
Sandy: SpongeBob, don't! I didn't mean stop him like THAT! I was referring to take him in for questioning like all the other mentally-conflicted ponies we've caught.
SpongeBob: Oh... Crap!
Greed: Just get off of me, you big loaf of cheese! (SpongeBob does that)
Merlin: You'll have to come with us, sir.
Greed: No way! I'm about to make a fortune out of my immortality juice. There's nothing that's gonna-
Christail Pony #1: Hey, wait a second! I recognize this stuff!
Christail Pony #2: Me, too! It's just the snake oil Flim and Flam used! I read about it from the newspaper!
Christail Pony #3: WE'VE BEEN CONNED!!! (Everyone looks at greed angrily)
Greed:... On second thought, TAKE ME WITH YOU!!! I'M TOO YOUNG TO DIE!!!
Squidward: Young? You look like you've reached your middle years.
SpongeBob:... Something's not right here...
Meanwhile.
The benny hill MLP verson song played as Gilda and the Mane 6 chased Envy holding Icky around the Christail Empire comically through wacky scenarios!
Rainbow Dash: "AW MAN!? WE'RE ON A WILD GOOSE CHASE WITH THIS CHICK?!"
Envy: "WILD GOOSE?! THERE'S A WILD GOOSE HERE?! (STUPIDLY STOPS IN A MIDDLE OF A CHASE) I WANT THAT WILD GOO- (She gets caught by Gilda and Rainbow Dash) HEY! LET ME GO!!! I WANNA BE LET GO!!!"
Twilight: (Magically traps Envy in a magic bubble) Alright, miss, you're gonna tell us what we need to know. If you refuse, I'll have to do the most non-violent torture method I can think of.
Applejack: The tickle spell?
Twilight: Yep.
Envy: NEVER!! I WANNA BE RELEASED!!! AND I WANT MAGIC POWERS LIKE YOURS!!
Twilight: Well, if you insist. (Magically tickles Envy, causing her to laugh) Tell us who you are and how many of you there are or the spell will get stronger.
Envy: I'LL NEVER SAY ANYTHING UNTIL YOU TURN ME INTO AN ALICORN LIKE I WANTED- (The spell gets stronger, and she laughs harder)
Pinkie: (Giggles) I'll tell you what YOU want, you want her to stop tickling you.
Envy: (Laughs) STO-STO-STOP!! (Laughs) I CAN'T BREATHE!! (Laughs)
Twilight: Then tell us what you're here for- (Suddenly a roar was heard)
Fluttershy: (Screams and hide behind Rainbow Dash)
Applejack: What in tarnation was that?
Icky: I don't know, but it can't be something friendly.
Twilight: Then we need to find out what that was. (Stops the tickling spell on Envy)
Envy: (Stops laughing) Thank GOD! I didn't wanna pee myself as much as I wanted to be rich.
Gilda: You want EVERYTHING, you envious dumbass!
Twilight: You're gonna have to come with us until we figure out what's going on. (They leave with Envy in the magic bubble)
Another part of the cristail empire.
Wrath: FEEL THE WRATH OF THE ALMIGHTY WRATH!!!
Wrath laughed as A Teradautyl-Parrot Hybreed, A giant flaming dragon-tortose, A long-bearded ice themed emperor-penguin on steriods like beast, and a small rabbit with a giant shark like mouth rampaged the city!
Christail Pony: "THE HORROR?! THE HORROR!?"
Christail Pony 2: "WHERE DID HE GET THOSE MONSTERS AND WHY IS HE DOING THIS?!"
Wrath: "IT'S PART OF MY NAME?! WRATH!? (LAUGHS!)?! Parrot-dautyl, drop blouders in their houses?!"
The Parrot-dautyl did that!
Wrath: "DRAGO TURTLE, SET THEIR MARKET ABLAZE?!"
The Drago Turtle did that as fire spread!?
Wrath: "ICE PENGUIN?! MAKE THE CRISTAIL PONIES FEEL YOUR ICY WRATH!?"
The Ice Penguin started to do that!?
Wrath: "And now, the most dangerious of them all?! Shark-mouth Bunny, eat, the orphans of THAT ORPHANAGE OVER THERE?!"
The Shark-Mouth Bunny charged at the Orphanage as Wrath laughed?! It was about to enter when-
A fast green bler smacks the creature away!
Wrath: "WHAT!?"
Mantis appeared
Mantis: "FEEL THE BUG?!"
The Shark Mouth Bunny roared!?
Mantis: "WHOA!?"
Mantis flew off as the Shark-Mouth started to chase him!
Wrath: "The lougers?! They shall feel the WORSE OF MY WRATH?! Parrot-Dactyl, Drago Turtle, Ice Penguin, help the Shark-Mouth DESTROY THAT PEST!?"
All three monsters charged after Mantis as well!?
Mantis: "SOME HELP WOULD BE NICE?!"
Boss Wolf lands on the Parrot-Dautyl!
Boss Wolf: "YEE-HAW?! RIDE THEM COW-WOLF!? WEEHOOO?!"
The Parrot-Dautyl screeches as it flies around trying to get Boss Wolf off!?
The Dragon Turtle and the Ice Penguin look in surprise!?
Suddenly, the Penguins latched on to the Ice Penguin?!
Skipper: "AS A FELLOW PENGUIN, I ORDER YOU TO STAND DOWN, YOU EMPEROR PENGUIN ON STERIODS?!"
The Ice Penguin roared as it struggled to get the penguins off!
The Dragon Turtle got surprised at what happened?!
???: "HEY HOTHEAD?!"
The Drago Turtle saw Spongebob in a cowboy hat started to do the Pioneer Hitch-hike as Squidward, annoyed, played a spoon. This provoked the Drago Turtle to charged?!
Wrath: "DRAGO TURTLE, NO?! IT'S A TRAP?!"
SpongeBob: (The Drago Turtle charged at him, only to fall down a large hole in the ground with a loud thump)... Sucker!
Wrath: Well, thank you for reminding me that THESE MONSTERS ARE INCREDIBLY STUPID!! (A record scratch is heard as the monsters are offended by that)... What?
Later...
Wrath: (He is seen injured and in a full-body cast after getting beaten up for his comments)... I think I'm bleeding in my... Everywhere!
Fidget: I'd hate to say that he got what he deserved.
Iago: HAH! Bullshit! YOU GOT WHAT YOU DESERVED, YOU ***** **** ********!!!
Mantis: Whoa, easy with the language, Iago! At least I'm still alive and those monsters actually know when they're insulted.
SpongeBob: (To the ponies of the Chrstial Empire) I assure you all that this jerk will be punished in due time. We have some other business to attend to, and we'll bring him with us whether he likes it or not. (Junjie and his cronies are seen off the distance as they sneak off towards Tartarus on a flying hovercar with a cloaking device provided by Dr. Blowhole)
Twilight: GUYS! We caught the pony.
Lord Shen: Excellent. Then she shall tell us what we need to know. Are there more idiotic freaks like you, the Fatass, the Pervert, the Dullard, the Moneyphile, and The Ex-beast Master?
Envy: "PFFT!? LIKE I'LL EVER TELL YOU!? AND I WANT YOUR FAN-TAIL!?"
Icky: "Uh, Shen? I think it's a safe bet I have an idea what the next oddball pony is."
Icky points to Pride admiring herself in a relection on a harassed christal pony's butt!
Lord Shen: "..... Well, ain't she a self-admirer or what?"
Phil: "Pfft, if the god of self-admiring was ever a brony, this would be for him."
Pride: "I never thought I would be so attractive in any reflective service, even on a butt!?"
Christail Pony: "DOES PERSONAL SPACE MEAN ANYTHING TO YOU!?"
Pride: "...... A privately owned qouater of galactic space?"
Awkword drum sound was hard.
Greed face-hooves hinself.
Greed: "Oh, for the love of-"
Lord Shen: "Well, we got seven of them! Let's hope it's the last of these, odd equines."
Glutton: "Oh, don't worry! There was only seven of us anyway!"
Other sin ponies but Sloth and Pride: "GLUTTON!?"
Glutton: "Sorry...."
Merlin: "Wait.... There's something almost familier about this pattern....."
Twilight: "What do you mean?"
Merlin: "Well, one pony is unigmaginably lazy, another unprovokingly hungry for love, another one a total pig, another a greed straving sharitin, another totally envious, another undountfully wrathful, and finally, uh, this one's strong unhealthy self-admirations."
Pride was hugging the christal pony's butt, mainly having to meant to hug her own relection.
Pride: "Oh, me! Your always like me in so many ways that is me!"
Icky: "Wait.... Lust, Greed, Sloth, Wrath, Envy, Gluttony, and Pride? Aren't those like, seven of the most nastiest sins in christianity?"
Merlin: ".... GREAT KING GEOGRE!? I got it now! These ponies are personications of the Seven Deadly Sins!?"
Glutton: "Uh, no we're not?"
Greed: "Oh, hush up, you fat inbacile, they caught us!"
Envy: "NO FAIR!? I WANTED TO BE THE ONE WHO LOOKS STUPID?!"
Greed: "(Wispers) You are already there, Envy."
Lust: "Aw come on, hunnies! We're just a couple of cute little fishes out of water looking for fun! This little fish personally, looking for, (Looks at Shen) a speical kind of fun!"
Lord Shen shudders!
Rainbow Dash: "TWO WORDS, LADY! GET, YOUR, TUBES, TIED!?"
Pinkie: "Silly Rainbow, that's 4 words."
Twilight rolled her eyes as she brings up a flouting mirror that gets Pride's attention!
Pride: "OHHH!? ANOTHER ME?! I must be quite a looker for myself!"
Twilight: "I don't understand how these ponies got to be like this! Sin, espeically 7 of the most deadliest ones in an outside religen, hardly ever exists in Equestia!"
Icky: "Well, maybe they're like when you and your friends were turned into polor opisites of yourselfs by Discord, Twilight. Maybe another rouge Dracon-whatever-it-is turned these guys into enbodiments of christain sins just for the sake of getting a choas fix."
Applejack: "But clearly these ponies have their color still! Ponies under an influence like that tend to be in gray colors!"
Lord Shen: "Perhaps a slightly more clever Draconquus desided to improve on the enfluence magic to make it like they are still normal looking."
Rainbow Dash: "But what about their Cutie Marks? No Draconquus, not even Discord, can be able to change cutie marks into things like they have!"
Twilight: "Maybe this Draconquus has a spell simular to Star-shrill's spell that enables him to alter cutie-marks! If that's so, then we might be dealing with the next chaos causer to Equestia! We must take these ponies to Celestia at once!"
Fluttershy: Well, we definitely know that it isn't Discord.
Lord Shen: Hmmph! I'm starting to sense that this was a pretty easy mission to accomplish. If I didn't know any better, I'd say it was some kind of distraction. (Everyone realized that)... Oh, boy!
Greed: HAH! You may've figured it out, but you'll NEVER know who we're working for, or what they're up to.
Icky: And what makes you think we can't make you SPILL IT, pal? Because we've got countless ways of doing that.
Envy: Oh, God, no, you're not gonna have that better-than-me purple Alicorn use the tickle spell on me again, are you?
Lord Shen: Oh, no! Worse! MUCH worse! You ever had a firework stuffed in your ass and lit?
Twilight: SHEN!
Boss Wolf: OH, DEAR GOD!! THE THOUGHT OF SOMETHING LIKE THAT IS MAKING ME SICK ALREADY!! (Barfs off-camera)
Tigress: NOBODY IS STICKING A FIREWORK UP ANYBODY'S BUTT!! We do not do that, Shen!
Lord Shen: I was just kidding, Miss Tigress!! I may have a firework weapon, but I'm not a barbaric sicko!
Icky: It wasn't even funny, whitey!
Lord Shen: Don't EVER call me 'whitey'!
Icky: WHITEY, WHITEY, WHITEY!!
Crane: Icky, PLEASE don't encourage him.
The Lougers drag the Sin Ponies with them.
Christal castle.
Celestia: "This is unusual to hear about. A rouge choas-obcessed Draconquus with abilities to make his or her influence go un-noticeable and alter cutie marks? That is diffenently a first."
Cadence: "But do we even know ANY Draconquus like that?"
Luna: "It's a safe bet we're dealing with a relitively new one."
Icky: "Well, only one way to be sure, we need to ask an exbert on odd-minded ponies under a Dracon-what's their names, and that's-"
Lord Shen: "NO!? DON'T SAY IT?! EVERY TIME WE TALK ABOUT ABOUT HIM, HE ALWAYS-"
Discord: (Appears dressed like Michael Jackson with other clones of him dance with him while Shen sits through it aggravated while he sings this song:)
After Song
Discord: (Turns back to normal after the short musical number) What's up, misfits?
Lord Shen: Showoff! (Icky applauds as Shen looks at him sternly)
Icky: What? I love the classics!
Discord: But musical number aside, I can assure you that this is not the work of another Draconequus like me. These ponies are not of Draconequuan origin. Not even the strongest of my kind can create an artificial pony, alter cutie marks, or do cloaked personality-mixes. Part of my kind's rules. Trust me, guys, all of my people's hands, paws, talons, hooves, tentacles, pincers, and other whatever things are clean.
Applejack: Well, if you're sure it ain't another corrupt Draconequus, then who do you think did it?
Discord: Beats me! I wasn't paying attention. I was just enjoying those 7 douches being... Well... Douches to everyone.
Rainbow Dash: You're an ass, you know that?
Discord: (Turns into a donkey) Oh, I'm flattered!
Kaa: (Dubbed as Julian) OOOOH, BURN! He got you good, admit it!
Twilight: Could you at least help us catch the guy these ponies are working for?
Discord: "No problem. One simple Tameridian Trick of mind reading should do the trick."
Discord first does it on Sloth.
Discord: "..... Ew, too downer!"
Discord tried Lust!
Discord: "OOHHHH?! (Flushes).... Moving on."
Discord tries Glutton
Discord: "Food, food, food, and food. How, original."
Discord tries Envy
Discord: "She wants to be able to do what I am doing now. And be a Draconquus. And to have a beard. And- WOW SHE WANTS EVERYTHING!?"
Discord tries Wrath.
Discord screams as he pulls his hand back out as it was on fire!
Discord: "HOT!?"
Discord tries Greed
Discord: "Hey, it feels like there's a million dollars in this pony!"
Mr. Krab: "HEY, I SAW HIM FIRST, YEAAAAAAAAAAAAAAAAAAAAAAH?! (KRABS SLAMS INTO GREED) LET ME OPEN UP YER HEAD (SQUIDWARD AND SPONGEBOB STRUGGLE TO GET MR. KRABS OFF) SO I CAN GET YOUR INSIDE CASH!?"
Discord finally tries Pride.
Discord: "Gees, ya know, not everything has to be about you, ya know. But at least your mind is very manageable. Now, let's see...... She was born along with the "Sin Ponies" in Galaxhar's fancy machines made from clone DNA of several ponies from Equestia, and trained to be dangerious kung-fu masters and were meant to be part of a rejected plan to nab Kairi and defeat the lougers through the illusion of ponies, given the Lougers have a great trust to them."
Lougers: "THE VILLAIN LEAGE?!"
Celestia: "Artifital sin ponies? I know Mang has no respect for Equestia, but making ponies based on Sin? I will burn him extra hard for this?!"
Discord: "Actselly.... Mang tecnecally rejected them. I did say that before. They were meant to happen the time during Spongebob's second annesia fiasco."
Icky: "Well it's a good thing Mang was sick at the time and didn't want to deal with angry High Councilers that time."
Shifu: "But that is odd. Deception of this magnatude is normally up in Mang's ally."
Discord: "Well obviously he didn't know about it and didn't want to know about it."
Spyro: "That is also odd. Mang would accept evil plans from anybody....."
Cynder: "Well, mostly with exception from....."
Discord: "Go on..... Key words: Galaxhar's machine, Kung-fu?"
Everyone: Junjie!
Discord: DUUU-UUUHH!!!
Po: (Sighs) Does that guy EVER learn not to go through villainous plots without Cobra's permission? Plus, he's gonna be pissed when he hears that Junjie disobeyed his orders not to create these seven sin ponies.
Fluttershy: Then let's not let him know.
Rainbow Dash: Well, duh! We know you're a pacifist when it comes to these things. You think that life is precious since you worship it so much.
Fluttershy: Hey, I "worship" for lack of a more fitting word the animals, not life itself.
Lord Shen: Then what do we do with these guys?
Discord: Leave them to me.
Lord Shen: NO-HOOOOO, NO! We aren't trusting you with ANYTHING on this mission, you freak!
Discord: That's what you ALWAYS say when I get involved. Why not just trust me just this once instead of being a douche about it? Have I ever been wrong with these things?
Lord Shen: YES!!
Discord: Well, then I guess you all don't need me. Good luck stopping Junjie with whatever he's planning. (Teleports away)
Iago: Oh, way to go, pea-COCK!
Lord Shen: Hey, it's best for us all. We don't need him lousing up our mission with his chaotic edge. We need to focus on finding Junjie, wherever he is.
Icky: "Aw come on, Peacockface, he helped us this far! I mean sure, he screwed up in the past, but it's not out of his own malision.... Mostly. Sometimes it's just bad karma."
Lord Shen: "MY, ANSWER, IS NO!?"
Celestia: "Shen, I'm calling off our relationship."
Lord Shen: "But on the other hand, I doubt he would be able to be a complete serious problem with a bunch of weirdo ponies."
Iago: "(Wispers) Well played, Princess."
Lord Shen: "Besides, we can't be baby-sitting these freaks all the time.... Espeically not.... The pervy one. Yeah, your right. It's better to dump them all on Dis-"
Discord appeared!
Discord: "GREAT!? It's not that hard to trust me, Shenny boy, now is it? Even if it was under threat of Celestia dumping you."
Lord Shen (deep thoughts): "Curse me and my weakness to maintain my relationship with Celestia.... Ohh, but her beauty is worth it."
Discord: (Chuckles) You do know I can read your mind, right?
Lord Shen: KEEP MY PERSONAL THOUGHTS TO YOURSELF!! While I will accept you on this mission, I will not tolerate your usual brand of randomness! I suggest you behave, or--
Discord: (Dressed as a hippie) Whoa, dude, make love, not war!
Lord Shen: (Looks at Celestia, who is looking sternly at him)... Alright, fine! I'll accept that, too! But no funny stuff!... Or singing!
Discord: Well, if you insist! (Magically makes his mouth go away)...
Lord Shen:... (Rolls his eyes) Alright, let's get this over with so I can ignore him.
Chapter 3: Tirek's Return
Tartarus.
A quinpet of Demon Vultures (Non-darkspawn alchourse) are seen resting on a dead tree.
Short one: "What are we gonna do?"
Brown hair one: "I dunno. What you wanna do?"
Short One: "No idea. What do you want to do?"
Brown Hair one: "I don't know, what do you wanna do?"
Short One: "Oh there you go, the same notes again!? I ask what you want to do, you ask me what I want to do, (Starts scattering what you want to do what I want to do for a few minutes) LET'S DO SOMETHING, FOR CELESTIA'S SAKE!!"
Brown Hair one: "..... So, what DO you want to do?"
Short one: "..... Gahhhhh, your like a broken record player."
Blonde Hair one: "I GOT IT!? How's about we visit the river spix and party with the hell harpys? They always have a bit of a swinging scene down there!"
Short One: "Agghh, all of Tartarus is dead all over here."
Blonde Hair one: "You mean they wish they were!"
The Demon vultures laughed!
Grey Hair one (Unenfusiaticly): "Very funny."
Brown Hair one: ".... Hey fellas! Now what in the world of Equestia are THOSE guys?"
Junjie is seen leading Tai Lung, Galaxhar and Makunga around Tartarus.
Blonde Hair one: ".... They don't like anything native to tatrtarus."
Gray Hair One: "Yeah, and they don't look like they're from Celestia's neightberhood either."
Short One: "Gahh, I'm sure they're a bunch of new arrivals. Those 4 must've done something REALLY bad to wind up here."
Blonde One: "Well come on fellas, let's have our fun with these guys!?"
The 4-Group Demon Vultures arrived down the area and intercept Junjie's group.
Brown Hair One: "Blimey, guys, look how scrawny the octopus man is!"
The Demon Vultures laughed!
Short One: "Yeah, and that bad-hairdo pussy cat is really fat! I lay off the kibbles and bits there, mate!?"
The Demon Vultures laughed!
Gray Hair one: "The Musle Cat looks impressive, but I bet it's to combinsate for the small penis he has."
The Demon Vultures laughed!?
Blonde Hair one: "And look at the little pipsqueak leader here! And look! He wears short-shorts?!"
The Demon Vultures laughed!?
???: "Pfft! You guys call THAT jokes?!"
A 5th Demon Vulture appeared!
The 5th Demon Vulture: "Dear Brothers Shorty, Emo, Blonde and Brown, let Ol' Chuckly show yas how it's done."
Chuckly breathed in!
Chuckly: "Hey! Look at little shorty fox! He's short, and short-sighted?!"
The Demon Vultures laughed!
Chuckly: "And those 2 are the most misfited cat duo I ever seen! STERIODS AND DIABETUS!?"
The Demon Vultures laughed?!
Chuckly: "And look! I think we found the love child of Jimmy Neutron and A War of the Worlds Alien over here!?"
The Demon Vultures laughed!?
All 4 villains growled!
Chuckly: "Oh yeah! I, am, good! So, anyways, what did Ol' Celly Belly banished ya lot here for anyway?"
Junjie: Oh, we'll tell you what we were banished here for! We were banished for THIS! (He Kung Fu kicks each of them to a wall)
Tai Lung: HAH! In your FACES!!!
Galaxhar: Are they knocked out?
Junjie: I think so. And there's no sign of any others watching us, so breaking Tirek out will be easier than I thought! (Another, bigger demon vulture shrieks in his face, scaring him, appearing as another Vlad clone)
Bigger Demon Vulture: INTRUDERS!! (Smacks them all to the wall)
Makunga: HOLY F***!!
Bigger Demon Vulture: GET OUT OF TARTARUS, OR I WILL NOT HESITATE TO WRITE YOUR DEATH WARRANTS WITH YOUR BLOOD!! GET OUT!!! (Attacks, and the villains dodge as his claws get stuck in the wall, and the villains escape) UHHRRGGH!! UHHGHH!! IS THIS WALL FOR REAL?!?
Galaxhar: DO SOMETHING, JUNJIE!! THIS BIRD'S CRAZY!!!
Junjie: "TAI LUNG, YOU HAVE A NERVE ATTACK!? DISABLE THAT NASTY BEAST!?"
Tai Lung: Sure thing! (Leaps toward the Bigger Demon Vulture with his arm glowing in yellow nerve energy, but the Bigger Demom Vulture smacks him away) OOF!!!
Bigger Demon Vulture: (His claws get unstuck) Okay, you've left me no choice! (Attacks Tai Lung, but when Tai Lung tries to use his nerve attack, the Bigger Demon Vulture dodges, flies over, and wounds him in the back)
Tai Lung: YAAAHHRRGGHHH!!
Bigger Demon Vulture: I have good flying skills, you know. Your silly Kung Fu witchcraft is not fast enough to strike me. (Tai Lung nerve attacks again) Missed me! (Tai Lung then uses his glowing blue fire mega attack, and each time he tries to attack, the Bigger Demon Vulture dodges) Missed me, missed me, missed me, missed me, missed me, missed me, missed me!
Tai Lung: JUNJIE, STOP BEING LAZY AND HELP ME!!! I'M GETTING MY ASS KICKED!!!
Junjie: JUST KEEP HIM DISTRACTED!!!
Bigger Demon Vulture: I can hear you, you know! (Flies towards them)
Tai Lung: AAAAAAAAAAAAAAAAAAAAAAAAA- (Jumps towards the Bigger Demon Vulture, but the Bigger Demon Vulture uppercuts him as he falls to the ground unconscious)
Makunga: What'll we do now?!? This guy's unstoppable!!
Junjie: (Sighs) Must I do EVERYTHING myself? (Jumps onto a dead tree as it bends down, surprising the Bigger Demon Vulture, and when he gets close enough, he jumps off, leaving the tree to smack him off the distant onto a cliff-side)
Bigger Demon Vulture:... OHH, RIGHT IN THE BEAK!! (Falls to the ground)
Junjie: Hmmph! That's one less demon vulture to be worried about.
Tai Lung: (Appears after recovering) Thanks for sending me to do this instead of handling him yourself, you lazy ass!
Junjie: Just shut up, and let's find Tirek's prison! If I recall that episode correctly, it's located on a hill that's accessible by stairs.
Galaxhar: You mean like that one? (They see the hill that Tirek's cage is sitting on)
Junjie: HAH! At last! Let's go, guys, before that crazy hellspawn bird comes back!
Tirek's Hill
Junjie: (The 4 are exhausted while going up the stairs) Finally!... Made it!
Tai Lung: These stairs put the ones to the Jade Palace to utter shame!
Makunga: Need... Water! Need... Atmosphere!
???: Who in all of tartarus are you guys? (Tirek appears as his weakest form)
Junjie:... YES! AT LAST!! I FINALLY FOUND THE TREACHEROUS TIREK!! ONE OF CHERNABOG'S EARLIEST CREATIONS!! CREATURE THAT DEVOURS MAGIC POWER!! THE--
Galaxhar: "Oddly scrawnier then what I was expecting."
Junjie: "Well that's the downside of sucking powers for your own. Things like..... This, happen."
Tirek: "...... You 4 obviously don't look like your actselly from Equestia. I don't think your even of this universe. Who are you 4?"
Junjie: "That's understandable, you've been locked here for ages, ergo, everything in the outside universe is unbelieveably new. Me and my assiates are from the infamous Villain Leage.... Or at least it WAS back when they didn't had fear of what the High Council and a few annoying heroes who would hate them no matter would think of them when they deside to get alittle extreme in atchiving goals! I'm the only one who acknowledges that! The current useless leader, Mang Simon Cobra, is turning it into a joke! The once infamous villain leage, once known to attempt acts of world conquests and masterful villainy..... Redused, to childish pranks and faulty plans of Mang!? Guy ended up dying 2 times, was a zombie-lich thing for most of his life, and he ends up the worse for it?! The closet he came to openly and slightly enbrace TRUE leagerisum was the recent christmas mess..... And it failed cause of his stupidity...."
Makunga: "I thought it was mainly because of the Lougers and that Copperfang guy turning out to not being that evil."
Junjie: "Well a TRUE Genius would've covered those ALOT better! Ergo, the true failure of the plan, was Mang's stupidity! Had I been able to have a stronger involvement then just a booby trap present tester, I would've ensured the leage would've been victorious!"
Galaxhar: "Well you bloody didn't, and that plan is all bridge under the marconsian water now."
Junjie sighed annoyed.
Junjie: "Mind the help, they're, just the help."
Tirek: "...... I can already see your disatisfived that your under the alliegnce, of an obvious idiot. This, "Mang", sounds like a truely fool-hardy simpleton unworthy of such a position. Just what excuse, does he have to somehow, still keep his position and why not you to be in charged of him?"
Junjie: "Well, it's tough to explain.... You see, for a long, long, long time now, Chernibog has, for a long time now, has been, uh.... Unable to continue his position as leader.... He, kinda lost the war against the High Council...."
Tirek: "...... That unfortunatly explains how Celestia managed to get away with my indigity for so long....."
Junjie: "Well, it gets uncomfertably worse. Cherny's position has been usurped by, an admitingly equily powerful, but overly trusting new Darkspawn lord leader, Malefor, a corrupted fallen hero purple dragon. He made a new cartoonian war that.... Wasn't that much different. High Council won..... Again. But, he at least was CLEVER on how he started it! He tricked a dupable sap to turn against the High Council, and back then, he was truely worth of Darkspawn investment..... Sadly, thanks to the interfearnce of heroes, dwindling conifendce, and clear-cut cases of bad luck, that dupe, now Mang, is now the most questionable waste of ANY Darkspawn's time! And Malefor has never once reconsidered him!"
Tirek: "Clearly, they must want to get out of the Banished Realms so badly, that they would put their faith on an obvious idiot because he was once great. Chernibog would never allow such idiotcy to go unanswered. He would've LONG gotten rid of that obvious failure, and the Architect would turned him into a slave abomination!"
Junjie: "He's kinda already an abomination. He's a five-headed mutant cobra with arms."
Tirek: "Then the Architect would turn him even WORSE, then that!"
Junjie: "Finally! A darkspawn that agrees that Mang's an idiot! Pinch me, I must be dreaming!?"
Galaxhar pinches Junjie hard!
Junjie: "OWCH!?"
Galaxhar: "Nope, your awake."
Tirek: "Normally, I wouldn't be quick to join to mortals, even obviously evil ones, but, since the other Darkspawn are doing it now in light of, hard-times, then who am I to stay old-fastioned? Tell you what. Since I am a Chernibog and Architect creation, I would tecnecally outrank Malefor, mainly as I assumed he's currently trapped in the banished realms, I would have the power to order Mang to be removed of his position, and make you, the new and rightful heir of the cretein leage."
Tai Lung: "Villain Leage."
Tirek: "Fillings Cheeks."
Tai Lung: "Villain Leage!"
Tirek: "Children's Leage!"
Tai Lung: "Close, but it's VILLAIN leage!"
Tirek: ".... Forgive me, my depowered state has left me, somewhat confused. As I was saying. Free me, and you can become new leader of this organisation you speak, what was your name again?"
Junjie: "Junjie."
Tirek: "I'll see to it that you'll become king of the villain ledgers, June-Bee!"
Tai Lung: "VILLAIN LEAGERS!?"
Junjie: "It's Junjie."
Tirek: ".... Again, my confused state is the result of me without power. I think reclaiming that from, ponies, should correct this."
Junjie: "Your in luck! Me and my friends AIN'T bronies! We don't like ponies!"
Makunga: "But what about the si-"
Junjie kicks Makunga in the crotch!
Makunga: "OOHHHHHH?!"
Junjie: "SHUT IT!?"
Tirek: "I commend thee on aiding an old servent of Chernibog."
Junjie: "And we're more then happy to ogbliged. Galaxhar, you brought your handy-dandy cage opener, right?"
Galaxhar: "Ok, earthlings, stand back! Cause your earthly minds cannot comprehend, the otherworldly powers of, THE GIGAPOO 3000?!"
Makunga laughed!
Makunga: "GIGAPOO!? THAT'S THE STUPIDEST ALIEN NAME I EVER HEARD!?"
Tai Lung: "Why couldn't you just called it a "Cage Lazer Cutter" instead?"
Galaxhar: "When YOUR an evil alien genius, YOU get to name your evil inventions! But now, I present, THE GIGA- (Dramaticly shows nothing).... Poo........ WHERE'S THE GIGAPOO?!"
???: "Well Howdy-Yadoody there, strangers!"
A creature simular to Creeper is seen with Galaxhar's device!
Tai Lung: "Is that.... Creeper?"
Makunga: "But he has a mustace and stupid glasses now!"
Creeper-Look-a-like: "(Like Ned Flanders) Oh, so you guys knew my cousin Creeper then? Does he ever say anything about me?"
Galaxhar: "..... That ugly little Trogdo had a cousin?"
Makunga: "That sounded like Ned Flanders?"
Tirek: "Ugh.... That's Grimmer..... The other equilly annoying guardian of tartarus behind Reaper's sons."
Grimmer: "Look, I don't mean to be un-neightberly friends, but, Celestia asked me to keep Mr. Tirek here in the Tartar-us, so, I'm sort've ogbingated to keep people from trying to bust him out, so, if I could just ask you fellas to leave Tartarus and reconsider whatever it is you want with Mr. Tirek, or would I have to be force to ask Cerby to eschourt you guys?"
Tai Lung: "PFFFT!? I just fought and survived a giant non-darkspawn vulture demon! How bad can this, "Cer-Bi" be?"
Grimmer sighed depressively.
Grimmer: "Please don't say I didn't try to warn you guys."
Grimmer whisled!
Stomps are heard as well as a loud bark!
Tirek: "..... I am going to assume you 4 haven't dealt with Cerberus yet?"
Junjie, Tai Lung, Makunga, and Galaxhar: "CERBERUS!?"
Tirek: "ALCHOURSE CERBERUS!? What did you 4 think Grimmer meant by "Cerby"?"
Tai Lung: "I, I thought it was a name of a pet mini-poodle or a chewawa! I didn't think he meant CERBERUS, the guardian of the underworld!?"
Galaxhar: "But isn't Cerberus under the control of the leage?"
Junjie: "THAT'S DISNEY CERBERUS!?"
Tai Lung: JUST GET THAT DEVICE BEFORE THAT BEAST GETS HERE!! (The villains try catching Grimmer, but he is far too agile for them to catch)
Grimmer: Na-na-na-na-naa-naaaaahh! You can't catch me!
Junjie: What the hell kind of creep is this?!?
Tirek: Oh, give it a rest, you guys! He was trained to elude the toughest of foes by Reaper. You can't possibly catch him.
Junjie: NO! I WILL NOT ALLOW MY PLAN TO BE FOILED YET AGAIN!! (Tries his hardest to catch Grimmer, but he still avoids him) HOLD STILL, YOU DAMN MIDGET!!! (A slash is heard as the cage was opened by Tai Lung)
Tai Lung:... You know, we could've just used our Kung Fu to bust the lock open.
Junjie:... ('Moiwah moiwah moiwah moiwah' music played)
Tirek: (Scoffs) You guys are totally thoughtless. Remind me again why you could be a more qualified leader than that Cobra guy?
Junjie: I just am, okay! Now let's get out of here before- (He turns and bumps into a familiar black dog leg, and he sees the Equestrian Cerberus as the three heads look at him growling)... (Gulps)... I hope these dogs don't tear up a fox like normal dogs do.
Grimmer: (Chuckles) Busted!
Junjie: Tirek, please tell me you can hold him off!
Tirek: You idiot, I have no power to feed off of! I can't do anything at the moment until I find some ponies!
Makunga:... I told you this was a bad idea!
Junjie: NO YOU DIDN'T!
Makunga: Well, I was thinking it!
Galaxhar: I'm surrounded by assholes! Ok, time for, PLAN GIANT ROBOT?!
Galaxhar presses a button, and suddenly, Galaxhar's robot appears from a teleportation devices, and turns it eye red to scare away Equestian Cerberus, who whines away scared!
Grimmer: "..... Oh no-kaly cokealy. Not Goodly Doodly."
Galaxhar: "AND YOU!? (BRINGS OUT RAY GUN AND STUNS GRIMMER) GIVE ME BACK MY GIGAPOO!?"
Tai Lung: "I still say you should change the name."
Galaxhar: "SHUT UP!?"
Tirek: "Well, a, slight mistep in your parts, but anyone capable to bring forth a titan monster like this, and make Cerberus run away in fear, makes me over-look it."
Junjie: "Thank you, and uh, sorry about the minor bump in the road.... (Quietly) it happens more then it should... (Openly) Now, let's get on Galaxhar's robot, and you, get to pick which ponies you want to go after."
Tirek: ".... There's a small Unicorn town not too far from here. I would like to, stop there for, a light snack."
Junjie: "Alchourse, my ticket to finally make Mang crumble before my feet! This is the start of a new era, gentlemen!?"
Tirek smiled evily.
Chapter 4: Saldaron's Paradox
Canterlot
Twilight: So what do you think Junjie is trying to do this time? We don't know if it's something he'll miserably fail at, or if it's something serious. Either way, we have to look into it.
Merlin: Well, let's think. Junjie sent his sin ponies to distract us, but it's not helping that he's still deterring us by making us unaware of his plan. There must be something here in Equestria that he's after. Something with unbelievable power.
Discord: Well, I don't know anybody like that except-
Celestia: TIREK!! (Celestia teleports there) GUYS!!! THIS IS BAD!!! One of the guardians of Tartarus called me and said that intruders had come and released Tirek!
Mane 6: WHAT?!?
Mr. Whiskers: Who's Tirek?
Brandy: We've talked about him a few times, Whiskers! He's Twilight's friends' most recently-defeated enemy who tried to consume all magic in Equestria after seducing Discord onto his side.
Discord: If he is still in his weak form, I could just punch him right in the face, I hate him so much!
Mantis: Yeah, yeah, yeah, we made it very clear how much you hate his guts for double-crossing you. It didn't necessarily help how you and Celestia planned all those events to begin with. You have to deal with court cases every once in a while, for God's sake!
Discord: Hey, I've changed for the better because of that experience. I'm no longer THAT prone to being a jerk with my powers.
Fluttershy: And I'm very proud for that.
Skipper: What'll we do?
Celestia: It's possible that Tirek is coming after you six first.
Discord was doing weird poses!
Discord: "Tecnecally, he went after a Unicorn town unfortunately next to the gates of Tartarus by 3 miles from it. (Does more weird poses), Now he went after the neightbering Pegicious village not to far from it. (Poses to the point he forms a prezel.) Now a single amish earth pony farm. (Cricks his back like he was in pain!) Now another Unicorn town!"
Celestia: "Ok, tecnecally he's going after a few unlucky towns and villages first, but I bet after he deals with me, Luna, Candence, and Discord again, he's SURE to make going after you six a priority."
Rainbow Dash: "Well let's kick his centaur butt again with the elements and fix everything again! Easy-peasy lemon Mc-Squeeseys!"
Celestia: "All of you only managed to defeated Tirek cause he wasn't expected you to fight back. Now, he's sure to be more prepared and has himself allies with the leage."
Icky: "Ah, just leave Junjie and his clowns to us and-"
Discord: "Did I also mentioned that they have a Giant Robot, and an army of Galaxhar clones with them? Cause they do."
Susan: "Gah! It's always giant robots and clones of himself with Galaxhar! He's starting to become a one-trick pony! (Realises she's with ponies).... Uh, no offence."
Fluttershy: "None taken."
Lord Shen: "Worry not, we know Galaxhar's robot can be easily beaten by savatoshing it's controls and decapatating it. A few well place cannon blasts would do the trick!"
Luna: "We have to remember that in the rate Tirek is going, and now that he knows what to expect, he has no intentions of letting history repeat itself. Even when he gains HALF of such power, he's virtually unstoppable."
Icky: "So what? Are you gonna transfer your powers AND the elements of harmony into someplace Tirek would never expect?"
Trixie: "Pfft, yeah right! Good luck getting the stupid chump to do that!"
Celestia, Luna, Candence, and the Mane 6 look at eachother, then all look at Trixie and smiled.
Cadence: "And thank you for volenteering Trixie."
Trixie: "Oh sure I- WAIT WHAT!? Why the hell do I have to be the guinea pig? Is it because of what I said? Aw, crap, is this another one of those things with Icky and Shen when Looger was loose?"
Lord Shen: Not exactly. We have a much more credible reason. Nobody would expect a 'useless' pony to contain this magic.
Trixie: And what's gonna stop him from absorbing them from me on sight?
Celestia: Because we're gonna hide you some place where he'll never find you. I'm sending you to Draconequua.
Trixie: Wha-WHAT?!? THAT LAND OF SURREALISM?!? You're kidding, right?
Discord: Oh, relax, you little blue chicken! It's not so bad once you get used to it. You could hide in Eris Caves. That's where me, Celestia, and Luna played when we were just kids.
Trixie: There's NO way I am gonna hide in a world where hybrid monsters can do whatever the hell they want! And you can't make me store all that magic power inside of me. No way, no how!
Merlin: Trixie, come on! There's no other ponies that are good enough for us to hide this magic.
Cadance: Besides, the Elements' powers are not contained within Twilight and her friends. That means that Tirek can absorb them up. If he does this, who knows how powerful he can become? He could be unstoppable, or worse.
Celestia: That's why you're our only hope of keeping these powers safe. You must do this for the safety of the Elements themselves.
Trixie:...(Sighs) Fine! If that's what you want, then I'll do it. It's not gonna hurt, is it?
Twilight: Not really. But it might since you're left with the responsibility to storing the magical energy of me, my friends, Celestia, Luna, and Cadance. Storing that much energy won't feel very pleasant.
Trixie:...(Gulps)...Okay, there's a little pee coming out of me right now.
Celestia: You'll be fine, Trixie. Now, are you ready?
Trixie:...I guess so. Just make it quick! (Celestia, Luna, and Cadance use their powers to transfer their magical energy, as well as the Mane 6's energy including the Elemental Powers, into Trixie)...Oh, my head! It feels like I'm monstrously obese.
Twilight: (All 9 fall after being stripped of their powers)...Oohh, God! I feel like my head is spinning.
Celestia: Discord, you will send Trixie to Draconequua while we figure out a plan to stop the villains.
Discord: Sure thing. Are you ready, Trix?
Trixie: (Dizzy, losing balance, and her horn is sparking in magical electricity) But mommy, I don't wanna go to school today!
Rainbow Dash: Yikes! What's up with her?
Celestia: I think the massive amount energy stored within her is overwhelming her brain. That means that she'll be experiencing mental conditions, dizziness, fatigue, and a few other symptoms. But aside from that, she'll be fine.
Trixie: I, the Great and Powerful Trixie will...will...will not fail you, Princess! I will protect your (Loudly) POWERS from that meanie-weenie T-Rex!
Pinkie: It's Tirek, silly!
Trixie: I know what I said, Pink-One! Just mind your own business and throw your parties somewhere else! I just wanna have my own light show with the fireworks and the confetti and the LADYYYY!!!!...(Laughs) I'm Jerry Lewis!
Shrek: She's lost it!
Discord: (Sighs) I hope I can put up with her being like this. Sianara, everybody! (Teleports himself and Trixie away)
Pinkie: (Giggles) She's funny when she's like that.
Celestia: Well, the best thing we can all do is to make sure that Tirek and the others don't find them.
???: Perhaps I can be of some assistance.
Donkey: What the--?!?
Cynder: Relax, guys, it's just Saldaron again. (Saldaron the Nega Cheshire Cat appears)
Lord Shen: "Oh, bother. It's him again. Are you ever gonna do something about your straved state?"
Saldaron: "And you STILL have abit of an attatude, a bad temper and egderness to slove things quickly, I bet."
Cynder: Saldaron, can you say what you're doing here, because we have a bit of a situation involving a Darkspawn.
Saldaron: Yes, I know that Tirek is back once again. I watched how the villains eluded those vultures and the other guardians of Tartarus. I had hoped to aid you in your quest at stopping him.
Celestia: Well, that's great because as you can see, we have just had Trixie keep our magical powers safe from him in case he finds us. We won't be having a great access to high-level magic for a while until we can assure that they are safe.
Saldaron: Indeed. I have known Tirek and his brother for quite some time.
Luna: You call a thousand years 'quite some time'?
Saldaron: I'm a controller of time and space, and you throw that question at me? How pitiful. Anyway, I hoped that my powers could be of some use to you like it was during the time of your Draconequus problem.
Cynder: What makes you think that? I mean, I know your paradoxes are useful, but why come here when you are sure to have busy unknown work to do with...well, wherever you live.
Saldaron: I don't live somewhere, I live in the UUniverses as a whole. My home is out there in the cosmos where I command the laws of time and space like I'm supposed to. But to answer your question, I only appear on certain occasions when I believe that your missions will turn out to be...inadequate.
Shrek: So you only come when it feels like there's no possible way we can save the UUniverses? Even with our reputations?
Saldaron: Indeed. Even I know that nothing is unstoppable, even heroes. I do not just govern time and space, I also protect. Surely you know that I am a very smart being, and I can see things that you could never dream of.
Icky: Will you stop it with the wise-talk already? It scrambles my mind up a lot!
Cynder: So you're saying that this is one of those battles that we can't win without help?
Saldaron: Yes. Tirek is a smart villain, and he has ripped his way through hero strategies like paper. He has been successful in many villainous plots in the past when it comes to the fact that mortals like you all are involved. Darkspawn think of mortals as worms. Creatures that are easy to manipulate or eliminate. Tirek thinks that mortals are not a big problem, even if they are more than capable of defeating him. So you will need my help if you're going to accomplish this goal.
Cynder:...Alright, if you insist. What kind of paradox would you be willing to offer?
Saldaron: Well, I can't do everything for you. You mortals are capable of thinking of a paradox for me to offer by yourselves.
Lord Shen: Pfft, sure! You immortals get to give us all the responsibilities while you sit around and let us do all the dirty work.
Celestia: Shen, you are not helping.
Saldaron: Just tell me what you want to do. I grow impatient with your mortal bigotry.
Cynder: "Well, we all know that Tirek doesn't exactly have, very superior social issues. He turned on Discord when he knew Discord was not as evil as he was. It's a safe bet Tirek might only paling around with Junjie until he's powerful enough to funtion independently without Junjie's help, and turn on him. You need to make it happen sooner then when Tirek would've originally plan it."
Saldaron: "Interesting choice, but I must give you one fair warning. Making THAT Paradox happen won't nessersarly make things less complincated. You see, Junjie is WELL aware of Tirek's, anti-socialisum, and processes a dangeriously exspearimental meddailian of cobra's that would ensure Tirek stays on the leage's, and his side, one way or another... Thing is, it would only serve to make Tirek both dangerious, and momentarly, oddly shaped and won't have proper control of phsyical movement until he gets more Uuniverseal engry to balence it out. That in turn, will make him risk everything to make the lougers priority number one. This is a Paradox where you would still have to face Tirek sooner then later."
Icky: "Well, that's a fickle choice. We keep normal Tirek, we got trouble, mutant Tirek, we still got trouble!"
Celestia: "Well, we best take our chances against a momentarly confused and dysfuntional Tirek then one still capable to control all funtions. It would drove Tirek to balence the forgen power out with more simular power."
Gilda: "So, asentually, make Tirek come after the lougers as an ugly freak?"
Sparx: "So let me get this straight: We have a choice of dealing with a psycotic monster as he already is, or alter time by making him prematurely turn on Junjie, and make him even more monsterious and make him determined to GO AFTER US!? I'm pumped! Let's, let's do this!"
Cynder: ".... It's a risky propsbitision, and we know we would still have to deal with Tirek AT ALL, then a more better solution of altering it out entirely."
Saldaron: "Well tecnecally you also could've gone with making the tartartus raid a failure, but sadly, the preducers won't allow that, because you have a second part of this episode to fill out. Now, are ALL of you sure you want to go through this?"
Luna: "A Tirek more interested to balence out forgen power then to harm innosent ponies is better then history somewhat repeating itself."
The Lougers nodded, Shen relucently.
Twilight: "It will be tough no matter what happens, but Tirek has been beaten before, and we'll do it no matter what becomes of him in normal or altered timelines."
Saldaron: "Very well.... It's your metathorical funerals."
Saldaron's eyes glow, as a time spire formed around the entire place!
A unicorn town.
Unicorns were sucked out of their engry.
Junjie laughed!
Junjie: "Look how magnifisent you look!"
Tirek has already returned to the form of his former glory.
Junjie: "Now, with one of the most powerful Darkpawn on our side, making the villain leage TRUELY powerful, is actselly ahctiveable?! I like to see Mang's face now!?"
???: "JUNJIIIIIIIIIIIIIIIIIIIIIIIIIIIIIIIIIIIE!?"
Mang appeared angerly with an army of Shocktroopers and Chrysalis with her Changelings.
Mang: "YOU HAVE SOMETHING, THAT BELONGS TO ME?! I WOULD LIKE TO HAVE THAT BACK, PLEASE?! AND YOU AIDED IN THE RELEASE OF A TOO TREACHERIOUS DARKSPAWN TOO!?"
Junjie: "Mang, Mangy! I am tecnecally doing something you wanted to do, only 100% times better, destroying Equestia as a paradise!"
Mang: "And, tecnecally, I have no objections to that, really, I don't, BUT I DO OBJECT OF PUTTING YOUR TRUST ON A DARKSPAWN LIKE TIREK!? He's too dangeriously loyal to Chernibog for his own good, which I don't object, but it would make it difficult for him to momentarly accept Malefor as the intermediate leader due to that devotion! Not to mention that if even Discord can't be able to last a few minutes without being stabbed in the back, YOU CERTAINLY WON'T?!"
Junjie: "Are you kidding? Tirek actselly agrees that the leage has an unworthy leader, right Ti- Wait, is that a engry shpere heading torwords-"
The Shpere passes through changing things!
Mang: "-He's too dangeriously loyal to Chernibog for his own good, which I don't object, but it would make it difficult for him to momentarly accept Malefor as the intermediate leader due to that devotion! Not to mention that if even Discord can' be able to last a few minutes without being stabbed in the back, YOU CERTAINLY WON'T?!.... Wait, anyone else getting that Deja Vu feeling?"
Junjie: "Are you kidding? Tirek- Wait, I felt as if I already said that. Uh, but seriously! Tirek and I, have an understanding, that YOU, ARE UNWORTHY TO REPRESENT THE DARKSPAWN?!"
Tirek: "That is true..... But sadly, you aren't exactly a better choice for their aid neither, fox."
Junjie: "HA?! YOU SEE I-"
Junjie started to stutter and blabber uncontrolably!
Junjie: "WHAT!?"
Tirek: "Remember your, "little bump in the road" back in Tartarus when you couldn't defeat that stupid Grimmer quickly enough before Cerberus arrived? You only succeeded through your impressive metal titan! You would've otherwise became a chew-toy to the tartarus dog. It's obvious it's not just Mang being unworthy to aide the Darkspawn out of Chernibog's crisis, or THAT caused of his "replacement". It's you and all mortal villains in general! What better leader for you worthless leagers, then an ACTUAL Darkspawn itself? A darkspawn, who still believes in Chernibog's power, who didn't deserted him in faver of some random purple dragon! And he, me, is already in your presence. Either bow down, or stay out of your master's way!"
Junjie: "......"
Chrysalis: "Surely you should've seen THIS one coming!"
Junjie: "........ (Growls), YOU WANT PROOF I AM WORTHY TO REPRESENT THE DARKSPAWN?! (BRINGS OUT THE FUSE MEDAILIAN) HERE'S YOUR PROOF?!"
Mang: "JUNJIE YOU FOOL, NO?! IT'S UNTESTED!?"
Junjie: "POWERS OF THE FUSE MEDAILIAN OF POWER?! I COMMANDTH THEE-"
Mang: "HOLY CRAP!? CHRYSALIS, EMERGENY ESCAPE!?"
Chrysalis does that and the Shocktroopers and Changelings flee to it!
Junjie: "TO FUSE MY WILL AND SOUL, AND PHYSICAL BEING, TO TIREK, TO REMIND HIM OF HIS TRUE MASTER?!"
Mang: "JUNJIE YOU FOOLISH POWER HUNGRY TWAT!? GALAXHAR, TAI LUNG, MAKUNGA?! GET OUT OF THE WAY BEFORE IT'S TOO LATE?!"
But it was!? The Meddailian started to form angry black tenticles and grabs both Junjie and Tirek, hurting them and bringing them pain as they scream!
Tirek: "WHAT FEEBLE-MINDED SOCCERAY IS THIS!?"
Junjie: "AGGGGGGGGGGH?! MEDDAILIAN?! WHAT'RE YOU DOING!?"
Voice from the Meddailian: "Exactly as you commanded, master. But I see your power might not be enough for Tirek. He needs MORE!?"
The Tenticles reach out for Tai Lung, Makunga, and Galaxhar!
Tai Lung fights off the tenticles!
Makunga screams like a girl and runs away!
Galaxhar brings out a ray gun and fires at the tenticles!
Galaxhar: "SEE JUNJIE, THIS WAS EXACTLY WHAT I TRIED TO WARN YOU ABOUT?!"
Tai Lung: "HE DID TRIED TO WARN YOU, JUNJIE!?"
Makunga: "NOW LOOK WHAT YOU DID, YOU OVERLY EXCITED ASSWIPE!?"
Junjie: "SHUT UP AND HELP ME, YOU FOOLS?!"
Tai Lung: "I WILL AS LONG AS THE TENTICLES DON'T-"
A sneak attack from behind grabs Tai Lung and brings him pain!
Galaxhar: "OH SPACEBALLS TO THIS?!"
Galaxhar summons his hover scooter and gets on!
Makunga: "YOUR NOT RUNNING AWAY LIKE A COWERD WITHOUT ME?!"
Makunga jumps on the Scooter, being too heavy for it!
Galaxhar: "GET, OFF, YOU FAT IDIOT?! YOUR TOO FAT?! YOUR JUST GONNA MAKE IT EASIER FOR THAT CRAZY MEDDAILIAN TO-"
Makunga: (The tentacles grab Makunga and Galaxhar) AHHH!!! (They, Tai Lung, Junjie, and Tirek are sucked through the tentacles, and into the medallion, which shines a light to show something silhouetted as Cobra and Chrysalis watch in horror of what they were seeing)
Shocktrooper: I think we need more men! (The silhouetted creature roars at them loudly)
Lord Cobra: WE ARE SO OUT OF HERE!!! (They teleport away)
???: (In multiple voices) Amazing! I feel as if I was... Empowered with the power of a God! I feel stronger than ever! WHAT THE F*** DID YOU DO, JUNJIE!! WHY DO I FEEL LIKE I'M NUMB?!? What is this abominable form you've cast on us, you ungrateful fool?!? SILENCE! YOU ARE ALL UNDER MY CONTROL!! FROM THIS MOMENT FORTH, WE SHALL NO LONGER BE KNOWN AS THE WORST VILLAIN LEAGUERS OF ALL TIME! WE SHALL BE KNOWN AS SOMETHING GREATER AND MORE POWERFUL THAN ANYTHING WE COULD EVER HOPE FOR!! WE WILL BE...JUN-GALAX-TAI-MA-REK!!...(Laughs) THAT IS THE STUPIDEST NAME I HAVE EVER HEARD!! AND I THOUGHT GALAXHAR'S GIGA-POO MACHINE WAS A STUPID NAME!! HEY, I TOLD YOU IT WAS MY DEVICE, SO I GOT TO NAME IT! Enough with your foul bigotry, you fools! I refuse to allow this insane rodent take control of me! Urrgh! URRRGGHHH!! I CAN'T MOVE OF MY OWN WILL!!! Too bad, douche! My will's in charge now! If you won't serve me, then I will own you as my slave! ALL OF YOU WILL BE MY SLAVES!!! Because...well...I didn't intend for you three to become a part of this combination. Oh, look who's talking. And yet, WE DID GET INTO THE COMBINATION!!! YOU'RE JUST INSANE IN THE MEMBRANE NOW!! SILENCE!!! Now that we have obtained the power we require to crush our enemies...we shall! (Cackles) I can't believe I'm stuck with an insane mortal, literally!
Epilogue
Christail empire.
This was seen by the lougers.
Icky: "Holy shit, that is NOT a pretty sight!"
Fluttershy: "..... I think I liked Tirek better when he was his normal form."
Rainbow Dash: "Well it's not like he was any less ugly."
Cynder: "Saldaron, I thought you said Tirek would be in control of-"
Saldaron: "Give him a few more minutes. Tirek's fury would make him powerful and dominate enough to congure even Junjie's will and become the truely dominate personally. He just need to be infuriated enough, and then, he'll proceed to go after you misfits."
Icky: "Annoying the shit out of villains is what we do best."
Po: "Ok, uh..... Should we wait for, that thing to come after us, or should we go after, it?"
Candence: "I vote AGAINST waiting for what, Tirek had the misfortune to become, to come to the christail empire! This kingdom suffered enough from when those sin ponies arrived! Tirek, as he is now, would frighten them too much that the christail heart would be rendered useless."
Lord Shen: "Well given you lot are powerless, you best better stay and have Shining prepare defences around this kingdom. The Lougers shall go and deal with, that abomination, ourselves."
Celestia: "Be careful Shen. No matter what Tirek has become, he's dangerious in any shape and form."
Shifu: "And we will not underestimate him. But he would be wise, to do the same to us, or he would be further upset in this situation then already."
Spongebob: "Ok lougers, onward to....."
Icky: "He said "Jun-Galax-Tai-Ma-Rek". And yeah, that is a stupid name."
Spongebob: "..... JUN-GALAX-TAI-MA-REK!?..... Wow, that is a kinda dumb name. I think that meddailian has gotten to his head."
Spyro: "No time for jokes, we need to get go after that thing now!?"
The Lougers charge forth!
Celestia: "I fear Equestia is in for another tyrade of Tirek once more...."
Twilight: "More like.... The rampage of, an almost entirely new threat forged from known ones. A Chimera of evil...."
Rainbow Dash: "Oh you see, "Chimera of evil", that's a WAY better name then "Jun-Galax-Tai-Ma-Rek"!"
Rarity: "..... And there goes the dramatic effect."
Pinkie: "DA-BA-DUMBA-BA-DA-DUM!?"
Community content is available under
CC-BY-SA
unless otherwise noted.