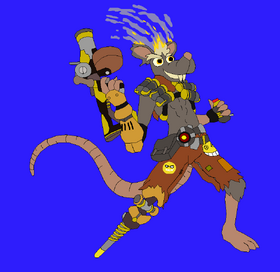 Jas B. DeWalt
, AKA
Junks
, is an Alternate UUniversal Vrat from Planet Gontroy. He is a Gambian rat-like wacko, psycho, pottymouth, demolitionist, Lony Enthusiast Chrony (AUU Brony), a known defiance of logical reality, breaks the fourth wall and then breaks it even more, and an international criminal from Ausollea (Gontroy Australia) who is being targeted by law-keepers like
General Pelles
, bounty hunters and other criminals world-wide for the treasure in his possession. His area-denying armaments include a powerful grenade launcher that lobs 5 grenades in 2 seconds that explode upon touch, other grenades including MIRV grenades that split into multiple explosive, ordnance grenades, plasma grenades, incendiary grenades, and acidic grenades, have timed pyrocidic and thermal detonators, concussive mines, that send enemies flying, and steel traps that stop foes dead in their tracks, among many surprises. He is as insane as the Joker, and yet has vulgar language along the side, is a wiseass according to others like
Nemeous the Crimemind
and
Grimshot
, is very insane, and does very well in his job with his Horog bodyguard partner
Street-Vig
, even though he is often left facepalming himself at Junks unfocused nature and began to grow mostly numb to his randomness, being an explosives-obsessed freak who lives to cause chaos and destruction. Living in a slum semi-megalopolis in Ausollea called Junkfield after it was forever altered in it's landscape by an attack on it's Omnicium's fusion core, making the outback forever unrecognizable as it was transformed into a harsh, irradiated wasteland, littered with debris and the twisted fragments of the ruined facility, and unlivable to most, turning it's outback into what is known as the Wasteback. Junks is one of the any suviving bandits that call themselves the 'Junkies', who scavenge the husk of the wasteland and formed a lawless, cut-throat society in its shadow. Junks was one of them, eking out a living reclaiming metal and components from the ruins. Like many others, he was affected by the lingering radiation. This touch of madness made him ideal for handling dangerous explosives, a love which he turned into an obsession, and thus he came to notoriety when he discovered an extremely valuable secret in the bones of the Wasteback. Though few knew the nature of what he found, he was nonetheless pursued by bounty hunters, gangs, and opportunists wherever he went, until he made a deal with Houggue, who grudgingly agreed to be his personal bodyguard in exchange for a fifty-fifty share of the spoils, which is the only reason why Houggue stomachs his unexplainable craziness. With Houggue in tow, Junks has left the Wasteback hundreds of times and embarked upon an international crime spree leaving nothing but havoc and bedlam in his wake. Though currently an independent villain, he aims to join
Oversurrection
 because he believes he is the best use ever against the perfectionist government lead by
Governor O'Shirgue
, to the detriment of reality and everyone around him trying to discourage such thoughts. He even went as far as blowing up the Governor's favorite sweets factory to prove it. Just like the
Neo Core
is the AUU
Overwatch
, Junks is the AUU Junkrat, only with added comical cartoony flare to really add in the already over-the-top nature of Junks.
History
Coming soon...
Abilities
Coming soon...
Quotes
"I'MA HERE, BITCHES!"
"(Looking at the reader) HOLY STINK PICKLES! A GIANT PERSON THAT I CAN BLOW LIKE A BITCH!!! C'MERE, F***-STICK!!!"
"EAT MY FIGURATIVE AND LITERAL JUNK, FUDGE FINGERS!!!"
Scenes
Introduction
How Junks and Street Vig got kicked out of Junktropolis
Junktropolis, Junkfield
Junks: (He and Vig were tossed out of a locking blast door)... CRACKY, D***LOAD, THAT'S A FINE "HOWDY DO"!!! Dunno what they're all upset about. It best not be because I'm a LEC! I'M SURE THERE'S PLENTY OF SALES ON THEIR MERCHANDISE IN THERE!!!! Or was it because of my lil' prank with the Big G that got us cut of his aid! Maybe it was that sewer incident with the Don! Or maybe... Maybe I'm just wasting this episode's time and transcript's space and data limit. Regardless, I don't think they'll let us back in!
Kangcoot Gate Guard: KINDA THE POINT OF BEING KICKED OUT, MATE!
Junks: WHO ASKED YOU, EDE?!?
Vig: Ughhh, as much as I would rather just move on, knowing your gonna be mindlessly resentful about this, what are we gonna do about this, vrat?
Junks: Eh, there's two things that solve every problem of ours!
Vig:... Does it involve money and explosives?
Junks: (In his face) IT INVOLVES MONEY AND EXPLOSIVES!!!!...
Vig: Get your face out of my face before I blow up your innards with one of your MIRVs!
Junks: Well, I already have an idea on how to get back in!
Ede: YOU KNOW I CAN HEAR YOU, RIGHT?!
Junks: AHH, P*** ALL OVER, YA WEENER!!!
Vig: "Ugggghhhh. Story of my life."
Years of Global Chaos Later...
Junks: HAA, THAT TOOK 2 SECONDS!!
Vig: It's been 8 years.
Junks: Well time texts really save the audience time!
Vig: "..... I'm, not gonna digify that with a respondse out of cautious respect of your weird fantasy world.
Junks: GOLLY DANG, CAN'T WAIT TO SEE THE SMUG P***K FACE ON THE DON WHEN WE GIVE'EM A BOMB LOAD UP HIS BUTTHOLE!! (Cackles)
Vig: Hold up! Let's be sure we review the plan first before we do this, in so to avoid mistakes likely to be caused by you.
Junks: (A glass shatter was heard as he stopped laughing......) SOMEONE REPLACE THE WINDOW ON THAT FOURTH WALL!!... VIG, YOU SERIOUSLY DON'T REMEMBER THE PLAN?! WE BEEN THROUGH THIS A BAJILLION ZILLON TIMES!!
Vig: "I haven't forgotten it, I was making sure that YOU remember it!"
Junks:... Ugh, for the sake of your STINKY PIG ASS NOT SCREWING IT UP, I'LL GO OVER IT ONE LAST TIME!!! First... (Through comical montage) We light the fuse, then we put on our inconspicuous disguises, sneak in with the trolley, meet the Big D in his crib, REVEAL OUR INGENIOUS DECEPTION, AND KABLOOEY!!!! They'd never suspect it in A MILLION YEARS!!! (Cackles and lights a match only for Vig to put it out and give him a silent stern stare)... OHHHH, DERP, WE DON'T WANNA SPLATTER OUR OWN INNARDS!! Guess the audience was waiting for me to say that. TAKE TWO! (With clapperboard and accidentally snipping off his cybernetic fingers) YAA- (Through montage) Light the fuse, inconspicuous, sneak into D's, reveal our deception, THEEEEEEEEEN, COMICAL PAUSE EFFECT, WE RUN LIKE HELL AND KABLOOEY!!!! Foolproof! (Chuckles unto Vig put out the fuse with a more stern glare)... RIIIIIIIIIIIIIIIIIIIIGHT, DOUBLE DERP, NO NEED TO BLOW UP THE DOUGH!!! Soooo, (Gasps and through another montage) Fuse, inconspicuous, D's, reveal, AAAAAAAAAAAAAAAAAAAAAAAND, GRAB THE DOUGH, AAAAAND... (Lights the match)... Kablooey?
Vig:.... Well, it's not something an Omnican stragigest would make, but A for effert.
Junks: FINALLY!! (Lights the fuse and Vig knocks on the door)
(Ede): Oh, hey, Junks. Hey Vig. Nice disguises.
Junks: (In disguise) Oh, thanks, it took us years to make them and- WHAAAAAAA, WHO'S JUNKS AND VIG?!
(Ede): Mates, we can hear you from outside yelling like an ingull having a stroke. We still ain't lettin' ya in! (The doors locked tighter) Besides, those disguises wouldn't fool even a fetus! Hit the road, ya wankers!
Junks:...... Well, Caelestis' holy s- (The trolley exploded) AIEEEEEEEEEEEEEEEEEEEE (Sent flying).
Vig: ".... Ughhhh.... Idiot."
(Ede): (Laughs), And you should know. Your pretty much his keeper.
Vig: "CONSIDER YOURSELF LUCKY THAT BARELY STABLE WALLS OF JUNK PROTECTS YOU FROM MY WRATH?!"
Junks feel comedically back down!
Junks: "..... (Dazed) And, cue end-scene in alou to witty one-liner, to signyfy a complete of scene. (Faints)....."
Vig: "(Sighs)..... May as well go back to the homestand with this idiot. (Grabs Junks' tail and drags the unconjustus nitwit with him.)"
Community content is available under
CC-BY-SA
unless otherwise noted.