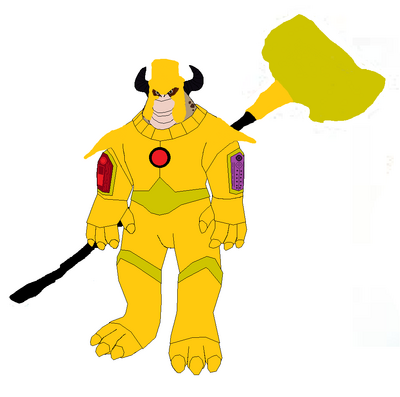 King Snnort'ing Buuull is the ruling king of the Bulla race and chief of security of all matters in 
UIS
. Buuull has a brotherhood status with 
Commadore Vrex
 and is abit of a snarky thrill-seeker junkie. His leadership is symbolised by the Bulla's own golden armor of kings, and the Bulla Whamma Hammer of Heroes, which was made famous for being able to reduse even extinction level asteriods into massive piles of space dust and even a light tab onto planet ground will cause a continant re-shaping earthquake. Hence why only Bullas of the worthist and honorable calaber are allowed to weild the hammer, something that even Bulla royal clan members have to actively proved. And Buuull proved his worthiness in Pre-VA times in the Ka'Navi homeworld where he singlehandedly defeated an entire Uonon armada of seperatists that wanted to vanguish the Ka'Navi after years of Ka'Navi attempts to punish them harshfully for a ruined treasure and were threatening astro terrorisum with a hi-jacked Bullarn Astro-Laser, and beating the seperatist leader, 
Bnom McNorque
, 
Master Jaya McNorque
's brother, into so much of a bloodly pulp his remains end up resumbling red soup. His actions in scaring the Uonons out of ever wanting to follow the ways of Bnom, which by greater extention scared USRA races from wanting to back Anti-UIS nuts as a result, and prevented both a nasty uprising and a major crippling of UIS, he earned the admiration and respect of the other forces of UIS and the worthiness of weilding the hammer, along with the ability to be leading security chief and the obedience of other UIS forces, even with that of the Skorners, Naaars and Sailnecks, where usually in UIS ranks these beings are netourious of only listening to their own kind, Skorners for aggression, Naaars for zombie-mentality, and Sailnecks having netouriously short attention spans, which deminstraights on how much Buuull earned UIS respect.
Community content is available under
CC-BY-SA
unless otherwise noted.