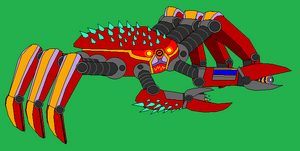 King Crabbots
are king crab-like robots who serve as minor commanders for the
Base Crabbots
in the game
Omicron II
. They have large legs, large claws, and are powered by energy crystals that are displayed on their backs. They can launch mutonium shards like a shotgun through cannons in one of their claws. These shards can even become explosive. They also fire a concentrated beam of energy that can be focused into rapid blasts from their other claw. They must be hit on their claws, then the crystals on their backs, easily shutting them down.
Stats
Game: Omicron II
Enemy Threat: 6/10
Appearance: Common throughout the game
Abilities: Fires energy crystal shards from one claw and high-damaging energy blast and a focus laser on the other. They are also very durable when their energy crystals remain.
Purpose: These are among the strongest in the Crabbot Series. They are responsible for being the second-grade commanders of the Crabbot Army behind the Commander Crabbot.
Community content is available under
CC-BY-SA
unless otherwise noted.