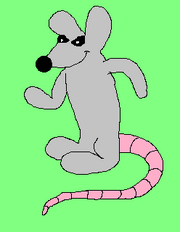 Lab Rats
are upgraded versions of the tiny rats of Omicron. They are much smarter, and have awesome powers. They shoot lasers from their eyes, they have X-Ray vision (Whereas they can see you when you hide behind anything in your environment, and can destroy it to get to you), and in some occasions, they can fly.
Stats
Enemy Threat: Medium
Appearances: Little
Purpose: These rats are the rats that have not escaped the labs of Omicron, and have undergone loads of mutations. This makes them more powerful than the rats. Although they are powerful, their powers actually make them a much bigger pest in the labs.
Community content is available under
CC-BY-SA
unless otherwise noted.