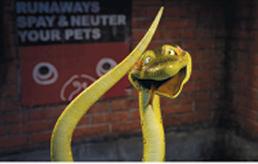 Larry the Anaconda
is a dim-witted yet very good-hearted Green anaconda who tries to keep up with Samson and the gang, despite his lack of hands or legs. Not too intelligent, and is somewhat related to the Snake Lodgers, being revealed to be a biological cousin to
Savio
who didn't know his parents or his own since he was born in captivity.
Biology
The Wild
Larry is a dim-witted yet very good-hearted anaconda who tries to keep up with Samson and the gang, despite his lack of hands or legs. Though he does help, being the stretchiest animal in the zoo, and his elongated body can be used as a variety of things. He is used as a slingshot during the curling championship when Samson is about to fling his turtle curling iron across the ice rink, but slips. Larry is also used as a prop when he and the other animals become trapped inside a garbage disposal truck. Samson uses Larry to hold the trash compressor open, but it fails. Larry frightens the truck driver, and the animals manage to escape. He accompanies Samson during Ryan's rescue and is last seen on the ship wearing a fruit hat and makeup done by Cloak and Camo as a "snake-over," and dances with his zoo friends as they head back home.
Role in the series
The Shell Lodge Squad help him and Samson the Lion rescue Ryan the Lion from the clutches of the Villain League, and after discovering his biological relation to Savio and Lola Boa, he suggests they join the Lodge and help stop things like this from occurring again.
Community content is available under
CC-BY-SA
unless otherwise noted.