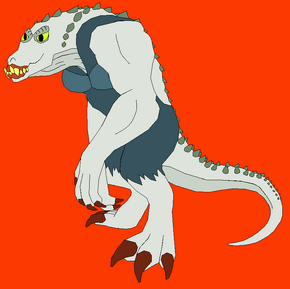 Leatherskined Bitch
, Real Name
Creek-Croc
, is a Croca from the
BioGen
Zoo in
Mutantus
 that lived along side other Crocas. Due to being borned from a reblicator through combining DNA of Dreadnails and a Crocadile, Crocas are an all female matrearchical socity, so their numbers can't grow beyond being generated from a machine. LSB is the only deviation for being an albino. Leather is infamous for one thing. All she wanted to do was fight and prove herself worthy to be the new matriarch. However, the Matriarch just proved herself too vastly superior, and as a result, Leather was exsiled from the zoo and left to be on her own. She knew that she's an artifical sub-spieces of the infamous Dreadnails, so she went out of her to seek them out. She found a Dreadnail valley and was quickly captured by the Dreadnails and brought to their fat leader of the Dreadnails, 
King Lardass
. After harsh exchange, the two titans duked it out! The two were even matches, but Leather was ultamately the victor in due to Lard getting too confident in himself. Leather became the new ruler of the Dreadnails while Lardass is redused to be a second in command stooge to her as the ultamate insulting salt in an old wound. She initionally wanted to go back to the zoo and dominate her own race with the Dreadnails, but that plan was foiled when the Crocas joined the Waterliods in trying to make Mutantus a better place. It is not at all an issue to her, not even inconvinent. If anything, she saw it as a greater challnage to her newfound power. She aimed to become mistress of both mutants and normals and congure both the forces of Mutantetoplois and BioGen to deminstraight an unspeakable force of power. Leather has since been Mutantus public enemy number two, behind 
Doctor Bio Genner
.
History
Coming soon...
Abilities
Coming soon...
Community content is available under
CC-BY-SA
unless otherwise noted.