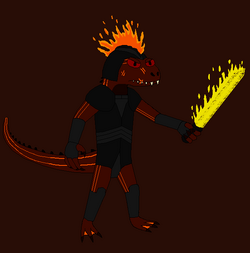 Lieutenant Helsinki Firmire
, or
Hellfire
for short, is a Dragon Realms Salamander (legendary) who was formerly a particularly brutal and normally very loyal but sometimes too hotheaded for his own good addition to the
Heat Miser
's infantry. The problem people had with him was the fact that he had too extreme a sense of honor and strength, and believe that things like cowardice or love are signs of weakness and is the reason why Snow Miser was getting a higher edge, particularly with
Venus
, the holiday-happy mute daughter of the commander of Heat Miser's forces,
General Flambé
. When this belief got too far one day, he ended up almost killing Flambé and Venus and was banished to the Oasis of Greenland, the home of
Mother Nature
. His tendency to be a bit of a brute and his quickness to use death as a punishment, mars his ability to easily earn the other heat forces favors. His easily-manipulative nature, while being in a current state of anger and betrayal by his own people for their refusal to understand him, left him exposed of being another toy for 
North Wind
 to personally manipulate. He would obviously serve someone who was clearly a previous enemy of the Miser Bros so he could finally get his point across that he's what Heat Miser truly needed all along for a long-lasting Green Christmas, unable to realize he's another pawn of a mentally-disturbed fanatic against a 'corrupted' Christmas 'monopoly' as he puts it, and it would take being reminded that North Wind is nothing but an outrage to make him understand where his true loyalty lies.
History
Coming soon...
Quotes
Community content is available under
CC-BY-SA
unless otherwise noted.