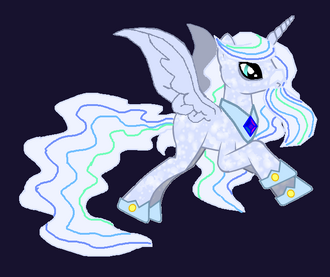 Lord Order
was an
Equestrian
Natural Alicorn, and the Alicorn God of Order and Peace. Once being a good harbinger of peace and order, then came the days when he was driven mad by chaos and disharmony upon the arrival of both Draconequui and Proto-Draconequui, which he didn't care for, but was admonished of their very existence, as order was his only instinct. He insisted in making order in it's complete and absolute definition, and since everything in the UUniverses was against that since it was simply unrealistic, he tried to force it with his reality-warping powers. However, upon this being taken too far, the Alicorns had him exiled to Equestria's core, imprisoned entirely by magdranium, a rock resistant to magic of all kinds and appears only by the Alicorns and in rare phenomenon. Lord Order still resides here to this very day, and has followers in the forms of a Vultureman creation named
Lord Blankslate
, among others, and since the Chaos Wars, his polar opposite brother
Lord Chaos
was sentenced into the core as well with his brother to act as a balancer for his own independent crimes with his own Non-Draconequui agents of chaos, as both Order and Chaos are not tied to both Draconequui and Proto-Draconequui, as they were both rogue creations of outsiders. Though Lord Order himself has yet to show up, his existence has brought forth issues onto the Lougers and even in some cases their friends, which includes 
The Devious Puppet
, a reincarnation of his lost Puppet of Order, monsters like
The Daemon Serpent
meant to exterminate the daemons fearing their unruliness and worrying about a future rebellion, and even zealotical followers, like that of 
Oak Golden Bind
, a powerful unicorn who created Twilight's original Libary tree home, and alcourse the forementioned Lord Blankslate, who he created as a means to root out ponies who failed to get cutie marks for any reason and are condemned to become Blankers so socity isn't held back by them in his eyes.
History
Coming soon...
Abilities
Coming soon...
Community content is available under
CC-BY-SA
unless otherwise noted.